I wanted to fly on the QSuites to do a review and the cheapest place you can normally find to fly from on the Qatar network is a Helsinki to Bangkok flight. I then added on a return to Paris so I could experience the QSuites on the way home. You can read my QSuites experience here.With a discount from American Express plus a £200 statement credit and adding on the return to Paris the flight came to about £1150 for business class return.
Helsinki to Doha – Check in and lounge

There is nothing very remarkable about the check in at Helsinki. I was staying overnight at the Hilton Helsinki a few minutes walk from the terminal. I will shortly be doing an article about flying from Scandinavian airports where I will look at my recommended hotels and lounges at the main airports. The staff were perfectly pleasant and helpful so I was soon through security and by the lounge.
Qatar use the Finnair Lounge (non Schengen). There are two sides to the lounge. One, the Premium lounge, is for oneworld Emerald/BA Gold etc level card holders which you can access in any class if flying on oneworld. The other is for business class passengers. Both are good lounges.
On this visit I went to the Premium lounge but I will include some information from my previous visit when Roving Reporter and I visited Tallinn.
The Premium lounge is very modern in design and contains something of a novelty for an airport lounge – a sauna! There are obviously showers too but given this was fairly early morning I didn't try either.
There was a rather odd selection of food for the time of day with a few breakfast items but also salad and the traditional Finnish Karelian rolls which are made from rye and filled with rice. There was enough for a light breakfast before boarding.
They do serve Champagne in this lounge unlike the main business class lounge but other than it being a bit quieter, at breakfast time there is little to choose between them apart from the sauna and Champagne. Later on in the day there is a better selection of food in the premium side. Here is the menu:
In the non Premium section of the lounge it is equally nice with a clean Nordic design. I really like the lit tables.
There is a business centre with Mac comupters, a similar range of food to the Premium side and help yourself wine (including sparkling) and draft beers. I was particularly impressed with the sleep pods that would offer privacy and darkness if you fancied a bit of a snooze.
Boarding
Unfortunately it was a bus gate which always starts me off in a bad mood. There was a separate waiting area for business class passengers at the gate but it was completely pointless as we all got on the same bus anyway. In fact by boarding business class first we had to sit on the bus longer and ended up getting off last! It wasn't like at Doha when they have a separate bus for business class passengers.
Judging by the small amount of people in the business class waiting area this was going to be a quiet flight. I was correct and there were only 4 of us in business class which made for a great flight.
At the seat was the usual BRICS amenity kit and a bottle of water. I was offered a drink and a hot or cold towel. I went for a Buck's Fizz given the early hour and a warm towel since it was Helsinki and pretty nippy! Next I was offered a selection of newspapers. The cabin crew member serving me came over to shake my hand and introduced themselves. They also went through the details of the flights such as the flight time. Next the CSM also popped over to say hello. This has happened on almost all my Qatar flights apart from the QSuites funnily enough. It seems to be the norm for all business class passengers. It is a nice touch but I must admit when you have done 4 flights in a row with them it begins to get a little tiring as it is often a bit forced, although they are always smiling. I was also presented with the menus for the flight.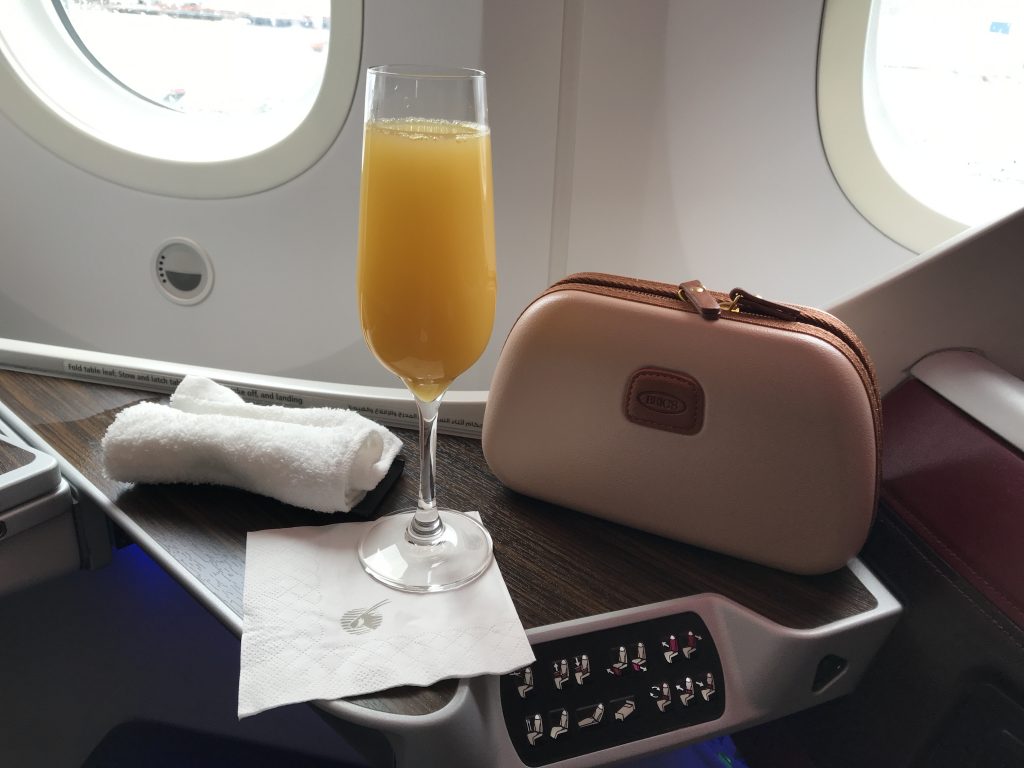 Seat and cabin
The cabin feels very spacious and light even though it is quite small. There are 5 rows before the door and 'bar' area and then 2 seats on their own in row 6. Although these are nice as they are are on their own, they are very exposed and also by the toilet, 'bar' and back onto the bassinet positions in economy. Personally I would probably avoid them.
I chose seat 3K about half way along the cabin as I thought this would be a quiet option. Give the cabin was so empty it didn't really matter either way. The cabin feels open as there are no luggage bins in the middle of the cabin.
Post from RICOH THETA. #theta360 #theta360uk – Spherical Image – RICOH THETA
The seats on the B787, A350 and A380 on Qatar are pretty much the same. My favourite would be the A350 due to the improved cabin pressure and humidity which just edges the B787. I also prefer the window blinds on the A350. The seat is the classic reverse herringbone style and has plenty of storage space for all your belongings. I particularly like the side bin which you lift to access. It is a good size and I can store almost everything I need in there.
There is also a large shelf for use in flight. The only that could be tricky for storage is if you have a large laptop as there is nowhere really big enough to store it for take off except in your hand baggage. I use an iPad pro when travelling and that fitted nicely into the magazine rack.
The seat controls were very simple, easily located and included a massage function. The seat had an ottoman for your feet but it was a bit far away for me to reach without reclining my seat slightly. I liked the way the leg rest came up to fully support your legs and it was easy to find a comfortable position for working, relaxing or eating.
Sleeping
I can never quite fathom out Qatar's bedding policy as although this was a day flight there was a proper pillow as well as the usual blanket with a silky side and a soft blanket type side. On most day flights all you get is the day pillow. As it had been an early start and I had another flight from Doha I decided to have a short nap. I found the bed was very comfortable for sleeping as it is quite soft and doesn't have gaps like many seats when they fold down. Although your feet go under the seat in front in a cubby hole I didn't find this to be a problem even sleeping on my side. I also like the pillows which are large, soft and feel like they have good quality cotton covers.
Amenities
The amenity kits varied on my flights which I think is quite odd to have 2 different kits since it is around a year since they launched the new ones. Fortunately the first part of the flight had the better BRICS ones. These are very smart although when you end up with 4 on a trip they take up a lot of room in your bag being hard sided. The toiletries inside are all good quality, dece t sizes and useful products. You get: earplugs, eyemask, socks in a colour to match the bag, hydrating face spray, anti-ageing moisturiser and lip balm.
There was also a good selection of magazines in the bar area. The toilets were modern, clean and stocked with Rituals toiletries plus a few spare toothbrushes and razors. They still only had tissues to dry your hands on though. When I had this on my last flights I assumed that it was a supply issue but this now appears to be a permanent thing. I can't understand why on earth any airline would do this, let alone a premium focussed one such as Qatar. Trying to dry your hands on a flimsy disintegrating piece of tissue is not a great experience plus it is terribly wasteful as you end up having to use a handful instead of one paper towel.
Food, drink and service

The first thing I was offered was a drink from the bar which was accompanied by nuts. I was pleased to see that the Champagne had changed from Lanson for the Rose since I am not a fan. I decided to try the new Drappier Rose de Saignee which I much preferred to the Lanson. It quite a deep colour for a Rose champagne and had a light strawberry hint to it which I enjoyed.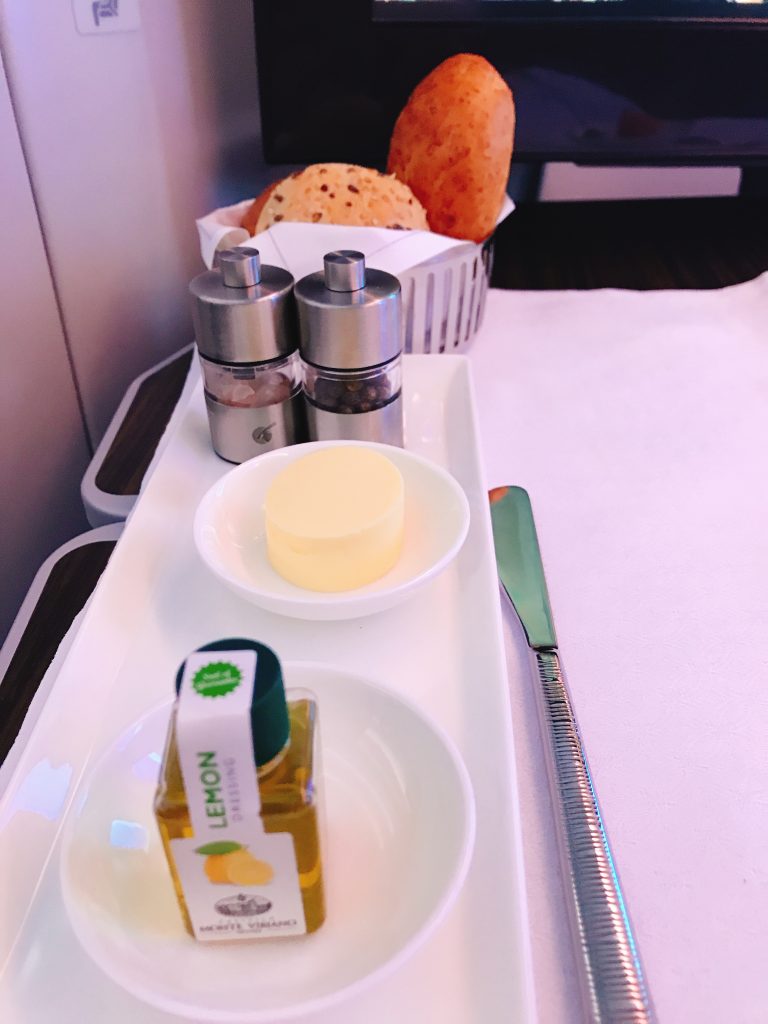 The table was laid up with a crisp white table cloth, basket of 3 warm bread rolls and proper salt and pepper grinders. I had also been offered a choice of 4 different olive oils when my order was taken. I love this touch on Qatar – as I always say it's the tiny details like this that make Qatar such a good airline. Unfortunately they didn't have my favourite garlic oil so I went for the lemon instead which was nicely zesty.
Before the meal an amuse bouche was served. I always enjoy this little touch on Qatar as they are usually tasty, nicely presented and come with a very cute little cocktail fork. This one was no exception and I liked the little smoked salmon rose sat on a salmon tartare.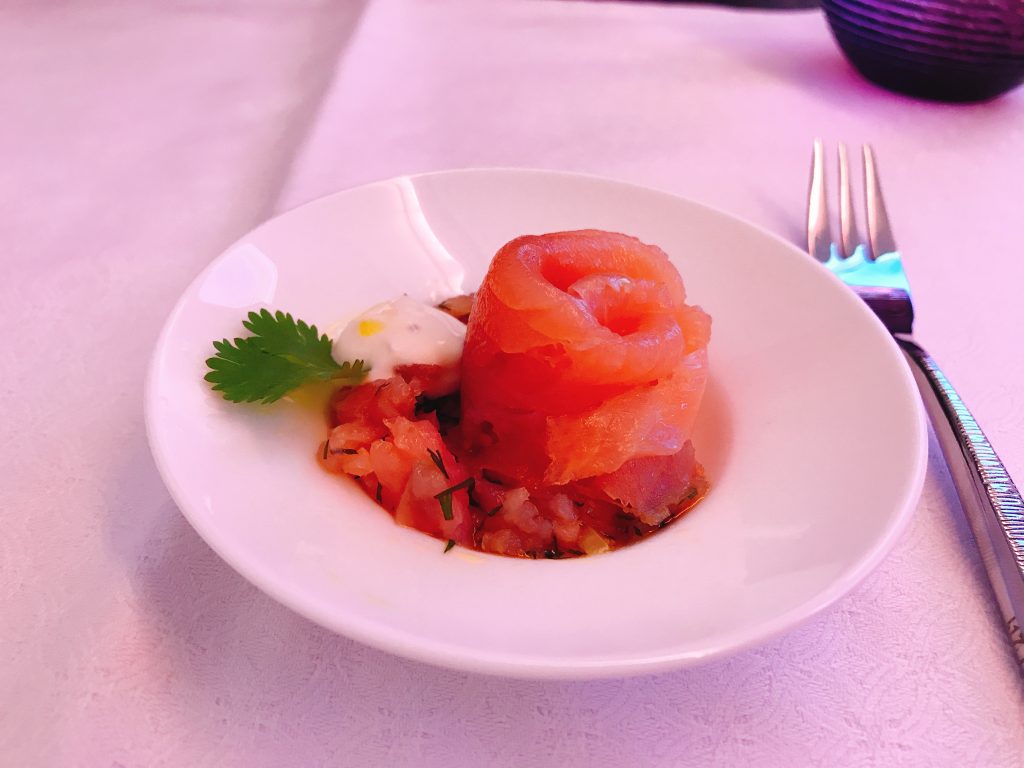 Dining is on demand on Qatar and I was asked when I would like to dine. I asked to wait for an hour or so after take off since it was so early which wasn't an issue. As well as the main meal there is also a selection of snack items which can order at any time. If you just want a small snack, the bar area at the back of the cabin has fruit, snacks such as crisps and biscuits and Champagne laid out for you to help yourself to.
The menu on Qatar is always a little short for me in terms of choice for the main meal, probably because they are usually flights of 7 hours or less. I often end up going for the same choice of starter, mezze, which I do really like but sometimes by the fourth flight in a row I'm beginning to get a bit bored of it. Seeing as it was the first flight on Qatar for a couple of months I, of course, went back to my old faithful choice. They do at least vary the contents from time to time though it always includes hummus. This has my favourite combination of hummus, tabbouleh and moutabel . I like the presentation in the little bowls and it comes with plenty of Arabic bread for dipping. It is a fairly substantial starter and would probably do for your starter and main if you weren't that hungry.
Due to my slightly errant gallbladder (which I will be pleased to say goodbye to shortly), I was looking for something that wasn't too high in fat so I chose the Arabic style prawns. Much as I like Middle Eastern food I wouldn't normally order this as I am not a huge fan of rice and I find it a bit dull. This dish was very tasty though with a rich slightly spicy tomato sauce, although there was a bit too much rice versus prawns and sauce which made it a little dry overall.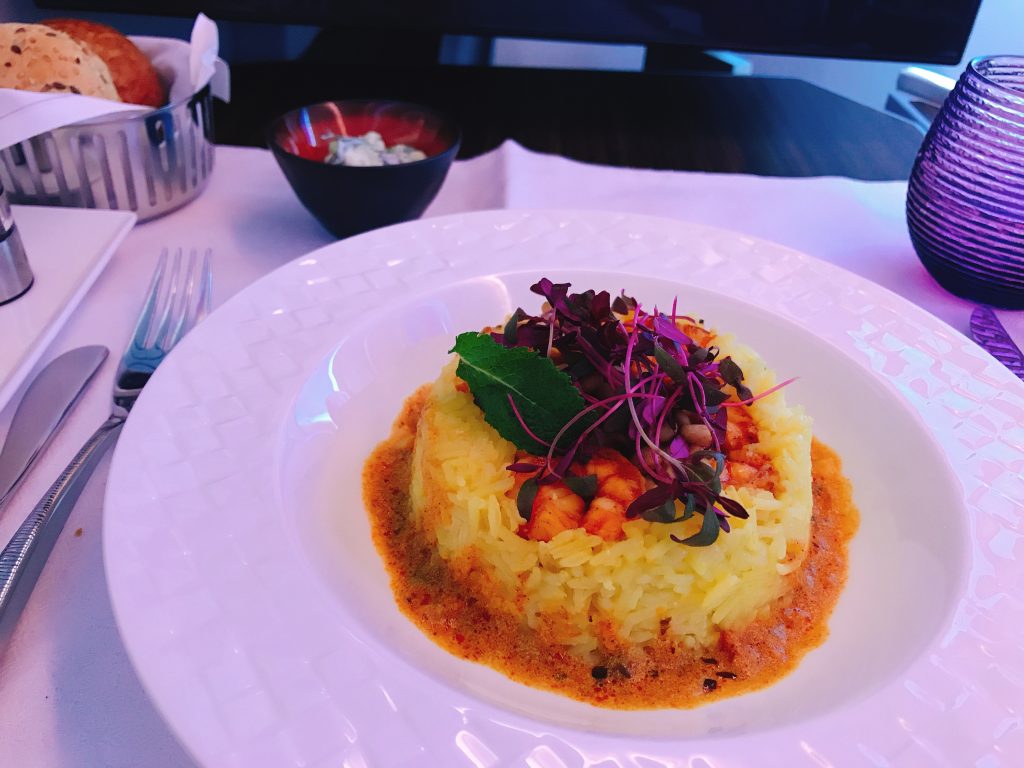 I tried a glass of the Pouilly Fuisse which had the slight butteriness I enjoy with a Chardonnay. I thought the wine selection was good on this flight with 3 red and 3 white wines. Had it been later in the day I may well have worked my way through a few of them. The only thing I wasn't keen on was the fact that the white Lanson Champagne was still on the list. However, given that they have now switched to Pommery, which in my view is worse, I should have been grateful for the Lanson!
I was quite full by now so I decided to go for a light dessert of the fruit with almond syrup. I am not totally sure to this day if it was almond flavour as it tasted more like rose water syrup to me but whatever it was, it was surprisingly delicious. Who knew that a simple bowl of berries could be made so tasty with a small amount of flavoured syrup on top? It's something I plan to try at home. I accompanied this with a glass of the Botrytis Semillon dessert wine which I enjoyed although it was a little intense and sweet to fully go with the dessert. I'm not sure if the cabin crew were just feeling generous or they don't know you are only meant to have a small glass of dessert wine but I got an enormous glass of it! (Not that I'm complaining of course.)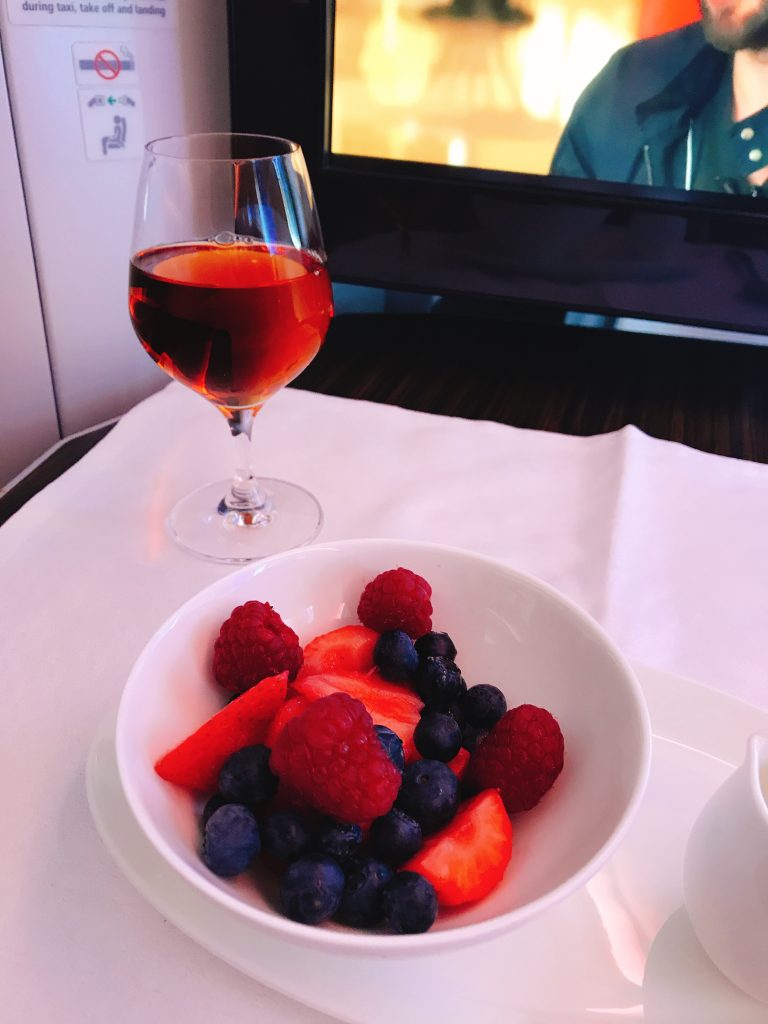 After dinner I had one of the Karak chai teas (can't remember which one – they are both delicious) which came with 2 packets of biscuits! To finish the meal I was given a hot towel and some Godiva chocolates. I think Qatar must serve the most hot towels of any airline but I do like having them, especially since they are made of good quality cotton.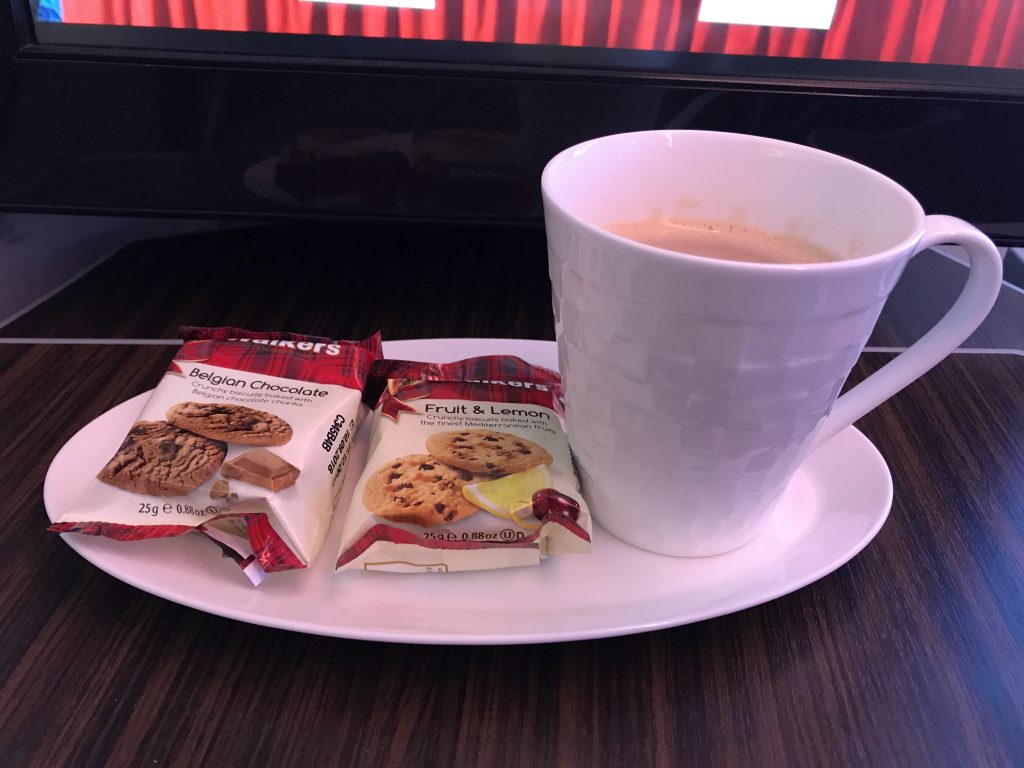 Entertainment and connectivity
Qatar had on board wi-fi as they do on all their flights. At the moment they still have the older original wi-fi which is fairly slow but they will soon be upgrading to the next generation of wi-fi which is fast enough to stream video. You get a small amount of data free (8mb) which is supposed to be enough for 30 minutes. It only lasted for about 10 minutes for me to post on social media.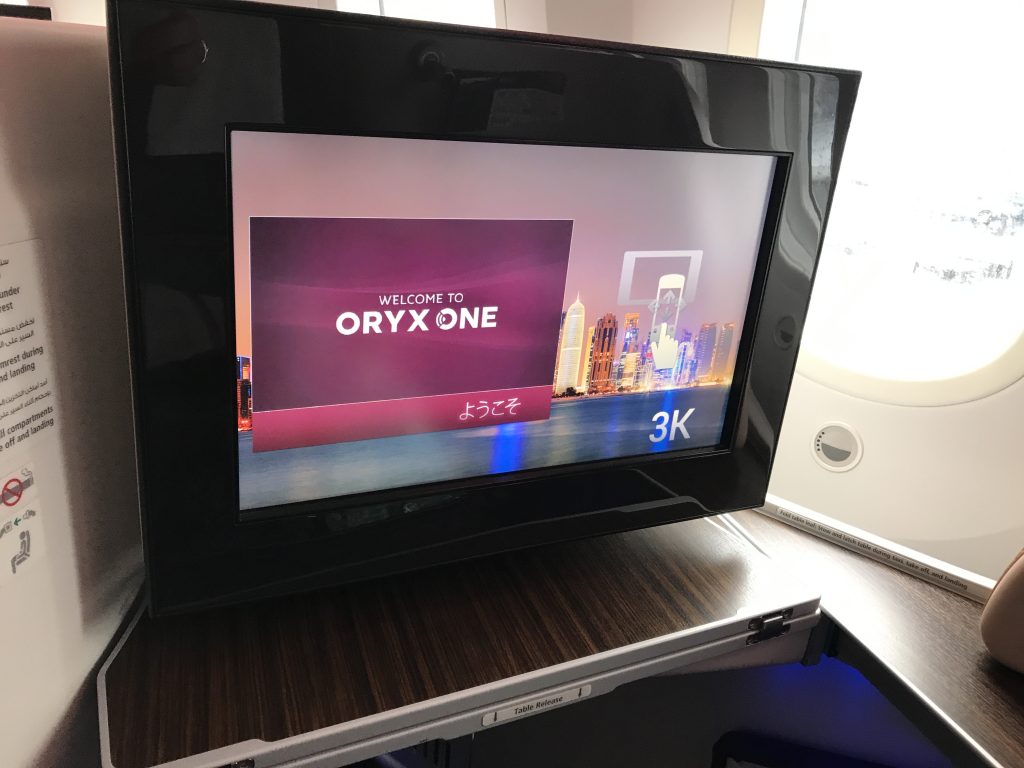 Noise cancelling headphones were provided which worked well and were fairly comfortable although obviously not at the standard of my Bose QC35! The entertainment system had a large screen with great definition along with a touchscreen handset. I found the handset a little temperamental as it wasn't always terribly responsive but I got there eventually. There was a good range of recent films as well as TV programs including episodes of shows that had not yet been shown in the UK.
Doha to Bangkok
I will shortly be writing a full review of the Doha Al Mourjan lounge as I spent a total of about 6 hours in it between my two journeys. As it was afternoon in Doha the lounge was blissfully quiet. I did some work in the business centre and then had a quick sandwich in the deli.
This flight was completely full in contrast to the previous one. I had the same seat 3K. For boarding I opted for Qatar's signature lime and mint drink which is very refreshing if you fancy something non-alcoholic (they also have this in some of their lounges too). On this flight we were given the old style amenity bags. I am not a big fan of these as they contain Armani Si perfume which if you don't like it are pretty useless. You do get a decent size body lotion and perfume but I don't really want to use heavily perfumed products on a flight. They do sell quite well on eBay though for around £8 per perfume or body lotion if you have a few bags lying around. I do like the bags they come in though which look very smart and are fairly flat making them handy for reusing. There was also a bottle of water already at the seat.
As this was an overnight flight into Bangkok arriving at 5am I decided that I would have a small meal at the start and then try to sleep until just before landing. To help send me off to sleep I started off with a glass of the 2010 Chateau Haut Condissas Medoc. This was definitely one of the best French reds I have drunk on Qatar. It was a complex and full bodied Bordeaux blend with plenty of black fruit flavours and a hint of spice. The wine list was the same as the previous flight.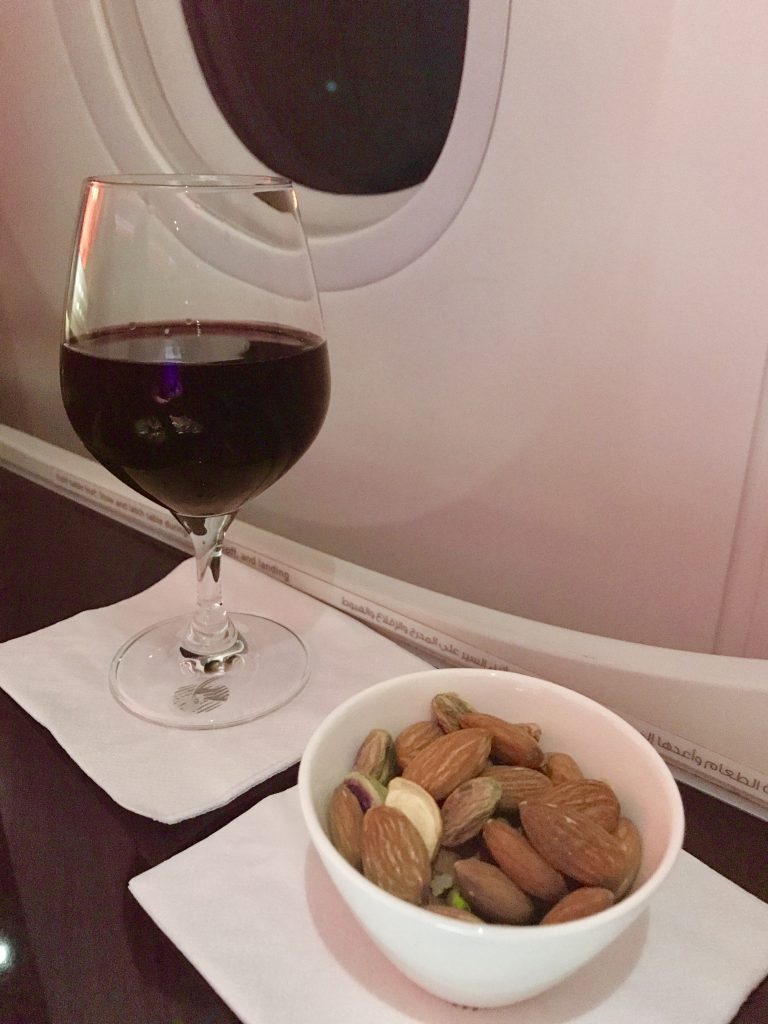 The menu had two sections with the main a la carte section and then a light breakfast choice too.
I had the amuse bouche which was an enjoyable piece of marinated fish with an Asian style dipping sauce.
I then went for the Red snapper with red curry sauce and noodles. This was very tasty with lots of the aromatic red curry sauce which had just the right balance of heat. After this I settled down to sleep immediately and managed to get a good few hours rest before having another Karak Chai before landing.
The service on this flight wasn't quite as good as the first one but obviously this was due to the difference in loads. However, it was still very good with the usual introduction from the cabin crew at the start of the flight plus the CSM. Interestingly I always used to get recognised as a oneworld emerald on Qatar a few years ago but this now seems to have stopped, perhaps because they greet every business class passenger anyway.
Conclusion
Putting aside the recent media storm around Qatar's CEO's comments at the IATA conference, Qatar are still an excellent airline at very reasonable prices if you buy during a sale. I thought the ground handling at Helsinki could have been better but other than the old amenity kit there was little I could fault on these flights. The food may not be overly exciting but it is nicely presented and tasty with lots of little extras that make all the difference.