Every November IAG, the parent company of BA, Iberia and Aer Lingus amongst others, gives a presentation for their shareholders. This is usually an excellent source of information about what BA and the airlines has planned for the future, as well as how it is performing now. Today was the Capital Markets Day for 2019. So what did we learn?
You can read last year's article here.
IAG brands – what they are trying to achieve & how are they doing

Alistair Hartley, the IAG Strategy Director, spoke about how they want to be clear on what they are offering to customers, rather than trying to be all things to all people (which BA has been guilty of in the past). While he recognised that a customer might want different products at different times, he felt it was important to categorise certain types of travel.

I'm not sure in my book the words 'frugal' and fun go together though… I wouldn't read anything into the lack of mention of First as I would assume that would be included in "classy business".
Over the last couple of years, BA have started their £6.5 million investment into improvements. This includes thing such as the new First service, the new Club World bedding, Club Suite and food, and improvements to food in premium and economy. So has it made any difference to customer's satisfaction?
It has definitely had an impact, but not so much in long haul business class. There were no specifics as to where the lack of satisfaction maybe, but I would guess that the Club World seats probably have a significant impact. The slide shows the improvement in points on customer satisfaction scores.
And yet despite the investments, BA have also managed to drive non-fuel costs down over the last few years, unlike Easyjet where costs have grown. Maybe it's all those £5 bottles of Villa Maria in First that have helped!!
There is also now a strong focus on technology and innovation. BA have had a terrible time of it in terms of technology with several major outages of FLY their departure control system and also a significant data breach. No wonder they are transforming their IT and innovation areas of the company. There is now a focus on getting innovation out to the customer as soon as possible as well as making sure they have more governance to prevent the previous issues.
Although different airlines within IAG have different technology, there were some interesting new tech ideas which hopefully make their way across all the brands:
Here is how they see technology helping the customer throughout their journey: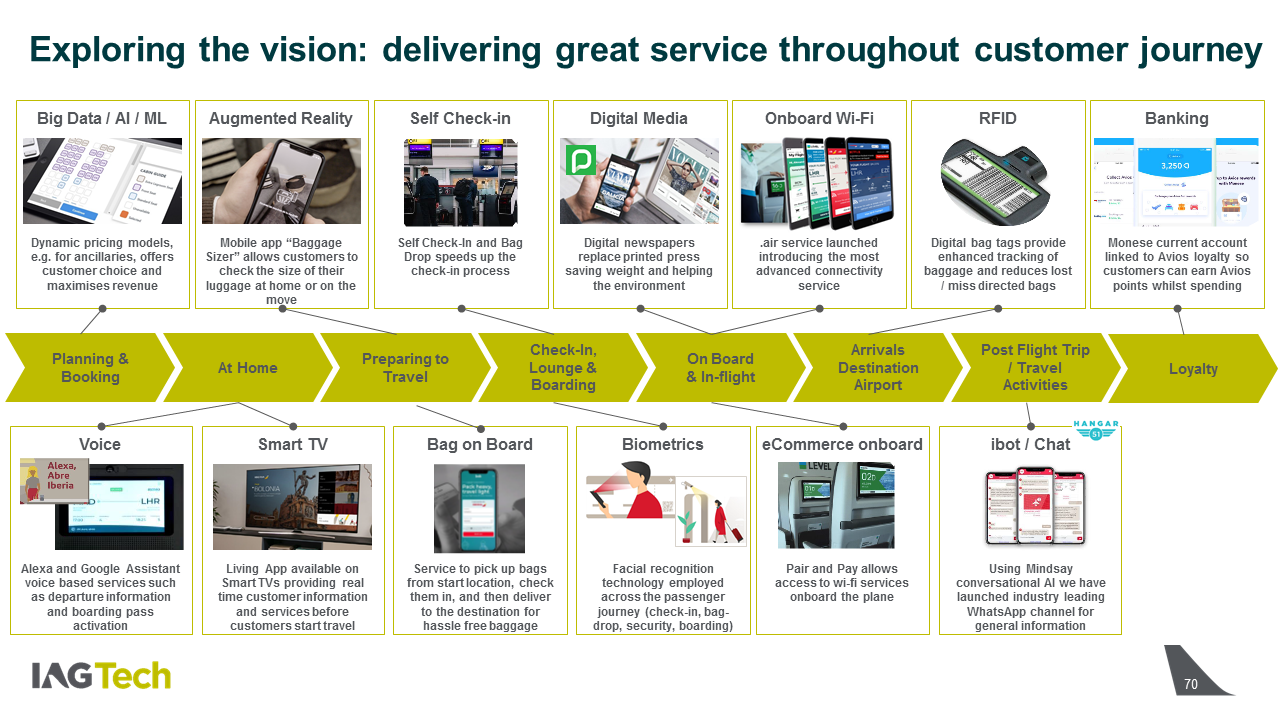 British Airways Executive Club, Loyalty and Avios
There was a comprehensive talk by Drew Crawley, CEO of Avios. It was stated that one of their main aims was
"Constantly improving our customer loyalty programmes, with major enhancements to come"
Hopefully, by enhancement, they don't mean making things worse as is sometimes the case!
The central theme was about bringing all the IAG loyalty programs onto one global platform with BA and Iberia joining Vueling and Aer Lingus on the existing Avios platform. I can only hope it does not use the current system for Avios as frankly at the moment it is shockingly bad. I hate dealing with Avios on the rare occasion I book through Avios.com rather than BA. Waits of 30-60 minutes on the phone. No way to cancel or change bookings online, BA not speaking to you about any bookings as it views Avios as a travel agent, being passed from pillar to post for a simple cancellation and so on!
It was good to see Drew acknowledge the benefits to the airlines of customers being a member of a loyalty scheme: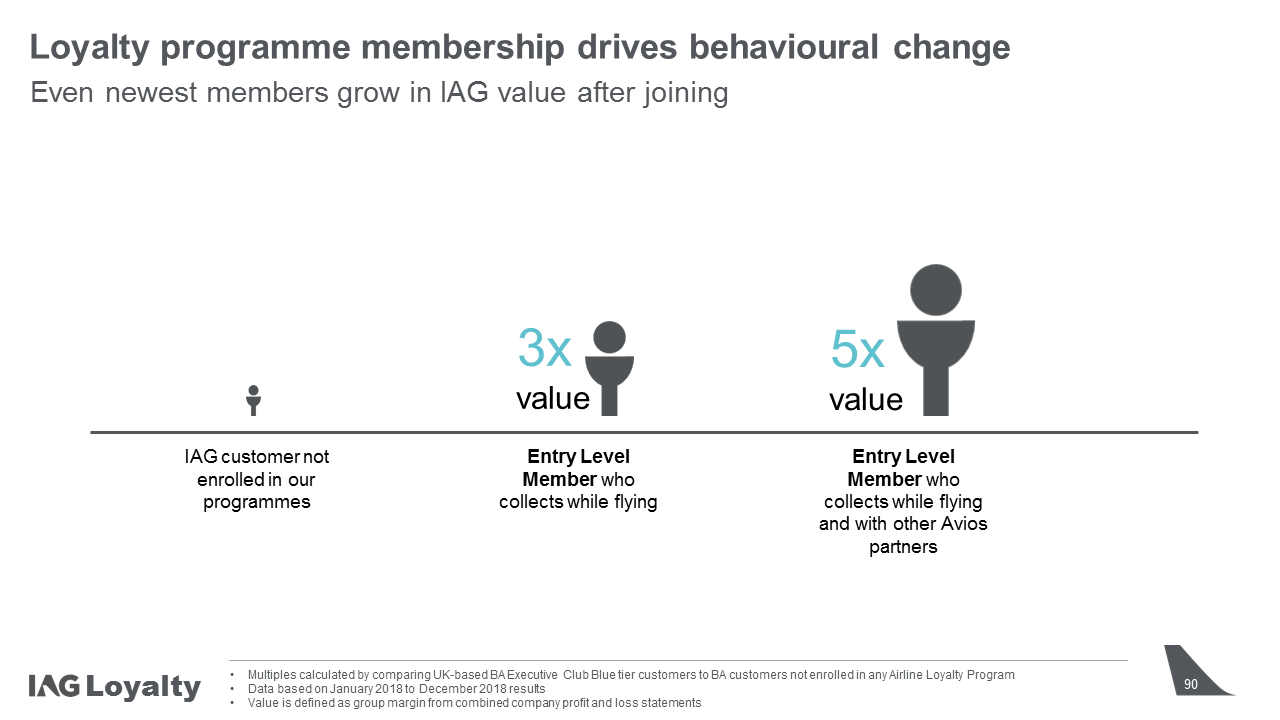 He talked about the desire to be more like a hotel loyalty scheme with around 50% of people flying with BA being a member. He also wanted it to be similar on that you can use Avios within any of the brands, for example paying for food onboard Vueling with BA Executive Club Avios.
Drew viewed Avios as driving cash into the IAG business through Avios. He felt that it was important that members can actually use their Avios, which I thought was an excellent point as it can be very tricky using your Avios if you are after something popular. Although they rely on a certain amount of Avios that won't ever get used, they want to make this more of the exception. They will do this by making Avios more useable and more personal and dynamic.
Alex Cruz has been talking about introducing dynamic pricing into BA Executive Club for some time, but apart from the odd trial, not a lot has happened. Drew did mention that it is important to have milestones still even if it is dynamic. This would suggest the model that has been previously talked about where there would still be a base number of Avios required to a specific route, but that as demand grew there could be more rewards available at higher prices.
Not surprisingly, it was revealed that the majority of Avios earning was not through flying. They will concentrate on getting more partnerships for Avios to earn and redeem with a focus on the new digital banking and credit cards. One area of focus was a whole banking proposition – such as earning Avios on switching your current account, through to mortgages and wealth management. They were also keen on getting new co-brand cards.
BA are using the Netflix algorithm to personalise Avios emails and suggestions to people. The new £1 starting price for return Reward Flight Saver has been very popular, despite not being such great value for your Avios. The idea is to offer people a complete package on Avios with just a 50p cash for everything one way, such as this example: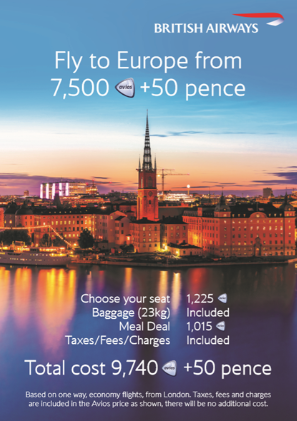 British Airways fleet – new aircraft and retirements
There was little news of note in the fleet plans for BA and IAG. BA sadly still plans to retire the B747 by 2024 although they will do this at a slightly different rate than previously thought. Iberia's A340s will be going, which is good news, and the BA B777-200s will start being retired from next year. IAG confirmed it still plans to place an order for the B737MAX for BA at Gatwick in the future. I'm guessing they can negotiate a great deal at the moment!
For short-haul, they will start replacing the London City Embraer fleet from next year. They also spoke about the likelihood of speeding up the retirement of 62 aircraft to be more sustainable and to reduce costs.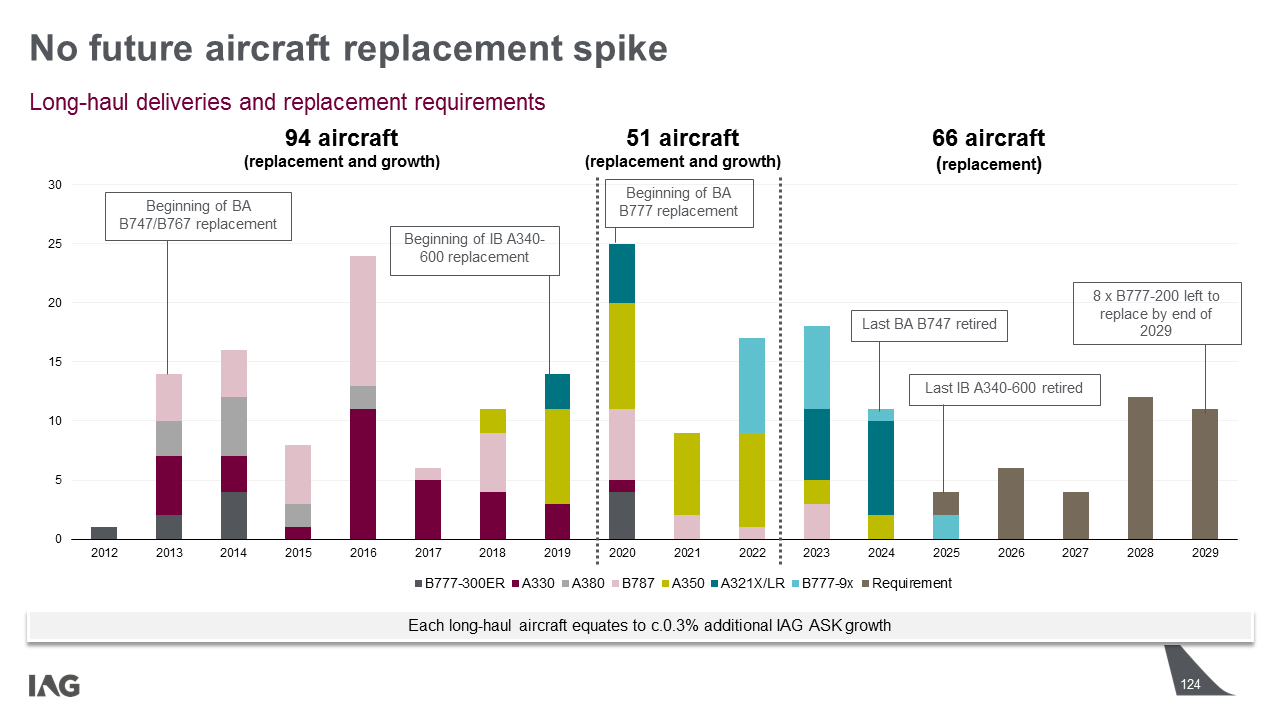 British Airways Club Suite roll-out – what are the timescales?
Probably one of the most critical parts of the presentation other than loyalty and Avios is how quickly they will be able to guarantee to get a new Club Suite in business class. BA's current Club World is very dated without aisle access for many seats as well as lacking in privacy and storage. BA have always been clear that this will take a long time to roll out across the entire fleet, but by the end of 2021, they will be 50% through the Heathrow rollout and 80% by 2022. In 202 with all aircraft at Heathrow being equipped by 2025 – that's quite a wait! The board are keen for the rollout to be quicker, but with 7000 seats, it is a challenge to get the seats any quicker from the manufacturers.
It was also interesting to learn that despite going from 2-4-2 to 1-2-1 layout in Club, that there hasn't been any density lost on some aircraft types. That bodes well for keeping pricing similar!
You can see that for the B777-200, density actually goes up with more seats after the Club Suite is installed: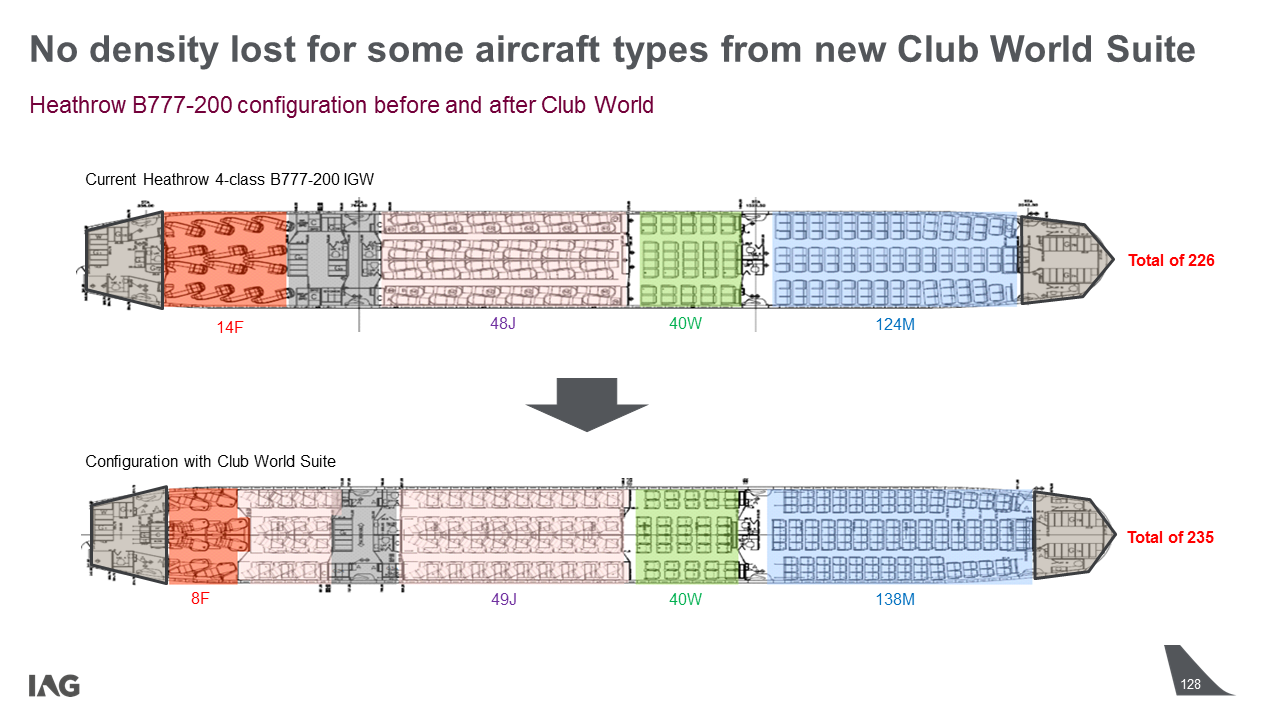 This chart shows the timescales for Heathrow aircraft to get the Club Suite: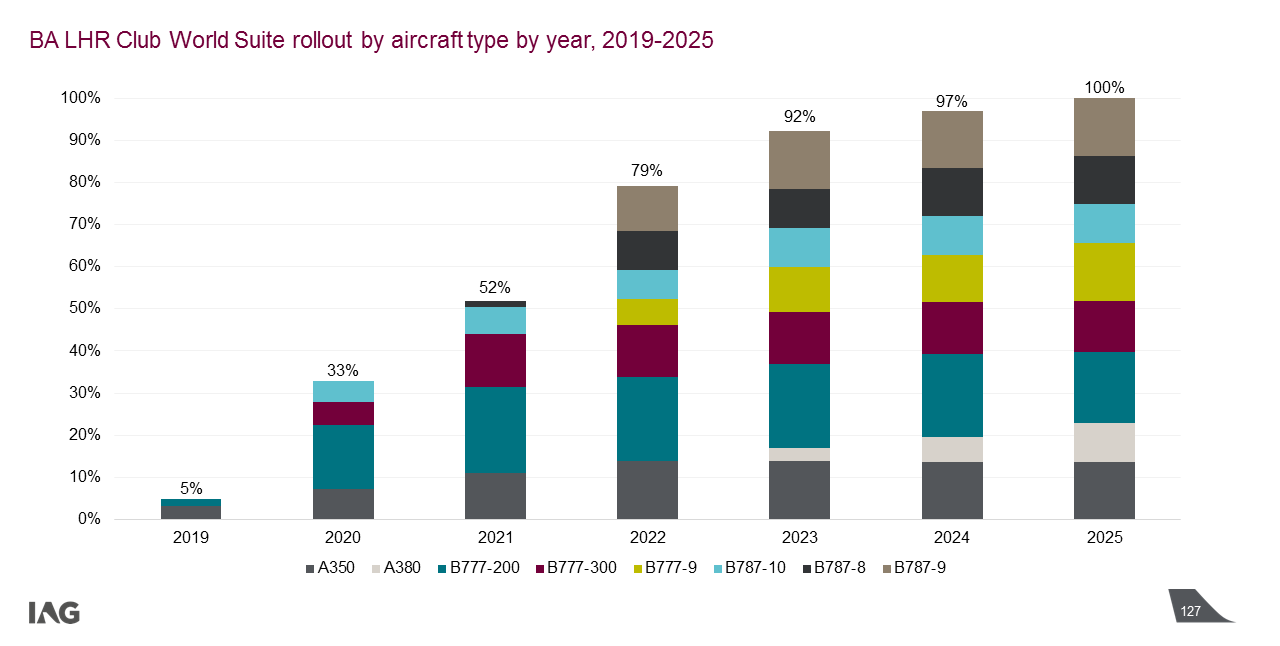 The Club Suite will, of course, be fitted to the new long haul aircraft:
18 A350-1000 aircraft,
4 new B777-300 (which may include the new First seat next year based on the B787 First seats)
10 B787-10 aircraft – 6 delivered in 2020
18 B777-9 aircraft – 8 delivered in 2022
For existing aircraft, the priority is to retrofit the B777-200 in the next 2 years, as these are in desperate need of refurbishment. Next will be the B777-300 followed by the B787s. I was surprised to see that they plan to retrofit the A380s from 2023 as many airlines are now retiring these, although Alex had previously confirmed plans to keep them.
British Airways pilot's strikes

Finally, Alex Cruz confirmed that progress had been made in negotiations with BALPA and he expects an agreement to be reached before Christmas.
What do you think of the announcements from British Airways? Let us know in the comments below or on social media.