If you are travelling economy and don't have access to your airline's lounge, you may want to try a paid lounge. With some of the deals and offers available, these can be well worth the money spent. The lounges provide some peace and quiet to relax in before you flight as well as free food and drinks.
LoungeBuddy and ways to get access to No 1 Lounge
In this article I looked at the ways to get reduced price access to lounges. On this occasion I was flying from Gatwick North on easyJet (review here) and booked the No 1 Lounge via the LoungeBuddy app. LoungeBuddy is an app for Android and IOS which is very useful.
Even if you don't use it to buy access, it is a handy app for the frequent traveller. You can link it with your Tripit or Concur accounts and it will then add trips to the LoungeBuddy app. You can add additional information such your Elite status in airlines, credit cards and any memberships such as Priority Pass. Once you are ready to use a lounge, it will tell you which lounges you can access in your location or intended location. It is probably the quickest way to find a lounge. If youhave Tripit Pro you also get a one time $25 voucher to spend on LoungeBuddy.
You can also book direct with No 1 Lounges via this page.
How to guarantee entry for Priority Pass & Lounge Club

The review nearly didn't happen at all as when my husband approached the check in desk with his Gold Amex free Lounge Pass he was told they were full! Fortunately I had booked my access via LoungeBuddy, so they let both of us in. According to several readers who commented, this is a common problem during the morning at many UK lounges that take Lounge Club and Priority Pass. No 1 have now introduced a way to book your entry with Priority Pass and Lounge Club.
You visit the No 1 lounge reservation portal to book and they will charge you a £5 fee. The fee is per per person but does include Premium Security at Gatwick.  When you arrive at the lounge, show your confirmation number and present your card as usual. Although it is a bit cheeky to charge, it is not a bad offer if you got your Priority Pass free anyway.
Your reservation will be valid from three hours prior to your departure and your card must be presented on arrival. The reservation guarantees you can use your membership card when accessing the lounge and your card will be swiped as usual, and you will be charged in line with your membership.
No 1 Lounge Gatwick North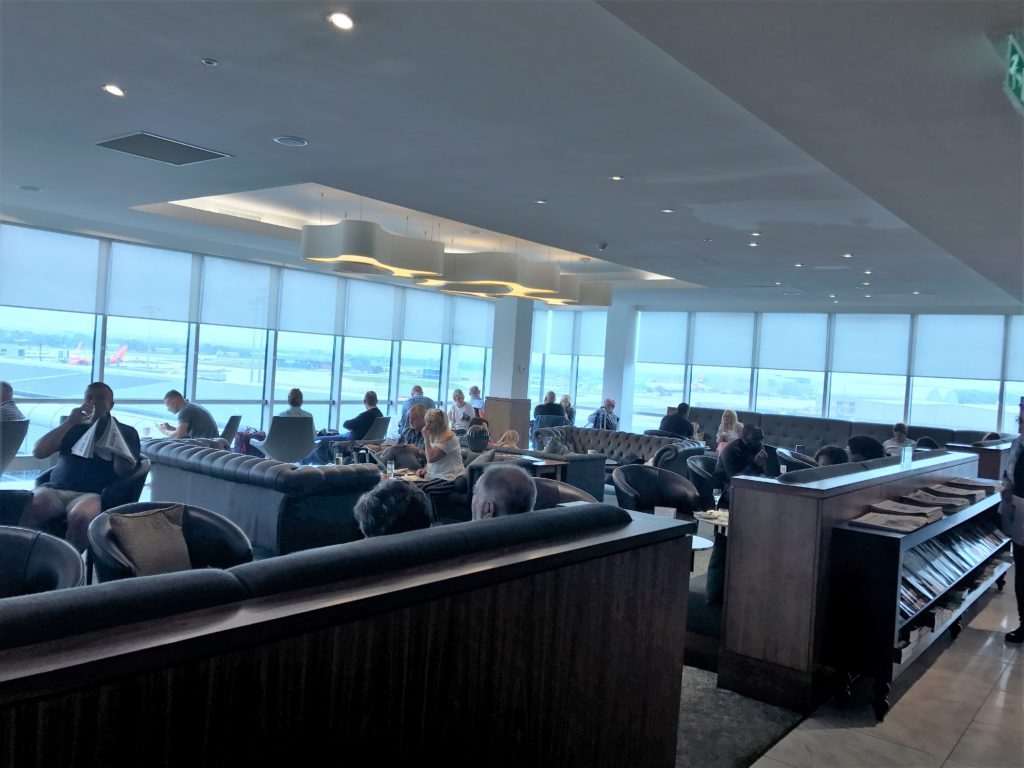 The No 1 lounge is open 4:00am to 10:00pm daily. Once we had entered the Lounge, I was surprised to see that it wasn't actually that busy. The main part of the lounge was fairly crowded but the dining and Library areas were very quiet.
Food
Our first thought was to get breakfast so we headed over to the dining area. There are plenty of tables and chairs as well as bar seating.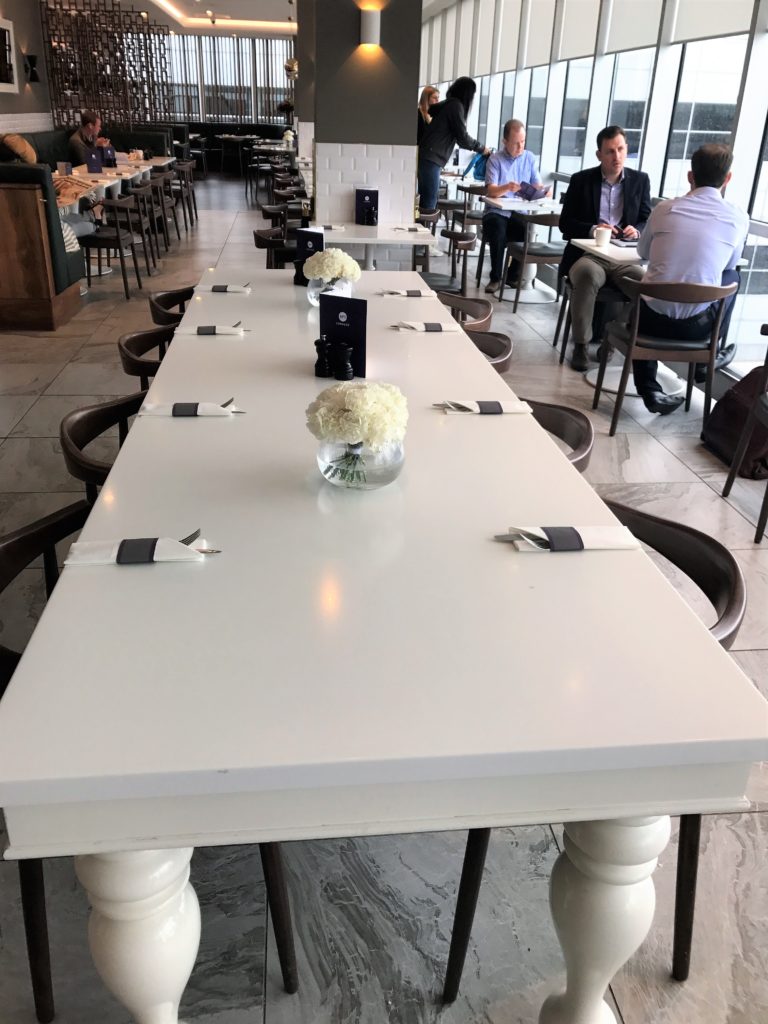 I liked the fact that there was a small buffet if you were in a hurry but a menu if you had more time.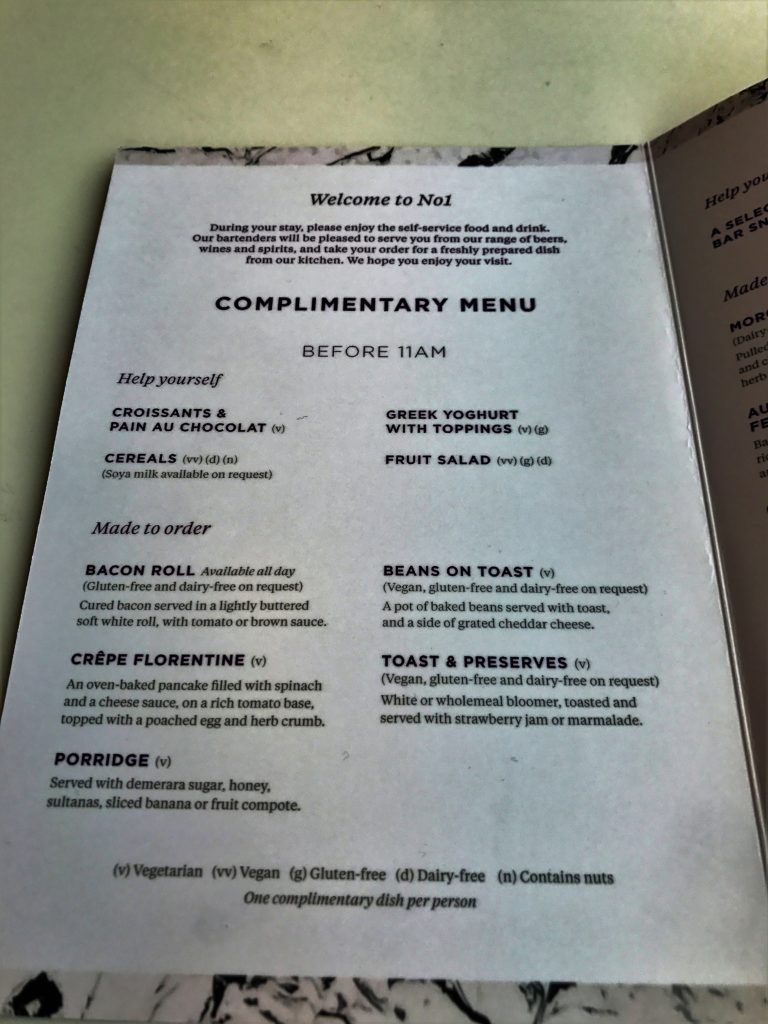 As we had plenty of time we decided to have something from the menu. I ordered the bacon roll and my husband had the porridge. The bacon roll was very tasty and definitely superior to the BA lounge rolls, which I really don't like. It could have done with a bit more sauce but other than that, it was good. My husband found the porridge a little too sweet for his liking but otherwise enjoyable.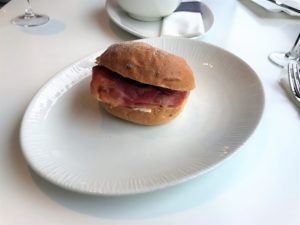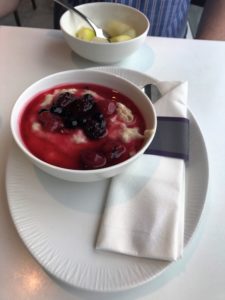 We also had a look at what was on offer in the buffet. There was a selection of cheese and biscuits, fruit salad, fresh fruit yoghurt and cereals. On the side was a good bean to cup coffee machine and a selection of pastries and muffins. The food was all decent quality and I enjoyed the croissant I had.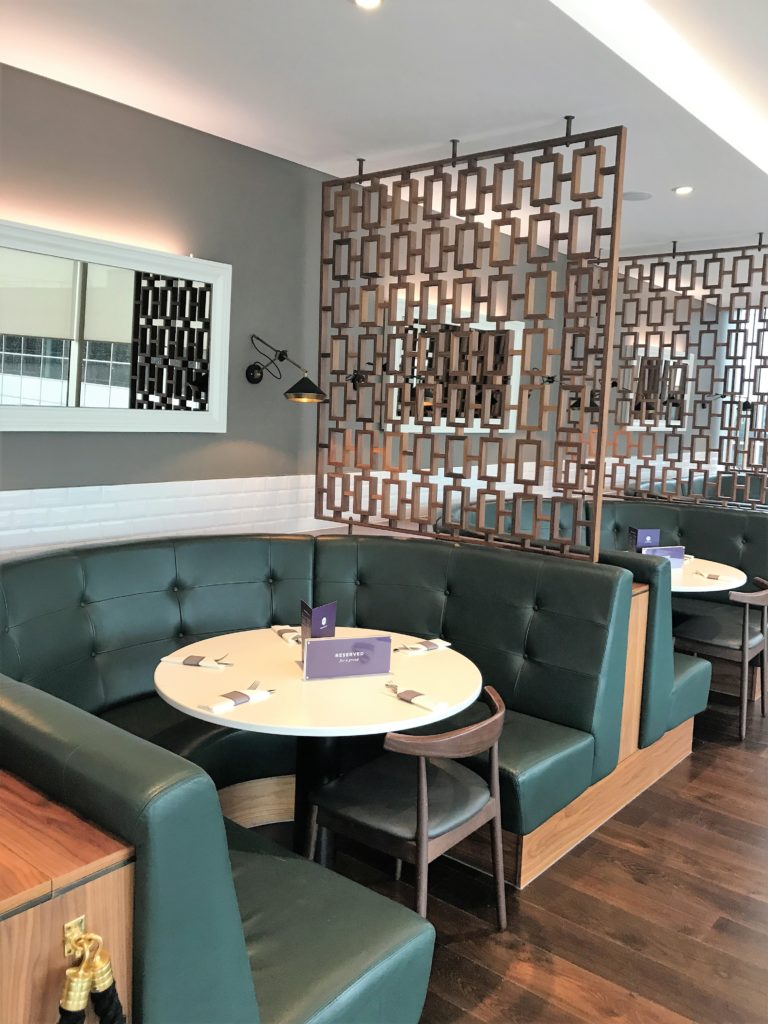 At around 11am they cleared away the breakfast buffet and replaced it with a snack selection. This was mainly nuts and some olives. The all day menu also comes in at this time but you can order a bacon roll at any time of day. On the all day dining menu was a fish finger sandwich, a salmon salad and a Greek salad flatbread along with several other tasty sounding dishes. In my experience the portions of these are normally a bit on the small side but they taste good.
Drinks
As well as tea and coffee there was a soda fountain with the usual fizzy drinks as well as water on tap and juices. Alcohol had to be ordered from the bar. They had a good selection of spirits including Absolut Vodka and Bombay Sapphire Gin as well as wines to choose from. If you wanted to splash out, you could buy a Kir Royale or a glass of champagne for £6 which is very reasonable. They also sold champagne by the half and full bottle.
Sparkling wine
Di Maria Prosecco
White wines
Luccello Pinot Grigio
Tariquet Classic White
Red wines
Real Rubio Rioja
La Serre du Haut Red
Rose wine
Rivertone Tannat/Cabernet Sauvignon Rose
Beer
Draught
Chapel Down Curious Brew
Estrella
Meantime London Pale Ale
Bottles
Non-alcoholic beer available on request
Cider
Stowford Press (draught)
Seating and other amenities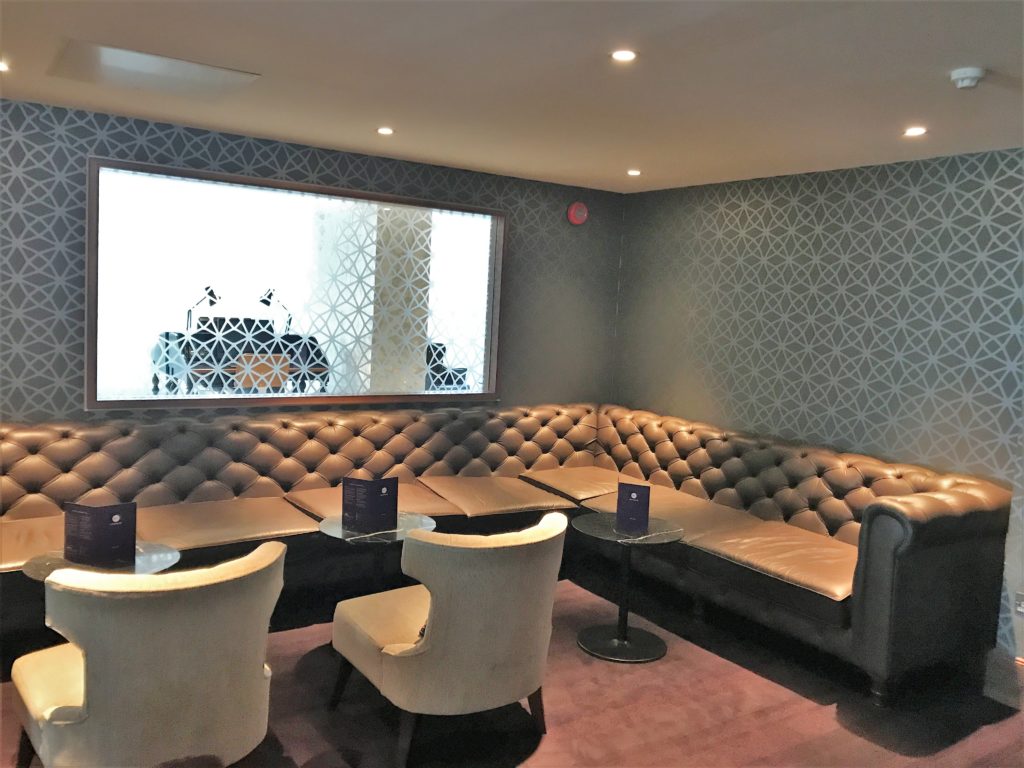 If you wanted to sit somewhere quiet, the Library is for adults only which is a good idea. When I walked through it was almost empty. I liked the design of the lounge which was modern and had quirky little features like the bowler hat lights.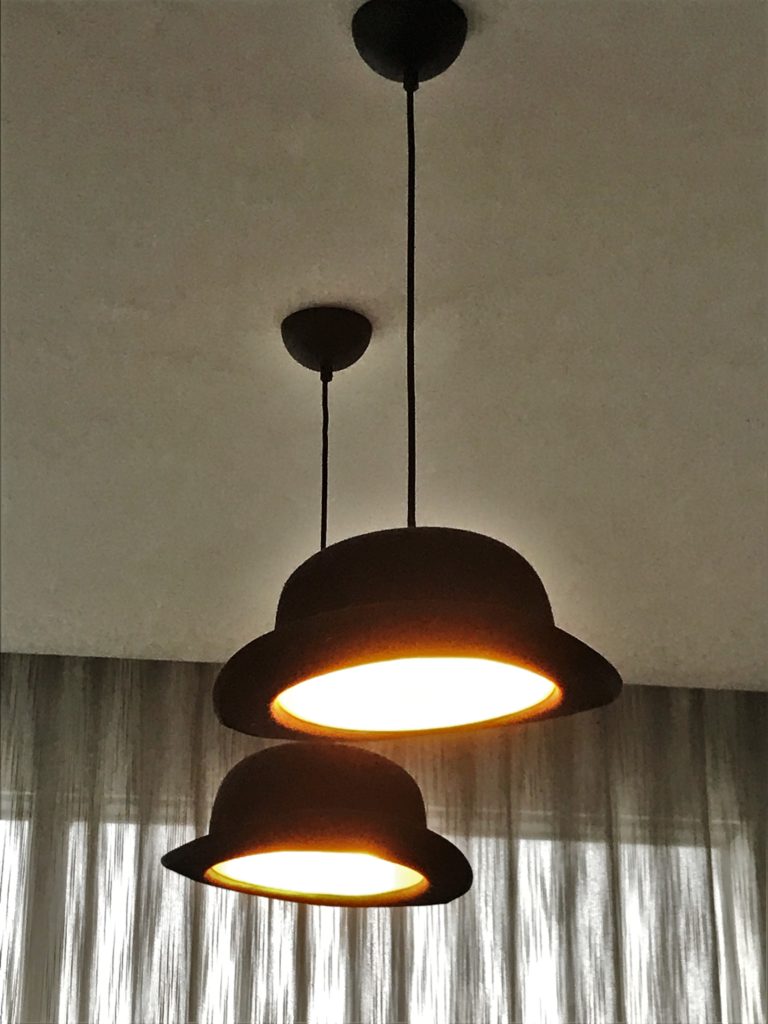 If you wanted to work there was a quiet area with a row of computers. There were plenty of plugs, newspapers and magazines as children's packs, and unlimited WiFi. I also liked the toilets which were clean and modern with L'Occitane toiletries.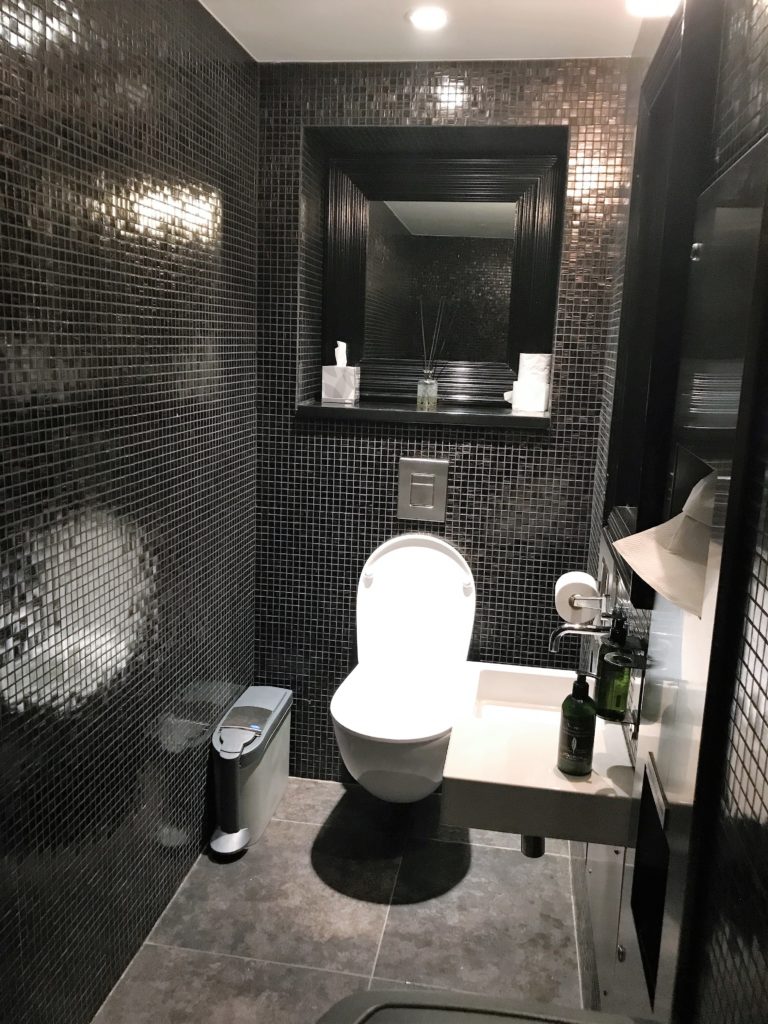 Conclusion
This is a good, solid lounge and in fact, in the morning if you have BA status as well as Priority Pass, you may actually prefer this lounge. The BA Club lounge is very crowded prior to 7am when the First lounge opens. The food was definitely better here and the drink selections comparable. The lounge is stylish and there are quiet corners if you want some peace or to work undisturbed.