Located opposite the Royal Ontario Museum, the Park Hyatt Toronto went through an extensive modernisation through the pandemic with a new design style. While I was in the city, following my trip on Air Transat, Park Hyatt Toronto invited TLFL to tour their property and sample their restaurant Joni. Here's what you can expect.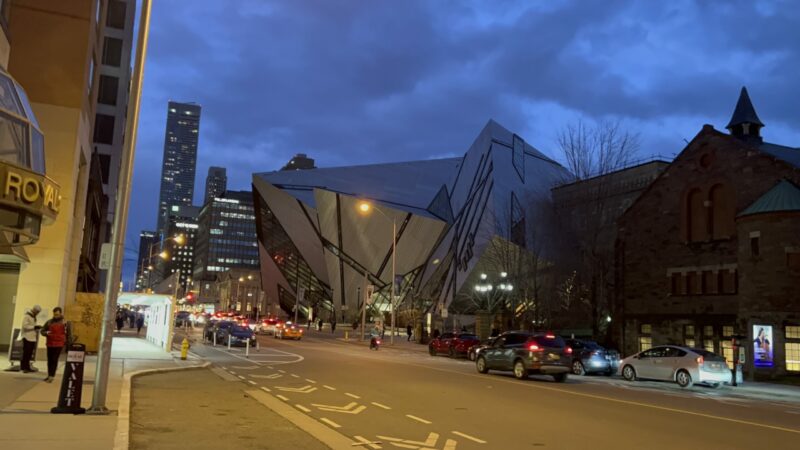 The exterior is a clean grey colour scheme with a stylish light design on the ceiling.
Immediately after the entrance is an impressive piece of art which fools a visitor into thinking it is a painting when in fact it is a tapestry. Park Hyatt Toronto uses unique pieces of Canadian artwork throughout the property to give a local influence to its design.
In it's refreshed design, the property have opted for a lighter colour scheme than older Park Hyatt hotels in other cities. The reception has been configured to be a relaxed style that feels more like a living room than a place to check in for your stay.
A hotel representative then took me for a tour of their One Bedroom Deluxe Corner Suite on the 14th floor. Immediately after entering the room there is a small kitchen area that features a fridge, sink and dishwasher.
A powder room can be found next door.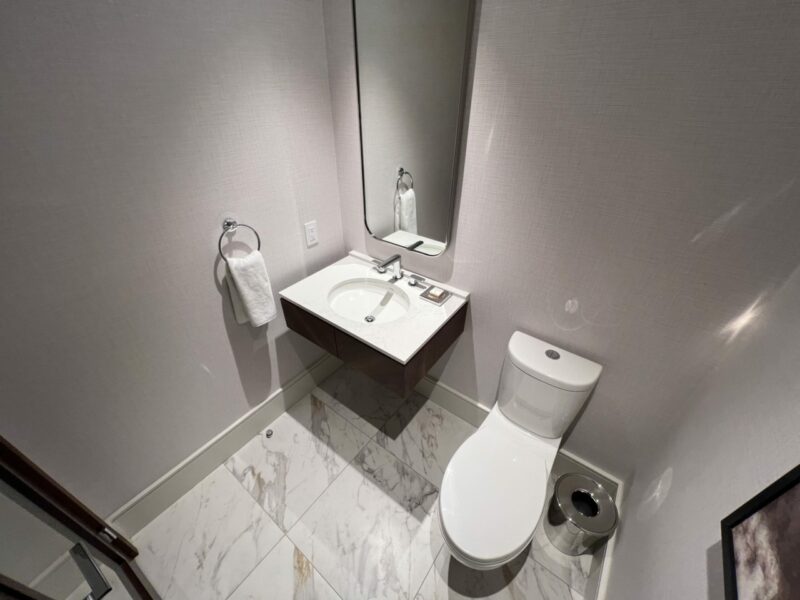 Both a kettle and Nespresso machine is installed in the kitchen with an extensive selection of pods, tea bags as well as loose tea. The property have worked with Sloane Tea to create their own flavour of tea, which I didn't manage to try.
Separate to this is a selection of mini bar items which are available extra cost to guests.
Which leads us onto the combined living and working area of the suite. A sizeable space, this feels like a space you could spend an extensive amount of time to relax in front of the large television as well as splitting off from the bedroom.
My only issue with this design is the living area looks directly onto the desk space. Personally, I would rather this be a space that can be separated off with a curtain to feel like the working space is blocked off. The desk itself is huge and the chair looks like it would be suitable to spend extended time working from. It was noted that the hotel has two different providers for their internet to ensure there is always high speed connectivity, which should make this a good location to stay connected at.
Into the bedroom and there is decent zoning of the room thanks to two large wardrobes – which is easily bigger than the space I have at home. The usual equipment, including iron and ironing board, can be found inside
A makeup area with excellent lighting is available for guests which I'm sure many readers could make good use of.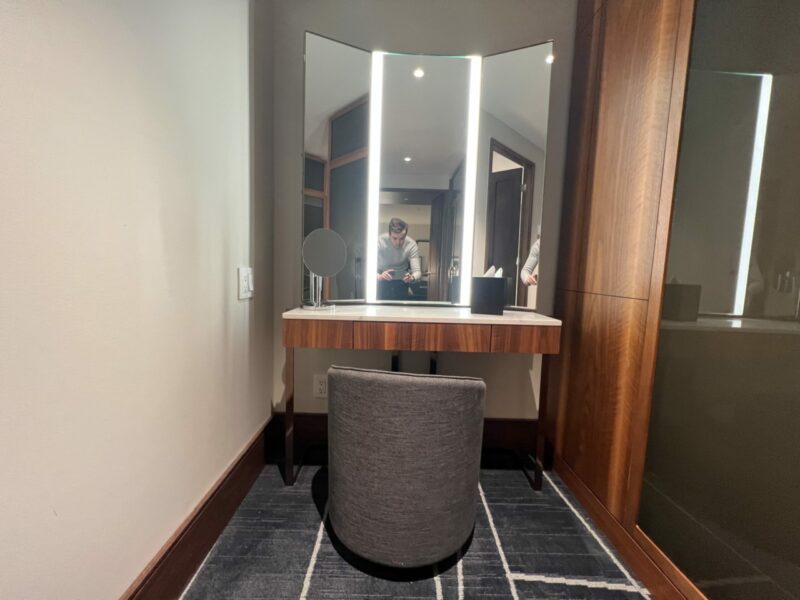 The bed space looked very comfortable and relaxing with suitable lighting for the night. This area also features a television as well as suitable power outlets and USB ports on both sides of the bed to top up your charge overnight.
Double sinks, a freestanding bath and large shower complete the marble-clad bathroom with feels bright and spacious. The hotel uses the excellent Le Labo amenities in large pump bottles for the cleanser, shampoo and conditioner.
After the room tour, we headed down to Joni. This is a new feature of the hotel designed to showcase the best of Ontario and Canadian cuisine with locally sourced ingredient. During the renovations, the hotel moved the ballroom space up several floors which opened up this space for a new premium food outlet.
The space that Joni have created is truly stunning – and surprisingly the high ceilings do not suck the atmosphere out of the space.
My visit consisted of a beautiful tasting menu which consisted of nine courses – each with matching international wines.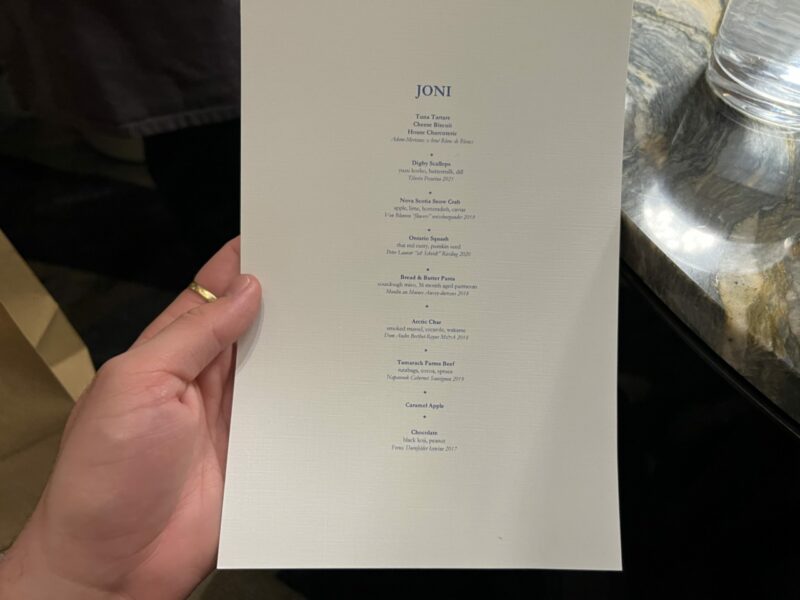 I am not adept with the vocabulary to describe food in an interesting and engaging manner… but I can tell you that each and every course of this menu was presented beautifully and tasted excellent. While the portions look small, I was completely full by the end of the night due to the sheer volume of courses.
One particularly memorable dish was the Bread and Butter Pasta which I wasn't quite sure what to expect. If anything, I was anticipating a dessert (with context, it was a blind menu, so I didn't know what was coming). However, it was full of flavour with a salty but simultaneously sweet flavour.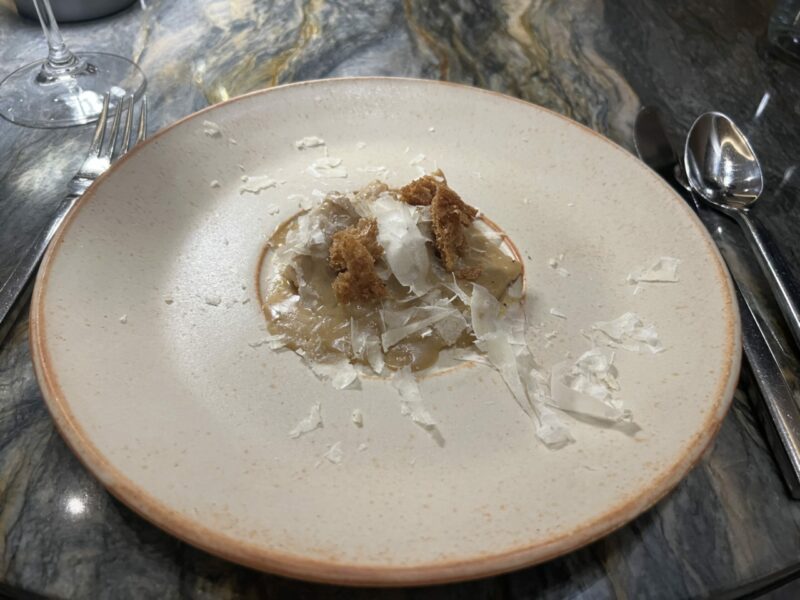 Meanwhile the remainder of the menu was similarly exceptional, including the fresh Arctic Char which I'd never tried before, as well as the succulent beef from Tamarack Farms.
And no tasting menu would be complete without the dessert. An excellent choice of Caramel Apple which, somehow, wasn't overtly sweet – which is a plus in my books.
Before the night finished with a cocktail at The Writers Room bar on the top floor of the hotel. The Park Hyatt has a unique vantage point in Toronto that looks towards the skyline, such as the CN Tower, but will never have a high rise directly in front of it thanks to the protection of the Queen's Park nearby.
While I can't comment on how a hotel overnight stay would be, from the surface the Park Hyatt is a premium experience that will suit both leisure and business travellers. Even if you're not staying, Joni is certainly a culinary experience that should be on the food map of Toronto.
Prices at the property generally vary over £400 per night while the Joni tasting menu is available for CAD 120 per person in addition to CAD 65 for paired wines per person (excluding taxes).
You can get special perks for free and still earn your World of Hyatt points by booking through a Hyatt Prive agent such as our partners GTC.
Perks for Hyatt hotels include:
Early check-in priority, based on availability
Room upgrade priority on availability (excludes non-suites to suites)
Daily full breakfast credit for two
Connecting room priority, based on availability
Welcome amenity – $50 – $100 property credit (valid for certain incidentals)
Late check-out priority, subject to availability
Like our quick mini review of Park Hyatt and Joni restaurant? You can read more hotel reviews here.