A review of Mövenpick Al Marjan Island 5* resort in Ras Al Khaimah. If you missed my previous post about why I loved Ras Al Khaimah on my first visit last month, you may want to read more about the destination in this article.
When I was first offered the stay as part of my press trip with the Ras Al Khaimah tourist board, I was unsure as a lot of Mövenpick's are mid-range city hotels. Then I took a look at the photos of the hotel and realised it was in a whole different league as a 5* resort. If you collect Accor points, you will be pleased to know that Movenpick is part of Accor. The Mövenpick Al Marjan Island 5* resort is very new, having only opened in the autumn of 2022.
Location
Al Marjan Island is a fairly new manmade island in Ras Al Khaimah. It's nowhere near the size of the Dubai Palm, so it is pretty quick to get on and off the island.
Most people get a taxi or drive from Dubai airport, which takes around 1 hour. However, Qatar Airways will resume flying to Ras Al Khaimah from 1 November 2023. Ras Al Khaimah is around 30 minutes away.
Check-in at Mövenpick Al Marjan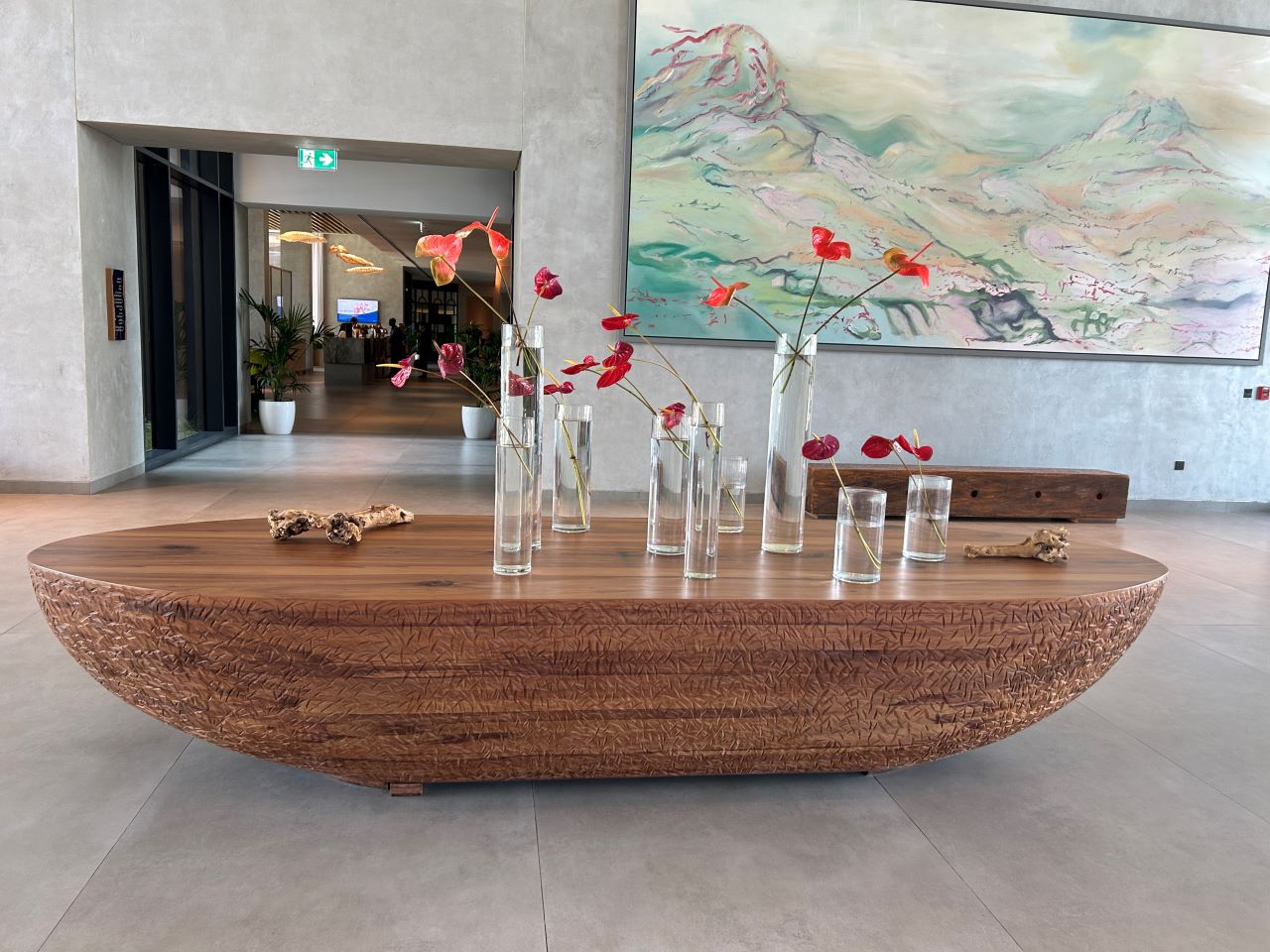 The entrance to the resort is quite grand with its artwork and architectural centrepiece table.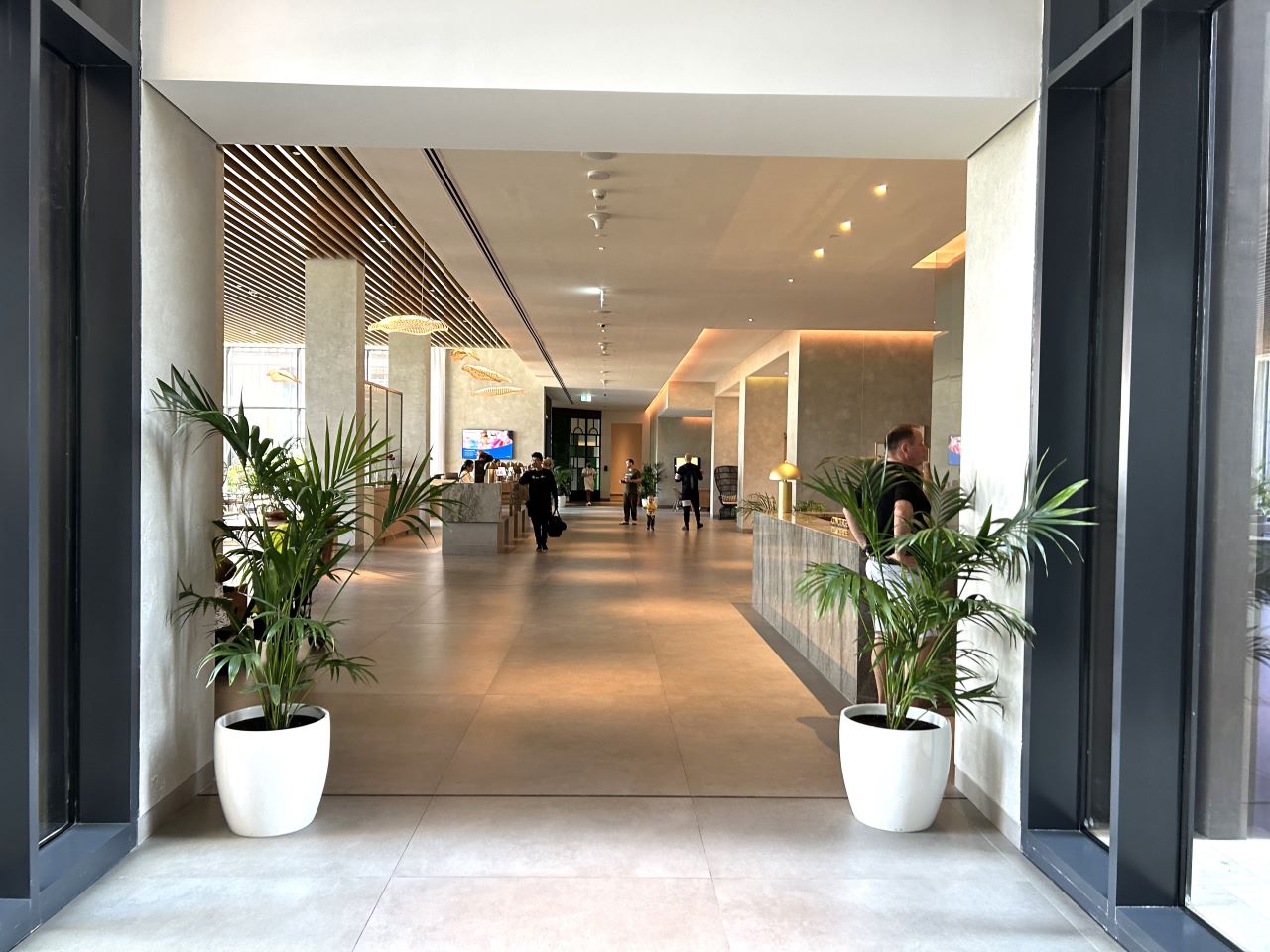 The hotel was pretty much full during my stay, but I never had to wait more than a few moments to get help as they appeared well-staffed. I was checked in and welcomed to the hotel with a drink. I was given a map to explain where everything was since the resort is quite well spread out.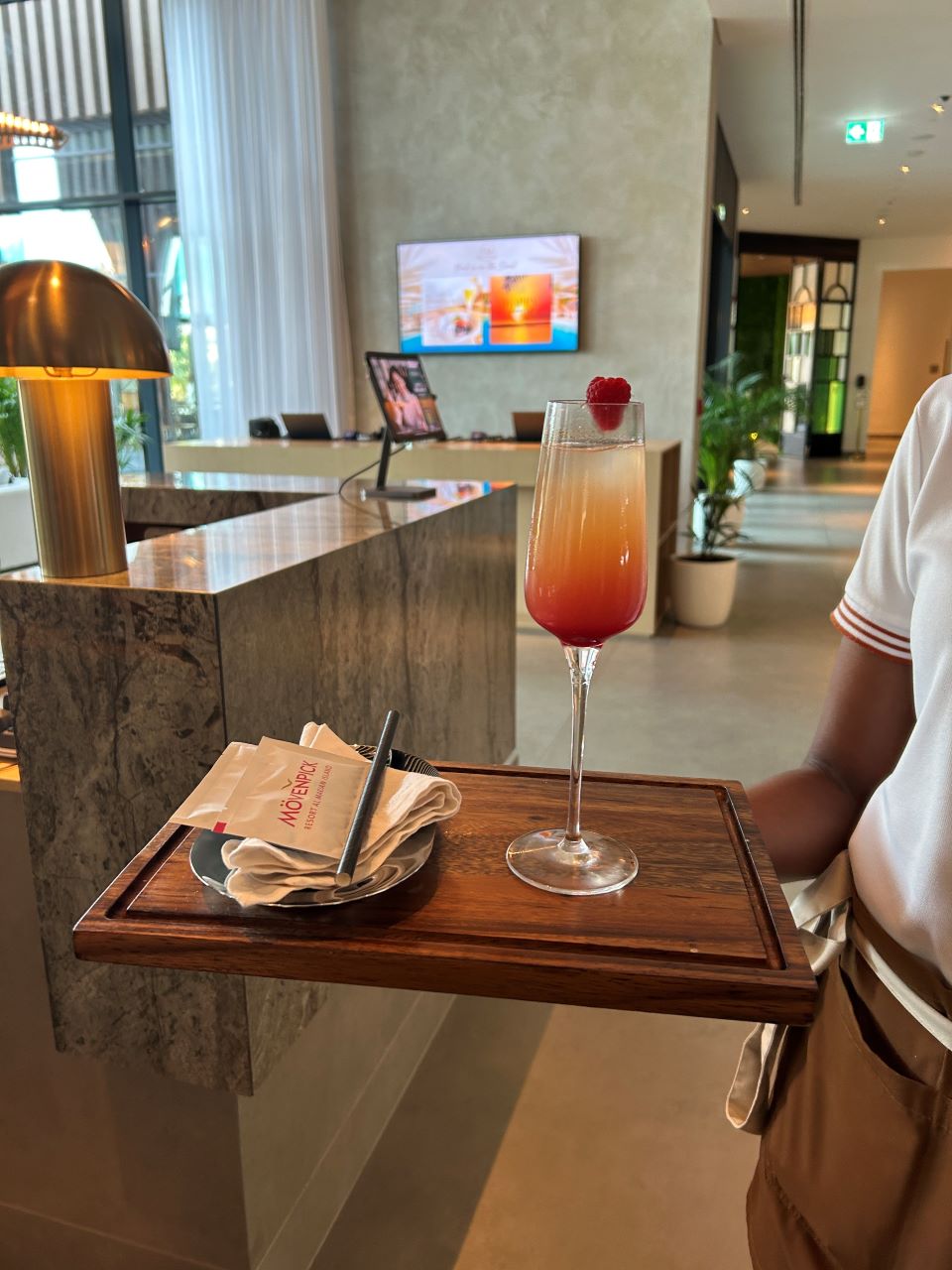 I was staying in one of the Al Marjan beachfront suites, which come with a private pool. These are a little distance from reception so if you don't want to walk, they will run you round in a buggy.
The room – Beachfront Suite with private pool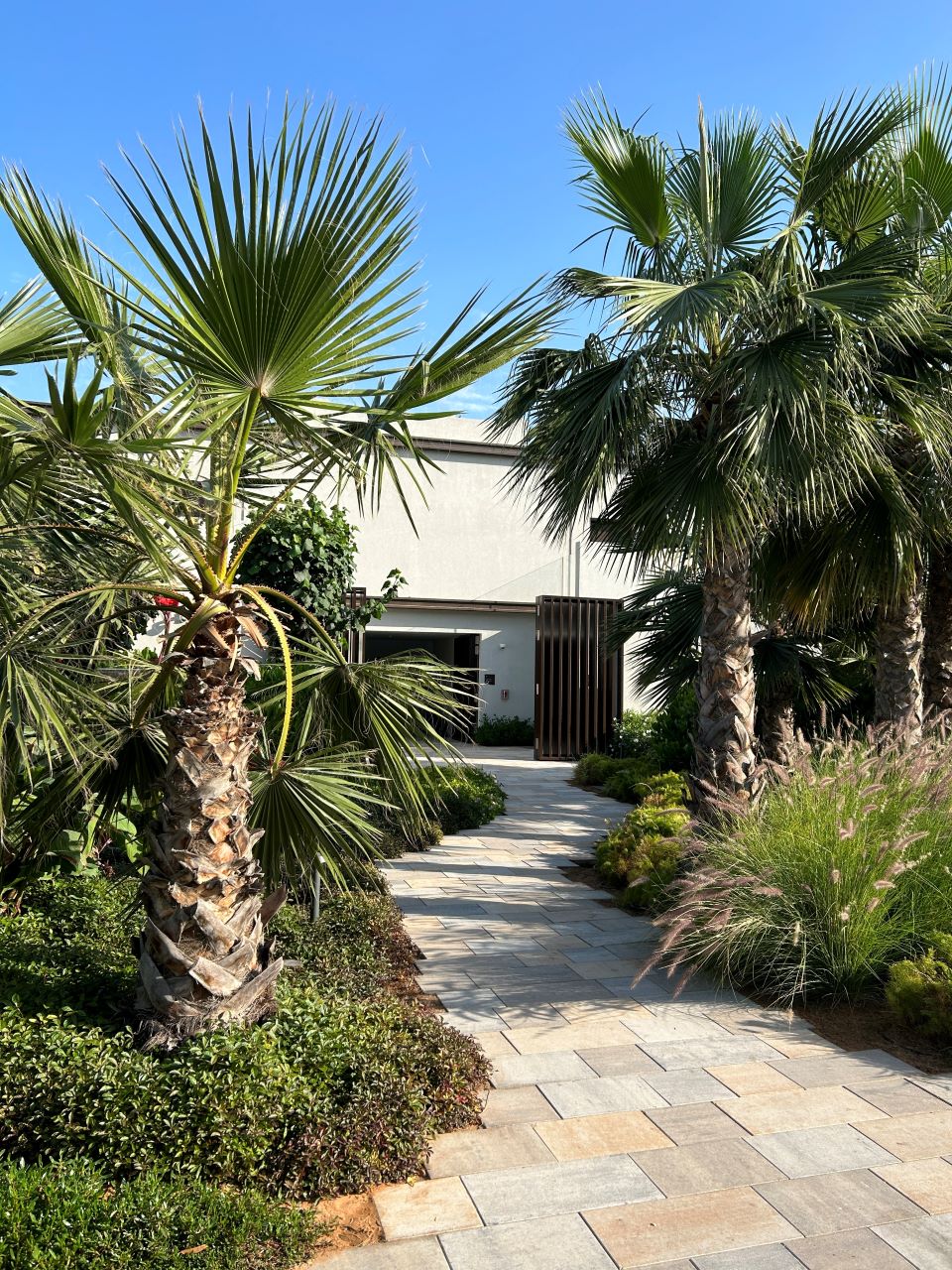 The suites are very private but have their own access to the beach. There are also junior suites above these that have a lovely large terrace with views of the beach.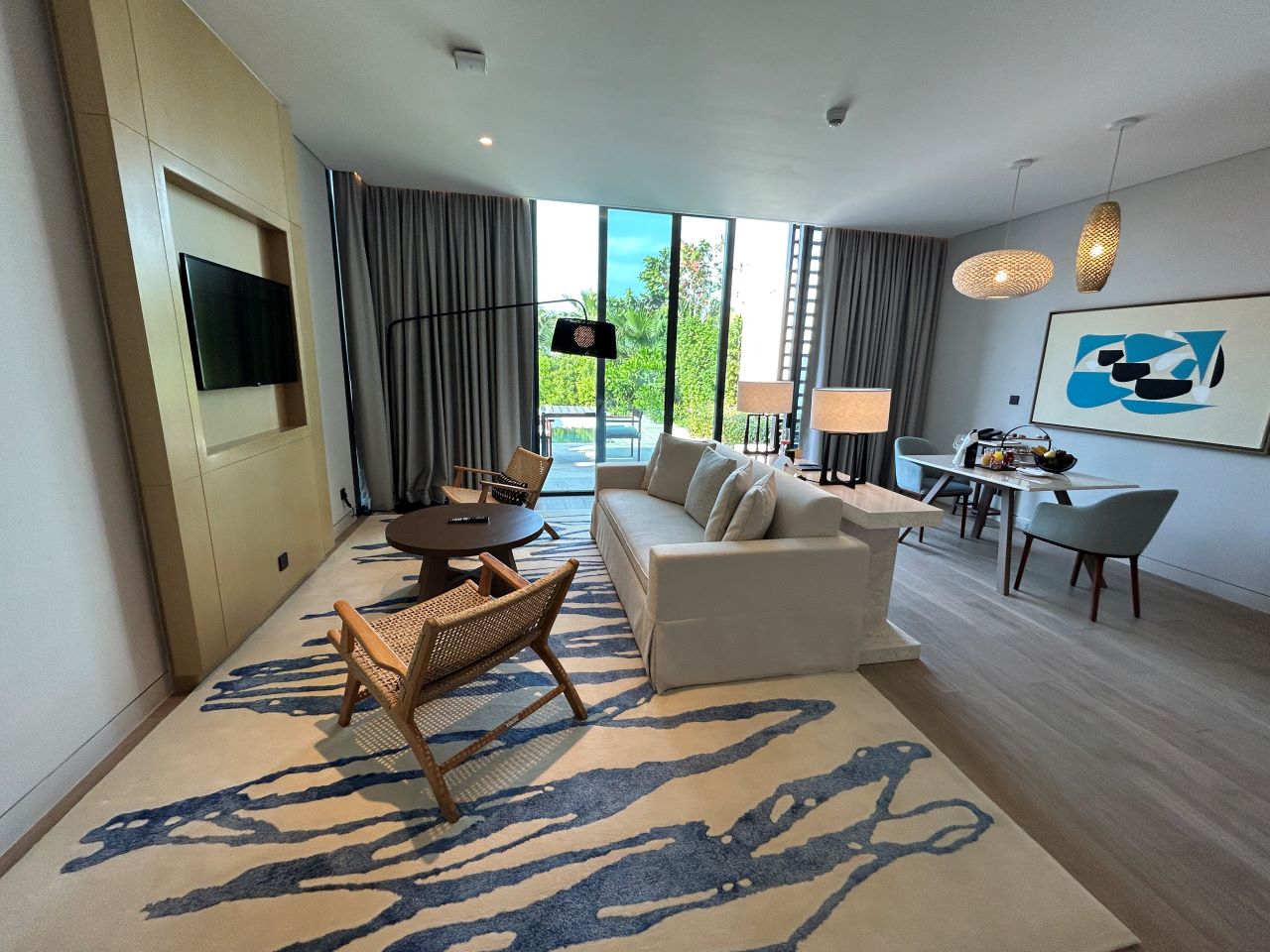 As you enter the villa you see the large living and dining area looking out onto the private pool and terrace. The room felt modern and stylish and very generous in size.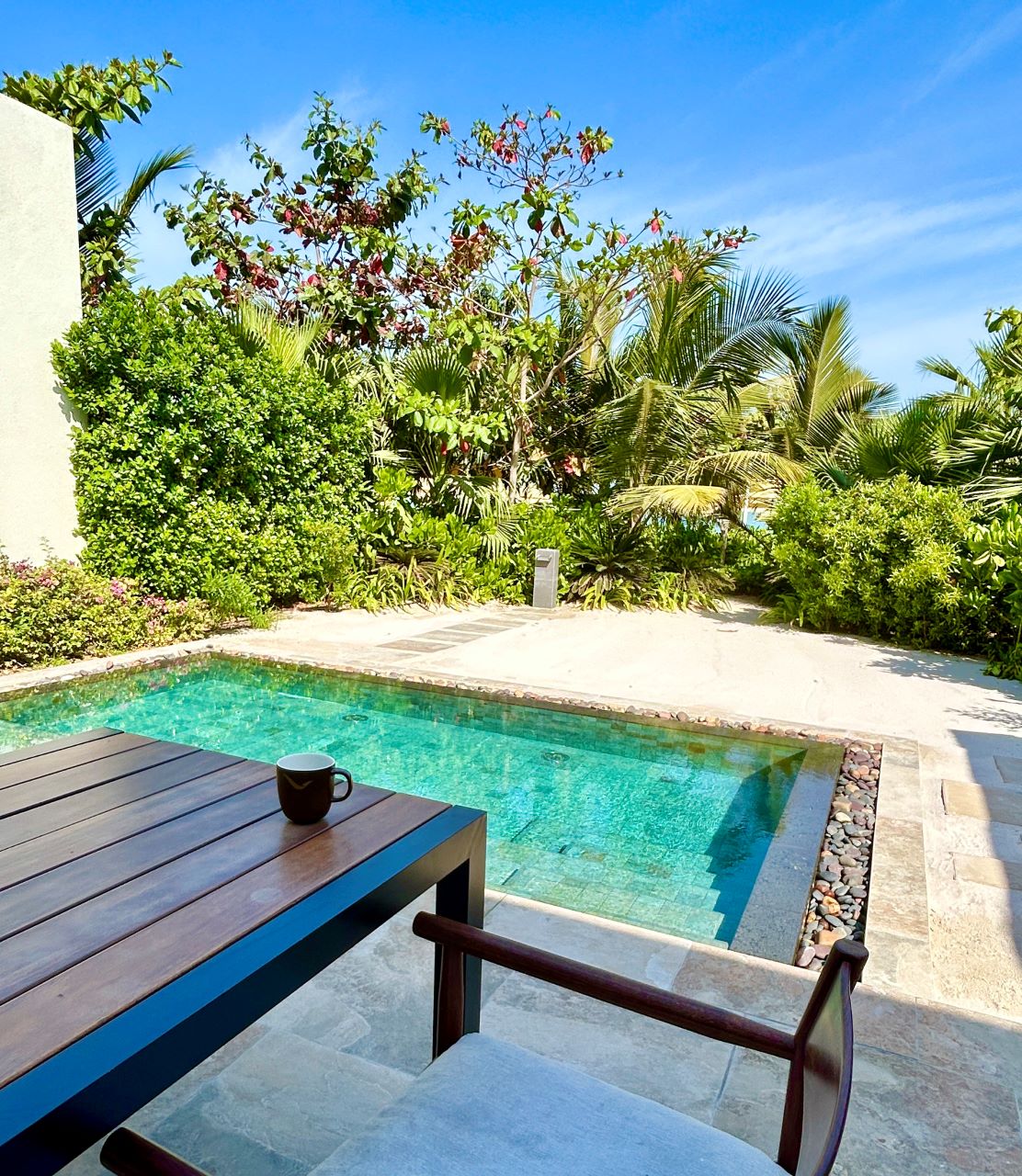 Of course, the highlight was the beautiful private pool which was more like a bath in terms of temperature so it was great for an early morning or late night dip. The pool then leads directly onto the white sand of the beach which is a few steps away from your room. I loved being able to wander straight onto the beach for an early morning stroll when it was deserted.
The lush planting made you feel like you were on a tropical island like Mauritius rather than the UAE. The only criticism was although the rooms were labelled from the beach with room numbers, there was no gate to the pool. This may have explained why I woke up one morning to find two influencer types posing for photos in my pool! To be fair there was no indication the room was occupied from the outside, but they could probably do with a private sign as well outside. The UAE is one of the safest countries in the world, so personal safety is not a concern.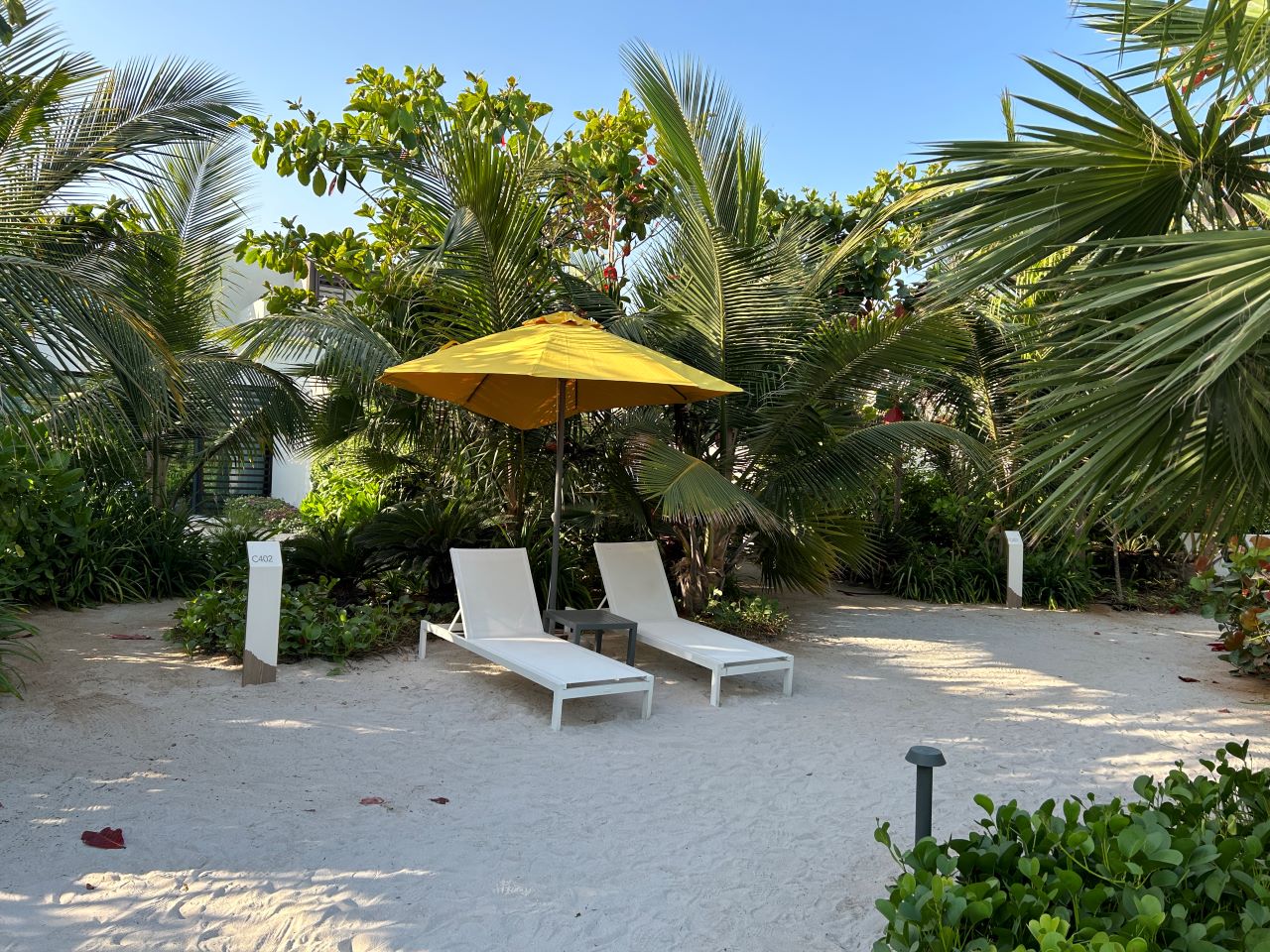 Directly outside each suite was a pair of sun chairs in case you wanted to sit on the beach in privacy rather than by your pool.
Back in the room, there was a guest bathroom and a large dressing area with a dressing table which was very useful. This also came with a magnifying mirror and socket for a hairdryer.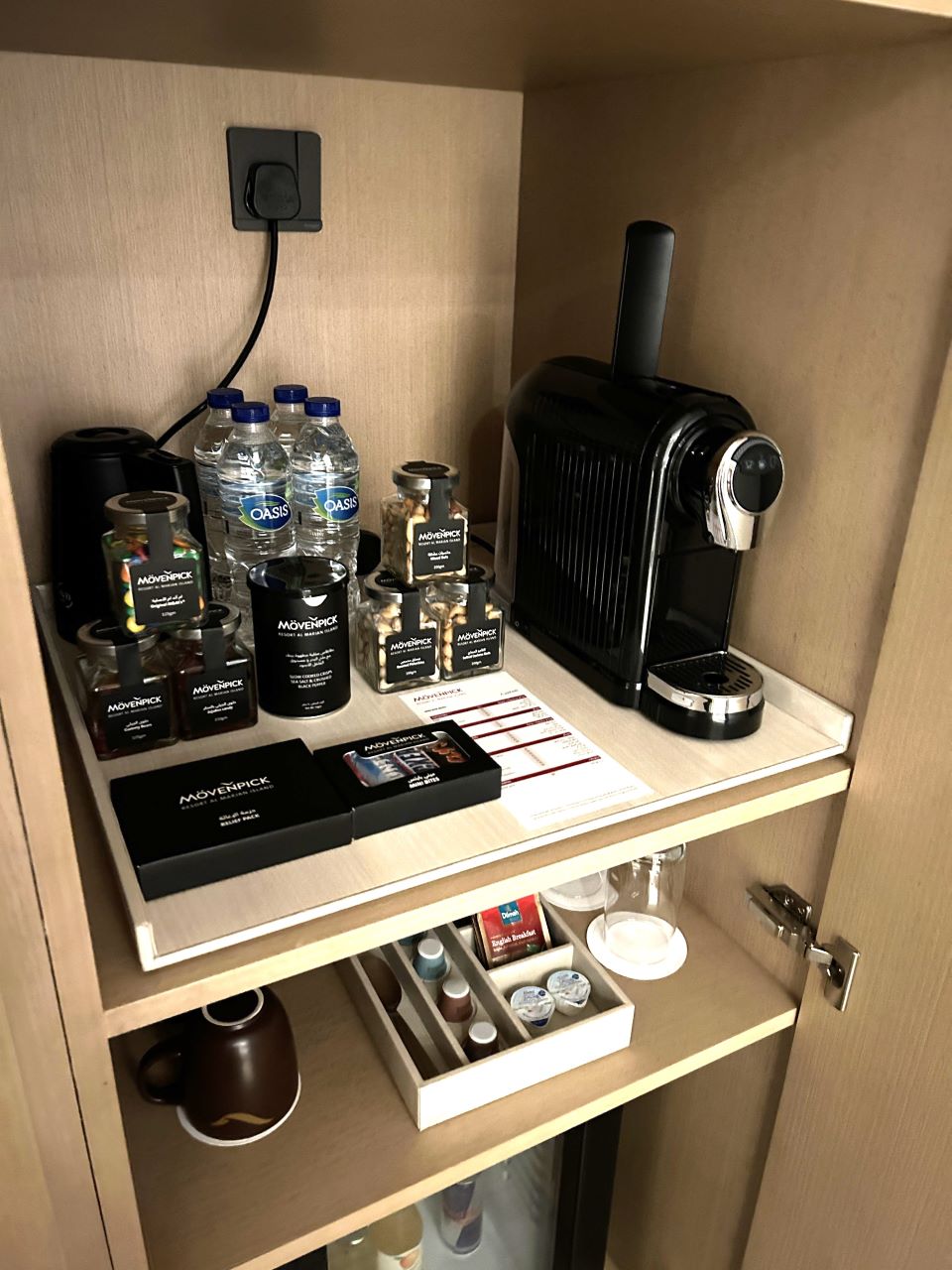 Naturally, there was a Nespresso but it was good to see a kettle as well. There was a generous supply of bottled water too.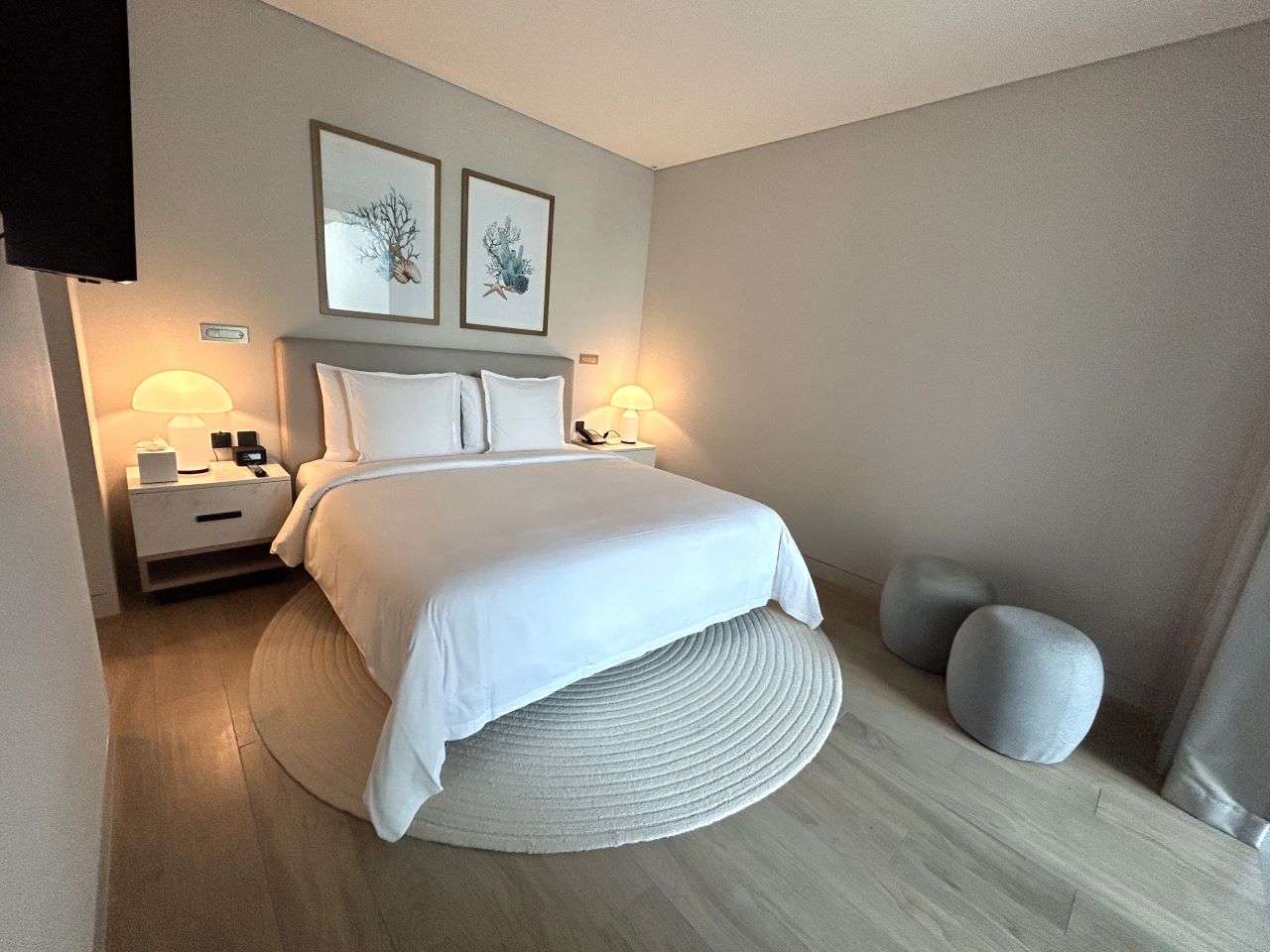 The bedroom was also a good size and again decorated in soothing neutral and blue tones to reflect the sea and sand outside. I particularly liked the large bedside tables, which had big drawers so I could keep all my lotions and potions tidied away rather than having things cluttered on the bedside table.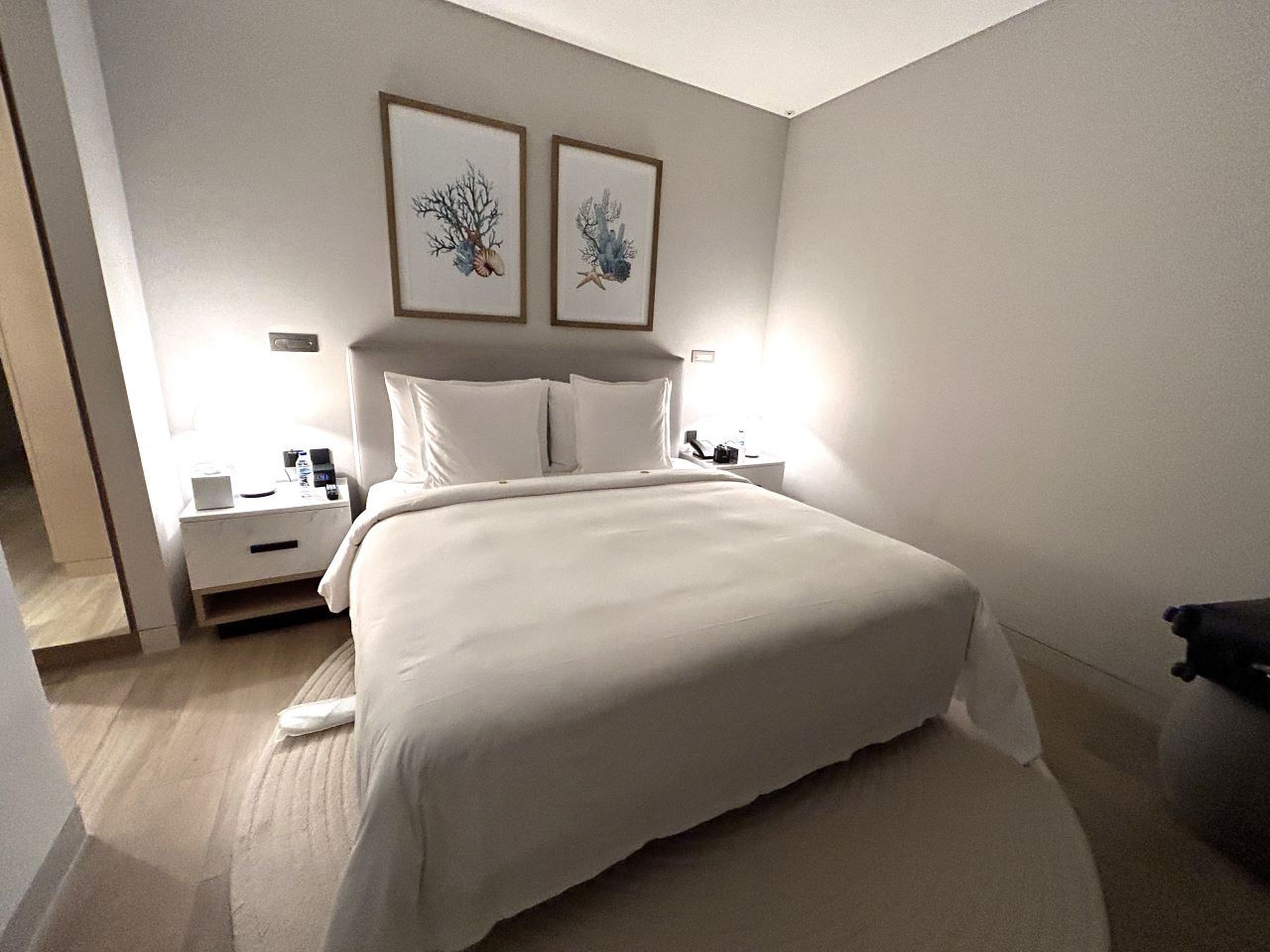 Every evening turn-down service was done with slippers, water, and chocolates, plus a general tidy-up. The TV was put onto a special turn-down music setting as well. Naturally, for a new property, there was plenty of charging available at the bedside.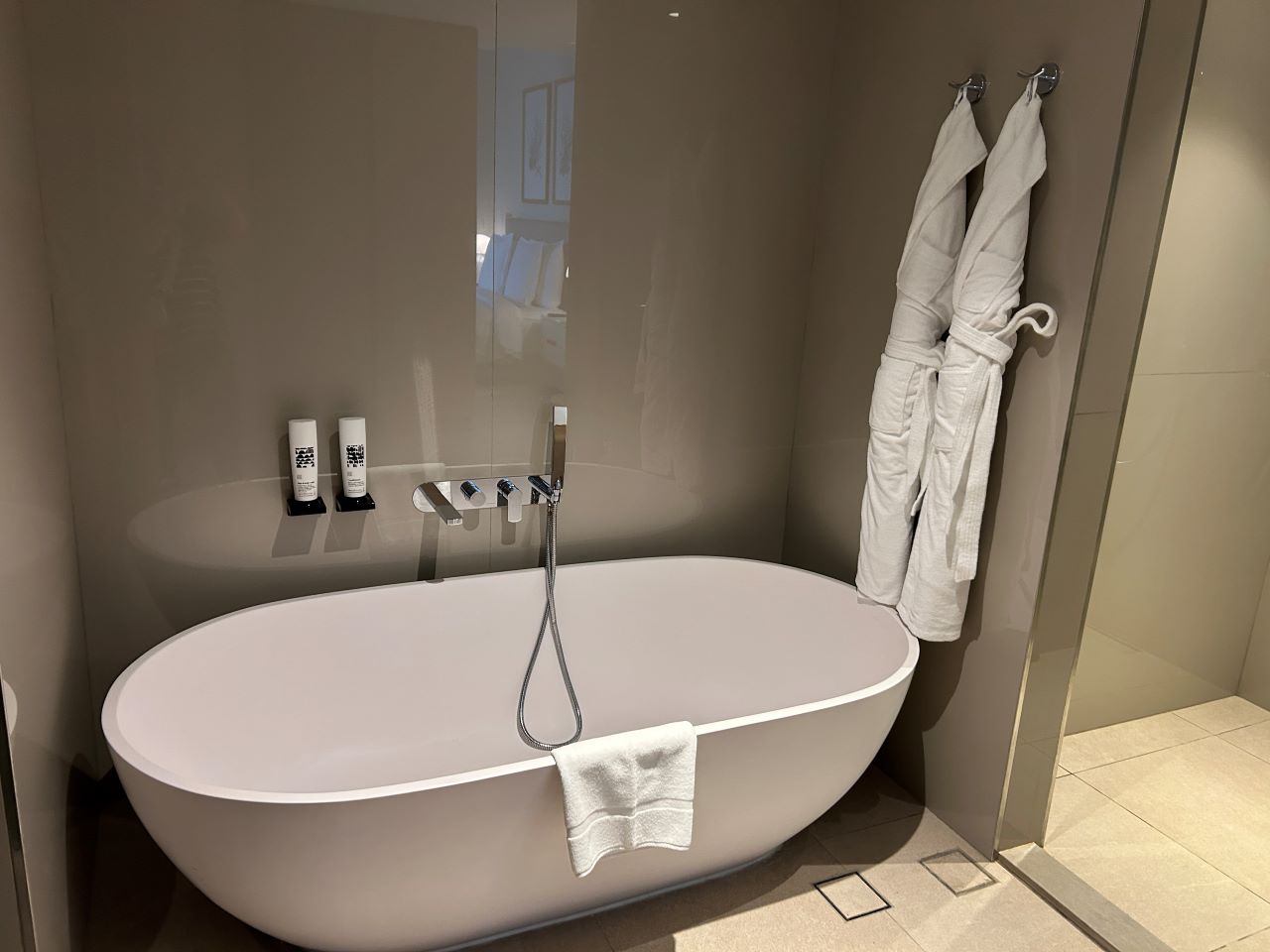 The main bathroom was also something of a highlight with its huge soaking tub, large walk-in shower, and well-sized vanity.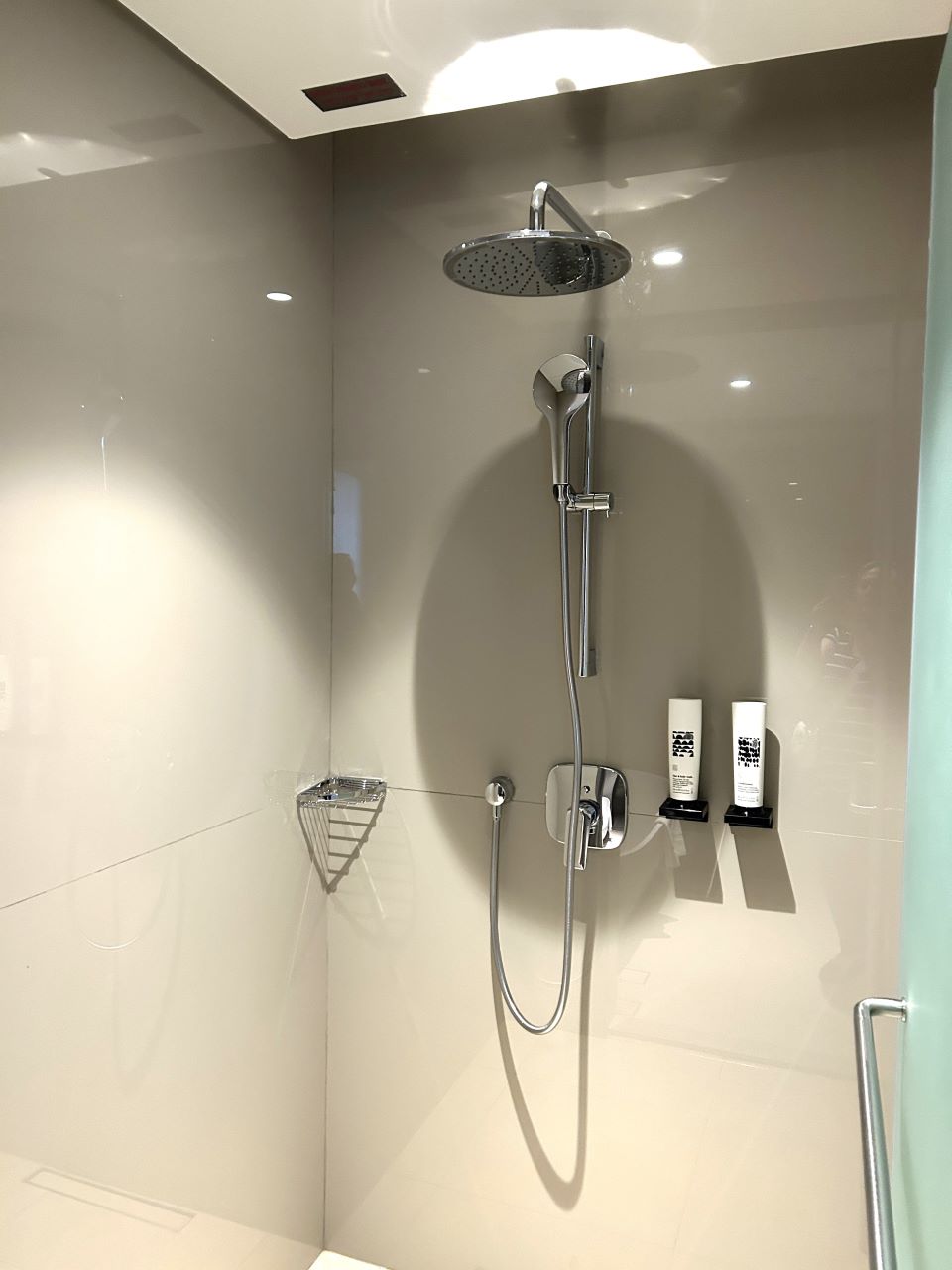 The toiletries were large-sized and made by Azha, which is not a brand I am familiar with. They had a fairly neutral scent and felt moisturising. One of my few very minor criticisms would be at this level of room I would have expected a separate shampoo rather than a combined shampoo-conditioner, but since I always bring my own it wasn't an issue.
As well as the toiletries, there was a good selection of other amenities in the bathroom. I would have preferred slightly more room by the sink as well for my toiletries as obviously the main storage area was under where the soap dispenser was, but again a small critique.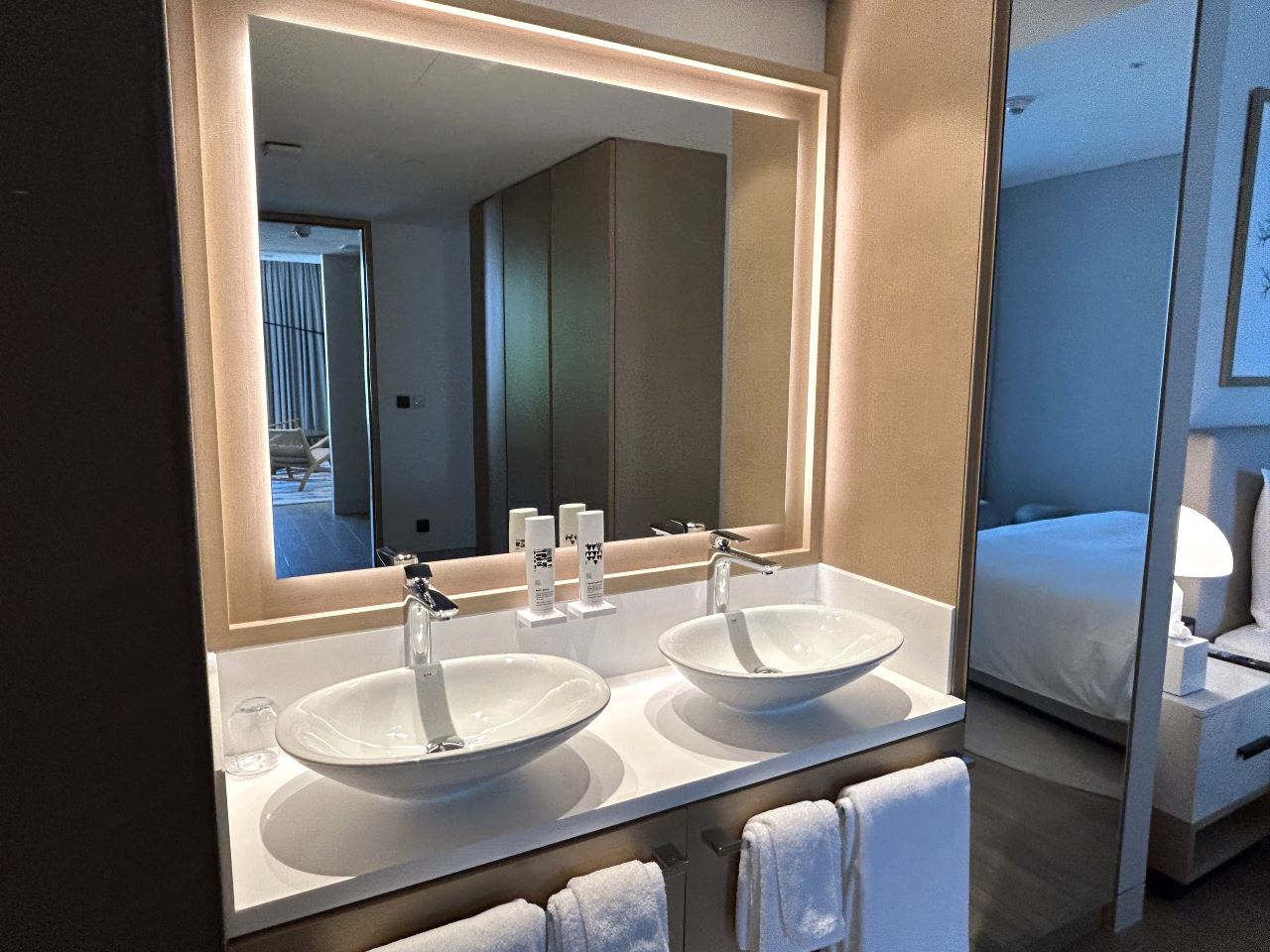 Other rooms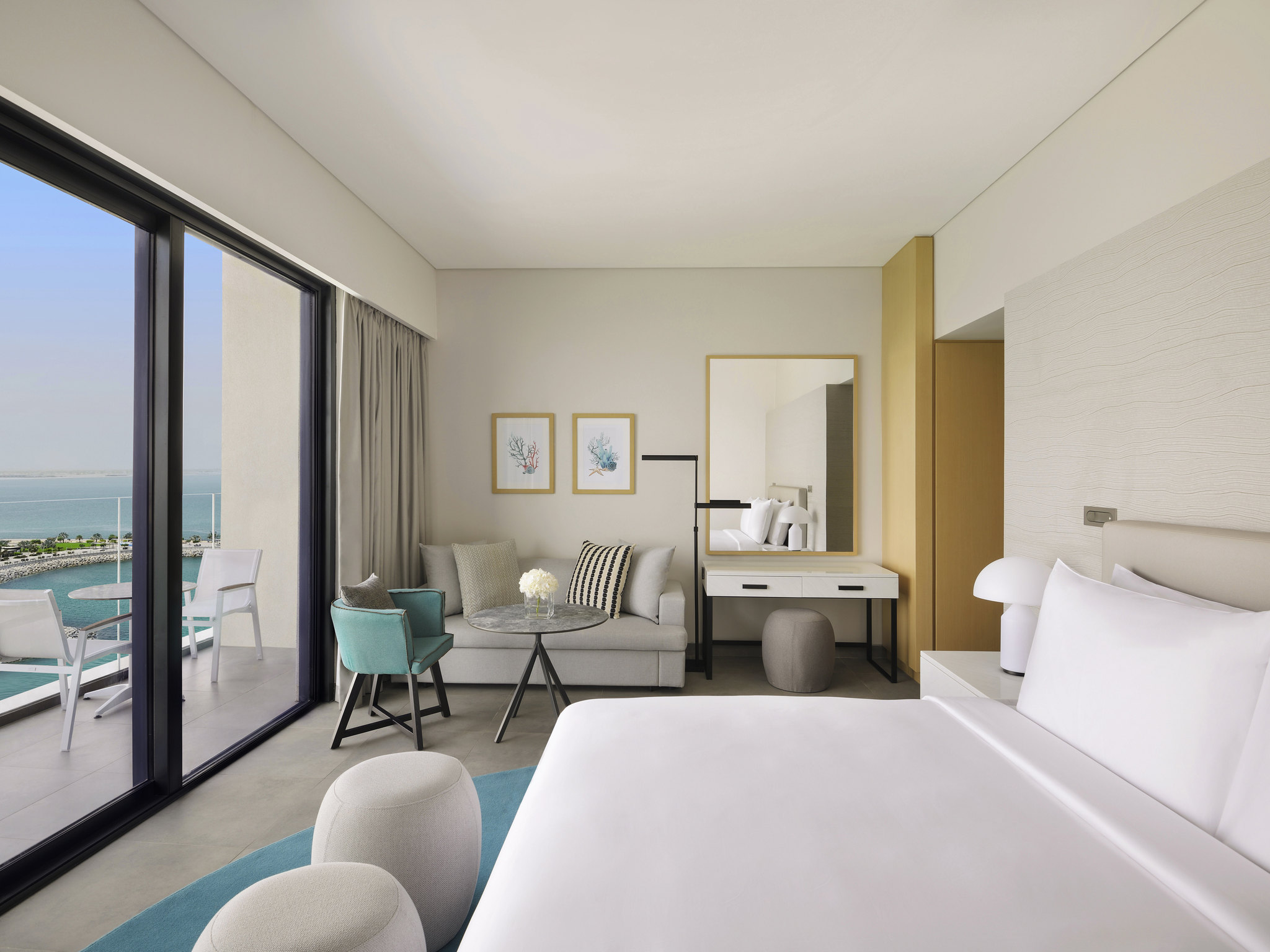 Prices are very reasonable (see below), and every room has some sort of a sea view and balcony. The entry-level room is the Deluxe Island Sea View King room which is light and airy with Mediterranean tones. The next step up has views of the beach and then finally, there is the Family room which sleeps 4 with a double sofa bed and has a bath and shower.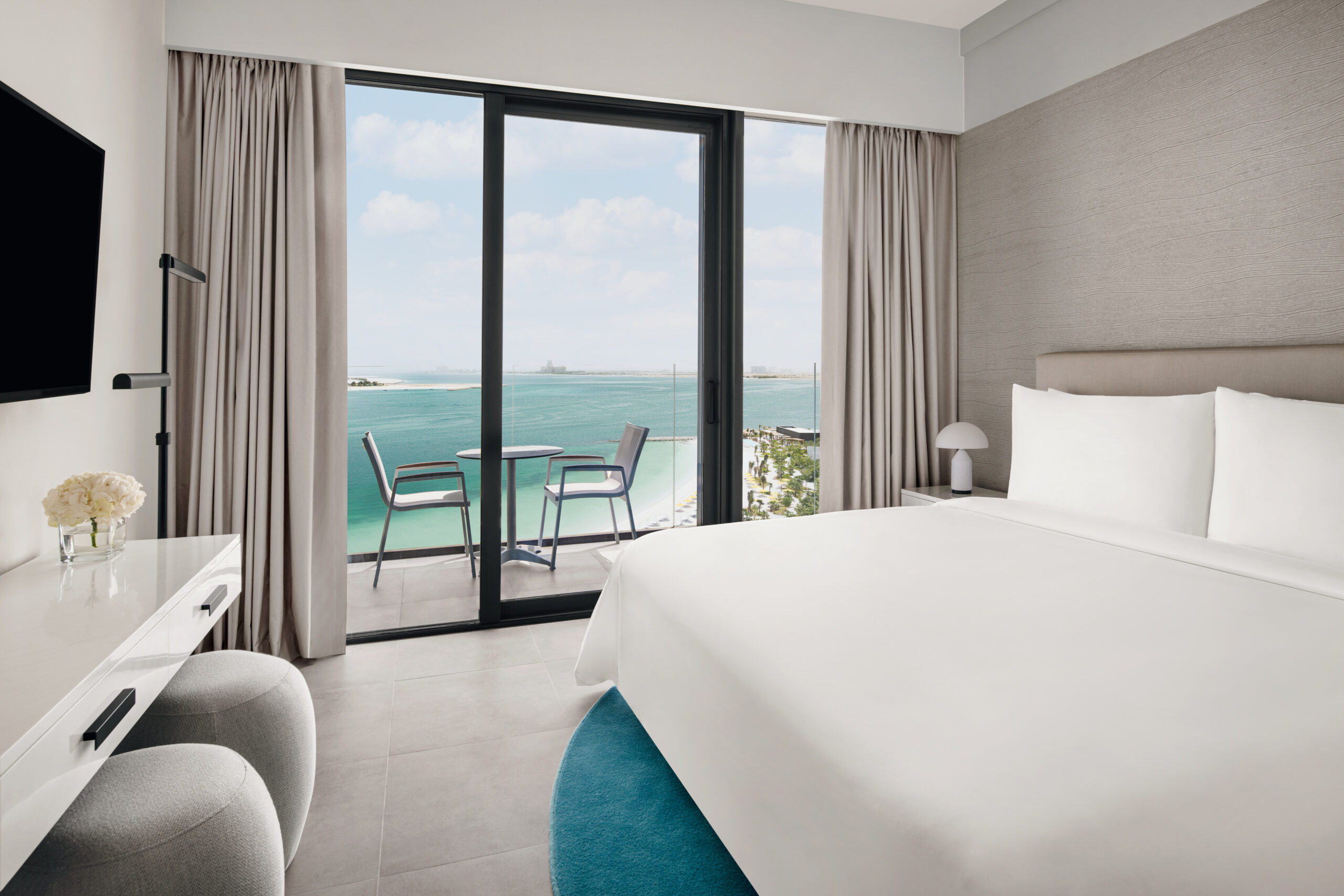 As well as the beachfront suites there is also the Panoramic Bridge Junior Suite. This features a similar large soaking tub and some of the best views from its position on the "bridge" between the two buildings.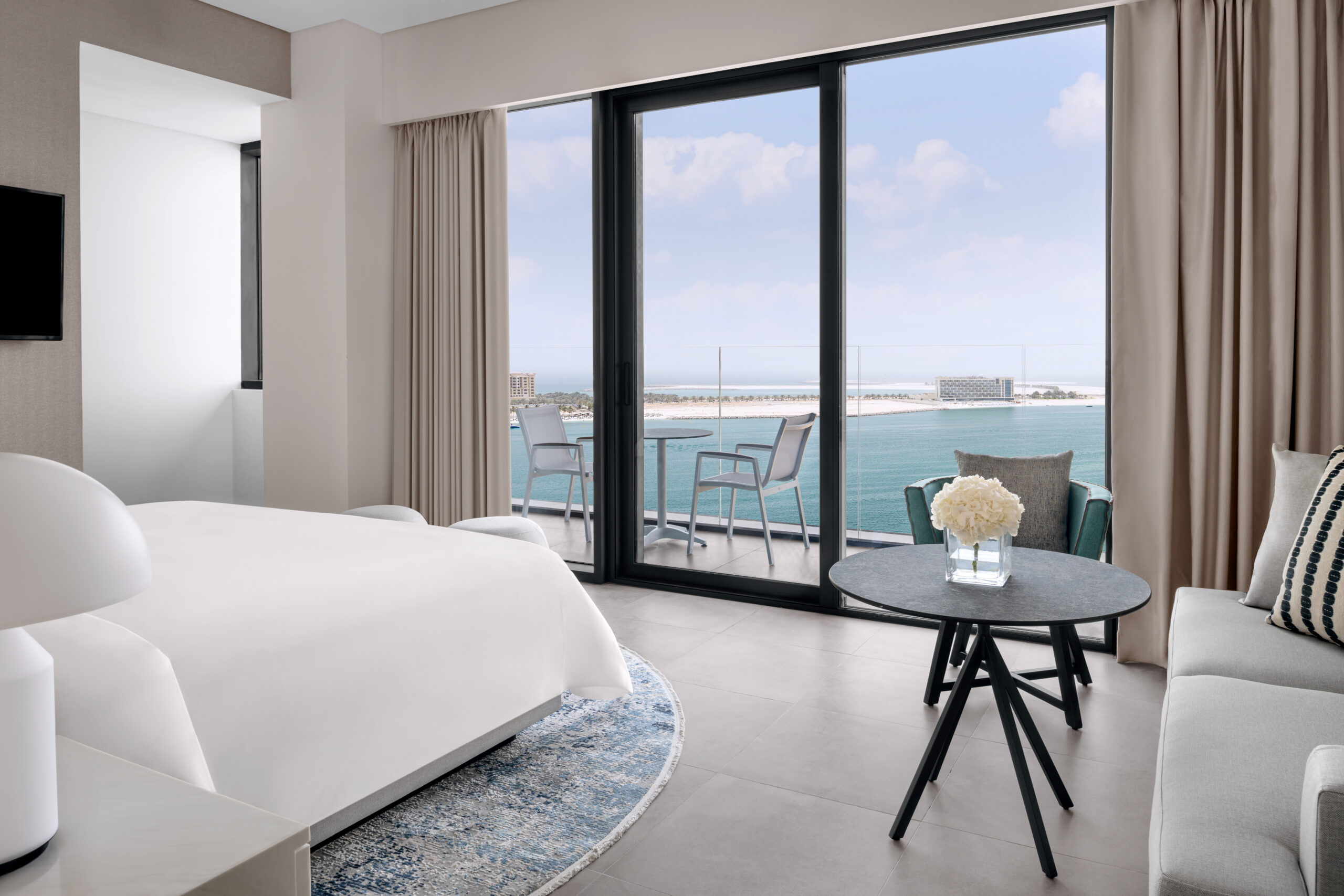 Food and drink
There are plenty of restaurants on-site, so you don't need to venture out if you don't want to. However, there are plenty of restaurants on Marjan island and close-by at hotels, such as the Waldorf and Intercontinental which are around 10 minutes by taxi.
Breakfast – The Market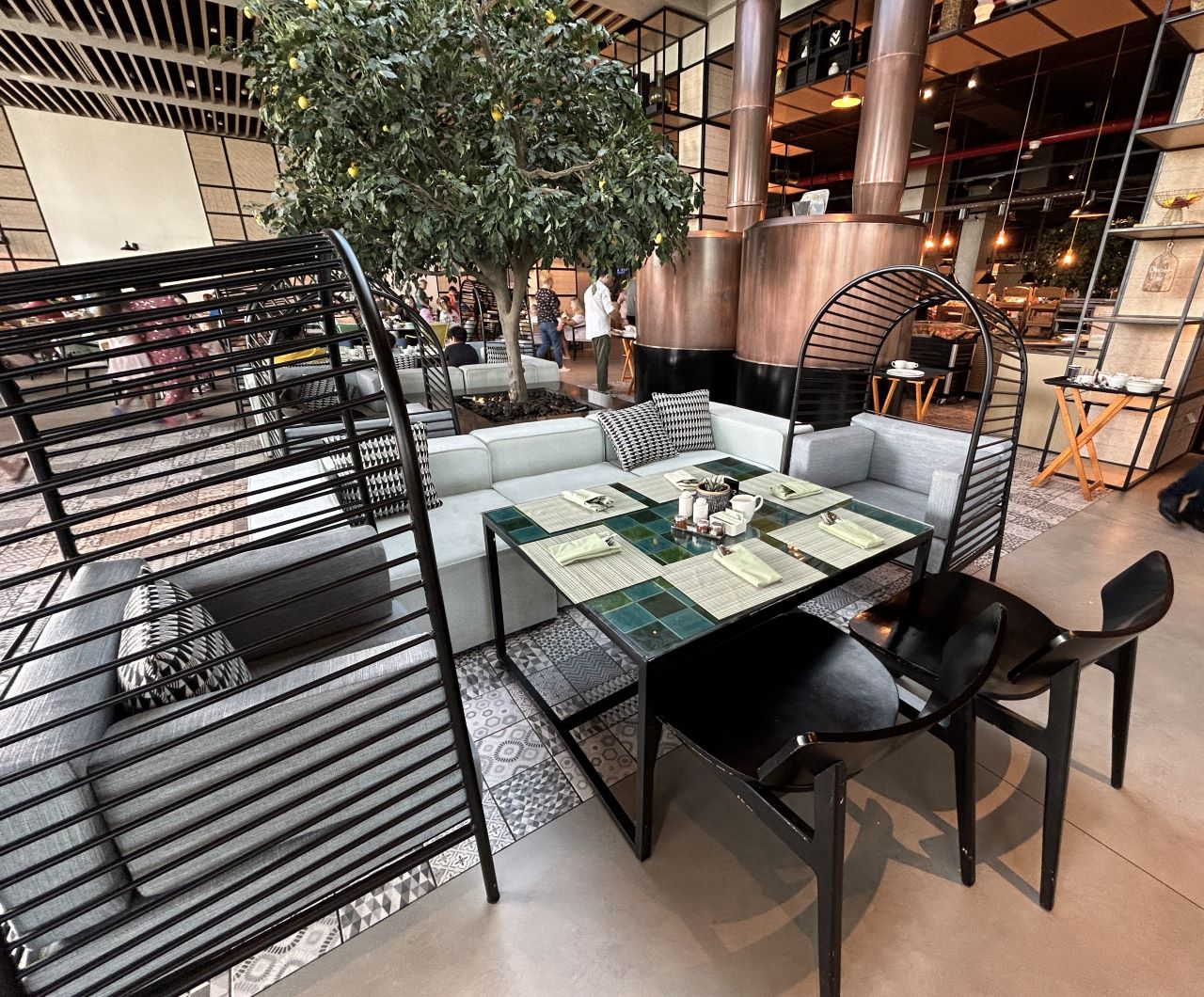 Breakfast was an enormous spread with a tremendous amount of choice from Indian and Arabic to full English. You could sit inside, which I thought had been done nicely so as not to have that cafe feel that you sometimes get in buffets, or on the terrace. You could get eggs made to order as well with the usual omelettes and fried eggs.
I liked the fact that they had proper honeycomb and a good selection of juices including my personal favourite watermelon juice. If you were here for a length of time you definitely would not get bored with this much to choose from!
Tea and coffee was brought to the table, and this was the only area that could have improved. It was tricky to get someone's attention sometimes but once you did they were quick to bring you your order. The cappuccinos were also extremely good!
The Market is also open for lunch and dinner
Floating breakfast
If you were staying in the beachfront suites, you may want to treat yourself to the Floating breakfast and feel like an influencer in their Maldives villa!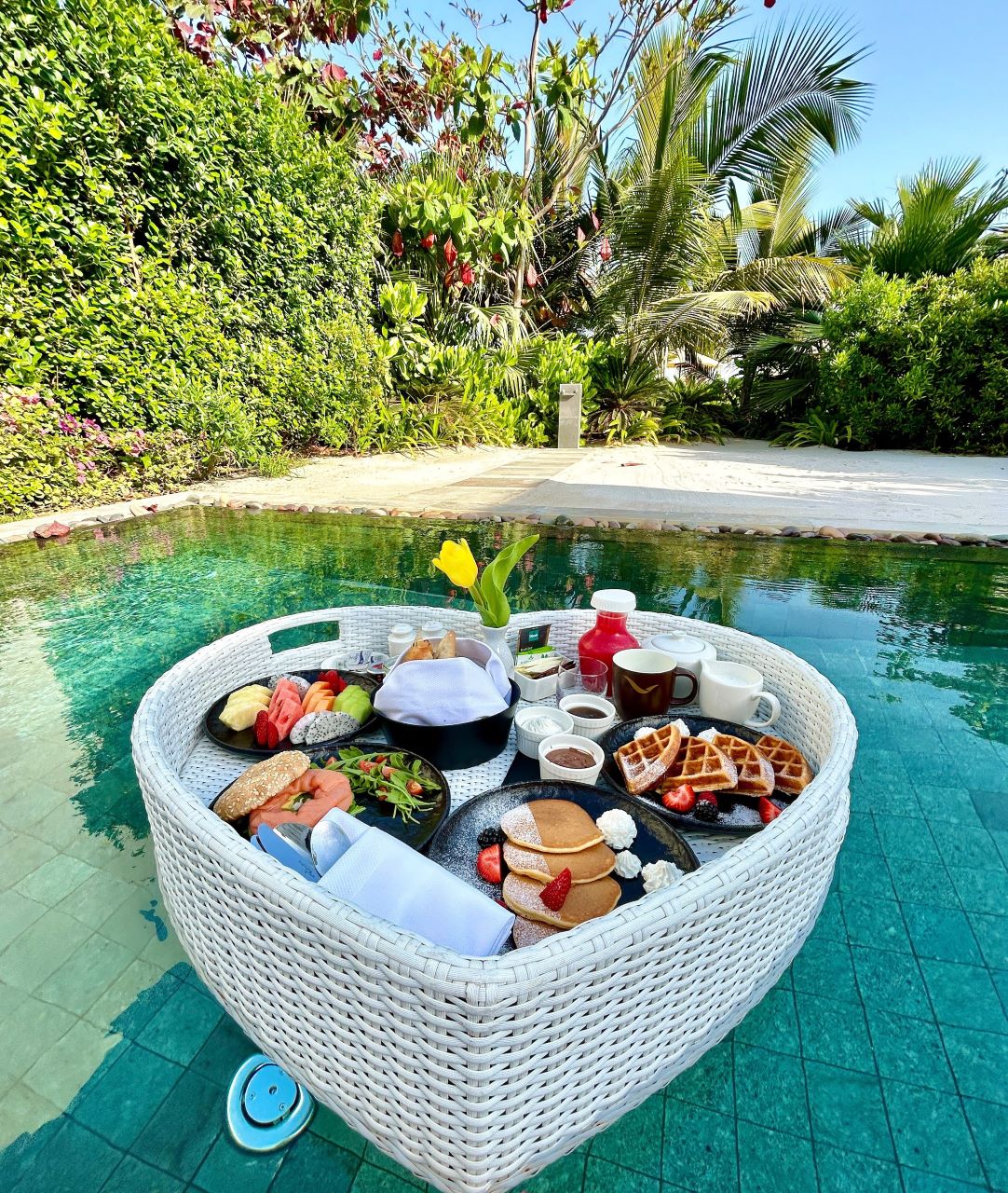 While I think some people find the concept a bit unusual, it worked well in these pools as there is a seat that runs the length of the pool (perfect for reading a book in the heat of the day) which meant you could sit down to enjoy a leisurely breakfast.
Boons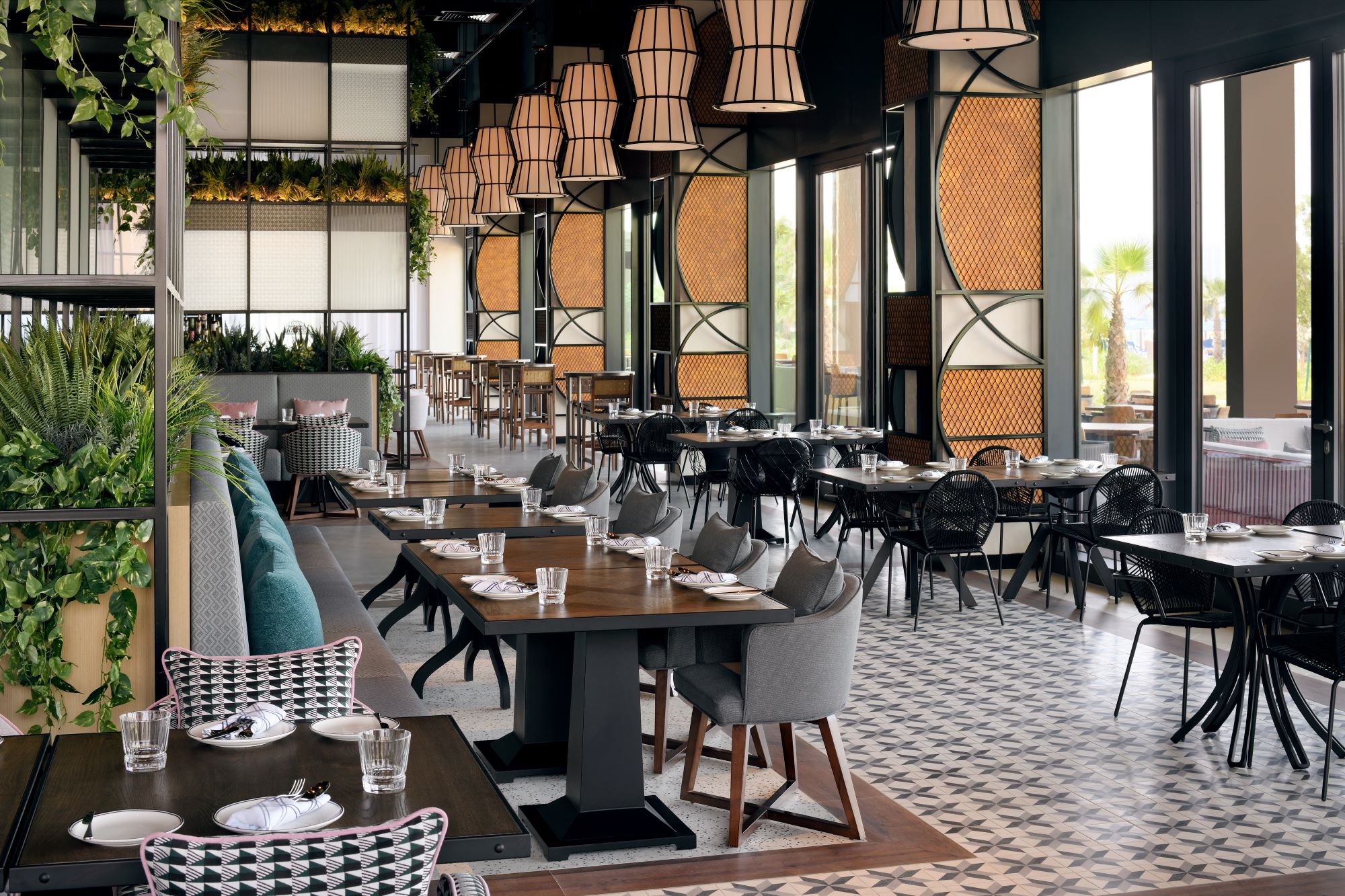 This is their French bistro-style restaurant that has a very traditional French menu plus some grill items.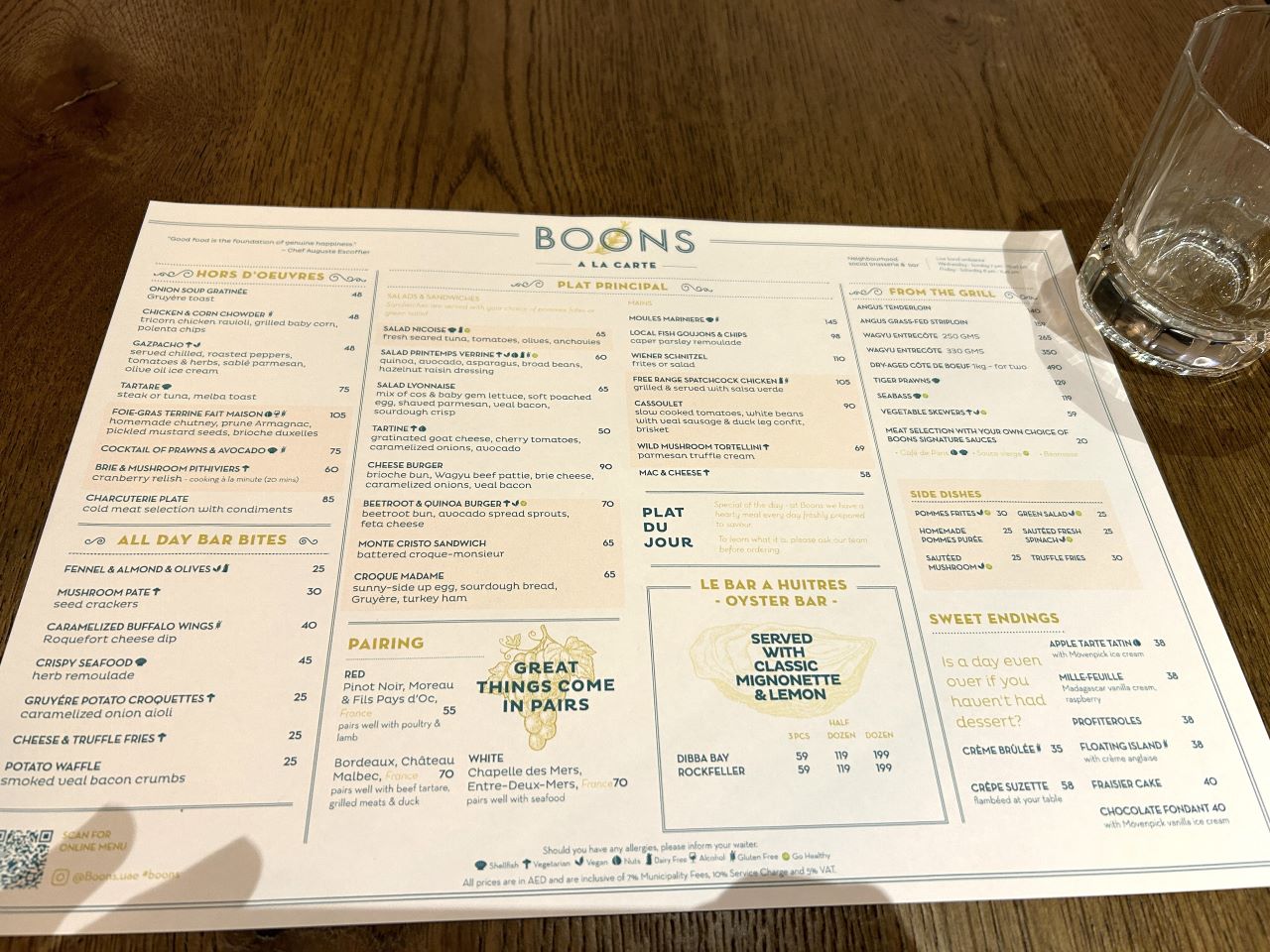 It was quite an extensive menu, so I could have easily eaten here a couple of times.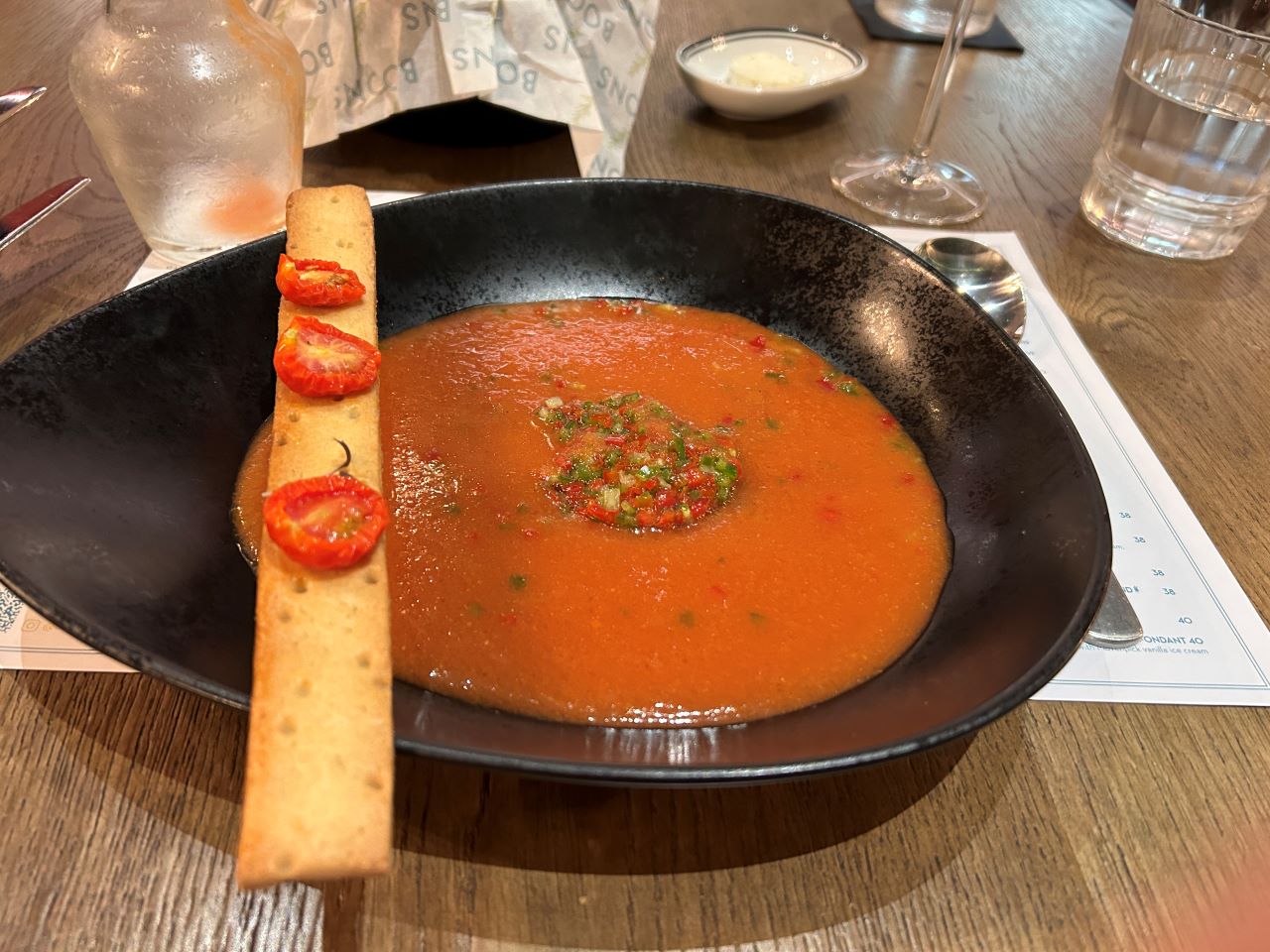 I started with the gazpacho, which is meant to have olive oil ice cream, but I declined that part. I liked that the vegetables were so finely chopped, and then you were given a carafe of the soup to pour over which was an elegant way to serve the dish.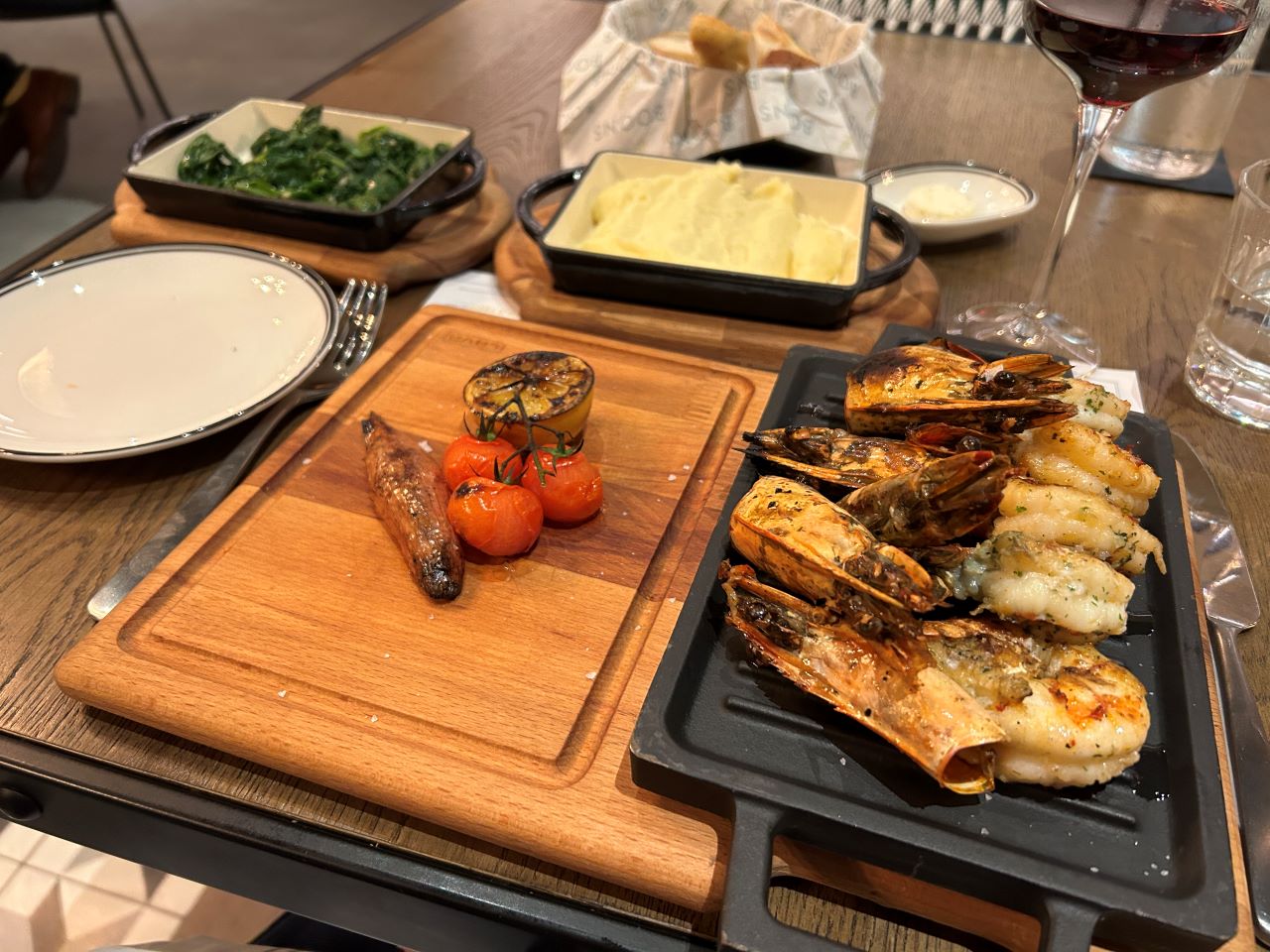 Next, I went with the huge grilled local prawns with some excellent sides of creamy mash and some lovely fresh sauteed spinach. I liked how it was presented with the roasted shallot and lemon. I found the portion sizes generous.
If you like a lively spot, there is live music most nights, but if that is not your thing, I recommend sitting on the terrace and enjoying the balmy night air.
Ula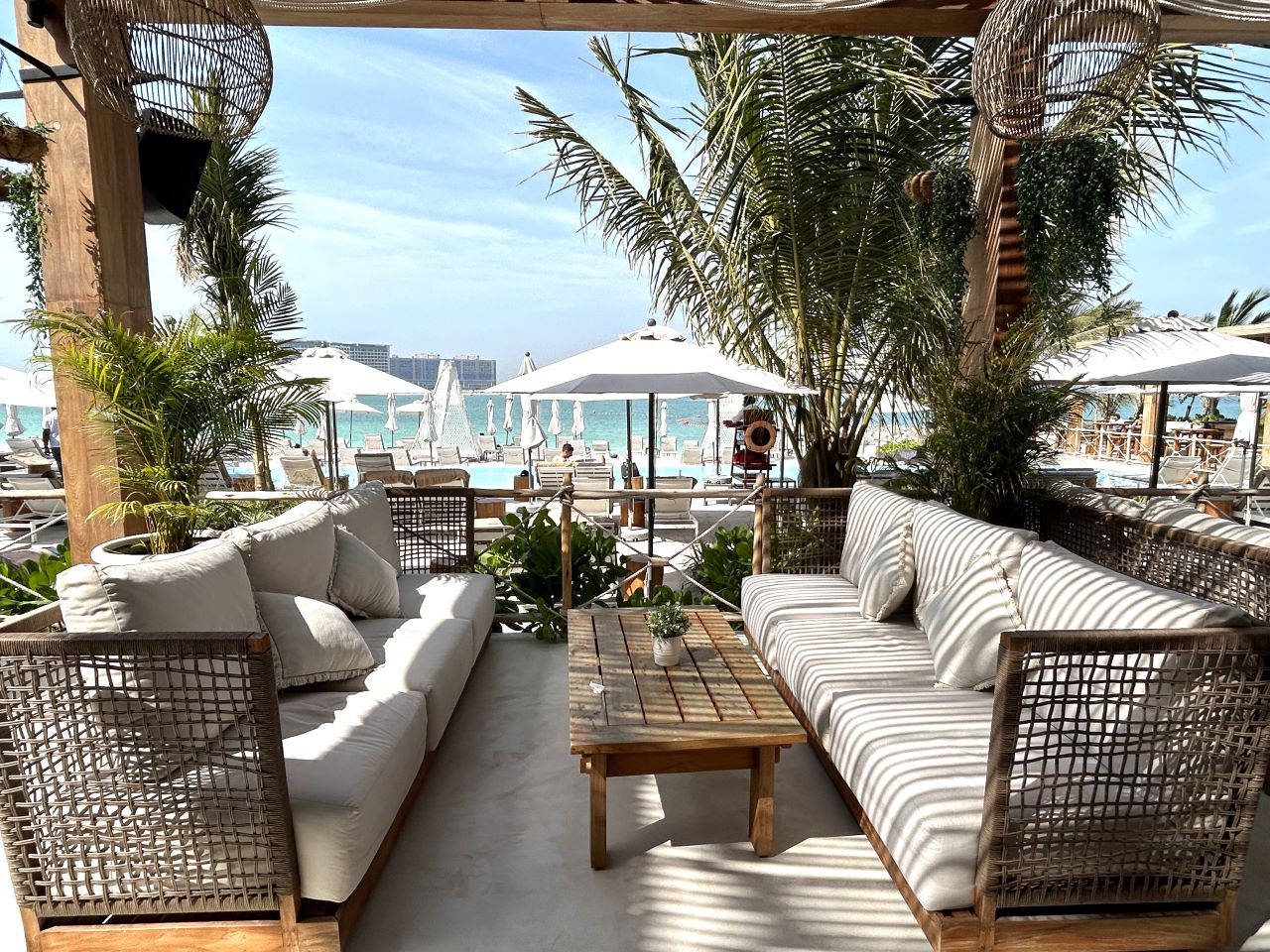 This was my favourite spot as it had a real Santorini, Mediterranean chilled vibe that I adored. The food was also amazing too! The charming manager helped me choose which dishes to sample, and in fact, I actually ate here a couple of times as it was so good.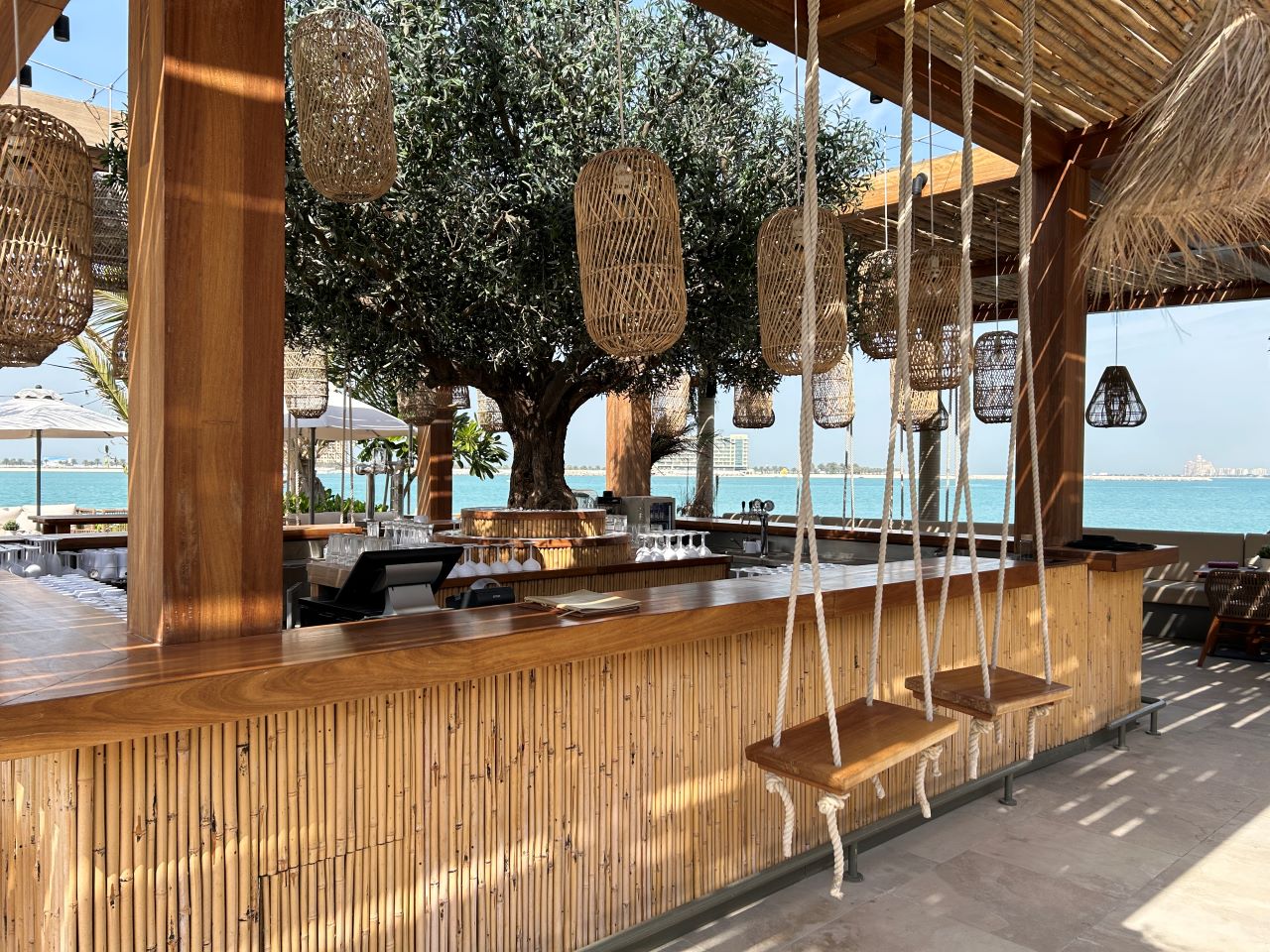 The restaurant can get very busy with locals, so I recommend booking an outside table if that's what you want as they soon fill up. The menu is heavily Greek-influenced. My favourite thing was the bread which was amazing – so light and fluffy with a little dusting of oregano and a light char for flavour. I also loved the creamy truffle pasta, which was perfectly al dente. It's great for poolside nibbles, too, with some great dips and bread with taramasalata, tapenade, and tzatziki.
The Beach House – California Grill
I didn't eat here, but it is quite a unique setting where you are literally sitting with your sand in the feet. There is also an upstairs terrace to enjoy the views. The food here is international with California vibes from pizza to Tex Mex.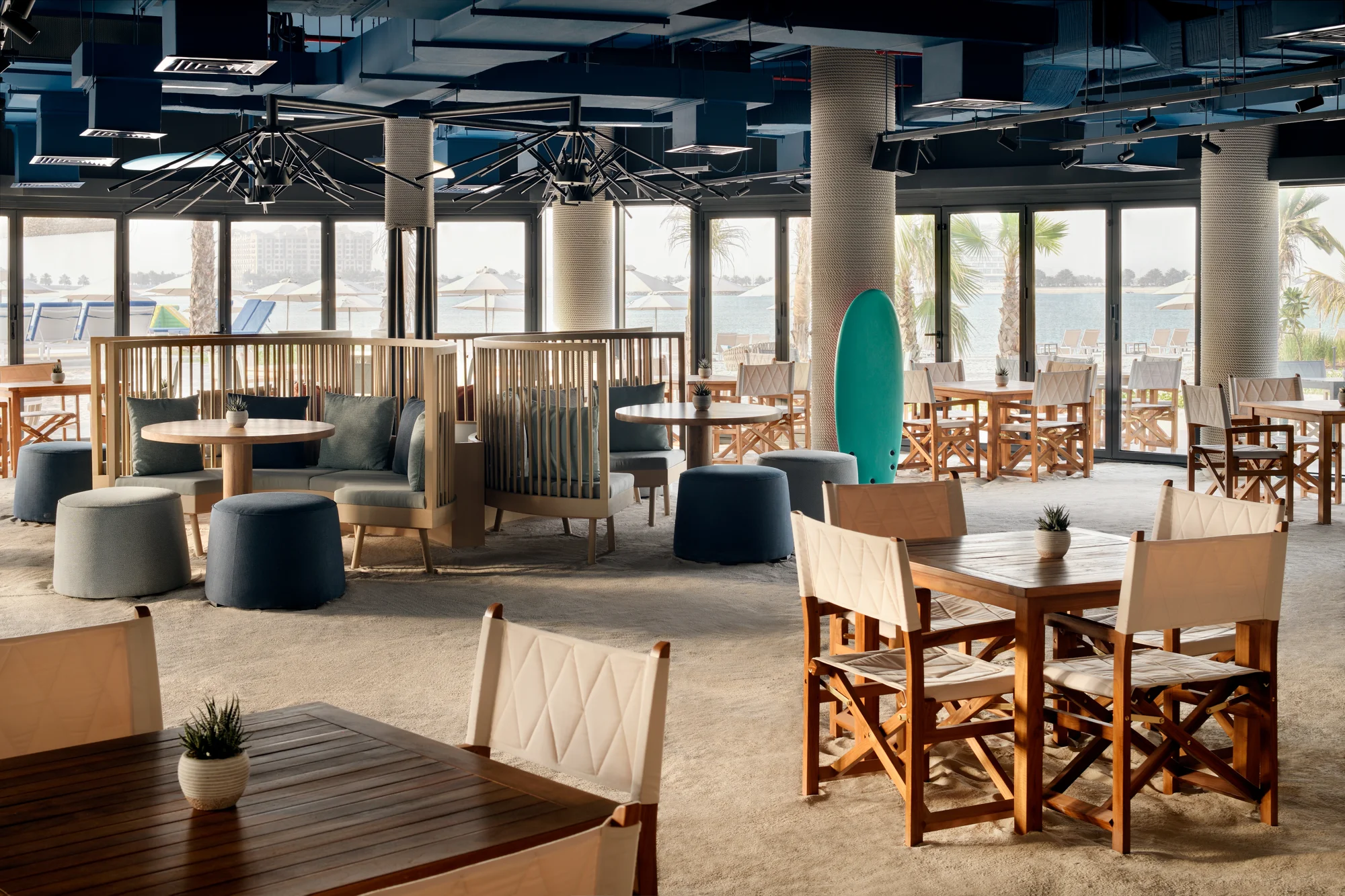 Neo Sky bar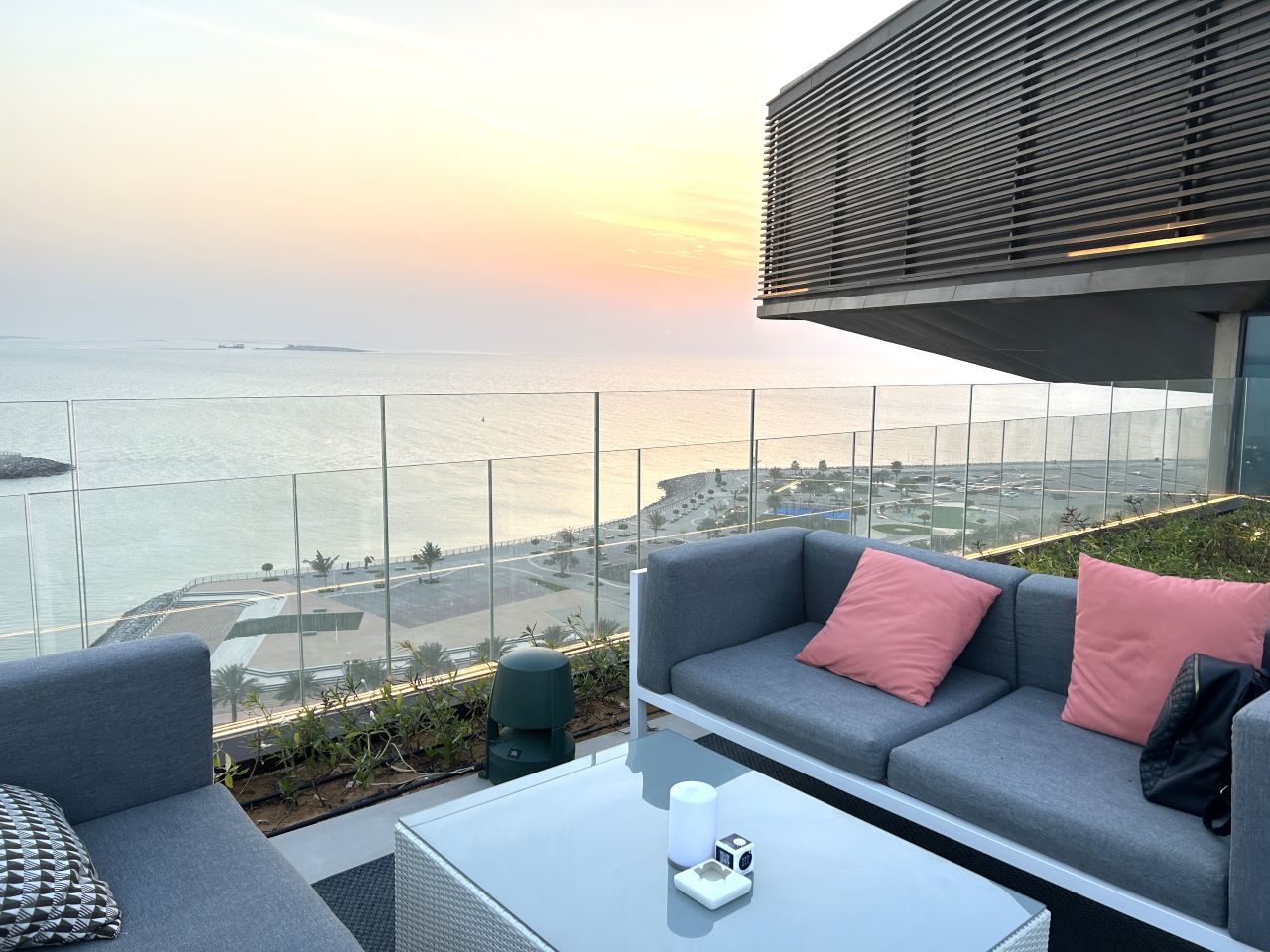 This was a great place to watch the sunset and get some amazing views of the resort and Marjan island. It had quite a relaxed vibe but I liked that it had a bit of a buzz to it as well. It offers 36o° views and a range of cocktails and wines and spirits. Service was excellent here at the table from the lovely waitress.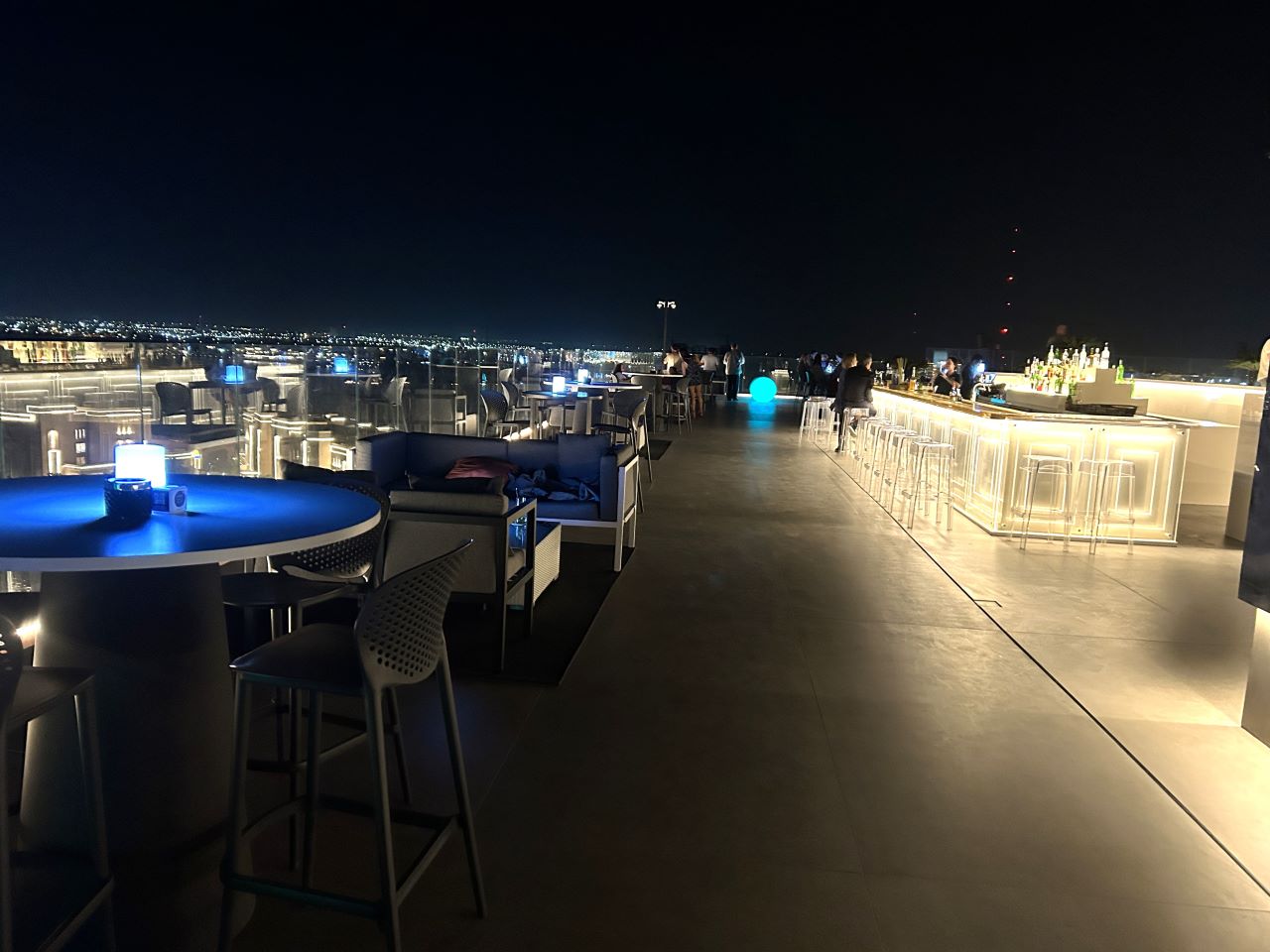 MöCa | The Lobby Café
Freshly-baked pastries, croissants, crêpes, waffles, and lounge food are served with a range of coffees and drinks. Plus they serve Mövenpick brand ice cream too.
It also offers Mövenpick's signature complimentary Chocolate Hour, where guests are offered a taste of various chocolate treats including a chocolate fountain.
Mövenpick Al Marjan Pools and beach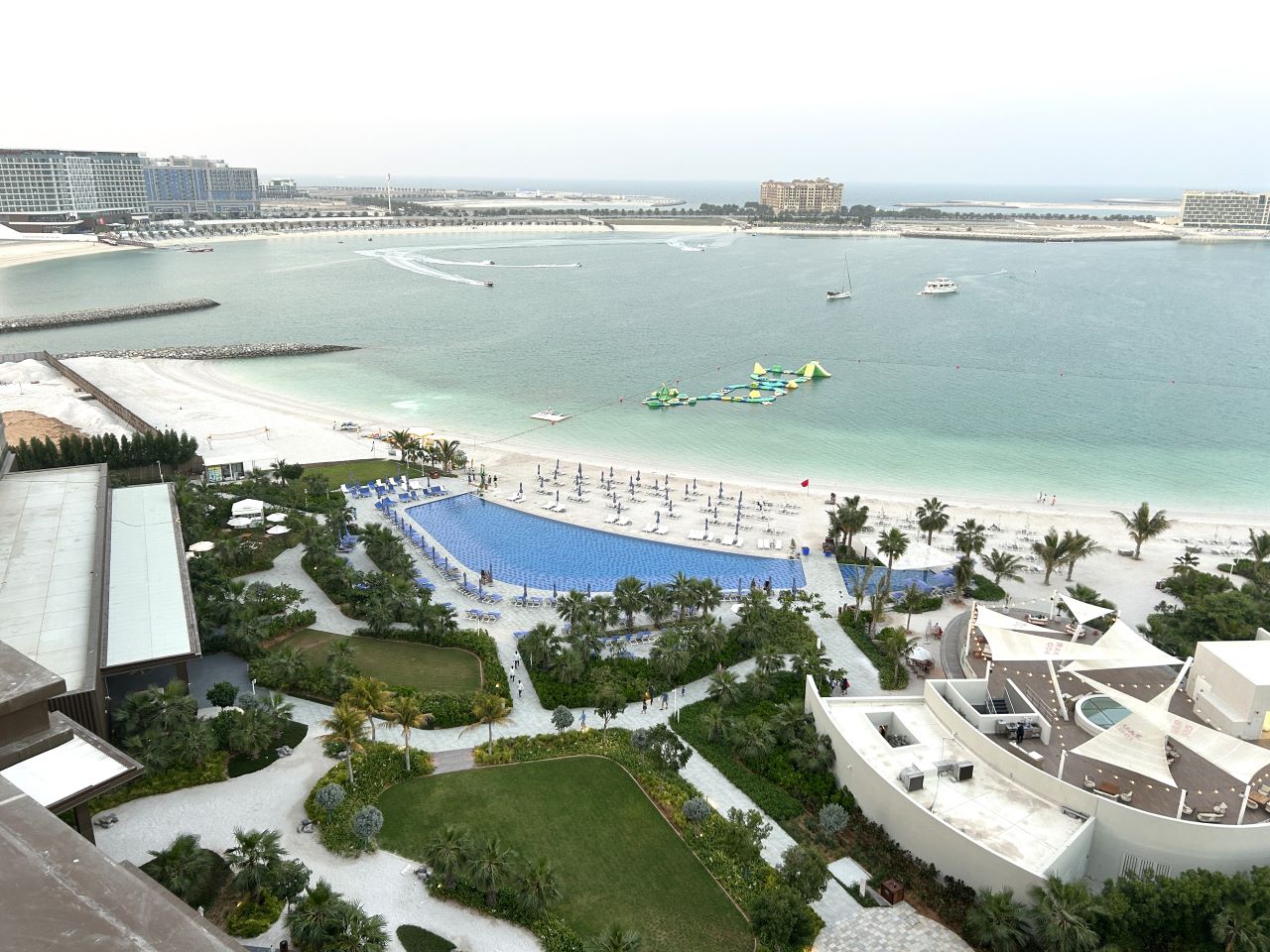 The beach here has beautiful fine white sand and is pretty extensive at 300m long, but I liked the fact it was not too far to get to the water. The sea itself is clearer than in Dubai and has a gentle shelf down into the sea.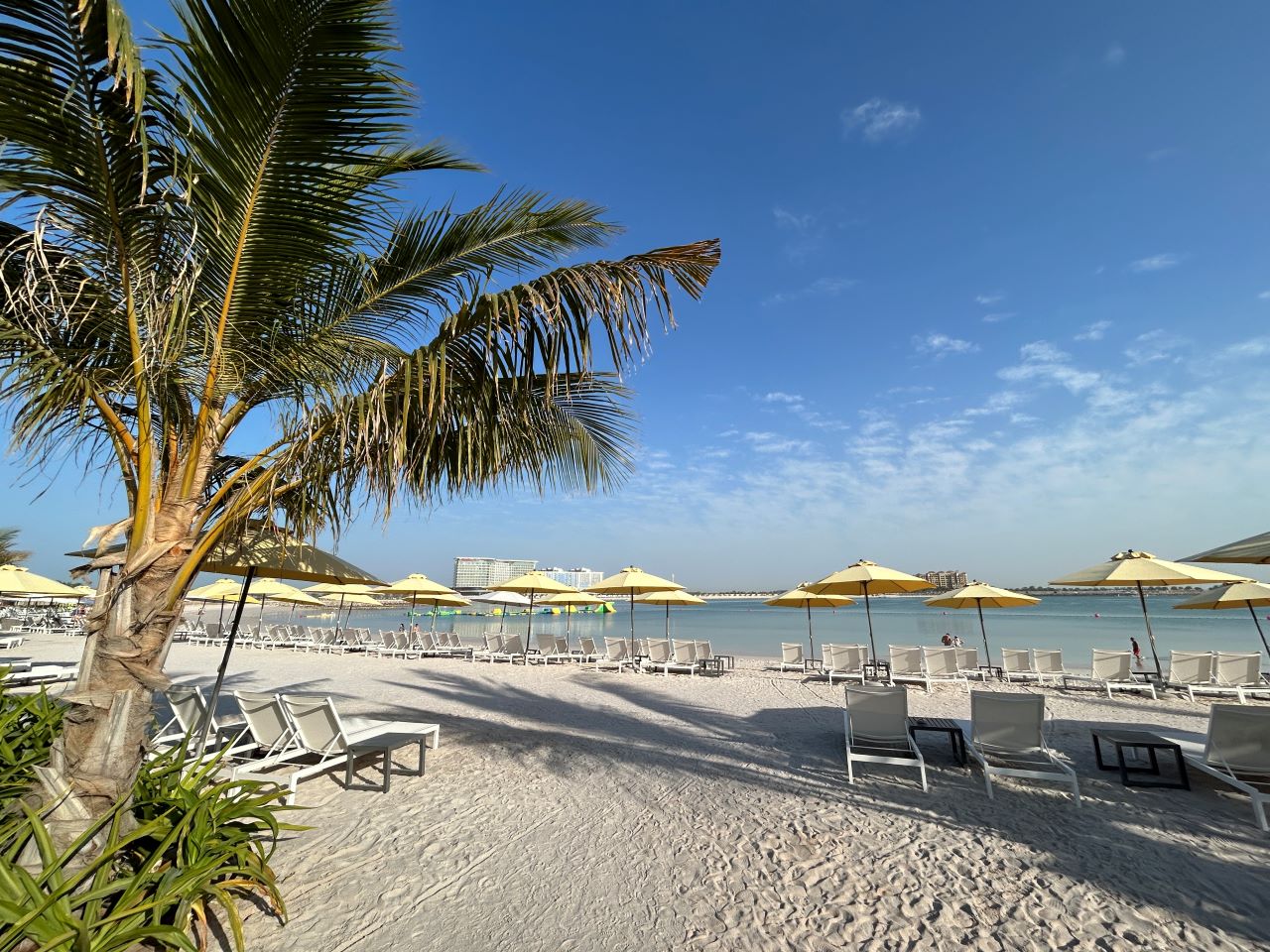 There is beach and pool service with these cubes that also show the menus. It was never an issue getting a lounger on the beach or by the pool, even though the hotel was full. There were also parasols at every lounger so you could shelter from the sun if you wanted.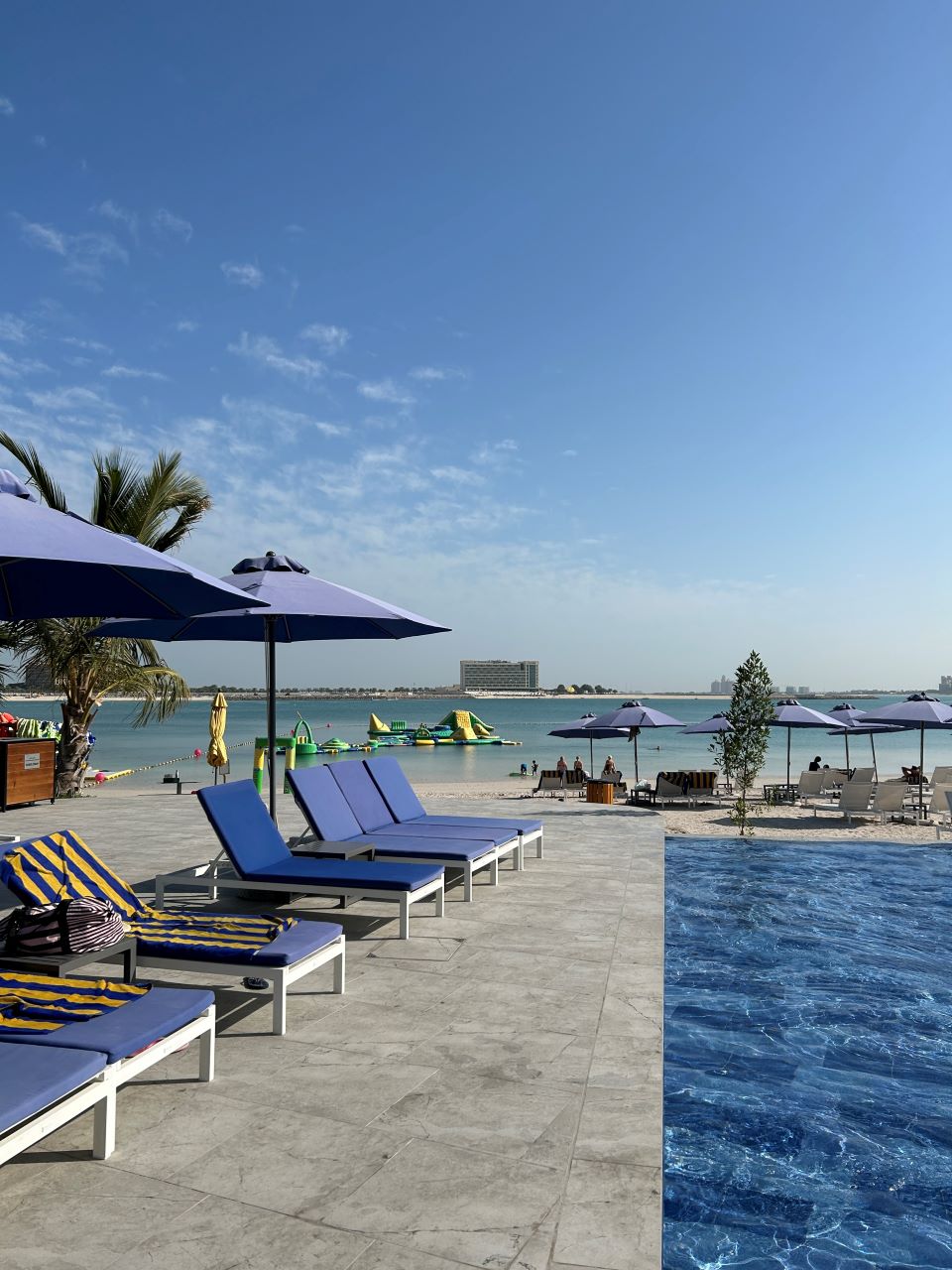 The main pool was very family orientated as it is by the kids pool as well which is shaded.
I stuck to the other end of the resort at the Ula pool which is adults only at weekends. During the week I only saw one older child in there, the rest of the time it was kids free. I really liked the vibe of this pool as it was very relaxed and peaceful being at the end of the resort and not far from the beachfront suites.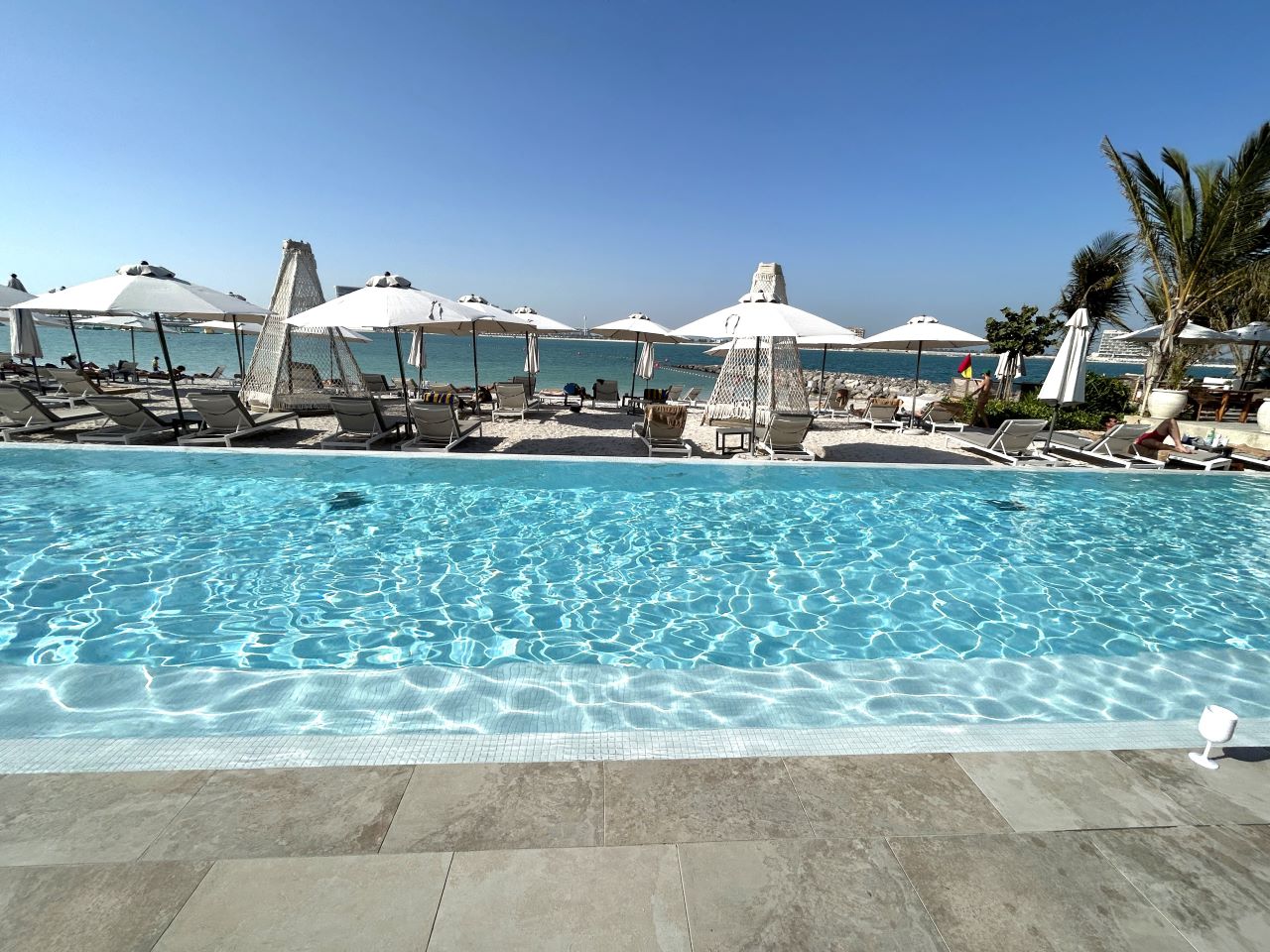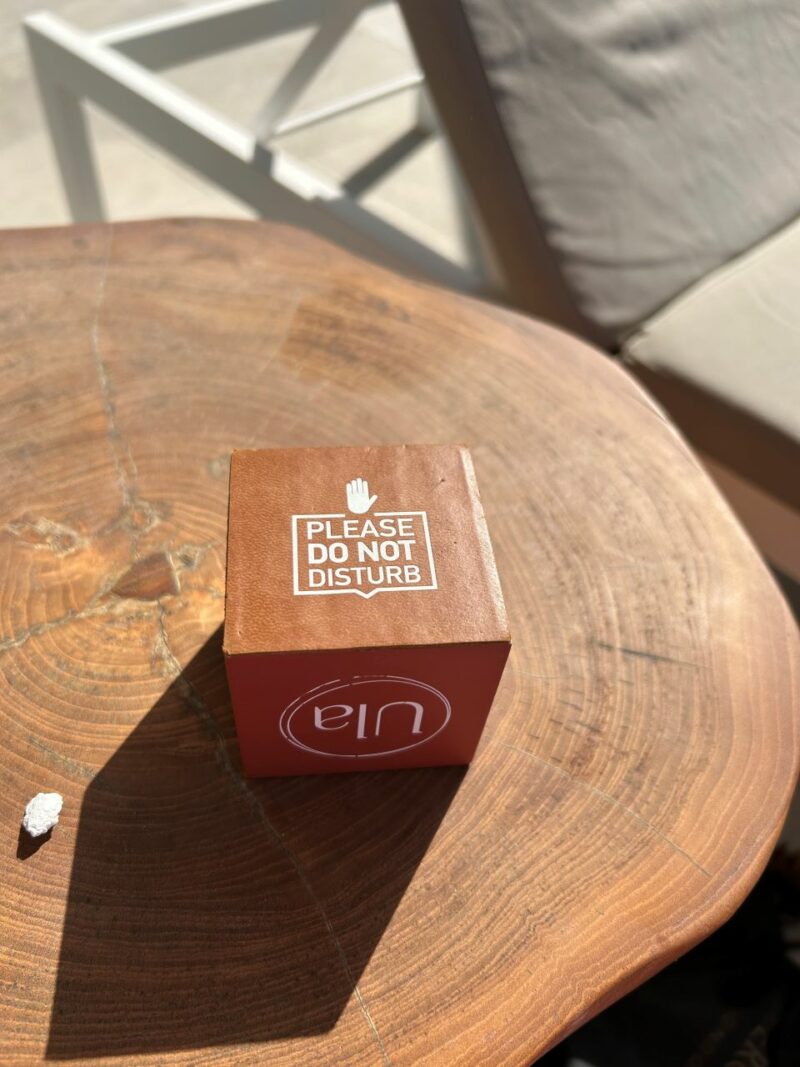 There are a variety of watersports on offer, including kayaks and paddleboards, as well as motorised options like jet skis. I had a go on one of their high-power boats, which was similar to a jet ski, and great fun zooming around the island's lagoon.
Mövenpick Al Marjan Gym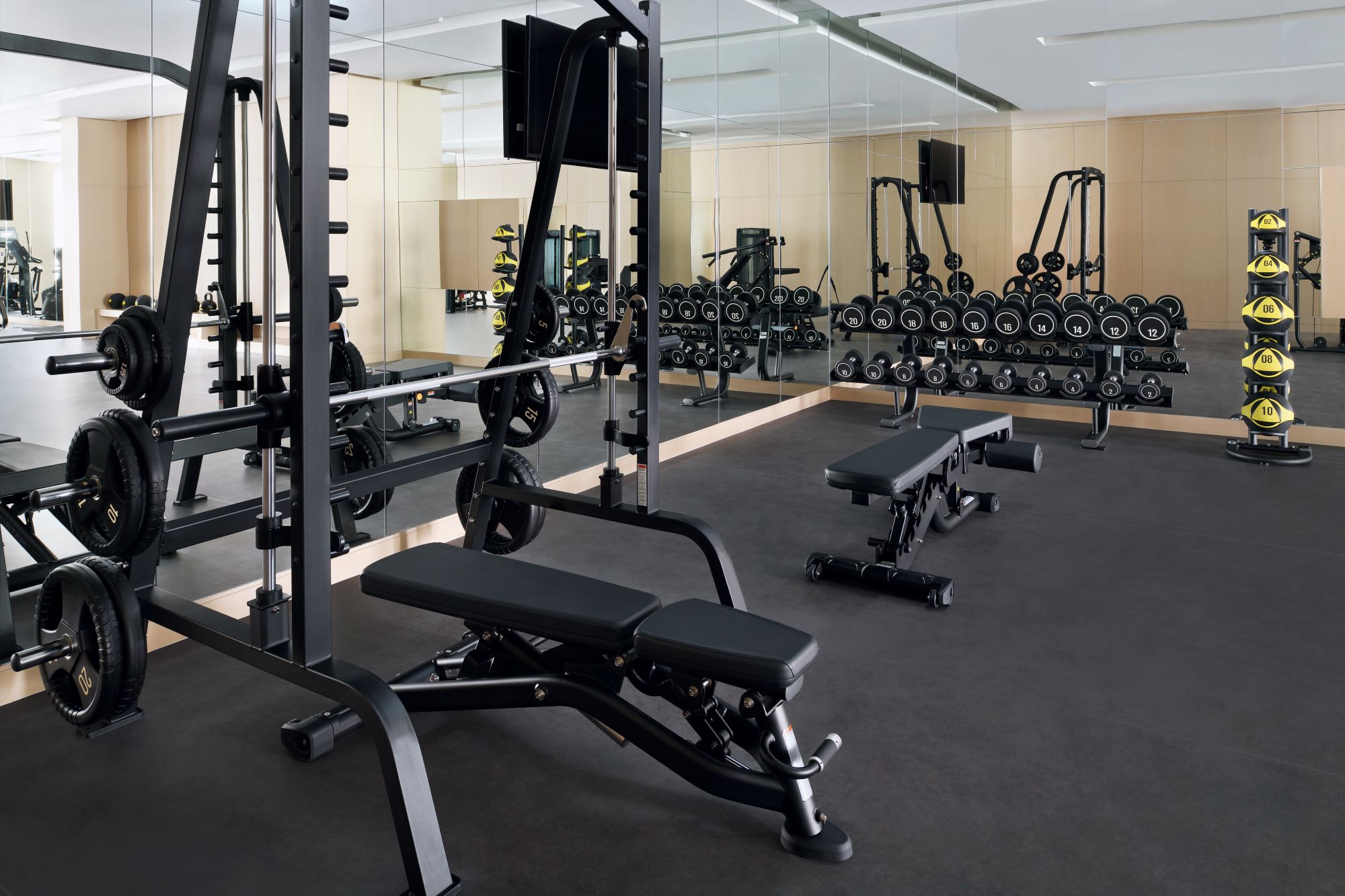 Naturally, there is a large modern gym that offers cardio equipment, free weights, yoga balls, and stretching areas. This is open 24 / 7.
Mövenpick Al Marjan Spa
I had a relaxing massage at the spa, Citrine which offers a variety of treatments from massage to facials.
Mövenpick Al Marjan Kids facilities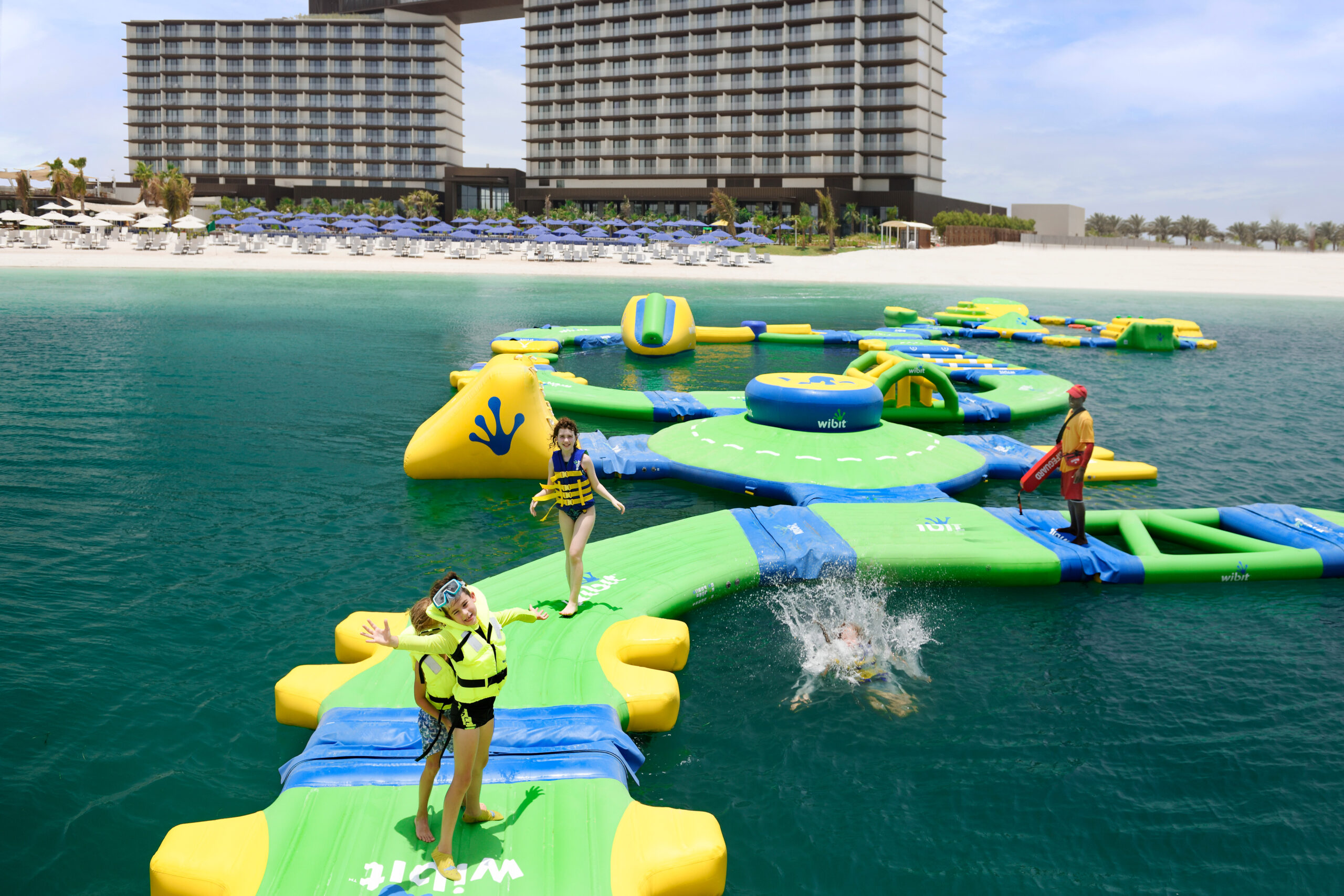 The resort is definitely family-orientated, but I like the fact that there is what I referred to as the adult end by Ula, which was generally quieter and child-free.
Starfish Adventure Club is the resort's kid's club. Ras Al Khaimah's only floating water park by Wibit is the highlight of the resorts kids' facilities. Starfish Adventure Club gives guests access to a 200 sqm indoor kids' zone and a dedicated pool. The All-year Kids' Camp in partnership with Worldwide Kids and the Mövenpick's flagship Starfish Adventure Club offers specially designed two-week programs of adventure and education for four distinct age groups. Daily: 10:00 am -10:00 pm.
Video
Pricing
The prices are very reasonable at the hotel, especially when you compare it with Dubai. An entry-level room starts at £133 in low season, a panoramic junior suite from £292 with a beachfront villa costing from £512 per night.
You can save 5-10% by joining ALL Accor too.
You can find more details and prices here.
Conclusion for Mövenpick Al Marjan
I absolutely loved the beachfront suites as I have never really stayed in anything quite like this before. I think the direct access to the beach made it unique, and it really felt a very special room. The beach here is great, with lovely sand and good swimming conditions. Even though I went child-free, it felt like it catered well to various types of travellers with Ula providing a more sophisticated setting by its pool. There are lots of restaurants and bars here, so you could easily eat in the resort for your stay if you didn't fancy venturing out.