This Qatar Airways A330-200 Business Class is the second review of Claudio's and my trip to Penang with reviews of the Shangri-La Penang and the Eastern & Oriental hotel still to come. You can read the review of our Qatar QSuites flight on the way out here.
From other reports and our own experiences, it appears the Penang route is pretty quiet for Qatar, particularly in business class. They will shortly be adding Langkawi to the route from 15 October which will route Doha-Penang-Langkawi-Penang-Doha. From 29 October the service will be on a B787.
On the way out there were about five people in business class. This made it much nicer as we both got a window seat with the seat next to us free as well. However, the way home was to be even better…
Check-in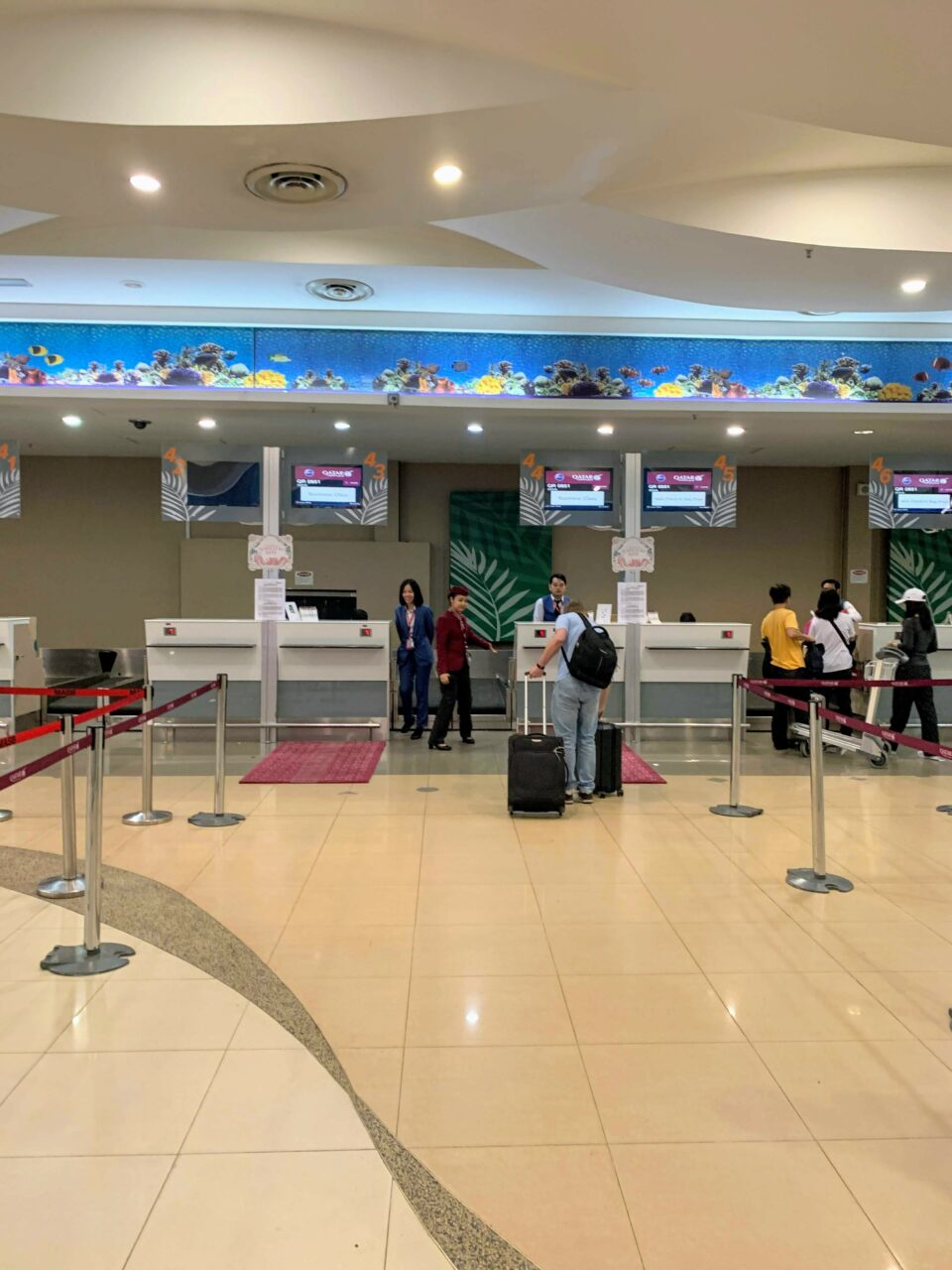 We arrived at Penang airport by Grab (Uber's equivalent in most of Asia) to find check in almost deserted which we thought was rather odd. The check-in agent was very helpful as we were asking about how busy it was and whether to move seats. She replied that we were the only people in business class which we were quite excited about!
The Lounge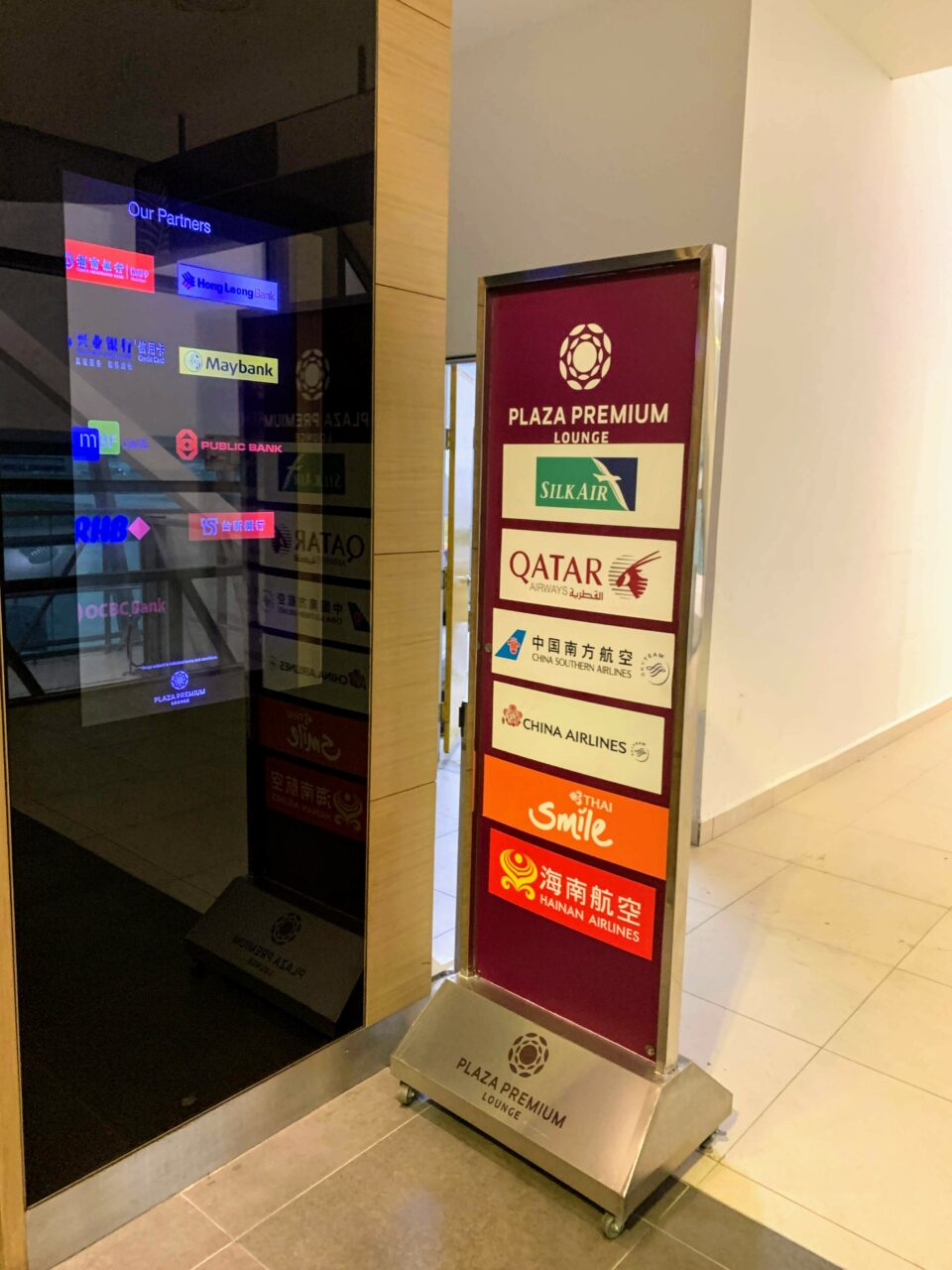 Immigration was a lot better in Penang on the way out than on the way in. If you are planning a trip to Penang, expect a long, rather disorganised wait.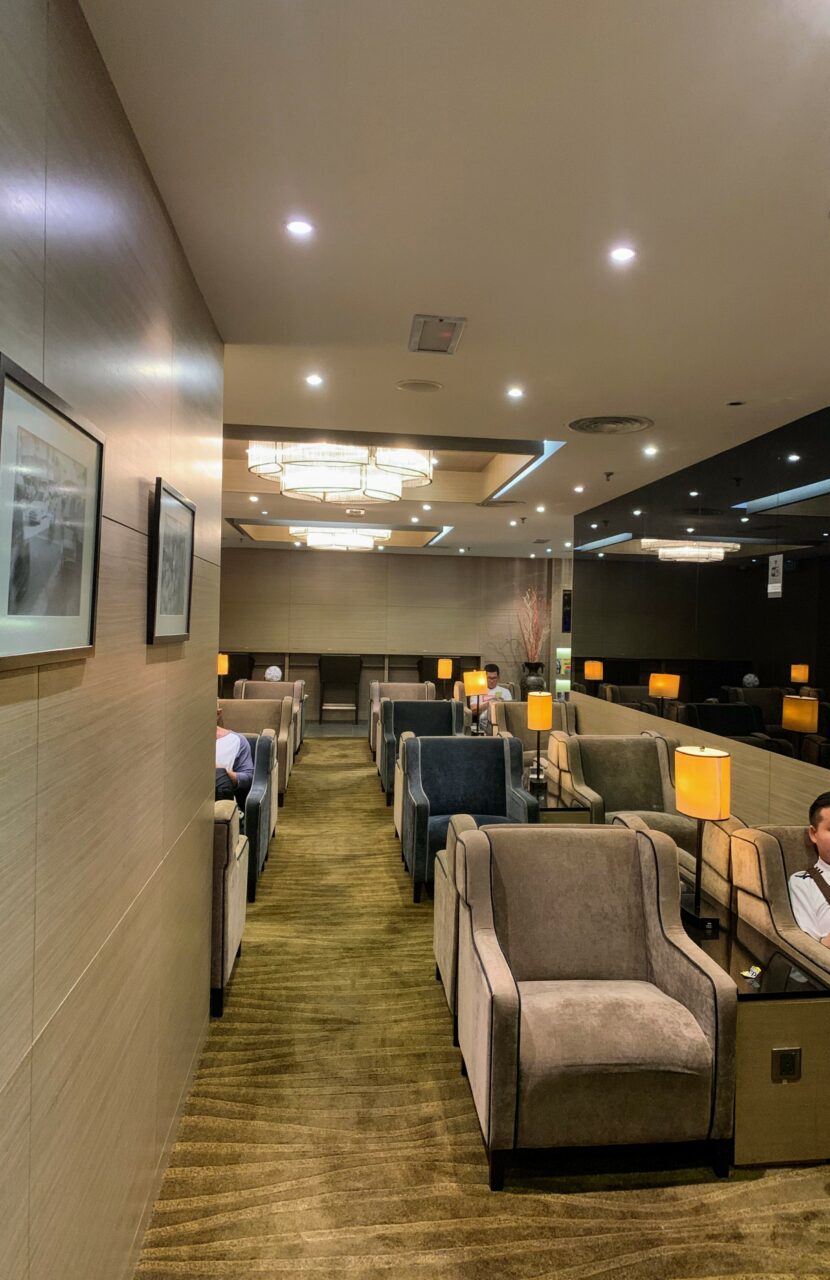 We momentarily got excited when we saw that there was a Cathay lounge, but a quick Google revealed that it was shut in the evenings sadly. So that left the Plaza Premium lounge which Qatar use. Plaza Premium lounges are usually pretty good. This one wasn't.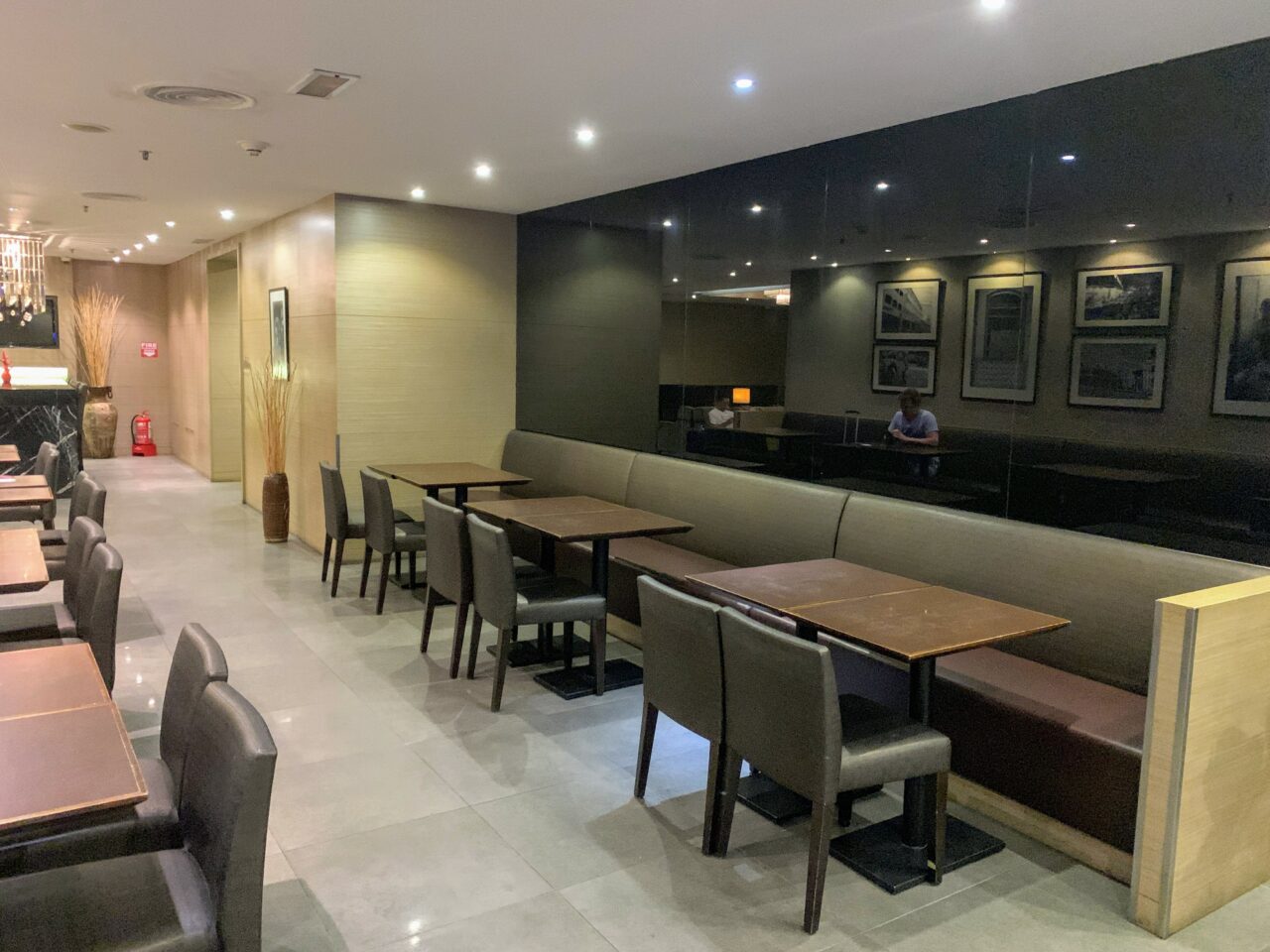 It was all looking a bit worn, and the drink offering was minimal with just one type of beer out on display and then soft drinks. The food offering looked limited, but then I spotted that they had dishes to order with a live cooking station and chef. This had a range of mainly Asian food including Thai Green curry.
Boarding Qatar Airways A330-200 Business Class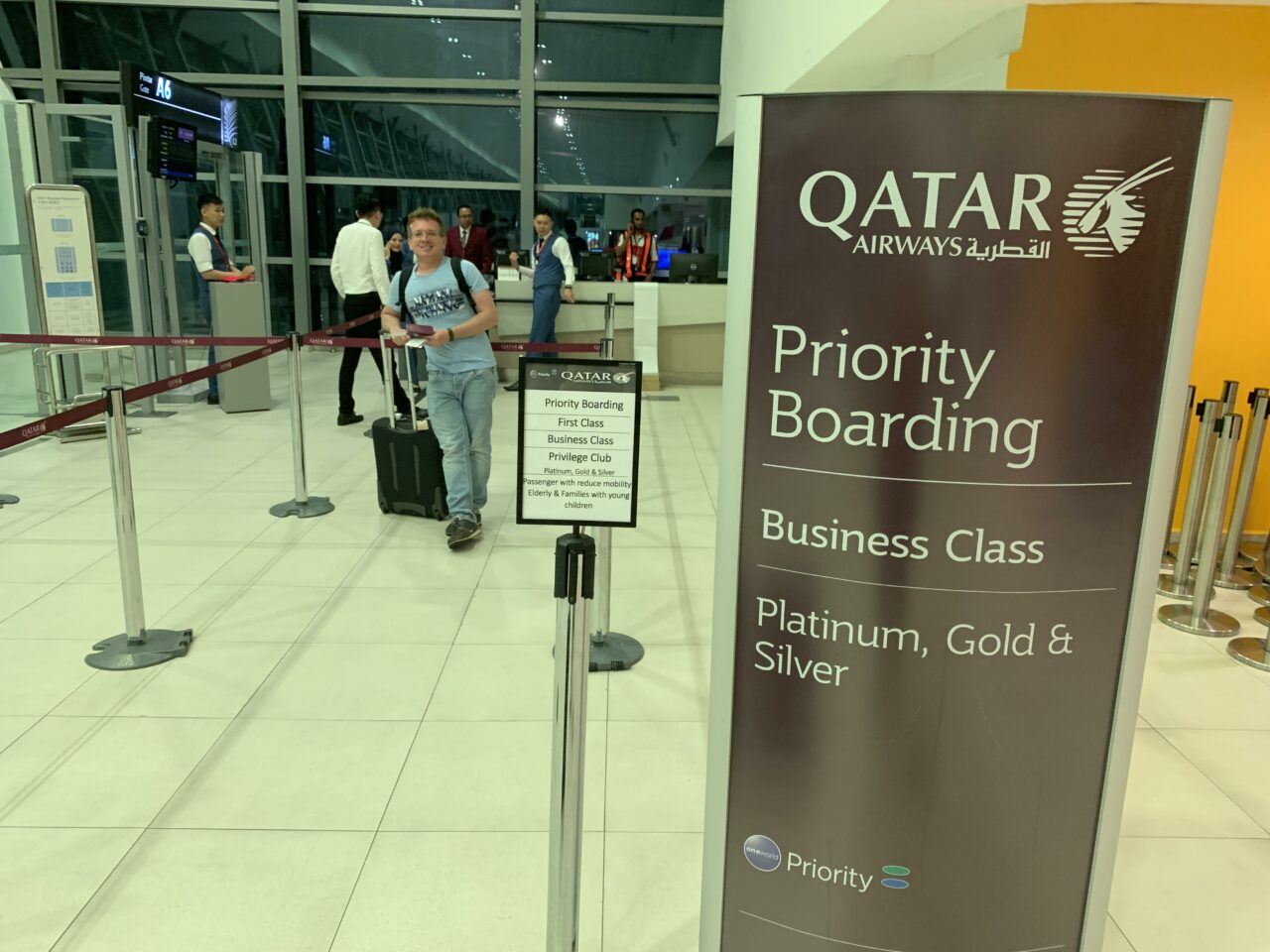 As the flight was quiet overall, the boarding gate was also very pleasantly calm. We arrived a short time before boarding was due to start although it was a little later than advertised. Naturally, we were first in the queue being the only business class passengers.
The onboard crew seemed to be enjoying the fact that we were the only customers in business class and promised they would look after us well and they certainly did! They were happy to pose for pictures in the empty cabin and definitely gave us a slightly better than regular service. In fact, these four flights to Penang were the most consistently good ones I have had with Qatar. Although they are usually good, I have had the odd trip where the service or something else hasn't been great. These flights though were all pretty much perfect!
The first thing we needed to do was choose seats so much to the crew's surprise we went for 1A and 1K at opposite sides of the cabin! After four days with Claudio, I had had enough of him and wanted some space to myself. (Just kidding Claudio! ?). I will explain why we choose the seats in a bit.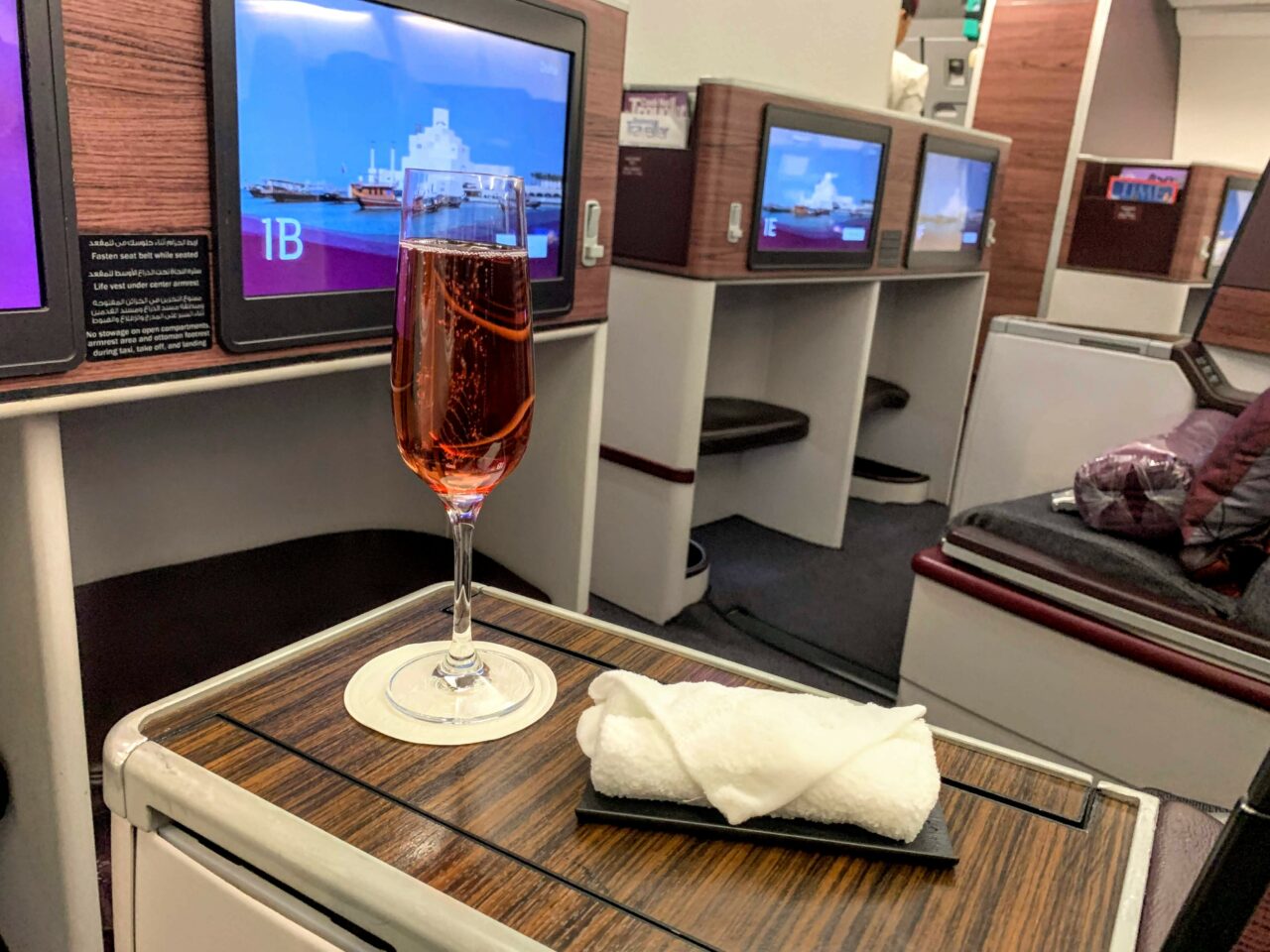 We were offered a choice of welcome drink and a hot or cold towel. Even though I had done the outbound flight teetotal (see my QSuites review here), I decided I would enjoy a couple of glasses of something before I went to sleep. I went for the Laurent Perrier Rose champagne, which is one of my favourites unlike the regular champagne on offer which I am not a fan of at all. Top-ups were offered along with some nuts which you don't normally get for boarding.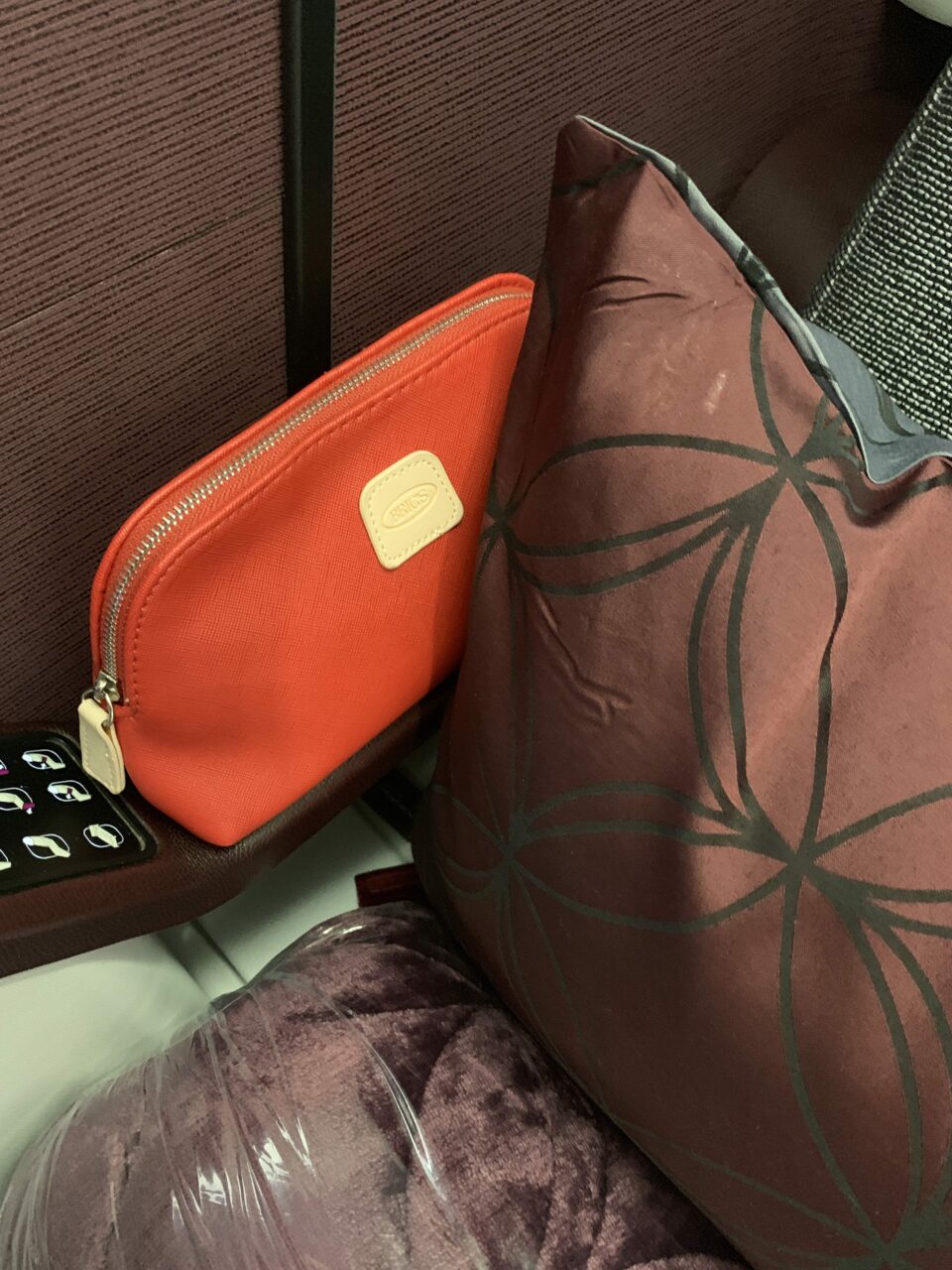 At the seat, there was already a BRICS amenity kit in Red (these smaller ones come in black as well) and a bottle of Evian. The contents of the bag were the same as for the QSuites and A380.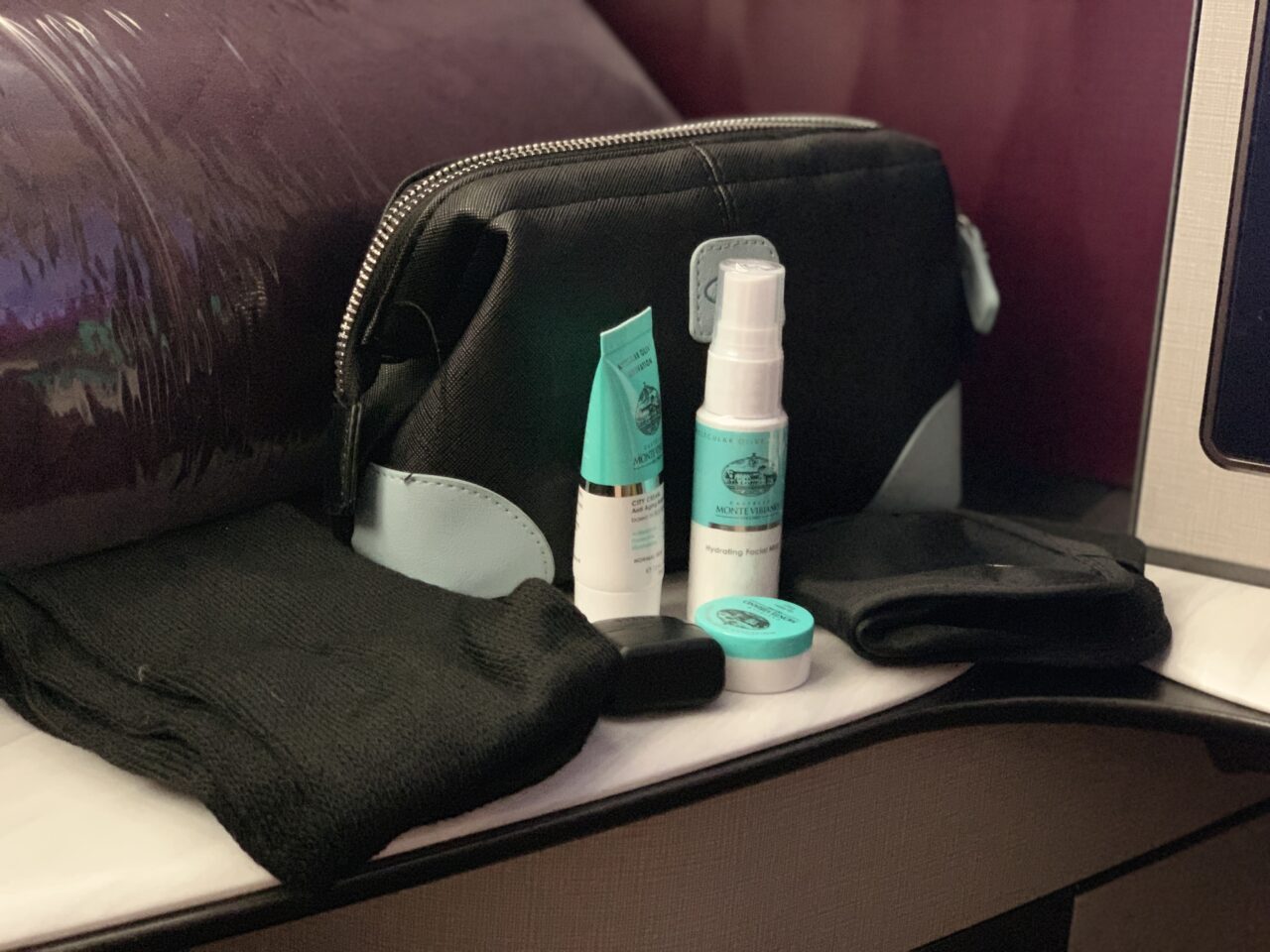 White Company pyjamas and slippers were given out in their guestimated size for you although they were happy to swap if you wanted to.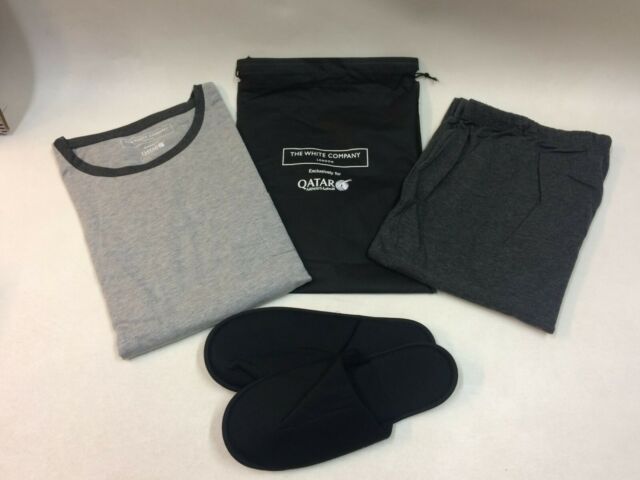 A selection of local and international papers was brought round by the crew.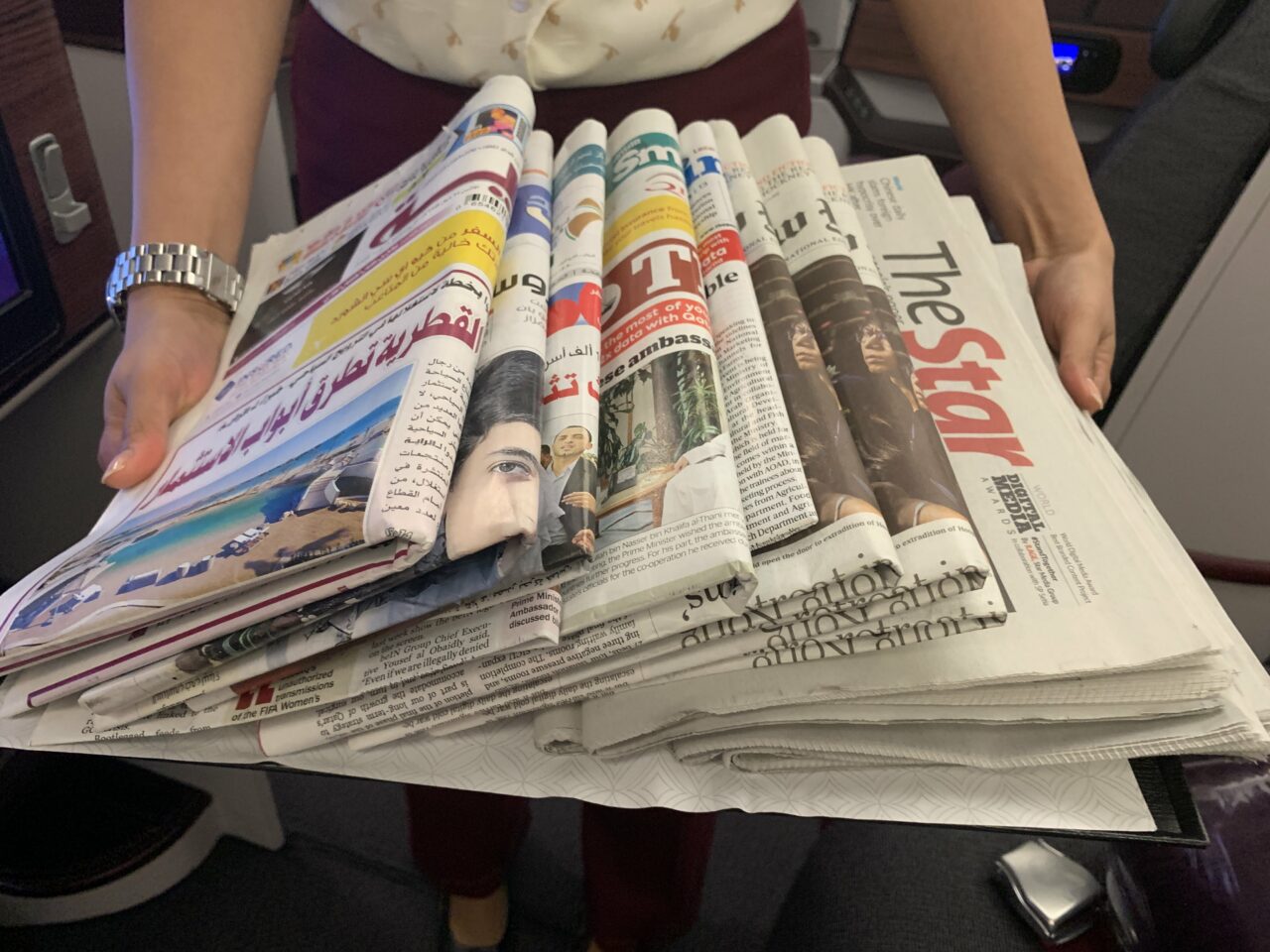 If you didn't want a paper, there was a magazine rack on either side of the cabin at the front.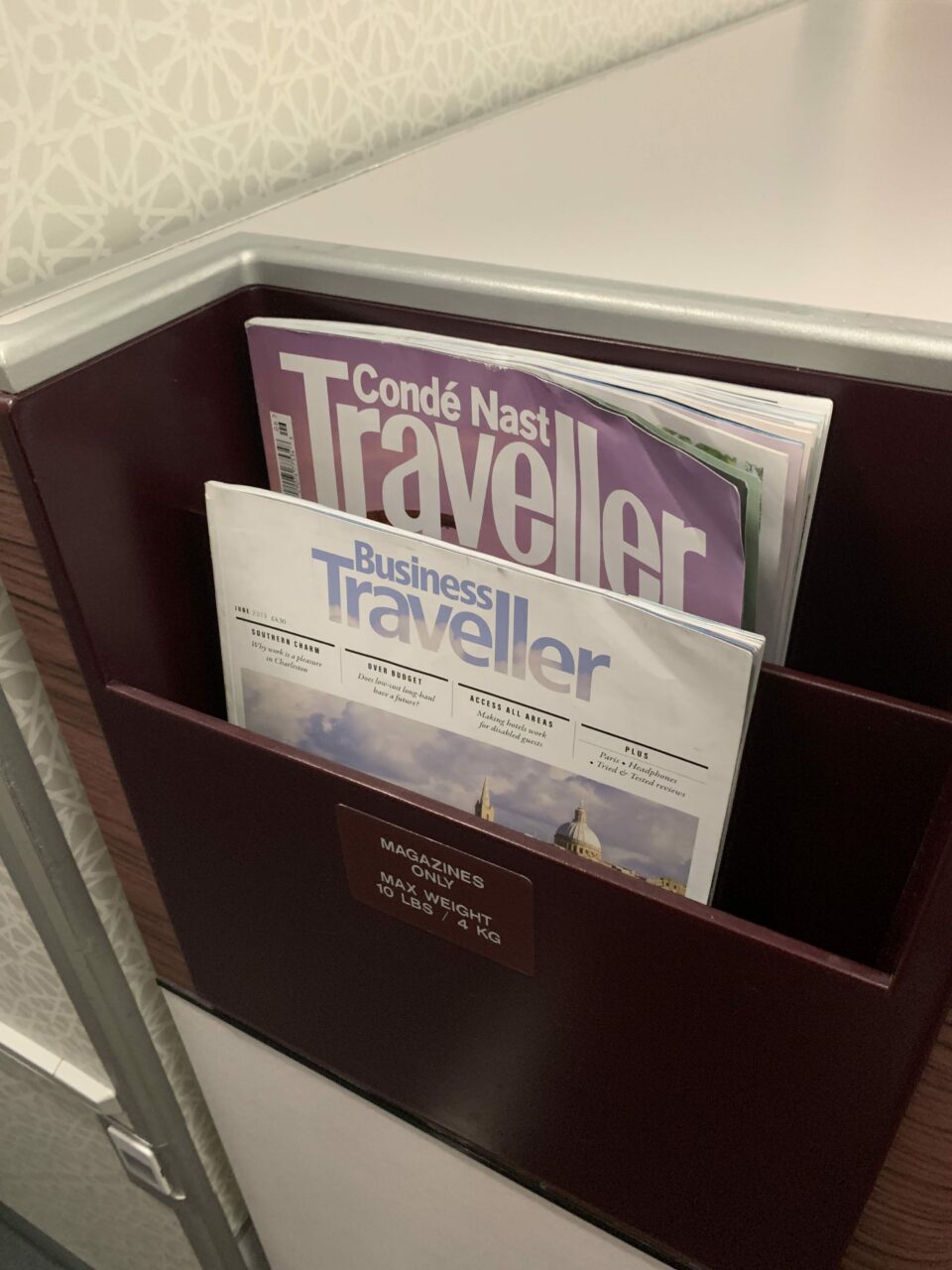 The menu and wine list were also handed out before take off, and the cabin crew introduced themselves along with the Onboard Cabin Manager.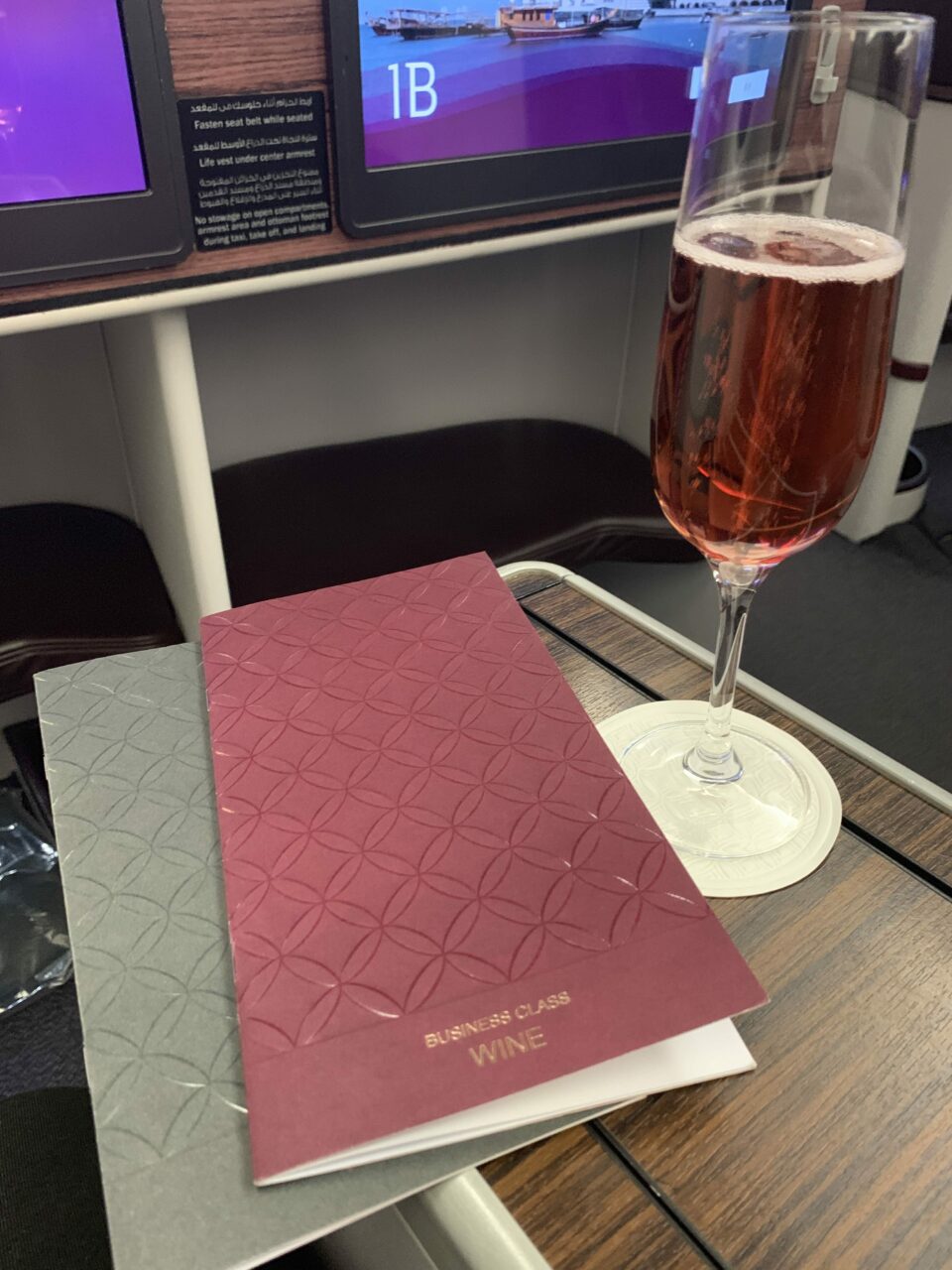 Qatar Airways A330-200 Business Class seat and cabin
Qatar currently has 25 A330s, but it is planning to phase them out in the next three years fortunately and replace them with B787 and A350s. This is good news as the A330 is my least favourite aircraft in the Qatar fleet.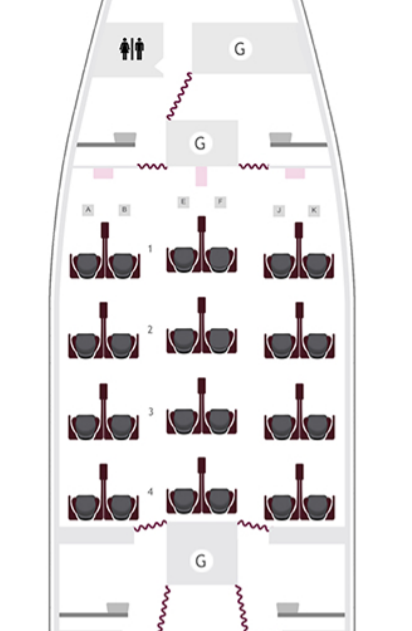 Seats are arranged in a 2-2-2 configuration, and it is quite awkward to climb over someone if you are in a window seat and they are in bed mode. If you are solo, the middle seats may be a better option.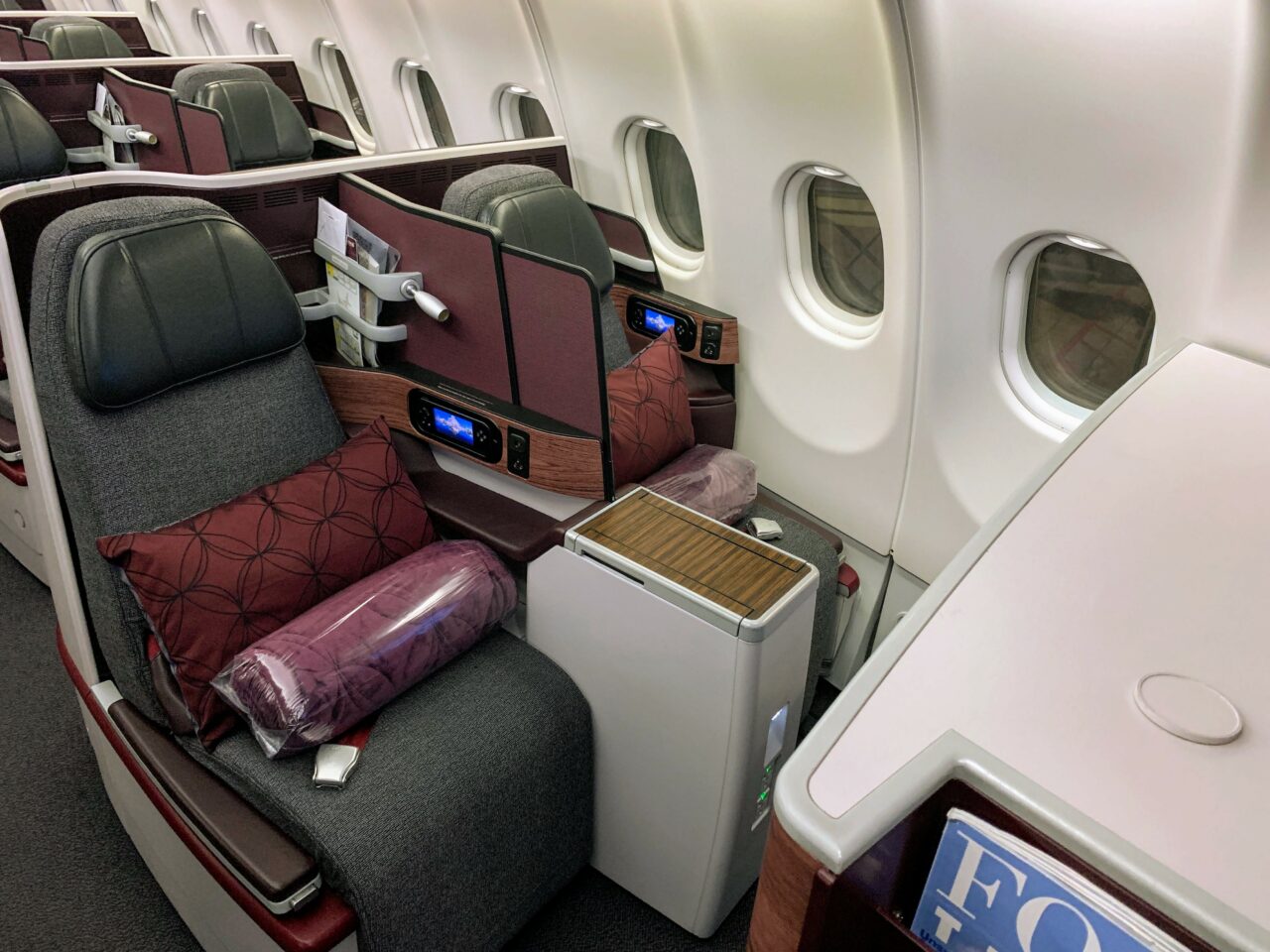 The best option for everyone is to try and get row 1 as these have many better-sized footwells.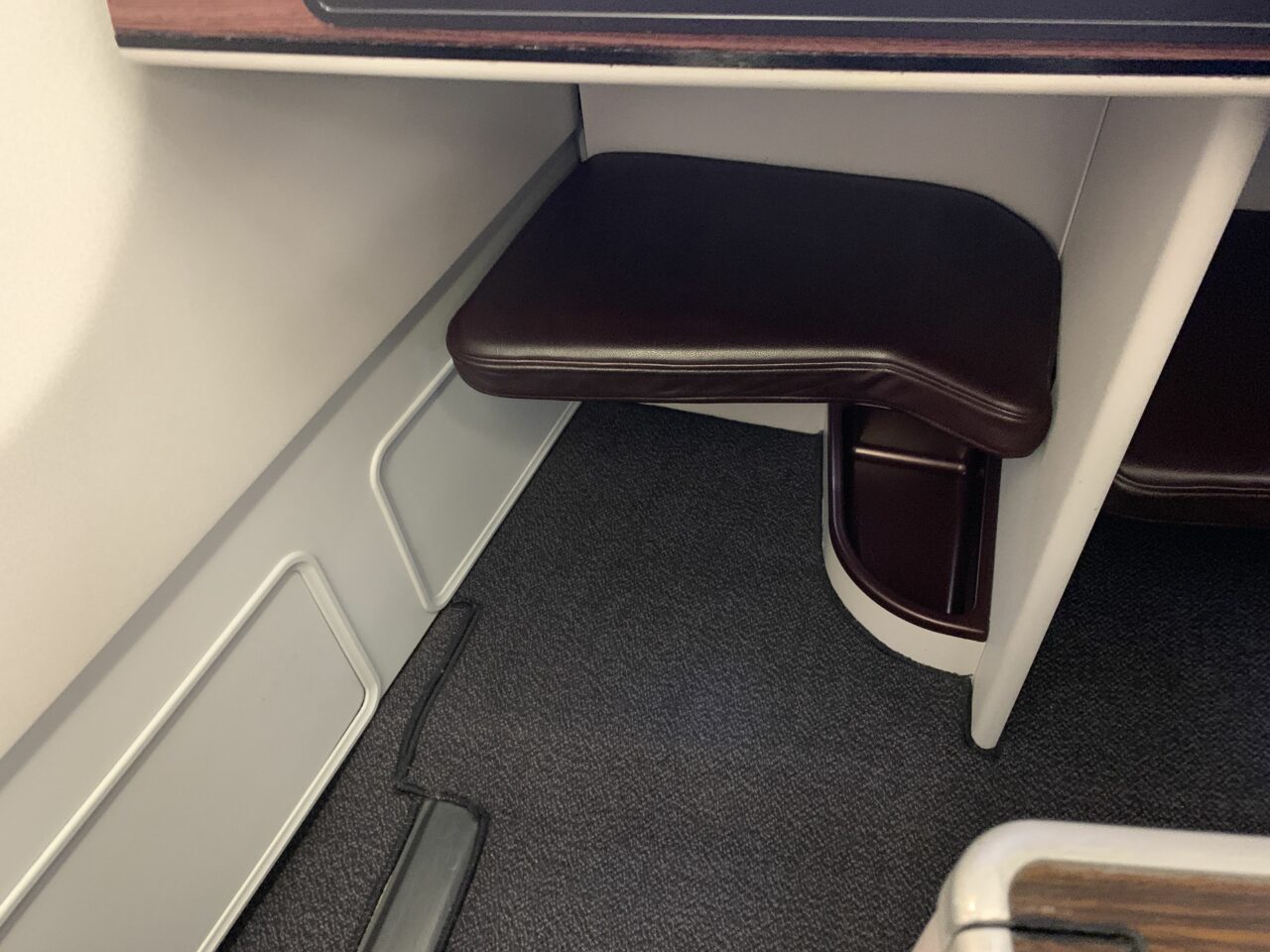 The other rows have tiny little footwells, which adds to the cramped feeling of the seats when you are in bed mode.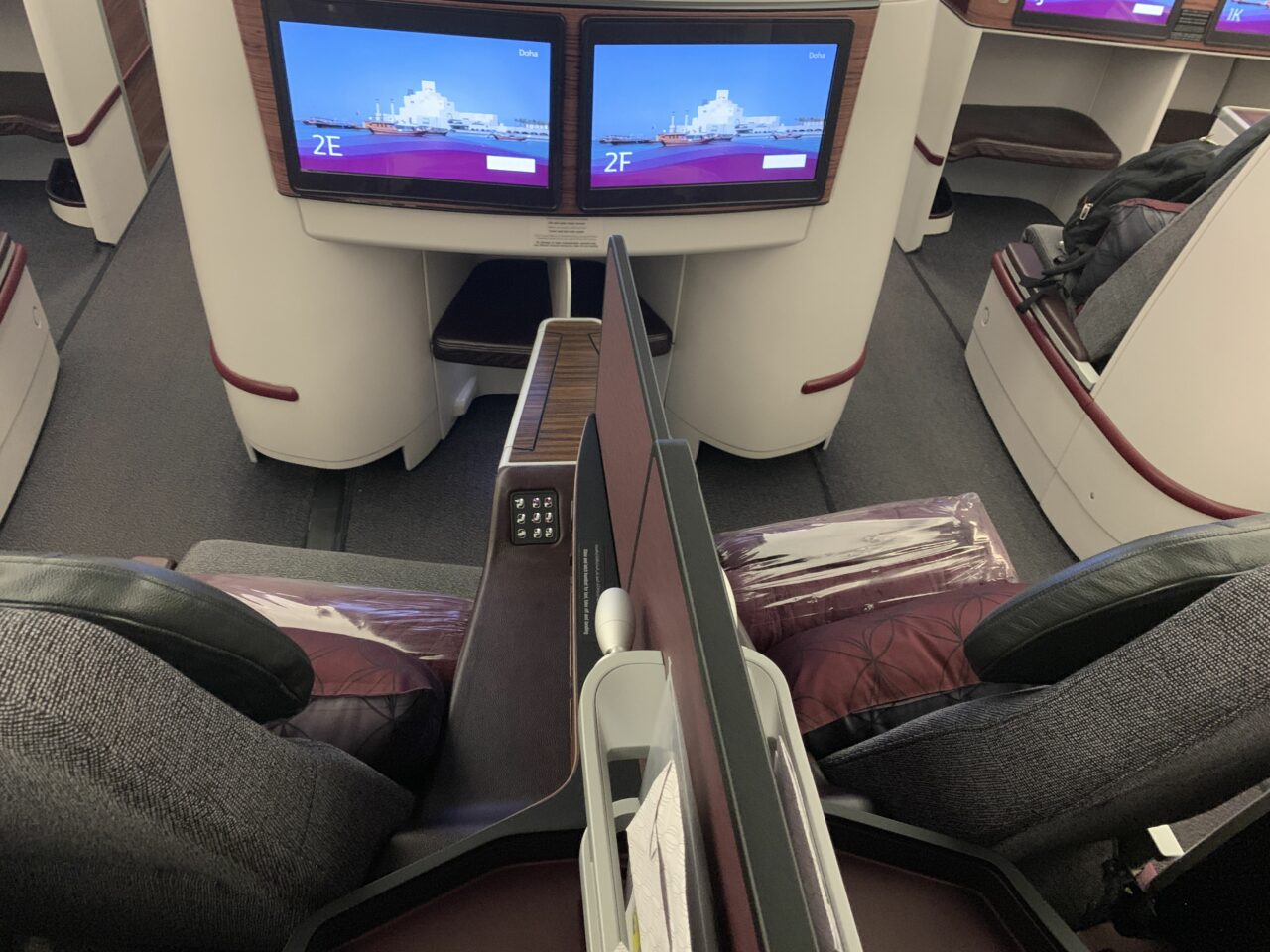 The seat was easily adjustable and found it pretty comfortable for sitting although I did find the footwell hard to reach without moving the seat. The privacy is not great on the A330 although there is a small divider at shoulder height but you still share the same centre console. When lying down if you are a side sleeper your knees would be pretty cosy with your neighbour!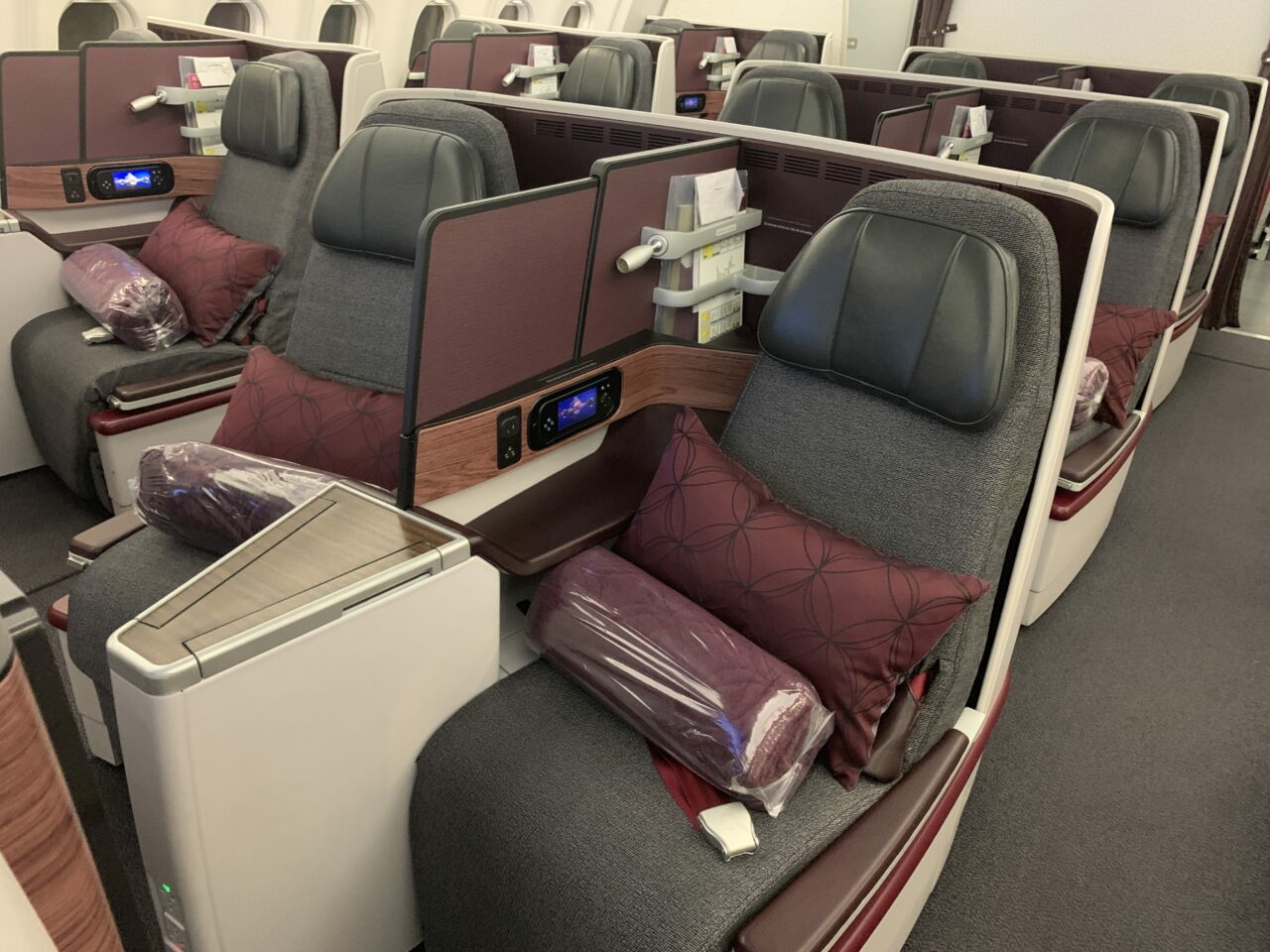 On the way out I had been in row 2, and row 1 was definitely a significant improvement. I did not feel nearly as cramped as when I was in row 2 and slept much better. Otherwise, you feel like you can't really sleep comfortably on your side as there is not enough width to the seat area.
The seat is easy to adjust, and you can change each element separately, which is what I always look for. I did find that the controls sometimes seemed to have a mind of their own though! There were also preset buttons for bed, take-off and lounging positions.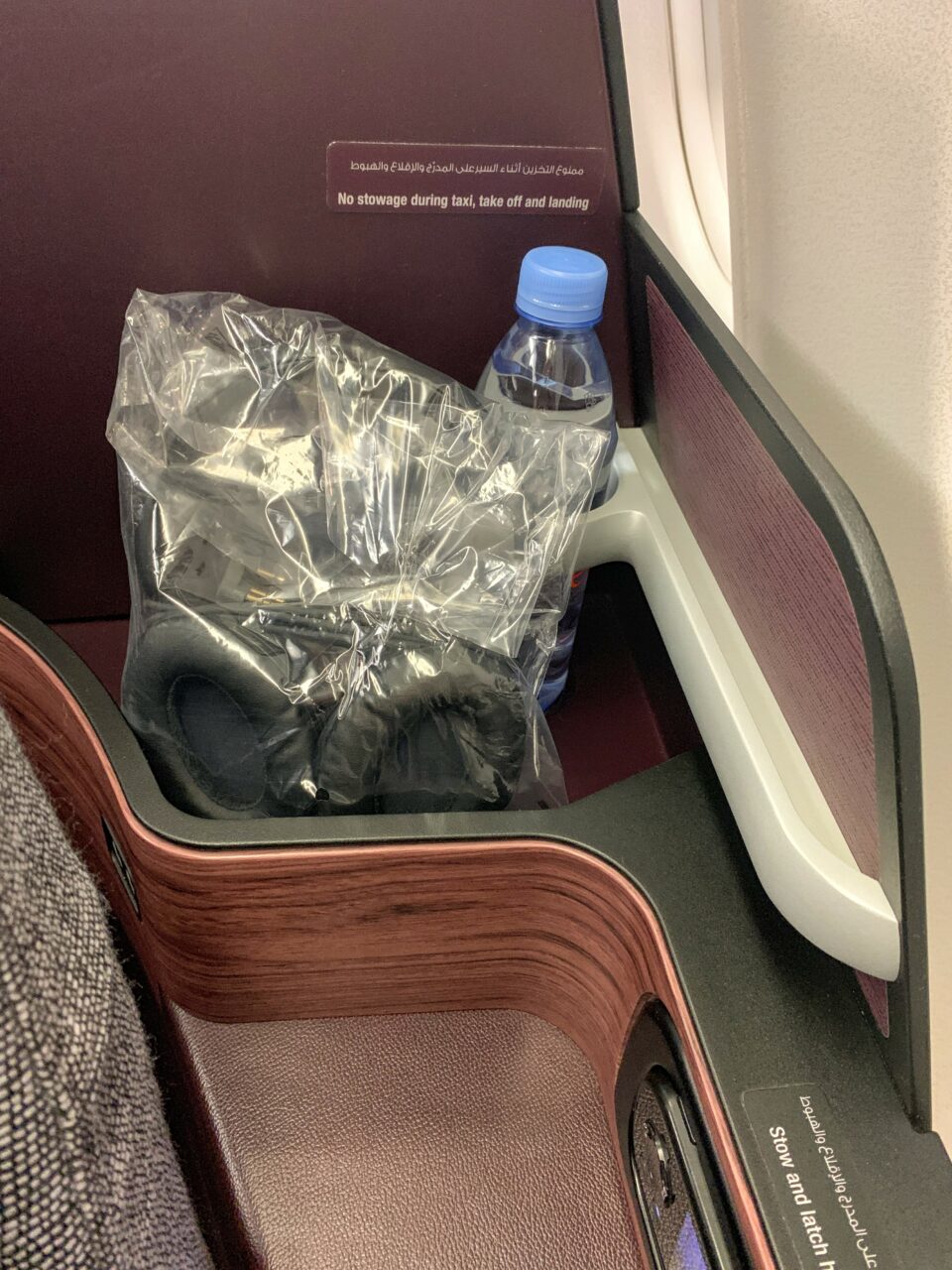 There was very little storage space at the seat apart from a small area behind my shoulder where the water bottle could be stored and an area which contained the headphones. Luckily I just used the seat next to me for storage once we had taken off!
This was a night flight, but the sleeping amenities were the same as a day flight – the day cushion and a quilt which is silky one side and fleecy on the other. I am not a fan of the cushions and would like to see proper pillows like BA Club World have for sleeping.
Qatar Airways A330-200 Business Class Food and drink
After take off we were offered a drink before dinner and I decided to try a glass of the Truchard Chardonnay white wine. There was an impressive selection of wines and spirits to choose from. Here are the wine and drinks lists:
The wine was served with warm nuts. I like how Qatar present the bottle and offer you a taste first, like being in a restaurant. The chardonnay was very enjoyable, with a lovely crisp finish.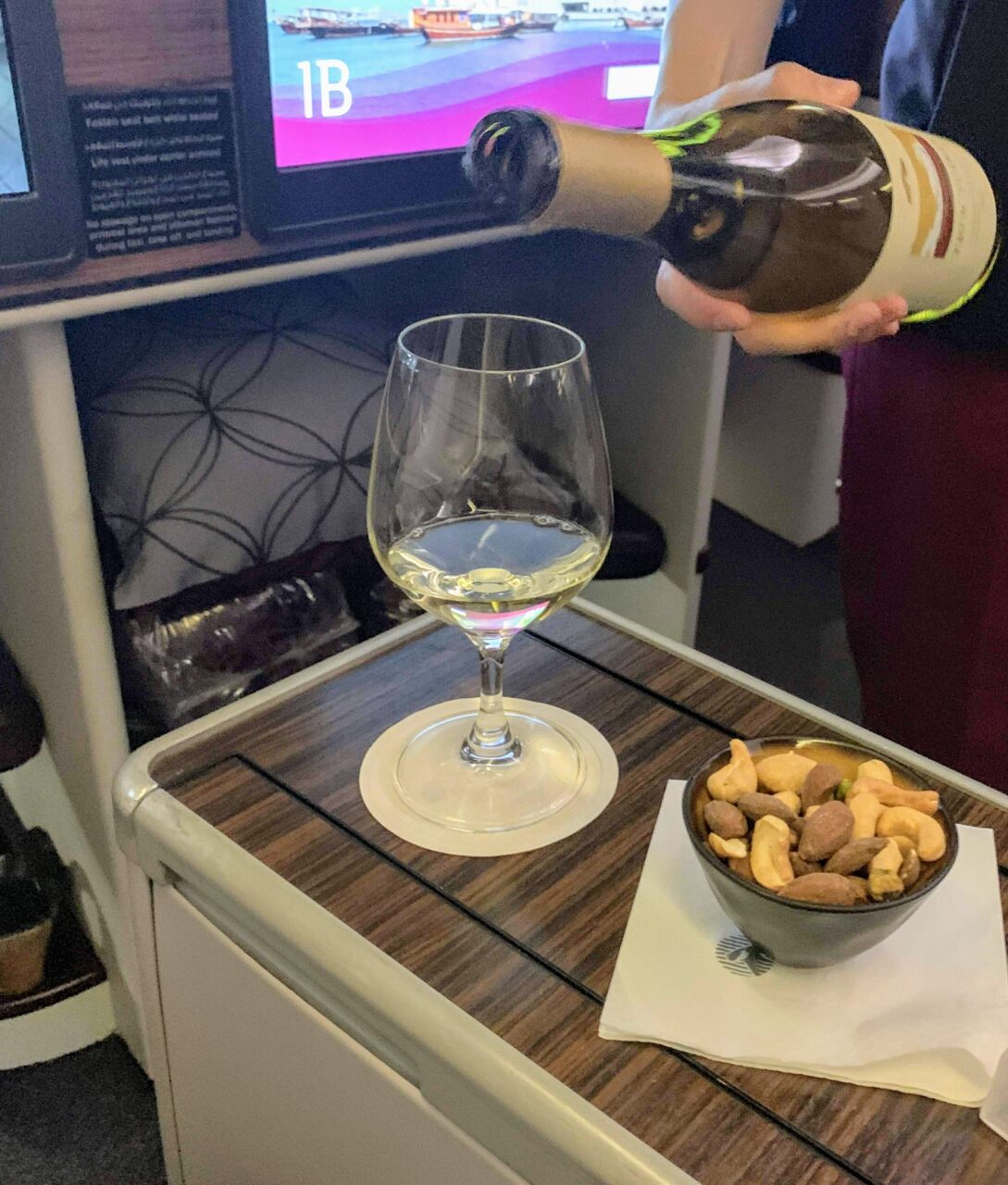 I liked the look of the menu for this flight as there were lots of things I love on it. It was a bit of a struggle to choose as I wanted to get to sleep fairly quickly but also try all the food!
Once I had decided, the table was quickly laid up and a selection of warm bread delivered. I was offered a variety of different flavours of olive oil to go with the bread. I just went for the standard balsamic version. It was good to see the candles (fake obviously!) being used on all aircraft now.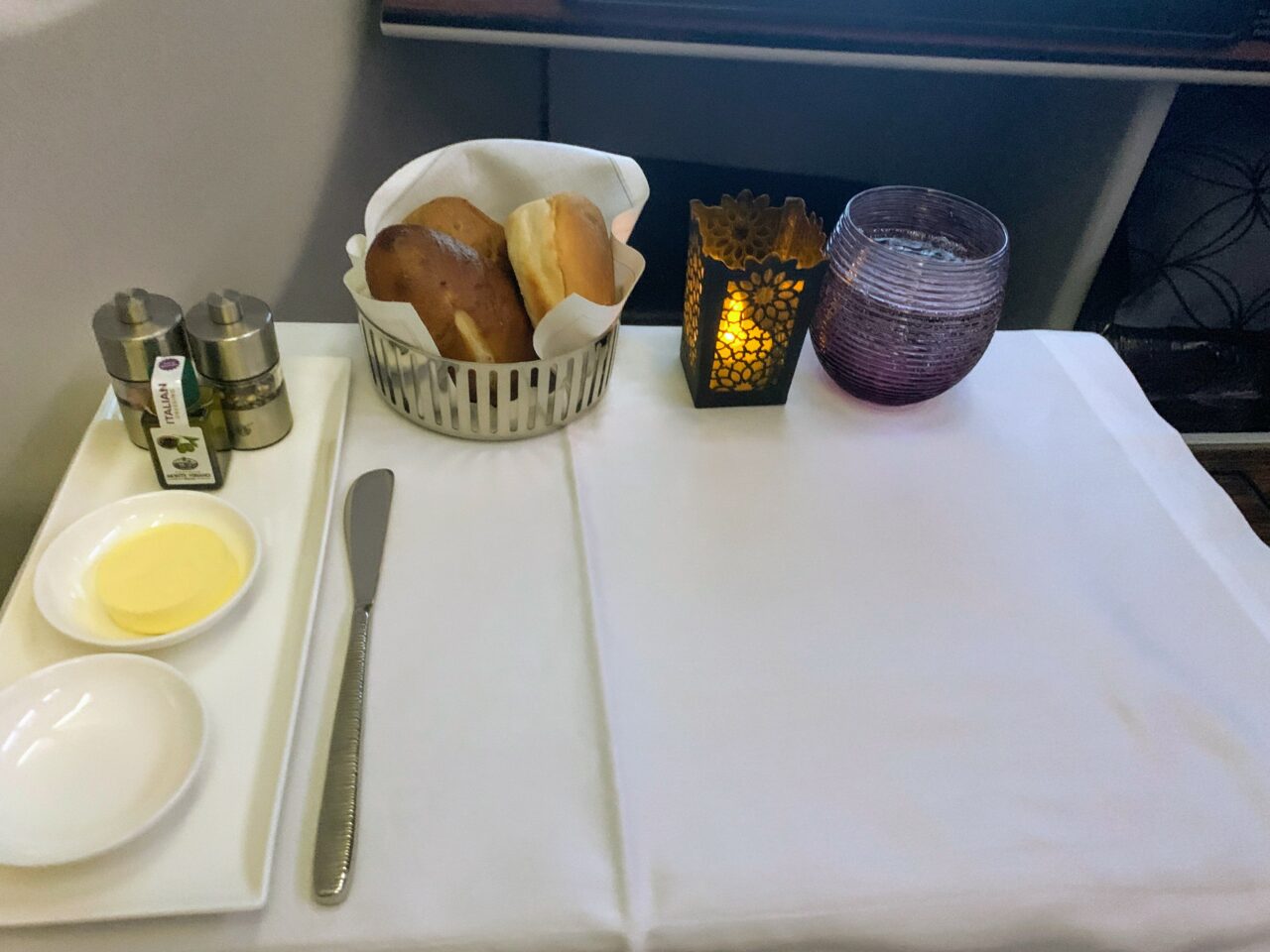 An amuse bouche with smoked salmon was presented before the starter. It was a little basic but tasty enough.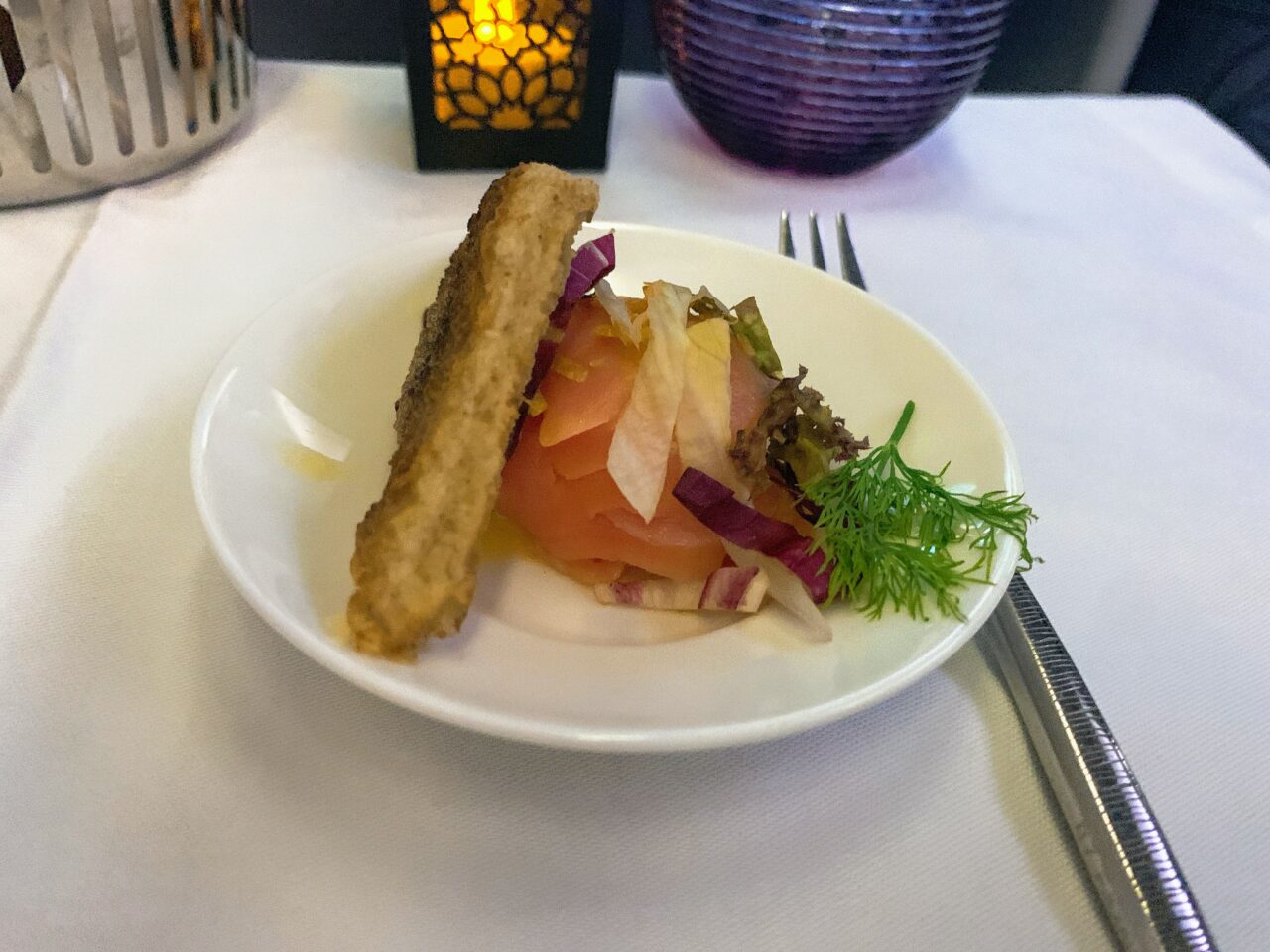 The starter was a natural choice as I have to have my Qatar meze on at least one flight! This, as usual, was excellent and beautifully presented but boy, was there a lot of it for a starter! It was served with yet more bread – three mini Arabic bread this time.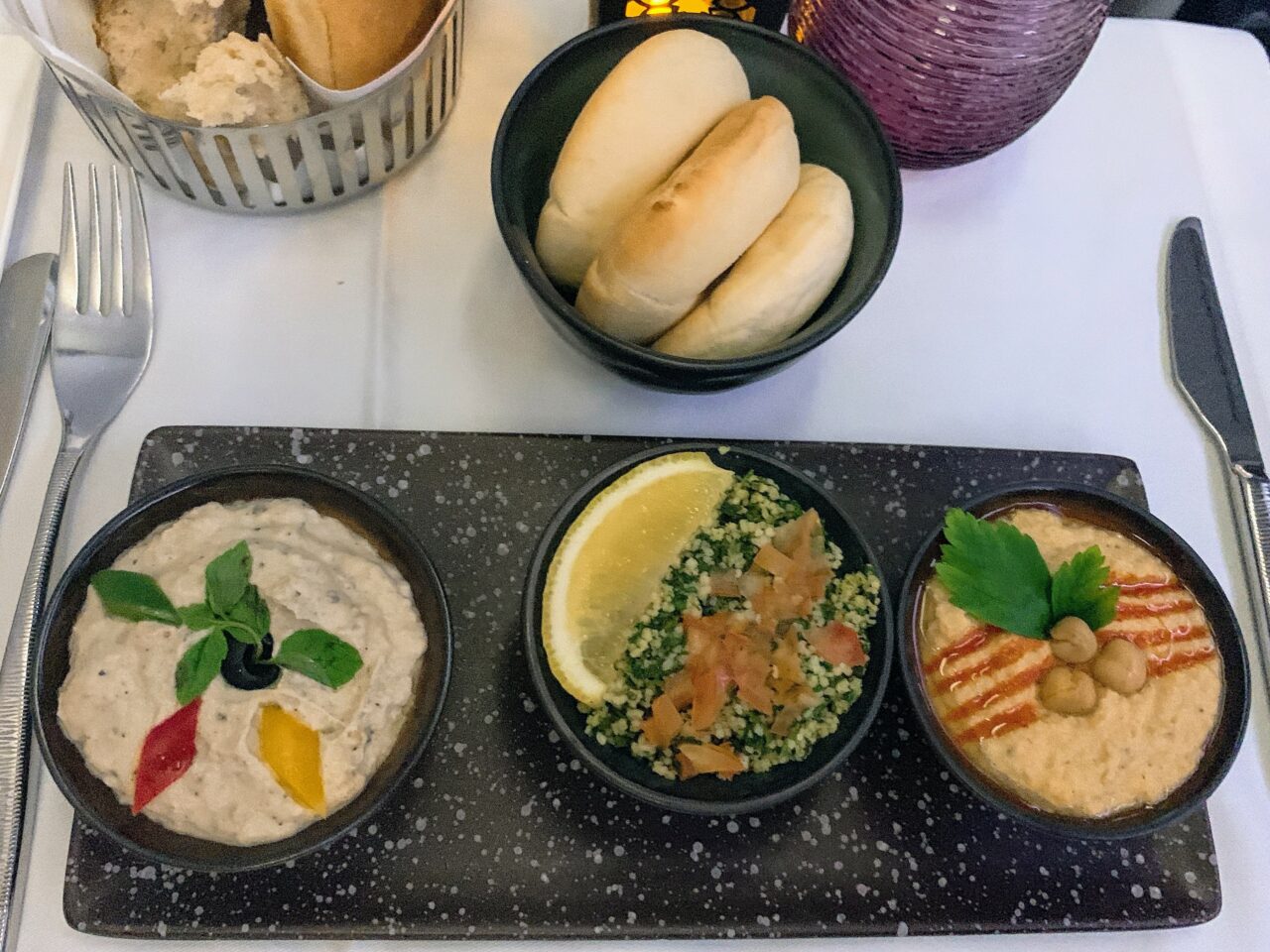 I was torn by the lamb for the main course or the laksa which I had not managed to have in Malaysia. I decided to try the laksa, which was on the snack menu. There was a really lovely varied selection on the snack menu if you fancied something light.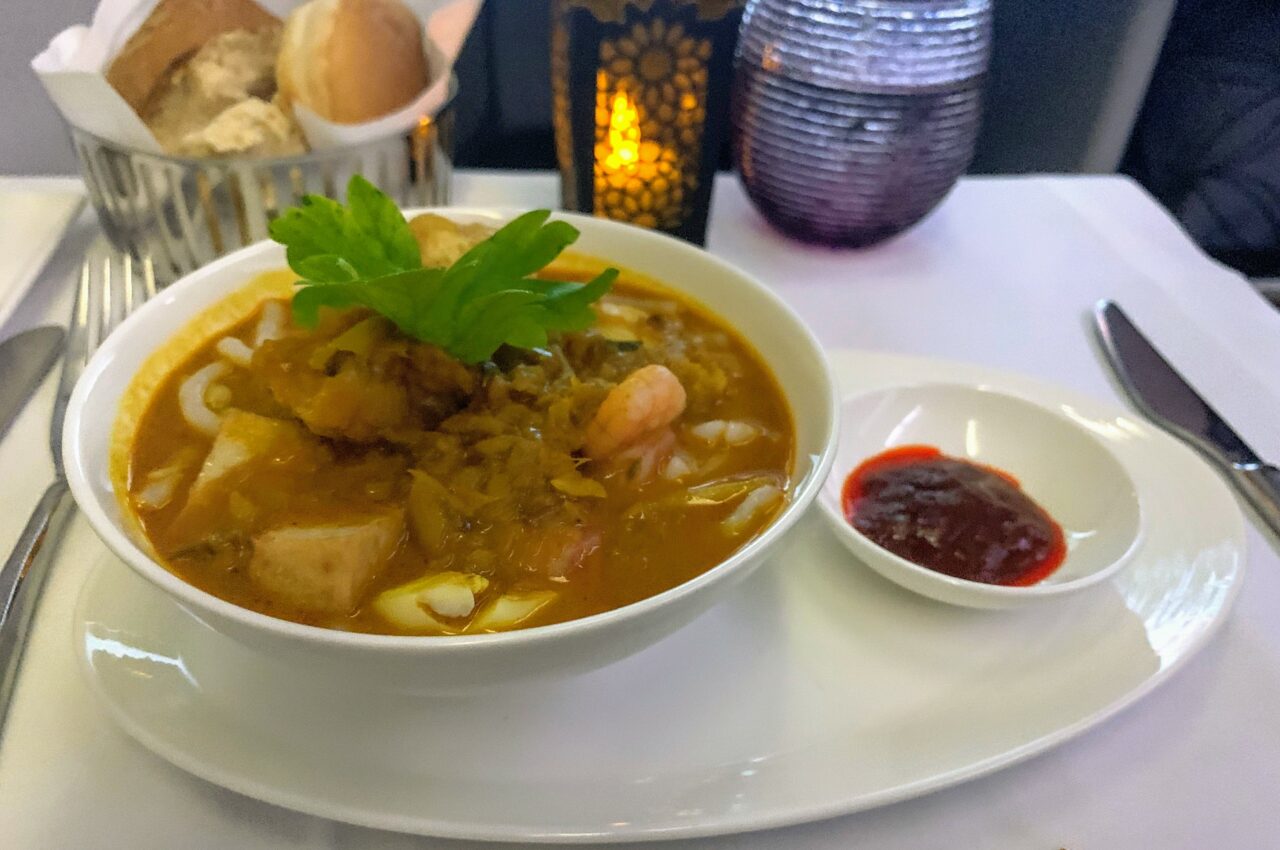 I enjoyed the laksa, but it did feel a little strong on the curry flavour and not enough coconut for my taste.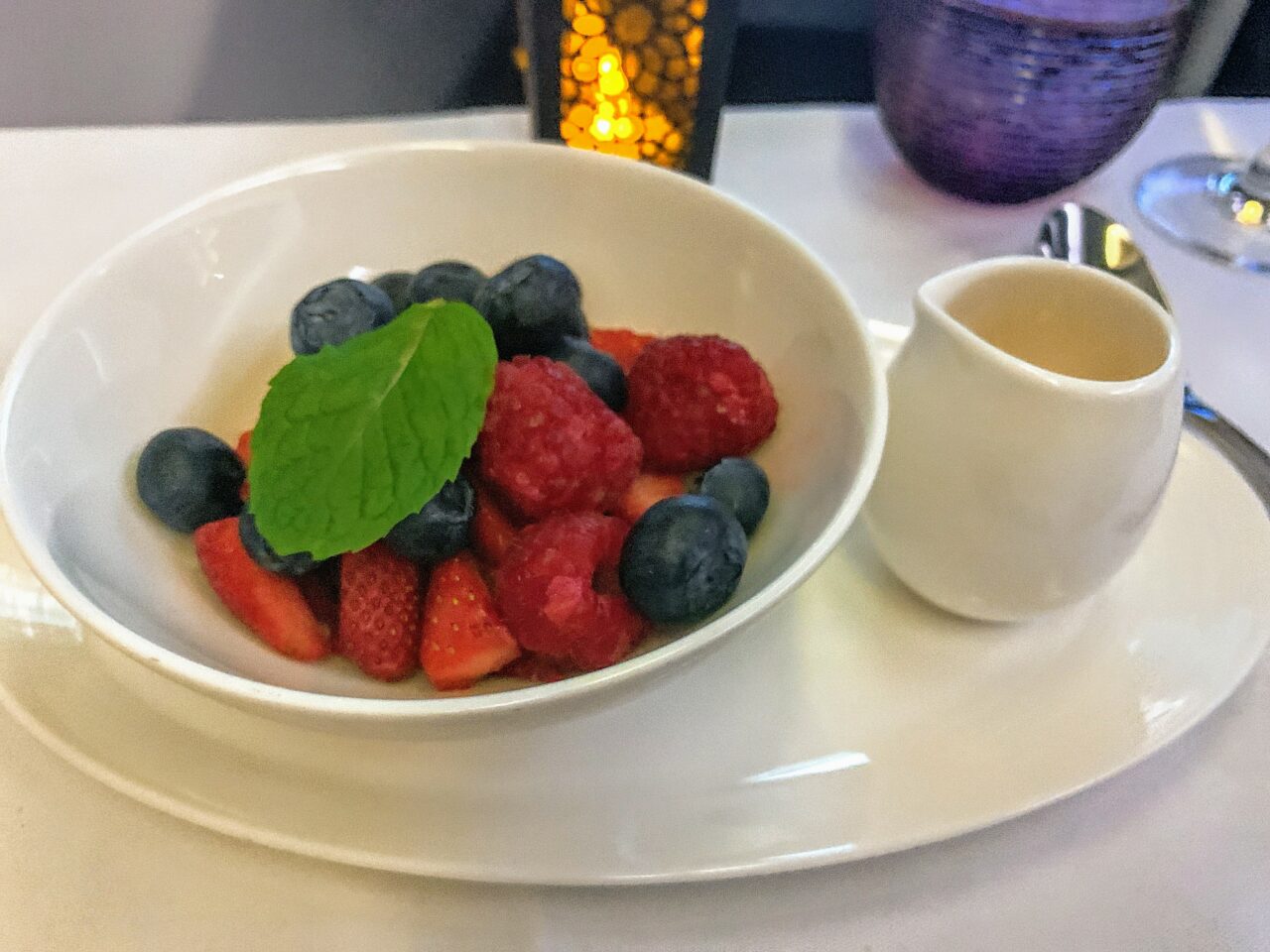 I finished with my favourite dessert on Qatar – very simple but so good. The berries you get on Qatar as simply some of the best berries I have had for some reason. They are always perfectly ripe and fresh. I love the syrups that are served with them, which really make all the difference in turning a bowl of fruit into a dessert. I accompanied this with a glass of the dessert wine – an Austrian Trockenbeerenauslese which literally means dried berries. It was richly sweet but balanced with a fresh lemony finish. I was also given a box of two Godiva chocolates.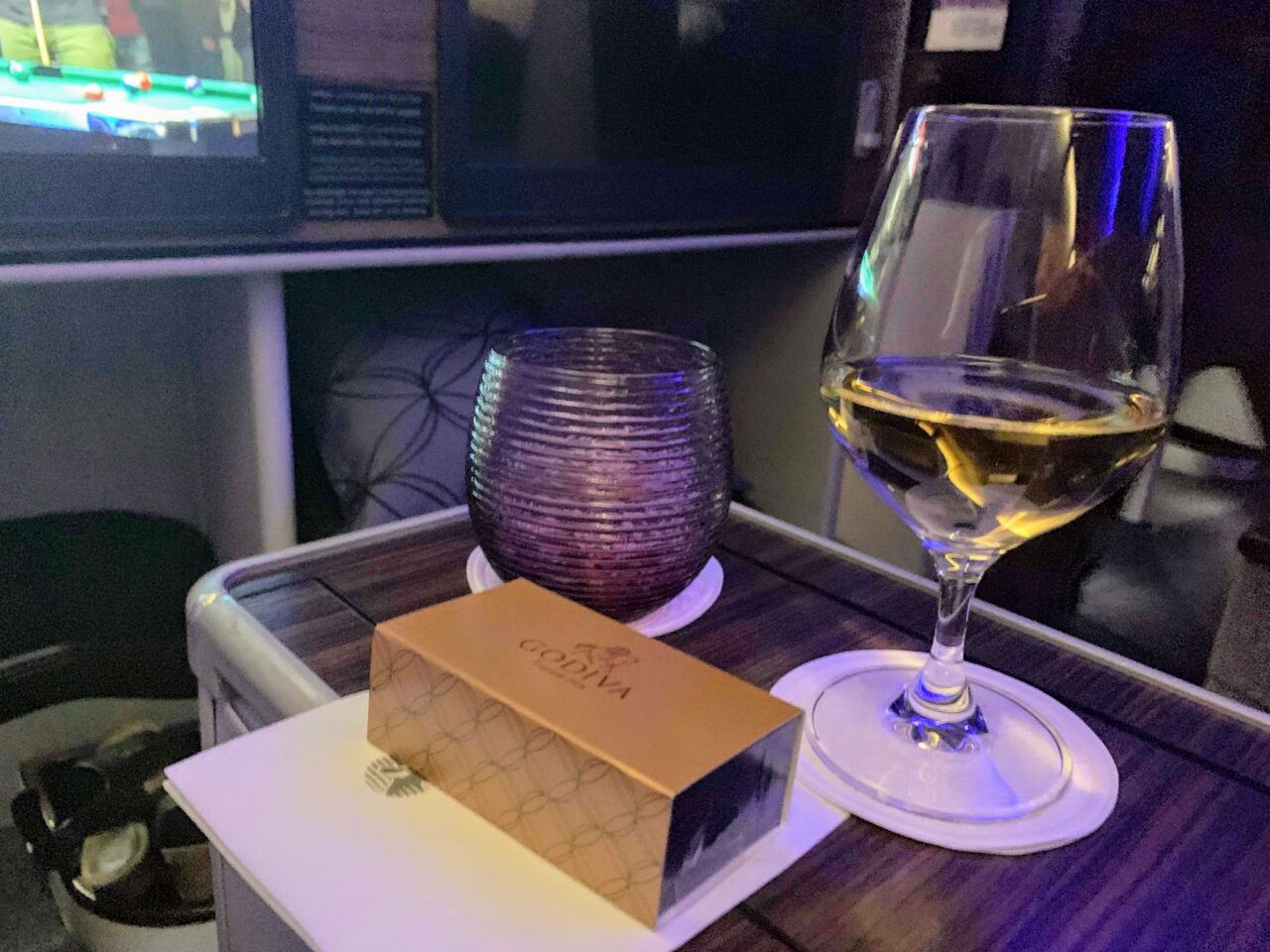 I didn't have anything else except a cup of their delicious Saffron chai and some water before landing in Doha.
Qatar Airways A330-200 Business Class Entertainment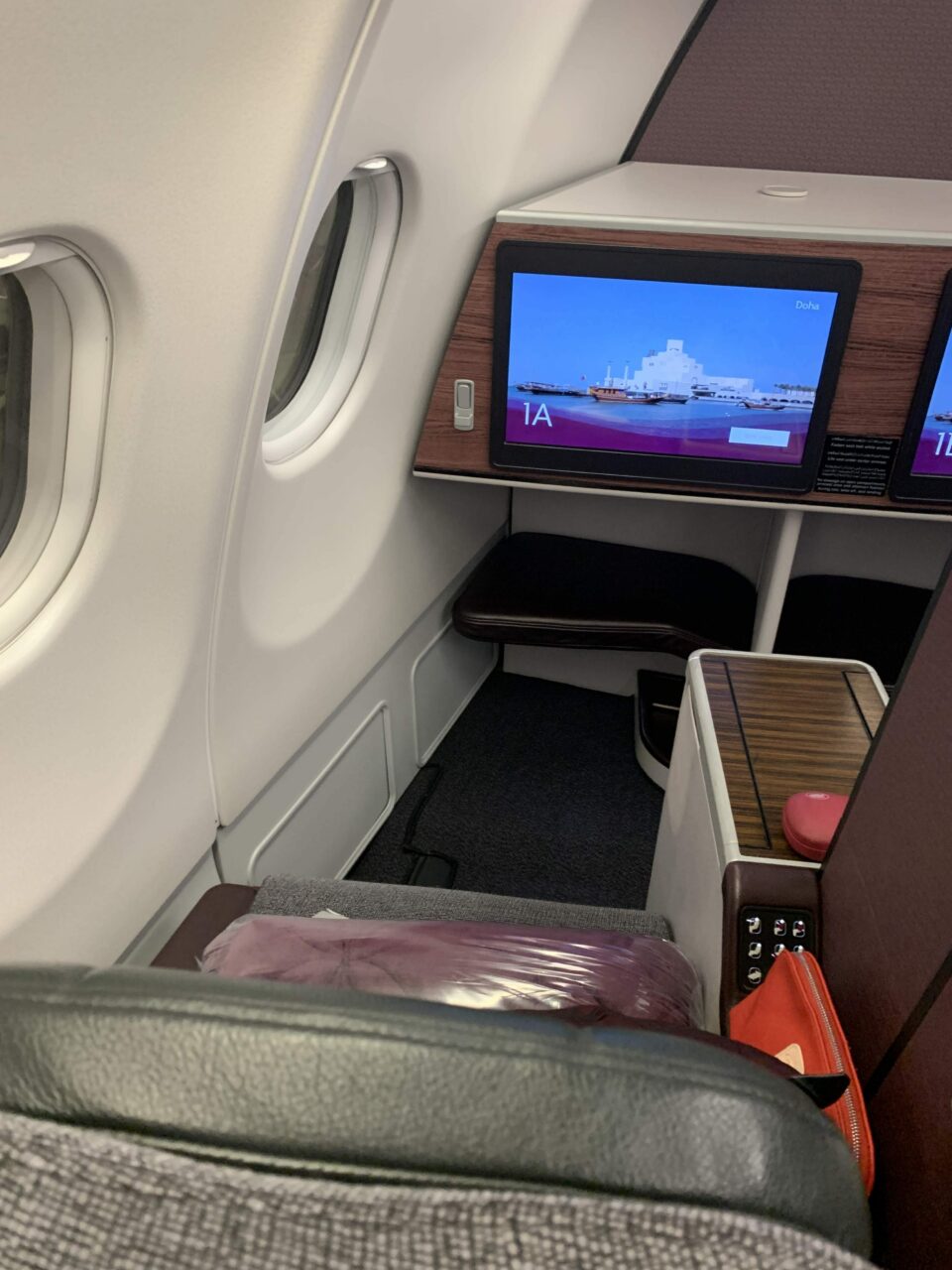 I didn't check the wifi situation on the A330 as I was planning on sleeping most of the flight, but they do usually have it. The TV screens on the A330 definitely felt a bit smaller although it is hard to tell as there were further away, which may have been the difference. The screen was large and in HD with touch controls.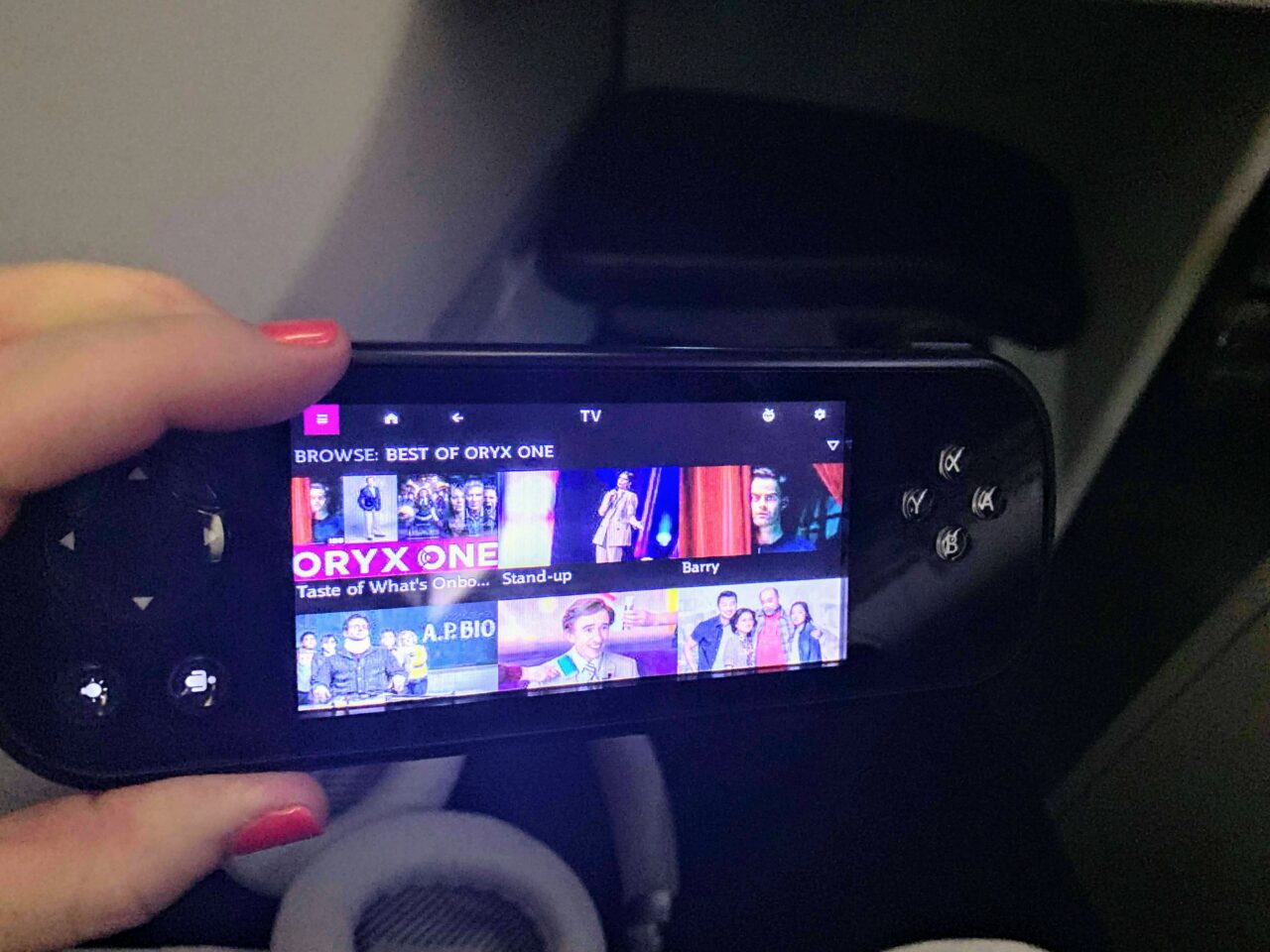 You can also select the entertainment with a touch screen Android controller which works independently to the main screen too. This means you can play games or watch the flight map on the handheld device while at the same time as a movie on the large screen. The entertainment system, Oryx One, offers almost 1000 movies, TV programs, music and gaming options. There were plenty of new movies to choose from. The noise cancelling headphones are average for business class, but I personally don't find them very comfortable.
Charging is also available via a multi-socket and USB port.
Conclusion for Qatar Airways A330-200 Business Class
As you would expect with an empty cabin, the service was excellent on this flight. However, they did all seem genuinely friendly, warm and chatty despite Qatar's reputation for being a bit robotic. That certainly wasn't my experience on any of the flights. The food and wines were all excellent quality, and the presentation of the food was also at a first class level.
The seats are not great for sleeping or storage unless you get lucky like us or manage to get the bulkhead seats in row 1. For daytime flights, they would be absolutely fine apart from not having enough room to put things.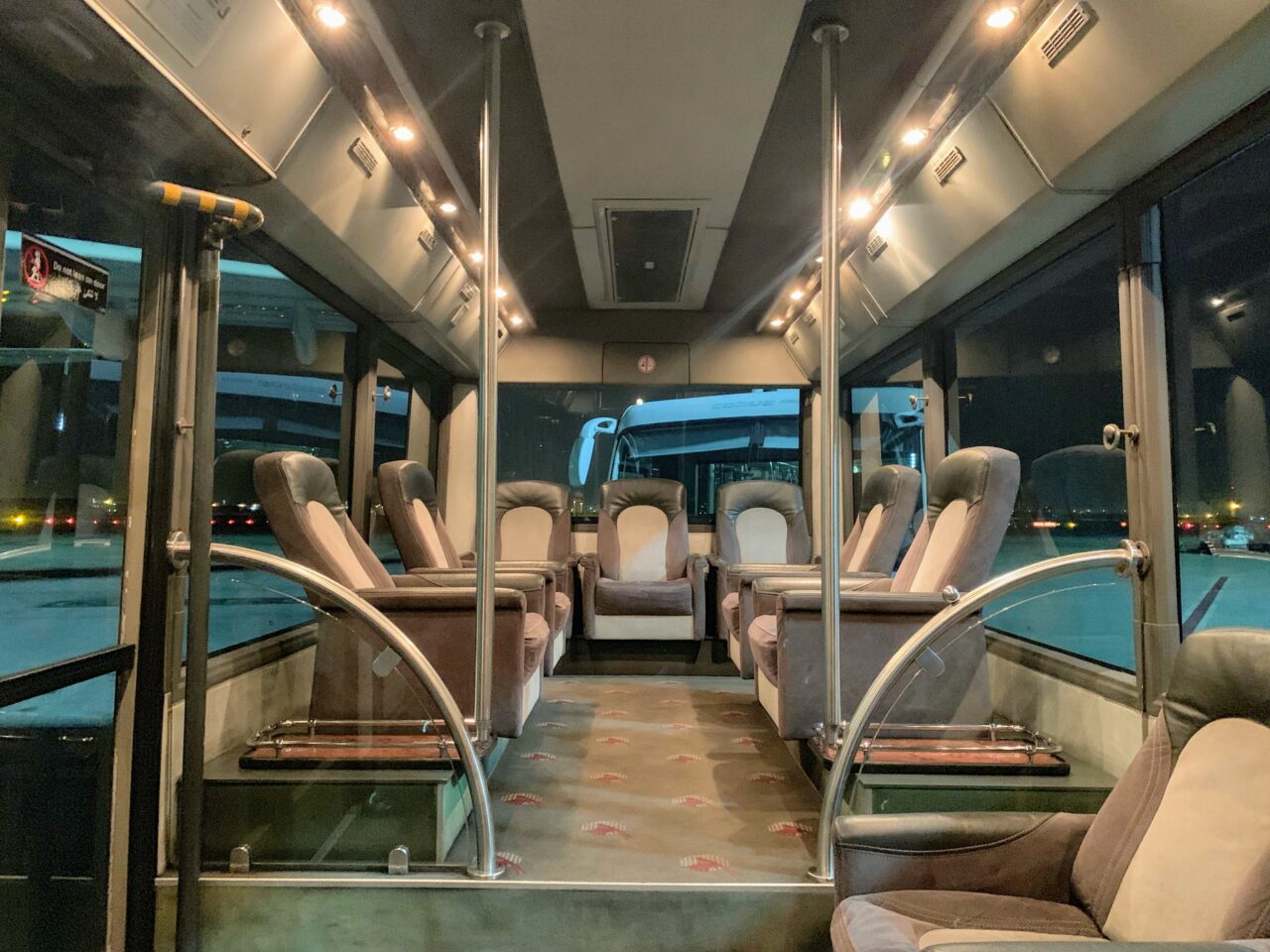 The flight finished in style when we arrived at a remote stand. I usually would not be best pleased, but since we had 9 hours to kill, I wasn't too worried since we got a whole premium bus to ourselves!