When I booked my flights to Ho Chi Minh City I was annoyed to see that Qatar had an A330 on the route from Doha which had pretty mixed reviews of the seats. One of the things to be wary with when booking Qatar is the variety of aircraft types and seats they use. Fortunately, they are all fully flat but not all have direct aisle access.
I flew from Doha to Ho Chi Minh City and back on the A330 and I will review both parts of the journey since we did not bother which much food or drink on the outbound flights as it was the middle of the night.
Doha to Ho Chi Minh City
Lounge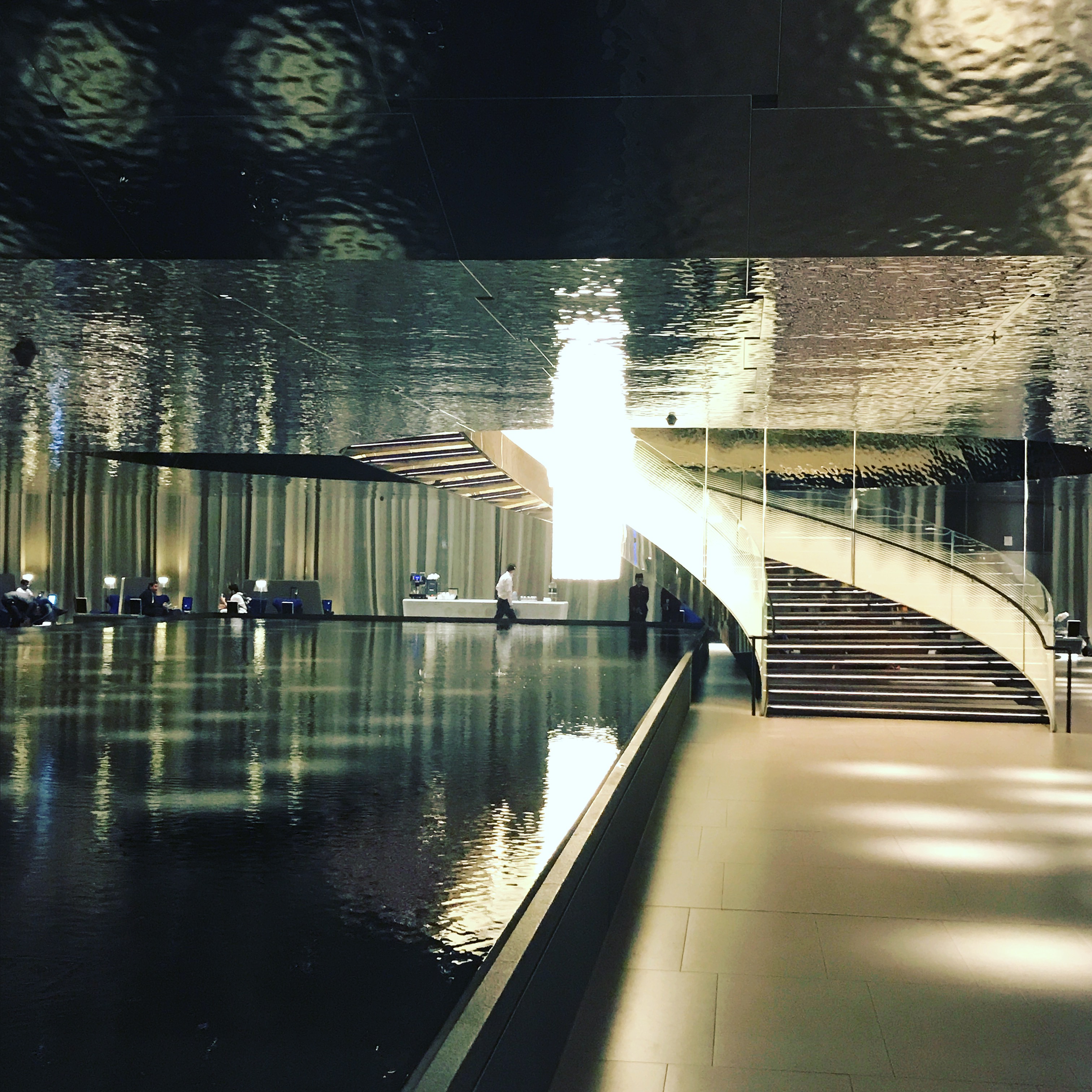 I will cover the Qatar Al Mourjan lounge in more detail in a separate post. We only had about 15 minutes in lounge by the time we had cleared security. It was still looking fantastic but I felt the shine had come off it slightly since my previous visits. The main reason for this is that previously the lounge was shared with First class which meant a higher standard of food and drink (especially Krug Champagne). I had also been lucky previously to be there at quieter times. This time the lounge was very busy. We ventured upstairs but couldn't see anywhere to sit except separate seats at the bar so we gave up and went back downstairs.
Downstairs there was more room but the soft drinks were very depleted, lukewarm and no staff to be seen anywhere if you wanted to order a drink.
Boarding
This was pretty orderly and we were welcomed on board by the cabin crew member that would serve us and offered a drink and a hot or cold towel. The towels on Qatar are thick and soft, unlike some airlines where they are more akin to a dishcloth! I chose the Rose champagne which is the better of the two Lanson champagnes on board for me. I have to say that I am not a big fan of either but I forced it down in the name of research! You could also have water or their signature lemon mint drink which is very refreshing (and would be even better with a shot of rum or vodka!!)
The seat

We had chosen middle seats in row 2, E and F so that we would both have aisle access. We would have liked row 1 as there is a bigger footwell but they were not available to reserve or at on line check in. As we discovered though there were spare seats so on the way back we asked at airport check in. The seats were quite narrow and lacked much room for stowing anything for take off apart from your water bottle and headphones. Once airborne you could have things around you more as there was a little shelf space behind you as well as a large central armrest.
The seat is the B/E Diamond seat which is also used on some of Qatar's A319. All the seats except the front row have a narrow foot well which I personally didn't find a major issue but I would have preferred more room.
As it was a night flight I tried to get some sleep but I have to say I didn't find the seat very comfortable due to the narrowness. You could put down the armrest on the aisle side which helped a bit but if you like to sleep on your side it feels narrow around the leg and knee area. The seat was well padded though and also comfortable for sitting in. I think it would be fine on a day flight.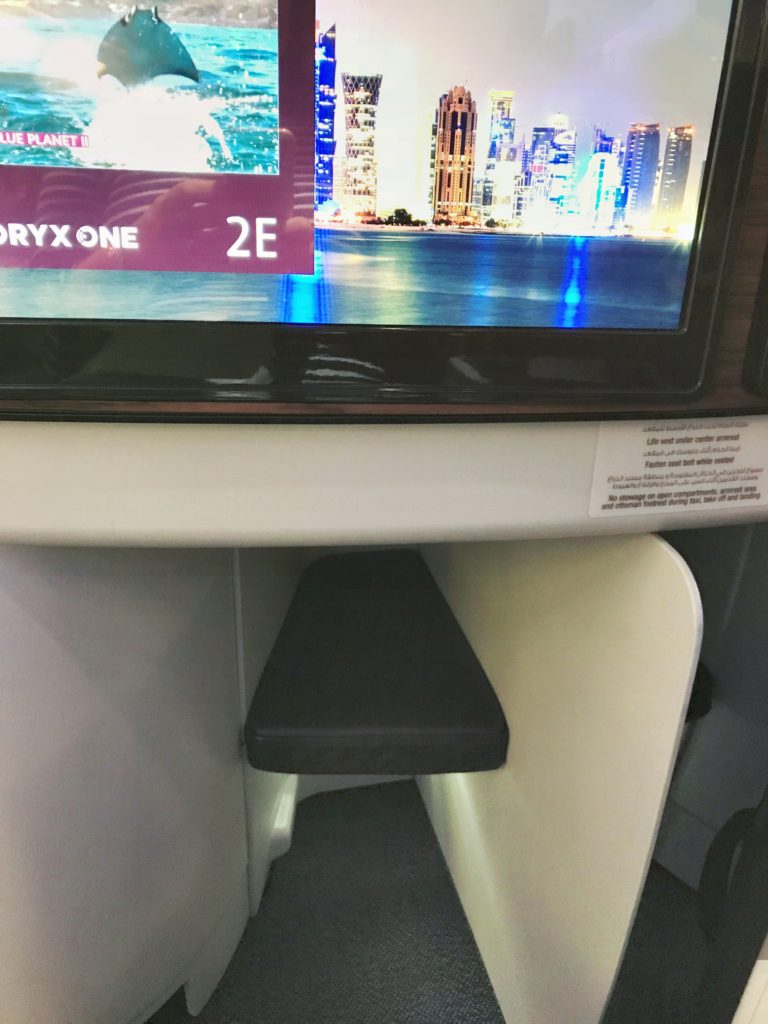 Amenities
As this was a night flight we were given pyjamas. They were not the new White Company ones but still a good quality material and a treat in business class. Note that they are only given out on night flights.
The amenity kit was the new BRIC'S ones which I much preferred to the old ones as they had products I would actually use rather than just perfume. The kits come in several different colours and they seemed to try to give the blue ones to the men and I got more neutral ones. The kits contained earplugs, eyemask, socks in a colour to match the bag, hydrating face spray, anti-ageing moisturiser and lip balm. The facial products had a lovely fragrance and were good quality as well as a decent size. I particularly liked the facial mist which was very refreshing.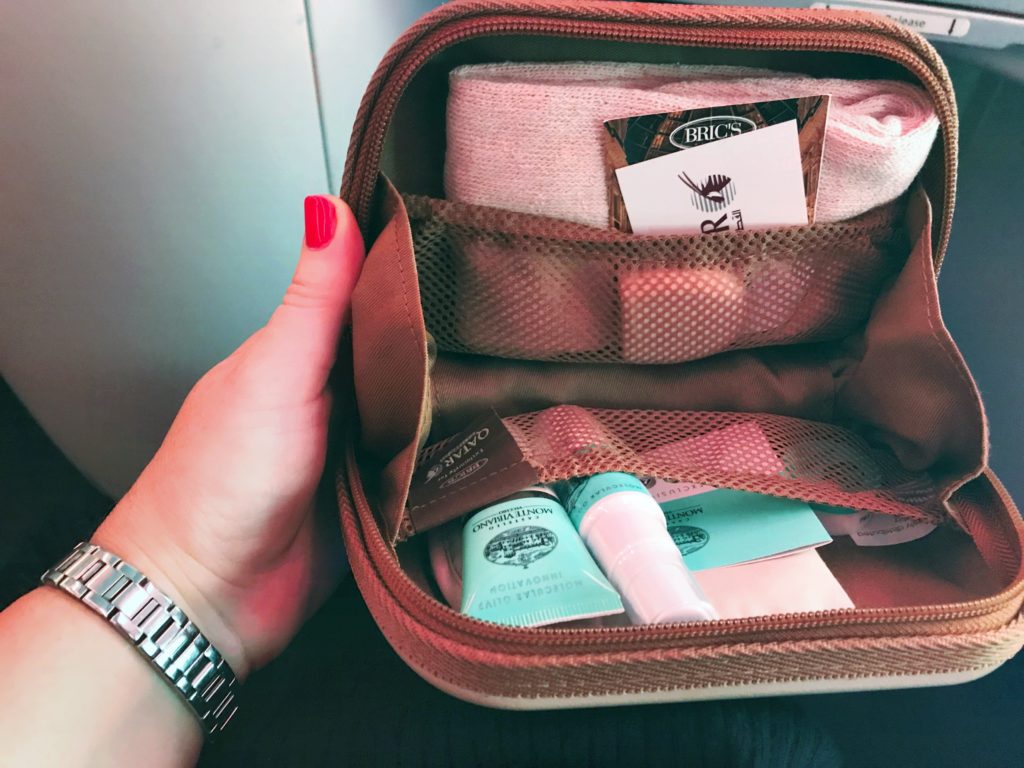 There was also a bottle of water at the seat as well as noise cancelling headphones which I tried briefly and found comfortable before reverting to my own Bose QC 35. On the seat were a large comfortable pillow as well as a soft quilted blanket.
Food and drink
As this was the middle of the night I didn't bother to eat. I had a lovely saffron Chai tea instead and headed off to sleep. If you are a chai fan I would urge you to try both the saffron and cardamom chai teas on Qatar. Both are delicious although the saffron one just edges it for me.  My husband had the snack vegetable sandwich which was fine if not very exciting. As usual, we were given a box of 2 Godiva chocolates each. Here is the menu:
I was intrigued by the cabin crew's obsession with the paper coasters as it has obviously been trained into them that everything must be on a coaster. At some point during the night, they must have leaned over my husband to put a coaster under the box of Godiva chocolates as it hadn't had one the night before!
The wine list and drinks were the same as the previous A380 flight from London: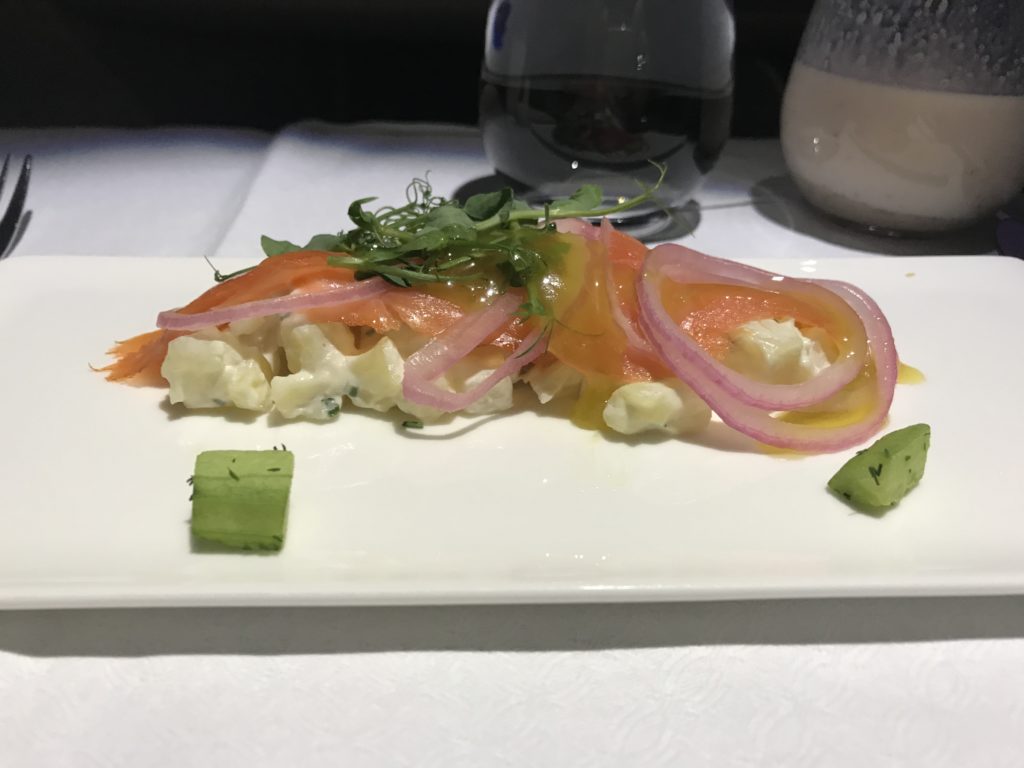 For breakfast, I had ordered the pancakes as my main course but unfortunately they took my husband's order the next morning so had run out of them by then for him. I dutifully gave them to him as I wasn't really that hungry. I did try a bite of them but although the flavour was there they were a bit dry and heavy. I had the salmon and potato starter which was rather odd as a breakfast starter but quite large and tasty. My husband had the fruit which looked very colourful and fresh. I also tried the bircher muesli which was a bit sour for my taste although nicely presented.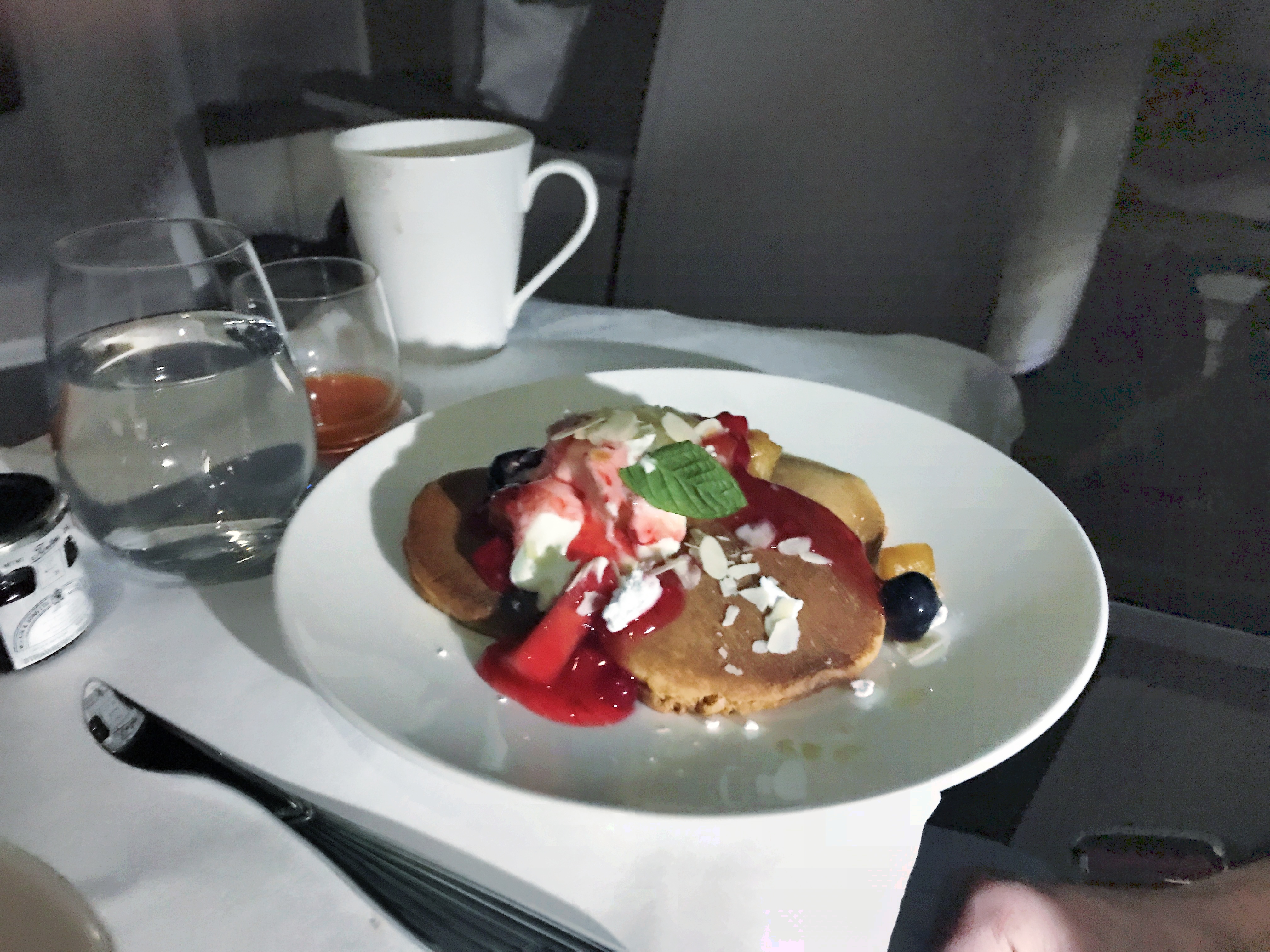 Ho Chi Minh City to Doha
Check-in and Lounge
Check in was very good. There was one person ahead of us so we were directed to the next desk. The agent was very helpful with changing our seats to row 1 and confirmed which seats in the row we wanted. She spoke good English and explained we needed vouchers to enter the lounge as well as the rather odd luggage screening process. This involved trying to spot your luggage going through the screening room to make sure it hadn't been taken to one side to be opened.
Qatar use the Apricot lounge at HCMC. This was actually quite pleasant with plenty of hot and cold food options and a small selection of alcoholic drinks including wine. The lounge got very busy towards departure time so I would advise getting there early if you plan to use it. There are showers available which looked clean and modern. They even had a couple of massage chairs which would have delighted Roving Reporter had he been there.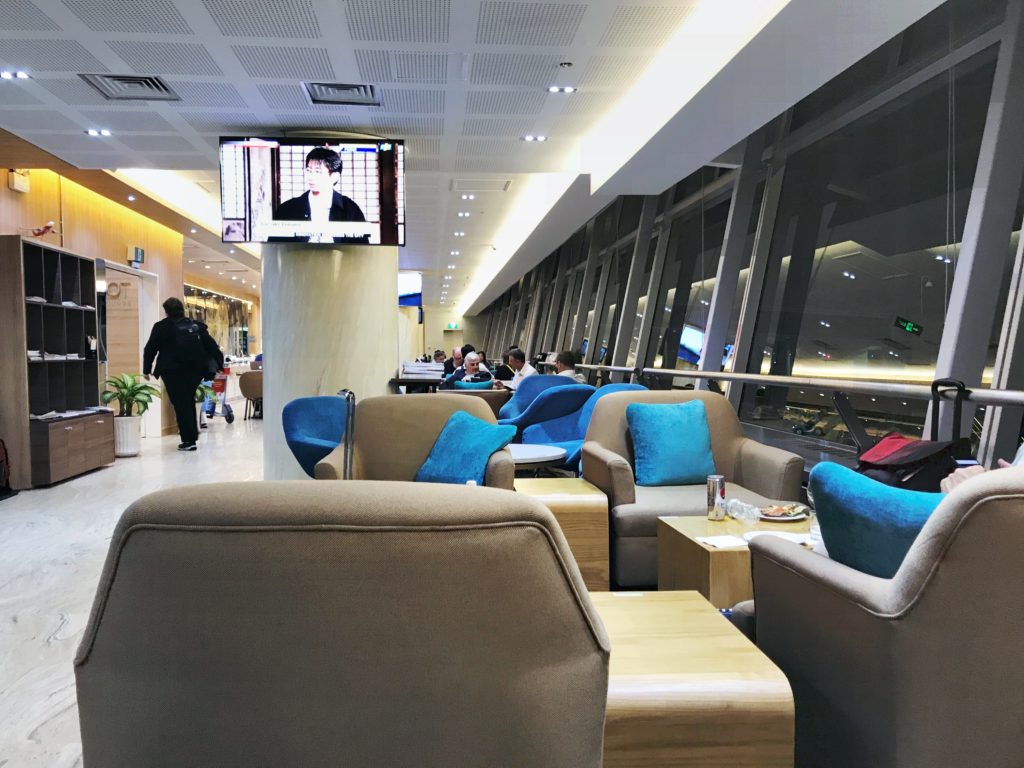 Boarding
Boarding was again fairly orderly through the Premium lane. We did have to wait quite a while to get our welcome drinks for some reason but the cabin crew member serving us apologised. When he did arrive he gave us a thorough explanation of the seat and the service which I thought was excellent. Again I opted for the Rose champagne and a hot towel.
Seat
This time we had seats 1A and B. The A330-300 has 5 rows of business class in a 2-2-2 configuaration. The front row is definietly the best option although you are then close to the toilet and galley. Qatar operates several configurations of the A330s so it is always best to check the seat map carefully before deciding on your seat. The foot rest area was much bigger in row 1 which was better when trying to sleep but I still found it quite narrow. I did manage to get a couple of hours sleep though. I wouldn't chose the window seat again on a flight where you plan to sleep as it was impossible to get out of my seat when the other seat was in bed mode. If you were over 6ft you may manage to hurdle over though!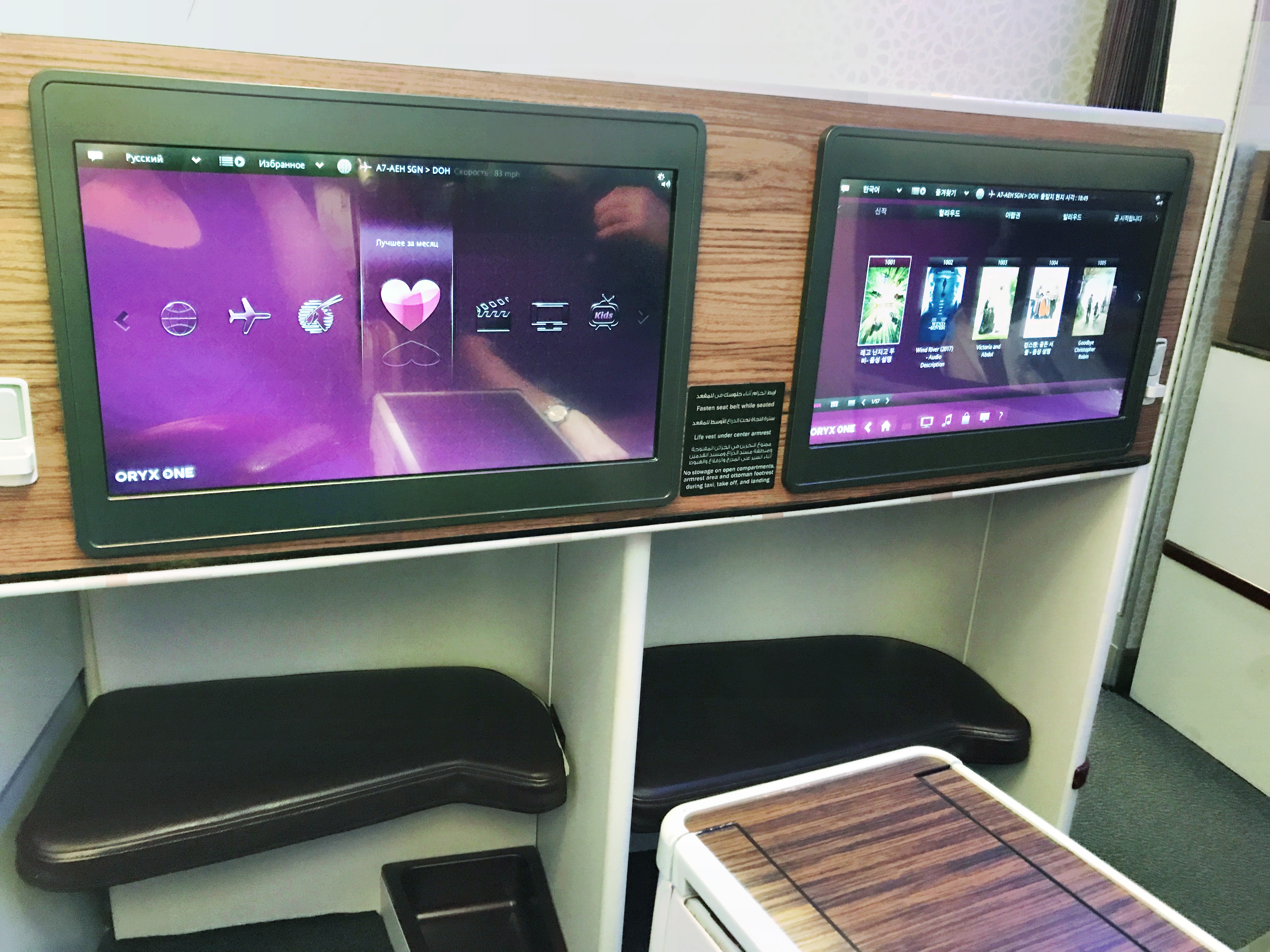 In terms of privacy if you were travelling on your own there was a sliding privacy screen which was reasonably effective. It was annoying being able to see your neighbour's TV screen though as it was quite distracting.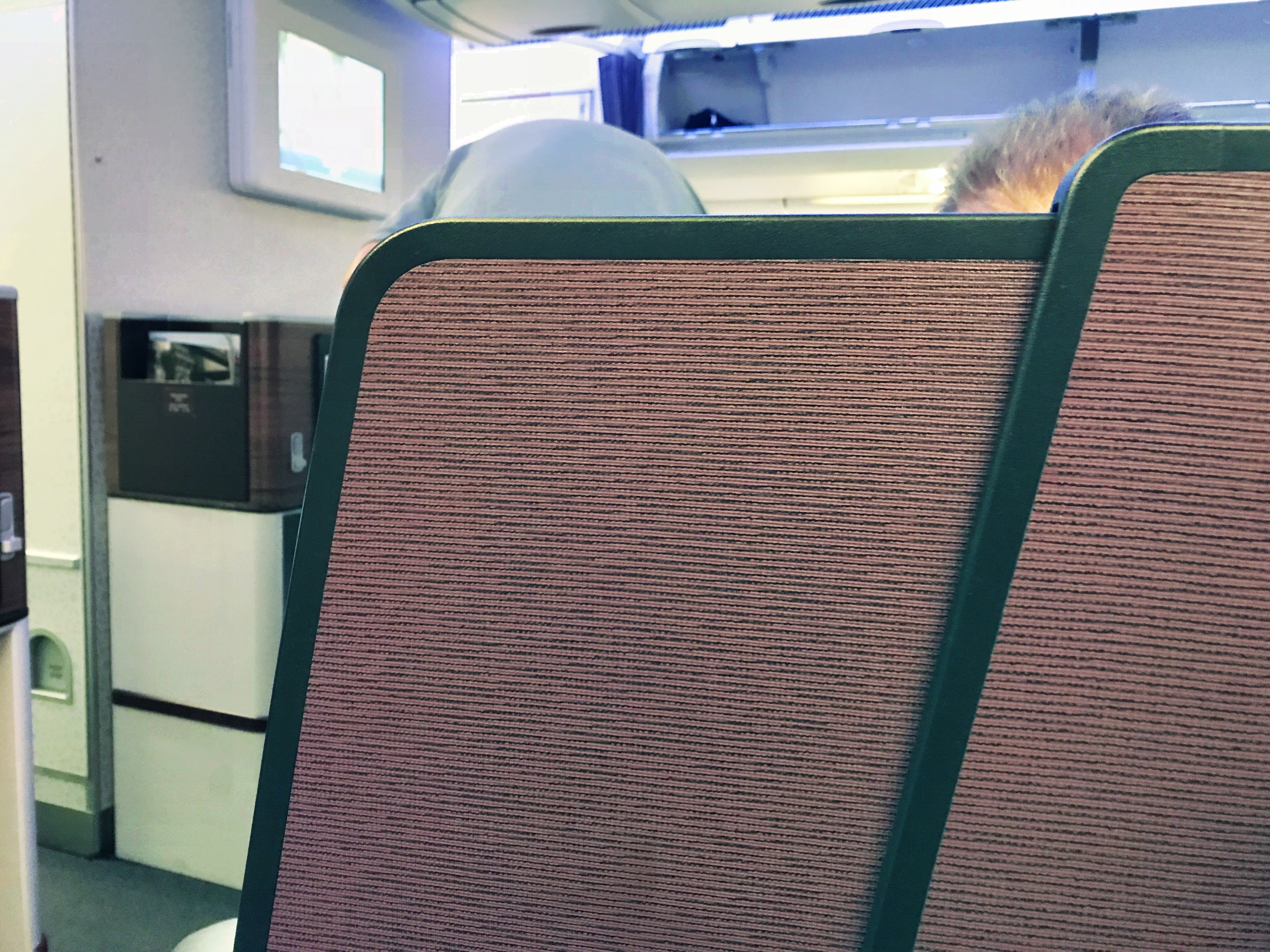 Food and drink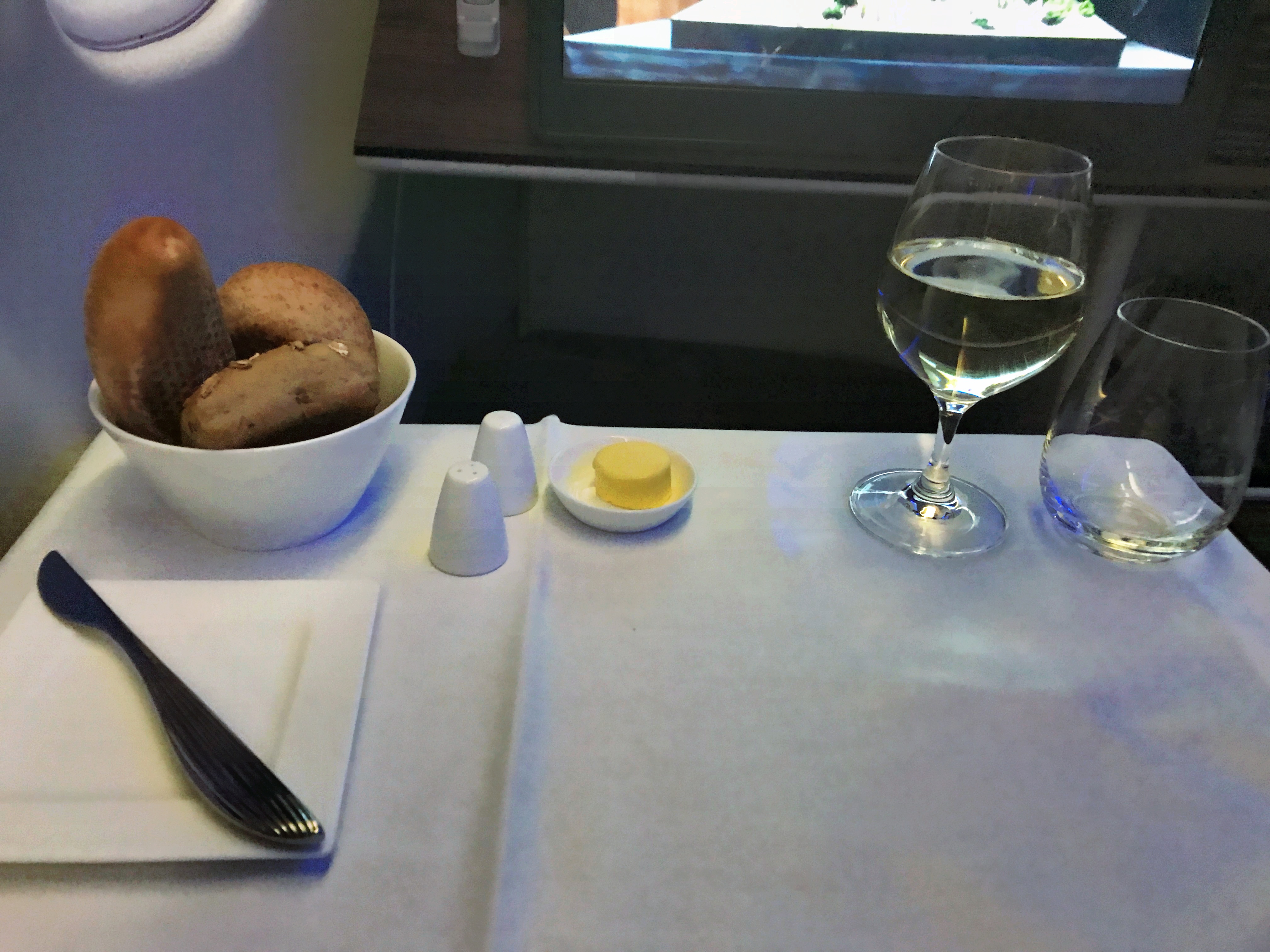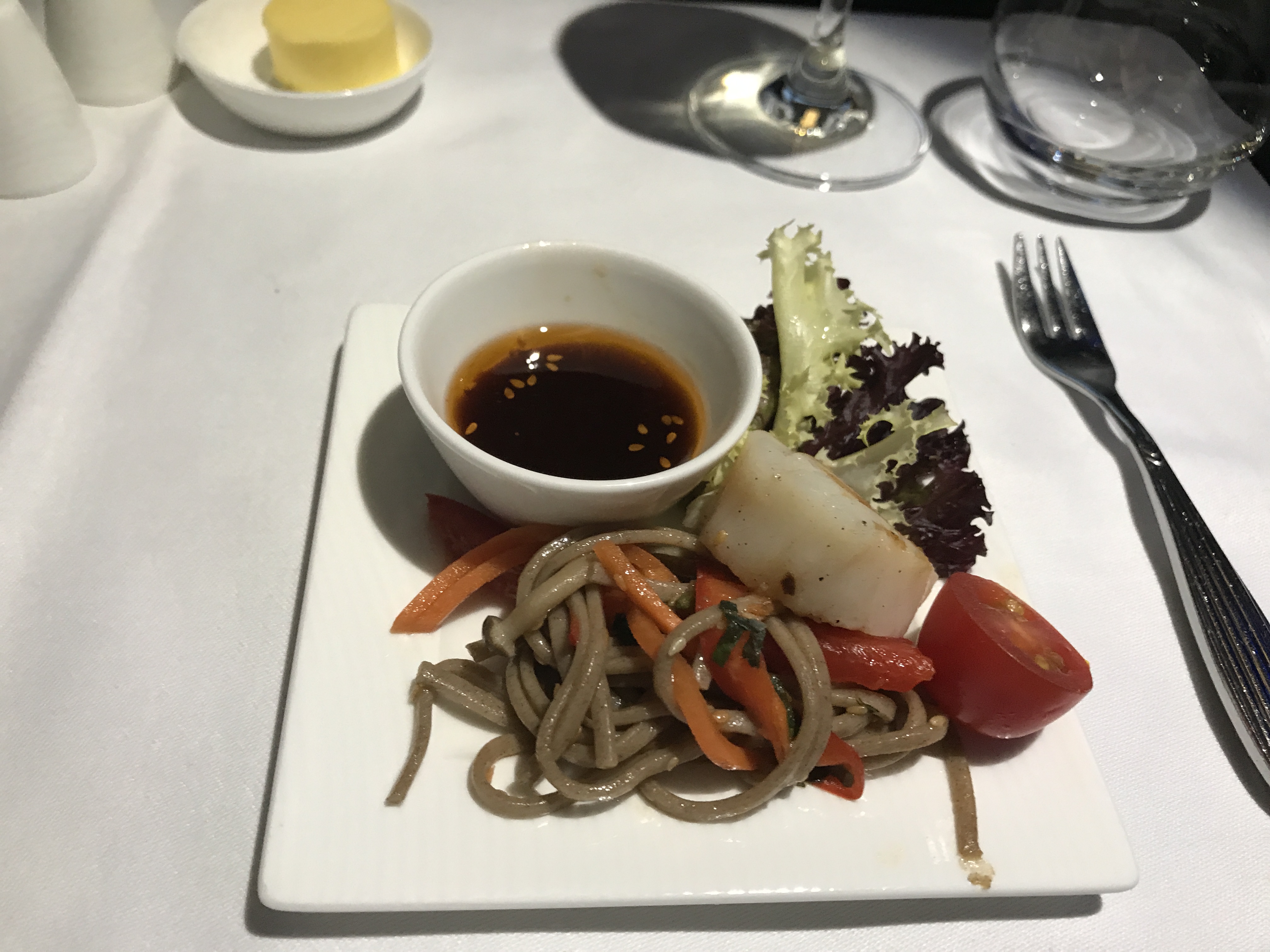 First we had quite a large amuse bouche which was a large scallop with noodles and a dip. I was pleased to see my favourite mezze on the starters and opted for this. It was up to the usual high standard with humus, tabbouleh and some sort of aubergine dip. It came beautifully presented with 3 cute little warm arabic breads for dipping. I was also given my own bread bowl and there was a choice of several olive oils if you didn't want butter. We both tried the Sicilian white wine to start but neither of us were keen and the fact is was not cold enough didn't help. The cabin crew were great at keeping us topped up with large refills at regular intervals which was good.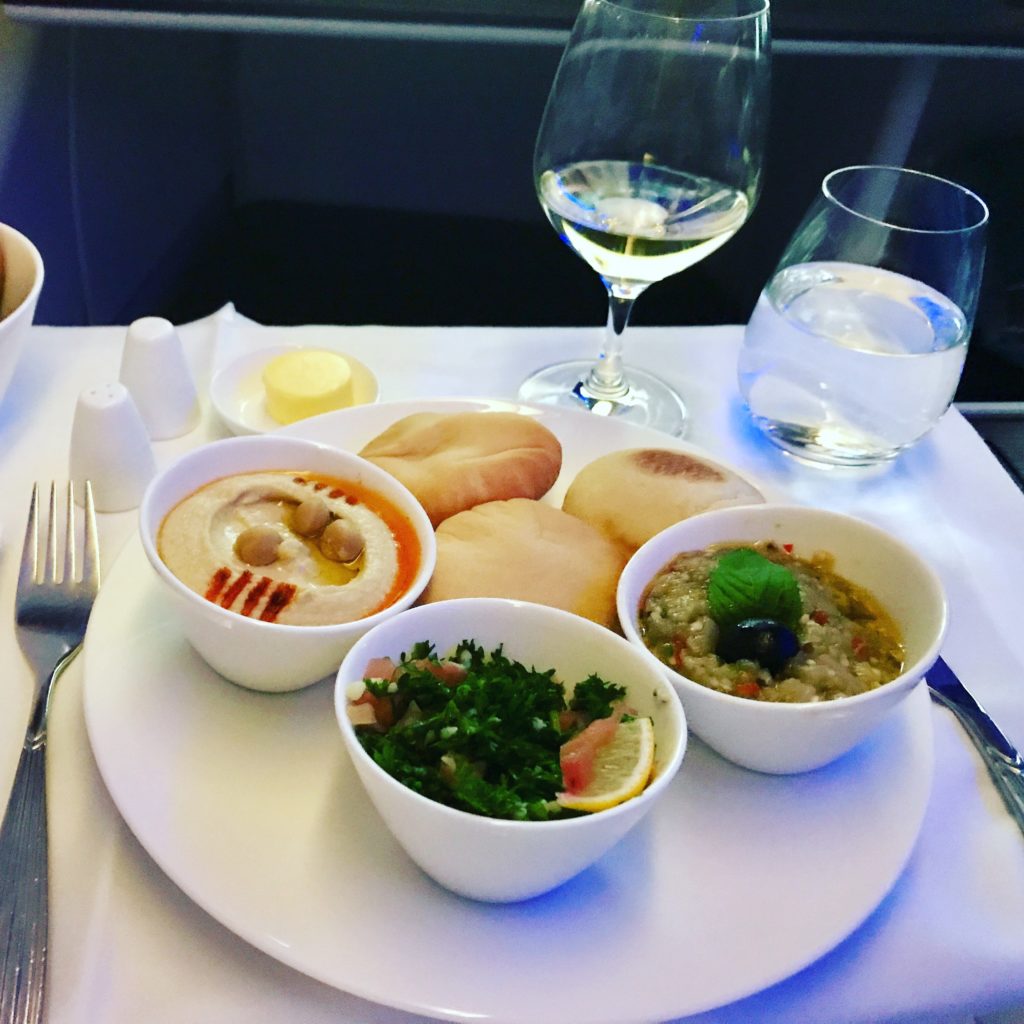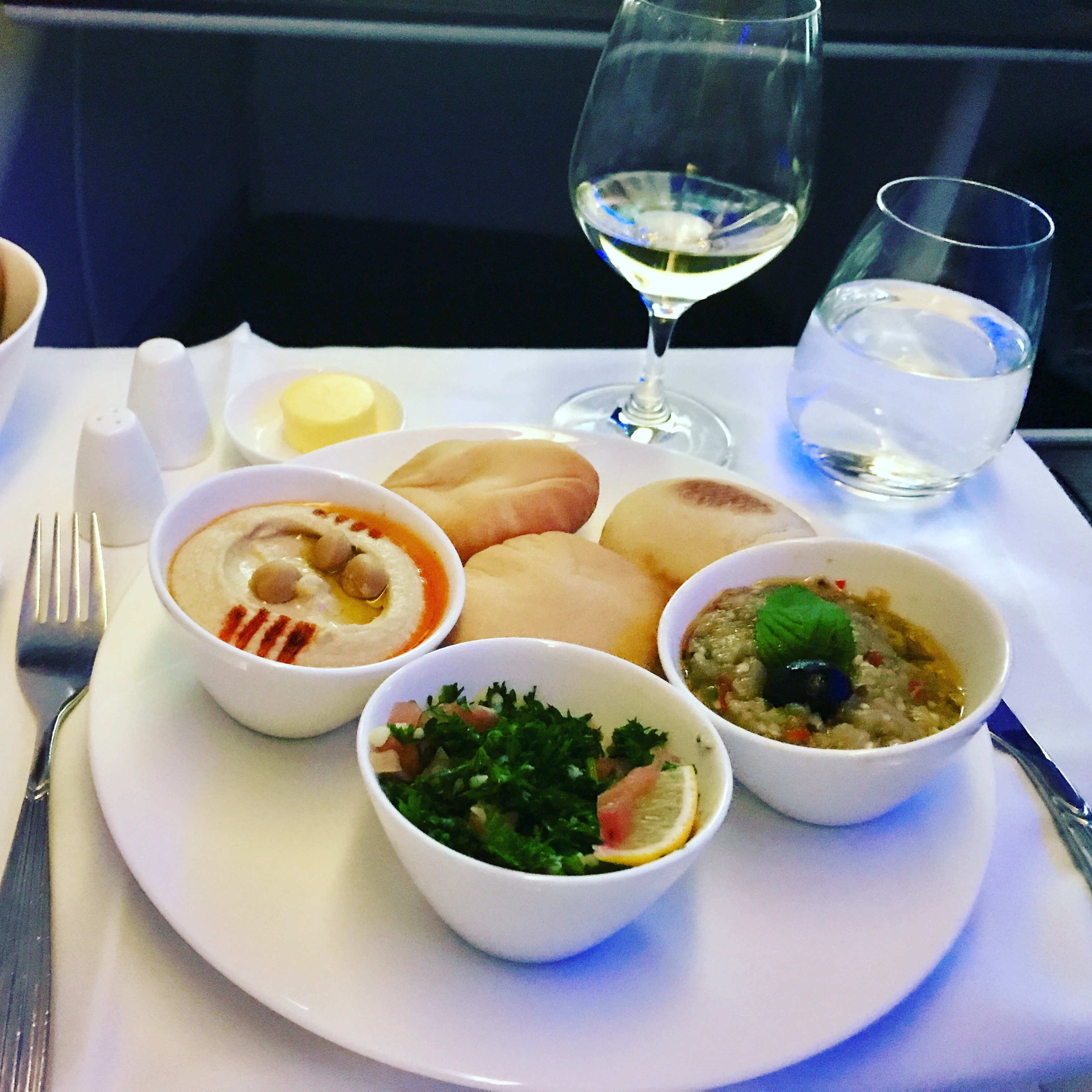 I was torn by the main courses between the duck with red curry and pineapple rice or the beef. As you may know I am always dubious about beef on planes as it usually resembles old shoe leather. I decided to brave it in the name of research and also because I fancied red wine.
The 2010 Medoc Chateu Haut Condissas Bordeaux wine was OK but was lacking in depth and complexity for me. I much preferred the Conundrum Red Blend with Petit Syrah and Zinfandel from California. I was impressed that a lovely little pot of Dijon  mustard was presented when I asked for some unlike some of the hideous sachets you sometimes get. The beef was cooked well done but actually it was quite tender and had a good depth of flavour to it. I wasn't so enamoured with the very overcooked asparagus though but the rest of the dish was tasty. I loved that there was fresh thyme on top of the beef. Not only did it make it look good, it gave it a lovely flavour of fresh herbs too.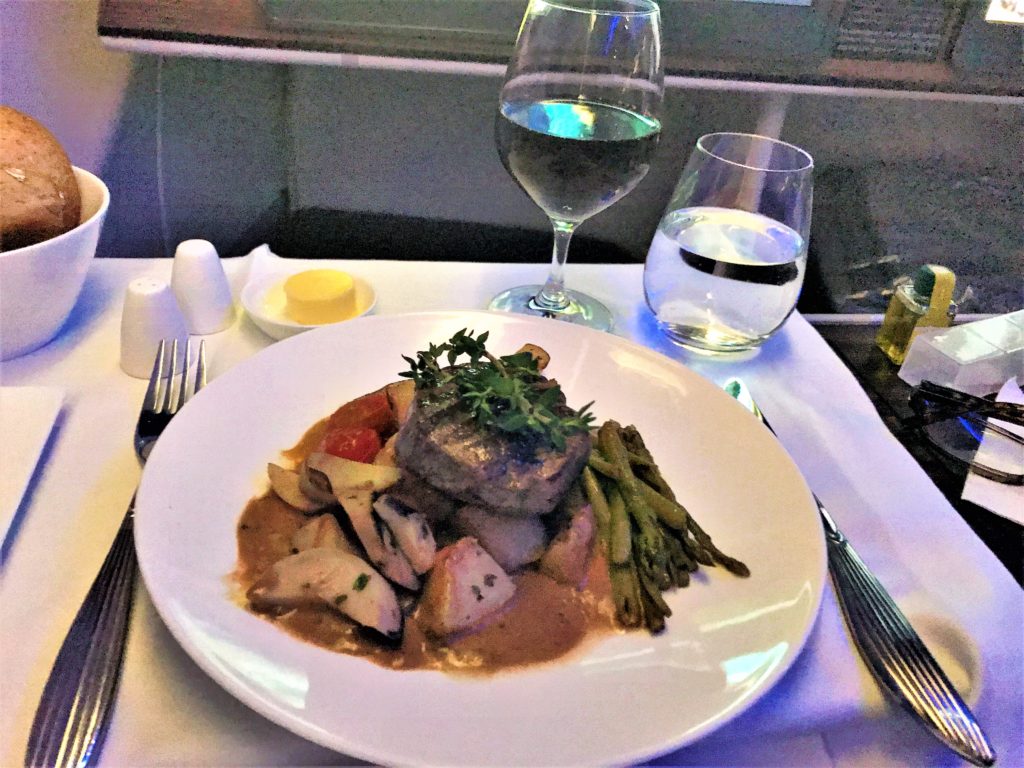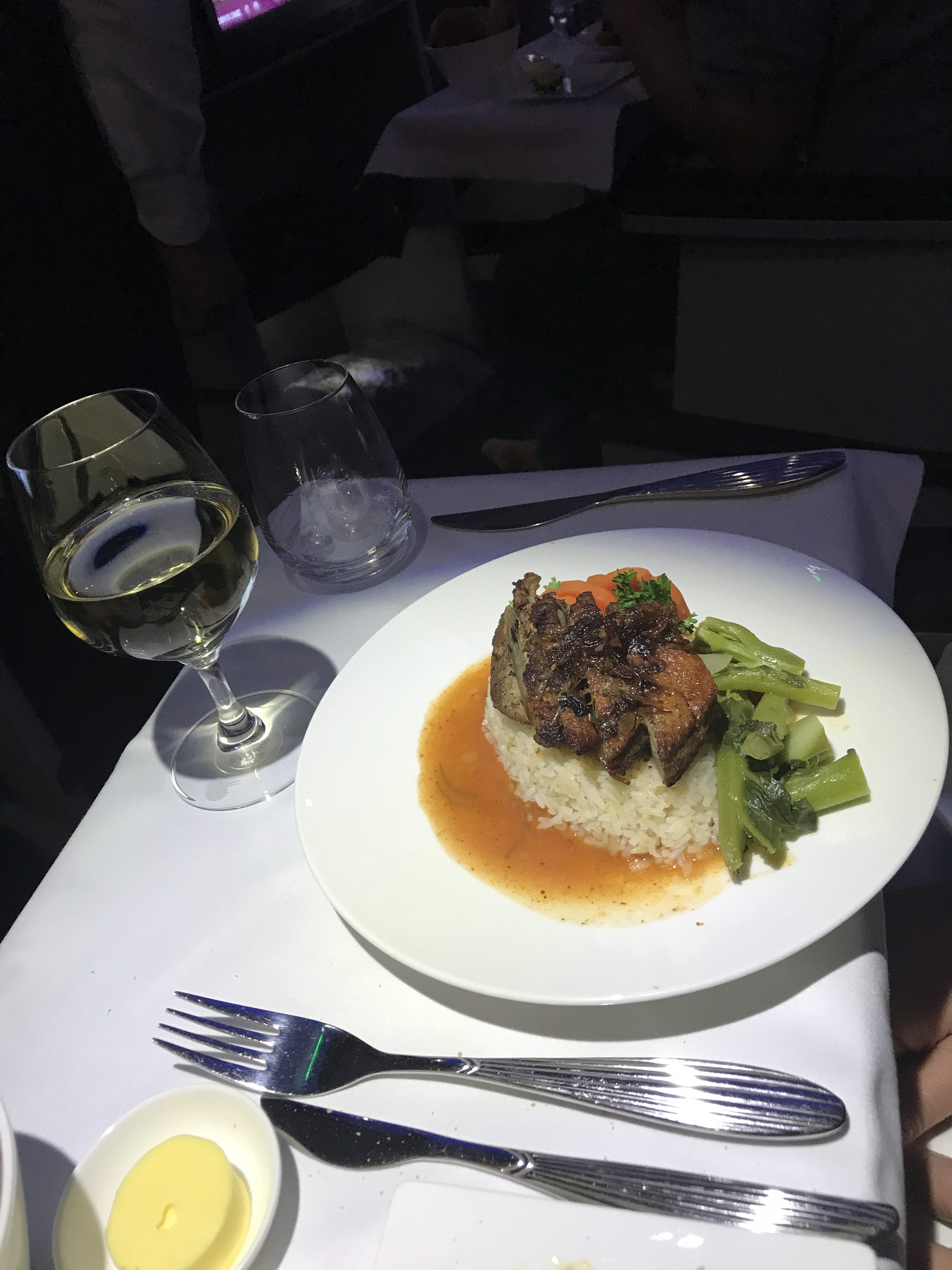 For dessert I opted for ice cream which I lived to regret! The cabin crew apologised that it would take a while to defrost as it was very cold currently. When it eventually arrived 20 minutes later it was still very frozen and tastes a bit odd, a bit like the ice cream you discover at the back of the freezer! I accompanied this with a glass of Qatar's excellent Tokaj dessert wine. I do wish BA would offer a dessert wine in business class instead of 3 different champagnes. My husband's cheese and port was more successful.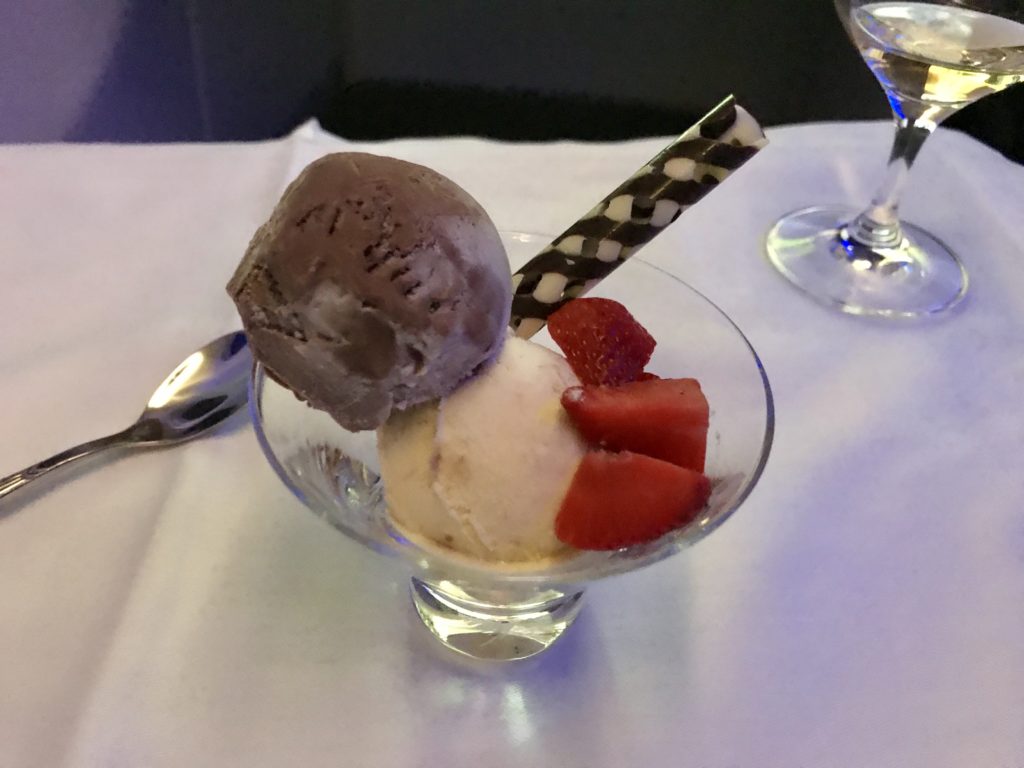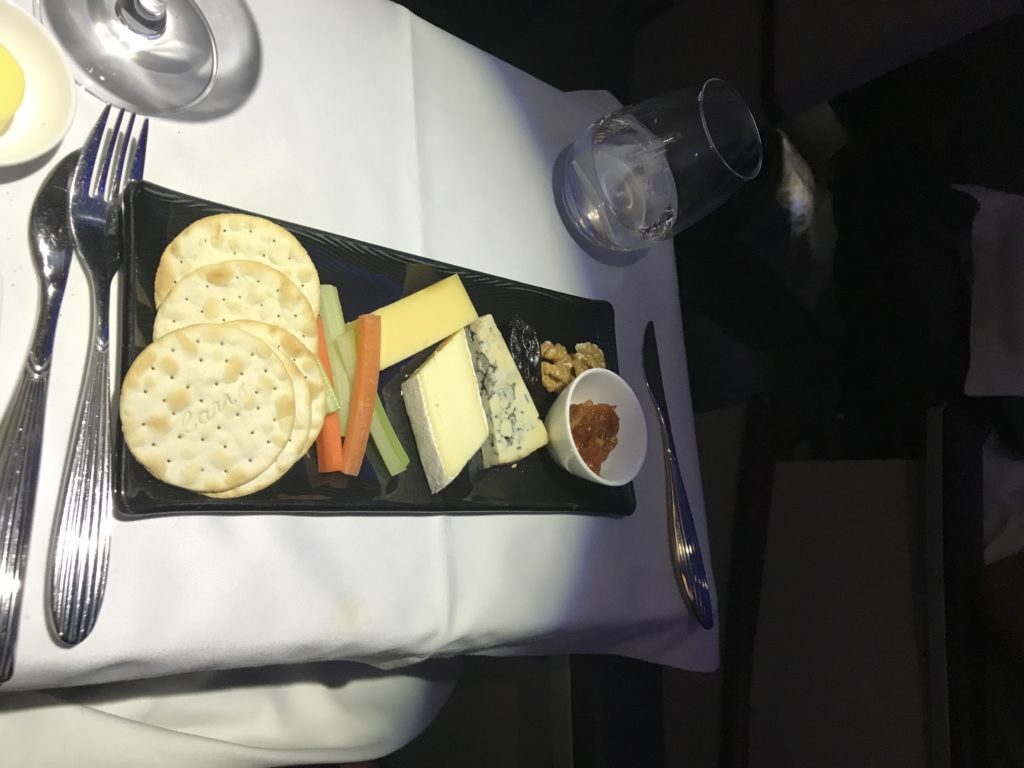 Entertainment

The entertainment had large high definition screens that were controlled either by a handheld controller or the touchscreen. I found the controller quite slow and not particularly intuitive to use. It was easier to control with the large screen. They had some recent films, a large back catalogue of older films, music, games and TV programs. I was happy to see Young Sheldon on there which is the prequel to the Big Bang theory and not yet on in the UK. It is worth watching if you see it on a plane somewhere!

Conclusion
I have to say that I was not fan of these seats even though I have flown them on other airlines, these felt particularly narrow. I actually would have preferred the Club World seat on a B747 or A380 upper deck with aisle access to this. However, on a day flight they would be fine. The food, service and entertainment was all excellent and not far off what you would get in First on some airlines. Given that we got a good deal flying out of London rather than ex EU I was happy that I got value for money.
You can find more information on Qatar business class here.
You can read more reviews of Qatar business class here.