This is a review of the Qatar Airways new lounges, the new Qatar Airway South Platinum and Gold frequent flyer lounges at Doha airport, which are for those who are not entitled to enter the main Al Mourjan or Al Safwa lounges. That includes those that have bought a business lite fare (P class), upgraded or are travelling in economy with status.
There are another group of these frequent flyer lounges that are due to open in the North of the terminal shortly, which should ease overcrowding in all the lounges. There will also be a second Al Mourjan lounge there too, which is due to be even bigger than the original one. There is currently a temporary north Al Mourjan lounge.
Where are the South lounges?
The South Frequent Flyer lounges are near the Bear sculpture but not very well signposted. They are just before gate A1. The Gold and Platinum entrance is the same.
Qatar Airways Platinum Lounge South
Who can use it?
Qatar Airways Privilege Club Platinum members and Oneworld Emerald card holders (including BA Gold).
What can you expect?
The lounge is relatively small with 140 seats, and was fairly crowded in the busy early morning peak period. Hopefully, this will ease when the new north lounge opens. During the day it is quiet.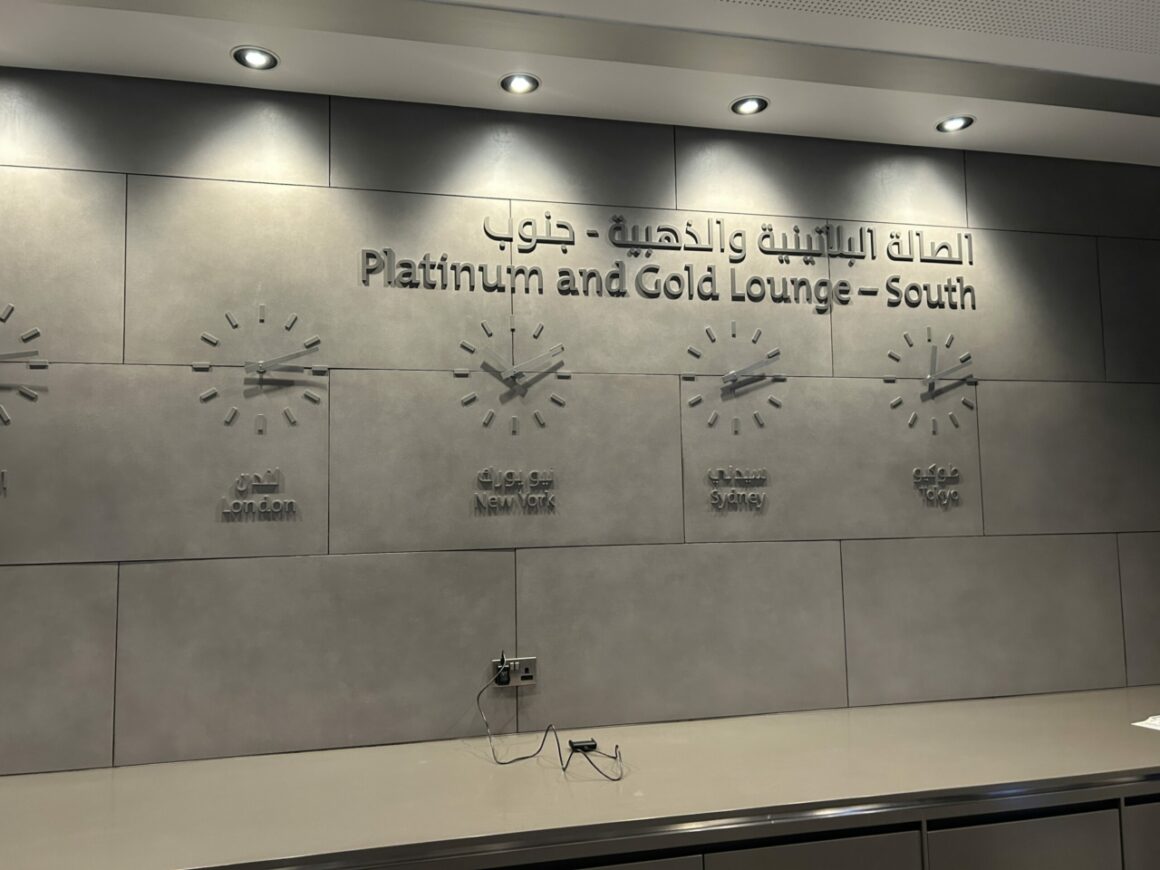 There was a rather convoluted process to gain entry for some passengers. I would assume it was because I was oneworld emerald rather than having status with Qatar. Some passengers were waved through but I had to queue up for the desk to validate my entry. I was directed upstairs (there is a lift as well as stairs) to the Platinum lounge.
The lounge does not have a rest area like Al Mourjan, but it does have showers.
You enter into the restaurant area, which has a buffet as well as a la carte options ordered via QR code.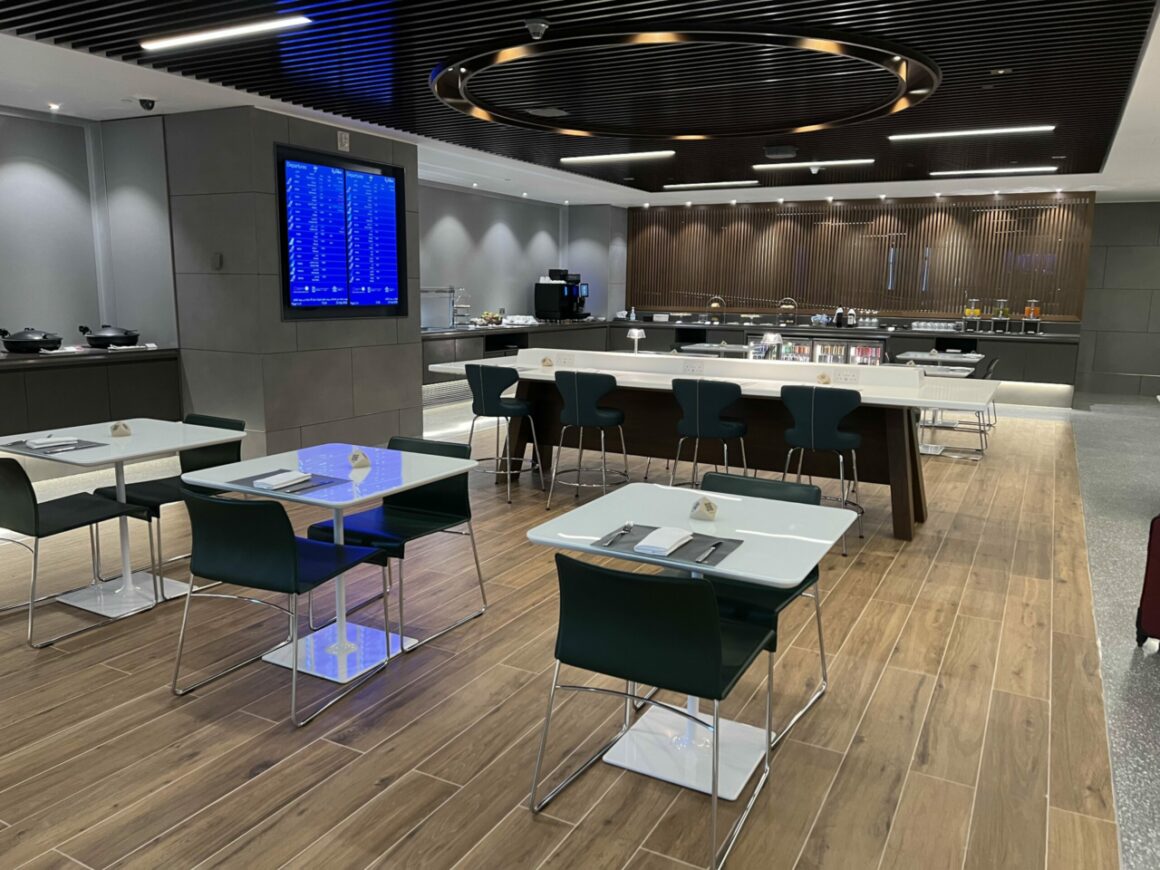 I was there at breakfast time, and there was a decent choice of food available. There were cereals, whole and cut fruit, yoghurt, pastries, muffins, bread (and a toaster) omelette, chicken sausages, potatoes, congee, foul medames, meat and cheeses and a banana bread pudding with custard.
You can order a la carte as well.
Later on in the day there is a lovely selection of mezze along with some hot dishes and desserts.
There was a lovely choice of juices, including two detox blends, freshly squeezed orange and the signature lemon mint drink.
There were a couple of bottles of white wine in the fridge along with some beer, but for most of the alcohol you needed to go to the bar or order it. There were plenty of mini San Pelegrino and still water bottles lined up if you needed to rehydrate.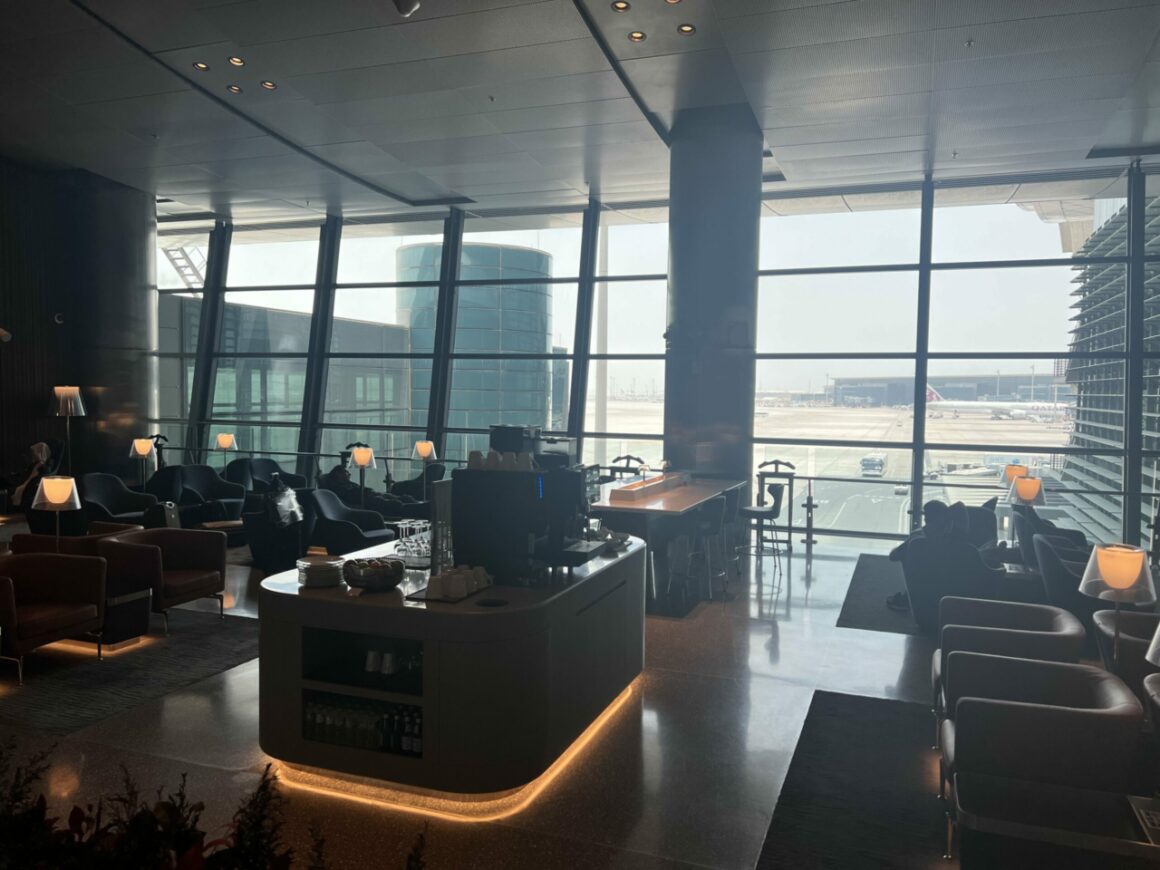 If you don't want to eat there is a lounge and bar area which is nicer with floor to ceiling windows and plenty of natural light. There were a few snacks such as fruit and pastries available here.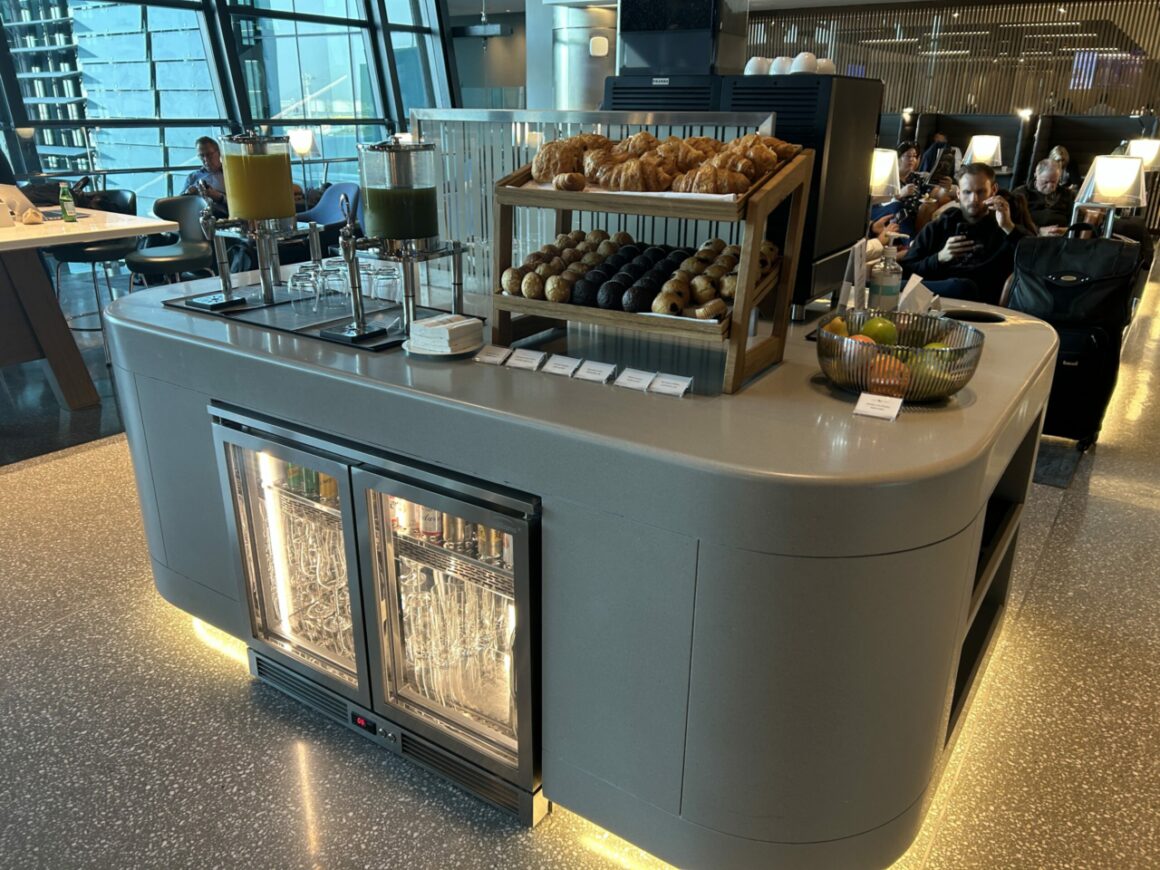 If you wanted to wake yourself up, there was also a decent coffee machine. If not, there were soft drinks in the fridge as well as juice and lemon mint drink in dispensers.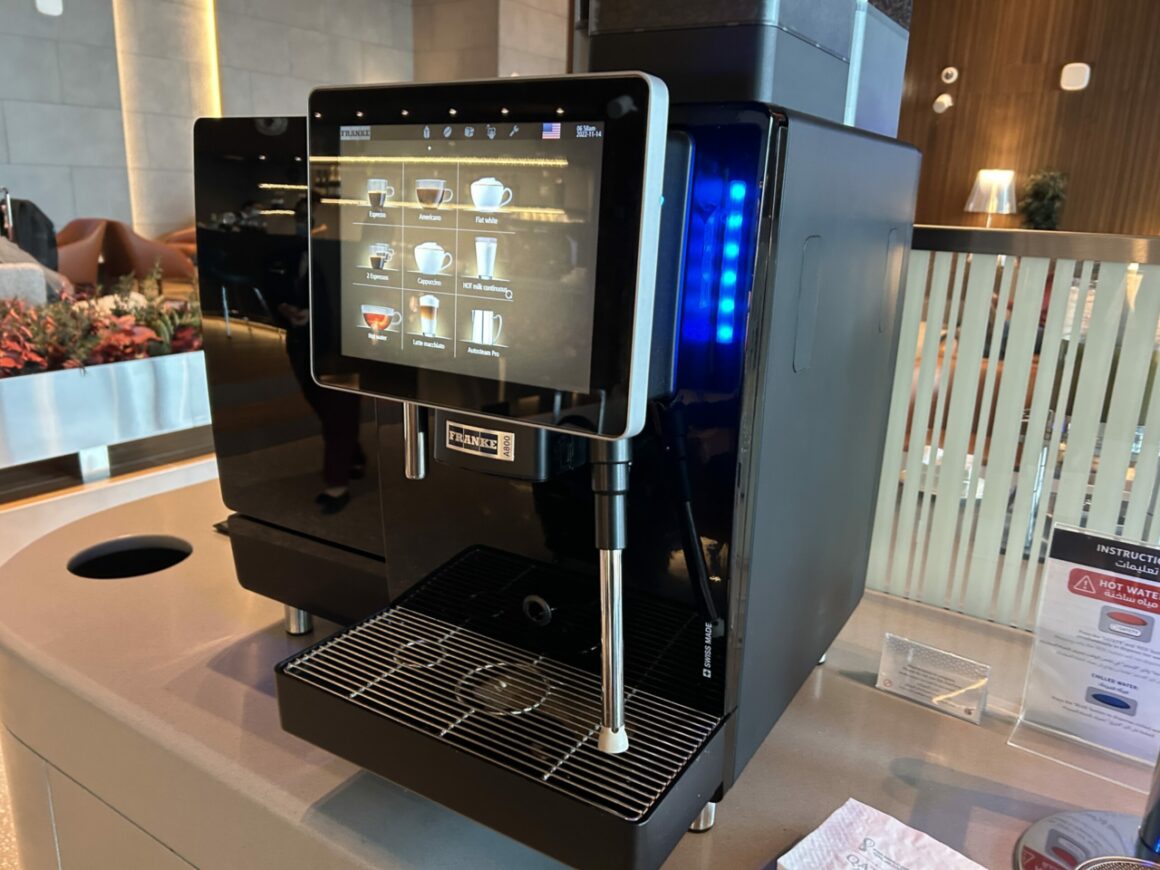 The seats were comfortable and each pair had two sockets and two USB charging ports on the table inbetween.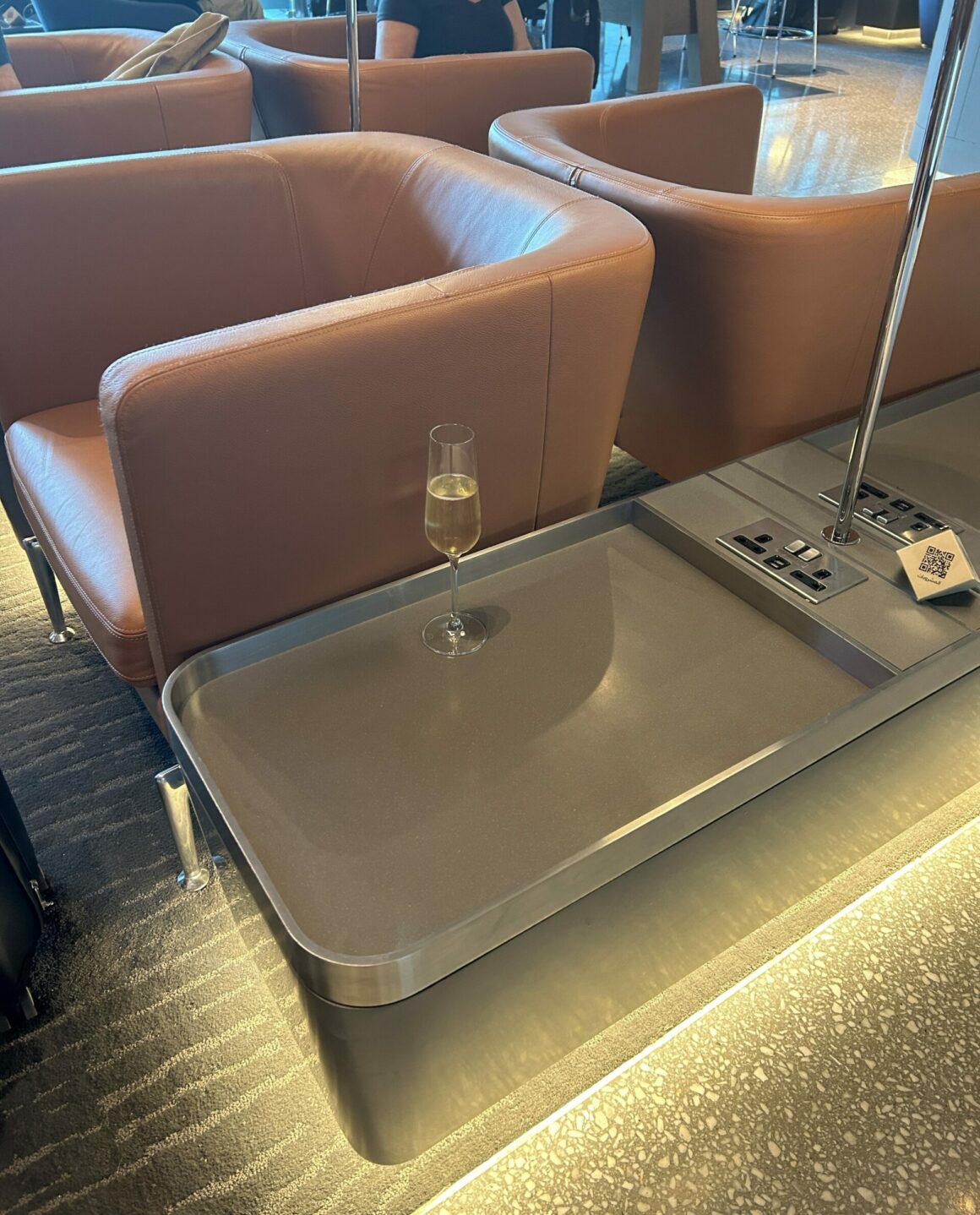 There was a variety of seats to choose from including some with more privacy like individual booths.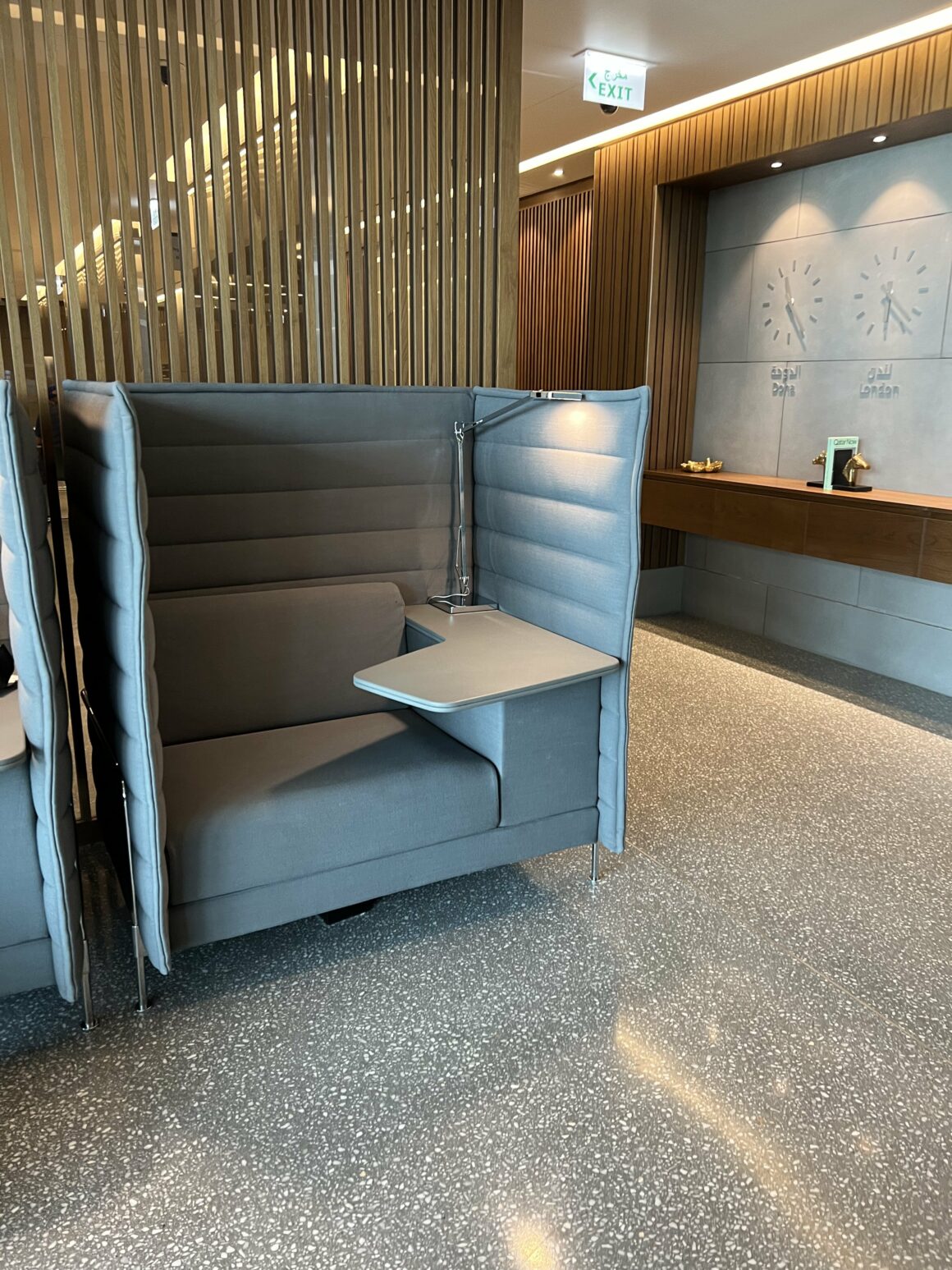 If you wanted to work there was also a high table with stools.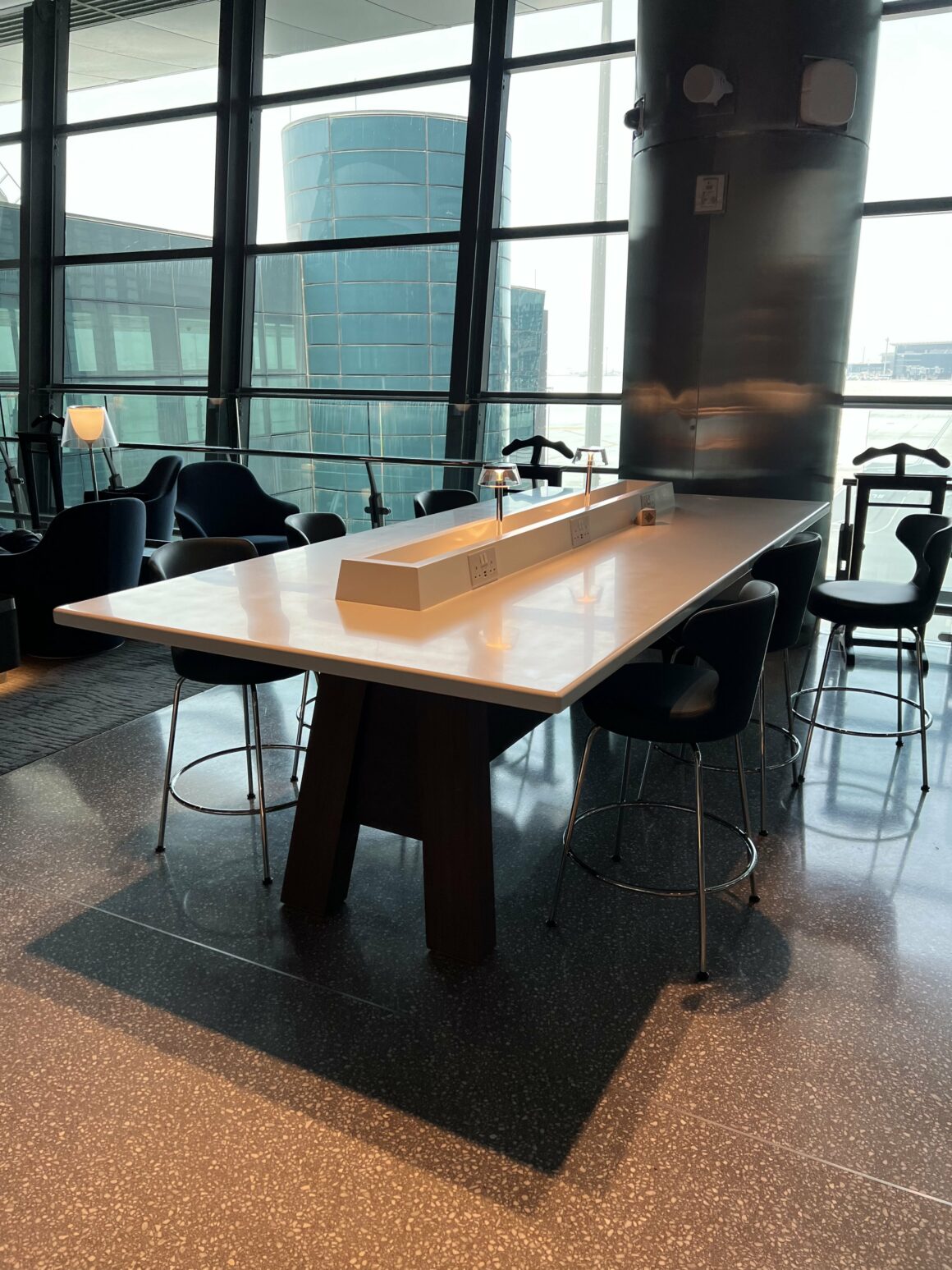 On one side of the room there was a bar which served champagne, wines and spirits. I rather liked the bar area and thought it looked elegant. There was also a seating area by it.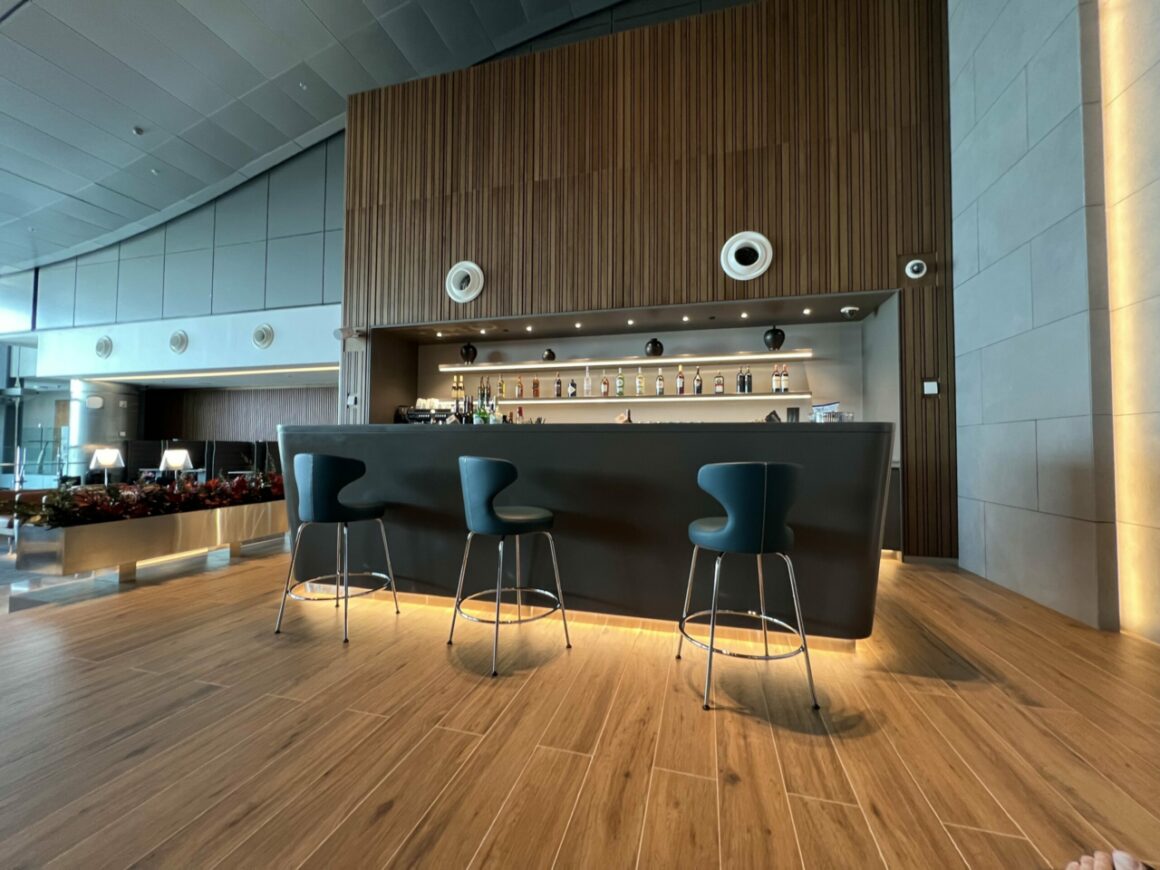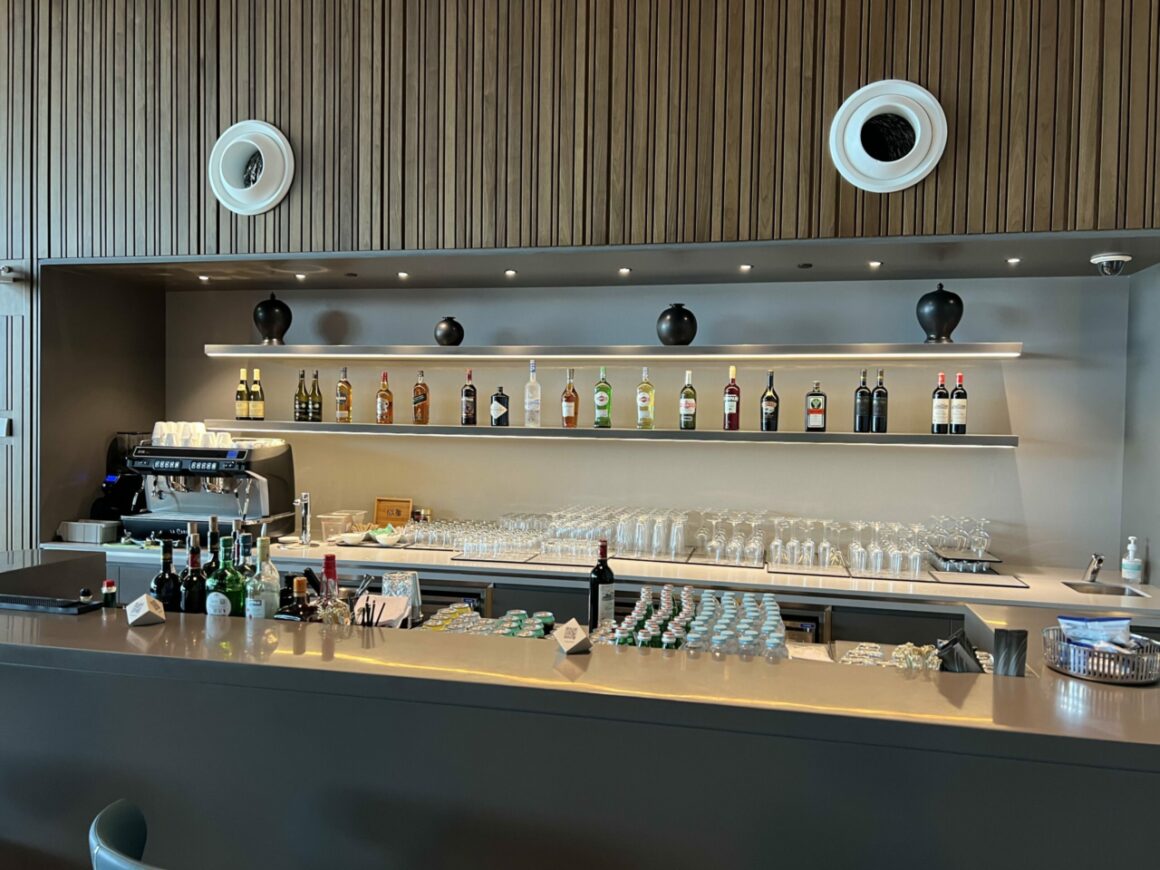 Here is an example of some of the drinks you can order: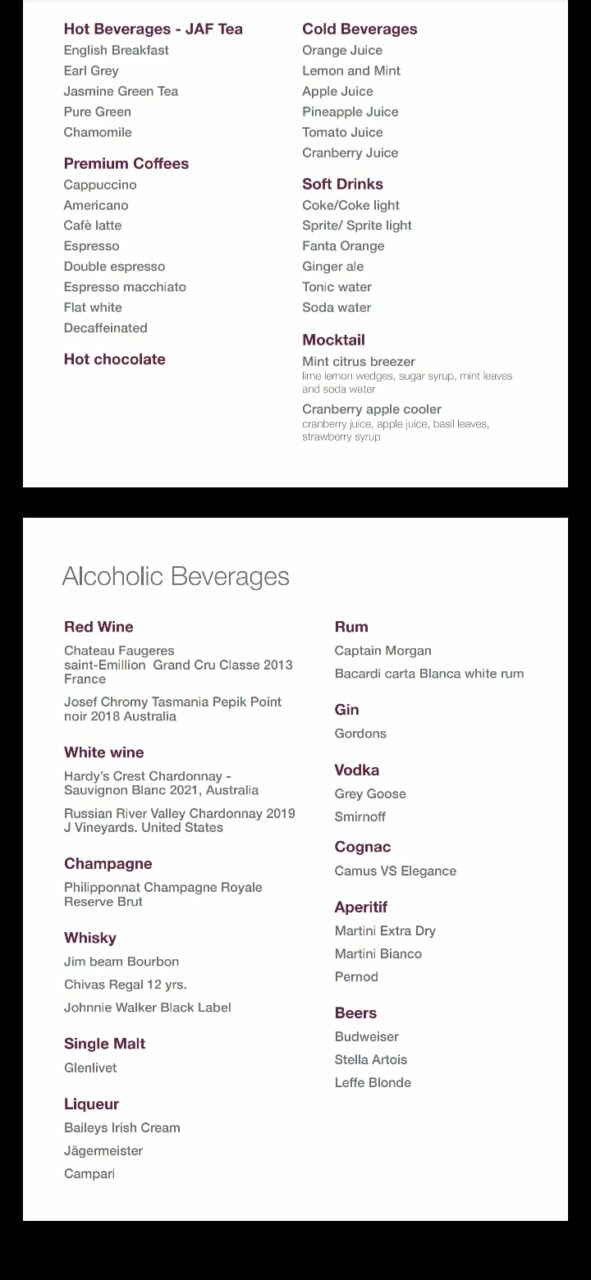 In most cases you'd be better going to the bar to collect a drink as the selection was better there such as Hendricks gin. Here are some of the other wines available from the restaurant area:
Gold lounge
Who can use it?
Qatar Airways Privilege Club Gold members and Oneworld Saphire card holders (including BA Silver).
What can you expect?
The Gold lounge is downstairs and can hold 85 passengers. It has family seating, a bar, a dining area, buffet dining, showers and complimentary wifi.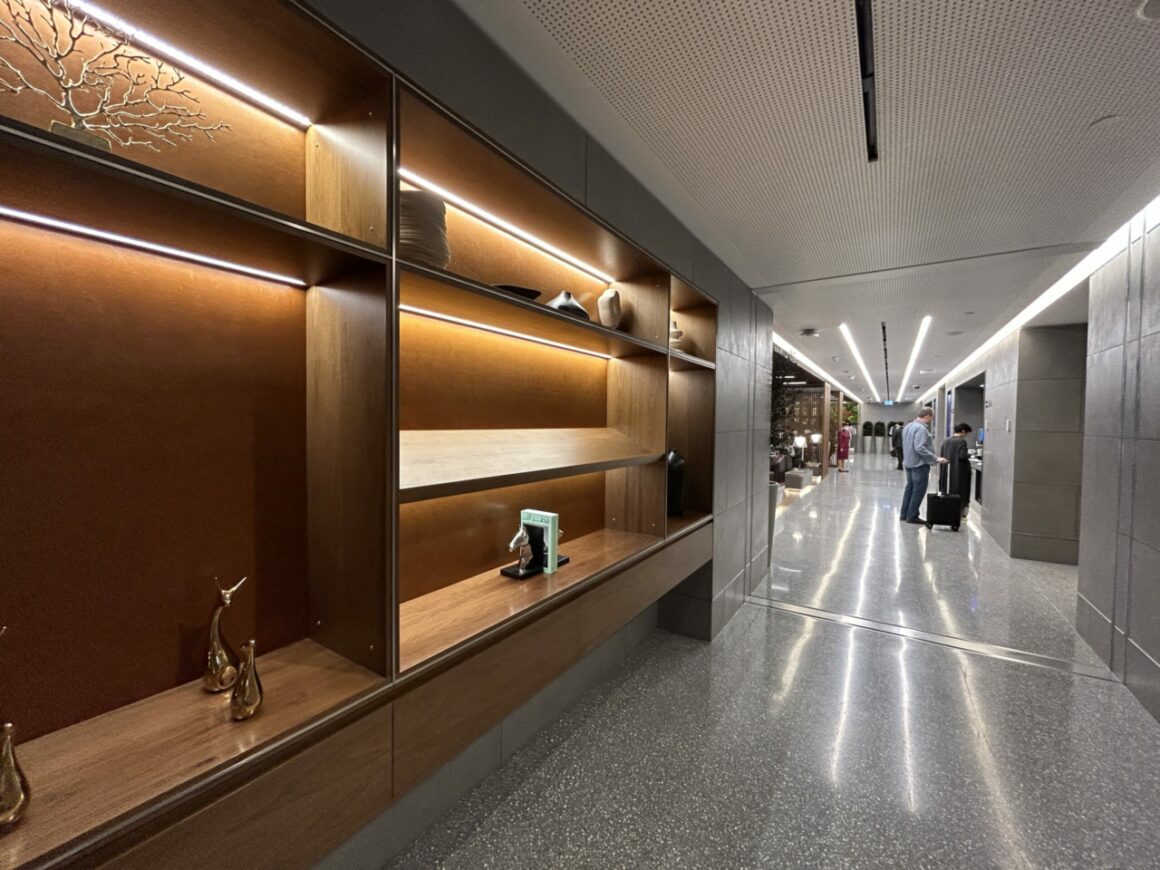 As you go in it feels elegant with the shelving along one side.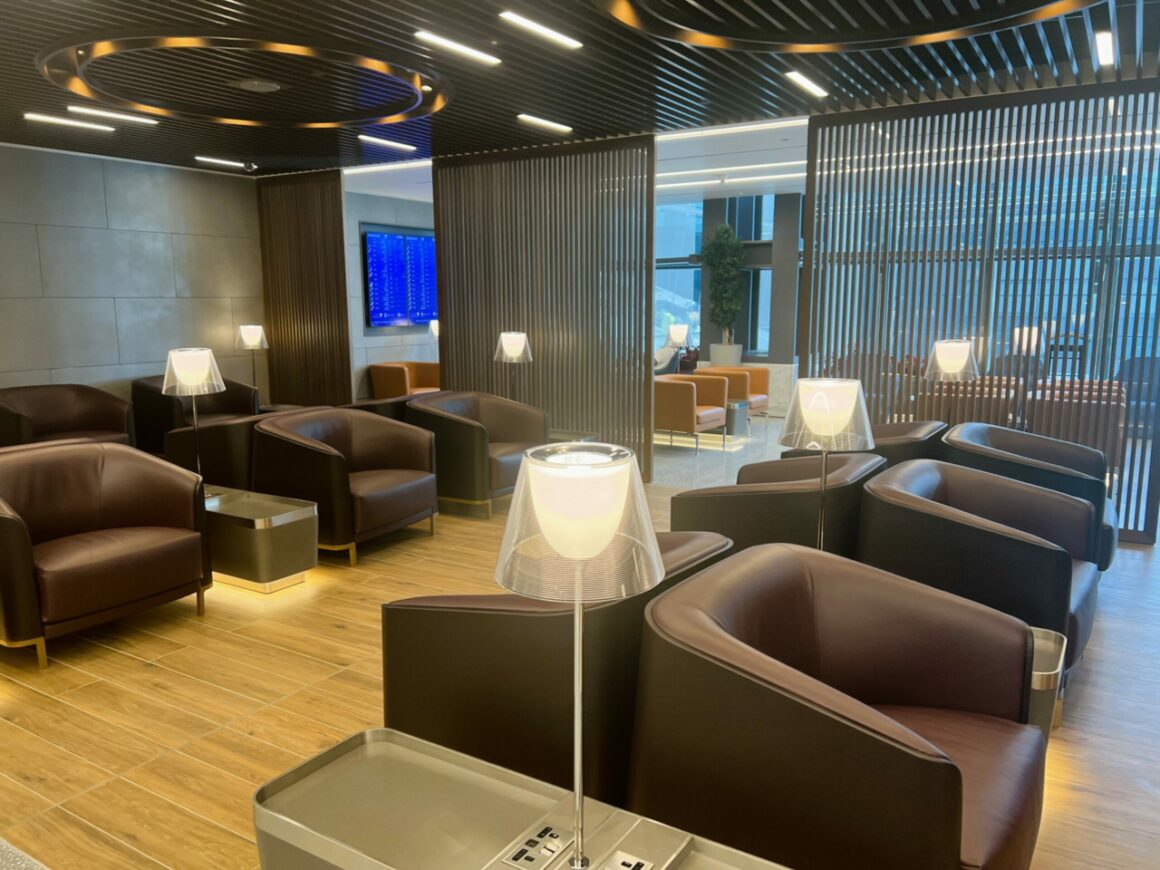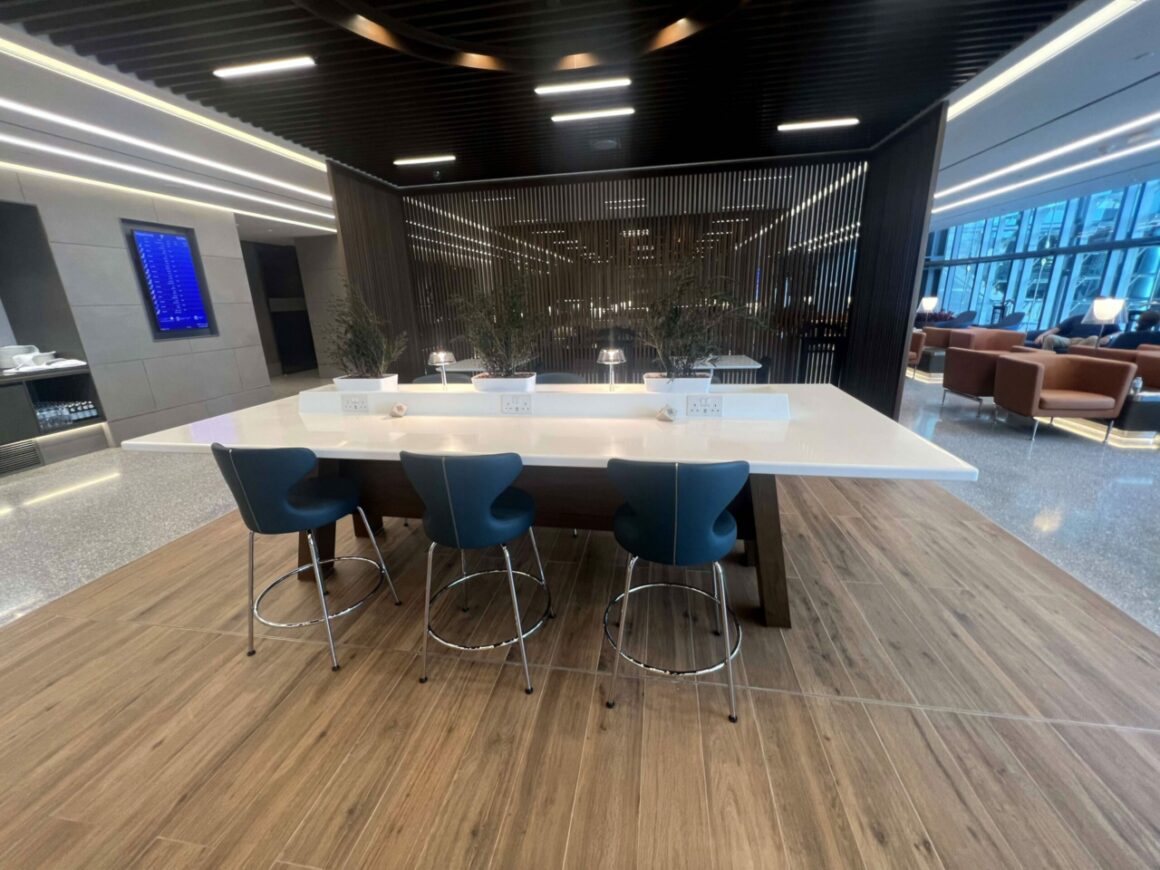 The seating was very similar to the Platinum lounge with plenty of power points and a work area. Along the window were more private pairs of seats, though the view was not as good as upstairs.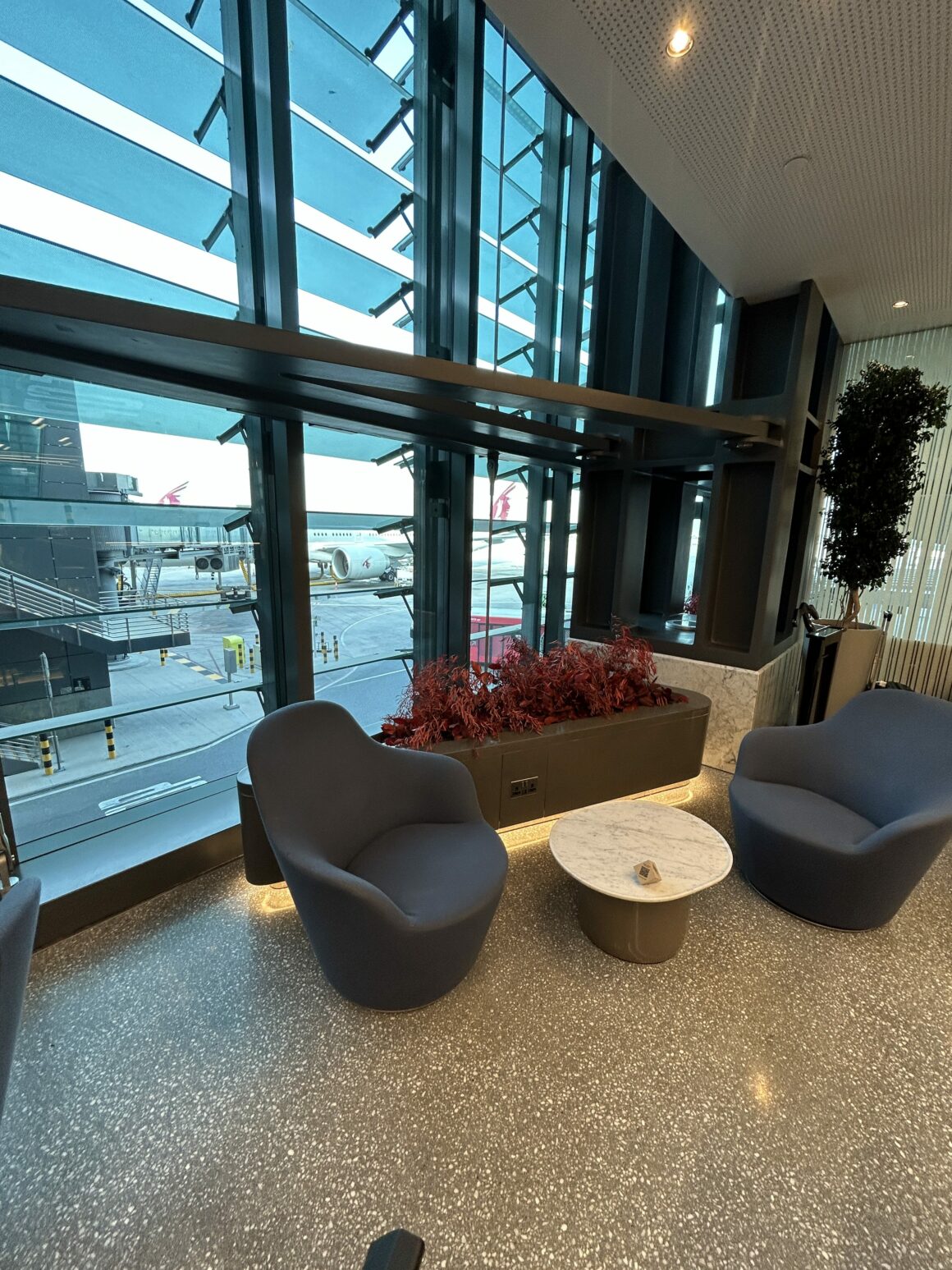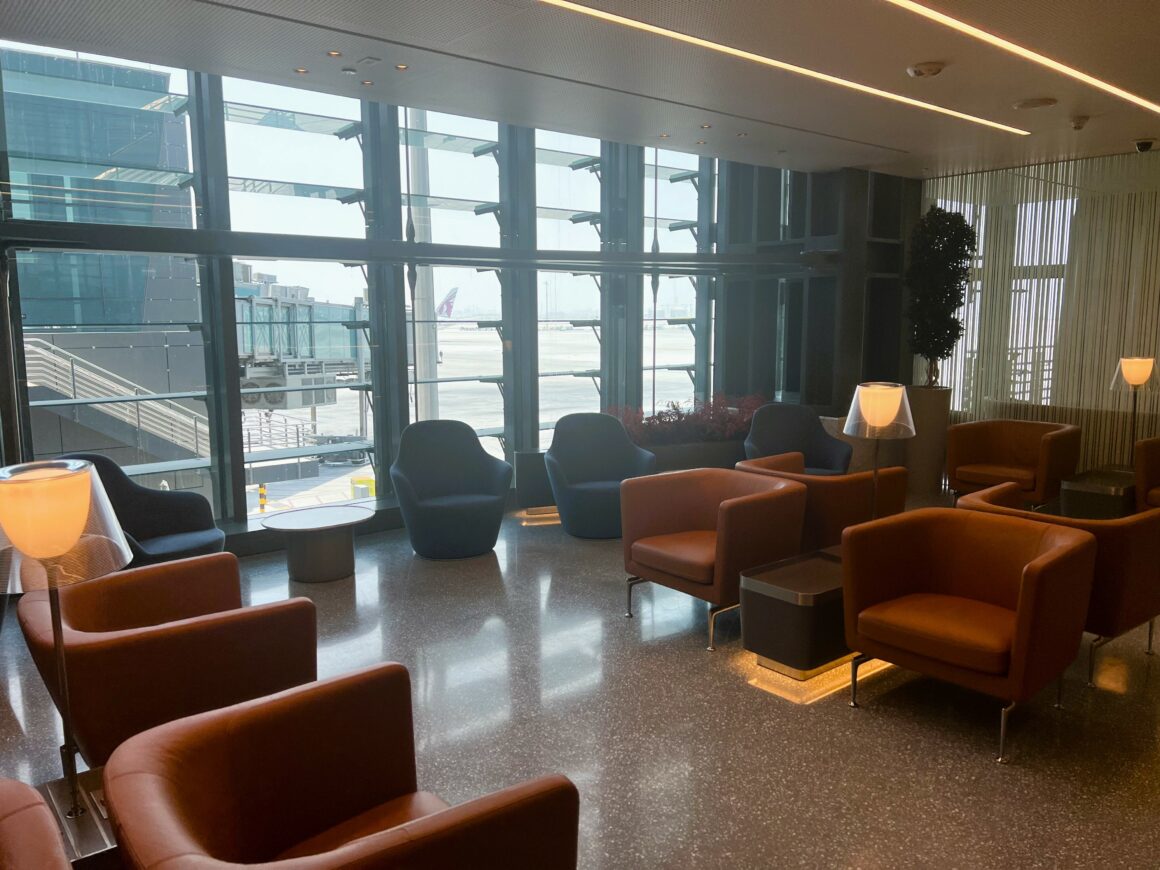 There was also a bar area here but the selection of drinks was slightly less.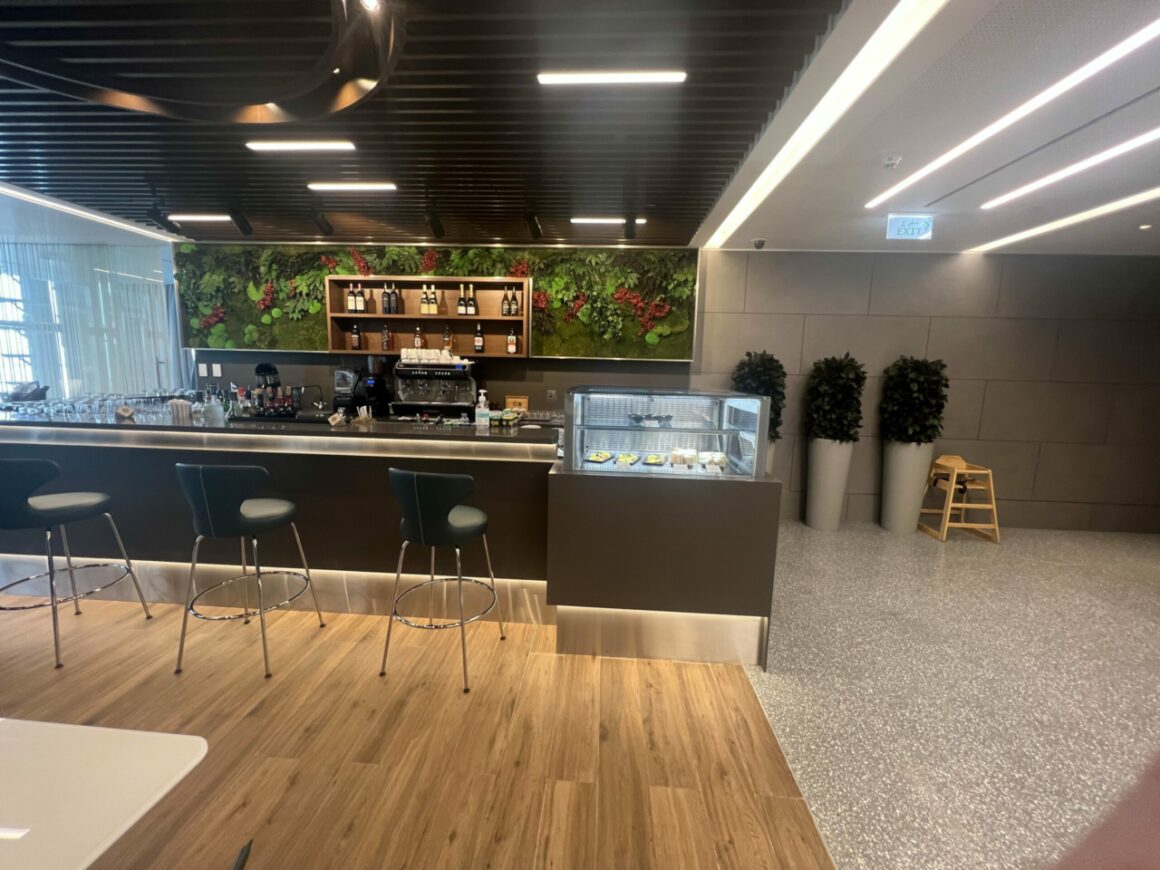 There is also a buffet here but the choice was slightly more limited. What was out was exactly the same as upstairs.
Here is the menu available via QR code for drinks:
I was also impressed with the washrooms, which had Diptyque toiletries and were spotlessly clean. They definitely could put a lot of other airline lounges toilets to shame!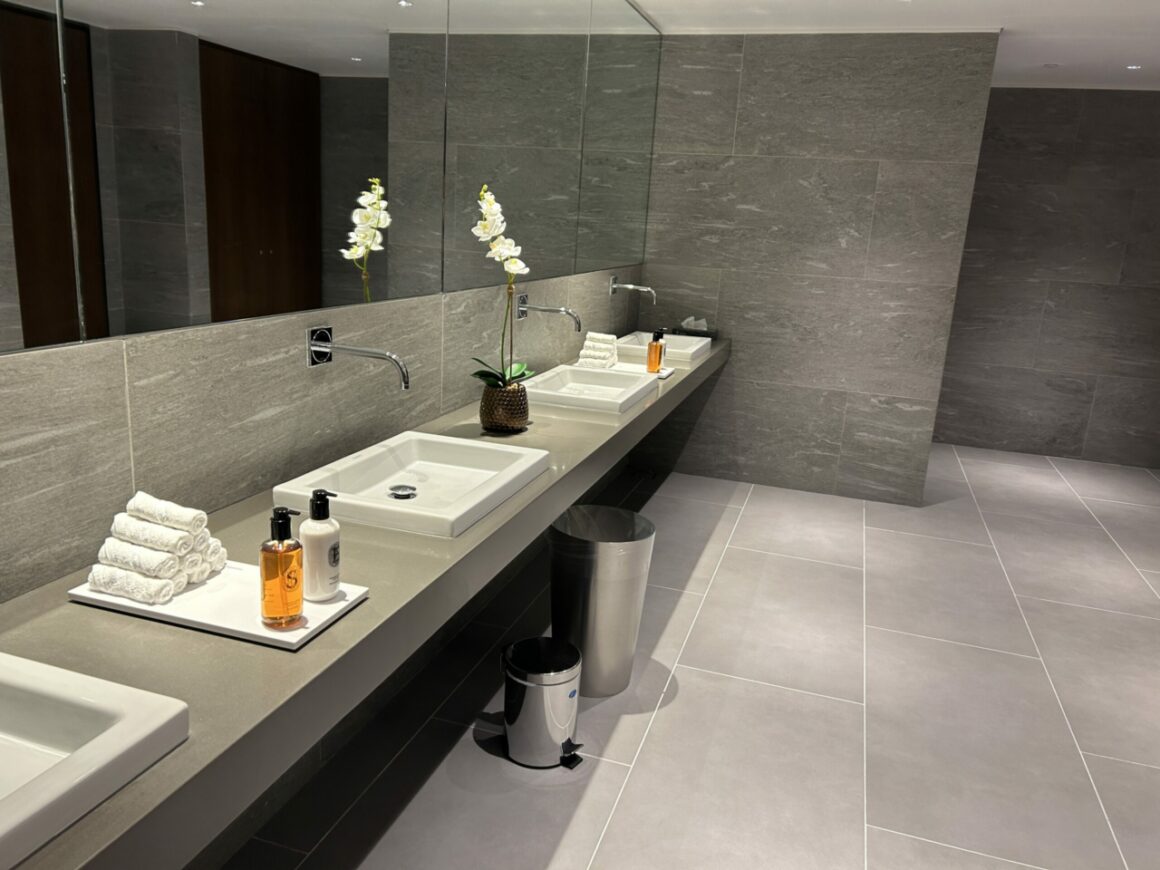 Conclusion
I was very pleasantly surprised by both lounges. There was not much difference between the two, although there were better views upstairs in the Platinum lounge, and it did feel slightly more upmarket.
If you have status and don't want to pay for Al Mourjan access, I'd have absolutely no fears about booking one of Qatar Airways' business class lite fares as you can access these lounges, which have a more intimate feel than the huge Al Mourjan. Once the new north lounges open, then they should also be a bit quieter, even during the morning rush.
Thanks to my friends Ben and Craig for the extra photos.
Like our Qatar Airways new lounges Doha review? You can read more Airline Lounge Reviews here.