Today's reader review is by Simon on his Trip to Thailand and who also wrote My Weekends Away – Tips For Flying At The Moment And Turin for the TLFL reader review competition. You can also read my review of the Waldorf Bangkok here.
When one of us, gets to travel for a conference in Brisbane and both are ready for an autumn break, meeting "halfway" in Bangkok – a place neither of us have previously visited – was an opportunity not to be missed.
Travel to Bangkok
As we were both travelling separately, I managed to bag a great deal with Finnair with business class return from LHR to BKK via HEL costing £1,100 return in the March sale.
Appreciating that there has been a lot of TLFL coverage of the AirLounge, this will be kept brief. I got to experience the uniquely massive and comfortable space flying from LHR to HEL, which unfortunately, made the other legs of the return travel much less bearable with narrow and uncomfortable flat beds.
In mid-September, it seemed that the daytimes were already clearly getting drastically short for the Nordic crew. On the outbound flights, they were rather miserable and surly. A short stay in Bangkok must have melted away the icicles as on the return leg, they were warmly welcoming, much more engaging, and professional.
My flight from London departed nearly 1 ½ hours late so I didn't get chance to use the lounge. The plane for BKK had already boarded and was waiting for the London transfer passengers so I headed straight aboard.
Bangkok
It certainly lives up to its lively, car clogged image. Ultra- modern in parts, but then at the bottom of a skyscraper a golden temple, adorned with marigolds and throngs of devotees. I love cities which throw up these 'paradoxes' and this city certainly did that.

As we were visiting for only two days we decided tick off the key sites, which are all easily reached by the Skytrain or the Metro. The key tourist sites are also close to one another, and surprisingly the city is very walkable.

Grand Palace- still the formal residence of the King. Like a crazy disco-ball of architecture with golden temples and buildings adorned with jewels and mirrors. A must-see!

Lumphini Park- the largest urban space in downtown- close to the major hotels, and worth a stroll, even if it's just to see the huge water monitors which live there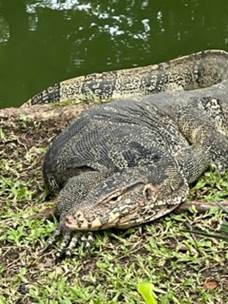 Chinatown/ Golden Mount Temple- a great city walks, alighting at Wat Mangkon Metro station. Vibrant street markets and another golden temple….
…. This walk leads Golden Mount Temple, cross the Democracy Monument and end up on the well-known backpacker street- Khaosan Road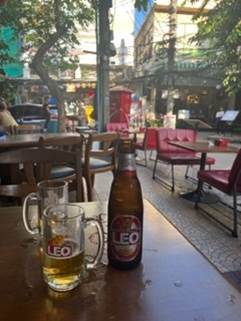 This is the street of urban myth, legend, and rumour- or was! The street has been cleaned up by the authorities and the seedier aspects have been removed. There were no backpackers either! Thailand, like so many places we know is still suffering from the Covid travel bans, and many travellers have yet to return. There were only ten of us in a bar, which I was assured was overflowing three years ago. We preferred Rambuttri Alley around the corner- a lot more atmospheric for a well-deserved beer!
Long-tail boat tour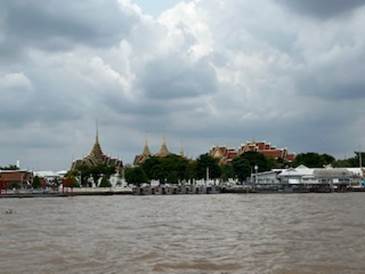 Highly recommend going down the river and then the canals. We paid £40 For a 1 1/2 private tour- just us two on the boat. We grabbed some cans of Singha from the 7/11 by the Tha Chang pier and hopped on. It was worth it- you see another side of the city, and it's great fun whizzing along the back streams. The floating markets which must have been stunning to see have all vanished- again due to the C-word- but it's hoped one day they will return.
Waldorf Astoria
Area
The hotel is in the Siam Square area, the central business district of Bangkok. It's surrounded by the Grand Hyatt, Ritz-Carlton, Anantara Siam and a few local brands. There are plenty of vast shopping malls close by, with great food courts- inside and out. The Sky Train is a 5-minute walk away.
For the first time I used TLFL travel partner, GTC, who got me a great deal on this top end 5 star hotel. For 2 nights it cost £550, with other benefits including room upgrade, double Hilton points and $100usd F&B credit. I can't recommend them highly enough!
Public areas
Certainly set the tone for this stunning hotel. On arrival we were promptly greeted by professional, smiling bellhops who took our luggage and opened the tallest hotel doors I have ever seen. The ground floor lobby is visually calming- lots of stunning tropical floral displays and lots of seating in muted ivory tones. The concierge desk is also here. There are three sets of lifts- and they are rather confusing! Whilst the interior designers were 'ivory-ing' everything up they forgot to put lift arrival lights/ bells on! Many times we missed lifts as we did not know- or simply couldn't see if they had arrived because they were well recessed back! Anyway- first world problems!
From the ground floor the lift was taken to the 16th. This is the main lobby area, again stunningly designed, along with a magnificent view of the city. The ever-attentive staff were extremely helpful every time we needed something. This is also where the Brasserie and Peacock Alley- for afternoon tea are.
I needn't have worried about going to the Lobby to check-in though, as on arrival I was escorted to my room and all formalities happened there. Now that's a 5-star touch!
Room
Whilst checking-in I was offered another upgrade to an even larger room- but with my first impressions certainly felt this wasn't warranted. The room was big-not suite huge-but big. A large living area and super king bed- with extra soft bedding. A corridor with lots of cupboards and storage led off to a separate toilet- Japanese style (I love a hot toilet sea) and to a large bathroom area. A big bath, double sinks and a very large shower area- with a big rain shower head. Toiletries were Aesop. Fruit was replenished every day and on arrival we got some mini lemon meringue pies and truffles. Housekeeping was excellent and a turn down service was provided each evening. The view from the room was impressive looking out over towards the CBD- which was made all the better as when you left the room the curtains automatically closed, but when you re-entered they magically reopened!
F&B
Breakfast – was on the 10/10 scale for 'death-by-buffet'! There was a total of 3 stations spreading around the whole of the brasserie area- so plenty of space. Our favourite table overlooked the racecourse. All manner of hot drinks were on offer to start. As you enter the first 'department' was a cheese station- sloppy Brie and Gorgonzola, hard blue, mozzarella, and manchego with every conceivable accompaniment including honeycomb. The next area was where the chefs cooked the eggs- the truffled poached eggs were the winner here. Self-served sausages, bacon, hash browns and plenty more on offer here. A hot meat area served roast pork, and speciality sausages like chorizo. Next to this was the cold cut section- including Serrano ham and a whole jam on iberico. Sushi was also served from here along with smoked salmon and gravadlax.
The juice bar consisted of all the standards plus a huge variety of tropical juices freshly squeezed to order. Smoothies were also made here.
Right around the other side of the tower was the Asian department- rice noodles, individual pots of daily specials- such as deep fried fish with plum sauce. 100-year-old eggs. And fermented eggs were there for the more adventurous. To the side was the salad bar- Caesar, Waldorf and all the usual leaves.
In the middle was the cereal and yoghurt station with fresh fruit. The chefs sliced mango to order and peeled lychees and rambutans specially for the diners.
I've saved the best until last- the sweet stall. French toast, huge pancakes, American style, and crepes, and freshly made waffles and…. An ice cream machine! Ice cream for breakfast- my life is complete!
I thought 'death by buffet' couldn't be bettered when staying in Dubai- but this was the very best we have experienced in all our travels.
The Loft Bar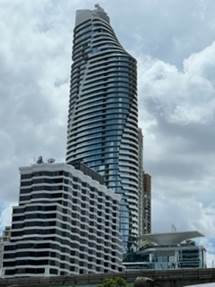 Situated on the 56th floor, providing stunning views- especially on the first night when there was a massive electrical storm. The bar spread 3/4s of the way around the tower offering private booths or seating around the bar itself. Despite promoting itself as a destination bar it was never busy but had a great top end atmosphere. Bottles if local Chang were surprisingly cheap at £4 a large bottle. Crafted local cocktails priced at £12.
The Front Room
The ground floor lobby offered a gastronomic Thai meal- a place where we thought our $100 food credit would come in useful. The dinner was excellent- like a lot of things in this hotel. Small tasting dishes came out before each course. Service was friendly and professional. Very impressive!
Swimming Pool
Is definitely a place for the Instagram generation- located on the 17th floor. The large infinity pool is partly covered by an 'organically shaped' cover which comes out from the main structure of the hotel. It's described by the architect as like a blooming orchid- but it reminded of a big field mushroom. The pool is big enough for doing lengths- but also has a shallower area and a bubbly part. Perhaps the most interesting feature was the big chairs placed in the pool- so when you ordered a drink the waiters had to take their shoes off and wade in to serve you! This is an ideal spot for a tropical sundowner.
On this level we're also the gym and very pricey spa- neither of which we tried.
Overall impressions
This was one of the very best city hotels we have ever stayed in. The ambiance, the location, the service was all at the very top end. Highly recommended!
We then spent a night in Pattaya- I will not review accommodation or food provided as they're our friends!
Bangkok Airways – Pattaya – Koh Samui – Bangkok
As ever the European Airlines could learn a lot from the service provided on Asian local airlines. Bangkok airlines markets itself as Asia's boutique airline- and it certainly met that claim. On our 50-minute hop to Samui we were offered a hot drink, bottle of water a sandwich and a cake. On our 55-minute trip back to Bangkok as well as drinks we got a hot meal (chicken lasagne- totally edible- and a dessert). The days of BA providing such service like this seem a long time ago- and this was on a full A320 with 4 cabin crew.

For £10 extra I organised lounge access in Samui- and again this exceeded our expectations. Samui is a beautiful airport-owned and built by Bangkok airlines. It's busy with flights to Bangkok every 40 minutes during the day. The lounge was empty only for us. It was very tropical with plenty of seating. The staff were friendly and helpful. There were the usual beverages and a selection of made to order hot food such as Pad-Thai. Highlight was the fresh coconut offered to all guests.

For frequent travellers like us it was funny to see how Pattaya airport operated. Pattaya is also known as U-

Tapso

, and pre-Covid operated internationally to Singapore and other neighbouring SE Asian countries. Now there is only 1 flight a day to Samui. The terminal is very new- so everything is clean and tidy, but other than the check-in desks everything else us shuttered up. Our flight was on an ATP with approx. 40 passengers. I kid you not there must have been 50 staff checking us in, checking luggage, security. All aspects were seriously over manned! But we shouldn't complain knowing what we have to endure at Heathrow! Despite the lack of customers we were still embarked by group number, our boarding passes treble checked and checked again!
Banyan Tree Koh Samui
Samui has a decent amount of 5 stars- Six Senses, Conrad, Ritz, Anantara, so choosing a hotel meant a good bit of research. I plumped for this one due to the location and the fact that it does have its own private beach.
The hotel us situated in a bay towards the very south of the island. The individual bungalows encircle the bay in three categories- no sea view, partial sea view and those on the top of the hill! Like most places with height e.g. Restaurants on top of skyscrapers (Sushi Samba,) prices ascend according to the height!
As the hotel is very hilly it is possible to walk- down or up some very steep hills, but there is a constant fleet of on-demand buggies to take you anywhere in the estate.
Our room was described as a partial sea view but as you can see from the picture, we could see a lot of Lamai beach! Our room was halfway up the hill. We were glad we didn't choose the lower as they're in the shade and overlook the tropical trees.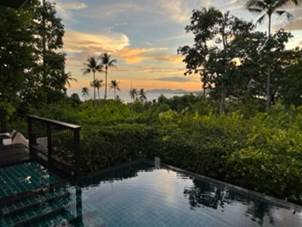 All rooms come with their own private plunge pool- ours was big 8mtrs x 4 mtrs, but slightly chilly. Once you were in it was fine- helped by a Chang!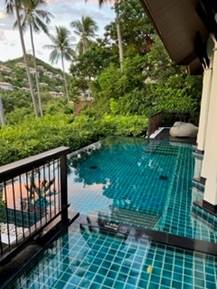 The room itself was large. On entry was a seating area with the minibar. The large king size bed was the middle room with large patio doors offering a view and direct access to the pool. The bathroom was at the end- not much storage unfortunately but an excellent rainfall shower, again with a door leading to the pool. Toiletries were Banyan Tree own in pump dispensers.
The outside area had a large patio with table and chairs and a sunken lounging area. Another deck by the shower had two big bean bags.
Banyan Tree has the usual blurb about 'living' well with fancy furnishings, but they're very careful that you don't nick anything! There's a tariff in the room with prices listed for hotel swag!
On arrival everyone is given a 'coconut bag' for keys etc. but at once your reminded if you don't return, they will charge you £50! This all seemed a little 'cheap' to us. For what you pay at a 5 star they do know that there is an element of 'take home'. But for everyone who takes an item, 10 of us don't!
F&B
Breakfast was served in the restaurant by reception at the top of the hill. The views were stunning, but the size of the buffet area was very small. I would think if the hotel was at full capacity, it would be very busy indeed.
Despite this we ate on a terrace with a great view.
The buffet was served from a central island, fruit, cereals, yoghurts, cold cuts, sushi were on offer. Hot items came from the kitchen and the usual offerings- both western and Asian were self-served.
There was an intriguing selection of tropical juices including this disco hued Dragon fruit juice:
The breakfast experience was one which I describe as okay.
Waves Restaurant was situated on the beach. They made excellent cocktails during the day- the standard breakfast Pina Colada was very good. We ate there on one evening- which was promised as the Saturday night BBQ. We were disappointed. Instead of the interact-time experience of going up to the BBQ and various stalls we were presented instead with a plate of everything! It was flavourless too and brought to mind a beefeater carvery. The entertainment was okay- but again very underwhelming- a few men throwing some sparklers in the air.
Our recommendation would be to go outside the resort and try the restaurants in Lamai, or the best was even closer- a 10 minute walk. Kazan's Kitchen offered the very best in Thai food- overseen by the matriarchal owner who proudly watched every plate of food leaving the kitchen. The local, friendly staff made up for a great dinner- at a ridiculously cheap price. This place was so good we went twice!
Pool and beach
An infinity pool of 40 meters was excellent for the other half's daily exercise. We saw no one else use it at any other time. The beach was always clean and the sea bathtub warm. Water was constantly offered, and the beach boys were always ready to take the drinks orders. There was plenty of shade from umbrellas and the loungers were nicely spaced. The usual beach activities were provided- boogie boards, catamarans, wind surfs etc. The beach was private and was where we spent the majority of the day.

The bar was on the beach, but as the early evenings were spent on the deck, we decided to google the nearest 7/11 to stock up our fridge. Only a 10-minute stroll away we enjoyed cans if 50p Chang rather than the slightly ridiculously priced £7 cans in the mini bar!

Boat excursion

We booked the hotel speedboat for a half day trip to the nearby reef. The snorkelling was okay- not the best with unfortunately most of the reef being bleached and over visited by uncaring-or unknowledgeable travellers. We got there early enough to miss the crowds, but on leaving the hoards started to arrive. We saw plenty of people standing on the reef which was a real shame. We called off next in a gorgeous bay on Ko Mat Sum Island for a swim with no other boats and then went to the bar with its own pigs on the beach.

Whilst we enjoyed the boat trip of 4 hours, we did feel for the price £500 there was a lot lacking. Despite free-flowing drinks- beer and wine lunch consisted of a box of breakfast pastries and some fruit. Comparable trips in other places provided us sandwich or salad.

Thoughts…

In many ways the lack of attention to detail for lunch on the boat trip summed Banyan Tree Samui up. It's the little extras which make a great fantastic 5 star- like my comments in the Waldorf highlight.