Roving Reporter and I were homeward bound from Vietnam on our bargain £1300 ex Amsterdam business class fare (upgraded with a gold upgrade voucher to First). You can read the reviews of our First flights here.
Location
The Waldorf Astoria is in the Ratchaprasong district, near the Erawan Shrine. The hotel overlooks the Royal Bangkok Sports Club and is close to a couple of stations – Ratchadamri and Siam BTS Skytrain stations. Several luxury hotels are in the area, including the Hotel Muse MGallery, which I recommend for a relaxing rooftop bar experience. You can also walk to several upscale shopping malls.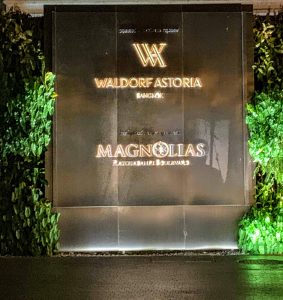 The hotel has a lobby on the ground floor, but you have to go up to the 16th floor for reception. Rooms start on the 6th to 15th floors.
Check-in at Waldorf Astoria hotel Bangkok
We were greeted at our car by porters who attended to our luggage and directed us to the express lift to reception. The porters were extremely attentive for our whole visit and we seemed to have a whole team of them waving us off when we left!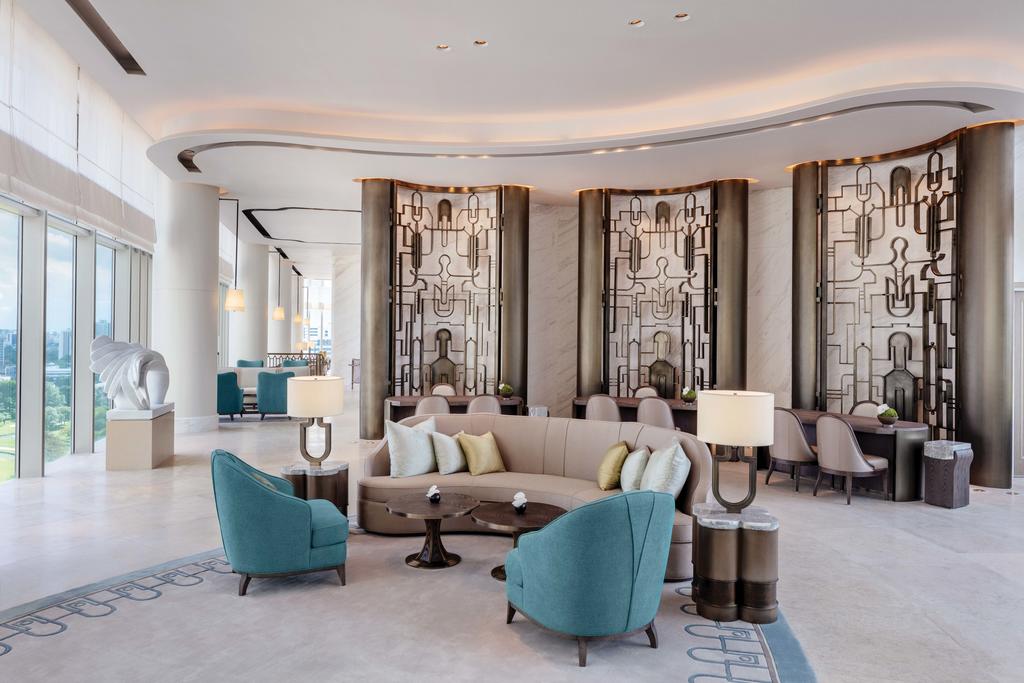 My check-in experience wasn't as great as it should have been. I had pre-paid on a credit card that I didn't have with me. So when I couldn't produce it, we had to go through the process of refunding it and paying all over again, which seemed to take forever. I stay around 50 nights a year at Hilton and never once have I had this issue before.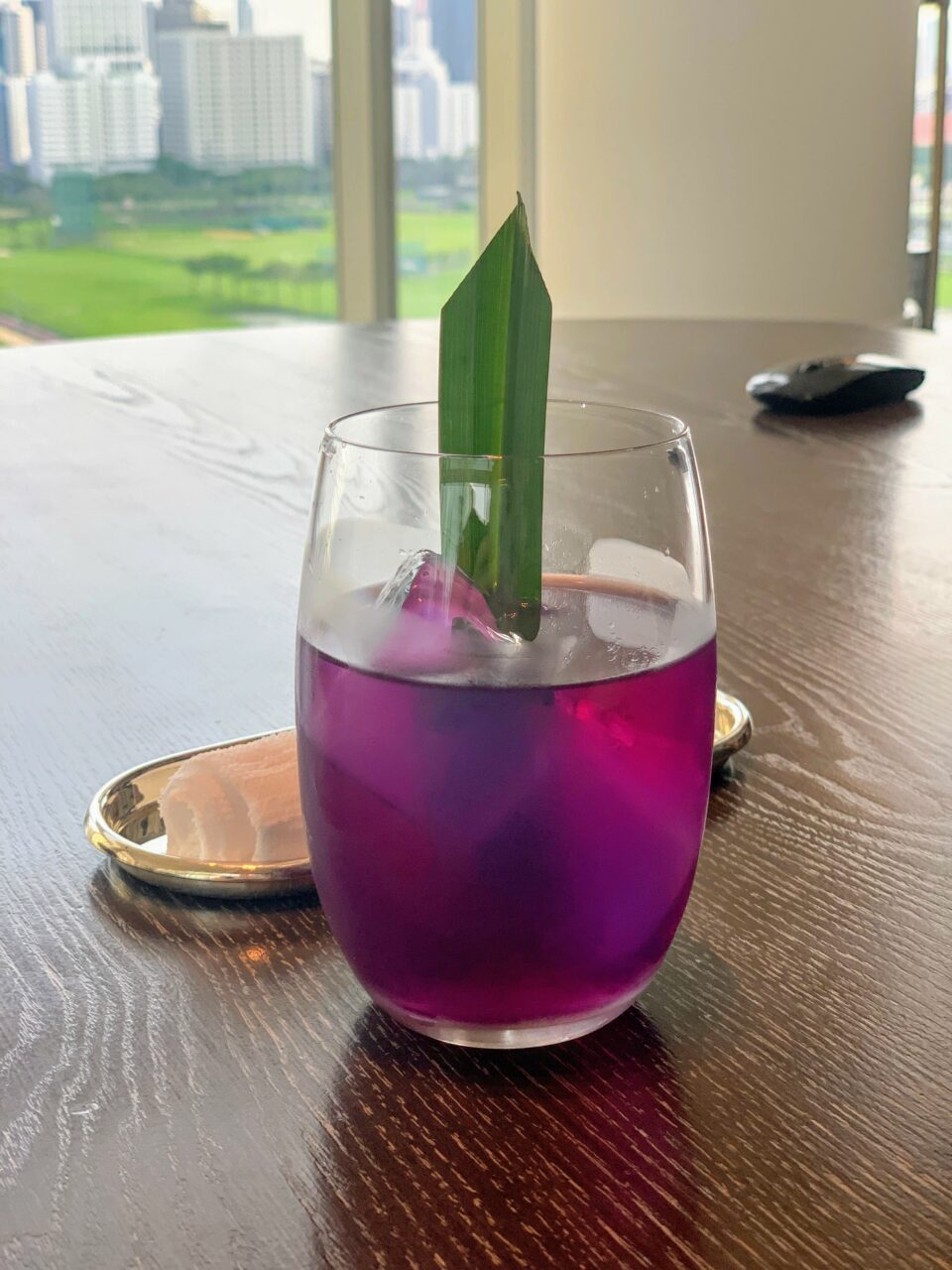 I was offered an amazingly vibrant coloured welcome drink, but it was actually rather delicious. This came with a very welcome cold towel after the Bangkok humidity.
The lobby and public areas of the hotel were all beautiful with the signature Waldorf Astoria blue and neutral colour palette.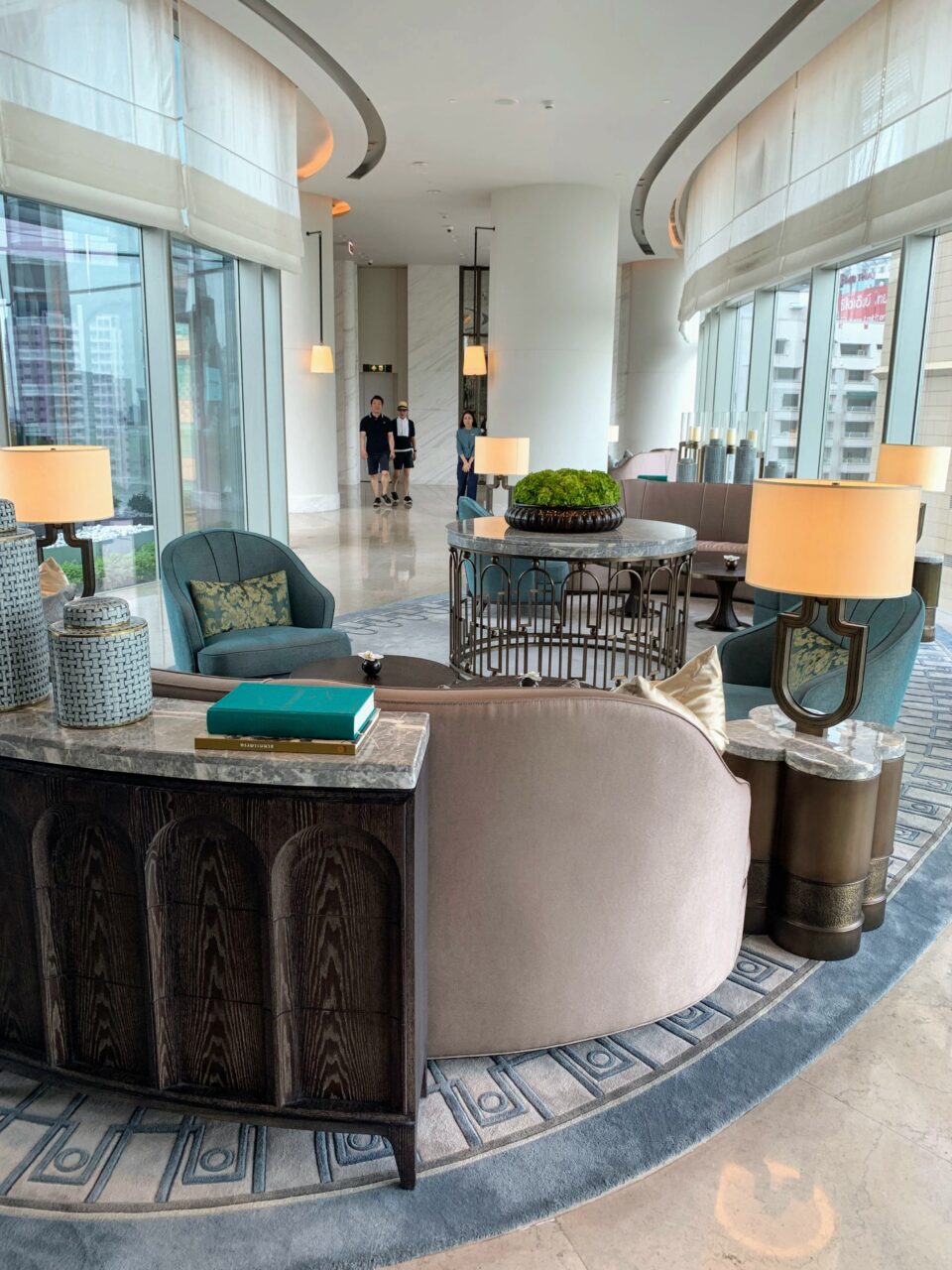 The check-in agent was pleasant enough, but she spoke very quietly and fast, so it was hard to hear what she was saying at times. Once we had finally sorted it all out, I was accompanied to my room on the 15th floor. As a Hilton Diamond member, I am entitled to an upgrade. On this occasion, I got a better view and a high level, but the room was exactly the same as the basic room. As a Gold, Roving Reporter got a one-category upgrade to a City View King Deluxe. My upgrade was two categories to a Park View Deluxe King. All the non-suite rooms are the same apart from the view.
Waldorf Astoria hotel Bangkok Room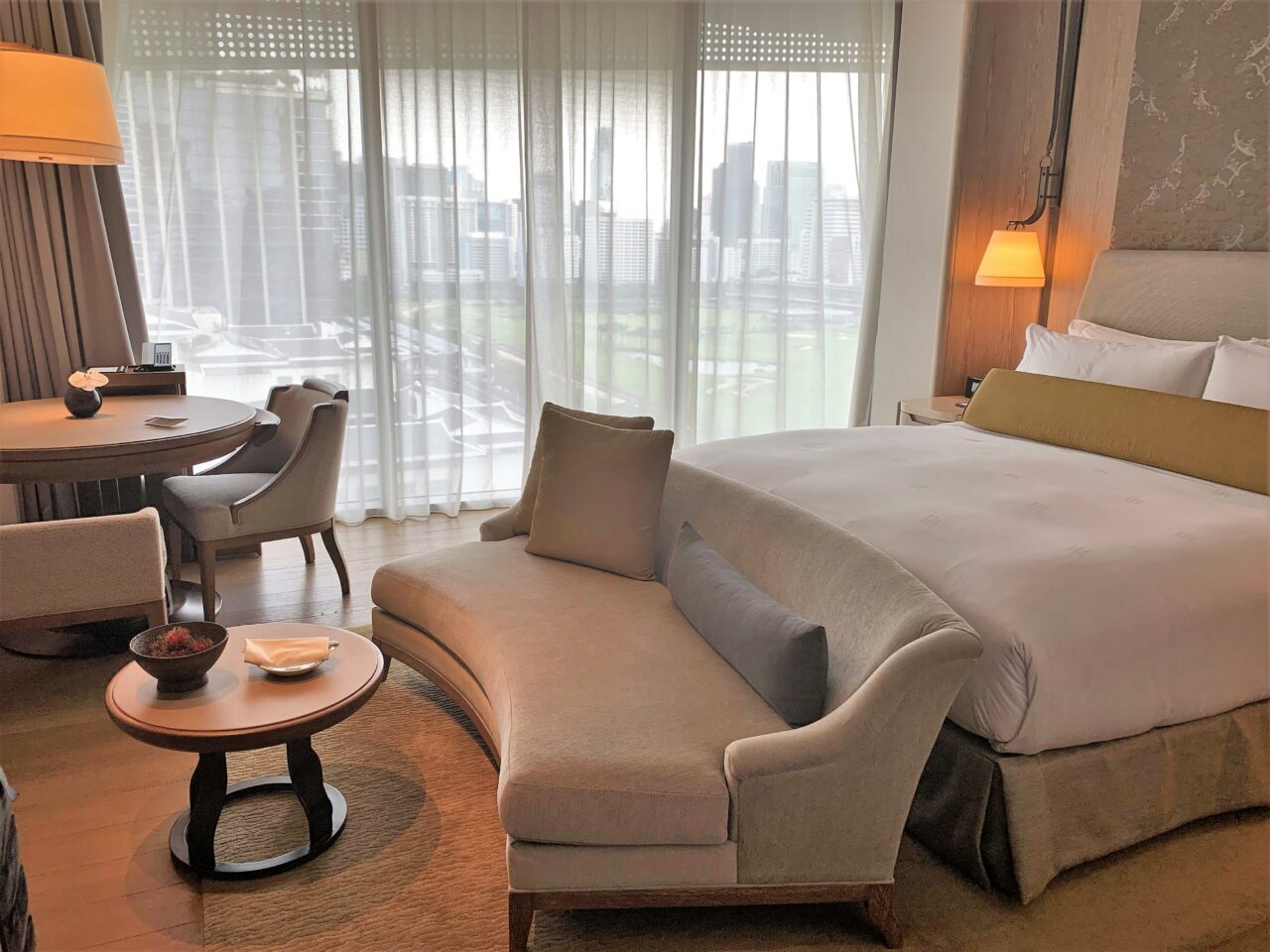 I was shown to my room by the receptionist. Once in the room, I was given a tour of how everything worked, and my luggage was delivered pretty quickly.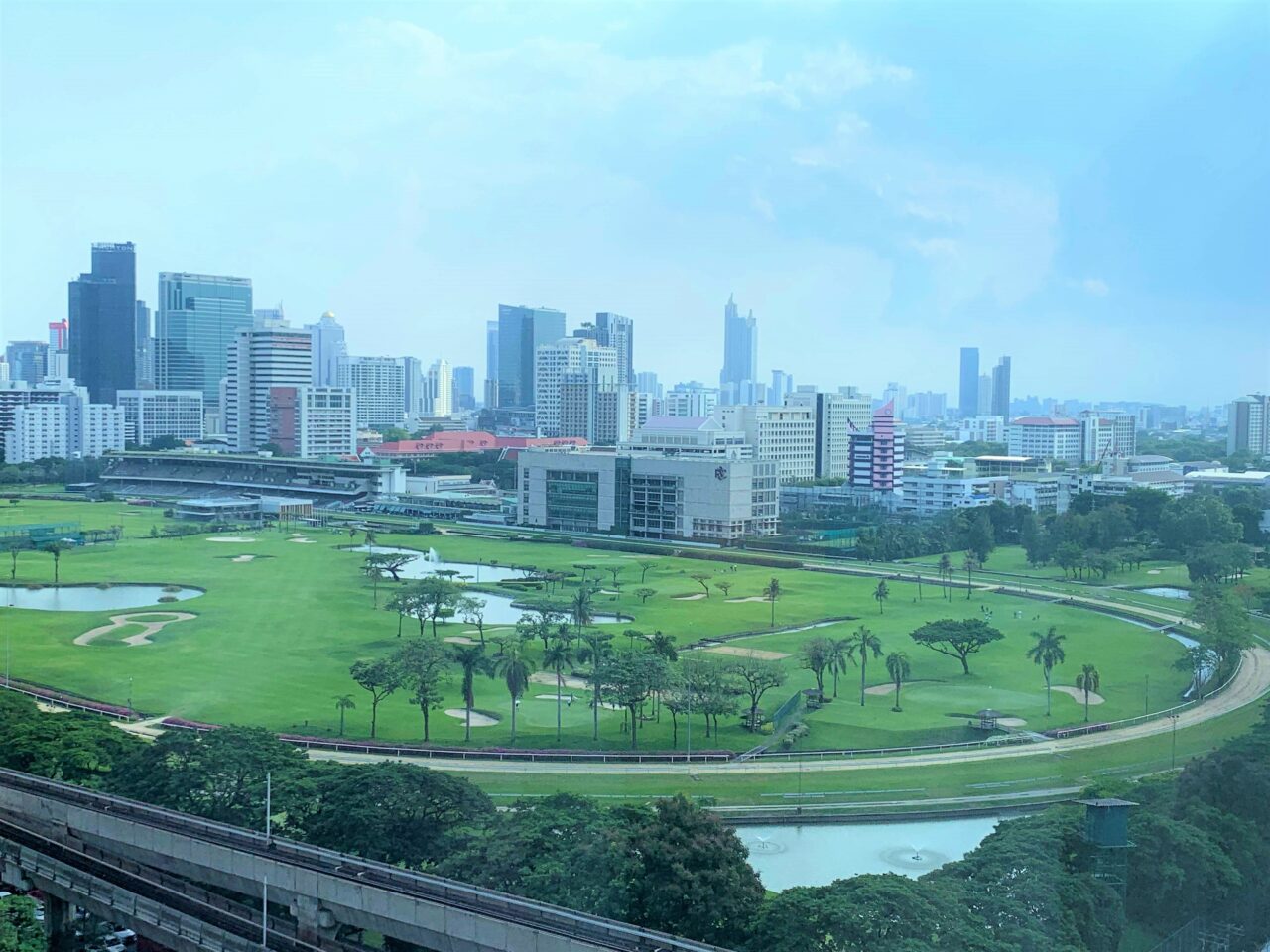 First impressions of the room were excellent. The WA is not cheap compared to our hotels in the same 5* category, but it did feel like you got your money's worth with the room.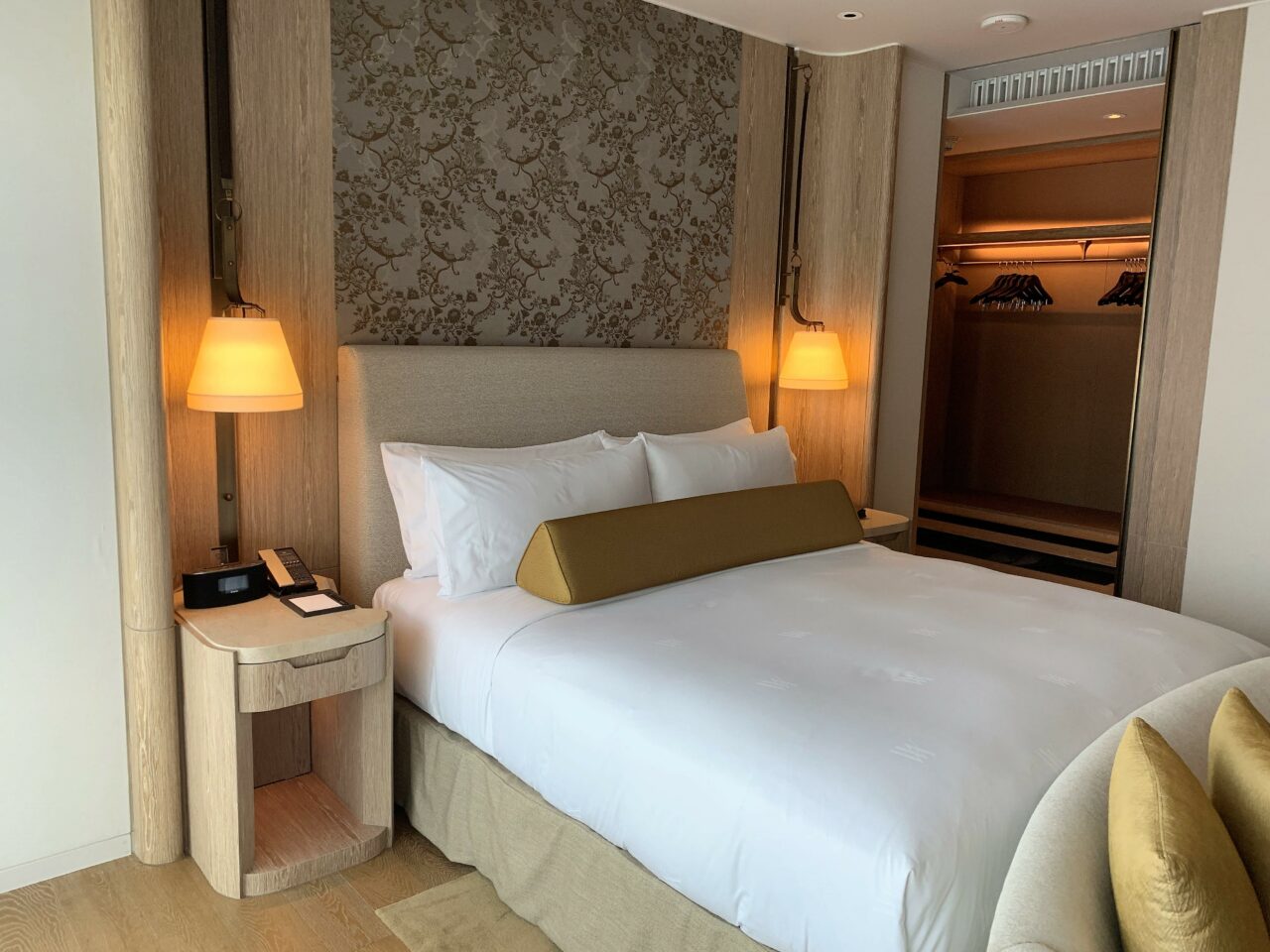 As you entered the room, there was a beautiful armoire with the minibar and coffee machine.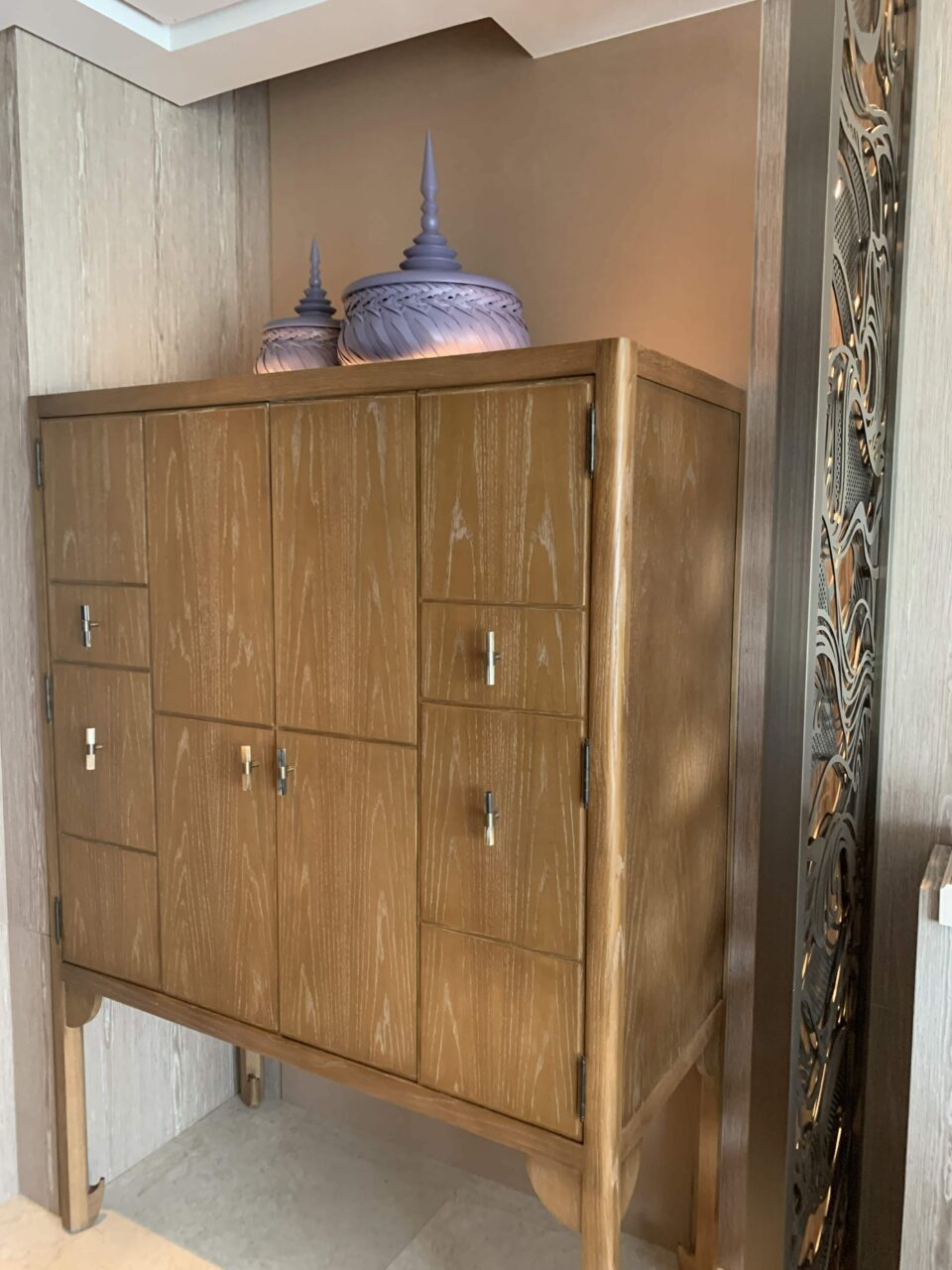 A lot of attention to detail had been paid to the contents. There was a kettle as well as a Nespresso machine, and the glassware was elegant even down to the stirrers (I'm still not sure if they ended up in RR's hand luggage!)
The layout was slightly odd with the toilet by the bedroom and then a large wardrobe/dressing are which led to the bathroom. However, the room felt spacious and well equipped with a good-sized dining table and sofa. Really in many hotels, this would be called a junior suite.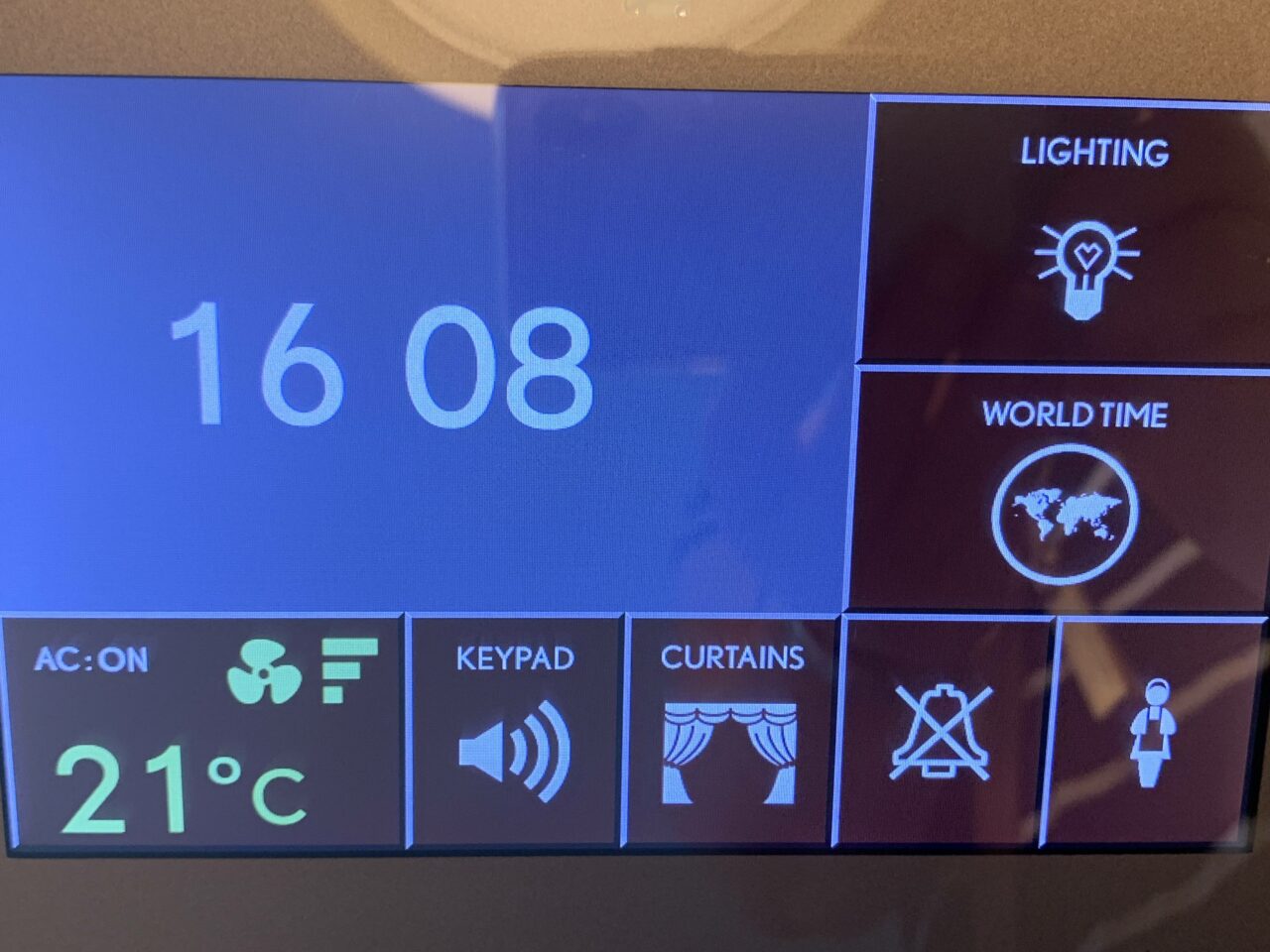 Drinking water was provided in the room in rather unusual WA branded cartons. Additional water was provided at turndown. The room was controlled with high tech panels but they were simple to use. Next to the bed was a high tec iPad that could control virtually everything in the room.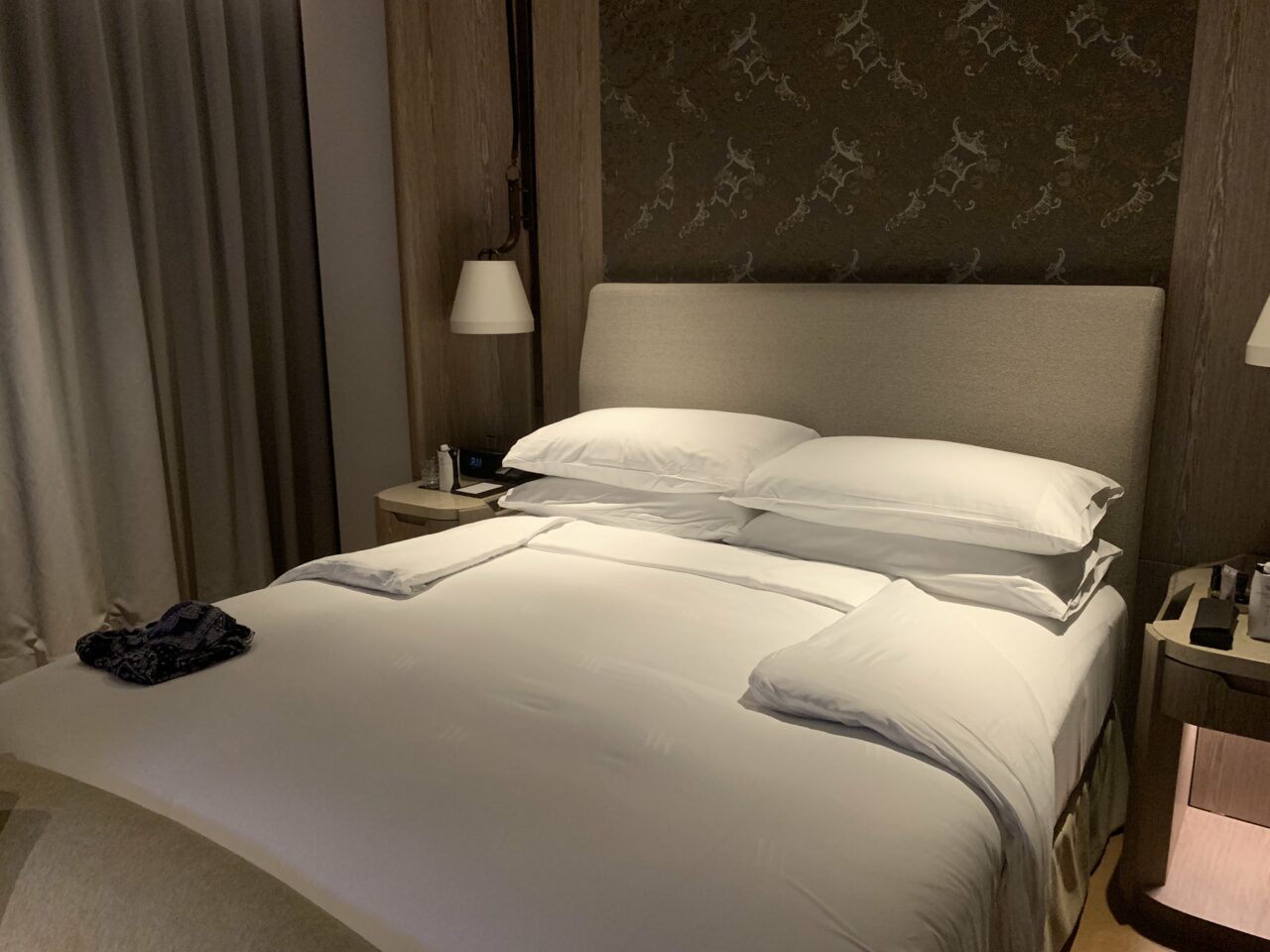 Bathroom
The bathroom held lots of delights for me. My favourite one was the Japanese style toilet complete with a self-opening lid and a heated seat. You can't get a more luxurious toilet experience than that!

In the main bathroom area, there was a huge soaking bathtub, double vanity and a shower fit for the exhibitionist in you. There was a floor to ceiling window in the shower and due to the curve of the window, I'm not convinced I couldn't have flashed another room or the building opposite! Fortunately for everyone concerned, there was also a blind in the shower!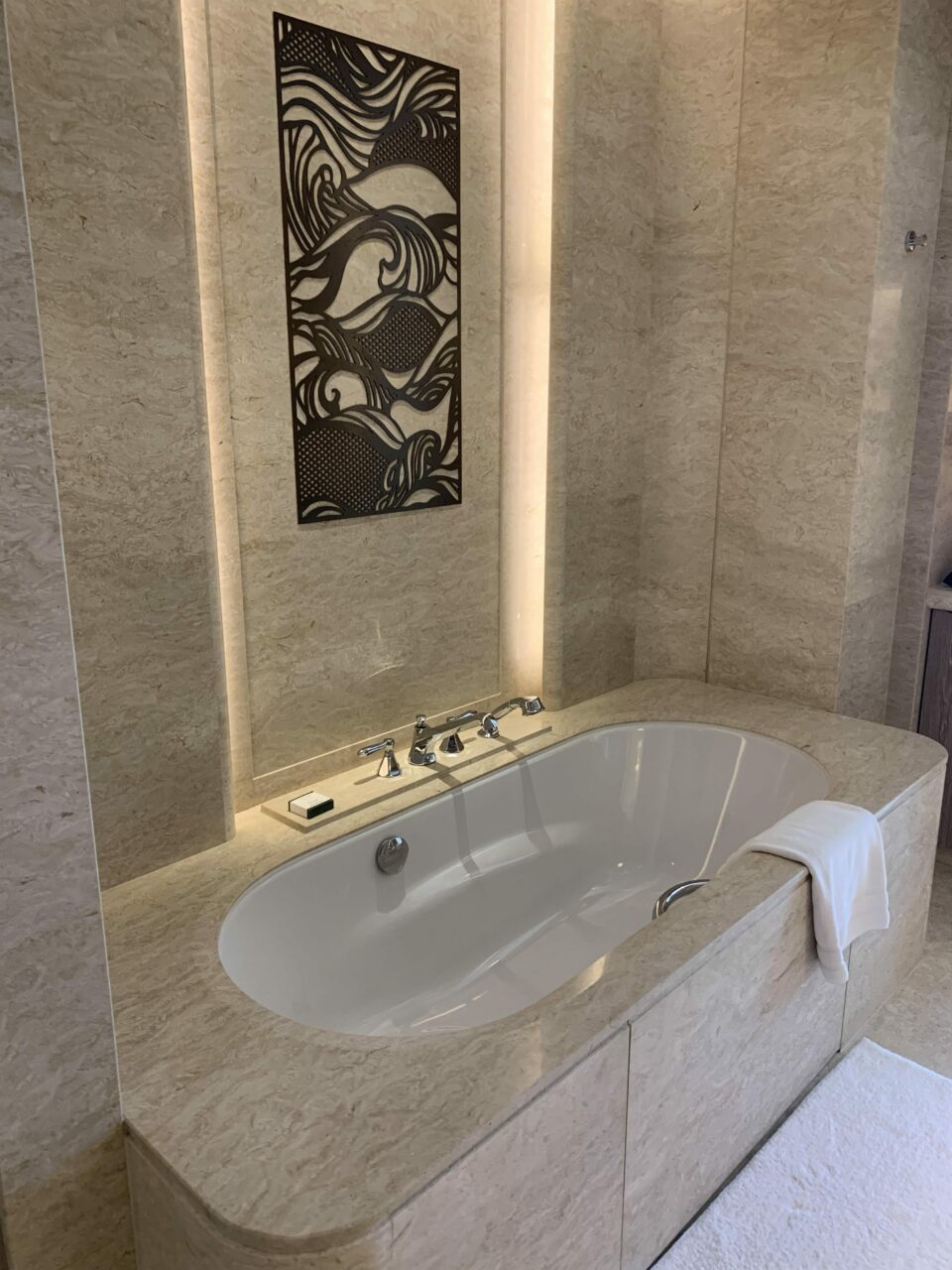 The toiletries were the standard Waldorf Astoria Tuscan Soul by Ferragamo which come in good size tubes.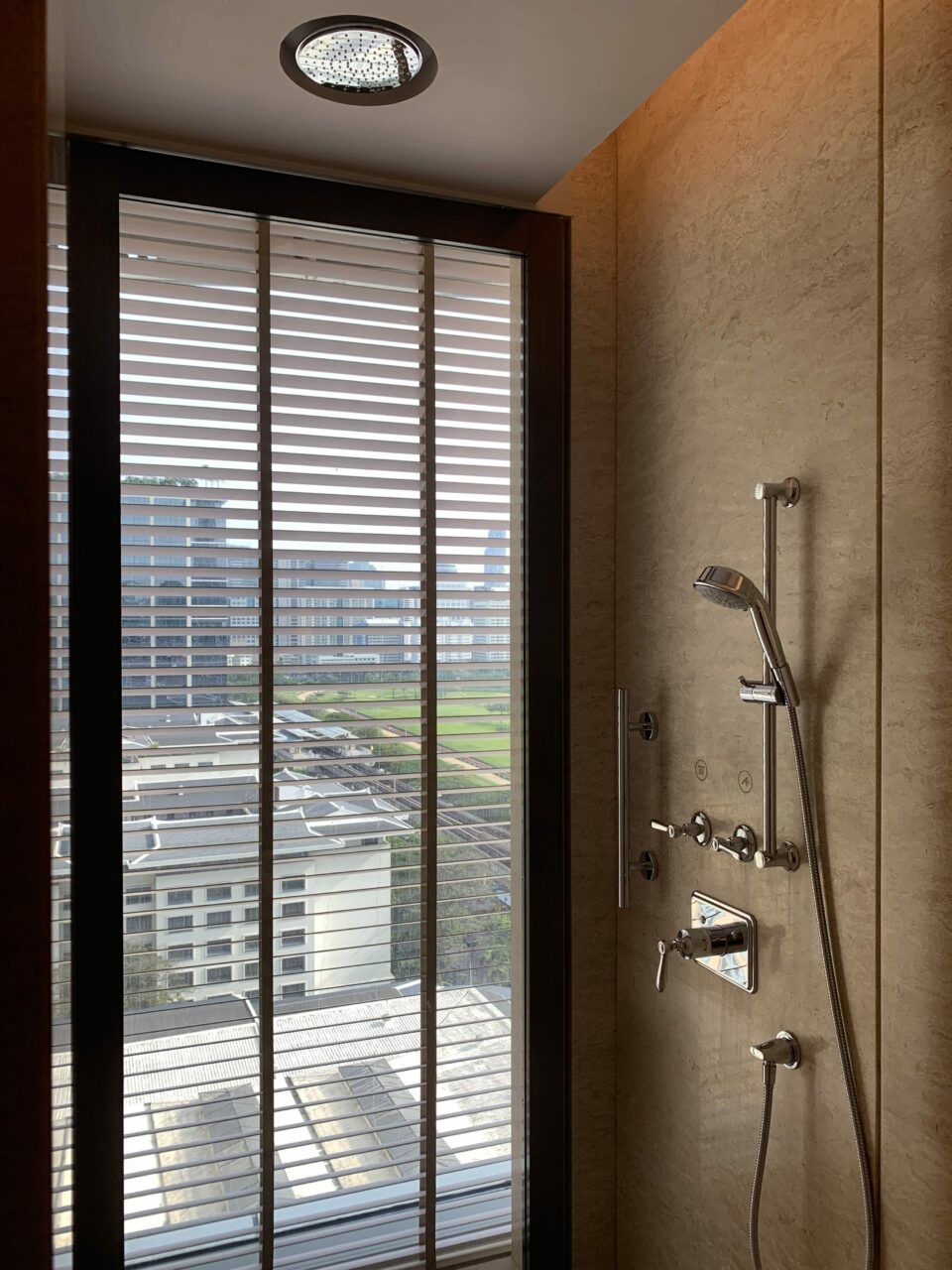 There was also a good selection of amenities provided as you would expect in Asia such as dental kits and mouthwash.
Waldorf Astoria hotel Bangkok pool and facilities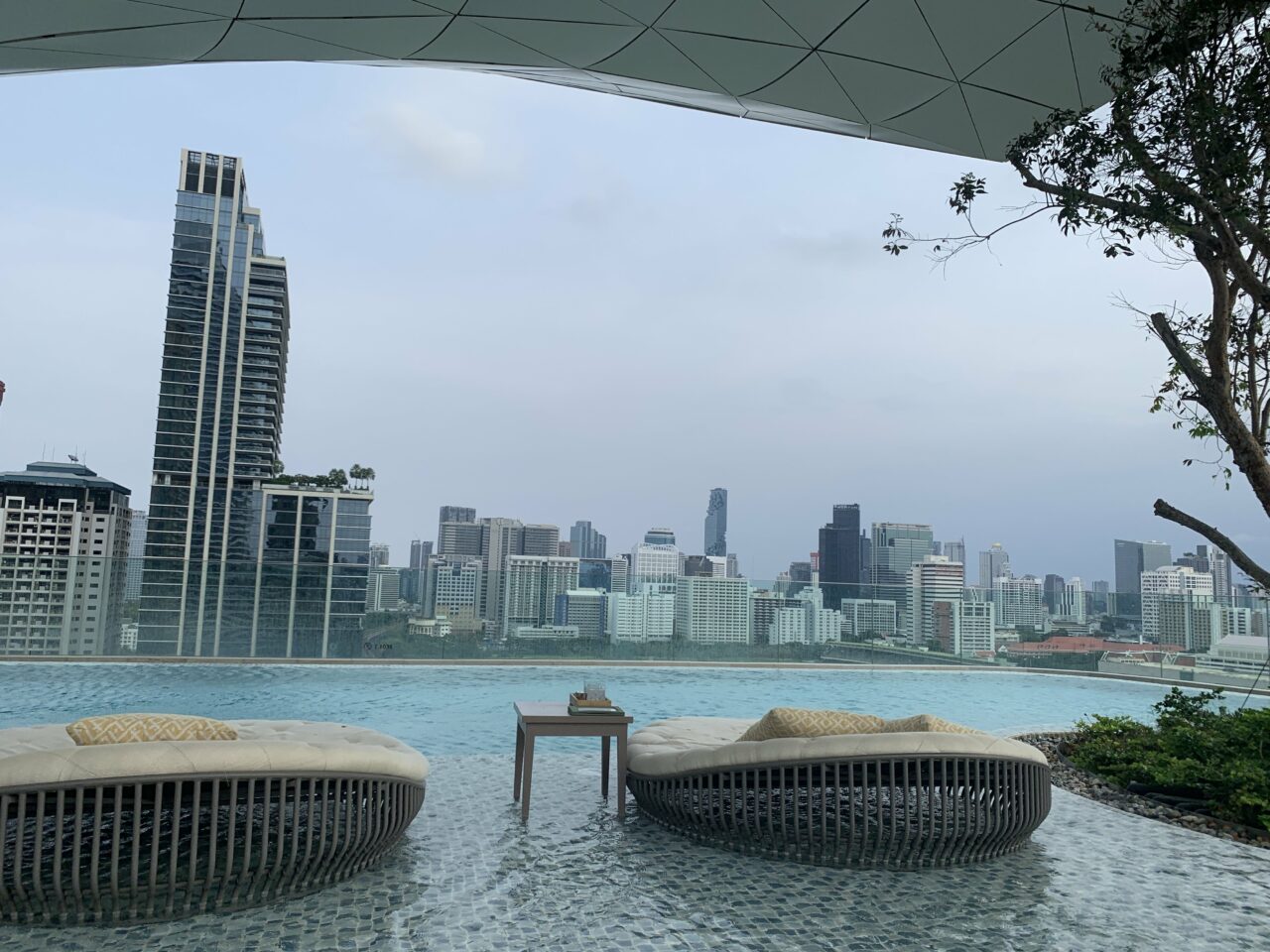 The pool looked amazing and was one of the reasons we chose the hotel. The pool is like a rooftop infinity pool with daybeds set in shallow water as well as regular loungers on dry land. The pool service was good with a tray of chilled water and fruit being delivered by the wading pool boy. You could also order food and drinks in the pool too.
Sadly the pool looks nicer than it actually is. As it is quite high up it was very, very windy and that combined with loud traffic noise from below meant that I felt like I was sitting in a traffic jam in a wind tunnel – not exactly conducive to relaxation! The pool area was also pretty shady. Some parts of the pool were also showing signs of rust where the bubble beds were which is not good in just over six months from their opening in August 2018.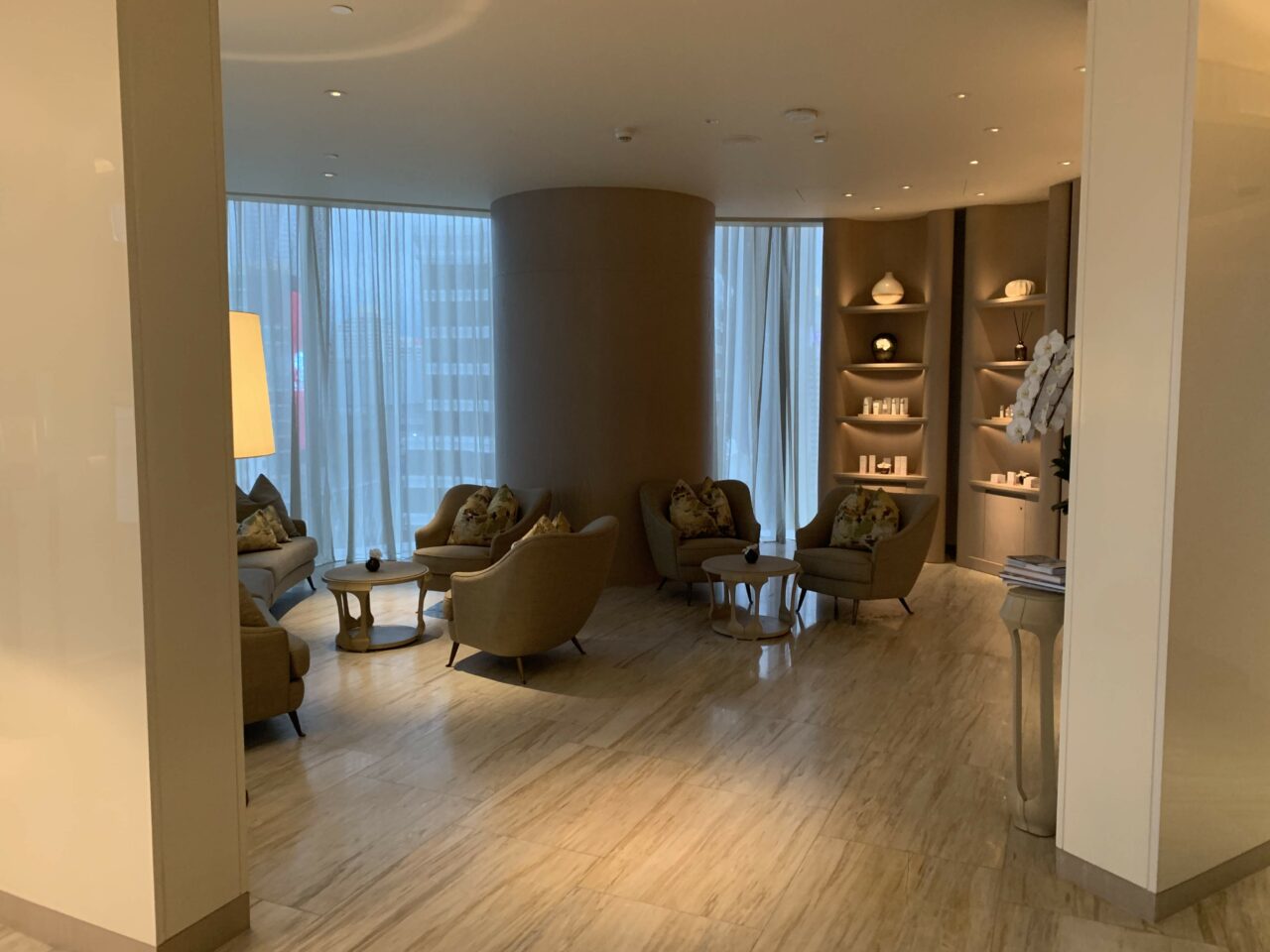 The spa was situated on the same level and had an extensive range of treatments but they weren't cheap! There was a small outdoor spa cafe/bar adjacent to the spa.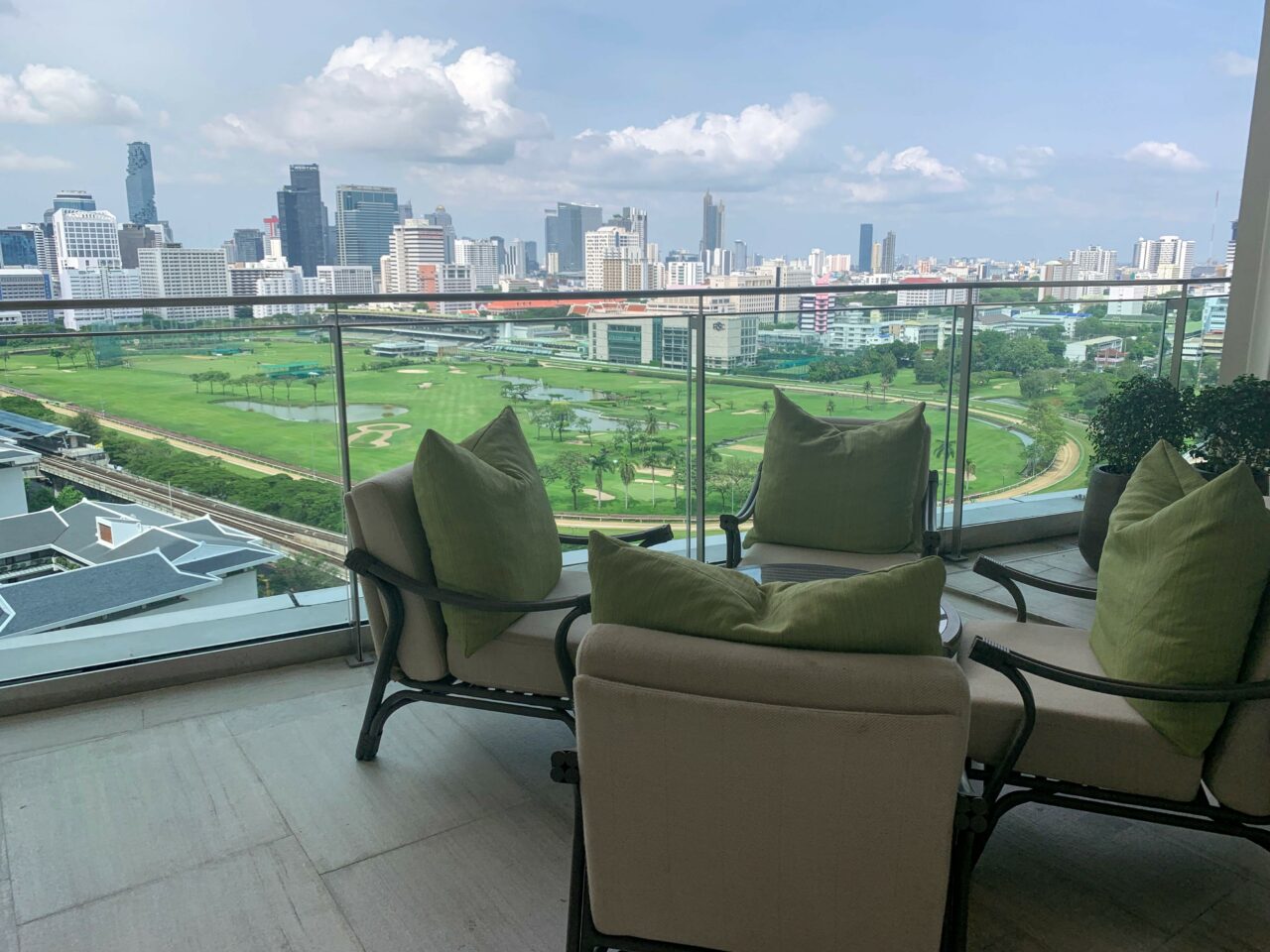 As you would expect there was a well equipped, modern gym that has some lovely views.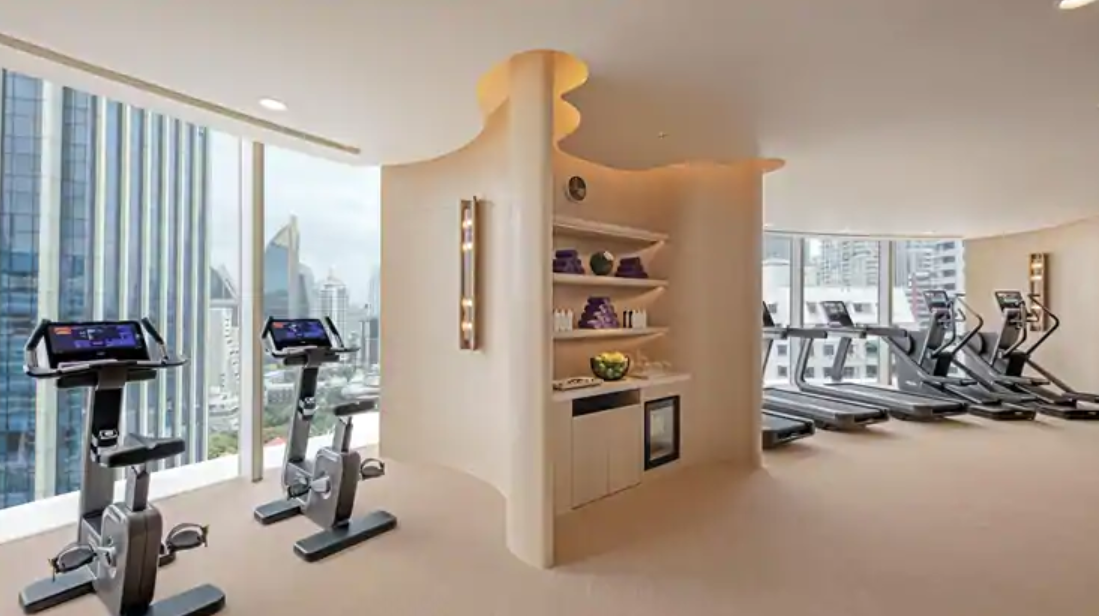 Waldorf Astoria hotel Bangkok Food and drink
Breakfast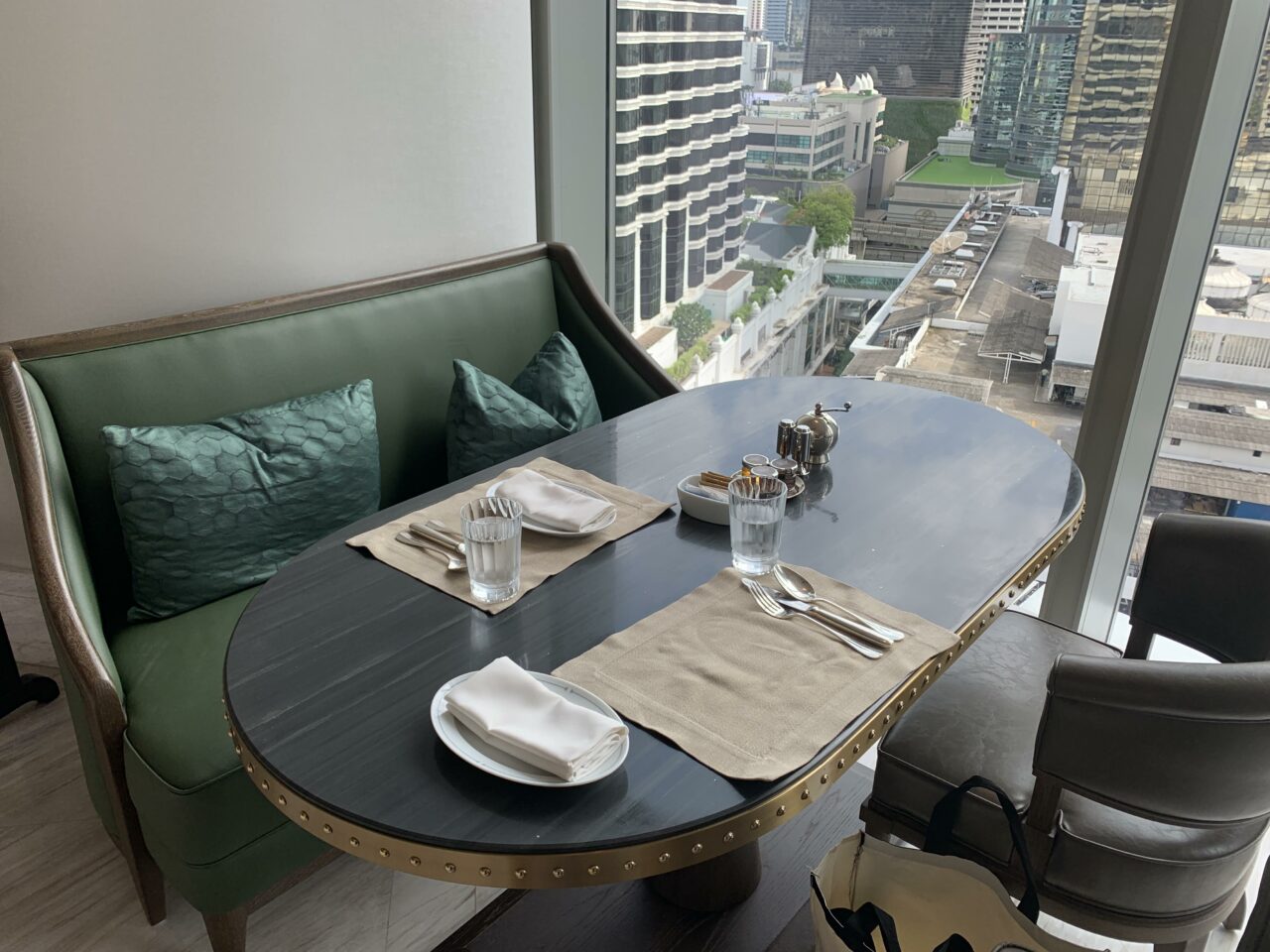 Breakfast was quite a feast and the room was elegantly furnished. So many hotel restaurants end up like a cafeteria at breakfast, but this was much more sophisticated. The range of food was quite something – possibly one of the best hotel buffets I have seen!
There was also an a la carte menu for dishes to order which were included. I enjoyed a fresh watermelon juice and a lovely cappuccino. we were offered regular top-ups of both.
Both Roving Reporter and I went for versions of the eggs benedict. I went for a mix, with one regular with smoked salmon and one truffle egg. RR also tried the chilli egg. The regular benedict was excellent with a perfectly balanced hollandaise. The truffle egg was a big flop for both of us. The flavour was completely overwhelming and the egg very undercooked.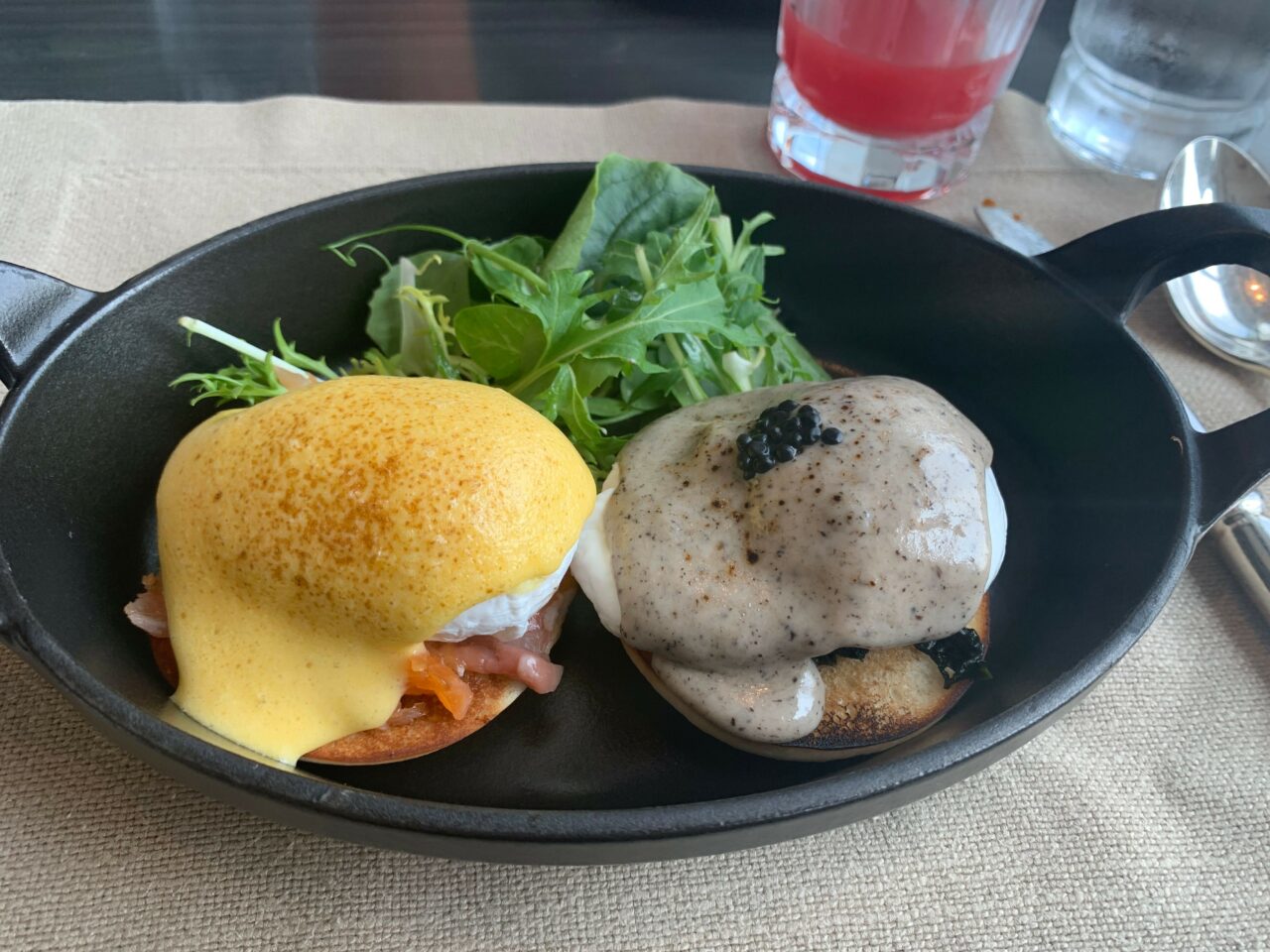 Other dining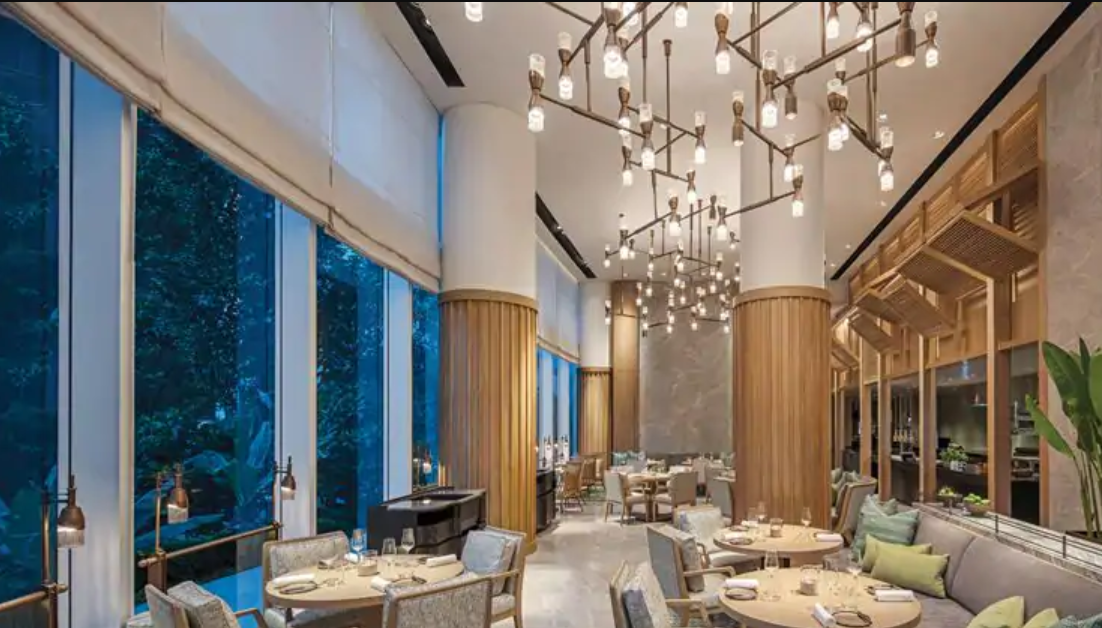 For dining there is the main Brasserie for all-day dining and Bull & Bear, specialising in grilled meats and seafood. Bull & Bear offers a live raw bar along with a custom made grill designed for smoking, slow roasting, baking and grilling. For something very different there is the Front Room features a rather bizarre-sounding nordic – Thai fusion Cuisine! Peacock Alley on the reception level serves afternoon tea, drinks and snacks.
Bars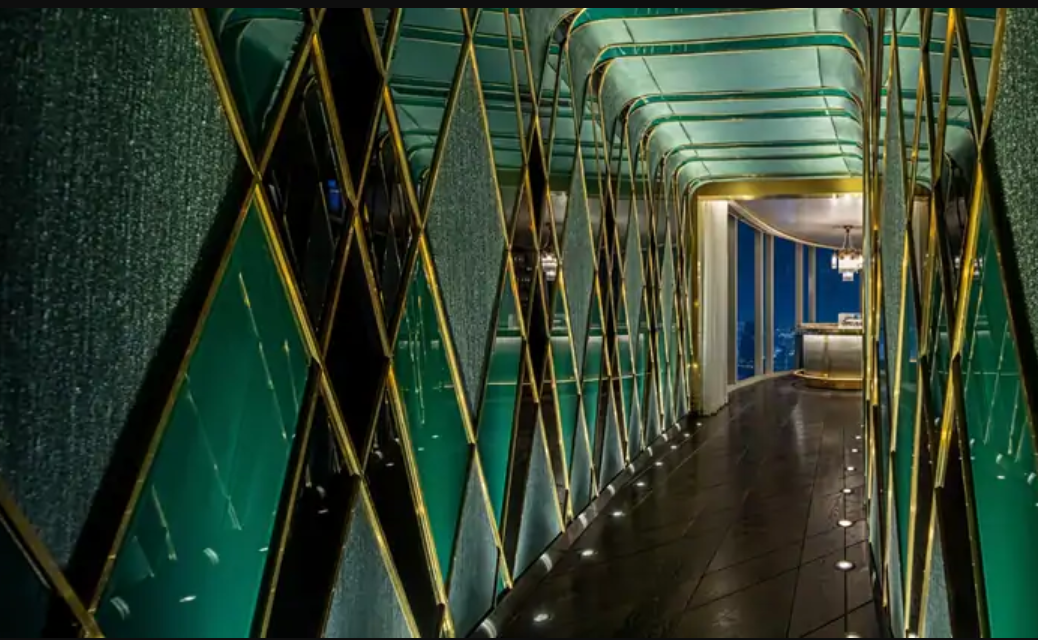 There are two main bars other than the lobby lounge. We were hoping to visit the Champagne bar, but for some reason, it is closed on a Sunday, so we had to make do with The Loft which has an Art Nouveau style. It's a New York inspired bar, using the legacy of the Old Waldorf Astoria Barbook.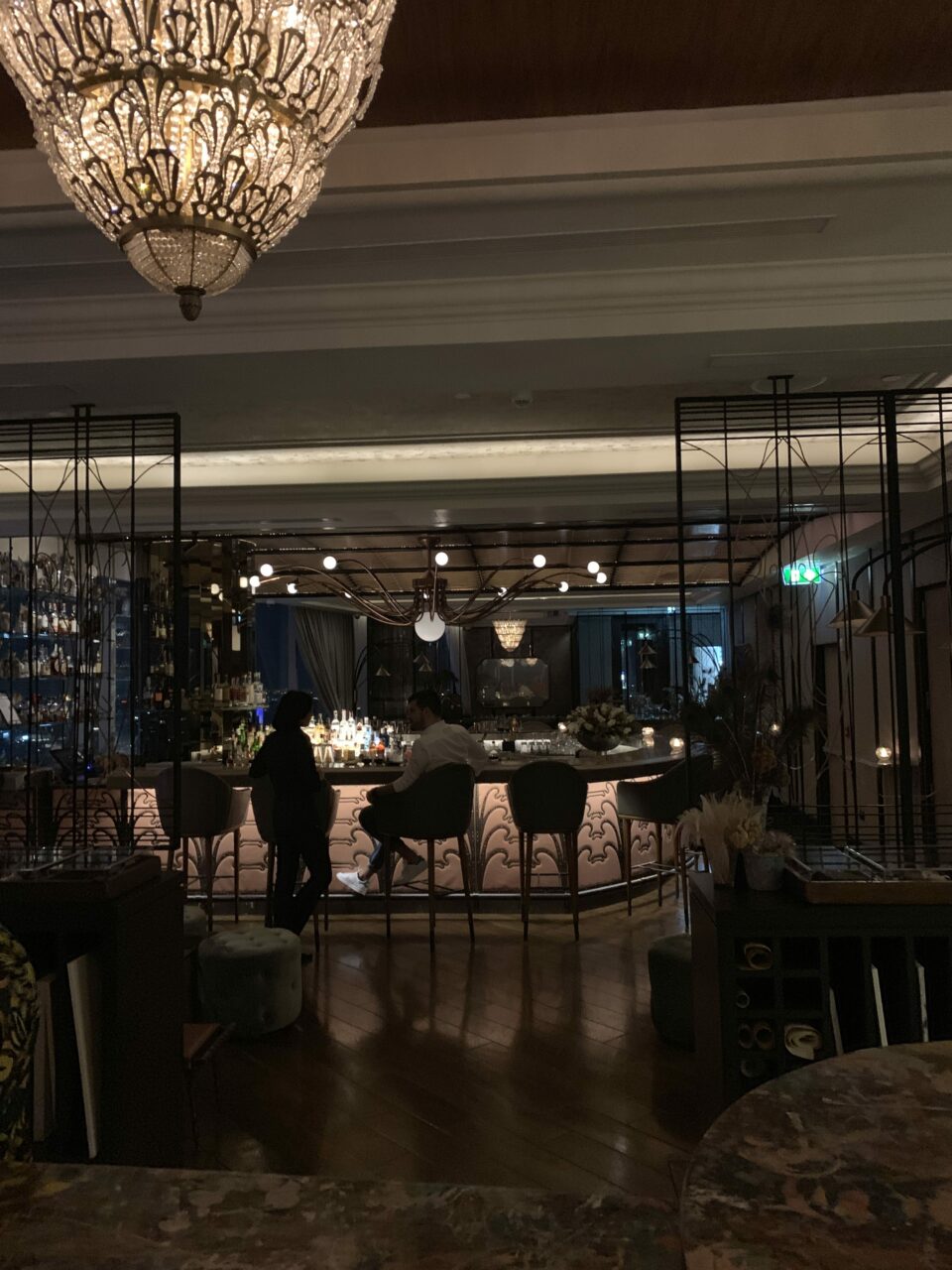 The service was a bit odd in here. One minute a bit over the top going through virtually every drink on the menu and hovering for your order, then it became very slow when we needed to leave! The cocktails were good though and we enjoyed the relaxed, sophisticated atmosphere.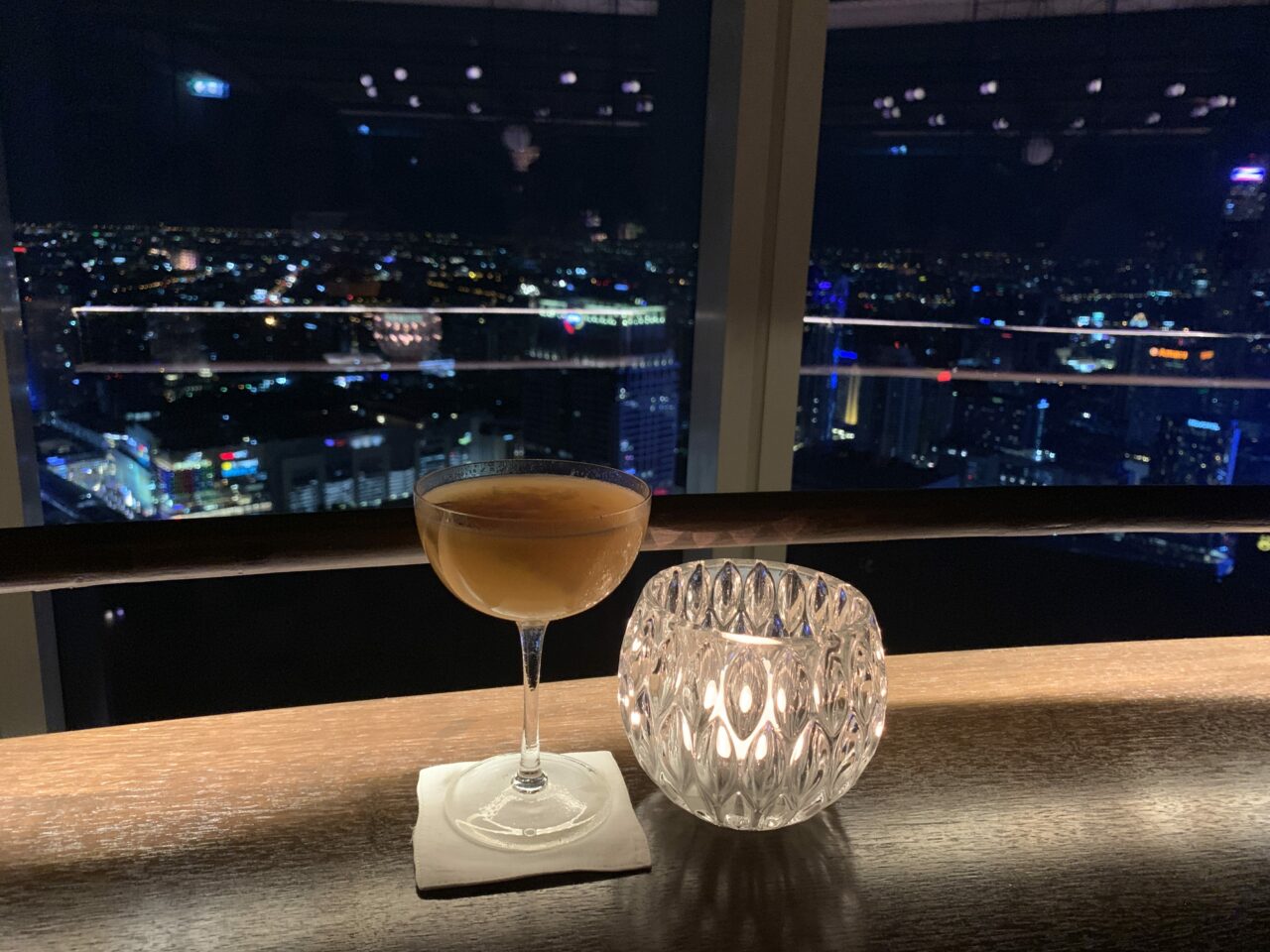 Conclusion for Waldorf Astoria hotel Bangkok
The Waldorf Astoria is definitely a lot pricier than many of the other 5* hotels in Bangkok such as the Conrad (review coming soon). So, is it worth it? I think it all depends on what you want from a hotel. If you want somewhere to relax a bit by the pool, then personally I would not choose this hotel. If you want a luxury hotel with comfortable, modern rooms and a good location, then this is one of the better options.
How to get it cheaper or maximise your points and miles
There is currently a sale on with up to 40% off in the Asia-Pacific region for Hilton Honors members until 6 September 2019 (Hilton Honors is free to join here). You can find the relevant sale page here. You could also book the hotel on points starting from 80,000 points per night – but this is double the Conrad which is only 40,000.
I usually book my Hilton bookings through the BA E-store where you can currently get 8 Avios per £1 spent. The link takes you through to the usual Hilton booking site, so you get all your status perks and Hilton points as usual.
Another option is to use our partners Propeller Travel. They offer additional benefits with luxury hotels bookings through Virtuoso and various hotel schemes. If you don't have Hilton Diamond status this is likely to be a better option for you. Again you still can collect Hilton points as usual. The extra perks Propeller offer on this hotel are:
Upgrade on arrival, subject to availability
Complimentary buffet breakfast for two daily for duration of the stay
$100 USD equivalent Food & Beverage credit to be utilized during stay excluded In-Room Dining and Mini-Bar
Early check-in/Late check-out, subject to availability
Complimentary premium Wi-Fi
Welcome Amenity
You can request more information from Propeller Travel here or read more about their services in this article.
You can find prices and more information on the Waldorf Astoria Bangkok here.