Today's review is by reader Jonathan about Club Europe mid-haul BA used to have a full long haul service on mid-haul routes like Cairo but recently downgraded them to Club Europe which is not great for a 5hour+ flight. The only competition is Egyptair which is part of the issue but they are updating their fleet with decent long-haul seats. They are slightly cheaper and do have some flights from London with proper long-haul seats. So what is the service like now?
Introduction
I needed to spend a few days in Milan before heading over to Cairo for Christmas. While I knew my outbound sector to Milan would be with BA my onward options for the flight to Cairo were either ITA, (the new Alitalia) or Egyptair both direct from Milan (MXP). However, I was intrigued to see what sort of service BA were currently offering on their Cairo service out of LHR so decided to book the whole trip under the one booking returning to London as a transfer passenger and then connecting to Cairo. For the sake of this review, I'll look at just the Milan – London – Cairo flights.
Cairo has always been the starting point for those connecting onto a Nile cruise. In the winter months connections to Sharm el Sheikh and Hurghada made it popular with winter sun-seekers.
For many years BA operated Cairo as a long-haul Club World service. When I first started flying the route back in 2005 it was operated by a daily four class 747 and wealthy Egyptians used to fly BA over Egyptair because they could fly first class on a flight that's around 4:30 minutes. When the 747 was dropped both Egyptair and BA continued to compete as both had at least one flight a day that was operated by a wide-body aircraft offering flatbeds. BA has operated the 777 and more recently the 787 on the route with club, premium and economy.
When demand dropped further due to the unstable political situation in Egypt BA removed the wide body jets and replaced them with one of the aircraft they acquired from their take-over of British Midland that had flat-bed class seats (operated as Club World) in a 2-2 configuration or if you were lucky enough to reserve one the single throne seat. These aircraft were operated mainly on their mid-haul middle eastern and eastern Mediterranean routes such Beirut, Amman and sometimes Istanbul if you were lucky, when it was operated as Club Europe with but with a flat-bed seat.
Then in July, last year BA announced they would be downgrading Cairo once again to a short-haul Club Europe service and while they would still be using the A321NEO this would now be configured with the 3-3 Club Europe seating.
So, what would an almost five-hour flight in Club Europe feel?
Milan (LIN) to Heathrow
Check-in
Well, first I needed to get back to London. At the time of flying no testing was needed for flights into LHR as a transfer passenger and nothing was needed to enter Cairo except for proof of full vaccination using the NHS app. The day before flying I was confused as to whether I needed to complete a UK locator form or not as I was just transferring through LHR. The .gov website says no. Verifly however was having none of it and would not allow me to complete the online process until I had done this. So, I filled out the form and it did in fact have a space where I could state I was just transiting.
Once uploaded to Verifly I tried to check-in online but again was told there was a problem, and I would need to check-in at the airport. I'd pre-reserved my seat but still decided to arrive at Milan Linate around two and a half hours before my midday flight in case there were problems. Only one person was in front of me at club check-in. Once at the desk, I explained the situation to the lady checking me in and she told me it was a frequent issue and not to worry as all my documents had been uploaded. She then checked both my bags all the way to Cairo and handed me two boarding passes.
Lounge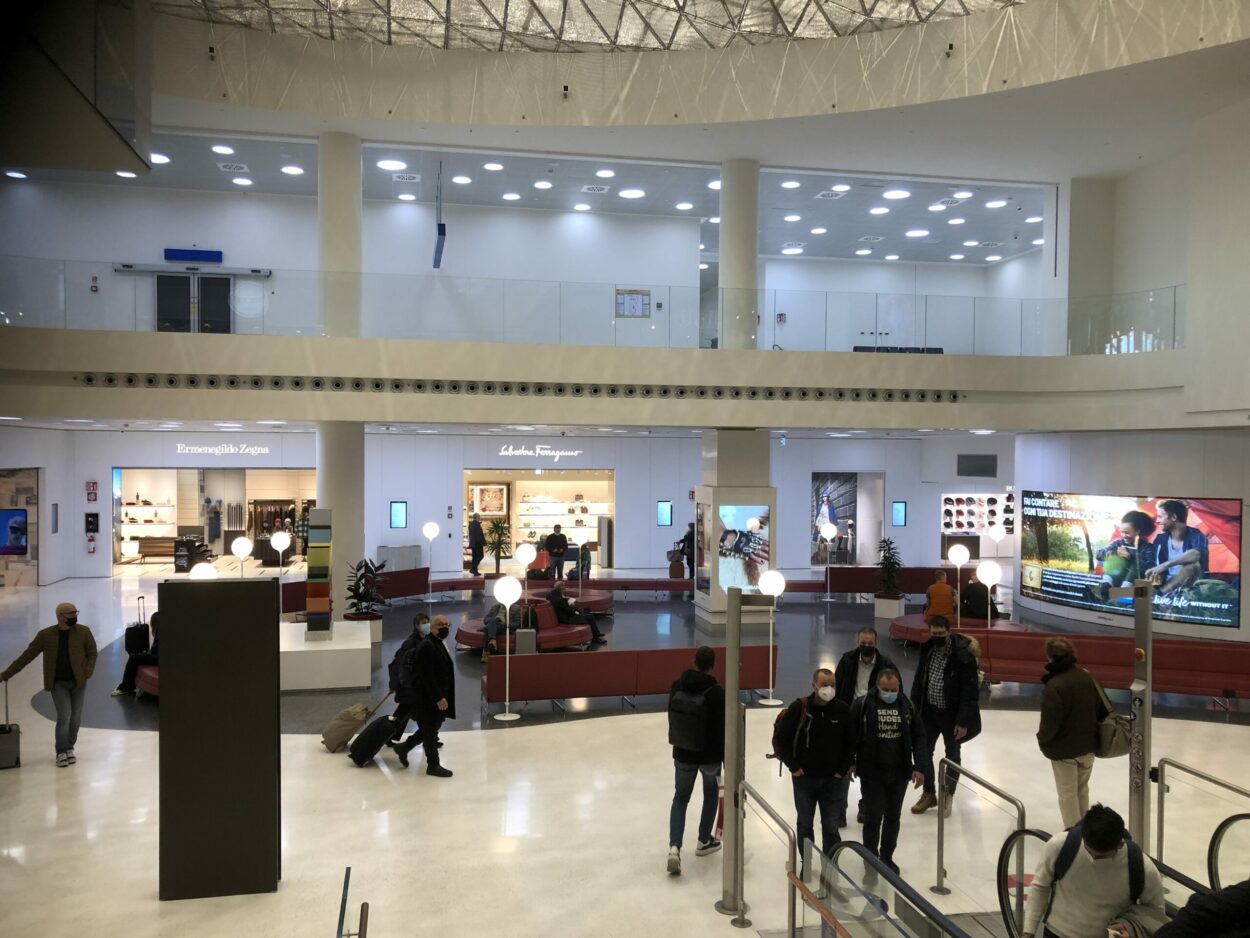 I then made my way to the lounge. Once through security, you really notice just how stylish Linate is now looking following its €40 million refurbishment. After passing through security a wide pathway takes you in one direction through the duty-free and then winds past many small, elegant boutiques belonging to Italy's most well-known designer brands. Interspersed are small seating areas and TV screens showing advertisements.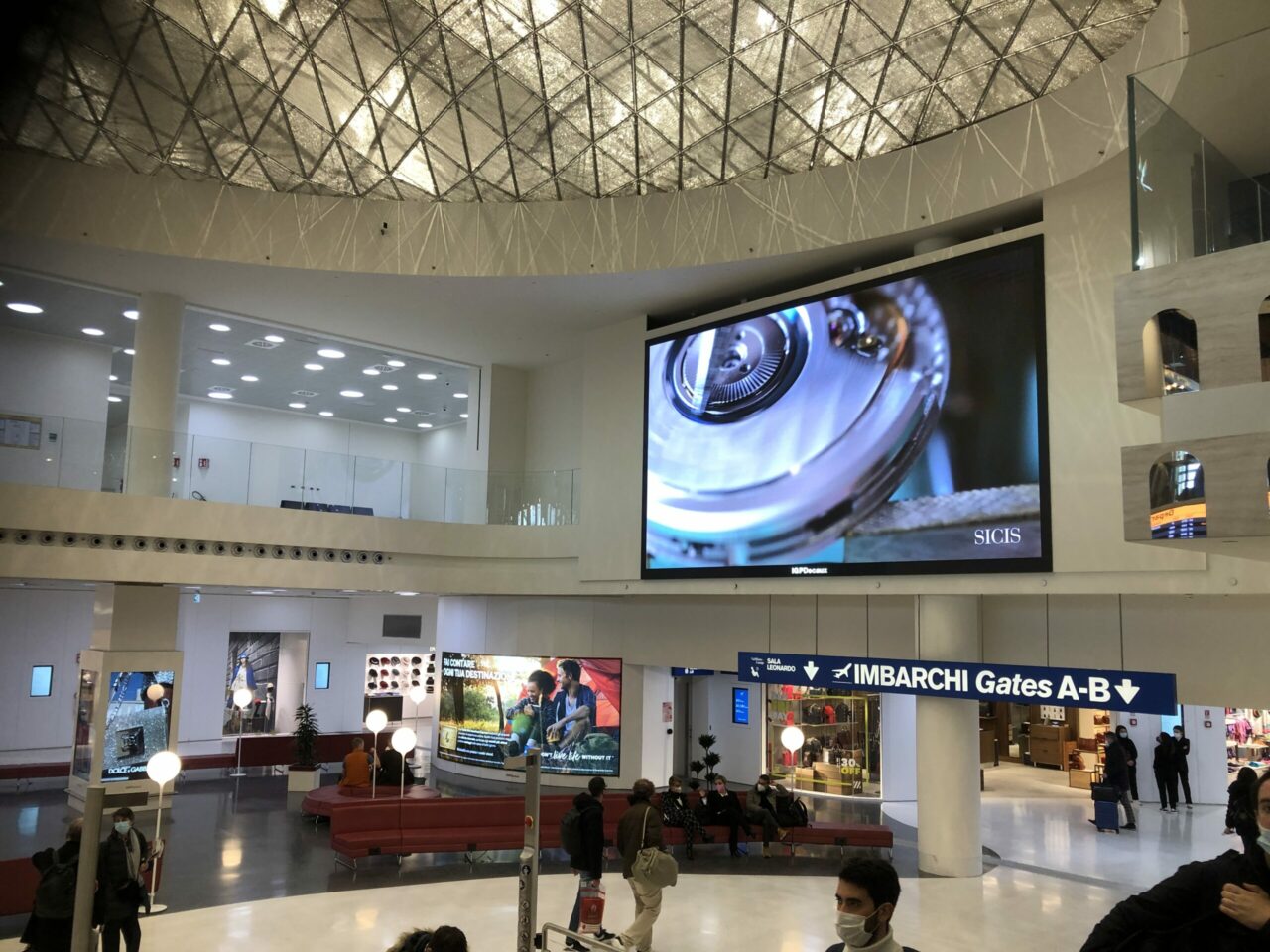 The lighting was pleasant and the atmosphere was more luxury shopping mall than airport terminal. It felt like somewhere you'd really want to spend a couple of hours browsing. I was however particularly interested to see the BA lounge as it was one of the first to be redesigned in the new style back in October 2019 and had recently reopened.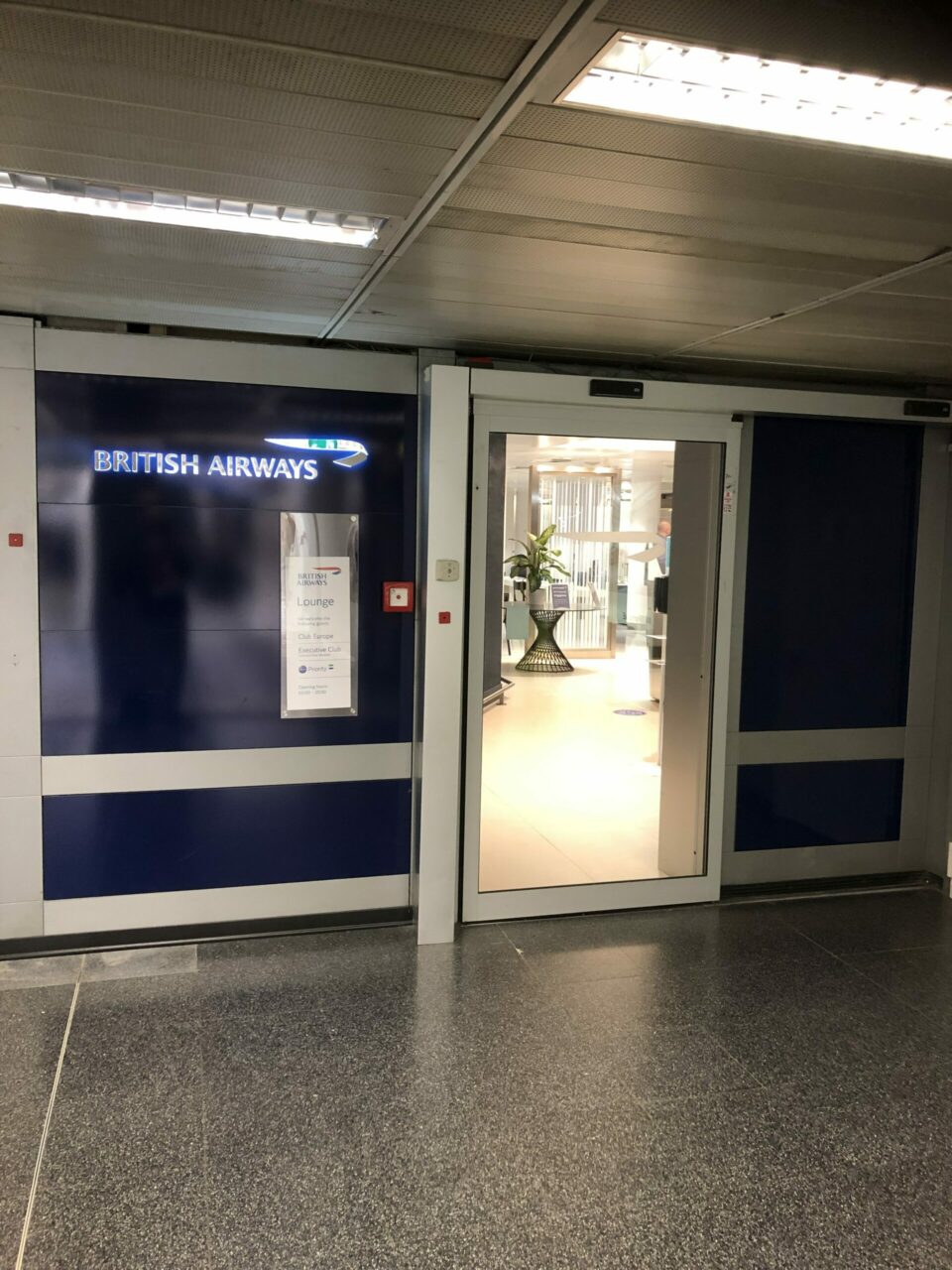 It was 10am when I reached it and it was still very empty. The centre was arranged with single red chairs and small tables. I initially sat at one of these, but it not only felt very uncomfortable but also very exposed and a bit like sitting in a doctor's waiting room.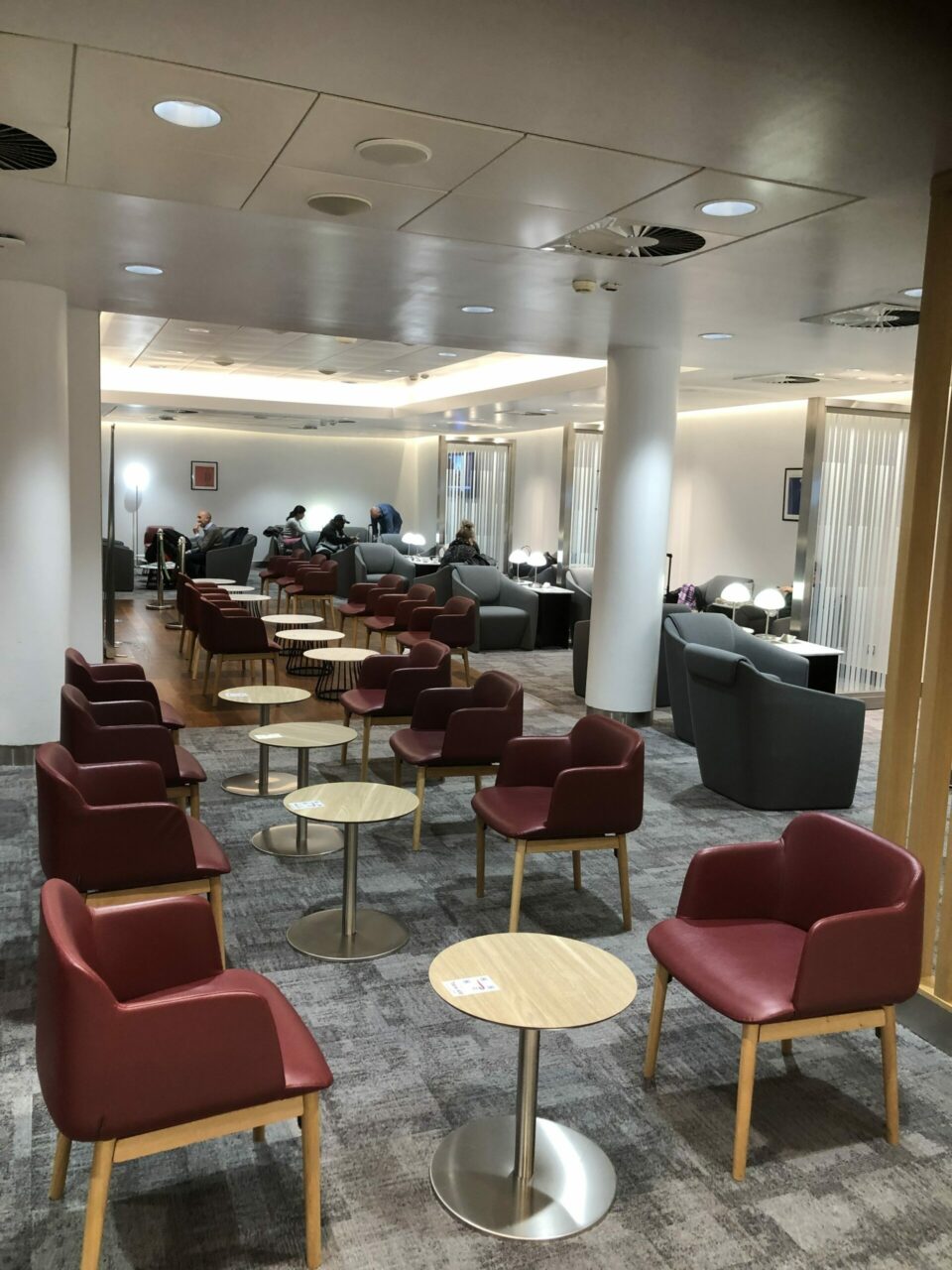 So I moved to one of the side seating areas which felt better and noticed that everyone who entered avoided the red seats! (image 5) The self-service food and beverage area had a coffee machine, soft drinks and some breakfast items including cereals, muffins etc. all individually wrapped. The bar area had a decent selection of wines, beers and spirits and a large sign explained that other food and drink was available but should be ordered via the Q-code at your seat.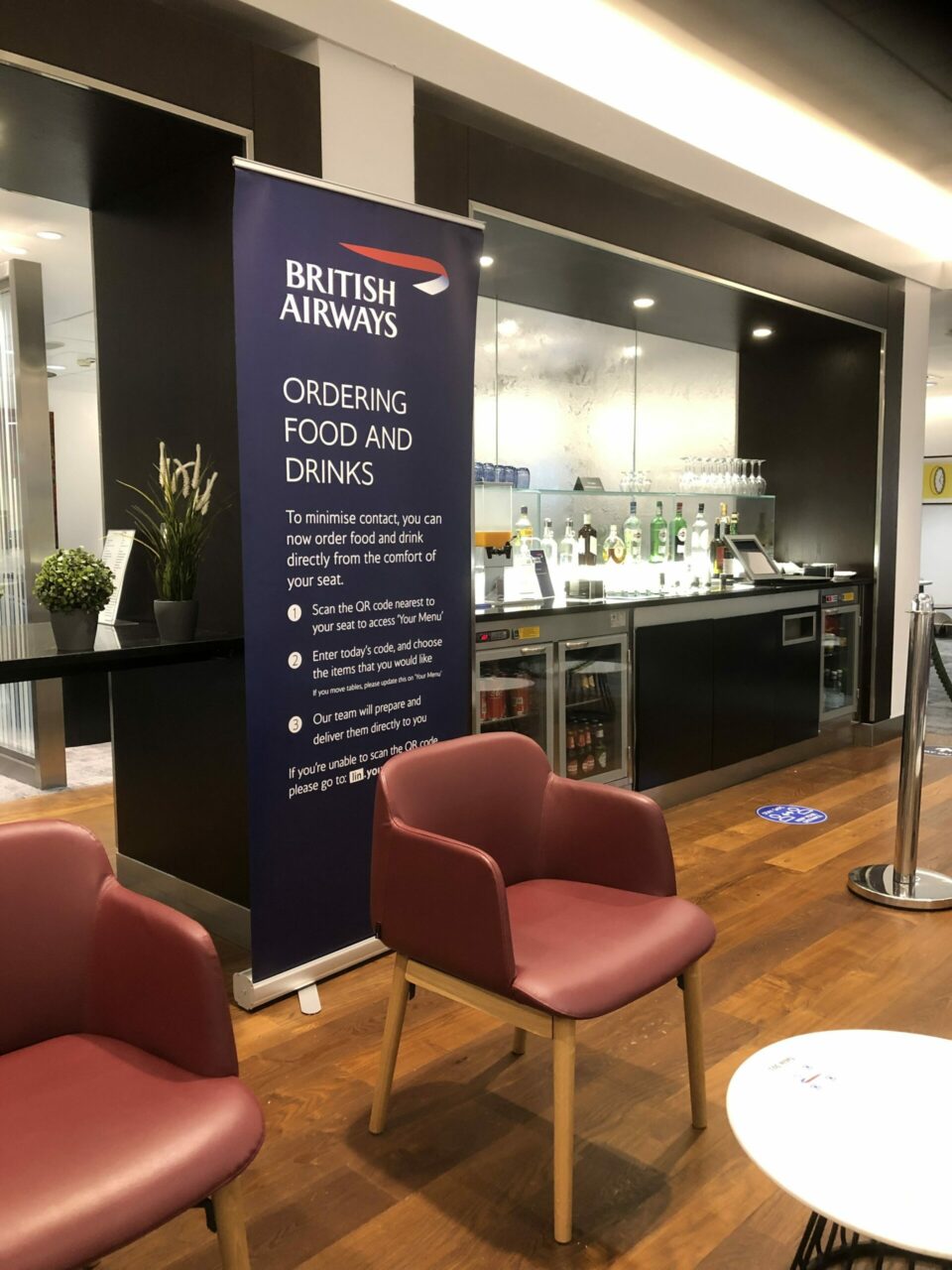 As it was just 10am and I'd only had breakfast an hour before, so I didn't order any food and just got myself a coffee. When I looked however a good breakfast selection of hot freshly breakfast items were on offer.
I decided to leave the lounge before they called the flight and I was pleased I did as the queue for passport control was already stretching back into the terminal. It was moving so slowly that many started to panic they were going to miss flights. Finally, after around 20 minutes I was through and onboard and we departed on time.
Milan to London flight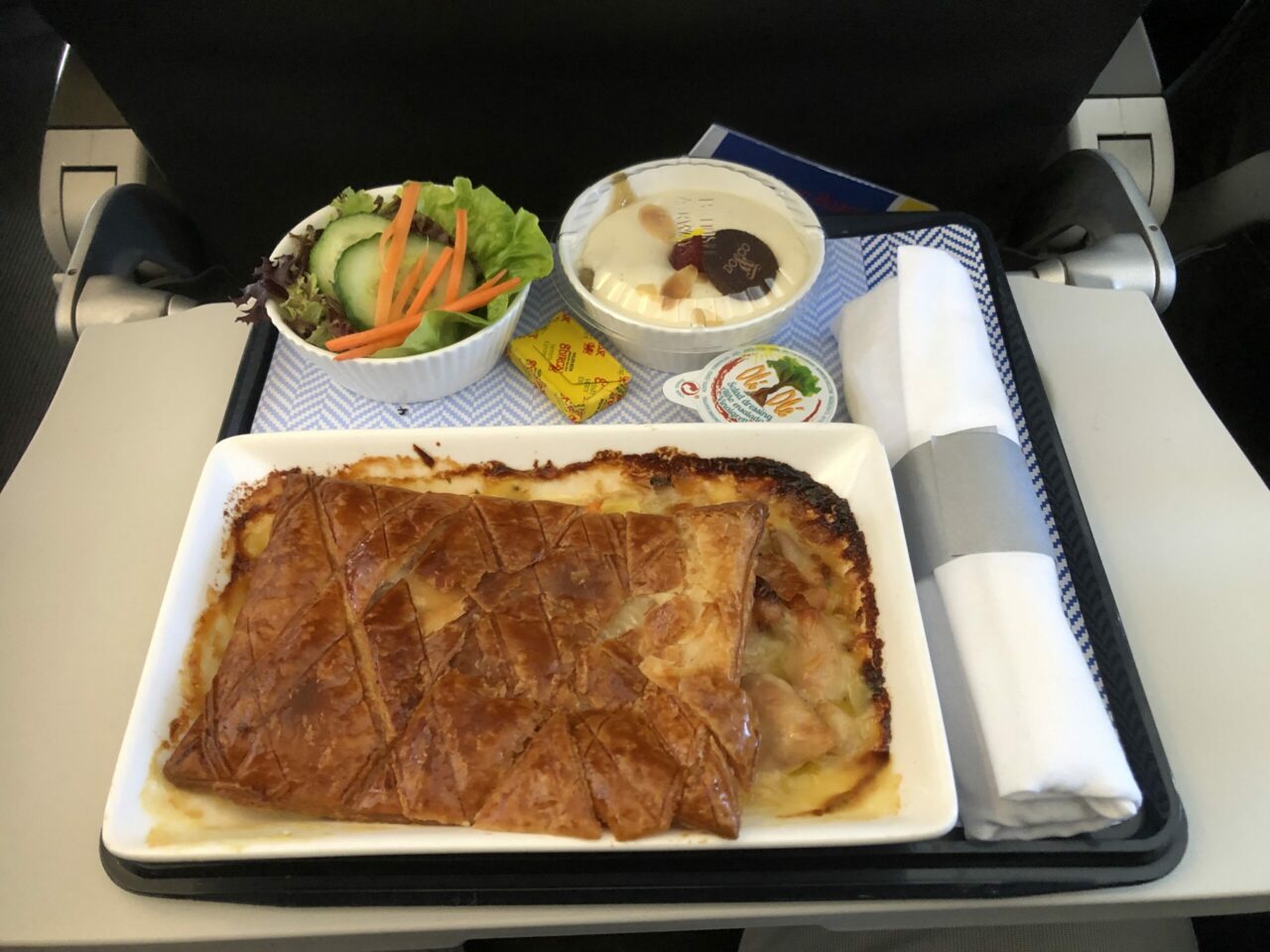 As this was a swift one and half hour flight the service began almost immediately, and drinks were served including Nicholas Feuillatte champagne from a large bottle. The menu was a choice of chicken and leek pie, ricotta filled ravioli with cherry tomatoes or a cold quinoa and butternut squash salad. I'd had the pie on the outbound flight and thought it was very good so took that. It came with the usual side salad and a Do & Co gooseberry mouse. Bread was offered as well. The crew were great. Efficient and smiling throughout. We landed slightly ahead of schedule which now left me with just over two hours to kill before my next flight.
London Heathrow to Cairo in Club Europe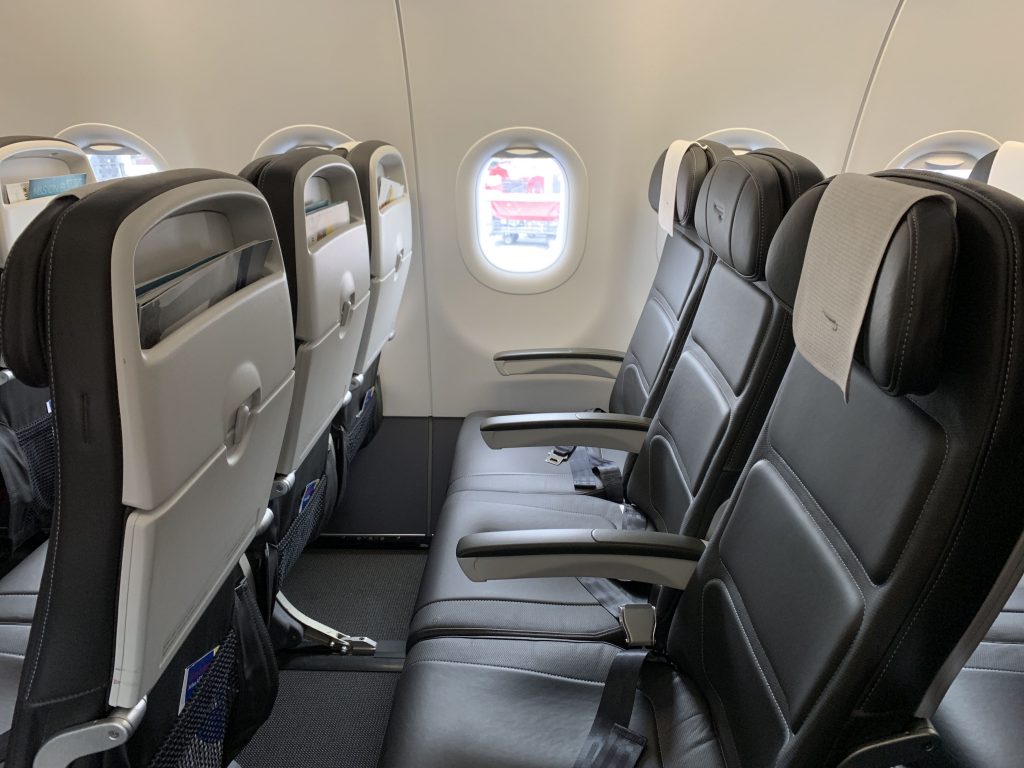 It was interesting to be a transfer passenger at LHR T5 as normally this is my last stop. So instead of my usual walk to passport control I bypassed that and followed the signs for flight connections. No change of terminal was necessary as Cairo flights also depart from T5. Before entering airside departures, you scan your boarding pass and then head to security. I went for a normal lane as they were less busy than fast track which quite often can be the case. It was now 13:30 and from plane to airside took no more than 15 minutes.
Cairo wasn't yet showing on the screen, so I headed for the south lounge. The lady who checked my pass told me to stay in this lounge as the flight would depart from A gates just below. The lounge was quite busy but I found a space at one of the long white tables and ordered some lunch via the Q code system. At 2:45 the flight was showing as boarding.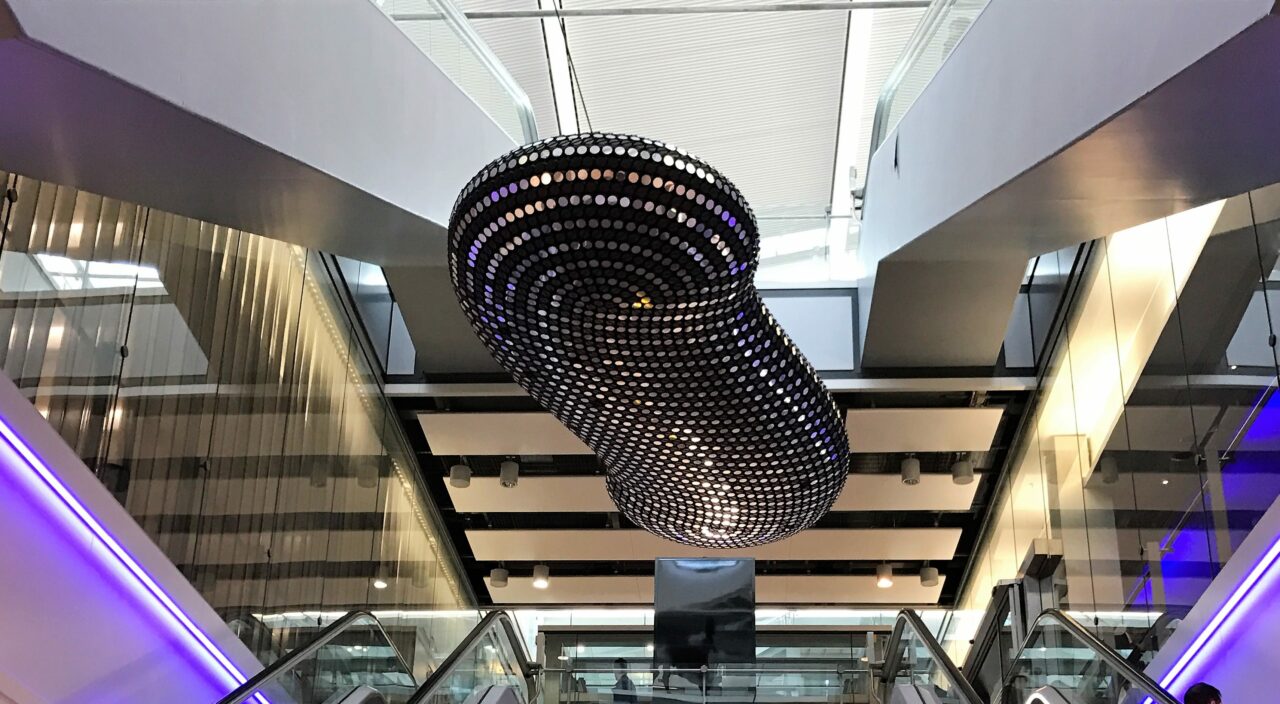 This was the busiest I'd seen T5 since the start of the pandemic and it felt almost back to normal. I reached the gate, and it was very crowded then followed an announcement there would be a delay due to the late arrival of the incoming aircraft. At around 15:20 which was the time of departure they started to board. Club had 15 rows and all 60 seats were taken and from what I could see it was fairly packed in economy too.
Once everyone was onboard ground staff came on and started distributing pillows and blankets in club. Obviously, they hadn't the time to do this beforehand. Finally, 40 minutes late the doors were shut, and we pushed back.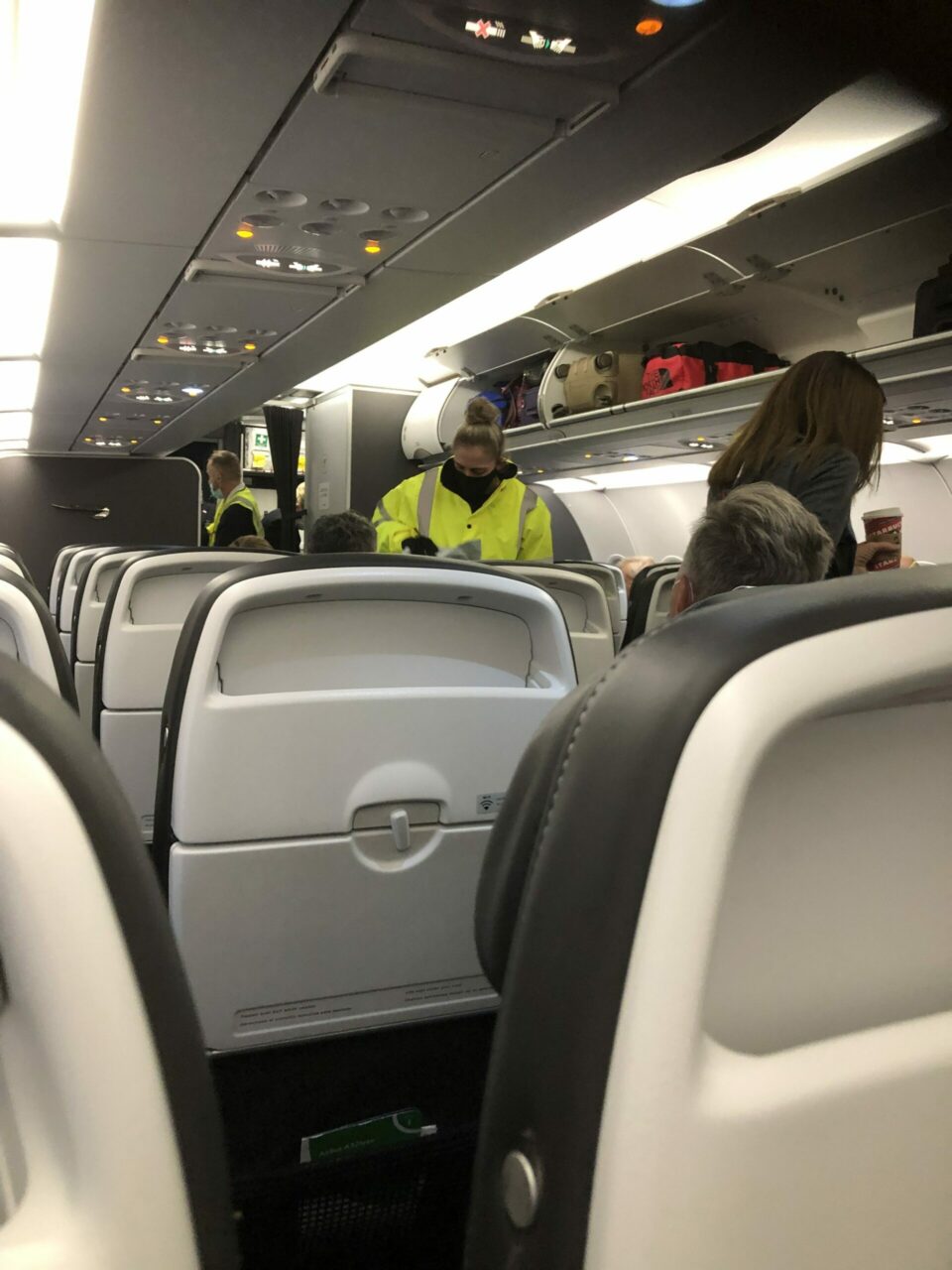 We then had a small incident. A crew member came up from the front galley pushing a cart quite fast and banged it straight into the knee of an elderly gentlemen across the aisle from me. He was in quite a bit of pain and the young chap who did it knelt and tried to console him apologising profusely. The chap in pain then started saying he'd never seen a business class like this and how could they call this business? He told him last time he took this flight they had proper business class seats. The young crew member obviously wasn't aware of any of this and couldn't answer. Eventually, things calmed down and we rolled back 50 minutes late after being told the flight time would be just 4:15 minutes.
About 30 minutes after take-off the drinks service started. I ordered a G & T. I was given ice, but no lemon so asked for some and was told none had been loaded. Around an hour and half into the flight the dinner service began. It was then that my heart sank when I realised, I was about to be offered the exact same choice of meals I'd had to and from Milan. I decided to go for the ricotta pasta this time and although tasty it was on the dry side and needed more of the pasta sauce. It also wasn't at all filling. For the white wine, I could have either sauvignon or chardonnay. I opted for the sauvignon but upon looking closer realised I'd been given a bottle of the Pierre Andre Macon Village which I was sure was the chardonnay.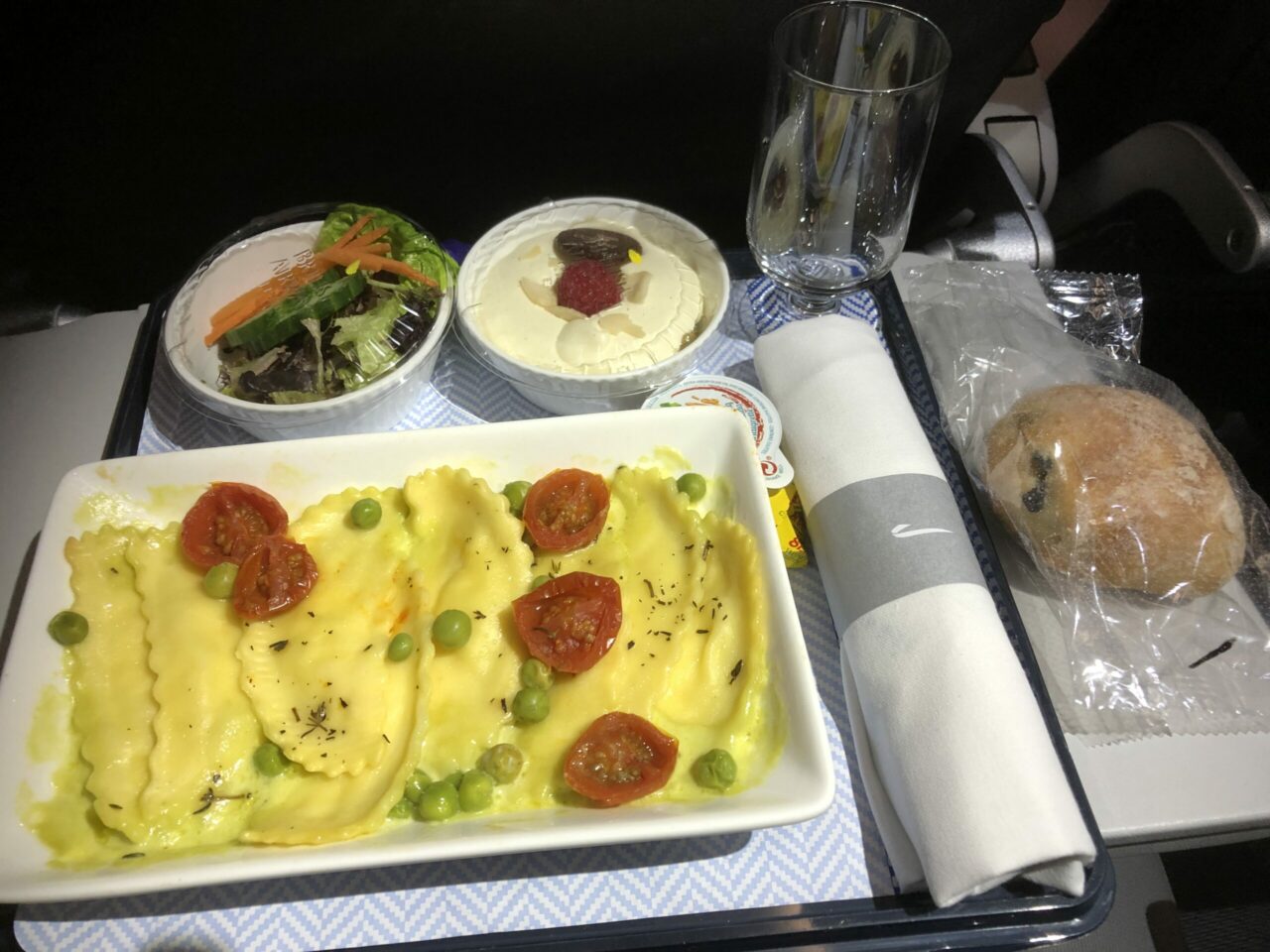 After dinner the lights were dimmed, and I was very grateful I'd loaded several episodes of a TV show onto my phone as there was nothing in the form of inflight entertainment not even general ones above. I did wonder how many had come thinking they'd be watching an inflight movie and figuring out what to do. Throughout the flight the crew continued to work tirelessly as call bells were rung and more drinks were brought. There was a very large party of Americans on board who were all travelling together, and they certainly kept the crew on their toes! I asked for another G&T and was told they'd run out of tonic as well as white wine.
Towards the end of the flight the senior crew member handed out envelopes to a few passengers and I presumed it was a survey of some sort. The chap sitting next to me received one, read it and photographed it. He left it open on the centre table and I saw it was a note congratulating him on being an executive club member for 30 years! A nice touch. We touched down around 22:30.
Conclusion
Several things stuck me about this flight. Firstly, it felt just too long to be operated as a short-haul service and the seat comfort for this length of flight is not good. Having sixty passengers in club on a flight that's over four hours means it's inevitable the crew are going to run out of things due to lack of galley space and quantities that can be loaded. Not having any form of inflight entertainment is going to be disappointing for anyone who hadn't been aware of this and pre-prepared.
Most transferring passengers would probably be taking a short-haul to long haul or vice versa and would receive different meal choices. Having two short-haul services back-to-back as I did means you end up receiving the same choice of meals twice in one day and honestly while the Club Europe meal service is fine for a flight of say two hours it is really just a 'light meal' and feels slim pickings for a business class service on a flight that's four to five hours. The only thing that kept this flight from being completely disappointing was the amazing crew who were up and down the aisle continuously taking drinks orders while always smiling.
My feeling is if BA wants to continue to fly single-aisle aircraft to mid-haul routes, then maybe it's time they started looking at introducing an upgraded business class product to fit the flight time.
Interested in more Club Europe Articles? We have Club Europe flight articles here.