Today's reader review for our competition is from James about the Dubrovnik Sun Gardens Hotel. If you enjoyed it, let us know in the comments below. We do not encourage criticism of reader reviews. They are not professional writers, and every writer has a different style that won't suit everyone's taste.
I made a last-minute booking for a couple of nights at Dubrovnik Sun Gardens Hotel in late June after my original travel plans to the US fell through. This was my first time visiting Croatia and the choice of destination was driven primarily by where I could find a cheap BA flight/ use reward availability (both rarer than hens teeth at the moment it seems).
Flights/ booking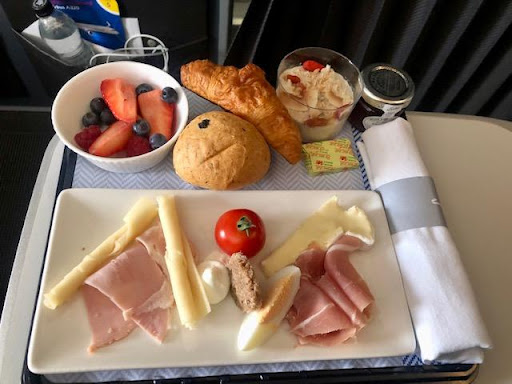 I found a Club Europe Avios outbound flight for 15,750 Avios and £25 (instead of the £600 plus cash prices) and a €69 HBO (hand baggage only) inbound fare in Euro Traveller. I won't dwell on the flight elements except to say I made it curbside to the lounge at Heathrow, via the First Wing, in under 10 minutes, and I was delighted to see the continental breakfast option is back in CE (this had of course sold out after Row 1 was served).
I booked my stay using AmEx's Fine Hotel and Resorts (FHR) programme which is available to Platinum Card holders. FHR offers a range on benefits included in the rate such as daily complimentary breakfast, $100 resort credit, availability-based room upgrades etc and what I personally find most useful, a guaranteed 4pm check out. I would ordinarily have booked via Mandy at GTC, who've I've found to be excellent, but as I booked the trip so last minute there really wasn't time.
(If you don't have the Platinum card, TLFL's partners GTC can offer special perks at this hotel:
Two-day access to Club Lounge for two
Complimentary buffet breakfast for two daily
Early check-in and late check-out upon availability
Property will offer upgrade at time of check-in – subject to availability
Complimentary Wi-Fi
The Hotel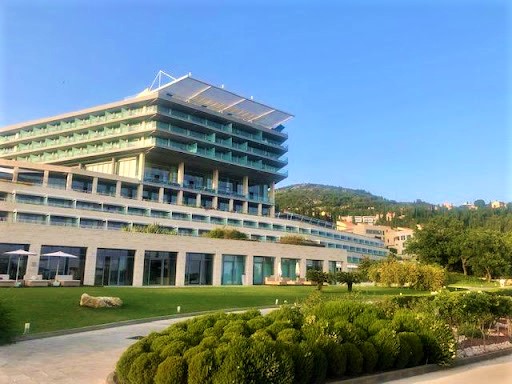 Sun Gardens is a large resort about 20 mins North of Dubrovnik and about 40 mins from the Airport. It occupies a prime spot on the coastline with stunning views over the short stretch of sea to the islands of Kolocep and Lopud.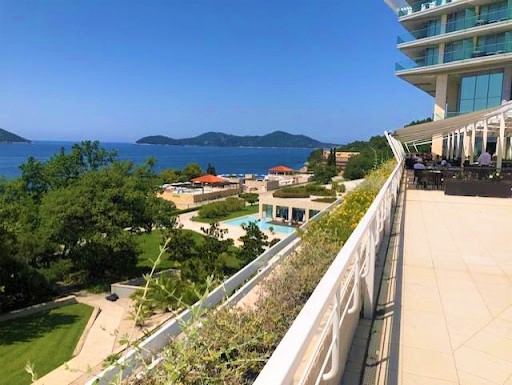 The hotel feels very new. I'm not sure when it was last refurbished. It had a major redevelopment in 2008 and was a Radisson Blu for a period but is now part of the Leading Hotels of the World collection and the style and quality of finish certainly feels more recent than 2009.
There is one main hotel building with a range of rooms and suites and then a collection of 2-3 storey buildings which form 1–3-bedroom apartments. There is also one 5-bedroom villa.
The resort occupies a large piece of real estate and it has been really well laid out to make the most of it. The layout and landscaping help to make the resort feel very spacious and despite its size at no point did the place feel crowded.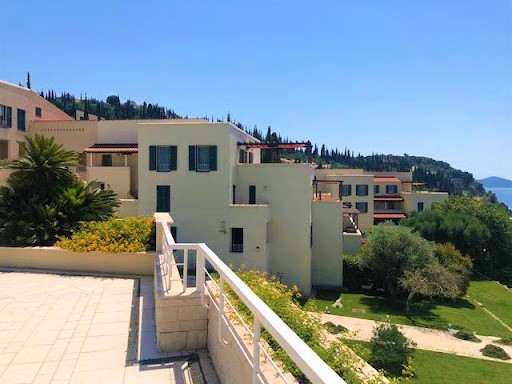 There is a central promenade starting from the main hotel building, which runs the stretch of the resort with views over the sea. Off the promenade are most, though not all, of the 8 restaurants, 8 bars and the three outdoor pools (1 adults only) plus a path down to the hotel's beach. The apartment buildings, designed in the style of a small village, are also arranged off this main strip and utilise the natural gradient to capture views from their terraces.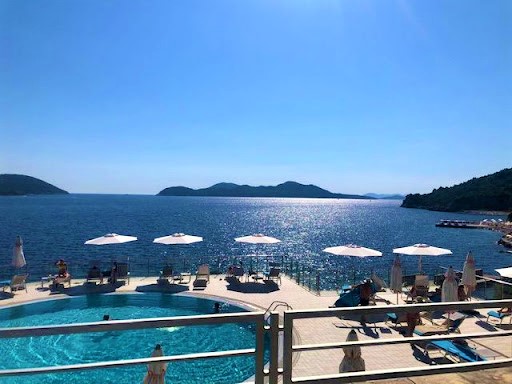 Amongst the apartments is a row of retail units with a grocery shop, hairdresser and a fashion store selling brands including Ralph Lauren and Gant for those essentials you may have left at home! There's also a gym, spa, indoor pool, tennis court, water sports and a sports centre for badminton and squash. Essentially you really don't need to leave the resort to find everything you could want.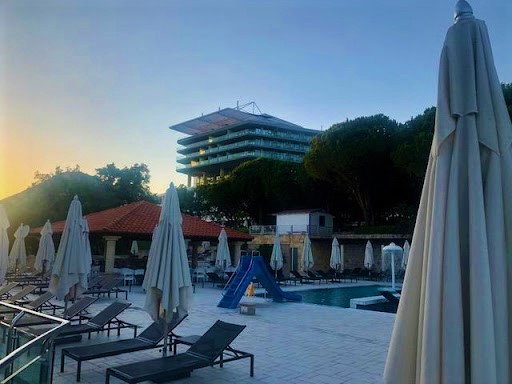 The Room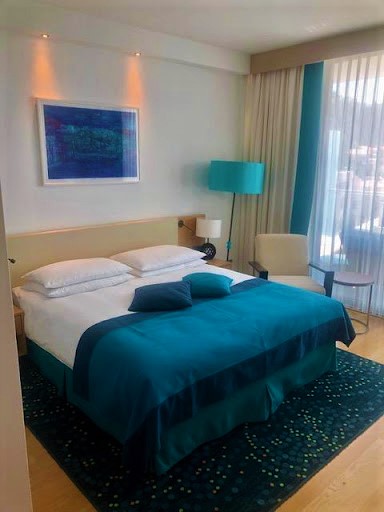 Alongside a guaranteed 4pm check out, FHR offers a noon check-in, though this is subject to availability. As I was on an early flight, I had dropped the hotel a line to request this and as it happened my room was ready for me on arrival at 11am. Having failed to really sleep the night before and following a little over indulgence in Galleries First, this was very much welcomed!
I had booked a standard room in the main hotel with a partial sea view, but this was upgraded to a Deluxe at check-in. As grateful as I always am for any upgrade, I did struggle to see the difference between the categories at this level but a very nice room it was nonetheless.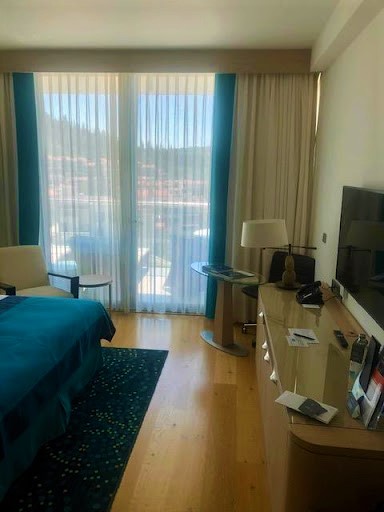 The room had a feature window from the bathroom into the bedroom, which I've experienced a few times in hotels that I've stayed in recently. This one had a blind to slide across on the bedroom side for privacy rather than in the bathroom.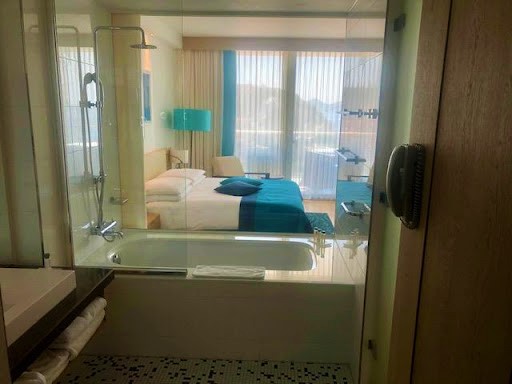 Being on the bathroom side and in sections which blew in the breeze it seemed to have limited utility and whilst I personally don't have an issue with this but for friends sharing a room it may be more problematic.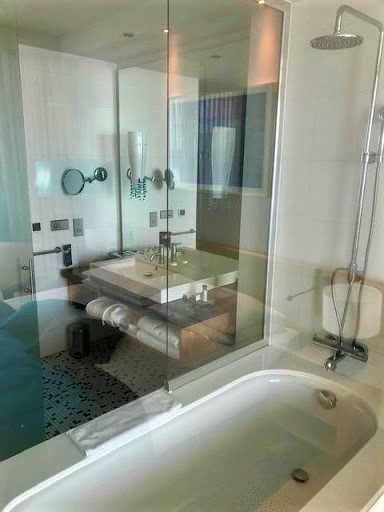 Bathroom amenities were Salvatore Ferragamo Tuscan Soul 'Bianco Di Carrara' (which is a different blend to 'Convivio' you see in Waldorf Astoria).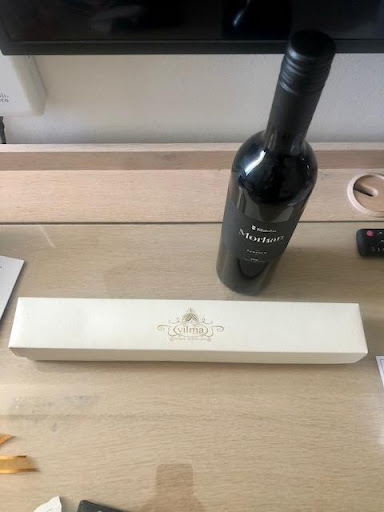 There was a large glass bottle of mineral water and a bottle of red wine (drinkable once chilled a little in the fridge), and chocolates as a welcome gift. The room was otherwise well stocked with the usual amenities- kettle, Nespresso machine, wine glasses and a bottle opener, safe etc. The usual robes and slippers were also provided. There was no iron or ironing board, but they sent these up promptly on request.
The highlight was the large balcony which had two sun loungers and a bistro set. This was ideal to escape to during the midday sun and for a glass of wine pre/ post-dinner.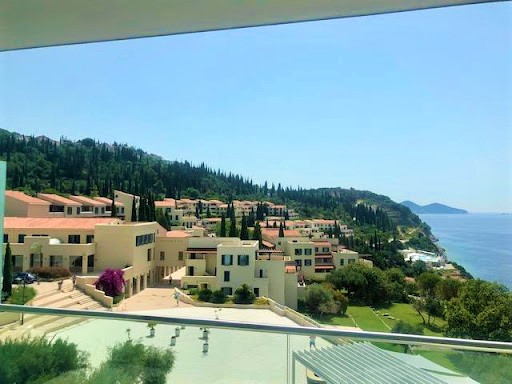 Housekeeping was a bit mixed. One day I didn't get a new bottle of water, the next I did although only after I'd been to the resort mini-market to buy one. I tend to leave the Do Not Disturb on until I go out and then ring reception to have someone service the room so I may have myself to blame for this by leaving it too late in the day.
Food and drink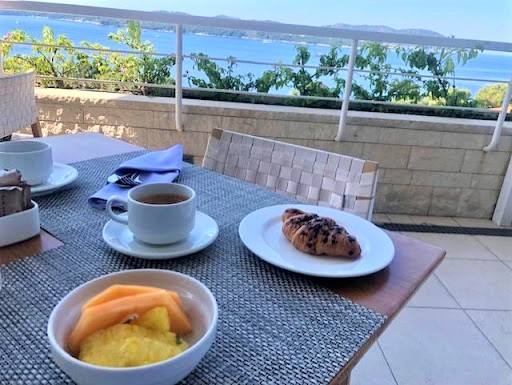 Breakfast for hotel guests is served in the 'Origano' restaurant. It offers your standard breakfast buffet with everything from fruit, yoghurts, granolas and cereals, charcuterie and cheese, breads, pastries, eggs, sausages, bacon. There were also roasted vegetables, a selection of salads and, a first for me on a breakfast buffet, onion rings. Made-to-order omelettes and fried eggs were available from the egg station, but there wasn't a separate a la carte menu.
I took a table on the covered terrace each morning, so I dined with great views. The service here was a bit patchy. I suspect as it was ramping up to high season, they were training new staff, but for example, despite being shown to a table by the host one morning, I returned to it to find another guest had been seated there whilst I was at the buffet, and another day I just managed to avoid them clearing my setting when I popped in to get a glass of water.
One day I was offered coffee at the seat, the rest, I had to get one from the machine. The food was, however, very good and much of these issues are a consequence of travelling by yourself I guess (although I did bring a book to leave as a signal the table was occupied).
As mentioned, there is a huge choice of dining options in the resort. I had lunch at 'La Pasta' one day where I had, you guessed it, pasta. I also ate at 'The Market', which is a seafood taverna, and had an excellent seafood risotto.
On my final night, I dined in 'Cilantro', which was the highlight of the hotel restaurants. I suspect this is their dining premium option, and I had a delicious bowl of truffle pasta, followed by an excellent rack of lamb with an incredible jus. I really regretted not ordering the recommended side of dauphinoise potatoes to go with it.
The poolside service was attentive, although not quite as on-demand as the sun lounger QR code ordering the Waldorf Astoria at Dubai has introduced. (There was no pool towel card system, which like Michele, is a pet hate for me).
I also visited the hotel supermarket and picked up some water, a can of beer, bottle of Croatian wine and a bag of crisps for the room. This set me back nearly £30, which I considered expensive even for a resort mini market. For those in the apartments, there was a range of fresh bread, pasta, sauces, tinned goods etc. There were also some charcuterie items, although I didn't see any fresh meat, so you'd want to go to an off-campus supermarket if you were planning to self-cater for a week.
Dubrovnik
Whilst you could have spent the entire trip at the resort, I do personally like to explore a bit when I'm away, so I did make the journey into Dubrovnik, which I would strongly recommend doing. I used the hotel car service, which cost 230 Kuna one way and, in what must be a first, I found consistently much cheaper than using the local taxis. It was 400 Kuna in the hotel car vs 500 Kuna in a taxi on the airport run, for example.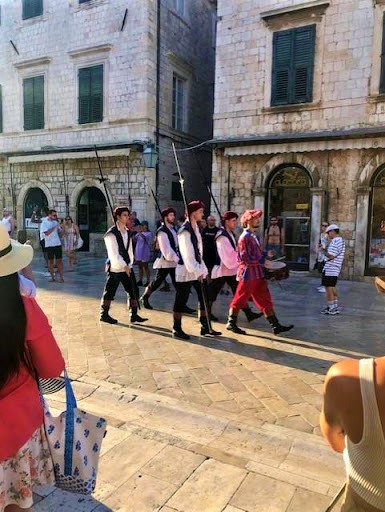 I booked on the early evening 'Discover the Old Town' walking tour with Dubrovnik Walking Tours which cost 18 Euro. I booked directly, but the hotel could arrange this for you, and they offer a variety of tours of different lengths depending on what you want. I had an excellent tour guide and would definitely recommend them. He brought an entertaining, whimsical style to proceedings which meant the tour flew by. It's an incredibly beautiful city with a lot of bars and restaurants on the narrow cobbled streets.
Having grown up holidaying on the Greek Islands and eating at the kind of isolated tavernas where the menu is what's fresh that day I was keen to try some traditional Croatian cuisine. I found 'Zuzori', which was described in various reviews I saw online as somewhere the locals go when they want good food. I mis-interpreted that to mean it would serve local dishes done well. I got where the locals go for date night, but it was nonetheless excellent and easily the best meal I ate on the trip.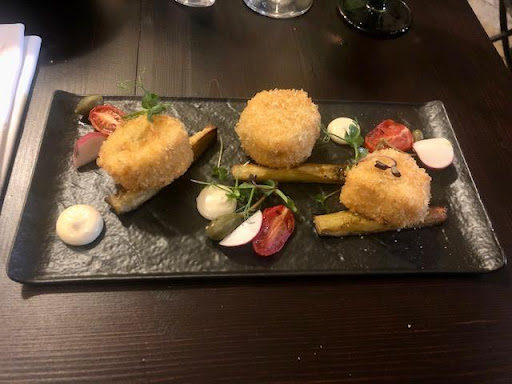 It felt like a real family affair, and so the service was a bit slow as they cooked to order a table at a time. This made for a wonderfully leisurely meal watching the world pass by. I had possibly the best croquettes I've eaten with chorizo and whole shrimp followed by tenderloin of beef. Every dish that came out of the kitchen looked amazing, including the duck and slow-cooked oxtail that the table next to me ordered. I would have gone back a second time if I had the chance on the trip.
Conclusion
I thought I had exceptional value for money at c£225/ night at a 5-star resort in late June. The one or two minor issues were rounding errors in the scheme of a very relaxing stay, and I would go back to the hotel certainly. I would probably be inclined to do so at the end of a longer stay taking in a hotel closer to the centre of Dubrovnik to spend more time in the old town. The Hilton Imperial or the Rixos would be ideal for that purpose.
You can also find the hotel on booking.com