My stay at the Waldorf Astoria The Palm Dubai was a very last minute thing. I was already staying at the Fairmont the Palm (read my review here) and due to the construction in the area, I decided to check out early.
Fortunately, the Fairmont were excellent and refunded my last night, even though technically they didn't need to.
Location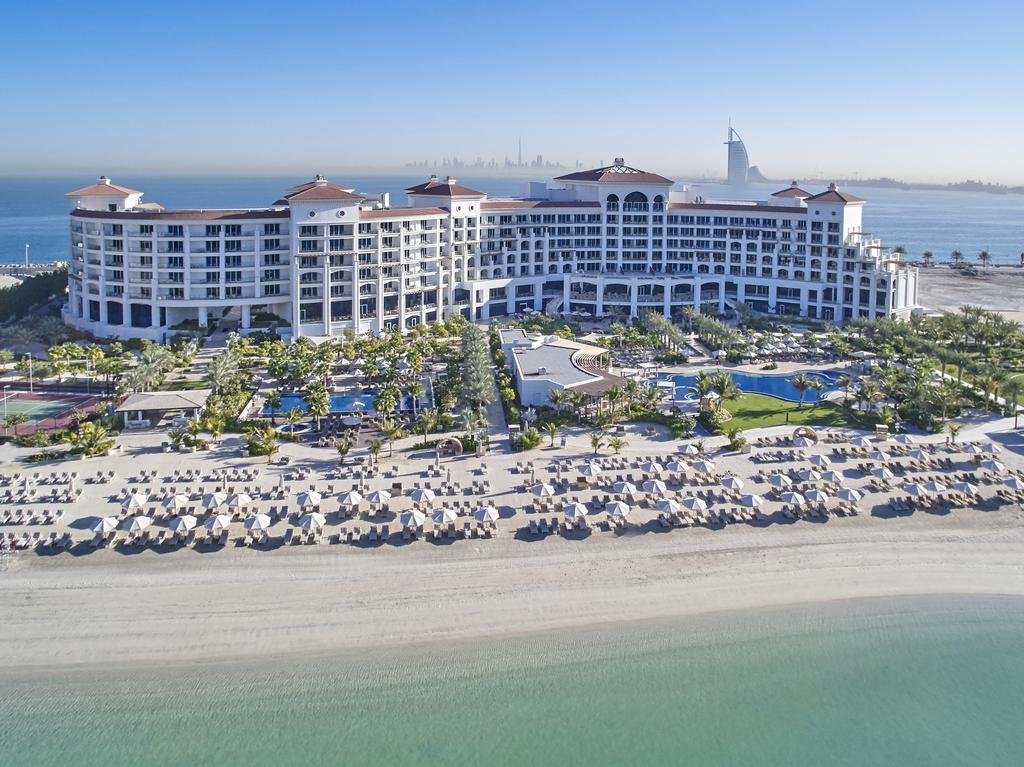 The one drawback with the WA is the location, although in some ways it is also an advantage. The WA is pretty much as far as you can get on the Palm, but it does make it a quieter resort. It is around 15-20 minutes to get there from Atlantis, and about 15 minutes to get back on the mainland. It takes approximately 45 minutes to the Mall of the Emirates, and the hotel runs a free shuttle there on a limited basis.
Check-in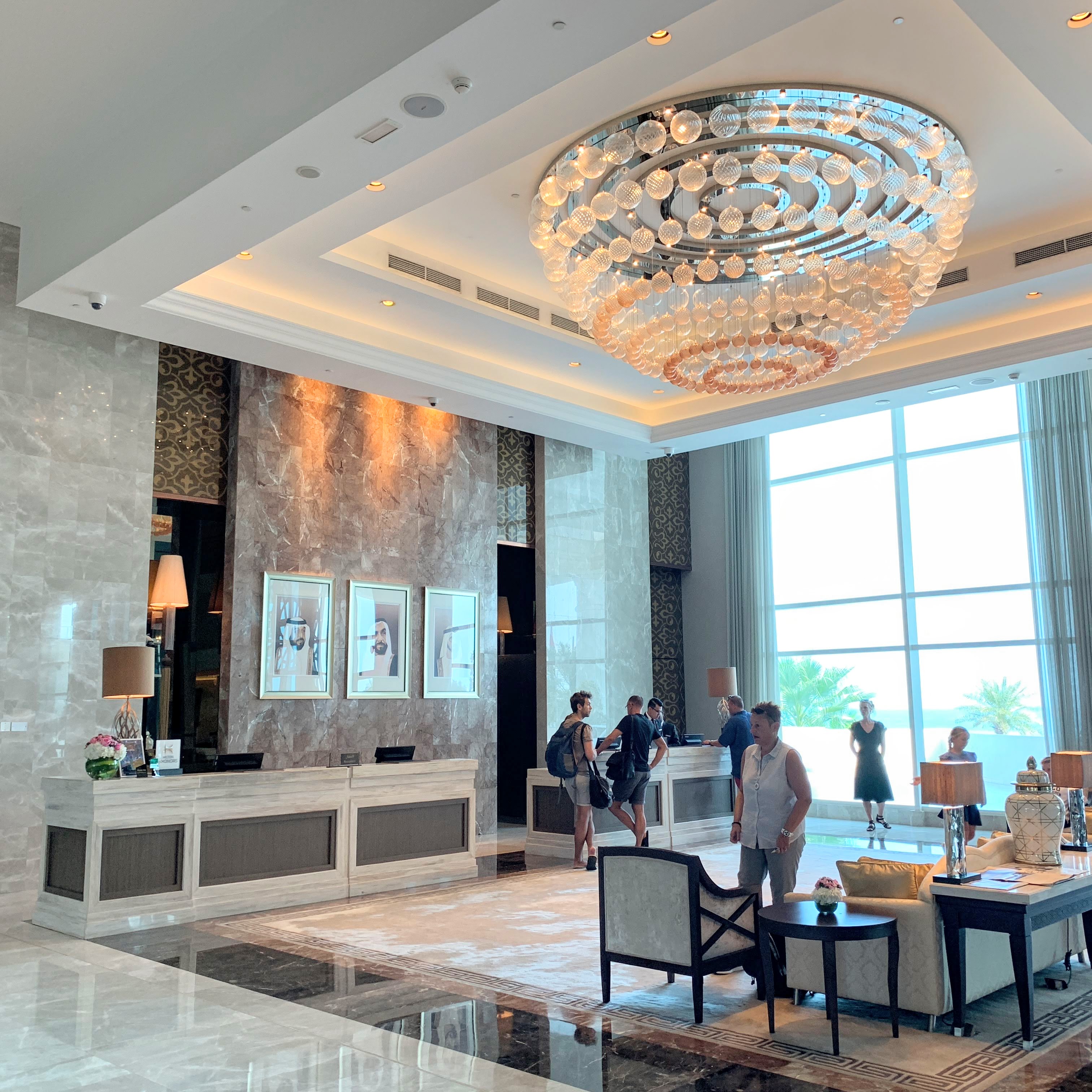 On arrival, I was met by the bellman, who quickly whisked my bags away. I have stayed in quite a few Waldorf Astoria's and generally find the service a bit lacking compared to a Four Seasons. However, at The Palm, it was pretty much spot on the whole time. The building from the outside is pretty dull, but as you enter reception, there is a wow factor due to the sheer amount of space – and the chandeliers. It does feel a bit of an odd design, though.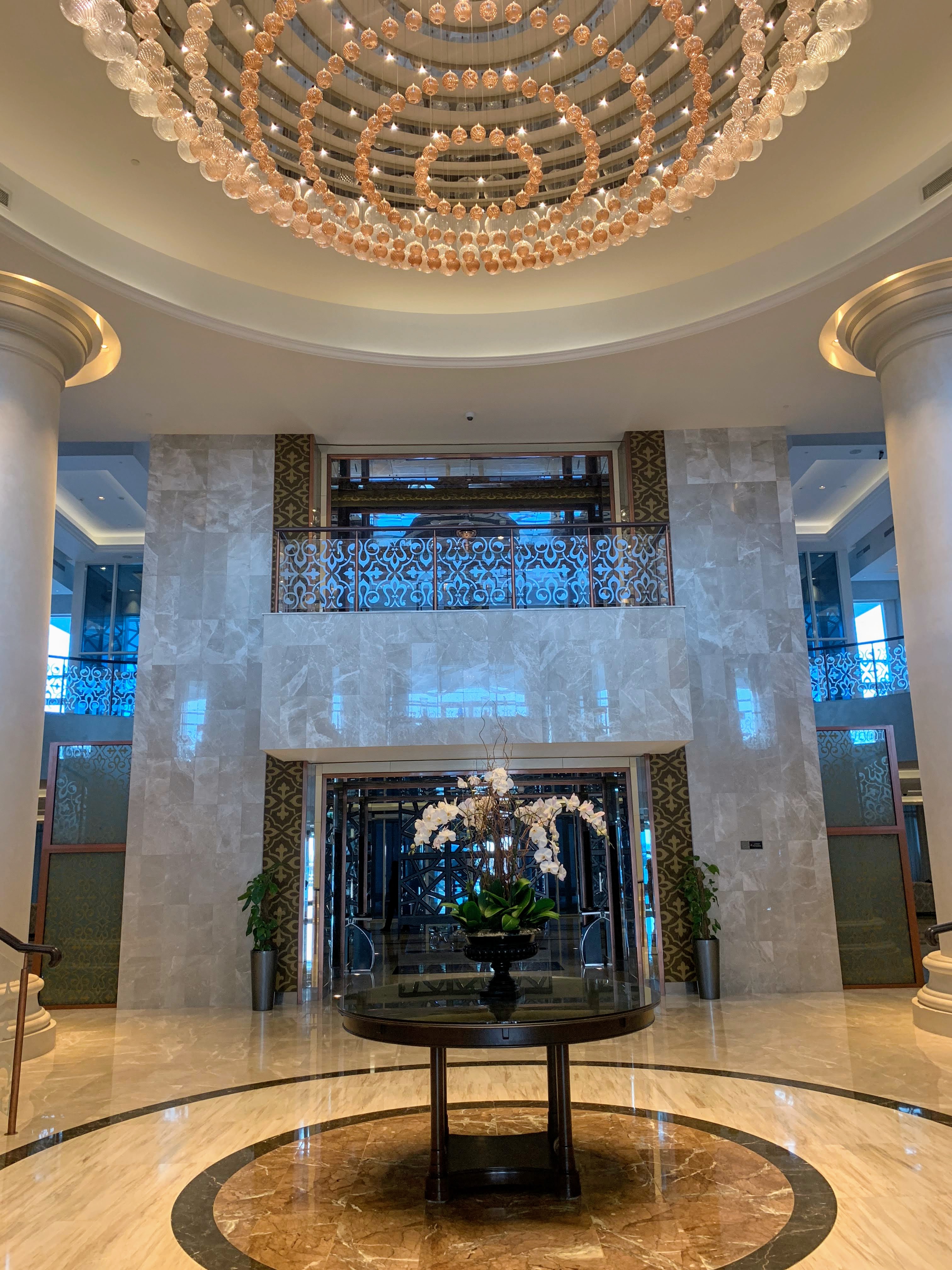 The receptionist was excellent – very welcoming and helpful. She acknowledged my Diamond status and went through all the benefits and where everything was in the resort. I was given an upgrade to a room with a slightly better view even though it was by a road. The road was not busy, so it was not an issue. I find that WAs are always pretty bad at upgrades. I did get a voucher for two free drinks in the bar though which I put to good use! There is a lounge, but you do not get use of it as a Diamond member.
I was then escorted to my room by my own personal "concierge". He offered to book the spa on my behalf or help me with dinner reservations, and did what I asked very quickly in securing a table for dinner.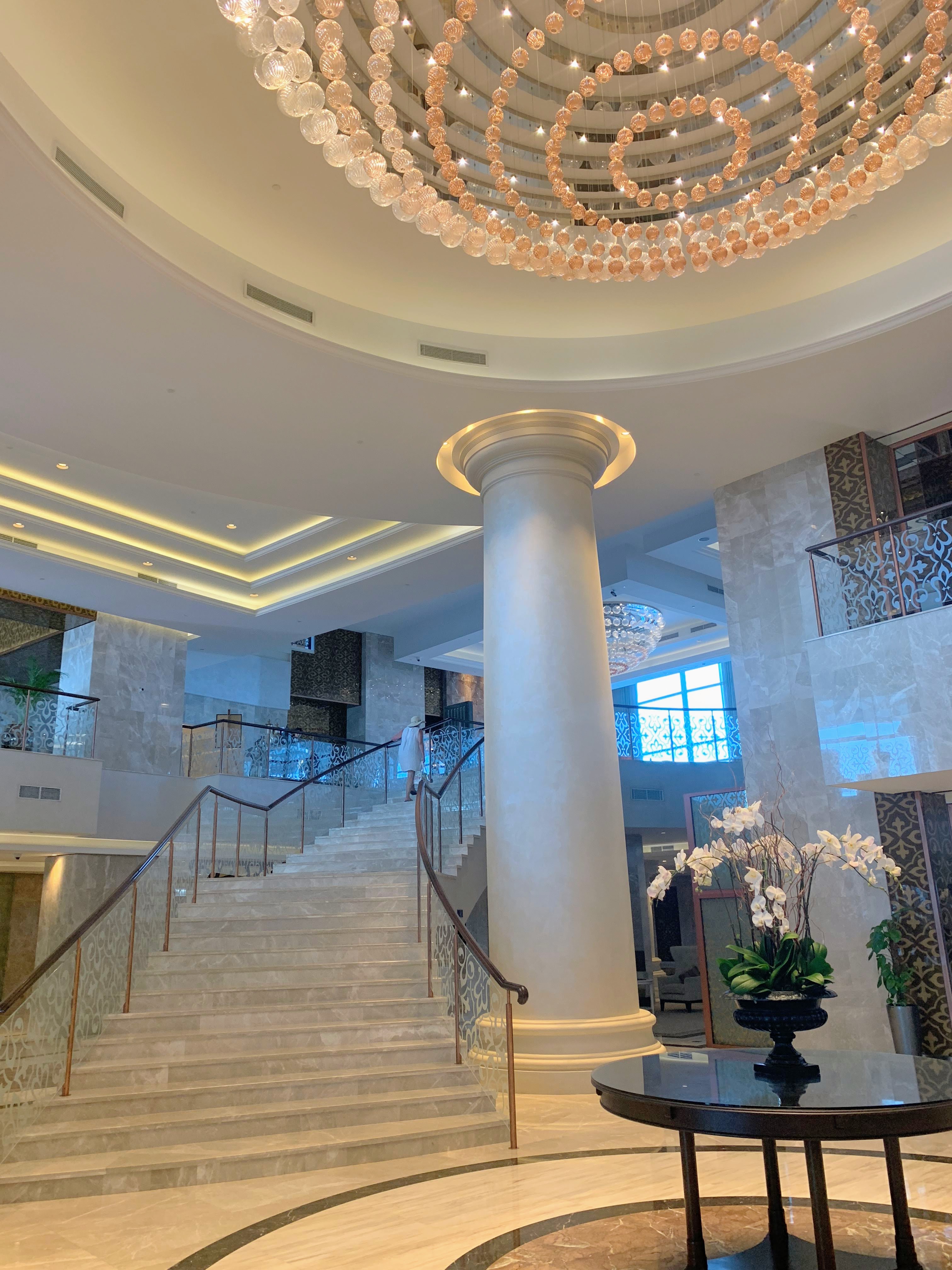 The room
The rooms are arranged around atriums, and it is quite a maze trying to find it due to all the various corridors. It was also a long walk to the pool and beach.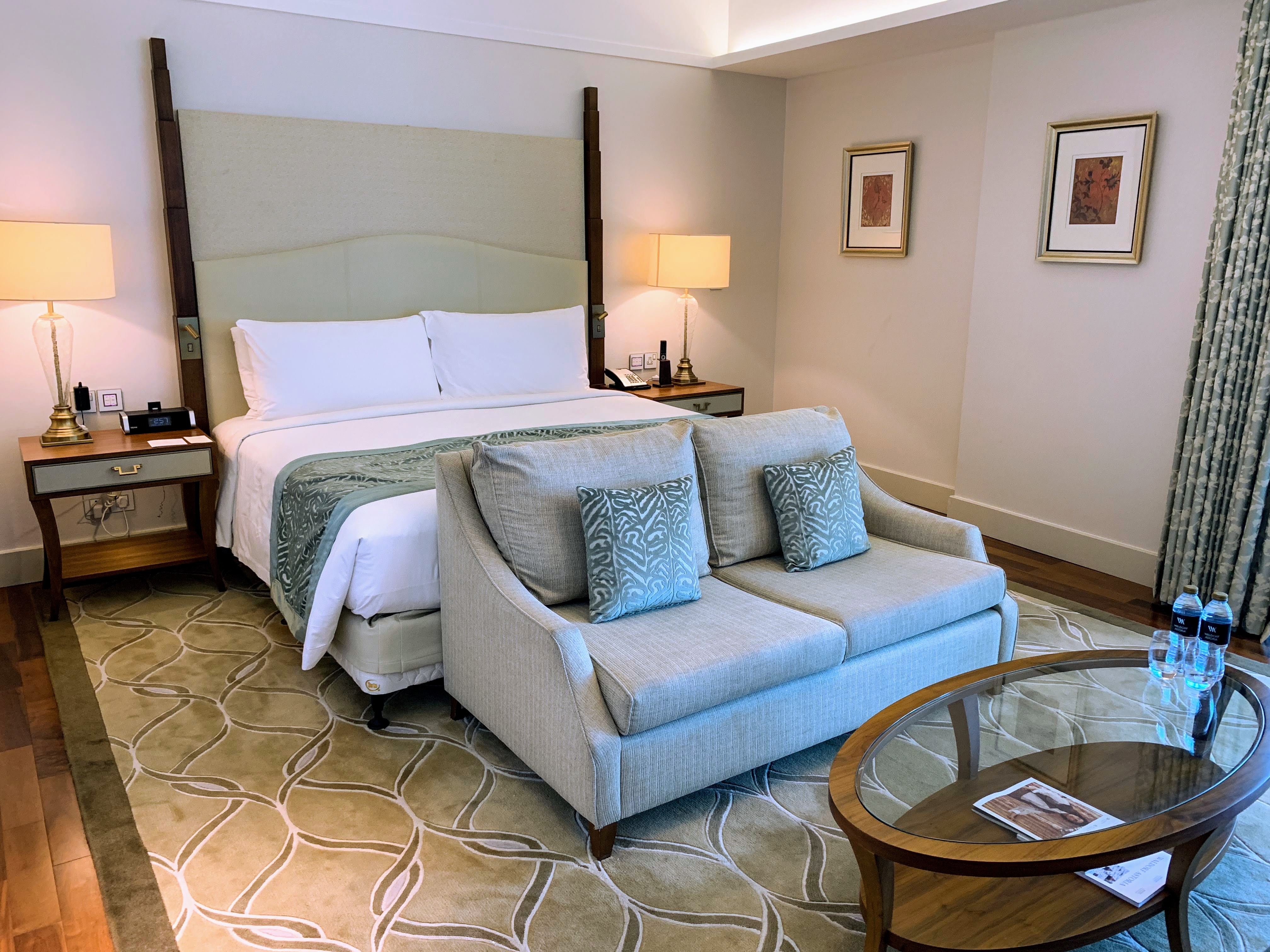 I had booked a King Superior room but was upgraded to a King Deluxe with Skyline view. I thought the room was gorgeous, and typical of Waldorf Astoria style. The rug around the bed was very plush under my feet as my toes sank right into it! I liked the darker wood accent against the light greys and blues in the room. Unlike some hotels in the UAE, there was not much bling to be seen, fortunately.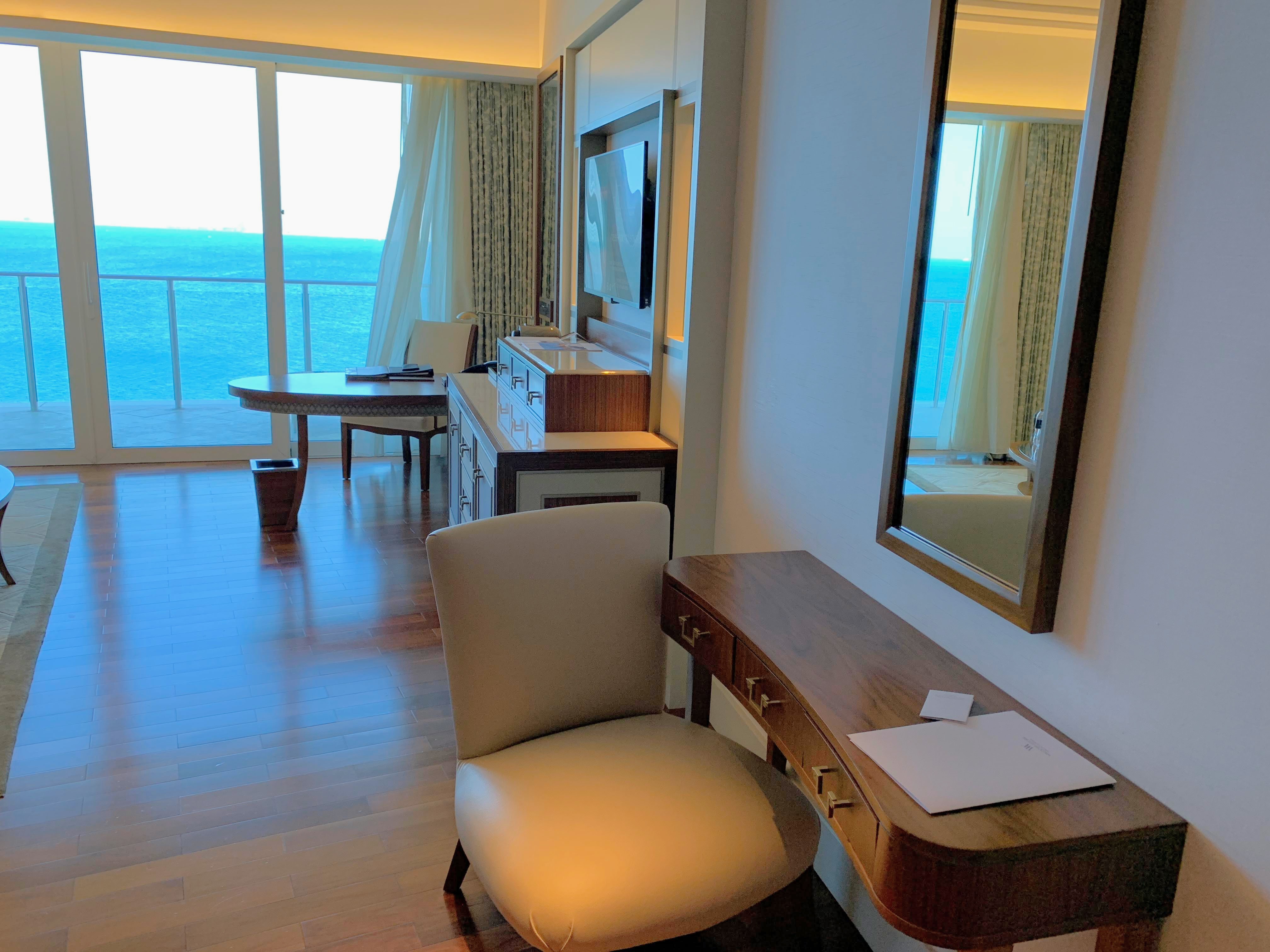 Drinking water was supplied, and there was a Nespresso coffee machine. When I returned to my room later, some welcome treats had been left for me. The red velvet cakes were totally delicious (probably should have had the fruit, but hey – when on holiday!). I was also impressed that there was a vanity area in the room – perfect for doing your hair. So many hotels overlook this!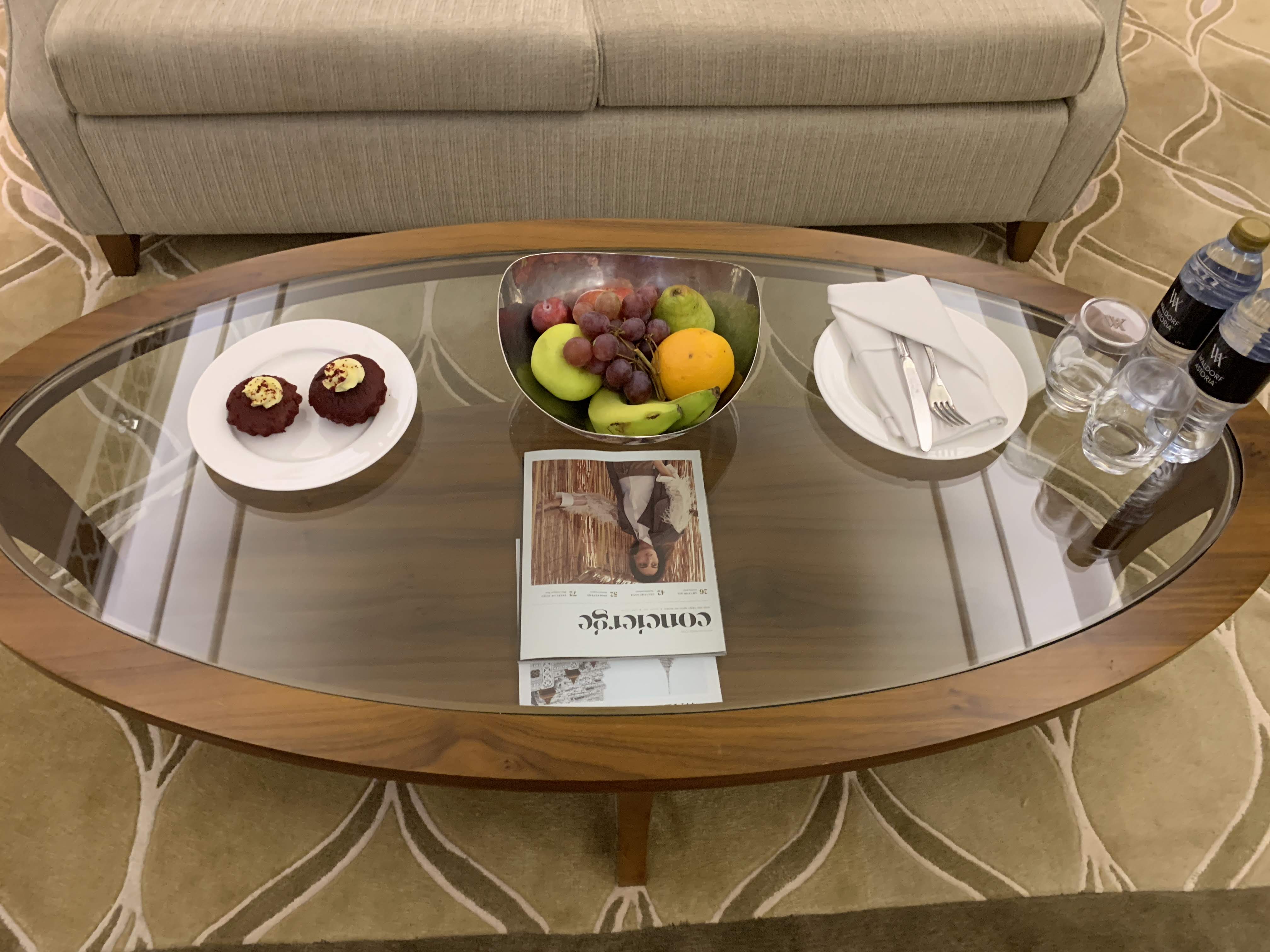 If you wanted to work there was a good-sized desk, and the TV was interactive with various apps.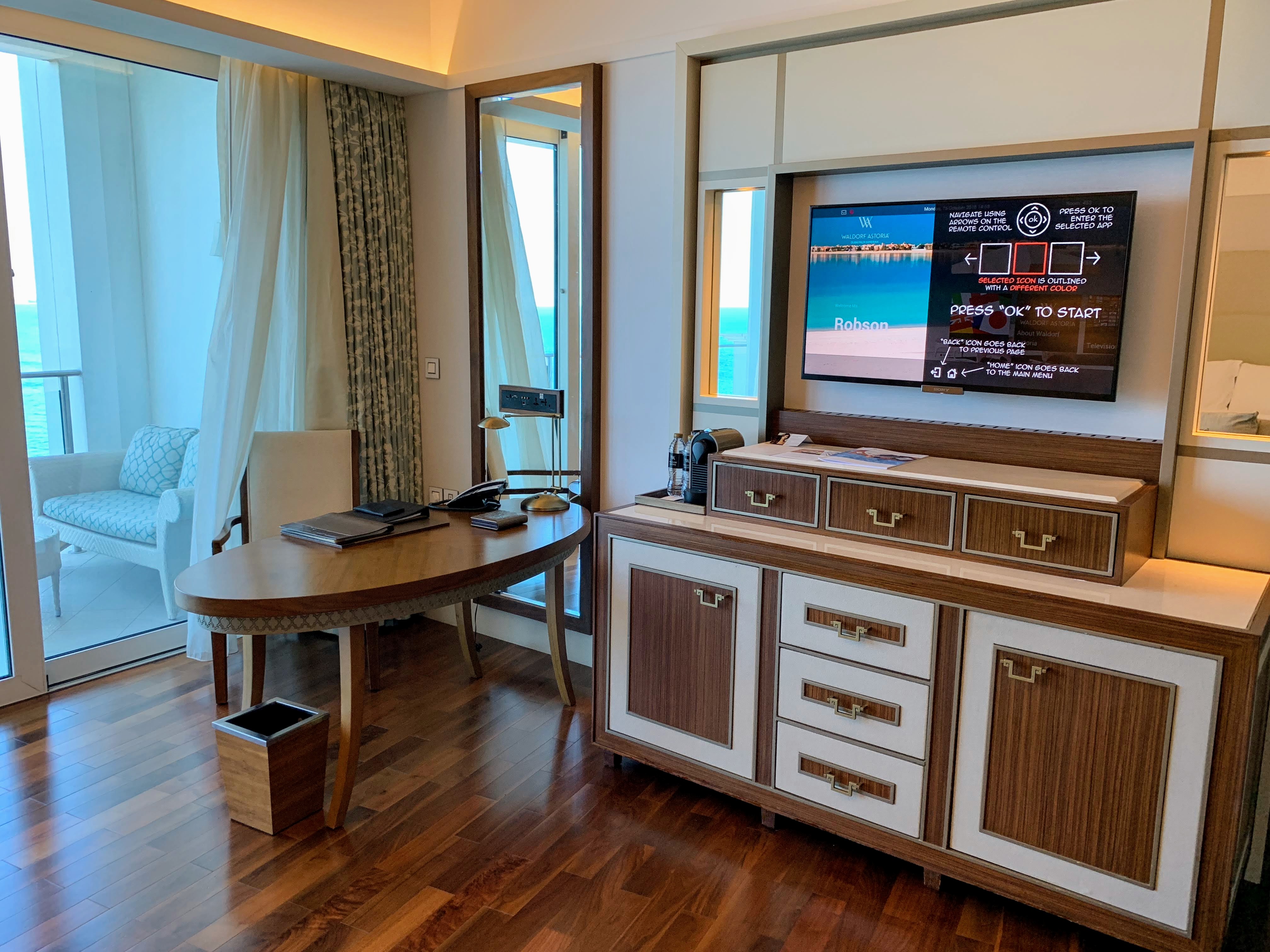 There were plenty of outlets around the room for charging devices, as well as all the 5* amenities you would expect – bathrobes, slippers, a safe etc.
The room had a large balcony with furniture and a great view of the Dubai Skyline.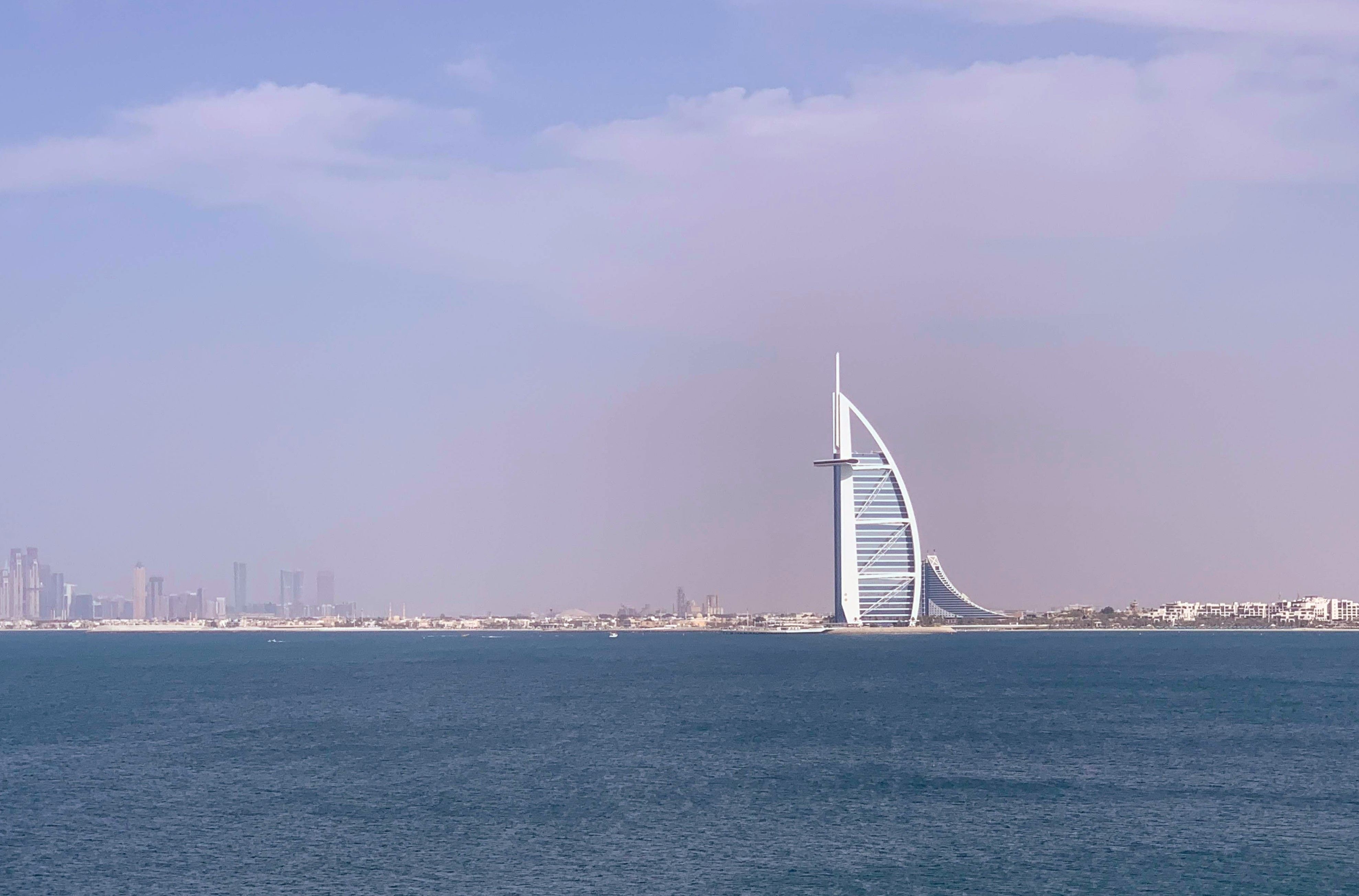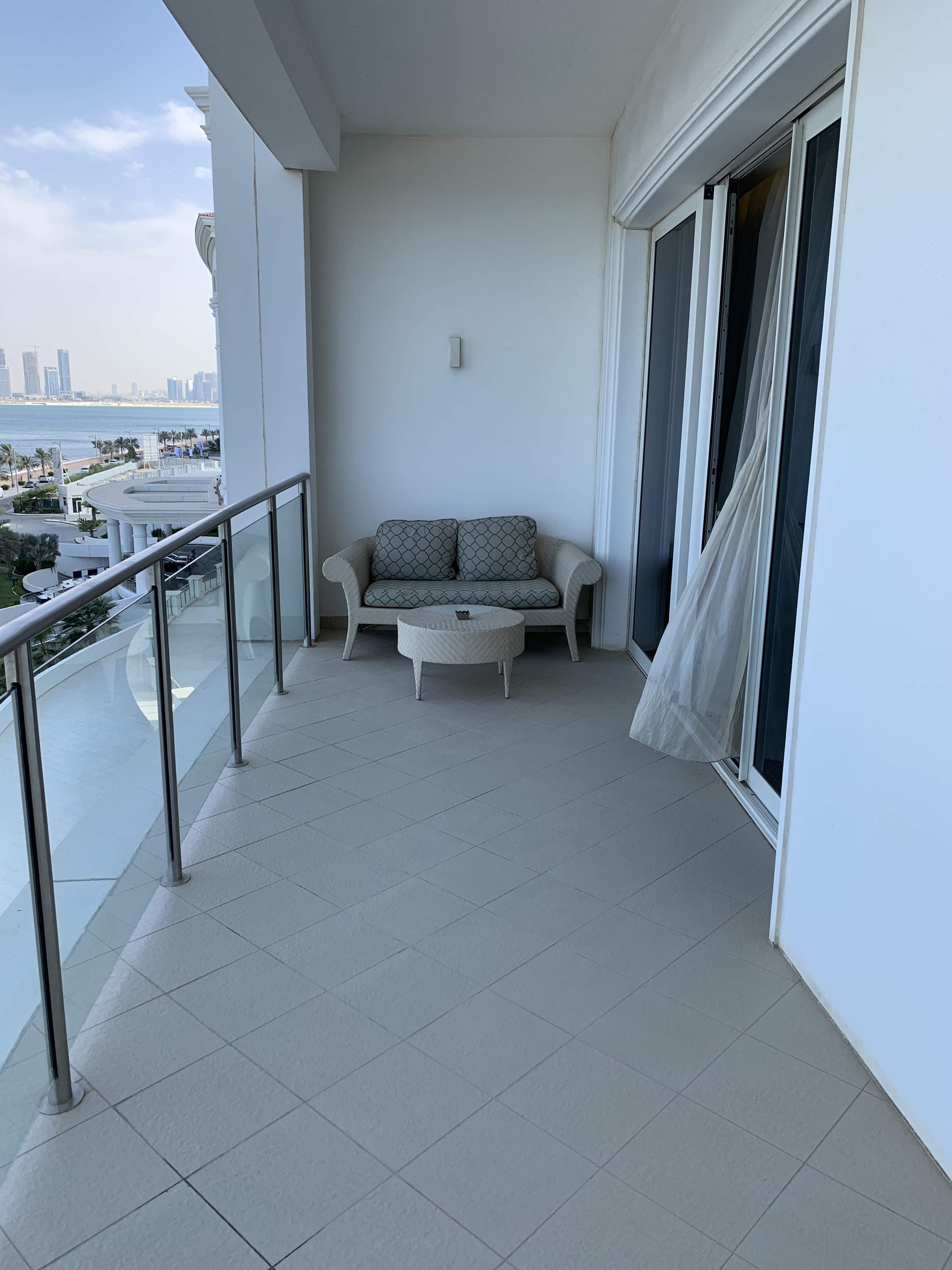 Bathroom
The bathroom was also very stylish and possibly one of the nicest hotel ones I have ever seen. It felt like some serious money had been spent here!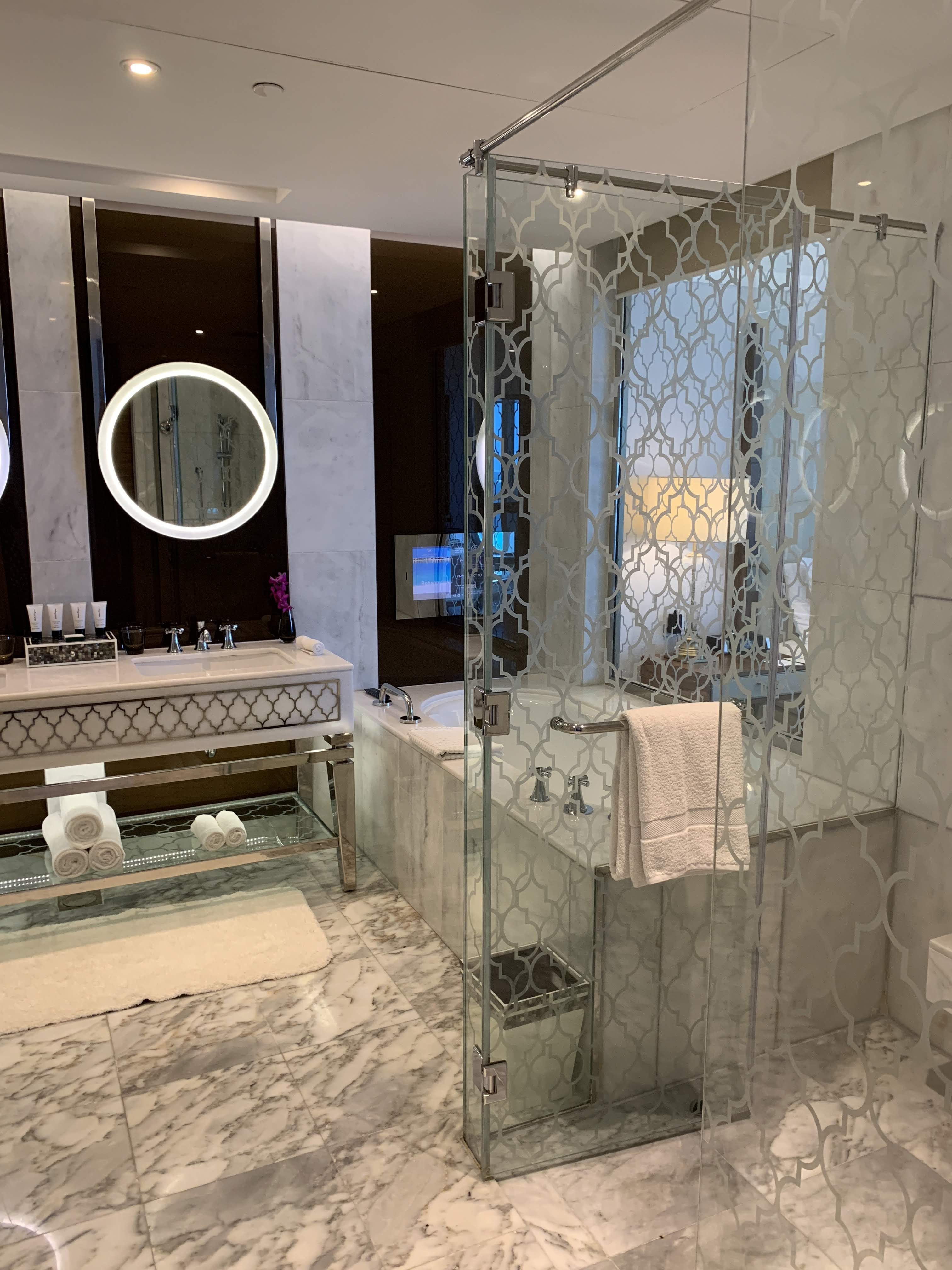 The toiletries are the standard WA Ferragamo 'Tuscan Soul', which come in a decent size tube. I don't mind the fragrance of these as it is relatively neutral and the products are high quality.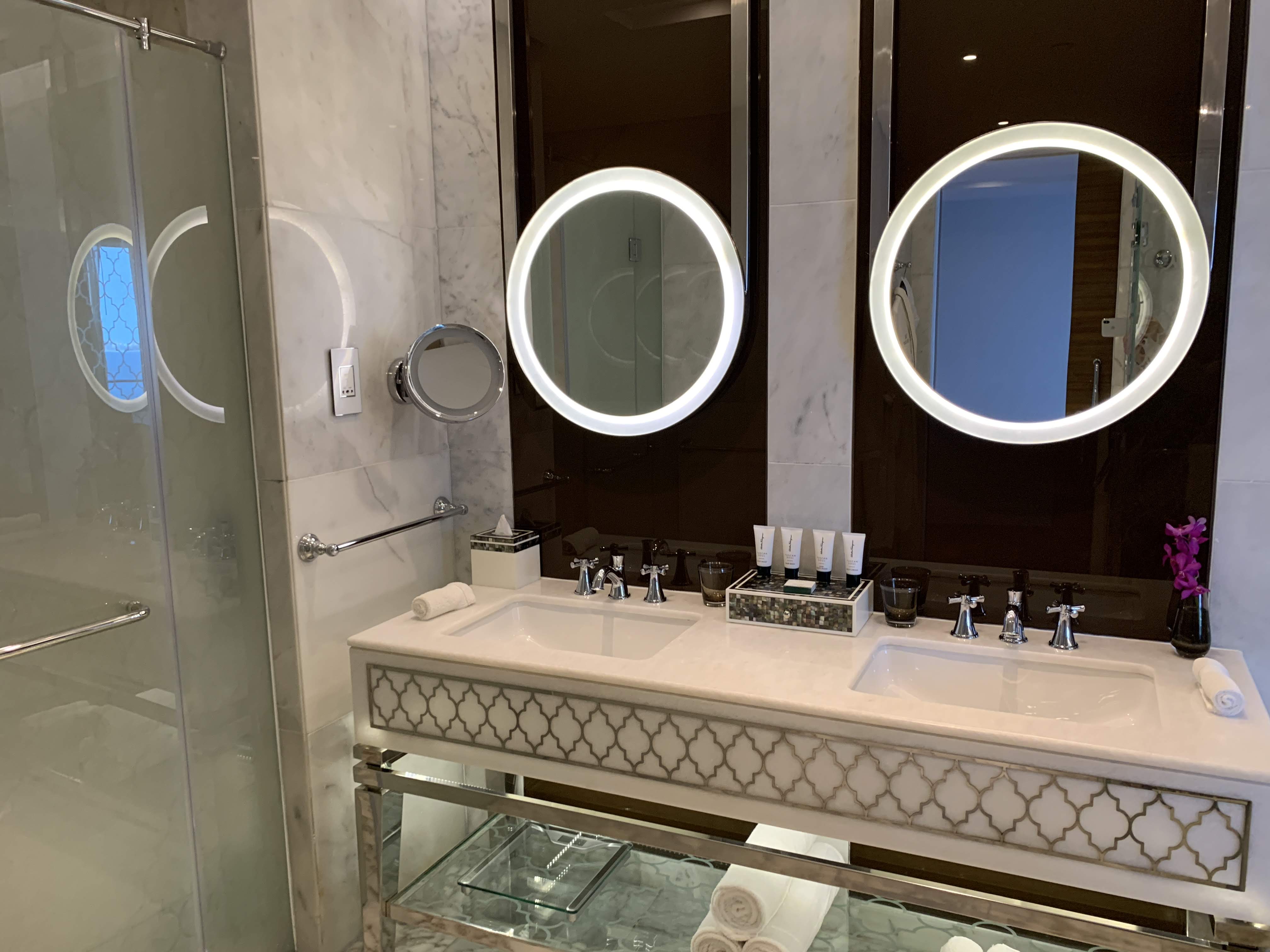 There were two basins with some well-lit mirrors and plenty of space to out things. These with the magnifying mirror hit all my criteria for the perfect bathroom. There was also a little chest that had all the usual amenities such as mouth wash, vanity packs, toothbrush etc.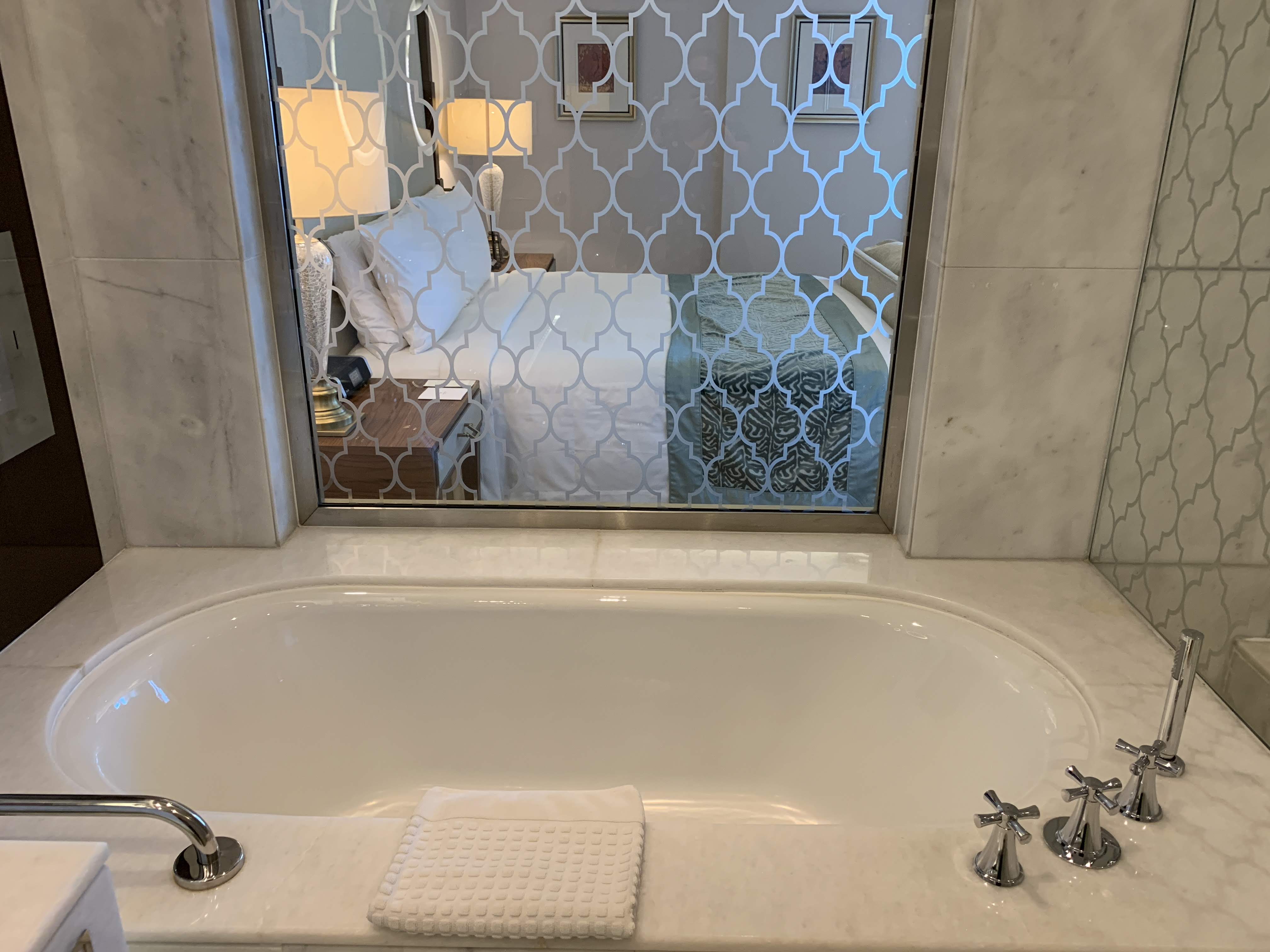 I enjoyed a soak in the oversized bathtub although it was quite a job climbing in and out with the wide marble surround. It was definitely a bath big enough for two! You could see out into the room and the view beyond, but also close a blind if you wanted. I loved being able to watch TV in the bath. Give me a glass of champagne as well, and I would be in heaven!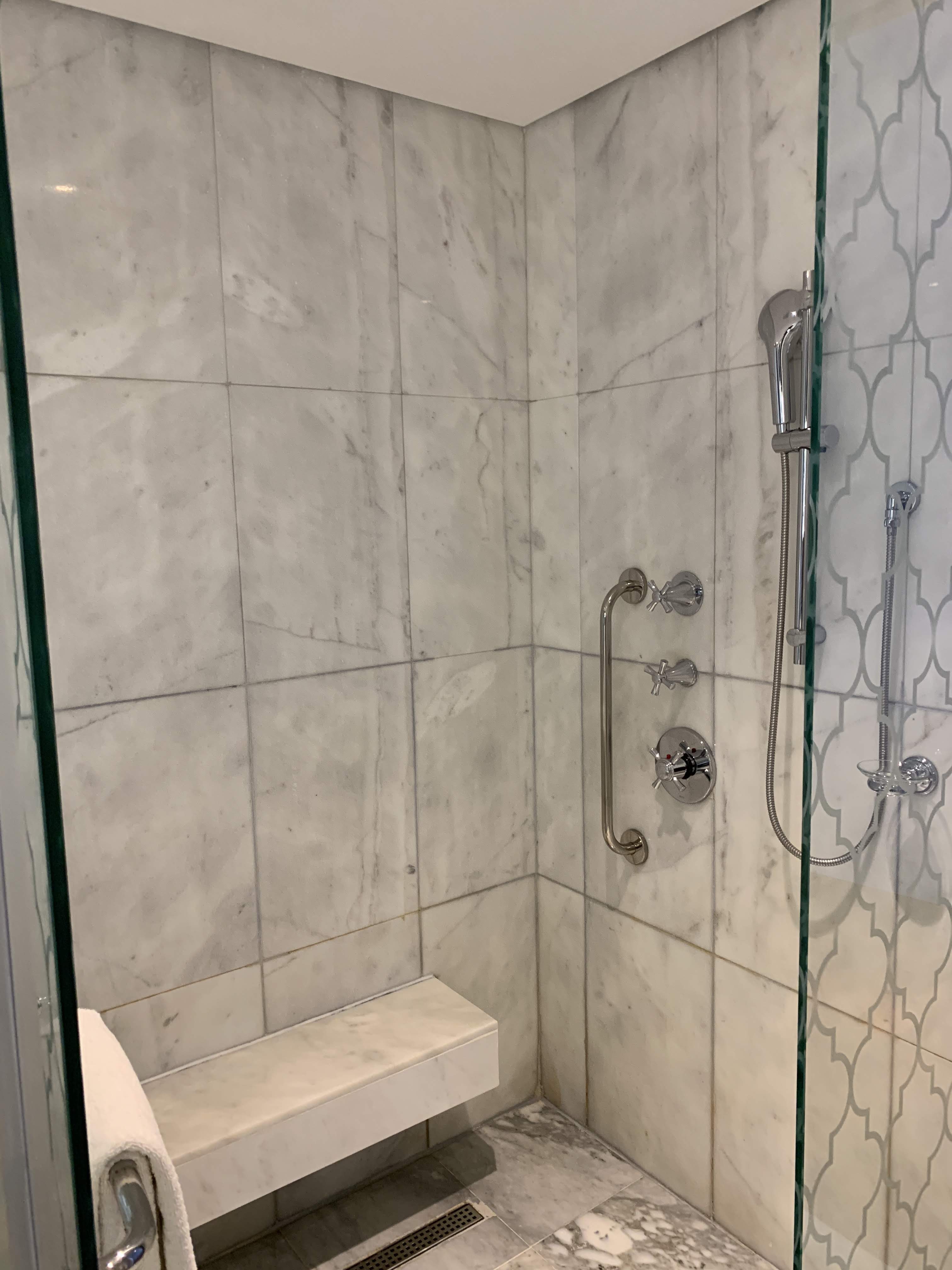 The shower was equally luxurious with a bench inside and room for about four people. I'm never quite sure of the point of having a seat – having a sit down if you are bit tired mid-shower perhaps? Or to put your toiletries on?
Dining
There are enough restaurants and bars that if you are only staying a few nights you would not need to venture out. I was only there one night, so I went to the Serafina bar for my free welcome drink, courtesy of my Hilton Honors membership. The bar was OK, but nothing special. There was live music on, which was a little loud for my taste.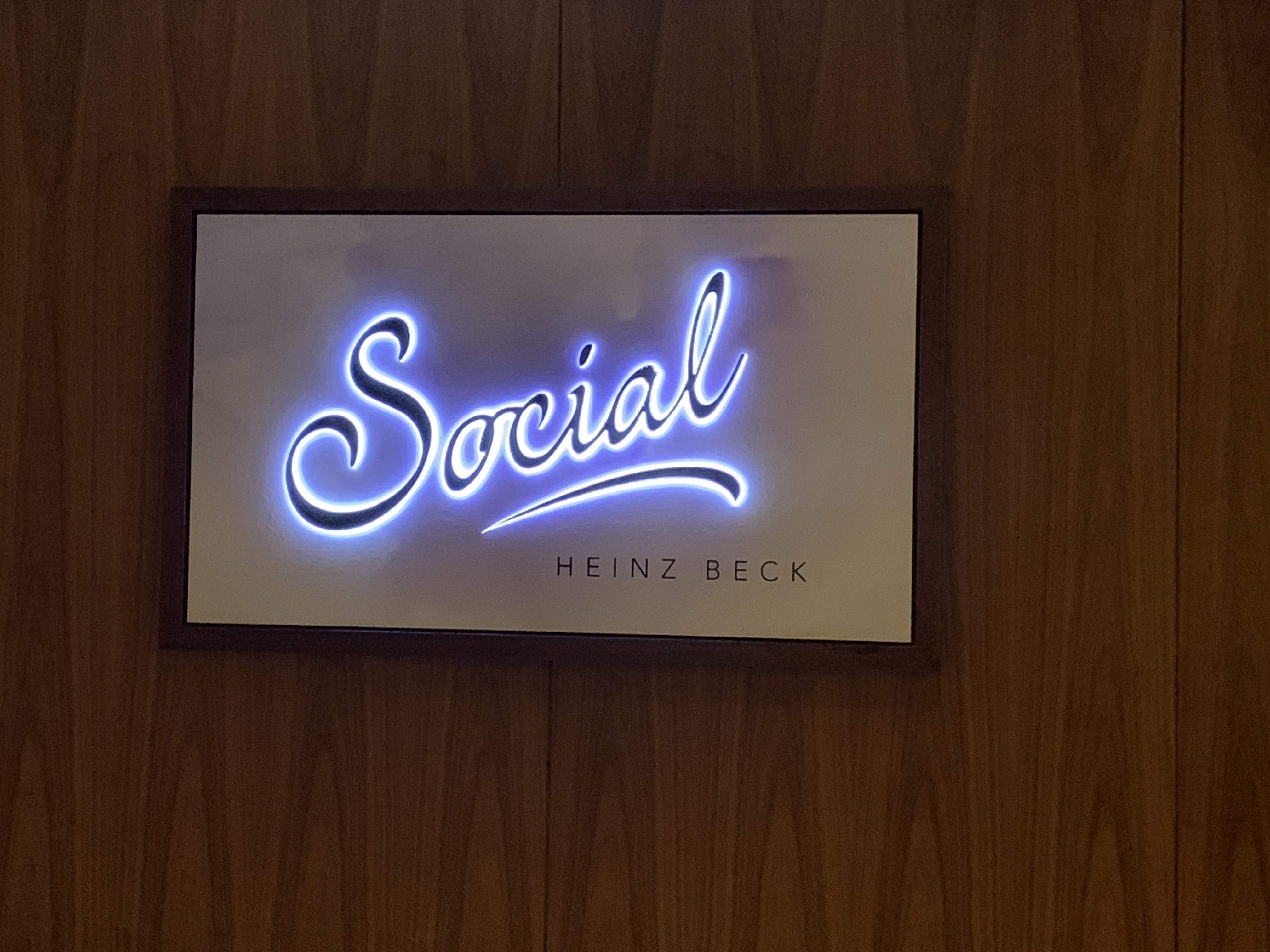 I ate at Social by Heinz Beck. Heinz Beck is one of my favourite chefs, and both Paul and I particularly like his restaurant at the Conrad Algarve. The 3-star Michelin Chef Heinz Beck features contemporary Italian dining in his restaurant, with inviting design elements and an innovative modern Italian menu. The restaurant also has excellent views of the skyline.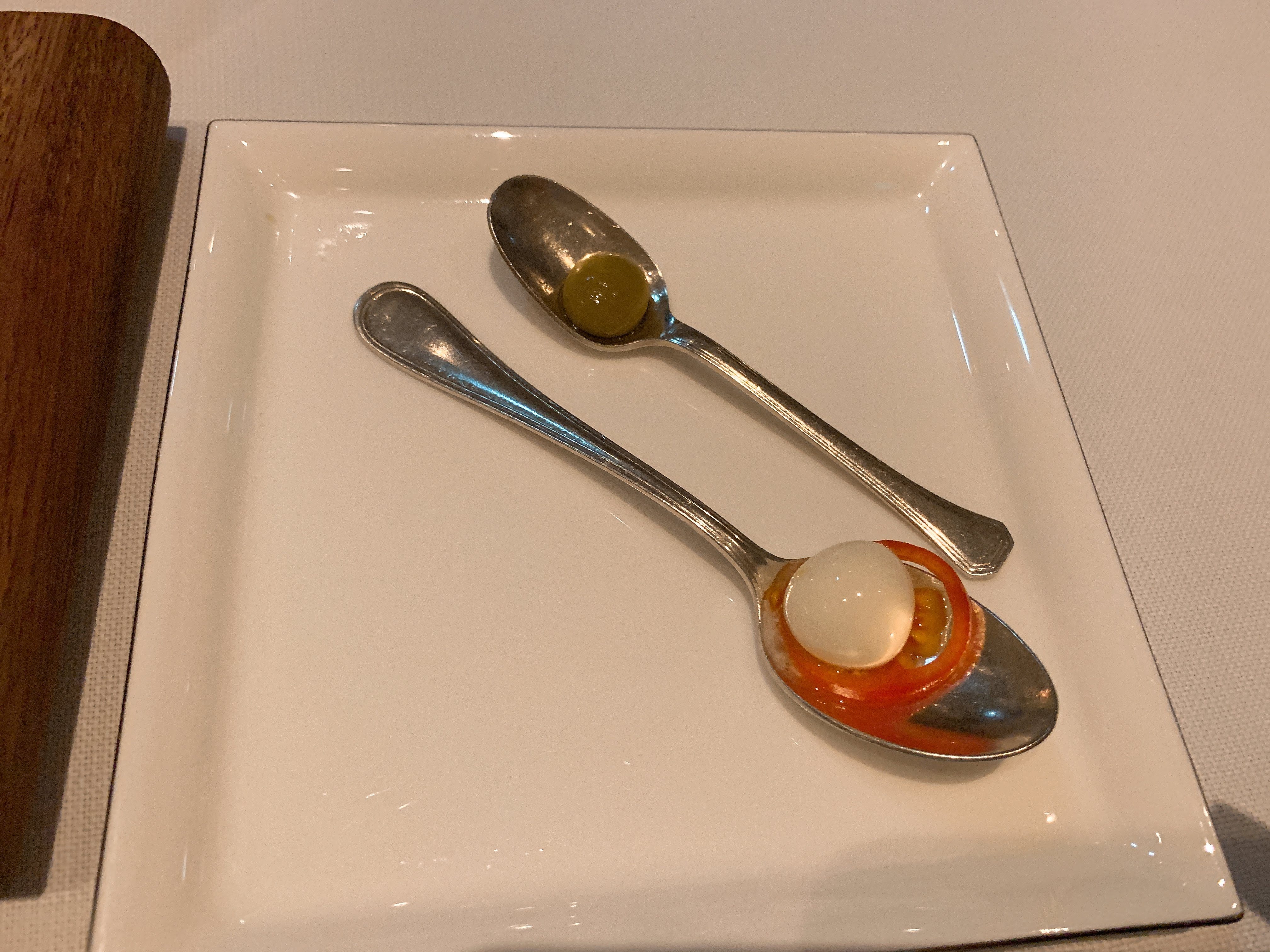 I really enjoyed my meal, but it was definitely pricey. I went a la carte, but I did feel I got a lot for my money as there were lots of extras. This included an amuse bouche and petit fours. I spent around £130, which included a couple of glasses of excellent wine.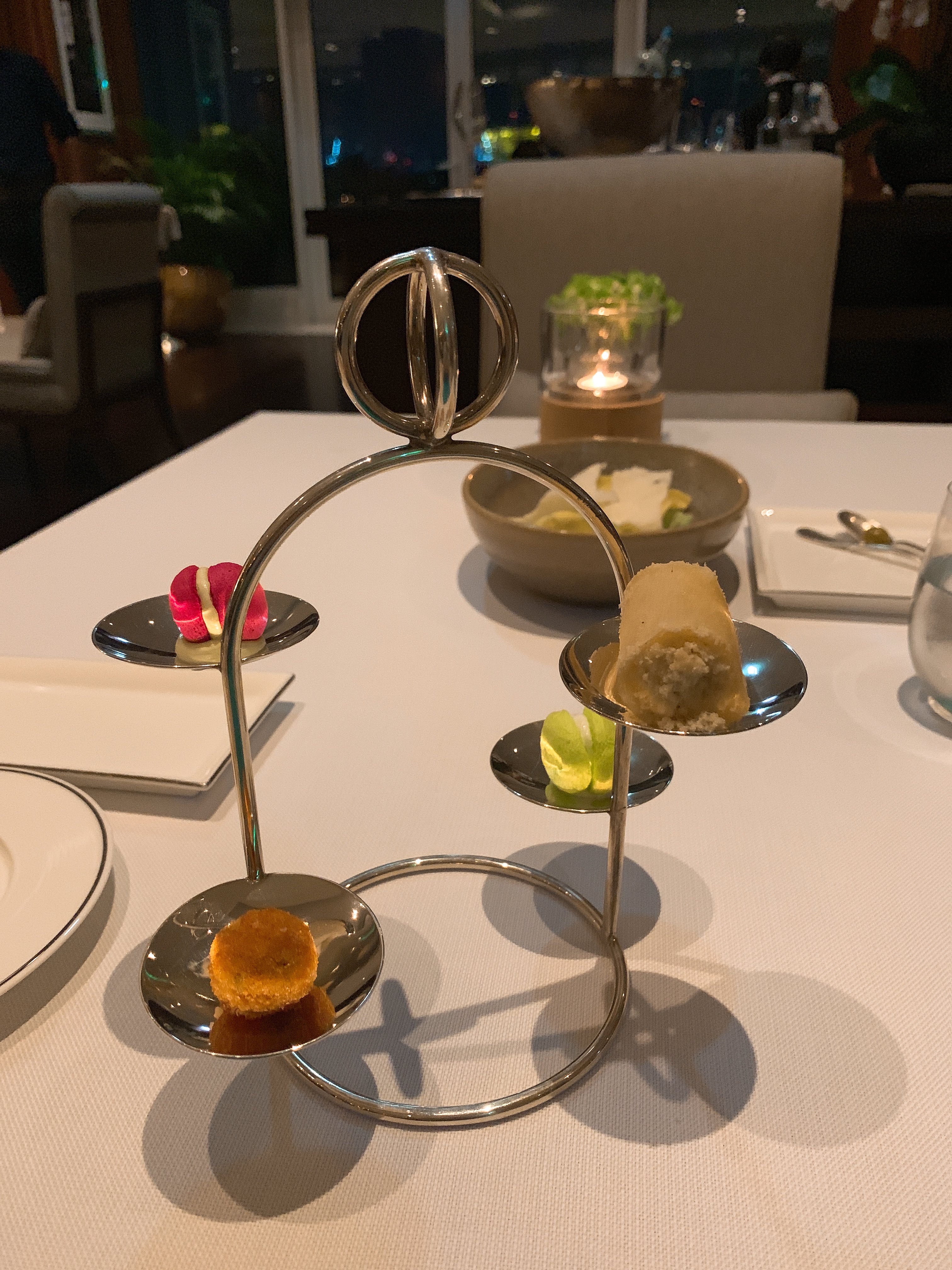 The food was all delicious and well presented, particularly the starter.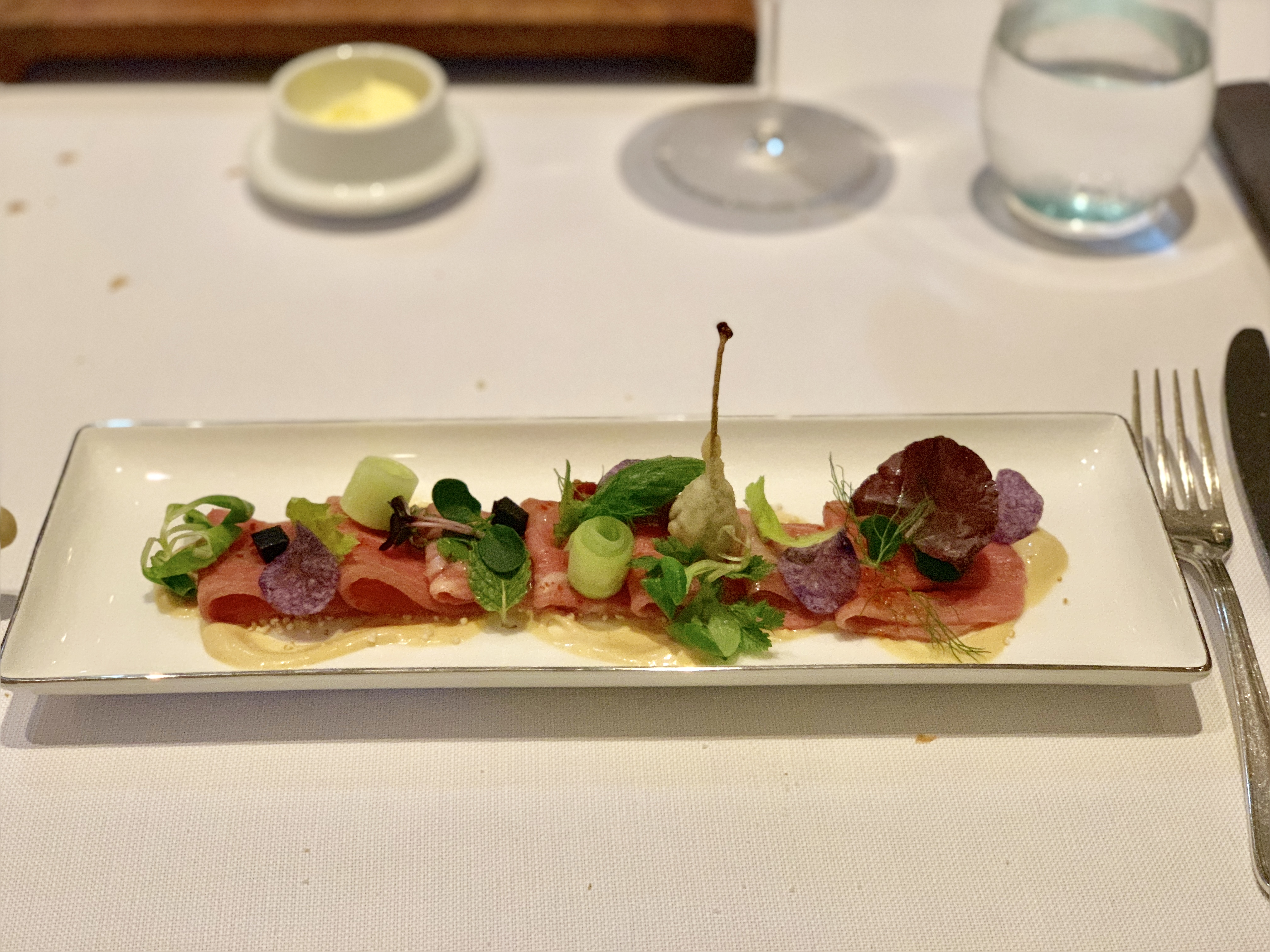 My favourite course, based on flavour, was the truffle pasta.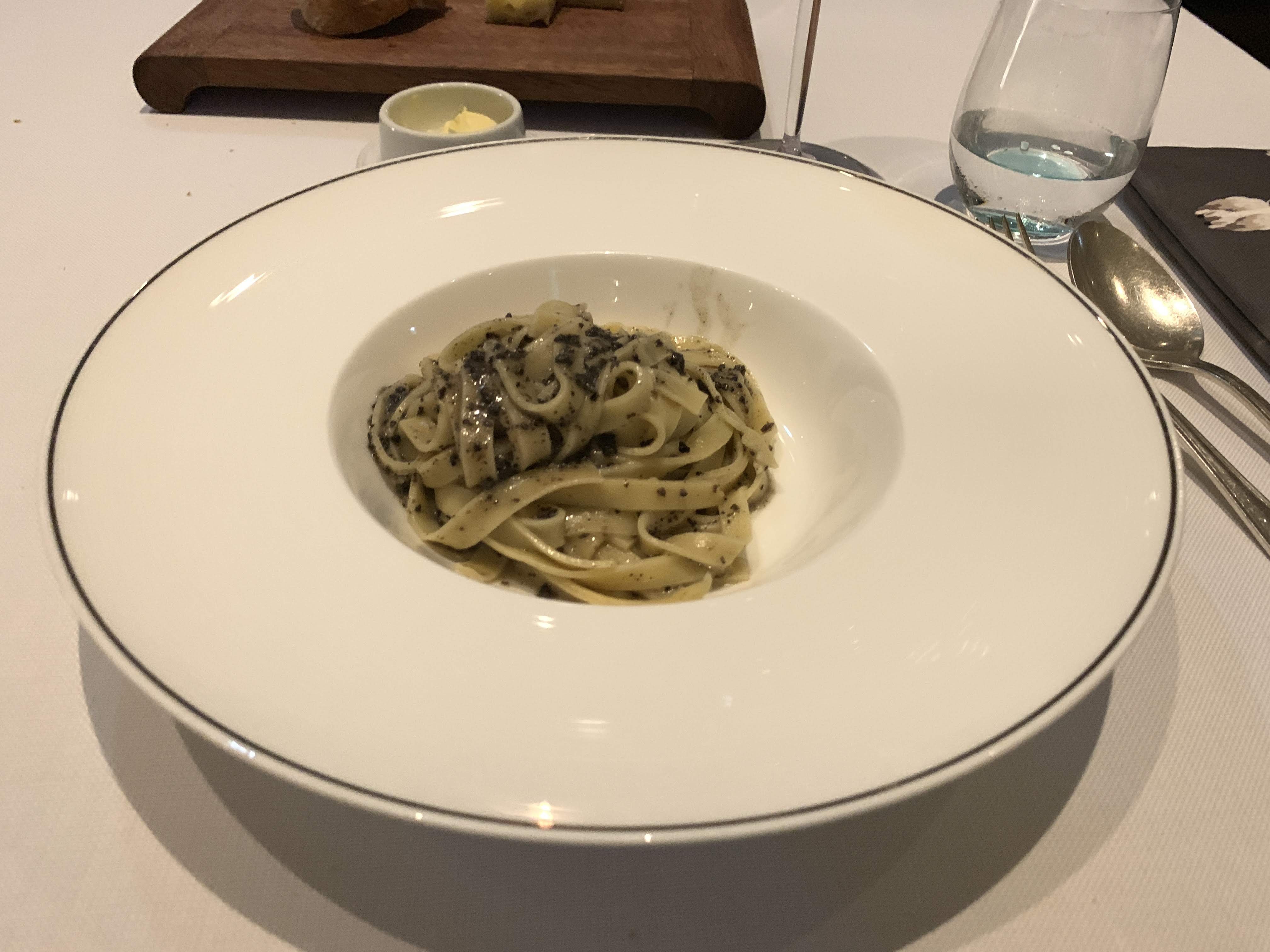 The other restaurants are LAO (Vietnamese), Mezzerie (all-day international dining, which is where breakfast is served) and Palm Avenue by the pool. I enjoyed the food by the pool, and it was actually quite reasonably priced. There were specials on some cocktails, which worked out to be around £9 each.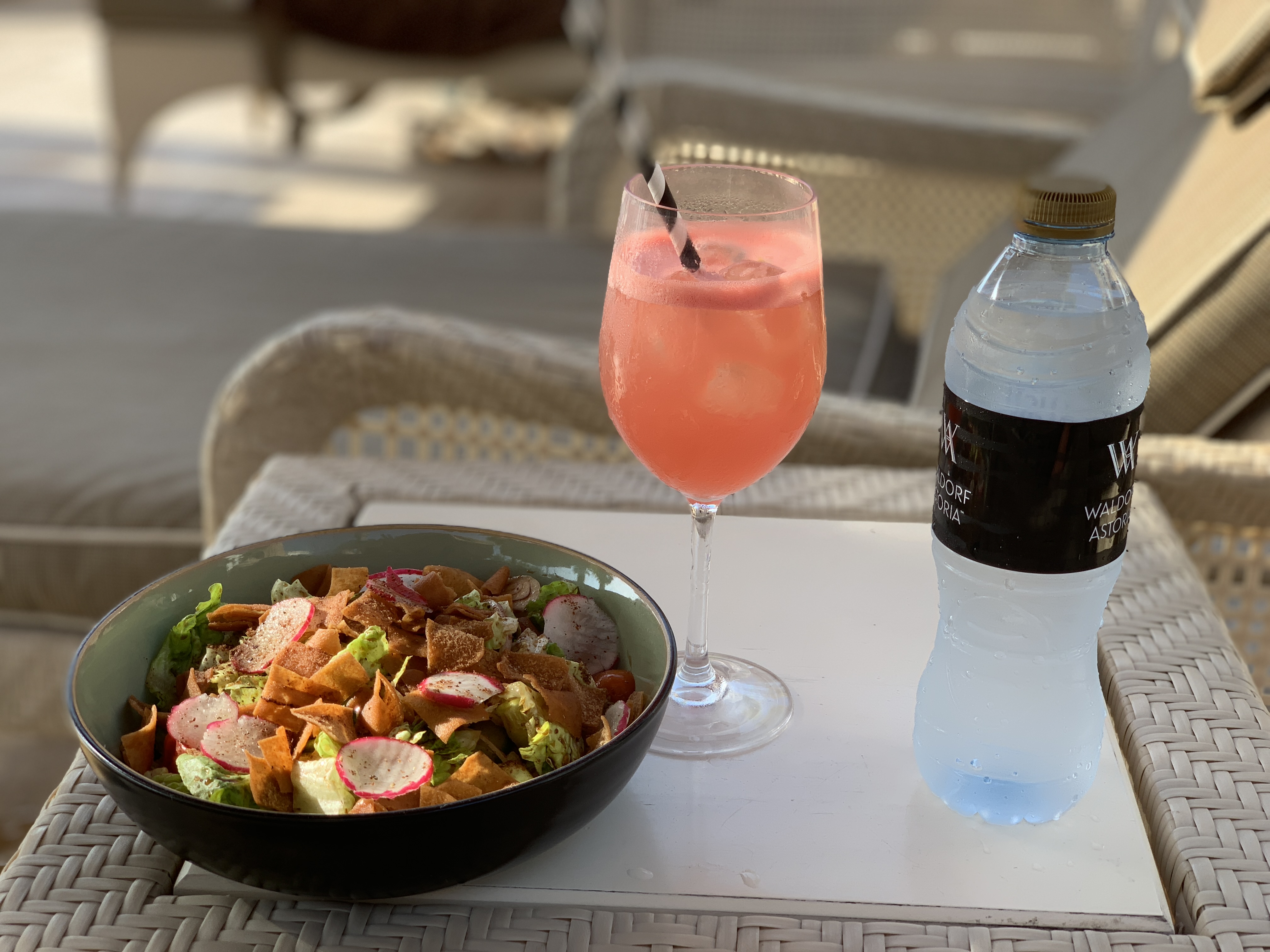 Breakfast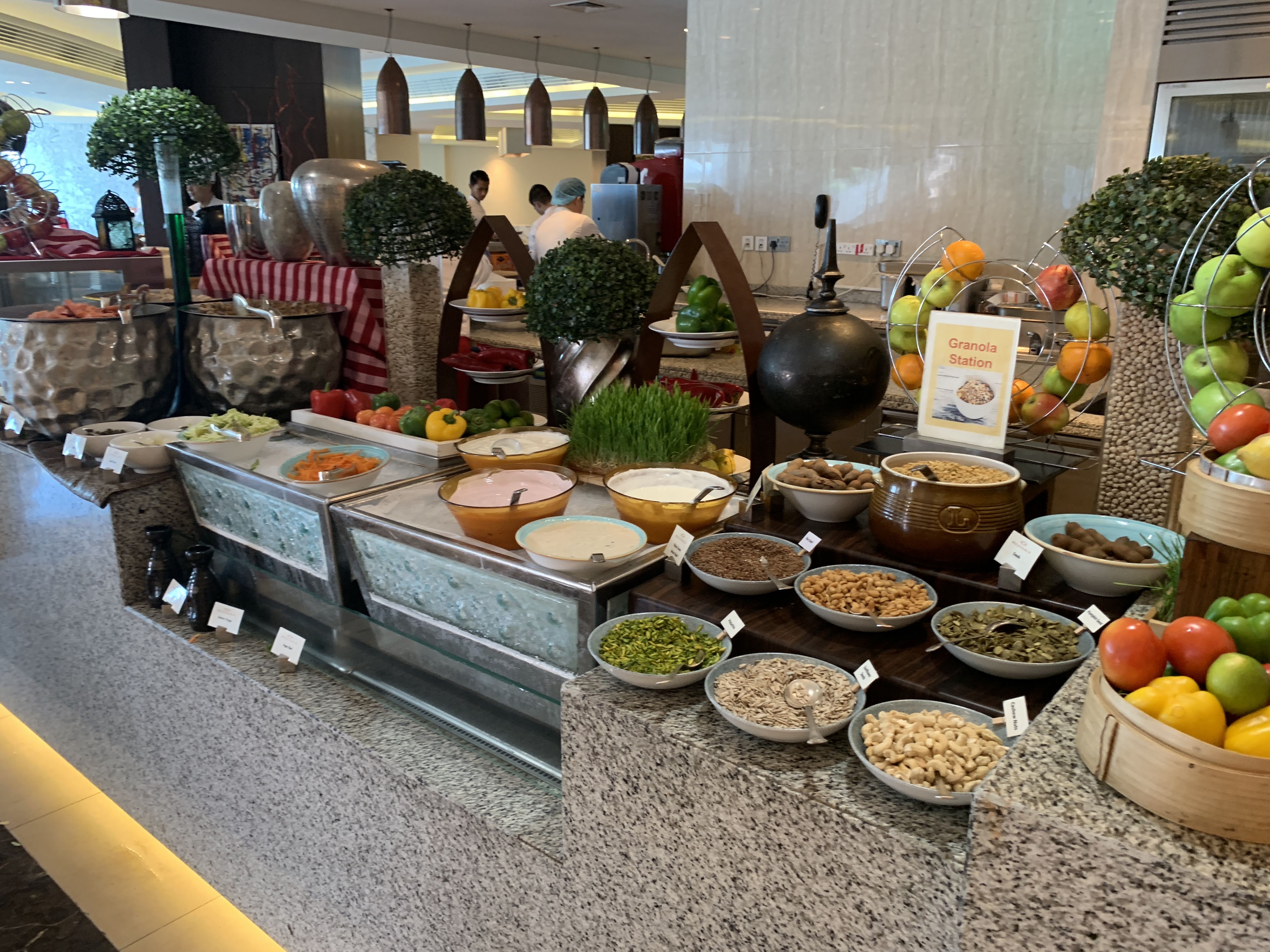 I got free breakfast as a Diamond member. I thought that it was well presented and with a good selection, but there was nothing really 'wow' about it. There were the usual cook options, as well as some excellent Arabic options. The chef was accommodating when I was pondering about trying the local breakfast and showed me how to put it together. There was also a good selection of freshly squeezed vegetable juices.
Beach, pool, spa and facilities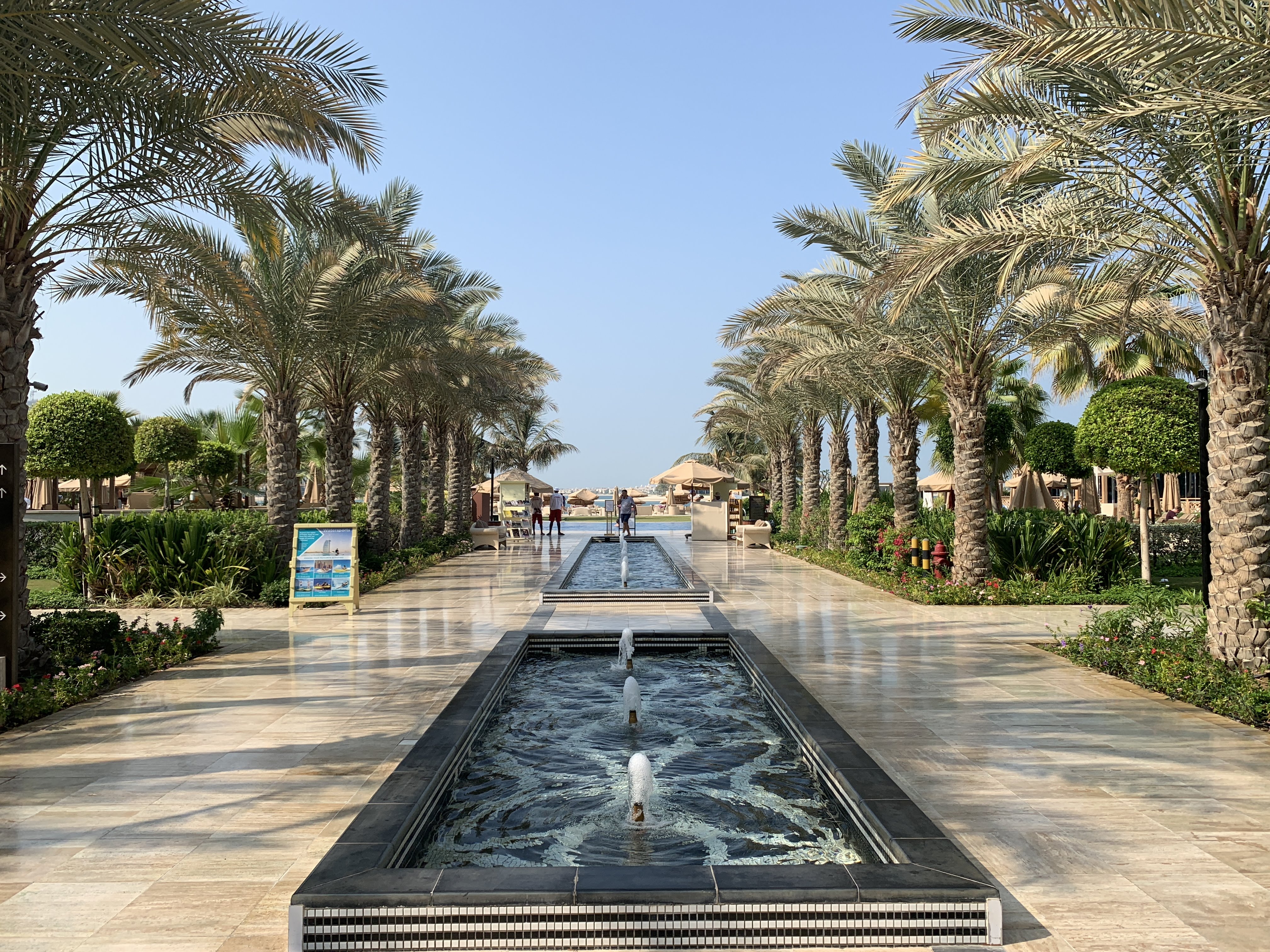 The beach was pretty nice for Dubai, as it was not near much else and it was generally spotless. There was excellent service there, and by the pools, with bottles of water provided.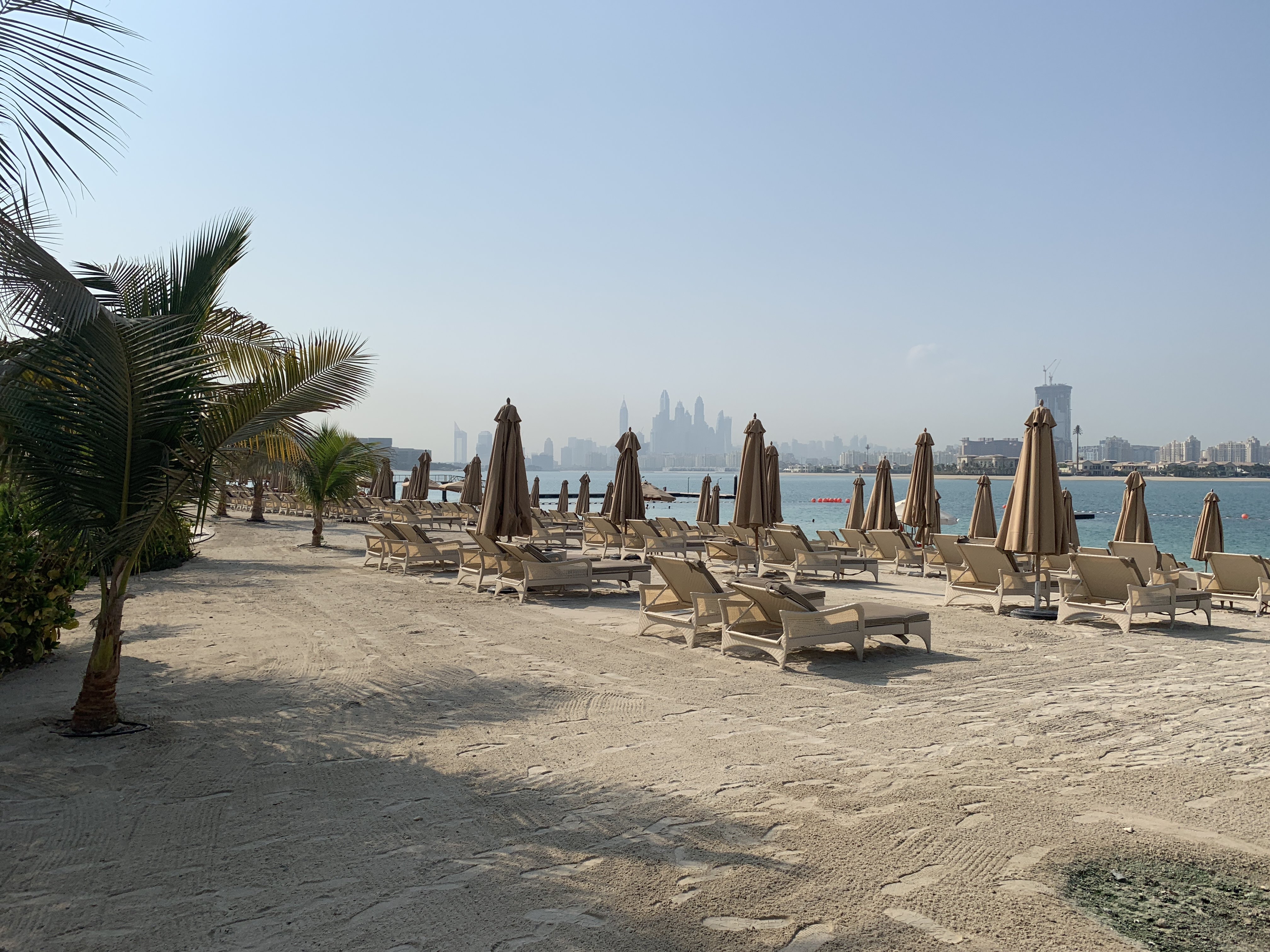 I much preferred the infinity-edged adult's pool, though it was a little tricky to find a lounger by the pool at times.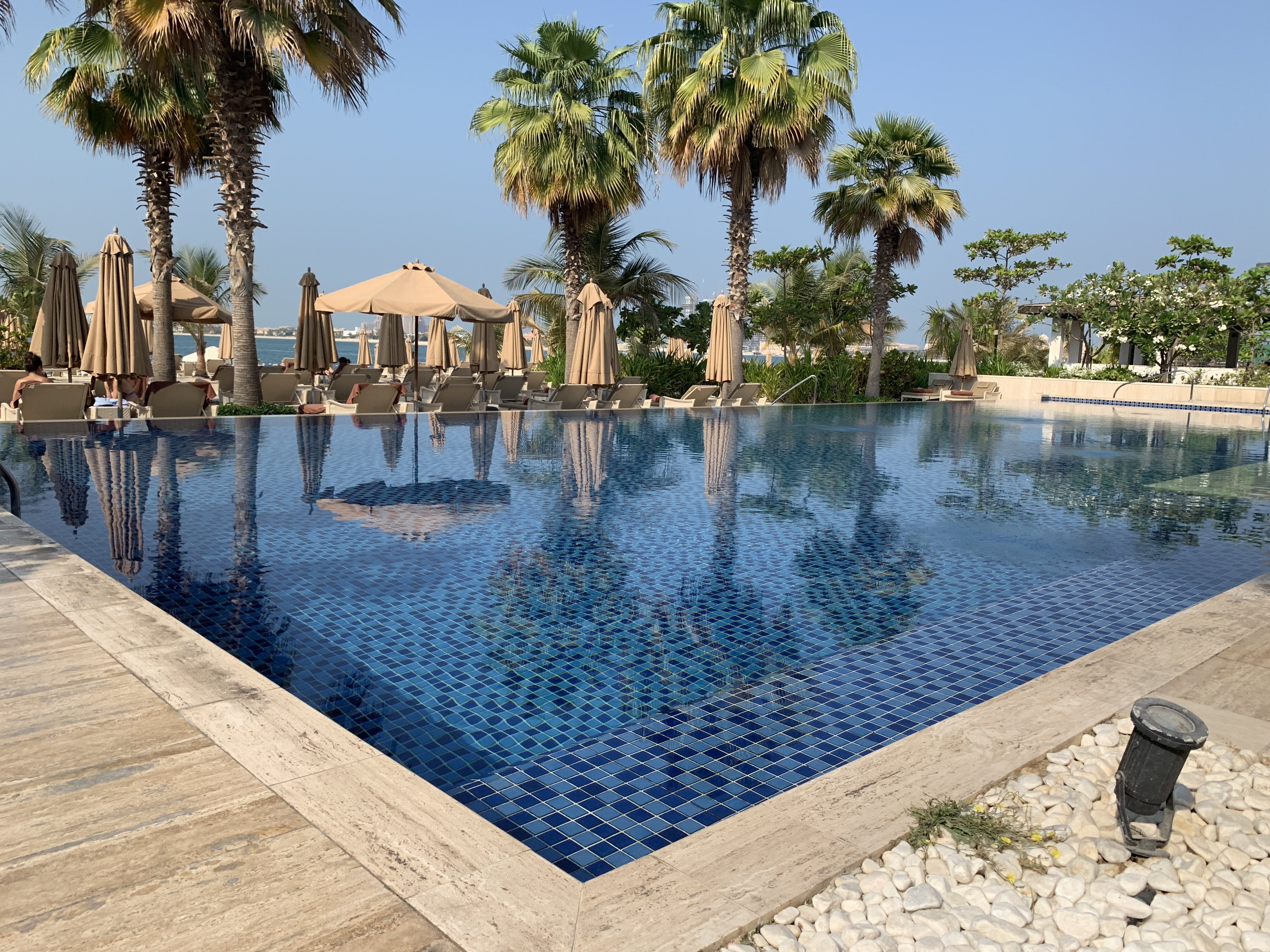 There is also a sizeable general use pool which is much busier. Both are right by the beach. The pools were a lovely temperature for just lazing around, although I didn't find the shallow water that great for swimming in the adult pool.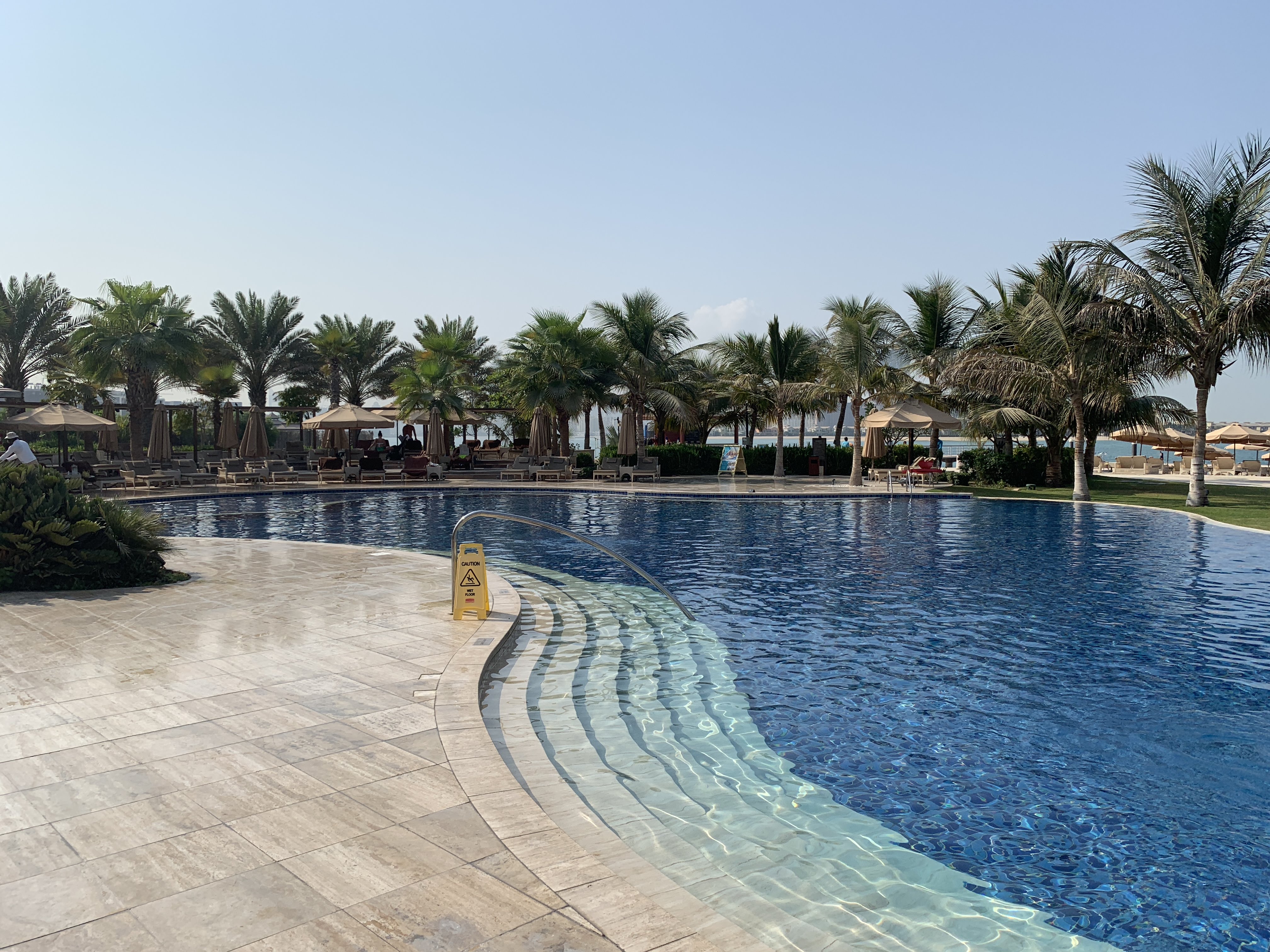 If you want to dine poolside in the evening, there are some romantic tables over the water.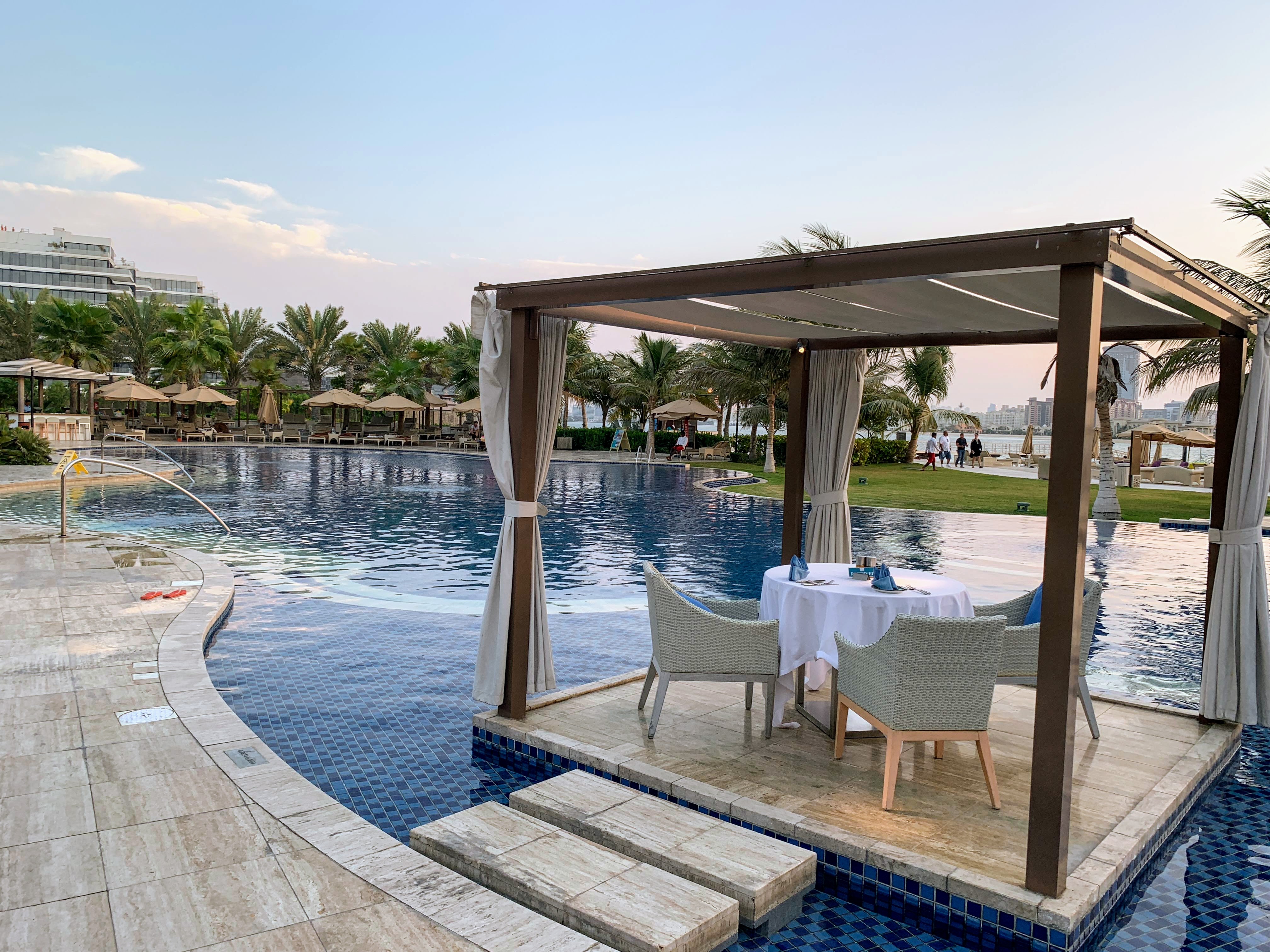 As well as the pools, they offer a helipad (handy for the Uber chopper option in Dubai!), gym, spa and tennis courts. Transfers can even be arranged by yacht! There are also plenty of other activities, such as fishing and parasailing, that the hotel can help you arrange.
There is a shaded baby pool and the supervised Coco's Kids Club, offering a variety of activities including a hotel scavenger hunt.
Pricing
I chose to pay using Hilton points and cash since it was last minute and very expensive. I did, of course, book through the BA E-store to get some Avios on my booking as well, which you can still do if it's not a full points redemption. Prices start from a very reasonable £110 in summer to around £140 in winter. Rooms can cost from 75,000 points, which again is fair but I would pay cash at the rates I have quoted.
There is a special offer for an extra night free and plenty of other free perks through our partners GTC who are one of the largest collections of luxury travel agents in the world.
You will get:
• Upgrade on arrival, subject to availability
• Complimentary breakfast for two daily for the duration of the stay
• $100 / €85 equivalent food & beverage credit
• Early check-in / late check-out, subject to availability
• Double Hilton Honors points
Alternatively, you can find the latest prices and availability here on Hilton's website.
Conclusion
If I were going for a short stay to Dubai, I would probably stick with the Park Hyatt, which I reviewed here. However, if you are going for more than a two nights and don't need to be near the central city, then this would probably be my first choice of hotel in terms of the room, pool and beach. I do still like the Fairmont the Palm too, which is better value if you want lounge access and to be closer to the mainland.
You can find more details on the Waldorf Astoria the Palm here.