Today's reader review is about Finnair new A350 non reclining long haul business class seats by Simeon. I will also be flying the new seats in a couple of weeks so it will be interesting to see if I agree with his assessment. I have heard varying views on the new seats so it seems to have divided passengers. My flight is to Singapore which is likely to be over 13 hours long since we will need to avoid Russian airspace. So I will definitely get a proper chance to try the seat!
A few months ago I read on TLFL about a tier point run to Helsinki, Finland. Helsinki is one of those niche destinations that offer 80 tier points per flight instead of the usual 40 when flying Club Europe. These flights are usually advertised as 3 hour plus flights however actual flying time is closer to 2.5 hours.
Earlier this year I utilised the BA Holiday double tier points offer and flew to Dubai for a week in WTP which gave me 360 tier points. I have a trip to Phuket with Qatar which will award me 560 tier points as well as a couple of economy short haul trips for work, I found myself being within 145 tier points of reaching BA Gold status due to the reduction in tier points needed from 1500 to 1125 until 31st December 2022.
I've always been happy with BA Silver Status. Silver gives me what I value as most important. Free access to Oneworld Lounges, free seat selection, fast track security and priority boarding. I've never felt the need to aim for Gold. However, being so close…. It just had to be done.
Booking and seat selection
I booked my flight on 13th March. I searched Skyscanner, Google Flights and Momondo with Skyscanner coming in at the cheapest price of £236 return in business class for the Easter weekend, departing Saturday 16th April and returning the following day. Interestingly a comparison on BA's website for the exact same flights returned a fare of £1100. The fares were advertised as British Airways operated by Finnair flights. Skyscanner listed the flights with BA flight numbers and did not include the aircraft type.
Before booking I checked Finnair's website to see which flights are operated by their long haul aircraft and made a note of the departure times from Heathrow and Helsinki for the return. Then flicked back to Skyscanner and searched for the flights on the Finnair A350-900. I chose the 10:20am departure from Heathrow and the 16:00 departure from Helsinki for the return.
Once my flight was booked I instantly went into my BA app to book seats. I could see that seats had already been assigned to me. 3L on the outbound and 1A on the inbound. But I could not see a seat map or change seats due to an error in transferring my information from BA to Finnair. I used my locator details in Finnair's website, however again I could only see my seat assignment but not change it.
I did read a trick on another forum to try entering your locator into Royal Air Maroc's website if you book a flight with one Oneworld airline operated by another to view/change your seats. So I tried this and I couldn't believe it worked. What I did see when looking at the seats, the seat map for my outbound was different to my seat map on my inbound. This indicated to me that I would be flying in Finnair's new business class product on one of the legs. I decided to leave my seats as they were and began the countdown for my trip.
Check-in
The day arrived and I arrived at Terminal 3 at 7 am expecting to see a long queue as far as the eye could see. Luckily I had no luggage to check-in as I was only travelling for one night so hand luggage only. I had already checked in using the BA app the day before and had my boarding card in my Apple Wallet on my iPhone.
I headed to the FastTrack security lane and was through security within 15 minutes.
Lounge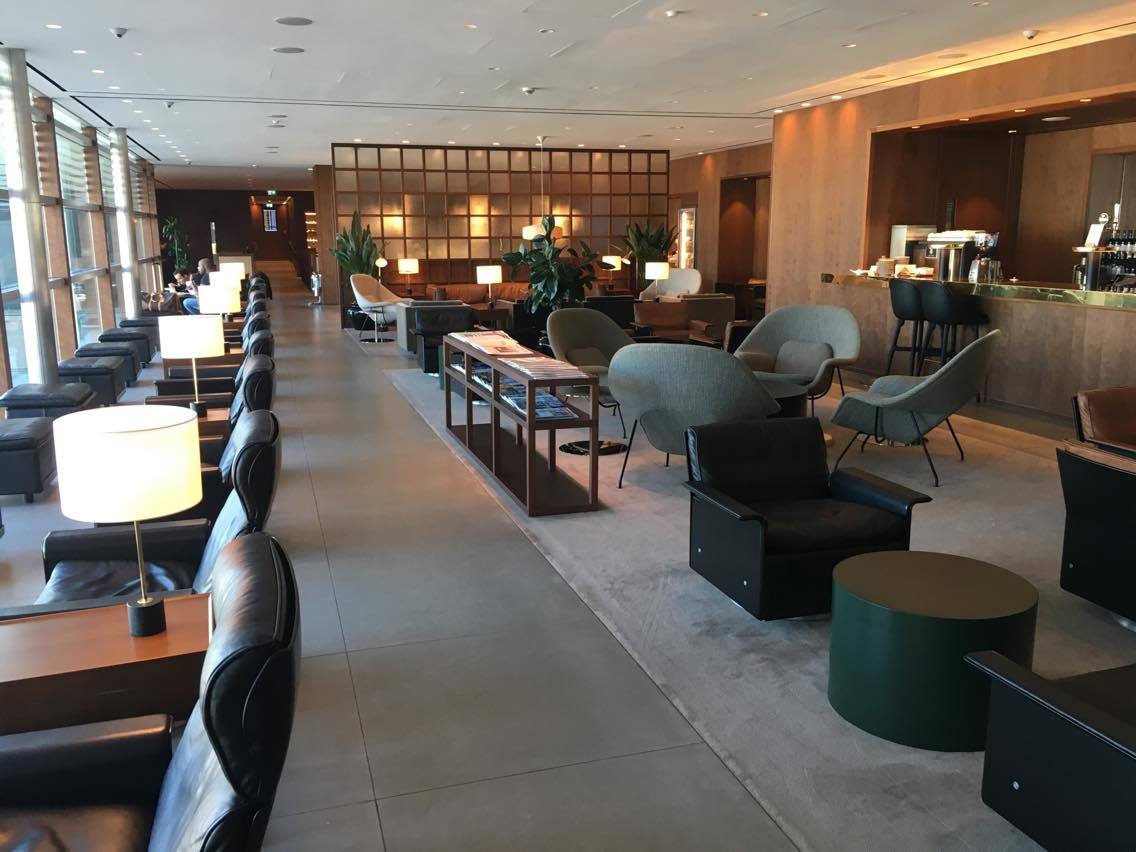 Finnair don't have their own lounge at Heathrow. They use the Cathay Pacific lounge, although you could also have used the BA or Qantas lounges as you can use any oneworld lounge when flying in business class (although some lounges specifically prohibit this). However, the Cathay lounge comes very well recommended and it did not disappoint. I settled in for an English breakfast with some champagne.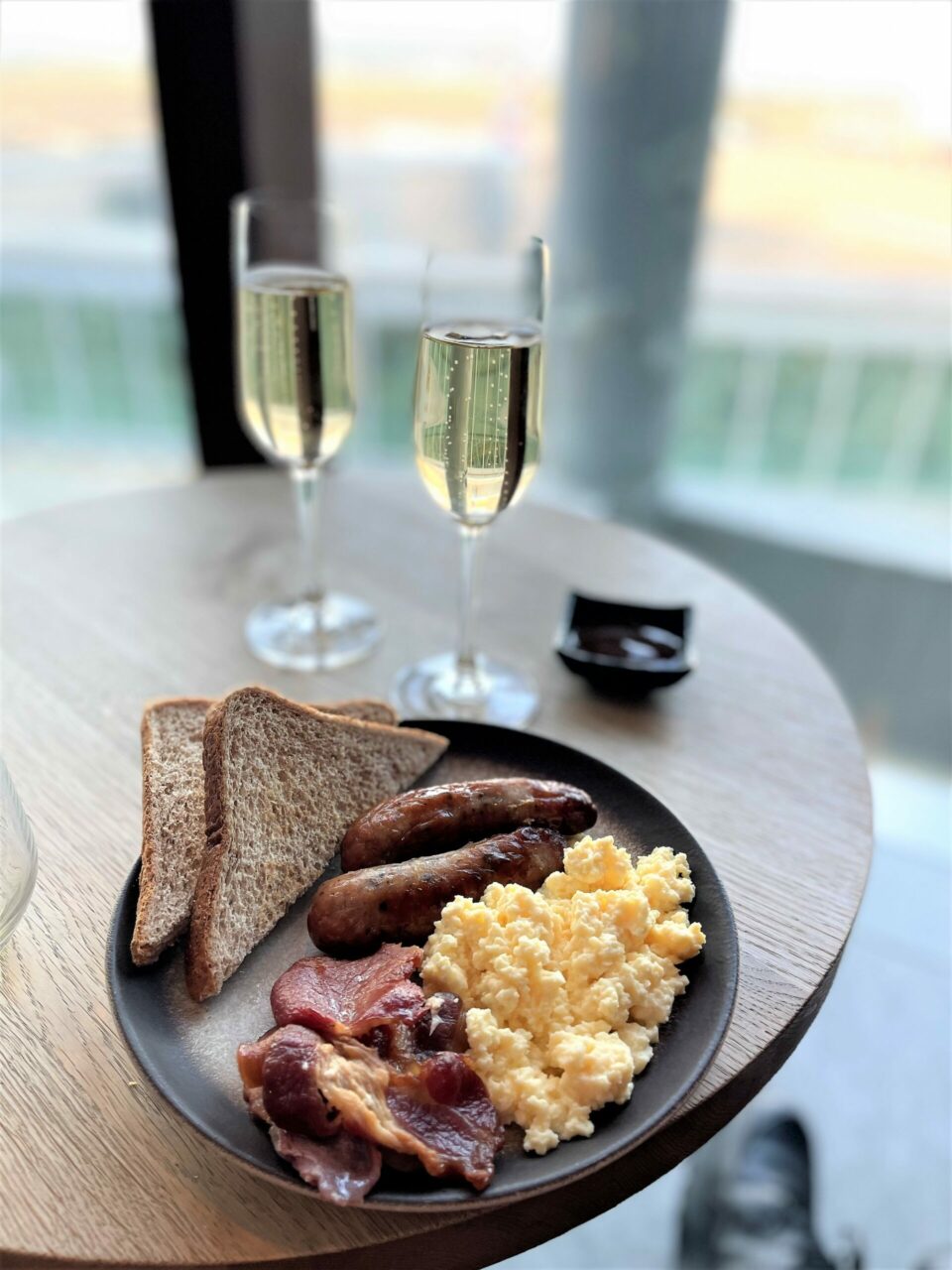 Boarding
At 09:40 the screens in the lounge showed the flight was commencing boarding. Luckily the gate was only a 3 minute walk from the lounge and when I arrived they were just calling Group 1 forward to board.
I walked down the jetty and into the aircraft and was so pleased to see a brand new cabin with their new business class product. The aircraft I flew on was OH-LWE and was just over 6 years old. I put my hand luggage away and settled into the seat.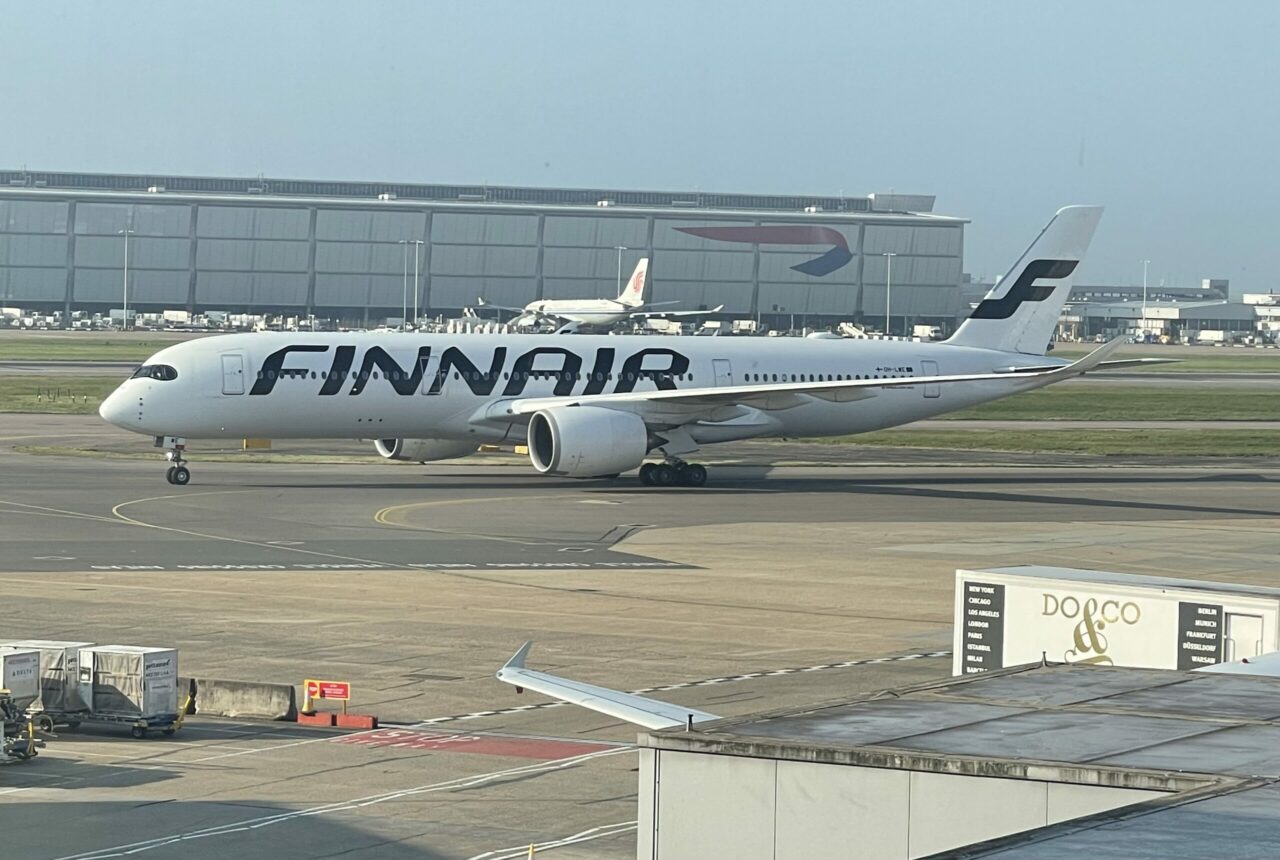 Finnair new A350 non reclining long haul business class Seats
At my seat was a bottle of water and a sanitary pack to wipe down surfaces. Finnair was still mandated wearing a mask (although BA had removed mask wearing for most flights). However, since flying Finnair have changed this requirement.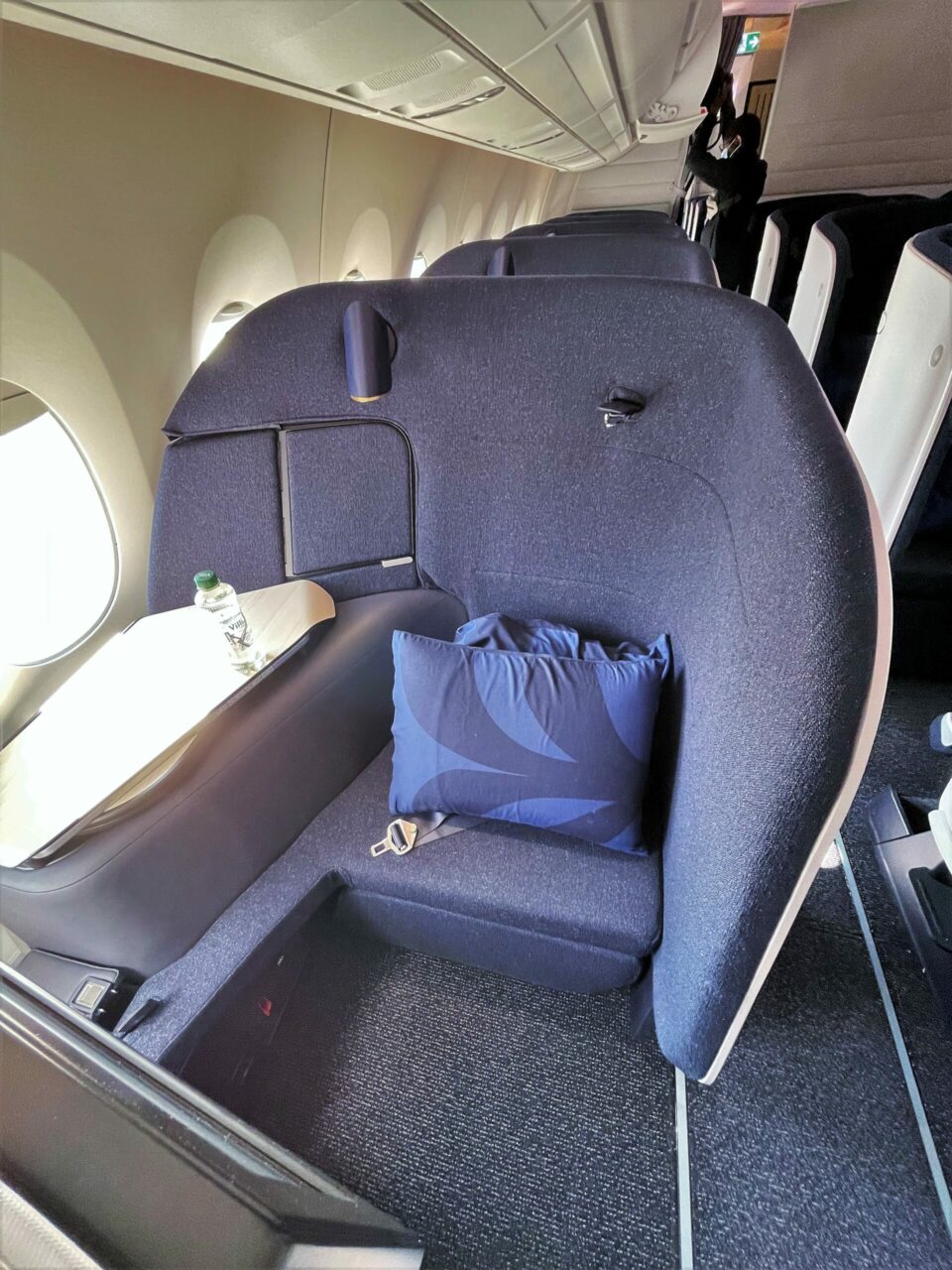 The first thing that struck me was the size of the seat. It was very wide. Whilst it doesn't have a sliding door, it cocoons you and provides you with a sense of privacy. You can't see anyone else whilst seated. The seats are a dark blue with a sturdy back and sides and a comfortable seat. The seat is a new concept seat which does not recline. To place the seat into bed mode, a flap under the seat rotates up and becomes flush with the seat which fills in the gap between the seat and the footwell to create the flatbed.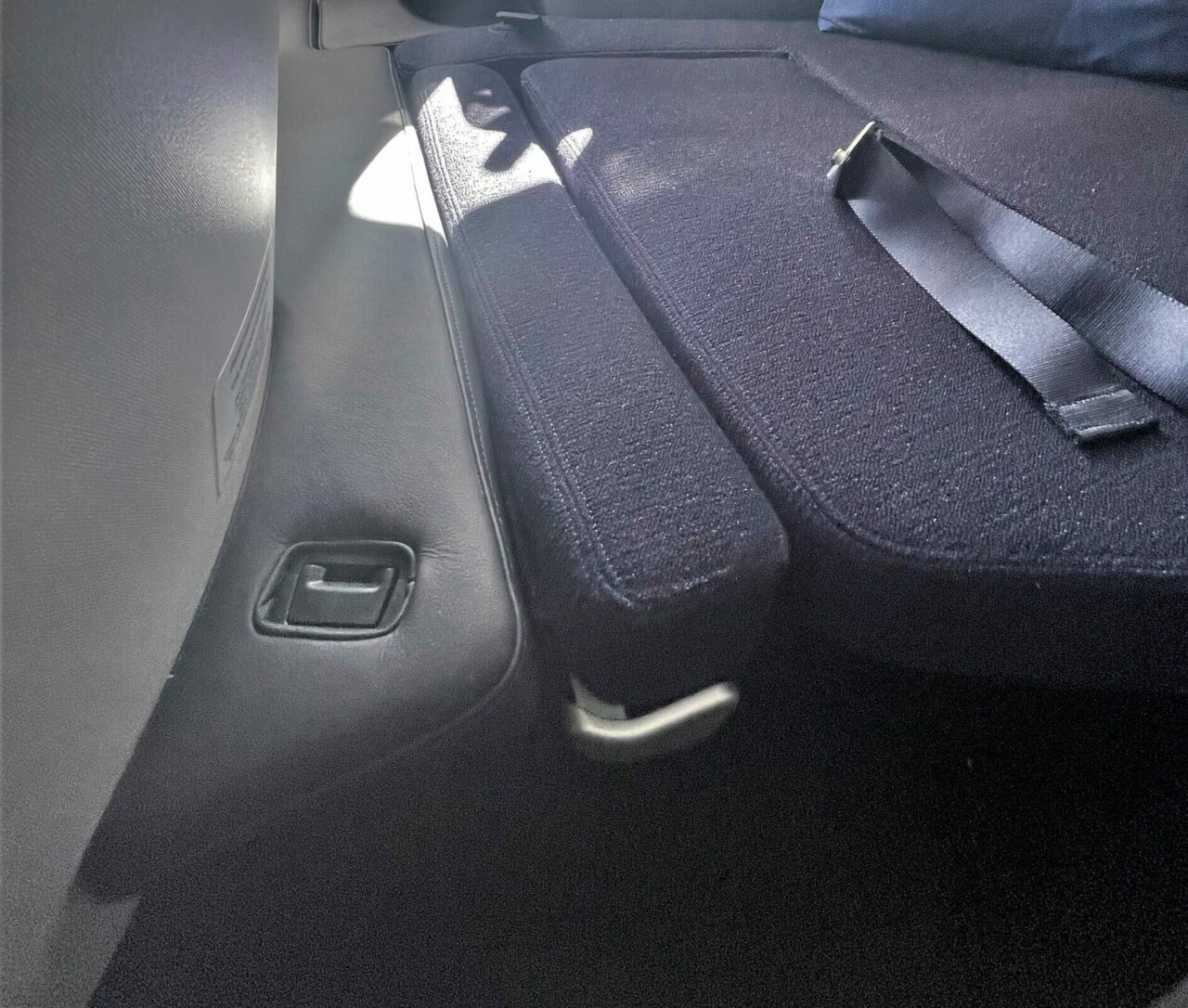 Then like your bed at home, you simply adjust your body to find your perfect sleeping position. Just like your bed at home, you could also sit up with your back against the seat back and relax to watch a movie. One important thing to note, if you are a side sleeper choose a seat which points in the opposite direction of the side you sleep on i.e. If you sleep on your right side, choose an A or H seat and if you're a left side sleeper choose D or L seats. The seats have a leather support which in the lie-flat position will support your back but could be claustrophobic if you're facing it. You can take a 3D view of the aircraft on Finnair's website here:- https://www.finnair.com/gb-en/flight-information/finnair-fleet
I was really impressed with the IFE. The screen was very large and whilst there was a remote, the touchscreen worked perfectly with ease. There were many movies plus music to listen to.
But by far the most thrilling tv is the outside camera. Their A350's have two. One on the underbelly of the aircraft and one on the tail. Watching take-off and landing on the huge screen was entertaining.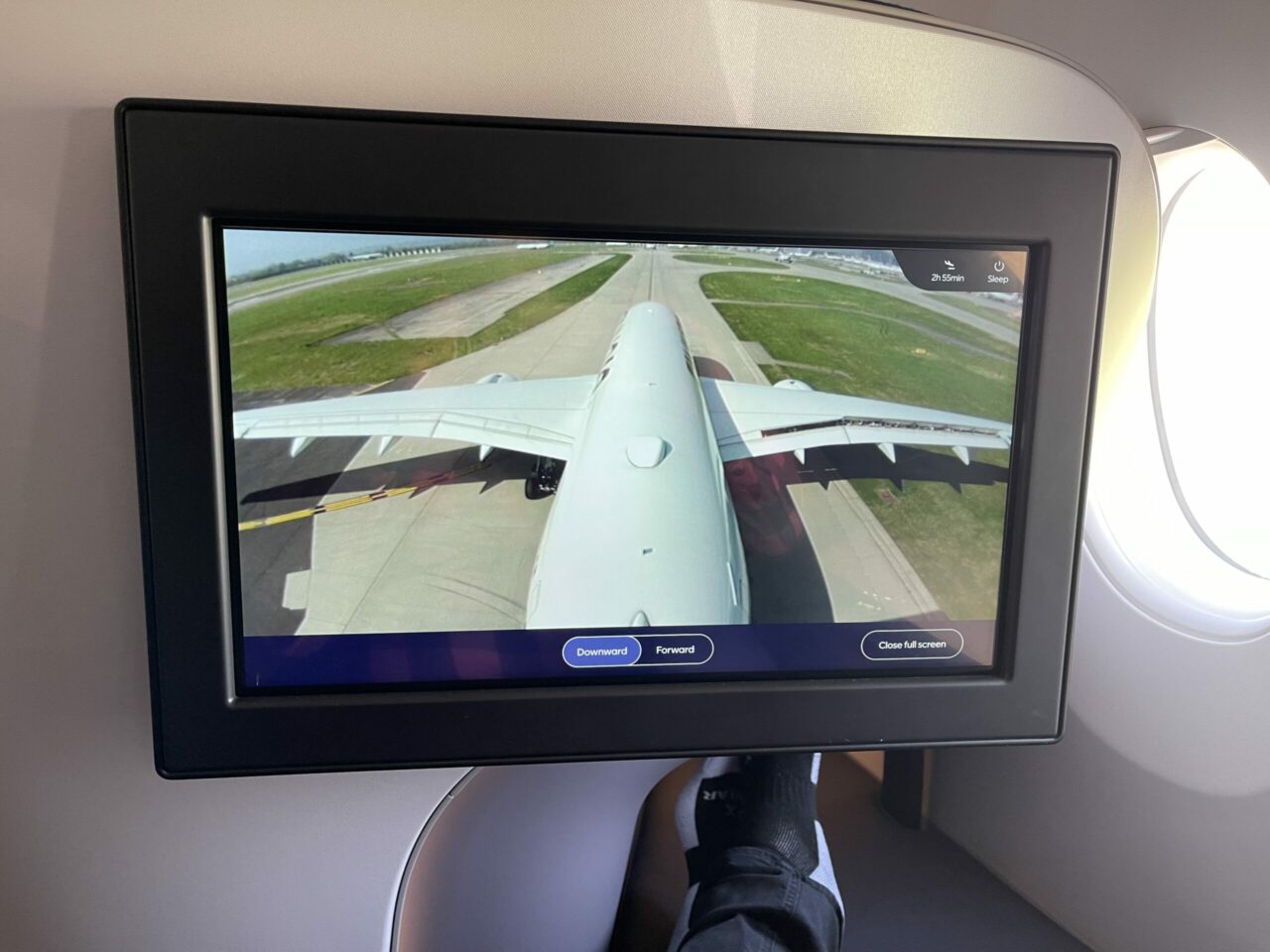 To the side of you is a reasonably sized flat surface in which you can place most things up to the size of a laptop. Interestingly it also comes with a magsafe charger which means you can place your phone on top of it and it gives a pretty rapid charge.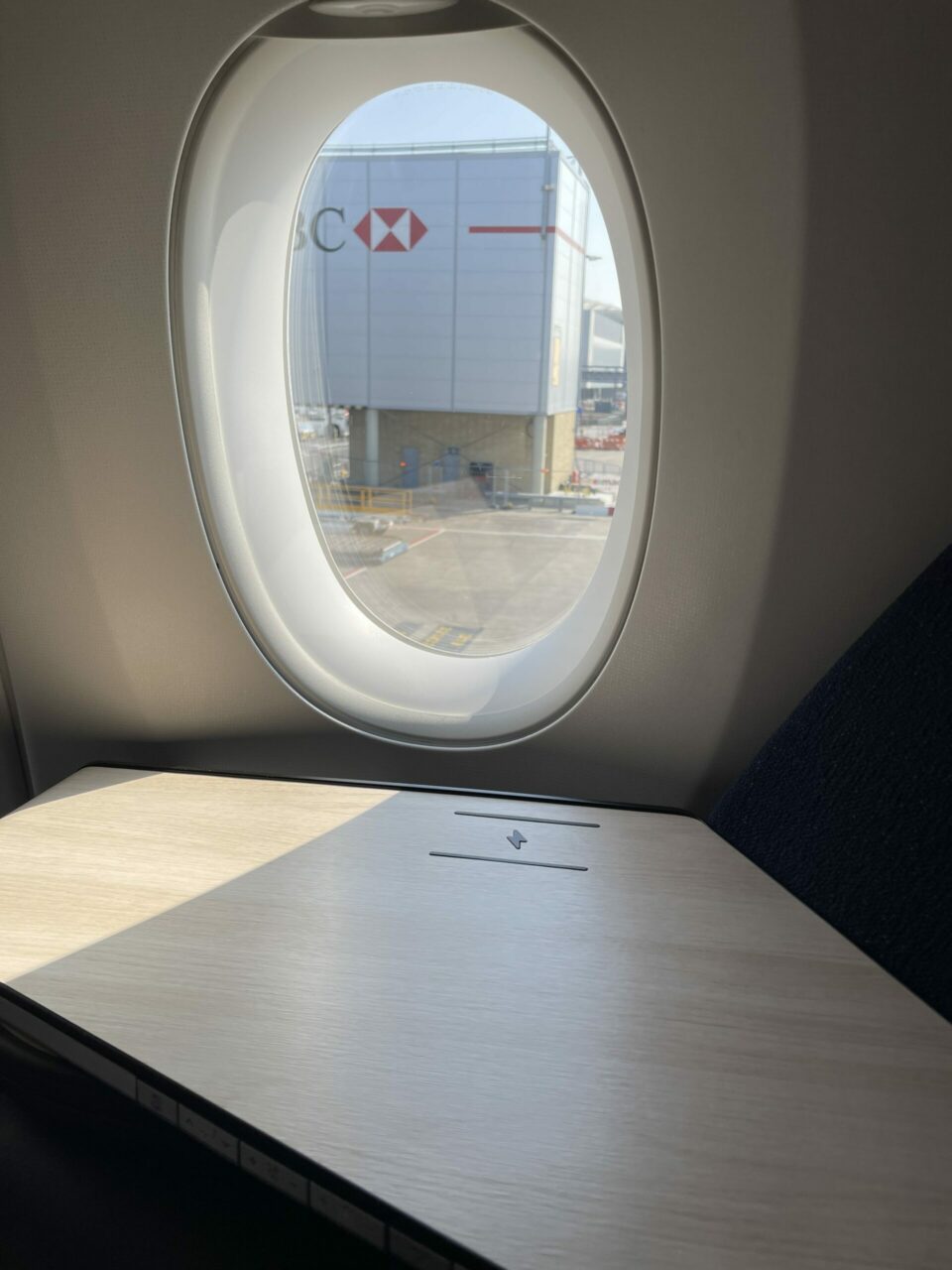 Under the flat surface are 5 buttons. From left to right:-
Button 1 – Do not disturb light. This turns the light red on the outside of your seat to alert the crew to not disturb you. Pressing this again will remove the light
Button 2 – operates the seat between seat position and lie flat position.
Button 3 – operates the light brightness for the lamp built into the seat
Button 4 – operates the light brightness for the overhead light
Button 5 – releases the front table/dining table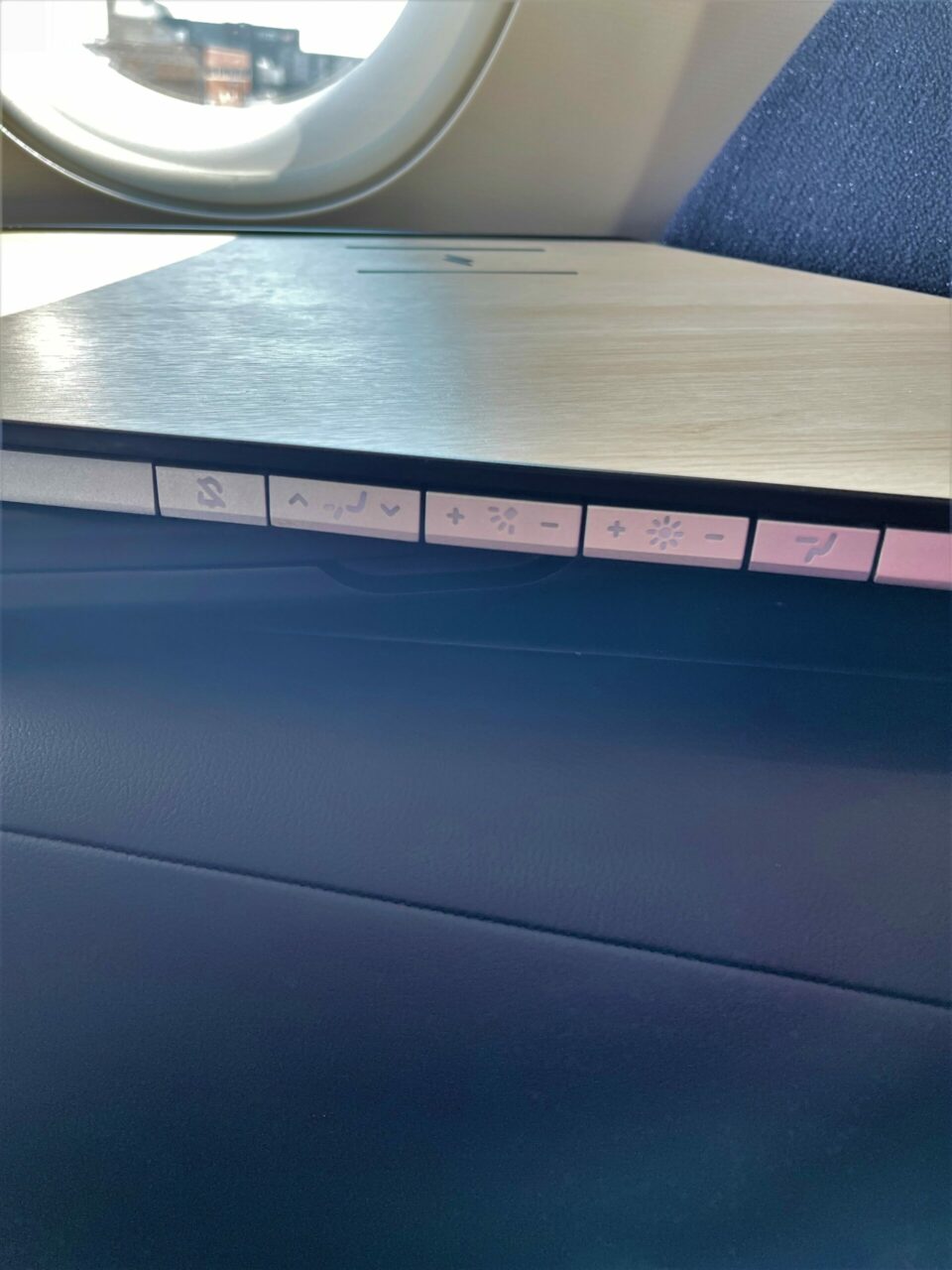 The dining table is quite large. When you press button 5 the table flicks out to provide a handy table to put your iPad and drinks on. The table folds out even further to double its size which makes a perfectly sized dining table.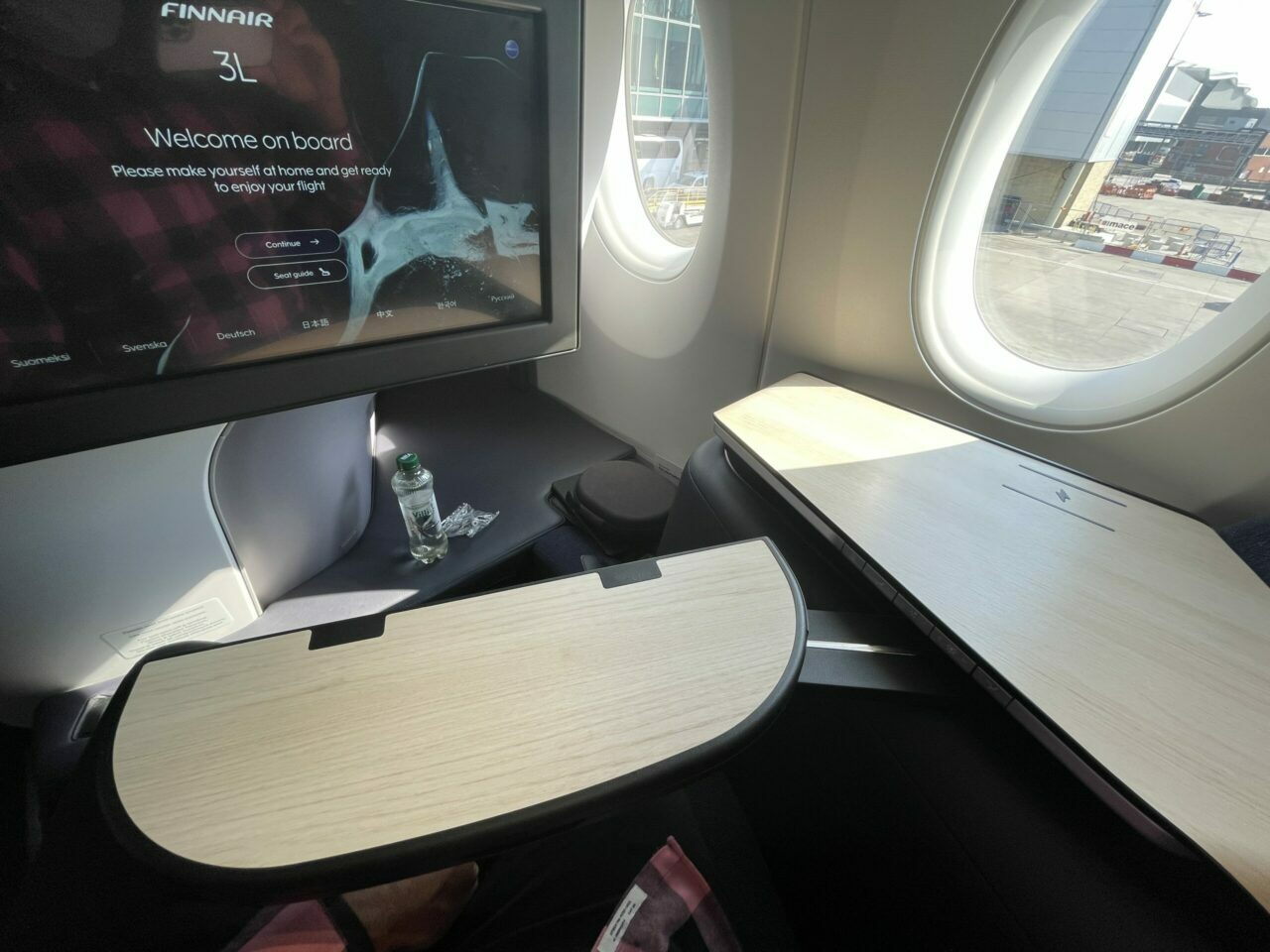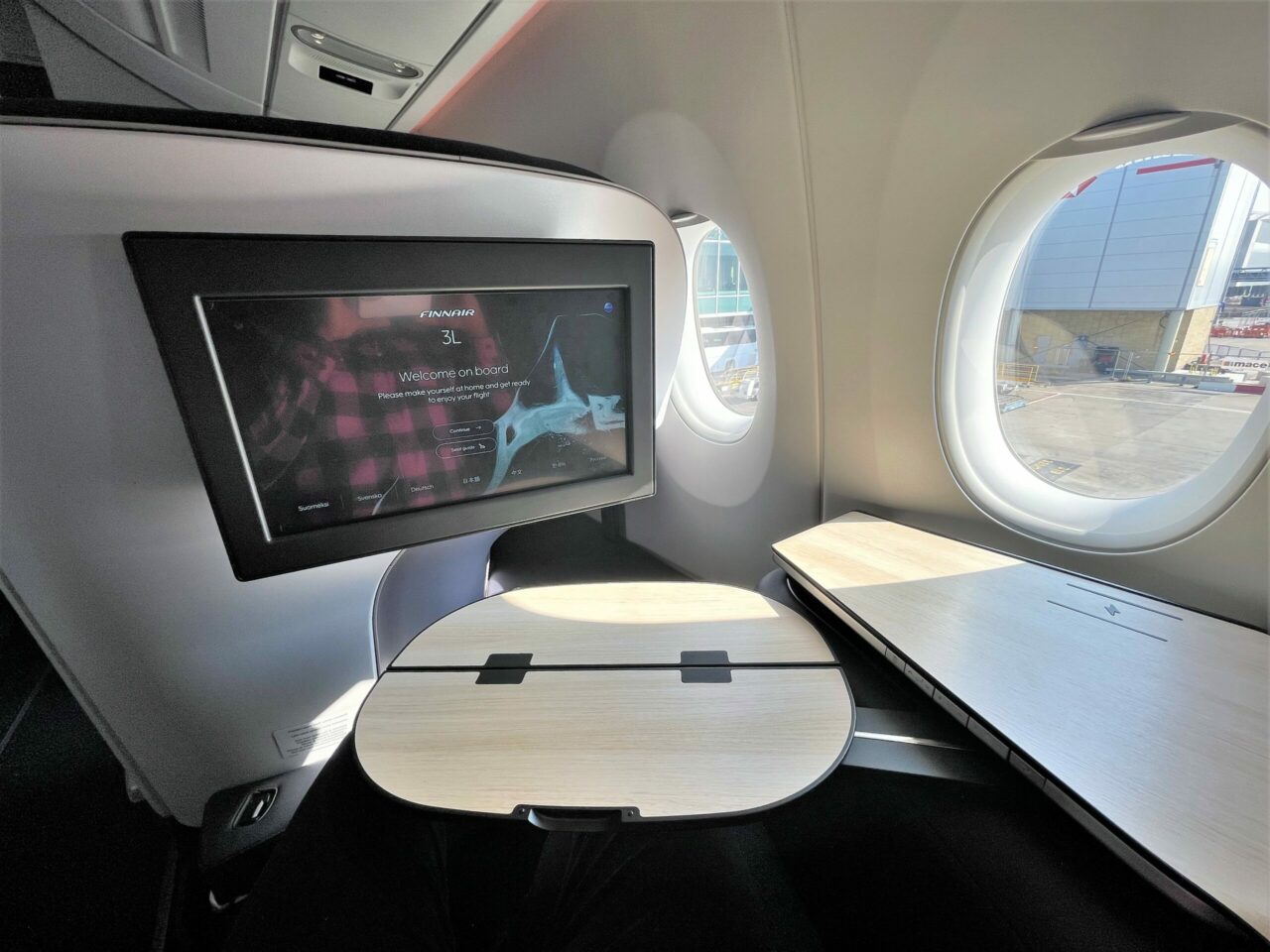 Also to the side of your seat is a deep large stowage area. It's not as large as the bins in the upper deck A380 or 747 but large enough that my full size iPad simply disappeared into it. It could easily hold a laptop/headphones/phones and a bottle of water.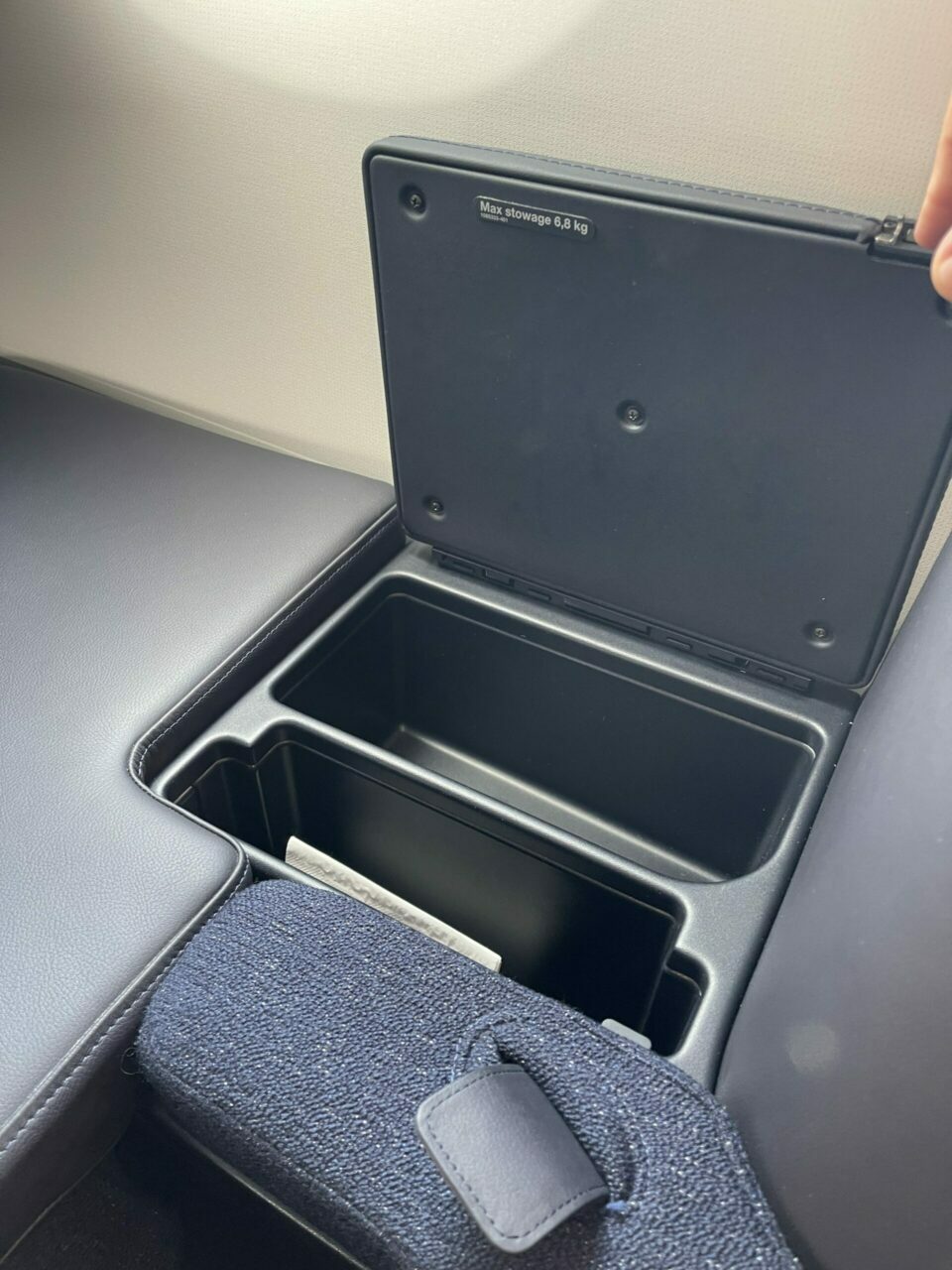 Built into the seat is another storage area hidden behind a flap in the seat. This houses the remote control however I can't see anyone leaning forward and twisting in their seat to pull out the remote when the touch screen on the IFE is so good. Inside the flap is also a USB and lightning charger as well as the port for you to plug your headphones into.
Finnair new A350 non reclining long haul business class flight
The flight push backed at 10:25am and we took off from runway 09R and take off was 10:38. At 10:50 the stewardess came round with a very hot towel. Meal service commenced at 11:10. The meal consisted of a herring salad starter, chicken breast & mash for main and a cookie for dessert. I don't like fish or the smell of it so asked the stewardess to remove it. There was no "choice" of meal and I wasn't bowled over with the thought of chicken and mash, but it was very nice.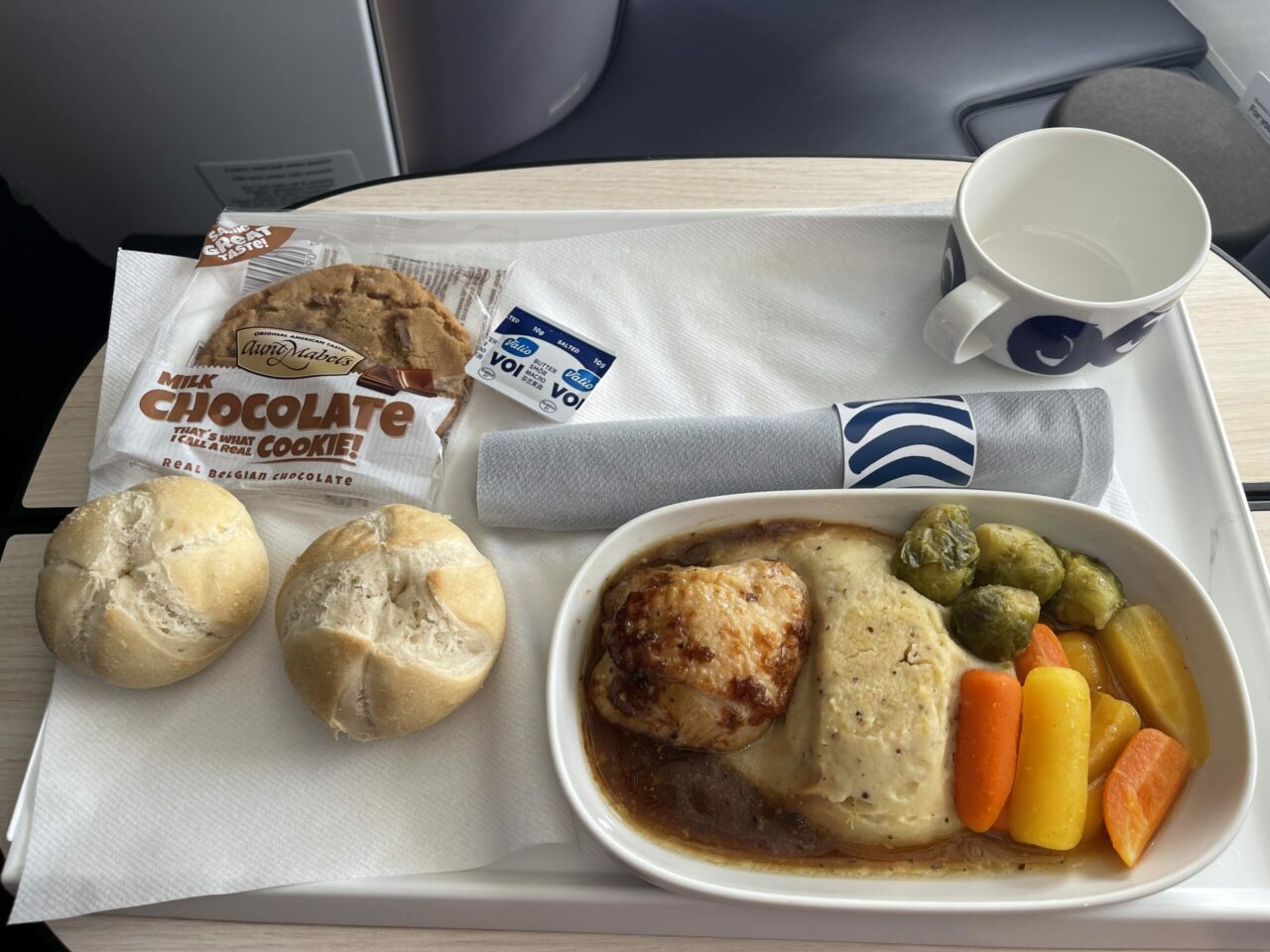 I usually drink Bourbon however I tried their Kyro malt whiskey and I really enjoyed it. After dinner service, the stewardess offered me a bottle of Joseph Perrier champagne which isn't top-end champagne, but the drinks selection on a whole was much better than most intra-European offerings.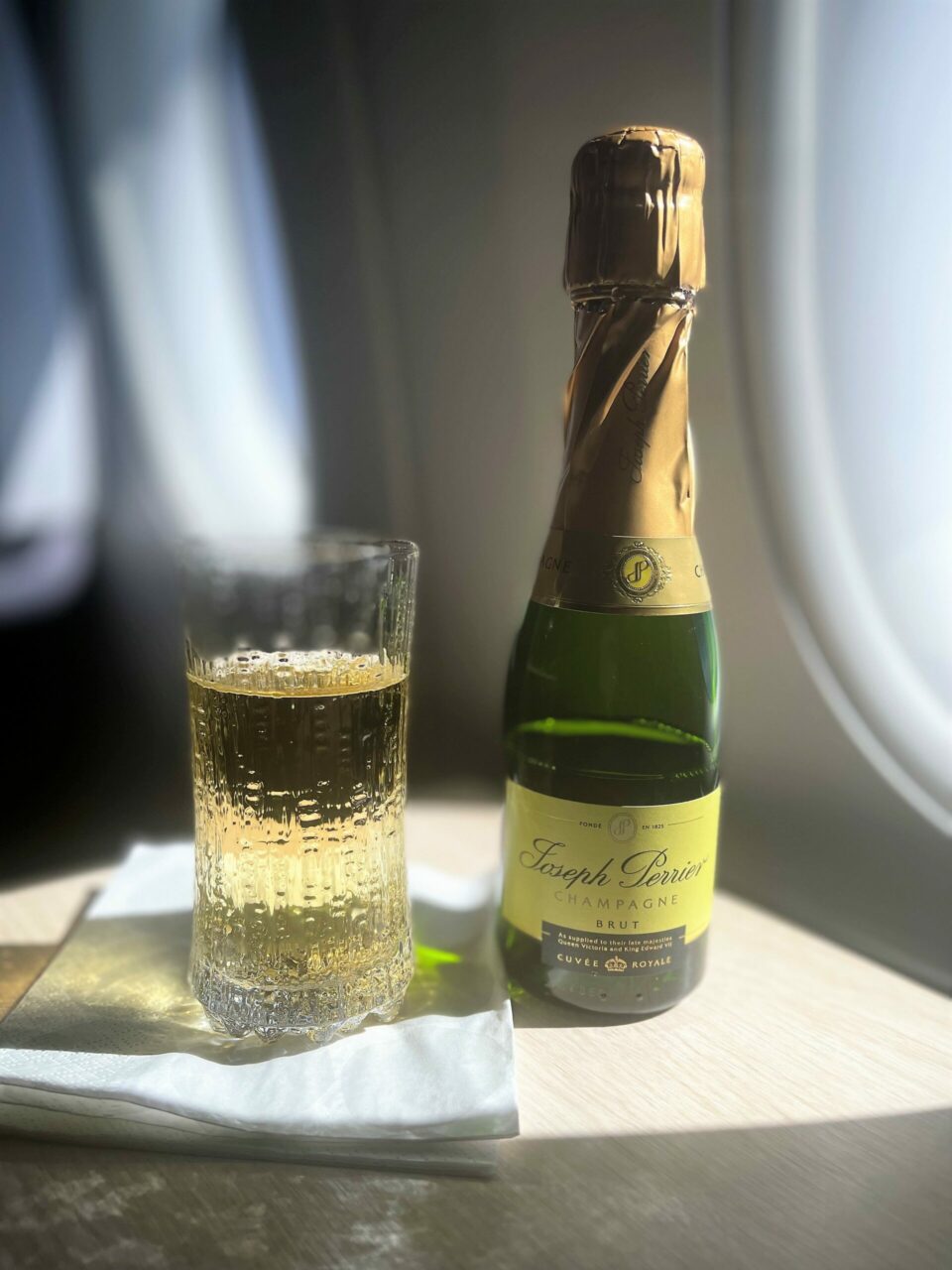 After dinner I decided to take a walk around the cabin. Behind the business class section is a wall with the Finnair logo and a mirror. I asked the cabin crew what it was to be used for, however, this was their first time on the aircraft and they didn't know. As many other airlines have a similar set-up, I assumed this would be used as an area for the airline to put out snacks on longhaul flights for passengers to help themselves.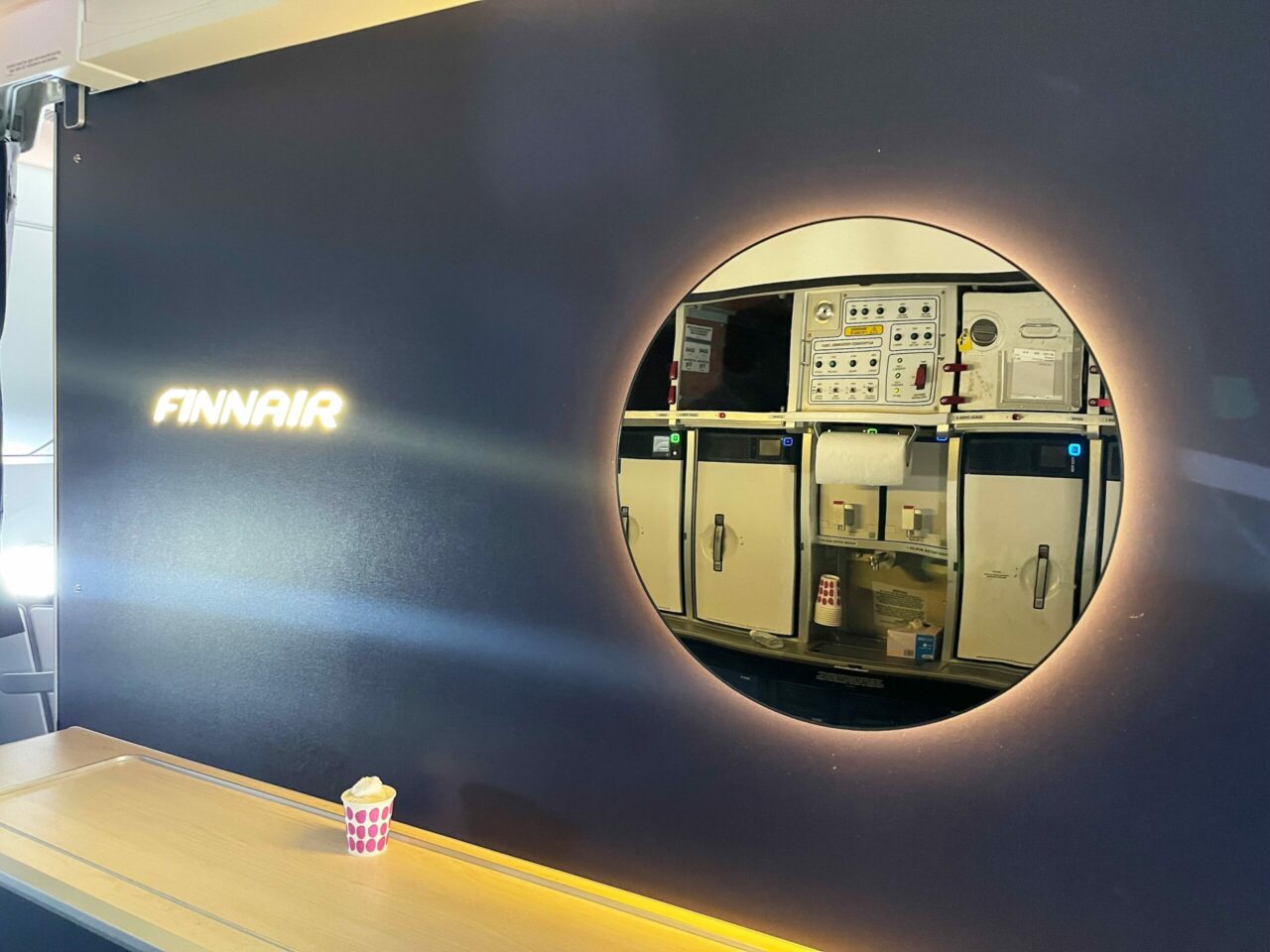 The Finnair crew were exceptional and very professional and friendly. I asked them questions about the aircraft cabin and they overwhelmingly said the passengers preferred this cabin to the older one.
Soon it was time to sit down for descent. Again I switched the camera on the IFE to watch as we descended over Finland and watched the snow-filled fields come up closer to the aircraft as we landed.
We landed slightly early and after a short taxi pulled into Terminal 2 at Helsinki. The cabin crew held back economy passengers until the business cabin had disembarked.
Hilton Helsinki airport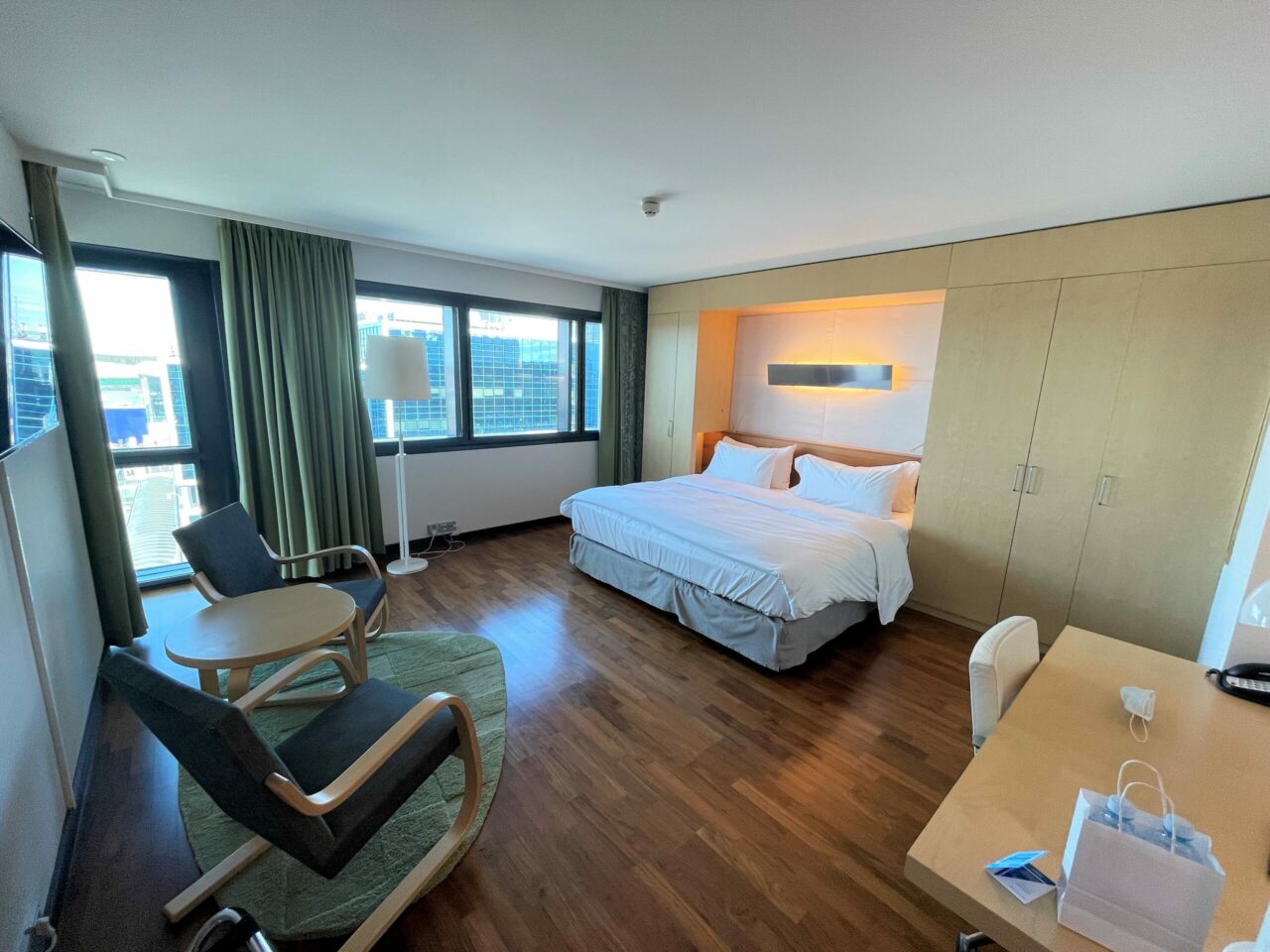 I had booked a night's stay at the Hilton right at the airport. It was walkable from the terminal and I was pleasantly surprised how good it was. I booked an executive king room which gave me access to the lounge at the Hilton. The lounge had a happy hour between the hours of 6pm and 8pm with canapés, beer, wine and a selection of spirits. Upon check-in my Hilton Gold membership was recognised at check-in and the receptionist upgraded my room to an Executive King Plus with breakfast. The room situated in the top floor had a corner view overlooking the airport apron and runway and included a deluxe bathroom with walk-in shower, bath and a sauna.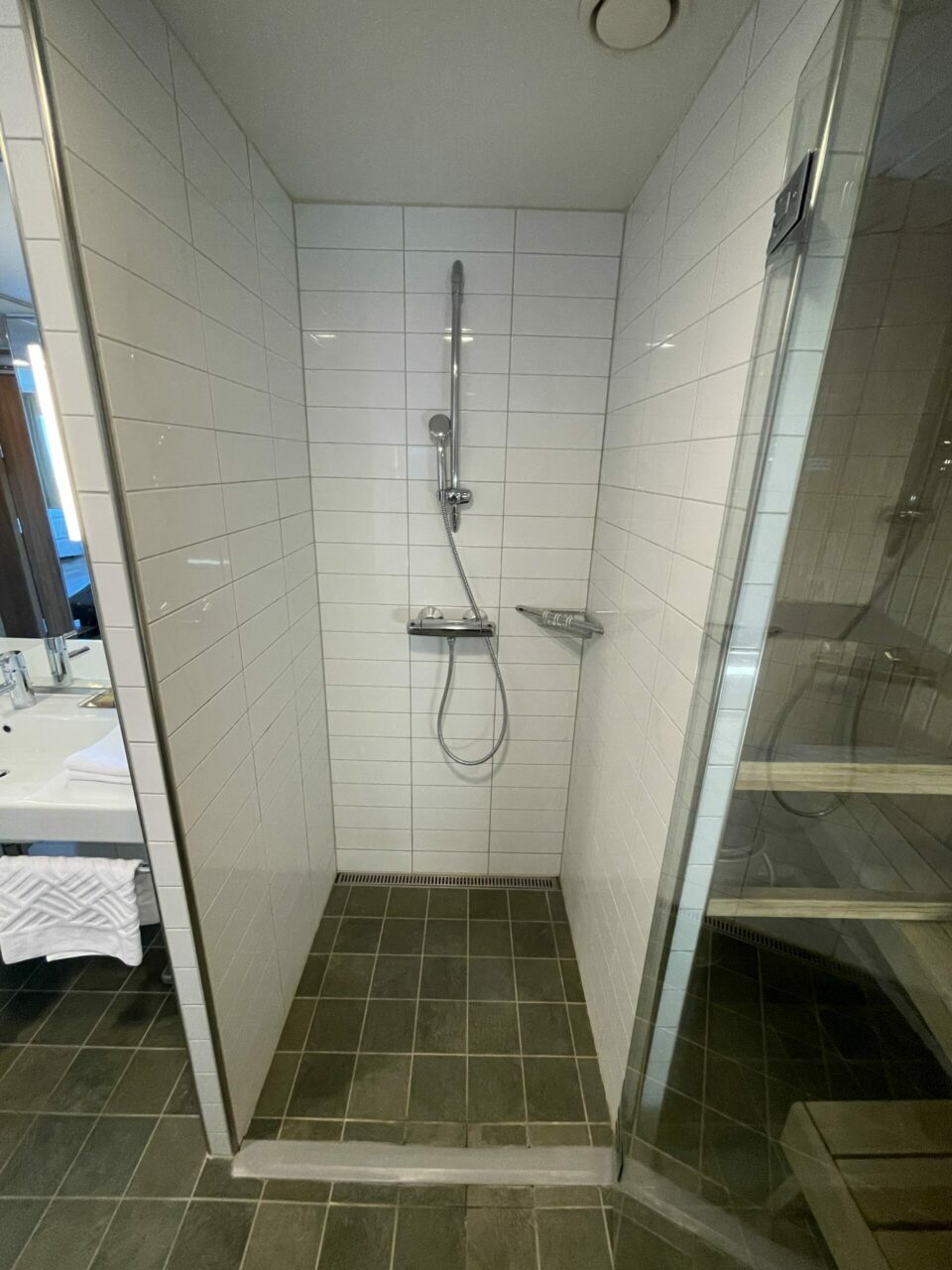 The cost of the room was £160 when booked. I made use of the spend £200 at Hilton and receive a £50 credit back Amex offer and ate in the restaurant to top my checkout spend to £203. This meant that the cost of hotel with breakfast and dinner was £153 on top of the £236 flight spend therefore a total spend of £389 for the one night.
Conclusion for Finnair new A350 non reclining long haul business class
The short flight to Helsinki was not enough. I wanted more time to enjoy the seat. I would gladly spend 15 hours sitting in their new business seat. Their business seat would give some legacy airlines first class seats a run for their money. Whilst the industry craves for floor to ceiling privacy with sliding doors, this is a very clever space-saving but cost-effective seat and I'm sure Finnair won't be the only airline to adopt this seat moving forward.
Like our Finnair new A350 non reclining long haul business class sears review? You can read more flight reviews here.