A review about British Airways A350 Club Suite from London to Las Vegas. In this review, I will not go into many details about the A350 Club Suite seat since I reviewed that fairly recently in-depth in this article.
Ticket
This was a Lloyds upgrade voucher that I had moved twice during the pandemic which allowed me to upgrade from World Traveller Plus to Club for free. The Avios card no longer exists. For comparison, the cheapest BA flight in business I can find in the next six months on the same route is £2869.
Check-in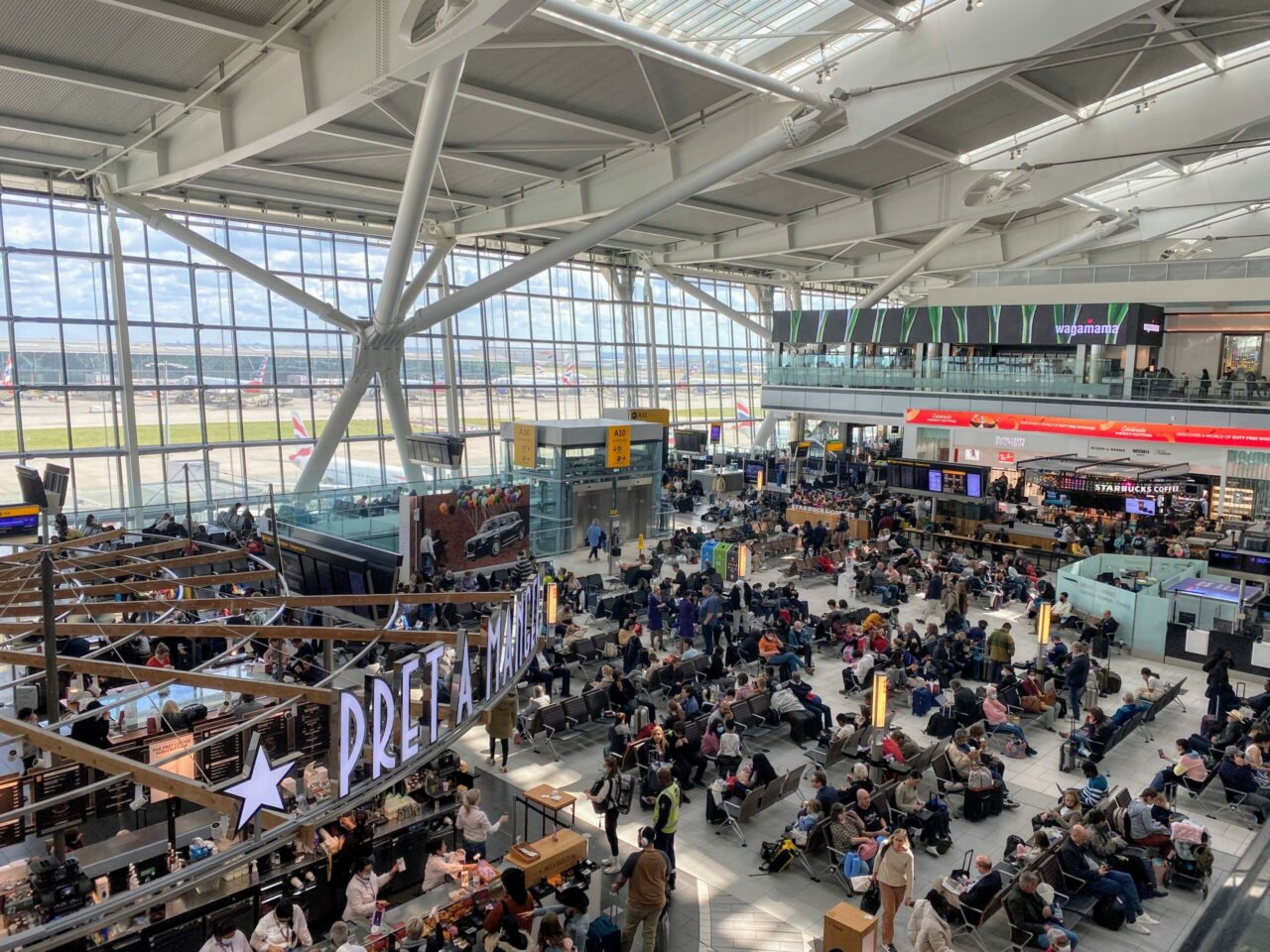 The flight was just before Easter and I was expecting the worst given the ongoing issues with lack of staff in the terminal. I was very pleasantly surprised and although the terminal was busier than I had seen it since the start of the pandemic, there were no long queues anywhere that I saw. Here is the Club queue: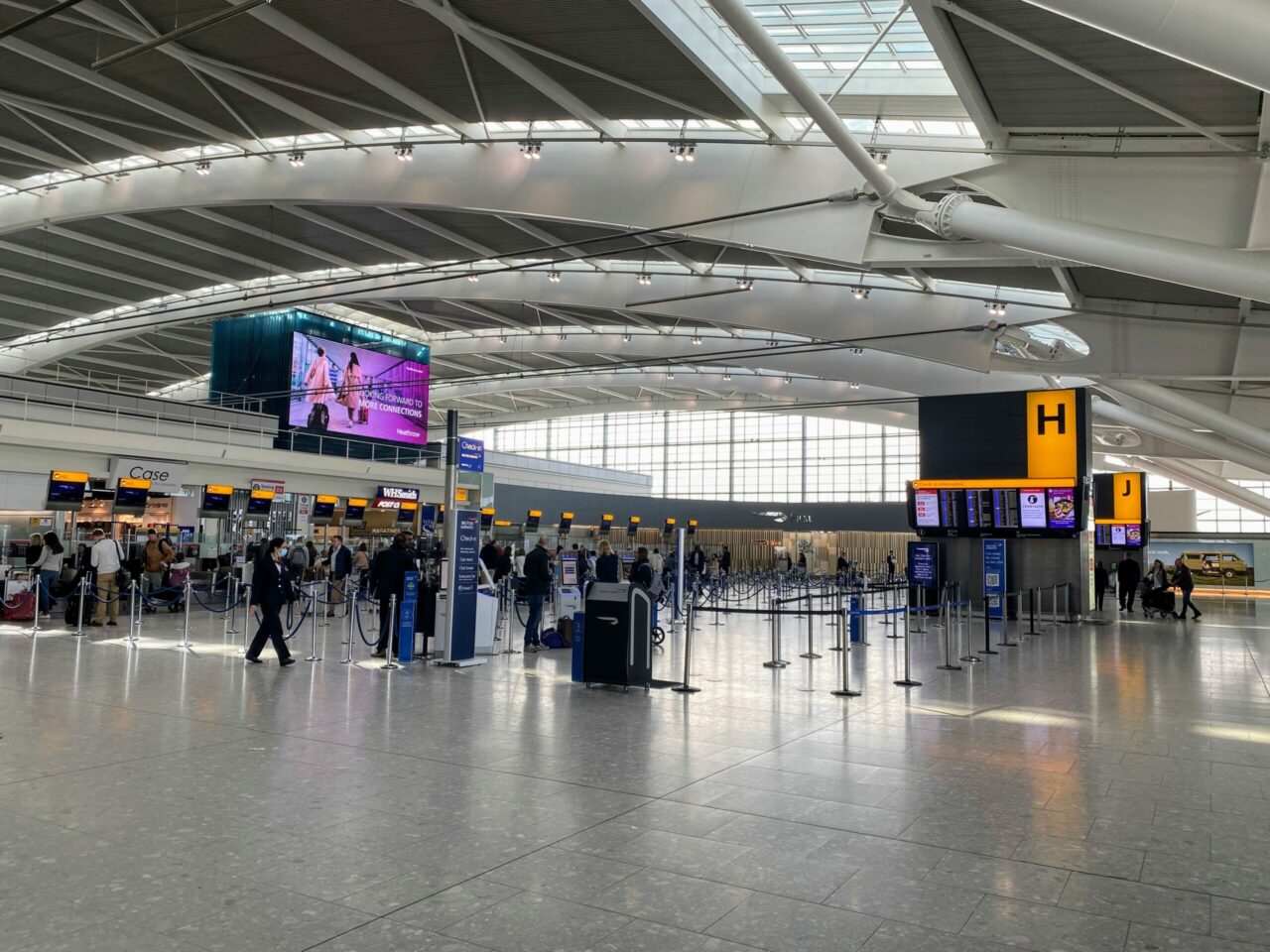 I went through the First Wing which was also quiet and had a lovely chatty check-in agent. There was no real queue for security and I was soon on my way to the lounge.
Lounge
There have been requests for more reviews of the other lounges rather than just the Concorde Room. So on this trip, I actually visited the Club, First and Concorde lounges. I will review the First lounge separately.
The Club Lounge was absolutely heaving despite the air of calm outside. If you were looking for a comfortable seat you'd struggle to find one although there was room at some of the long tables.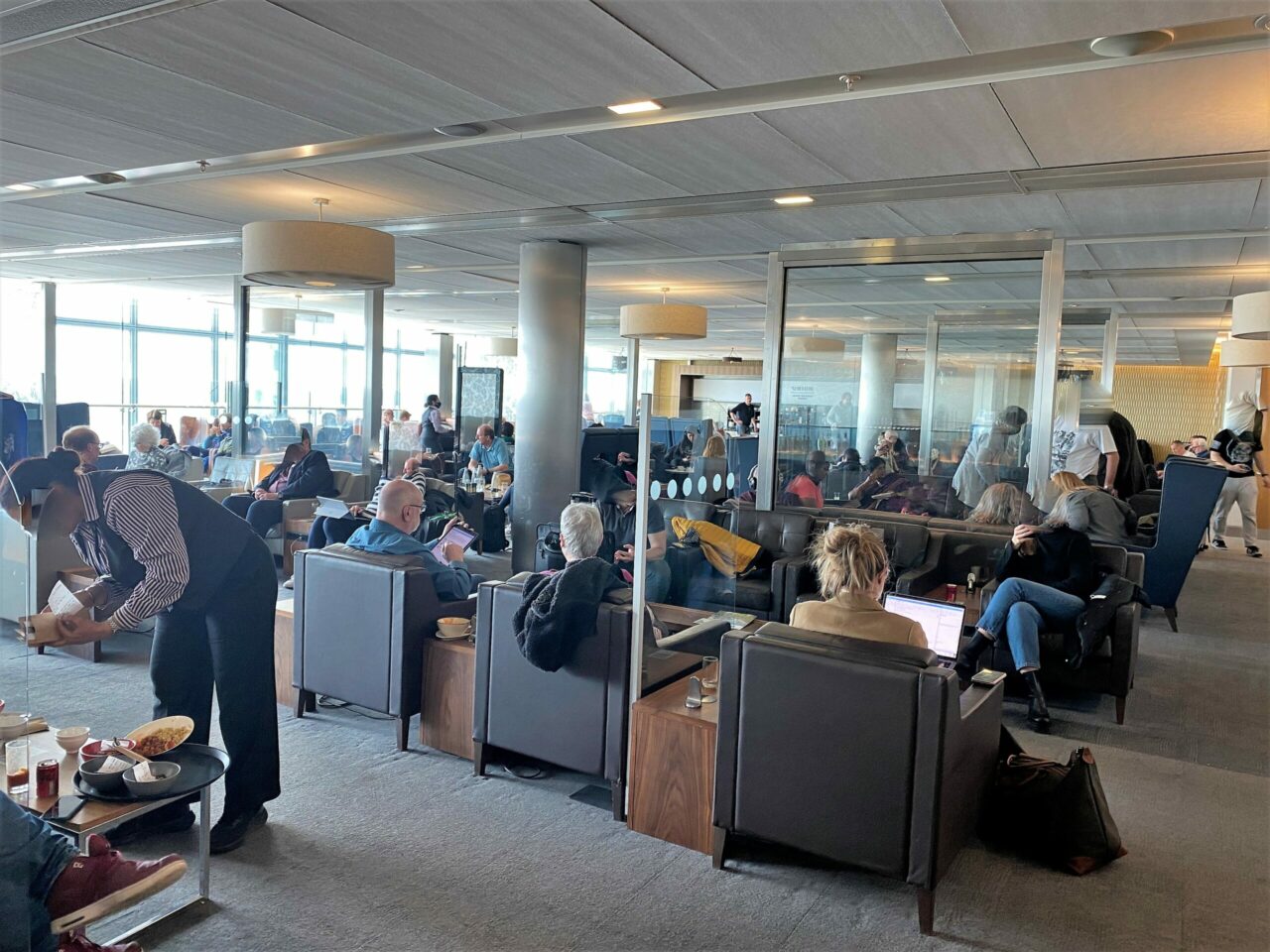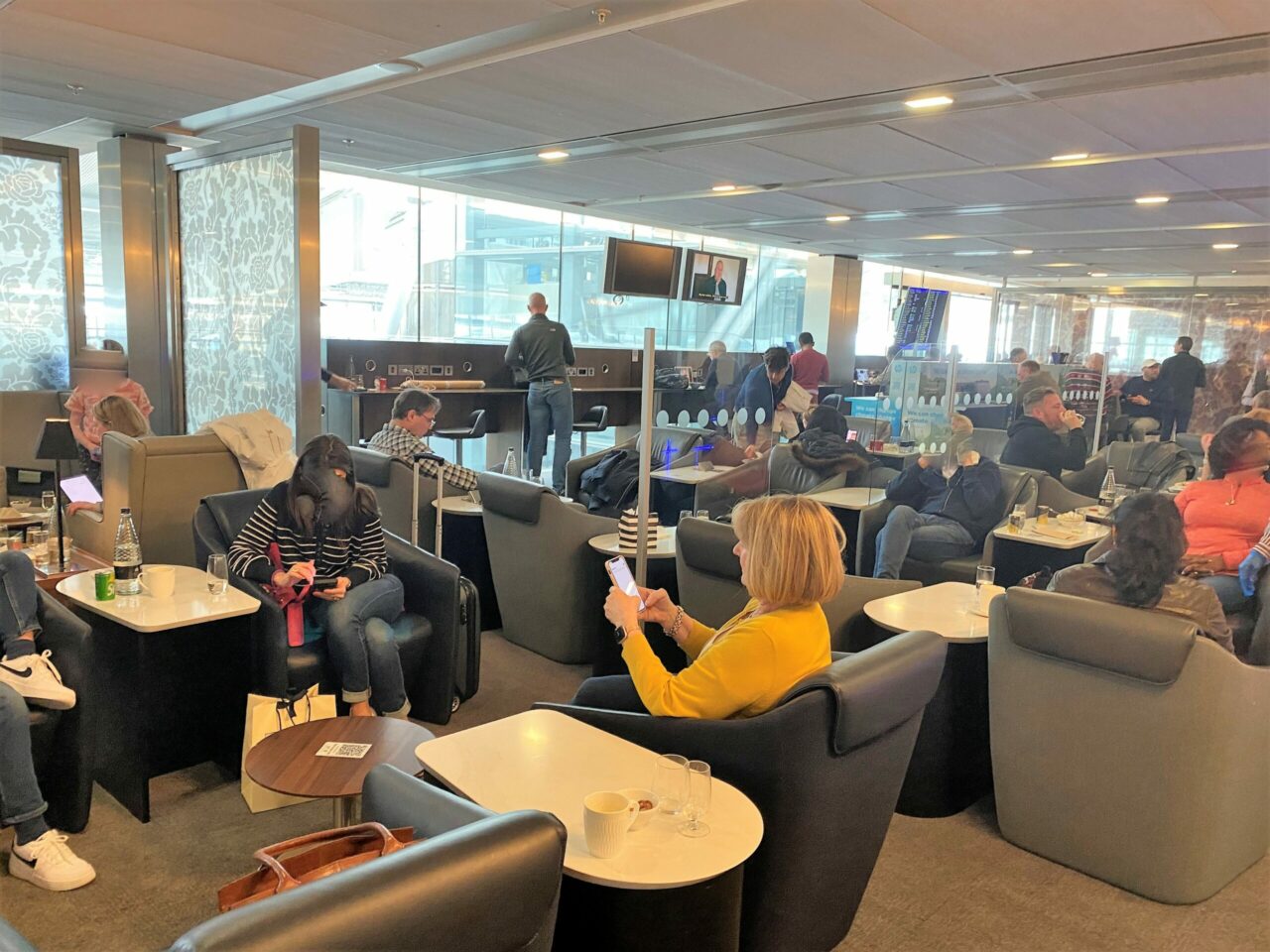 There were no paper reading materials which has been the case since the pandemic since you can use Press Reader which offers 7,000 digital newspapers and magazines. Although I have seen the odd copy of High life in the other lounges.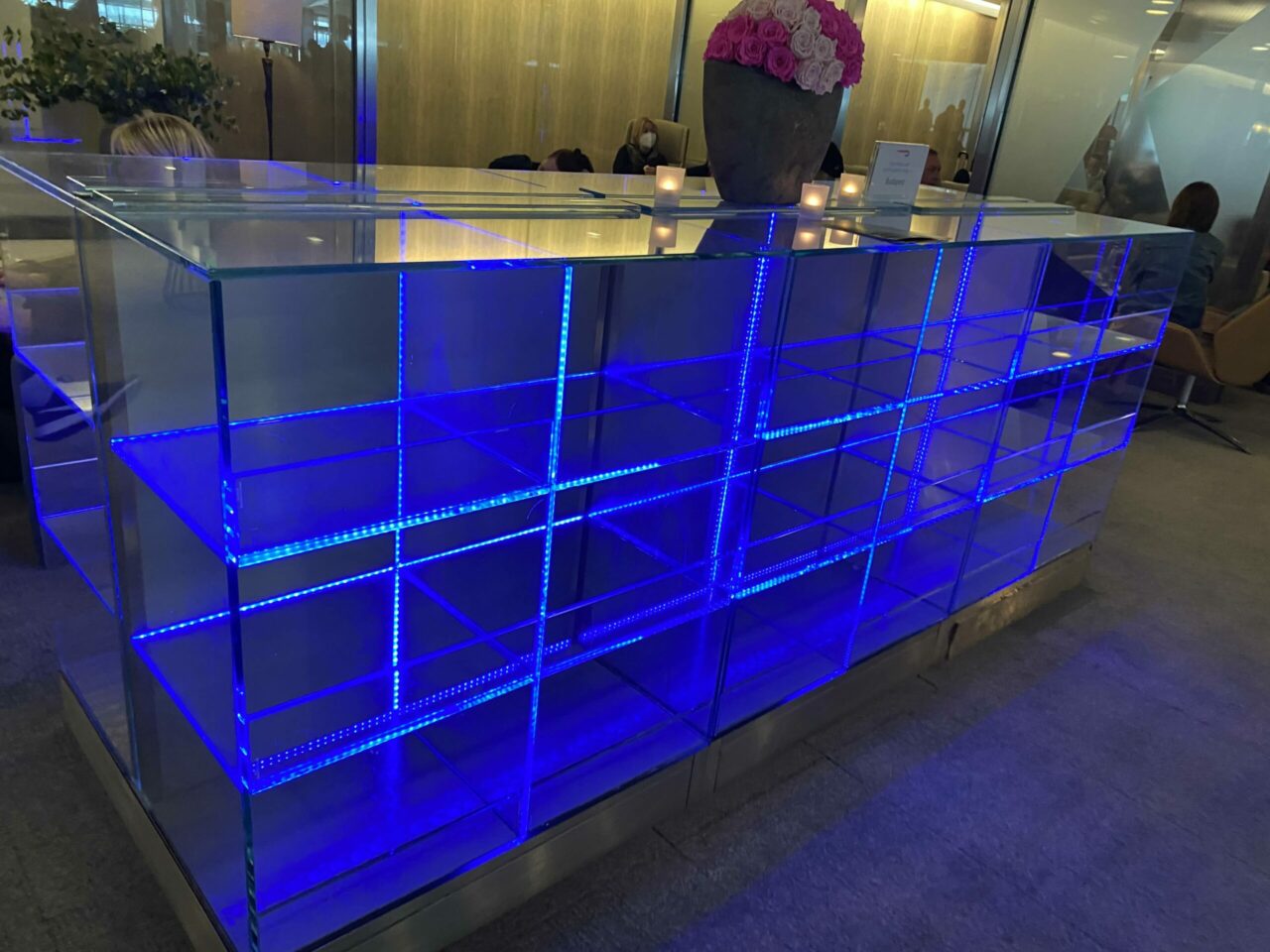 If you wanted to eat there are long communal tables and a few smaller individual tables by the coffee stations.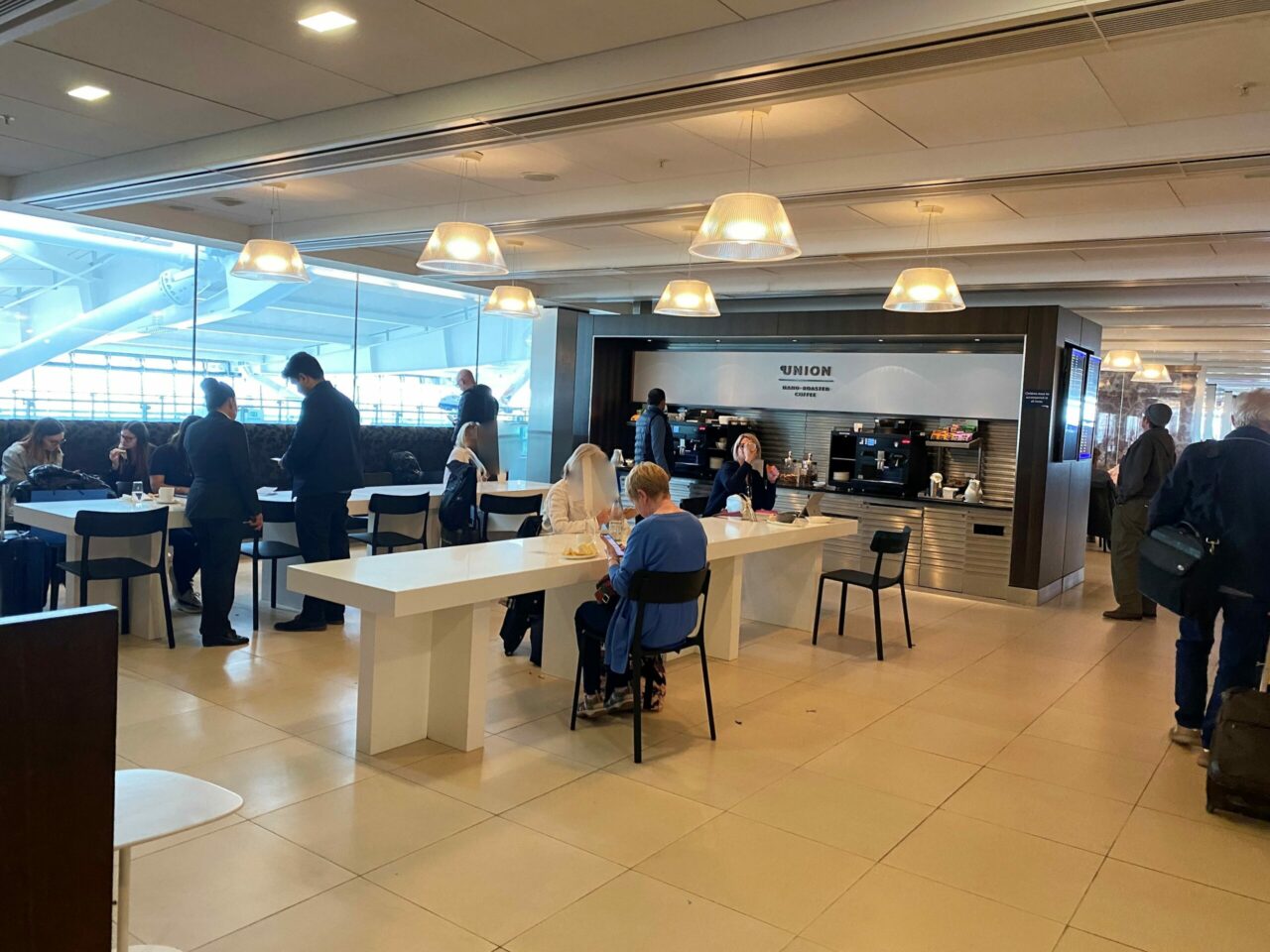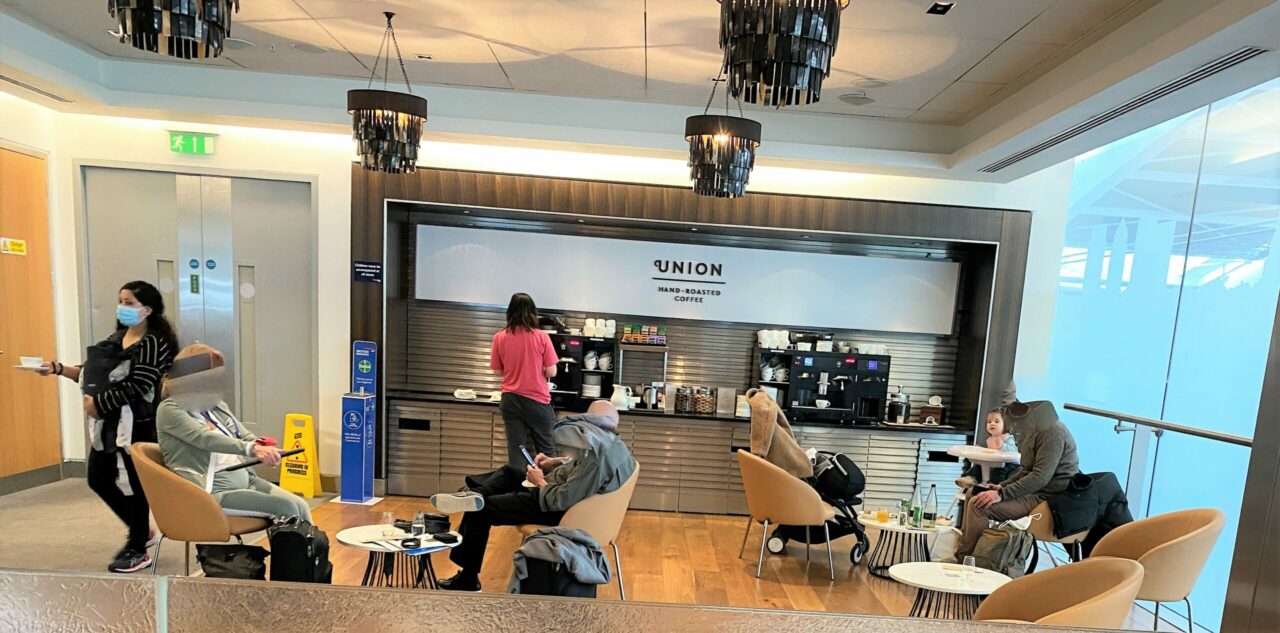 Drinks are back to help yourself. Although the shlevs looked a little bare, the overall selection was OK with
Gordon's Gin
Tanqueray Gin
Barcadi
Smirnoff Vodka
Pimms
Zacapa Rum
Johnnie Walker Red and Black Label
Bulleit Rye whiskey
Port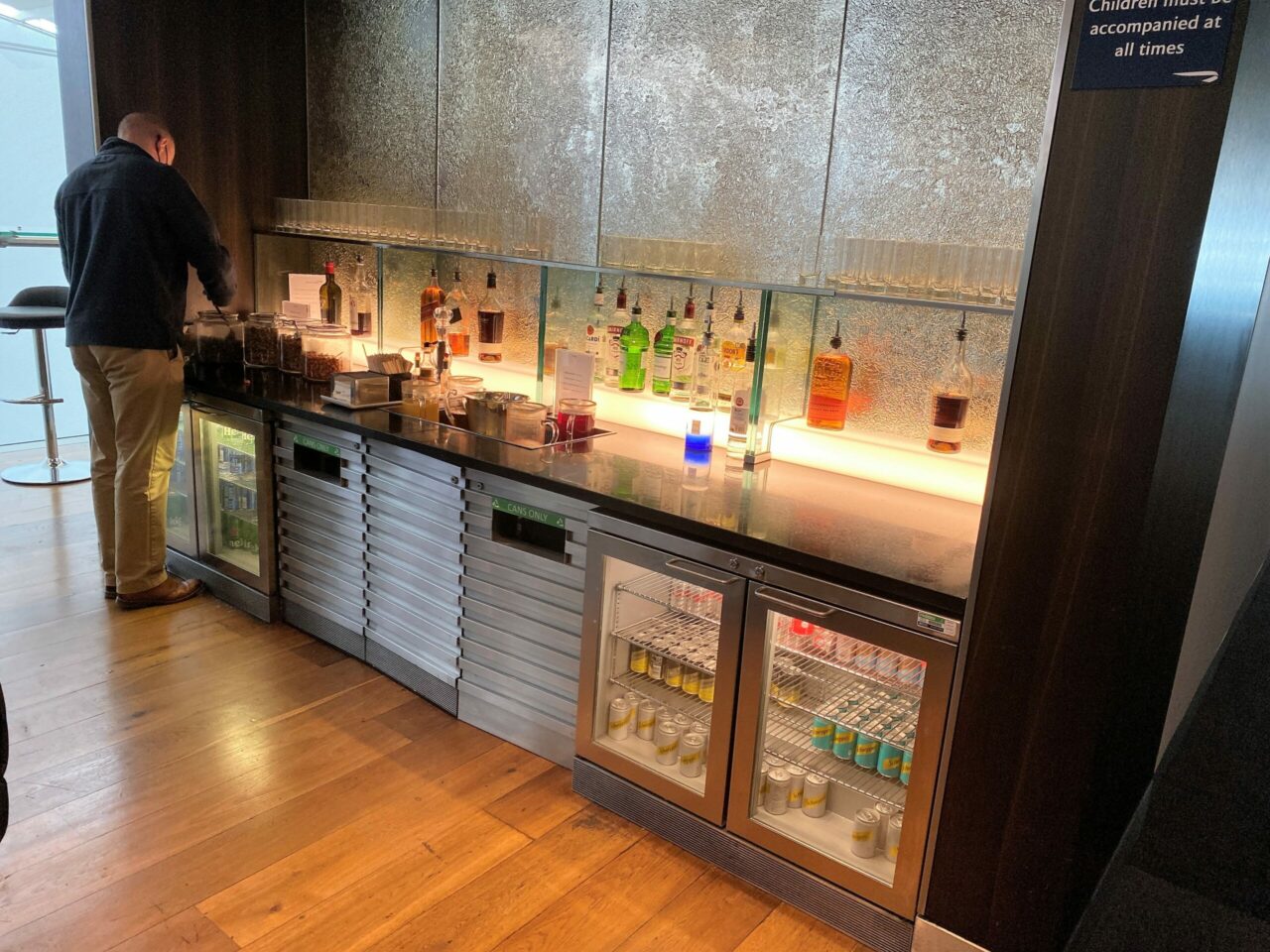 There was also beer available in the fridges including Brewdog Jetstream.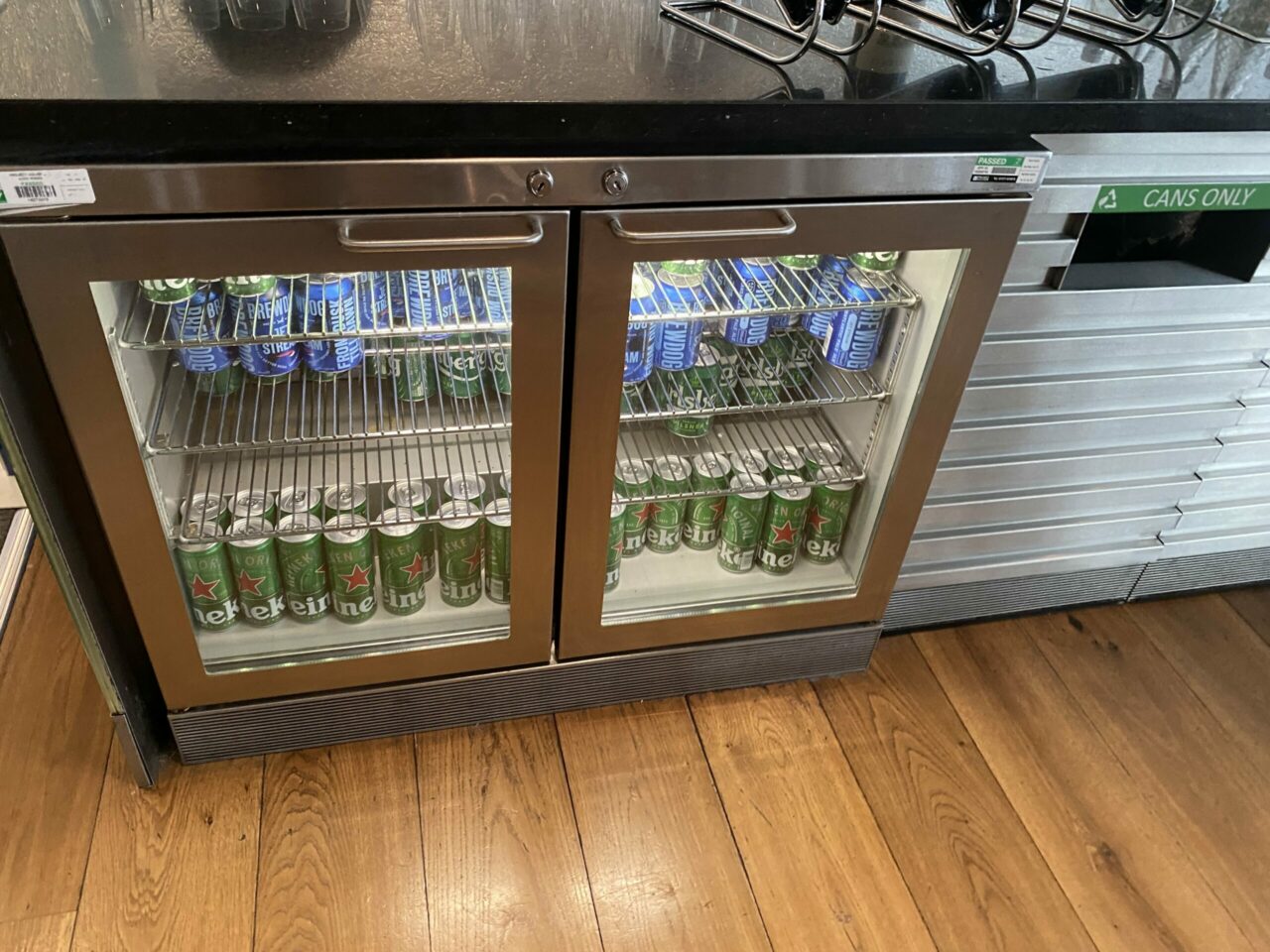 Nicholas Feuilatte champagne was available to help yourself to, although I'm not very keen on it.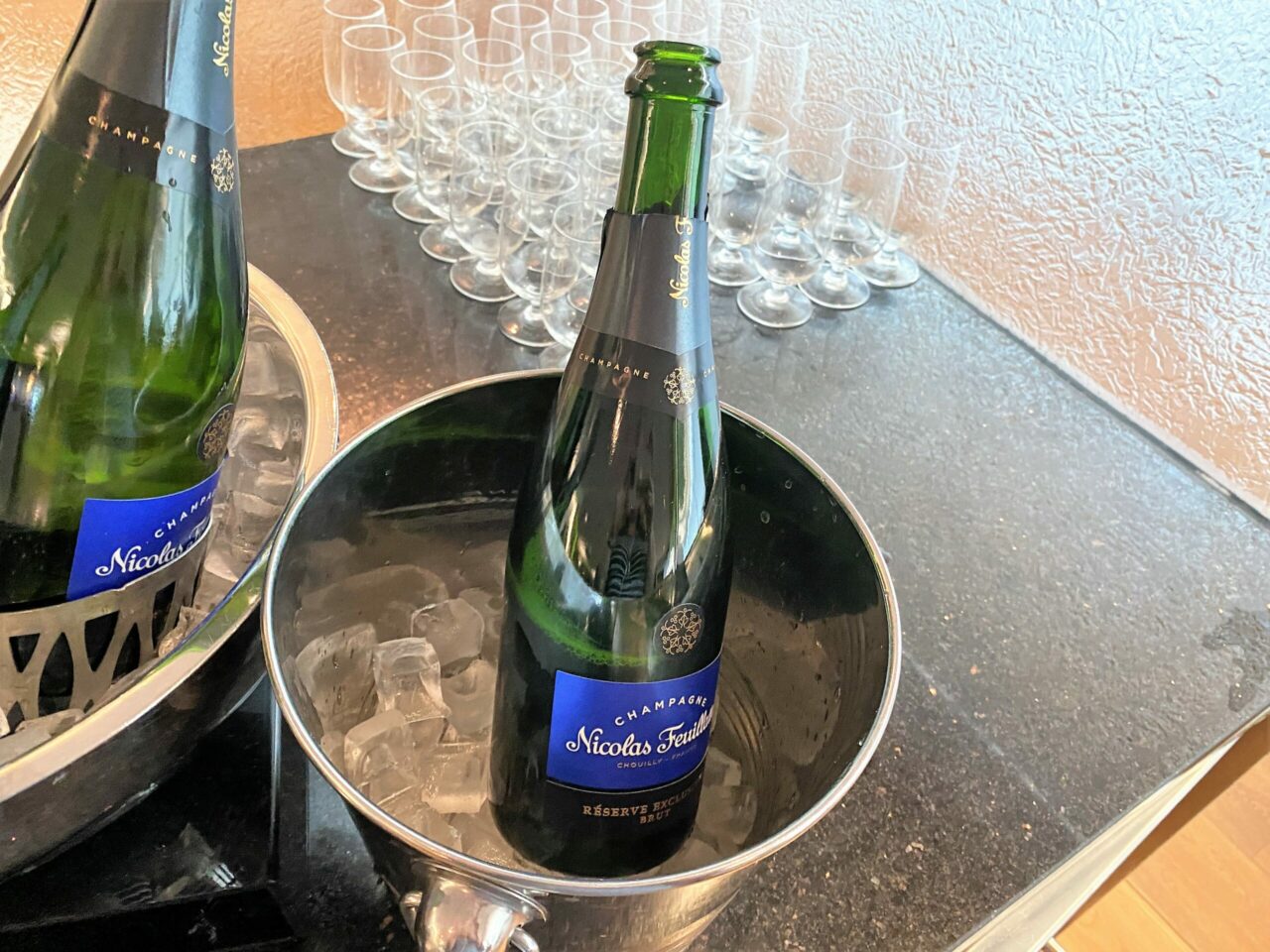 There were also 3 white and 3 red wines including some decent choices such as an Albarino and Cabernet Sauvignon.
There were a few snacks to help yourself to including fresh fruit but the rest of the food was ordered via a QR code.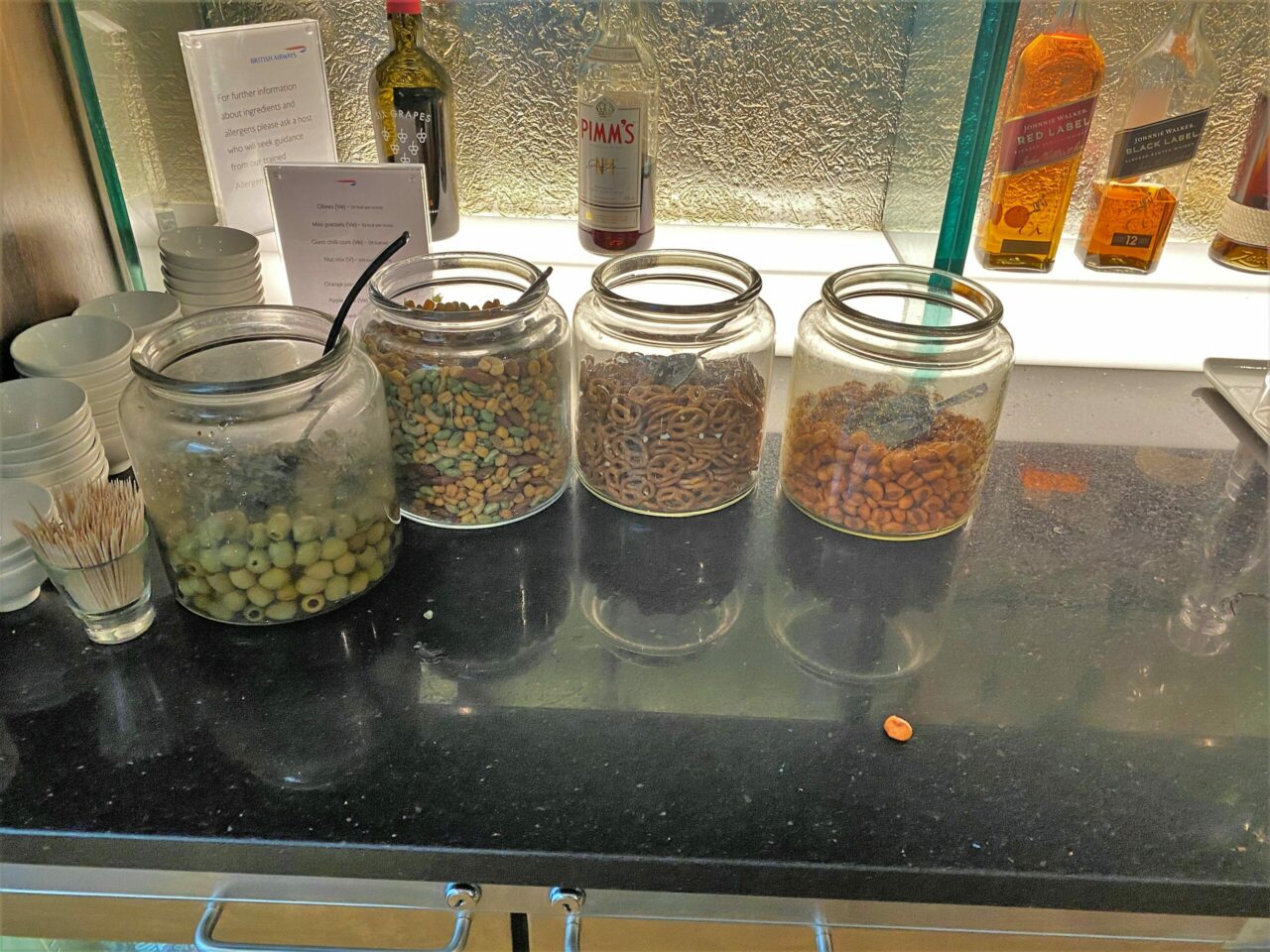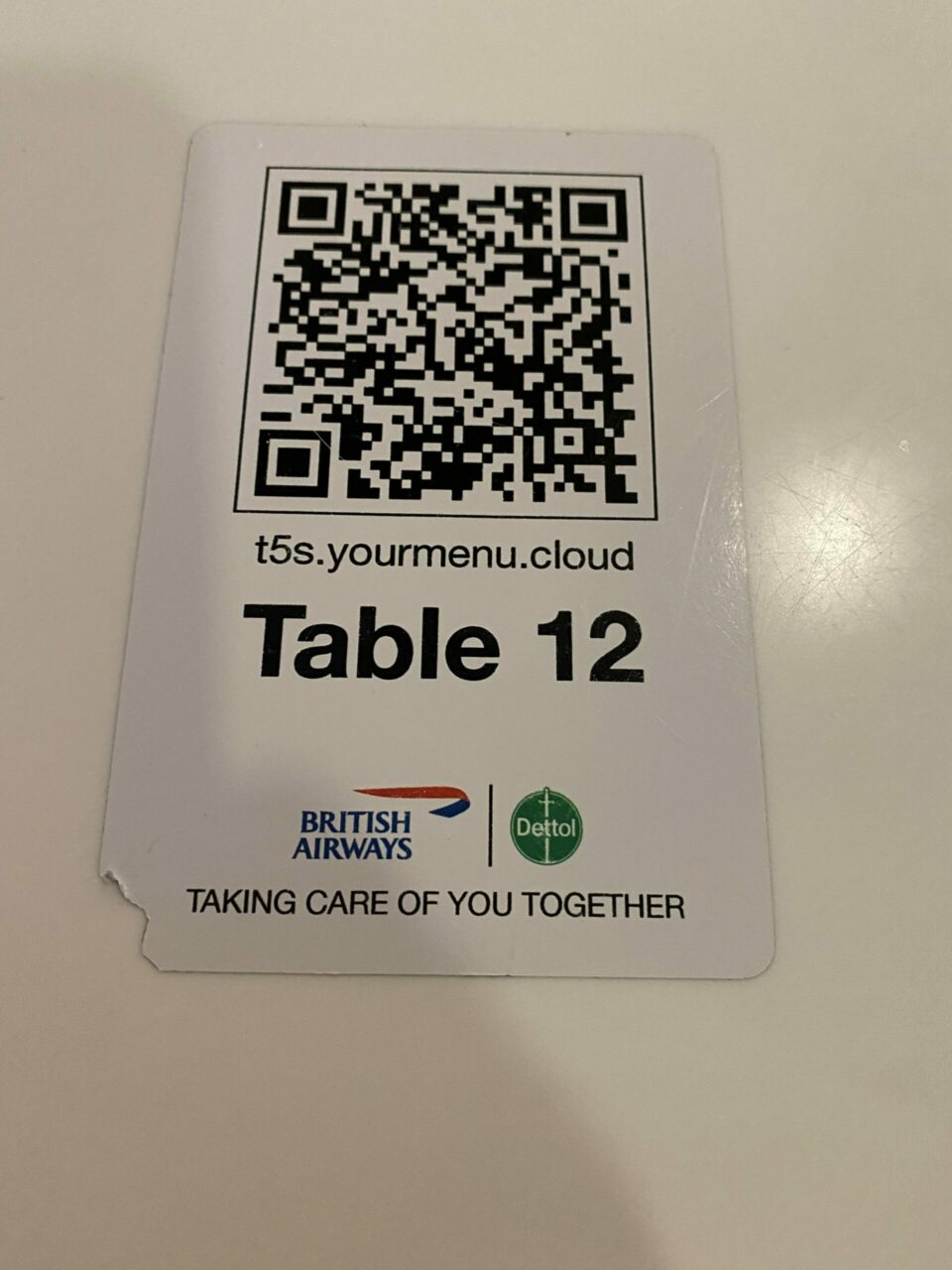 Here is the menu:
If you wanted to work there were plenty of high stools to work on with power sockets and also a printer.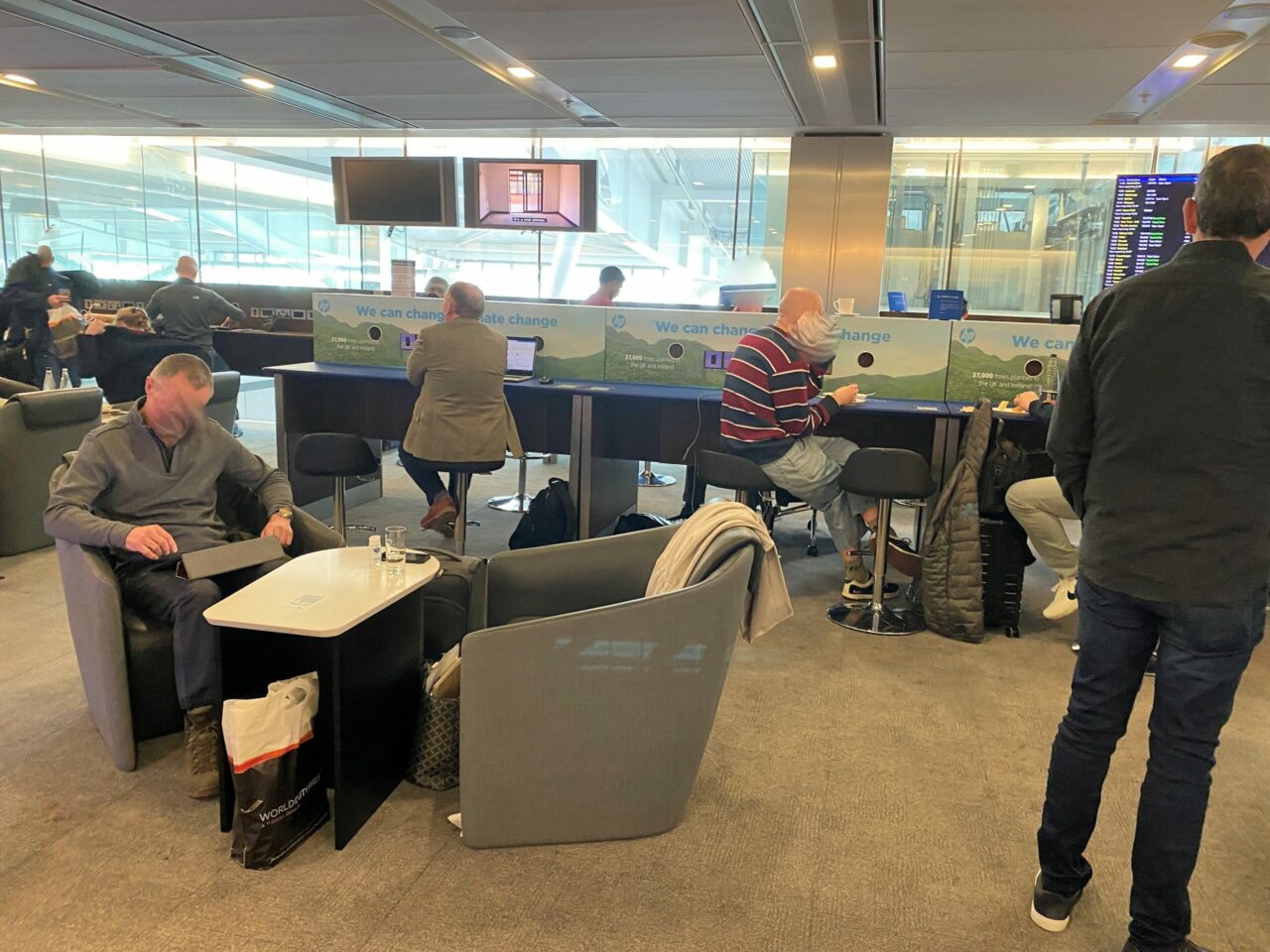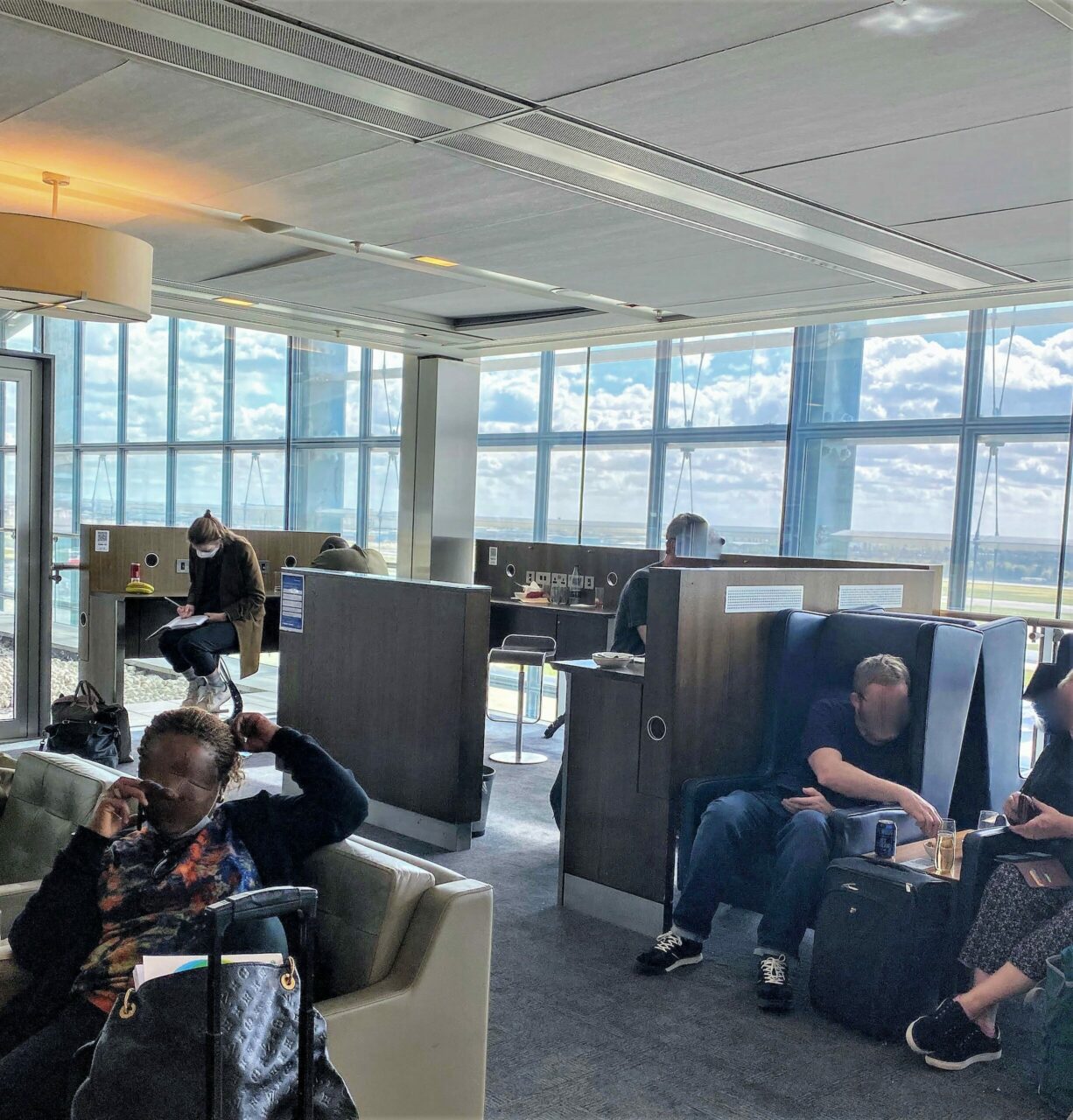 Boarding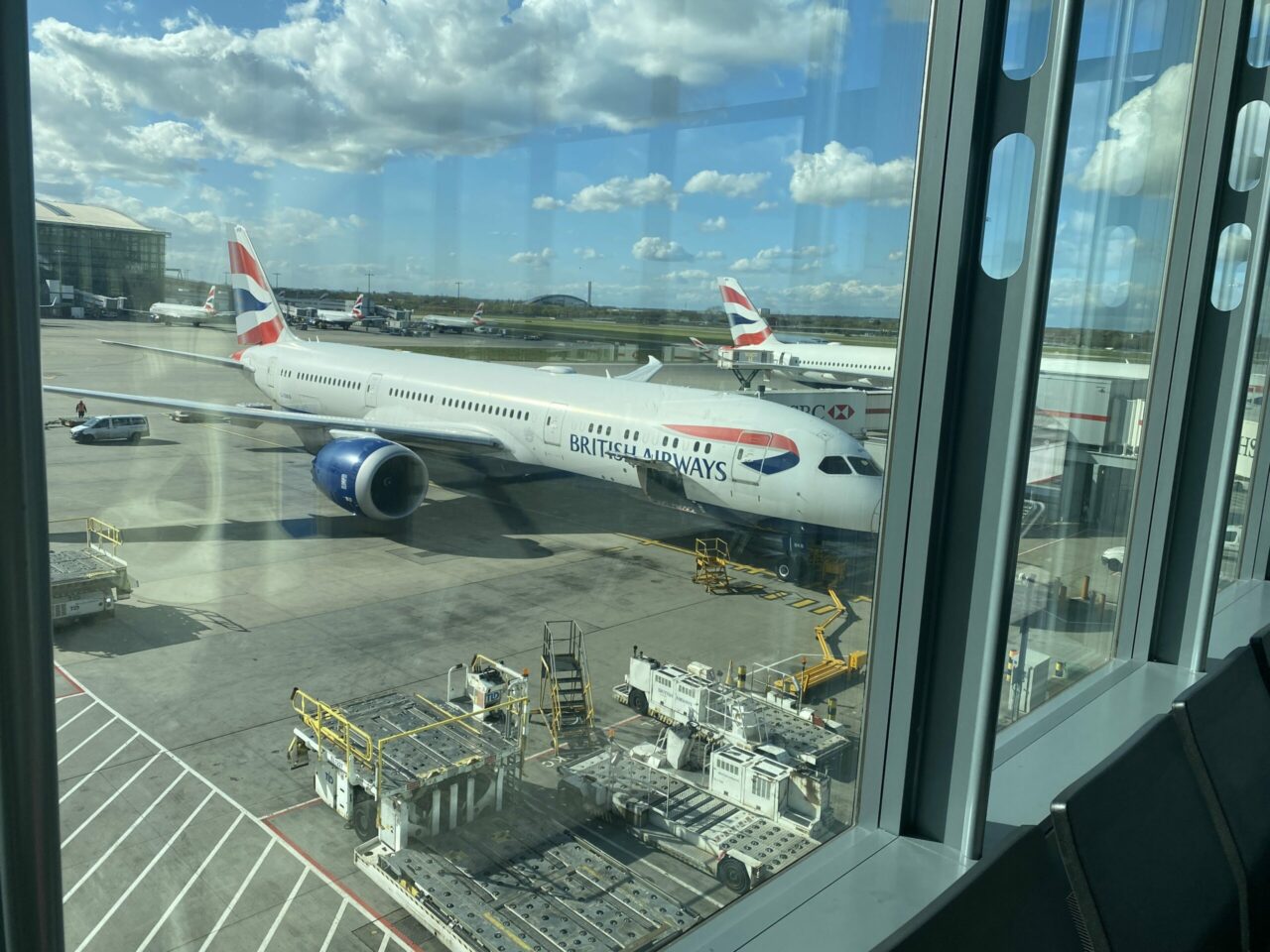 Unfortunately, I had been given the dreaded SSSS on my boarding pass. This only applies to the US and means you get the pleasure of an extra security check at the gate. I do wish the US would get over itself and do away with this practise on flights to the US. It's not like the UK doesn't have decent airport security!
Although the person rounding everyone up was very pleasant, it took far too long in my opinion. I have no idea why we all have to stand there for ages when there were people ready to actually do the checks. Even once they had eventually got everyone they then took us downstairs and made us wait again even though one of the security staff was standing there waiting to do the checks doing absolutely nothing. Normally they do them quite early and you get to board first. This time despite being the second person for SSSS I boarded with groups 2 and 3 so had a long queue of passengers behind me as I was trying to stow my hand luggage and get settled. Not BA's fault at all as they don't do the checks, but it didn't get the trip off to the best start since we were already delayed.
Once on board, I was given a menu and the staff member looking after me introduced themselves. Normally I can tell from the initial interaction what the service will be like and I was encouraged as the crew member seemed friendly. I was offered a washbag which was the standard White Company one.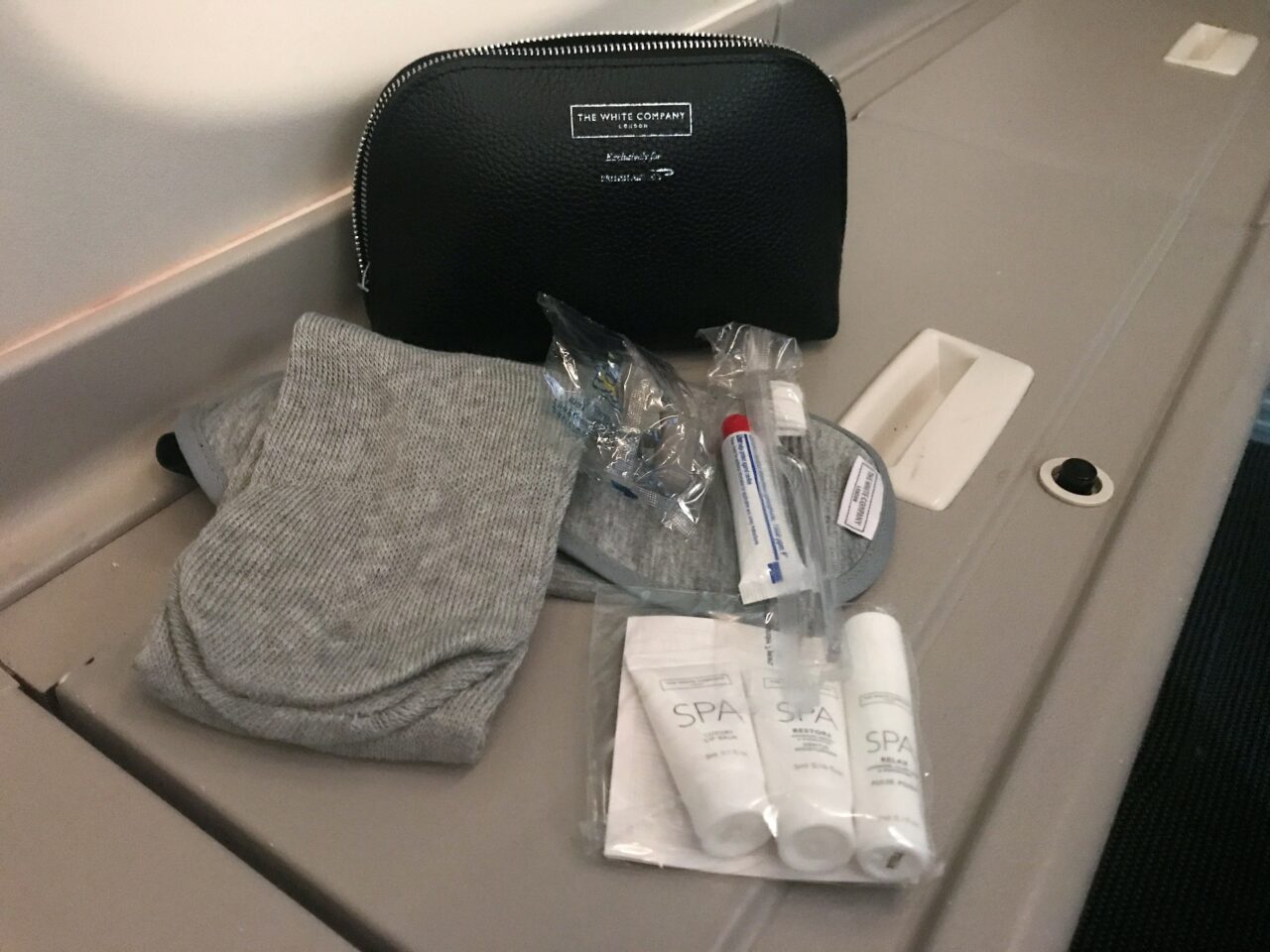 Then welcome drinks were offered. I actually went for water as I had been enjoying one or two libations in the Concorde Room and needed a little break!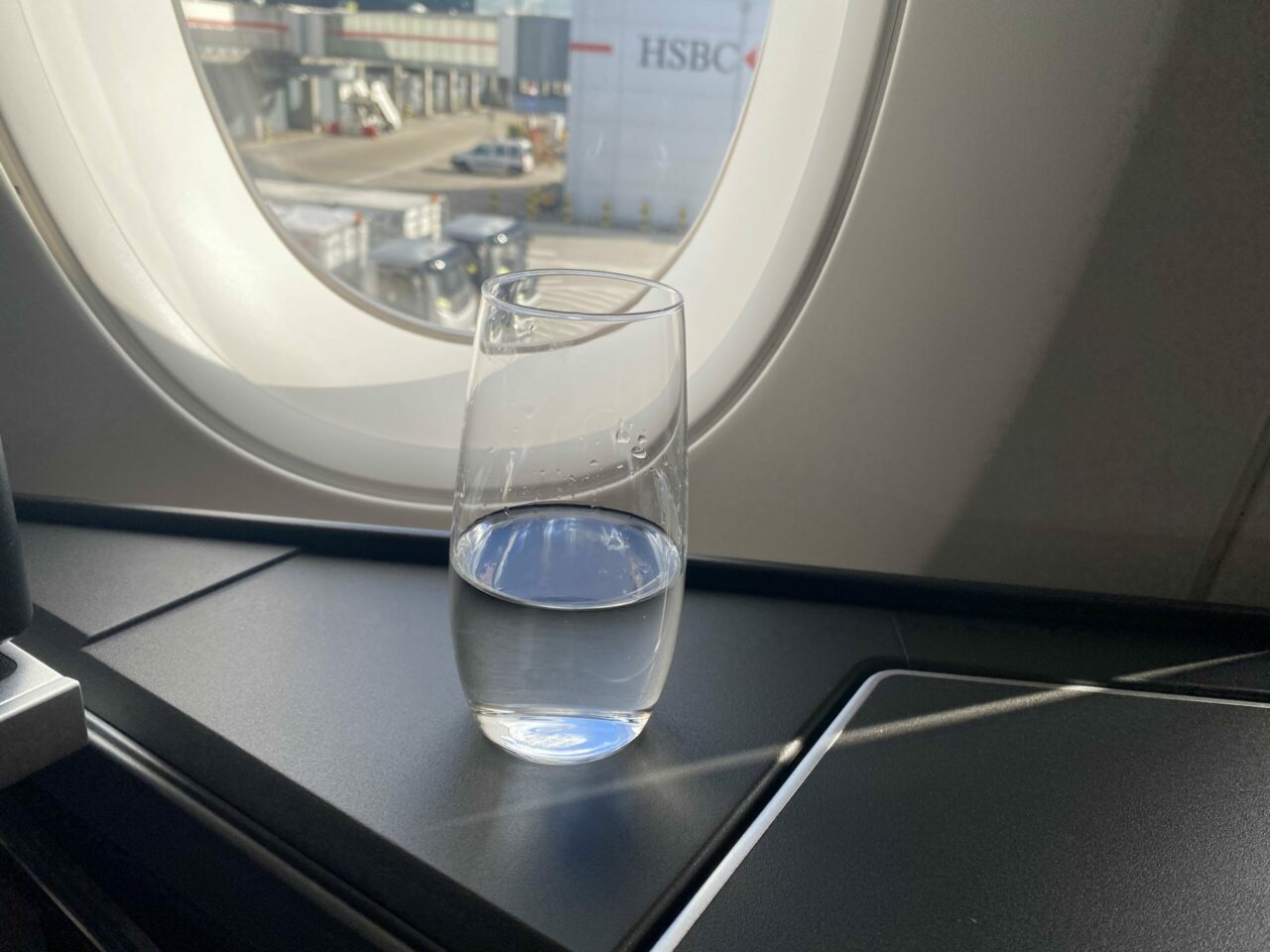 The seat and cabin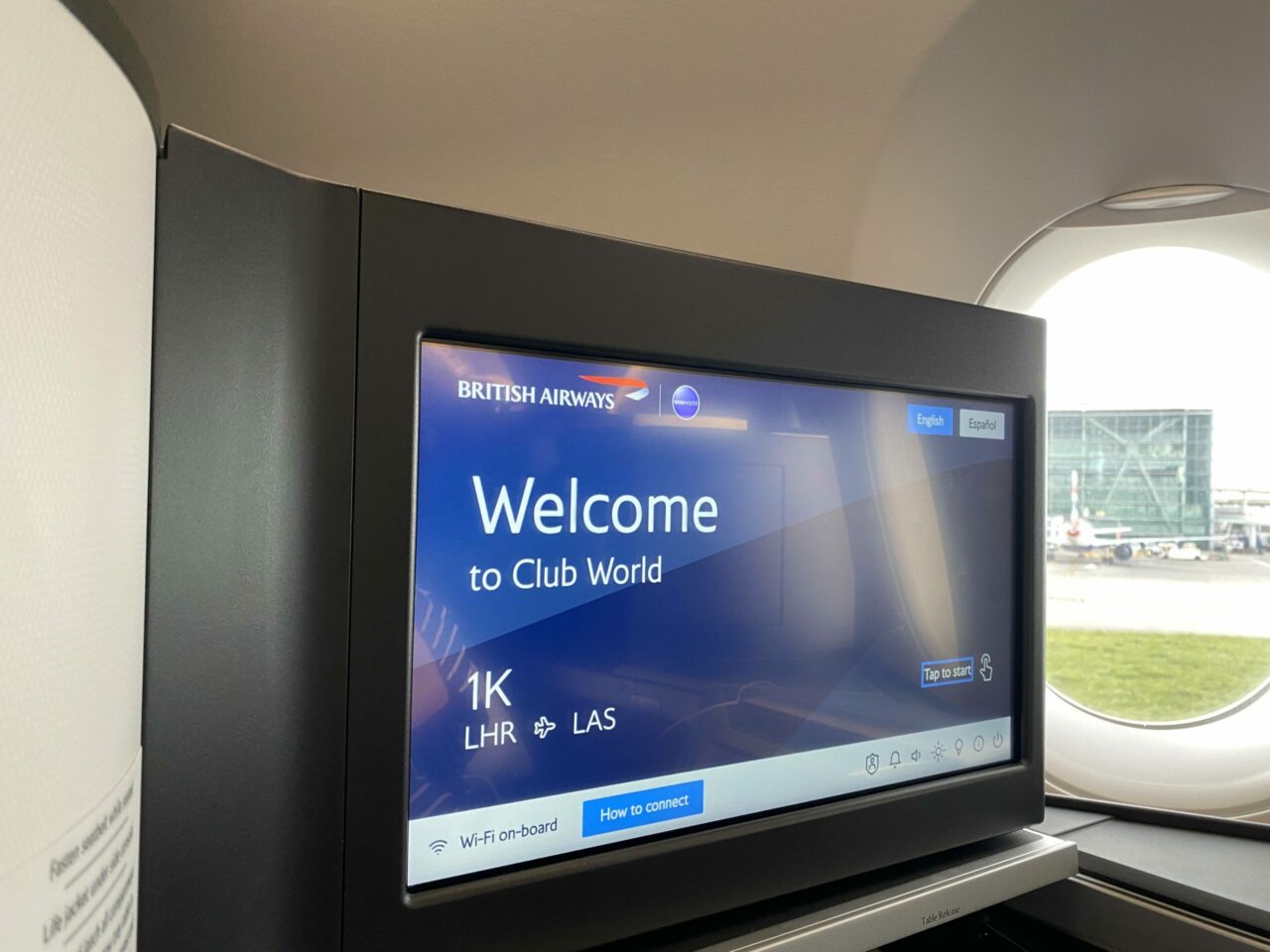 As I mentioned before I won't go into much detail as there are plenty of details in my previous review. This time I was in 1K. I will just mention a few things about this specific seat of British Airways A350 Club Suite. It has the advantage of having the bulkhead
in front of you which I quite like as somewhere to ut my bag when I am unpacking my bits and bobs. It also can provide a bit of extra storage once airborne if you just want to pop something out f the way.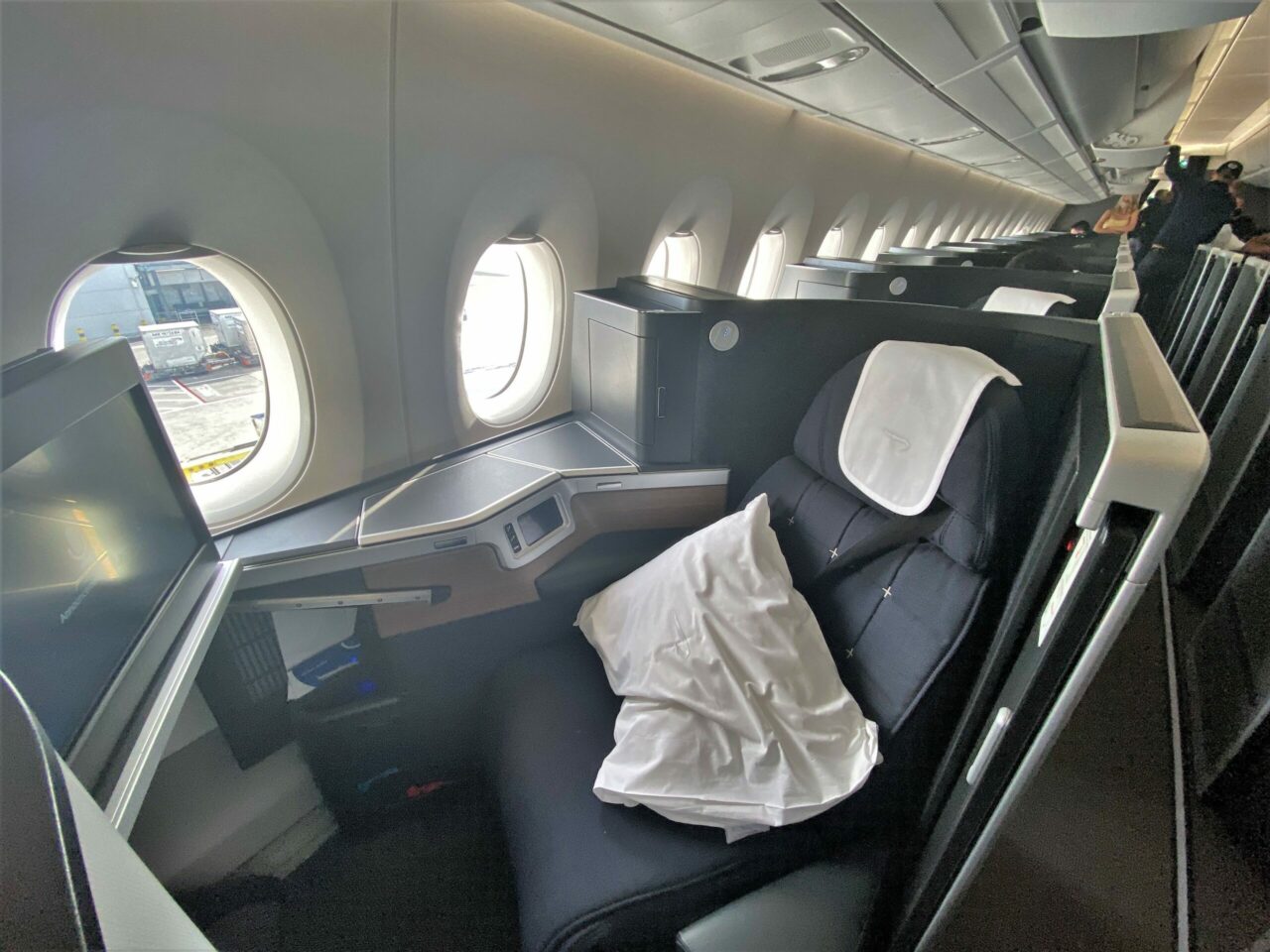 You can just see the edge of my shopping bag on the left on the ledge I am referring to.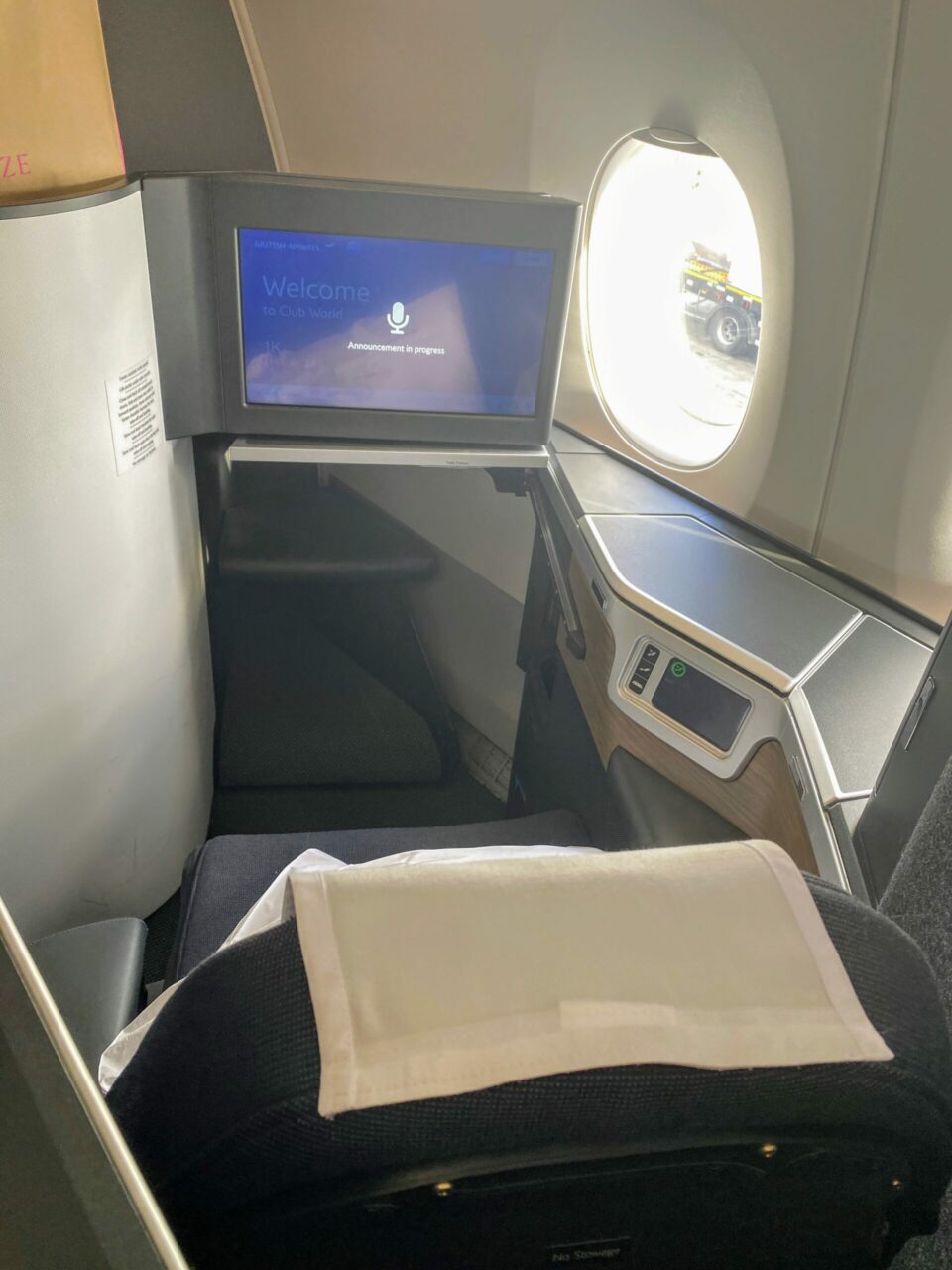 I actually wouldn't choose this seat again as it was quite noisy being by the galley. Crew were constantly moving trolleys in and out of the cupboard nearby and slamming the doors shut so it wasn't great when I wanted to sleep.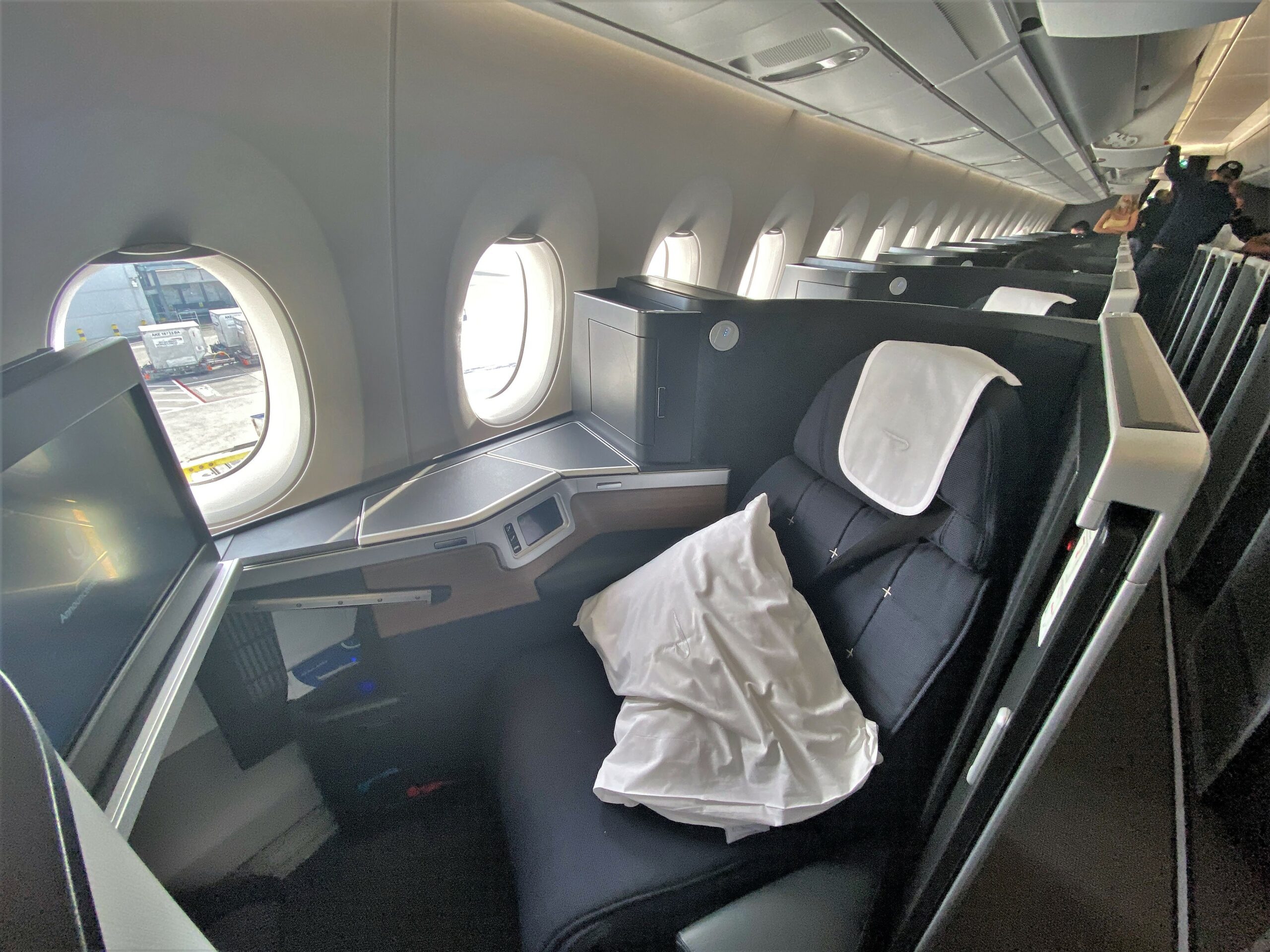 I do really like the Club Suites and find them comfortable for sleeping and relaxing. However, on both legs of my journey I had issues with things not working. On the way out it was only minor. The headset cabinet which has the mirror was stuck fast although the cabin crew did eventually manage to prise it open. Also, the smaller of the two storage bins also had a sticky latch and kept getting stuck which made me afraid to use it in case my stuff got stuck in there!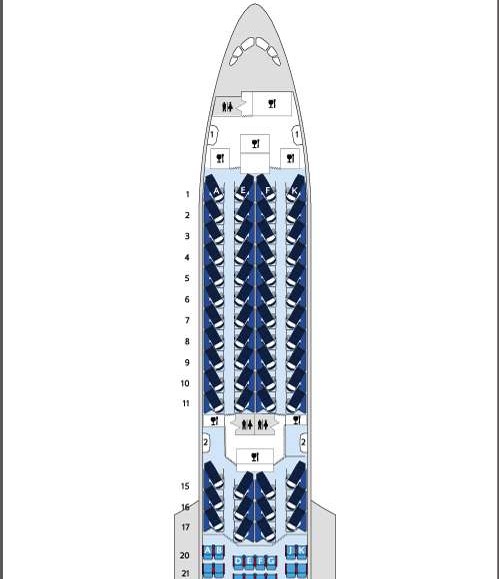 The other interesting thing of note is the layout of the A350. You may remember that BA said they may consider a different layout for the galley on future A350s as it is a very tight working environment for the crew. One way the crew try to help themselves is to block the front toilet during service. That's fair enough but on this flight it was blocked for the entire duration. This meant a constant queue for the two remaining toilets that were being shared by 56 people.
Food and drink
This for me is BA's biggest onboard failing both in terms of the actual food and the service from crew.
Here is the menu for drinks:
I know they are switching over to Aviation gin, but I find it ridiculous to have three types of gin but missing fairly basic options such as Brandy or Bourbon.
I like Aviation Gin so I thought I would try that. I find Aviation gin has a lot more botanicals you can actually taste and I think the more full-favoured taste to it. The G&T was pretty weak and came with the usual nuts.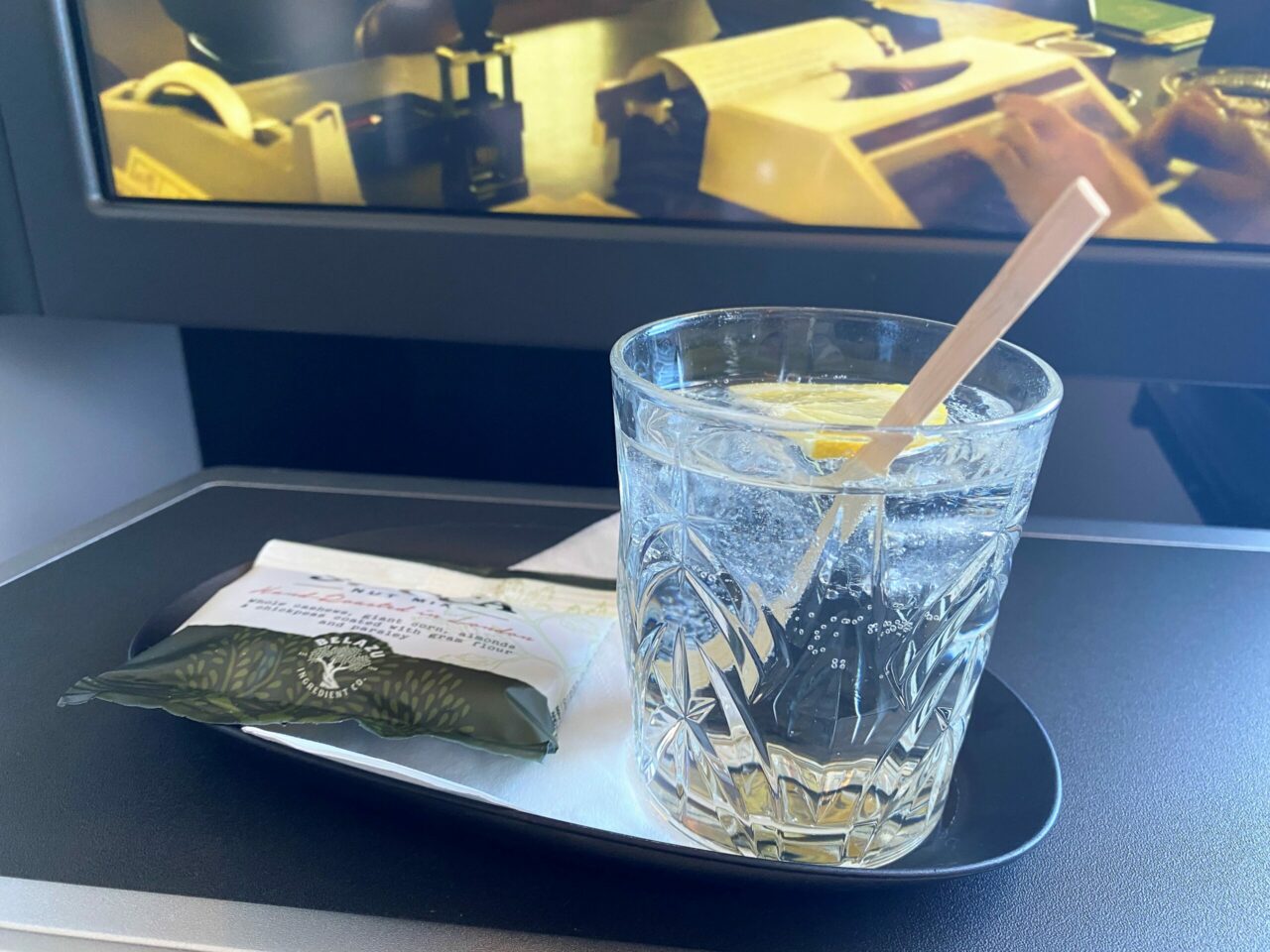 Here is the food menu of British Airways A350 Club Suite. Most of the choices have been around for a while which is a bit boring. My last long haul flights were in December since much of the menu was exactly the same! The choices for the mains looked OK but I decided to try the lamb.
Orders were taken at the start of the flight including wine and water choices. I'm also not a fan of the "lucky dip" wines where it just gives you a grape but no further details. I do understand that supplies can be inconsistent but would it be that hard for the CSM to announce perhaps when they do the intro for Club? Or perhaps when they take your order if you are interested in one of them?
I have no idea if they were short-staffed but there seemed to be the normal number of staff in Club. However, while the person serving me was friendly, it felt like the crew were doing the bare minimum. It can't just me that remembers when you would normally get a drink before dinner, a top-up, then two glasses of wine with dinner? Now you get a drink before and one glass of wine with your dinner, no top-ups every offered unless you ring the call bell. In between service I never saw a single cabin member. So basically I was offered two drinks in the 7 hours before the second meal.
BA are still serving a single tray due to "Covid", but really it's due to lack of staff as it's much quicker to serve. This is due to stay until winter schedules in November this year!
The tray arrived with the usual 3 bread rolls. The herb one was particularly tasty.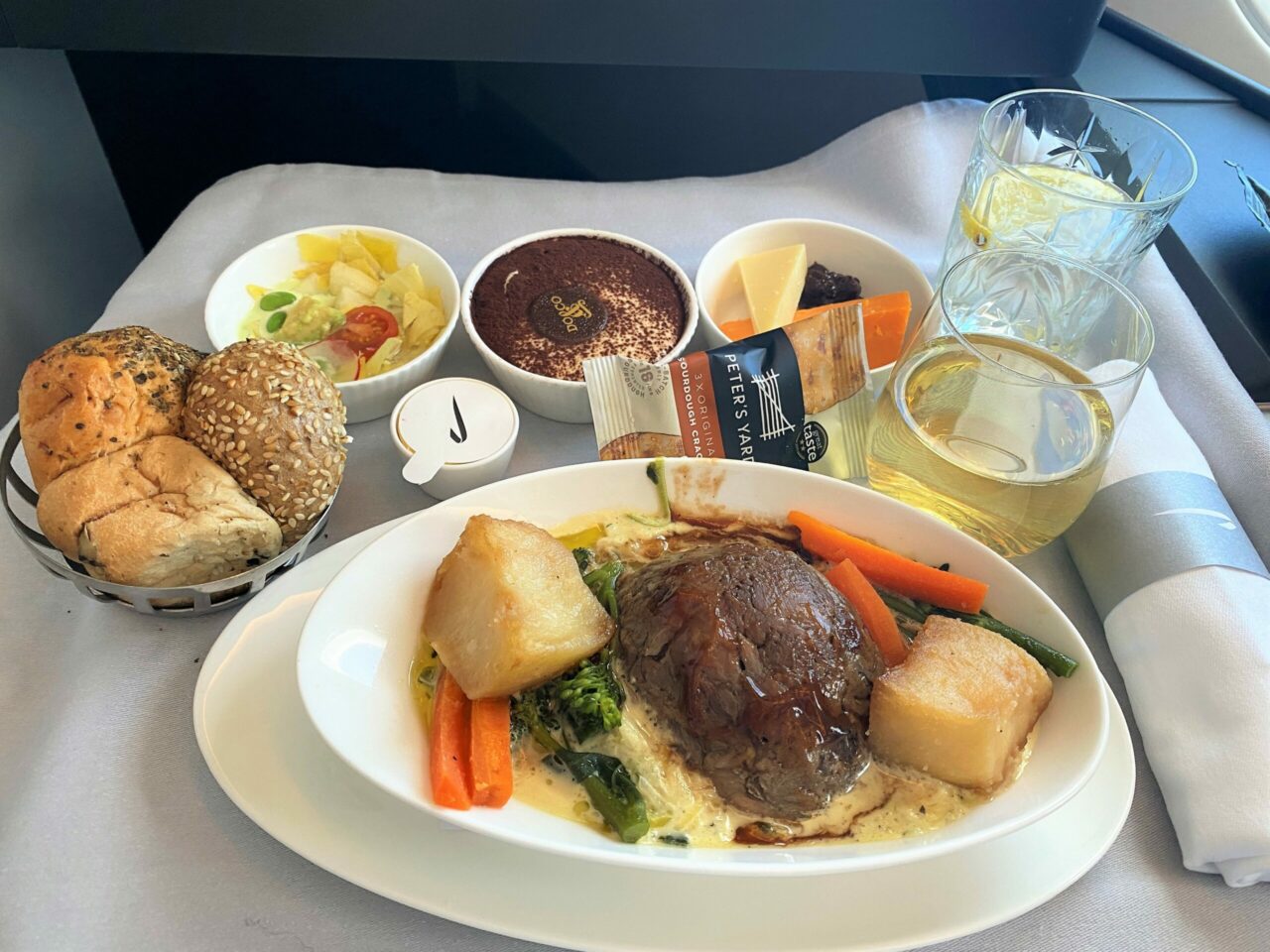 Sadly I got the avocado salad again which they have changed slightly. I'm sorry but this is a poor excuse for a starter. It was actually worse than the last time I had it! It's something I'd expect in economy. There was far too much sauce, one solitary piece of avocado, half a cherry tomato and some soggy bits of chicory and a few edamame beans. The actual flavour is OK but it just screams cheap to me and I'm not keen on soggy veg swimming in sauce.
I went with the lucky dip chardonnay which tasted like a new world one to me but not an overly powerful or buttery one.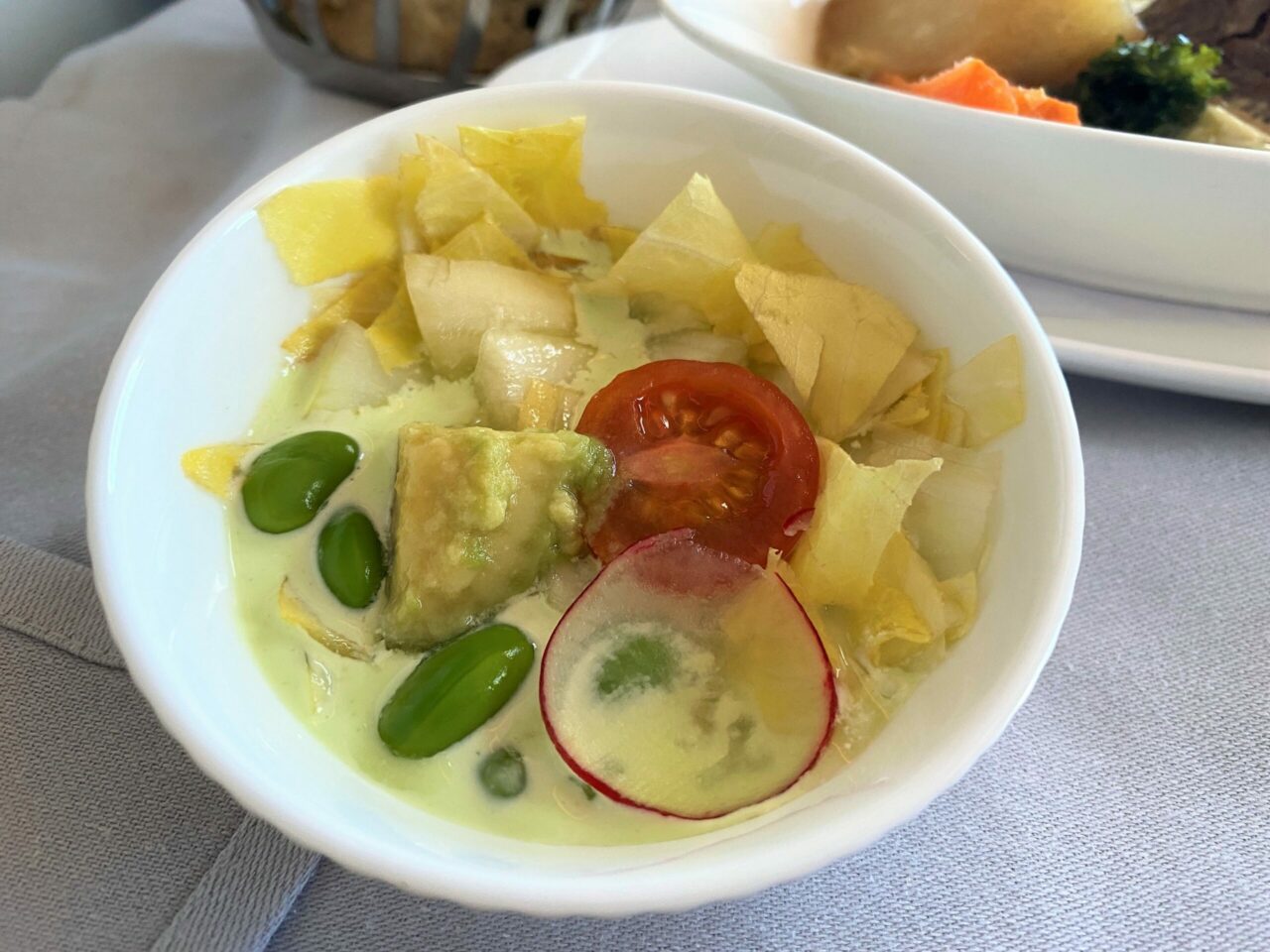 The lamb was better. It was meltingly tender, the vegetables were not overcooked and the potatoes while not crispy had a nice flavour to them. The thing that was lacking was the flavour of the leek sauce which was missing in action. It also seemed an odd choice to have a creamy sauce with lamb as that's quite a fatty meat.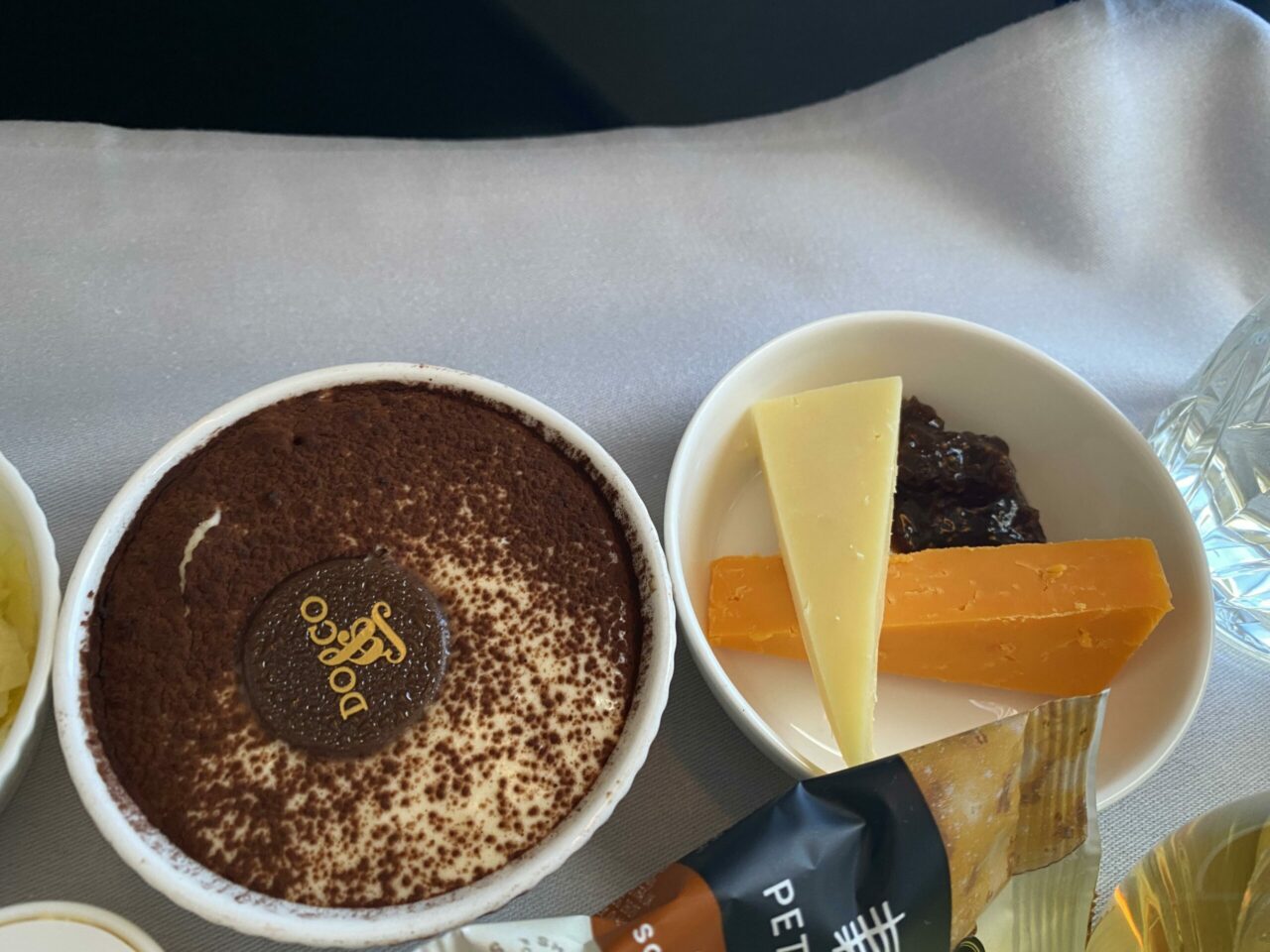 The highlight was the tiramisu as it was the best dessert I've had on BA for a while. It was both light but had plenty of punch from the coffee and the sponge fingers were not too soggy. The cheese was very basic with cheddar and red leciester. Again more what I'd expect in economy.
I sat for what seemed like an eternity waiting for my tray to be cleared. The crew seemed to disappear for ages after delivering the trays. When it was eventually taken I was not offered tea or coffee but they did at least ask if I wanted anything else so I tried the cabernet sauvignon which was decent, whatever it was!
For some reason bottles of water were not given out either. Either that or they were very late doing it. But around an hour after I finished my meal I gave up waiting and asked if they had any. I was given a bottle of water.
The second meal service I declined since I had eaten in the lounge prior to boarding. As I mentioned before, it would be great of they could offer a snack option like the old tapas plates for those that don't want a full second meal.
I can actually report on the meal though as it was exactly the same when I flew to LA in December! This was very tasty and quite filling. The starter had a lovely rich sweet pepper taste with a little spice to give interest. It was very moreish and perfect for dipping your bread into.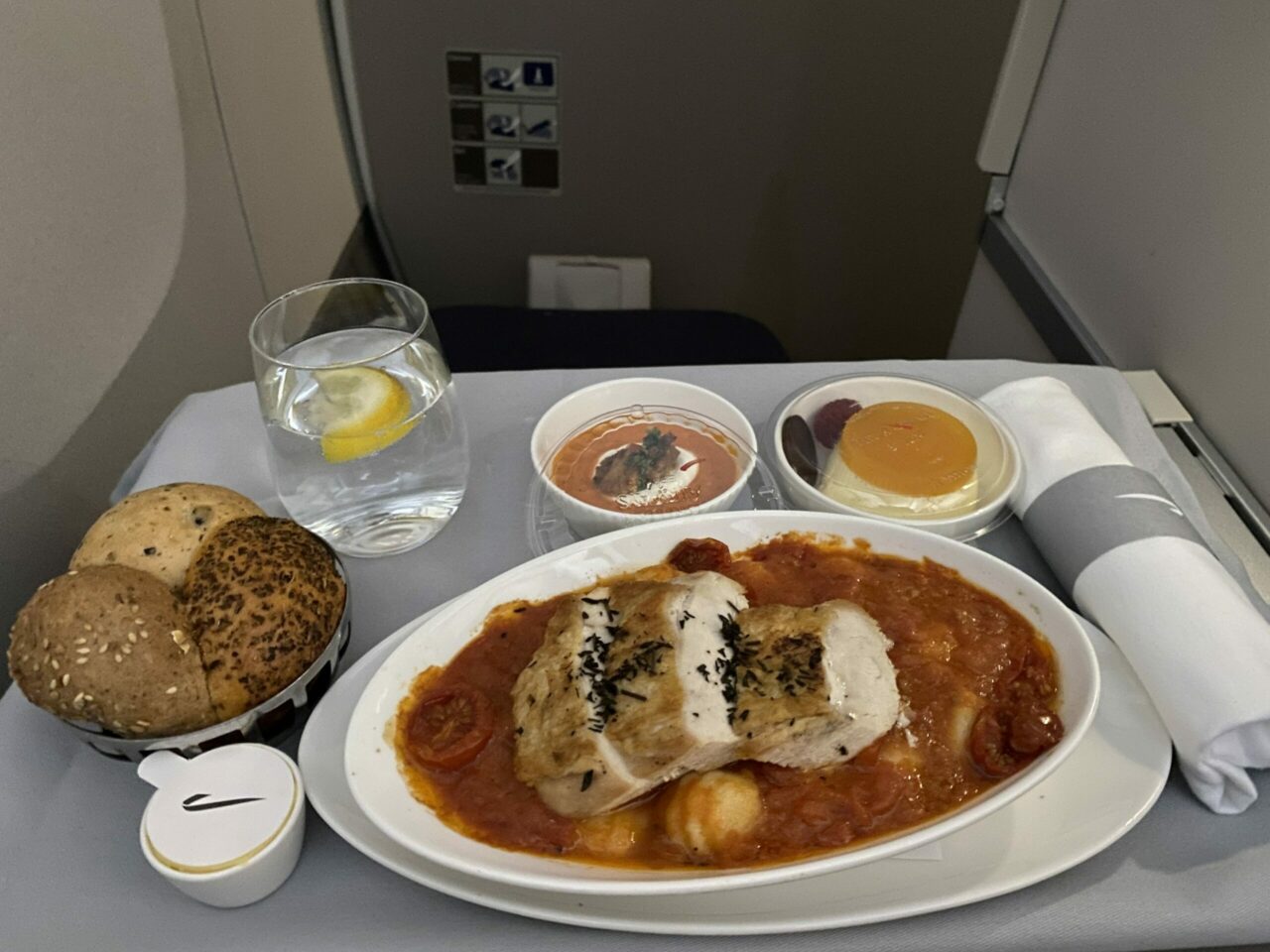 The chicken dish was also tasty but very filling. It was also too similar to the starter in my opinion since both has a rich and sweet vegetable sauce. The dessert has a good balance with the creamy pannacotta contrasted with the sweet but slightly sharp passion fruit.
Entertainment and Wi-fi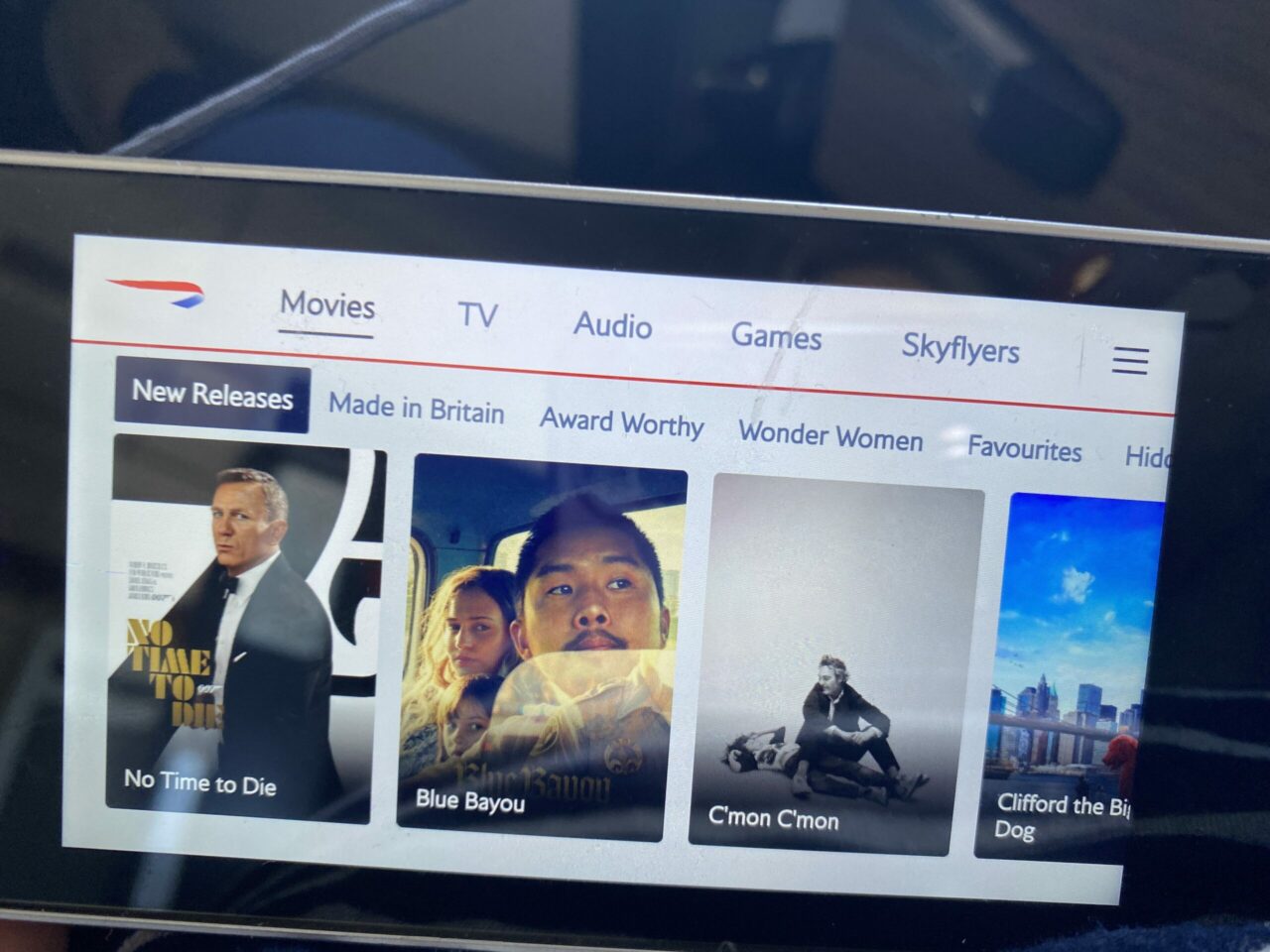 I was pleased to see that there was a good choice of new films on as last time most of the choices were quite old. I went for House of Gucci which I really enjoyed – Lada Gaga was superb in it. Even if you don't have an interest in fashion I think you would enjoy the story of a family feuding over a business. There was also the new Bond film which I think is Daniel Craig's best by a long way.
The screen of British Airways A350 Club Suite is a great size and has high definition. You can either use the touchscreen or the handset to control the screen. Overall it felt like there was plenty of choice for both TV and films with plenty of recent choices. Normal service has resumed in this area!
There was Wi-Fi which was a bit patchy and went off for around 40 minutes. This was annoying as I had only gone for the short package rather than the full flight. Prices start from £2.99 for messaging to £14.99 for full Wi-Fi for the whole flight which I think is reasonable. When it was working it was reasonably fast.
It's also worth mentioning I found out while I was onboard I was being flown by the lovely BA legend who is Captain Dave and has a huge following on social media. He very kindly popped down to say hello and offered me a tour of the cockpit afterwards. If you enjoy aviation, it's worth following him on Twitter or Instagram.
He also captured some great images from the flight.
We were lucky enough to get some amazing views of Greenland and the frozen sea just to the west on our way to Las Vegas yesterday. ????✈️ pic.twitter.com/gfBqJ89hUd

— Captain Dave (@DaveWallsworth) April 8, 2022
Conclusion
The ground experience of British Airways A350 Club Suite was a pleasant surprise until the gate with no queues and relive calm in the terminal despite it being extremely busy.
I still love the new Club Suite which is a huge step up from the old seats. I was glad to see that both my Club Suite flights stuck on this trip as there is currently far more volatility in aircraft types than usual and you can't rely on what your aircraft will end up being. Hopefully, this will improve later the year as the full 777 fleet at Heathrow are due to be refitted by the end of the year.
Sadly the food and service were average at best. If I'd paid the full price I would have been very disappointed. The lack of any top-ups whatsoever and the invisible crew did not make a great flight. While they were pleasant it felt like they were doing the bare minimum, which sadly I get this impression from many of the flights I have taken recently.
The main course was decent as was the dessert but the whole one tray experience and the poor starter did not feel worthy of business class. It's definitely not what I would envisage when CEO Sean Doyle says he wants to create a "premium" experience on BA. It felt more like a premium economy meal and service.
When I do my review of the way back shortly I'll be contrasting it with my friend's flight as he flew back in economy with BA on the same route. The results are interesting.
Like our British Airways A350 Club Suite review? You can read more flight reviews here.