I was invited to stay at the Penthouse at nHow London hotel as well as trying their restaurant. I had heard of Nhow as we had previously featured a reader review. nHow is a small chain of hotels in Europe that are design-led and highly focused on local art. I hadn't realised that they were part of the wider NH hotel group which you may have heard of and also own Anantara hotels.
The hotel was listed as one of the best UK hotels in 2020 by The Times and gets 4.5/5 on TripAdvisor.
Location
The hotel is situated on City Road, on the fringe of Shoreditch and close to Islington (about 10 minutes walk) and Hoxton. It's around 10 minutes walk from Old Street and Angel Tubes and 20 minutes to Farringdon station. There are plenty of restaurants and bars in the surrounding areas as well as boutique shops and markets.
Check-in and communal areas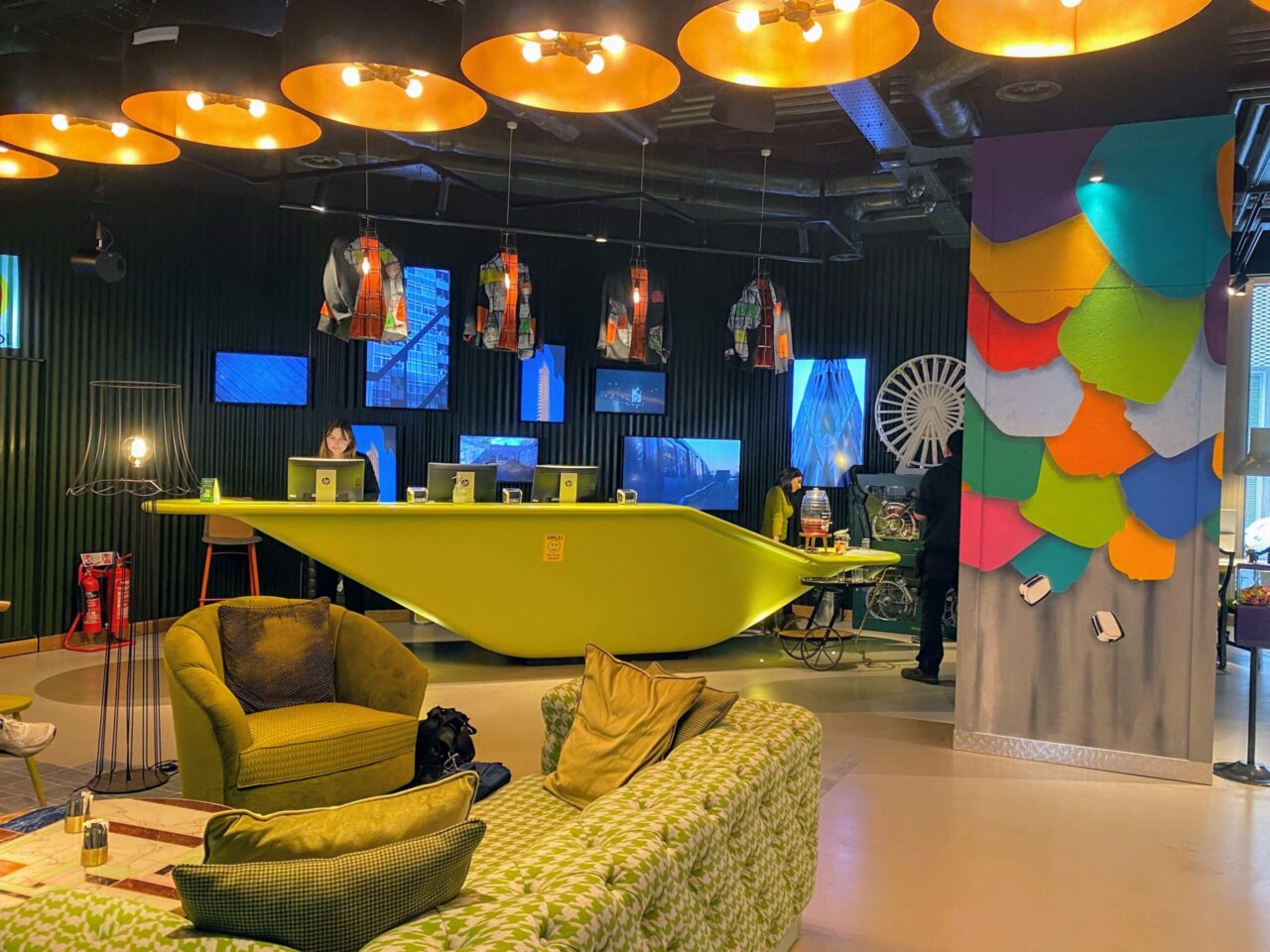 The outside of the nHow hotel is fairly non-descript but as you enter you are hit by an explosion of colour and fun design. The reception area is in one corner of a large open plan area on the ground floor that also consists of the bar/restaurant and sitting areas. At one end of the reception desk is a drink labelled 'Drink me', presumably in homage to Alice in Wonderland. It tasted like a fruit infused water and was refreshing, although it would have been good to know what was in it!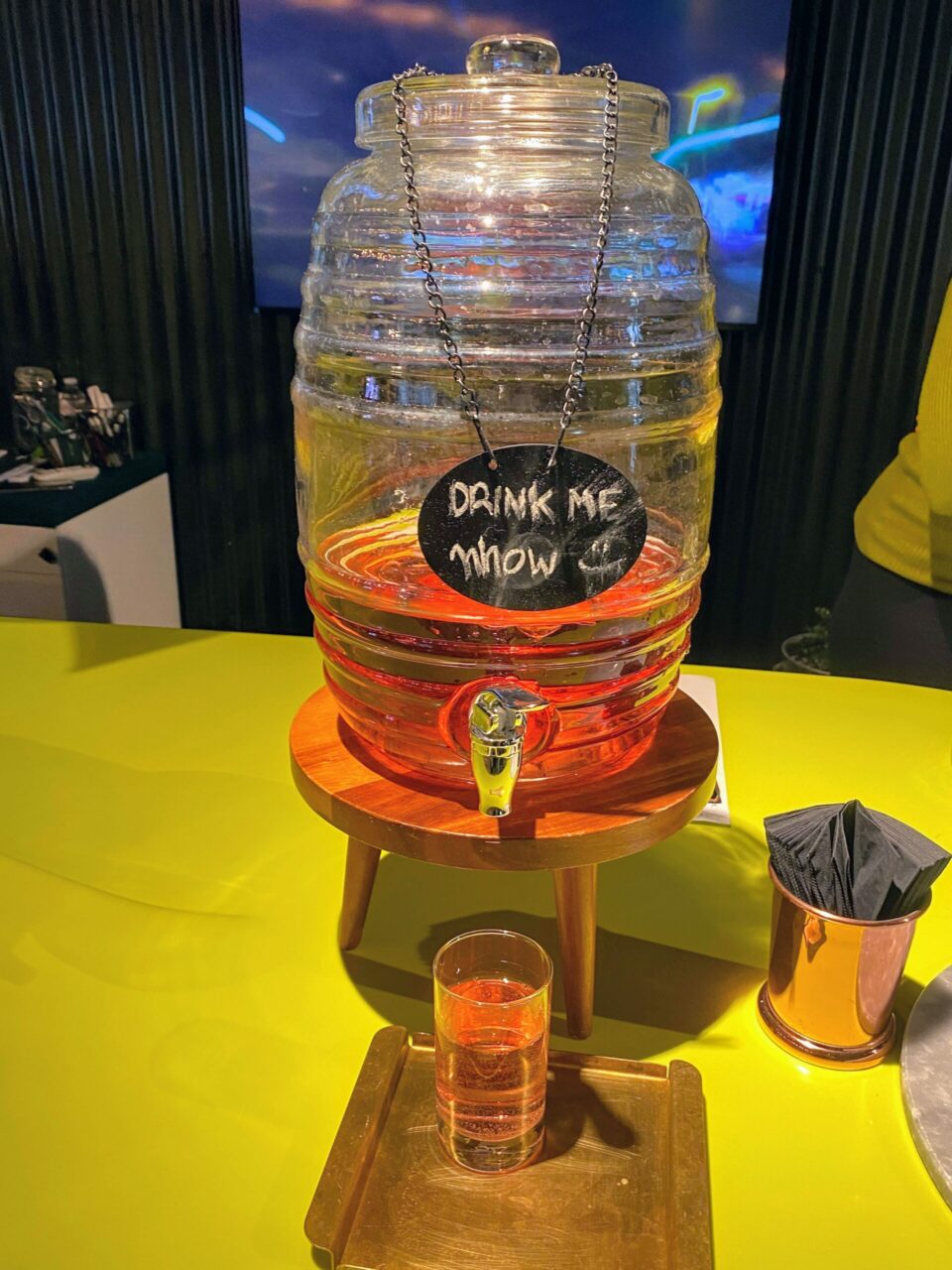 My favourite part of the downstairs area is the large Big Ben sculpture which looks like a rocket. The hotel has been designed under the theme 'London Reloaded' by Project Orang – a bold modern celebration of traditional British icons, such as London landmarks, the Royal Family and the underground.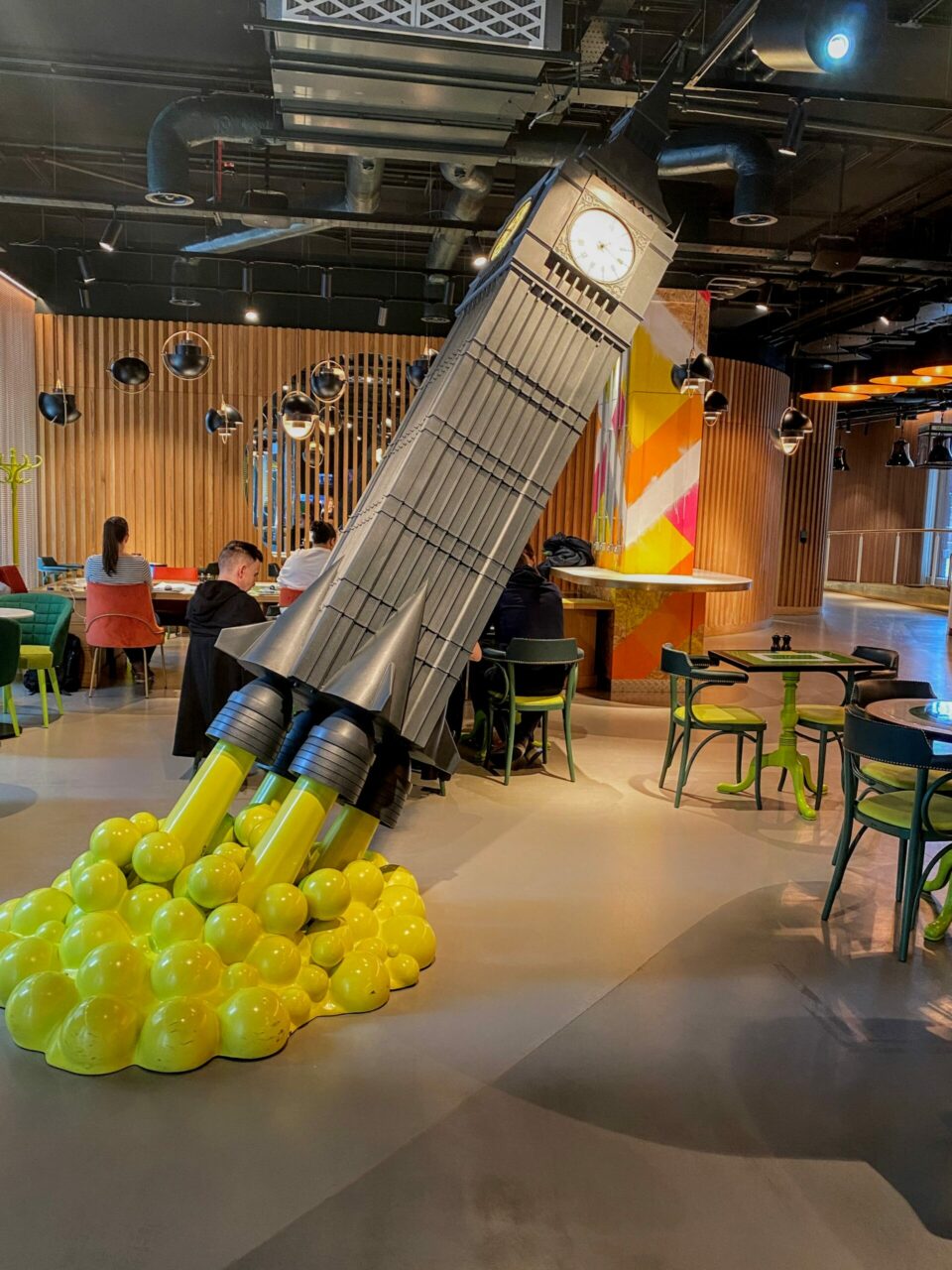 Another area I liked was the fireplace corner which made a relaxing place to sit that felt a bit like someone's living room!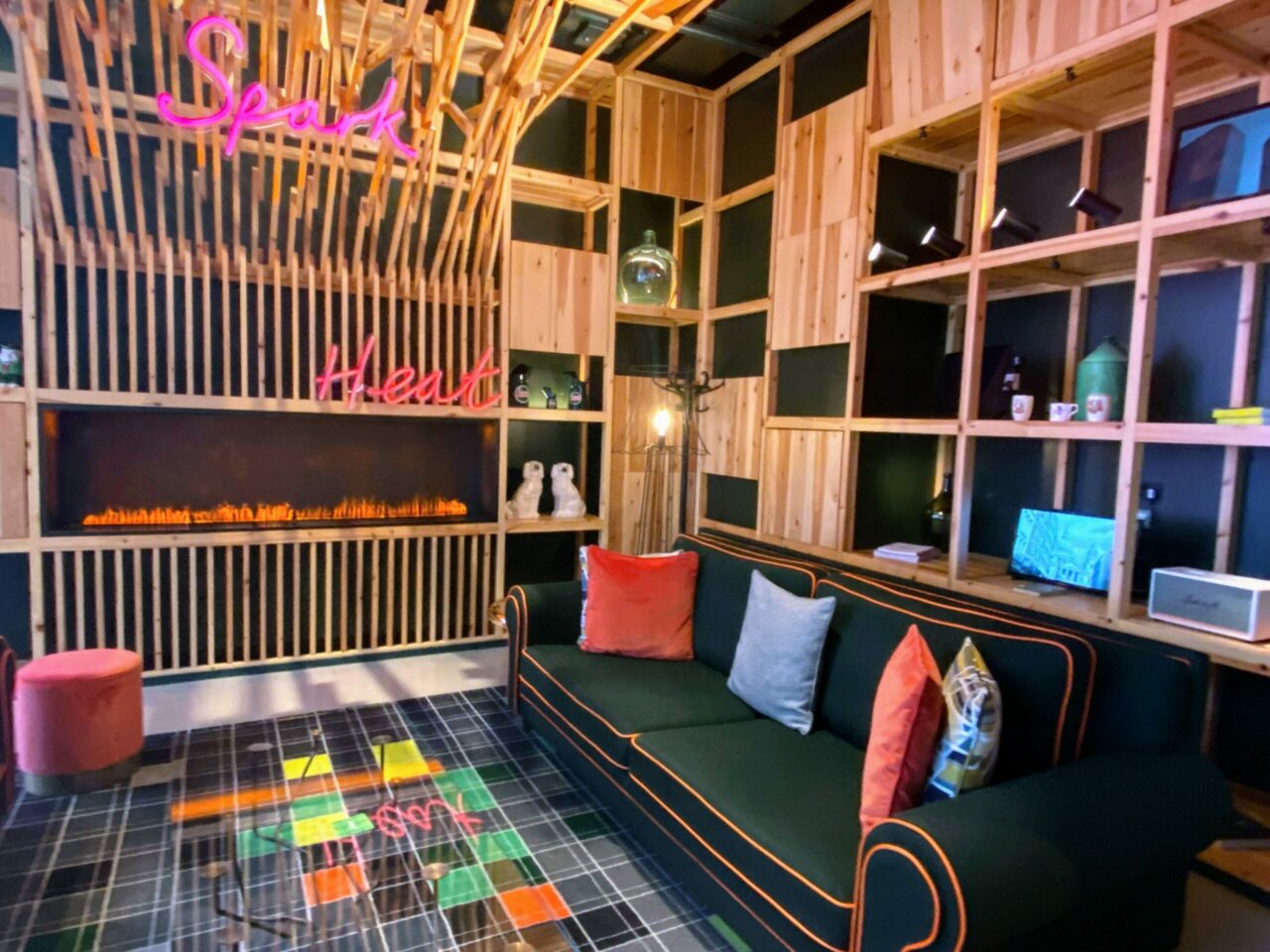 However, you couldn't maintain that illusion for long when you spot these whimsical chairs that look like they are made from military uniforms!
The receptionist welcomed me to the hotel and apologised that the penthouse was not quite ready as I had arrived around 40 minutes before check-in started. After a short wait in the bar area, I was invited to collect my keys and head to the room.
Rooms of nHow London hotel
The guest floors were no less quirky than the main area, even before I got to my room. As I left the lift it felt like I was on a London street which continued as I headed down the corridor.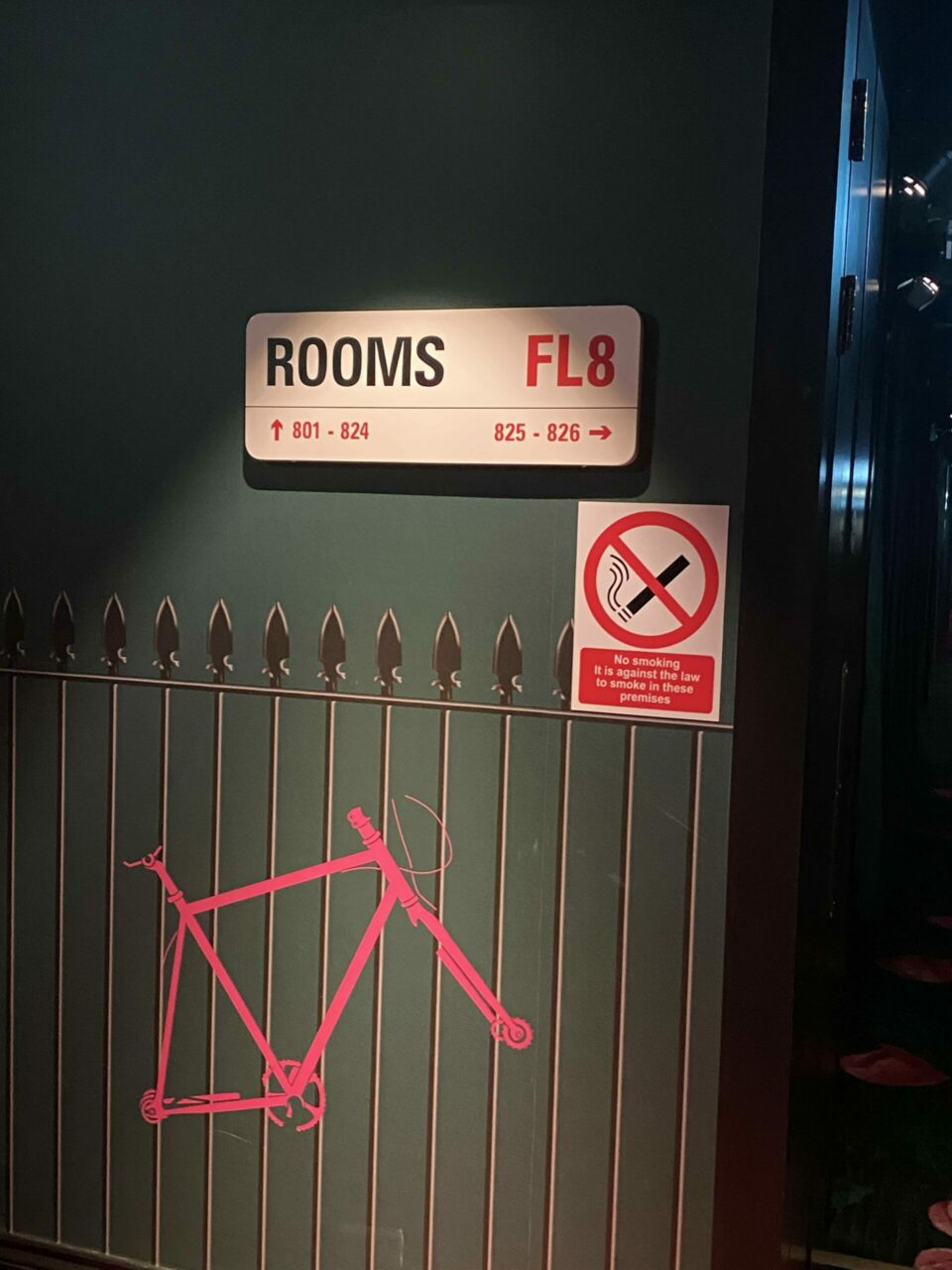 You will notice that the carpet gradually changes as you walk along it, initially starting with sporadic flowers until it erupts into a sea of roses as you come to the penthouse.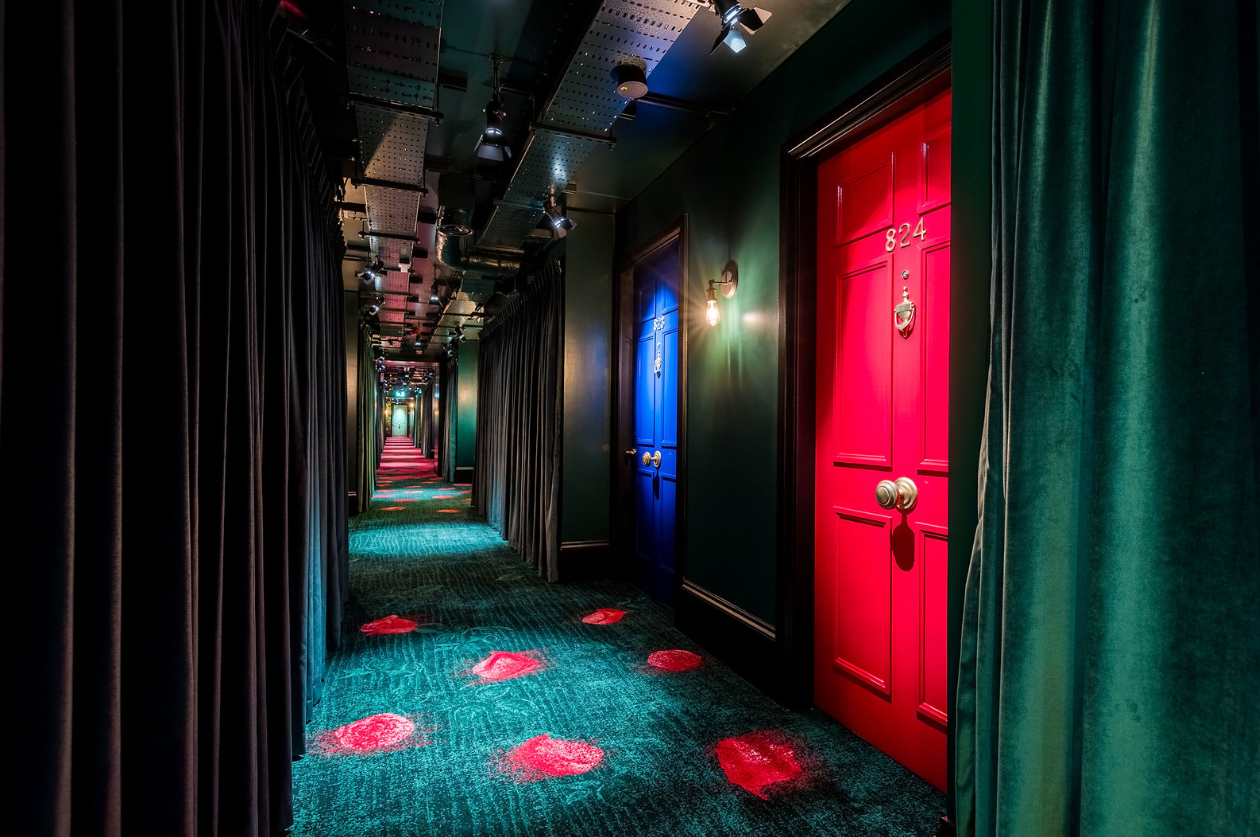 I also adored the front door-like room entrances which were apparently inspired by Notting Hill.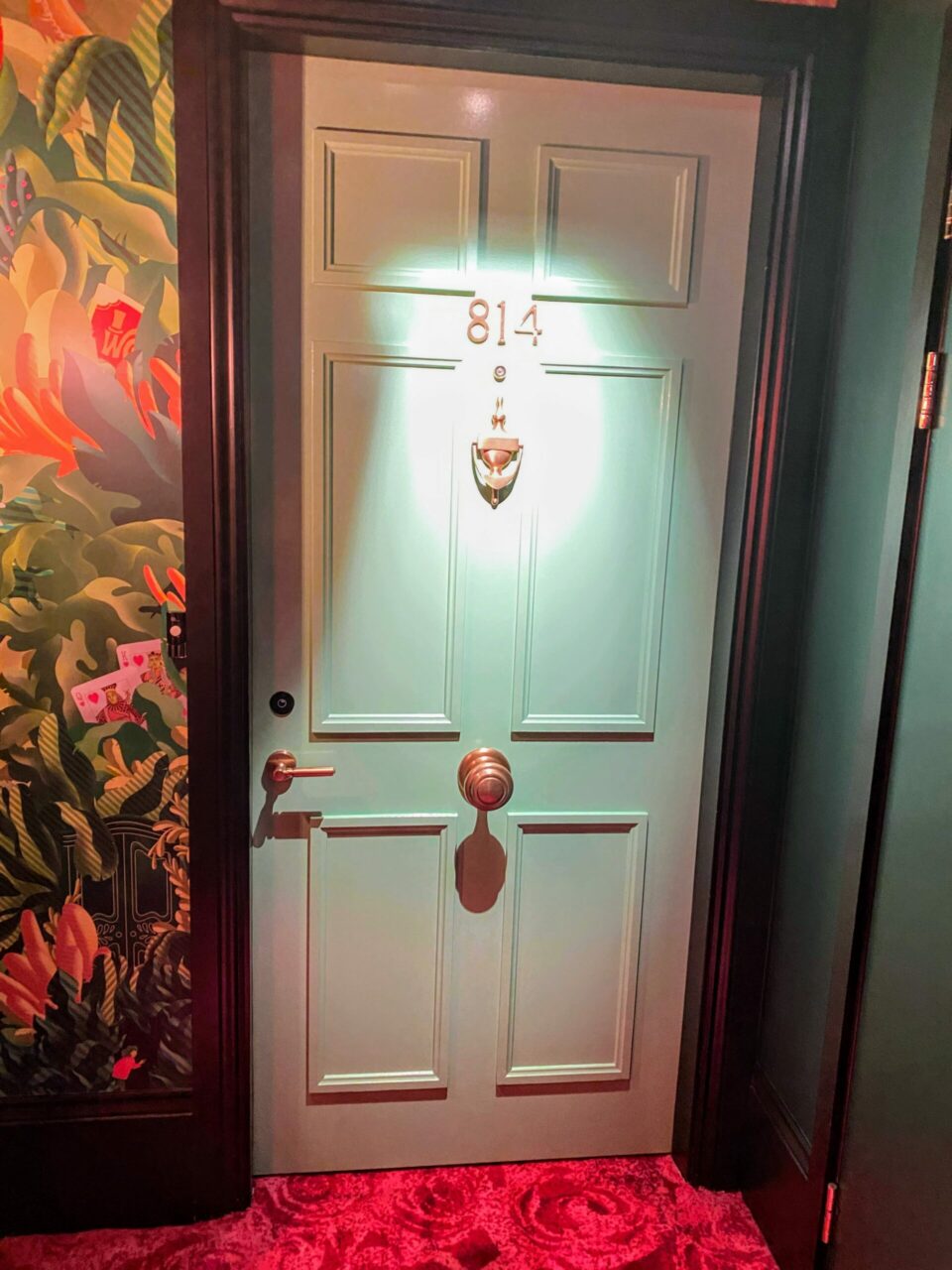 As you enter the Penthouse there is a guest bathroom in the hallway with a rather unusual painting of the Queen. Not sure what her Majesty would make of the moustache (perhaps she needs to visit the beauty salon?)!
Then you enter the main part of the suite through a heavy door. The room is triangular in shape finishing in a promontory window seating area giving good views of the surroundings.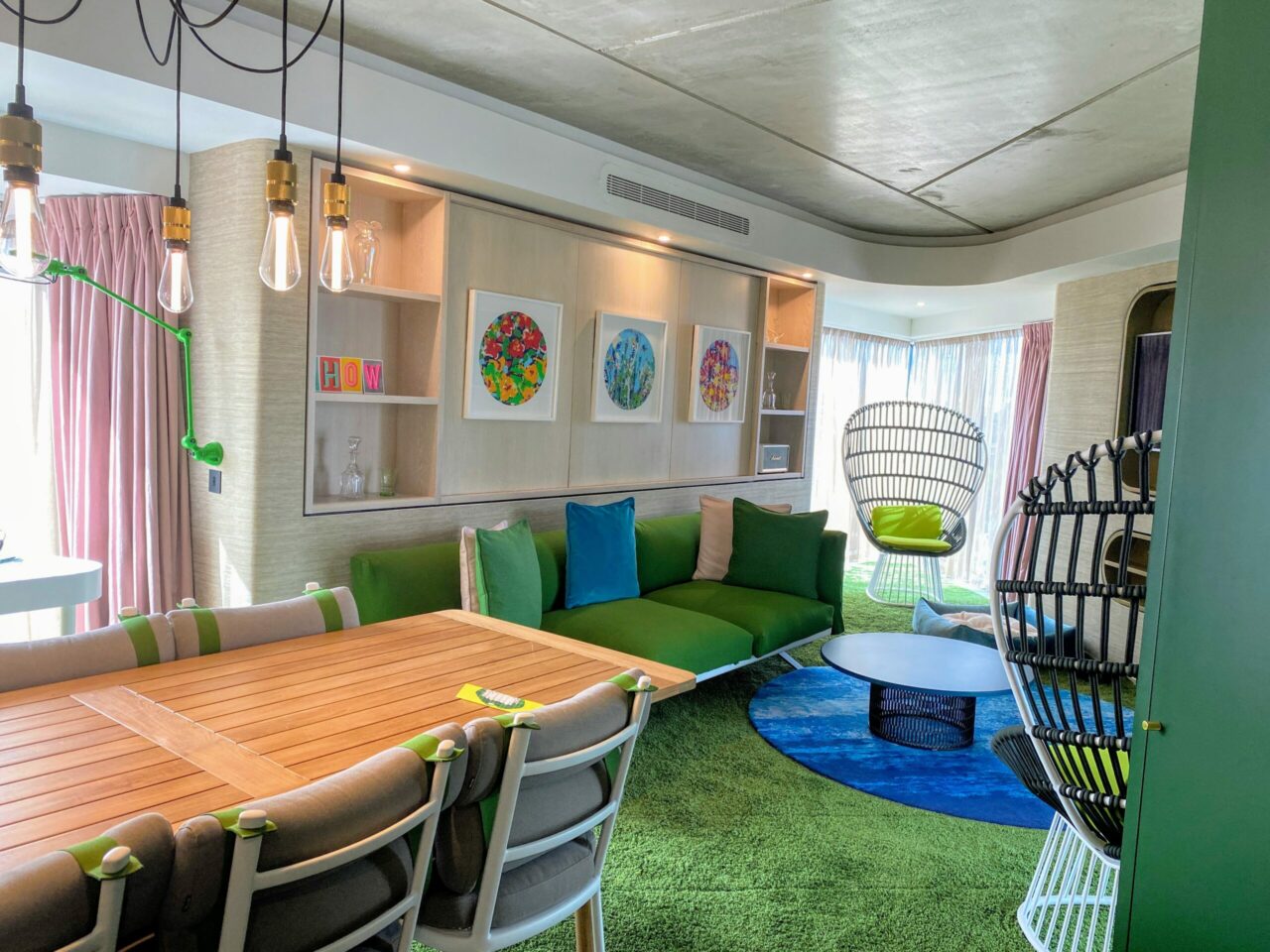 The theme of the room is floral and made me think of an English garden with its grass-like carpet and flower accents. The main living area felt spacious with a dining table that would comfortably seat six, a sofa and two chairs, and a desk for working.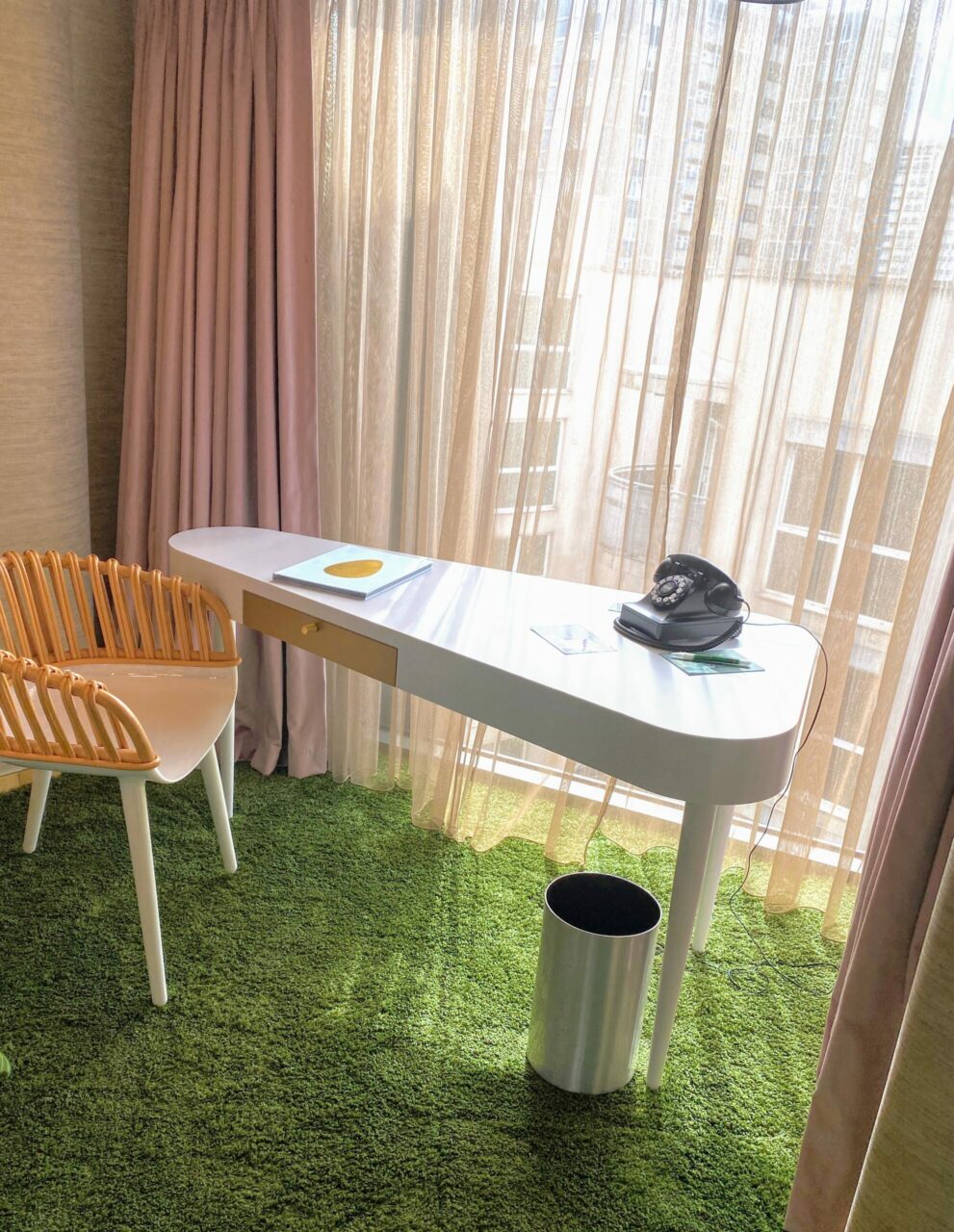 I loved the old Bakerliete phones too as there was a second one in the bedroom. The garden theme continued with the flower decorated kettle which was accompanied by a proper teapot – something you rarely see in hotels nowadays. If coffee is more your thing, there was also a Nespresso machine. I liked that there were mugs as well as takeaway cups if you wanted to grab something on the way out. Also in this area was a proper bar kit with cocktail shaker, measure and ice bucket alongside some nice cut-crystal glasses. Two cartons of water were provided and there was also an empty fridge.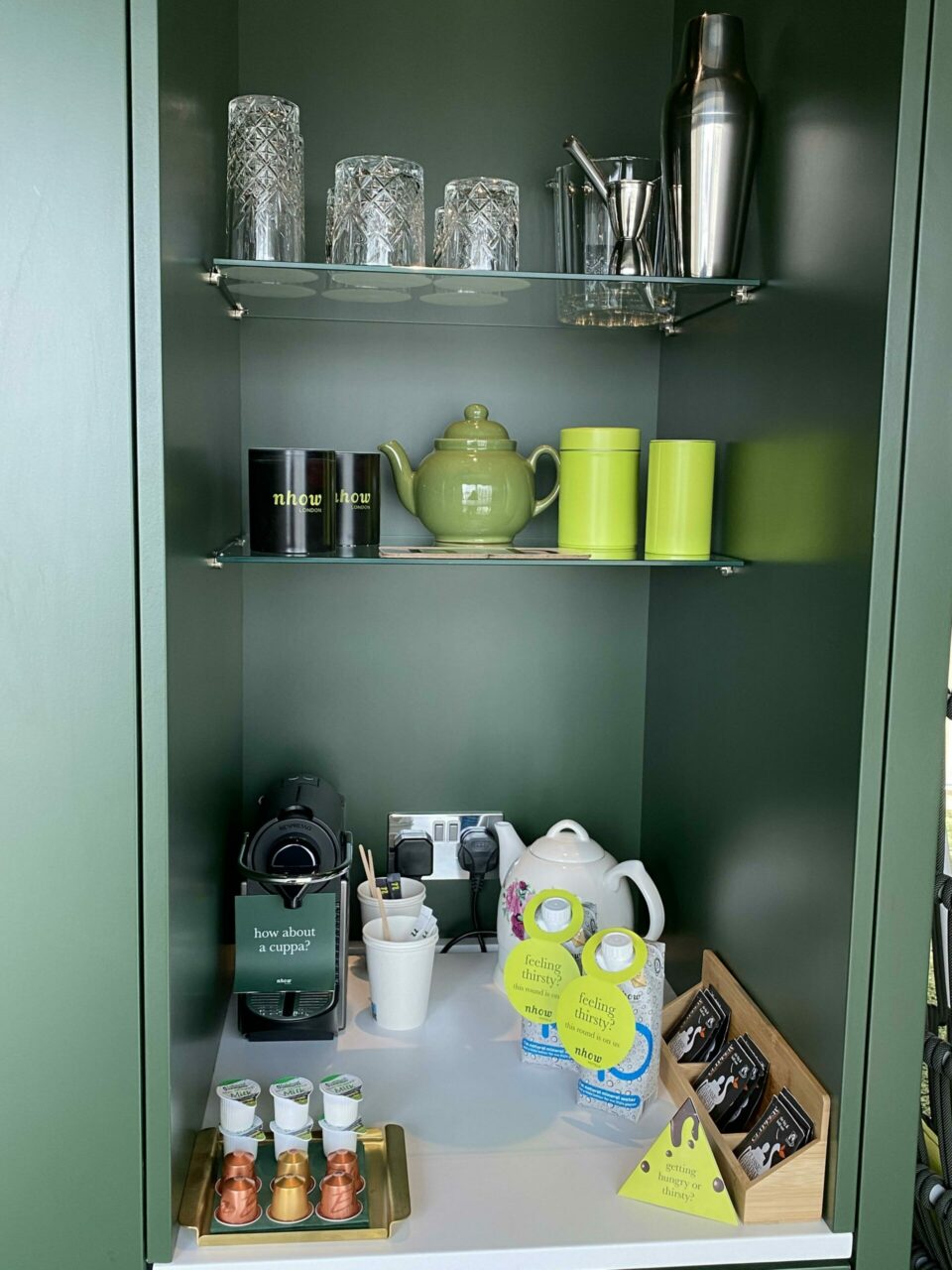 The wicker back chairs were surprisingly far more comfortable than they looked, probably due to the extra cushion at the back.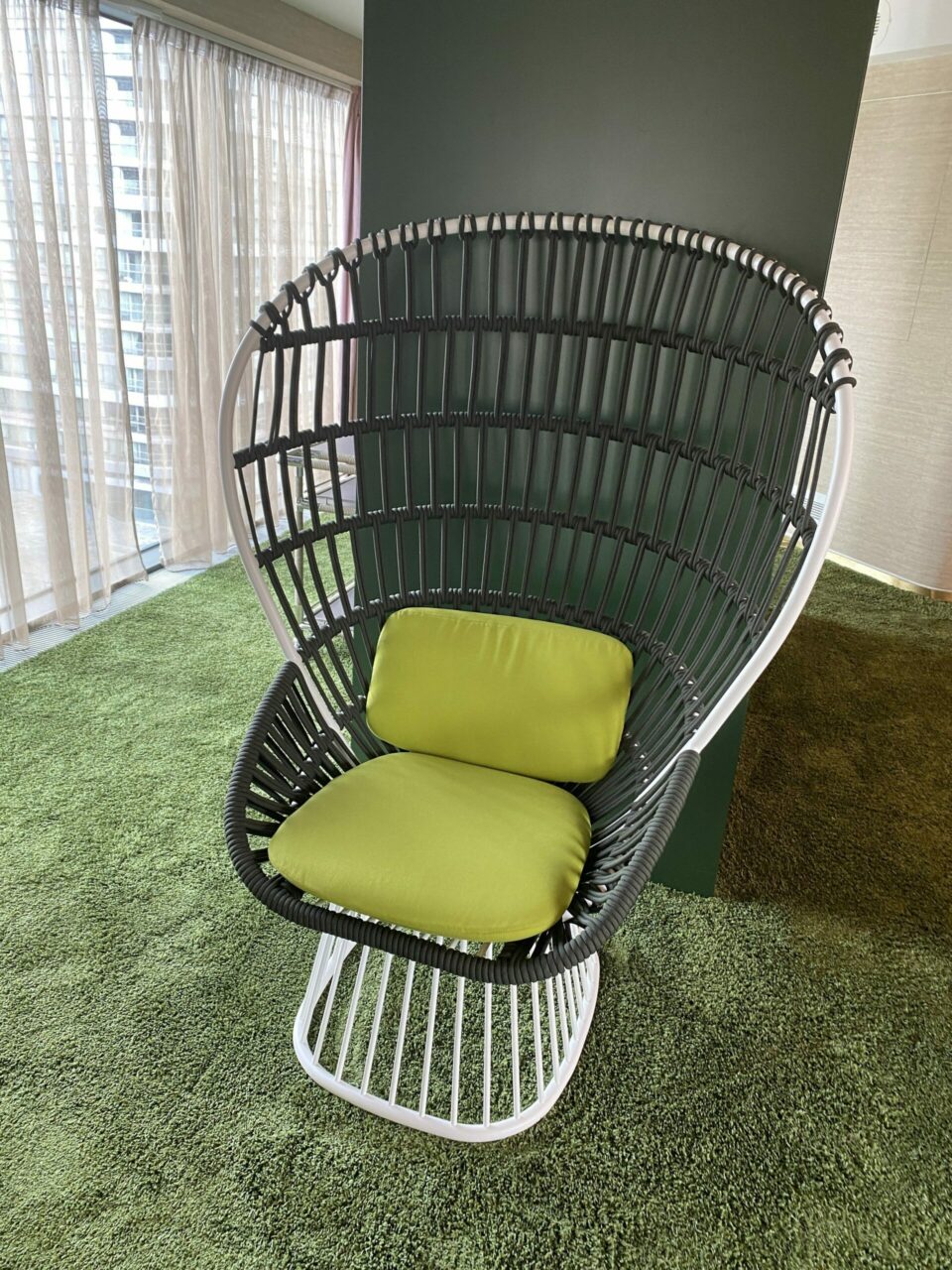 There was a little welcome gift on the table of some beautifully decorated cookies.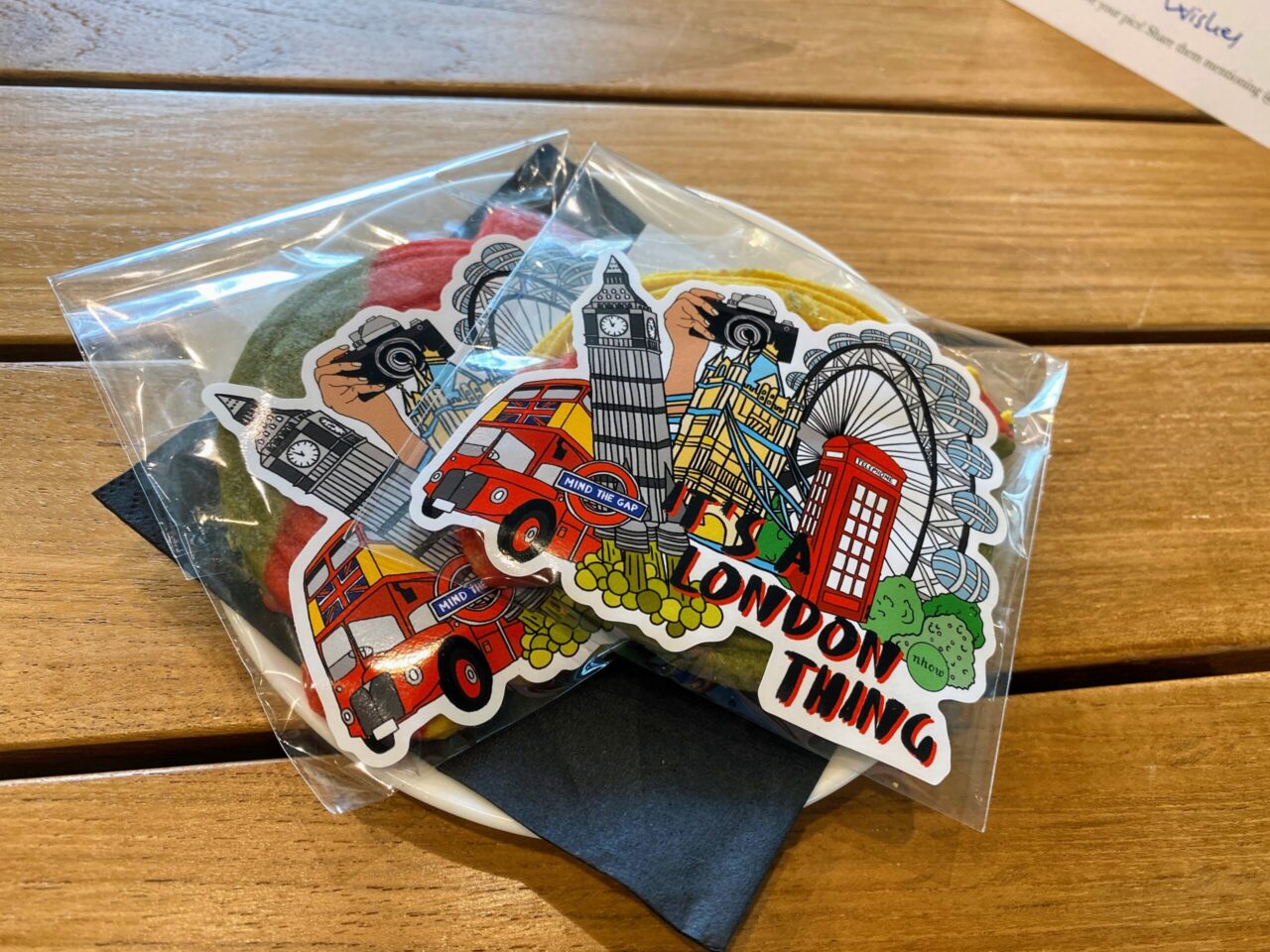 There is also something of a dog theme to the room with this friendly chap keeping guard as you walk in. The hotel is dog friendly and the penthouse provides a dog bed and bowl for your fur babies. I just hope they don't get confused by the green carpet and think it is grass! There's a small charge to bring your dog or cat to the hotel – you can find out more here.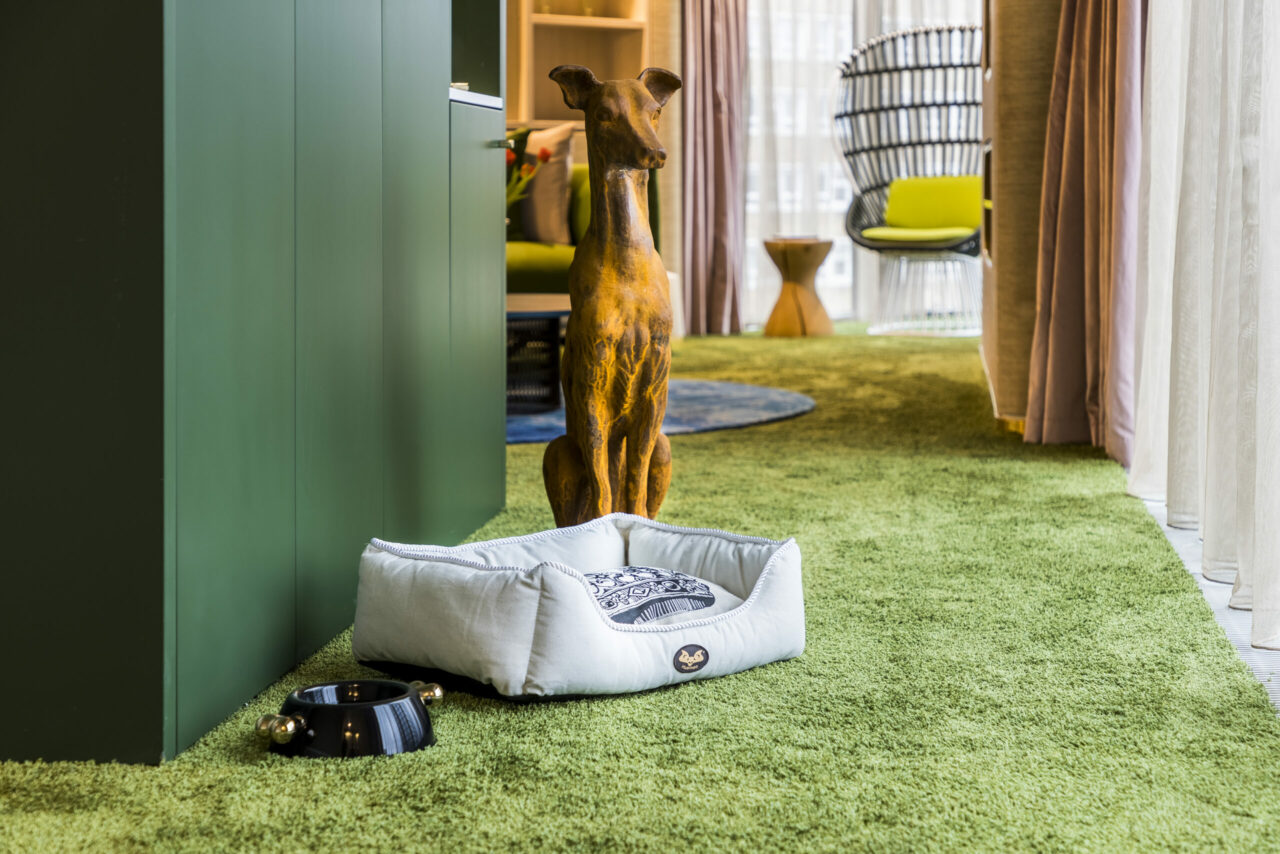 The bedroom had a more romantic and luxurious feel with its large comfortable bed and open plan bathroom. I'm not always a fan of open-plan bathrooms but this one had the shower and toilet out of sight in separate cubicles, plus there was a curtain you could draw across to separate it from the bedroom.
The highlight was definitely the huge bathtub with its decadent floral mural behind.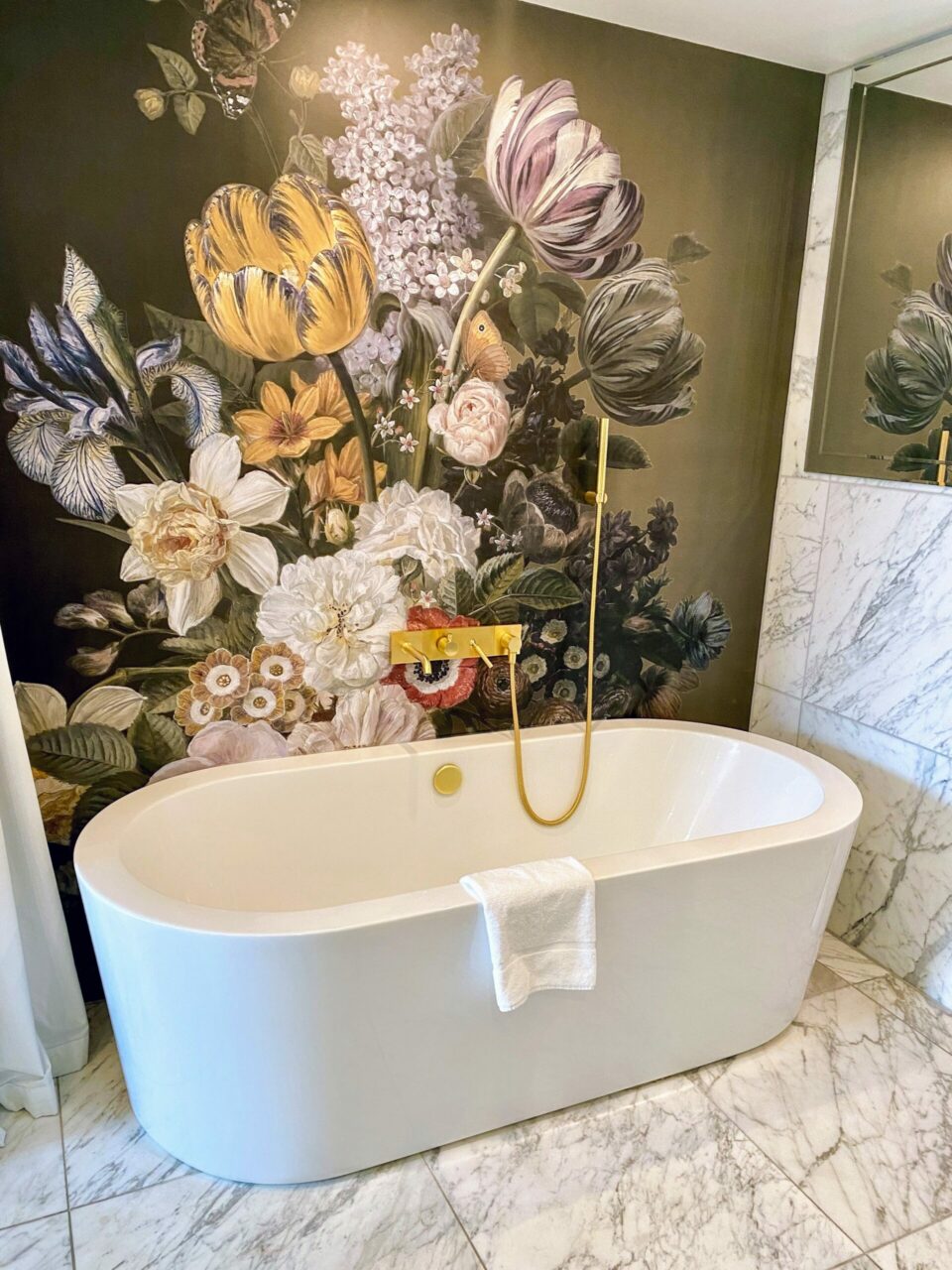 The marble bathroom also had a large walk-in shower with a rainshower head.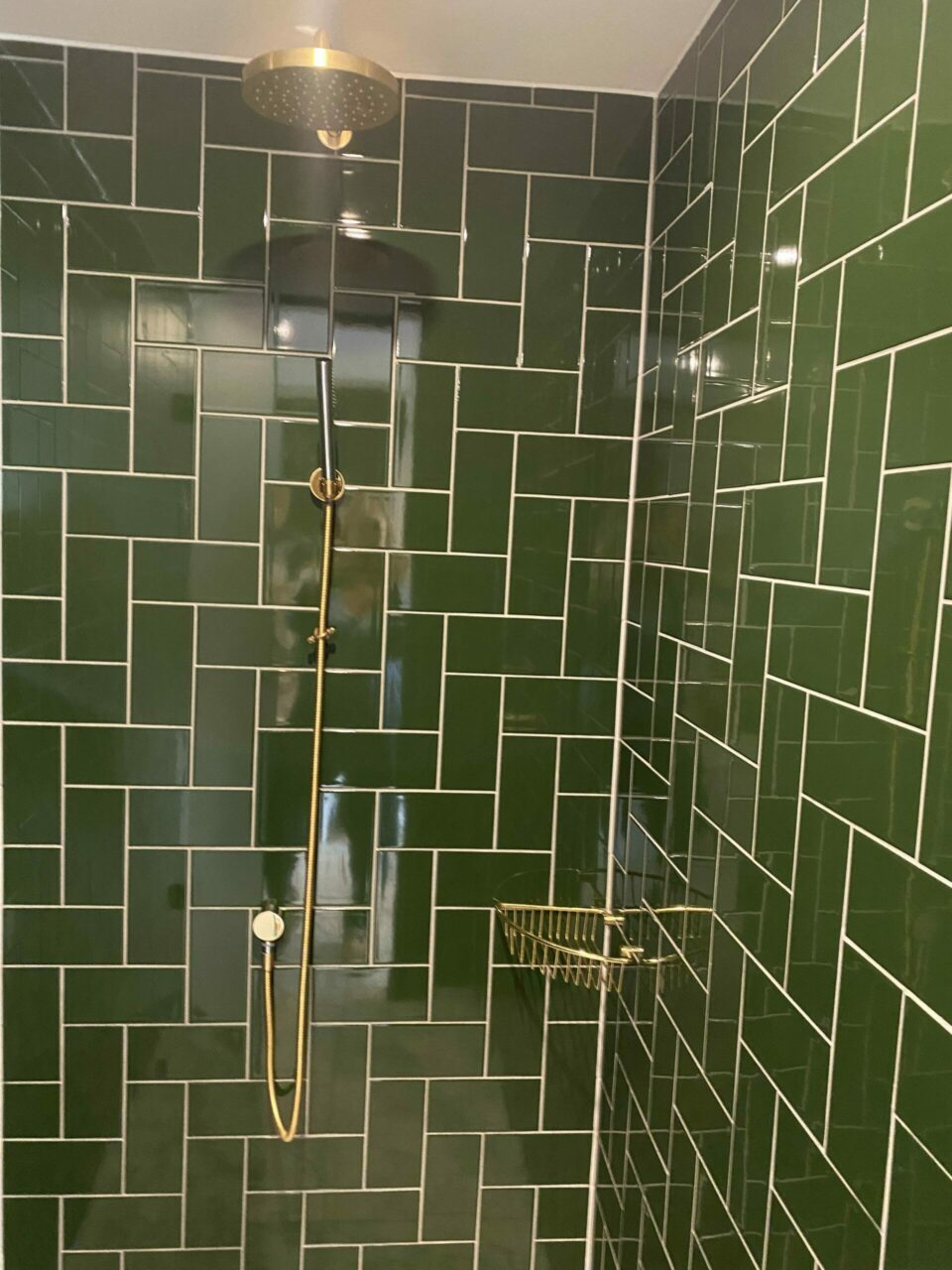 ….as well as this unusual large gold basin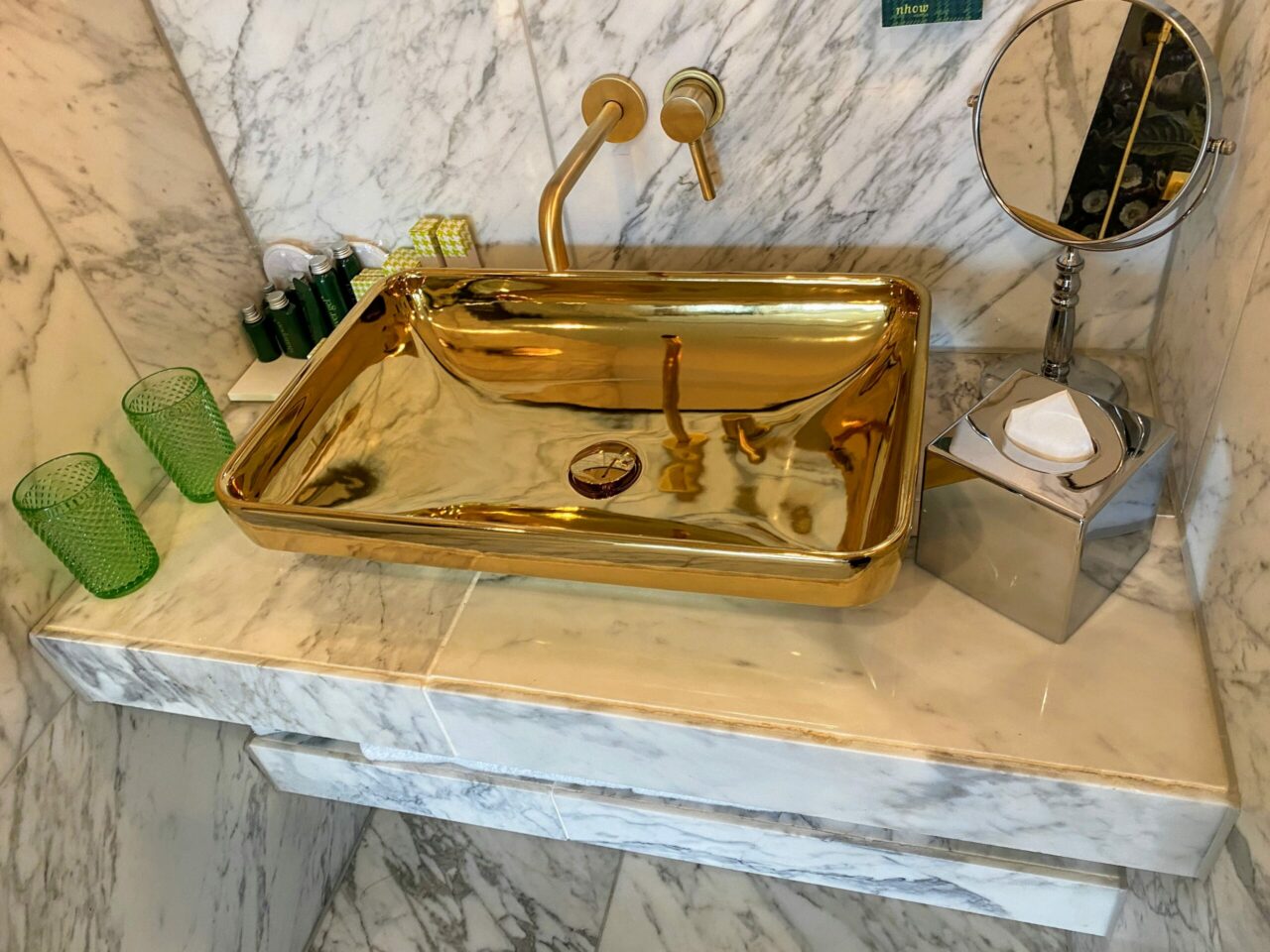 There was a plentiful supply of bespoke toiletries from La Bottega which had a light fresh fragrance and felt high quality.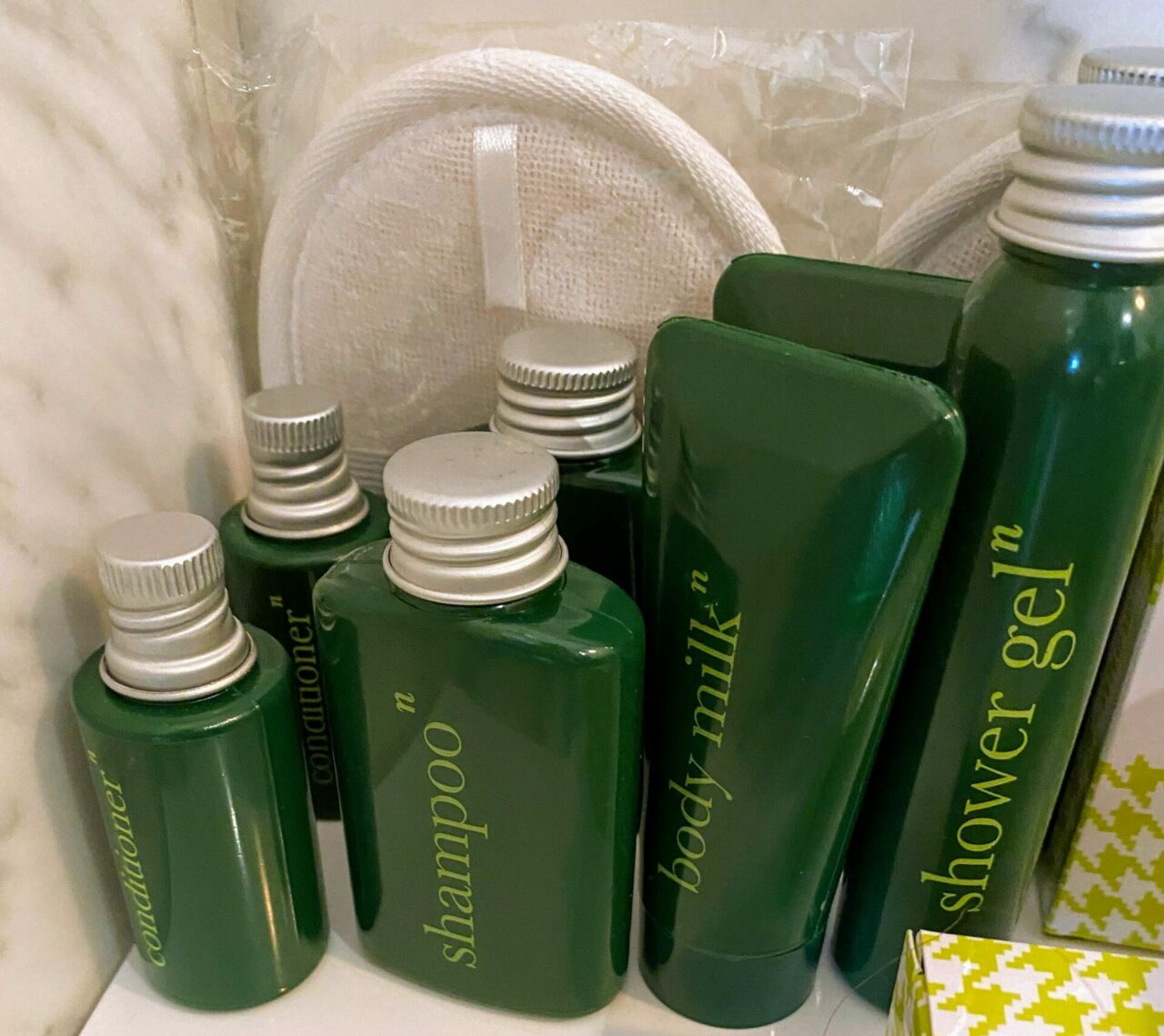 The his and hers Royal themed bathrooms were fun as well as the lime green flip flop style slippers.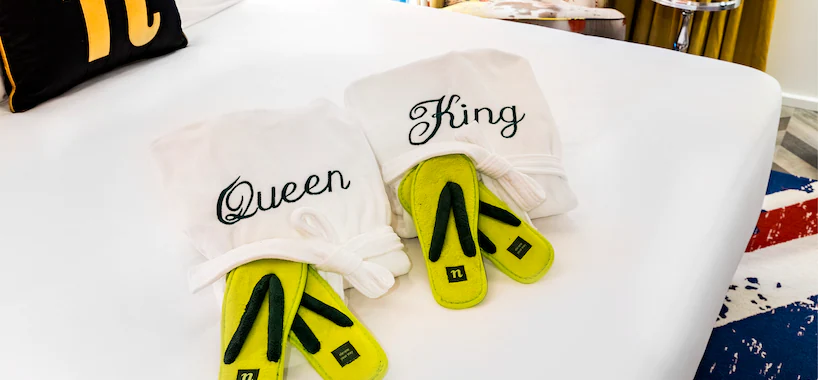 The room was very quiet being on the 8th floor and the bed felt comfortable too. My only complaint was that some of the bathroom lights are on a timer so you have to wait for them to go out when you go to bed and switch off. There are motion-sensitive night lights which are a popular feature in new hotels and useful if you want to get up during the night. These ones were quite sensitive though and went off if you turned over in bed! I reported this to management so hopefully, they can adjust them for restless sleepers like me.
In case you are more interested in one of the standard rooms, here is a peek at one of the superior rooms: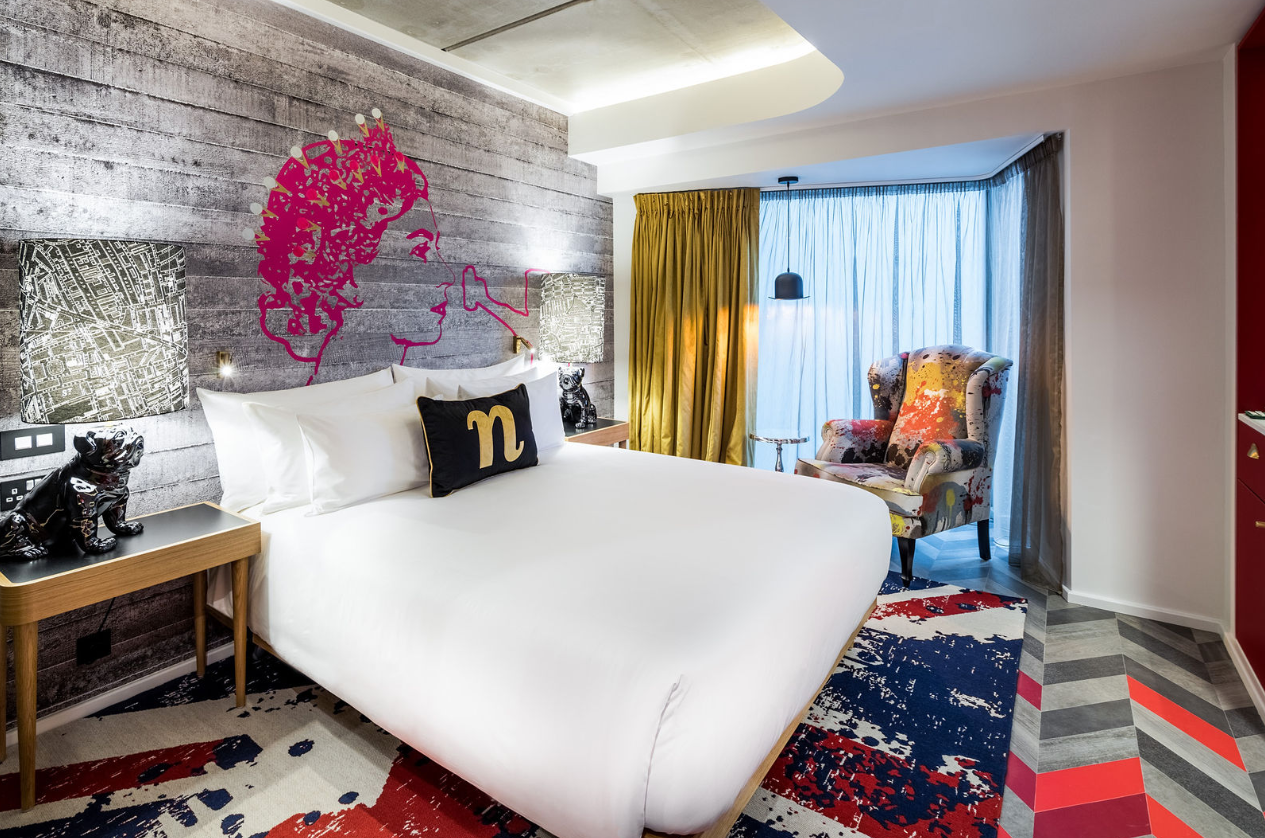 As well as the Penthouse there are also the nHow suites which are only slightly smaller but substantially cheaper making them great value.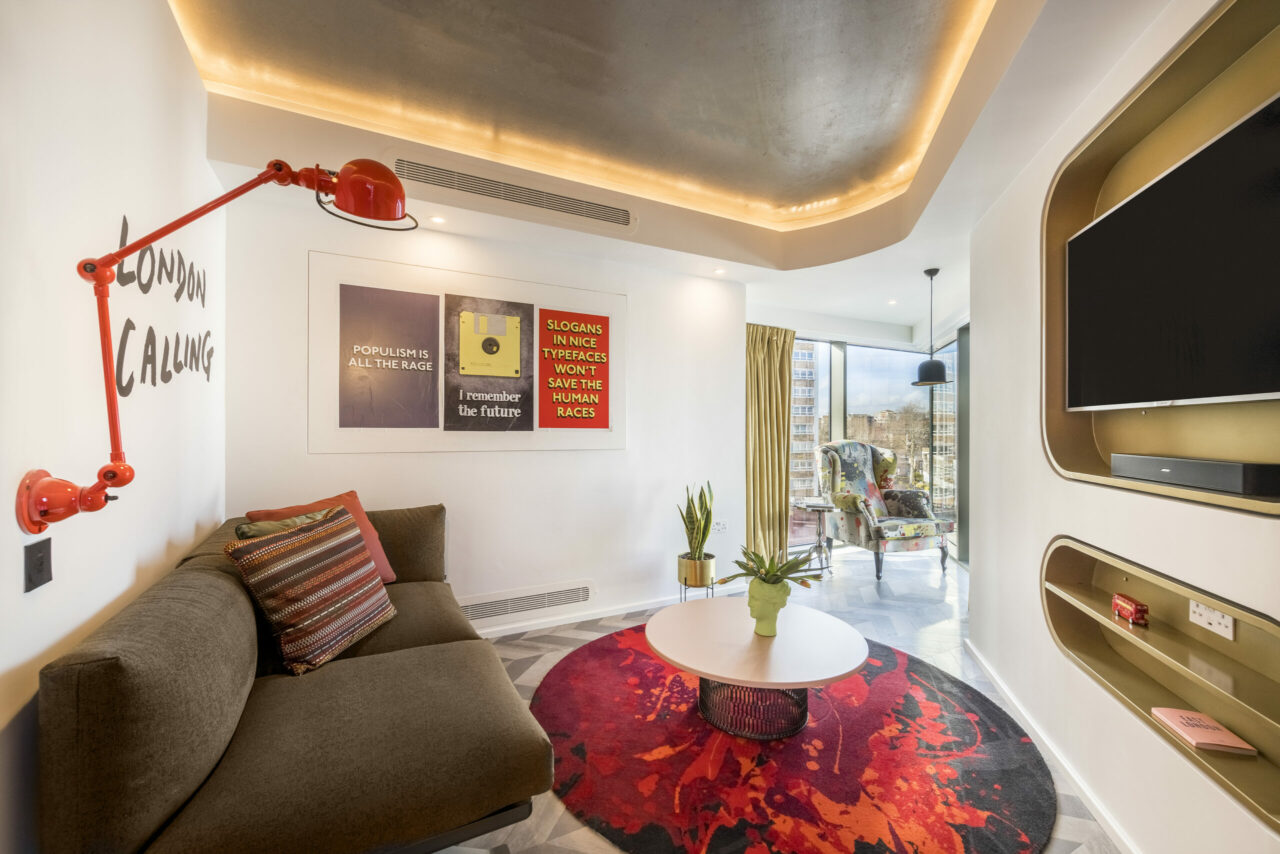 Food and drinkat nHow London hotel
The hotel offers a combined bar/restaurant, The Bell and Whistle, based on a reinvention of a traditional pub. Currently, only the bar and lounge areas are available for dining.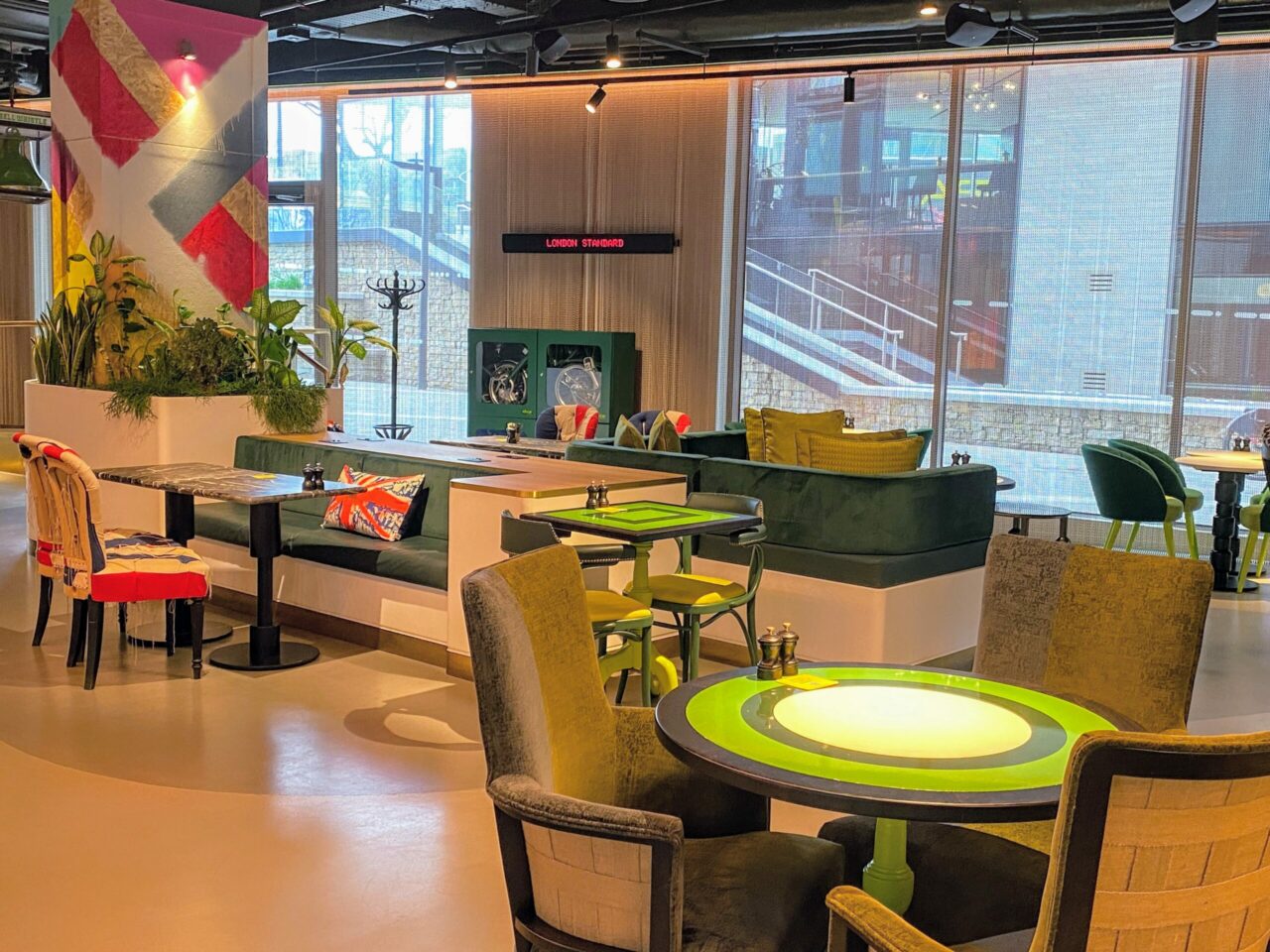 The menu is anything but pub food and both myself and my friend TV Presenter and fellow travel enthusiast Patrick Hoy (see his interview with TLFL here) were impressed with the menu's offerings. We were torn on what to order but eventually decided to go for the rosemary doughnut and the bao bun to start. The barman who was looking after us was fantastic, friendly and knowledgable. The cocktails we ordered were great too.
The bao bun itself was a little heavy but the flavour of it and the accompaniments were great. I loved my rosemary doughnut which was packed full of flavour. The seemingly eclectic range of ingredients actually worked really well with the salty ham and cheese working with the herby slightly sweet bread and cut through by the acidity and crunch of the gherkin.
We also ordered a couple of side dishes which were both amazing and worth a trip to the hotel alone, especially the tempura broccoli which was very moreish with its light as a whisper batter. The sweetcorn salad had just the right amount of chilli and the fresh lime perfectly balanced the sweetness of the corn.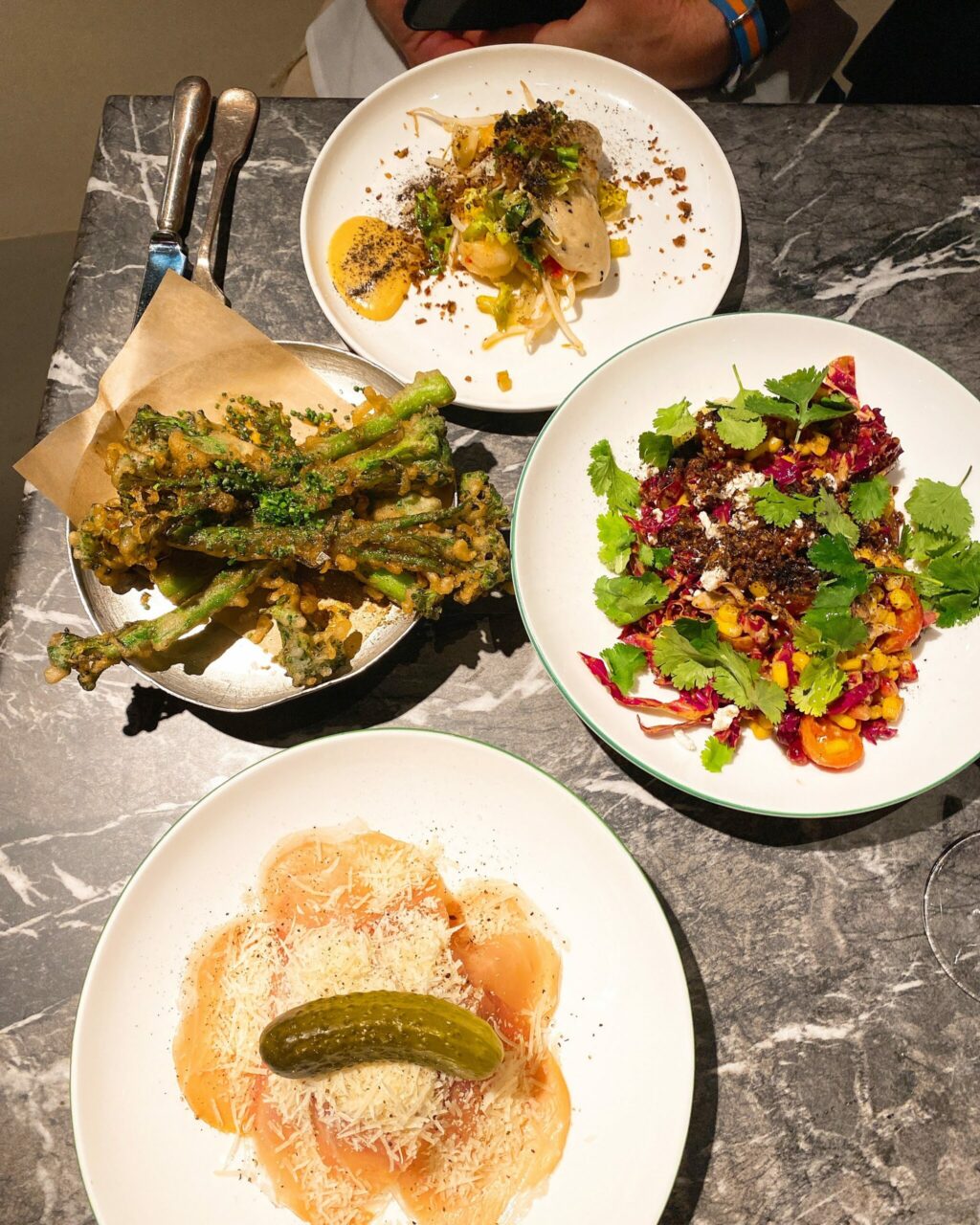 For main courses we went for the crab tagliatelle and porchetta.
My porchetta was a huge portion with lovely light crackling puffs and plenty of rosemary jus for dunking the triple cooked roast potatoes.
Despite being way too full at this point we had both been seduced earlier on by the intriguing dessert menu, so we vowed to soldier on for the review at the expense of our waistlines!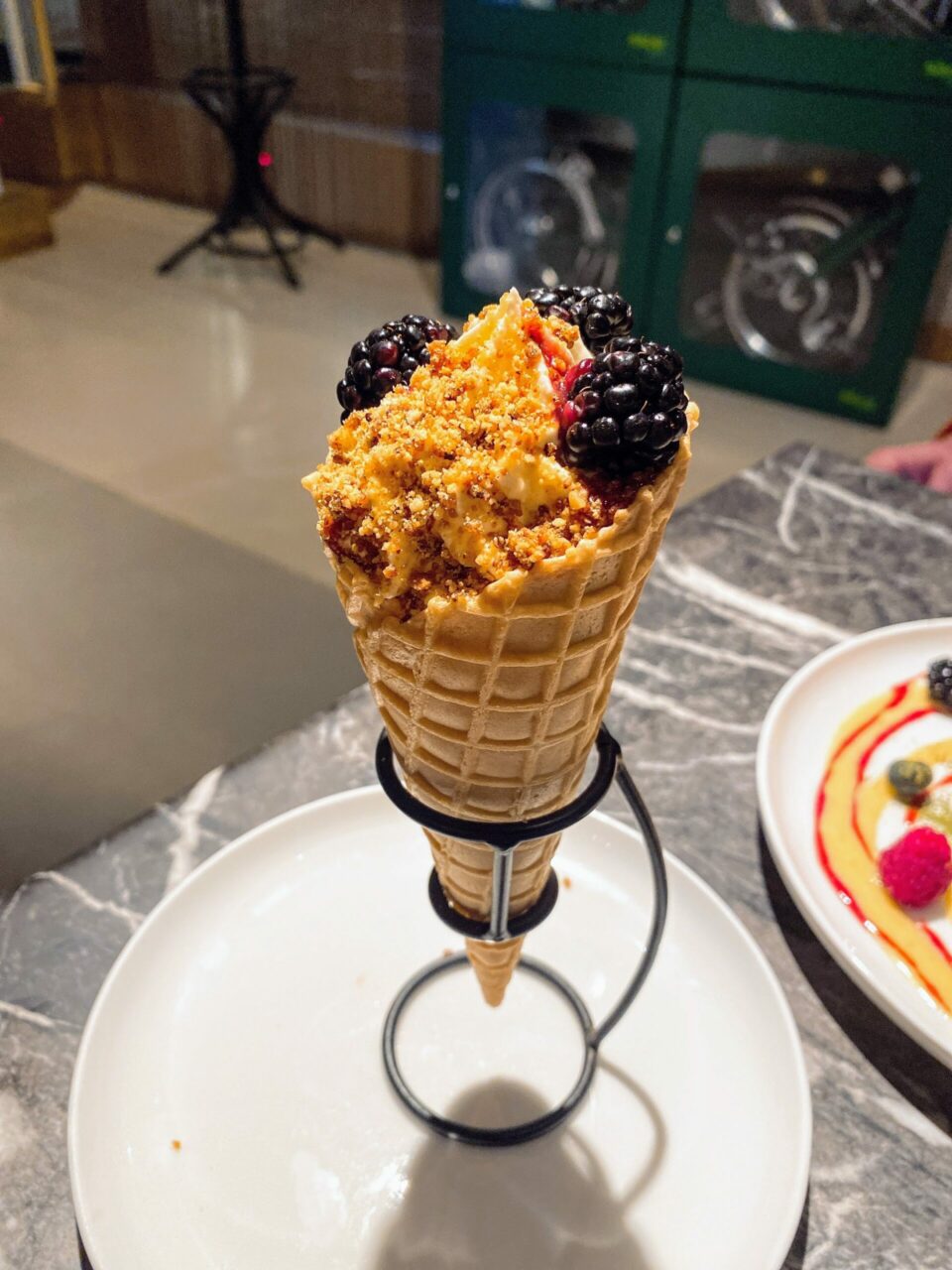 The bacon waffle cone sounded very interesting and often savoury things work well with sweet. Patrick went for the macaroon.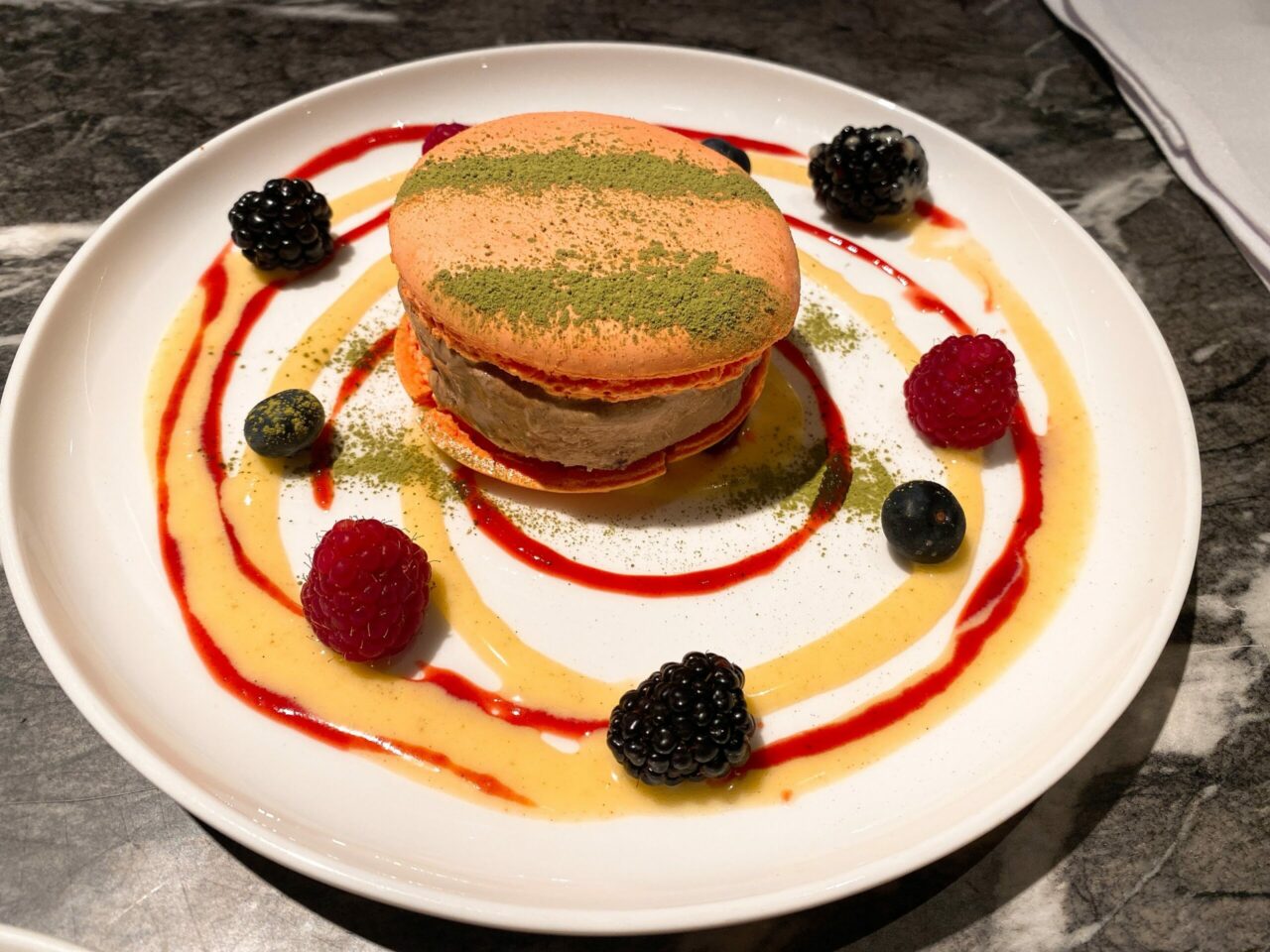 The macaroon had a perfect light but slightly chewy texture and the accompaniments added some freshness with the fruit. I enjoyed the ice cream which was velvety and creamy but I thought there was a little too much bacon versus the other elements. But overall it was enjoyable and fun.
Breakfast at nHow London hotel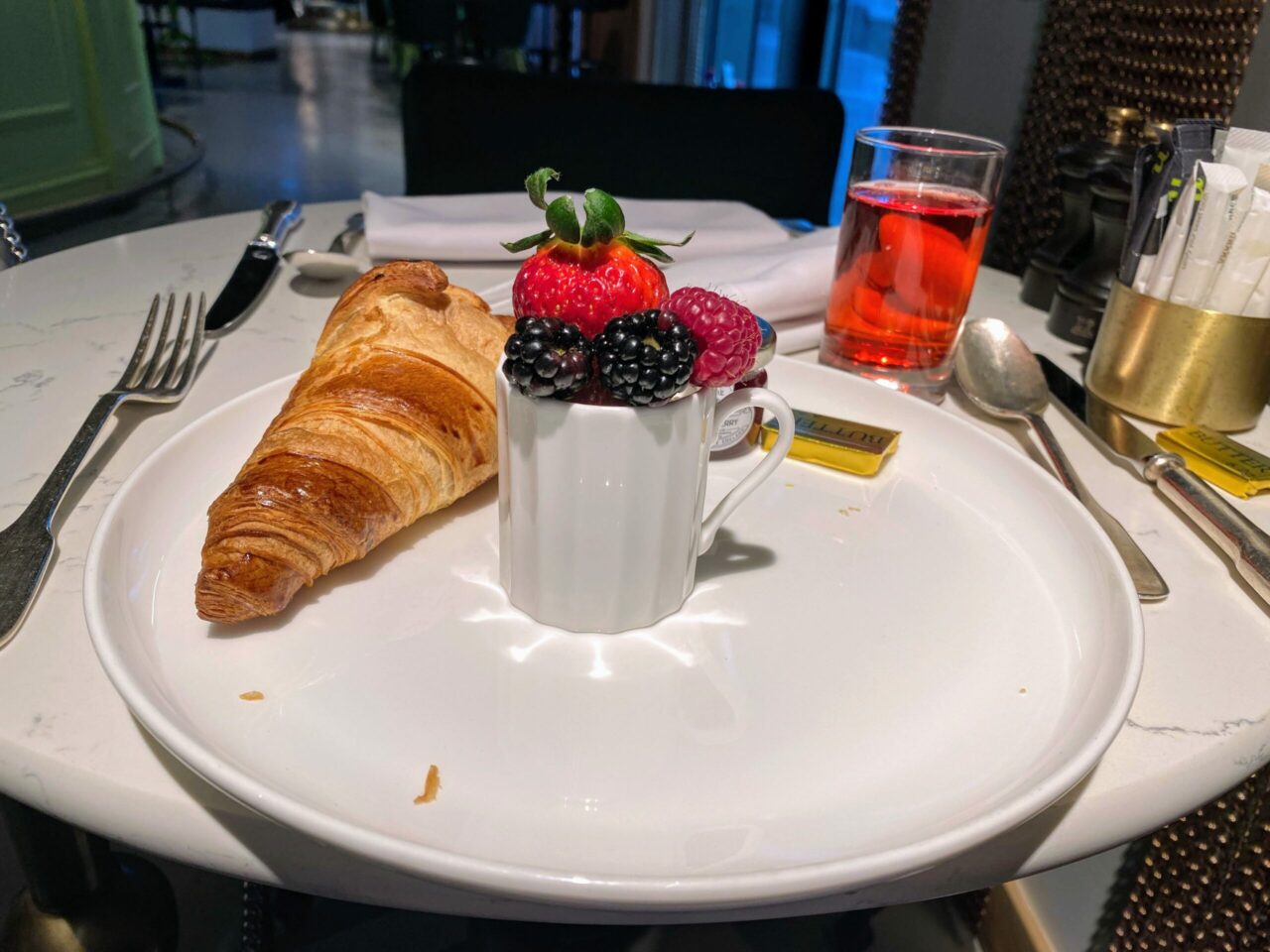 I had breakfast included and was expecting a fairly small breakfast choice since it was described as "continental" but was very pleasantly surprised. The breakfast buffet had a small selection of hot items as well as an extensive choice of high-quality cold options. From smoked salmon to sourdough and fruit salad to green salad, it had it all. You could also order a la carte for an additional fee.
I had to head to Heathrow quite early so I just had a lovely buttery and flaky croissant and some creamy Greek yoghurt with some perfectly ripe fruit. I thought it was very clever how when you entered they took your coffee order so you didn't then have to waste time waiting for someone to come over. Why don't other hotels do this? It's always so infuriating having to wait for ages for someone to come and take your order!
Facilities at nHow London hotel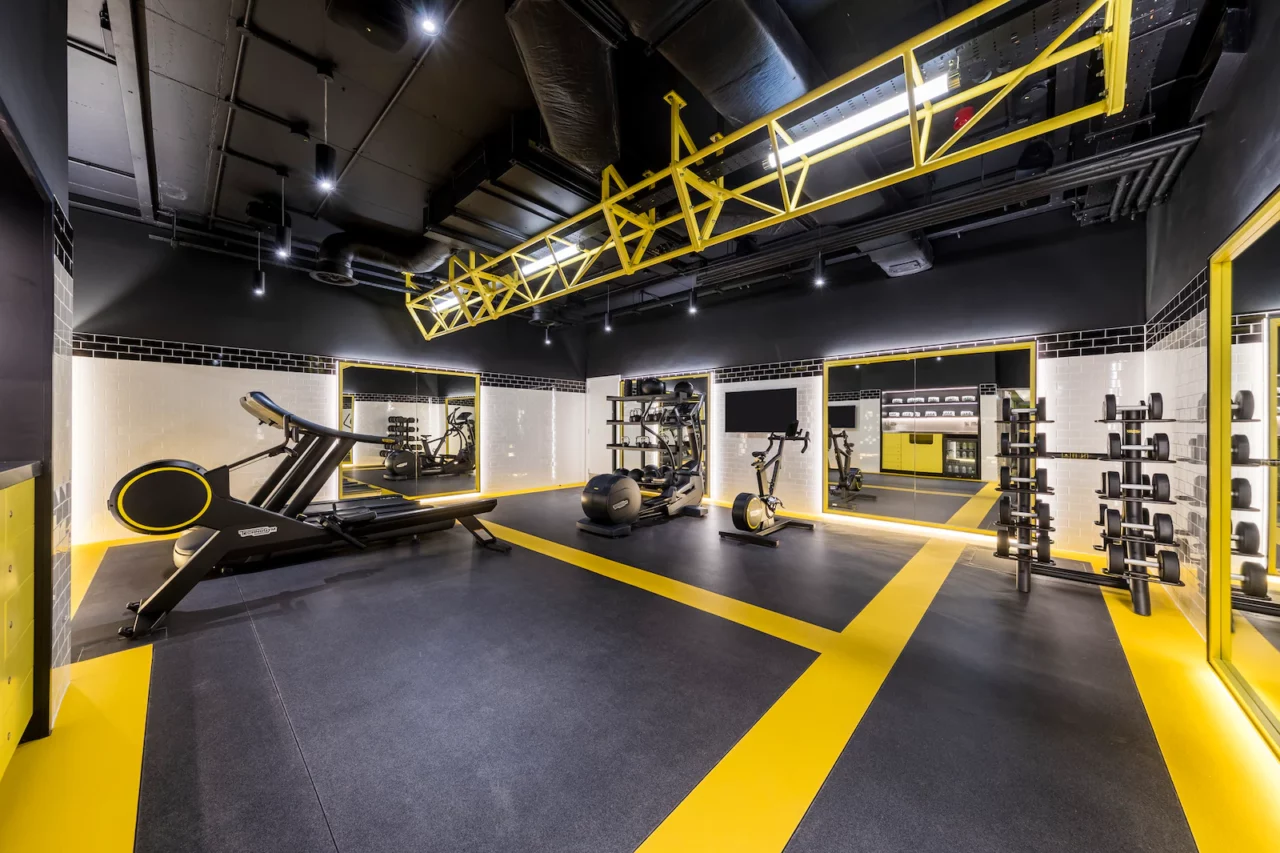 There is a large well equipped modern gym in the basement and three meeting rooms. There are also Brompton bikes available for use.
Price and booking
Prices are very reasonable with superior rooms starting at around £140 and the Penthouse from around £500 a night which you could easily pay for a basic room in Mayfair. The nHow Suite starts from just under £300. However, you can get it slightly cheaper by joining the NH hotels loyalty scheme, NH Rewards, which can give up to 10% extra discount and you can earn points too. It's free to join here.
You can find more information about nHow London and rates here.
Conclusion
I was pleasantly surprised by nHow London hotel as having seen the quirky decor before, I wasn't sure if it would be all style and no substance. However, the room was well equipped and thought out as well as comfortable. I really enjoyed the food and the broccoli tempura really was to die for! The main communal area had plenty of places to sit and relax as well as a great bar and food. Breakfast was also great with plenty of choice and high-quality ingredients. Staff were all friendly and there appeared to be a lot of thought put into how everything works resulting in seamless service most of the time.
If you want a reasonably priced luxury experience close to the fashionable areas of London to explore, then this is definitely a great choice. You get a lot for your money and even a suite is the price of a standard room in more expensive areas. The 10% discount makes it even more attractive!
Like our nHow London hotel review? You can read more hotel reviews here.