Due to the Queen's passing meaning we did not publish a normal article yesterday, I will be publishing the final competition reader reviews until Sunday to give them all an equal chance rather than cram them all on one day together.
Today's reader review for our competition is from James. If you enjoyed it, let us know in the comments below. We do not encourage criticism of reader reviews. They are not professional writers, and every writer has a different style that won't suit everyone's taste.
I find the main Hilton 'H' brand hotels to have a huge variation in quality, décor and service. I've stayed in several a stones throw of each other in West London with such a variation between them it's often like being in totally different hotel chains, and of course, none of this is reflected in the pricing.
I appreciate much of this is due to how Hilton acquired properties, and for a long time in the UK the generic 'H' covered a broad range of properties which is now starting to see re-fascia under their sub brands. It's for this reason that when travelling for leisure I tend to avoid main brand Hilton and go for a Waldorf Astoria, a Conrad or a Curio collection which are generally reliable and consistently good. I broke that rule when a booked two nights in the Hilton Berlin, and I was pleased I did!
Location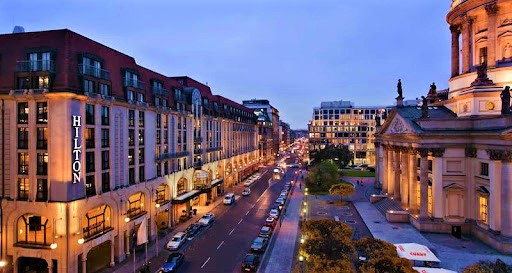 The hotel is located opposite the Deutscher Dom (originally a cathedral and now the Bundestag museum) in Gendarmenmarkt Square in the Mitte district of the city. The square itself is very attractive and sitting in a bierkeller on the square made for a very pleasant final dining before collecting the left luggage and heading to the airport.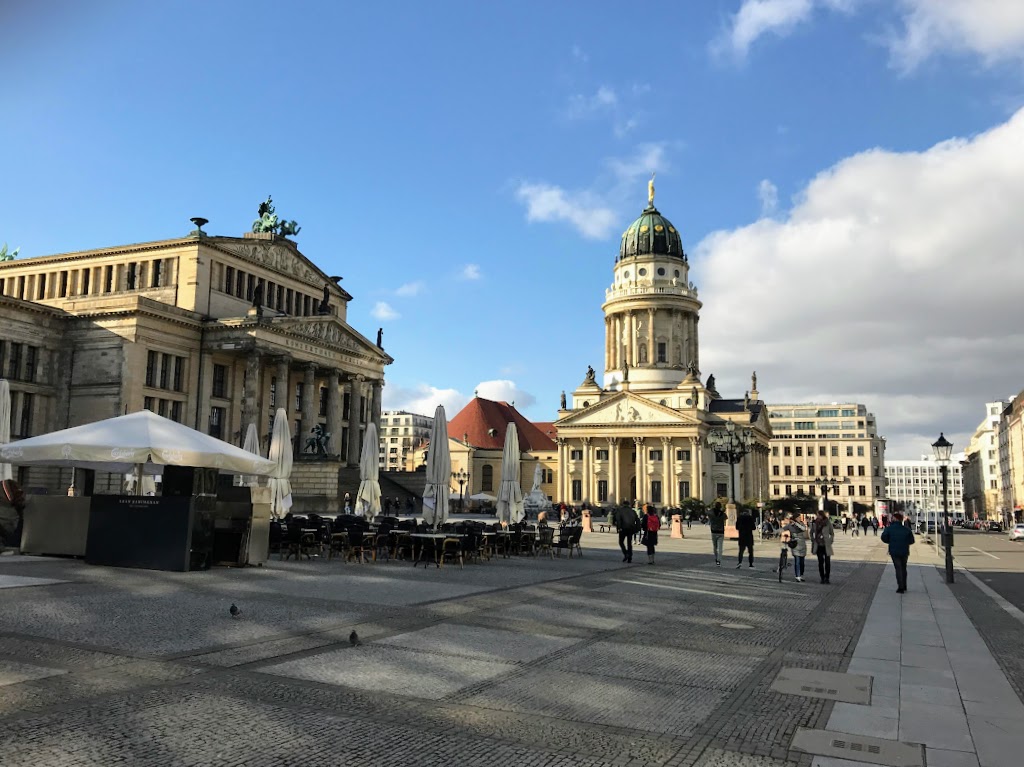 The hotel is a short walk to Checkpoint Charlie, Museum Island and the Brandenburg Gate. It's also minutes to both Stadtmitte and Hausvogteilplatz U-Bahn stations. It took me about 50 minutes using the Deutsche Bahn and U-Bahn from Brandenburg airport to reach the hotel, and for the mere sum of 9 Euros you can buy a monthly pass providing unlimited travel across all German trains and public transport throughout June, July and August.
Most of the guided city tour buses stop at some point around the square so these are only a short walk away and the hop-on, hop-off nature helps with getting around tourist sites. I used the Big Bus Tour (which I'm familiar with in London), but there's several companies with different routes operating in the city.
The Room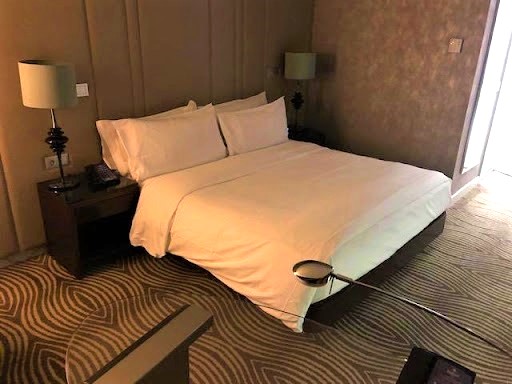 I had booked a King Guest Room but as a Diamond member I was upgraded at check-in to a King Guest Room with Dome View. From the PR pictures I can't see any difference in the rooms save for the view, but I do admit the view was impressive and I was pleased to have it. (As an aside I am yet to find myself upgraded to a suite in any Hilton family property anywhere in the world and yet from what I read on various blogs some people seem to get one all the time!).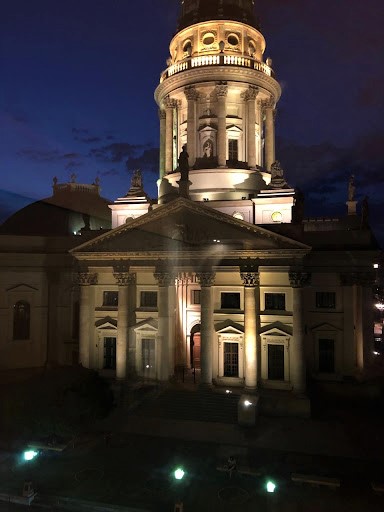 The room was spacious with ample space to work if you were staying on business- though personally, I'd have switched the desk chair around to face out the window. The desk even had a 3-pin plug socket which I haven't seen previously on the Continent and only really noticed as I was about to check out.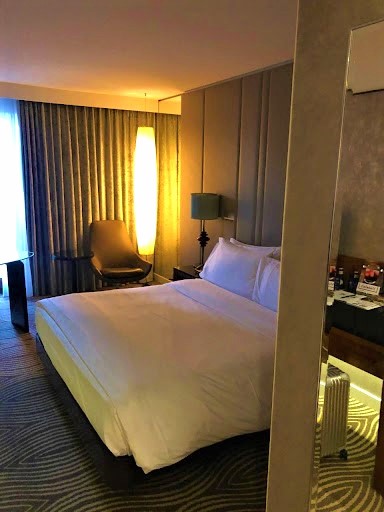 Toiletries were the usual Crabtree and Evelyn Verbena and Lavender scented small bottles. I'm personally not a fan of them (and I've used enough of the stuff), but I do wish Hilton would at least switch to the large refill bottles that I've seen in some properties like the Double Tree's at Tower Hill and Manchester Piccadilly (both of which are the ex-Mint hotels and have the same owners I think). Hilton must be unnecessarily throwing away so much barely used soap bars and mini bottles each year!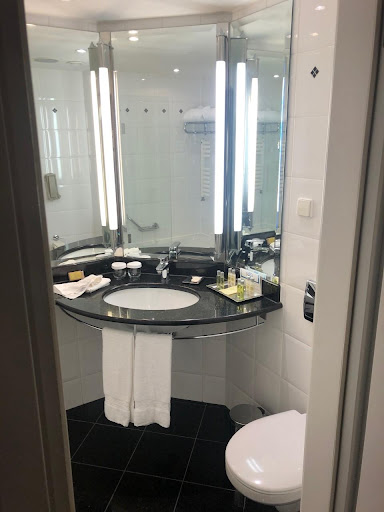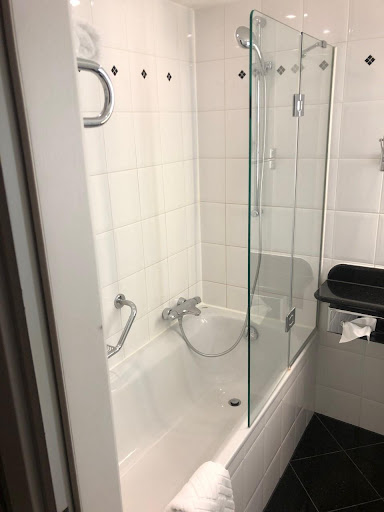 One feature worth mentioning was the mini-bar. This was exceptionally well stocked and I think the first such well stocked bar I've seen since before Covid. There were mini spirits, small bottles of wine, beer and sparkling wine, bottled water, confectionary and soft drinks with a small area kept free to put your own items.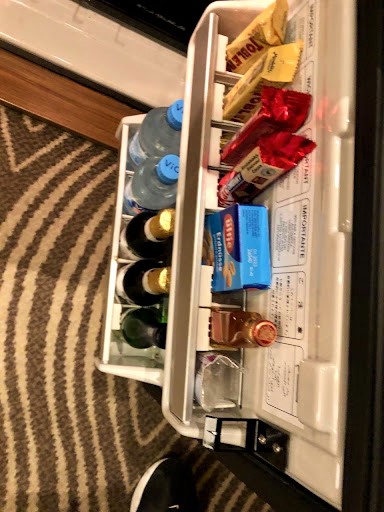 I was however a bit late spotting the warning sticker that the fridge is fitted with sensors so that anything removed (and even if replaced) is immediately charged to the room. I was intrigued by the piece of Berlin Wall that I picked up from the fridge door, but a quick visit to the front desk had the charge taken off. Apologies as I only have a picture of the fridge door contents for some reason!
I was offered the opportunity to pay circa 29 Euros instead of 49 Euros for the entire contents of the mini bar fridge as part of the discounted upgrade offer emails Hilton send out pre-check in now. Having seen the contents, I would recommend that guests who don't have lounge access seriously consider this if they get a similar offer, as there is definite value to be had.
There were also two 750ml bottles of Acqua Panna water on the counter-top with a little notice advising two bottles per stay were free to Silver, Gold and Diamond members. Everyone else would be billed 6.99 Euros a bottle which again was enforced by a sensor pad to register the charge. This hair-trigger minibar charging may be more common practice than I'm aware being new to mattress hopping but it was a new one on me in some 100 or so hotel nights over the last year and seemed a bit OTT.
Disappointingly there was no Nespresso machine, so I stuck with the Executive Lounge for drinks and didn't bother with the in-room kettle. There were good quality robes provided (a spa robe and also a towelling robe) and slippers which I was impressed to see in an entry-level room category.
Executive Lounge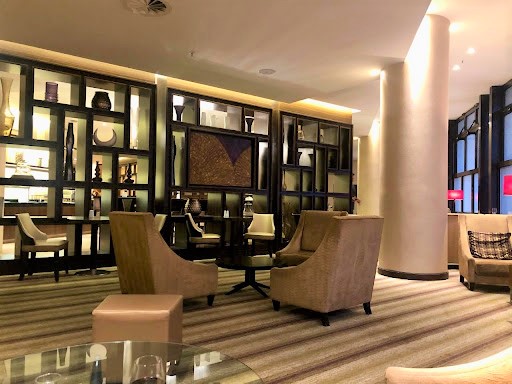 The lounge is open from early for breakfast through to 11pm. Evening drinks and snacks were served between 6pm-8:30pm. Drinks and snacks downplay what was on offer as this was really a 2.5hr dinner buffet with self-serve wine, beers, spirits and sparkling wine. The buffet provided a fresh soup and hot dish each night.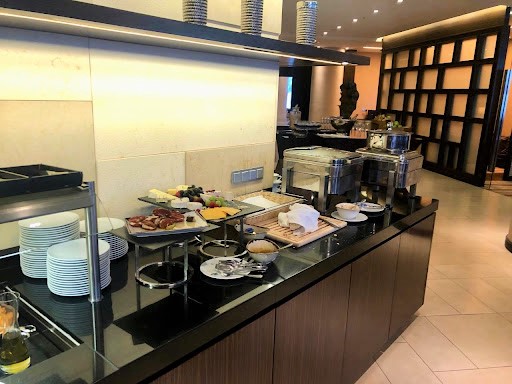 One evening this was meatballs and on another, it was schnitzel. There was a selection of accoutrements from couscous and salad to stuffed vine leaves and sundried tomatoes. There was also a proper cheese board and fresh warm bread. The kitchen staff replenished this throughout and gave fair notice before the drink service ended.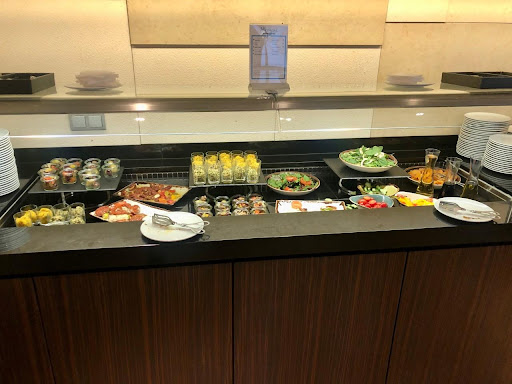 If you wanted to work from the lounge in the evening or catch up on emails you certainly could have had a substantial meal from what was provided. Outside breakfast and drinks there were self-service soft drinks, coffee and teas and a selection of nuts/ nibbles through to closing. The lounge was expansive with a lot of dining table style seating with power points in addition to sofas and armchairs.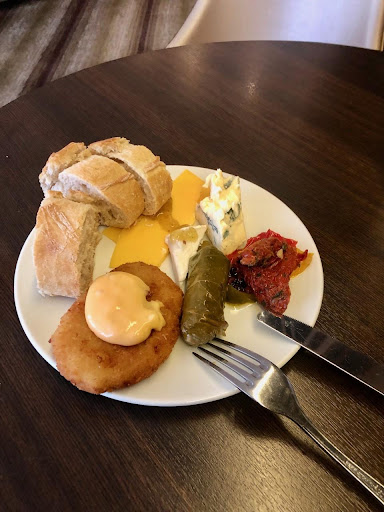 Personally, I thought this was the best executive lounge I've seen in a Hilton, and it would probably also beat the Conrad St James although it was not quite as good as the Conrad Dubai if I was making comparisons to other recent stays. Post- Covid, when many hotels are not reopening their lounges or offering providing only a watered-down service it was really good to see the hotel putting effort in here.
Breakfast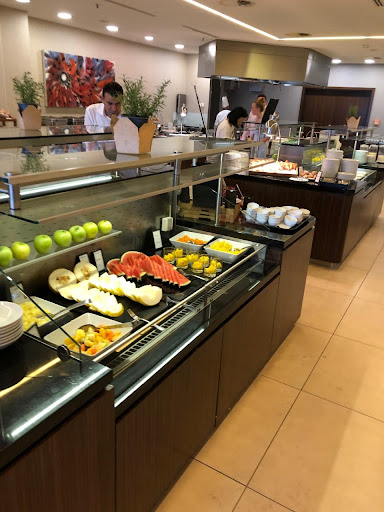 Diamonds could take breakfast in either the executive lounge or from the buffet restaurant which is just used for breakfast. When provided with an option I tend to go for the restaurant over the lounge principally because the choice tends to be better and you're guaranteed to have a table and chair to eat it from rather than being perched in an armchair in a sometimes crowded lounge.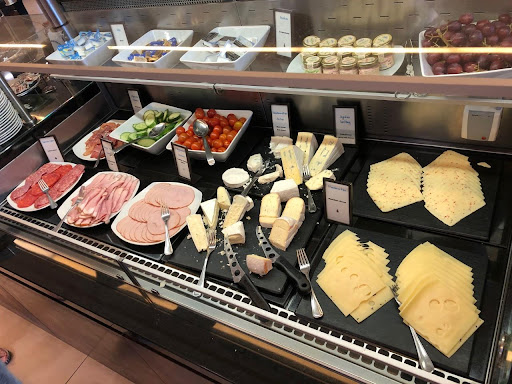 Like almost everything else at this hotel, the breakfast was impressive compared to other Hilton properties and was served overlooking the Dome. There was a great range of cereals, yoghurts and fruits alongside fresh bread and pastries, charcuterie, cheese and the usual hot items to make an English breakfast. There was no a la carte option, but you could get an omelette made to order as I did.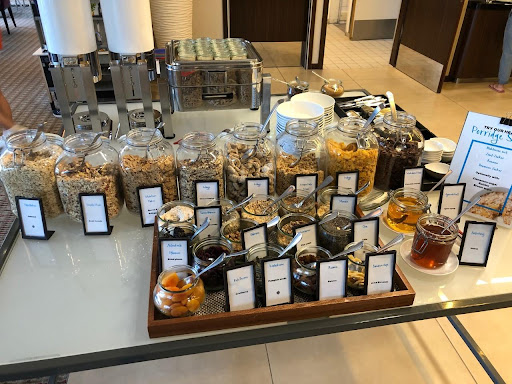 A personal highlight was sparkling wine was also available on the breakfast buffet which I acquired a taste for at the Castillo Hotel Son Vida, although alas, the German offering didn't match up to their Cava.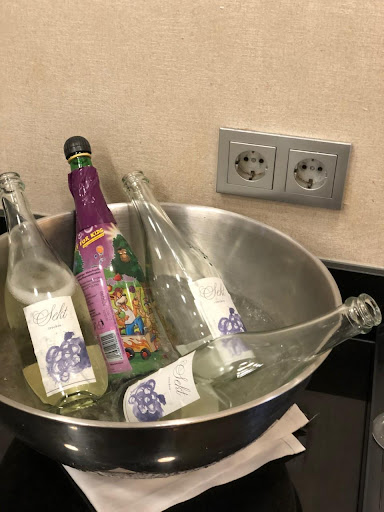 Food and drink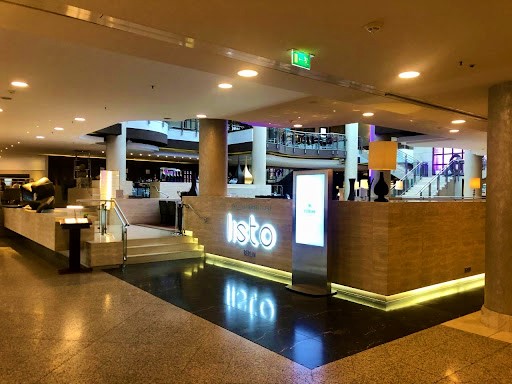 The Listo restaurant and bar in the hotel atrium, which serves lunch and dinner and was offering 25% off for hotel guests/ HHonors Members. I didn't eat in the restaurant, but I did have some panko prawns in the bar one evening which I thought were pretty good as far as bar snacks go.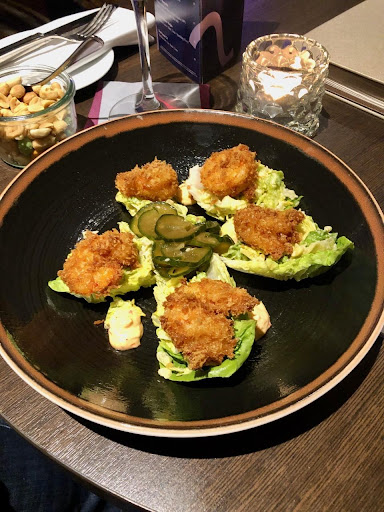 Other facilities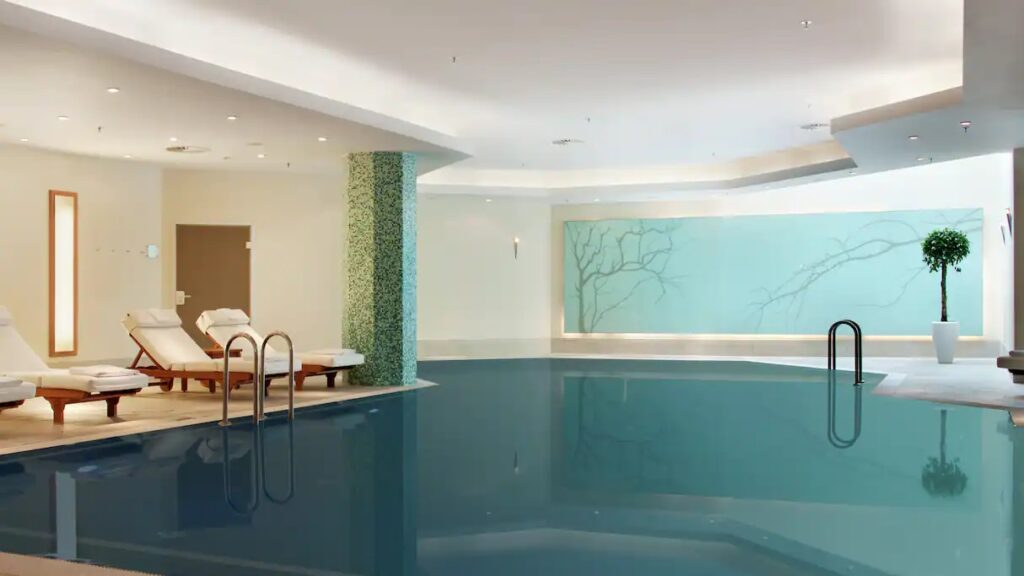 The hotel also has a spa and indoor pool. I didn't use either of these through from the PR pictures they look impressive. There was also a relatively well stocked hotel gym.
Conclusions
This was the best Hilton I have stayed at for some time. I had toyed with staying at the Ritz-Carlton to utilise the Amex's Marriott cashback offer that had been running, but for well over twice the price I paid for the Hilton, I really don't think I would have had a much-enhanced experience and certainly wouldn't have got anywhere near the value.