Today's entry for the TLFL reader review competition is about Qantas QF1 First class Sydney to Singapore by reader H. If you enjoyed it let us know. We don't encourage criticism of reader reviews as these are not professional writers and you may not like everyone's style of writing. I don't edit them to the same degree as I would a professional writer TLFL uses.
But to gauge which people enjoyed most, let us know in the comments below if you enjoyed it. It's good to see a review of Qantas A380 in first since its recent refurbishment – I really enjoyed my flight with Paul a few years ago before they updated it.
After over a two-year hiatus, it was wonderful to see the Qantas superjumbo back in the skies, which at one point we thought we may never see again.
This review chronicles our flight from Qantas' hub airport, Sydney International, to Singapore, aboard the flagship A380, which was recently refurbished. The flight continues to London. However, this review covers Sydney to Singapore only.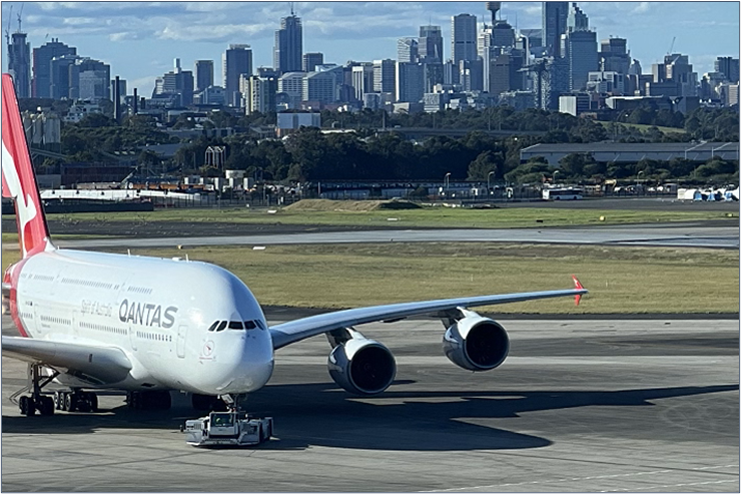 Date: 18 July 2022
Route: Sydney to Singapore
Aircraft: Qantas A380-842 (VH-OQK)
Departure Time: Scheduled: 15:55 – Actual: 17:12
Flight Time: 7 hrs 56 mins
Booking
Qantas is notorious for making it very difficult to book first class seats using award points; however, whilst still in the midst of the Covid pandemic, I was able to very luckily one day find a seat flying from Sydney to London Heathrow via Singapore using Qantas frequent flyer points.
I paid 216,900 points + AUD $418 in taxes and fees for a Sydney to London flight in first.
Check-In, Security and Immigration
The check-in experience for Qantas first class passengers in Sydney is easy and smooth; however, getting through security can be an annoying and frustrating procedure. There is a fast-track lane at Sydney International but security often send passengers from the regular lanes over there when it is busy, and therefore the lines are extremely long.
For people that have Australian passports, the immigration process is fairly straightforward through e-gates.
It took approximately 35 minutes from the time I left the check in to get through past security and immigration.
Lounge
For passengers travelling in first class on Qantas, they use the Qantas First Class Lounge, which in my opinion continues to rank as one of the very best lounges globally. The lounge has amazing food, a spa, great amenities, beautiful décor and fantastic runway views for those who love aviation. I have a separate review to cover the lounge as this review is purely focused on the flight from Sydney to Singapore.
Boarding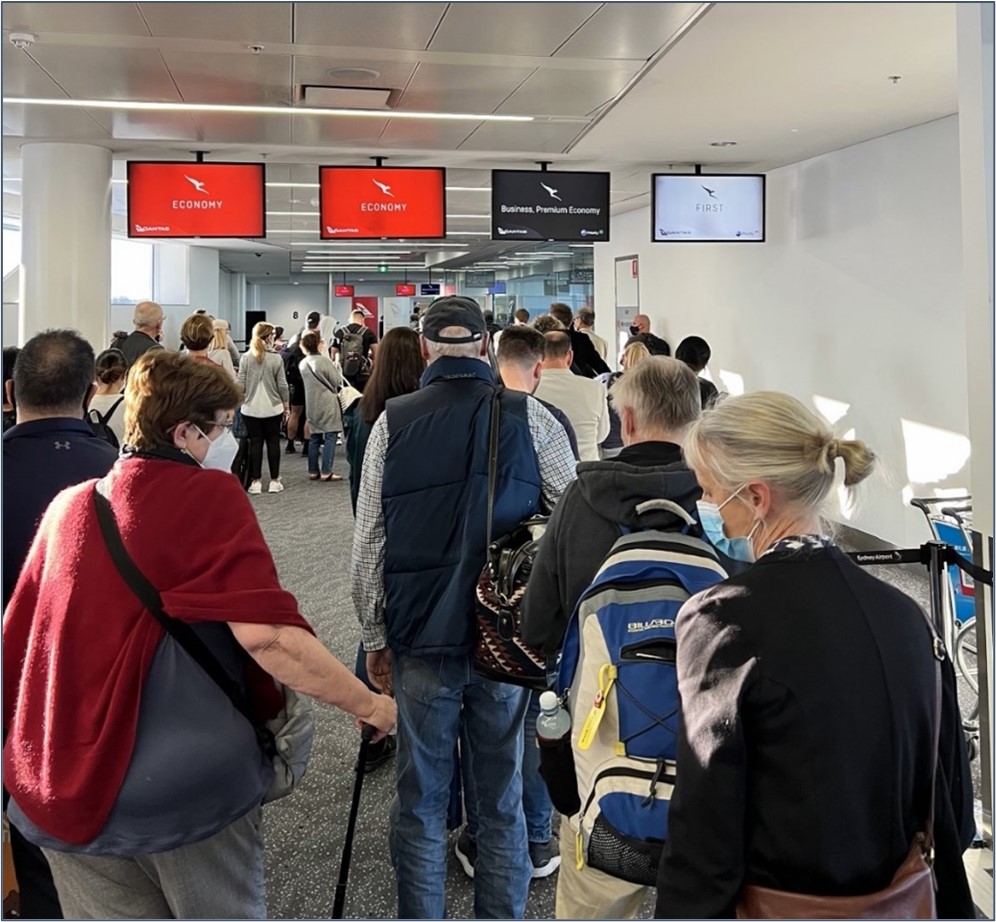 The boarding announcement was made in the lounge, which prompted me to head towards Gate No.8 for boarding. Boarding was a mess, and this seems to be a problem that Qantas refuses to fix. There appears to be four lanes for boarding – First, Business + Premium Economy and two Economy lanes, however, there is no enforcement of these lanes and staff don't care who boards from where. Boarding took me 20 minutes from when I arrived to the gate to get to my seat.
Seat and Cabin
The Qantas A380 First Class cabin is located at the front of the bottom deck of the aircraft. It is configured in a 1-1-1 layout, with no seat in the first row, with a total of 14 seats. As you can see in the images below, the seat is beautiful, spacious and very comfortable.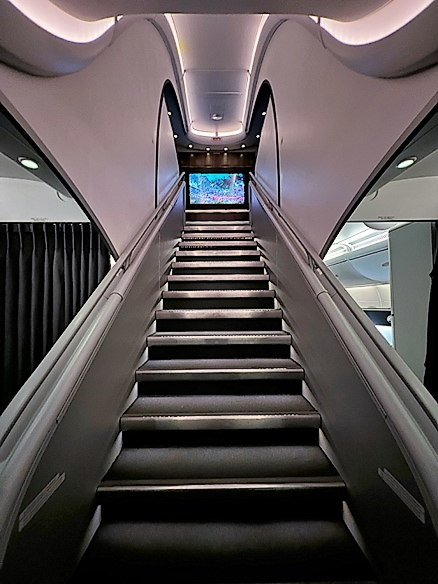 I was seated in seat 2A – on the left hand-side of the aircraft. These seats are not suites however, they remain one of the most popular in the sky. Even though these seats don't have doors, there is plenty of privacy thanks to the angled shape of the seats and the high-walled seats that almost 'cocoon' around.
This aircraft was refurbished within the last 18 months, and it is disappointing that the TV screens remain considerably smaller when compared to the likes of Emirates, Qatar, Singapore Airlines and others.
Another disappointing aspect is that the windows are a fair distance away from the seat, and it is very hard to get any decent views outside the aircraft. Furthermore, the seats must be angled forward during take-off and landing, making it even harder to enjoy window views.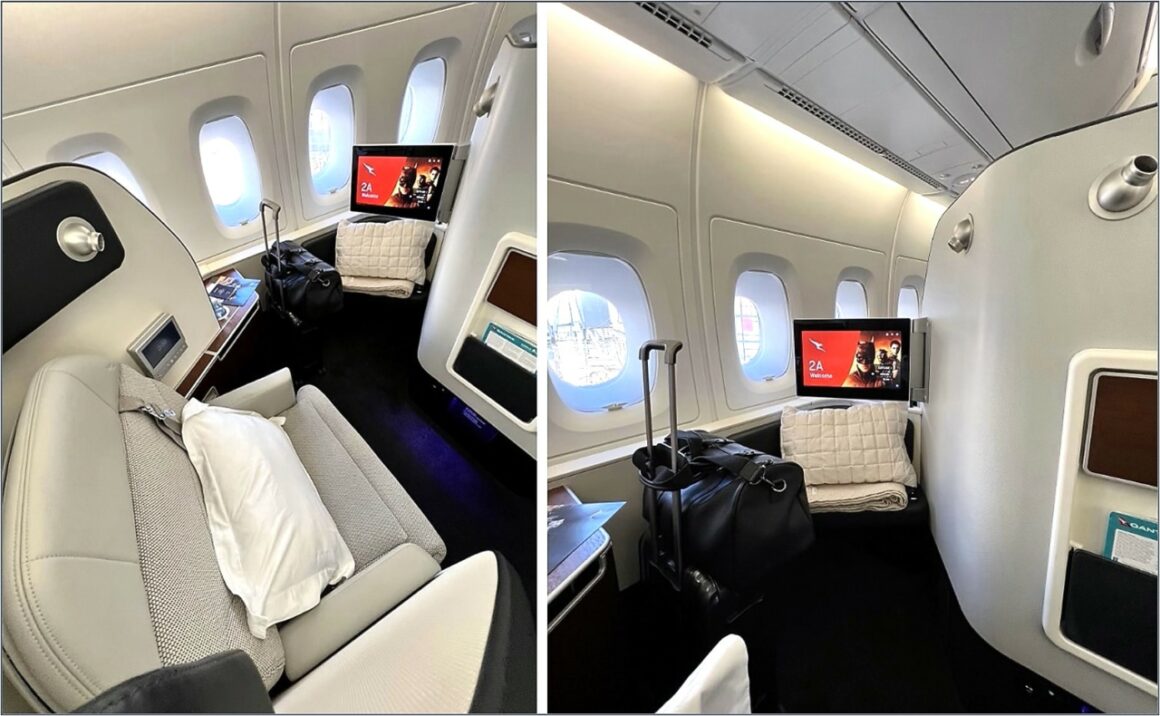 Shortly after taking my seat, I was given some nuts, a drink and canapes. I was then presented with a pair of Martin Grant pyjamas, slippers and an amenity kit. The male and female amenity kits are identical apart from the colour.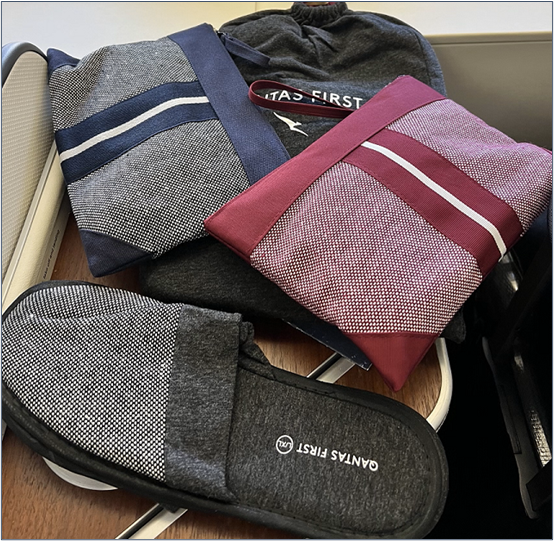 Just before 5 pm local time, we began the short taxi before departing from Runway 19R heading for Singapore. There were some beautiful sunset views as we climbed out of Sydney, however, as mentioned previously, you're seated quite far from the window which makes it difficult for one to get great views out of the aircraft.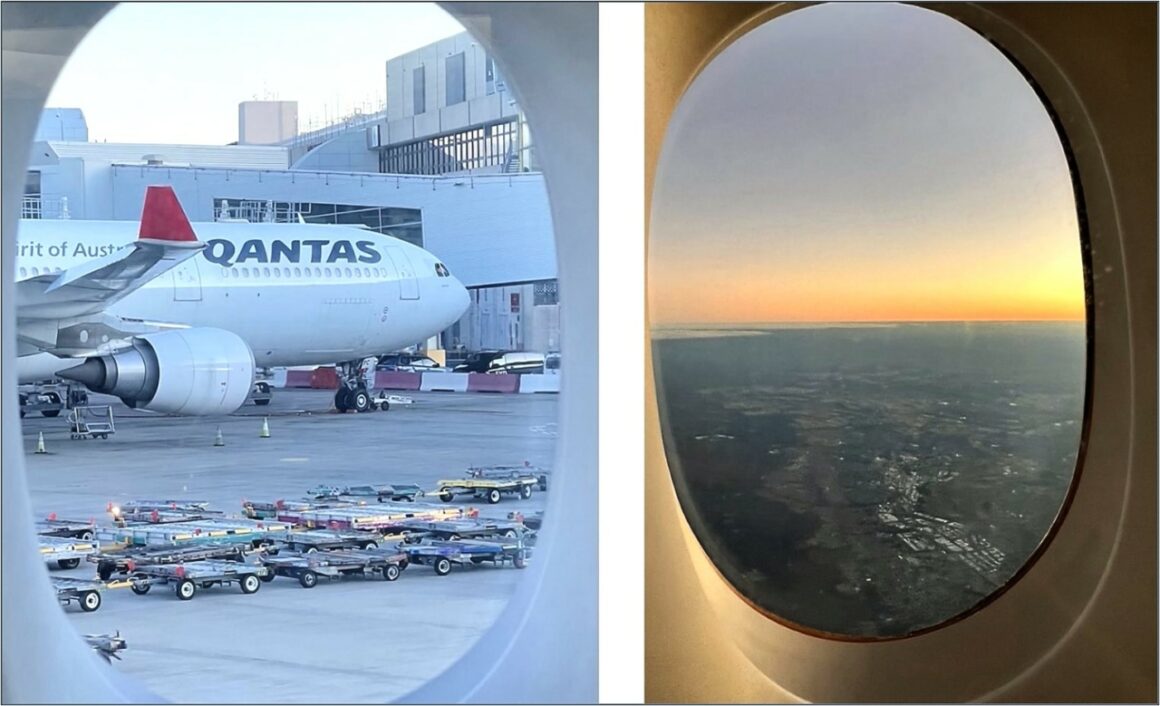 Onboard Lounge
The upgraded Qantas A380s sport a new lounge area in on the upper deck where people from business and first can meet and mingle.
Entertainment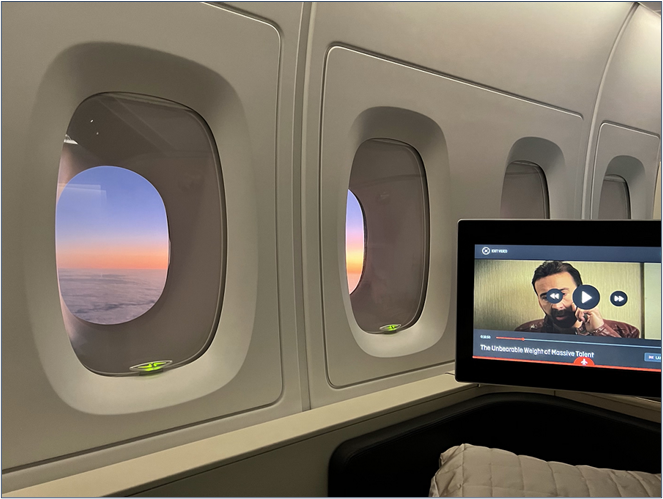 There is a good selection of entertainment available, but once again this falls short compared to what Emirates, Qatar Airways or Singapore Airlines offers. The screen, at 18 inches wide is also smaller than major competitors, which is disappointing when you consider this aircraft has been recently refurbished.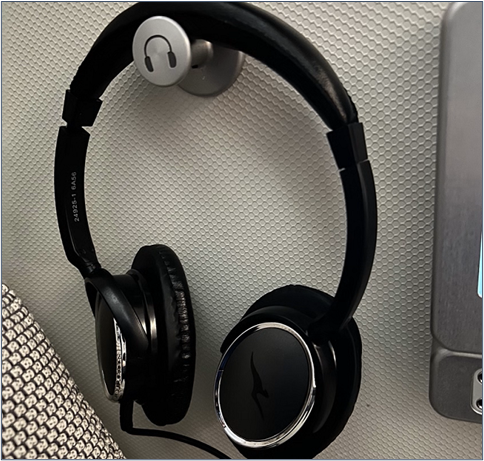 The headphones offered are low quality, and once again, this is really disappointing when you consider that the major competitors offer high-quality, upmarket branded headphones in premium cabins.
There is no internet or Wi-Fi as Qantas A380s are not equipped with this. To some people this is not an issue as it is nice to have a break from being connected on the flight, while others possibly would prefer that connectivity in the sky.
Food
Orders for dinner were taken shortly after take-off. As you can see in the menu below, the food options were quite nice. I struggled to choose what to eat as there were so many amazing choices, however, I settled for the signature steak sandwich and the beef fillet for dinner.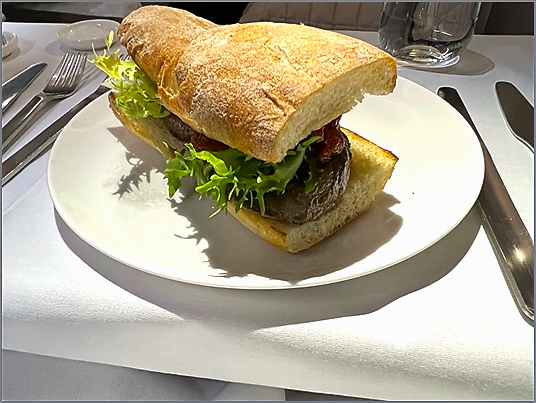 Qantas is notorious for doing two things well: lounges and food, and today's flight was not different. The food in the lounge was amazing, however, I was able to make space for a good dinner onboard. The signature steak sandwich is quite simply amazing. I was lucky enough to be allowed to order a second one on the flight – I highly recommend the steak sandwich for anyone, it definitely doesn't disappoint.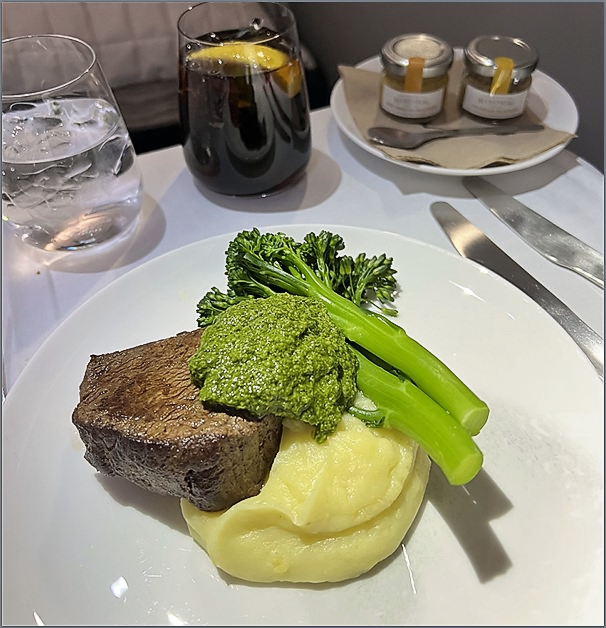 While I thought I have had too much steak already, I just couldn't avoid having the steak as a main, and once again, it was cooked to perfection. It was served with a choice of mustards, I chose hot English and seeded. It is difficult to get a good steak on a plane, however, this steak compares to steaks I've had at some great restaurants.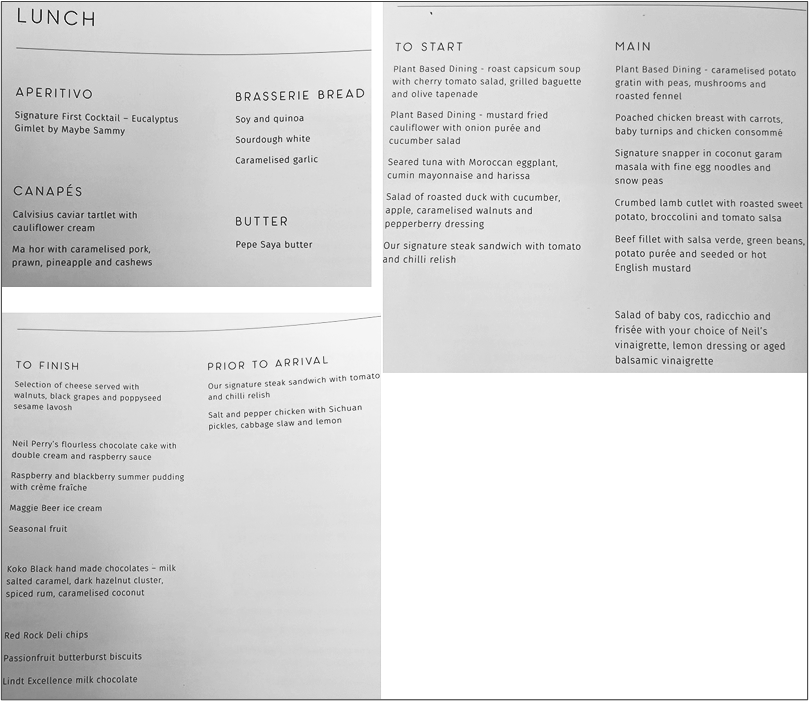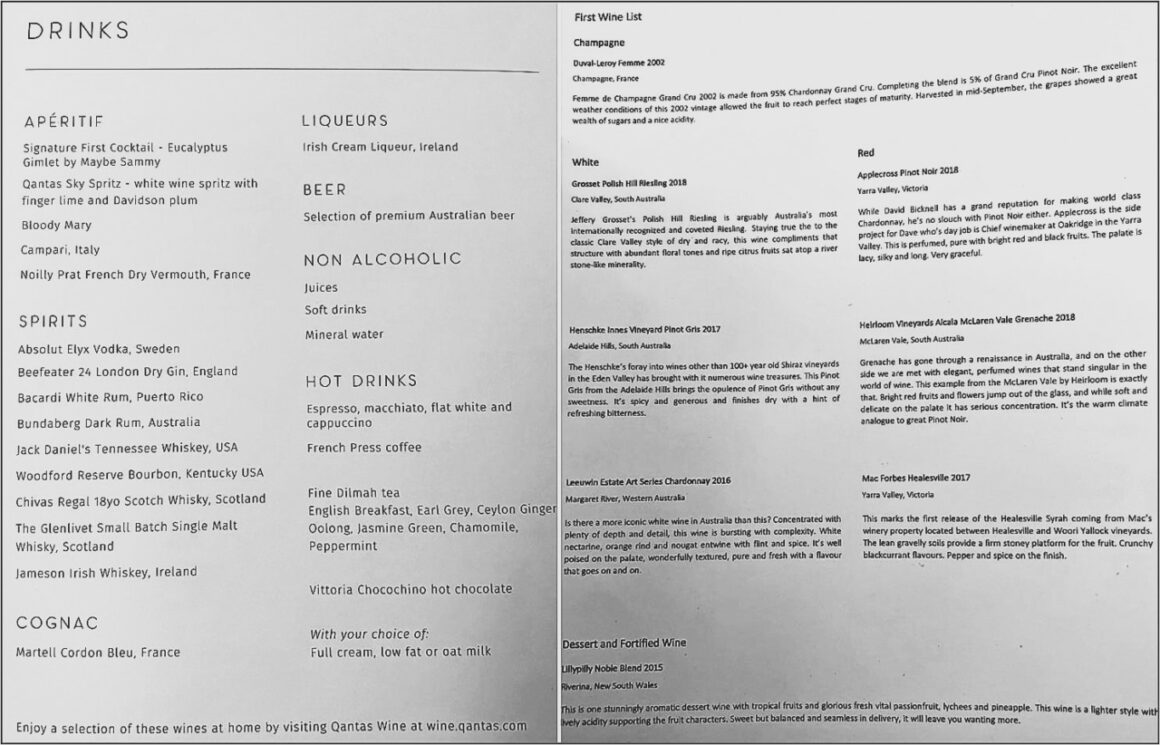 Final Thoughts
While Qantas First Class onboard their A380s don't have WiFi, fancy amenity kits, large widescreen TVs or sliding doors, it is still easy to see why this product is one of the most sought after. While the seats aren't fully enclosed suites, there is still plenty of privacy. Furthermore, the seat and bed are incredibly comfortable. When it comes to food, I can't imagine many other airlines do it better than Qantas in premium cabins.
The main aspect that Qantas can and really needs to work on is the ground experience, especially at their hub airport. Boarding is a mess and this needs to be fixed as it can dampen the experience somewhat.
All in all, I do believe that Qantas First Class remains one of the best overall experiences out there.
Like our Qantas First Class review? You can read more flight reviews here.