Sri Lanka and Weligama has been on my wish list ever since I went to a talk about Weligama and did some research for my Forbes article about the area. Today's reader article, Take a chance on Sri Lanka, is by Bernadette Seymour, who is an avid reader of TLFL reader reviews.
Take a chance on Sri Lanka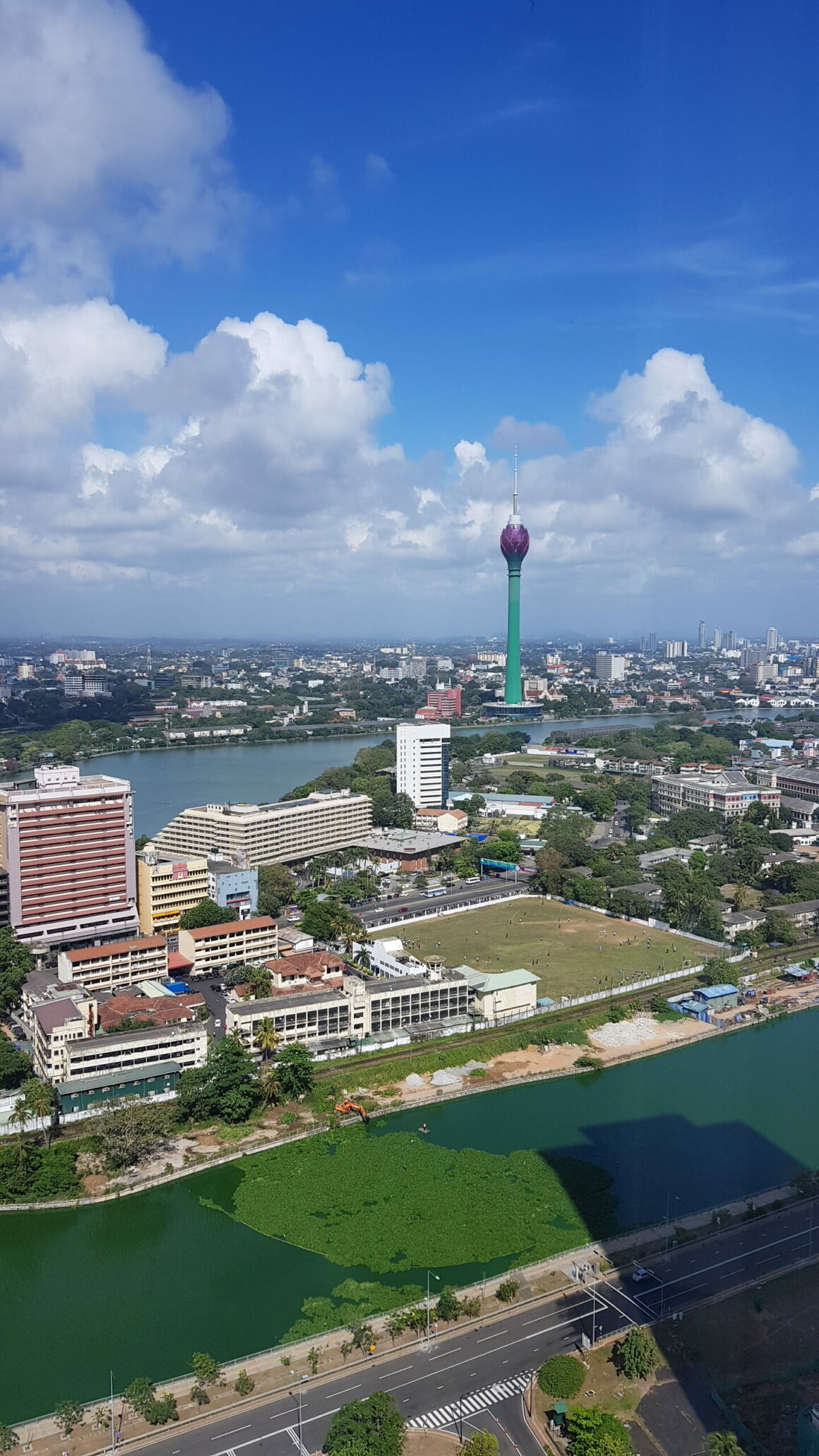 I had initially booked our trip to Sri Lanka in January 2020, but then a cancer operation deferred that trip and then covid another trip.
So it was with great anticipation that my first revenge travel was to Sri Lanka this Autumn.
We flew Qatar from Manchester on the A380, I know there have been a lot of reviews, so I will skip and give you some details on great luxury 5* hotel stays down the South Coast of Sri Lanka.
You could also fly Sri Lankan who are also a oneworld member – Review Of Sri Lanka Airlines Airbus A330 Business Class & Tier Points.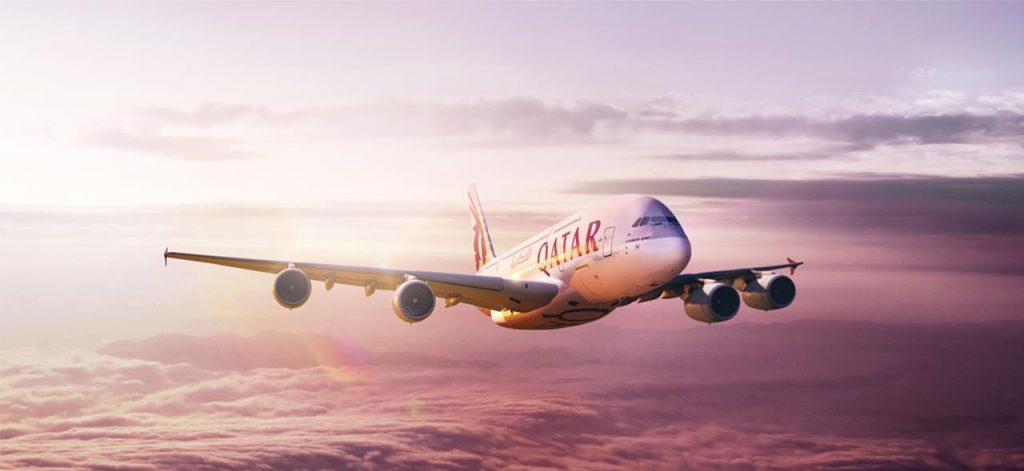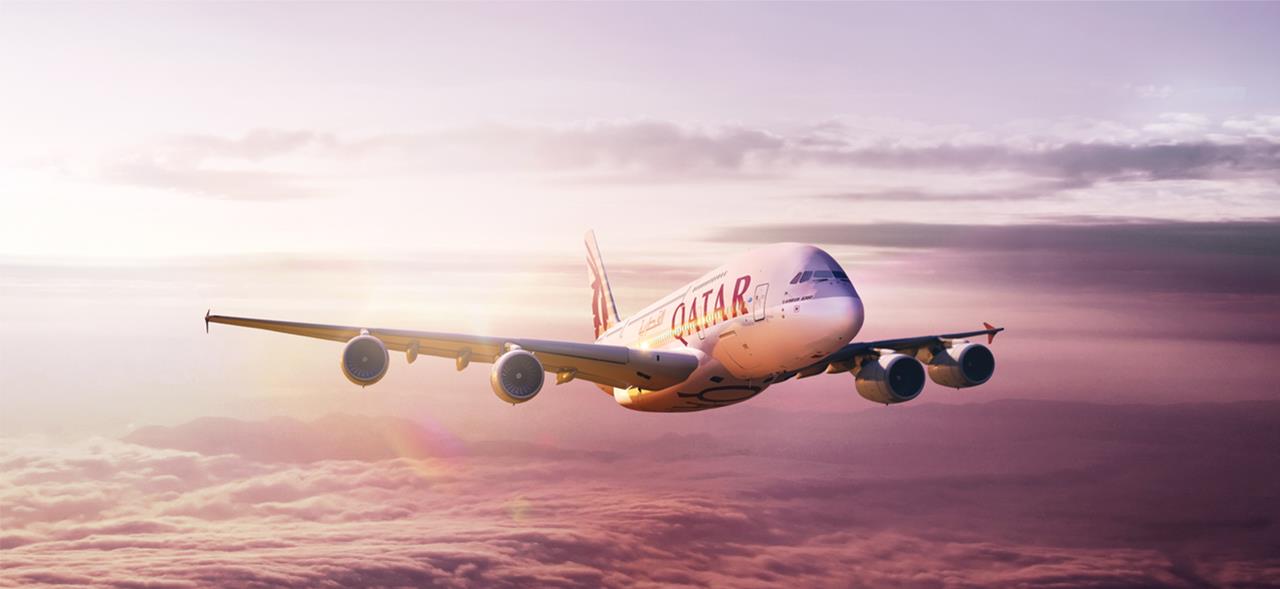 Colombo – Shangri La Hotel
Arriving in the bustling city of Colombo felt like India Lite meets New York! Bustling tuk tuks, burning incense smouldering from temples, benzine mixed with the Indian spice of food trucks lingered into the balmy evenings, a bombastic blast of East meets West on your senses.
Staying at the 5* Shangri La is a wonderful experience with beautiful restaurants, bars and choice of foods, sumptuous rooms, with great attention to detail and attached to a shopping mall. What more can a girl ask for? (GTC can offer extra perks on Shangri-La booking such as upgrades, hotel credit and free breakfast).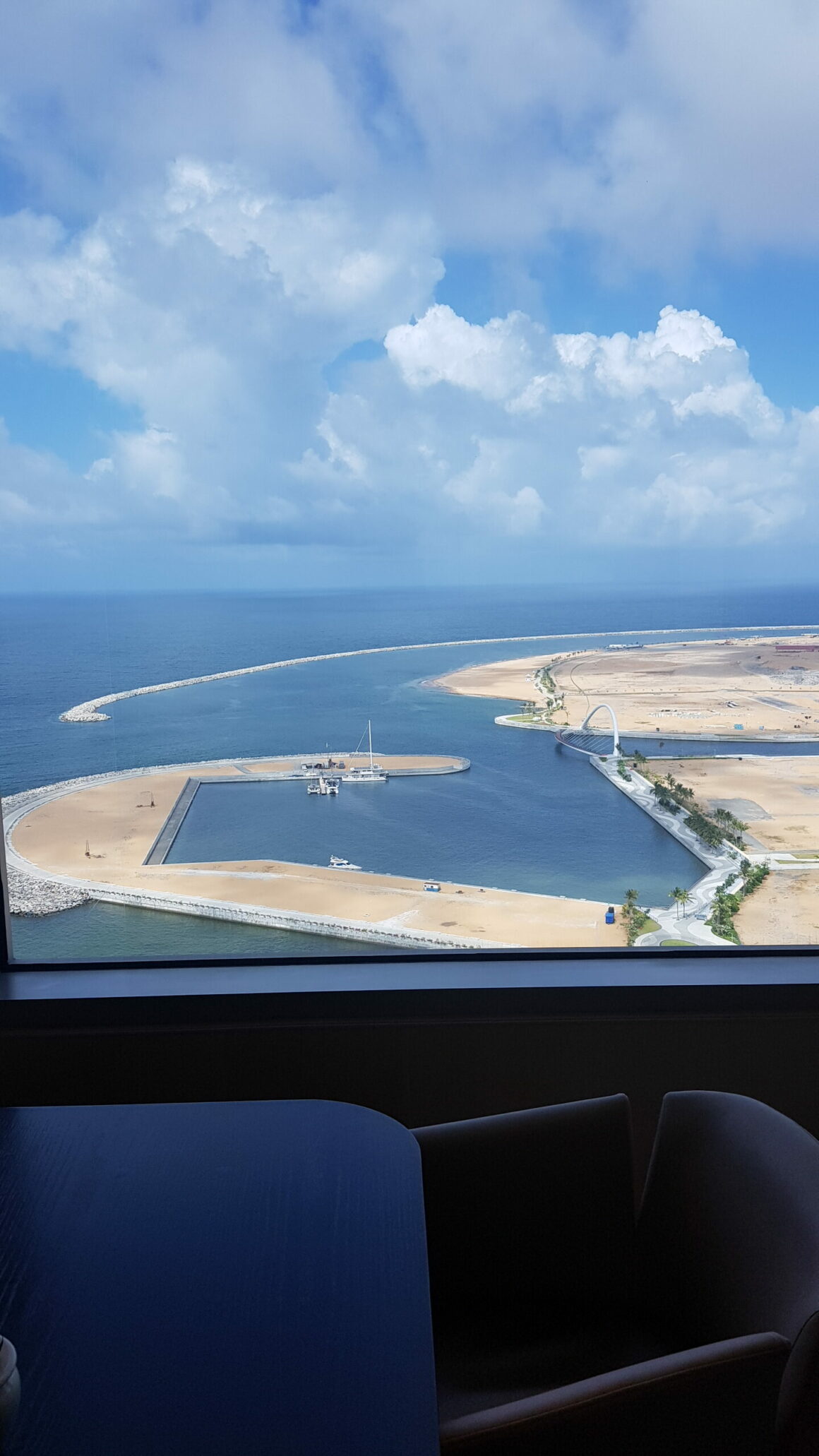 But I wasn't here for the shopping! I wanted to explore Sri Lanka, the wonderful people, the food, and the culture. The Hindu and Buddhist temples. Sri Lanka has everything and more.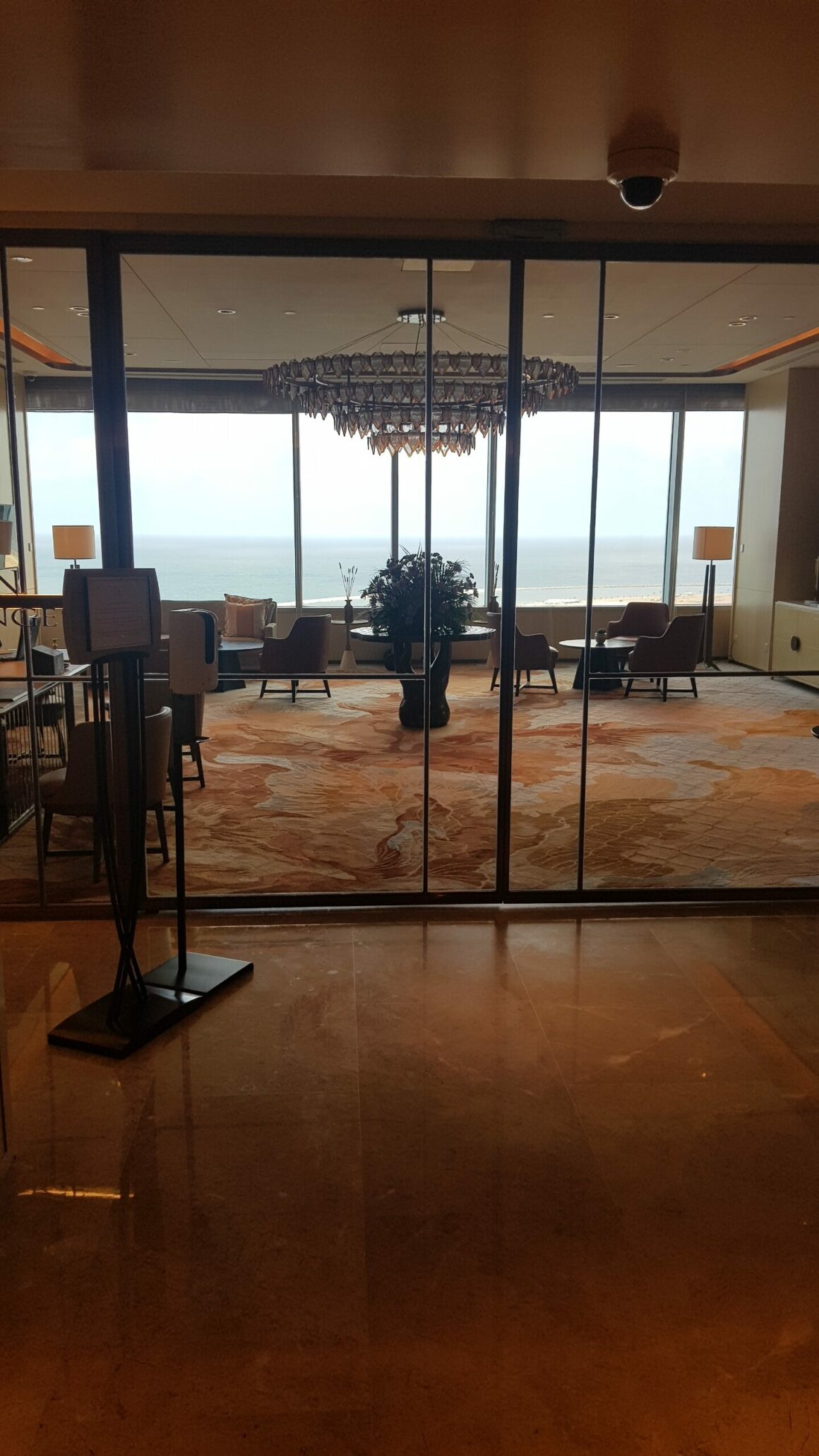 We stayed in the Club Rooms at The Shangri La and would highly recommend the club lounge. It has spectacular views over Colombo and overlooks the Indian Ocean. The food is of exceptional quality, beautifully presented each evening, Michelin star quality, one of the best lounges we have experienced, and the cocktails were amazing. Who wants to try a Wood Apple Martini, the favoured fruit of the elephants?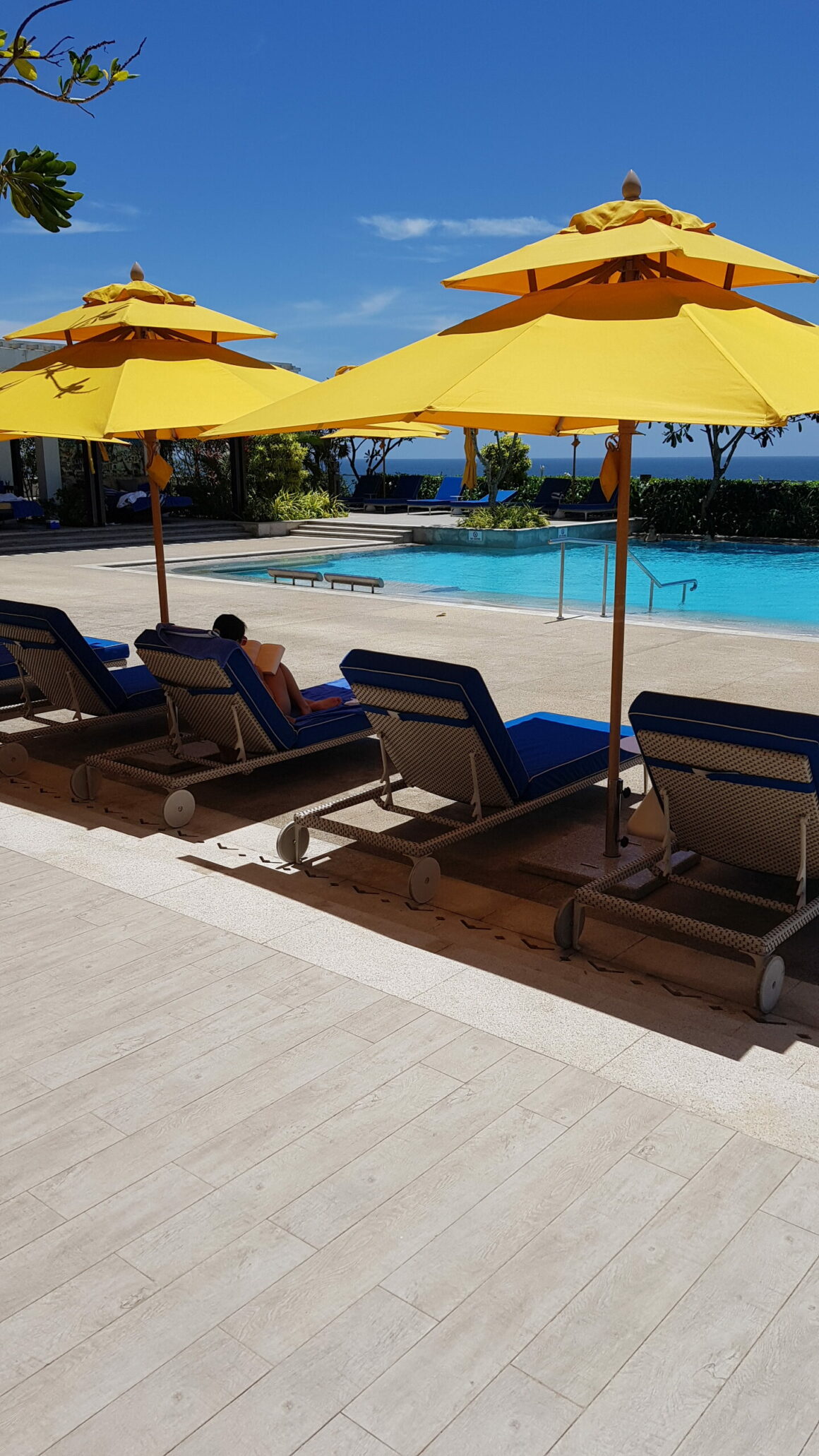 Kalutara – Anantara
We travelled along the South Coast, stopping off at The Anantara 5* resort in Kalutara to a warm blessing of oil lamp lighting, staying in a Deluxe Pool view room, overlooking the Indian ocean in the distance, the pool and the lagoon. The scenery in Sri Lanka is spectacular, vastly changing every 50km, you are in a completely different place.
Kalutara is a great place to relax, and unwind, overlooking the Indian Ocean, wildlife abounds, monkeys, water monitors and all kinds of birds. The rooms are spectacular, with beautiful bathrooms and amenities.
Several restaurants are on-site, and it is a heady mix of Geoffrey Bawa architecture that meets the Indian Ocean vibe.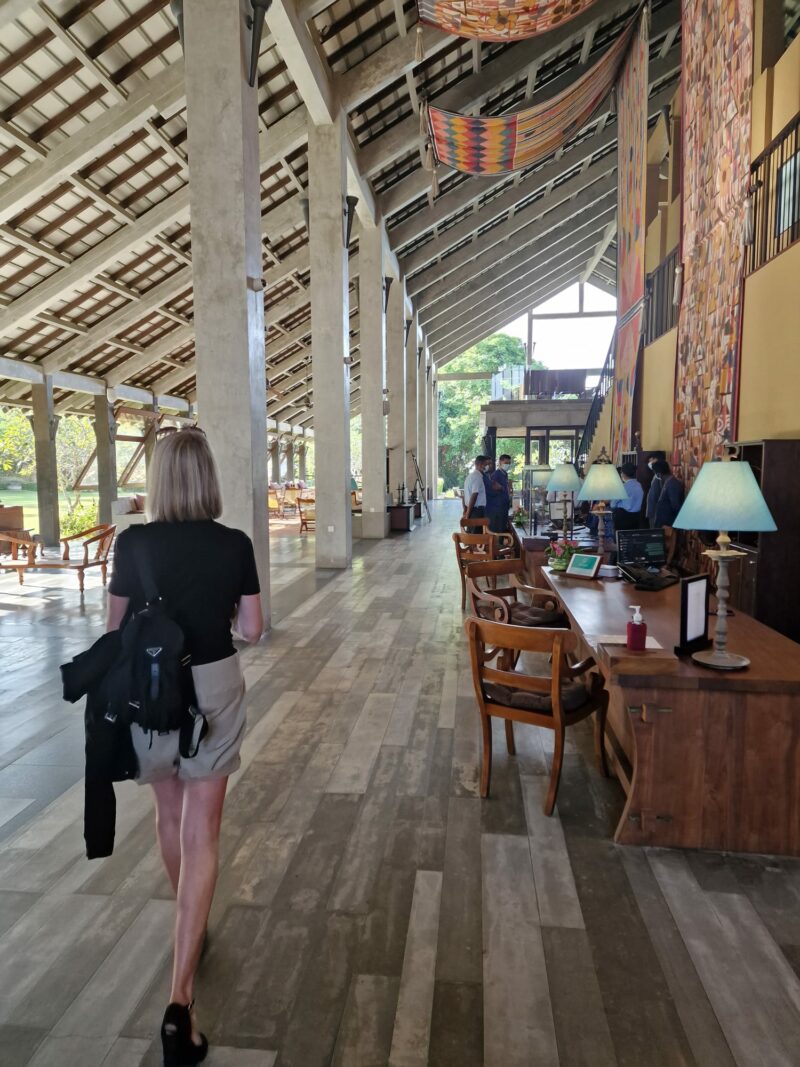 Galle – La Grand Hotel Galle
The next stop on our trip was Galle, the wonderful Dutch fort, a heady mix of Victorian, Dutch and Indian, all mingling in the beautiful colonial hotels and seafood restaurant smells wafting along the walkways, one of our favourite places. La Grand Hotel Galle is a Japanese-designed hotel with all the usual Japanese plumbing and the most spectacular views and amazing rooms, and a beautiful restaurant.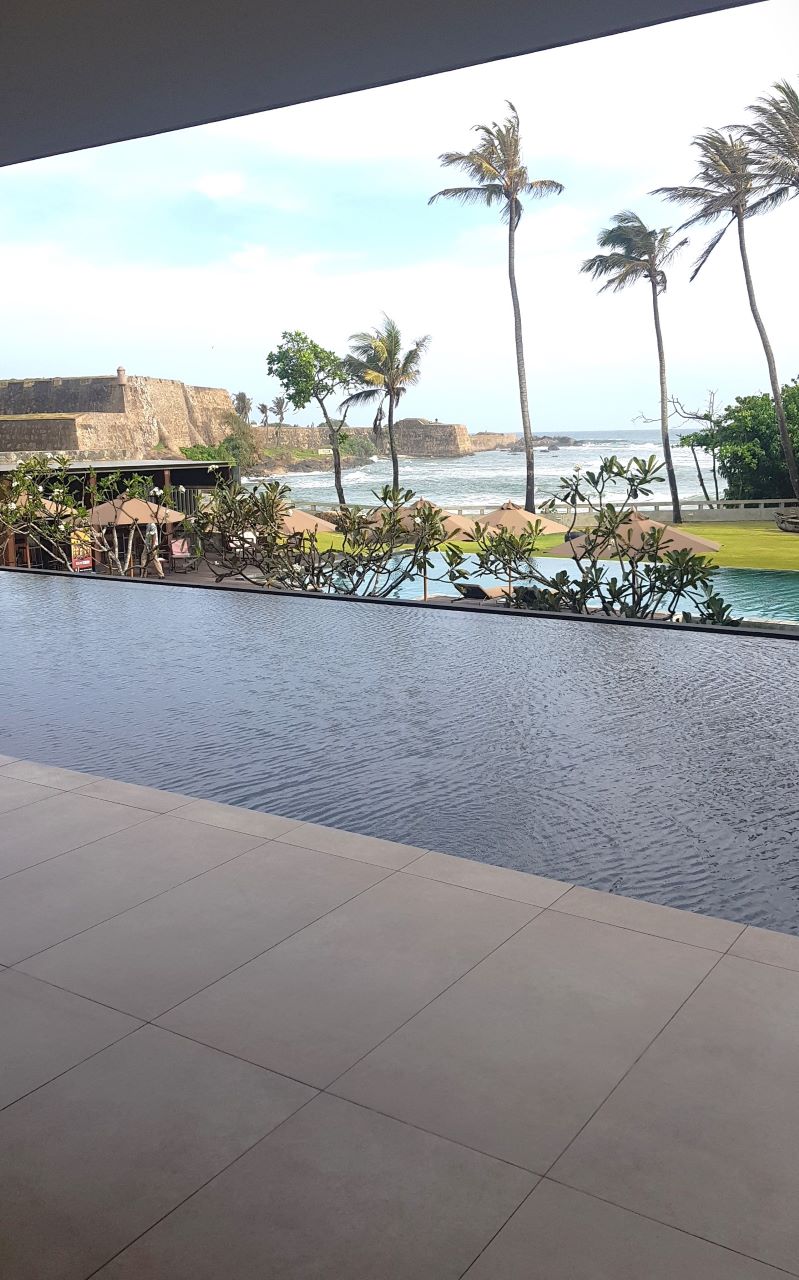 You can see the historic fort from your room and listen to the monkeys in the treetops every morning over a la carte breakfasts, which were superb.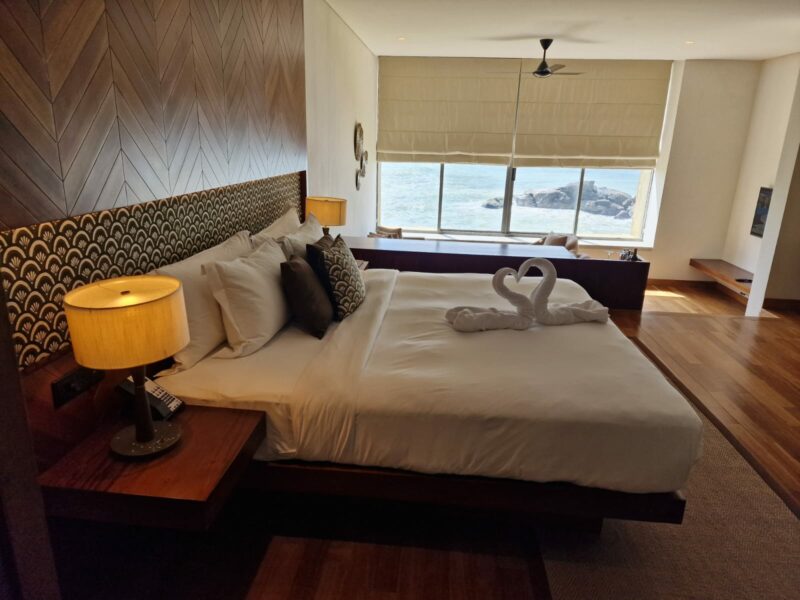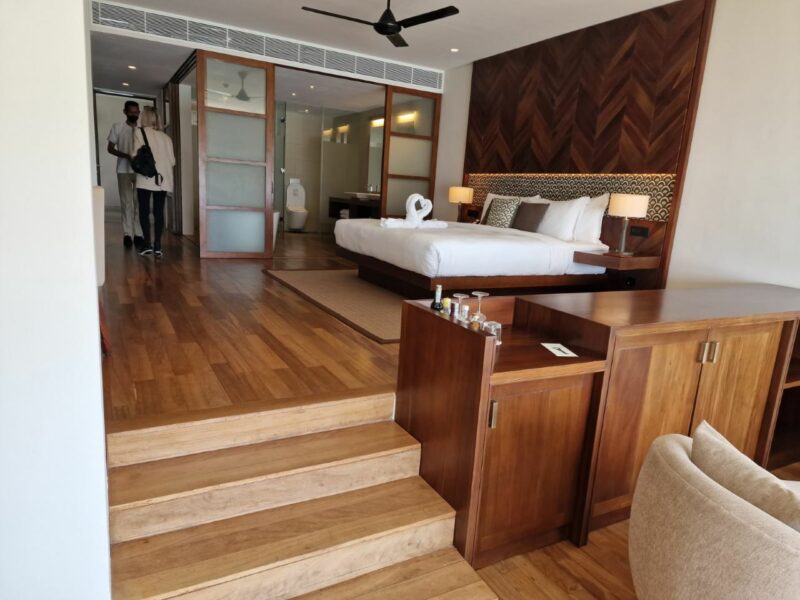 Weligama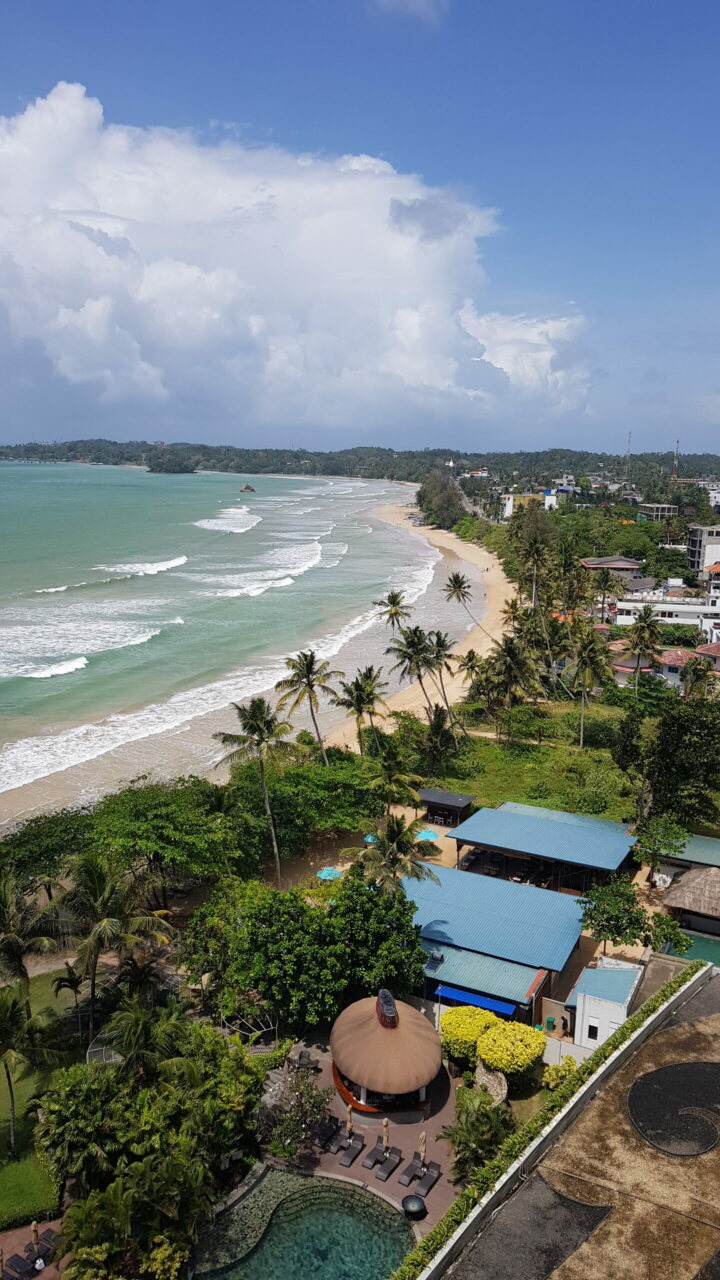 The next stop on our trip was Weligama, home to the famous tuna fish and beaches. We stayed at the Marriot Weligama, a large 5* bustling hotel, perfect for couples and families, and we were expecting more from the Marriott it was bustling but lacked the wow factor.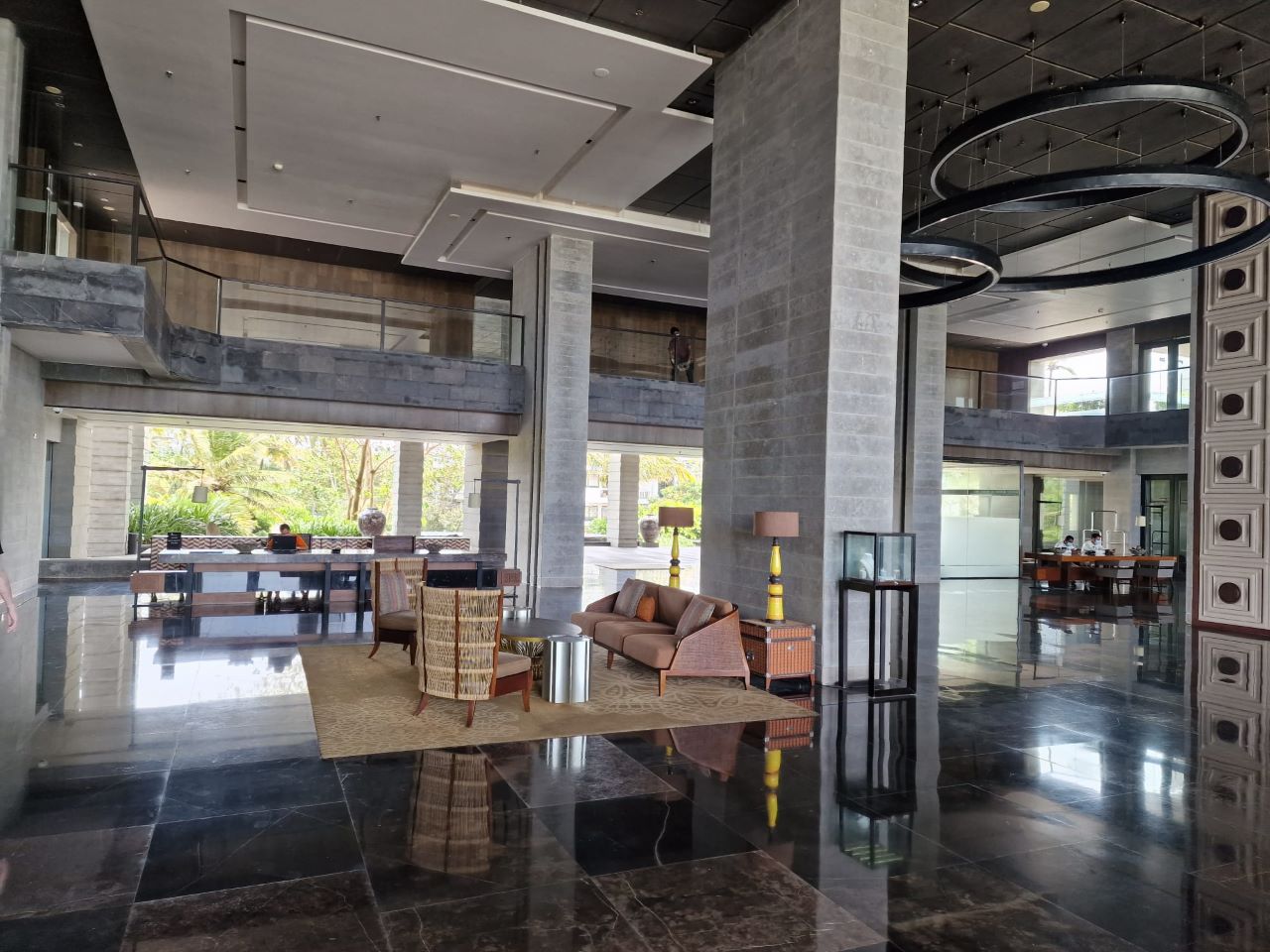 All rooms are front facing and overlook the ocean, and the views are stunning, but there is no club lounge, and we found the service very corporate.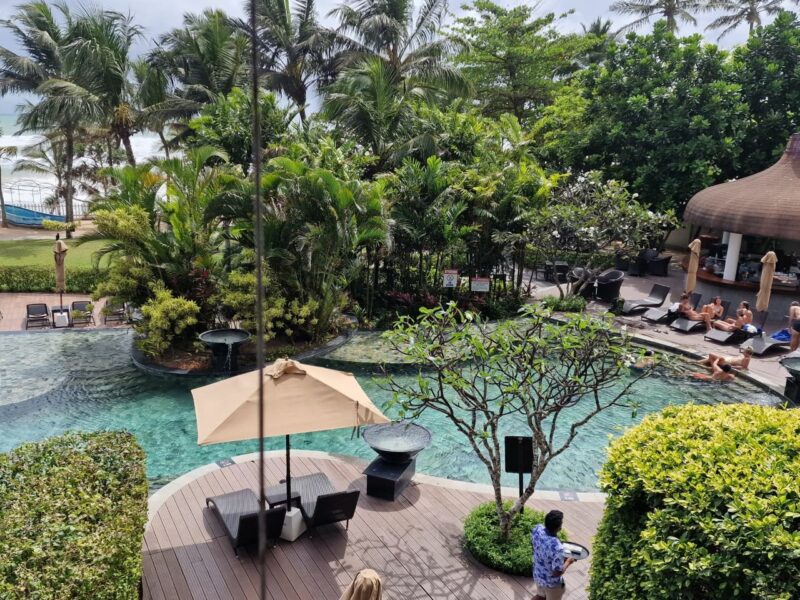 The breakfast buffet was the highlight of this hotel, every station, cooked to order, to suit every taste.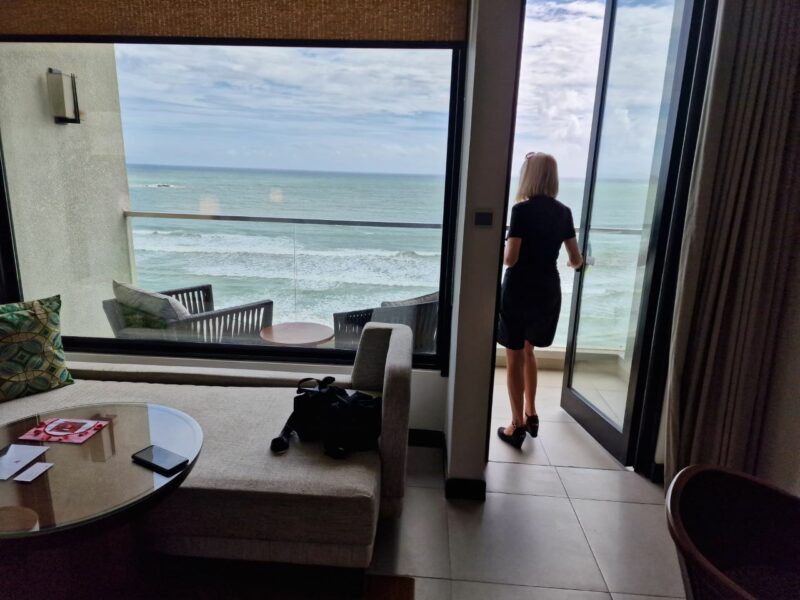 Sri Lanka is perfect for visiting in January and February. It has something for everyone.
If you want to find out more about Weligama, which has ambitions of Miami's South Beach vibes, you can read my Forbes article here.
Like what you read? We have more reader reviews for you here, if you're interested to know more about other destinations.