This is a brief report of a trip on Sri Lanka airlines between Doha and Jakarta, via Colombo. I would be flying on Airbus A330 aircraft in two different business class configurations.
It was originally booked as one way tickets with tier point running in mind, but due to hiccups getting boarding passes it turned into a straight return trip.
I had flown down to Doha from Frankfurt on a Qatar 777 with the old 2-2-2 config in business class. Whilst this isn't the newest seat I still find it comfortable for a day flight and the service on board was fantastic!
Boarding
I had a few hours to kill before slowly making my way to the boarding gate on the C pier.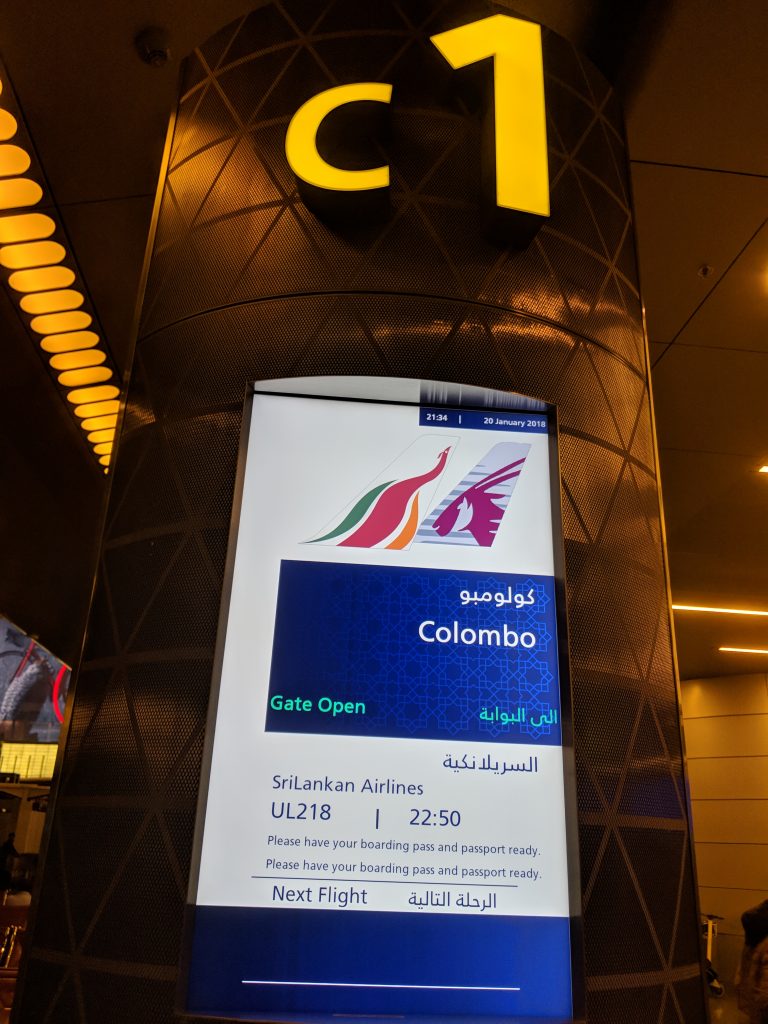 The flight was on time, but boarding was not managed well at all! I think at the time I described it as "a zoo, and not the type with cute animals!"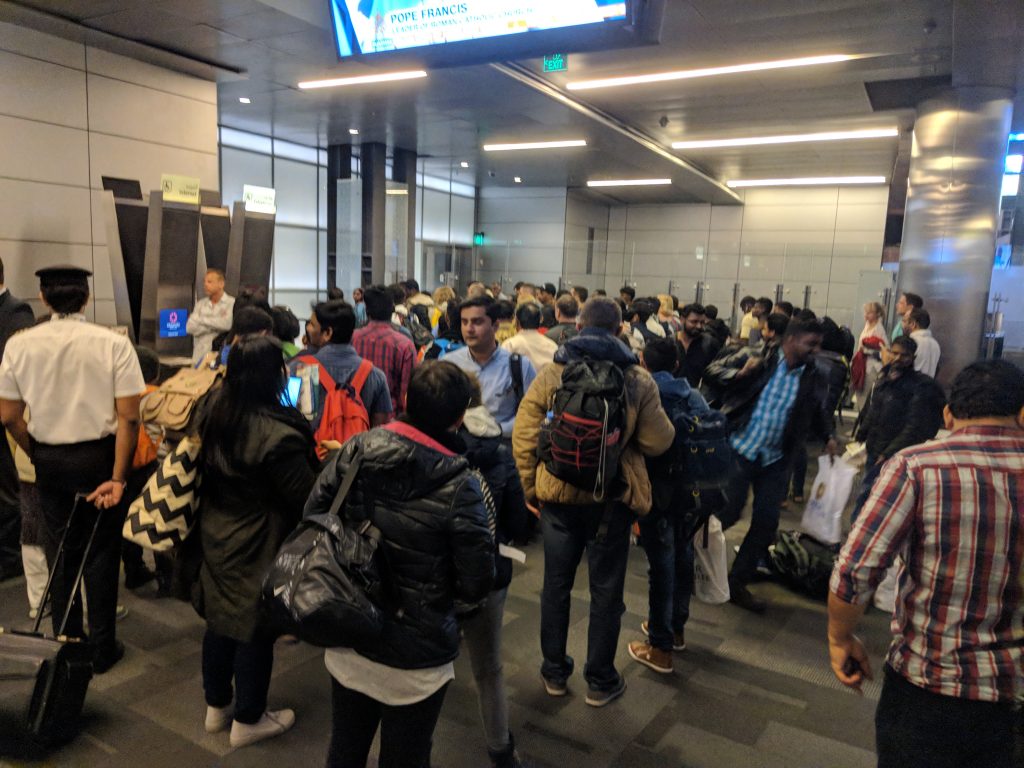 The "New" Seat
Eventually Business class was called to board and I fought my way onto the jet bridge. This leg from Doha to Colombo would take just under 5 hours, and was on their newest A330 aircraft. The new seat is one we are all likely familiar with, the 1-2-1 reverse herringbone. At my seat was a bottle of water, pillow and a pair of headphones (no not the Bose you can see!). The business cabin is made up of 7 rows in a single cabin.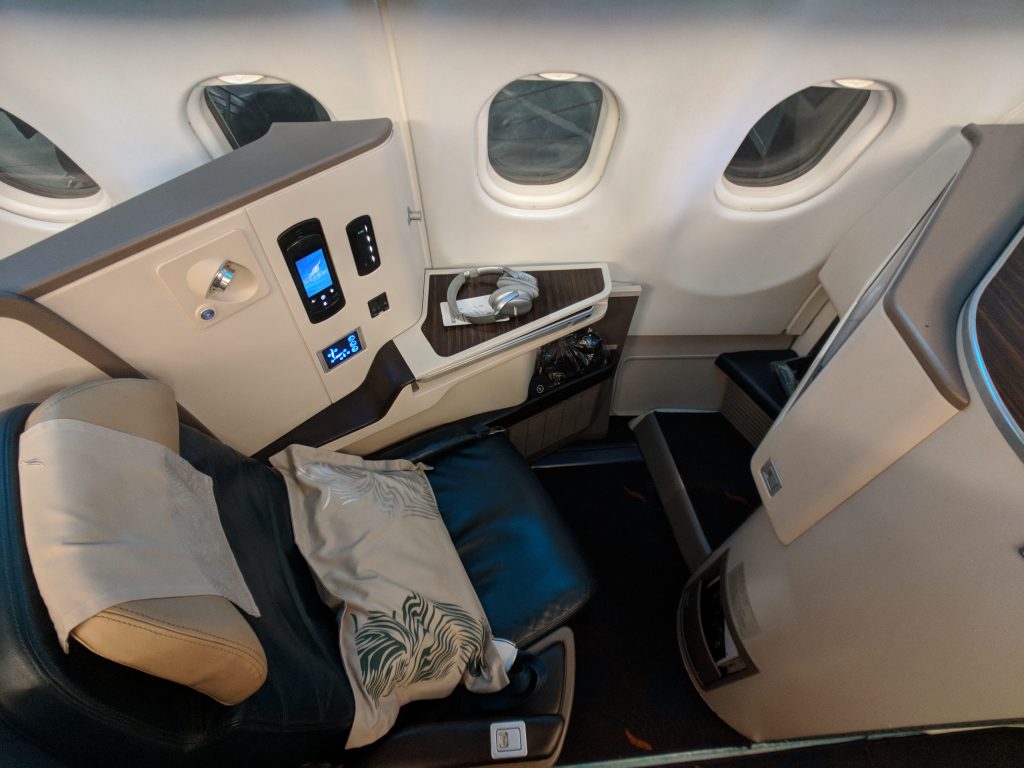 I was in 1A for this leg and settled in. It was comfy, but something about sitting on it, made it seem more cramped than others I had flown on, including American and Cathay Pacific even though it has a width of 21″. Unlike most business class seats it was made of leather. The seat controls had three pre-settings – upright, reclined and fully flat though you could adjust the the seatback and leg rest individually.
Food and Beverages
The champagne was brought around and shortly after the menus were distributed.
I had the lamb and then the tea service. Whilst the presentation wasn't amazing, it was very tasty and there was plenty of it! The champagne was changed into a nice flute at the same time.
Service was warm and friendly at all times and the crew seemed to really enjoy what they were doing. Tea is taken very seriously on Sri Lankan, unsurprisingly given their tea heritage. There was a full page of the menu dedicated to all the teas! The tea service was polished, and whilst not a massive fan of tea personally I did indulge!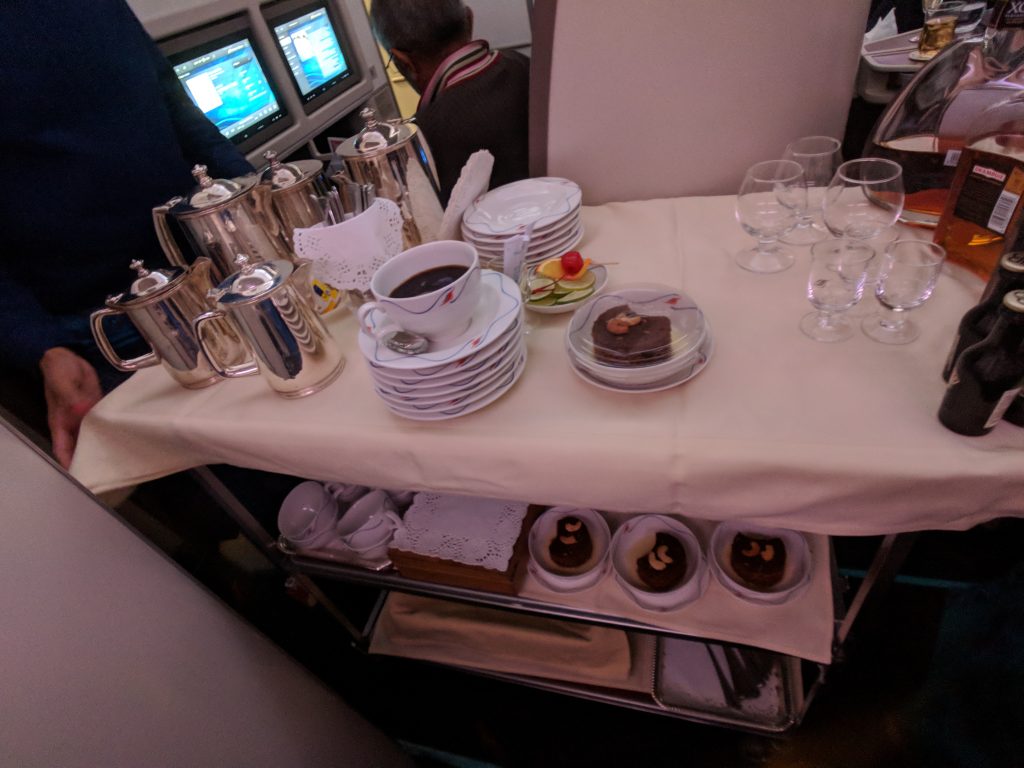 Entertainment
The IFE system was modern but lacking in content – the remote was also fiddly to use although you could also use the main touchscreen too. With the short flight times I just watched iPlayer on my phone. The screen was the type that you have to flip out after take-off to watch but was a decent size at 15.4″.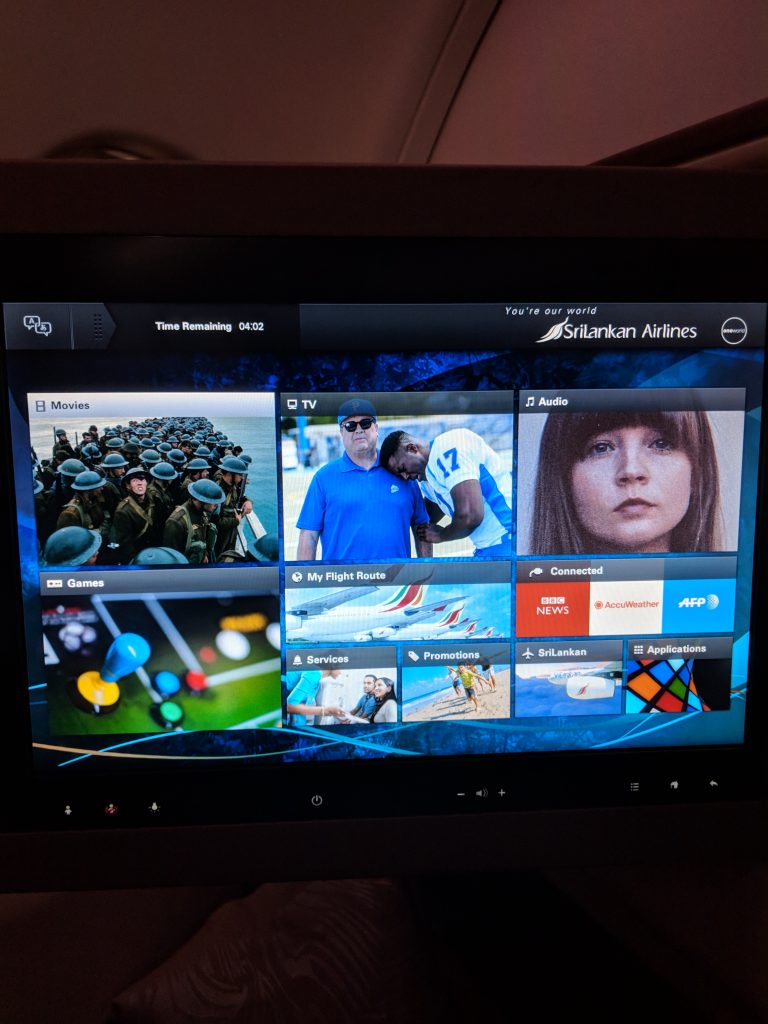 There was also WiFi on board. Sadly it was OnAir so it was slow and unreliable. For charging there was a USB socket and a multi country power socket.
One thing I also like was the twinkle lights in the ceiling of the new plane – I couldn't help but stare at them!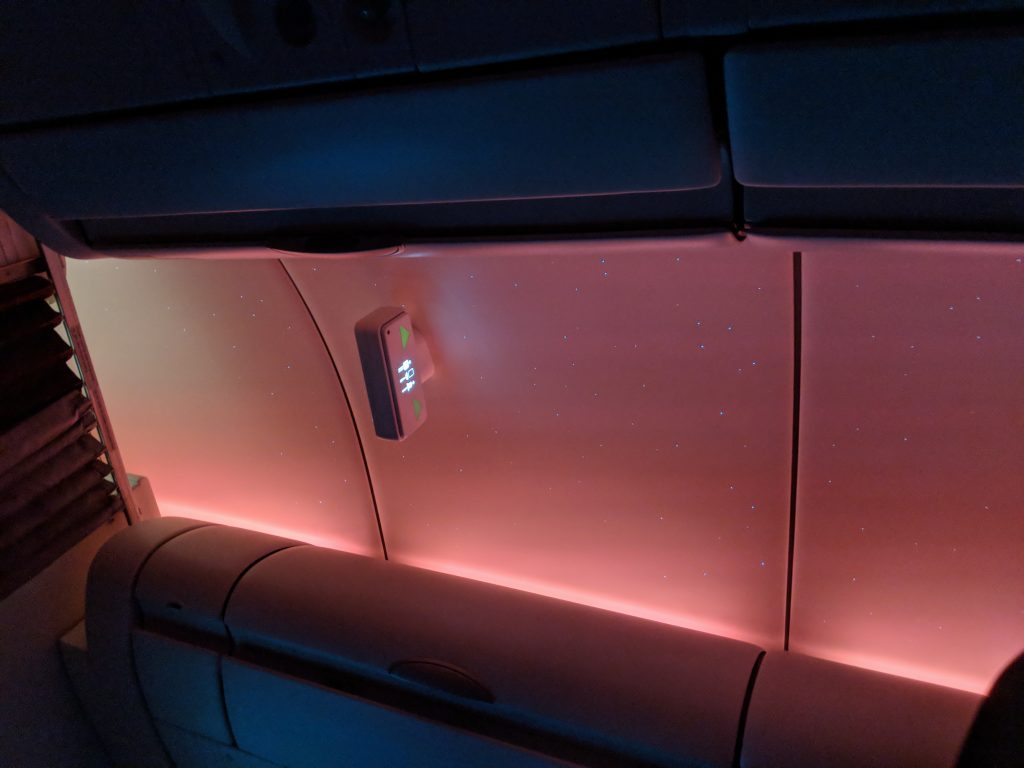 Colombo airport was small but functional – sadly I didn't have time to visit the lounge this time but we will aim to review to next year when we fly them again!
It was a bus gate to the next A330 and the older 2-2-2 configuration.
The "Old" Seat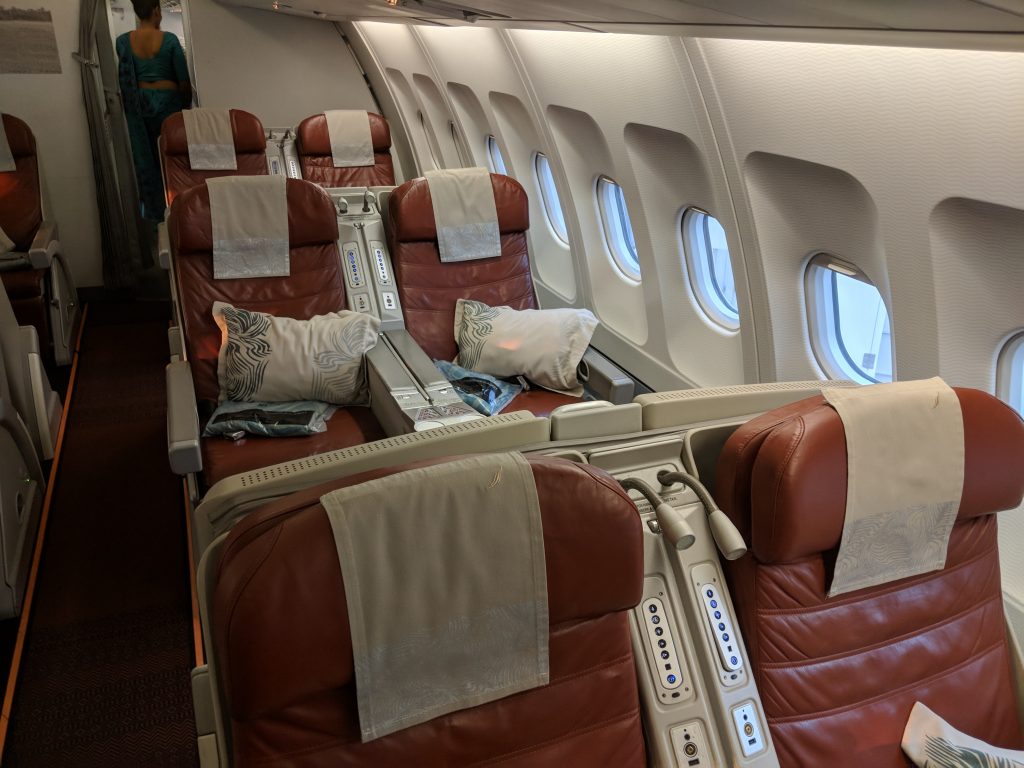 Now whilst this seat certainly look dated, as I said earlier – it's super comfortable. This was a day flight, but I would have no issues flying this on a red-eye.
Leg room was great and frankly flying in a couple this is a good albeit aged product.
More Food!
Well around came the menu but frankly I just wanted to rest and watch the world go by – I had a light breakfast which was tasty and that's what I did – watched the world go by.
And boy was I treated to some amazing views!
So why Sri Lanka Airlines? #tierpoints
Whilst the flights were fun – they weren't stand-out. So why fly them? Simple – they are a very cheap efficient way to rack up British Airways Tier Points.
A quick search shows Dubai to Jakarta for £675 in business class. Now as each leg is over 2000 miles thats 560TP – amazing value!
There are also other destinations available. Dubai works well as its usually cheap to get to from the UK. All Sri Lanka fares also allow a stopover in Colombo if you wanted to go exploring a beautiful country by all accounts!
As I said we will be doing a more in-depth review next year as part of a huge tier point run! Wish us luck….