BA recently revamped their Club World meals and are now offering a service with an almost normal pre-Covid meal rather than the one-tray meals they have had for the last couple of years. In this article, two readers share their recent experience with the new meals.
Here is reader Chris's experience with the new Club World menus
Gatwick to Antigua New Club World food flight menus
After almost getting used to the one tray Club World meal service, I was quite looking forward to see what normal "used" to look like, pre Covid, and my flight to Antigua on the 4th November was my first chance to see it.
Way Out – Gatwick to Antigua, BA 2157, 09:30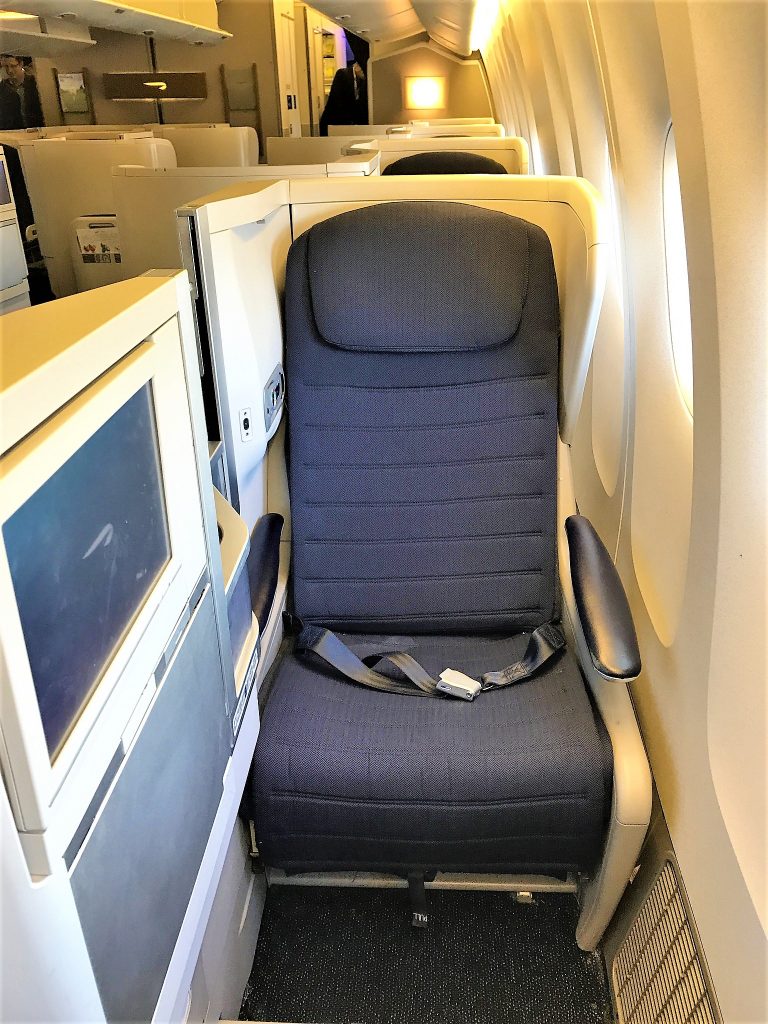 We boarded at about 08:45, giving us ample time to get settled. The cabin on this 777 features the old style Club World seats, of which I had 2A, and whilst this review isn't about the seating, I will just take the opportunity to say the new Club Suite is just light years ahead. Storage. Comfort. Privacy. The list goes on! Anyway, back to the food.
Pre-departure, I was given a rather damp smelling hot towel, and a glass of the Rose Champagne, which was also refilled without even asking, which seemed a nice touch. My after take-off drinks order was taken, and I ordered the Gin Fizz, and menus were handed out.
Below, are the New Club World food flight menus for the outbound flight: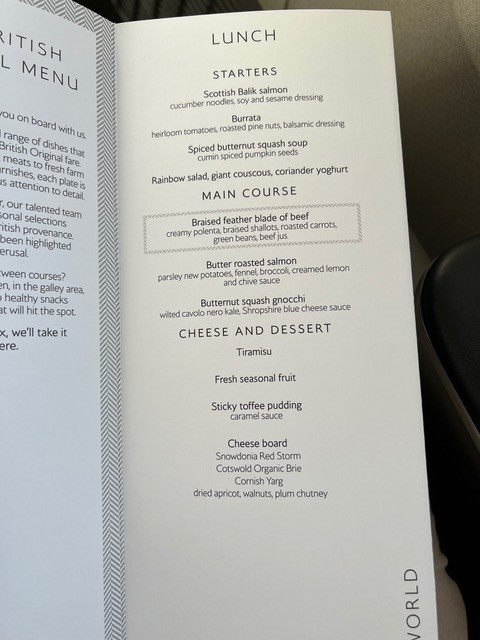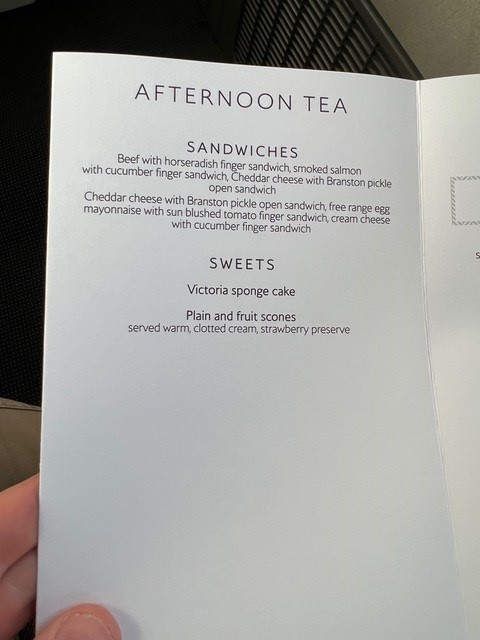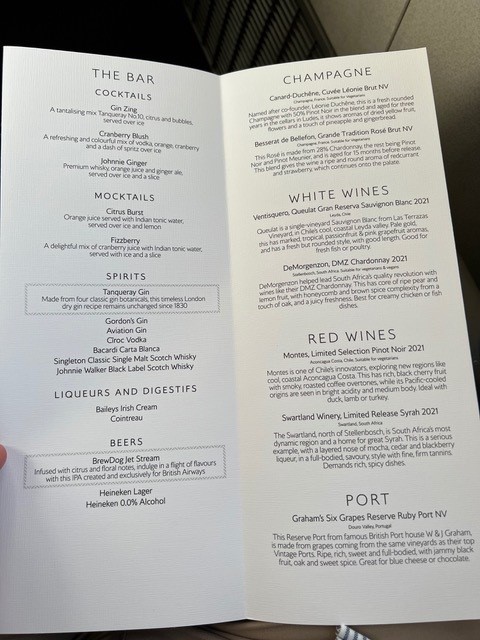 I chose the Pumpkin Soup as a starter, the braised feather blade of beef, and the tiramisu for desert. Food began to be served at about 11:30, with my starter being delivered. This was then followed by my main course, around 30 minutes later, with the desert being "on demand" – I just asked for it as they took my main course away.
The New Club World food flight Afternoon tea began to be served about 90 minutes before landing. In between meal times, the club kitchen was stocked with crisps, crackers, nuts & chocolate bars. It would be nice to maybe see some other items in there at some stage, but I know that's a debate that rages on.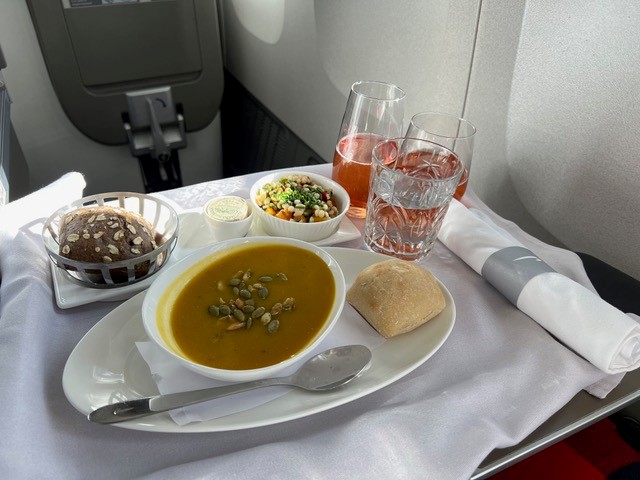 The Pumpkin soup was very tasty, and as an added bonus, it was actually hot. It did, of course, lose a few degrees in temperature when I put the standard issue refrigerated BA cutlery into it, but regardless it was very nice. This was served with a bread roll, and a rainbow salad, which I later realised was to accompany my main course.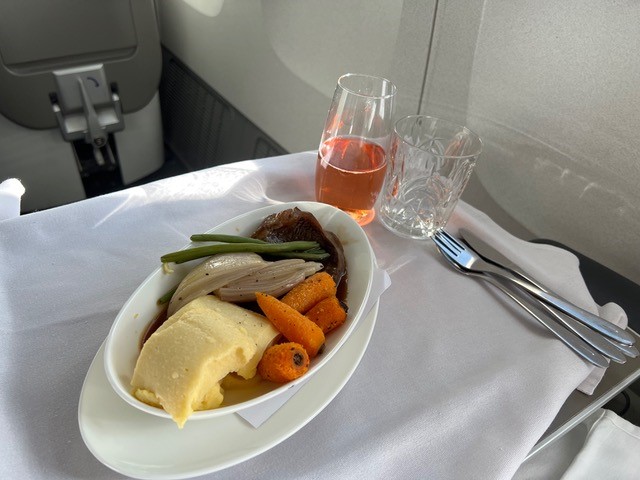 Next, was the main course – the feather blade of beef, with seasonal vegetables & polenta. The vegetables were just about right (al dente!), with the beef being as good as beef at 40,000ft could be – it wasn't tough, it wasn't dry, it was just OK. The polenta tasted better than it looked, but that doesn't mean it was wonderful – it was strangely rubbery, and I must admit, I left some of it. I think BA could do better here – replace the Polenta with some new potatoes or something similar. The tray looks strangely empty, doesn't it – if this was the one tray meal, it'd still be pretty full!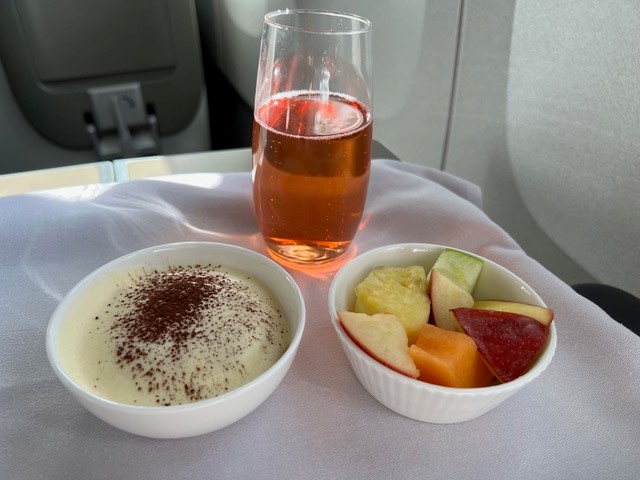 Desert was the tiramisu, with fresh fruit, and, of course, a further champagne. This felt quite a small dish to be honest; you wouldn't have noticed this on the previous one-tray affair, but here, it really stood out as feeling a bit cheap. Nonetheless, it was actually pretty tasty, and the crew member serving me brought me another one over, without asking. I wonder if she saw my face when it was put down?!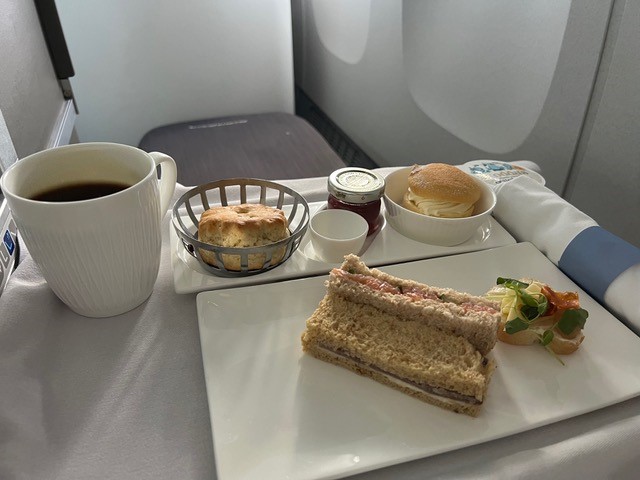 Now talking of cheap, we move onto the traditional afternoon tea – traditional in the sense that BA still provide two tiny little finger sandwiches, and a little freezer cake. I didn't eat the sandwiches as sadly, they weren't to my liking. I did have the victoria sponge, which almost felt like it wasn't quite defrosted yet. This picture was taken pre-turbulance, where my coffee was ejected from the mug!
Way Back – Antigua to Gatwick – BA2156, 21:00 New Club World food flight
Just after boarding at 20:30, pre-departure champagne was provided, along with a hot towel. This felt pretty rushed to be honest, as no sooner had drinks been provided, that the announcement that boarding was complete was made, and the crew were round whisking glasses away. As with the outward trip menus were also provided, and a post take off drink order was taken.
New Club World food flight Menus for the return: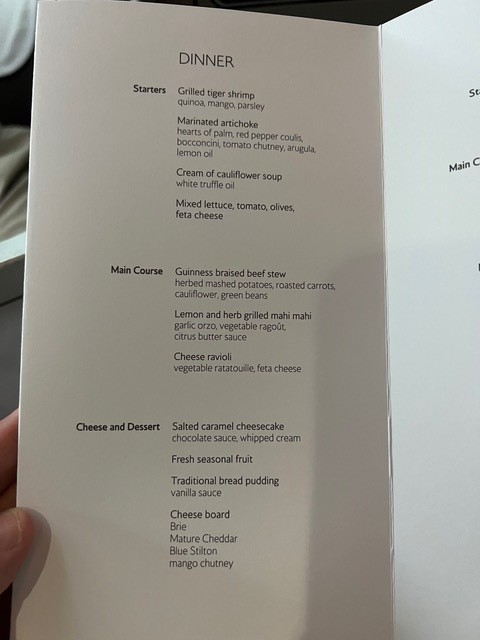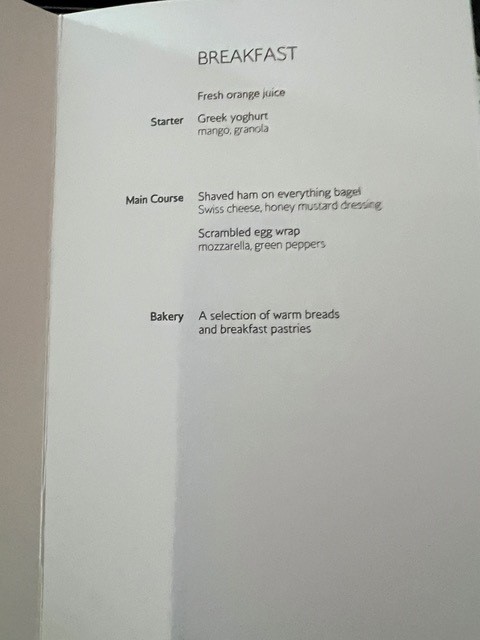 I again chose the Soup as a starter, then went for the braised beef in guiness, and the caramel cheesecake. This began to be served at about 22:00 – much quicker than the way out, as the priority was to get us fed, then turn the lights off for the overnight flight. Absolutely fine by me, as I didn't have much in the lounge in Antigua as it was too busy to get a seat.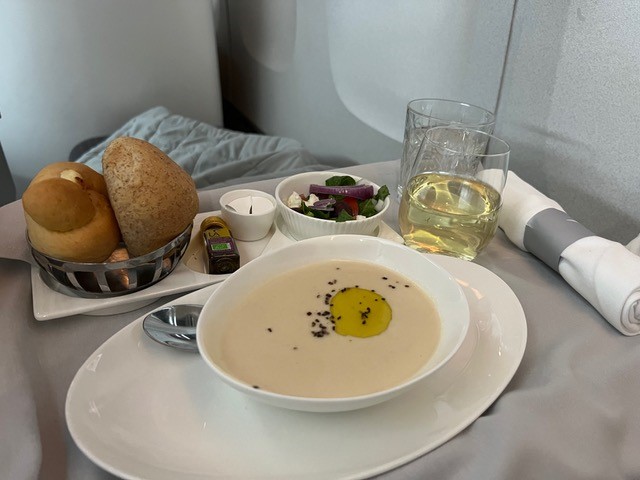 The soup on the return flight was exceptional – really, really tasty. It was served with two bread rolls, and a small salad and dressing.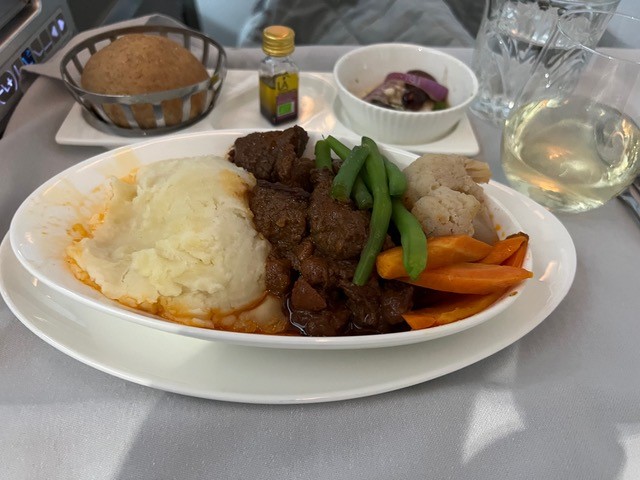 Next, the main course. This was perhaps one of the most revolting things I have ever eaten both on the ground and on an aircraft. The mashed potato was OK, the vegetables were OK (even the grey cauliflower). But the beef. It was swimming in an oil sauce (NOT Guinness) It was either so chewy you couldn't do much with it, or so hard, you couldn't get your fork into it.
I handed it back to the crew member, and I told her about it – she said I wasn't the first one this evening to send it back, and a quick glance around the cabin, so the same thing happening. I was offered a choice of other courses, but it was getting on, so I politely declined. I was also encouraged, as were others, to feedback about this particular dish to BA. I will do this after writing this review. What could have been a lovely dish was sadly the absolute opposite. Best avoided this one!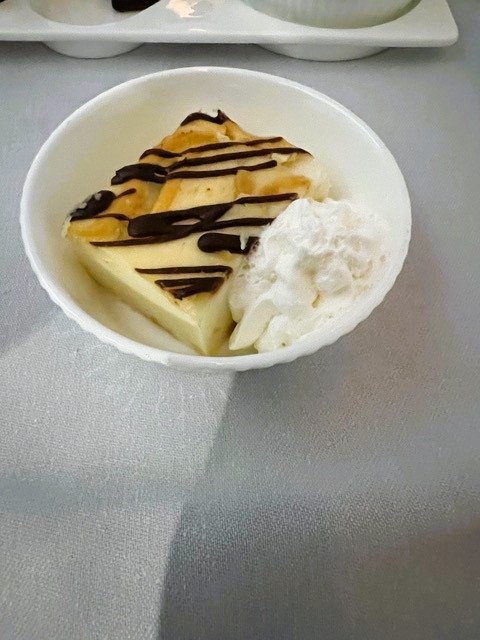 The salted caramel cheesecake came next, and I don't know why, but I had imagined it being some sort of large slice, like you'd get in NYC. Maybe that's because I was disappointed with the main course! Sadly it was just a small square, but a small, tasty square nonetheless! I was brought a 2nd one over too. Again, without asking.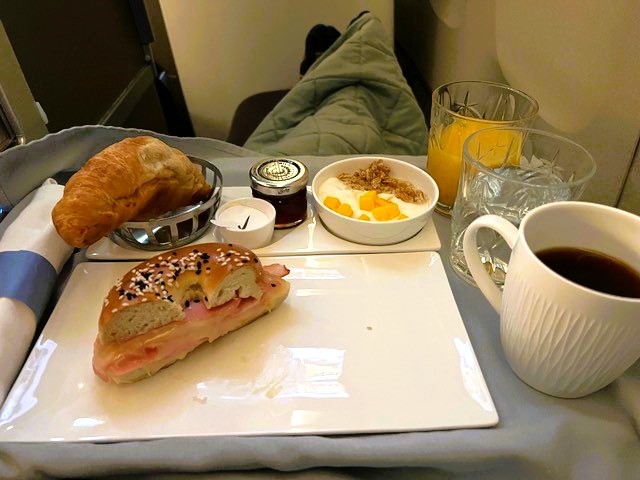 After a fairly decent few hours sleep, I woke just in time for breakfast, I chose the "everything" bagel with a coffee. A rather small-looking bagel on a large plate. It was, nonetheless, tasty, and the crew were walking around the cabin taking 2nd orders from people.
I think they knew it may be a little small for some. There is something that BA could do better here for breakfast offering. I appreciate they don't have Do & Co in their outstations (or perhaps the smaller outstations), but this is one area that it feels minimal effort goes into.
Other Points:
I didn't see the crew struggling with the new service style (or rather back to old ways) despite recent comments on other blogs
The crew on both legs were absolutely fantastic – better than my recent JFK flights. It felt like they wanted to be at work, they wanted to talk to customers – to which they did, and it just all felt really nice. I'm going to send a thank you message, through ba.com later on, to thank one crew member in particular for the outbound flight – I hope the message reaches her!
The next review is from reader Stephanie.
London to Barbados new Club World menu
My husband and I flew to Barbados today in Club World, and I thought I would share our feedback on the new food offering from BA.
Whilst the service was excellent, I have to say the food was awful. Judging by the previous articles I have read, I think there must be one menu with very little on in the way of regional specialities.
I'm not sure what chef would design such an imbalanced menu – e.g. a cold beef salad ( with carrots) for a starter and then a beef main course ( again with carrots). Indeed there were 3 salad starters and a soup. In relation to the soup, there were no croutons as advertised because no one had loaded these onto the plane.
Anyway, the starters were passable but my husband's cod main course was a different matter. It was inedible- please see the attached photo. The cod was overcooked and grey ( I think my husband was hungry and ate it before he decided to take a photo of the rest of the meal). I think the photo says it all. Truly, truly dreadful.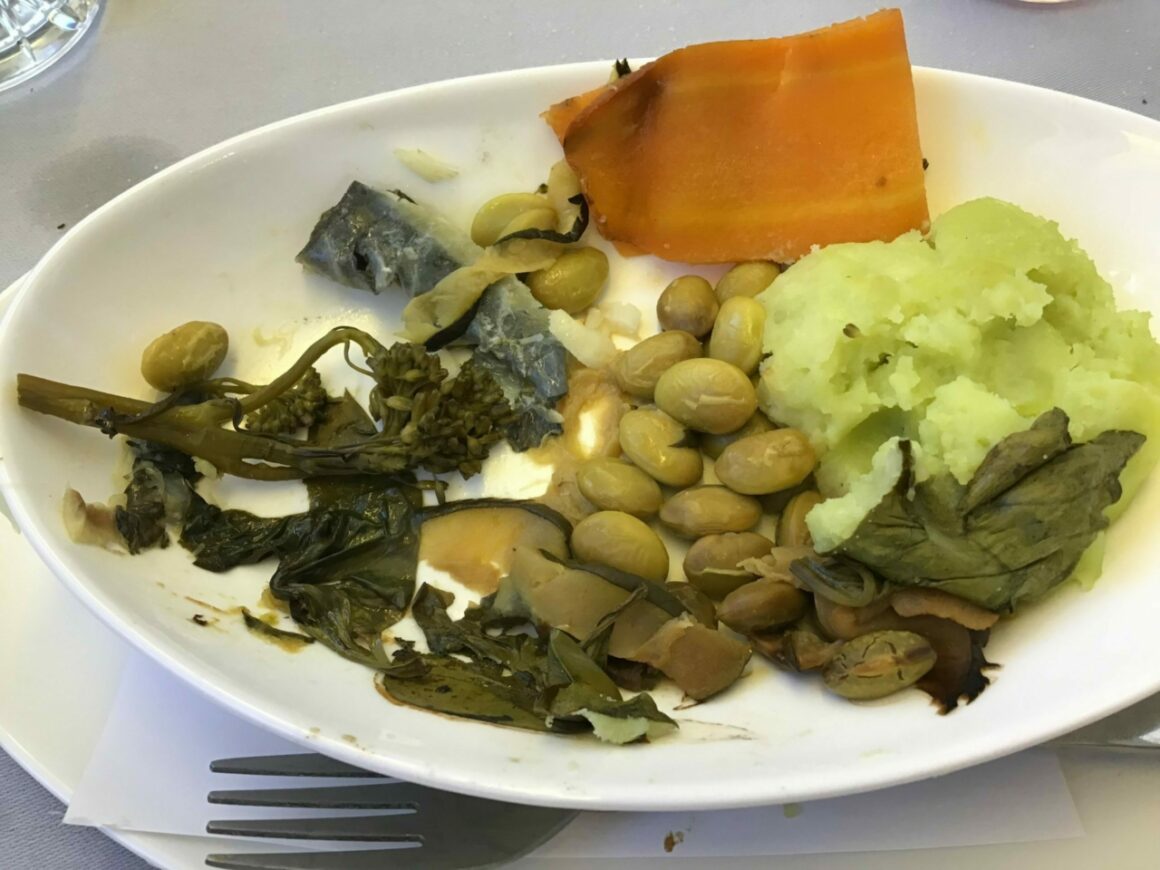 Thankfully, I just had cheese and biscuits for a main course.
The desserts were also dreadful – apple crumble with apple compote. Why put apple compote with an apple crumble? What about some cream? The chocolate pudding consisted of a small pudding with a smear of chocolate sauce on the plate.
Luckily, BA gave me a 15,000 Avios service recovery already!
Like our New Club World food flight reviews? You can read other interesting food reviews here such as the Mini Reviews – Virgin Atlantic New Food And Drink + Electroflytes Review and British Airways New Club World Service Food & Bedding Review In 360°.