I tried the new Club World food and service shortly after it launched in September this year. As the new bedding had been delayed I didn't get a chance to experience the full product on my last flight. I have now tried the full service with the amenity kits and bedding both to and from New York, so what did I think of the complete product? Note: if you are reading by email it will be easier to see the 360° image by clicking through to read this on the website.
Check-in and lounge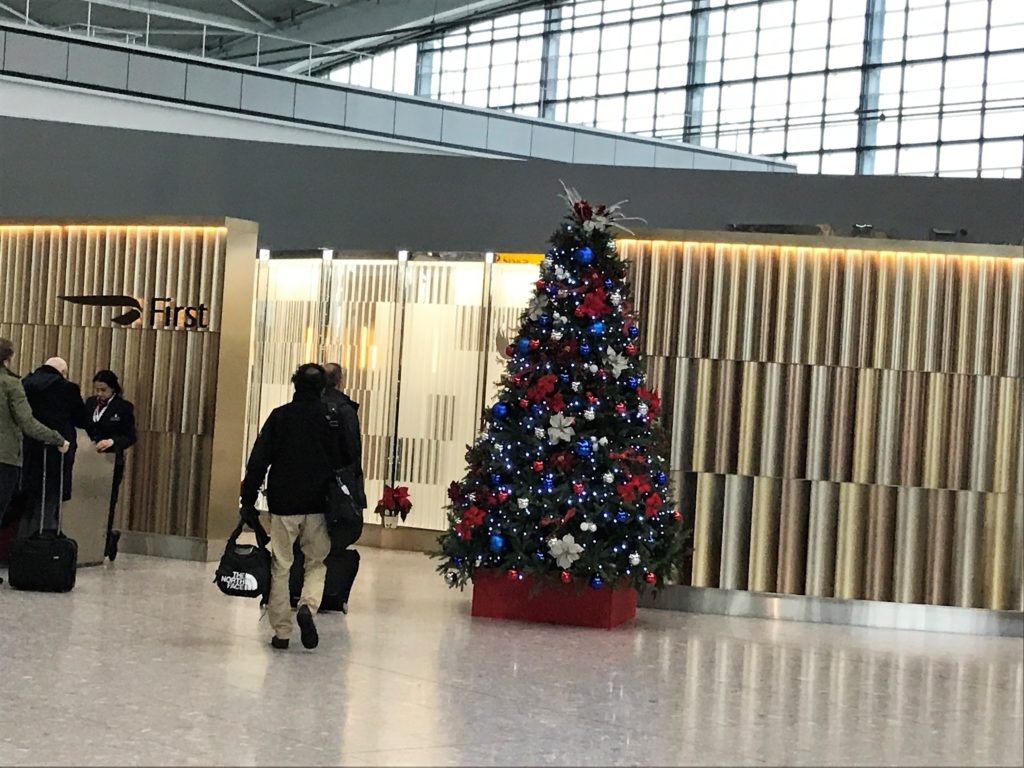 As usual, I used the First Wing being a Gold Card holder. This was an unusual day at T5 as it was the day following all the snow disruption a couple of weeks ago. Queues were longer than usual but it still didn't take long to get into the First lounge. On this occasion, I was using the Concorde Room lounge as a guest of BA and you can read my review of the Concorde Room here. Normally in Club, you would be entitled to use one of the three Galleries Club lounges which you can read about in my guide to BA T5 Club lounges in this article.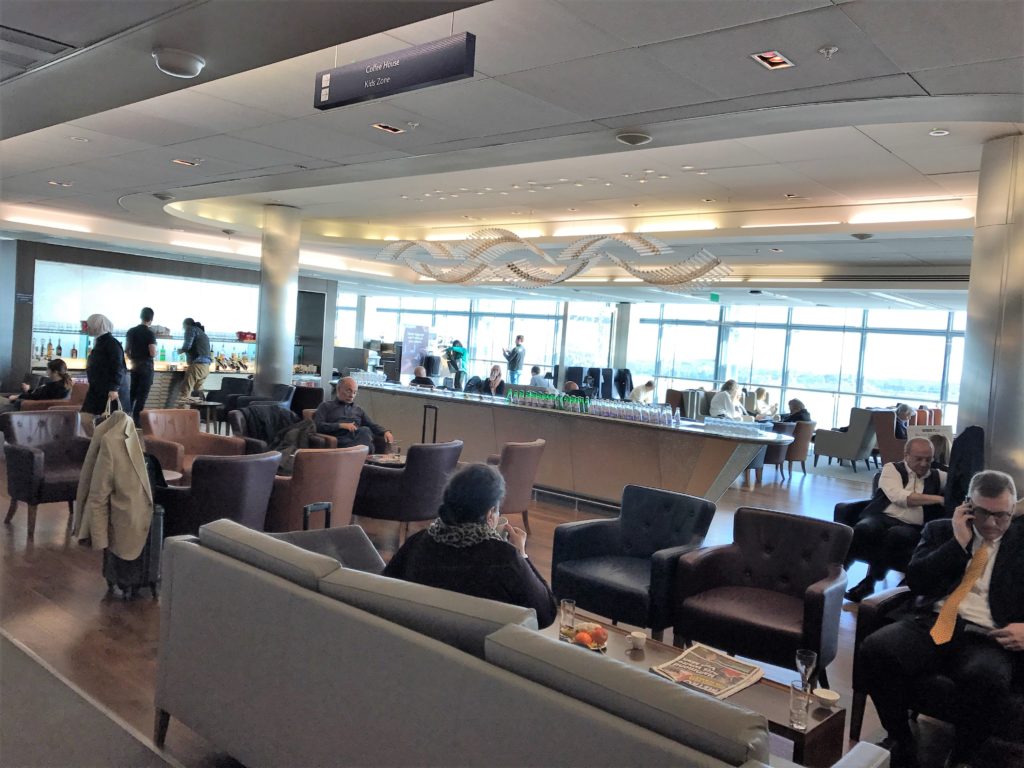 Boarding
Typically, seeing as I wanted to get on early to get some photos, I was selected for extra security screening. Fortunately, I knew that this would be the case from the code on my boarding pass. The staff at the gate were very helpful and allowed me to go through with the pre-boarding so I could still get on reasonably early. I, therefore, can't really comment on the boarding process but it was great for me!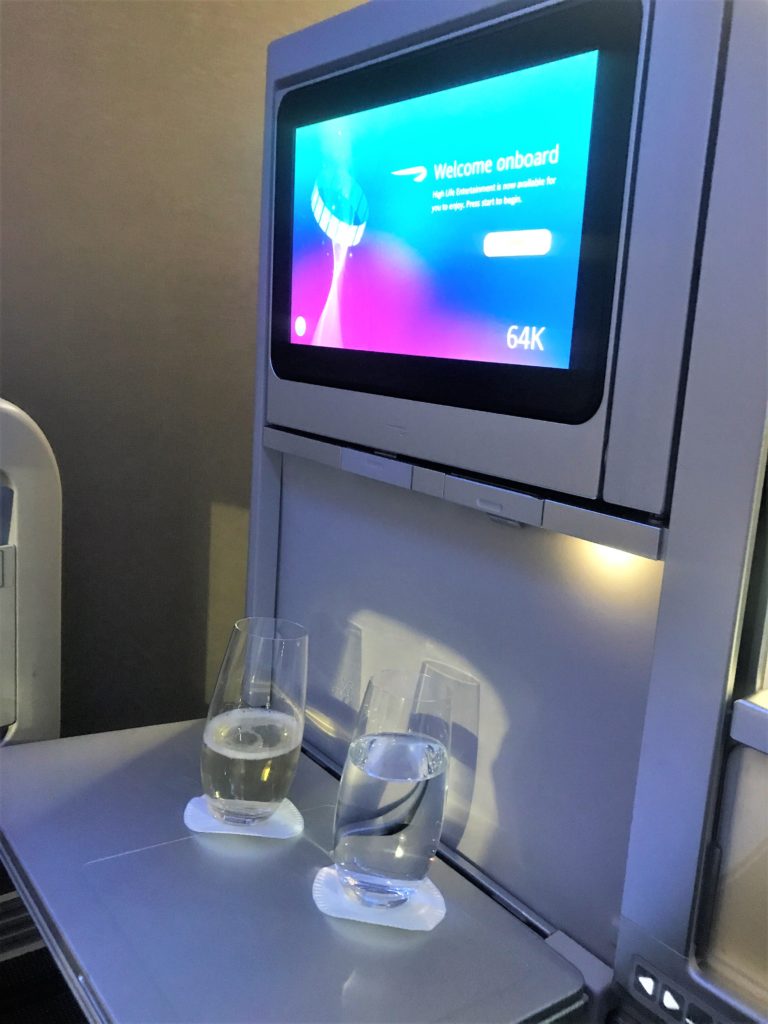 Once on board, I was offered a glass of champagne and the new wash bag from the White Company. On the seat was already the new White Company bedding with a day pillow, large pillow and a bag containing the duvet, mattress topper and day blanket. You have to stow the bags in the lockers for takeoff but there was no issue with finding room as they are quite flat. There were also noise cancelling headphones at the seat.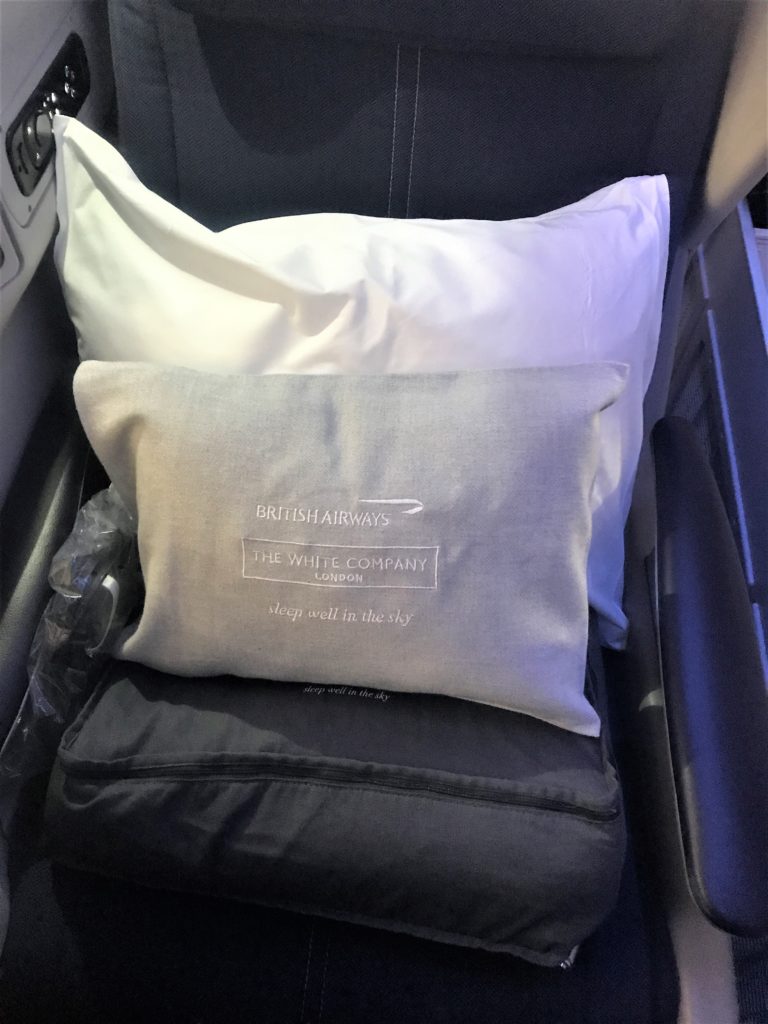 I really like the stemless flutes for Champagne but they seem very like marmite and some people hate them as they are not 'proper' champagne glasses. I like the fact that a) they are harder to knock over and b) they are much bigger than the glasses before!
Seat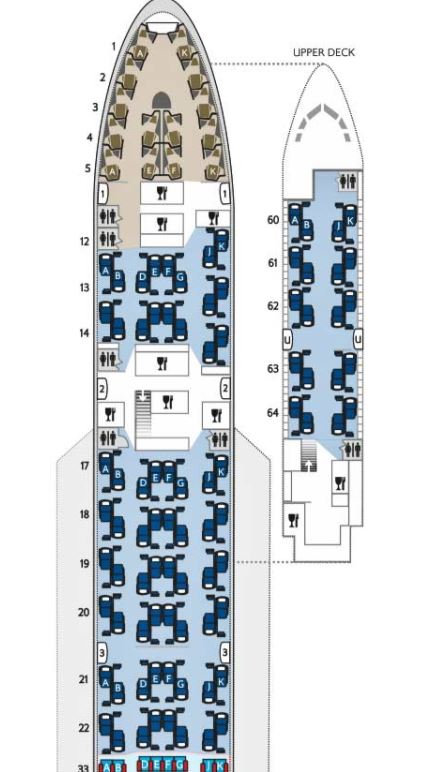 I had chosen this flight as it was on one of the refurbished 'super high J' B747s. You can tell whether your aircraft is one of the refurbished B747s by looking at the seating plan downstairs. If Club World goes up to row 22 you have the refurbished B747. These have had their seats and entertainment system refurbished and it is a huge improvement over those that haven't.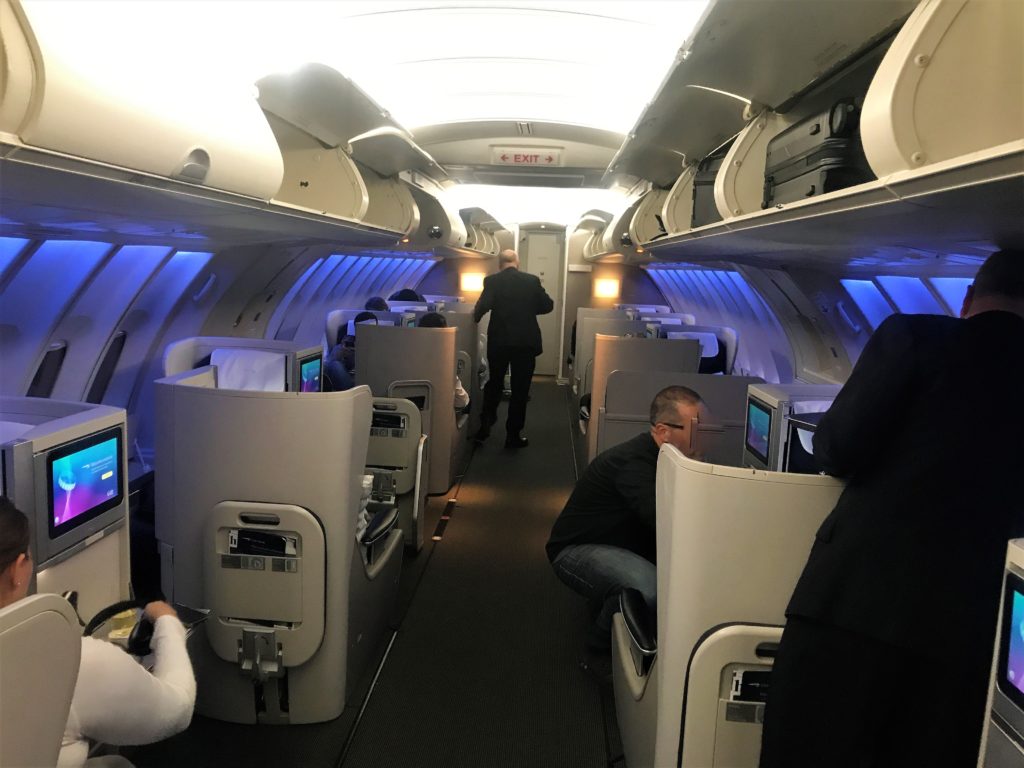 I always advise choosing the Upper Deck if you can. In a 2-2 configuration with only 20 seats, it is a much quieter place to sit and feels more exclusive. I have recently been sitting in 62A as my preferred seat but I decided to try 64K again as it is Roving Reporter's favourite seat. As you will see from the seat map it does back on to the toilet but I did not hear any noise from the toilets during the flight. It is definitely one of the most private seats on the aircraft but also has aisle access and lots of extra storage space with the side bins. I like that you can use the side bins as an extra shelf too.  62A is more exposed but I quite like that on a daytime flight and it still has aisle access.
Post from RICOH THETA. #theta360 #theta360uk – Spherical Image – RICOH THETA
Food and drink
After take-off I was offered a drink with a bowl of nuts on a small black tray. Drinks are either served in stemless wine glasses or chunky cut glass tumblers. All the drinks are delivered by hand.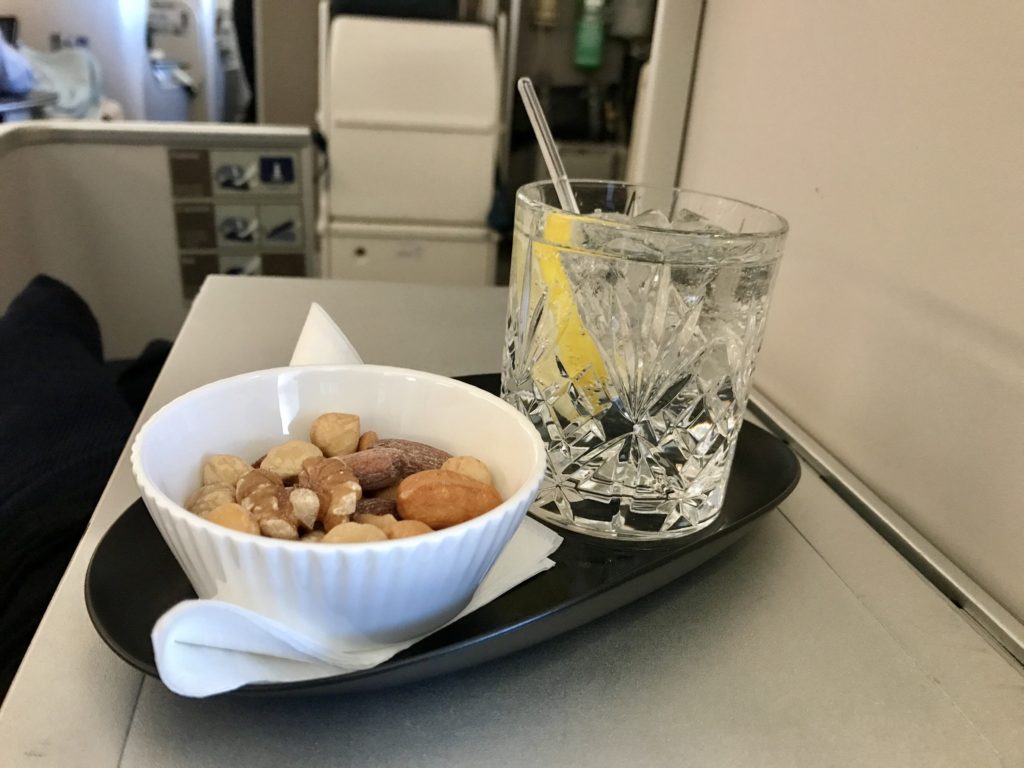 The menu on this flight was very similar to the last flight I took to New York so I had decided to pre-order my main course to make sure I tried something different this time. You can read about the other options in my previous new Club World review.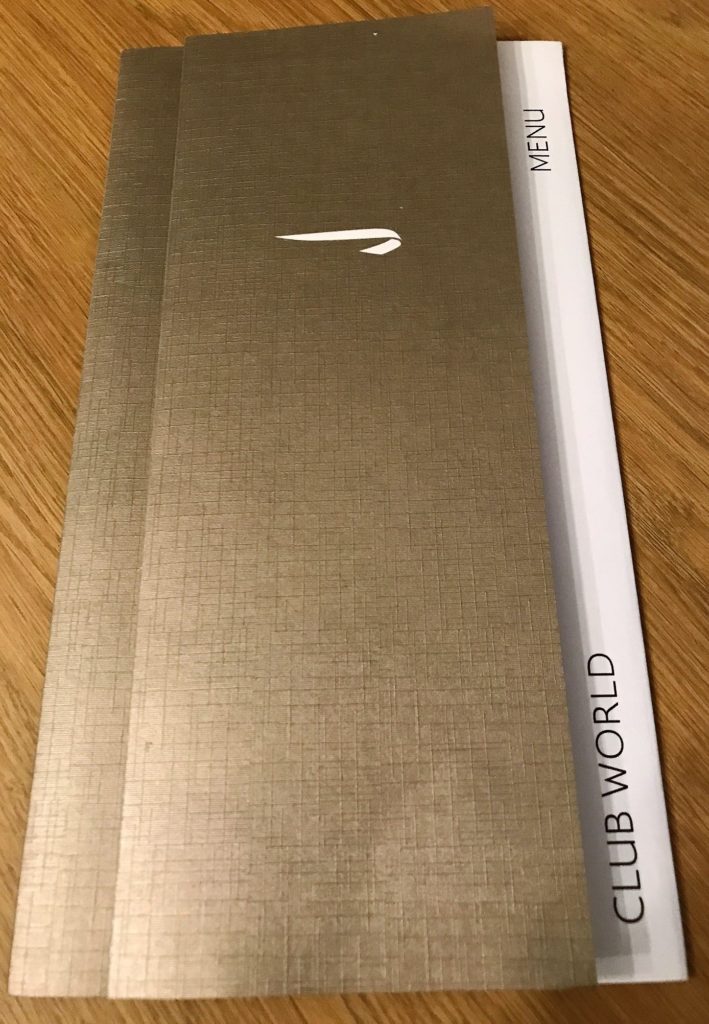 Here is the menu:
Starters
Loch Fyne smoked salmon tartare with wasabi crème fraîche
Buffalo mozzarella and tomato carpaccio with olive oil and balsamic dressing
Creamy butternut squash soup with chive and sour cream
Fresh seasonal salad, grilled vegetables and a choice of French dressing or olive oil and balsamic dressing
Main course
Best of Heritage beef, homemade gnocchi in Café de Paris sauce and pan-fried green asparagus
Line-caught grilled Cornish Dover sole with Mediterranean lentils, celeriac mousseline and lemon butter
Homemade artichoke ravioli Parmesan
Dessert:
DO & CO's double chocolate medley
Lemon tart
Viennese-style apple strudel with vanilla sauce
Fresh strawberries
Cheese board with Somerset brie, Keen's cheddar, Cropwell Bishop Stilton, walnuts, grapes and fig chutney
The new menus look very smart in a linen-look weighty paper and tone with the new place settings and bedding.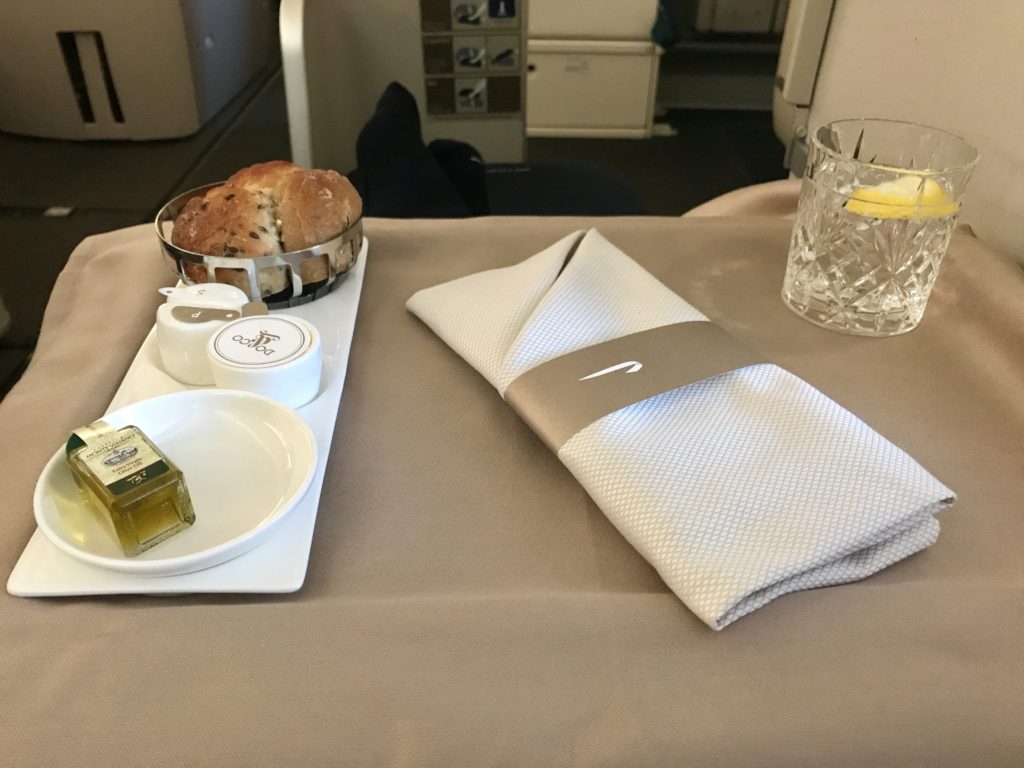 As before, the trays were delivered by hand with warm bread already in situ. The bread is delicious and consists of 3 mini loaves of different bread baked together. This is served with both butter and olive spread oil. Due to the low temperatures the olive oil had completely solidified which is not something I have seen before. After futilely holding it upside down with various manoeuvres to dislodge the substance, I resorted to warming up the bottle in my hand to melt it. That being said, the bread was as tasty as before and once defrosted, I enjoyed using the little dish to dip my bread into the oil.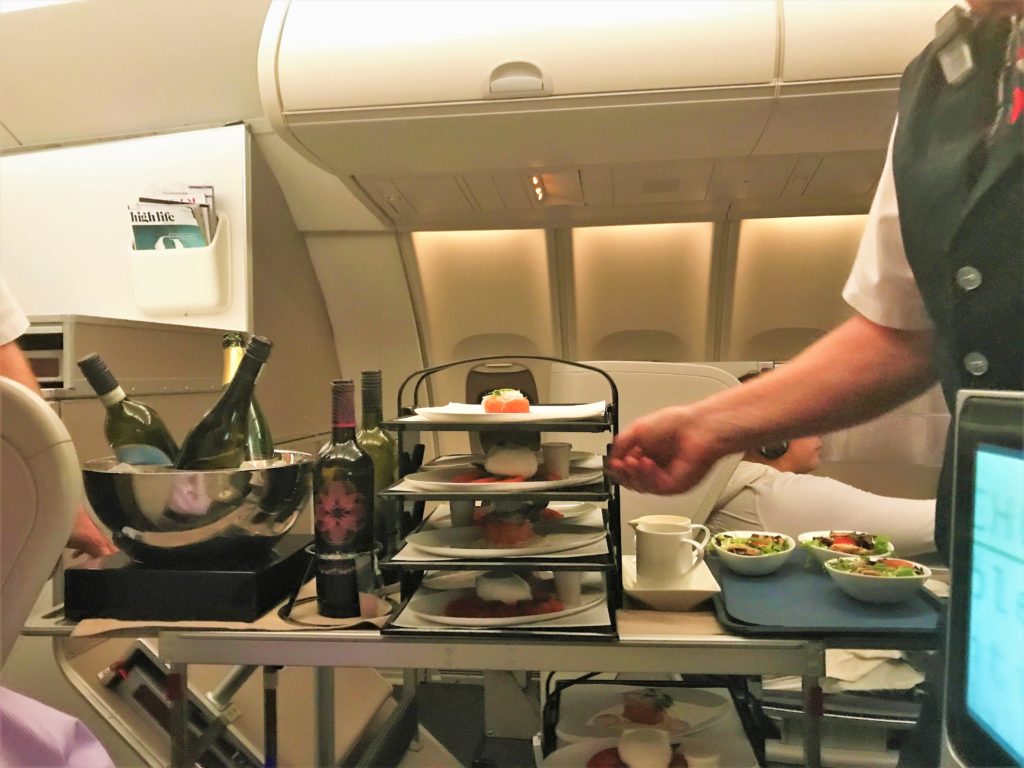 The starters are presented on a trolley so you can 'see before you buy'. I had previously had the salmon with wasabi which was one of the best airline starters I have had. Despite really wanting to have it again, I soldiered on with selecting something different and went for the mozzarella. This was an enormous portion for a starter as it consisted of a whole ball of mozzarella with tomatoes, fresh basil and some dressing. I enjoyed the starter and the mozzarella had a good quality texture with a slightly gooey, creamy interior which was lovely with the refreshing acidic tomato.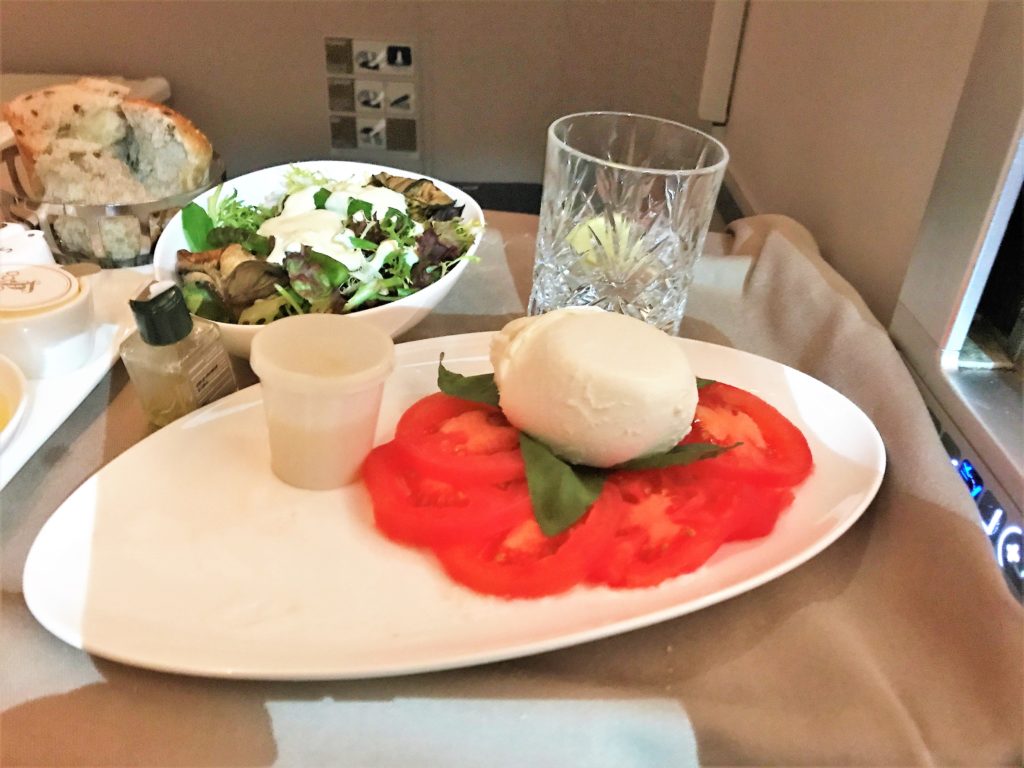 I also had a side salad since I hadn't tried one last time. This came with a choice of two dressings of which I had the French dressing. I am not sure it was particularly like French dressing as it was quite creamy but I really enjoyed the salad which had nice chunks of roasted vegetable in it to give it a bit of interest.
I had pre-ordered the Dover Sole for my main. Last time I been highly impressed with my beef main course. The sole was enjoyable but not quite to the same standard as the beef. It was slightly overcooked but it is almost impossible to cook fish to perfection on a plane so I will forgive BA for that. The vegetables were not overdone though and still had a bit of bite to them. The highlight for me was the celeriac mousseline which was smooth and creamy but with plenty of celeriac flavour which went beautifully with the sole.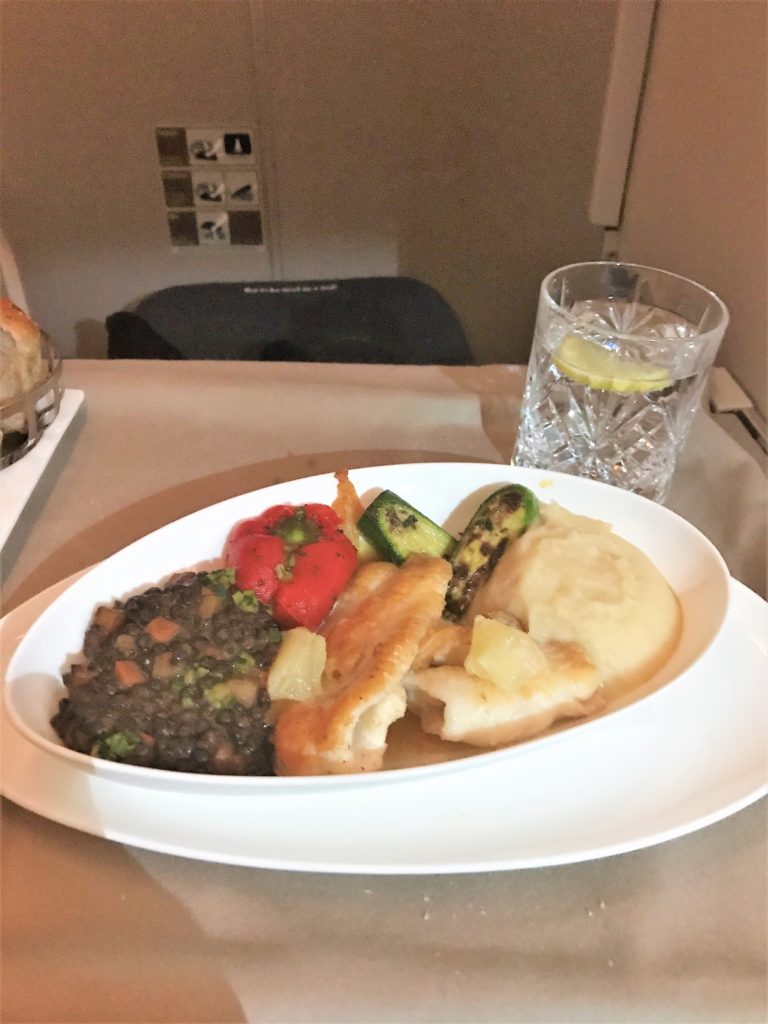 I would normally have cheese but I decided to try a dessert this time as I have sampled the delicious Six Grapes Port enough times to give it a miss this time. You can see all the deserts laid out on the trolley and if you want you could have more than one item such as fruit and a dessert or cheese and dessert.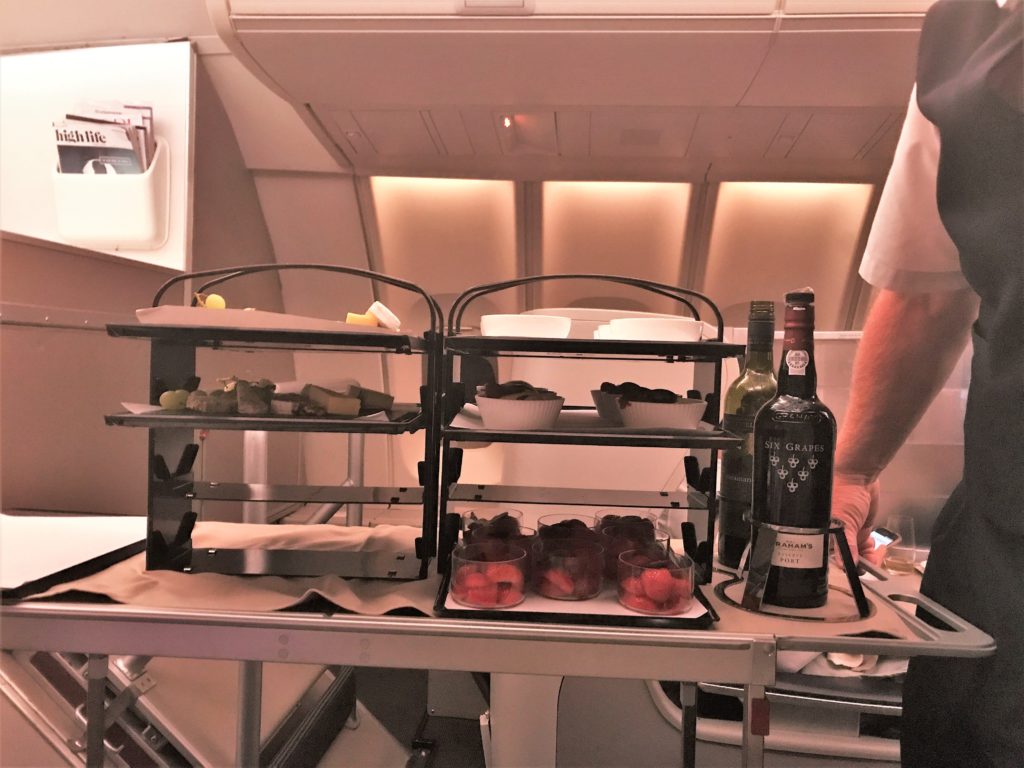 I chose the warm dessert – the apple strudel. Unlike the very odd apple pie I had on Etihad recently, this did not disappoint. The pastry could have been slightly crisper but other than that it was delicious. The strudel wasn't too heavy and had a light touch of spice in the apples. I loved the creamy vanilla sauce which was flecked with bits of vanilla seed. If I hadn't been in public I could have easily licked the plate clean!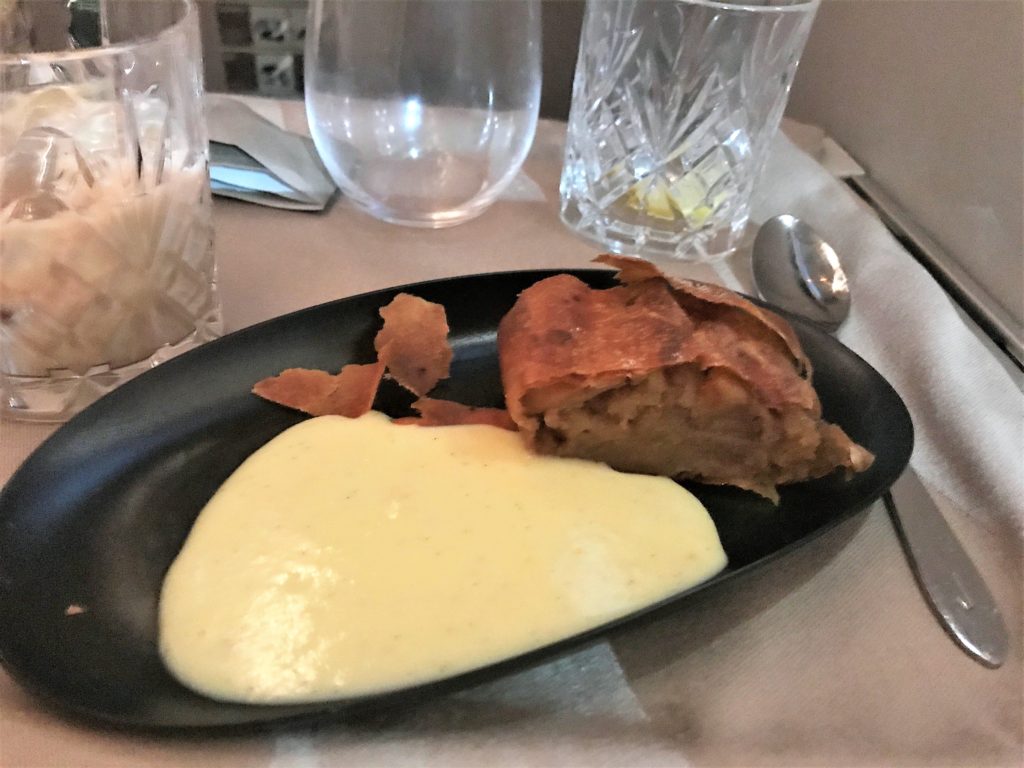 The wine choices on the flight were as follows: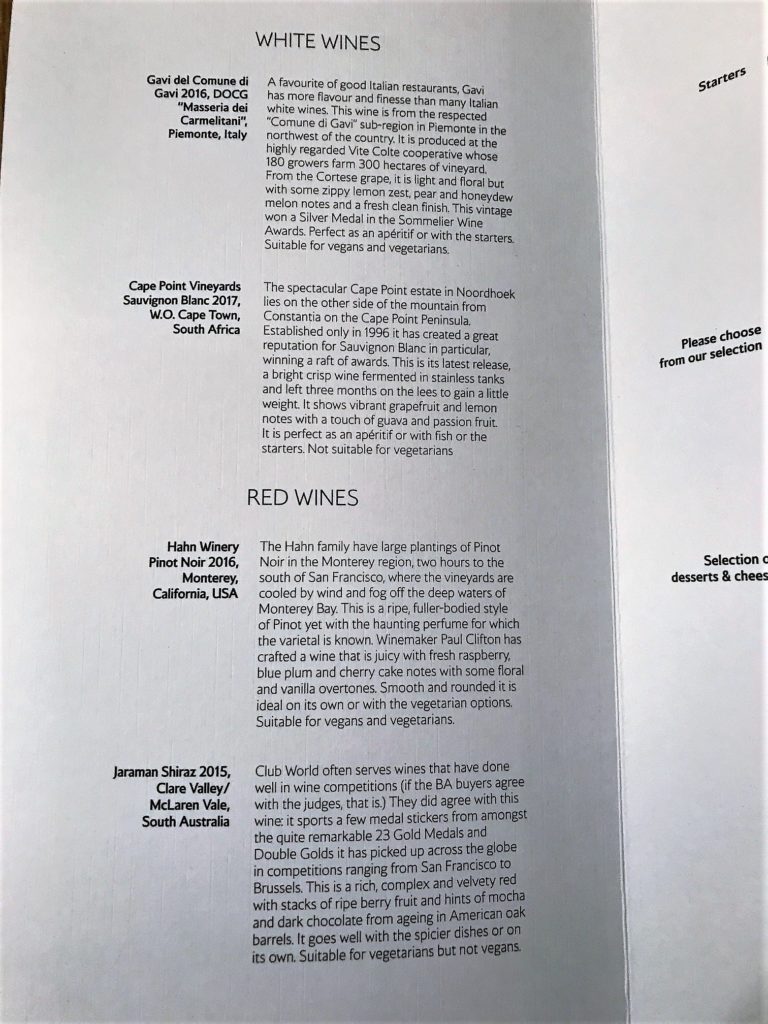 Champagne:
Champagne Henriot Brut Souverain NV,
Champagne de Castelnau Brut Réserve NV
Champagne de Castelnau Brut Rosé NV.
Even though I am bit 'over' Sauvignon blanc at the moment, I tried it to complement the fish. It was a good example of a South African Sauvignon Blanc being halfway between a traditional French style and a more fruit-forward New Zealand one.  The wine usually retails at around £13 a bottle in the UK.
The service was very good on the flight. The route was being operated by BA's World Wide crew and although they were both very new to the new service routine they did a great job. The service didn't take much longer than usual even though the cabin was completely full. The crew had the typical BA style that I like, friendly and professional but they enjoyed a bit of banter too!
The flight was scheduled to be leaving Heathrow at 7.50pm and arriving in New York at 10.40pm and plus we were delayed so it was very late when we landed. There was a second meal offered but I didn't need anything that late after the large first meal. Here is the menu for the second meal: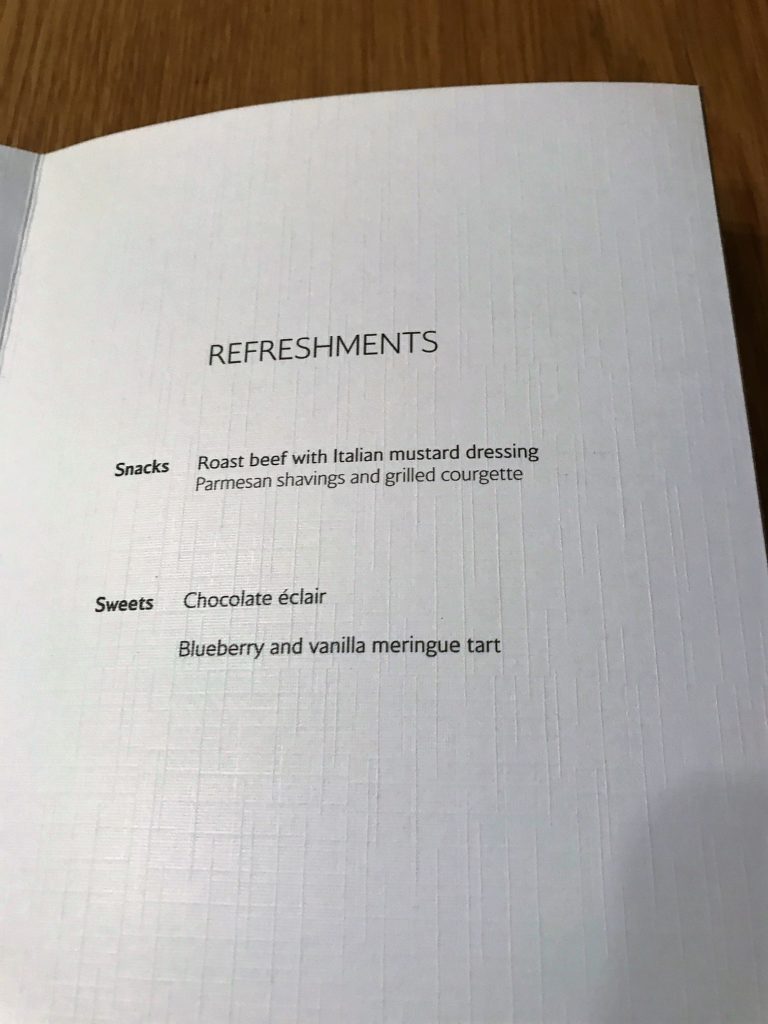 Bedding and amenity kits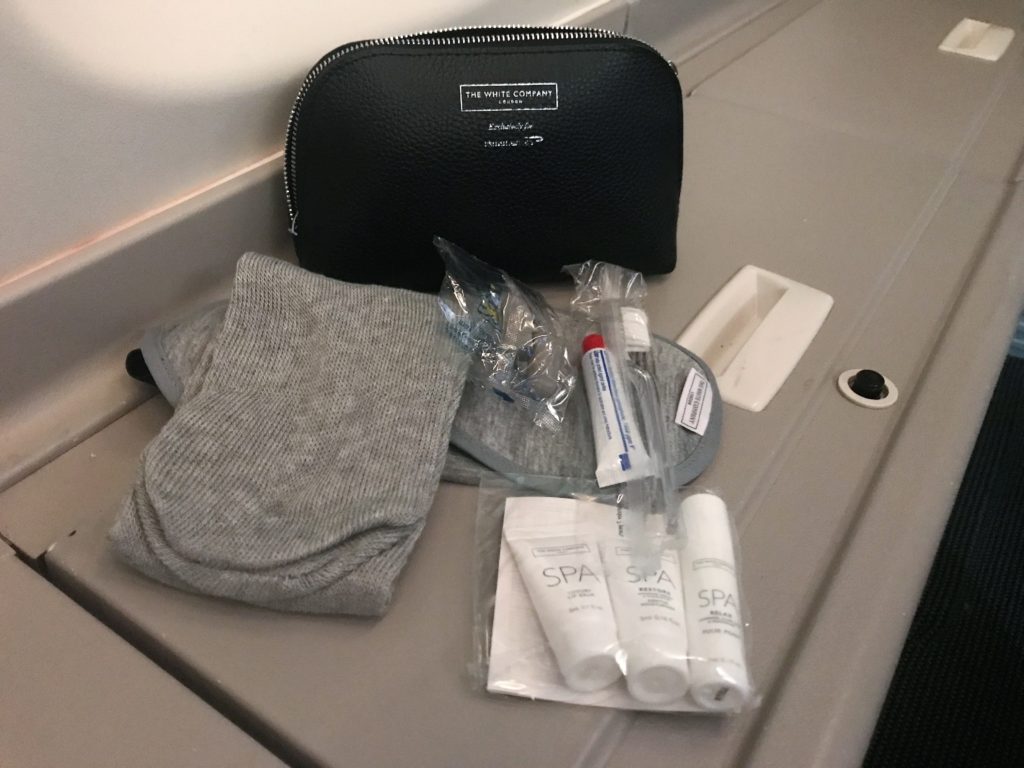 I was slightly sad to see the Elemis kits go although I was looking forward to getting a new bag. The new amenity kits look OK but the bags are very small. The disadvantage is I'm not sure what I would use it for afterwards, but if you are taking it home with you at least they take up less room. Inside the bag was the usual socks (grey but felt the same as usual), earplugs and toothbrush/toothpaste which were all pretty much as before.
The differences came with the eye mask and toiletries. The new eye mask is huge and reasonably soft. It keeps out the light well but I still prefer my own moulded one as I don't like the mask pressing on my eyes. The toiletries were: Spa Relax Pulse point oil with lavender and clary sage, Spa Restore Gentle Moisturiser with geranium, neroli and eucalyptus and Spa Luxury lip balm. I loved the smell of the products which did indeed make me think of a high-end spa. It would have been nice to have an applicator on the lip balm tube since it is not solid but I liked the new products more than the previous ones apart from the lack of free Elemis Pro-Collagen Marine cream.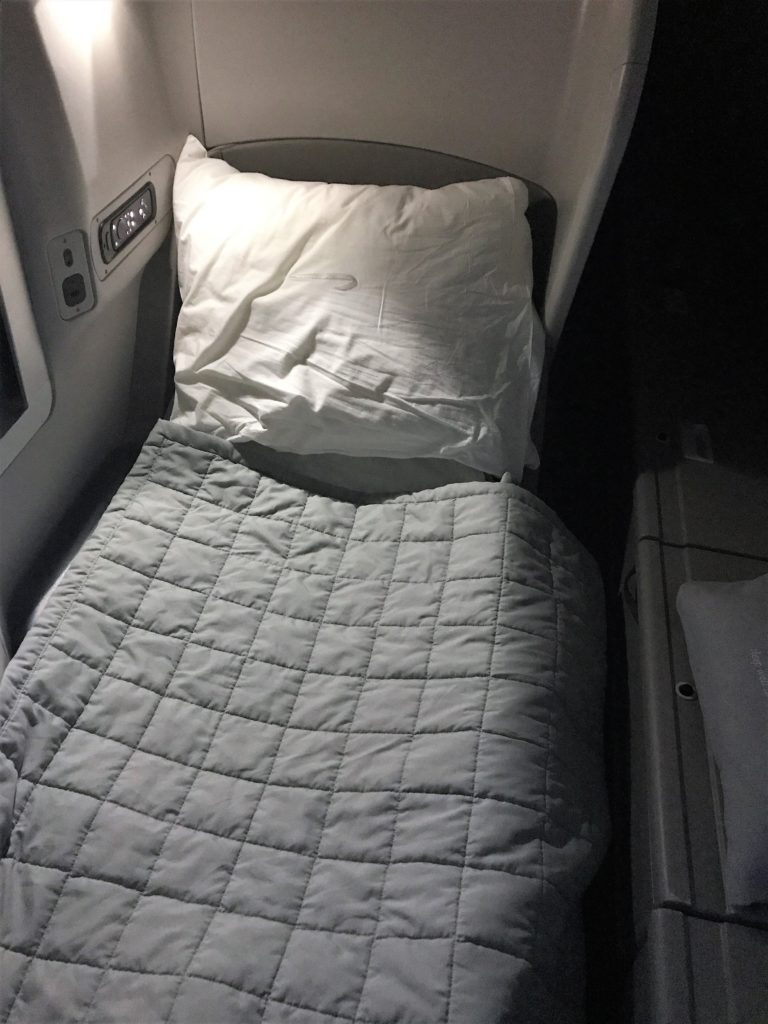 The new bedding was a huge improvement and definitely made a difference to my comfort during sleep. I used the mattress topper although I am pretty sure iI hadn't put it quite where it's meant to be. My main objective was to cover any joins in the seat. It was pretty thin and didn't provide much padding but it did help create a smoother sleeping surface and meant you weren't in direct contact with the seat either.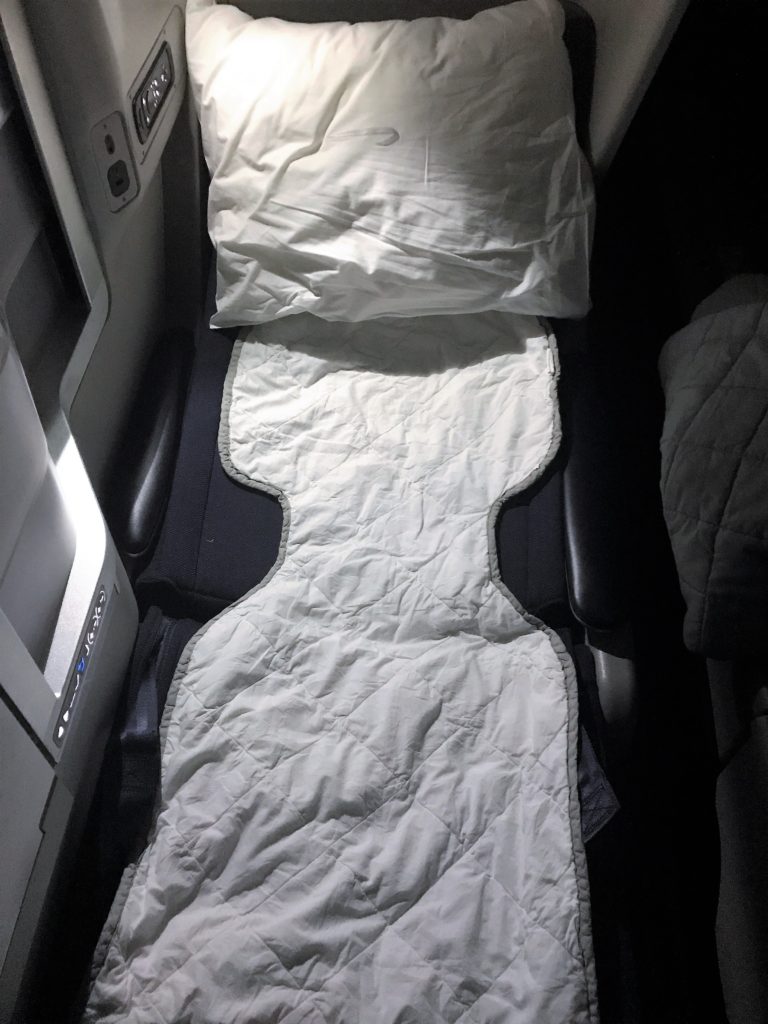 I also wasn't entirely sure of the purpose of the day blanket and it will be interesting to see if they last the test of time as they can't be cheap. The blankets didn't feel that much lighter than the duvet and they weren't that soft either. I didn't bother to use mine at all but I guess it is nice to have a choice.
I loved the two pillows and I can see why apparently the small ones may find themselves in people's luggage occasionally. It's a shame they aren't doing the same as Qatar QSuites that actually give you a pillow to take home. (and no I didn't – I couldn't fit it in with the duck feet lamp from the Concorde room!!). The smaller one can be used as a lumbar support but I used mine as a second pillow under the larger one when I slept.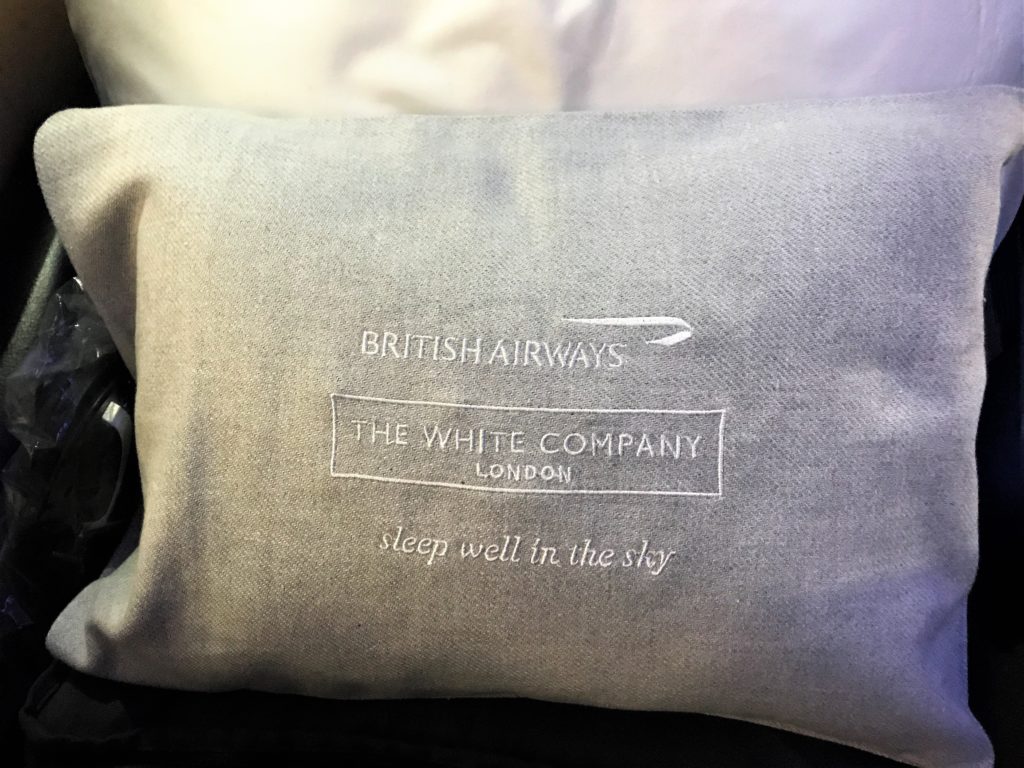 The larger pillow and duvet rivalled my favourite bedding in the sky, American Airlines, who have big pillows and super-soft silky quilts. The large BA pillow was square which suited me and I liked the fresh, crisp white cotton pillowcase on it. It didn't feel like the usual aircraft pillows as it was well filled but comfortable too (and I am very fussy about pillows). The duvet wasn't too thick and it felt beautifully soft but not too slippery either so it didn't slide off. There was no comparison with the old stiffer, thicker duvets at all.
Snuggled into the lovely comfy new bedding I slept very well and only woke about an hour before arrival into JFK.
Pricing and conclusion
I did this flight on Avios using a Lloyds upgrade voucher from Premium Economy to Club. This part of the flight cost 26,000 Avios plus £362.17. This is a good deal in my book and makes the Lloyds Avios card worth the £24 a year fee. To get the upgrade voucher you need to spend £7000 in a year and then you can upgrade by one class except into First.
This was the second time I had tried the new Club World service. Although the food wasn't quite as good as the last time it still felt a premium experience and the service was a bit quicker this time too. The new bedding was a great improvement and definitely a better sleeping experience even if I couldn't see the point of the day blanket.
I know we all like to moan about BA due to the cutbacks and the outdated seats but I actually had a think about what I experienced on this flight afterwards. My experience is not totally typical as I am afforded certain extra perks as a Gold Card Holder but I can only judge on my own experience. If I take into account the experience from start to finish, including the First Wing, the First lounge, the 64k seat on the upper deck of a refurbished B747, the food and service on board with the new bedding, then I think BA can hold its own against the likes of AA, Etihad and Qatar. No one airline has the perfect product for me but BA are definitely making some decent improvements. The real improvement, of course, will be when the new seats are rolled out from 2019 but until then this at least is several steps in the right direction.
The new Club World food service is currently only on New York JFK but from early January will roll out to
Boston
Baltimore
New York JFK and Newark,
Washington DC
Chicago
Philadelphia
The White Company bedding is on:
New York JFK and Newark
Boston
San Francisco
San Jose
If you want to read my previous reviews of Club World and the refurbished B747s including more about the entertainment you can visit my flight review page here. The review of the new service on a B747 main deck night flight back from JFK is here.