As I am yet to return to the skies, today I am featuring two more reader experiences now that British Airways lounges have reopened. In this article, regular contributor 'Roffen Explorer'. talks about his trip to Jersey.
On Saturday 4th July at 6 am my wife and I arrived at Terminal 5 to board the temporarily re-routed 07:30 BA flight to Jersey. We had booked to travel in CE. Jersey's borders had only reopened the previous day and we were looking forward to returning to the Club Hotel and Spa (read my review here). The previous day we had been encouraged to read the TLFL article here which indicated that we would be among the first to sample BAs COVID secure lounge offer.
Check-In and Security
The majority of customers are encouraged to check-in online and preprint their own boarding passes, leaving their bags at the terminal's automated bag drop. Gold and Silver executive club members together with those travelling in first and business class are still able to use the terminal check-in desks. The socially distanced check-in queue moved swiftly and we were served in a friendly and efficient manner by the BA check-in officer.
Sadly the fast track security lane was closed and as the airport was beginning to attract more passengers again, this resulted in a rather lengthy and chaotic security screening experience.
Lounge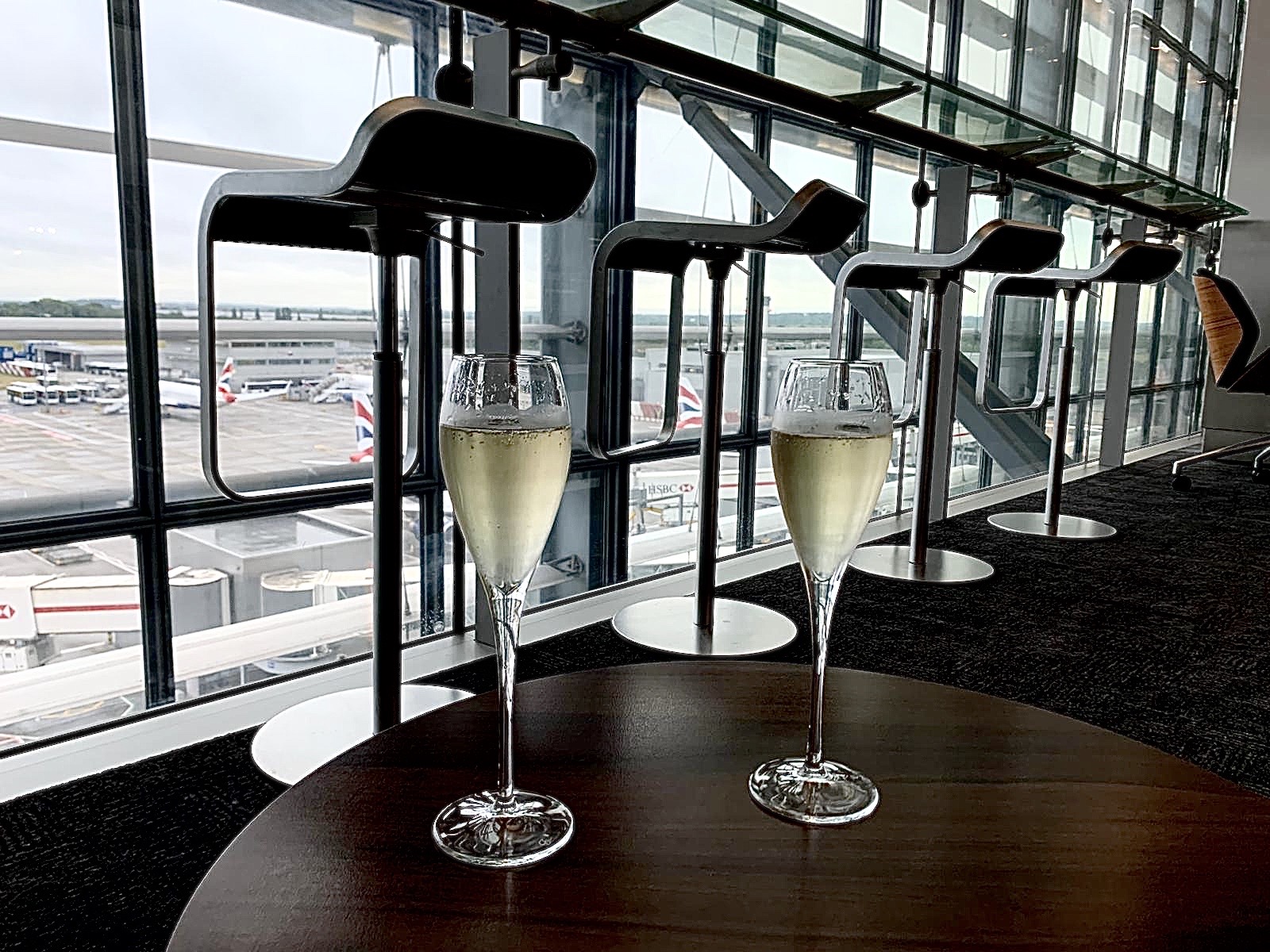 The helpful check in staff member had directed us to the south lounges and we were delighted to see the first lounge was indeed open to all customers who were eligible for lounge access. At entry to the lounge guests were provided with a blue and red card, one side to reserve your seat and the other to indicate you had vacated and cleaning was required. The lounge was busy but social distancing was not a problem. We found the quietest area of seating next to the terrace area, which is currently reserved for passengers who would have had access to the Concorde room. Restroom facilities were being well managed and were spotlessly clean.
Food and Beverages
Adjacent to each seating area is a QR code, which is unique to each table. Scanning this with your smartphone automatically directs you to a BA webpage for ordering food and beverages in the lounge. You enter your name and the daily code, which is posted around the lounge. This then opens a menu appropriate to the time of day. As you make selections they are entered into a "cart" and when all your selections are complete you submit the "cart". Your order is then prepared by the lounge staff and brought directly to your table. The BA staff were coping remarkably well considering they were only a few hours into using this system. There was a little confusion over which table was where and coordinating orders to arrive together seemed to be a challenge. We both enjoyed a glass of champagne, however, the menu app didn't identify which champagne we were enjoying. We shared bacon, scrambled eggs, sausage and rosti. The scrambled egg was hot and fresh, however, all the rest of the items were cold. You also weren't able to order plain bread or toast, only croissants and pains au chocolat.
Overall the lounge was comfortable and not overly busy. The staff were friendly and doing a fantastic job assisting everyone with the new technology. It is a very labour intensive system and I suspect that over the next few days some of these initial teething problems will be ironed out. It will be interesting to see how the continued roll-out of lounge re-openings evolves over the coming weeks.
Boarding
We were slightly late to the gate as we had been waiting for our food to arrive in the lounge. There was also the challenge of having to race to gate A7 at the north end of T5 from the south lounges. Boarding had commenced when we arrived at the gate so we raced straight through without pausing to check what the boarding system was. What we can tell you is that it was automated self service scanning. As we sat in a very empty CE cabin it occurred to us that they might have been boarding the plane from the back!
In-flight service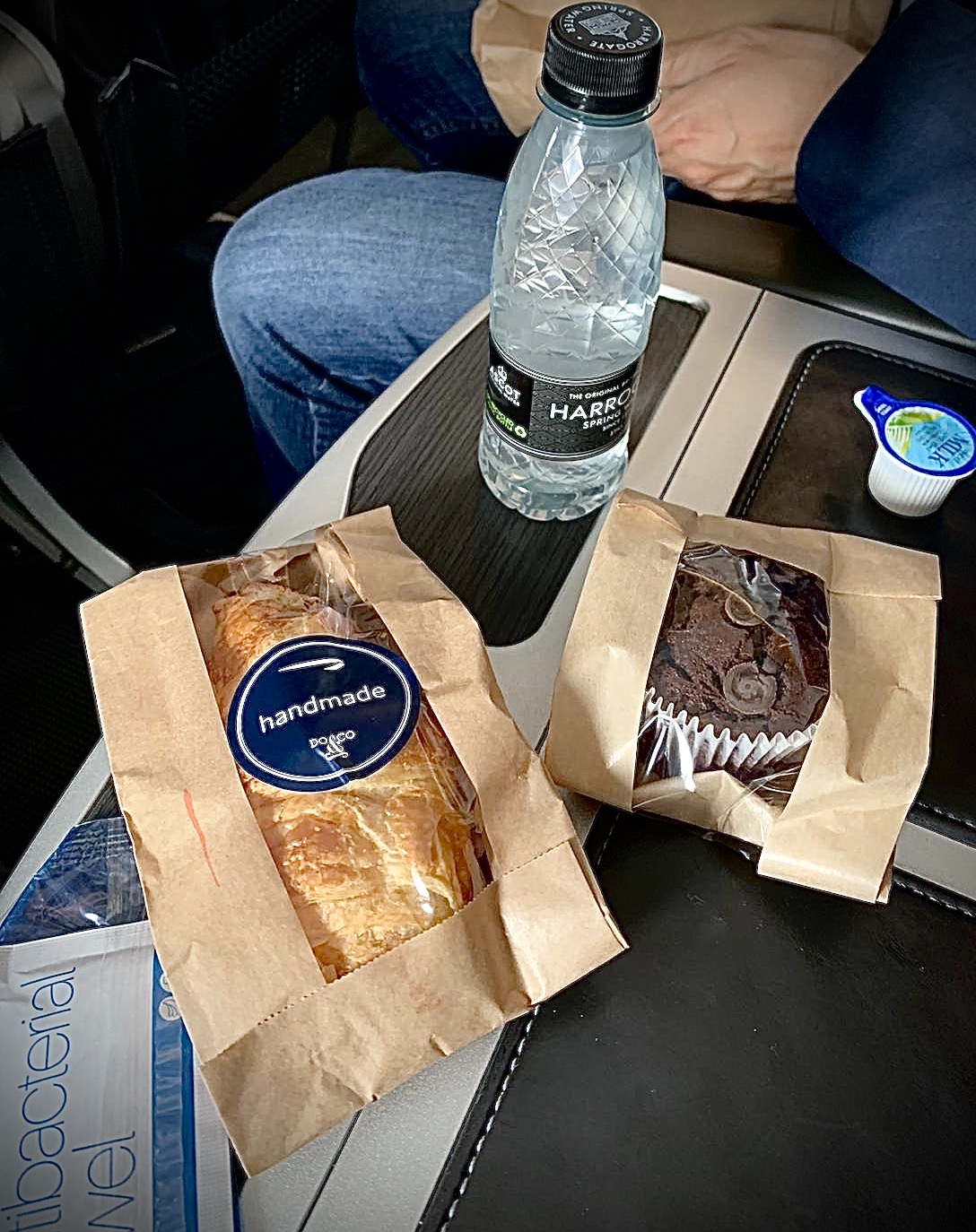 For obvious reasons hot towels were not provided, instead an anti-bacterial towel pack was handed out to all customers upon boarding. The flight was moderately loaded and was completed to allow push back around 10 minutes ahead of schedule. Jersey is BAs second shortest route (the shortest being Leeds-Bradford). Once in the air, the purser handed out breakfast packs to all CE customers. These comprised of a tasty cheese and ham croissant, chocolate muffin, and a bottle of still water. Other hot and cold, including alcoholic, drinks were available. Despite the obvious challenges presented by the pandemic, including the use of face coverings by both passengers and crew, the purser provided a friendly and upbeat service to the 7 customers in CE.
Disembarking, landing and COVID testing
At the end of the 35 minute flight CE customers were disembarked first. All arriving customers in Jersey either need to self-isolate for 14 days or participate in the COVID testing programme. Dozens of Jersey border and health staff were present to "welcome" us but the arrangements of processing 2 plane loads of passengers were not speedy. It took around an hour and a half to complete appropriate paperwork and have the COVID swab test. This was with 2 less than half full A391s arriving within an hour. It will be interesting to see if these arrangements will be able to handle the demands of more regular levels of arriving aircraft.
In the post lockdown world travel is different but all the staff did their utmost to make us feel safe and welcome. After 3 months without the possibility of travel what a joy it was to be flying again!