British Airways New First Class Suite B777-300 Heathrow to Los Angeles
This is a review of my experience in British Airways First class in one of the new seats which come with doors. I had previously tried this seat back from the UK, but sadly, it malfunctioned and would not recline properly or go flat. So, this was my first proper experience in the suite.
Booking
I booked this using Avios and a Gold Upgrade voucher to go from Club to First. Gold upgrade vouchers are awarded when you reach 2500 Tier points.
Check-in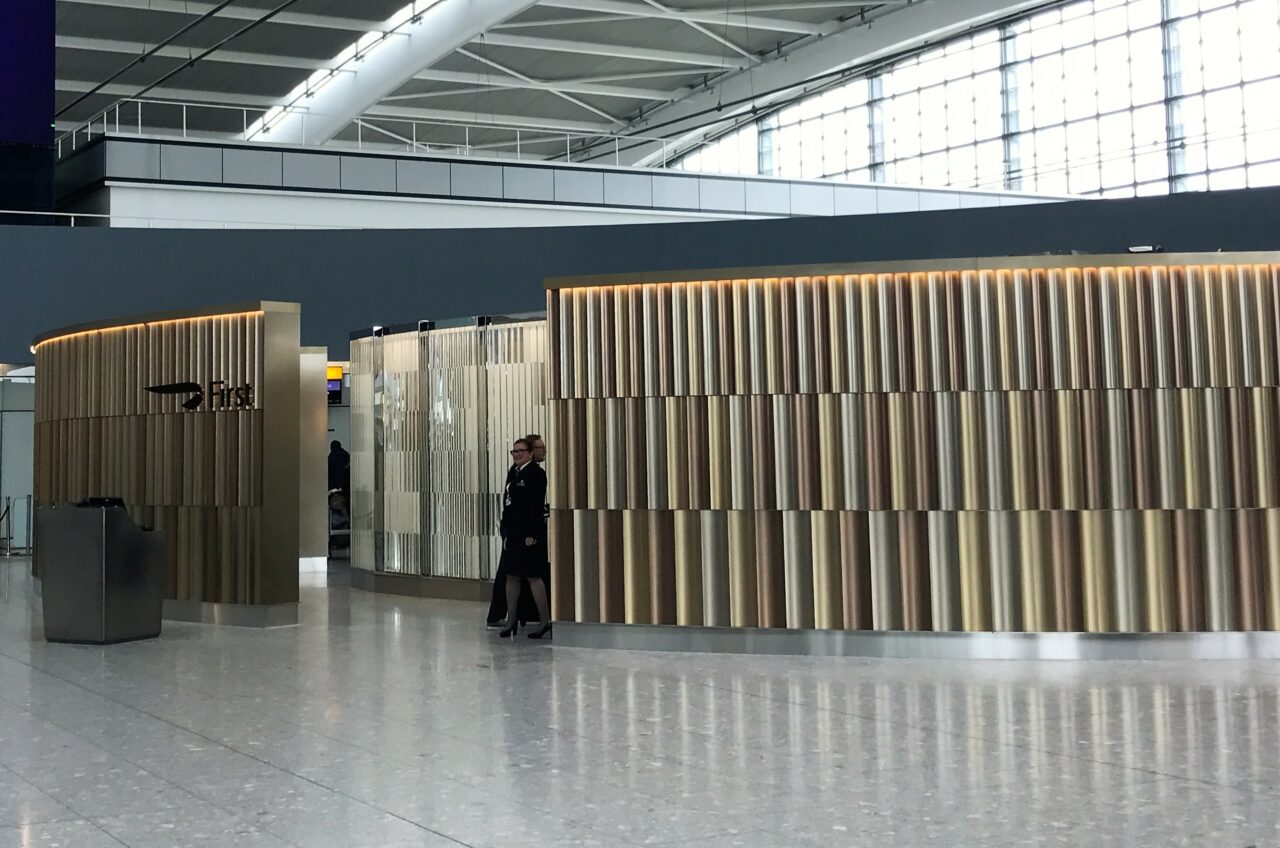 When you fly in First class, you can use the First Wing to check-in. This is usually a nice relaxing start to a trip as you don't need to queue and it has separate security there as well. As normal, the staff were friendly and helpful, with no queue for check-in or security.
You then walk straight into the Galleries First Class Lounge, which is also for Gold cardholders.
Lounge – Concorde Room

I have reviewed the lounge many times, so I will just give a brief update on this visit. Some new dining tables have appeared by the bar as well as the former Forty Winks being changed into a quiet work area with work cubicles.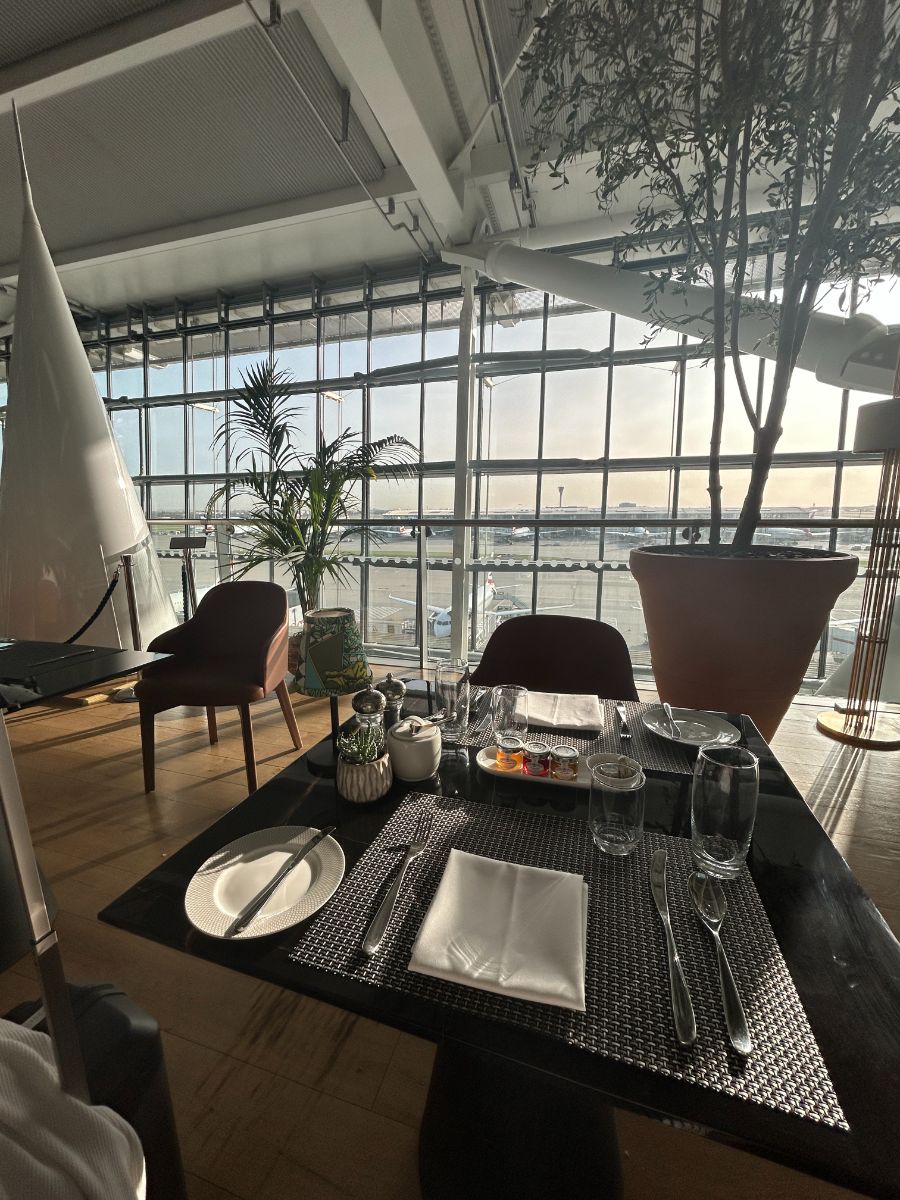 You can now dine on the terrace as well as the restaurant, and I love sitting there watching the aircraft movements on a sunny morning like this one. I had my usual order of the maple glazed bacon chop with some sourdough while I waited (it can take around 15 minutes to cook). Plus, of course, a cheeky glass of Bucks Fizz and a cappuccino!
Boarding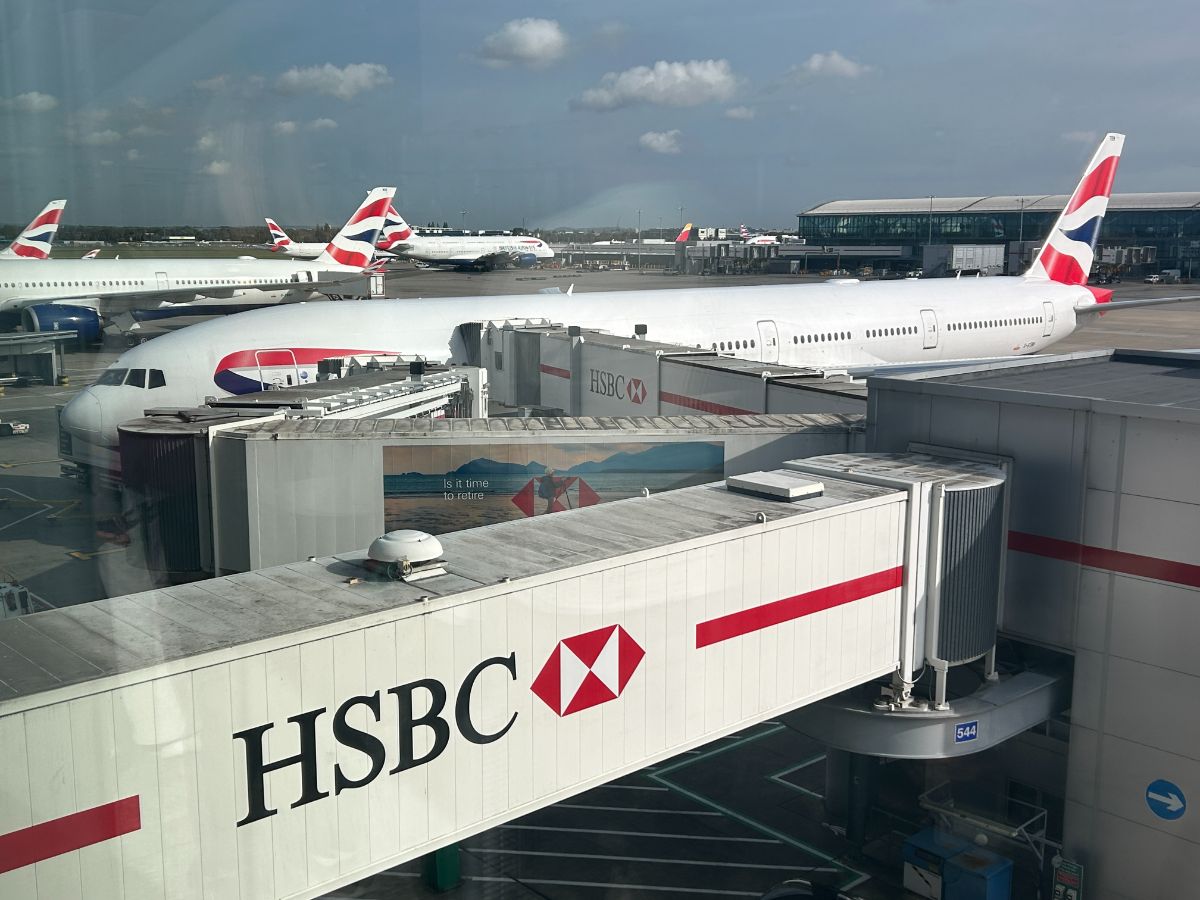 My flight went from the C gates, and I got a chance to see the crew in their new uniforms on the way. I'm sorry, but most of them just looked cheap and a bit crumpled particularly the white blouses. The dress is probably the nicest option. I wouldn't say I liked the pilot's uniforms either, as the brighter blue made them look like pilot costumes rather than the smart old navy uniforms.
We were slightly delayed boarding, and they did a weird boarding process, which was a bit pointless. Pre-boarding and group 1 were called, but then we all had to stand there waiting for ages by the gate before we could actually go down to the jet bridge. It would have been helpful if they had told us how long it was likely to be so people could have sat down that needed to. Then, when we got down to the jetbridge, we still queued to get on for a bit.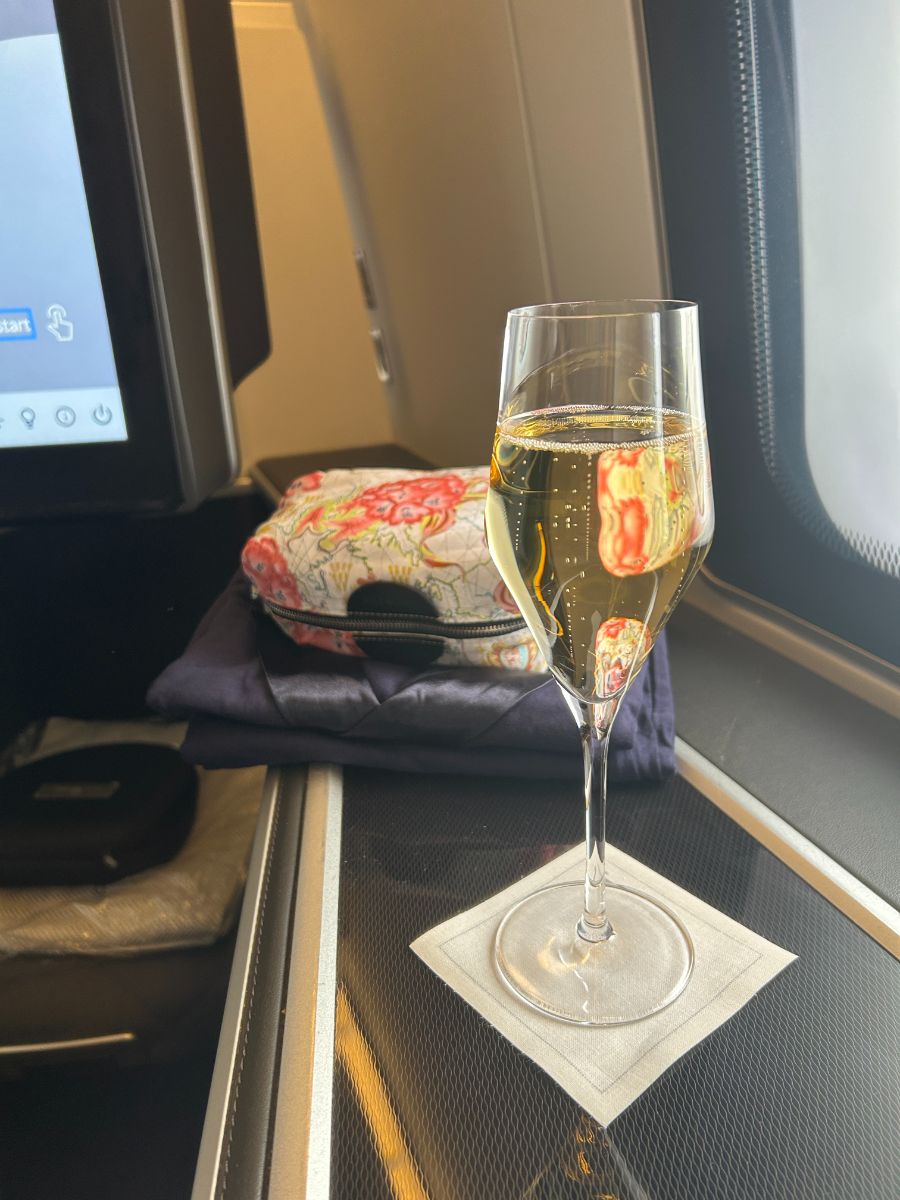 At the door, the IFM welcomed me back on board and offered to escort me to my seat, but I declined since I knew the way. I was offered a welcome drink, and the crew members introduced themself. I went for a glass of Laurent Perrier Grand Siecle champagne but declined the nuts as I'm not a fan of the Club Europe ones, which they now use for First as well.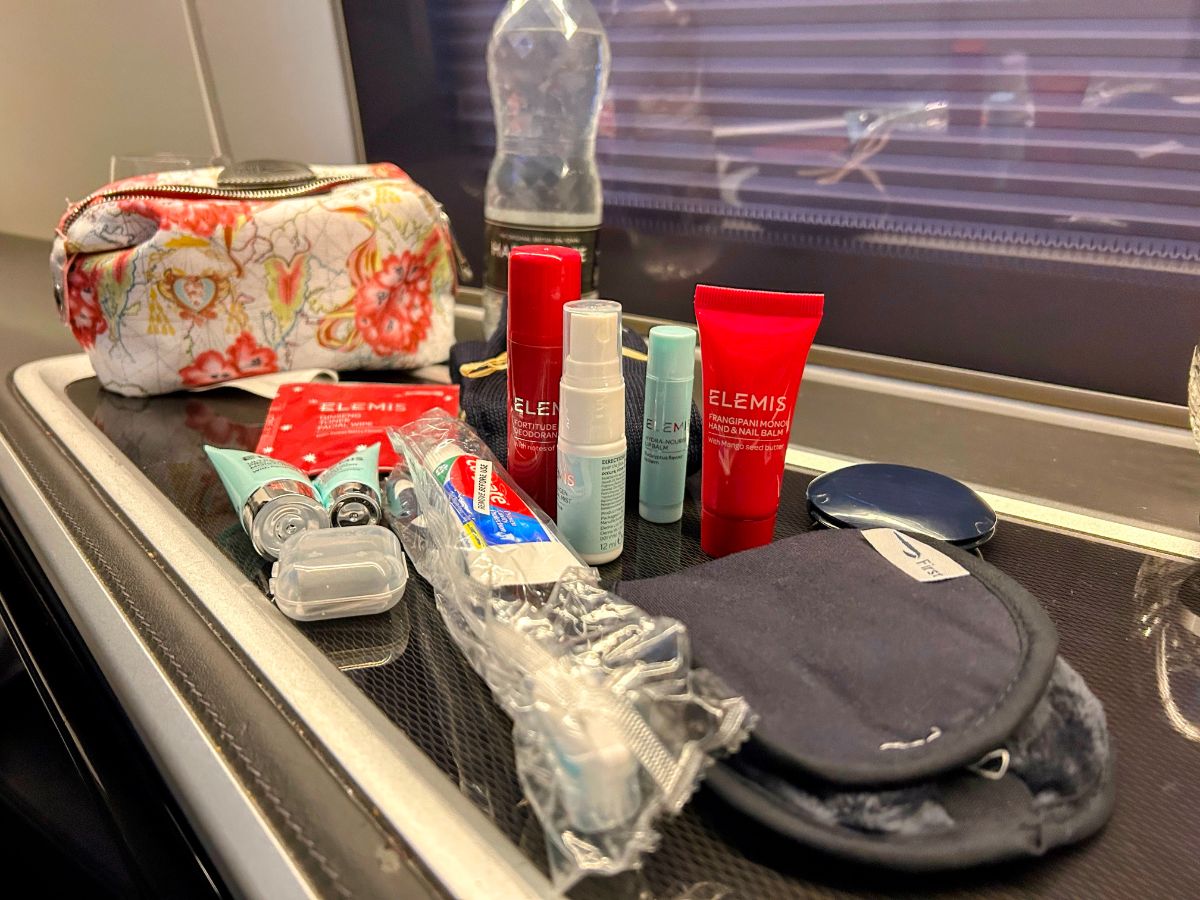 I was handed a Ladies' washbag in a new design and asked if I wanted pyjamas. (Another giveaway is coming up soon for these and many more items). I think the BA First amenity kits are one of my favourites as I love Elemis products, and I use everything in the kit.
Deodorant
Mirror compact
Eye cream
Face Moisturiser
Ear Plugs
Lip balm
Frangipani Hand cream
Eye mask
Face mist
Face cleansing wipe
Toothbrush
Toothpaste
Socks
I also like the PJs by Alice Temperley as they look very classy and are comfortable too.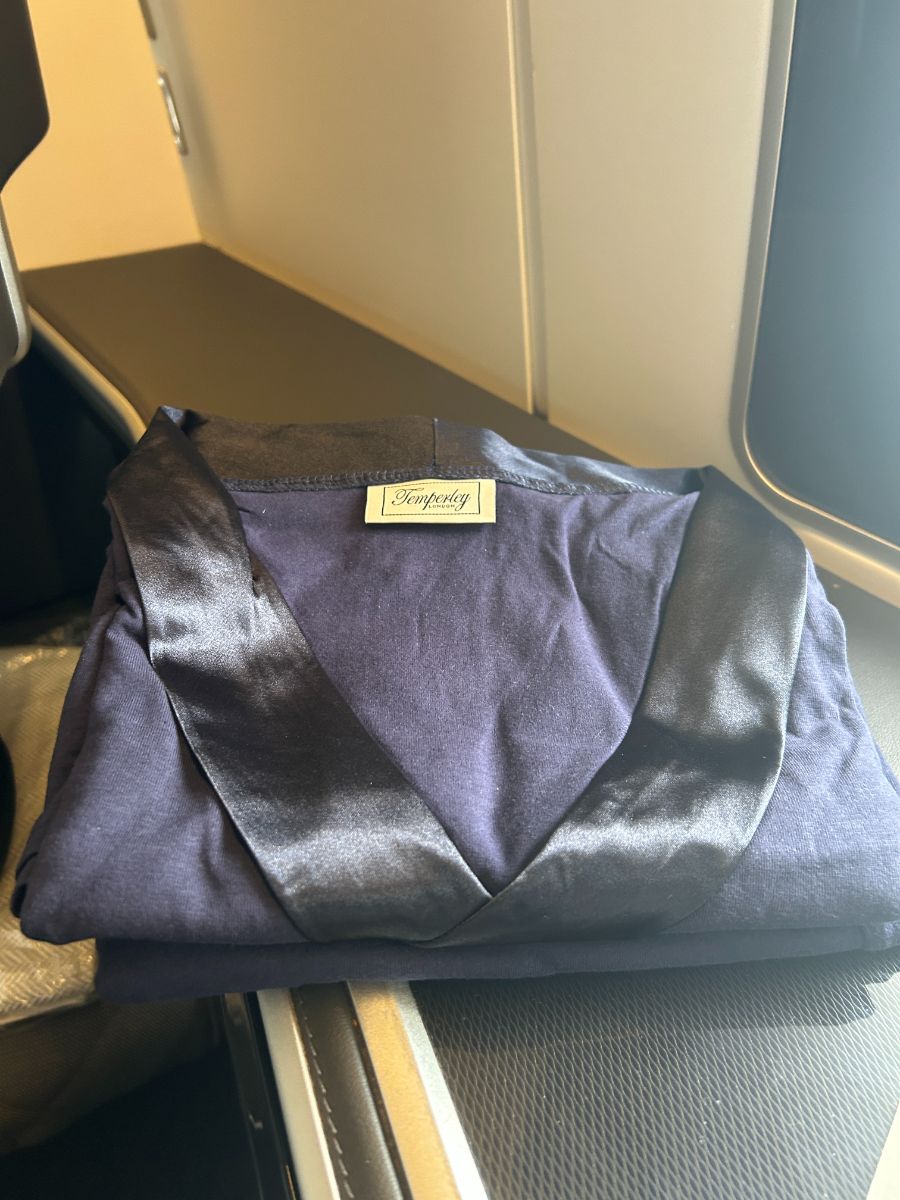 Menus were handed out, and my order was taken. A hot towel was also given out before take-off.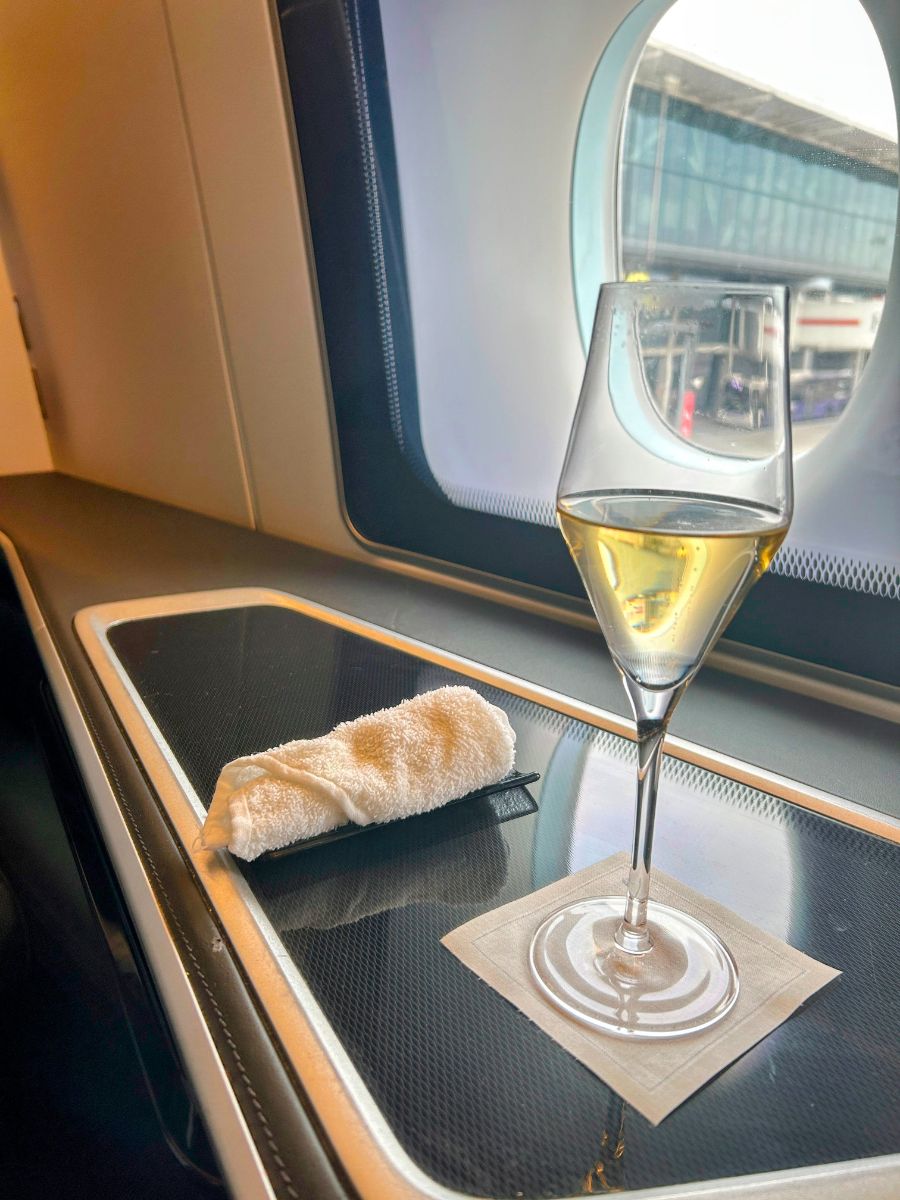 The seat and cabin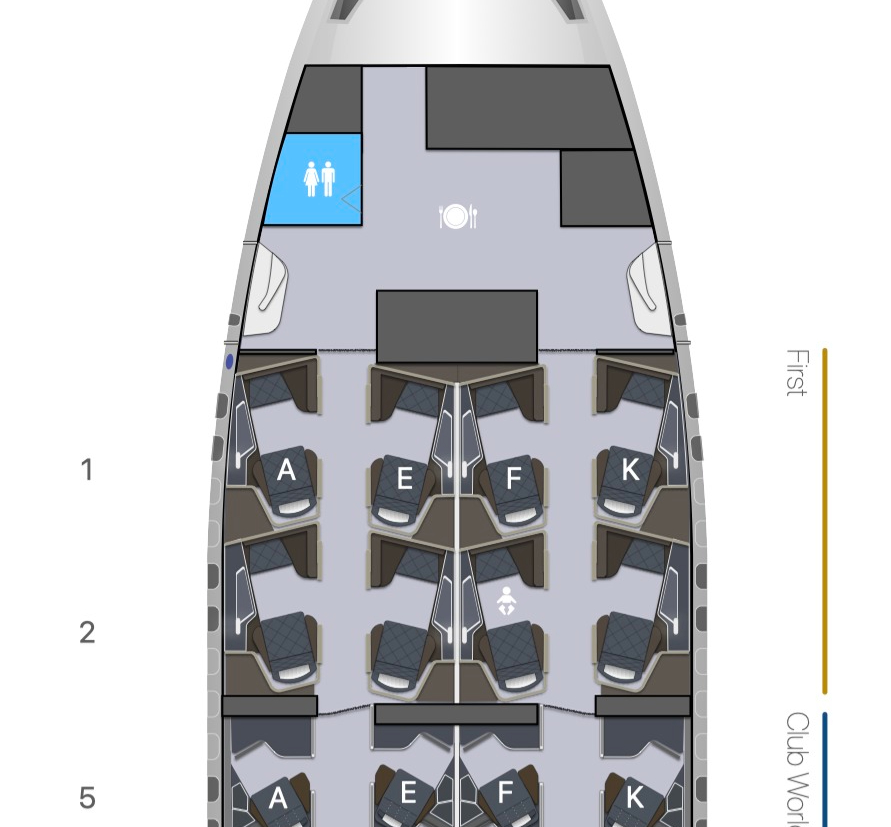 The new suites are in a cabin of two rows with eight seats in a 1-2-1 configuration. You only find them on new and refurbished B777-300er aircraft. I went for 2K as I thought it might be slightly quieter, being further away from the galley. I sat in 1K on the way back and was not really disturbed by galley noise, so I don't think which seat you choose really matters on this aircraft.
The middle seats have a divider between them that can be raised or put down as needed if you are travelling with someone.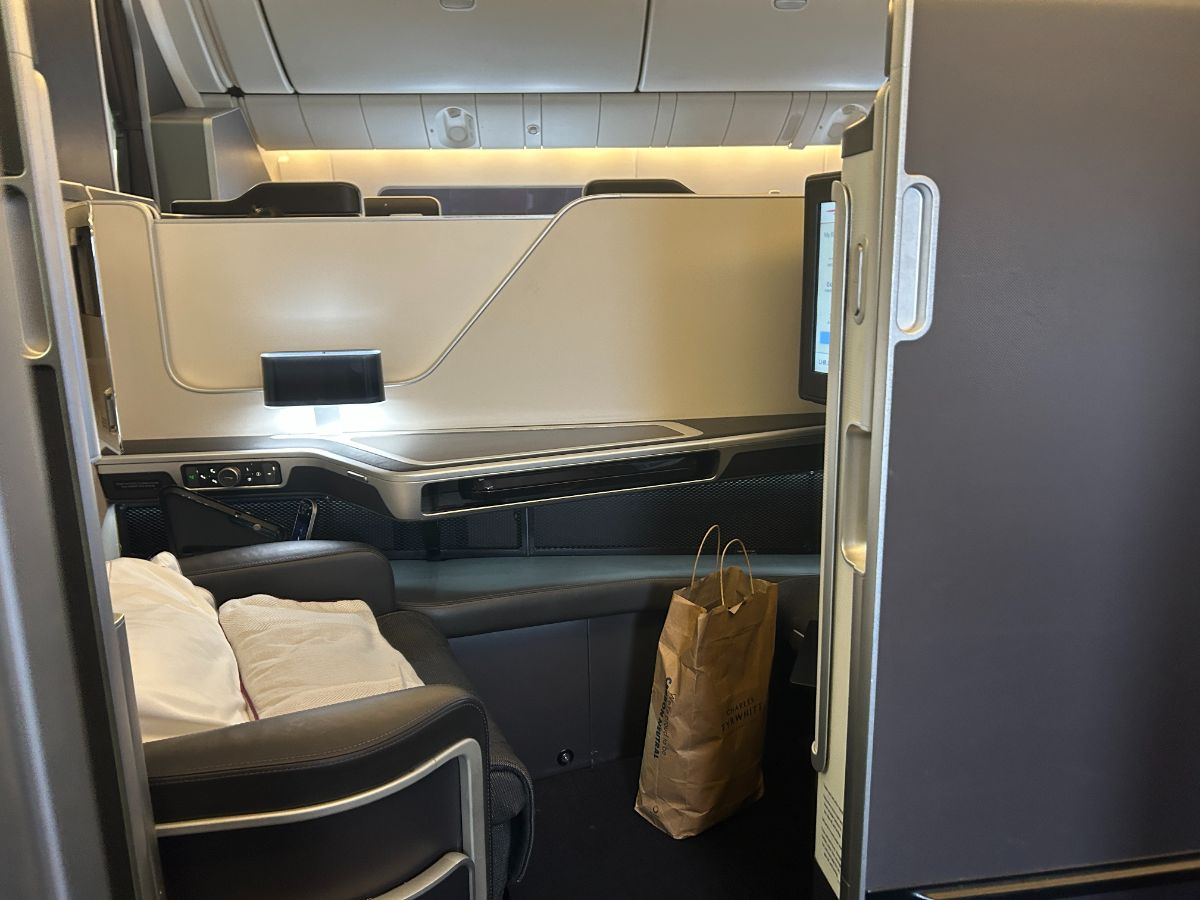 The seats are very similar to the B787 First design with a few tweaks.
I think the design looks elegant with the lamp and the blinds. There is a lot of storage space, although I do still love the large wardrobes on the A380 as you can put an entire carry-on in it.
At head height, there is a good-sized cupboard that would fit a small handbag, small laptop, headphones or water bottle etc.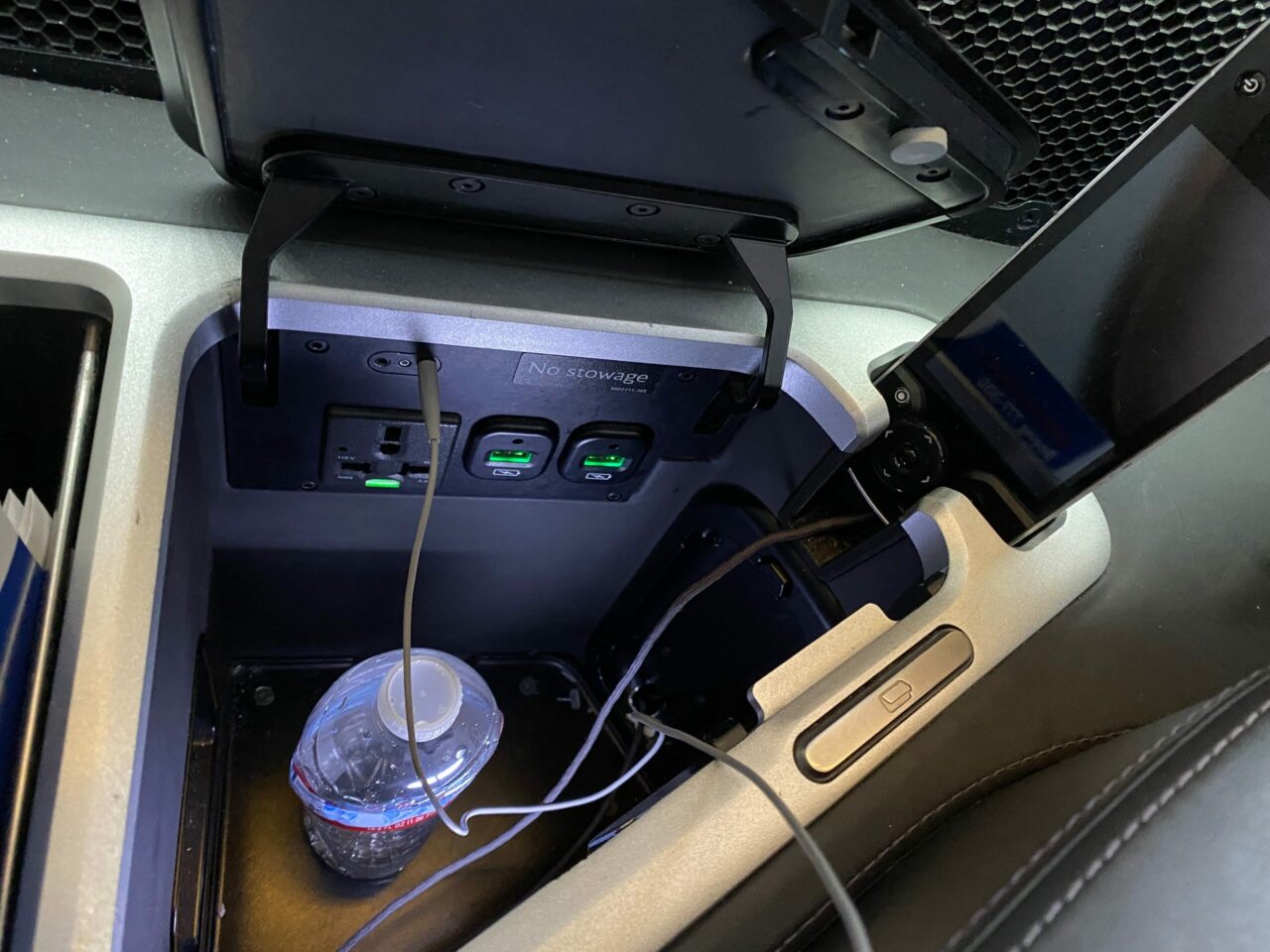 Then, there is the usual compartment with the handset for the entertainment and charging points. This is well designed in that there is somewhere to rest the handset when the compartment is closed and a gap for any leads to go through for when you are charging your phone.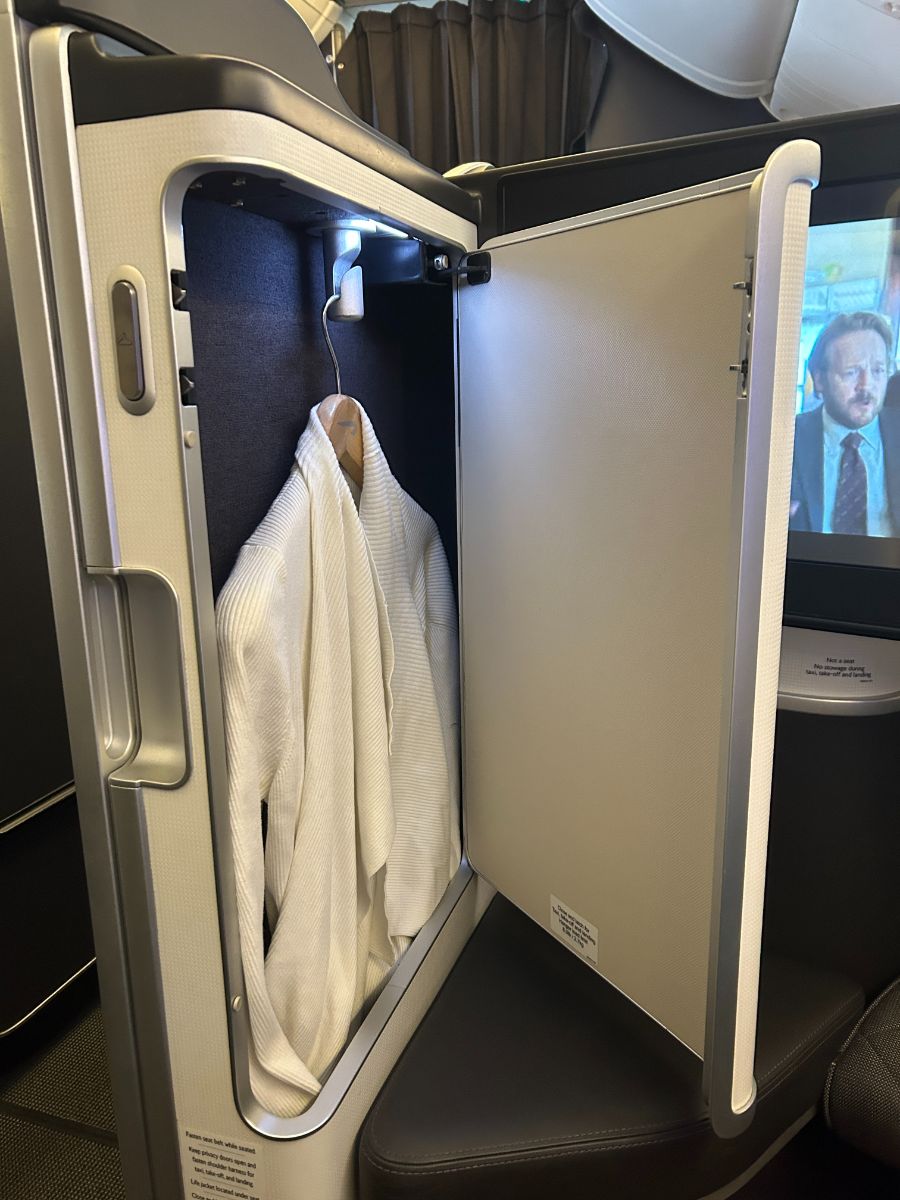 There is also a wardrobe, which I didn't even realise was there last time I flew in the seat, as it blends in so well. It is so well camouflaged I managed to leave my favourite cardigan in there on the way back, and somehow, BA never found it :-(.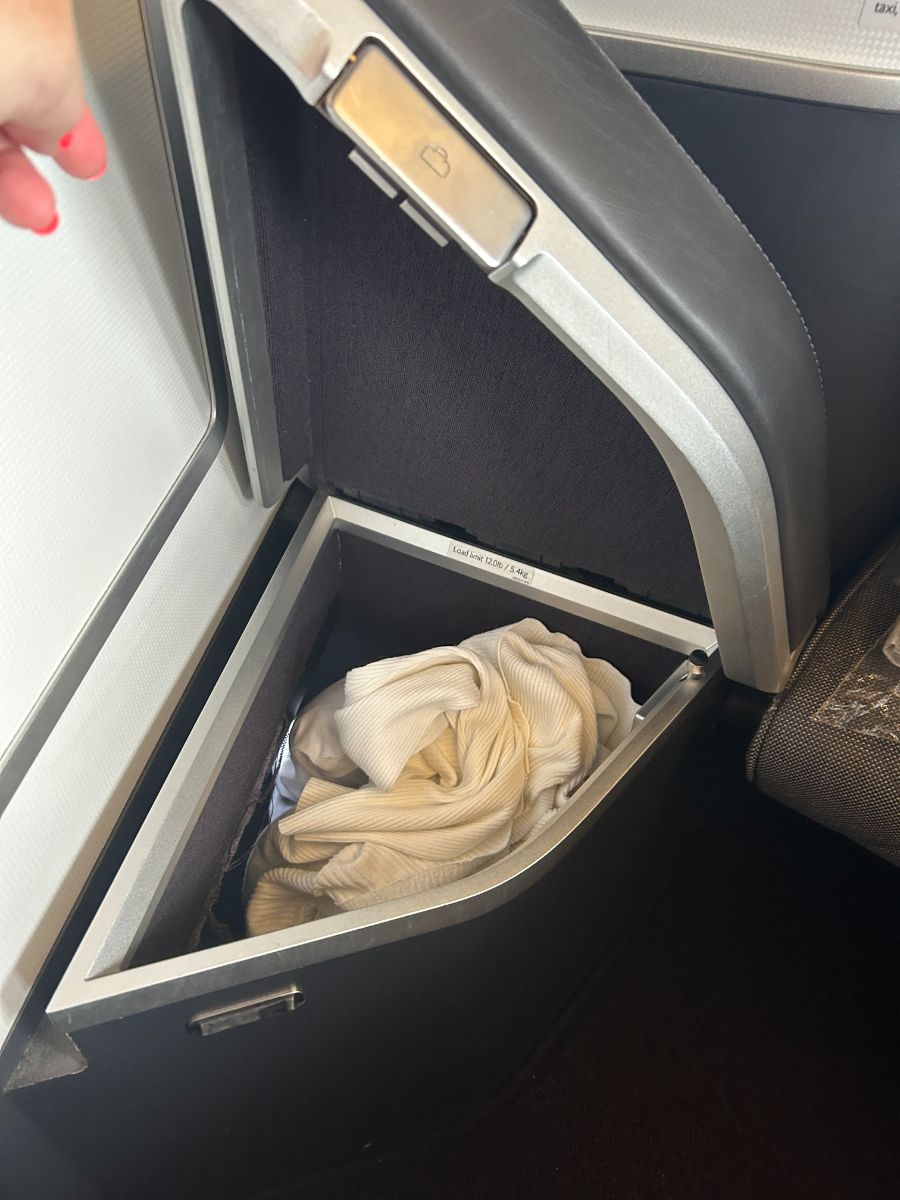 Finally, there is a large storage area under the ottoman, which is large enough for a pillow/blanket.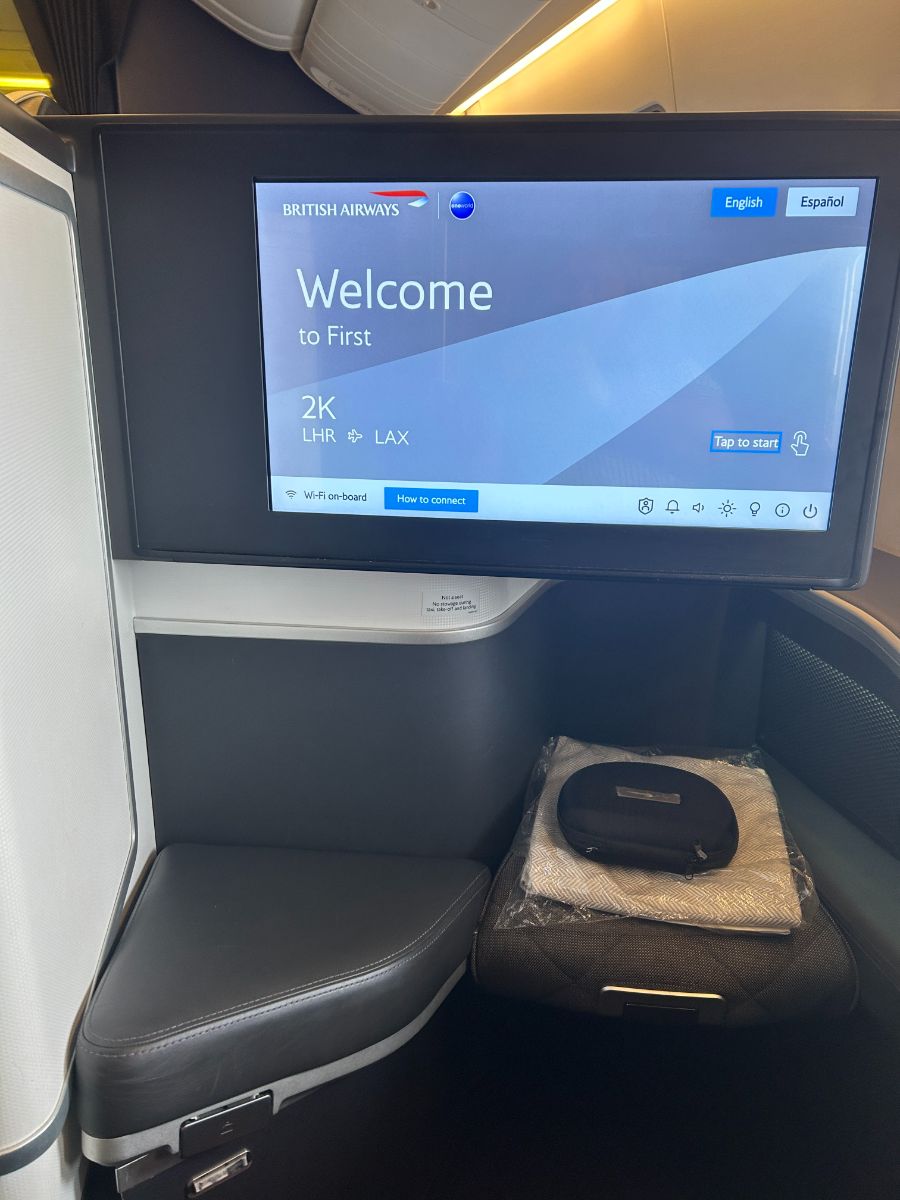 The seat has a footstool, which I can't reach when sitting upright or even slightly reclined, which is annoying (I'm 5ft 6).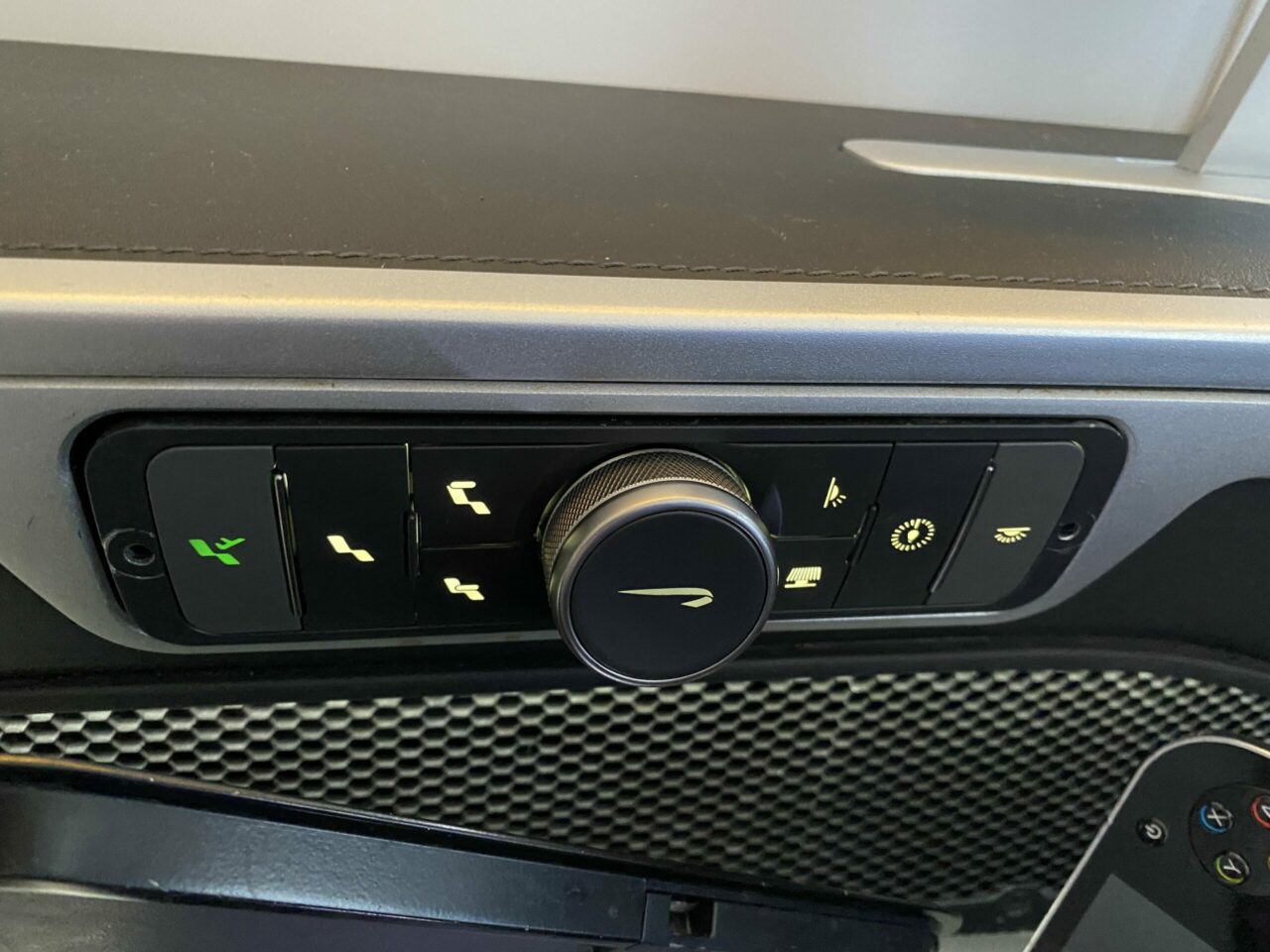 The seat controls take a little getting used to as you need to select what you want to change and then use the dial. I don't like that you can't control a leg rest separately and that the seat only reclines or goes fully flat or upright. The only other thing you can control is the lumber support/headrest. I do like that you can control the various lights and dim them, such as the table light, and there is also a small reading light as well as an overhead light.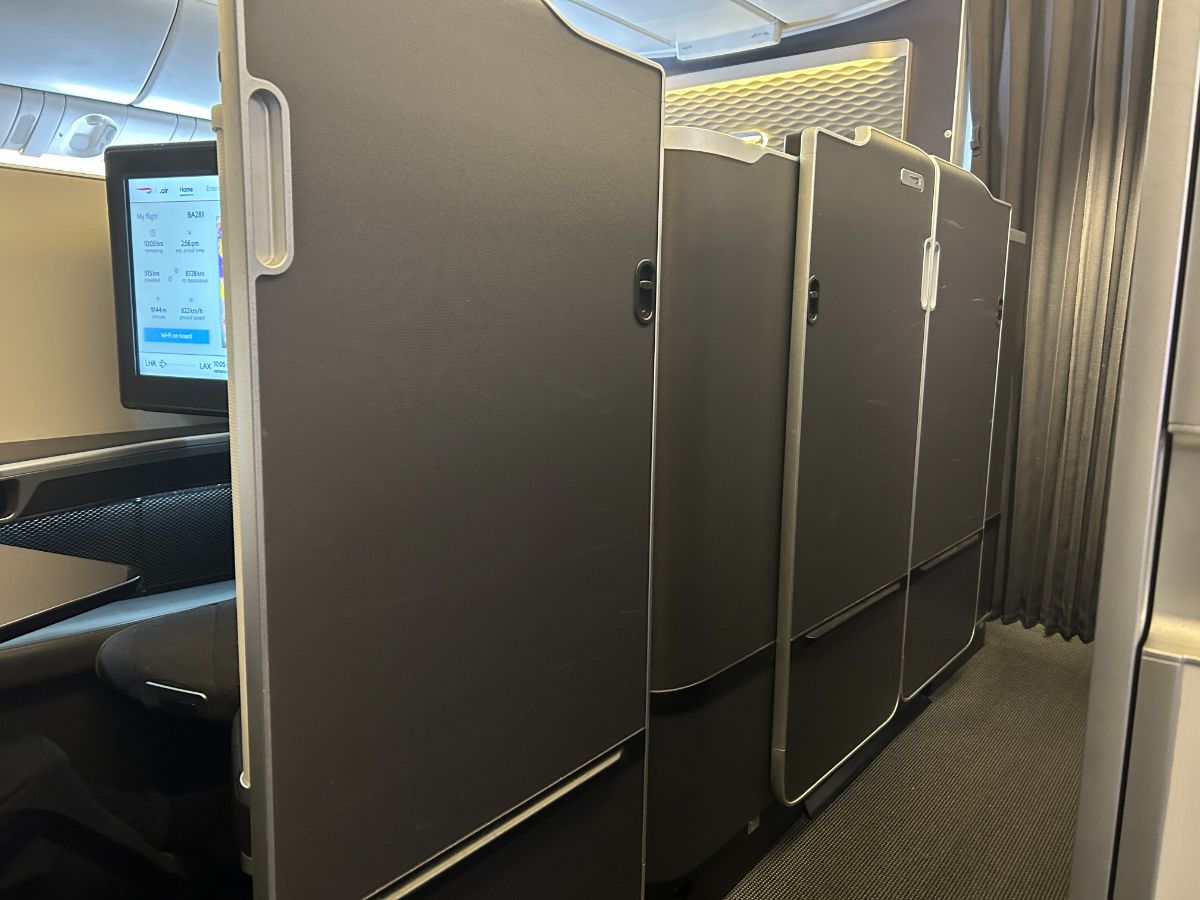 If you want privacy, there are doors that can be closed although people walking past can still see over. The seat comes with a day blanket, day pillow and headphones. When you want to sleep, the crew will make your bed with a mattress topper and duvet. I only planned to have a short nap, so I didn't bother. I found the bed comfortable even without the topper, although it does feel a little firmer than the older seats, but I suspect that may be down to how new they are. I will talk more about sleeping in the return night flight review.
Food and drink
As someone who uses Avios or upgrades vouchers to fly once or twice a year in First, I am finding the menus quite repetitive.
Here is the food menu: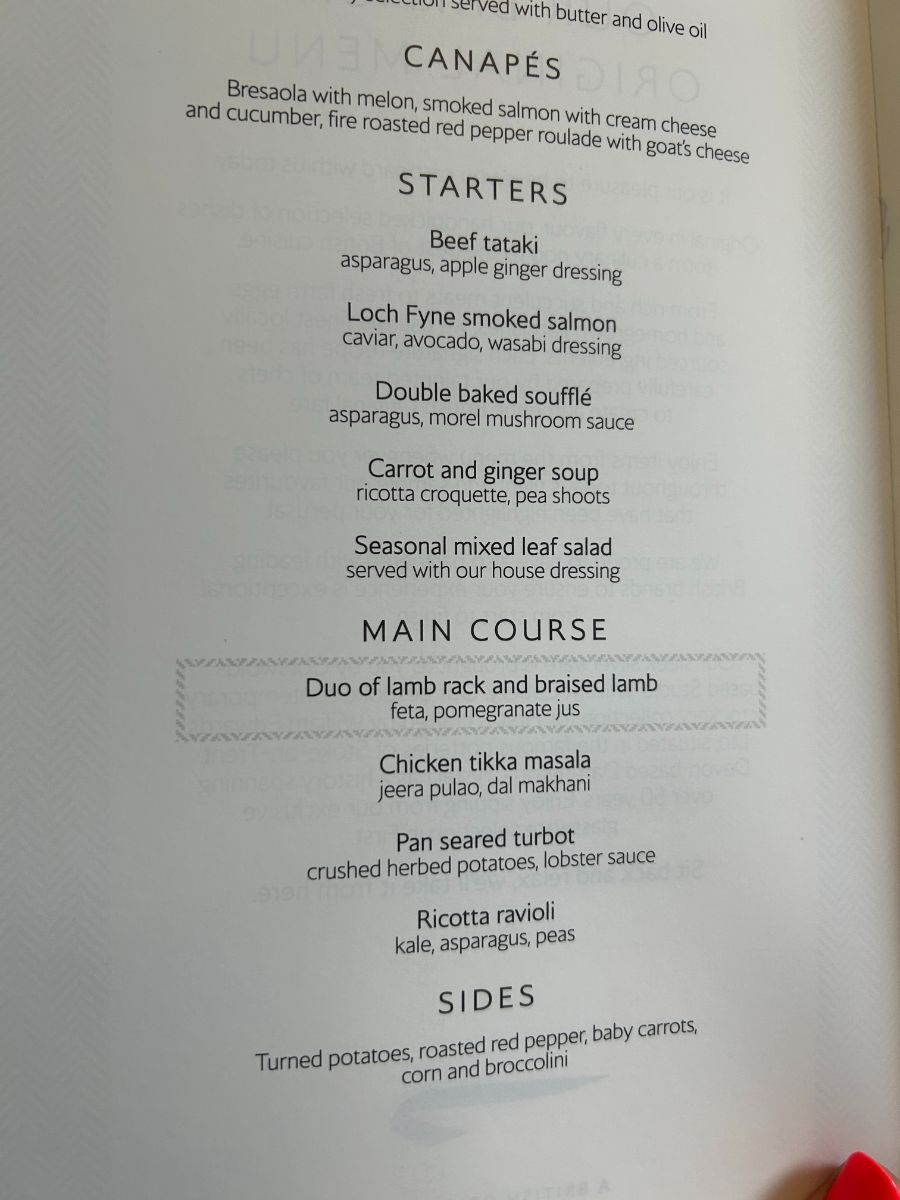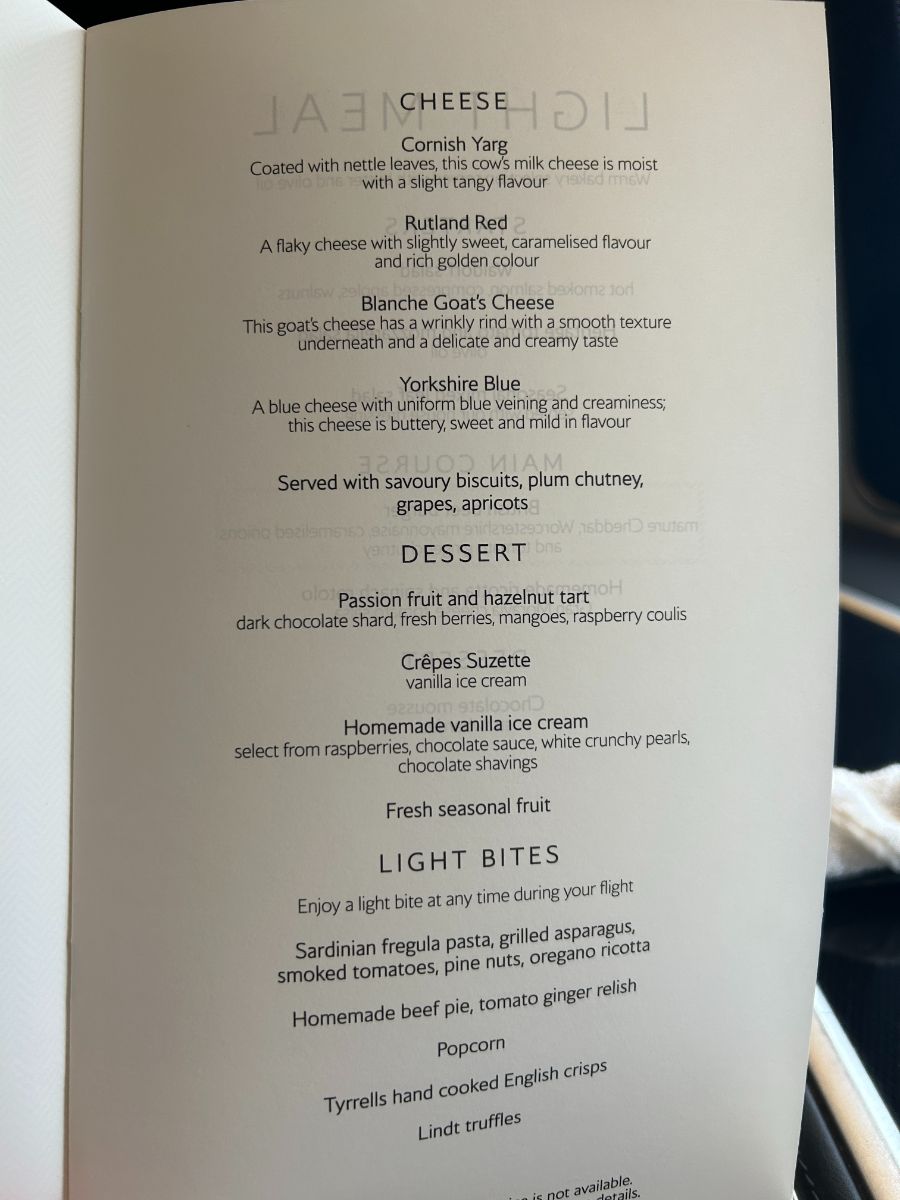 I started with the canapes with some champagne. I enjoyed all of these.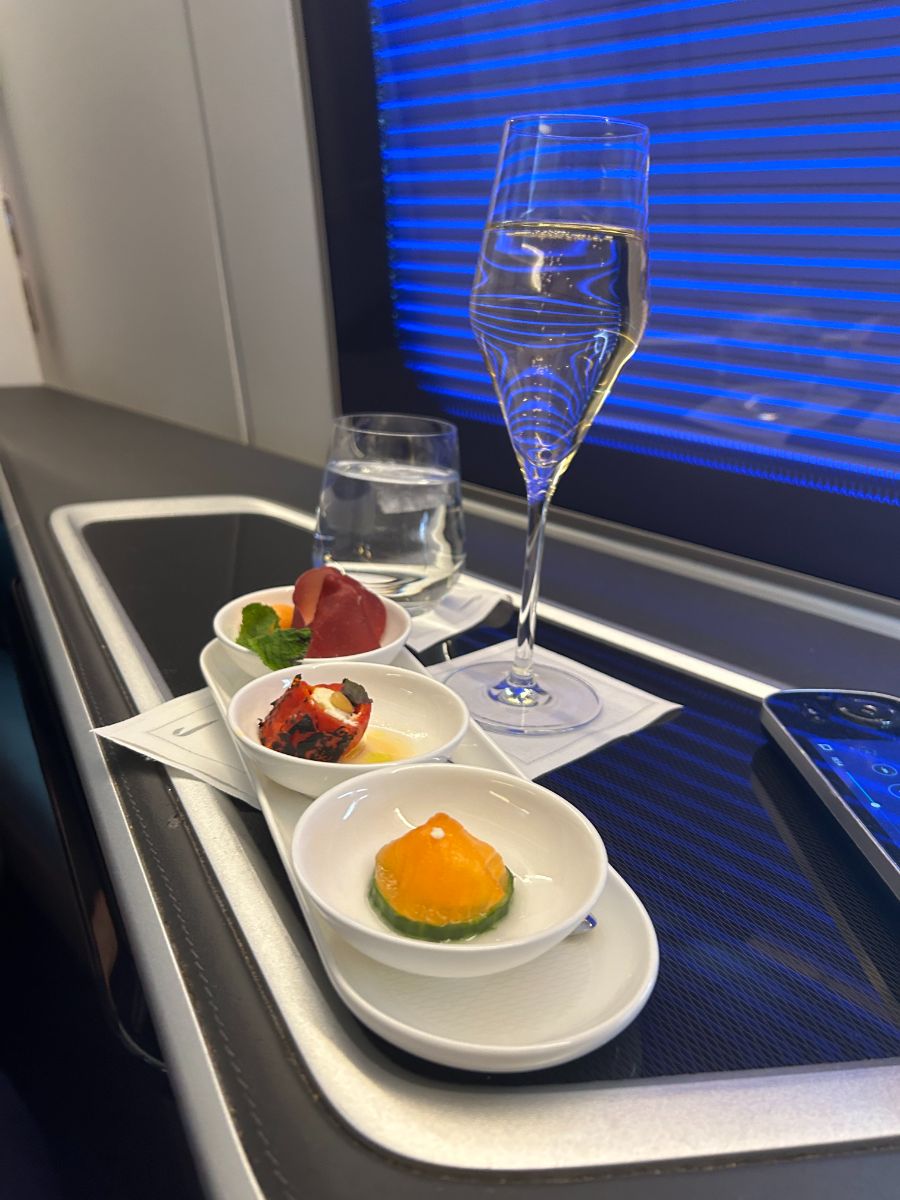 The crew member serving me was friendly and keen, although perhaps lacked a little finesse. The IFM came over for a chat as well and was very charming. It does feel that recently, they are making more effort with their frequent flyers.
The wine that I wanted from the menu was not available, so the other crew member came to talk to me about it. It turned out that they were one of the specially trained first experts, and this really showed with her knowledge of the wines. It was the last day of the month when I flew, so they were changing over the wines for a new quarter.
Here is the wine list:
I had wanted to try the Chateauneuf du Pape as I had visited the vineyard on a press trip, but sadly, they had run out. The starter was the twice-baked souffle, which I have had before and enjoyed. It is not too stodgy or rich, with the morels adding an extra depth of umami flavour. It was not as cheesy as the previous version which was a bit of a shame though.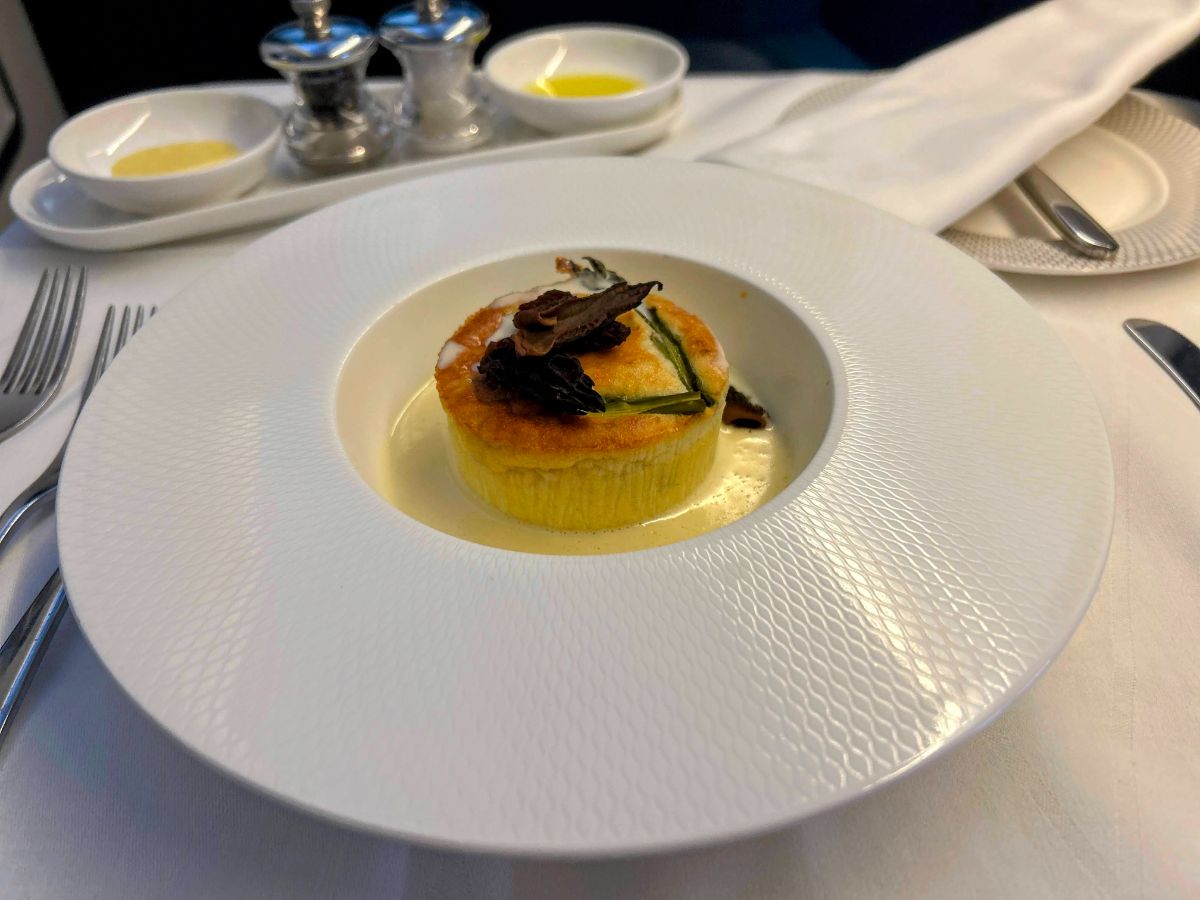 For the main course, I had the turbot, which is always a gamble as fish can be overcooked on planes. This was beautifully presented and still moist. I felt the sauce could have had more to it and been a bit creamier, but overall it was a very tasty dish, probably one of the best I have had on BA.
I was tempted by the crepe suzette, which I have had before and is delicious, but I decided to try the cheese with a glass of the Pessac Bordeaux.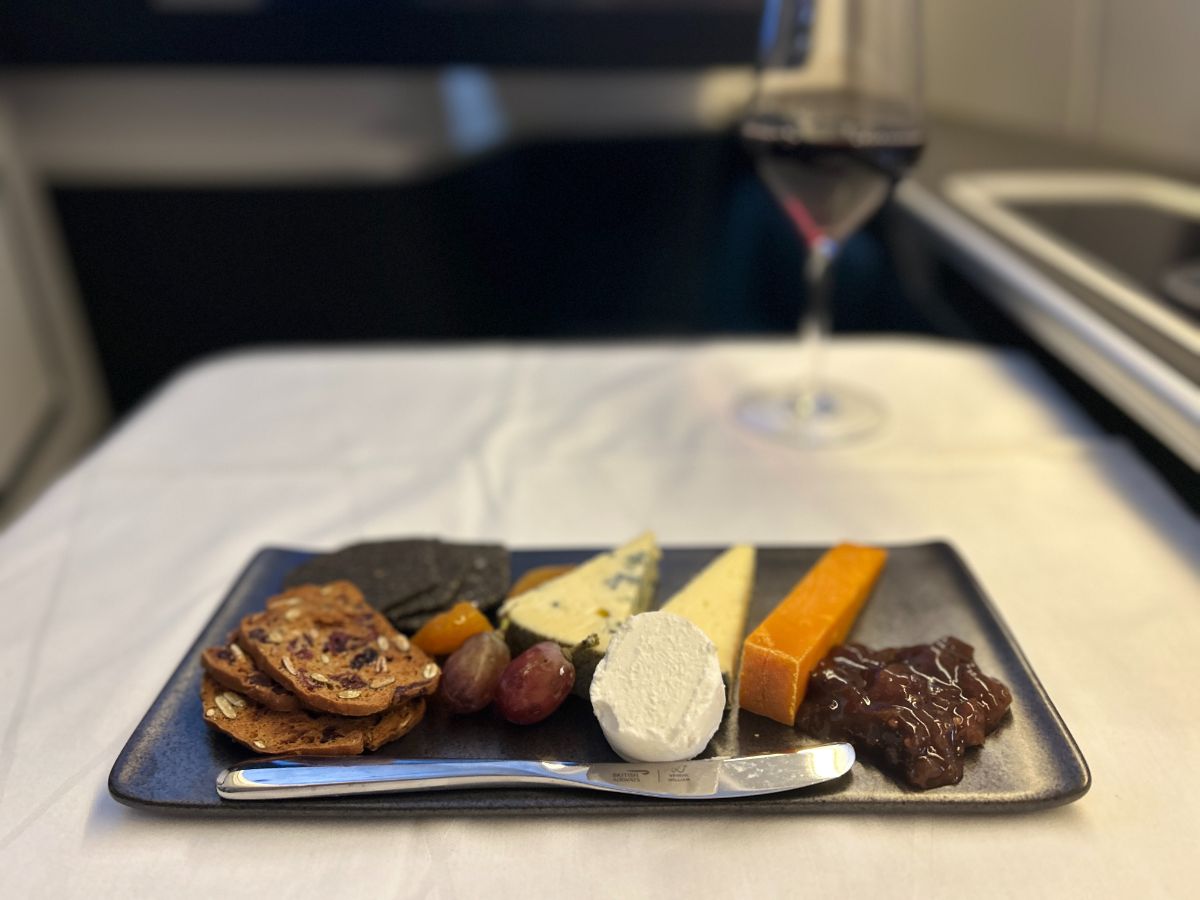 I thoroughly enjoyed both the cheese and the wine. Some of the descriptions did not match what was delivered, but I loved the creamy goat's cheese rather than the more traditional rinded goat's cheese, which can be a little overpowering. The Bordeaux was also very good. I would like them to try another chutney now as they've had this forever, and I find it a bit overpowering with some of the more delicate cheeses.
It was good to see that Cognac had made it back onto the menu and actually being onboard after being MIA for a few months.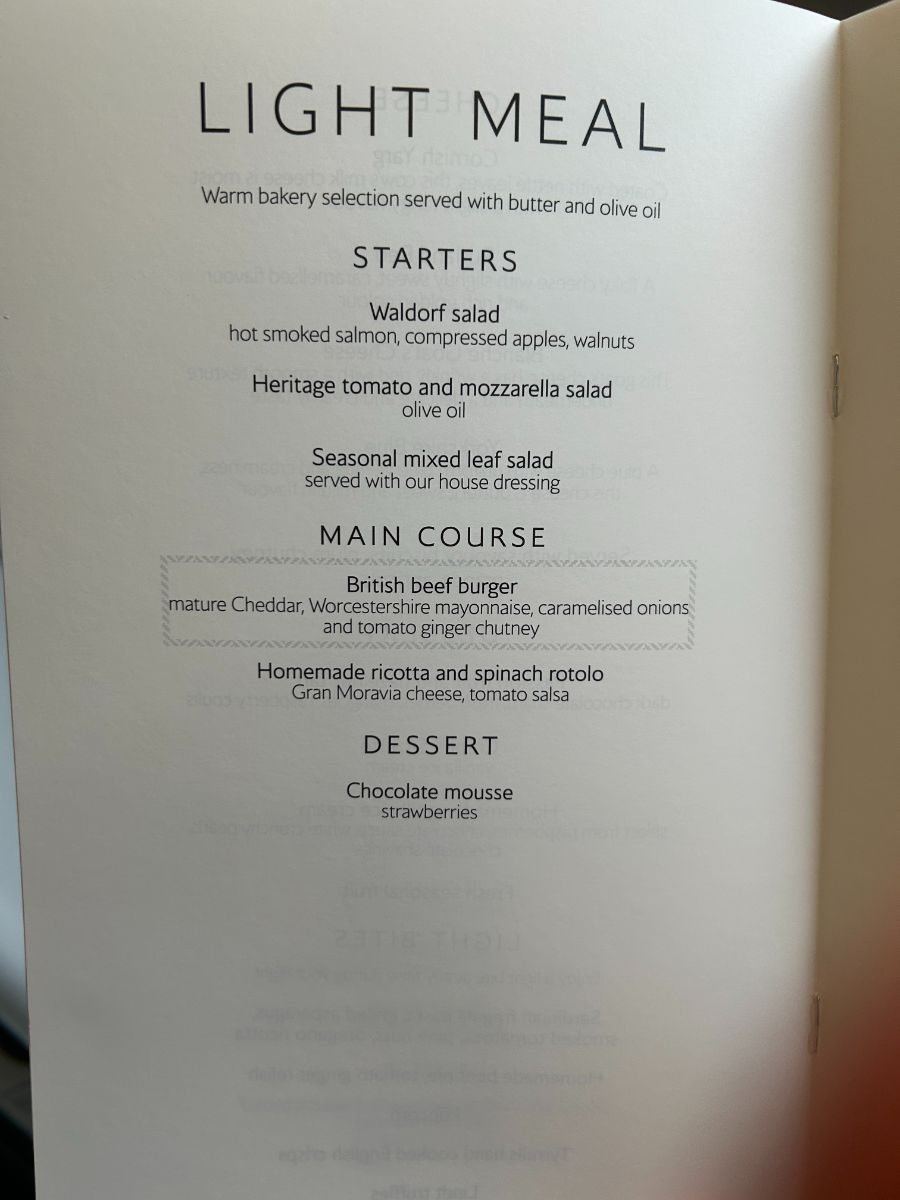 I wasn't very hungry when the light meal was served, and also I was planning to go out for dinner later. I was trying to ask for something on the snack "Light Bites" menu, but she could not seem to understand me even when I was very specific. In the end, I gave up and asked for the Waldorf starter.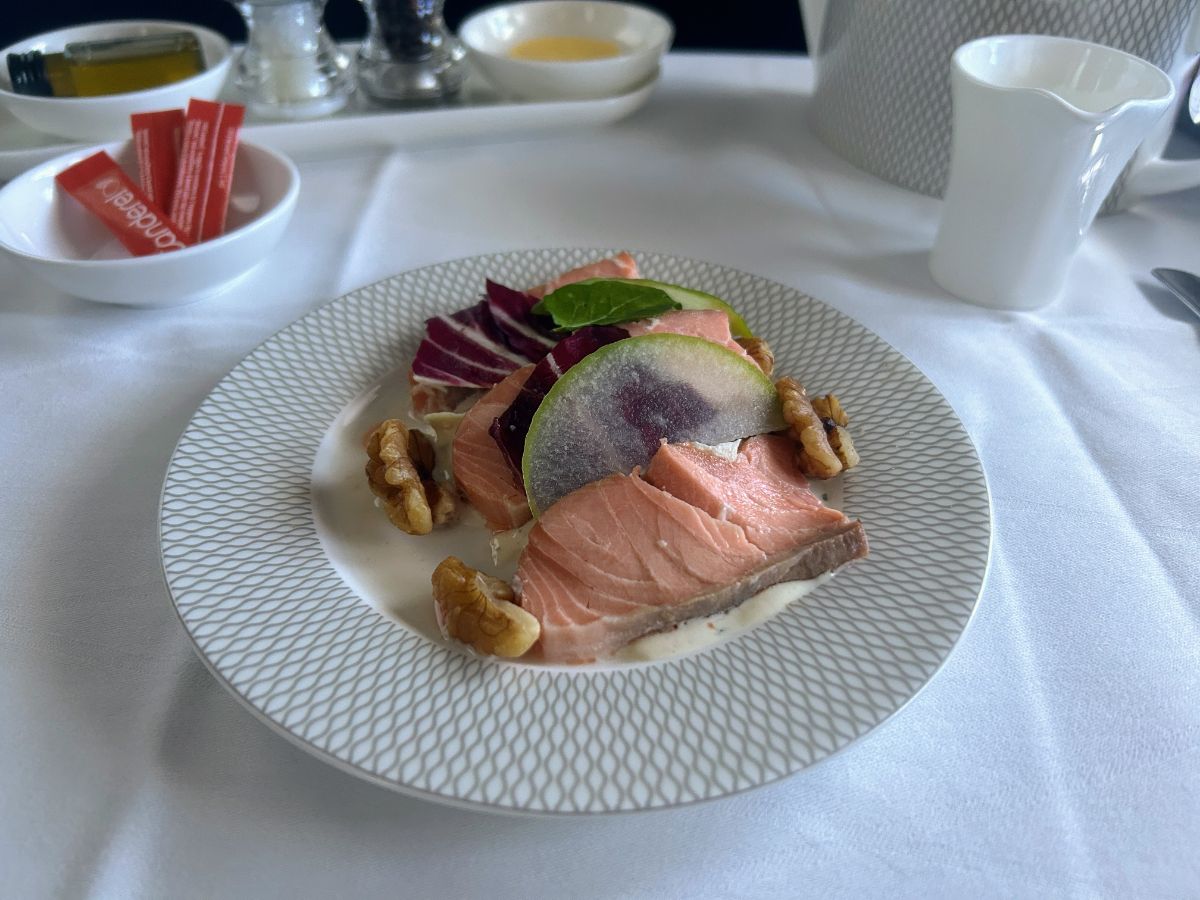 This was very tasty, with some beautiful, soft hot smoked salmon and a lovely creamy dressing. It was so good I had a second one!
Entertainment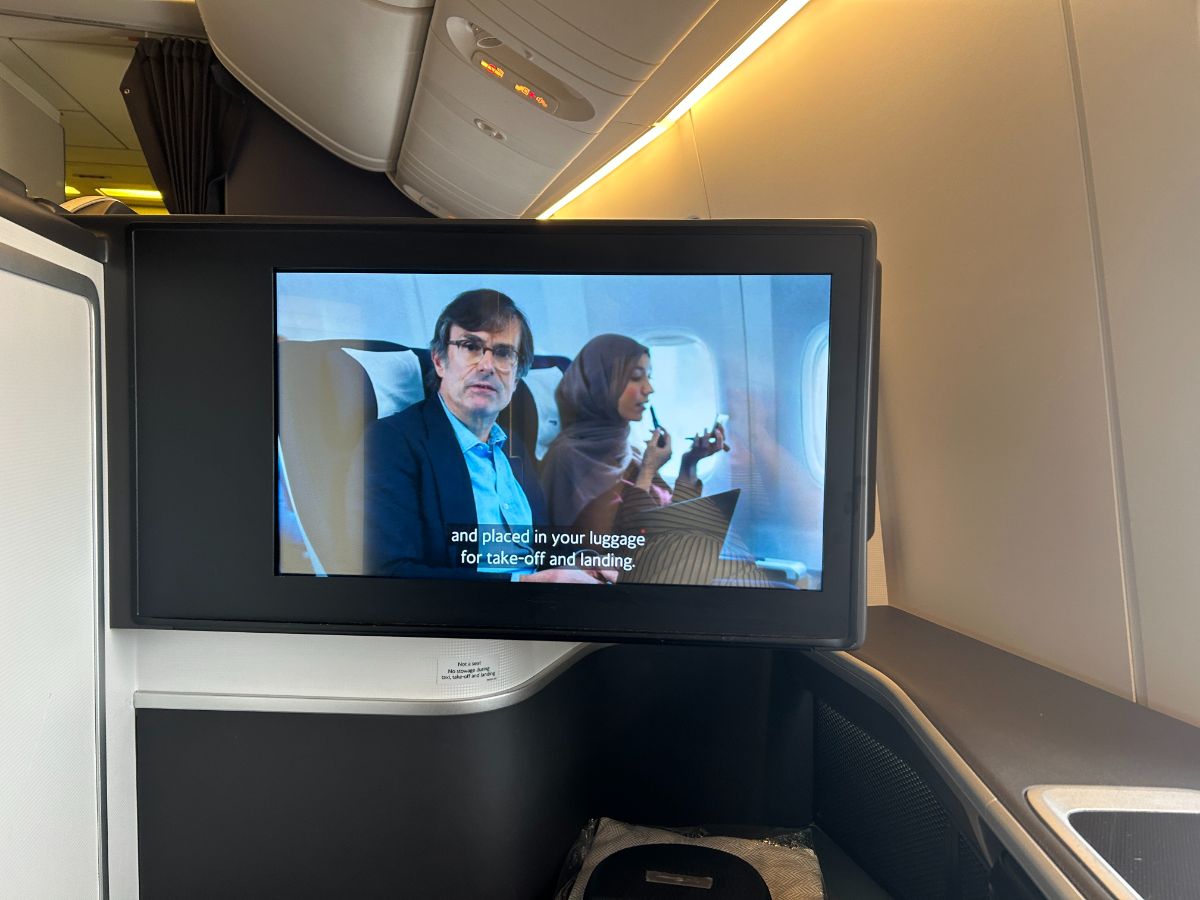 The screens feel very large and with great definition. I was treated to the new safety video, which I was not a fan of. It just felt a bit all over the place and slightly irritating. For someone who has not flown before, I am not sure if all the instructions would be that clear with all the other stuff going on in the video.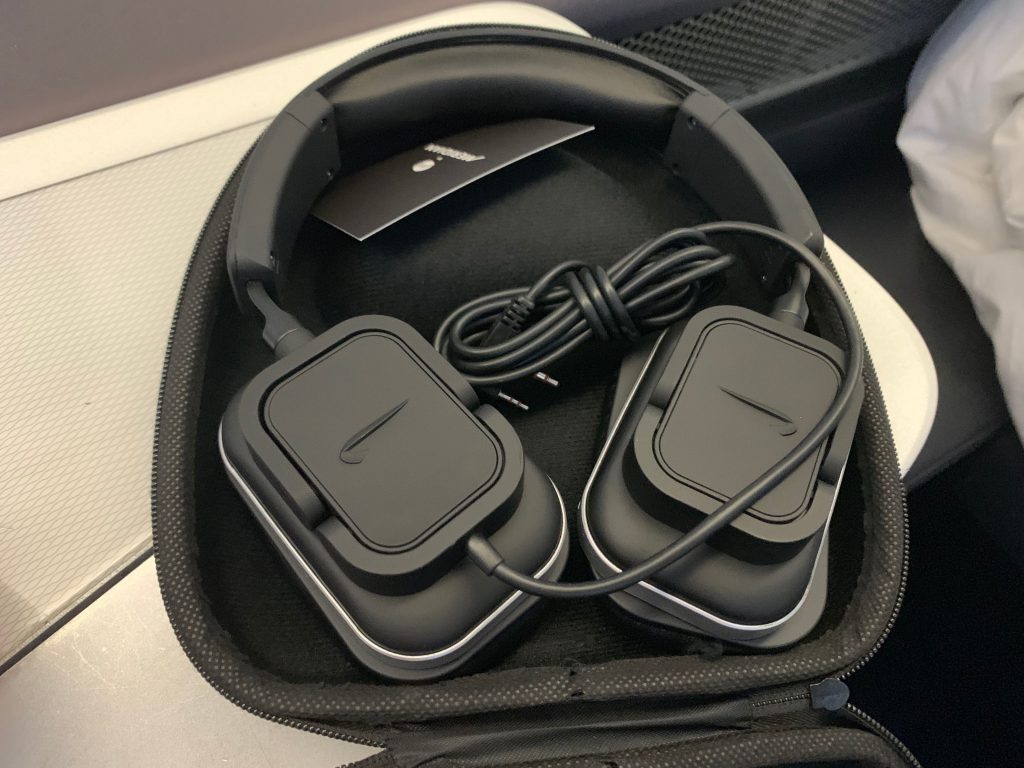 Meridian noise-cancelling headphones are provided, which work well and are sturdy. I find them quite comfortable but prefer something a little more lightweight.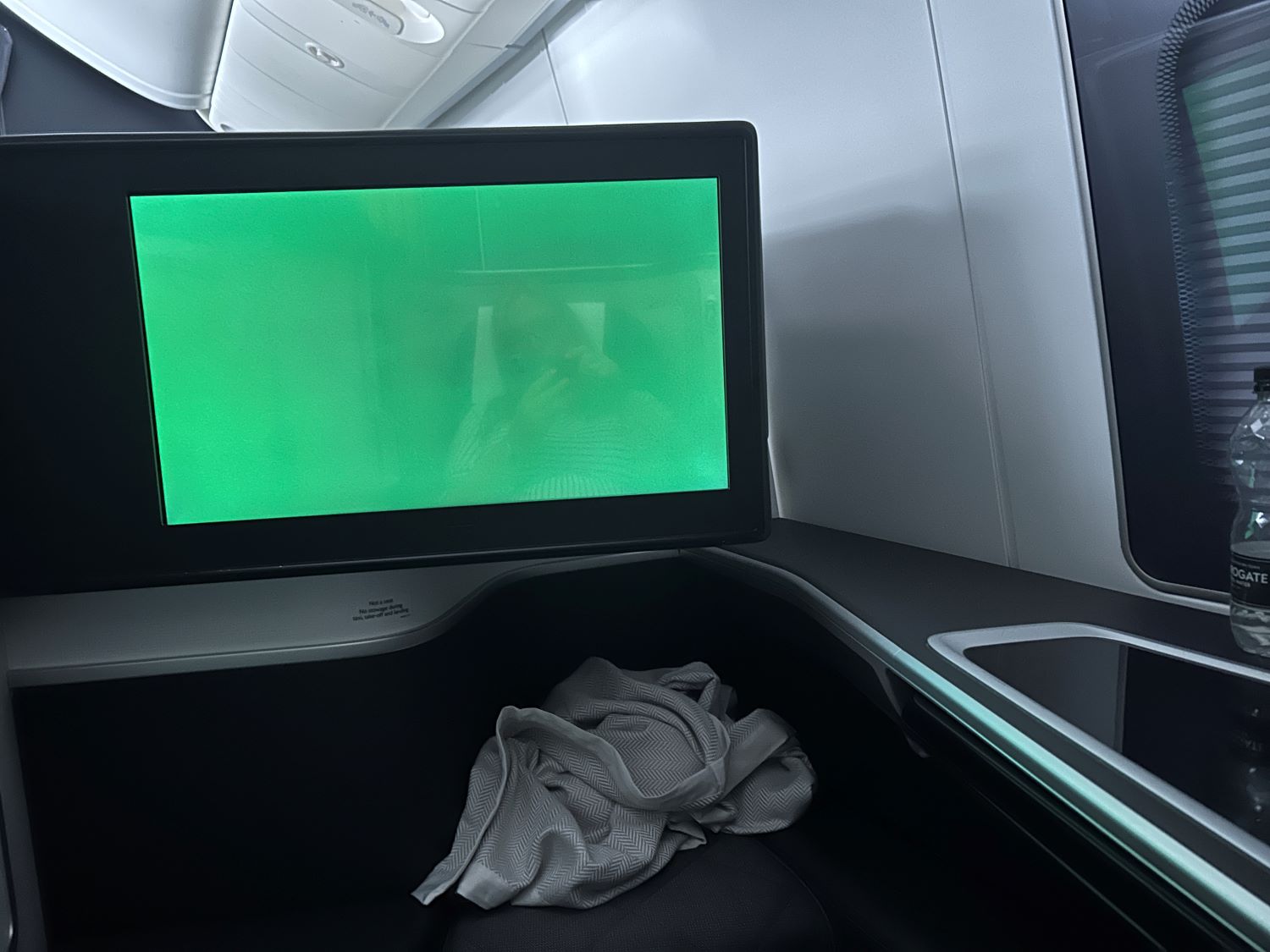 There was a really good selection of recent films available, and I like having the Paramount+ TV series to watch as well.
I watched Book Club 2, which was not as good as the original despite a great cast and a bit cringey. However, it did have some beautiful scenery. I had some issues with the TV and handset not responding and turning itself on with a slightly spooky green screen. I think some Gremlins got in somewhere!
There were plenty of charging facilities with 2 USB points and a multi-country socket right at hand in the small compartment. I found the charging much faster than on some of the older aircraft.
In First, you get wifi free, which is very useful, although it never says which type (there is a slower one and a faster version). Usually, I find it very slow, but this time, it was perfectly adequate for my needs.
Conclusion
Overall, this was a good flight with BA. The boarding definitely could have been better, but the service was good, with some nice extra touches, such as the IFM visit and the First expert on board. (These will be rolled out to other routes).
I enjoyed the food and wine, but I would like to see more variety in the menus and some more exciting options. I always feel there is no real wow factor from BA First on board, apart from maybe the canapes, which I love. Other airlines like Qatar and Singapore even serve lobster in business class, but here, most of the offerings (except turbot) are rather pedestrian, if at least tasty.
I do like the new seats and appreciate the privacy of the doors, particularly when lying down. The seats are very comfortable for sleeping but I would like more choice of seating position when upright.