One of the easiest ways to get enough Avios for a business class flight is to use a voucher. There are three main ways to get a voucher. The first two are by owning a particular credit card, and the 3rd is by earning 2500 tier points as a member of the BA executive club.
Getting vouchers
British Airways American Express cards offer the best reduction in Avios. There are two of these, one free and the Premium Plus version, which costs £250 per year. If you want the companion voucher, you may be better off with the Premium Plus version as the spend to trigger the voucher is £10,000 per year versus £12,000 on the free card. Even £10,000 may sound like a lot, but if you get a companion card and channel two people's spending through it for a year, it is achievable for many people. I put absolutely everything on my credit cards, even a small amount like £1 for parking, for example.
The other credit card to get a voucher is the Barclaycard Avios Mastercard. The upgrade voucher can be used for a one category upgrade except for Club to First which is excluded. See below for more details.
Finally, if you earn 2500 Tier points with British Airways you get an upgrade voucher for two people. This can be used on cash or Avios bookings and is not subject to Avios availability. At 3500, you get two vouchers for one person. These can be booked online or by phone.
BA American Express Companion Voucher

You can see your voucher on BA.com by going to your Executive Club account page. So how do you book with a voucher? When you go to book a flight with BA you will notice that there is a check box for BA Amex voucher to select at the top of the booking form. It should show if you have one available.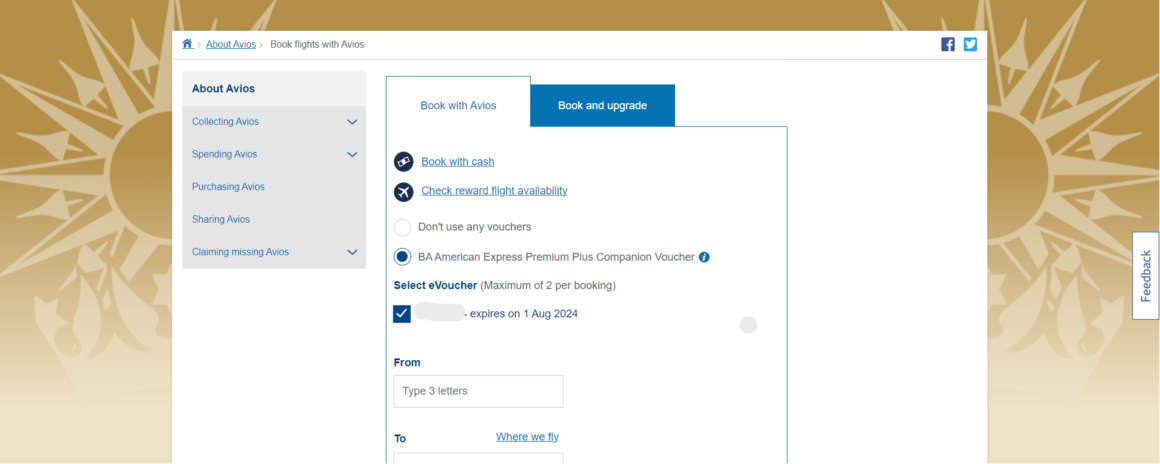 The key rules to know are:
Expiry date depends on which card you got the voucher from. The free card voucher has an expiry for one year, and the Premium Plus version has two years. This means that the voucher has to be booked and the outbound leg flown within that period.
Cancelling the booking more than 24 hours before the flight means you can get the voucher back into your BA account and the Avios refunded. Once you have started your journey you can't cancel the booking, only change it for £35.
Cabin class British Airways American Express® Credit Card Companion Vouchers can be redeemed in economy cabins, while British Airways American Express® Premium Plus Card Companion Vouchers can be redeemed across all cabins. This can make the American Express® Premium Plus Card worth the premium fee!
Mixed class bookings are allowed, but both people must fly in the same class. These can be booked on ba.com.
Domestic connections before a long-haul flight do not require any additional Avios. You should include them on the same ticket if you need them.
The cardholder must travel.
Open jaw. If you can't find a return flight for a destination, consider an 'open-jaw flight'. This is when you fly to one airport and return from a different one. This is allowed with the companion voucher but can only be done by calling BAEC. The open jaw must have the distance between your arriving and departing airport as shorter than either of the flights to or from London. For example, LFR-SFO, LAX-LHR would be acceptable as the distance between Los Angeles and San Francisco is clearly shorter than the two transatlantic flights.
You must use an Amex card to pay the taxes and charges on your booking. These will be payable for both tickets including the companion one.
You can book the outbound leg at 355 days before when they are released and then book the inbound separately when that becomes available. BA should combine the tickets or add the return leg and not charge you a change fee if the inbound was not available when you first booked.
All the rules can be found here.
New versus old BA American Express Companion vouchers
There have been several changes for vouchers issued since September 2021. You can usually tell new vouchers apart as they are called "BA American Express Premium Plus Companion Voucher".
Differences with the new style vouchers
These new vouchers also have access to more business class seats as when you book, you will shown I class seats as well as the normal Avios seats available.
You can also use the new vouchers to get Reward Flight Saver pricing which means less cash and more Avios or stick with the old rates of Avios.
Finally, if you want to travel solo, new vouchers can be used for 50% off the Avios element of the ticket instead of taking a companion.
Vouchers issued since September 2021 can be used for departures starting outside the UK, unlike older vouchers.
Drawbacks of BA Credit Card Vouchers
High Fees, Taxes and Surcharges: British Airways Companion Vouchers can have high fees, making them expensive to use. If two people are booked onto a flight with your companion voucher, you must pay fees for both people. Sometimes it can be almost as cheap to get a low price ex EU fare, and then you earn more Avios and tier points as well.
You will no longer save as much money starting your trip outside the UK with BA, and they have changed the taxes and charges to be in line with the UK.
Vouchers from the old system (Pre September 2021) and the new system can't be redeemed on the same booking: This can cause issues if you've accumulated more than one companion voucher over time.
Old vouchers can only be used with RFS on long haul, which means you now need substantially more Avios to use them although you will pay less cash.
Using Your Companion Voucher with Aer Lingus and Iberia
If you've earnt a new style companion voucher with American Express, you can now also use your BA Companion voucher to book Aer Lingus and Iberia Reward flights. This applies to all card members who've earnt a companion voucher since September 2021.
Both airlines require fewer Avios on many routes as well as much cheaper taxes. For example, Iberia normally only charges 68,000 Avios and £425 to New York in business class return versus British Airways' standard 110,000 Avios plus £853.01.
You book them in exactly the same way as BA flights. Select the route you want (after ticking box to use companion voucher), and it will show you any Iberia or Awer Linguis flights available on Avios on that route.
Upgrading flights
Using the BA website you can either upgrade an existing booking or make a new cash booking and upgrade at the same time. You can upgrade an existing booking with Avios using the 'manage my booking' area of the website.
The miles needed to upgrade are the Avios for the cabin you wish to upgrade to minus the Avios for the cabin you make your booking in. Ironically the cost is often better during peak periods as due to the different Avios requirements, the difference between the two classes is less.
The advantages of upgrading are that you need fewer Avios but still earn miles and tier points on the booking (for the original class, not the upgraded one), which can offset the cost of the Avios. However, the Avios needed to upgrade can be high, and you need to pay the tax difference between the classes. But from Club to First there is no difference normally. Between World Traveller Plus and Club World it is likely to be several hundred pounds more.
How to save on taxes and charges

Taxes and charges can be pretty high, around £600-£900 per person for a business class long haul ticket. This is partly due to UK APD but also determined by the charges of each airline.
An End to the Low Tax Avios Loopholes
Prior to December 2022, the amount of cash Vv Avios paid was directly related to BA surcharges, taxes (including air passenger duty) and other fees. If you started your journey in the EU, you could have benefited from other surcharges. Now, the cash element paid does NOT directly correlate to the tax paid by BA. This no longer applies.
Other ways to minimise the cash element
The main way to minimise taxes and charges is to fly with a different airline. The best airlines for this are: Aer Lingus, Alaskan, AA domestic flights Qatar and Iberia. Sometimes it is cheapest to buy two one-way redemptions, such as with Cathay, due to the tax rules for a particular country. These can all be booked in the same way as a BA flight through ba.com.
Reward Flight Saver
On short-haul when you have earned 1 mile in the last year, you are eligible for reward flight saver redemptions. (if you need to, you can earn 1 mile easily by using the BA eStore shopping portal to buy something small).
Reward Flight Saver means you pay the Avios and a flat fee in cash. This is currently £35 economy and £50 Club Europe return. If you are eligible, it will show the Reward Flight Saver fares. It can also be even cheaper to book two one-way flights, so it is worth looking at both options.
BA recently introduced RFS on long haul. This has some advantages for those that are happy to save up more Avios in order to pay more cash. However, as part of this BA put up the standard non-RFS taxes and charges on a number of routes. This was the third post-Covid rise in taxes and charges.
Barclaycard Upgrade Vouchers
Avios Mastercard credit cards are now available with Barclays. If you hold an Avios Mastercard, you can earn flight upgrades and a range of other travel-related perks. With a Barclaycard upgrade voucher, you can pay the Avios requirement of the next lowest class.
For example, if you book a Club World business class Avios seat to Boston, you would pay the World Traveller Plus Avios requirement but the Club World taxes and charges.
Two card types are available:
Barclaycard Avios: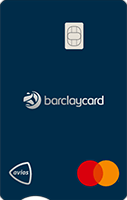 No Monthly Fee
New customers get a bonus when spending a set amount in the first three months.
1 Avios for every £1 spent.
A cabin upgrade voucher each year if you spend at least £20,000 within the card year. Upgrade vouchers last 2 years.
Barclaycard's Entertainment perks
Mastercard World Elite privileges
25.9% APR (variable)
Up to five months of Apple TV+, Apple Music, Apple Fitness+, Apple News+ and Apple Arcade for free
Barclaycard Avios Plus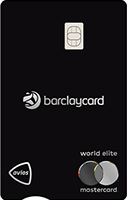 £20.00 fee per month
1.5 Avios for every £1 spent.
Access to Mastercard's Priceless.com with further benefits is also included.
A cabin upgrade voucher each year if you spend at least £10,000 within the card year. Upgrade vouchers last two years.
Barclaycard's Entertainment perks
Mastercard World Elite privileges
Airport Lounge Membership at a discounted rate of £18.50 per lounge pass, per person.
75.0% APR (variable)
Up to five months of Apple TV+, Apple Music, Apple Fitness+, Apple News+ and Apple Arcade for free
If you're interested in getting one of these cards, they are now available to both existing AND new customers. There's also the option for solo travellers to upgrade on both legs of the journey.
Here are the rest of the series of spending Avios guides:
GUIDE TO EARNING AVIOS – PART 1 FLIGHTS AND CREDIT CARDS
GUIDE TO SPENDING AVIOS PART 1 – HOW TO GET THE FLIGHTS YOU WANT
GUIDE TO EARNING AVIOS – PART 2 HOTELS, SHOPPING, CAR HIRE AND MORE