A comprehensive review of Finnair A330 new business class. A while ago I managed to snag a "mistake" fare for around £600 from Paris to New York. You never know with these fares if they will honour them, but luckily with this one, they did. The flights were with Finnair and routed via Helsinki. Sadly the Paris part did not get the 160 tier points I would have got if I had flown from London, but for that price, I can't complain.
Check-in
I stayed the night at the Courtyard by Marriott Paris Roissy Charles de Gaulle Airport Hotel, which I thought was very good although around 10 minutes from the airport. (Review coming soon).
The flight departed from the sale terminal as BA, Terminal 2B. Check-in was straightforward, and there was no queue. Security was another matter and a bit of a nightmare. Recently I have only been transitting at CDG, so I had not had the full fun of regular security.
Frankly, it was disgraceful with deeply unpleasant and rude security operators yelling in people's faces if they had forgotten something. You had to empty all your liquids into their own bag, even if it was in a perfectly compliant bag which just meant it was holding up the queue. Unfortunately, my bag got pulled for secondary, and I was waiting around for about 15 minutes to get the search. I have never seen a bag searched so thoroughly or so slowly. She kept taking everything in and out and peering at every single thing as if she had never searched a bag before. And she found absolutely nothing. All in all, I must have been there for nearly 30 minutes which was not a great start to a trip.
Lounge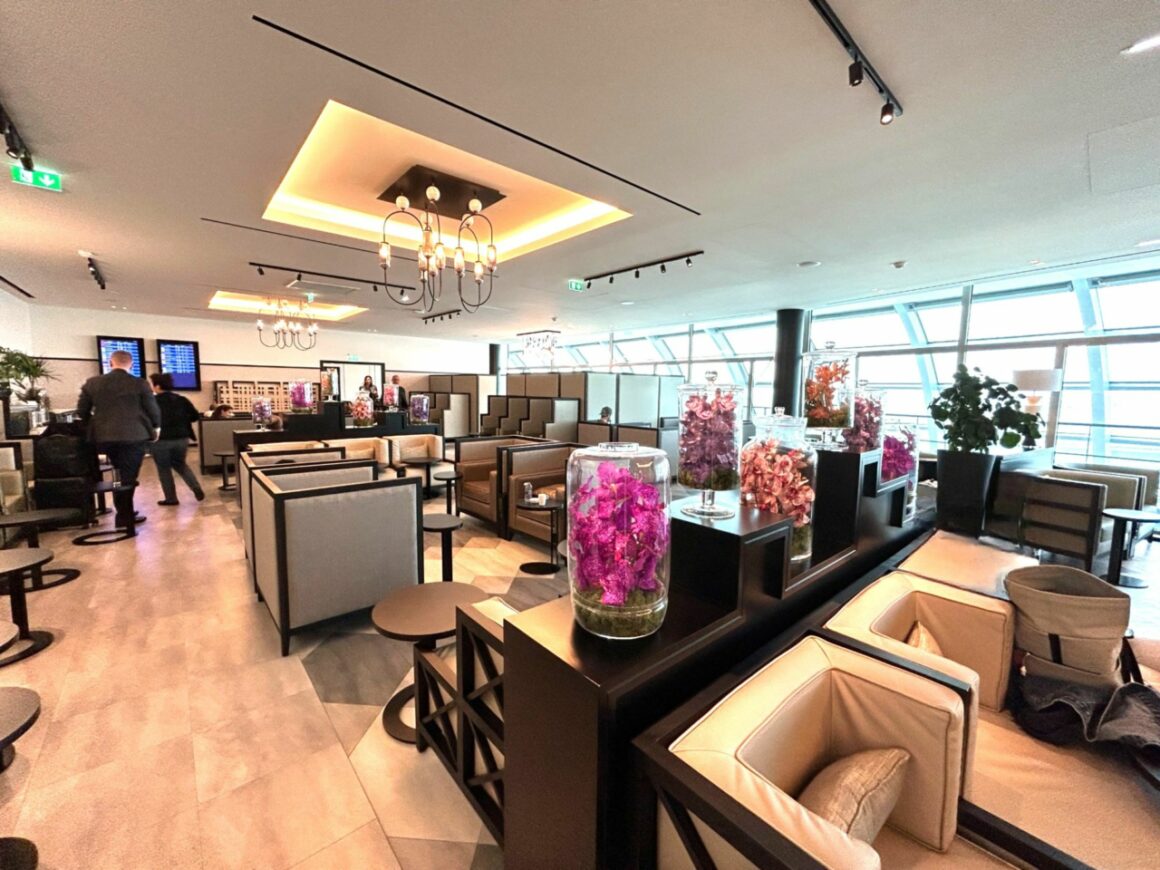 I have written a full-length review of the lounge that Finnair use, the Extime lounge since that is the same lounge that BA use. Some people have been raving about the lounge. My personal view is that it looked very elegant, but the food and drink were a little basic, although probably slightly above the usual level of a third-party lounge.
Paris to Helsinki A321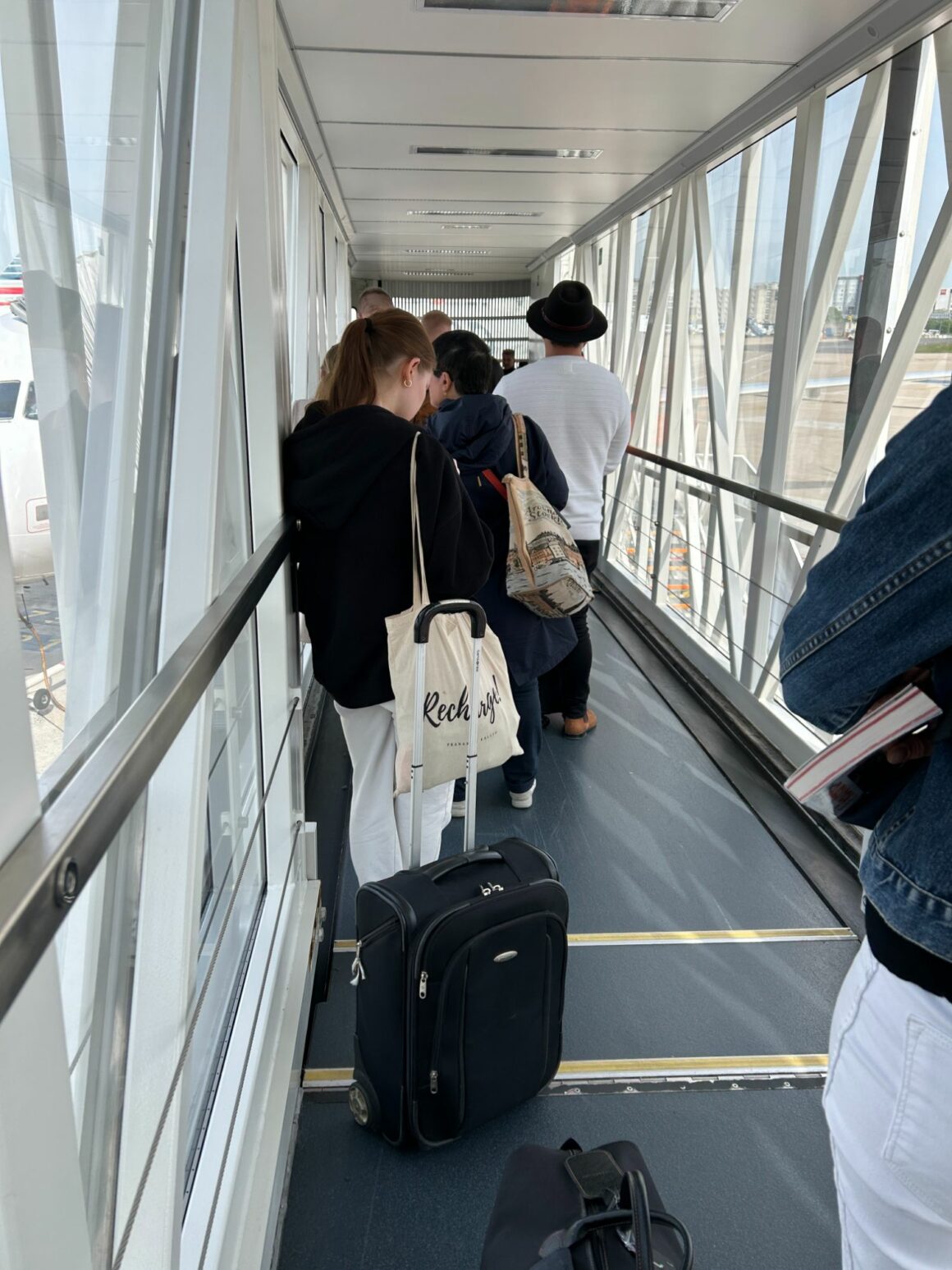 It was a classic case of boarding/not boarding when we were all herded onto the jetty and left standing there for ages (one of my pet hates).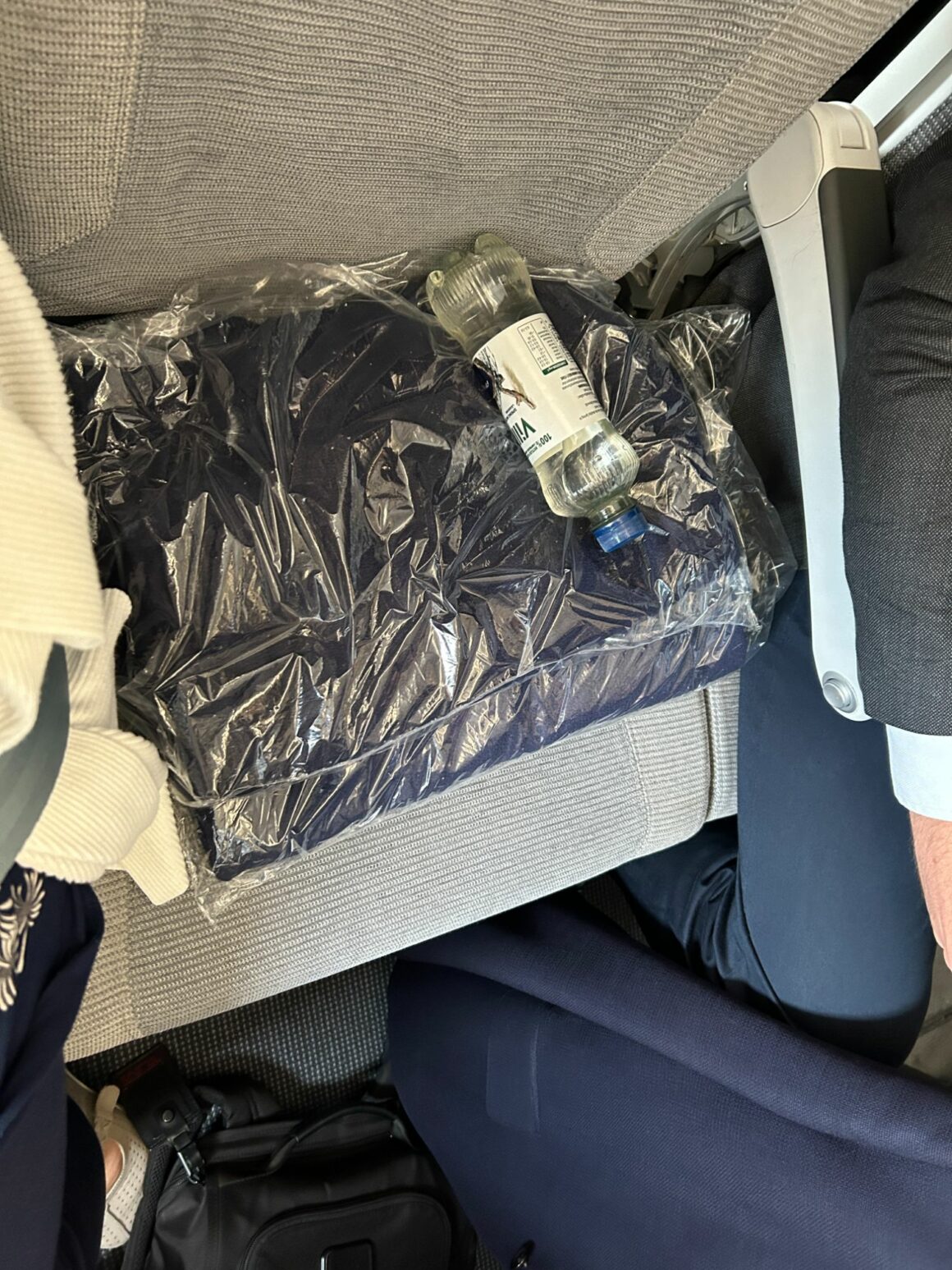 At my seat for the 2.5 hour trip was a blanket and bottle of water. I personally like being given a bottle of water, and these ones are made from recycled plastic.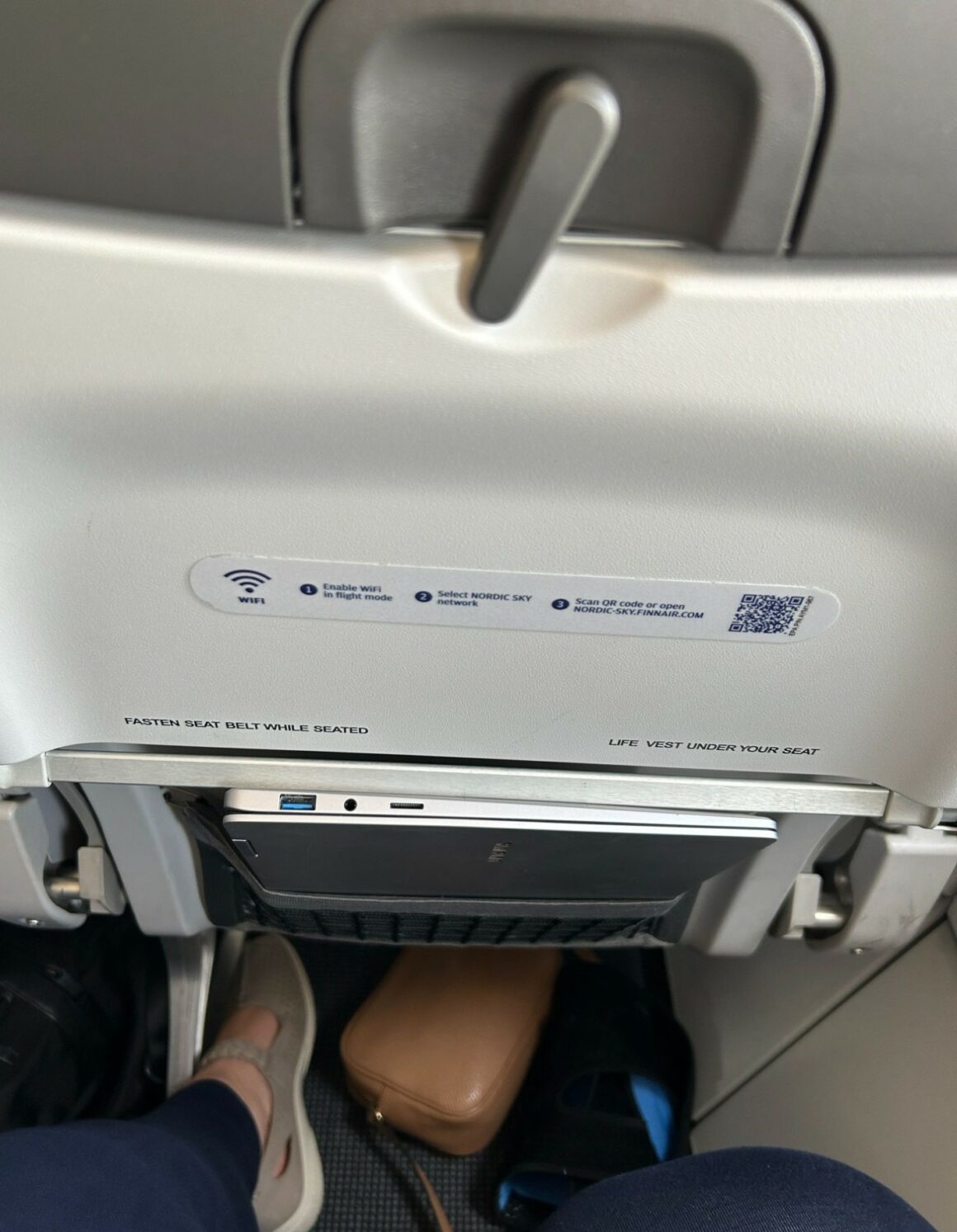 The seat had loads of legroom, although I do find Finnair short-haul A321/320 one of the harder seats for a longer flight. I did not drink alcohol on the flight, so stuck to water and my favourite blueberry juice, along with a coke zero. You get the lovely Iitala glasses on short haul. They no longer serve champagne on short haul but instead, a sparkling wine which was actually better than some of the bad "champagne" on other airlines.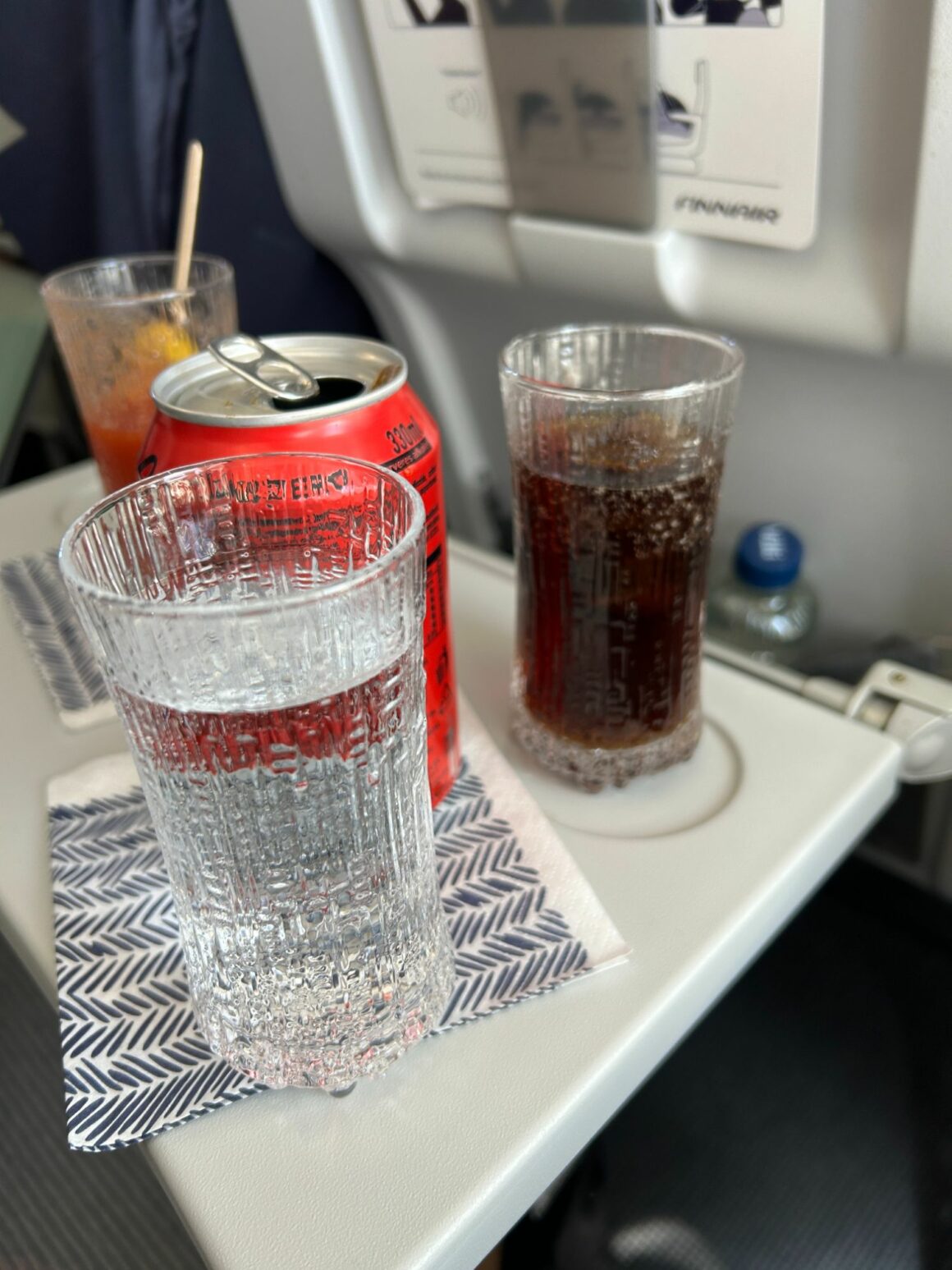 It's worth pointing out that there is no choice of meal on Finnair short haul, so if you are vegetarian you will need to pre-order. At least then you are hopefully guaranteed to get a veggie meal, whereas on airlines with a choice, you need to make sure you are near the front so they haven't run out.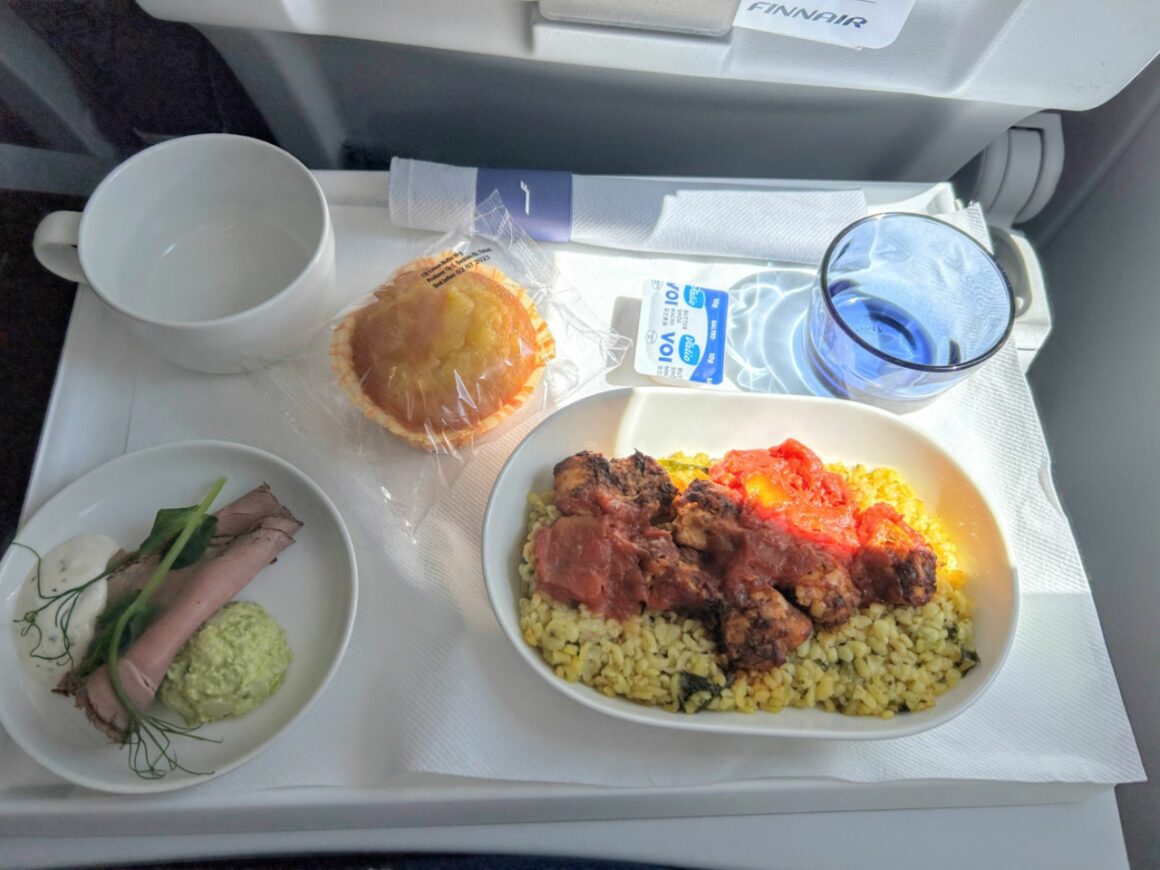 This was probably the tastiest meal I have had on Finnair short haul yet. The cold roast beef had a sort of tartare sauce plus some sort of puree with it. The main course was a chicken with a spiced sauce with some sort of grain underneath, which was really delicious. The dessert was a lemon muffin, standard for Finnair. The muffins are pretty good, although it would be nice if they varied the desserts the same way they vary the main courses regularly.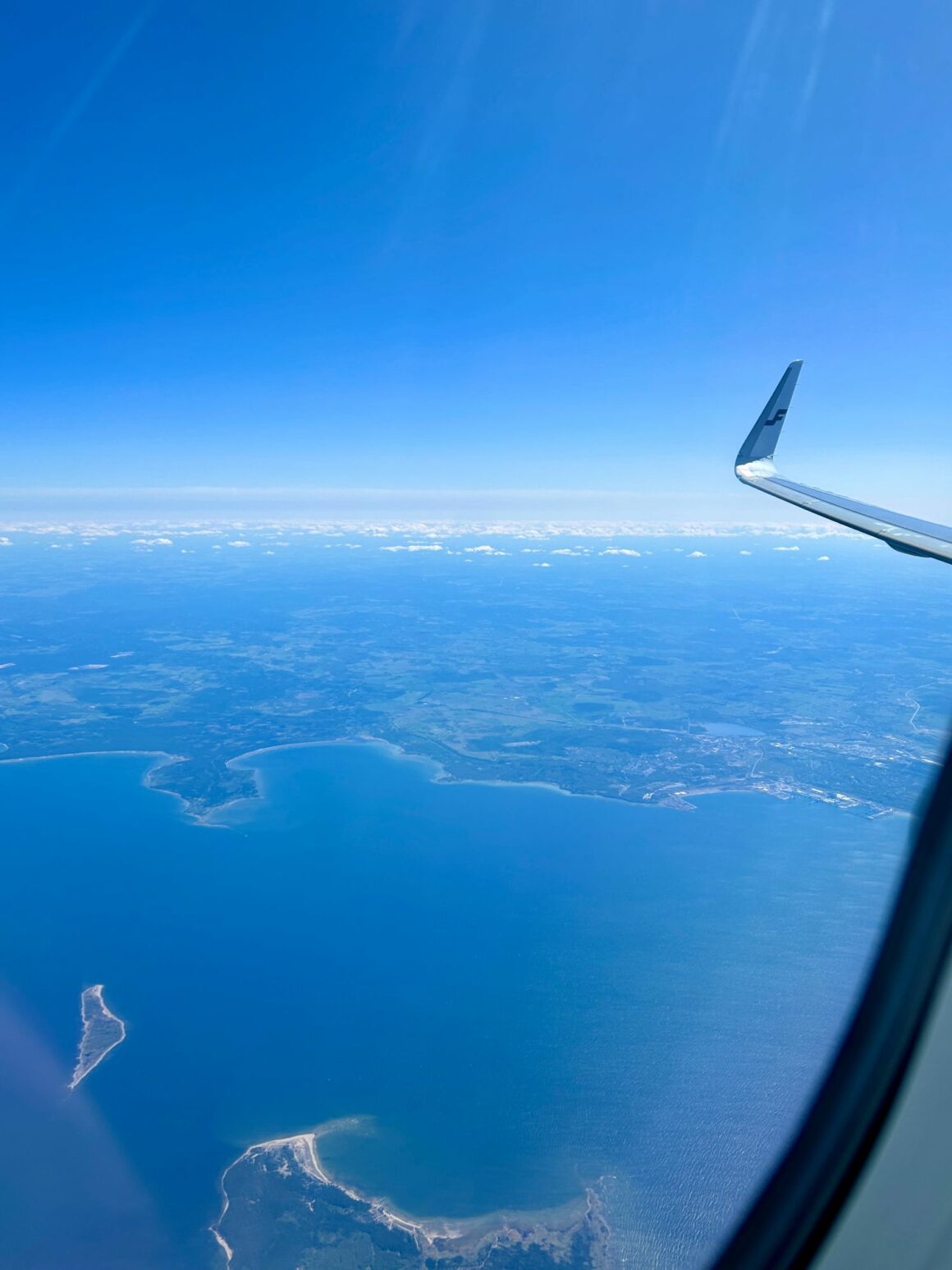 Helsinki connection and lounge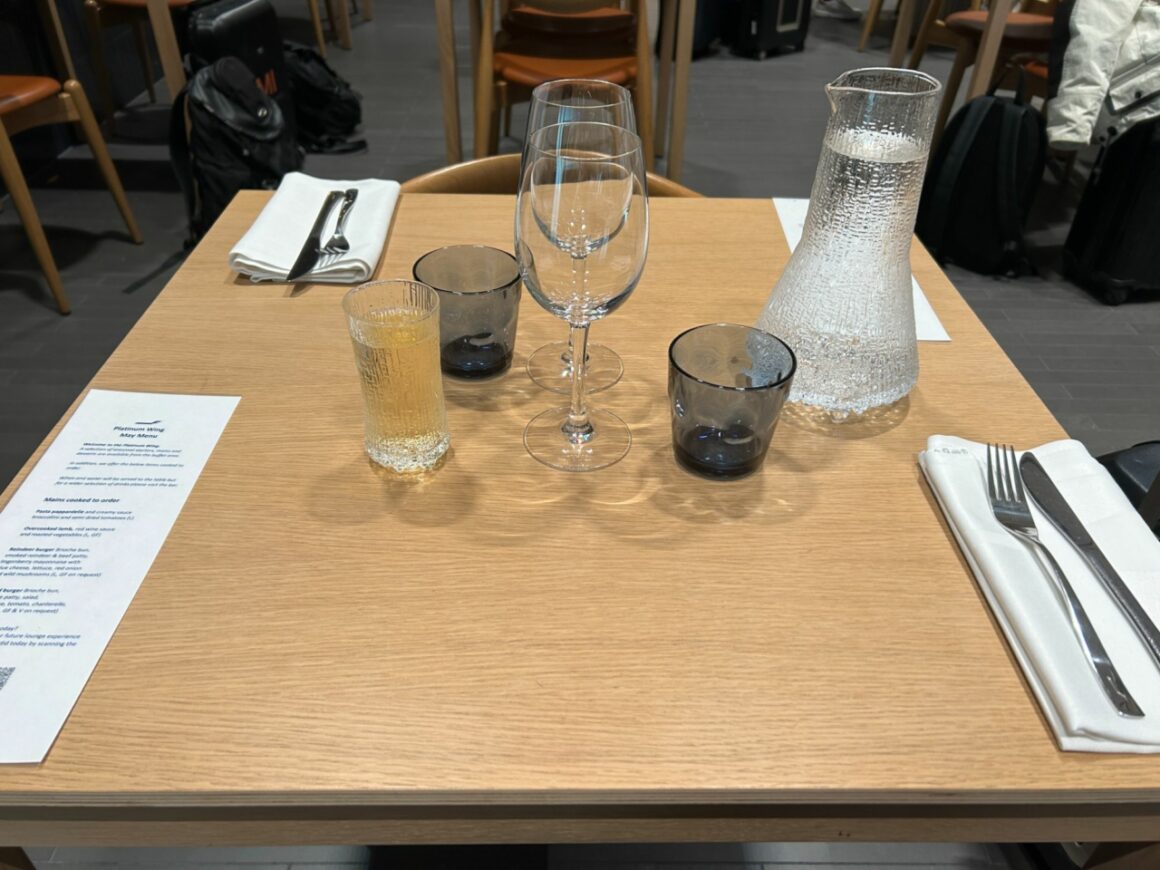 Helsinki is usually a very easy airport to connect in, putting aside that there can be some very long walks. There is rarely a queue for immigration, and you don't normally need to pass through security again. Finnair says that connections take at best 35 minutes which is about my experience. Very occasionally, if you time it badly, there is a queue if you arrive behind a large non EU flight.
I was connecting to a non-Schengen flight so I was able to use the lovely Platinum wing, which is for oneworld emerald/BA Gold members. You can read a full review of the Platinum lounge (which has a sauna) and the standard business class lounge.
Here is the current menu: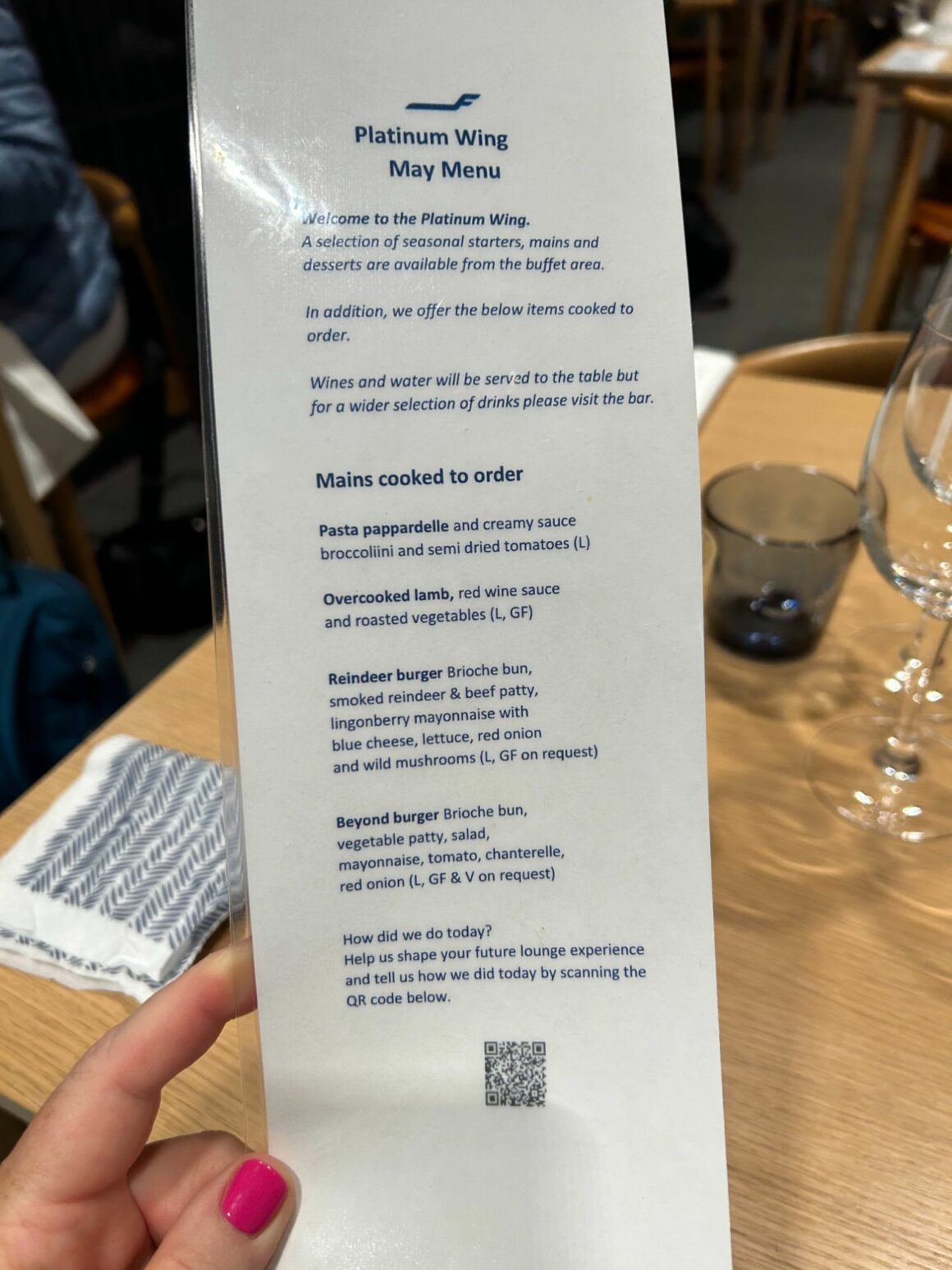 I think the "overcooked" lamb may have been lost in translation…. I think they meant slow-cooked. I went for my staple reindeer burger which is delicious – I'd happily pay for it in a restaurant. You can help yourself to starters and desserts/cheese from the buffet.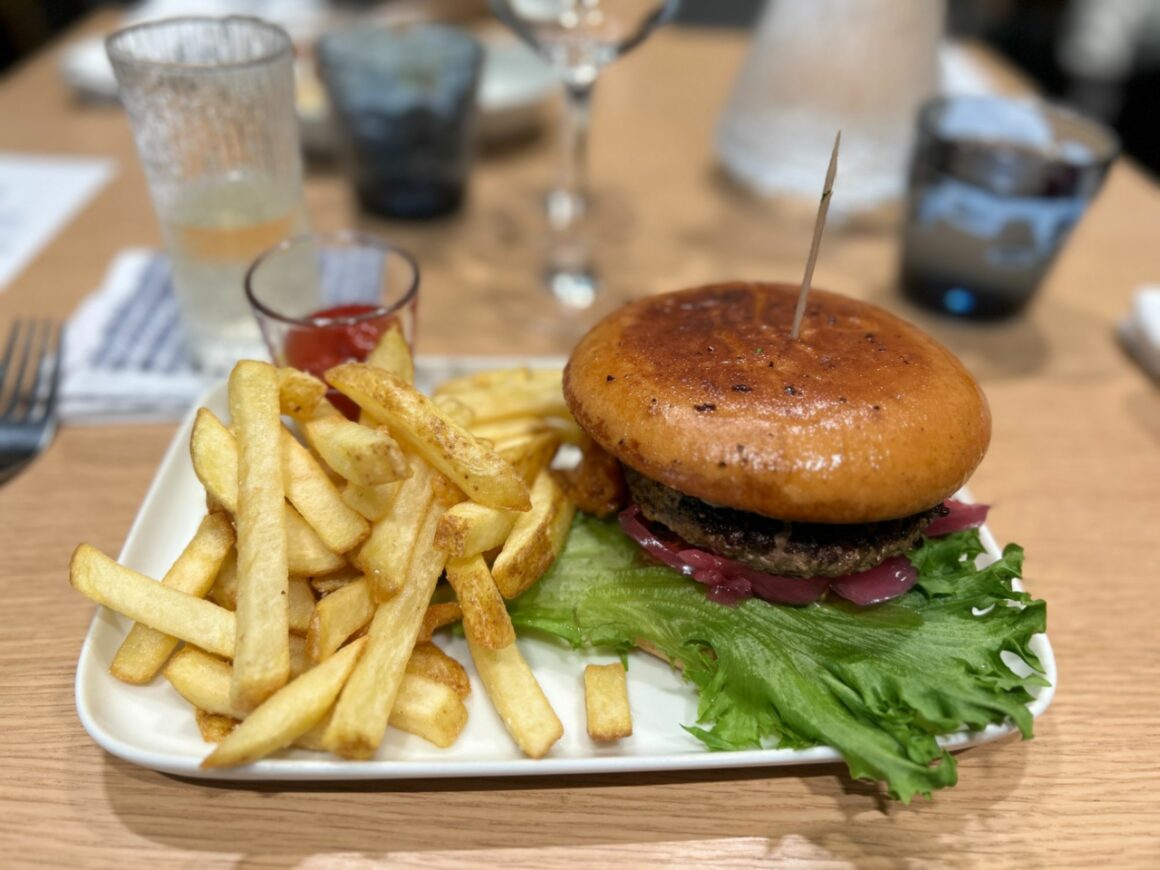 Helsinki to New York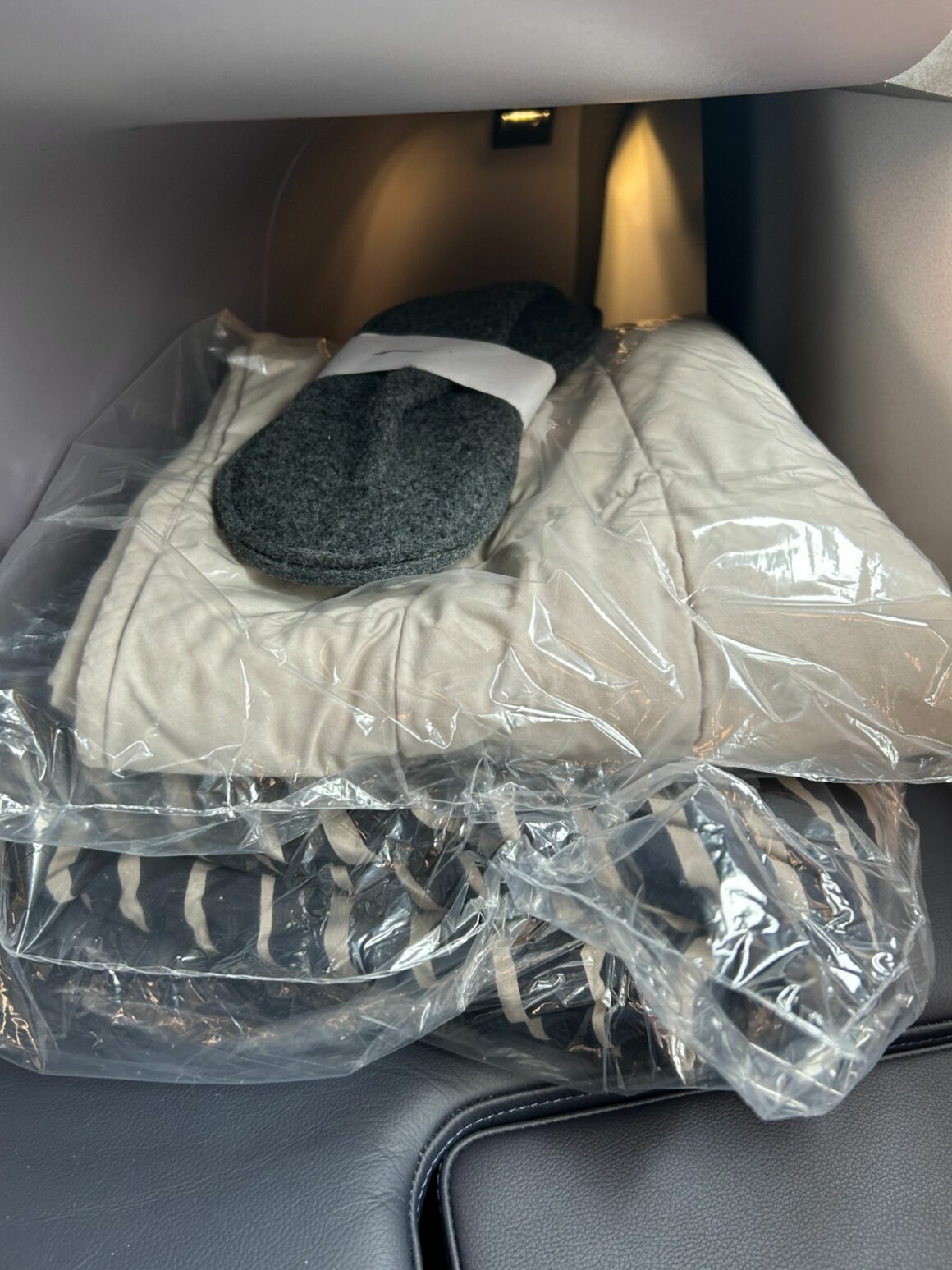 I arrived at my seat to find a small washbag and the usual blanket. My last flight I took was with Finnair's Singapore crew. This crew were all Finnair's main flight attendants. I was given a pair of slippers. I really love these Finnair slippers (normally I decline slippers as they are often very synthetic feeling). These ones are lovely and soft and comfortable enough to wear while sleeping instead of socks.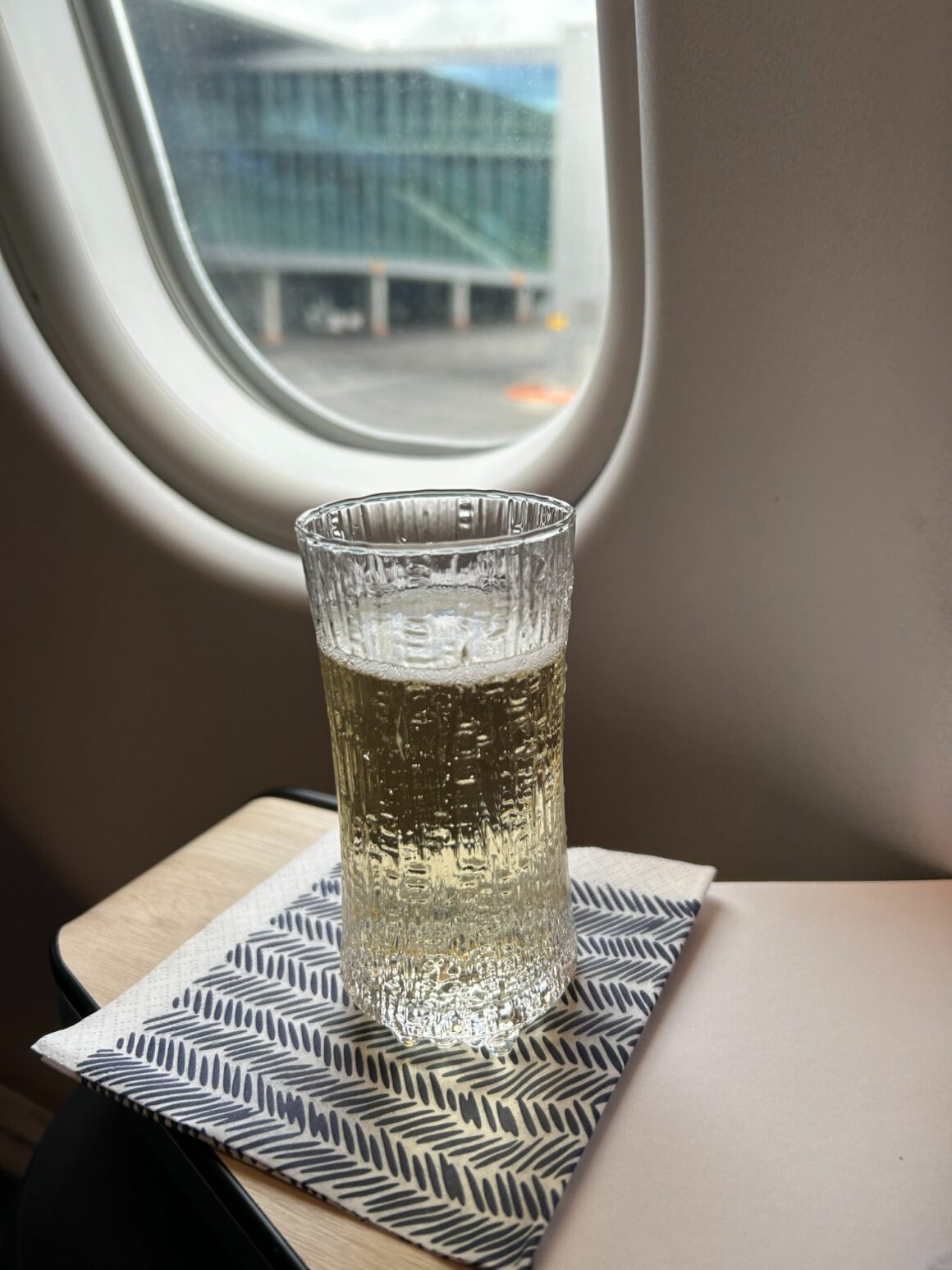 I was offered a welcome drink, so I went for the champagne since I think the Joesph Perrier is one of the best business class champagnes around apart from some of Qatar's offerings.
The wash bag is a little sparsely furnished compared to some other airlines: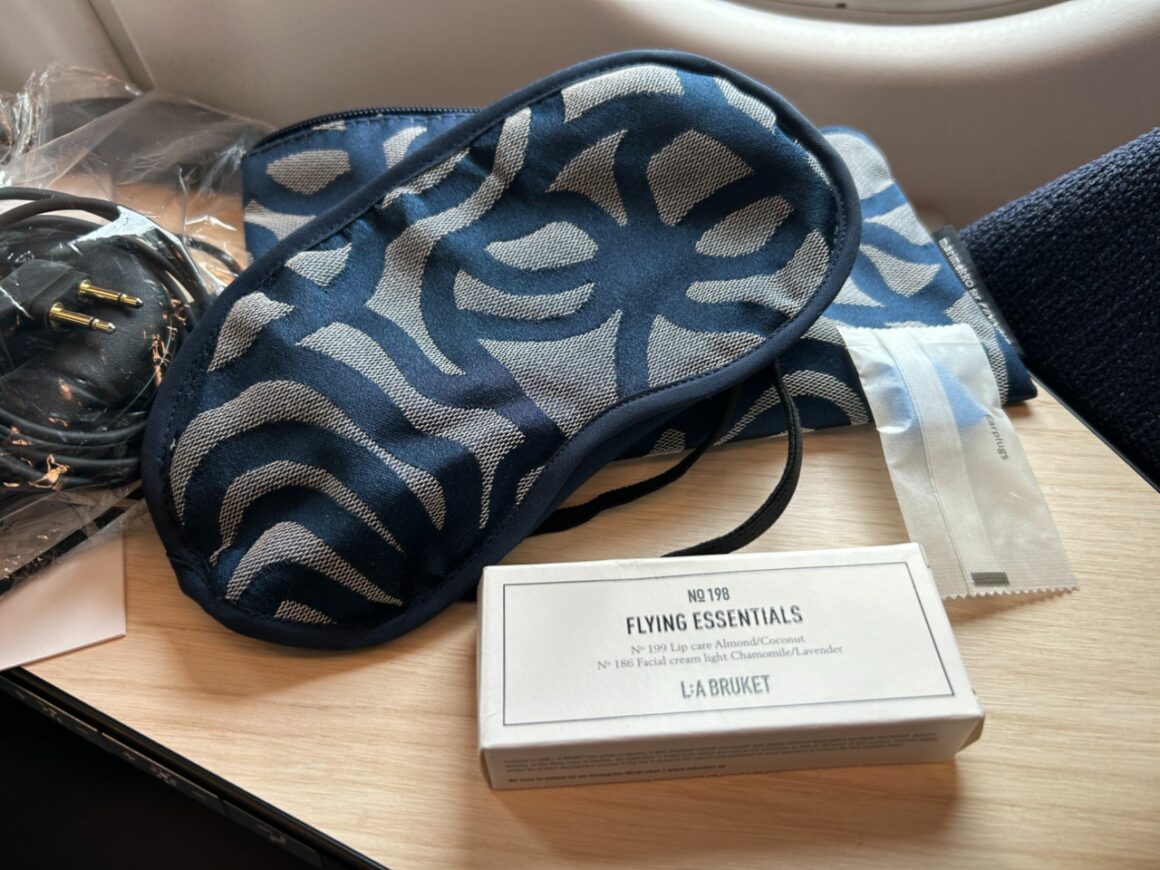 It has a stylish eye mask, ear plugs and L:A Bruket lip balm and face cream. The products are good quality. You can ask for things like a toothbrush/paste.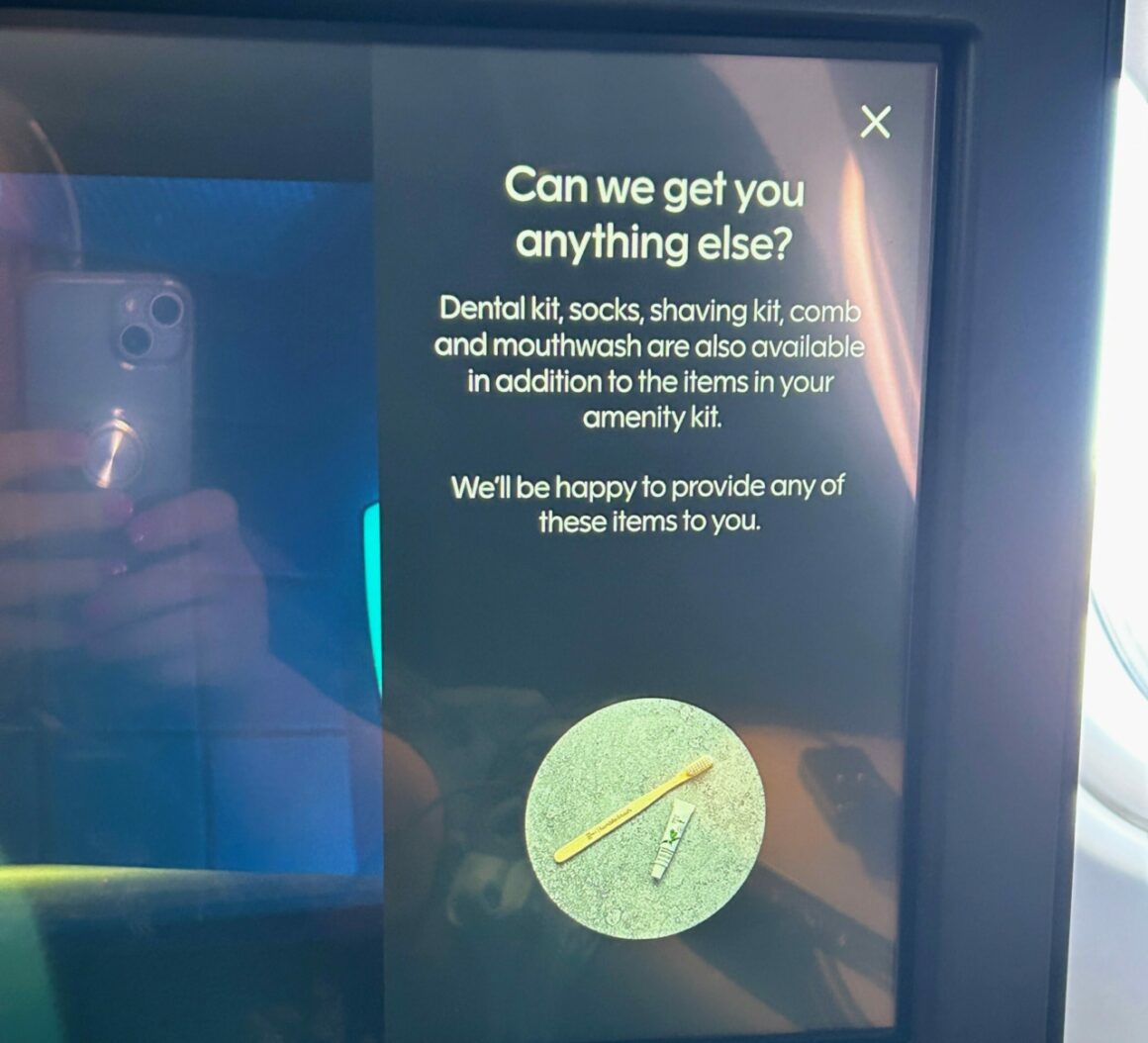 Finnair A330 new business class seat
This was the first time I had flown on the new A330 seats, although, as far as I could see, there were pretty much identical to the A350.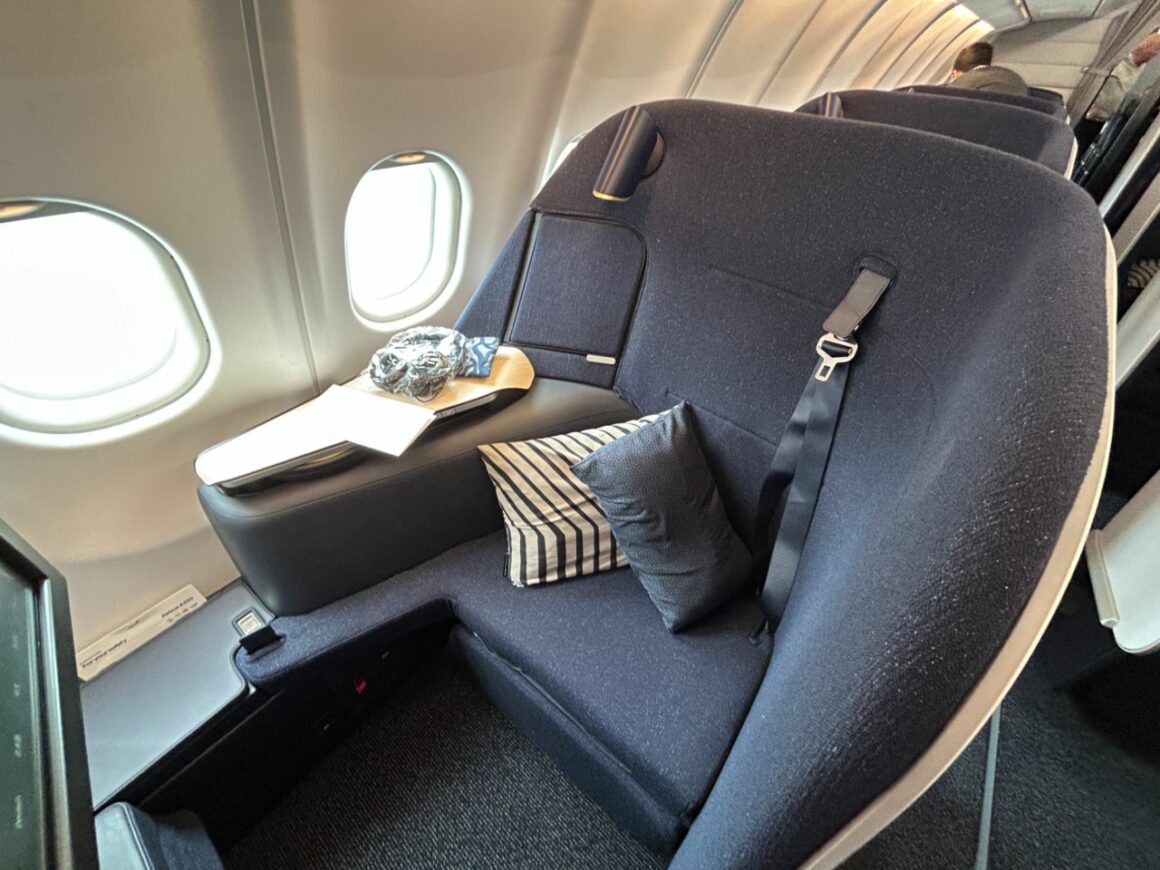 I was in seat 3L. There is only one small cabin on the A330, so there's not much to choose from with the seats other than the window or aisle. I generally aim for the front section of the cabin but at least row 3 so as not to be disturbed by galley noise.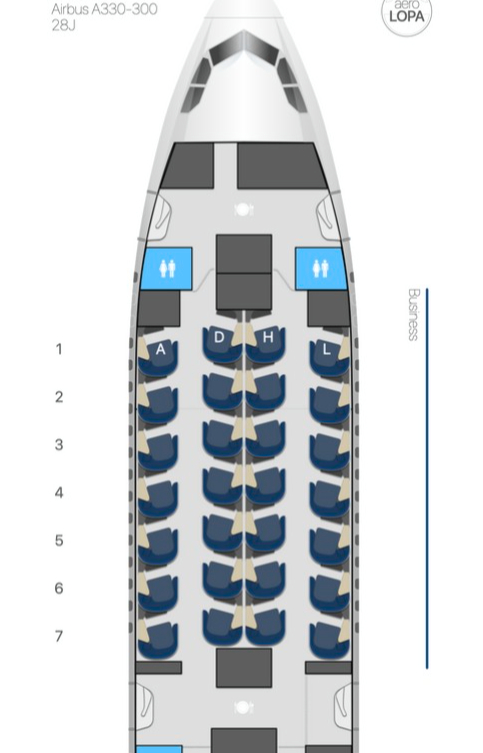 I find the 3-point seatbelt annoying that is on so many aircraft, but fortunately, you only need the shoulder strap on for take-off and landing.
The new Air Lounge seat does not recline. Some people struggle to get their heads around this, but to me, it's just the same as sitting on my sofa at home. The seat is extremely wide, and you are given two pillows/cushions so you can arrange yourself in multiple ways with your feet up. The footrest is within reach even if you are reasonably short. In terms of sleeping, you get a large area as two flaps come up to make a flat surface area – probably one of the largest in business class. It is a little hard, but on the way back, I slept extremely well. You can read more about sleeping in the seats in this article. (I won't review the return as I slept the whole way and did not eat or drink virtually anything).
There is a small cupboard with a mirror at head height for your headphones and then a small cubby hole big enough for some bits and bobs or a small handbag. There's also a water bottle holder, which is handy.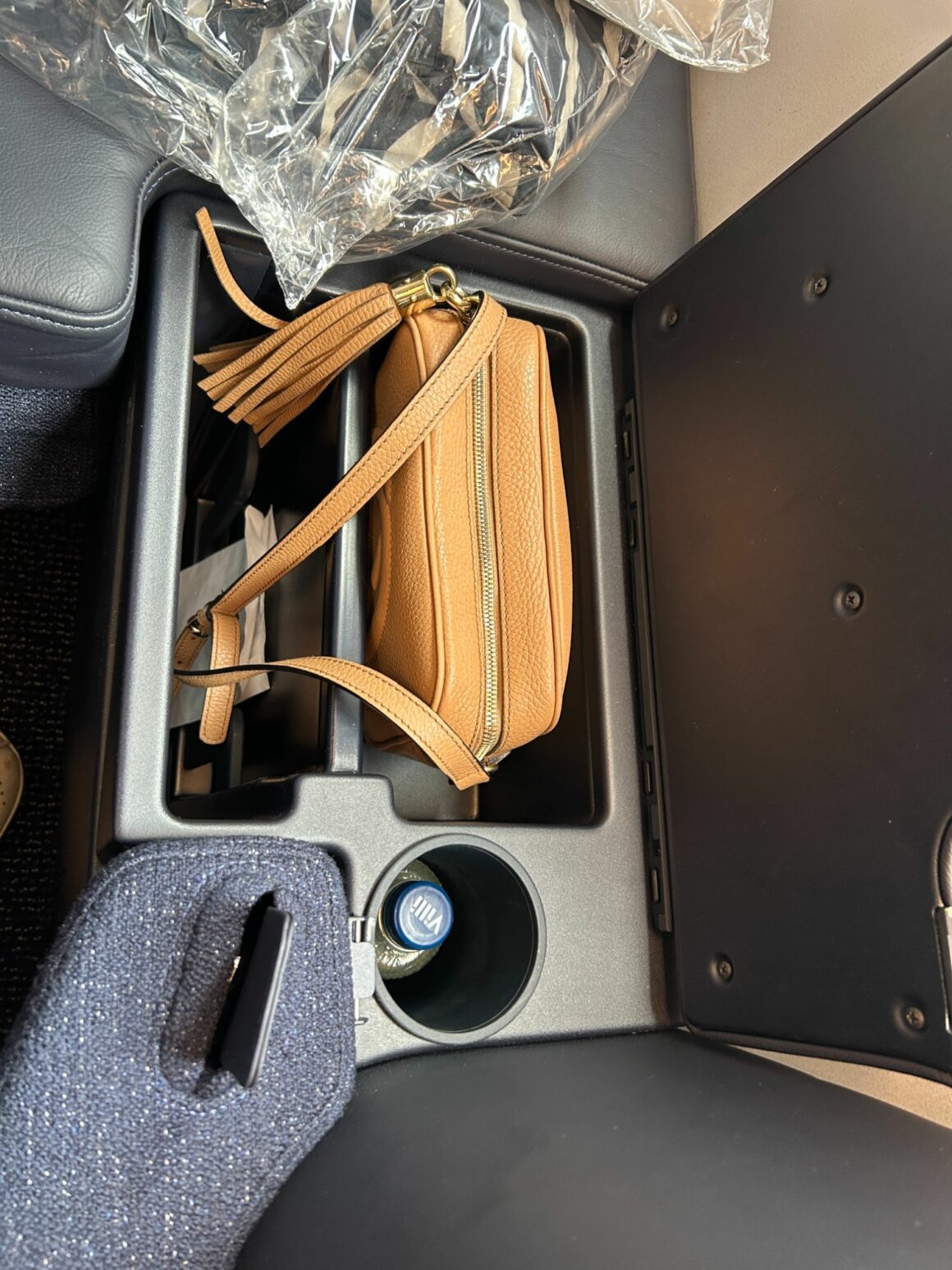 Finnair A330 new business class Food and drink
Finnair's business class meal starts with a drink service, and then you get two starters on a tray. There is a choice of main courses.
Here is the menu from my flight: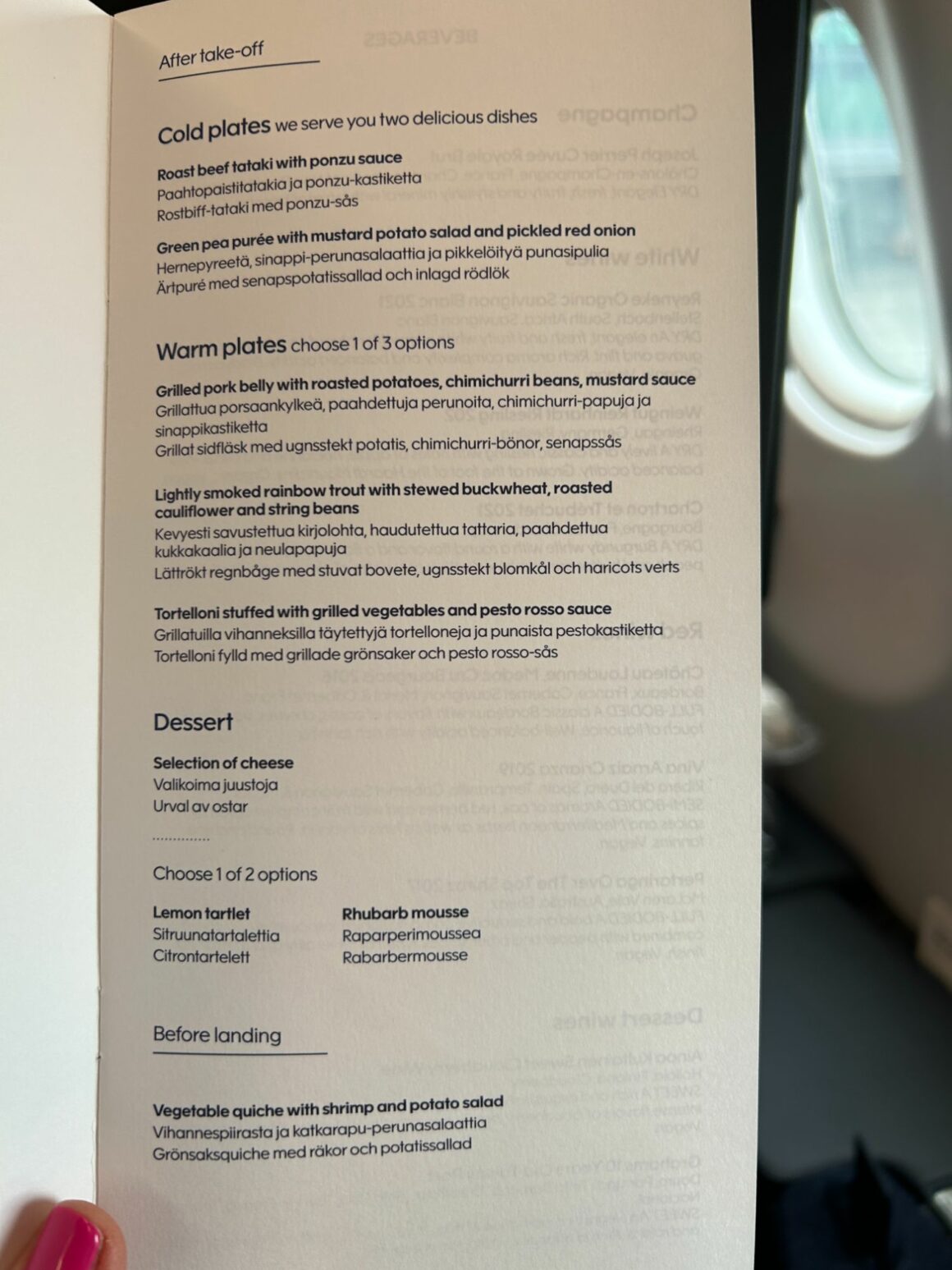 I started the flight with a Bloody Mary from a very comprehensive drinks list. I also recommend the Kyro Gin. The drink came with some lovely smoked almonds, which I enjoyed.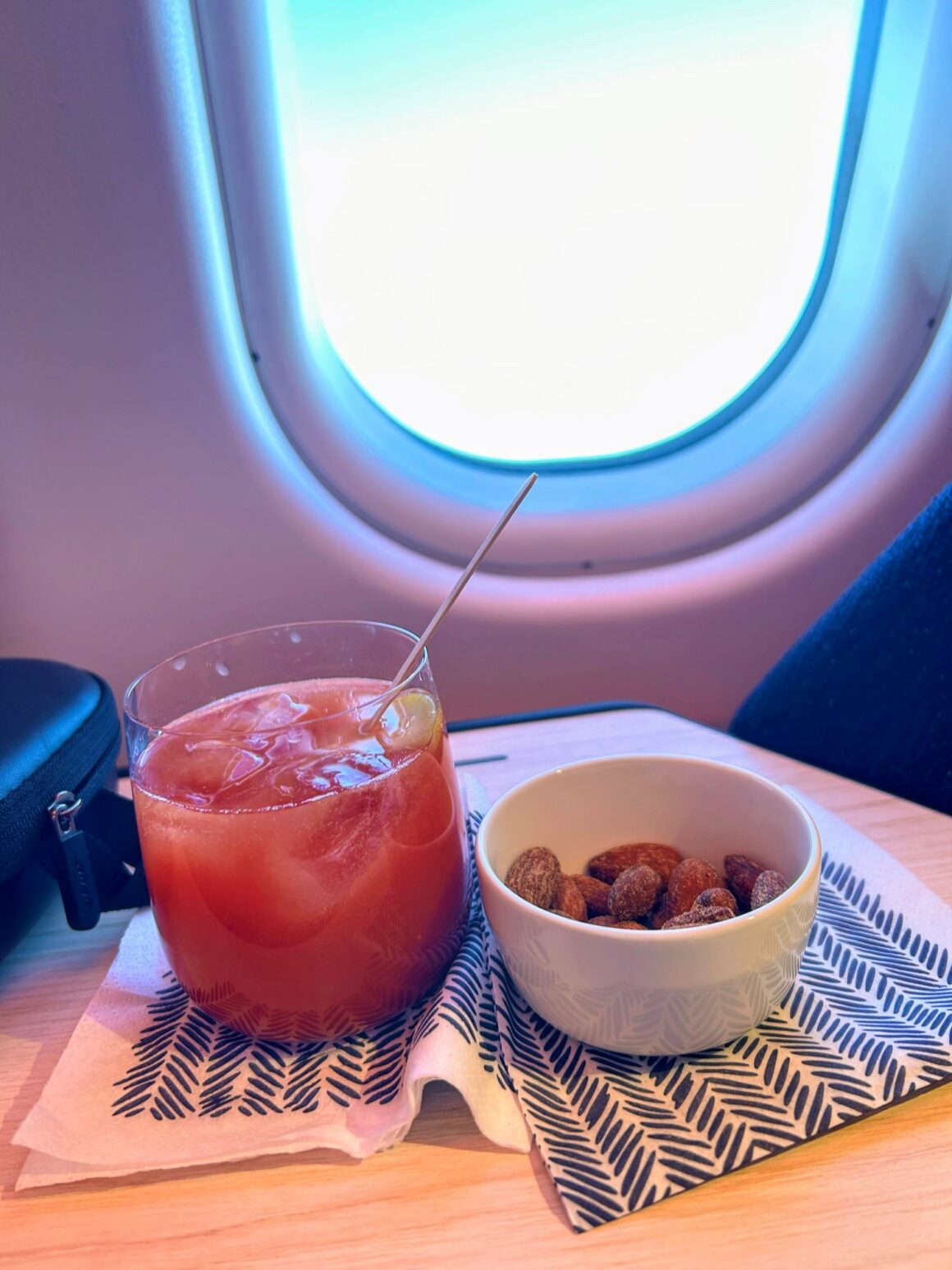 Next were the starters and main: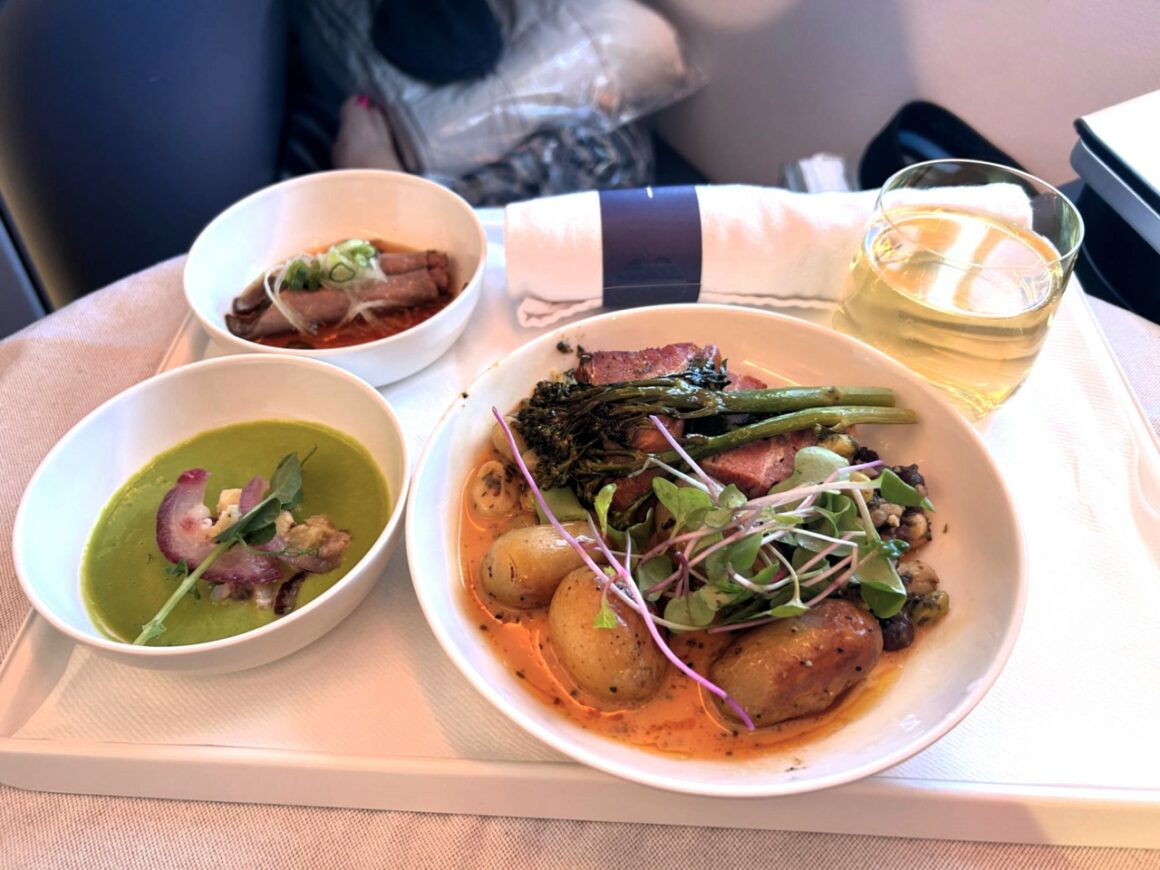 I went for the pork belly since I have had the smoked trout before. Both starters were very good. The pea one sounded a bit odd but was lovely and fresh tasting. The pork belly was more like Iberian pork as it had a darker colour and was far less fatty. The whole main course was very tasty and nicely presented. For me, it is definitely better than most of BA's Club World main courses.
I tried the Bourgogne Chardonnay with my main, which was enjoyable, if nothing special. The staff were generous with their pours and very attentive throughout the service. The Finnair staff always seem very friendly and cheerful in my experience. I think they have a great range of drinks with three white and three reds to choose from as well as a wide variety of unusual drinks to try.
Here is the drinks list:
For dessert, I went for the lemon tart. The Finnair desserts are usually very good but rather small in size. However, you can have cheese as well. For something different, I tried the Cloudberry dessert wine. This was completely different to anything I have had before, but I enjoyed it. It was not too sweet and went well with the tart as it had some citrus flavours to it. The tart had a lovely interior and tasty crisp pastry, but there was too much pastry in relation to the filling for my liking.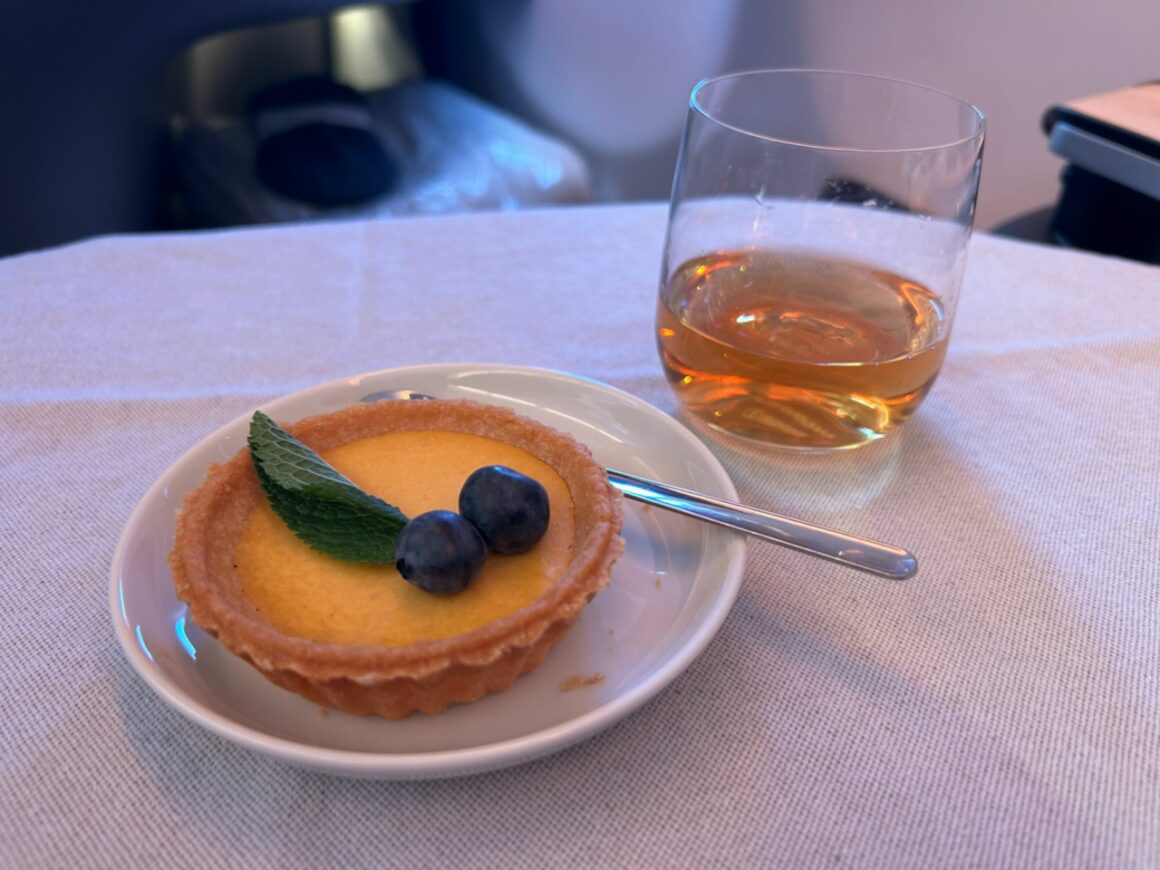 I fancied a hot chocolate, so I asked for that and decided also to sample the brandy since it was an XO. I got a rather enormous measure which may have been why I slept well!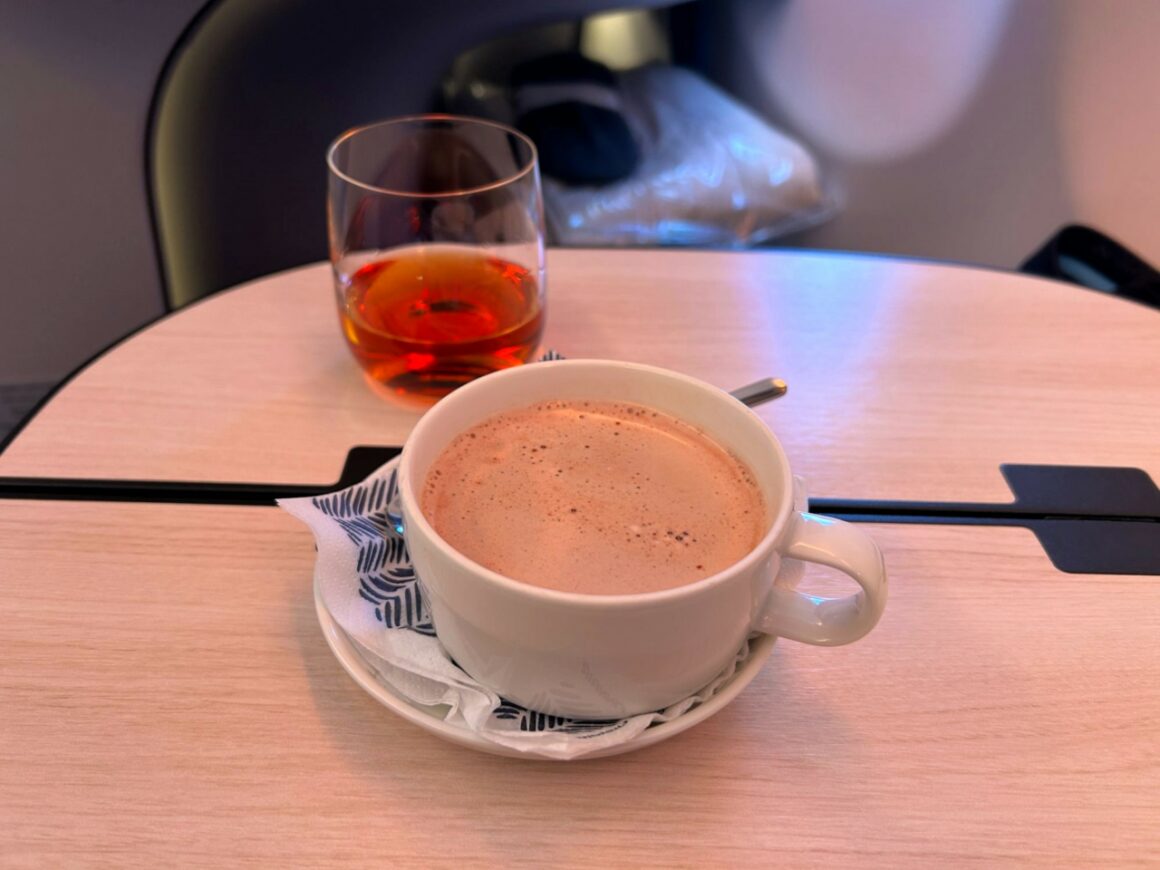 After sleeping for a couple of hours, it was around 75 minutes to landing when they came around offering the second meal. I was still full from the lunch, so I declined. If you feel hungry between meals, they have a small range of snacks such as chocolates and, on some routes, noodles in the galley.
Finnair A330 new business class Entertainment and wi-fi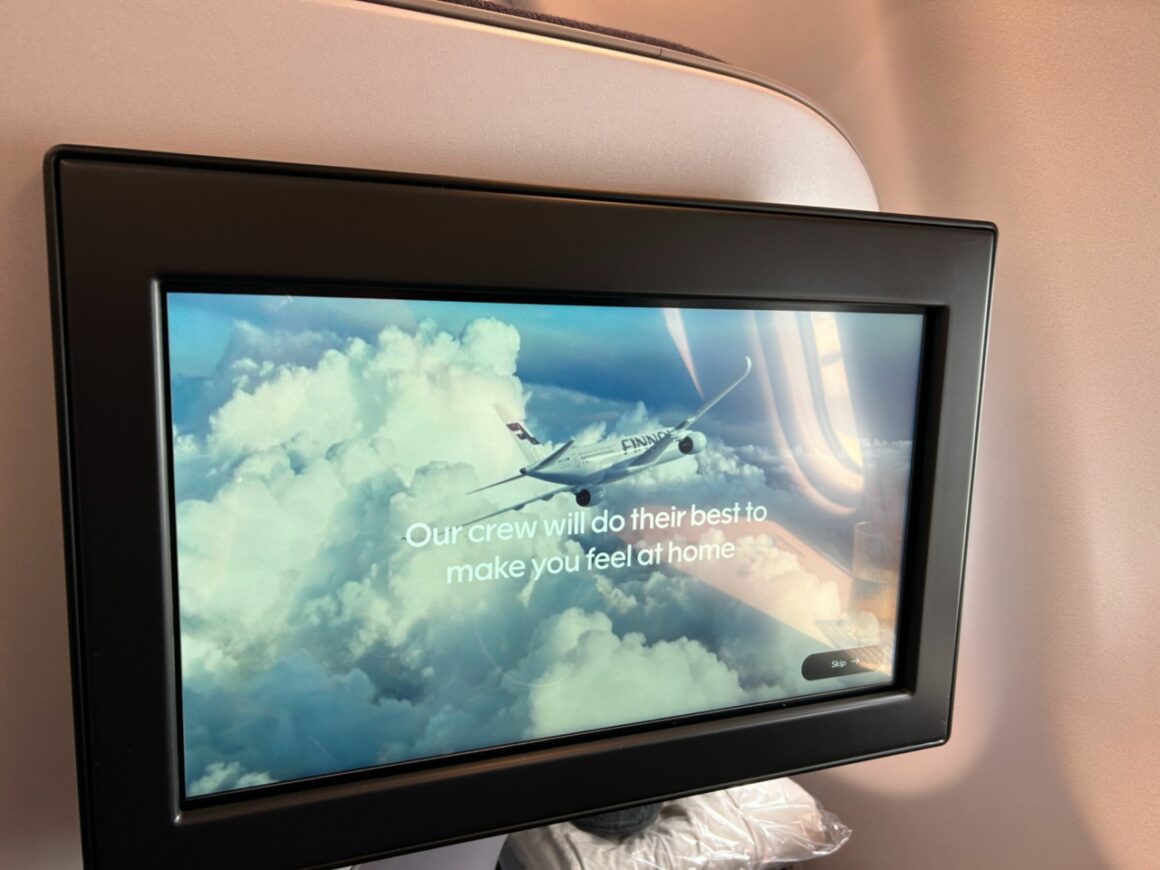 The wifi on Finnair is free for business class passengers for a set period between 30-60 minutes depending on the length of flight. On long-haul flights, you can buy internet access for the entire flight, three hours or an hour, with prices being pretty reasonable at €14.95 for three hours with no data limit. The internet worked well, but you do get a few areas around the North Sea where there is no coverage. I like that you can pre-purchase the internet before the flight, so you don't have to start typing your credit card numbers in on the plane.
The entertainment has plenty of choice of recent films, TV programs and games as well as music. The controller is small and lightweight with a trackpad which works surprisingly well with no lagging. The quality of the TV screen is also high.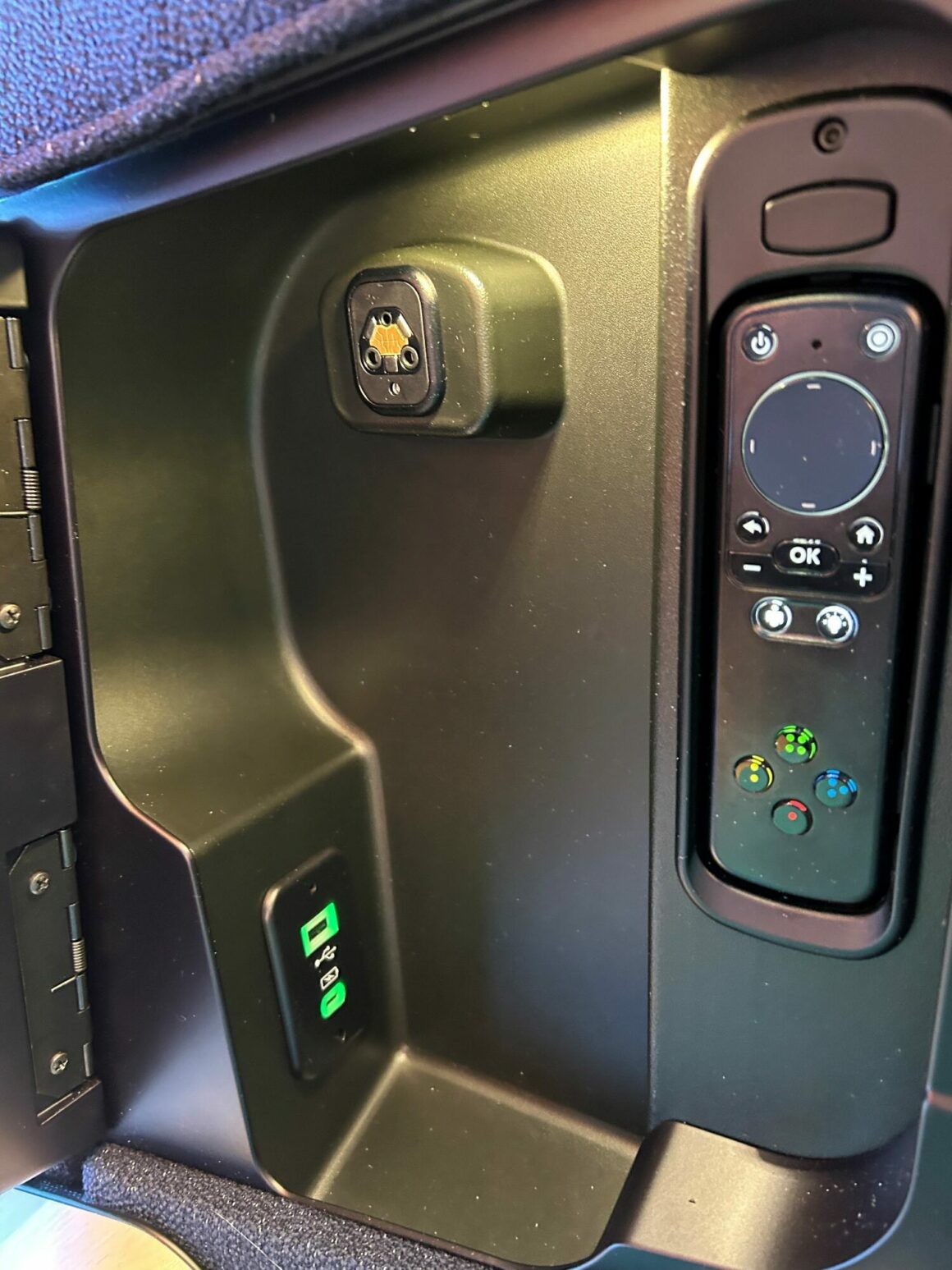 Noise-cancelling headphones are provided, which are comfortable as far as airline headphones go. Like the A350, there were plenty of charging options with a multi-country socket, USB and USB-C sockets as well as wireless charging on the side table, which also slightly grips the phone in place.
Conclusion for Finnair A330 new business class
One of the things I like about Finnair is the consistency of their crew. Apart from one of the Singapore crew, I have always found them excellent, both friendly and efficient. The food was particularly good on this flight, and as usual I love having such a wide selection of drinks to choose from. The seat is huge, and I personally find it comfortable for sleeping and lounging although I would prefer it to be softer or have a thick mattress pad like Virgin's