This is a review of Finnair's new Platinum and business class lounges in the non-Schengen area at Helsinki airport.
Earlier this week I wrote about my outbound flight with Finnair on a press trip to Helsinki and Tallin. Today I will look at the start of the return journey to Heathrow. At the weekend, I'll cover my short haul business class trip with the fabulous new Finnair business class seats.
Finnair has taken over from Qatar as the affordable way to travel to Asia and has a great business class product with all aisle access flatbeds and innovative new spacious seats on their A350.
I visited the business class lounge earlier this year, but I have included information about the lounge in this article, too so those that don't have access to the Platinum lounge can see their options too. Both lounges were recently renovated.
This is a review of the non-Schengen lounges. If you are travelling within the Schengen zone, there is a separate lounge.
Location and opening times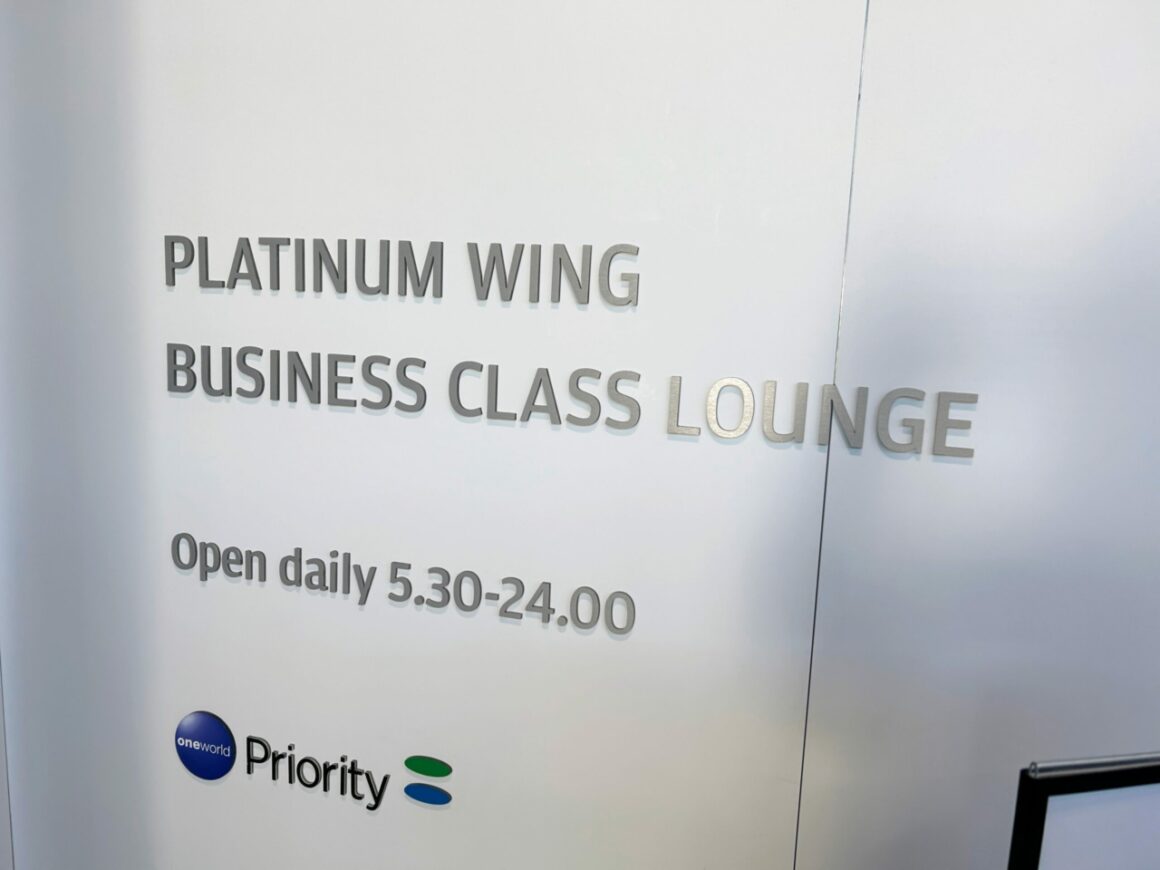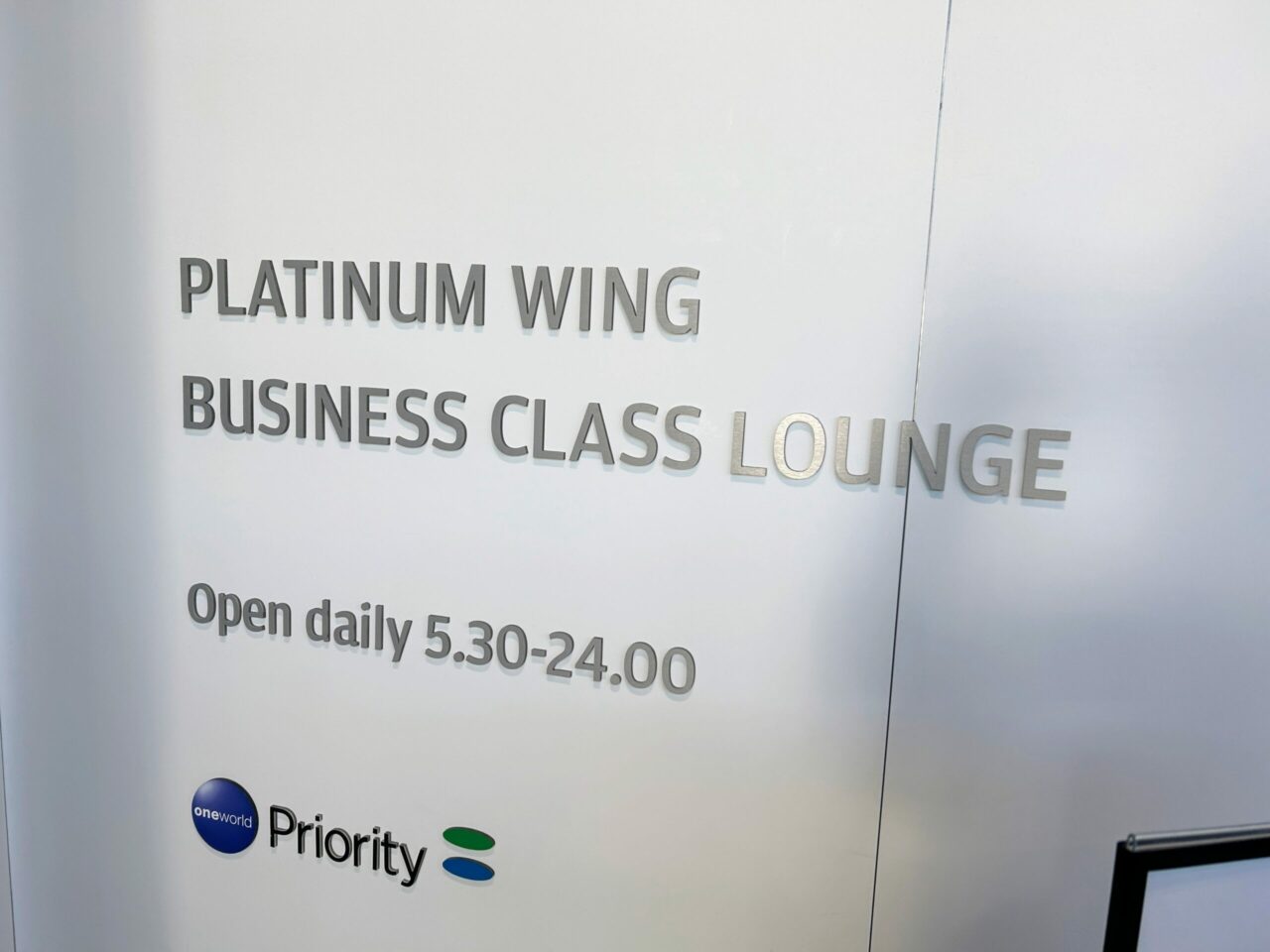 Both lounges have the same entrance near gate 52 in the non-Schengen area.
The Finnair Platinum Wing in the non-Schengen area is open from 11:00 a.m. to 5:30 p.m.
The Business Lounge is open 6am to midnight.
Who can use the lounges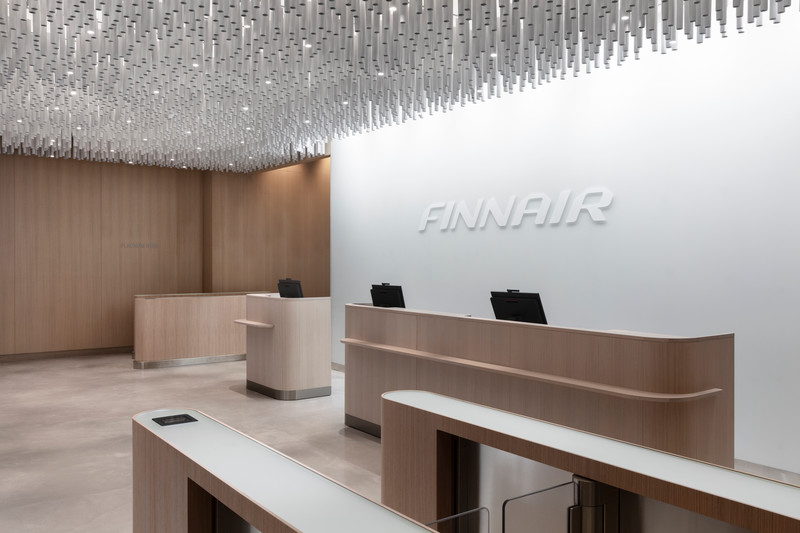 Business class lounge:

Finnair Business Flex, Business Classic and Business Saver ticket holders and Finnair Plus Platinum Lumo, Platinum and Gold members are welcome to the lounge free of charge. As a Finnair Plus Platinum Lumo member, you can bring four guests. If you hold a Finnair Plus Platinum or Gold card, you can bring one guest. As a Finnair Plus Platinum Lumo, Platinum or Gold member, you can bring your children under the age of 18 with you. Guests need to travel on a flight that is operated and marketed by a oneworld airline.
oneworld Emerald and Sapphire cardholders with one guest. The guest needs to travel on a flight that is operated and marketed by a oneworld airline.
Finnair Plus Silver members get a discount for lounge access. As a Finnair Plus Silver member, you can buy your flight lounge access at a discount online. Alternatively, you can purchase a Finnair Lounge Pass from Finnair Shop.
Finnair Plus Basic members can buy a lounge voucher from Finnair Shop. It is also offered during booking and online check-in.

Platinum Wing – Finnair Plus Platinum Lumo and Platinum members as well as oneworld Emerald members, when your flight is departing from non-Schengen area.
Platinum Wing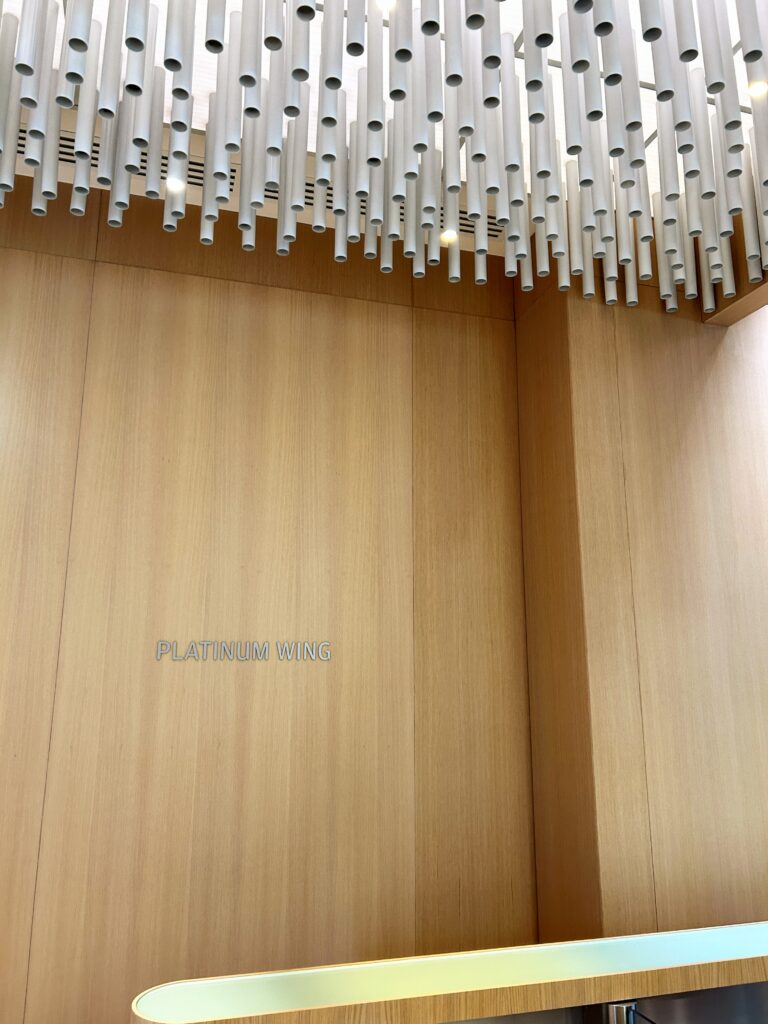 You enter through the same entrance for both lounges. Once your boarding pass is scanned, the friendly staff will direct you to the relevant section.
On entering the lounge, you walk past a self-storage area for luggage and the showers and washrooms. The lockers even have a socket inside, which I thought was a great idea if you wanted to charge a few things while you were having a sauna or dinner.
The toilets were smart and had the L:A Brucket toiletries which smelt amazing in the refreshing Grapefruit leaf fragrance.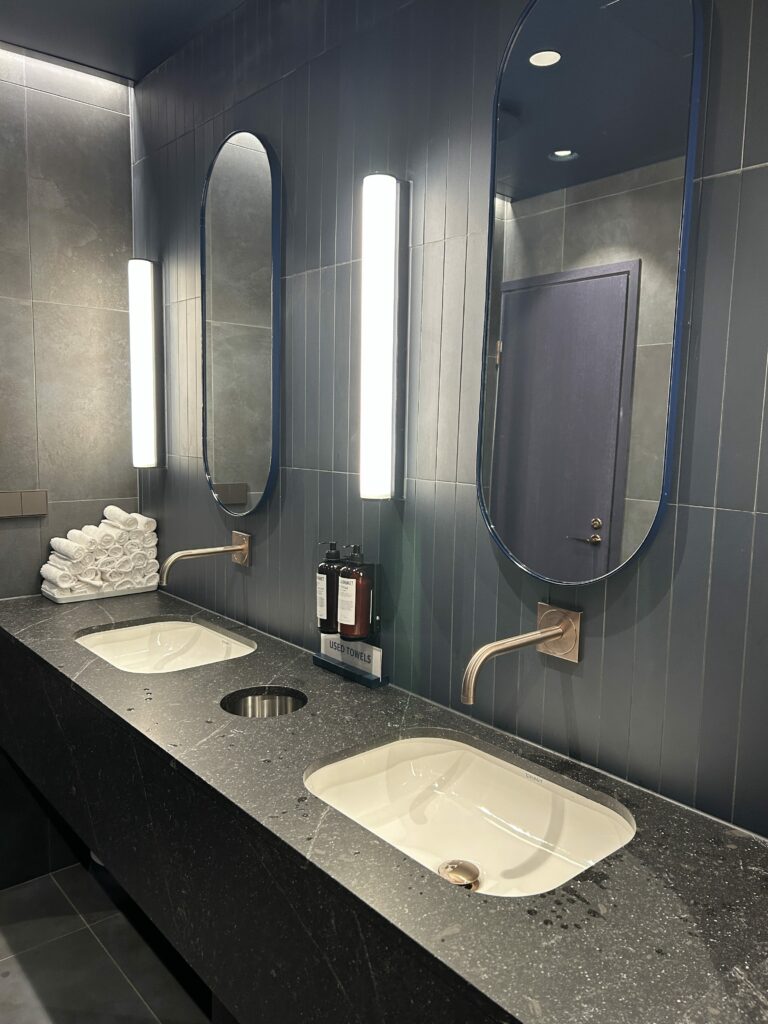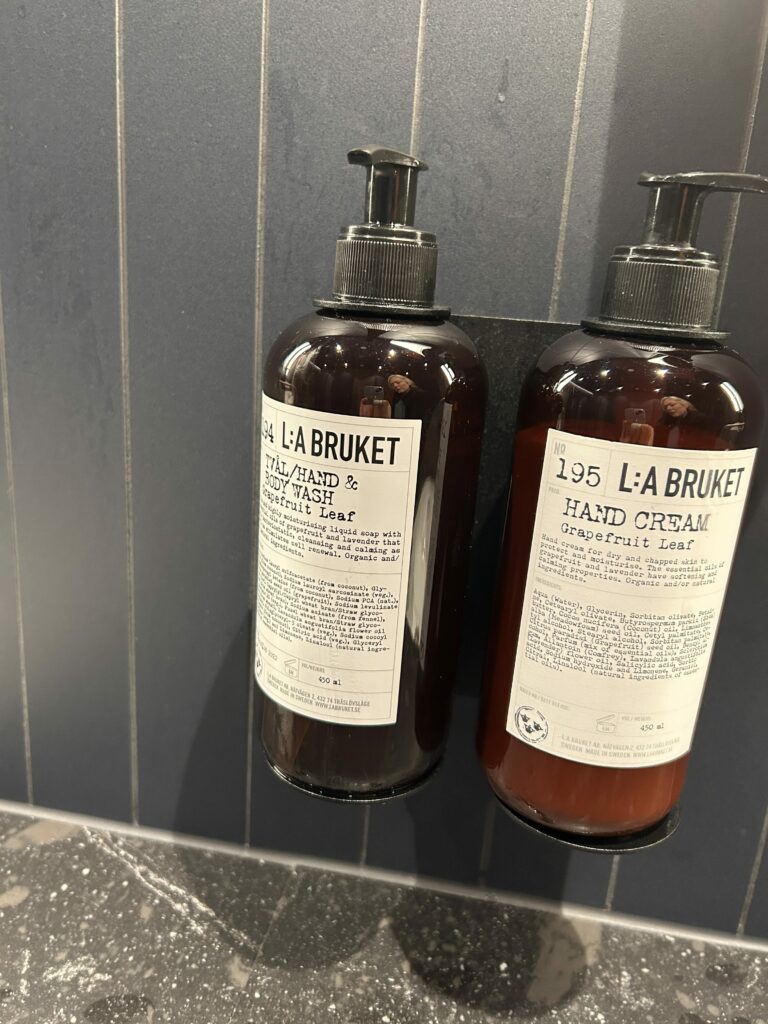 The shower suites in this area are bookable via a clever panel on the outside. There are also showers by the sauna which don't need booking.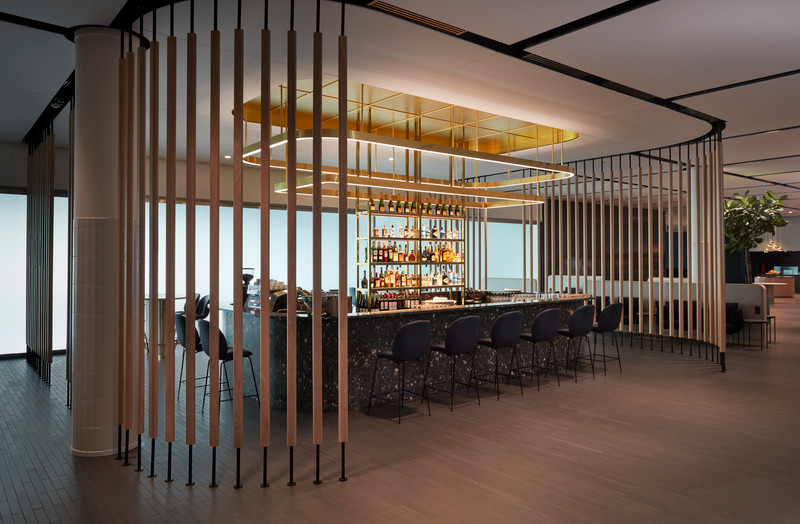 Next comes the most important area – the bar! I loved the style of this bar as it looks like a 5* hotel bar rather than a lounge.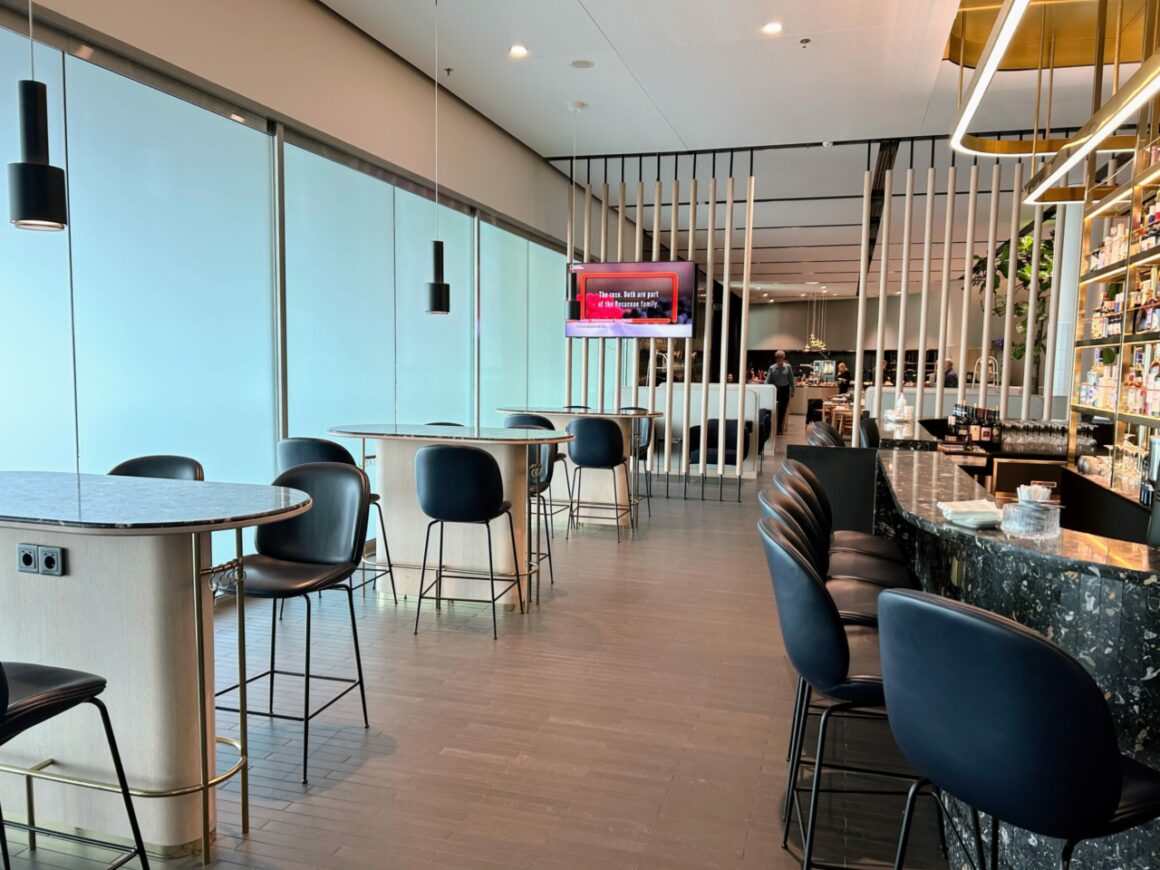 There were a few seats around the bar, but behind the bar was a quiet starting area with comfy seats where people were making phone calls since it was quite empty. The whole lounge was pretty quiet apart from the restaurant. Under each bar table, there was a double European socket. This is definitely a lounge where you will not struggle to recharge all your electronics!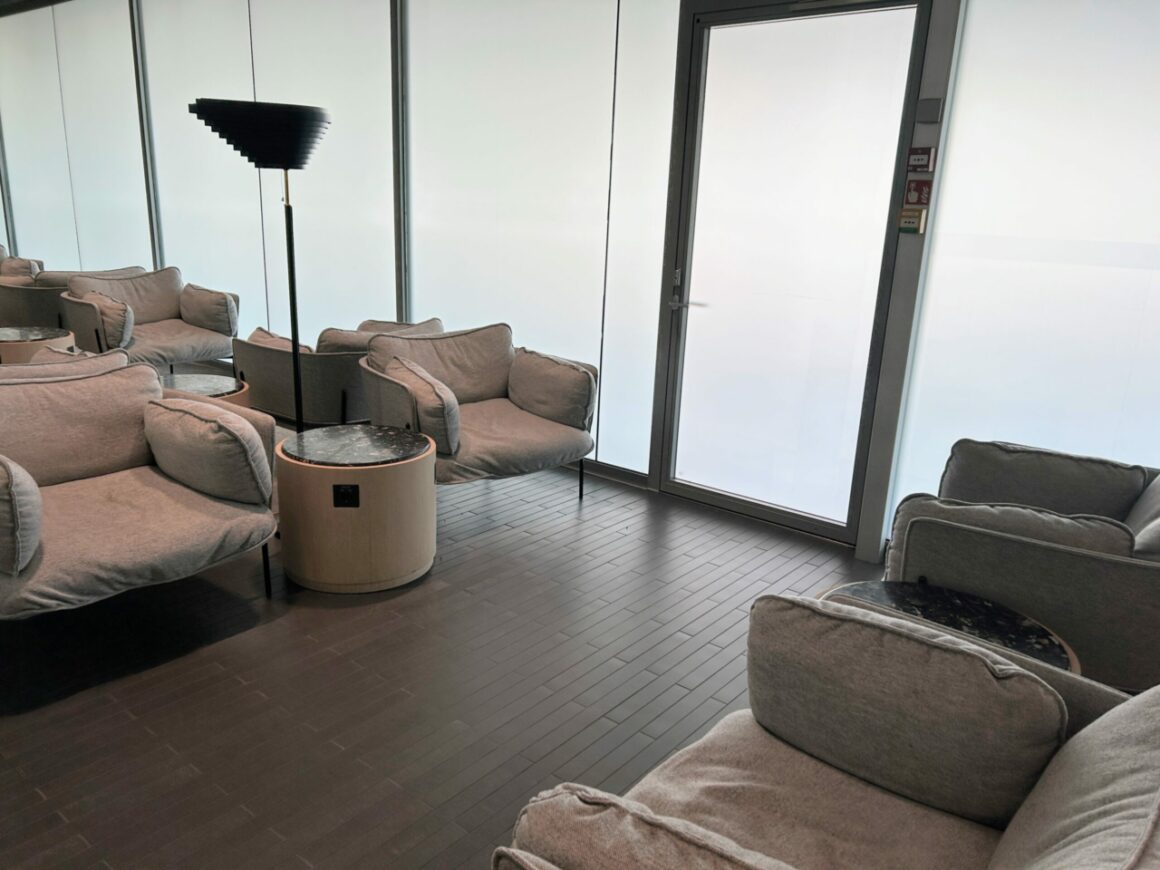 The bar is staffed, but if you want a drink with your food you do need to collect it from the bar yourself. The wines and champagne are out on display for you to browse, but there is also a full list of drinks including cocktails.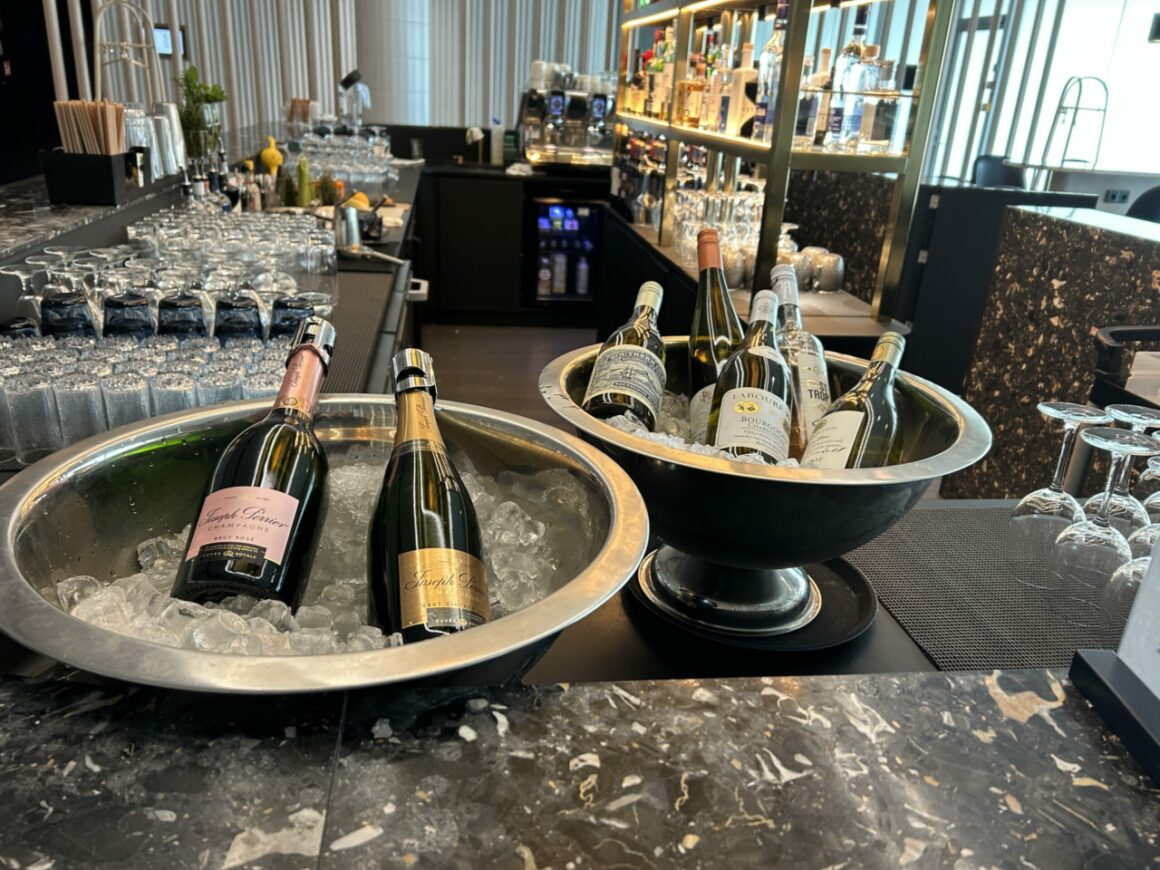 The champagne was Joseph Perrier which they serve onboard, and I really like. They also had the rosé, which I had not had before. I found this very enjoyable and on par with my favourite rosé, Laurent Perrier. They were, of course, served in gorgeous Iittala glasses.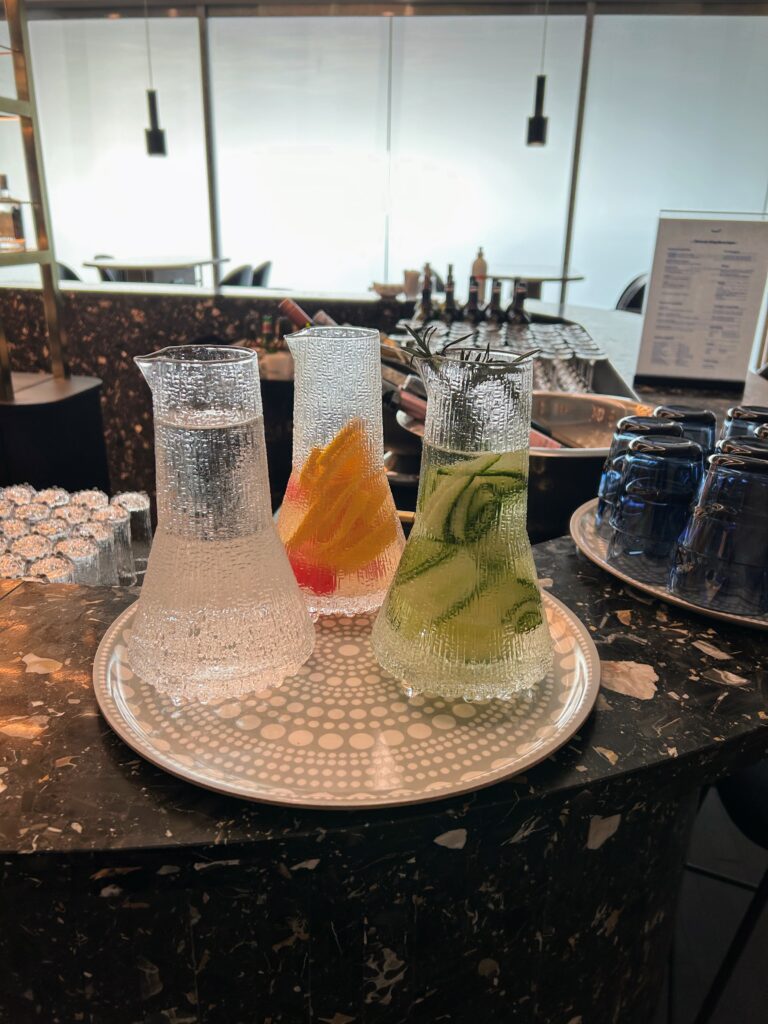 There were three white wines including a New Zealand Sauvignon blanc and a Burgundy chardonnay plus a rosé and a dessert wine. I also loved the Iittala carafes of water with different flavourings that you could help yourself to.
Here is the full drinks list: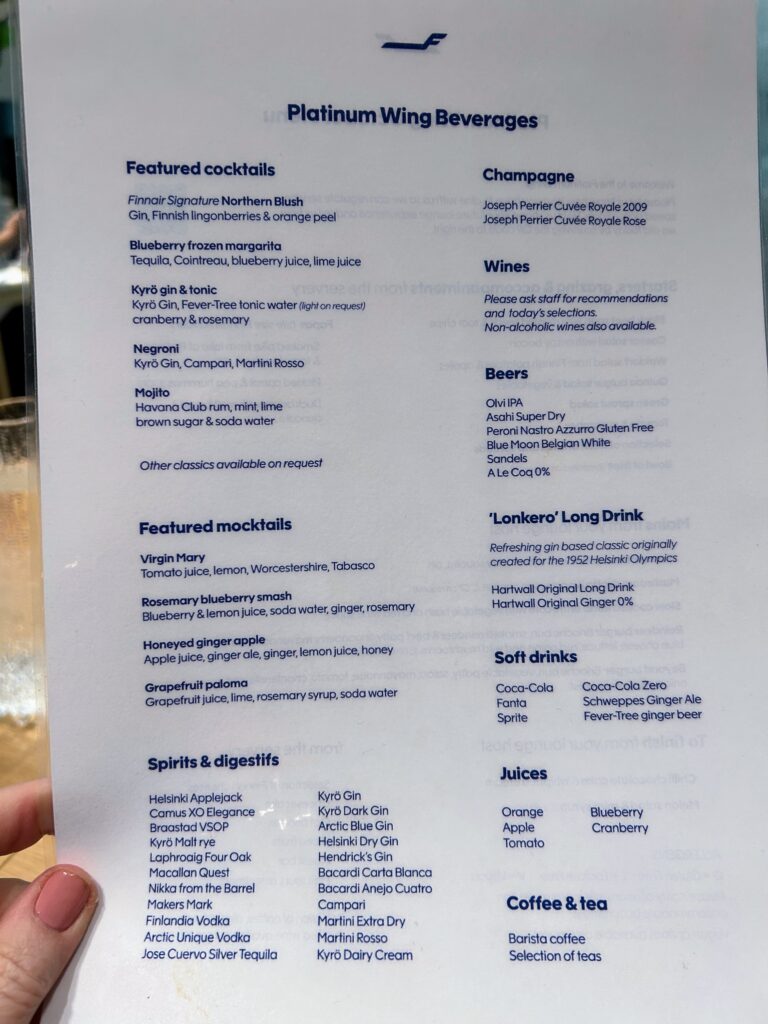 Even the gin and tonic was something special. There are Finnish brands of gin available, and for mine, I had Kyrö which I found very smooth. It came beautifully presented in a large glass with rosemary and cranberries – it gave the drink a real sense of occasion with those little extra touches.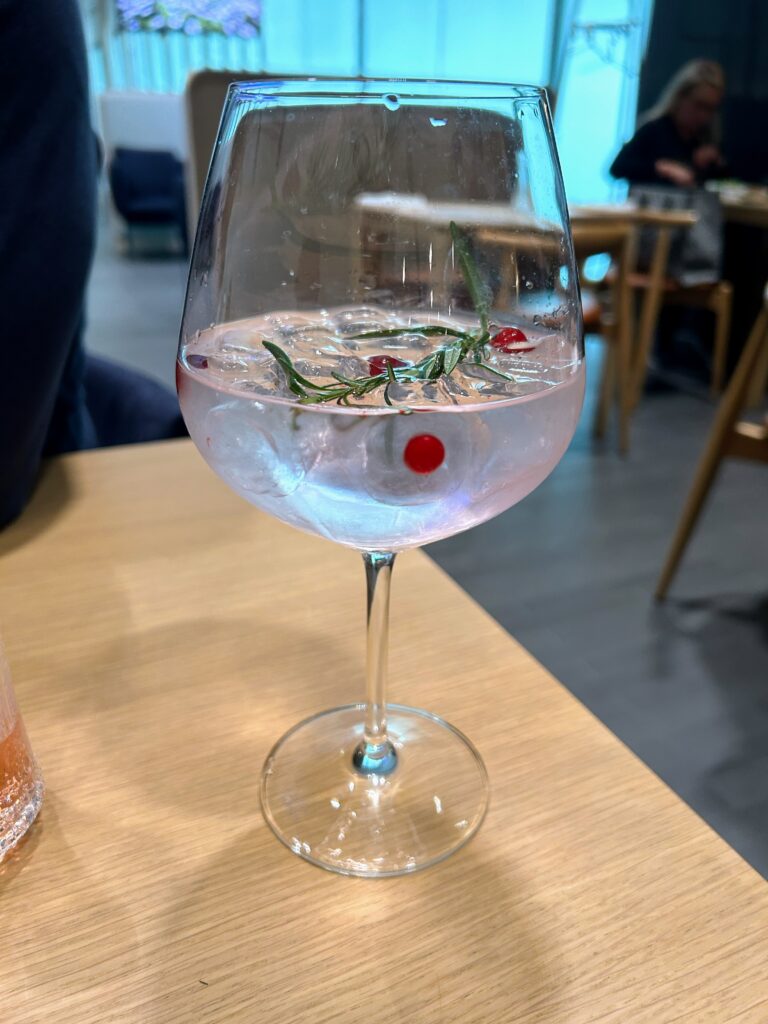 You then enter the main part of the lounge which has a row of individual booth-type seats down one side and then in front of you the dining area. These seats all had a charging point with USB and a European socket. I liked the design of the side table with a storage area underneath though I could see myself leaving something behind there!
To the left is a curtained-off area which has plenty of sofas for lounging. I liked that they had proper coat racks, so you didn't have to leave your coat draped over a sofa. There were less charging points here, but there were plenty of places around the lounge to charge a phone. There was a central table down the side of the sofas, which had charging points and gave you somewhere to rest your devices as they charged.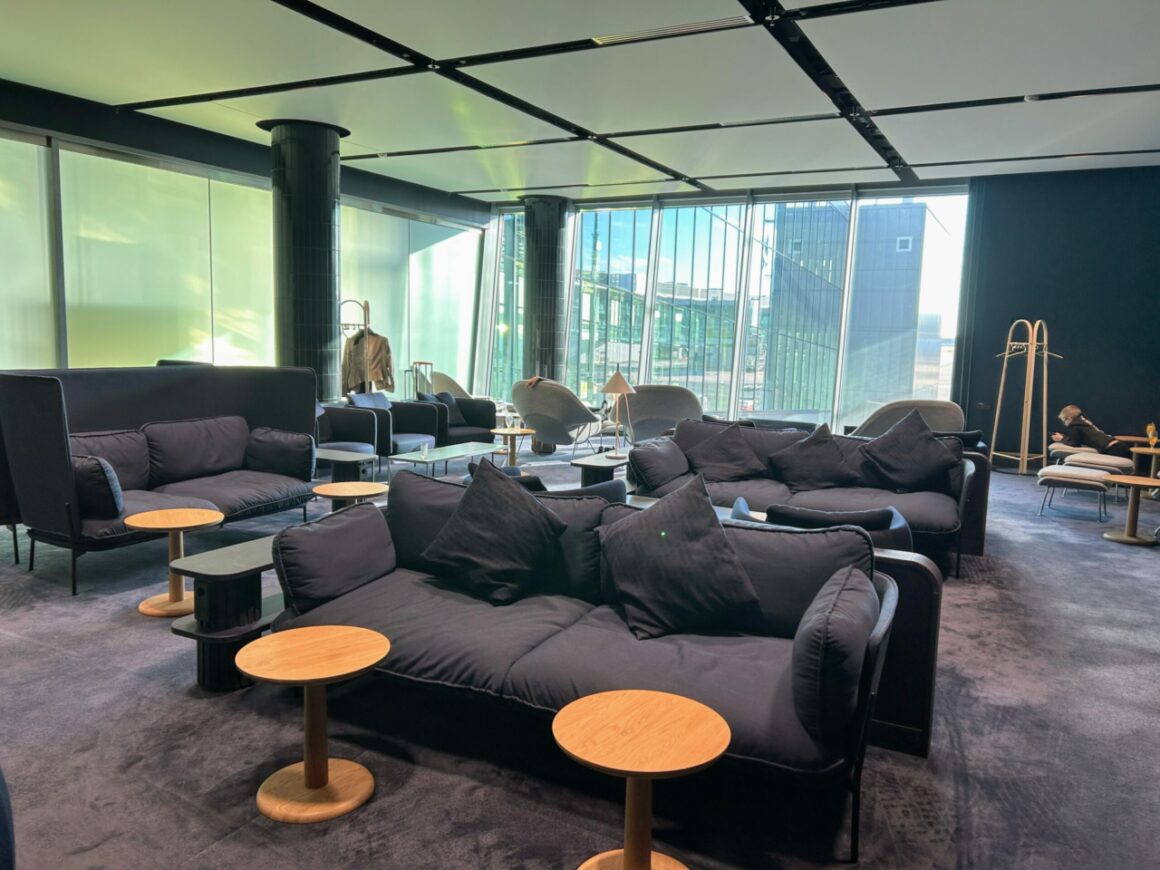 This area also had natural light and views of the airport.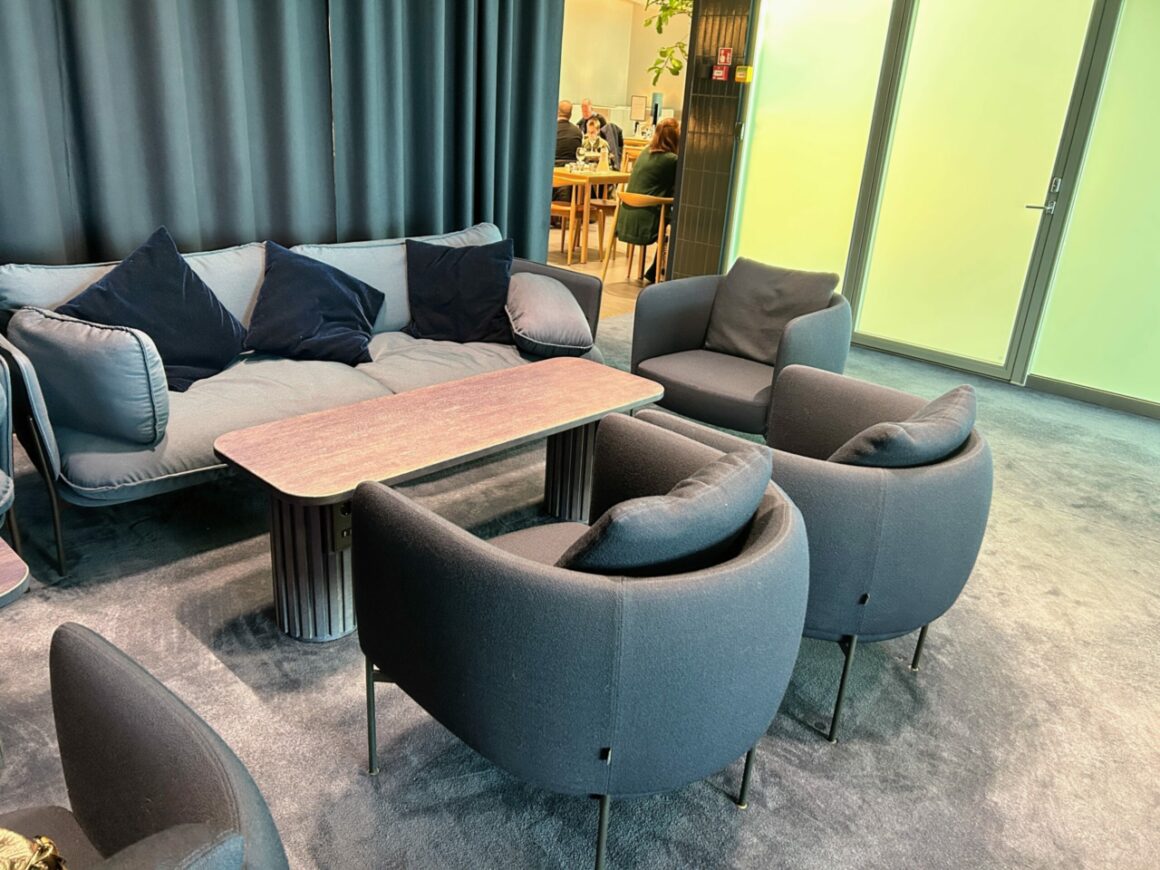 Dining
I loved the dining concept with starters and desserts on a buffet but main courses to order. The menu was small but very well thought out and featuring local specialities. There was something for everyone, comfort food, burgers, healthy salads and more fine dining style.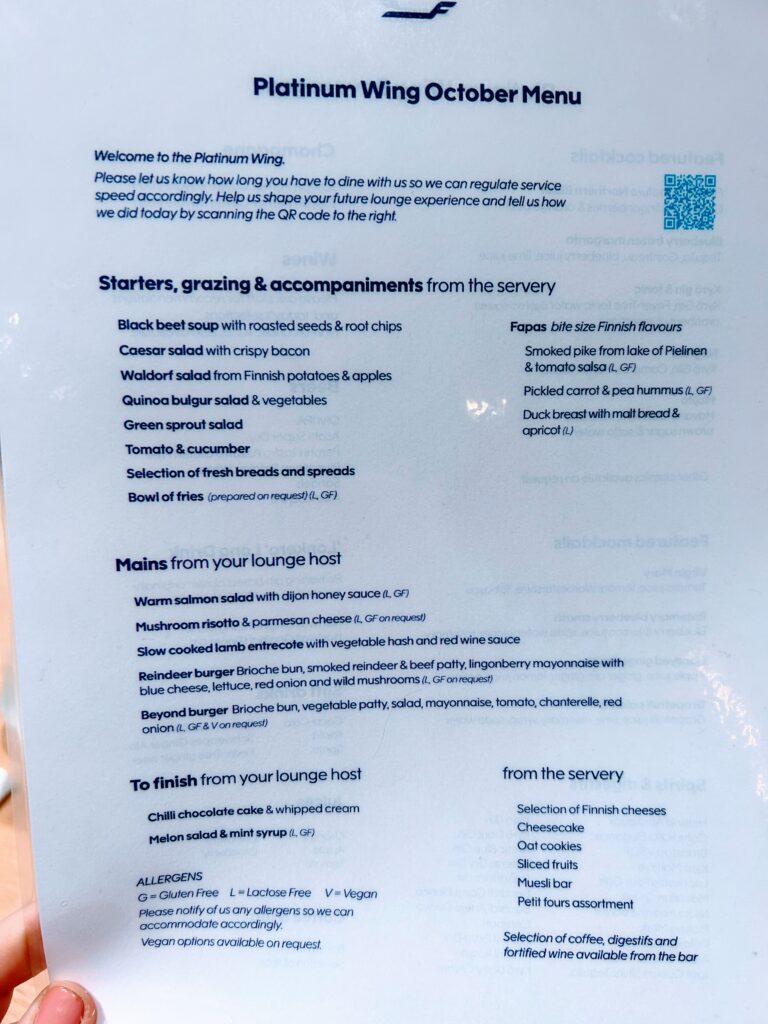 I started with a few bits from the buffet which consisted of salads, bread, soup and small bites.
Next I'm afraid I ate a Rudolf reindeer burger, and it was delicious! This was possibly one of the best burgers I have had – juicy, full of flavour and perfectly accompanied with the salty and sweet blue cheese and lingonberry dressing. I'd fly Finnair again just for that burger! The chips were also pretty good.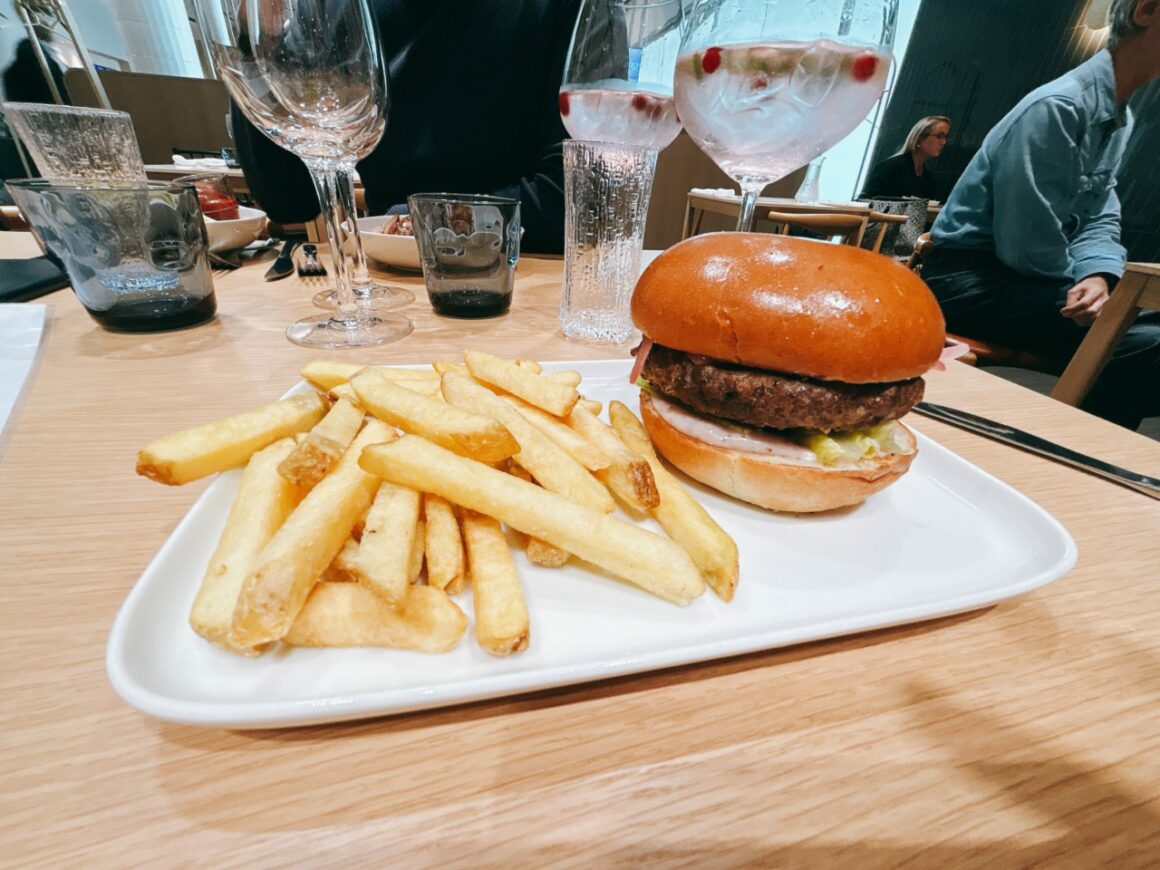 Finally, I succumbed to the dessert buffet with a selection of cheese. There was a really good choice of different things to go with cheese, from vegetable crisps to apple relish.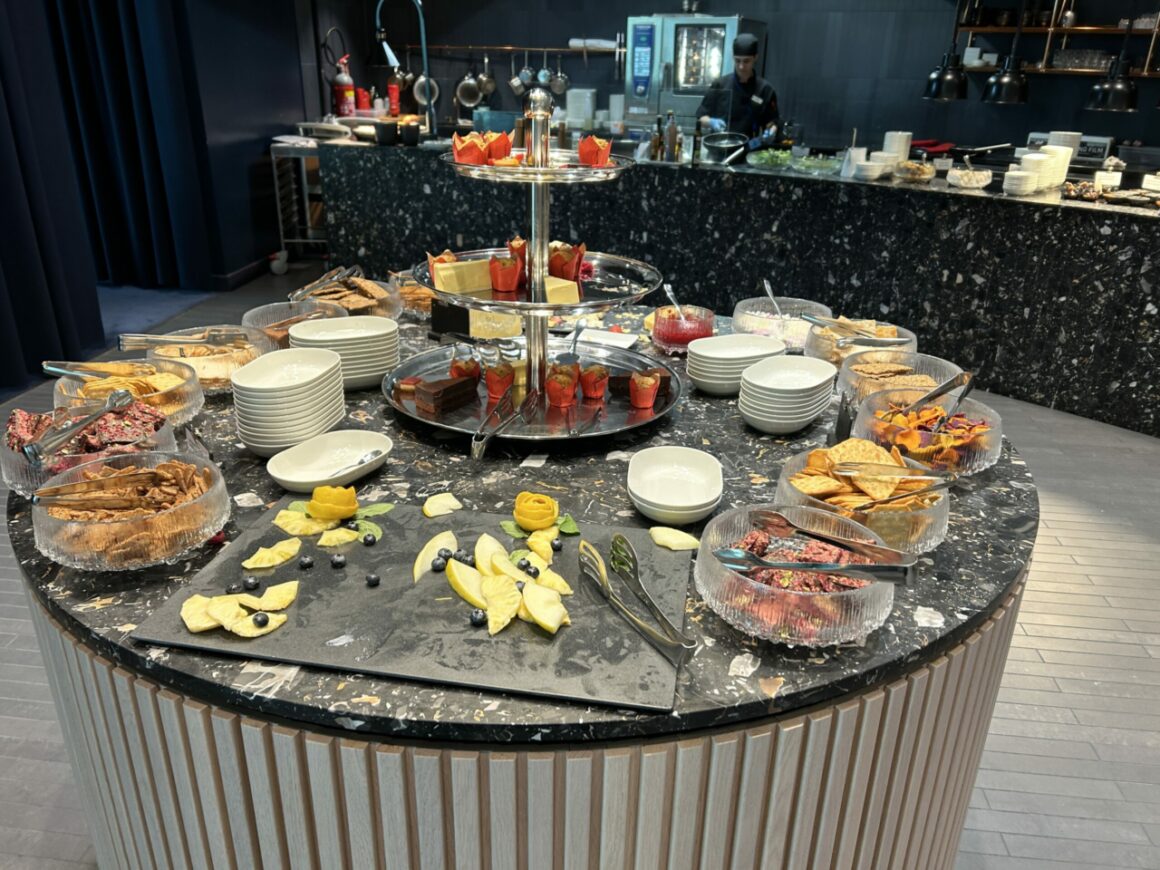 For those with a sweeter tooth, there was fresh fruit, cheesecake, chocolate cake and muffins. You could also order a couple of desserts to be brought to the table.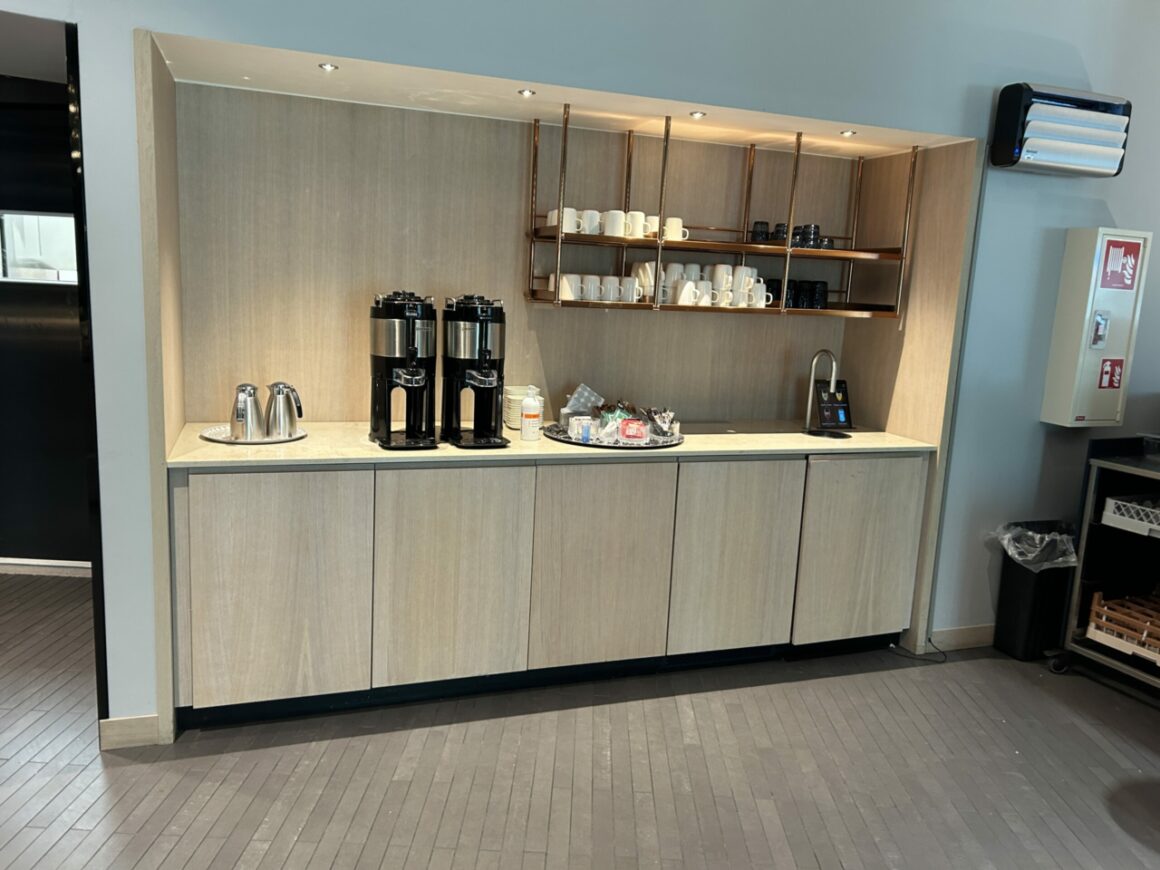 There was also area to make yourself tea, but Barista style coffee was available from the bar.
The sauna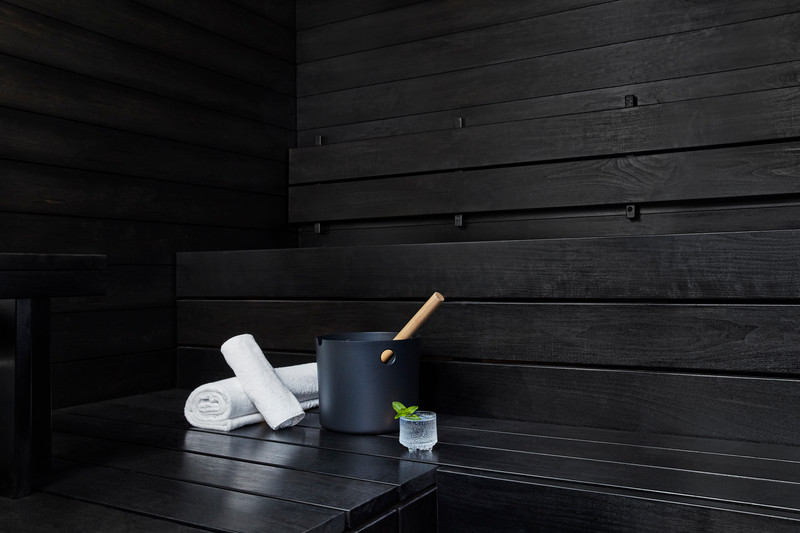 The premium lounge has always had a sauna, but the new one is a great improvement being in a smart black wood and larger in size. There are separate changing areas for men and women as well as showers which you don't need to book. Towels and flannels are provided along with slippers.
Once you have been in the sauna, there is an area to relax in and cool off with sofas. Personally, I am not convinced on using a sauna in the lounge unless I had a long layover, but I guess if I was coming back from a long overnight flight and wanted a shower anyway, I would give it a go. It's certainly something a bit different. The Finns definitely love a sauna; apparently, there is even a Mcdonald's with one in Helsinki. I'm just waiting for Finnair to put one on their planes!
Conclusion
The Platinum lounge is definitely worthy of its name with a great selection of food and drinks as well as stylish decor. Well-designed shower suites are perfect for freshening up, plus having a sauna is a nice way to relax on a long trip. There are plenty of places to charge your devices.
My only complaint would be that there is not really an area to work on a flat surface other than the bar tables. However, you could easily pop next door where there are lots of tables and chairs if that is how you prefer to work.
The business lounge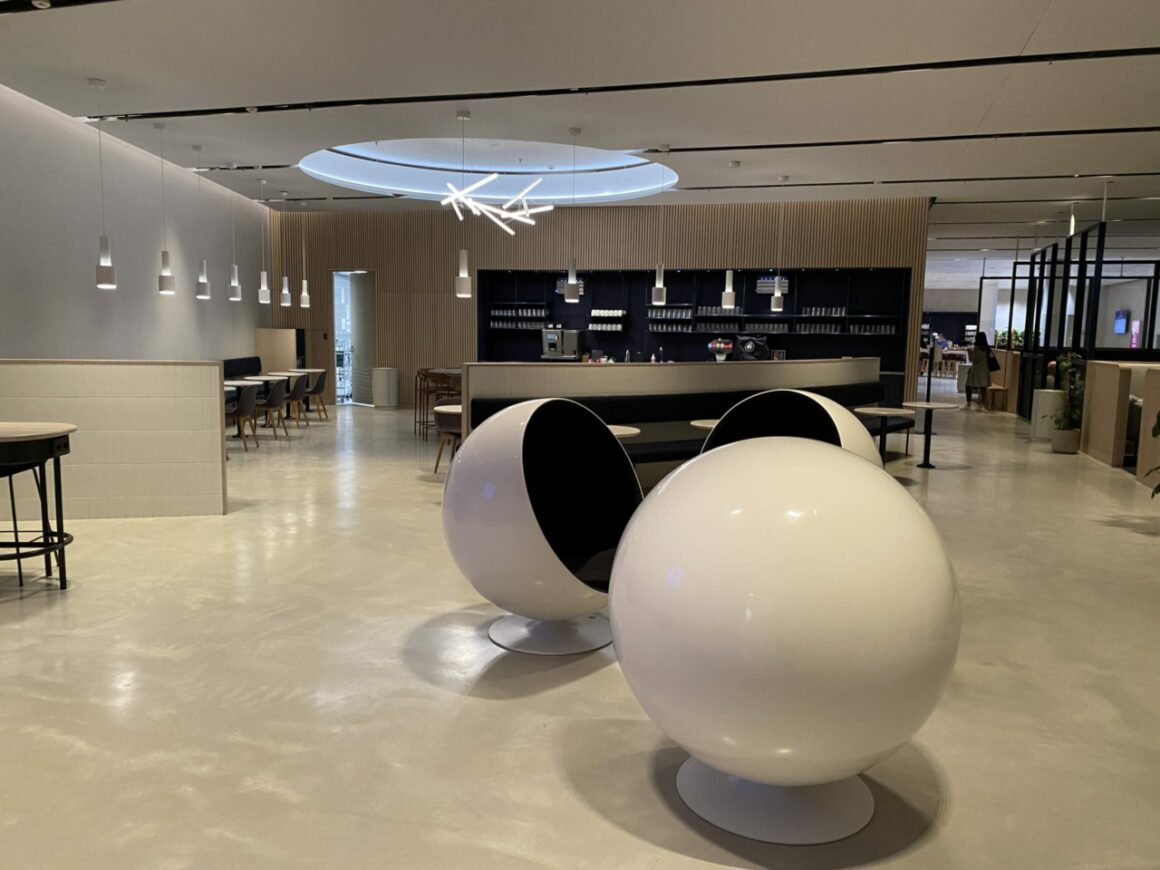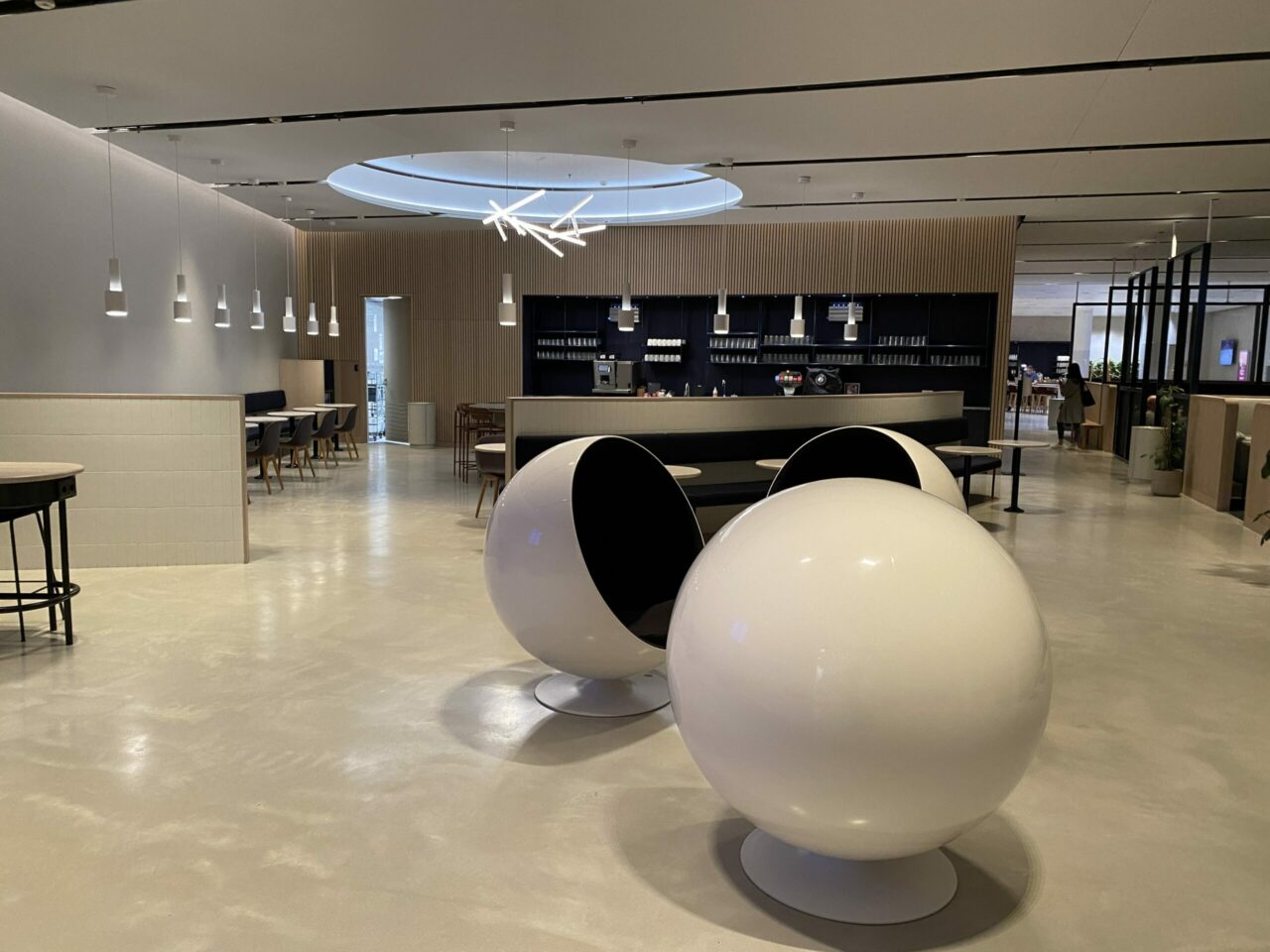 You can read my full review of the business lounge here, but I thought it was worth a quick recap.
The business lounge entrance leads to a large spacious area with tables and chairs, which are perfect for working. Also in this area are two stations with coffee machines as well as a selection of teas, soft drinks and snacks. It's the perfect work area with peace and quiet and no temptation from the bar!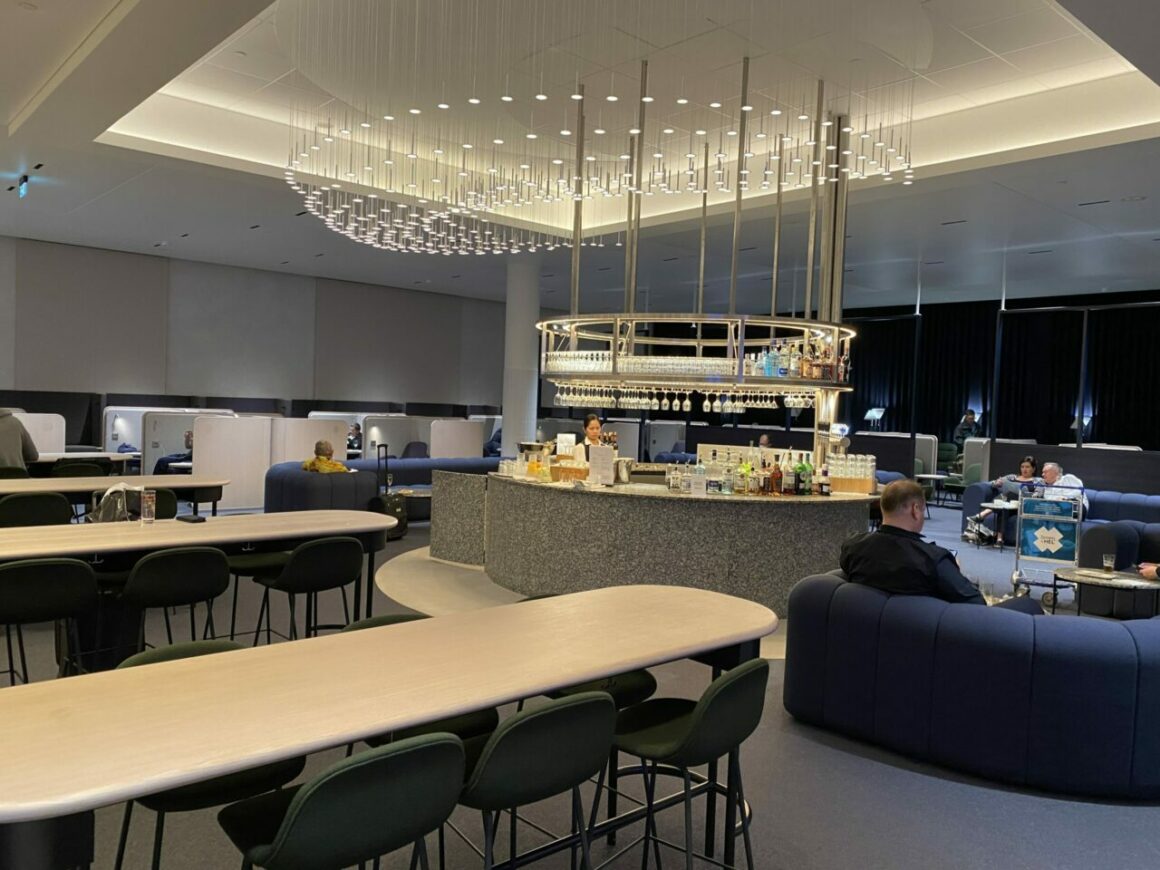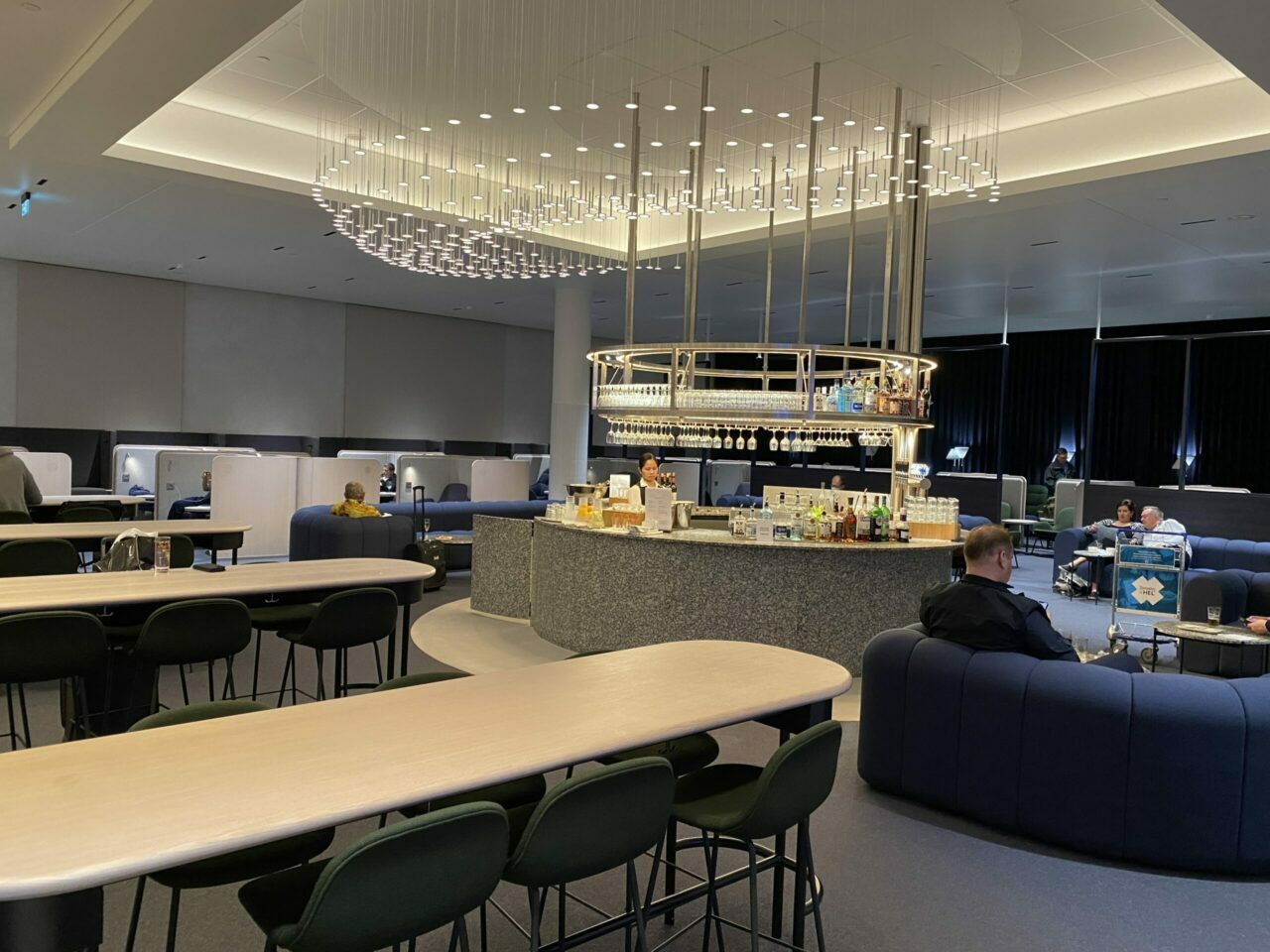 You then head through into the main section of the lounge, which has a staffed bar. They also serve the Joseph Perrier brut here, plus a selection of wines and cocktails. You can help yourself to wine and beer elsewhere in the lounge too.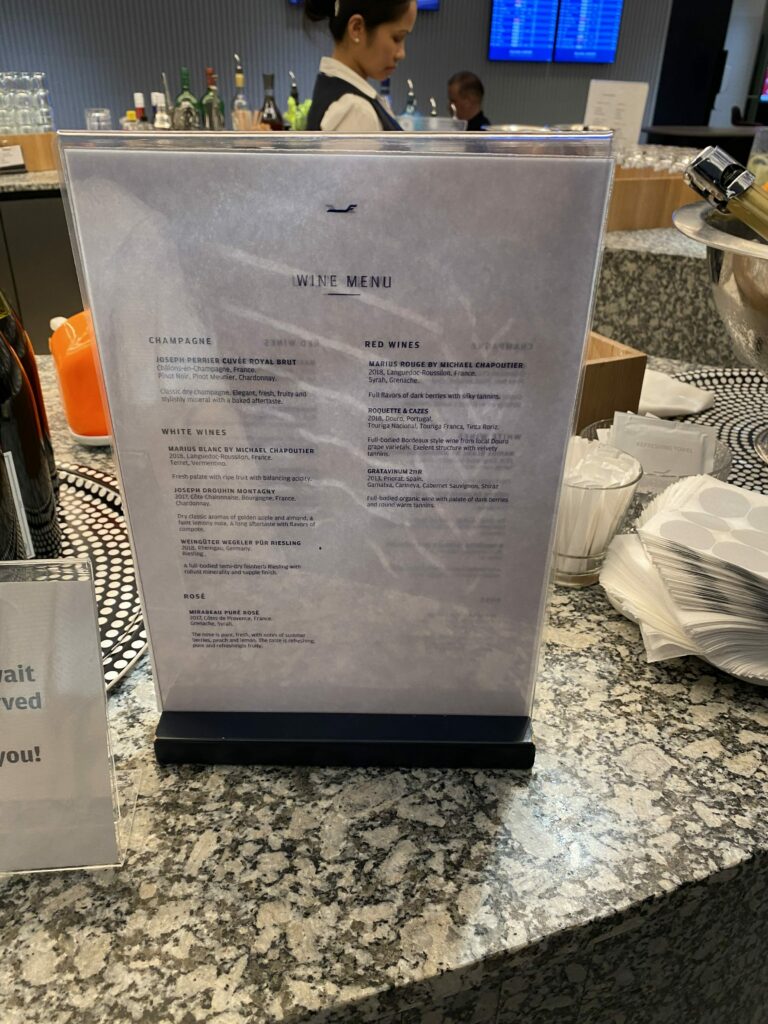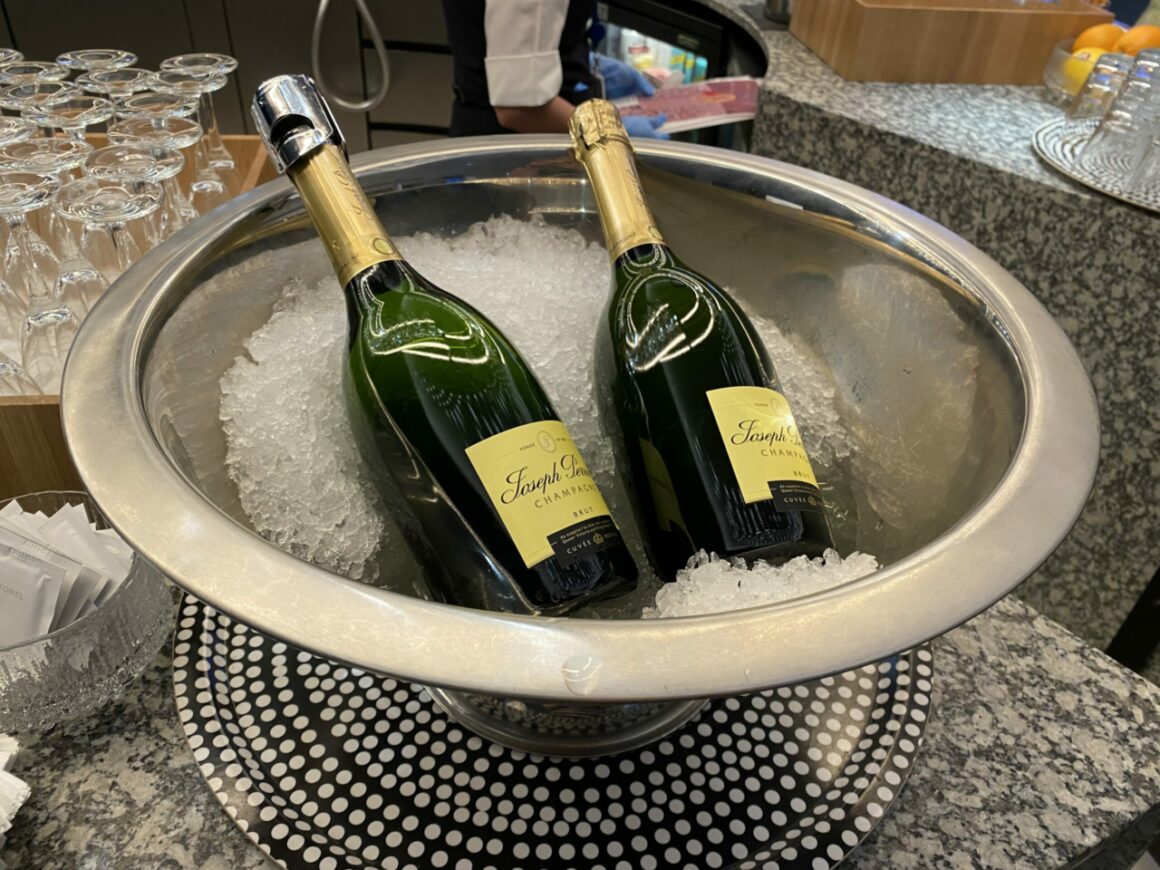 If you are after some privacy there are plenty of private booths similar to the Premium lounge but with a small tray table. Again each space has a charging point.
The dining area features a buffet with plenty of tables to enjoy a proper meal. Food choices consist of a salad bar, three hot dishes and soup. Dishes include caesar salad, pasta salad, rainbow trout soup, vegetarian lasagne and chicken with orange sauce. Several vegetable side dishes were also available.
There was also a dessert section.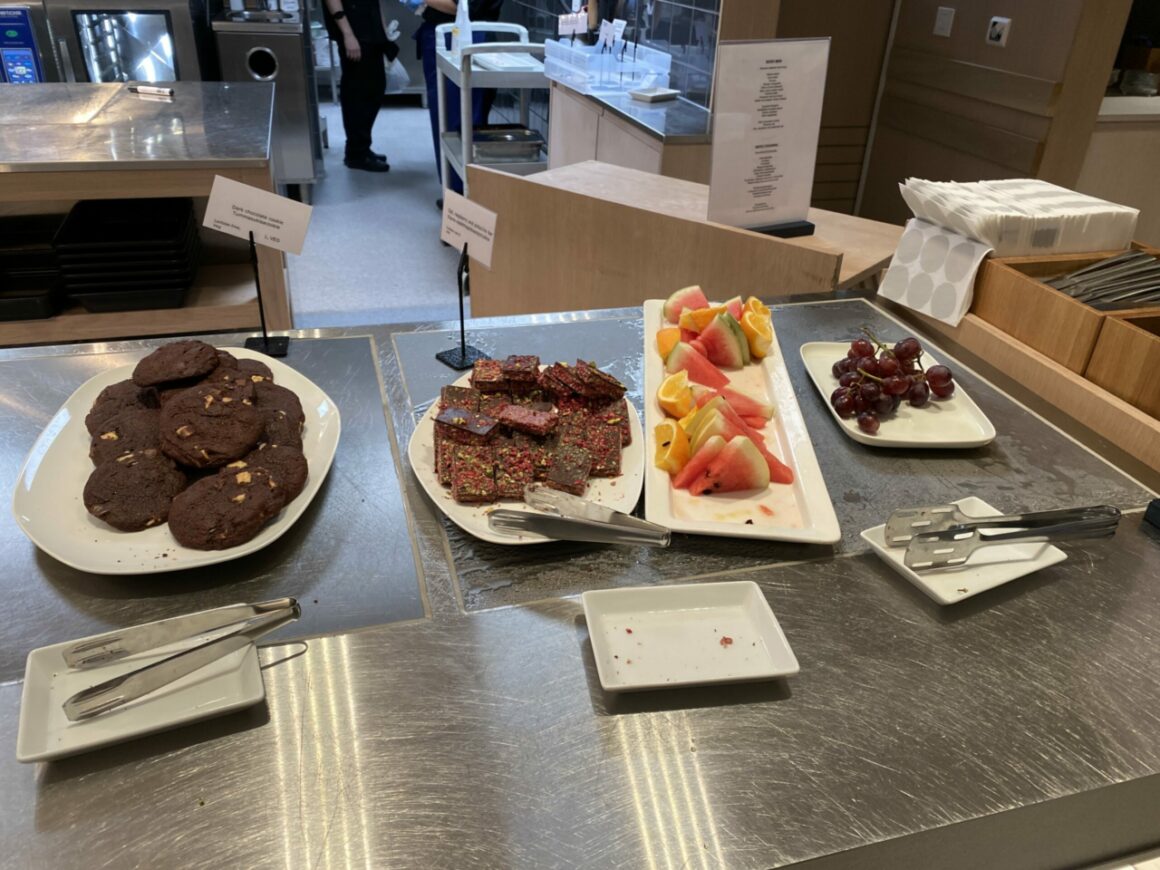 The business lounge has showers like the Premium lounge, but sadly no sauna.
You see more on Finnair's lounges here.
What do you think of Finnair's new Platinum and business class lounges?