This is the first in a series of articles this week of the press trip I did with Finnair economy class at the end of last week. In the articles, I will look at flying Finnair's long-haul aircraft on short-haul, including their innovative new seats, Helsinki and Tallin airports, Finnair's new Platinum lounge and the swanky new Radisson Collection hotel in Tallin, plus my top tips for Helsinki and Tallin short breaks.
London to Helsinki
Terminal 3 check-in and security
I arrived at around 5.30am on the Thursday before half term expecting to be greeted by a mile-long queue since T3 has been having some issues with its security queues. However, I was pleasantly surprised that there was no queue for either standard or premium. I had checked in online and downloaded my boarding pass, so I was able to bypass check-in with Finnair. It looked quiet as I went past.
I do really like the Finnair app. It shows you all the flights on one booking by just swiping through and shows useful information such as your lounge entitlement and where it is.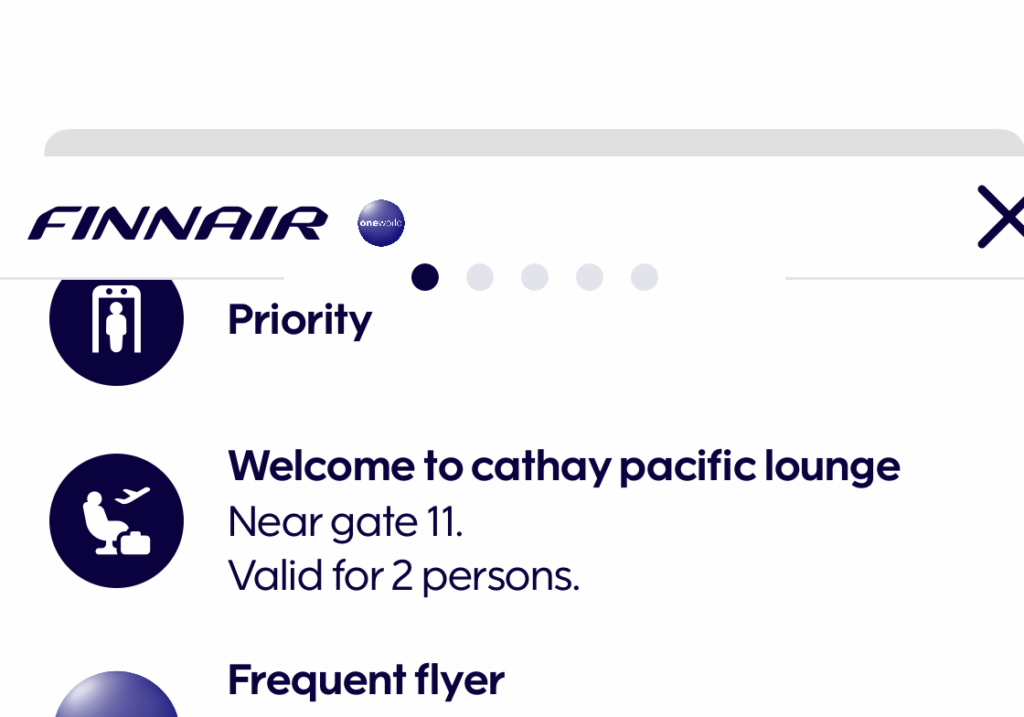 If you hold silver status or above with BA, you can use Fast track security even when flying with Finnair.
Cathay Pacific First Class lounge
Once through security, I had a choice of several oneworld lounges – American business class, Qantas, BA or Cathay. For breakfast, my favourite is Cathay Pacific. Here I will look briefly at my experience in the Cathay First lounge, but I will be doing a full round-up of both Cathay lounges in a few weeks' times.
You can enter the Cathay First lounge if you are flying First on oneworld or as a BA Gold cardholder/oneworld emerald. Cathay is my favourite oneworld lounge at T3 as I love Asian food and enjoy the quiet ambience.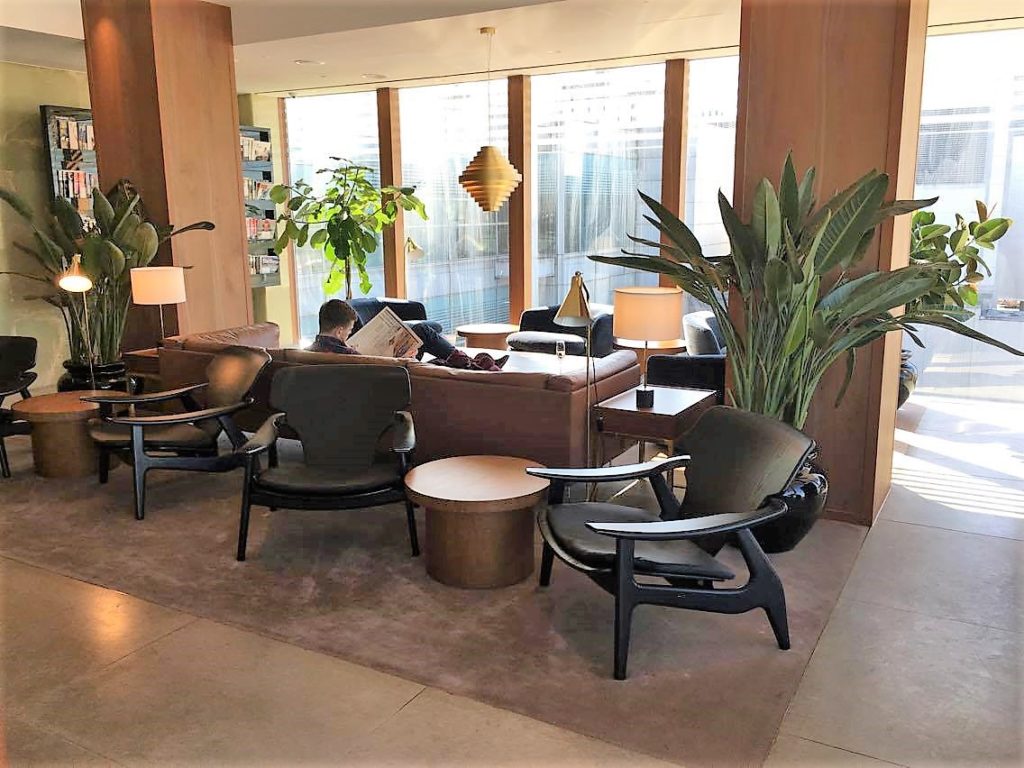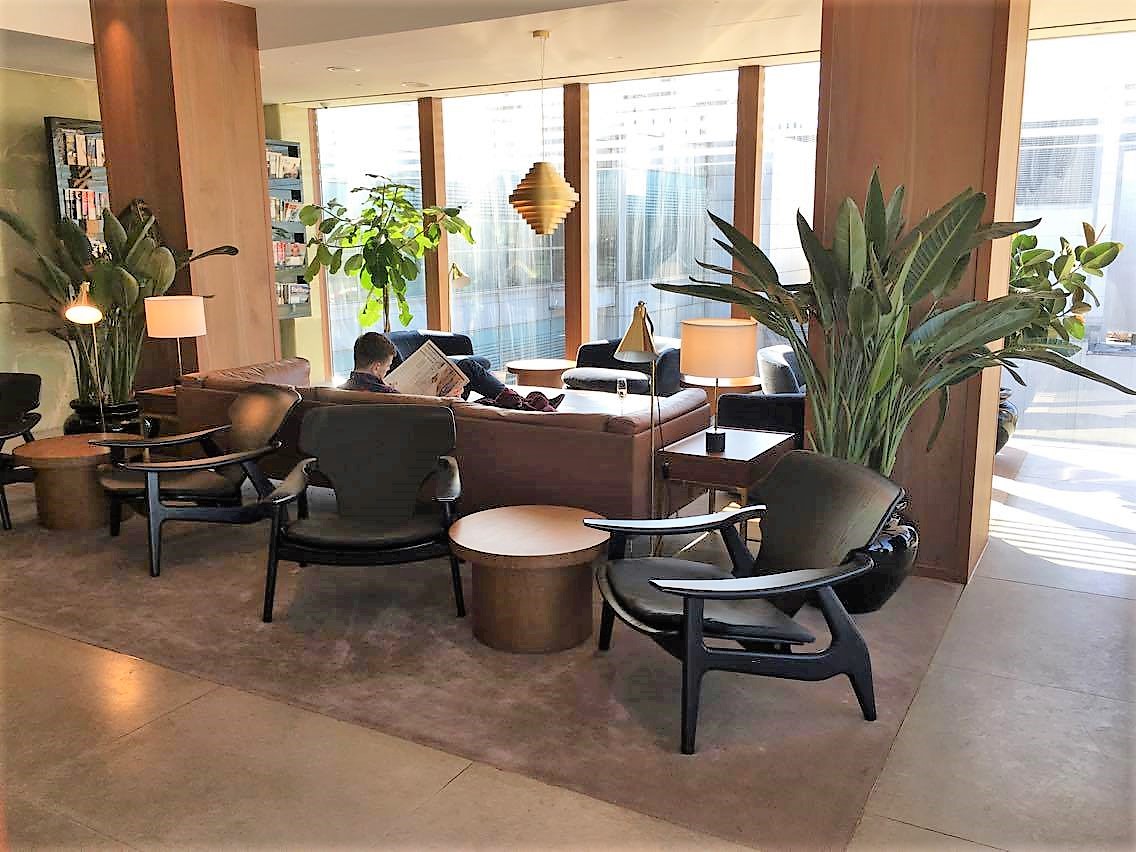 As well as a stylish seating area, there is a formal dining area with waiter service.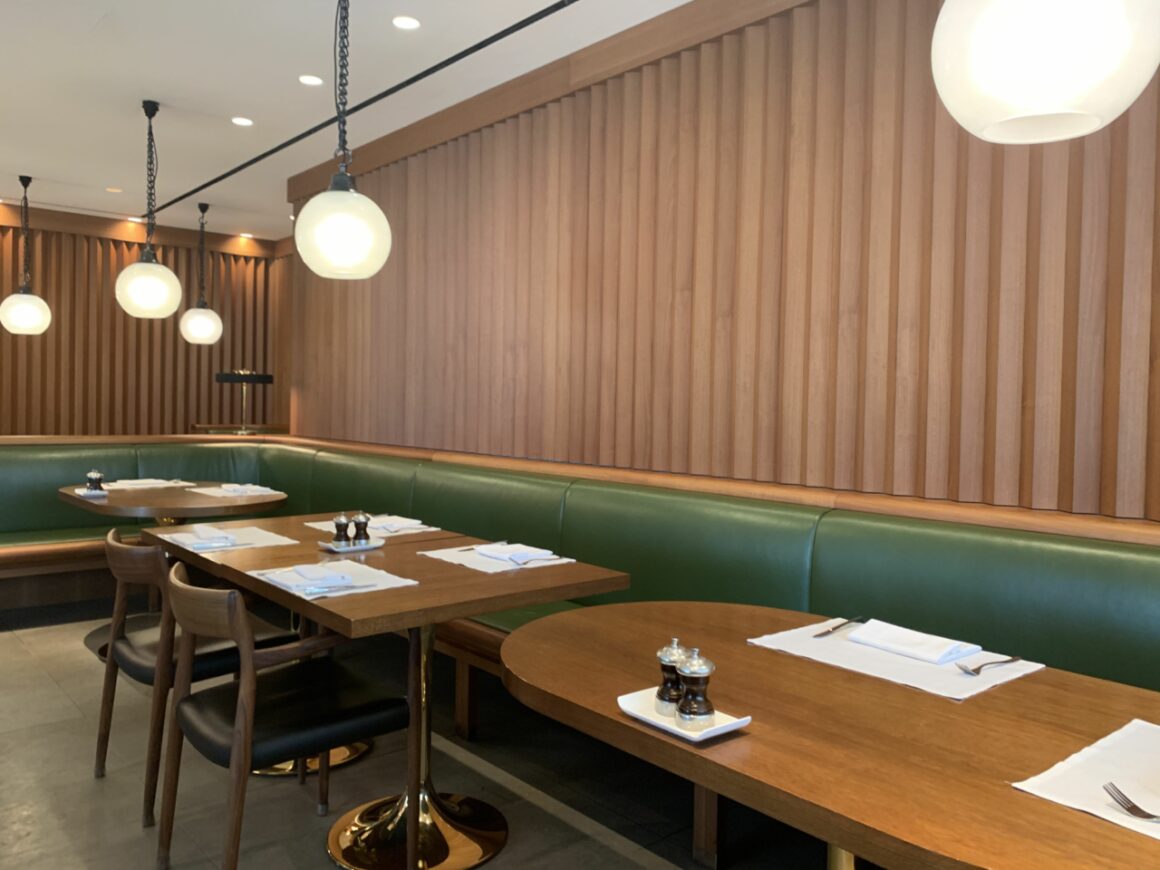 Here is the breakfast menu: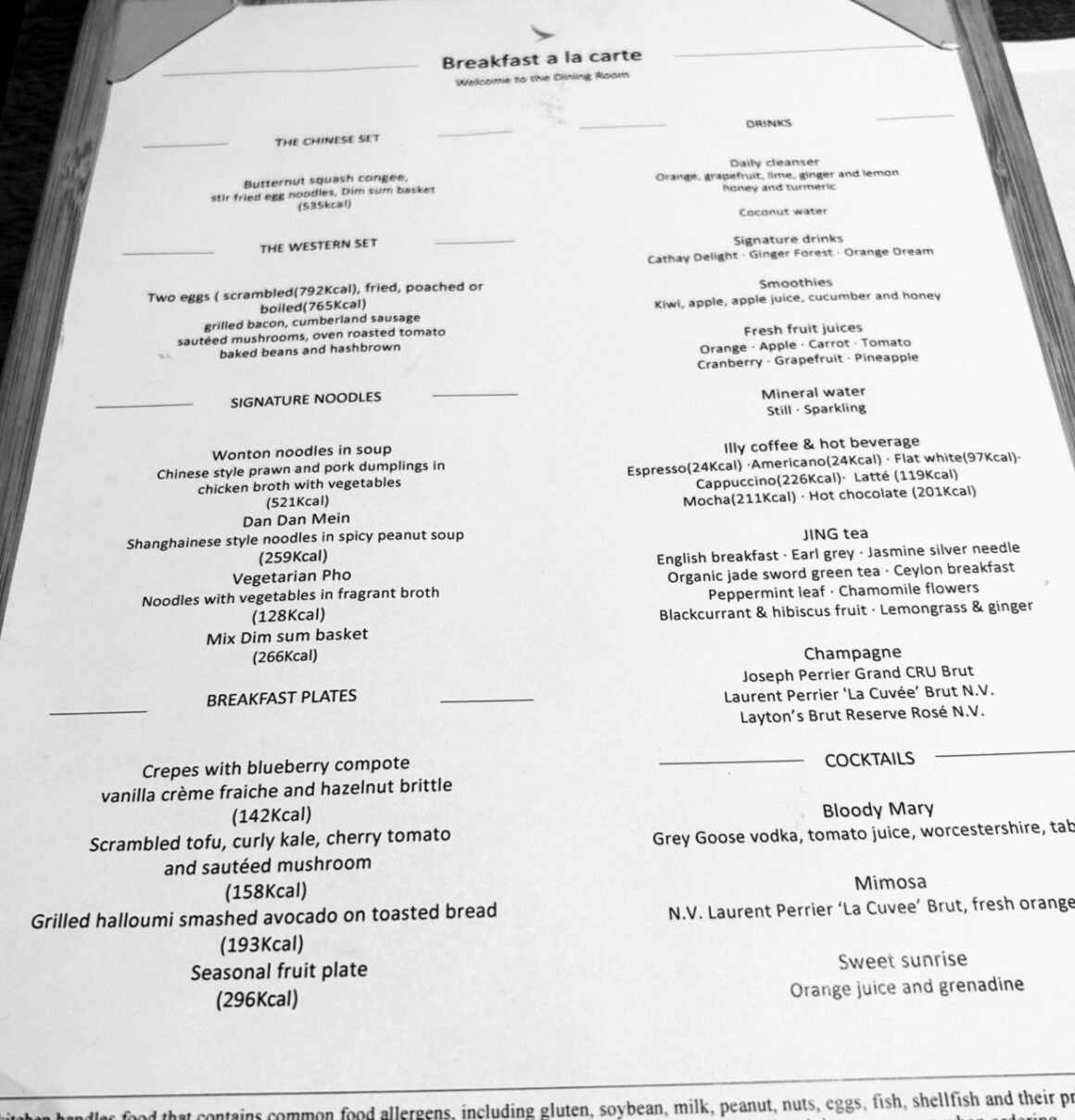 I went for the Chinese set minus the congee (a Chinese savoury porridge). Others went for the dim sum and the wonton noodles in soup, the Western set and the pancakes. Everyone was pleased with their food. My dim sum consisted of three different ones including a BBQ bao bun and sui mai.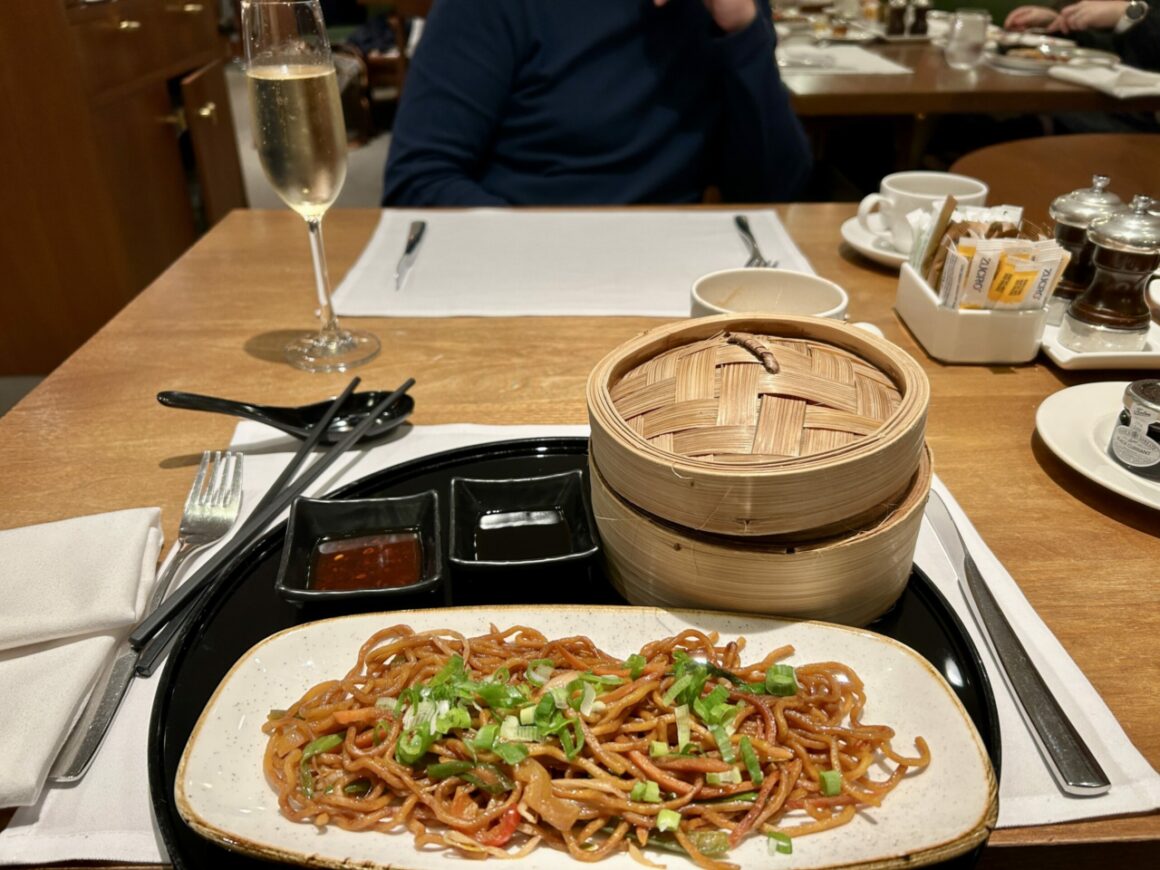 I went for a Mimosa to drink, but I was impressed by their choices of Laurent Perrier and Joseph Perrier champagnes as well as a Rose. I will do some more drink sampling when I return on an evening flight next month.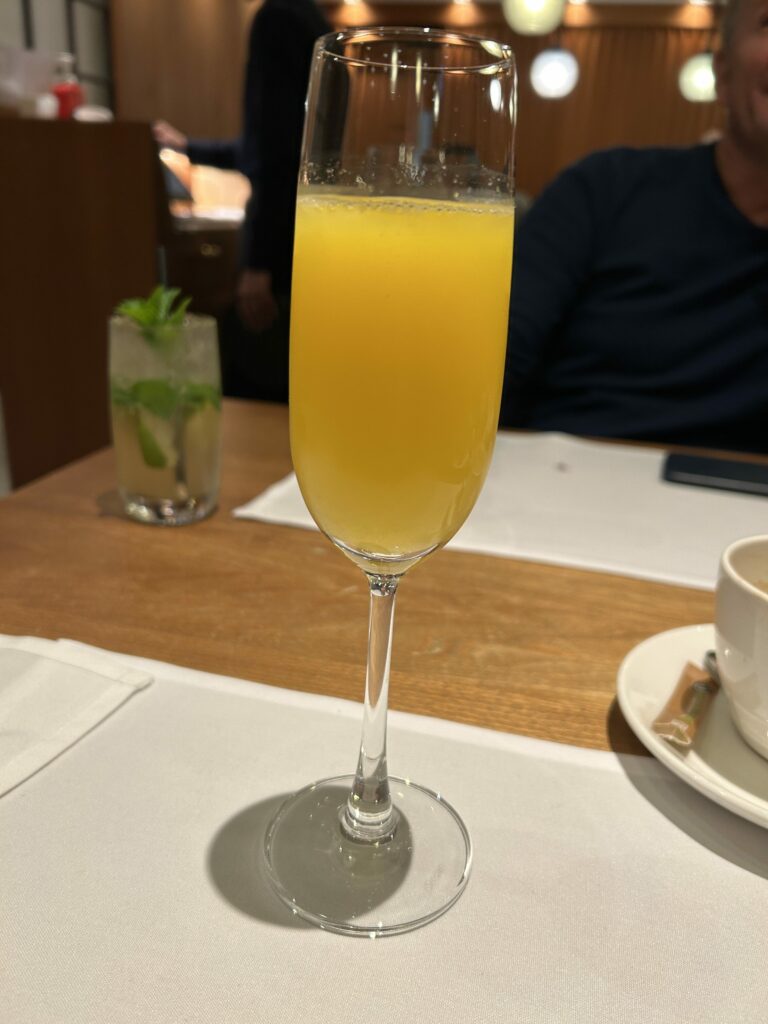 Boarding
The first flight was to Helsinki. Finnair economy class seems to use gates at the far end of T3, as it was the same on my return too. So I recommend leaving plenty of time for the walk. Finnair tend to board quite early for short haul flights, but it seems to work as all my flights departed pretty much bang on time.
I was travelling economy, but with my status I was able to board in group 1, which was handy to find room for my luggage since I was travelling hand baggage only.
The cabin and seats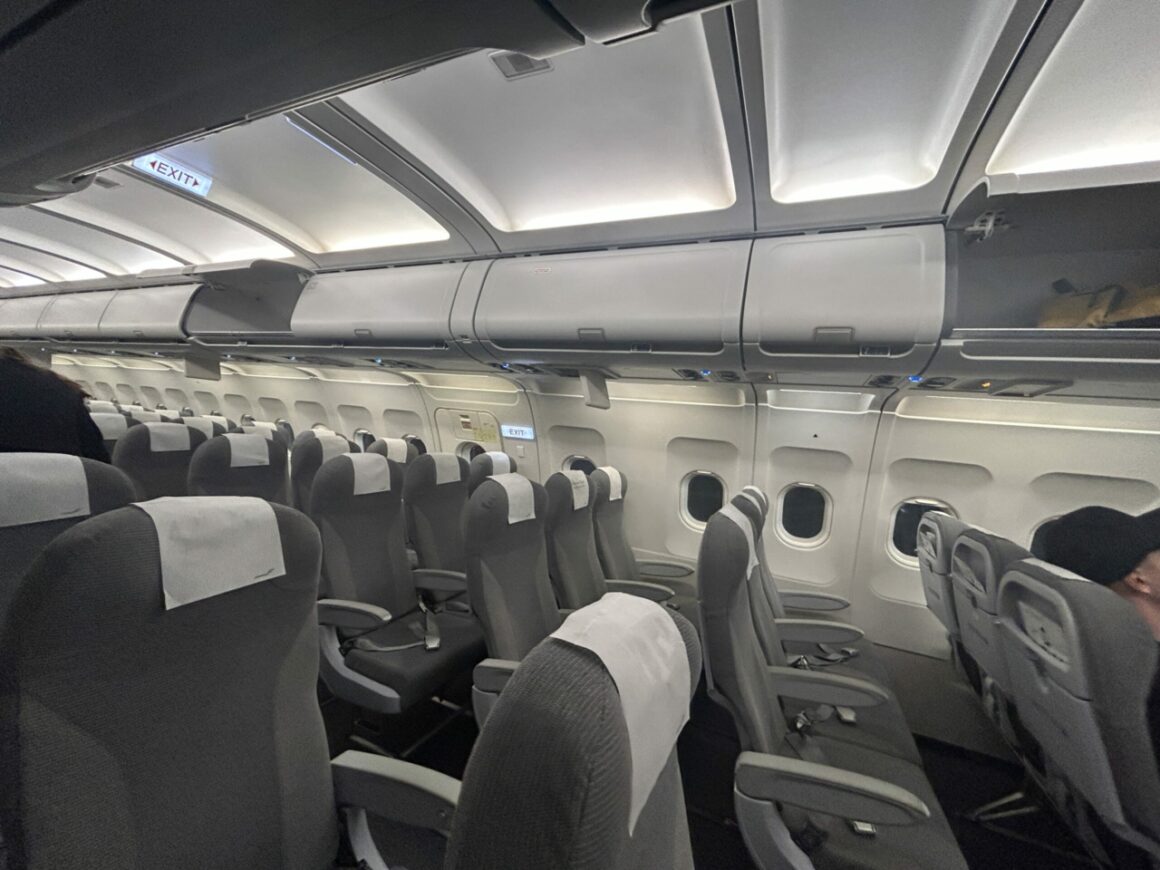 As regular readers will know, I don't often fly economy but I was very pleasantly surprised by Finnair economy class. I had flown with BA in economy the week before and felt very cramped. In contrast, Finnair felt more spacious than Club Europe.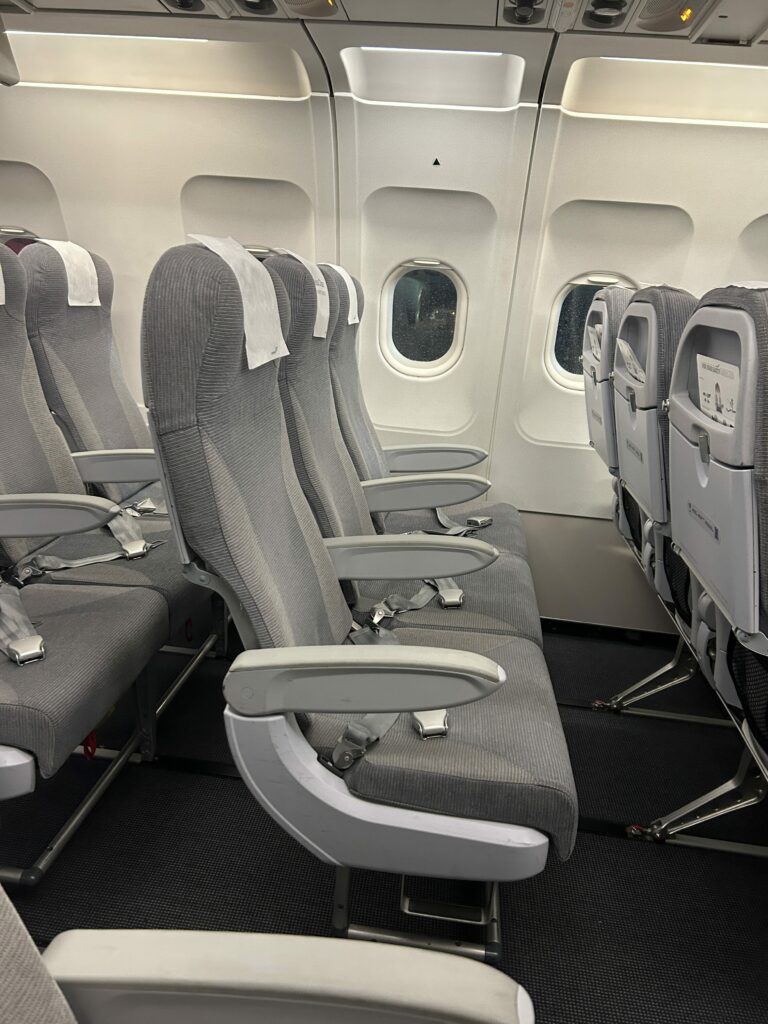 The cabin is decorated in muted grey tones. Hopefully Finnair swap over to the dark blue they now seem to using as I think that looks smarter. Seats are arranged 3-3 on the A319. You have to pay for seat selection in economy but I could choose due to my status. There is an exit row at row 10 but I went for row 7.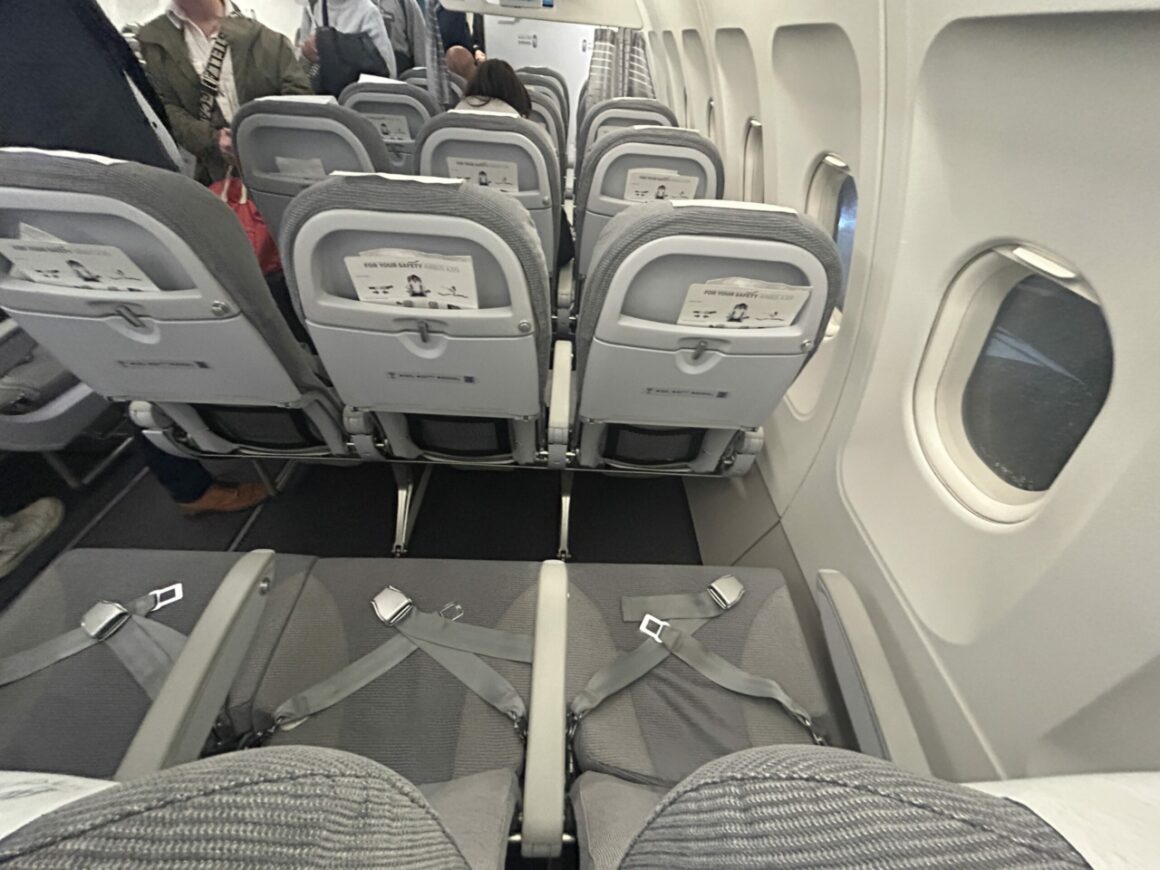 The seat pitch here is 31″ which felt like business class and is the same as you get in Finnair's business class. BA has a seat pitch of 30″ in Club and 29″ in Euro traveller. I was lucky enough to have a seat next to me free too. If all economy was like this I would not bother with business class on a short flight! The seats feel slightly harder than BA's leather seats, but it was perfectly comfortable for the 3 hour flight.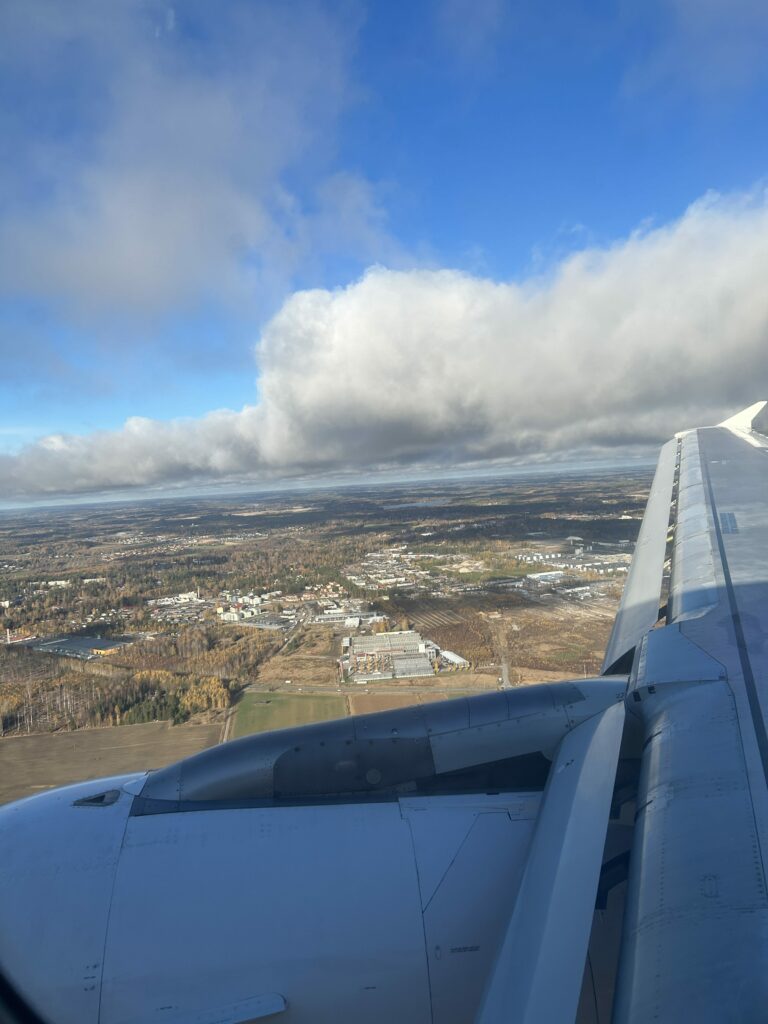 Food and drink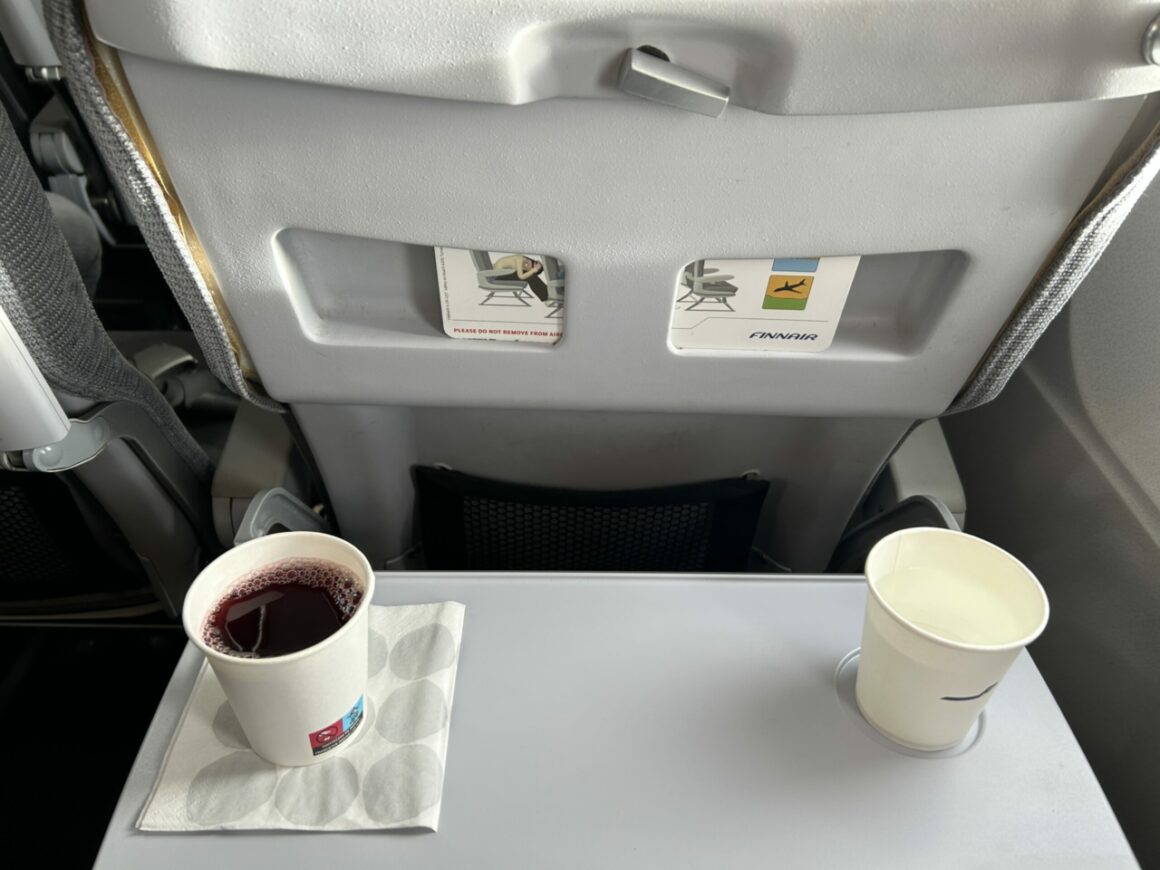 You get complimentary blueberry juice and/or water in economy. If you have never had the Finnair juice I recommend trying it. It's just the right balance of sweetness to tart and makes a refreshing drink. The cabin crew were all friendly and helpful, which has been my experience on virtually all of my Finnair flights. I noticed that there were paper cups which is much better than plastic in terms of sustainability, something that Finnair are very focused on.
If you want something else, you can buy it on board. The full menu can be seen through the onboard wifi, but you don't need to pay for Wifi to see the menu. There is a reasonable choice but not much fresh food as it must be preordered 24 hours before from London or 7 hours for the return from Helsinki.
Here is an example of the pre-order menu: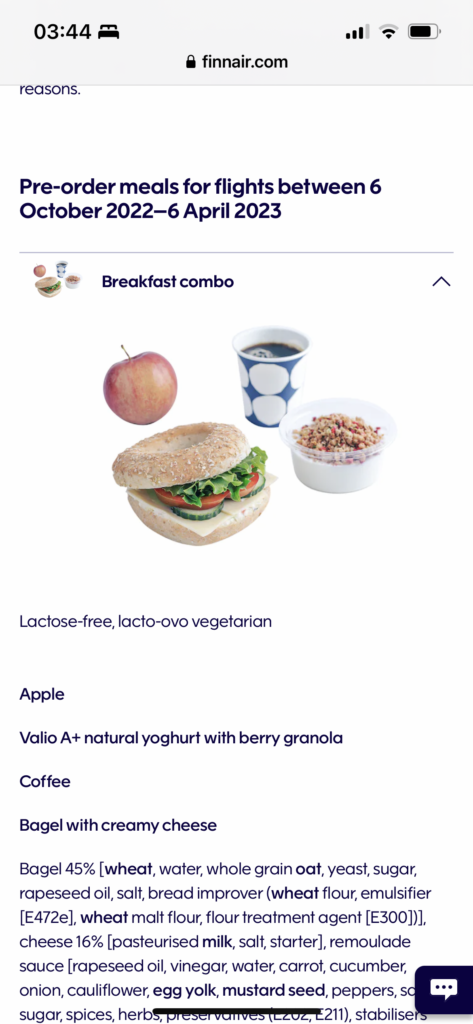 Wi-fi
Due to the route, you don't get internet for part of the flight as you fly over a blackspot in the North sea. However, on the way there, it was available for around half the flight. In business class you get an hour free. Otherwise, here are the prices for the full flight: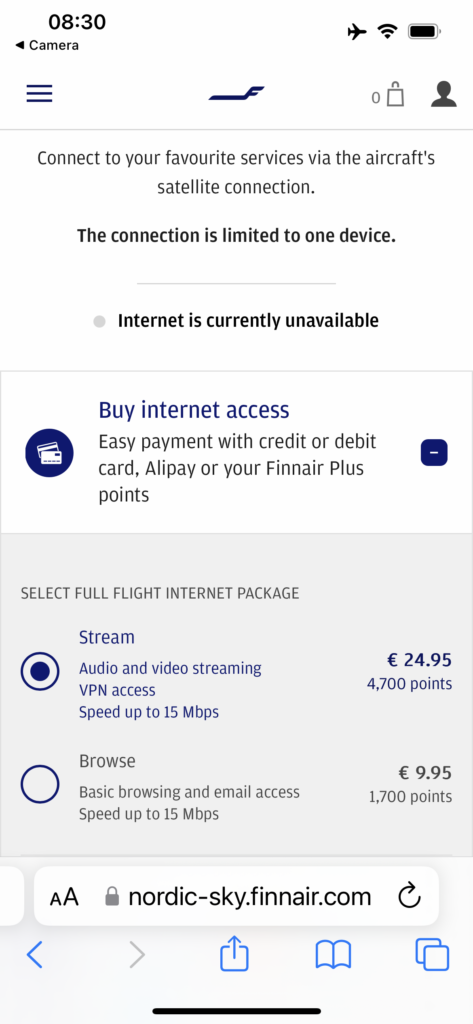 I thought the price was quite high for the streaming but I tried the basic package. I found this good enough to do everything I needed to including uploading to social media. Often the lower package is painfully slow on other airlines, but I found this to work well. I also found it easy to purchase. I have autocomplete on for credit card information which will never work with BA's wifi, but it worked fine with Finnair.
Connecting at Helsinki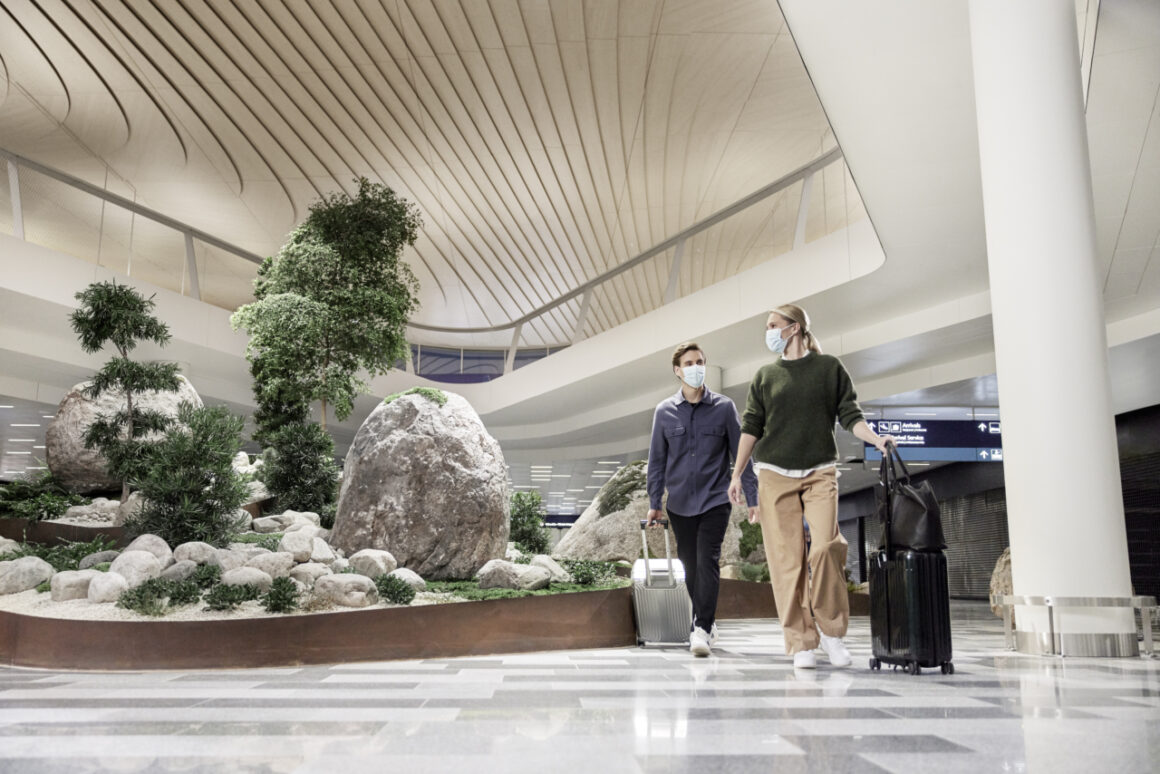 On this flight, we had an overnight connection, but I will talk a bit about connecting at Helsinki since we did it on the way back, and I also did it a couple of times earlier this year as well. Finnair economy class pride itself on having easy, quick connections at Helsinki.
Here is their own advice on connecting:
At Helsinki Airport, all gates are located in one terminal building, along the same short walkway. This means you can be confident that you'll reach your connecting flight fast and hassle-free. At best, changing flights takes just 35 minutes!
The gate number of your connecting flight will be displayed in Finnair mobile app or on the airport monitors, but you can also ask at the Transfer Service desk for further assistance.

At Helsinki Airport, the Transfer Service desks are located near gates 29 and 52.

If you do not have a boarding pass for your connecting flight, the Transfer Service can issue one to you.
When you connect to a Schengen destination (most of the EU) from the UK or vice versa you will need to pass through passport control. I have never had to queue for more than around 5 minutes for this. It is quite a long terminal, but all the non-Schengen flights are grouped together, so from the UK to Asia or the US is very quick.
When we did the return journey from Tallinn it took around 15 minutes from when we left the aircraft to get to the lounge in the non-Schengen zone, which consisted of about 5 minutes at passport control and then a long walk.
It's worth mentioning if like me, you love the Finnair glasses, you can buy them in the terminal at Iittala as well as onboard. For those that have not visited Helsinki recently, most of the building work is complete and it looks fantastic. I particularly liked the relaxation zone with calming sounds, flat padded areas for a snooze and nature scenes on large screens.
We returned the next morning for our Tallinn flight and waltzed through Helsinki security in a matter of minutes. They now have the new machines where you don't have to take your liquids or electronics out which I love!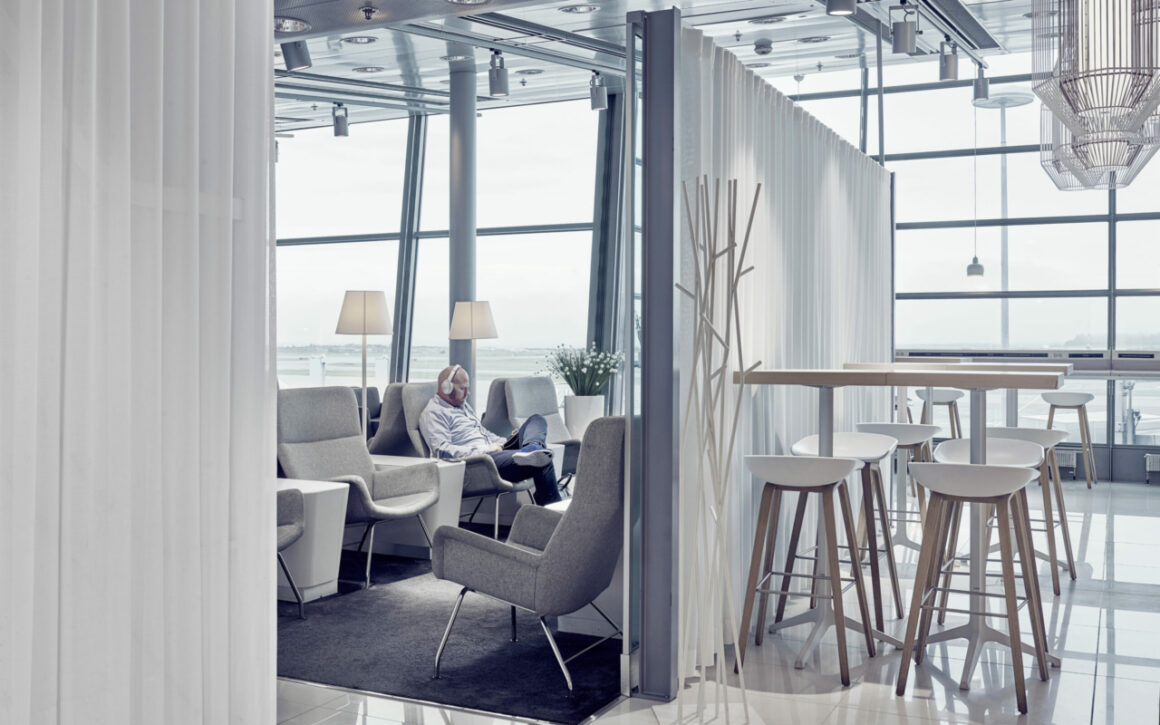 There is a Schengen lounge for flights to Tallinn, although there is no business class on board. Like the non-Schengen lounges it was recently refurbished in Finnair's stylish Nordic elegance.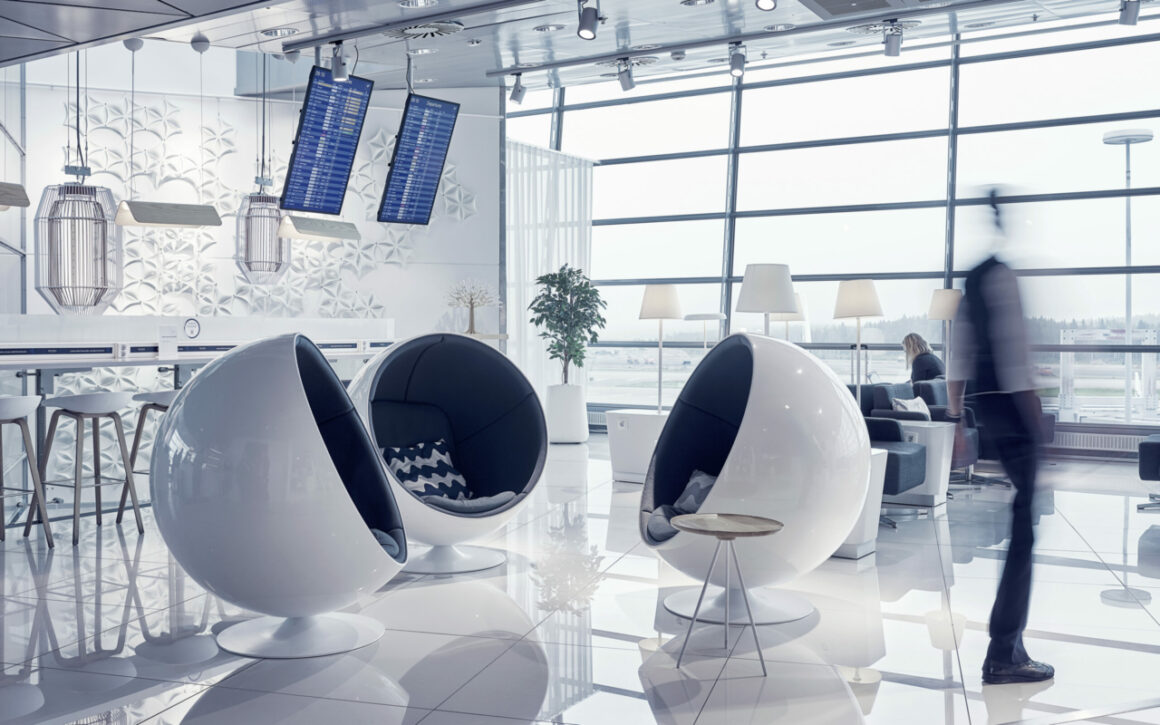 Helsinki to Tallinn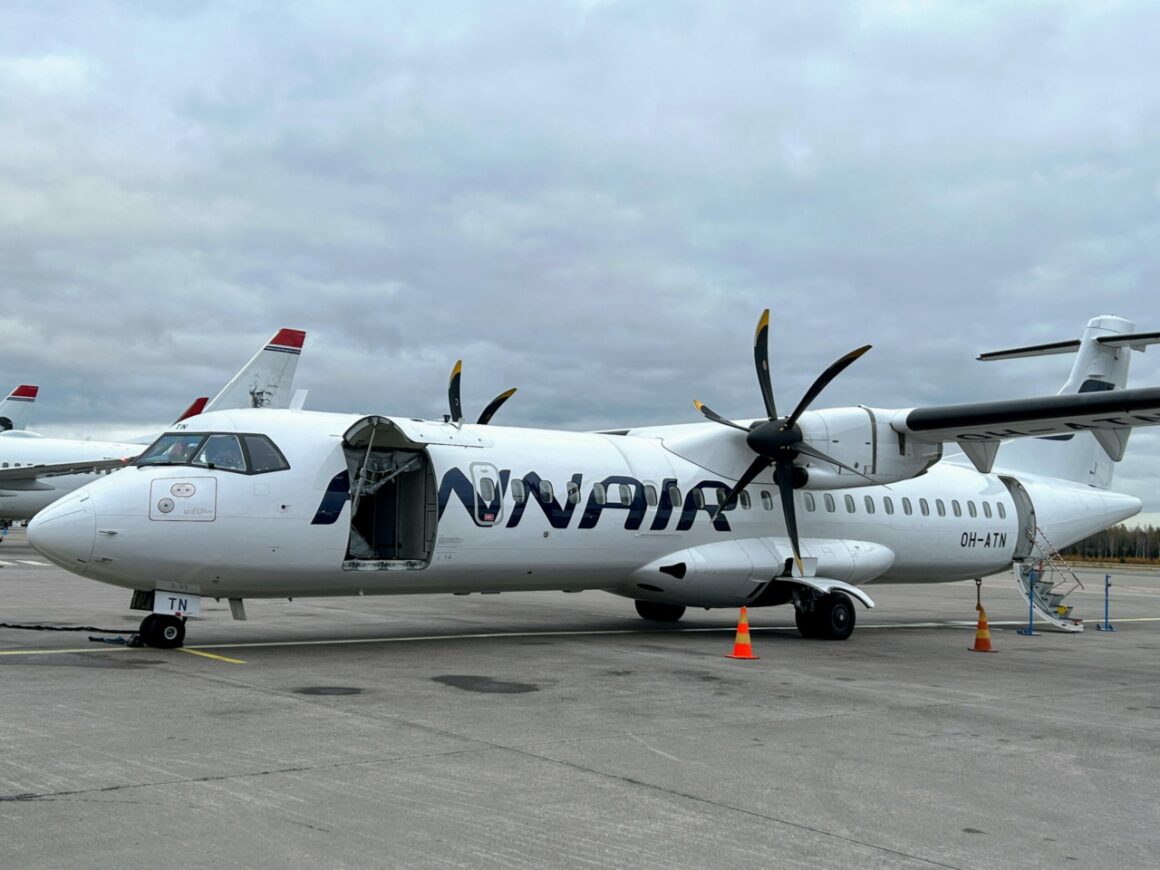 This was a very empty flight which was unusual for the route. Coming back, it was almost full. There were 13 passengers aboard the ATR-72 turboprop. Our group of 7 was more than half the passengers so it felt a bit like our private plane!
Boarding was called around 15 minutes prior to departure due to the light load. You board via the rear stairs, and then we had to go down an exterior staircase and then walk across the tarmac, but often it's a bus gate.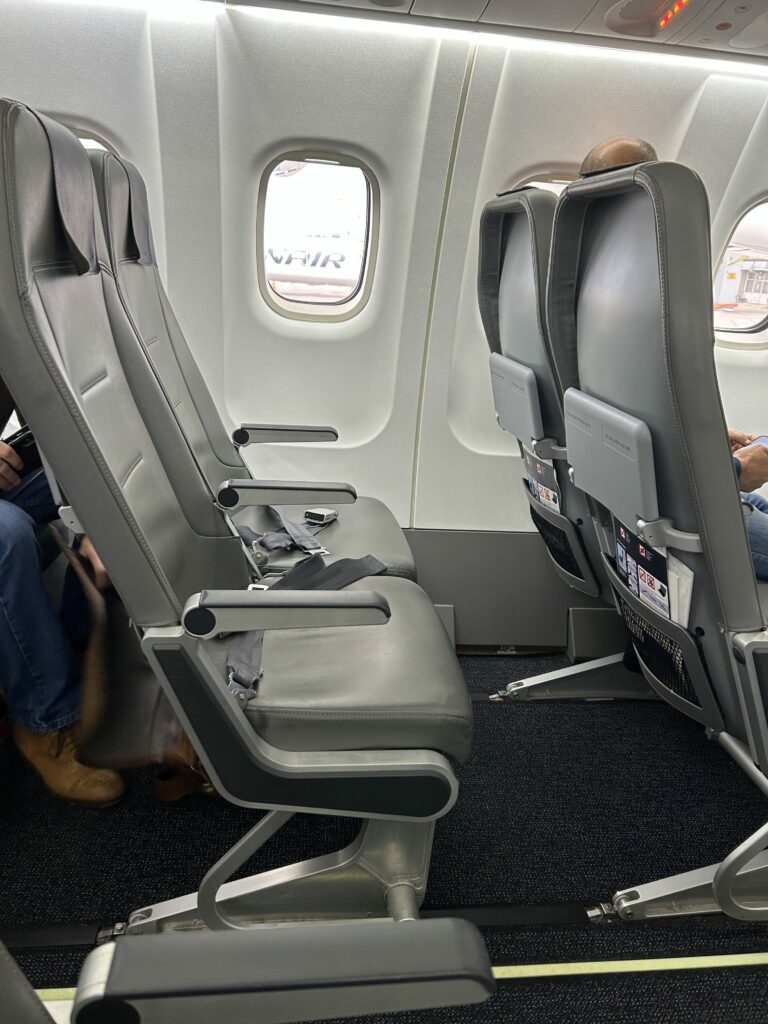 Onboard seats are in a 2-2 configuration and all economy. There is no service on board the short 25 minute hop, but the crew were lovely, helping me with my bag up the last steps as I boarded.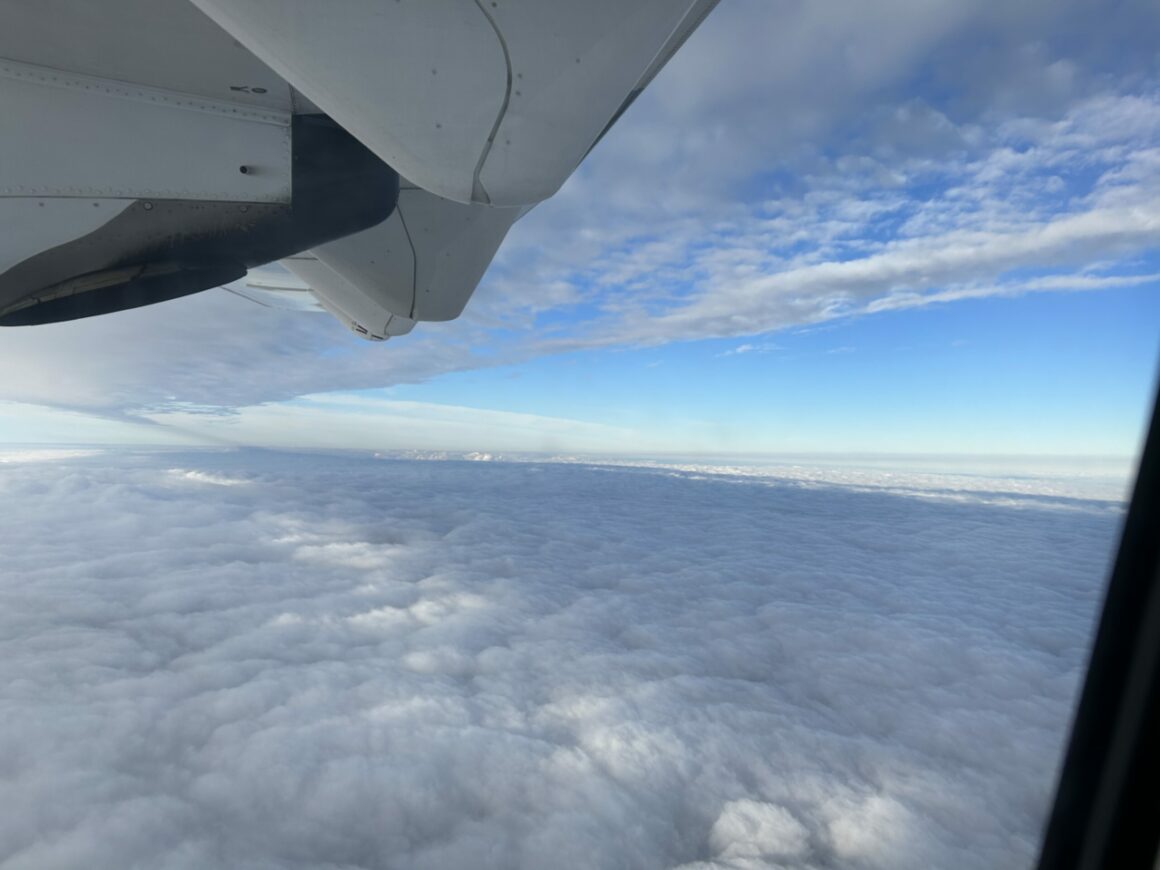 On arrival at Tallinn we entered the building by foot, and I was pleased to see an escalator heading into the modern terminal. Tallinn airport feels very small for a capital city airport, and we were out and on our way to the city centre within a few minutes with hand baggage only. Being a Schengen to Schengen flight there was no passport control.
Pricing
Prices start from around £260 economy and £581 in business class. You can, of course, use Avios to book which you can do online through BA in the usual way. You could also transfer American Express Membership Reward points to Finnair Plus to buy the flight as a reward flight or upgrade an economy booking.
BA's IT was playing up and not pricing Tallinn but here are the prices to Helsinki on Finnair using Avios:
Economy – From 6000 Avios + £169.97 to 18,000 Avios + £69.97
Business class – From 17,600 + £222.97 to 33,000 Avios + £82.97
You can check prices on Finnair here.
If you want to read about business class on Finnair's A319/A320/321, you can read my previous review here.
Like this Finnair economy class review? You can read more flight reviews here.