This is a review of Finnair A321 short haul business class. As part of my cheap fare to Singapore in business class I also got to fly Finnair short haul. Since Helsinki gets 160 tier points return from London and also BA are using 4 Finnair aircraft from Gatwick this summer I thought it was worth a review.
I will look at both directions since I had such inconsistencies on my long haul flights.
Milan to Helsinki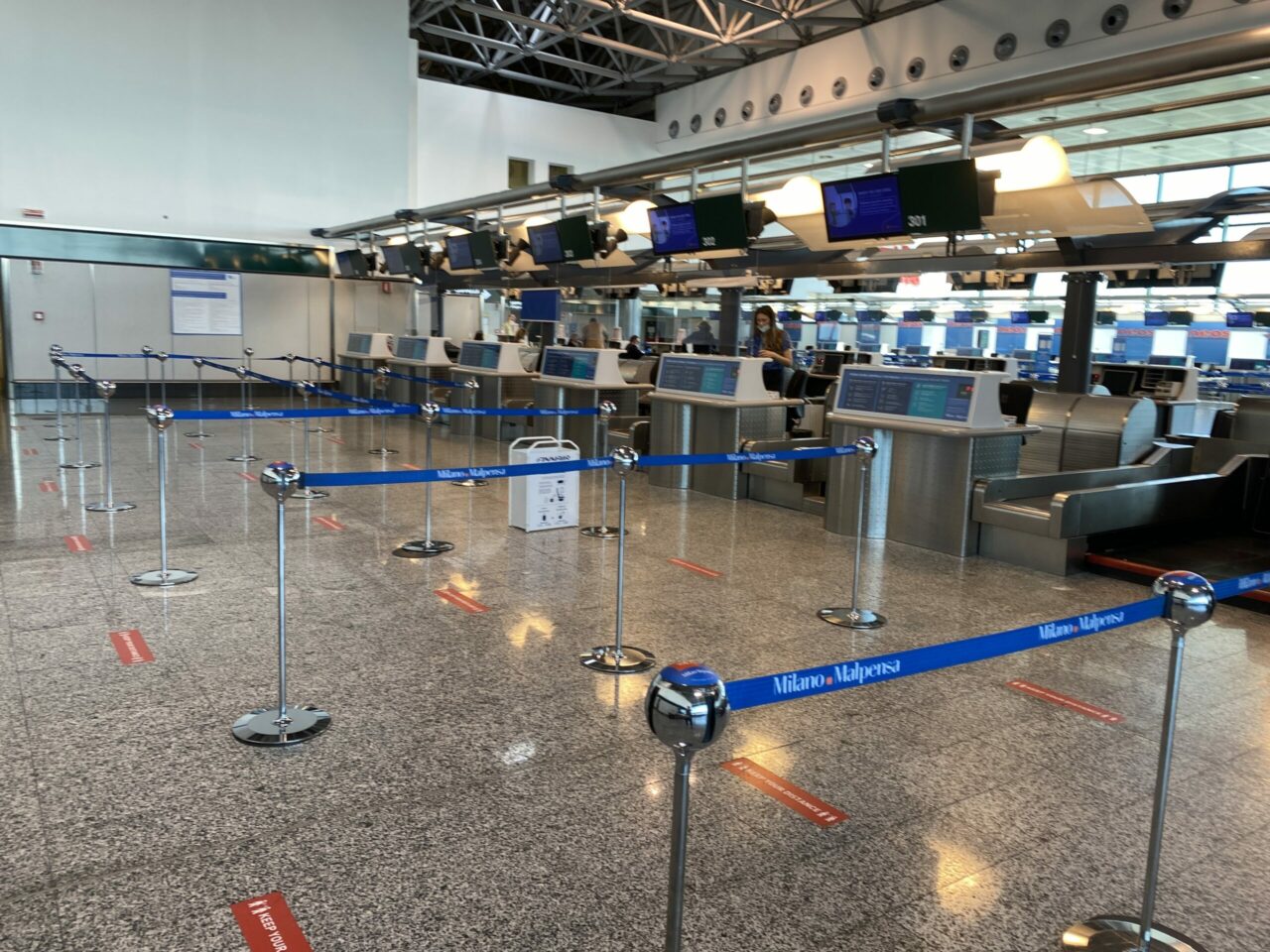 Check-in did not open until around 2 hours 20 before departure which seemed an odd time to open. Once I was at the desk I was asked for my Singapore documents – mainly my vaccination certificate. The check-in agent seemed a little unsure what she needed but I guess maybe they don't have that many long haul departures from Milan. She was very friendly though and eventually all the formalities were sorted.
You get fast track security with Finnair, in fact, with all oneworld airlines at Malpensa. It was very quiet in Fast track and the staff were surprisingly helpful for security staff.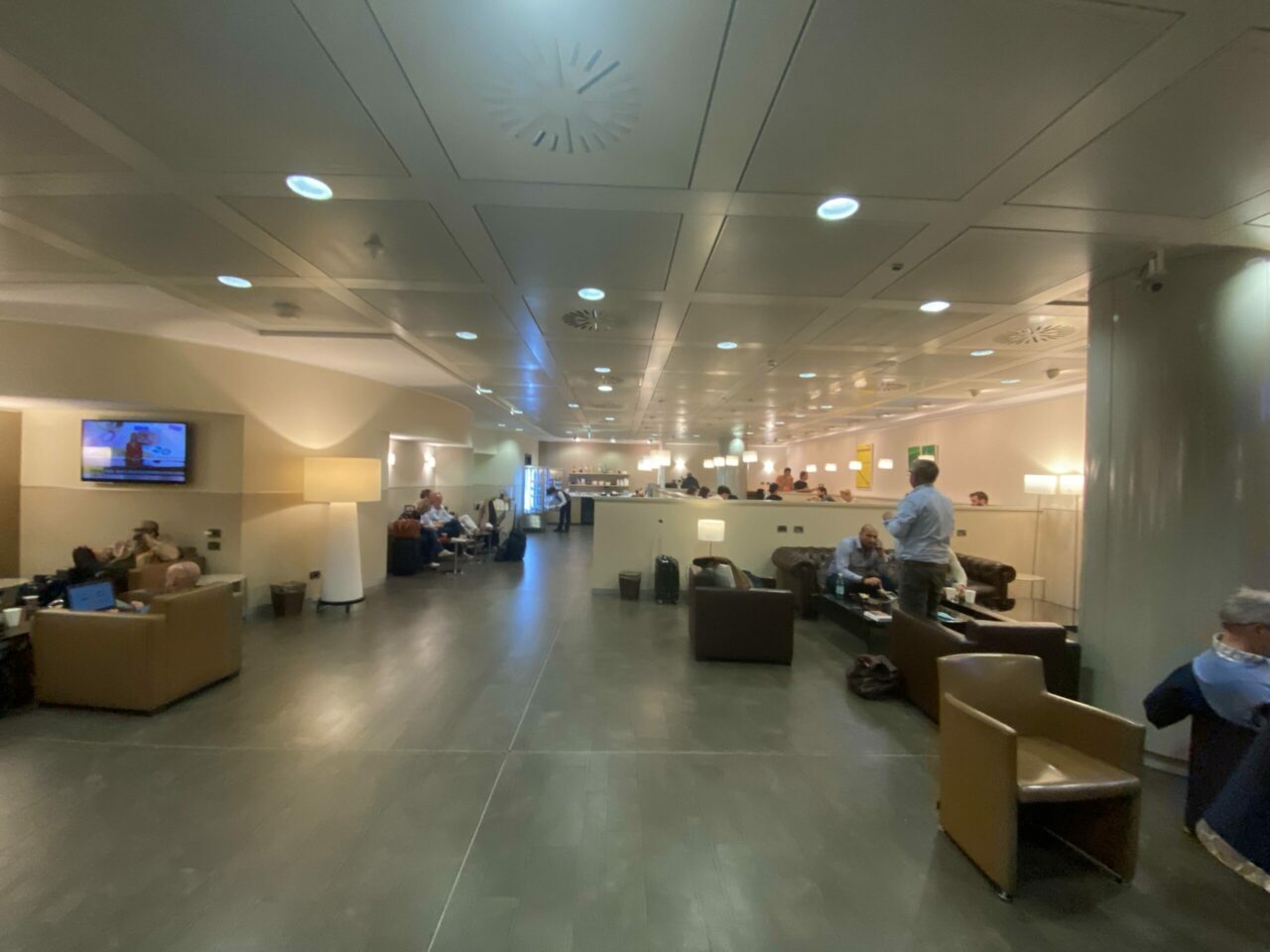 It was a very long walk to the lounge and you had to pass through passport control on the way. The Monteverdi VIP lounge was a bit of a dump in my opinion. It felt very busy and there was not much choice of food and drink. The only good think I can say is that they had San Pellegrino water and a place to work with power.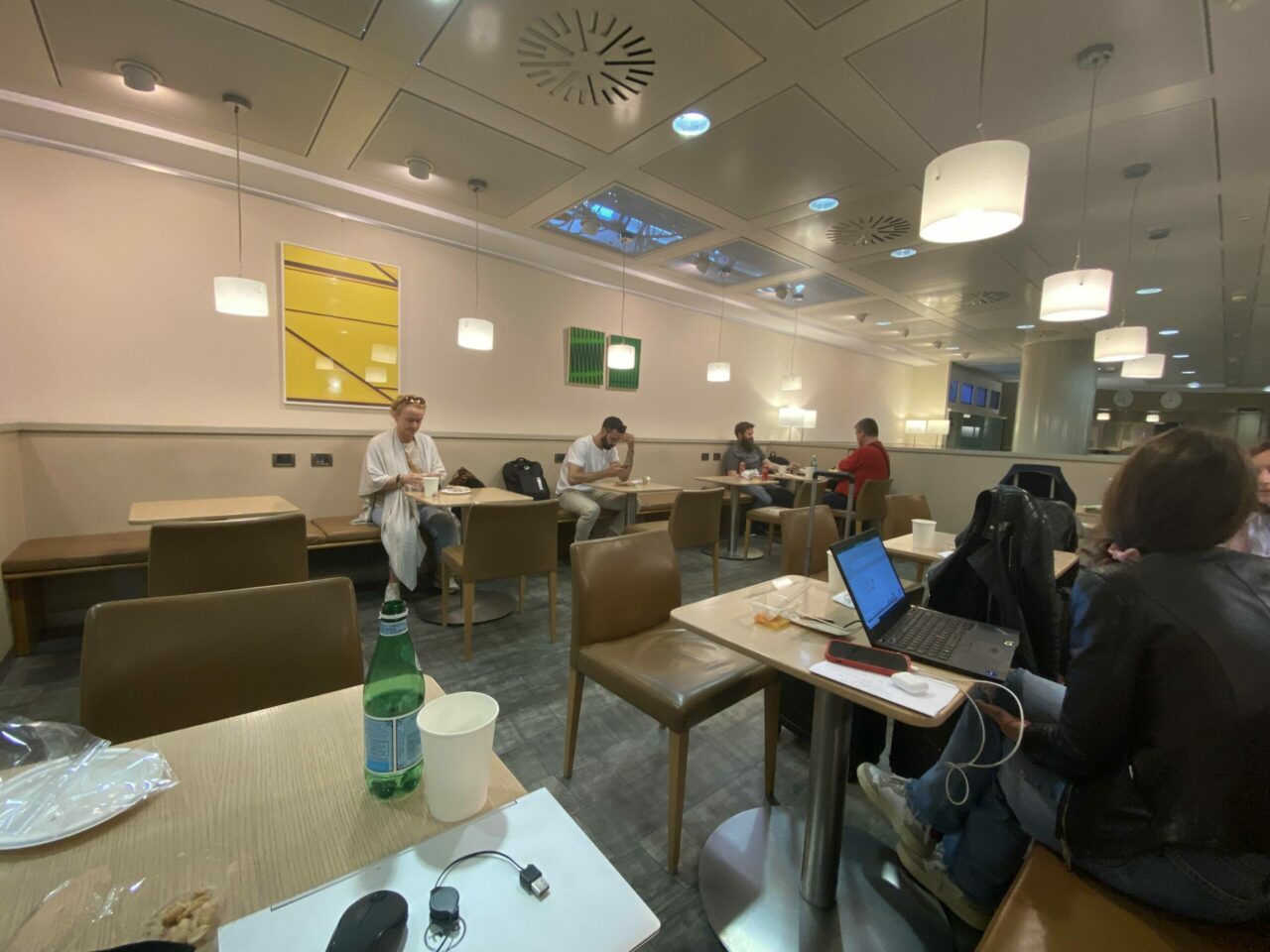 There were no glasses, just paper cups. Because of course, glasses give you Covid! There was a small selection of wine and spirits to enjoy in your paper cup!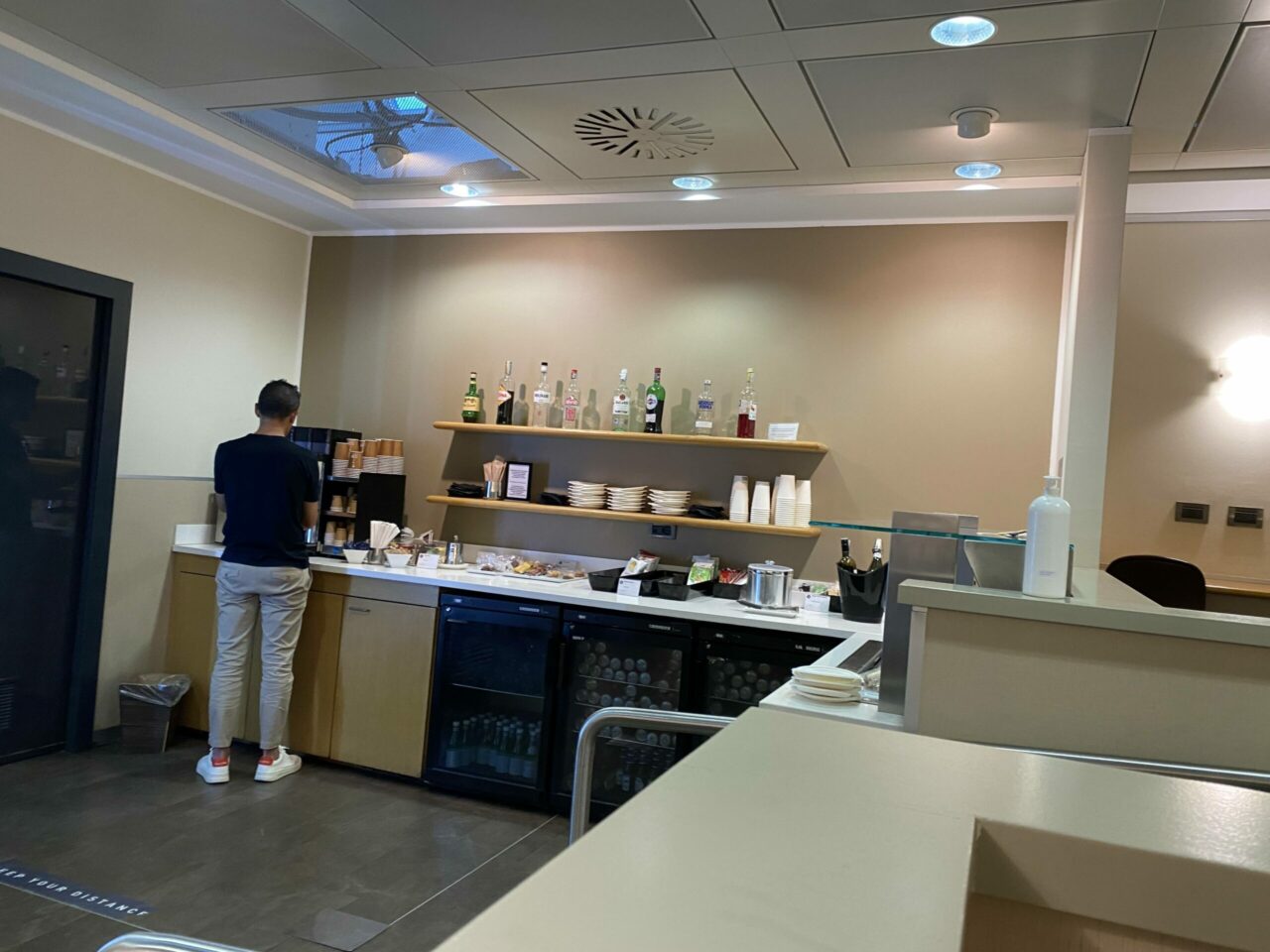 Boarding was called by group no and I was in group 1. When I got to the seat I was pleasantly surprised that there was a bottle of water and a blanket on my seat.
The flight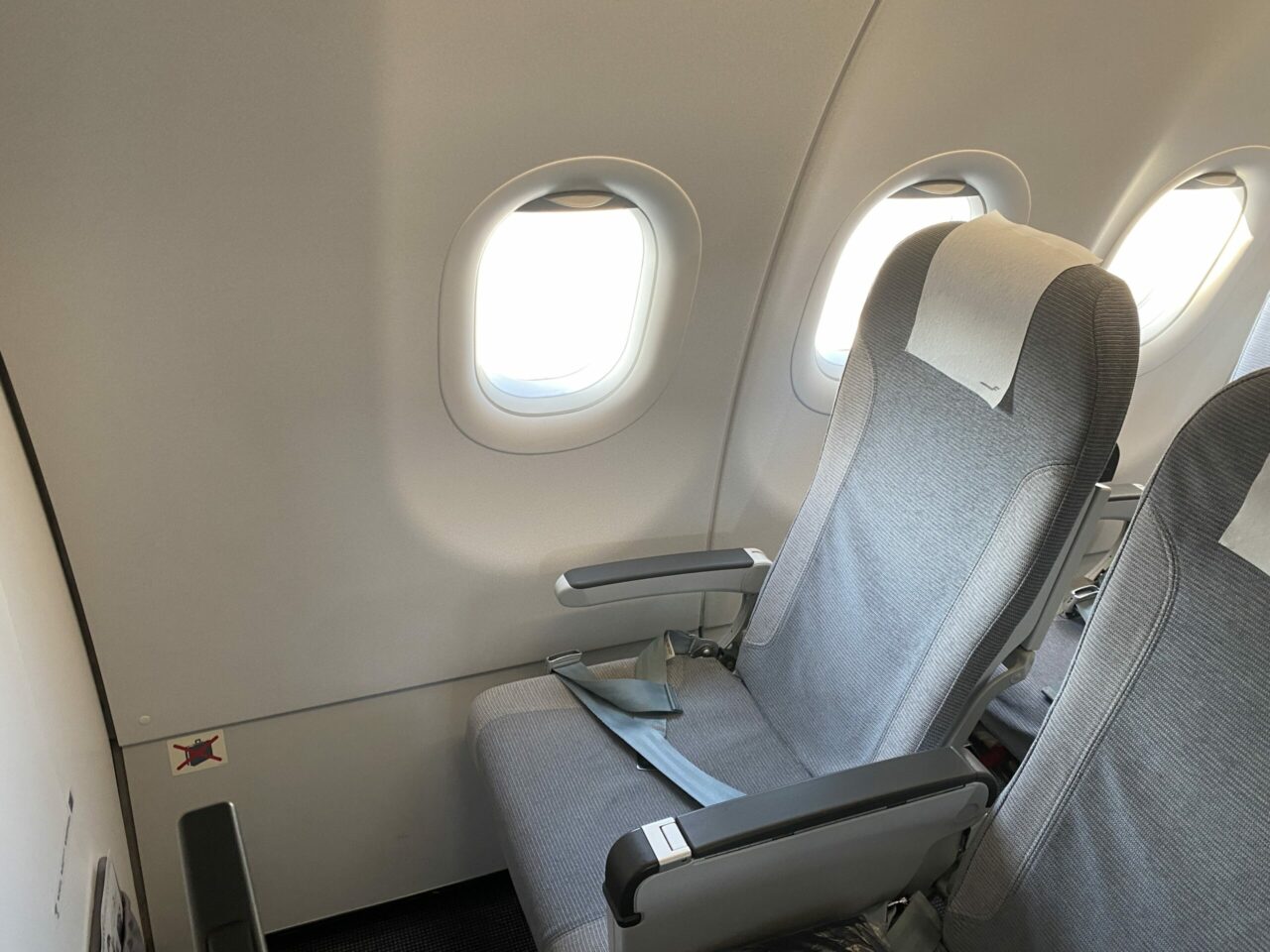 The flight was very empty in Finnair A321 short haul business class which made for a pleasant flight. I had chosen row 1 which was a mistake. The leg room is definitely less in row 1 than it is on British Airways in Club Europe. The seats also felt quite hard in row one and not that comfortable with the fixed armrest. The grey seats look very uninspiring.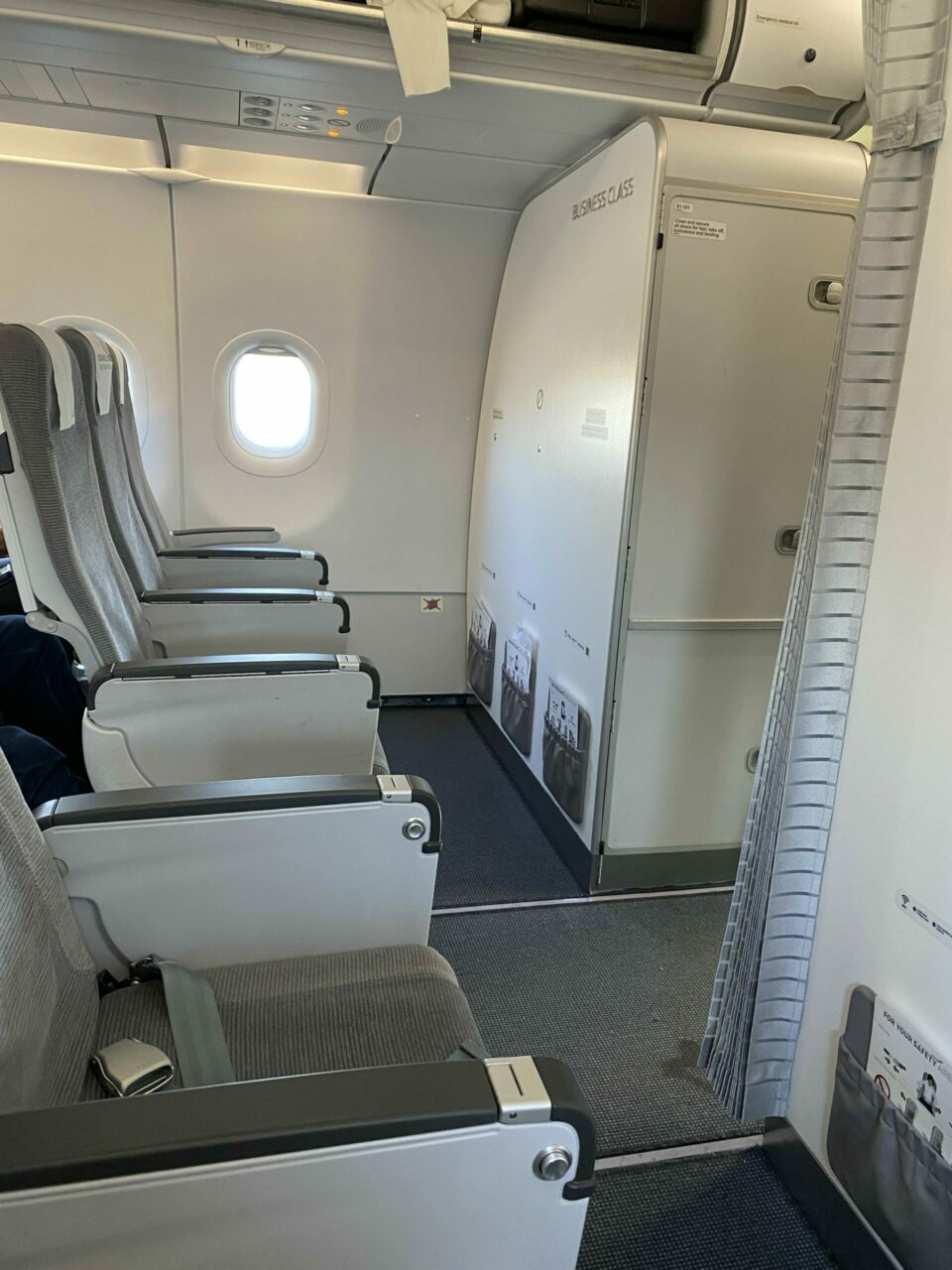 Not long after taking off a hot towel was offered which I appreciated.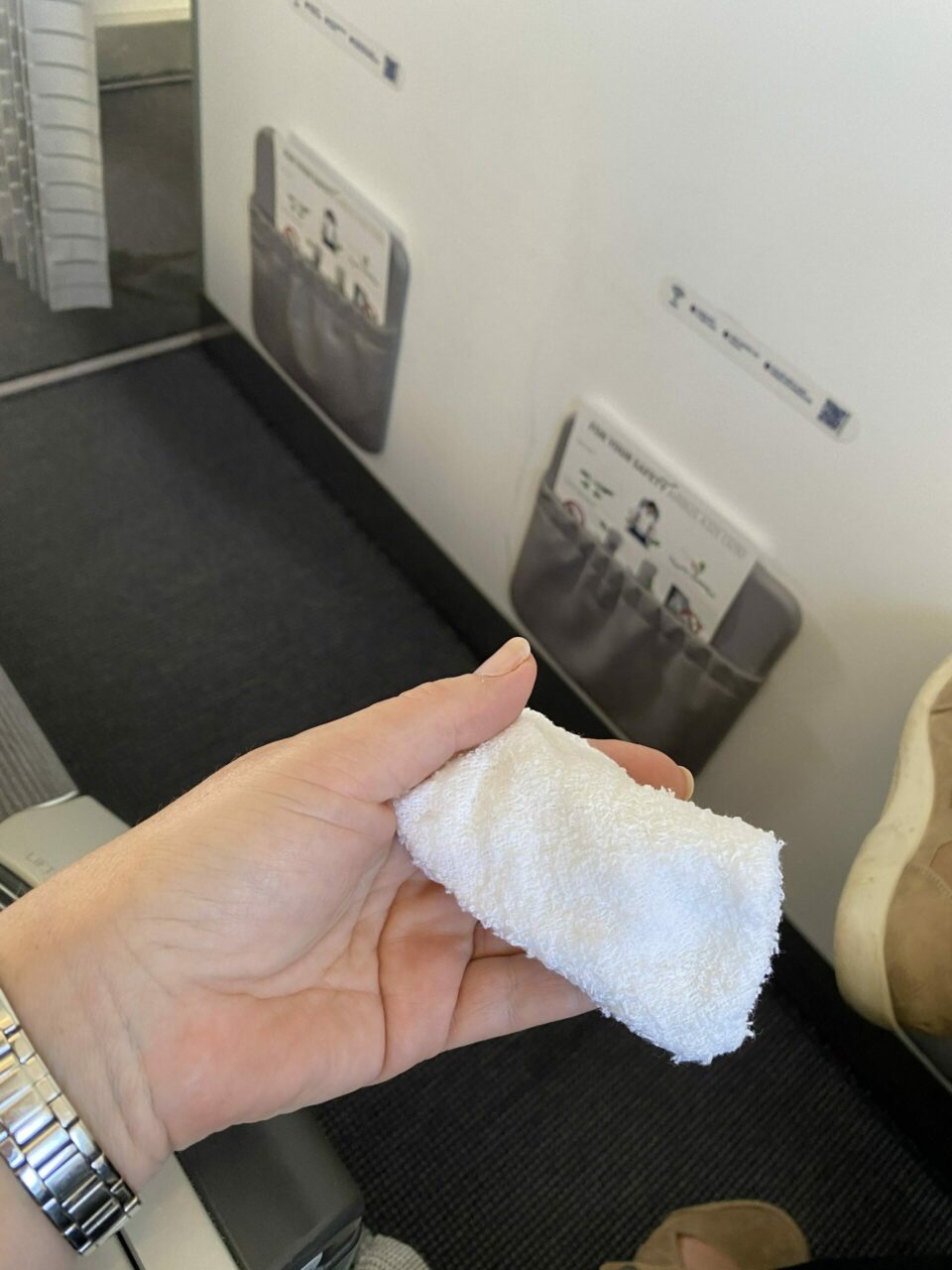 First, we were offered a drink from the bar cart. I went for a Bloody Mary which was served with Big Tom juice and was served in the lovely Iitalla glass. I'd prefer it freshly made but actually I don't mind this on aircraft as at least you get a decent mix of spice in it. I was given the whole can and the bottle of Finlandia vodka.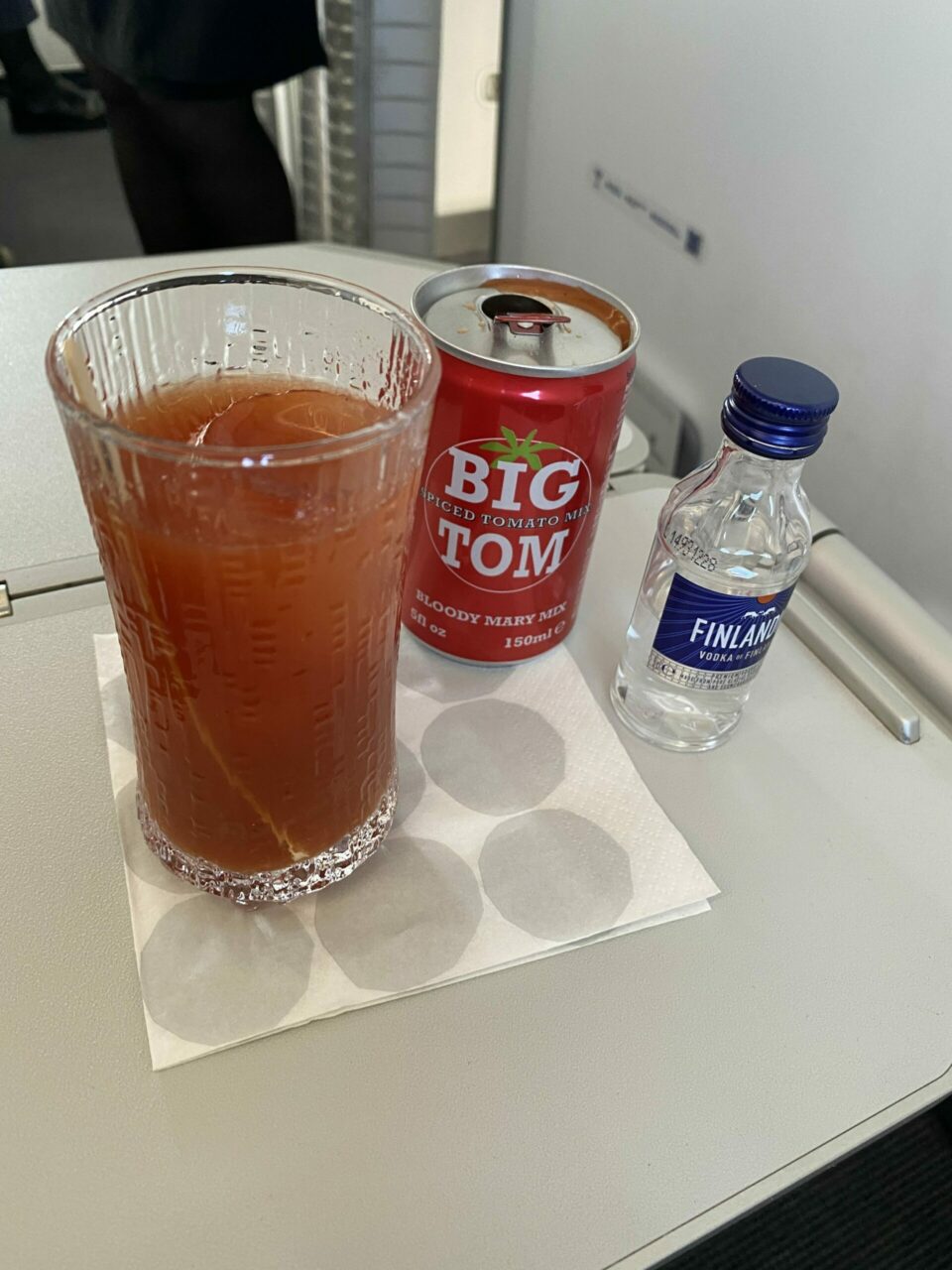 Next it was time for dinner on this 2.5 hour flight which departed at 7pm. There was no choice so if you are a fussy eater or vegetarian then you may be in trouble. I'd assume you could pre-order a vegetarian meal.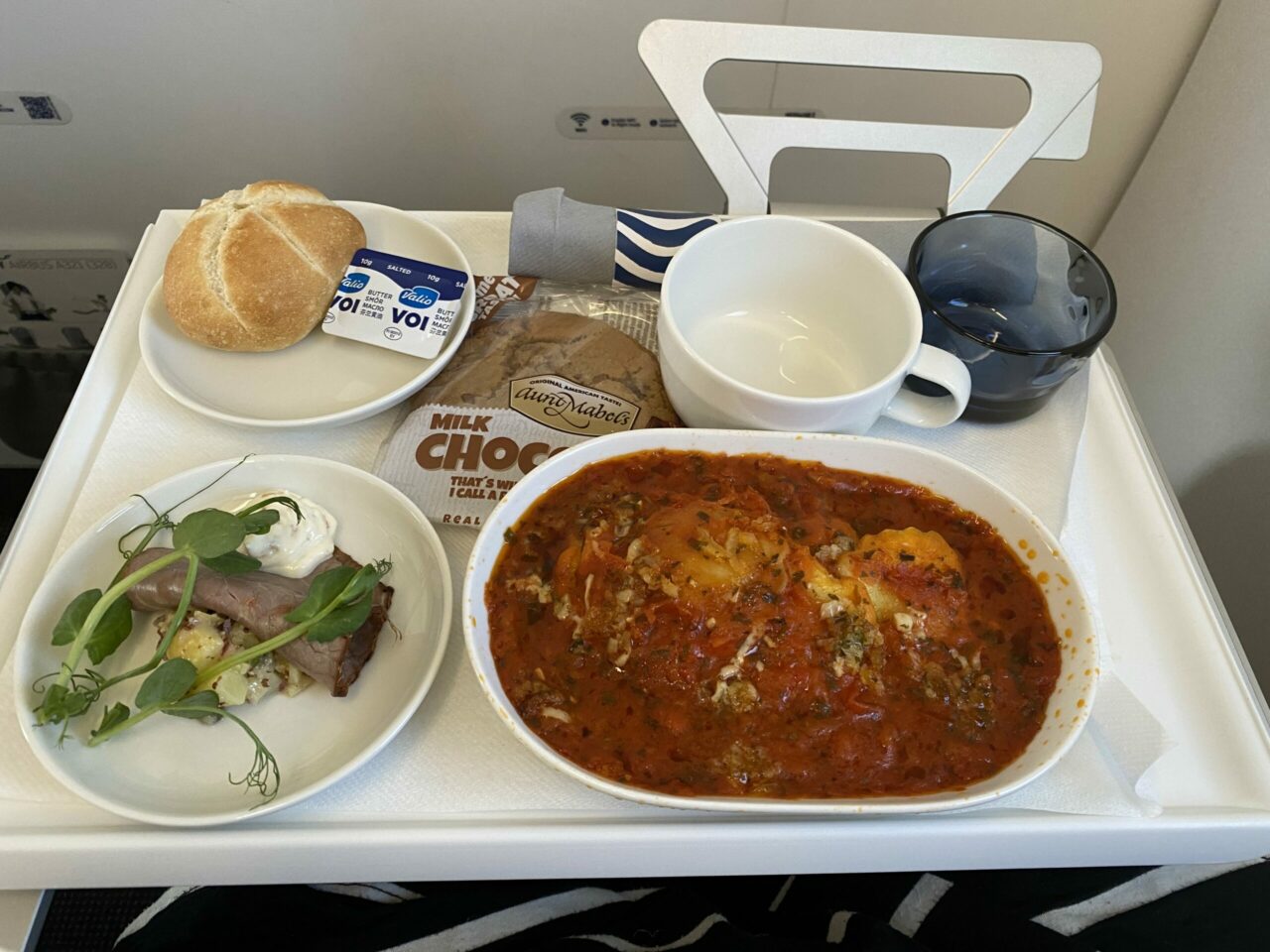 I'd say that it wasn't as good as BA's Club Europe as you only got a cookie for dessert and no cheese. But actually, the portion sizes were better and the starter was better than you often get in Club Europe. The starter was cold sliced beef with a mustard dressed potato salad. This was followed by the ravioli which I think was cheese with a lot of tomato sauce (don't wear white if you fly on Finnair!). I really enjoyed my meal overall.
I was offered a drink with my meal and went for a red Bordeaux which was pleasant but nothing special.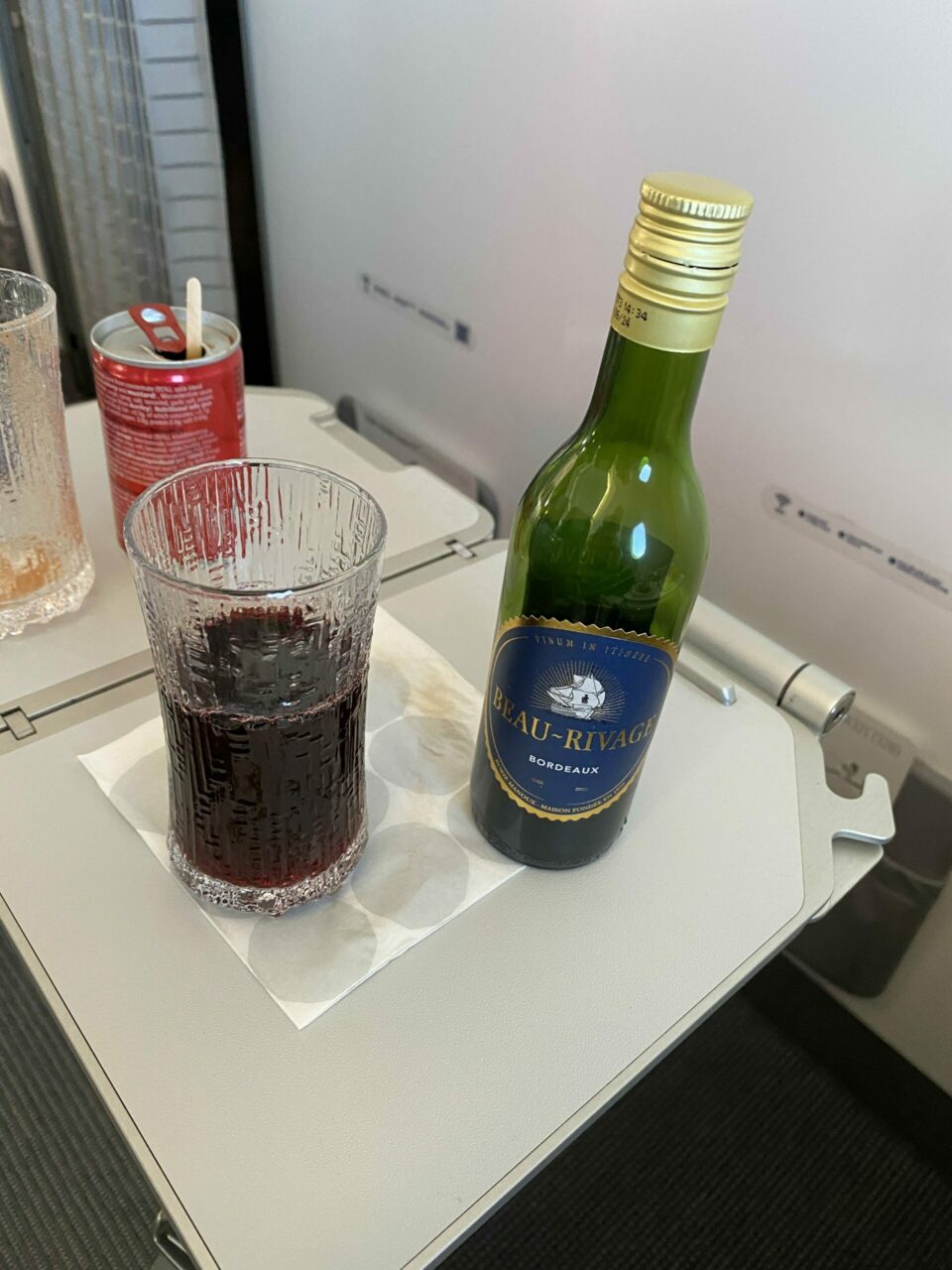 After dinner, we were also offered tea and coffee or liqueurs. I was in holiday mode having finished my work in the lounge so I indulged in a brandy which came in the new blue glass.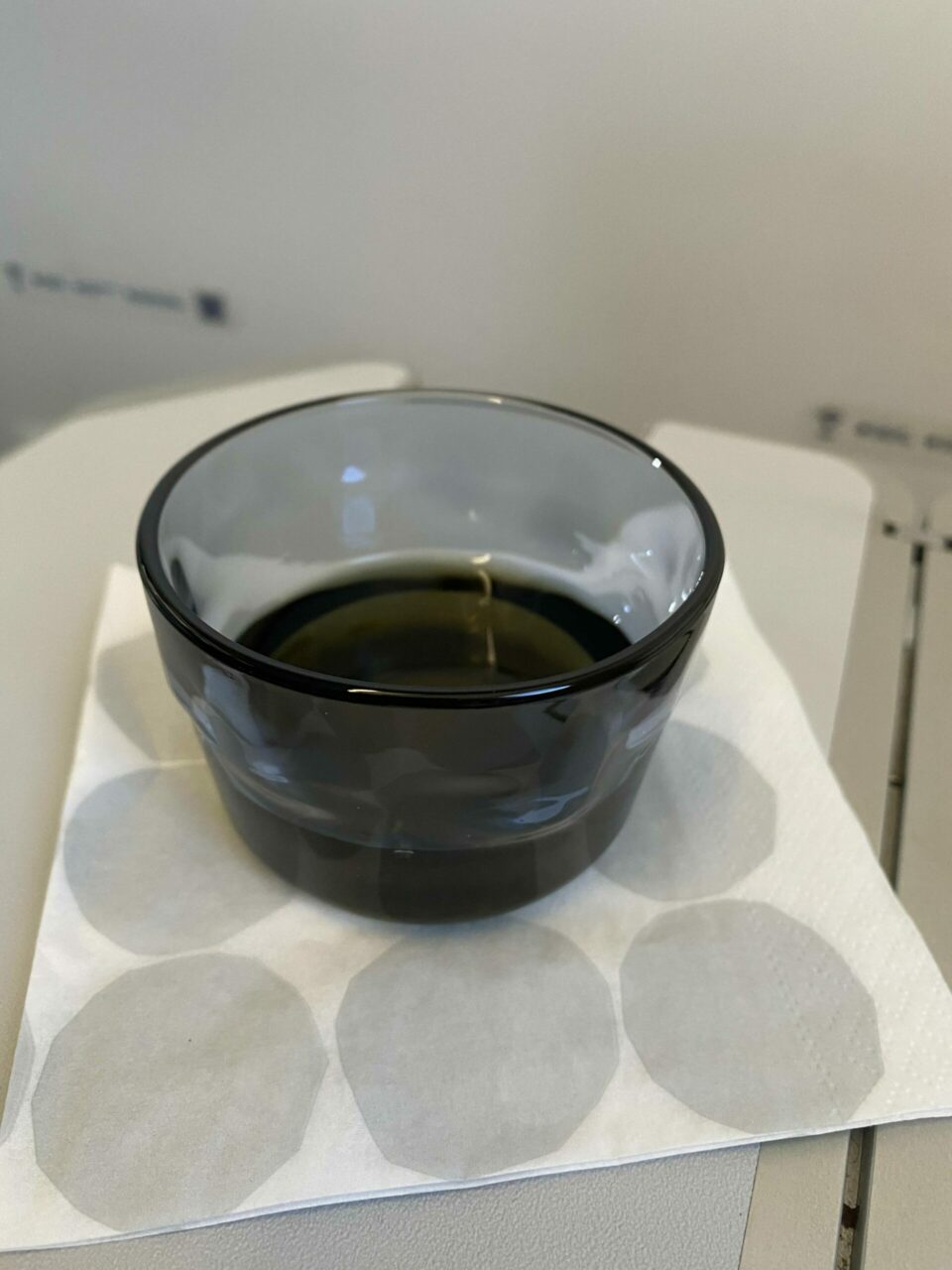 The cabin crew serving me seemed quite new but was very attentive and friendly. I did wonder if it was due to the low load of the flight but the crew were also good on the way back.
Wi-fi was available during the flight and you got 30 minutes free on short haul. You can pre-order Wi-fi via manage my booking or when you check in. If you wanted Wi-Fi for the whole flight it cost €14.95.
Helsinki – Milan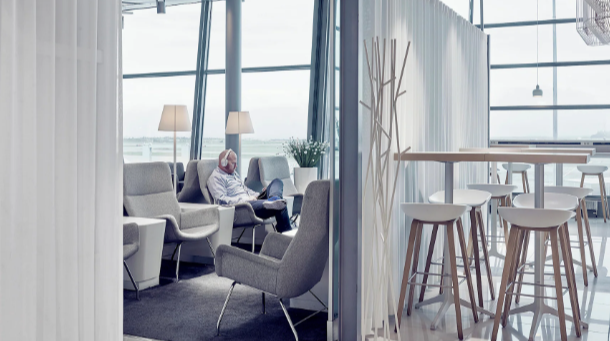 I had checked in for this flight at Singapore so I just headed to my gate. There is a Shengen lounge which I could have used but since I didn't have long and it was early in the morning I did not bother. The lounge entrance is located by Gate 22. The lounge is open from 5:30 a.m. to 23:30 p.m. every day.
Boarding was announced a little late and the flight was pretty full this time. Again there was water and a blanket at the seat.
I went for row 2 to see if that was better and it definitely felt like there was more leg room. Finnair have a 31″ seat pitch compared to BA's 30″ in business class.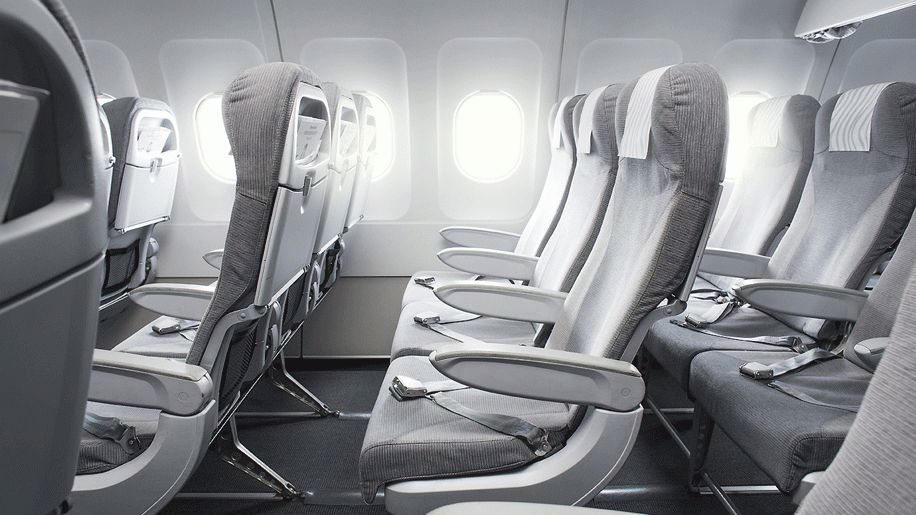 Despite being 7am the Finns on board seemed in a party mood and were knocking back the champagne like nobody's business! I felt compelled to join in and went for a Bloody Mary again. This time I was poured half a can of Big Tom Bloody Mary mix and then given a whole bottle of vodka which made it rather strong! I should have asked for the rest of the can of Bloody Mary mix.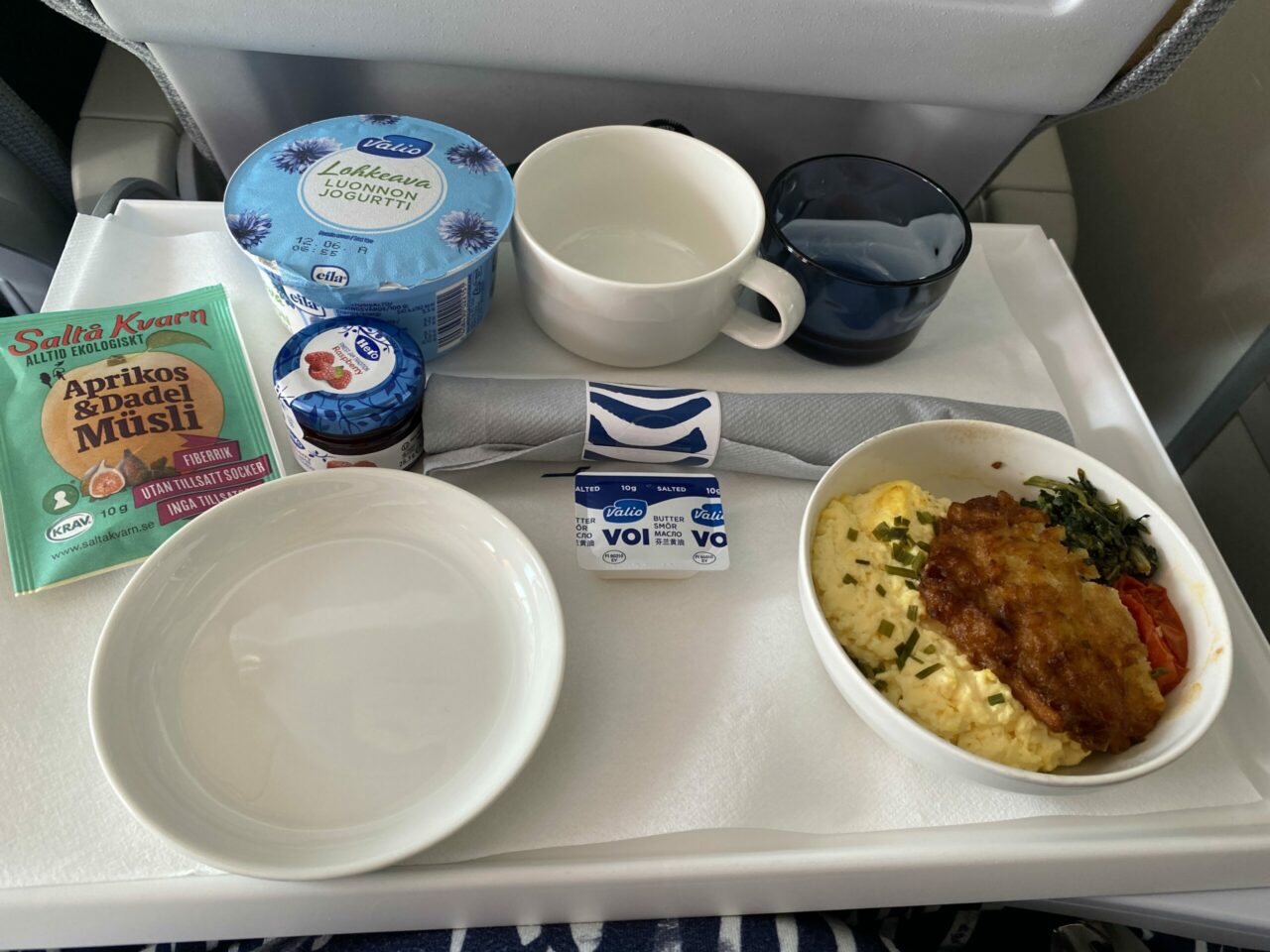 Breakfast was served again with no choice. The egg dish was actually better than my long haul breakfast with the scrambled egg not too solid and a nice flavour of chives to liven it up. The hash brown wasn't too soggy and I enjoyed the roasted tomato underneath that give it a bit of moisture and sweetness. The only thing I wasn't keen on was what I thought might be spinach but it was hard to tell as it was very overcooked.
I was a bit perplexed by the small packet of dry muesli but I assumed that it was to go on the yoghurt but I found it a bit odd. A granola would have worked better. The yoghurt was thick and creamy though.
We were also offered a choice of pastries and I went for a croissant which was rather average. They also had bread rolls. Several people asked for a second pastry which was no trouble. The cabin crew continued to offer drinks as they cleared away and I had at least two more blueberry juices during the flight without having to request a drink.
Conclusion
I found the leg room and comfort a bit lacking in the front row for Finnair A321 short haul business class but once I tried row 2 I was much more comfortable. Overall I was pleasantly surprised as I had heard the odd complaint about Finnair and the lack of choice. Fortunately, I am not a fussy eater at all so it was no issue to not have a choice. The main courses were all vegetarian so at least you wouldn't go completely hungry.
I can't fault the service on either flight. The crew were friendly, professional and very pro-active. The little extra touches like the bottles of water, hot towel and regular offers of water or blueberry juice make for a more premium experience, even if the cabin doesn't look that great!
Like our Finnair A321 short haul business class review? You can read more Finnair flight reviews here or you may like another blog post from us about Finnair, Finnair A350 New Air Lounge Business Class Seat On Short Haul – The Best Short Haul Seat Ever? and Finnair Economy Class To Tallinn And Cathay Pacific First Lounge T3.