I'll admit when I was offered a stay at the Hyatt Regency in Stratford, I thought that was a bit far out of London. Then I actually looked at the transport options and realised how well connected it was. I also had no idea what was actually in Stratford apart from what was the Olympic stadium. I was very pleasantly surprised by how much was there. You could easily stay there without leaving the area and not run out of things to do!
My stay, meals and tour of Queen Elizabeth Olympic Park were complimentary, care of Hyatt and Queen Elizabeth Olympic Park.
Location
In terms of location, I think the Hyatt Regency and Hyatt House are the best-located hotels in Stratford. They are right next to Westfield shopping centre, and it is a short 5-minute walk through the centre to the underground, including the Elizabeth Line, Central and Jubilee lines, as well as the DLR. Stratford International Station is also fairly close.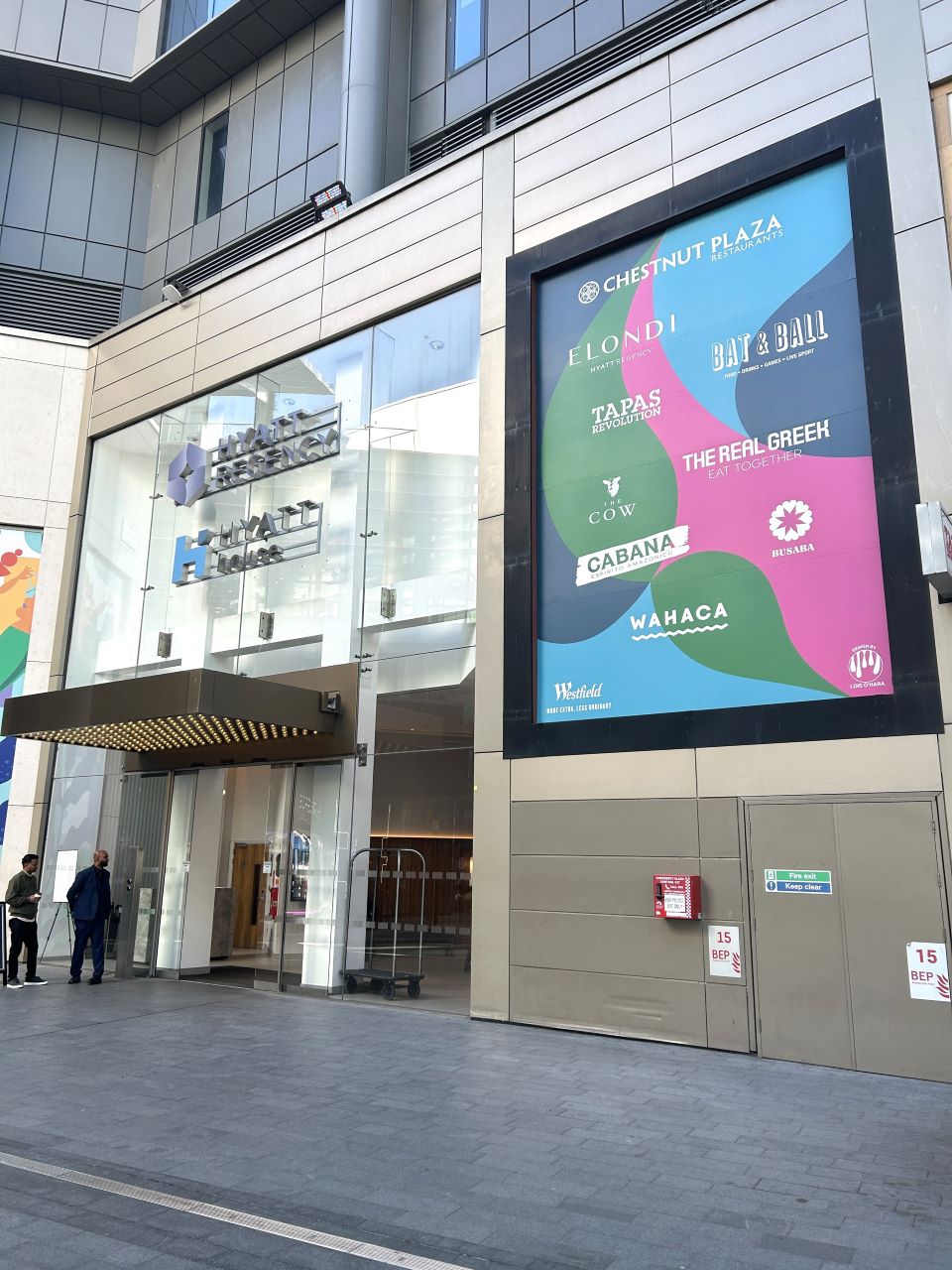 It is also right on the edge of Queen Elizabeth Olympic Park, and there is a huge selection of restaurants within 2 or 3 minutes' walk, many of which have lovely outdoor terraces. See below for what I recommend doing in the vicinity.
During my stay, I travelled from Waterloo, which took around 20 minutes. I then travelled to Holland Park, which took about 30 minutes on the Central Line, and came back from Paddington to Stratford, which took around 17 minutes. Being slightly further out, you could easily get a seat on the tube, and the choice of lines made it easy to go to many popular areas of London without changing at all or one change at most. For example, Bond Street, Oxford Street, Westminster and Canary Wharf, St Pauls and Greenwich are all on a direct route from Stratford. For me, I would rather be slightly further out but with an easy modern station with step-free access to everything, than be more central having to walk a long way to the tube, change lines or lug bags up and down steps.
Having experienced it, I would definitely stay in the area again. It's particularly handy for Liverpool Street area, and The City of London is only a few stops away.
Check-in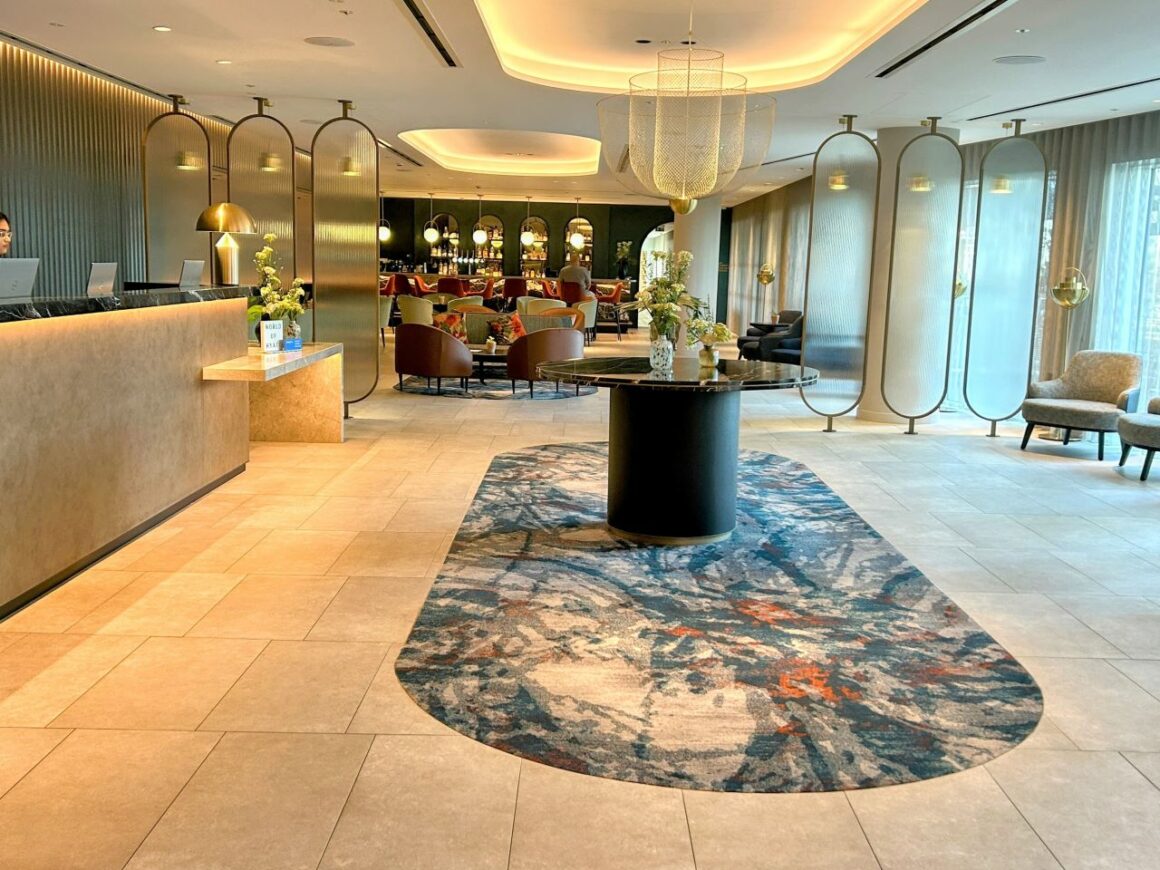 To find the hotel, you exit the shopping centre by Hugo Boss, and the entrance to both Hyatt Hotels is opposite. Reception is on the third floor so you have to take the lift up. However, unlike some hotels, you can go straight from your room floor to the exit in the lift which is great to quickly pop out.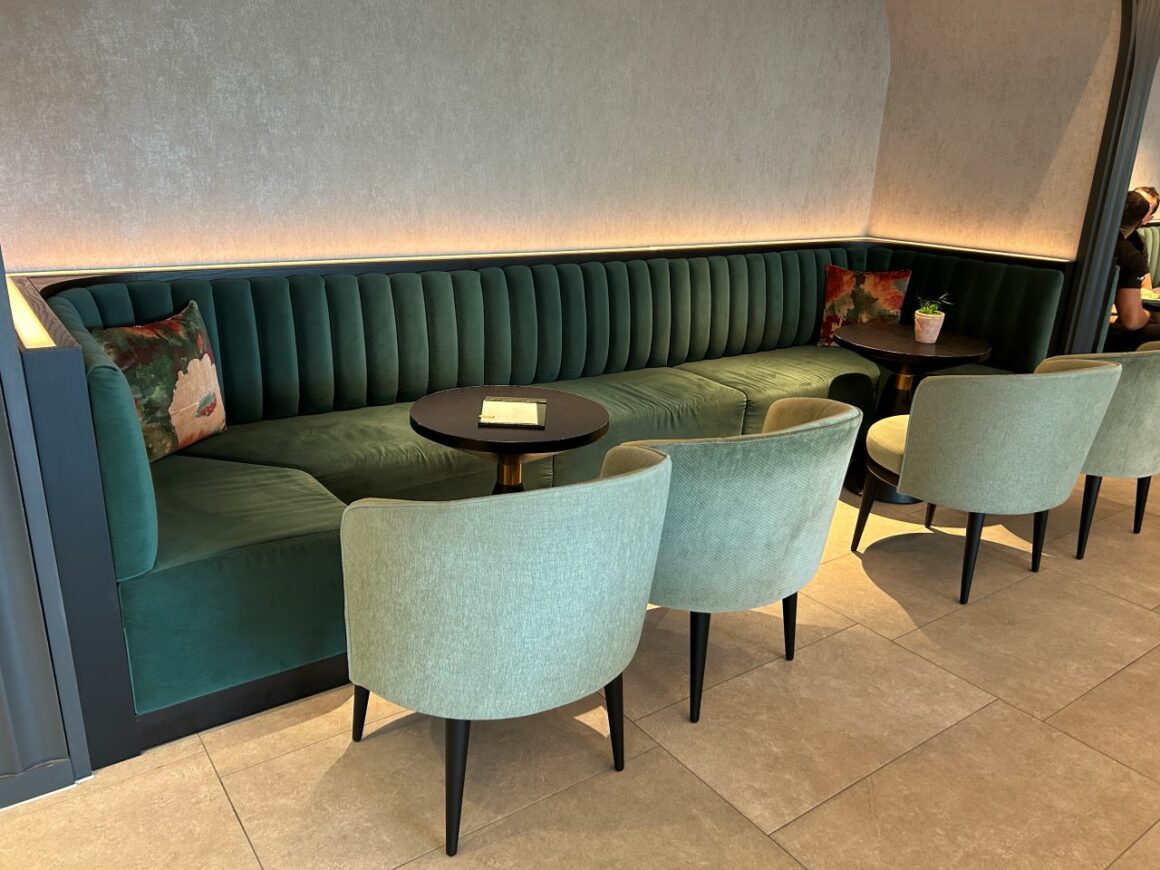 The reception area feels modern and luxurious, with a rich colour palette similar to that at the Hyatt JFK I reviewed here. If you didn't want to work in your room, this would be a good area to sit in.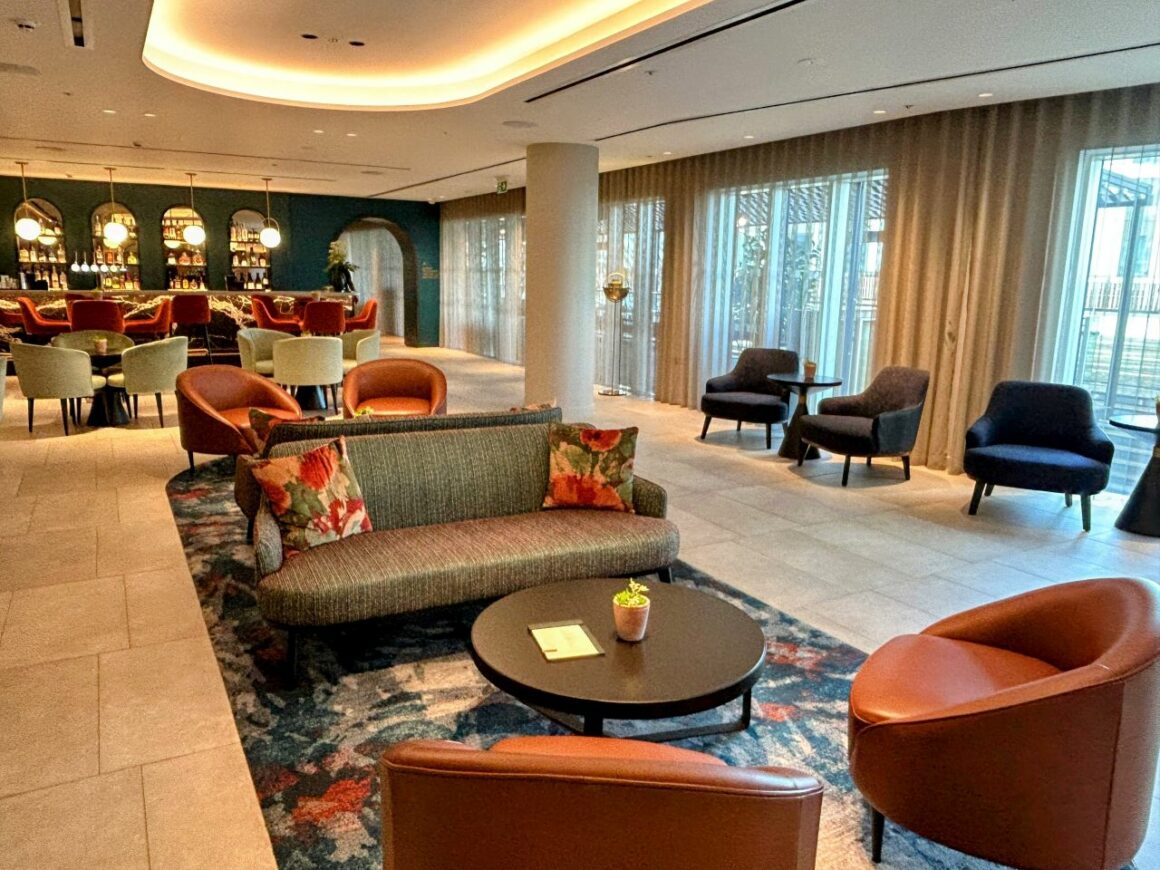 The reception area contains plenty of seating as well as the bar. I was welcomed to the hotel, and then they explained where to find breakfast and the fitness room.
The room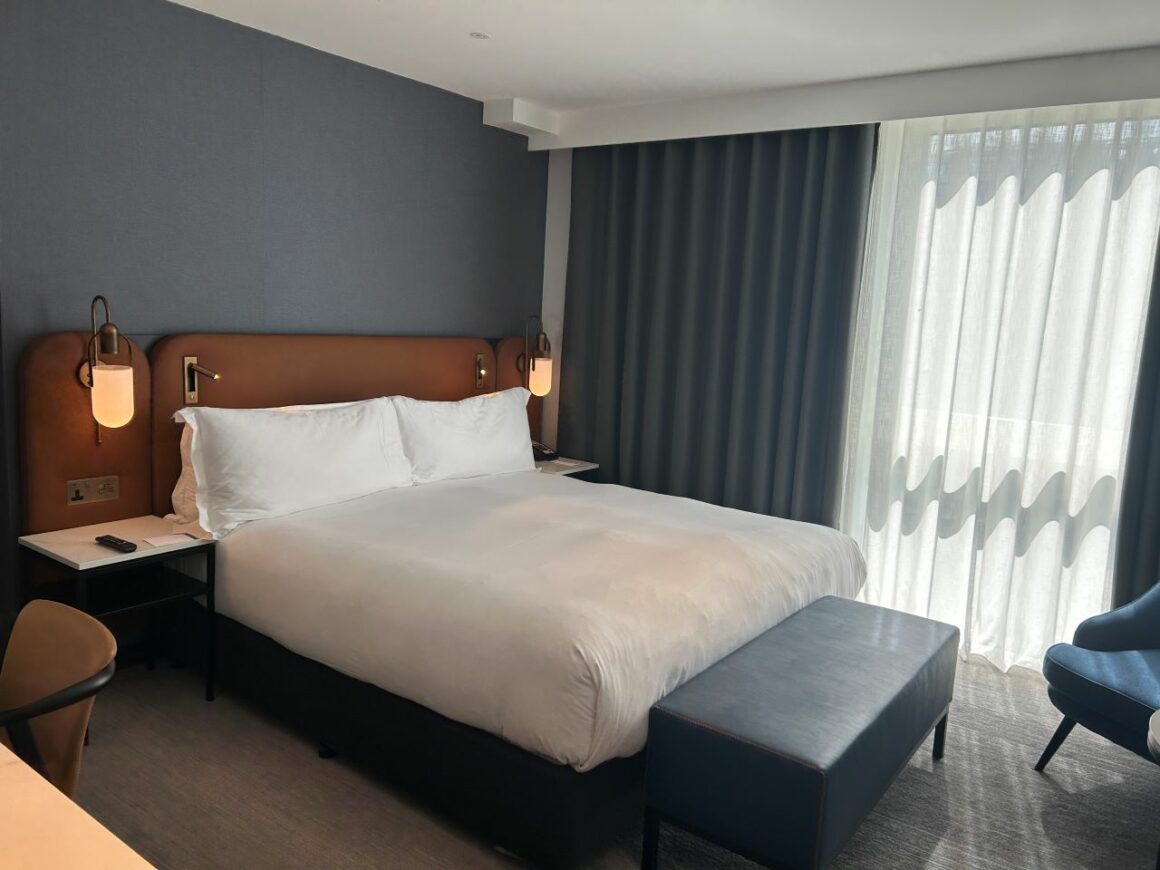 The rooms are very similar apart from the view until you get to the Deluxe category rooms, which are a bit bigger but still very similar in terms of layout. They also have two categories of suites.
The room felt very modern but still at the luxury end of the market, and I like the new style that Hyatt has adopted with the petrol blue with tan accents. I could see the Queen Elizabeth Olympic Park in the distance from my room. There are some rooms called Olympic Park view that have better views of the park and Aquatic centre.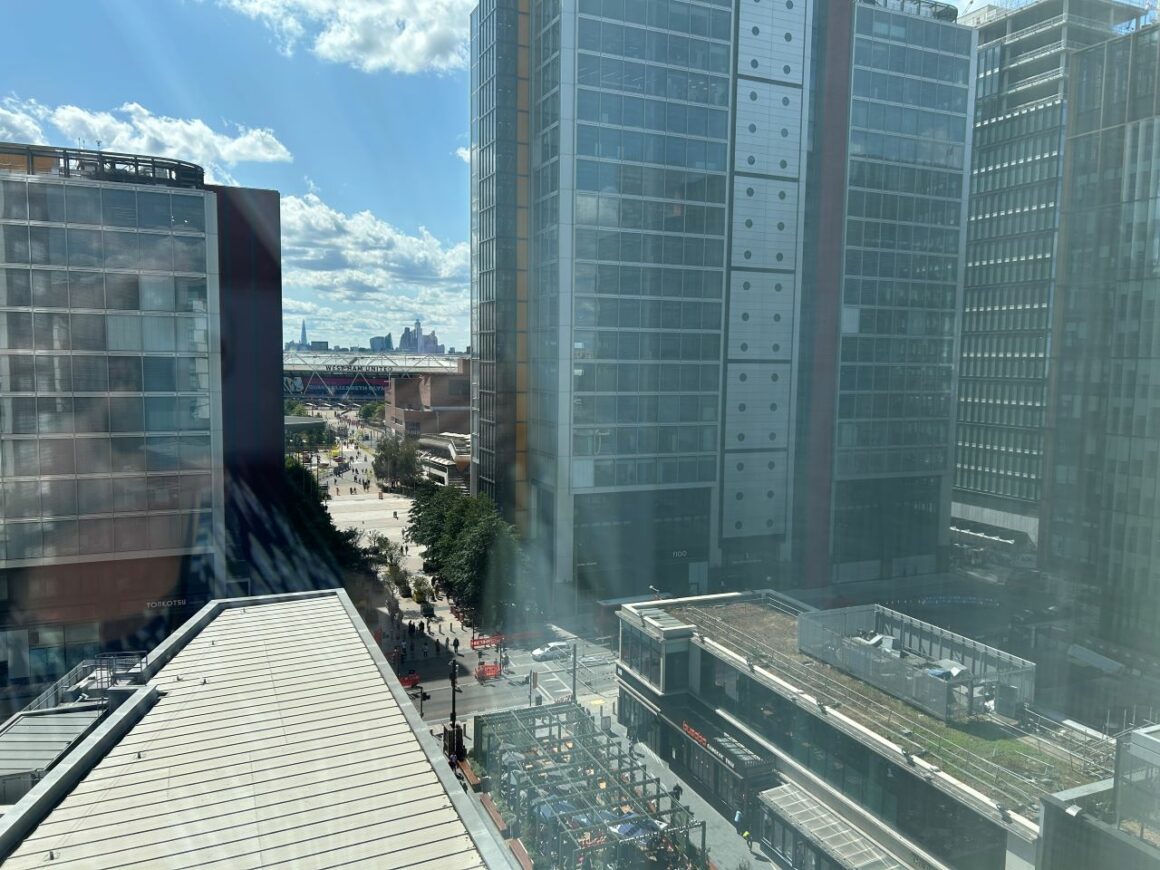 There was a kettle rather than a coffee machine, but they gave you coffee bags, which is definitely better than a Nescafe sachet! I also liked that they gave you proper glasses and a corkscrew. A lot of hotels seem just to have small glasses in the bathroom and nothing else. A bottle each of still and sparkling water were provided, plus there was a good size mini fridge that was empty. Housekeeping was happy to supply more water when you wanted, which I appreciate. The good thing, of course, is that you were surrounded by shops, so you could pop out if needed virtually anything.
There was an iron and ironing board as well as a safe. One of my favourite features was the desk/dressing table, which was just perfect for either work or doing your hair as there were two sockets by it with USB and power points. So many hotels fail to provide a mirror and chair near a socket. There was also a full-length mirror too.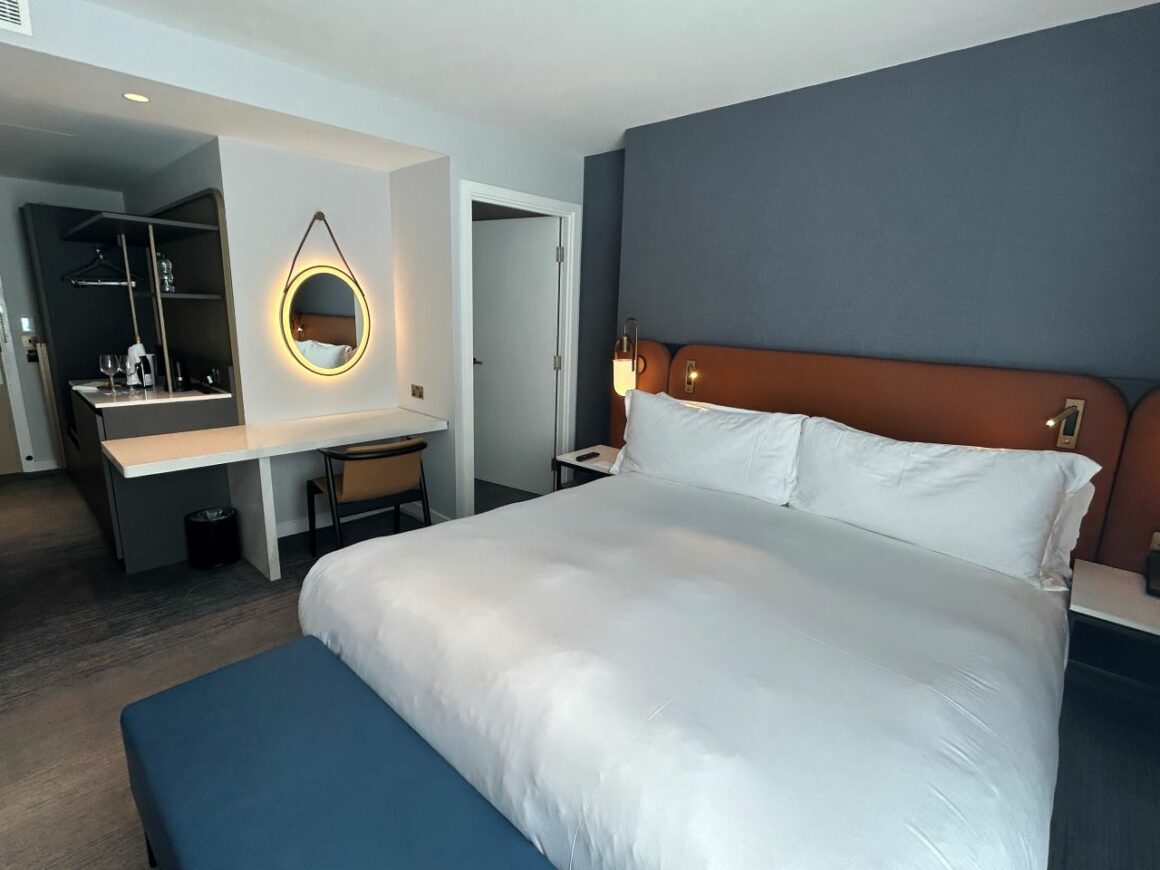 There was a wardrobe as well as an open hanging area. I'm not normally a fan of open hanging areas, but it was in the hallway rather than the room, and you could just use the wardrobe if you wanted. The TV was large and modern, but I couldn't manage to pair my iPhone with it.
The bathroom was also modern with matt black finishes. My vanity area would have perhaps been a little small for two people if you have a few toiletries to store, but most of the other rooms have a larger vanity. I think my room was a different shape as it was an end room.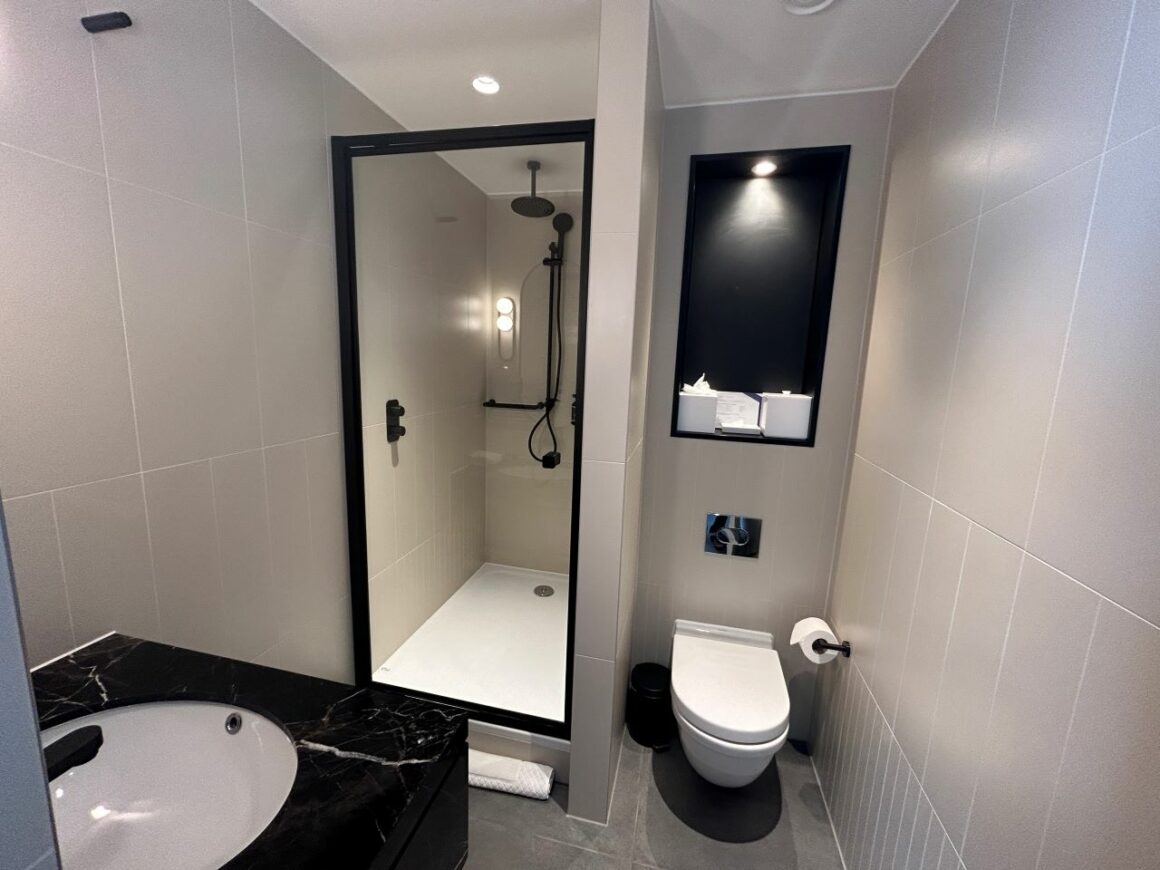 I liked that there was a magnifying mirror and that there were lights to the side of the mirror as well as overhead.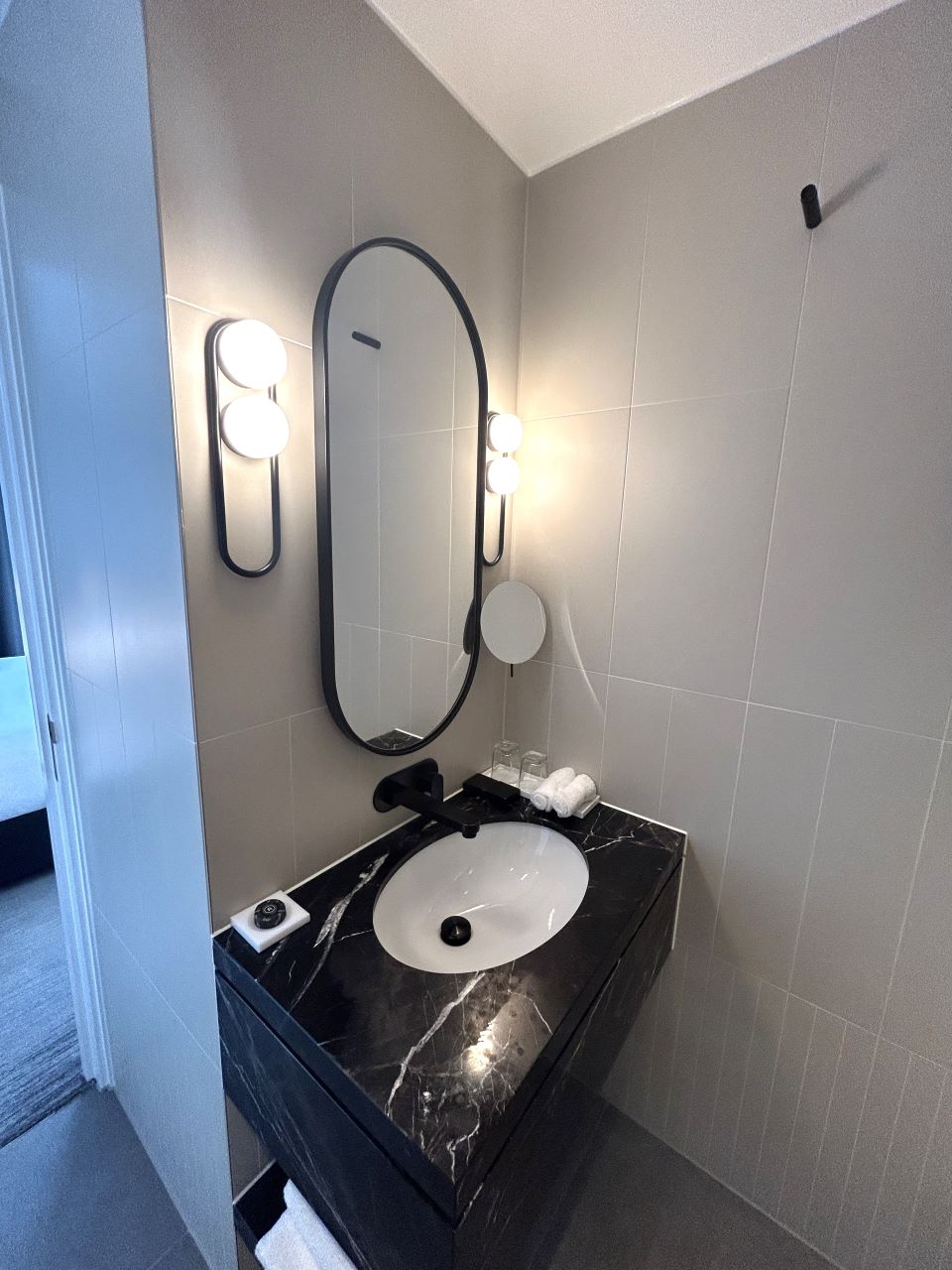 There was a rainhead shower with large-size toiletries fixed to the wall. The toiletries were Aussie luxury brand Apelle's with their Apothecary range. I was expecting more of a scent with that name, but the fragrance was very subtle and spa-like.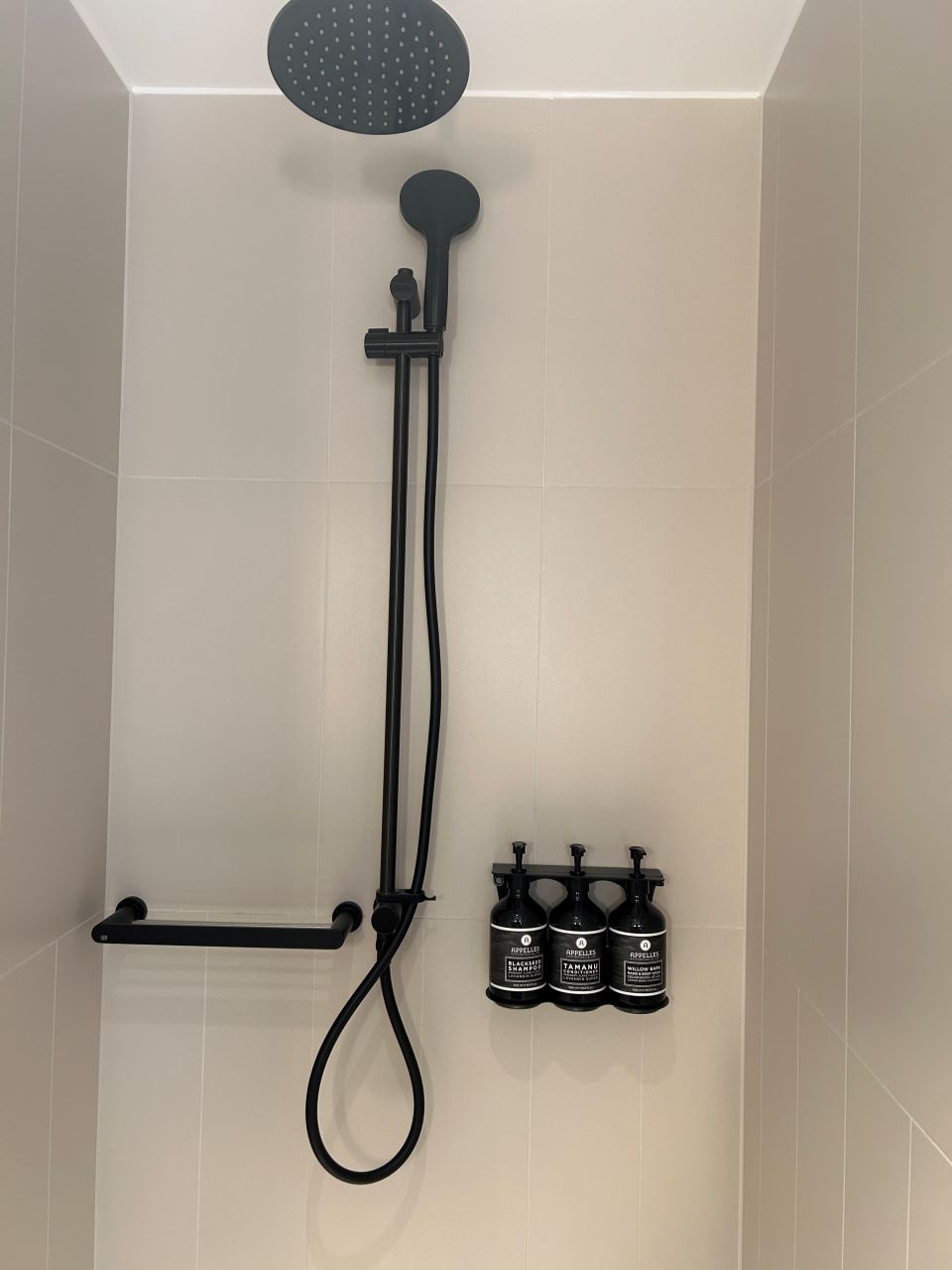 I did find it slightly odd that there was no body lotion anywhere. Especially when they had a list of multiple items you can ask for if you have forgotten something. I really like the Hyatt initiative to offer the service that I have seen in other Hyatt Regencies.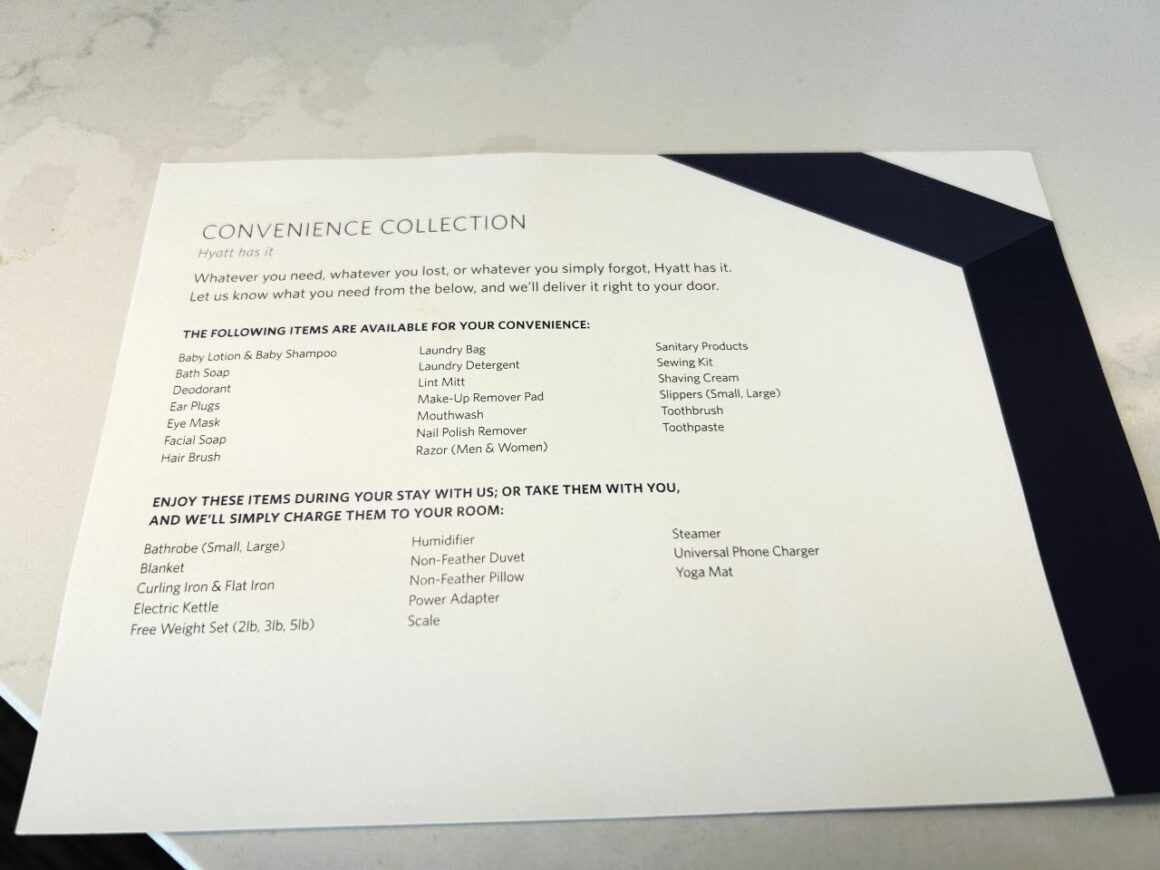 The bed was very comfortable, and my room was extremely quiet. There was a double socket on either side of the bed with a USB port. I particularly liked that the lights were simple to work out with bedside and reading lights that could be operated separately. In some hotels, you feel like you are part of an elaborate game to crack the code to turn all the lights out while still being able to have a bedside lamp on!
Food and drink
Elondi Terrace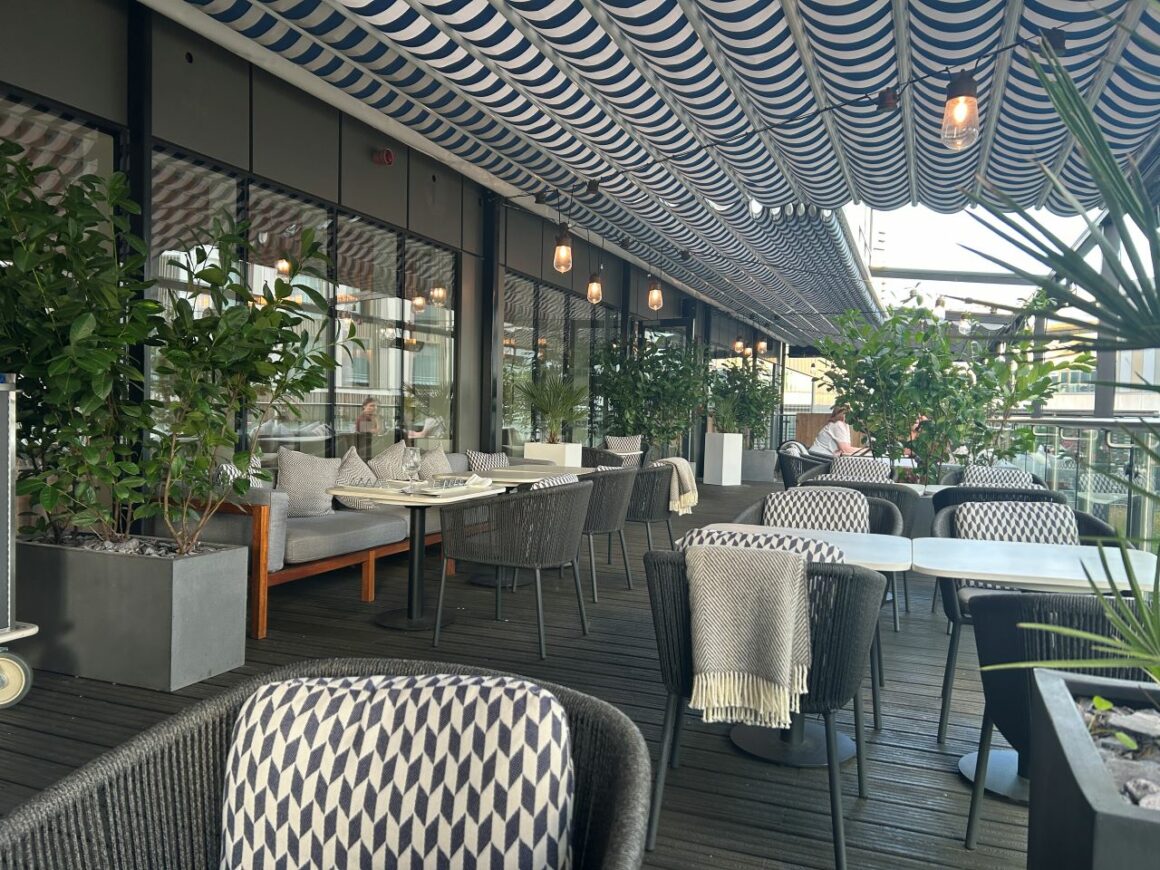 I was particularly impressed with the food and drink here. The highlight is the Elondi terrace, which is a lovely spot to sit outside on a warm day. In cooler weather, they have blankets and heaters. They have a partnership with Gusbourne English sparkling wine, so you can sip a glass of the brut or rosé sparkling wine.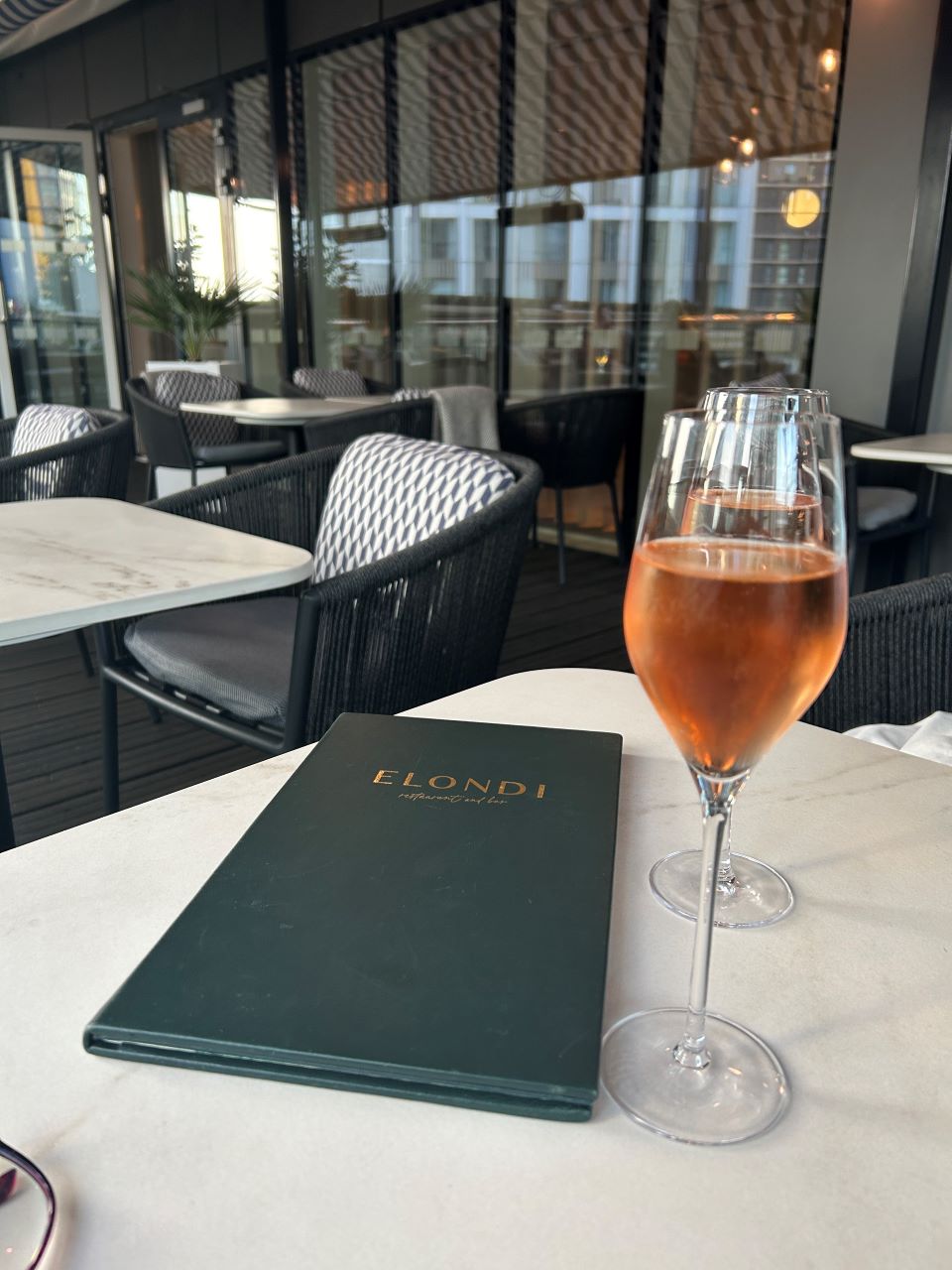 They also serve a bar menu out here but would not allow us to eat the restaurant menu outside even though it has doors from the restaurant, and you can eat breakfast out here. We did try appealing, but they would not budge, which I thought was very odd considering it was quiet.
Bar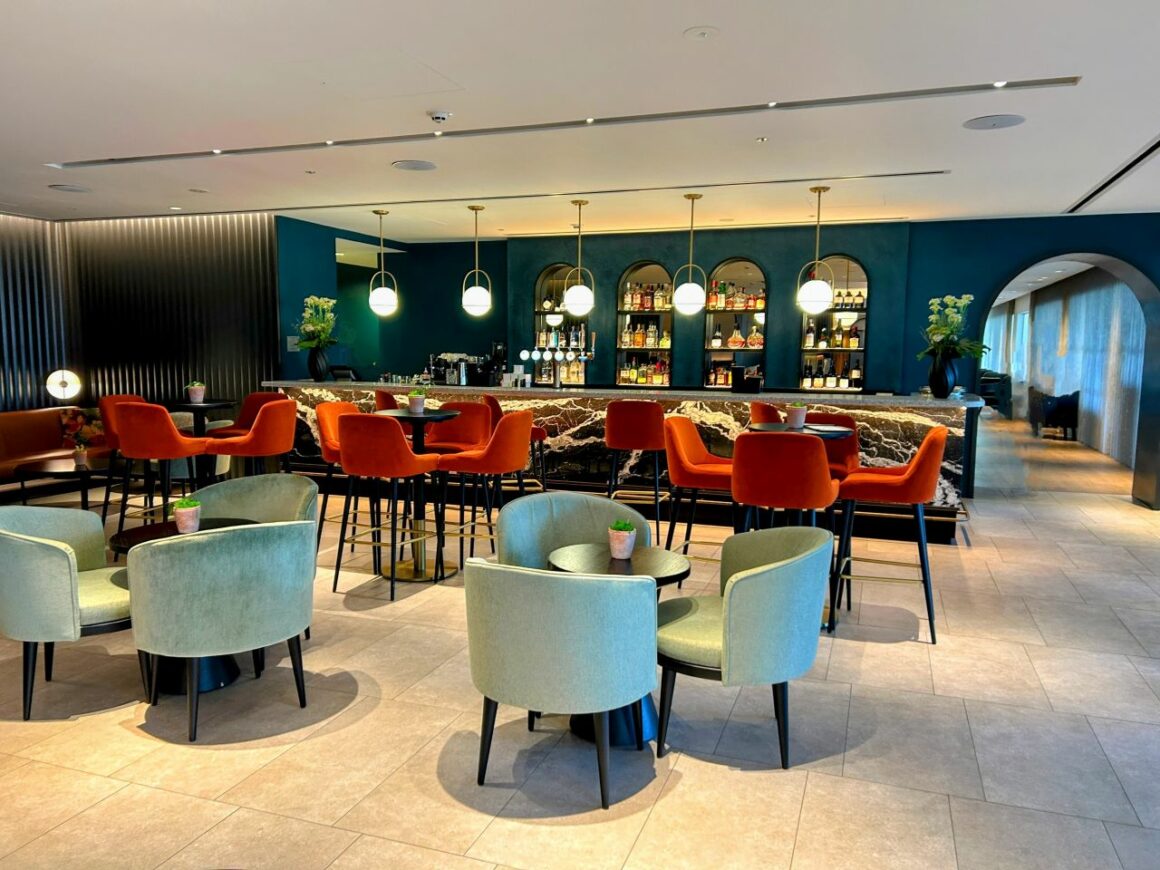 There is also a bar area by reception where you can get cocktails and other drinks, as well as the bar menu.
Elondi restaurant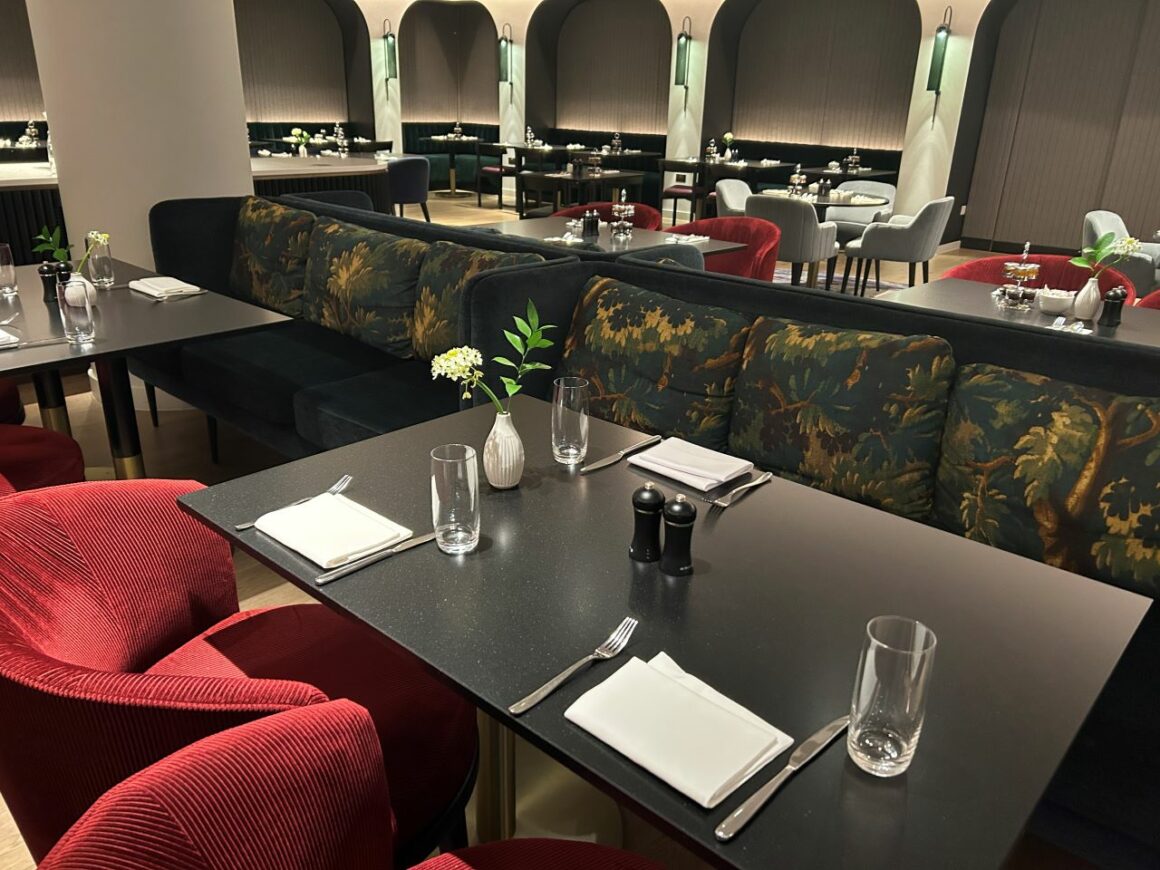 The hotel has done a good job with the restaurant as often hotel restaurants don't really feel like somewhere you want to have a nice dinner if they are also the breakfast room. The Elondi restaurant looked sophisticated in the evening with the jewel colours and fresh flowers. I was pleasantly surprised by the menu, which had a great choice of more adventurous dishes, such as steak tartare and Frutti di Mare as well as more simple dishes like steak.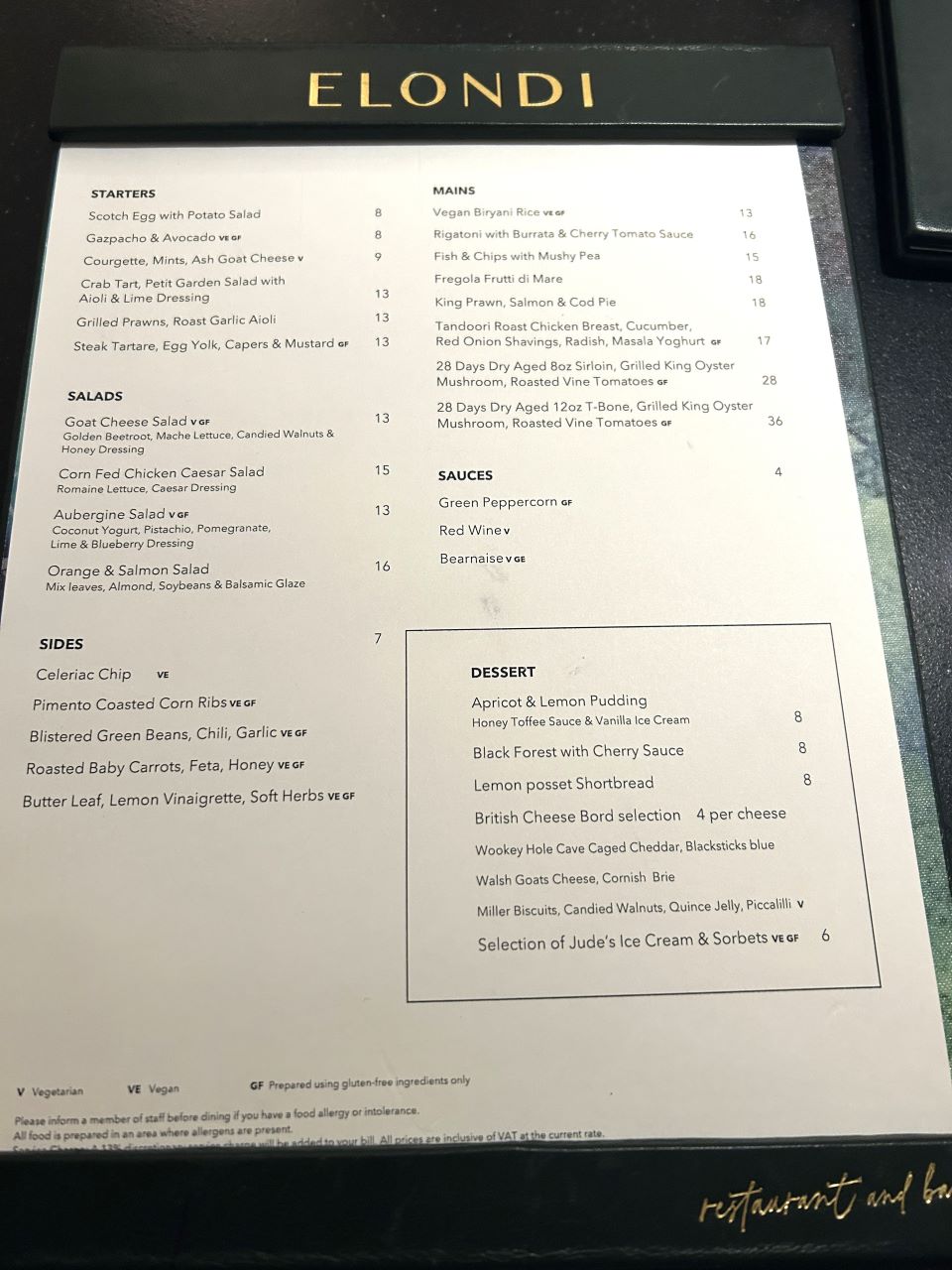 To start, I had the crab tart, which was sweet and delicious with a nice thin crust. The lime aioli stopped it from being dry and was subtle enough not to overpower the delicate crab.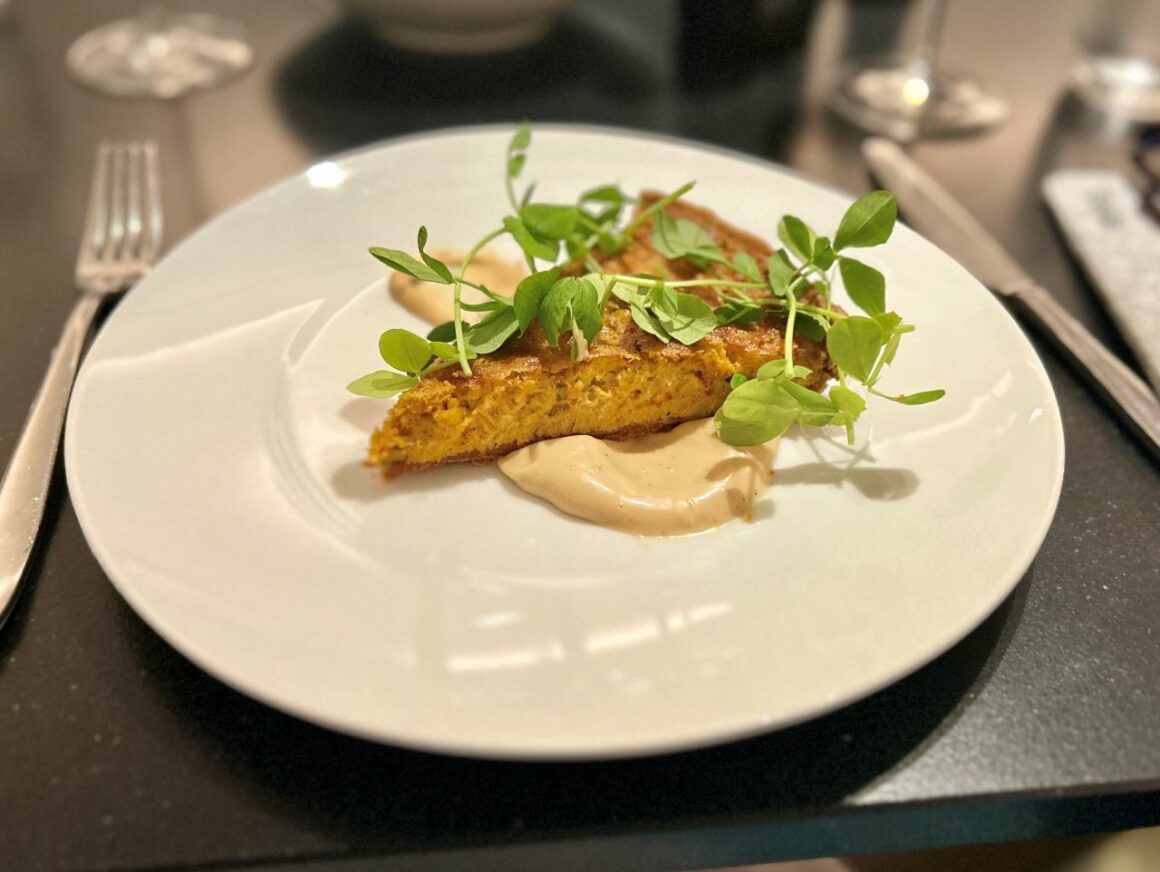 My friend Patrick had the goat's cheese and beetroot salad. This was something of a revelation with big earthy chunks of beetroot and subtle creamy goat's cheese, but the star was the crunchy and sweet candied walnuts, which was the perfect accompaniment.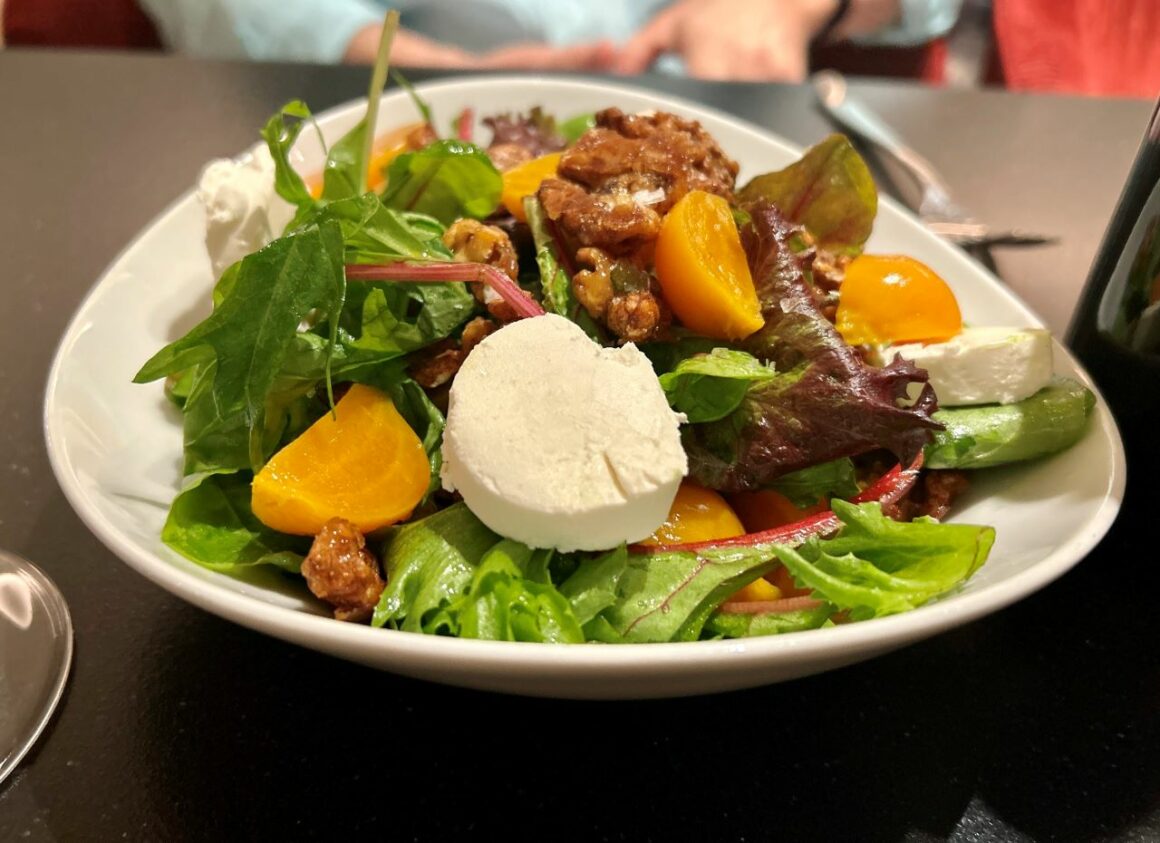 For main course, I was tempted by the steak but settled on the chicken tandoori. The chicken itself was moist and tender with a subtle tandoori flavour. I found the sort of salad underneath tasty but a little overpowering with its strong curried flavour, which dominated over the chicken.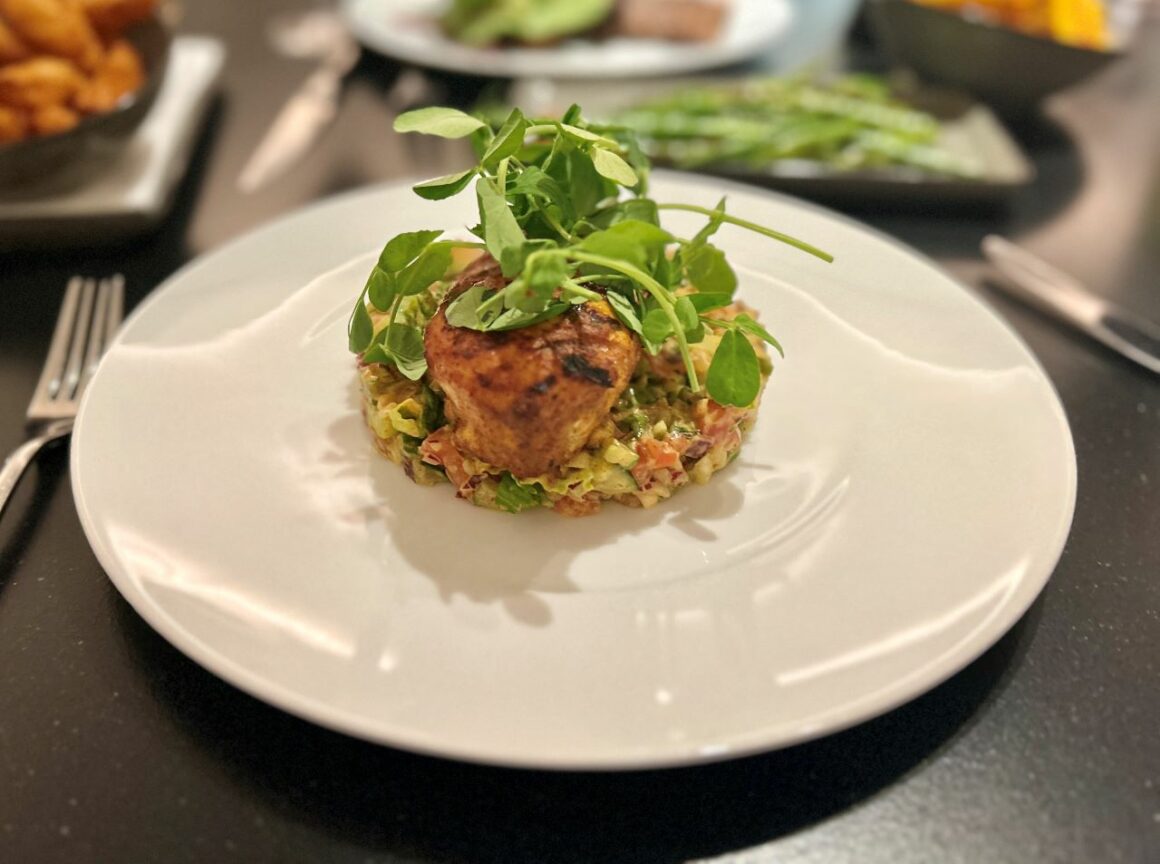 Patrick went for the steak which he enjoyed, but we were both particularly taken with a couple of the sides. The corn was not quite as described as, instead of ribs, we got slices that were tricky to eat (rib is when they slice down the cob to take off one large slice).
The green beans with chilli were fantastic with just the right amount of heat and perfectly cooked.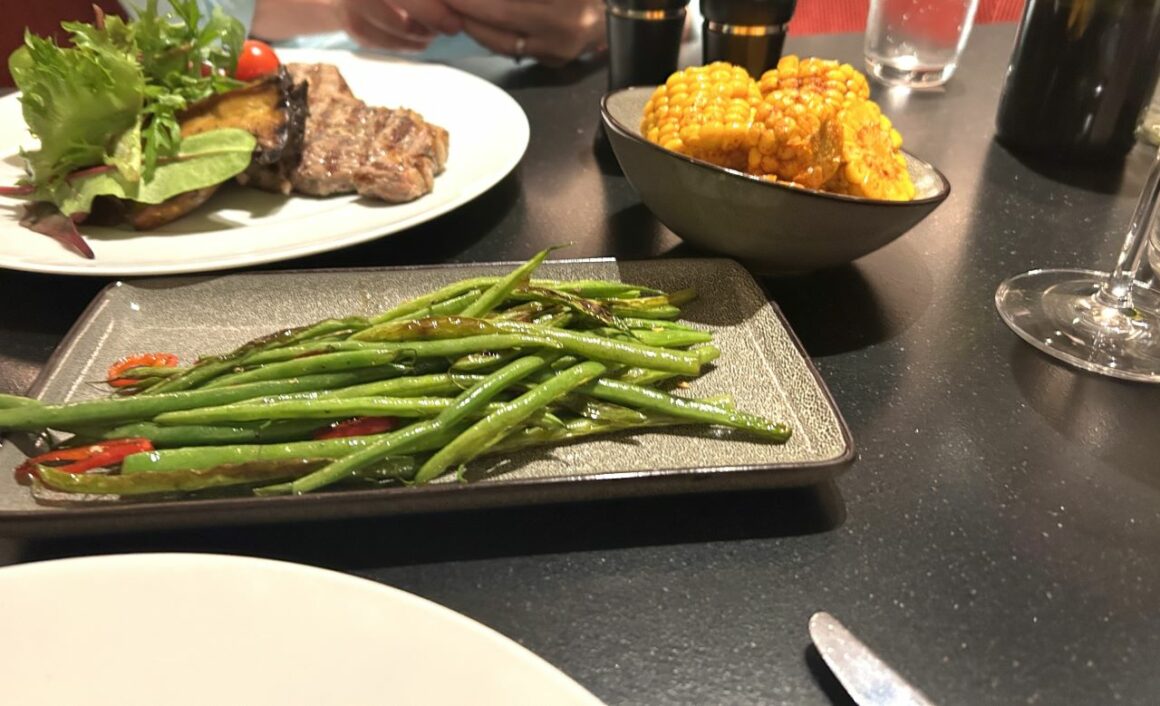 Our favourite was the celeriac fries, which I have never had before. Sometimes, these sorts of breaded vegetable fries can be very heavy, but these were perfectly crisp but light with a soft inside and still had the flavour of celeriac coming through. We had no trouble finishing the lot!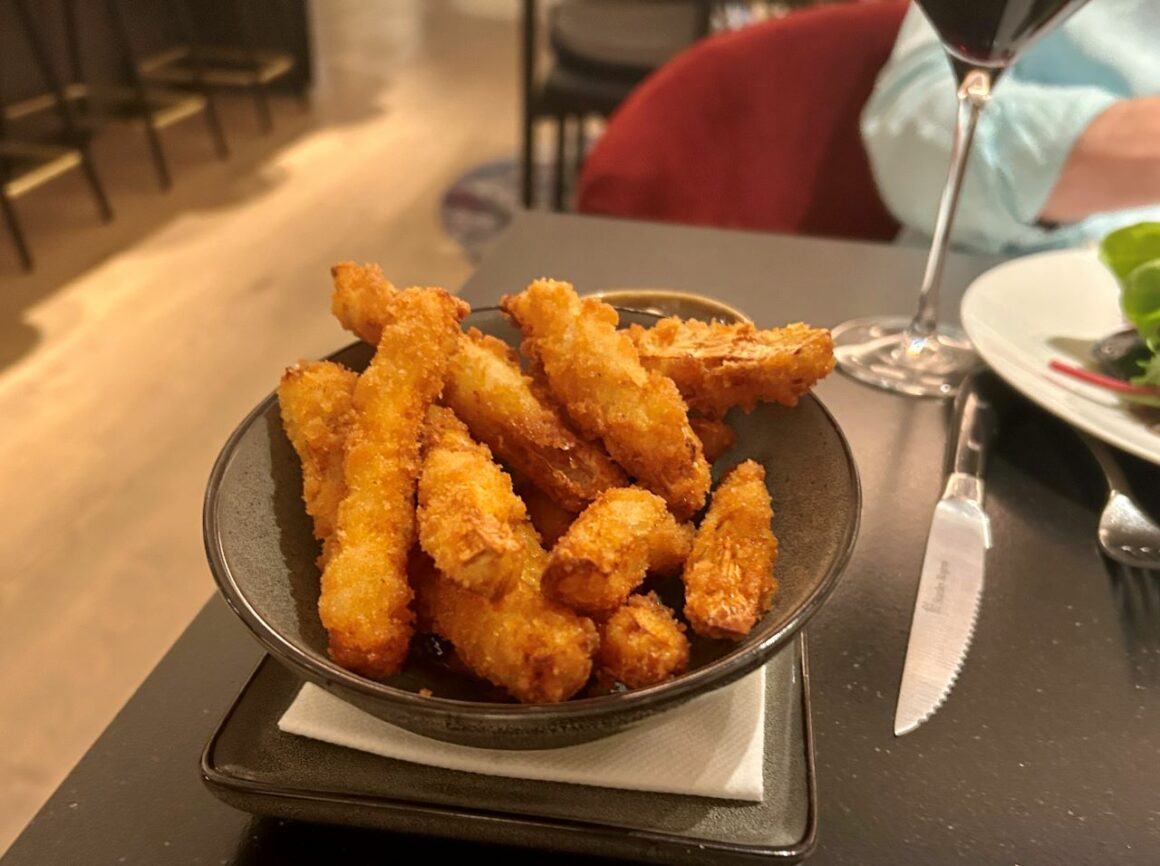 For dessert, we decided to share the black forest and the lemon posset. The black forest was tasty as well as beautifully presented and not too rich but maybe could have done with a different texture as it was very moussy. The posset was a real triumph, though. Lip smackingly tart with lemon but creamy too. The shortbread was also nice and crisp.
All in all, it was a good meal, and the young waitress serving us was particularly good.
Breakfast
Breakfast is served until 10am during the week and 11am at weekends. You can sit anywhere, and everything is self-service.
The cooked selection was particularly extensive with scrambled eggs, frittata, poached eggs, turkey bacon, tomatoes, hash browns, sausages, bacon, beans and porridge. If you were vegan or lactose-free, there were also alternatives provided to cater for everyone. Thenhash browns were particularly good, crispy on the outside but not too greasy and fluffy inside. The coffee from the bean to cup was good, although I would prefer proper coffee via a server if I had the choice.
Facilities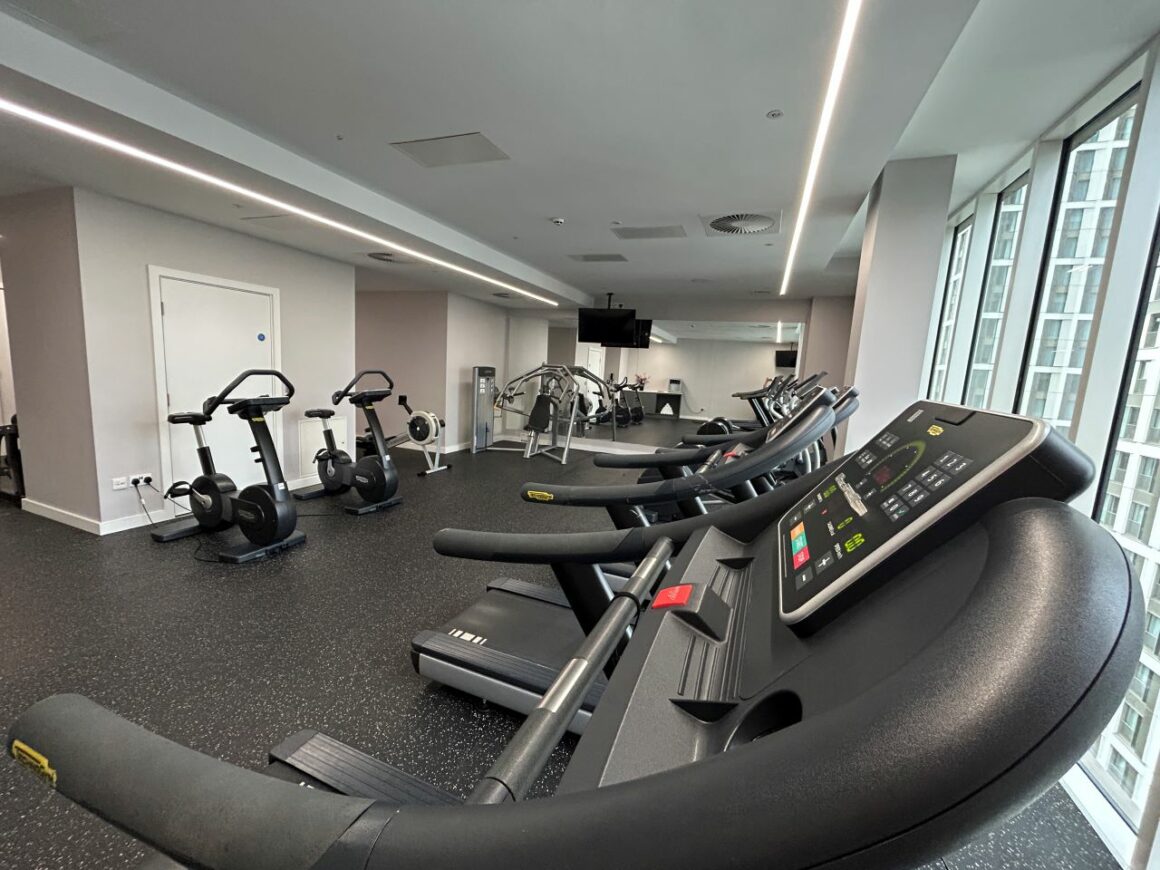 The hotel has a gym on the top floor with a weight room and a cardio room, which also has some exercise balls. There were towels and a fridge of water bottles provided.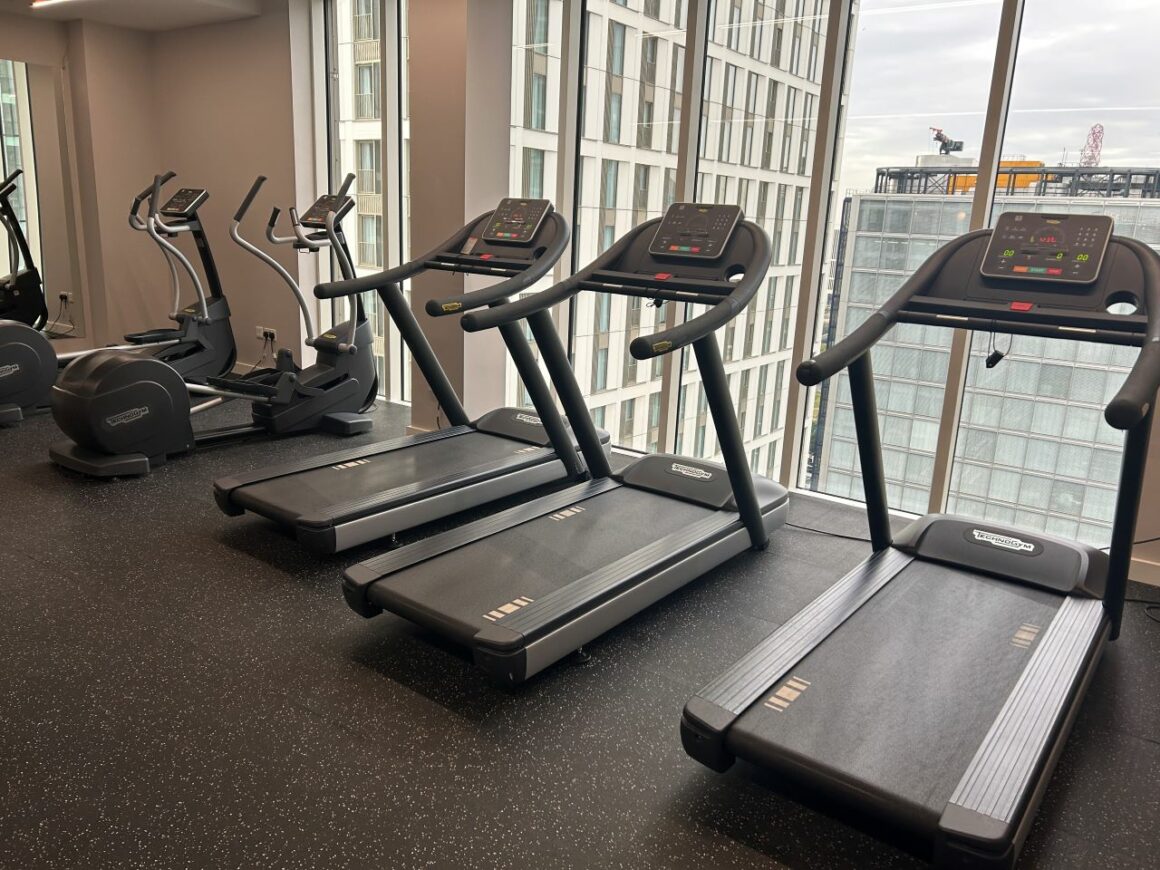 Pricing and booking
Generally, this is a very well-priced hotel for the standard of accommodation and the number of things on your doorstep. Prices start from £157 per night or 15,000 points (category 3). However, it is close to several concert/sporting venues, so when big events are on, prices can rise quite steeply to well over £300.
I'd advise checking with our luxury partners GTC as the hotel is part of Hyatt Privé, which gives you extra perks when you book through a Privé agent. Guests booking through their Privé member travel advisor get exclusive benefits, such as property credits, complimentary breakfast, and room upgrades. You also still collect Hyatt points and get your usual status perks.
What to do nearby in Stratford and Queen Elizabeth Olympic Park
I was very pleasantly surprised by Stratford and how much there was on the doorstep. The Westfield Mall has a lot within it, including John Lewis, M&S and Waitrose as well as a range of shops from high-end to Primark. There is also a cinema and lots of restaurants and food stalls.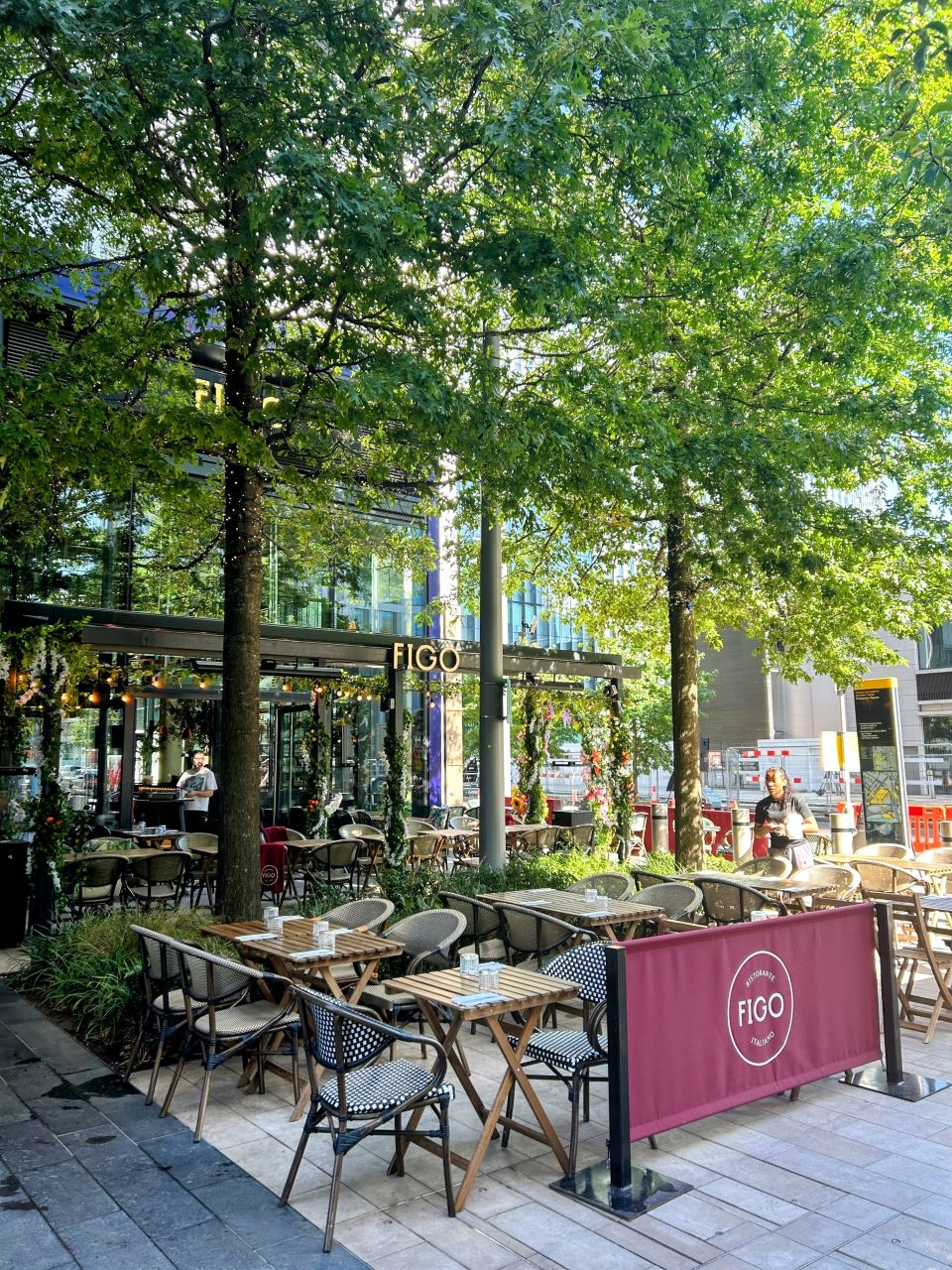 As you exit the shopping centre, there is a long row of restaurants with outdoor terraces serving every sort of cuisine, from Mexican to tapas or dessert.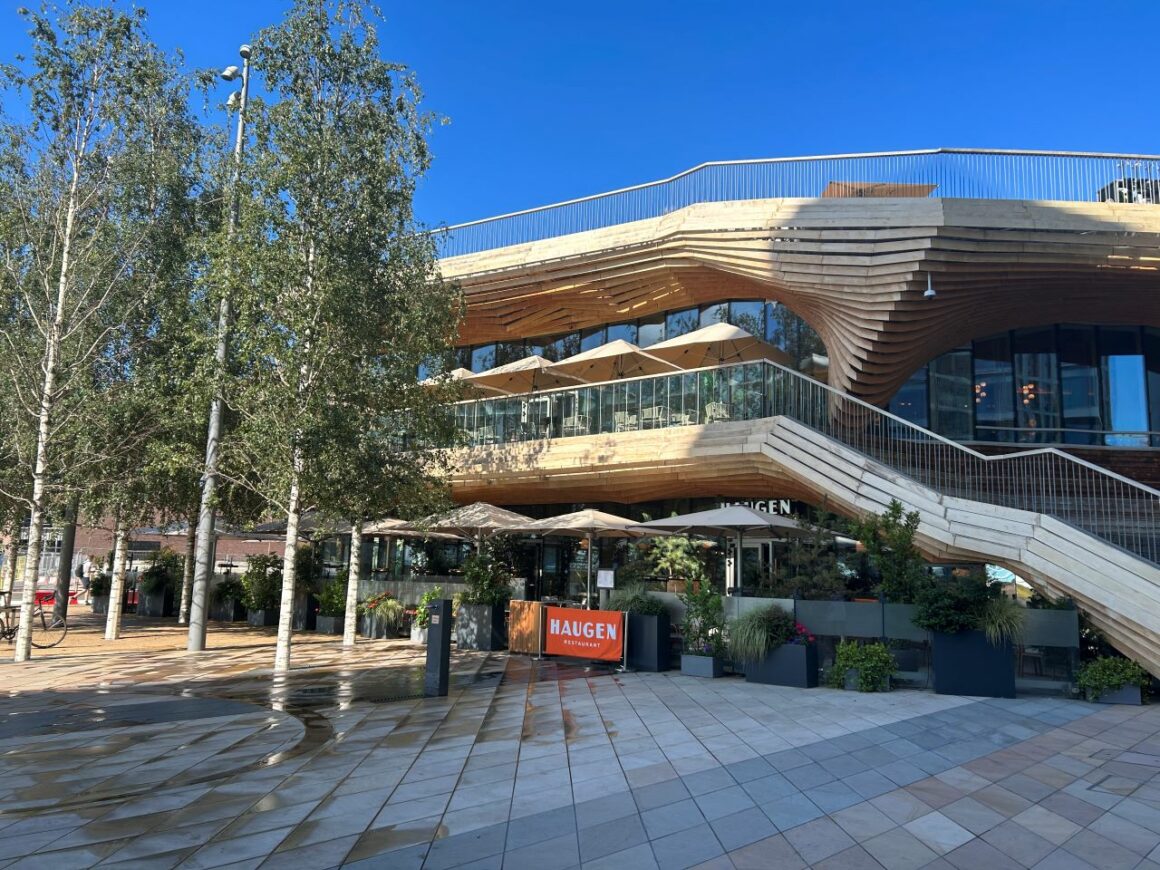 Then, as you enter the park, there is the Haugen Alpine restaurant. This is a large operation with a great rooftop bar, deli and the main restaurant.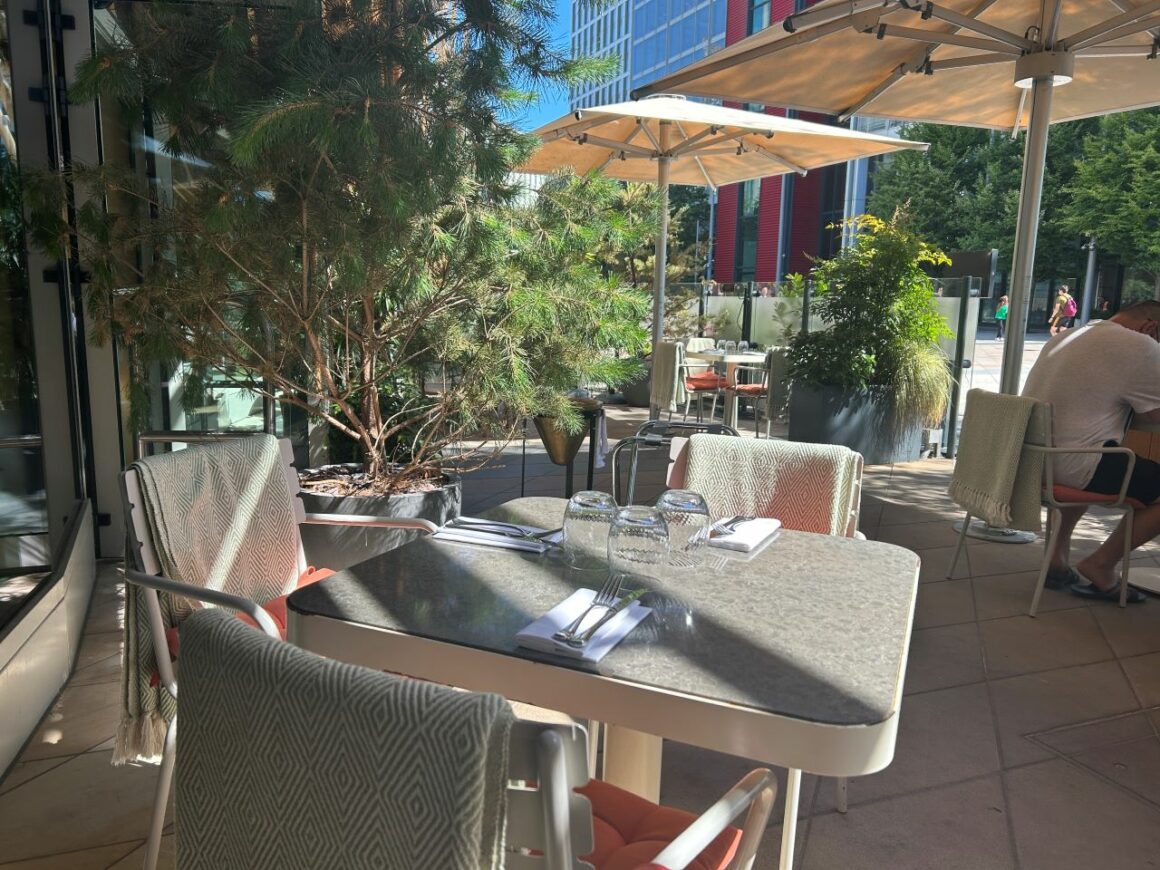 I was very lucky with the weather, so enjoyed lunch on the terrace. It had a great menu with everything from currywurst to fondue and steaks. I enjoyed the steak tartare, which had a poached egg on top instead of the usual egg yolk and a smoked, slightly spicy sauce. It was a large portion, too for a starter!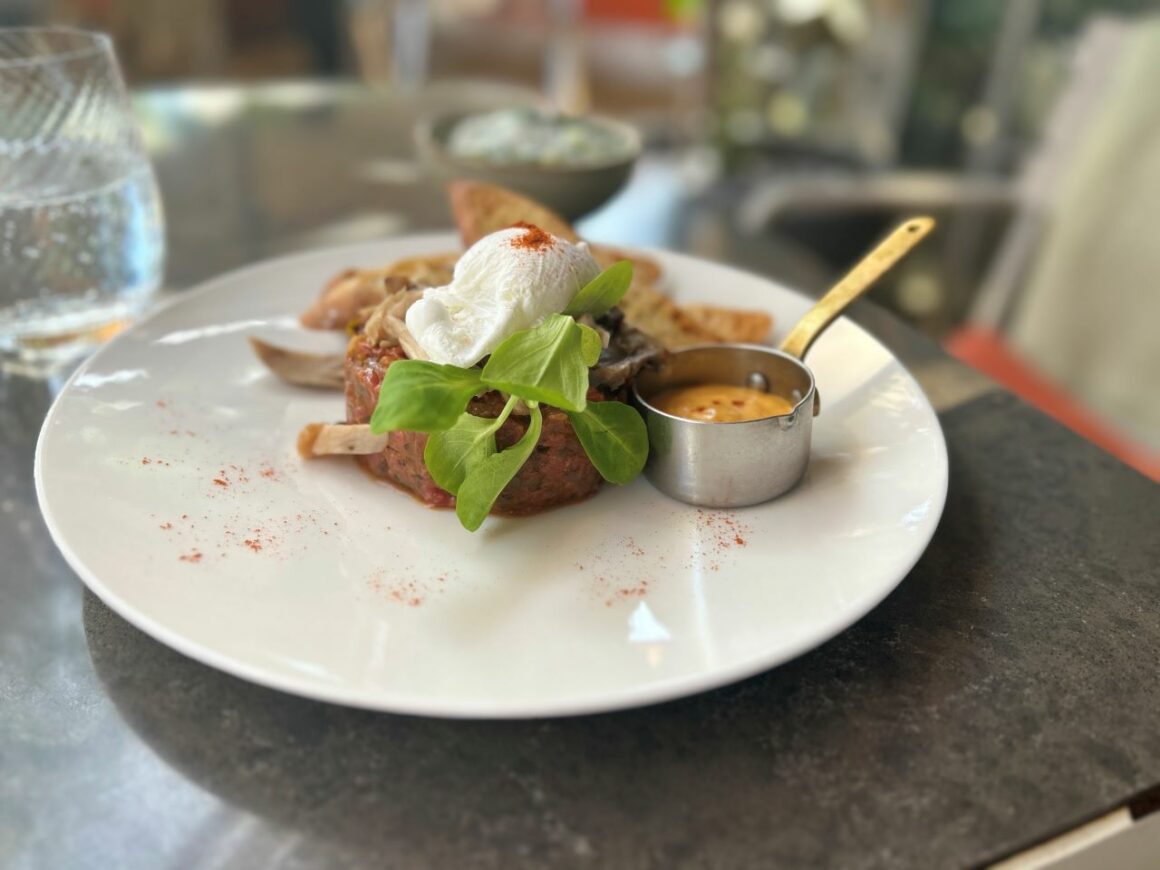 I also tried the wild mushroom rosti and the cucumber dill salad, which were both delicious and very generous portions too.
The park is still being developed and has some very interesting new attractions coming, with Sadler's Wells Theatre and a new Victoria and Albert Museum in the works.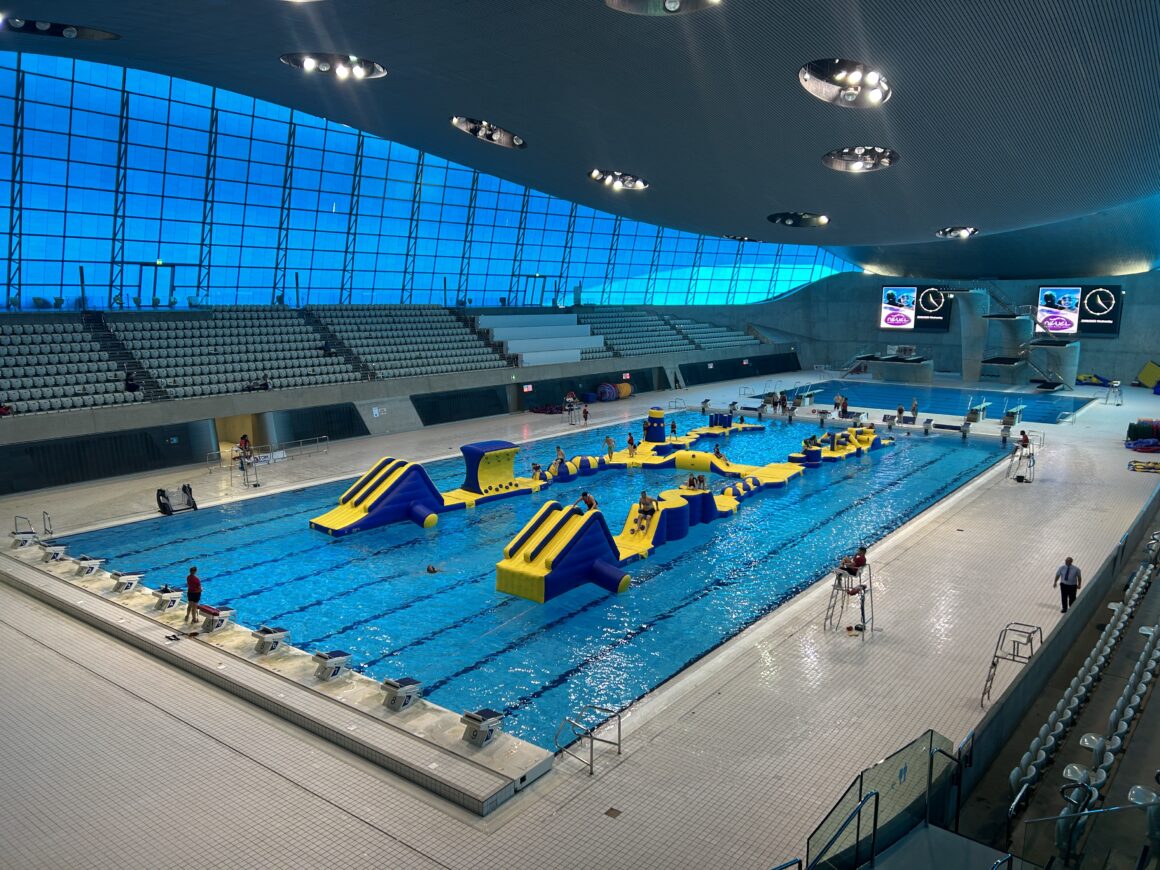 You can go for a swim in the aquatics centre, which was used during the Olympics and has a stunning building design. Architect Zaha Hadid was inspired by the fluidity of water in motion.
If you are lucky, you may bump into Tom Daley, who still trains here when he is in the UK. Ellie Simmons also has trained here. During the summer holidays, they have an inflatable playground for the kids. There is a second pool for those who want to get in some proper swimming.
If you are interested in the Olympics or cycling, you can also visit the Lee Valley VeloPark.
My favourite attraction was the ArcelorMittal Orbit, which was designed by Sir Anish Kapoor and Cecil Balmond for London 2012. You can take a lift up to the top to admire the views of London, including the Gherkin and the Shard.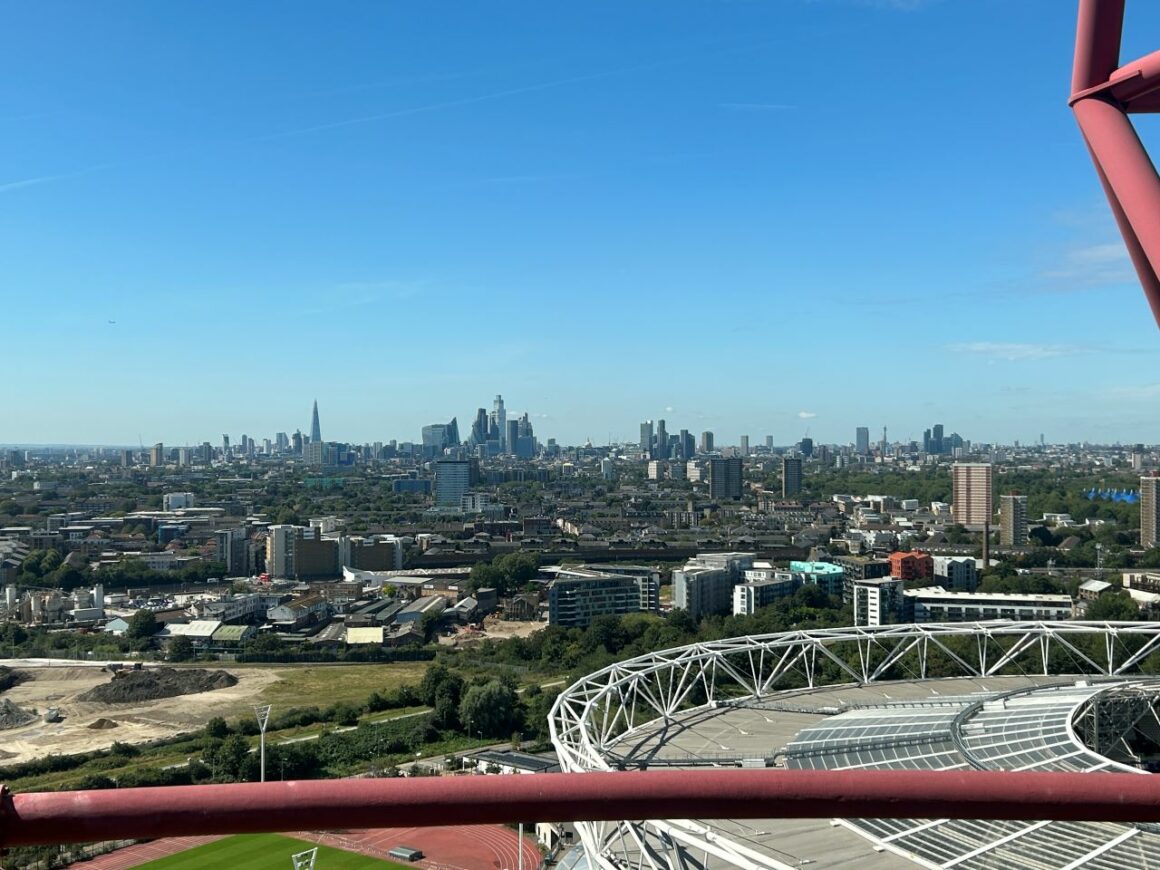 Inside, you can flip the horizon in Anish Kapoor's two huge concave mirrors. There is also a slide which loops around the sculpture 12 times on the way down.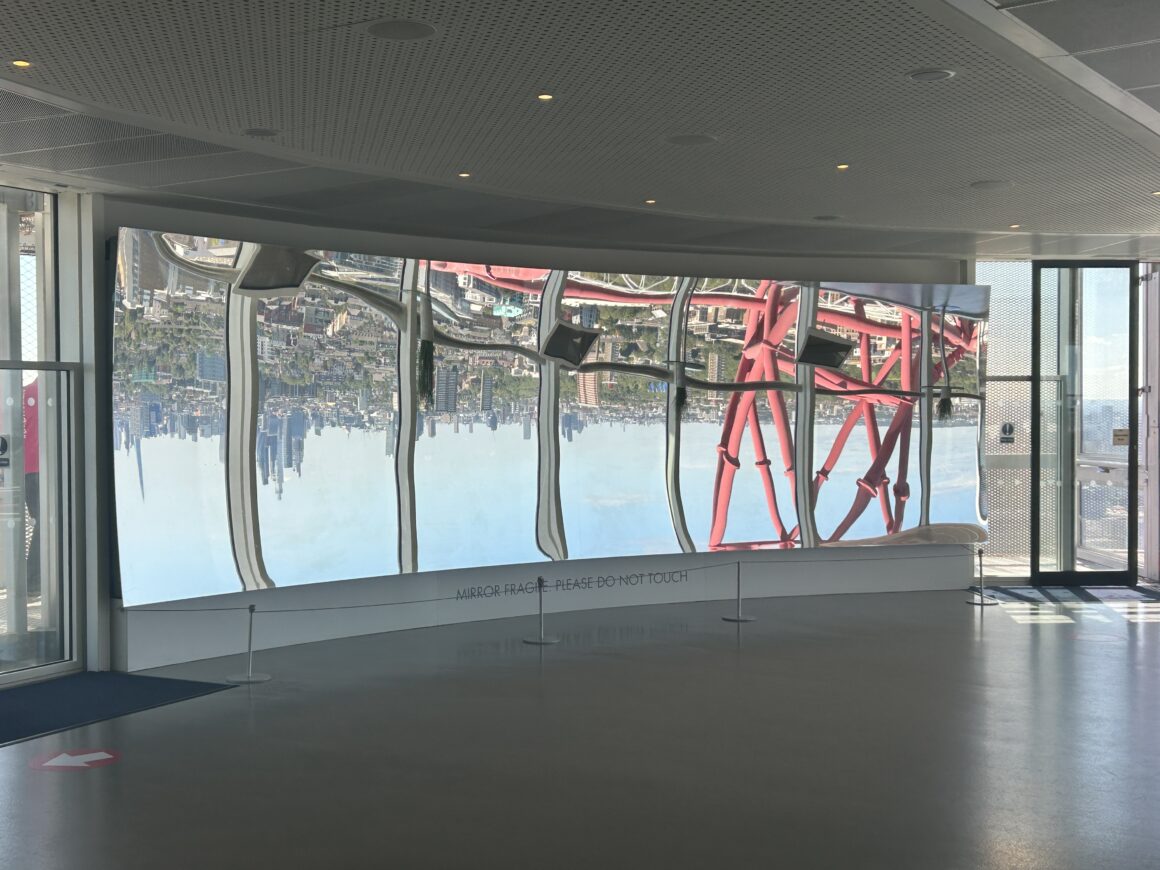 The original stadium is now the home of West Ham but has also hosted numerous concerts. Nearby, the Copper Box is also a 'sports and concert venue. One thing I am keen to go to, having heard rave reviews from people who have gone, is ABBA Voyage, which is also close to the hotel.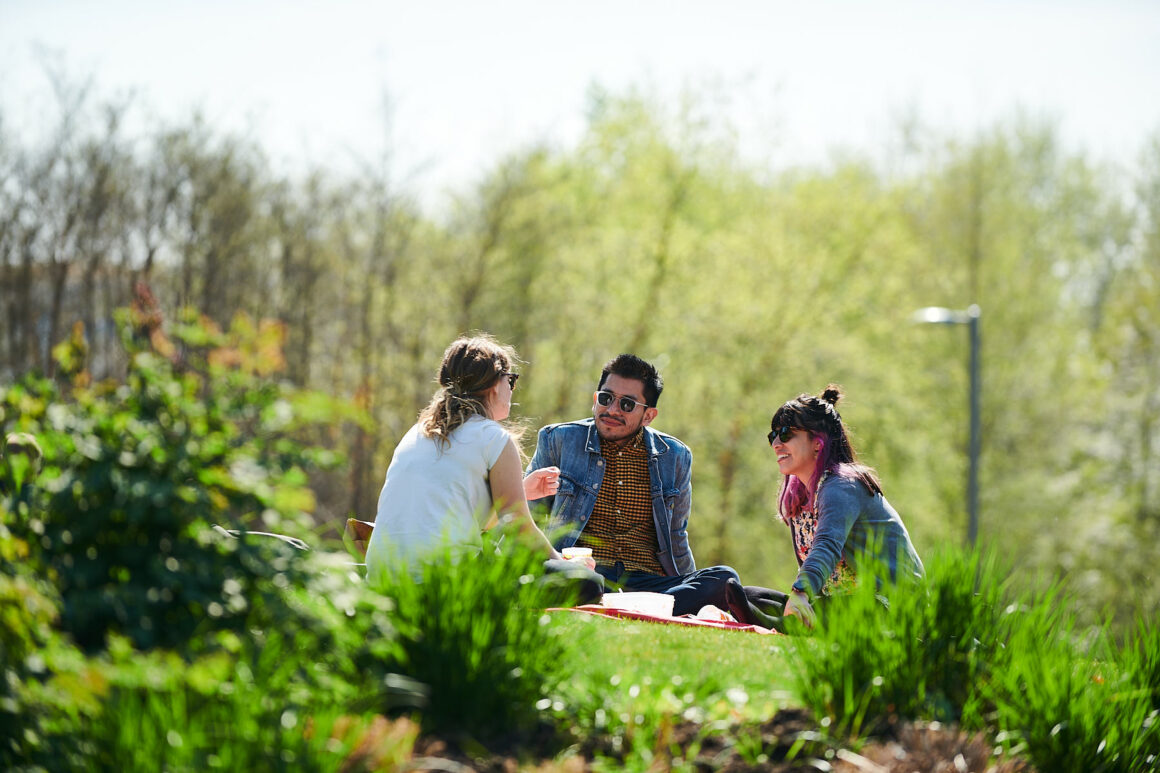 One of the things that surprised me was the size of the park and its beautiful walks. It is perfect for cycling, running or walking, and there are even picnic spots. There are lots of kiosks as you stroll through for a coffee or an ice cream. Canals thread through the park and offer boat cruises and swan boats to hire yourself.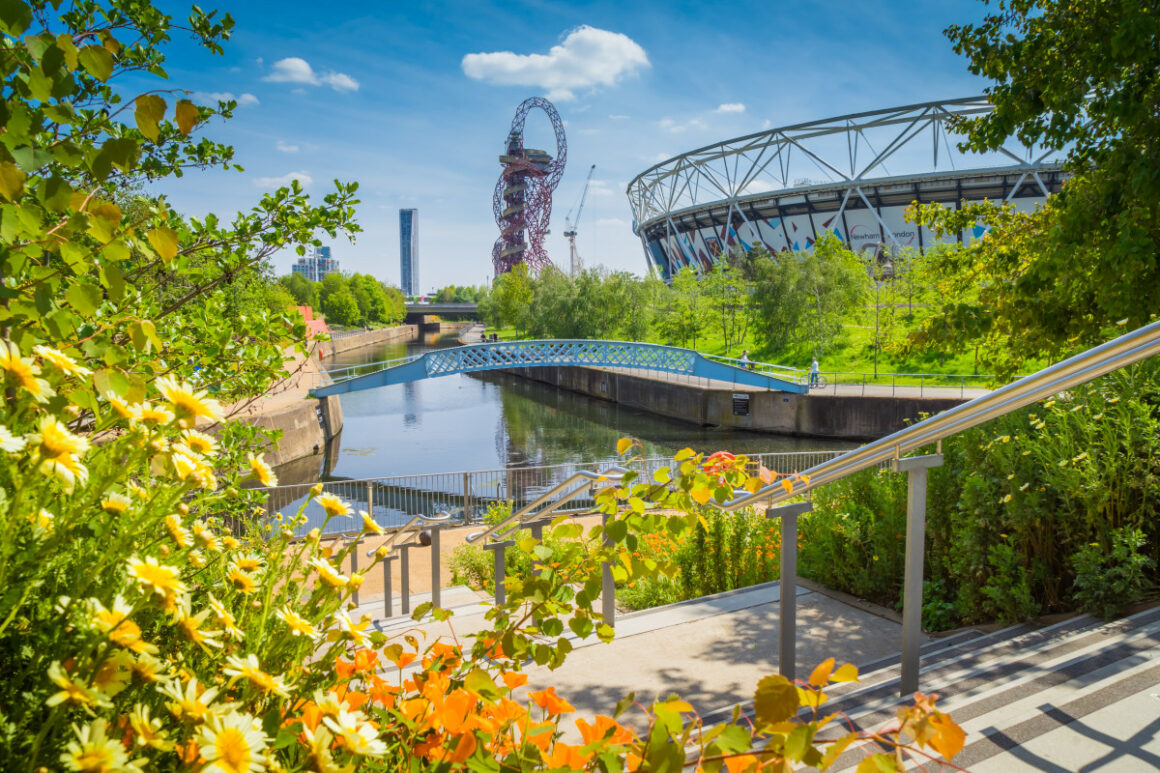 You can find all the details for Queen Elizabeth Olympic Park here.
Conclusion
I had a lot of preconceptions about Stratford, that it was too far out and that there was not much there. That was certainly shattered when I visited! It is very easy to get to, especially with the Elizabeth Line, and there is a lot on your doorstep there to do.
The Hyatt Regency is a well-designed, very comfortable hotel with some great value pricing. I would definitely probably go for this area over Aldgate (which is my normal go to for cheaper stays) if I wanted good value for money, although being next door to the shopping centre may cancel out any savings!