This is the second leg of the journey that Roving Reporter (RR) and I took to Auckland in January this year. We flew in business class from Stockholm to Auckland via Moscow and Singapore. If you are looking to go to Auckland this is a great price at £2100 but you can usually get Qatar cheaper from Stockholm. We chose Singapore Airlines as we wanted to specifically stop off in Singapore. You can read the review of our first Singapore Airlines flight on the A350 here. After stopping off for a few nights at my favourite hotel in the world, The Sanchaya (review here).
Check-in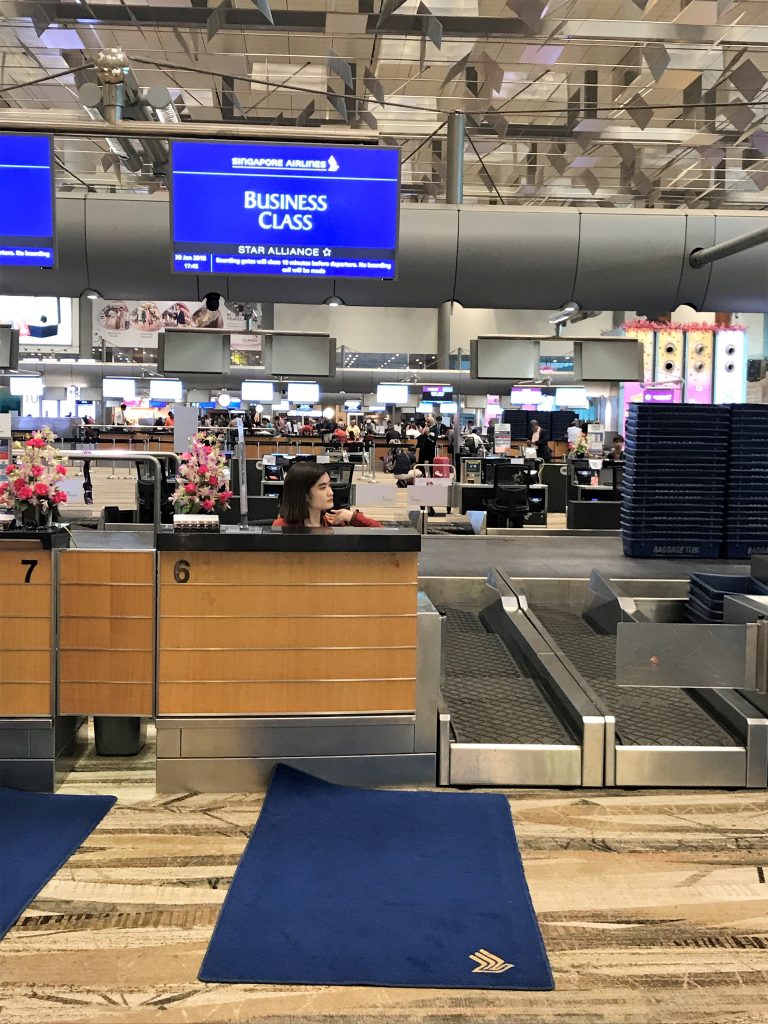 We were leaving from Terminal 3. There was a large, open premium check-in area and no queue. As expected the check-in agent was polite and friendly so we were soon on our way.
We then looked at a few options to get a foot massage whilst we were waiting as we had arrived very early. We settled on the Be Relax lounge which was the same company as the one at Heathrow T5B. I had a good treatment with a foot and back/neck massage. You can get a quick 15-minute treatment or a longer 60 minute one. They do table massages and pedicure as well as quick seated back neck and shoulder massages. I had a lovely therapist but poor RR's therapist seemed intent on torturing his feet! You can find more details here.
Lounge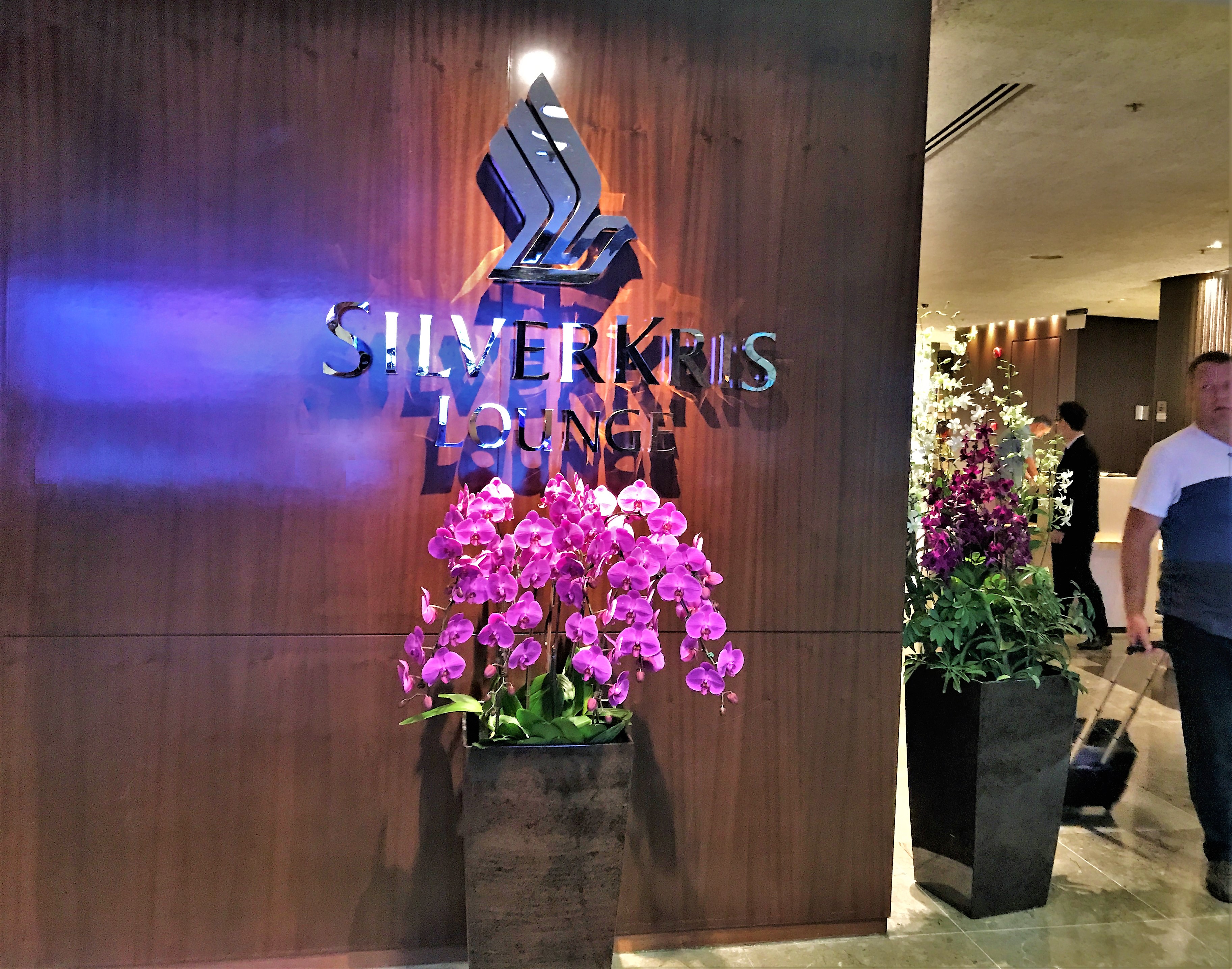 I had visited the Singapore lounge at Changi before but it was a number of years ago and I seemed to remember liking it last time. This time I have to say I was a bit disappointed. Compared to the service you get on the aircraft, this was pretty average. The decor was OK but both times we visited the lounge was crowded and it was a struggle to get 2 seats together anywhere. There was a good choice of food though but again the buffet area was very busy. There is also the Krisflyer Gold lounge next door meant for PPS status passengers but you can access that lounge too as a business class passenger.
There was no bar but instead one help-yourself area for the large lounge. They had very similar wines to onboard which a decent Pomerol and also a Chianti Rufina Reserva. For whites, there was a New Zealand Mud House Sauvignon Blanc and a Saint Veran from Burgundy, France. If you fancied a cold beer there was draft Tiger. You had to ask for Champagne but there was a sign by the bar telling you to ask a staff member. The spirits selection was very small (see below) but I was very pleased to see an XO Courvoisieur Cognac which retails at around £80 a bottle. I had to have one as part of my mission to convert RR into a brandy drinker (mission almost accomplished by the end of the trip!). If you need to work there is a decent size business area by the lounge.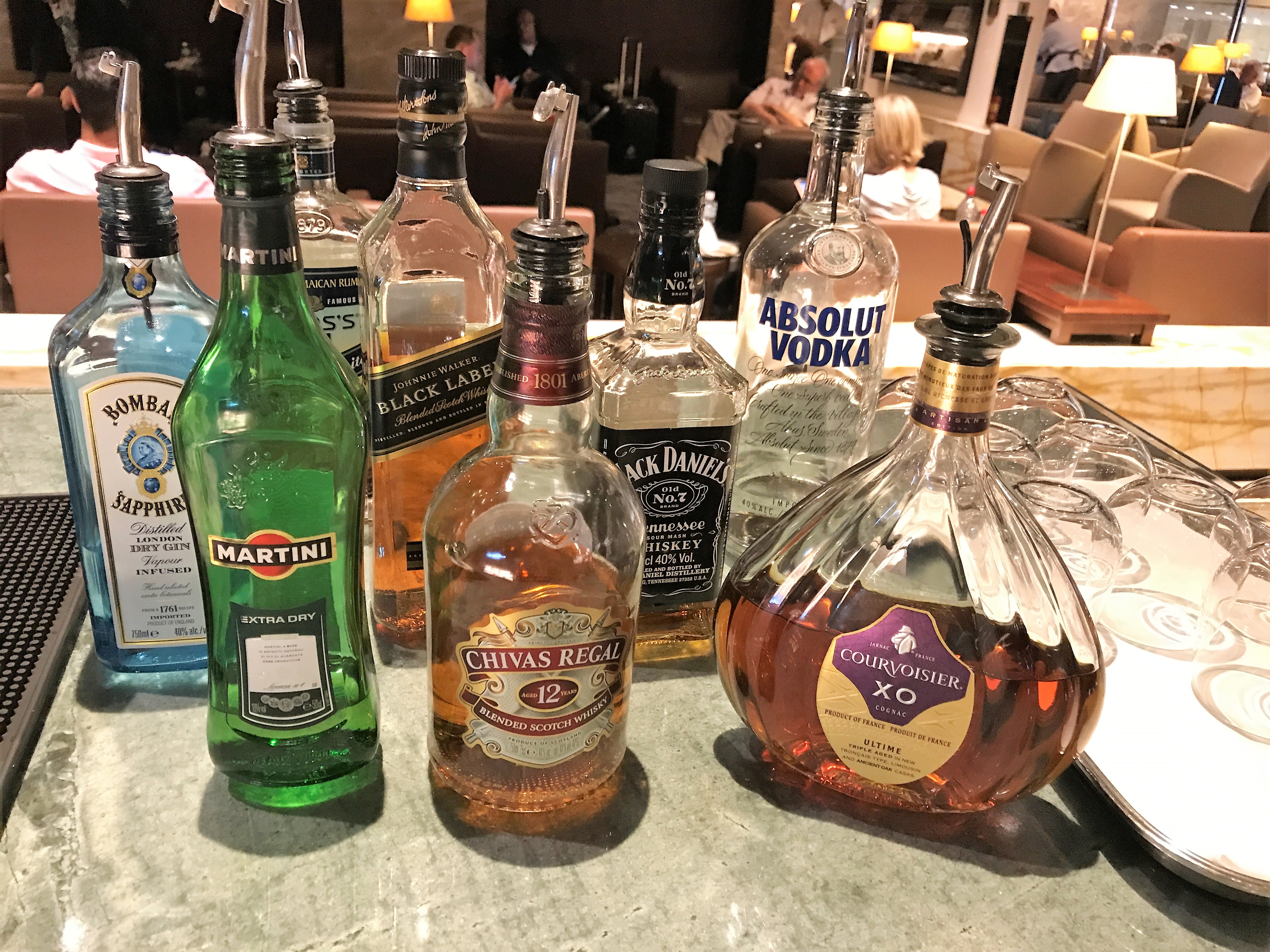 The toilets and showers were clean and modern and had an intriguing clothes 'refresher' outside. I'm not sure what you were meant to wear whilst they were being cleaned!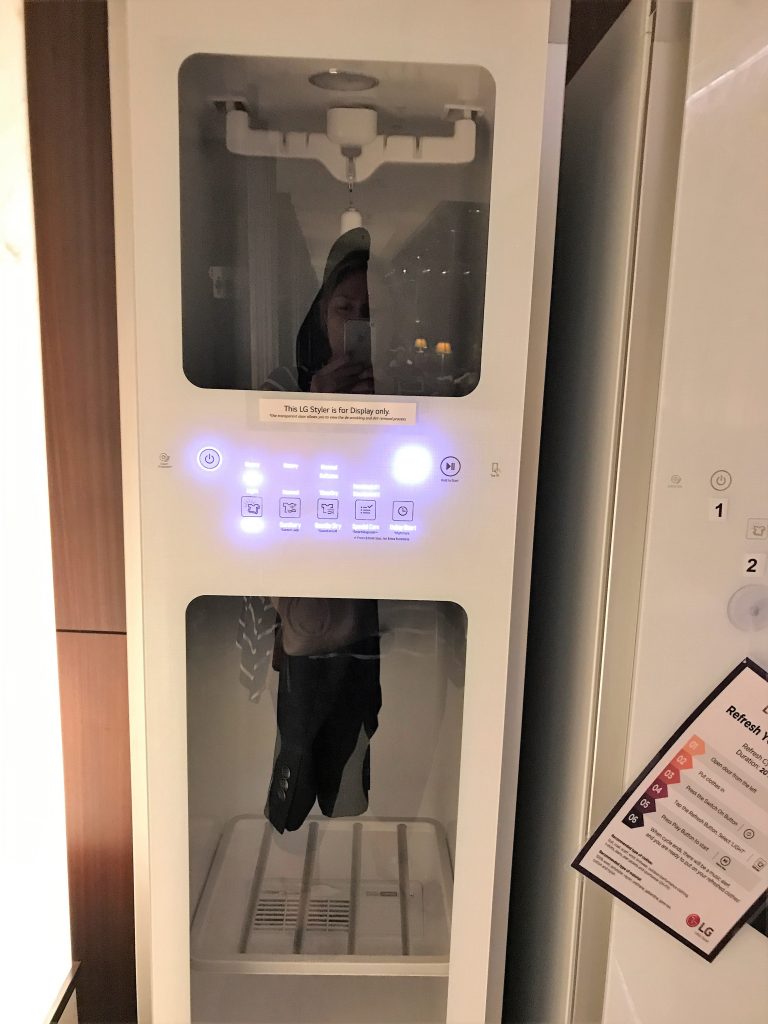 Boarding
Security is done at the gate so make sure you allow enough time for this although we didn't have to wait long. We were situated on the A380 upper deck so had our own entrance to the aircraft. Boarding was orderly with business and status passengers called first. We were greeted at the door and directed to our seats. Shortly afterwards we were given a glass of the Charles Heidsieck champagne which I liked and is one of my favourite airline business class Champagnes.
The seat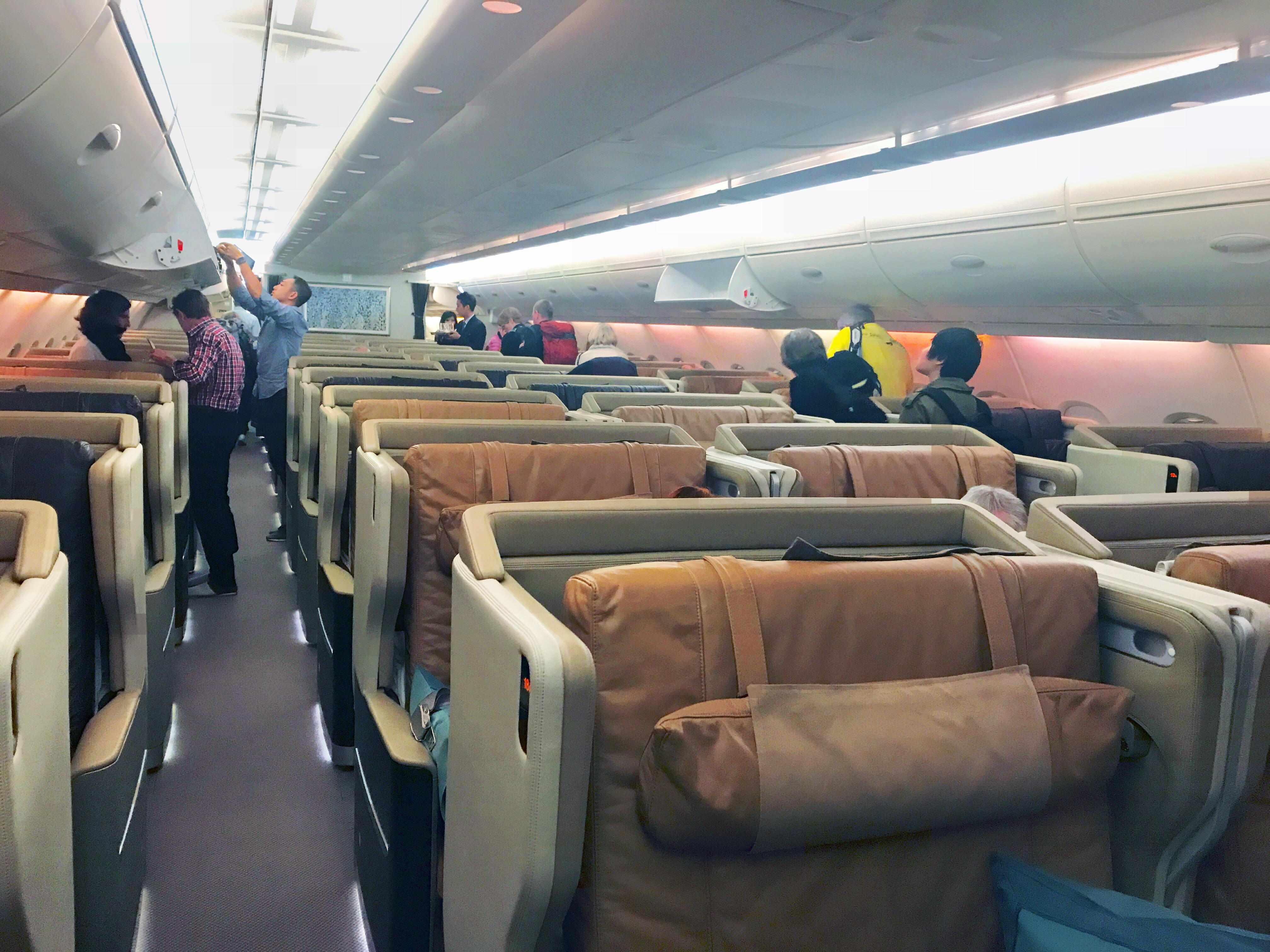 The layout of the A380 is 1-2-1 and like the A350, the seats are very wide at 30″ compared to BA's Club World at 20″. There are two cabins with the rear cabin being the larger. The seats have the same issue as all the other Singapore Airlines seats we flew in where some seats are much better than others. The seats not in a bulkhead row have a cubby hole for your feet which is to one side and also fairly narrow.
I wasn't keen on the colour scheme and thought the cabin looked a little dated. There were only overhead storage bins at the window seats which is annoying when people keep leaning over you to get stuff out from the centre seats.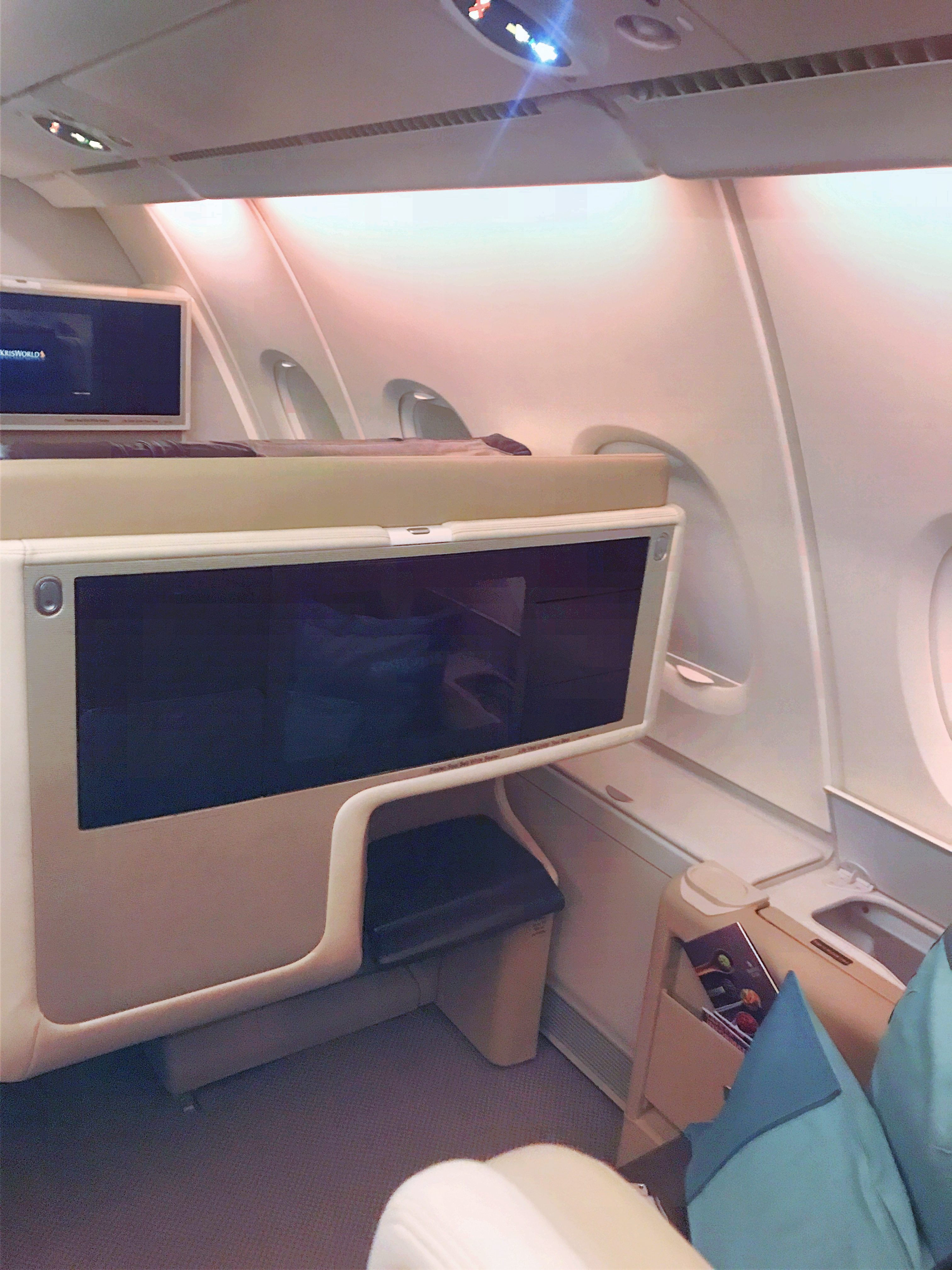 The best seats are generally the bulkheads as these come with a full-length fold down footrest. However, on the A380 these seats come with some potential drawbacks. In the front business cabin the bulkhead seats are missing a window. In row 17 where we were seated, you are by the bassinet positions and it does feel like you are almost sitting in the galley due to the staggered layout. This did not actually disturb me once the curtain was across as the Singapore crew were generally very quiet. You can't normally book the bulkhead seats but as we had booked through Expedia it appeared to override this block. We also got some cashback too and points in Expedia's own loyalty scheme.
This was the view from my seat before they drew the curtains: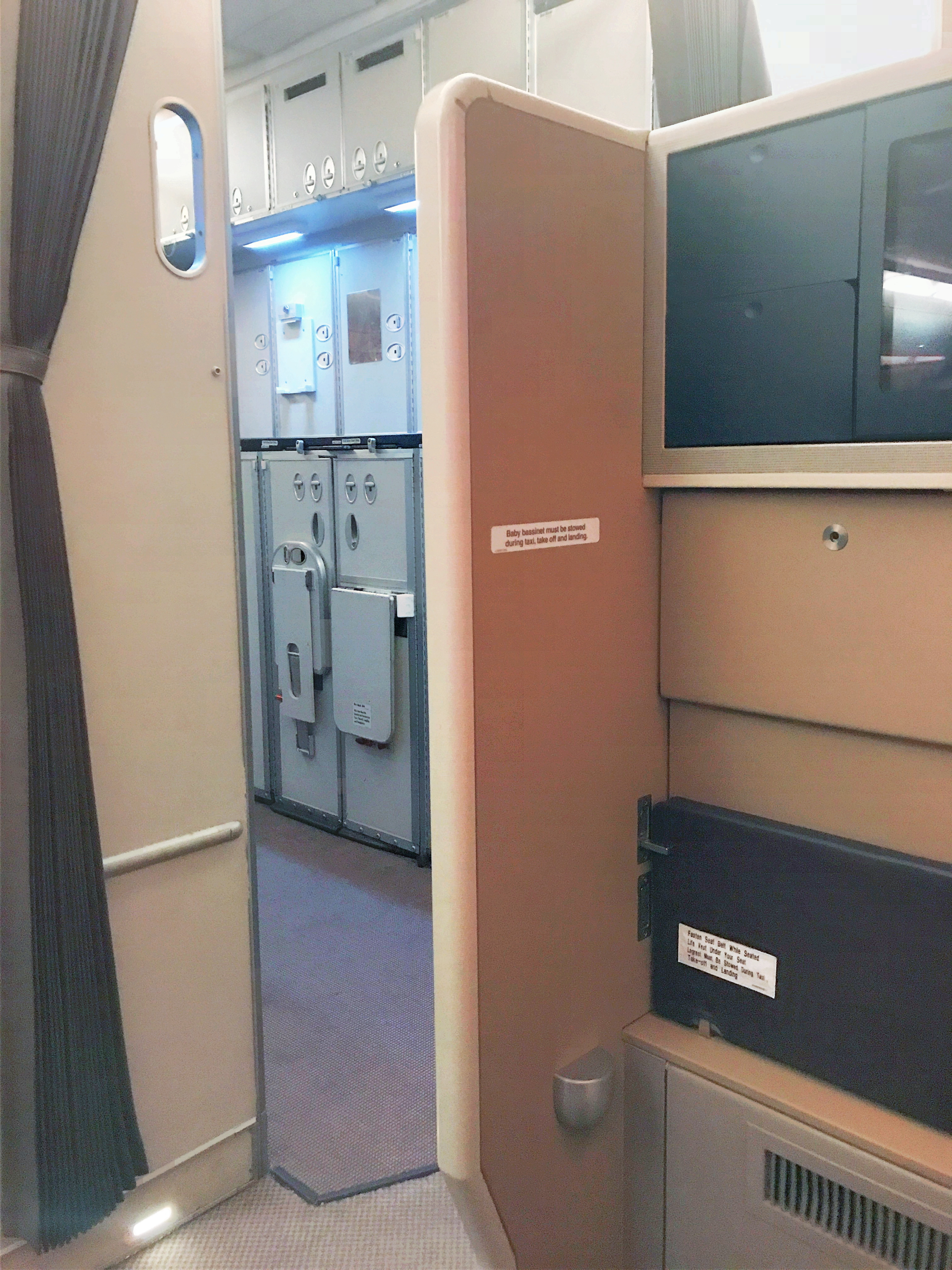 There were some interesting storage options and seat features. In front of you was the TV screen but it was surrounded by small compartments. One was a lit mirror, another hid the charging points. There was a fold down drinks tray and a compartment to put your phone in whilst it as charging. I was pleased to see the usual A380 side bins which are great for storing everything in for the flight. Unlike Qatar's, they were easy to reach into and did not stick shut like many of the ones I have used. There was a cubbyhole under the footrest where you could put your shoes and also a headset storage area.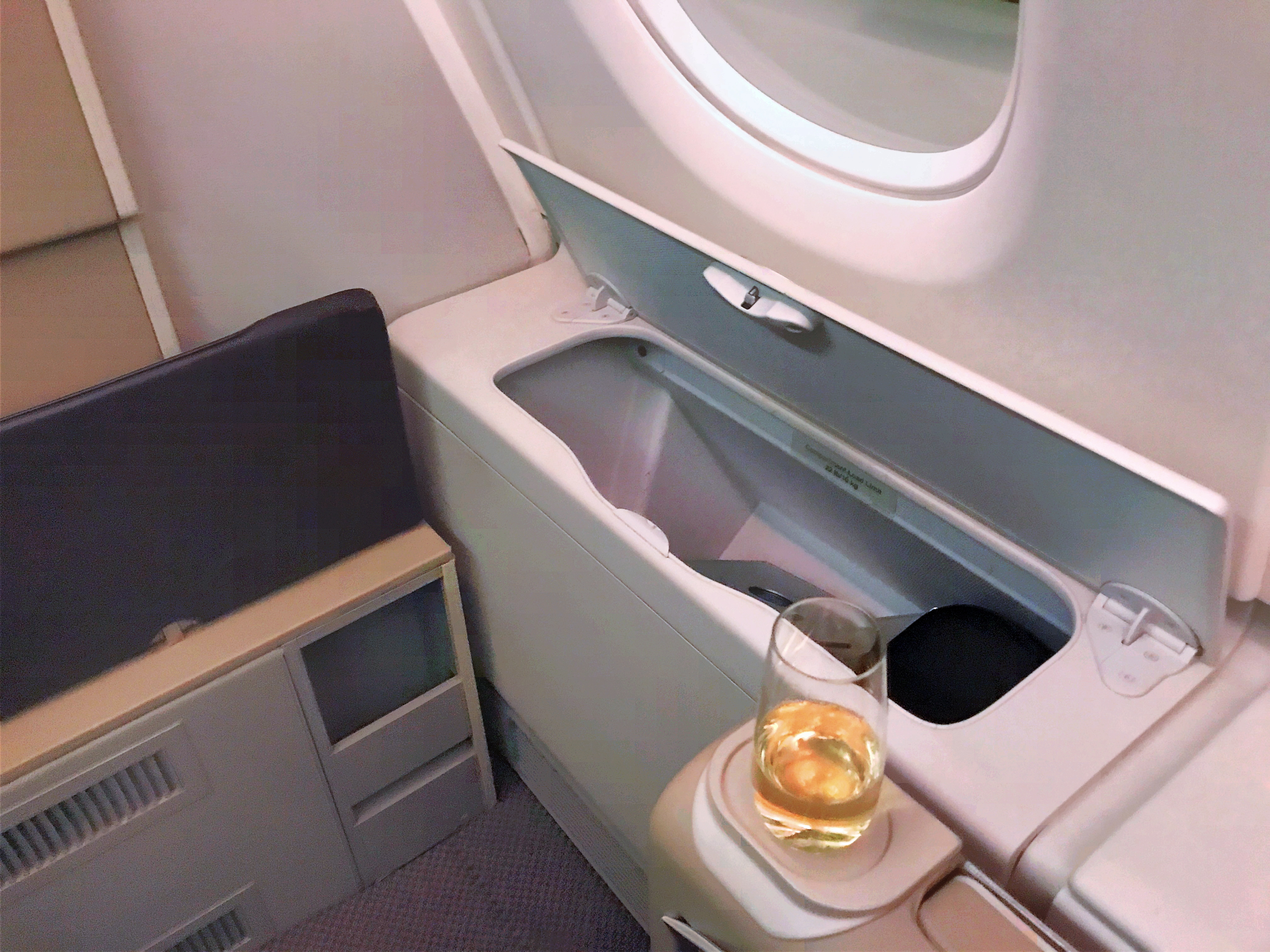 The seat also had limited recline like the other Singapore Airlines seats. This is due to the design where you have to flip the seat over to turn it into a bed. I didn't find the seat that great for relaxing in. The foot bench was hard but there was a full height leg rest which helped a bit. I still had to put the cushion under my feet to get comfortable. The 'sunbed' position was best but it was not really great for eating apart from a quick breakfast. This is where your top half is upright and your bottom half lying down like on a sunbed. When the seat was in bed mode this was easy to achieve with the cushions and the sloped back to the bed.
The seat was simple to control and I liked the fact that you could set 'do not disturb' next to the seat controls which lit up on the outside of your seat.

As this was a night flight I wanted to sleep as much as possible. When the seat was in flatbed mode it was slightly odd as the seat was very wide but the leg rest only covered half the area to the footrest.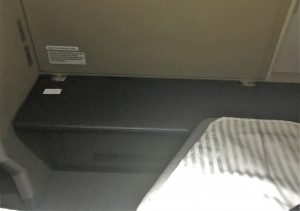 The bed was actually the most comfortable out of all the three Singapore business class seats we tried. It was very wide and maybe because it was a bit older, softer than the A350. I would say this was probably the best and most comfortable sleep I have had on a plane. Normally I wake up a lot as I am uncomfortable but on this flight, I slept from straight after dinner until breakfast was served. When you folded over the seat the bed was already lined with a mattress topper. There was also a large pillow as well as a cotton-covered proper lightweight duvet stored behind the seat. I used the day cushion as a second pillow to give some extra height. Excuse the library photo but it was very dark in the cabin for most of the flight so tricky to get decent photos!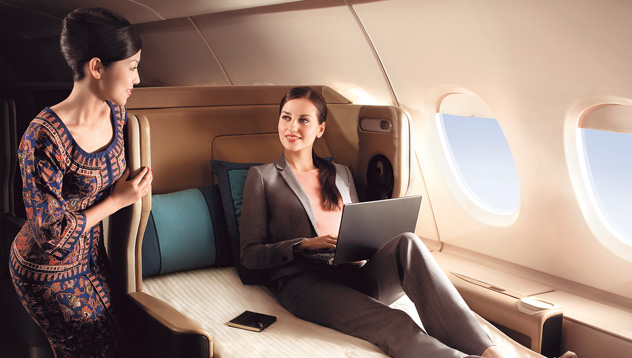 Amenities
Slippers and an eyemask were already on the seat this time although you can ask for these along with ear plugs on any flight. Other than those you had to get anything else from the toilets. They had all the essentials in there such as toothbrush/paste, shaving kits, combs and moisturiser. I liked having a day pillow as well as a proper pillow.
Food and drink
Singapore offers one of my favourite perks for business class called Book the cook. You can order a meal in advance up until 24 hours before the flight. Unlike many airlines, there is a large range of choices not available on the plane, as well as being to pre-order a dish that is on the menu. I found it really difficult to select just one but in the end, the Lobster Thermidor was too hard to resist. Book the cook is not available on all routes but it's available on most major routes such as London, Singapore, Auckland and Sydney. From Singapore they offered everything from rib eye steak with peppercorn sauce to Thai, Malaysian and Indian specialities – there was even an extensive selection of healthy options. The menus were already at the seats.
If you hadn't 'booked the cook' here is what you could choose from including drinks, wines and snacks:
Prior to dinner, we were offered a drink and some nuts in a ceramic dish after a hot towel. I stuck with the Macon white which I had been drinking in the lounge and it was acceptable if a little flat in taste.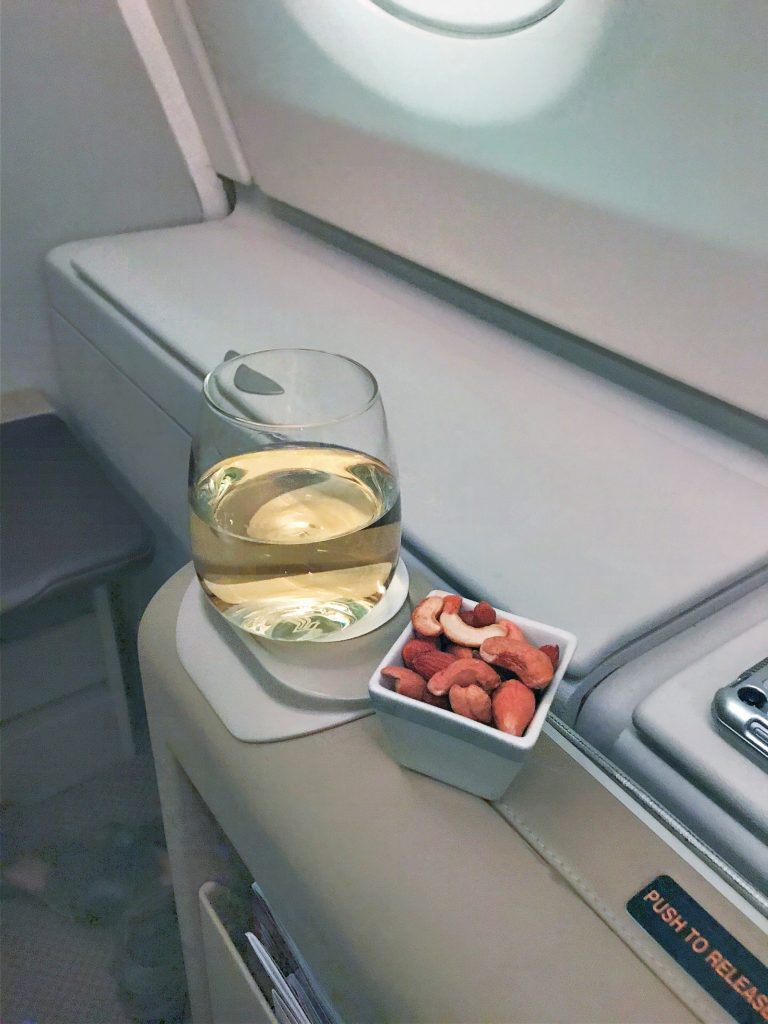 There was no choice of starter which I find a bit strange as if you didn't like it, it was tough! Fortunately, I enjoyed the sesame tuna which had a tasty dressing and came with soba noodles. It was quite a large portion for a starter which was just as well as the lobster was quite small. We were also served delicious warm garlic bread plus there were a few other choices of bread rolls.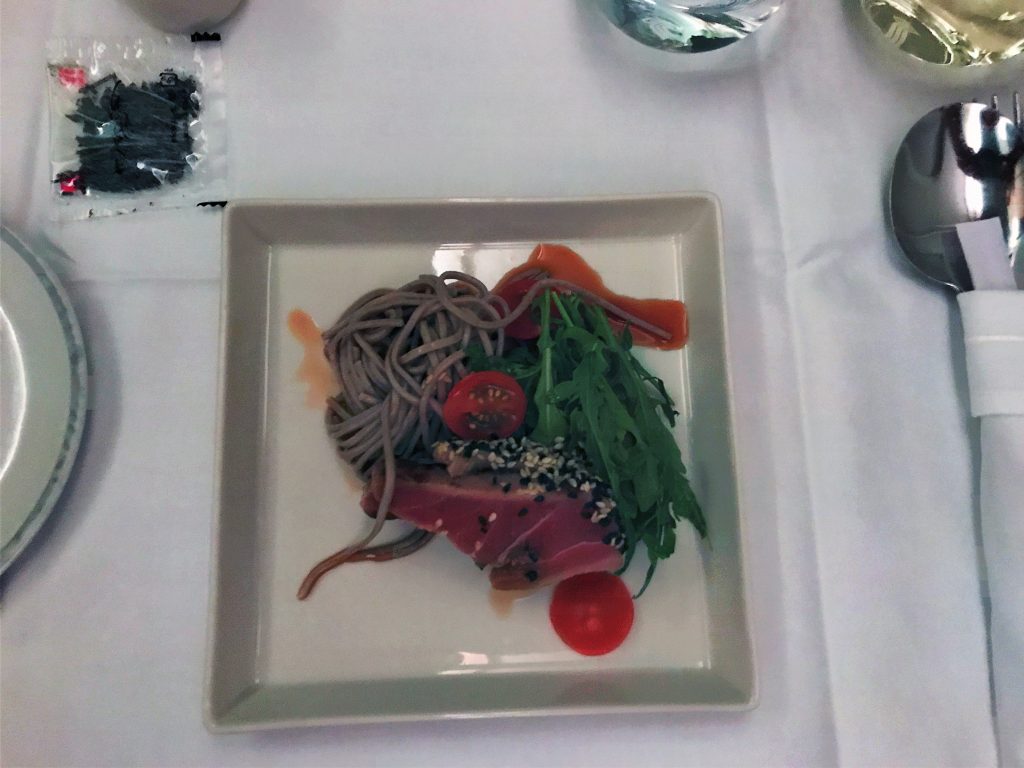 My main course was described as "Classic Lobster Thermidor Lobster tail sautéed in butter, flambéed in brandy, sprinkled with cheese, and served with creamy mushroom sauce, garlic and spicy mustard, and buttered asparagus". It was absolutely delicious and I could have eaten more of it. The lobster wasn't overcooked and the creamy sauce didn't overpower the delicate lobster with cheese.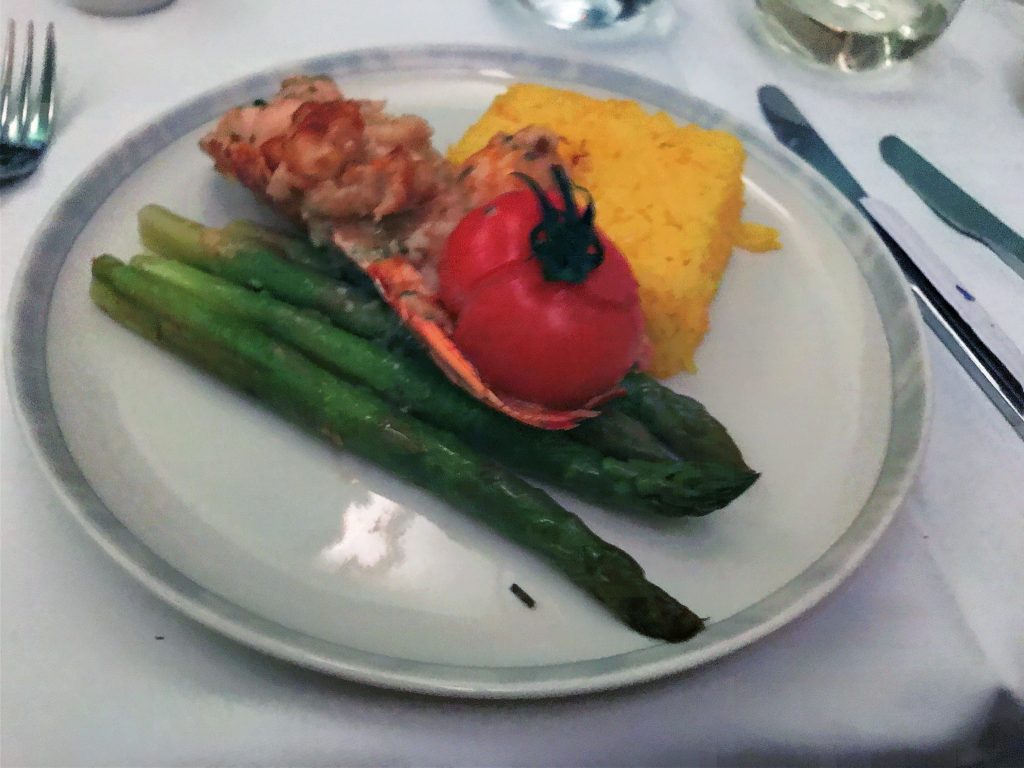 The service on this flight wasn't as good as my previous flight. This was probably in part down to the fact that there were two elderly (I wasn't sure one of them would make it past dinner let alone Auckland as he spent the whole flight coughing up a lung!) passengers that had to be helped to and from the toilet which they went to about every 30 minutes! This took a huge amount of time for the stewardess and she didn't appear very friendly. I wasn't offered any top-ups of wine so had to ask. Service was a bit slow with some things being forgotten altogether.
The pudding choice made me laugh – Viennetta! A not very classy relic from my childhood. Both Roving Reporter and I were slightly turning our noses up at this until we ate it. We decided that actually it was quite delicious but we should probably never admit that in public given our reputation for fine dining!
There was also the usual cheese trolley and an excellent selection of high-quality teas and Illy coffees. Since I wanted to go to sleep I retired to bed after my dessert and didn't have anything else.
In the morning I had actually pre-ordered dim sum for breakfast but they didn't appear to have my order. One thing I found on Singapore's flights was that like Qatar, they start breakfast far too early. This meant putting the lights on 2.5 hours before landing which is way too early for me. Although BA's breakfast are pretty basic on a lot of flights, at least you get a bit longer to sleep!
I started with the fruit which is probably the best I have had on a plane – ripe and juicy instead of rock hard and sour!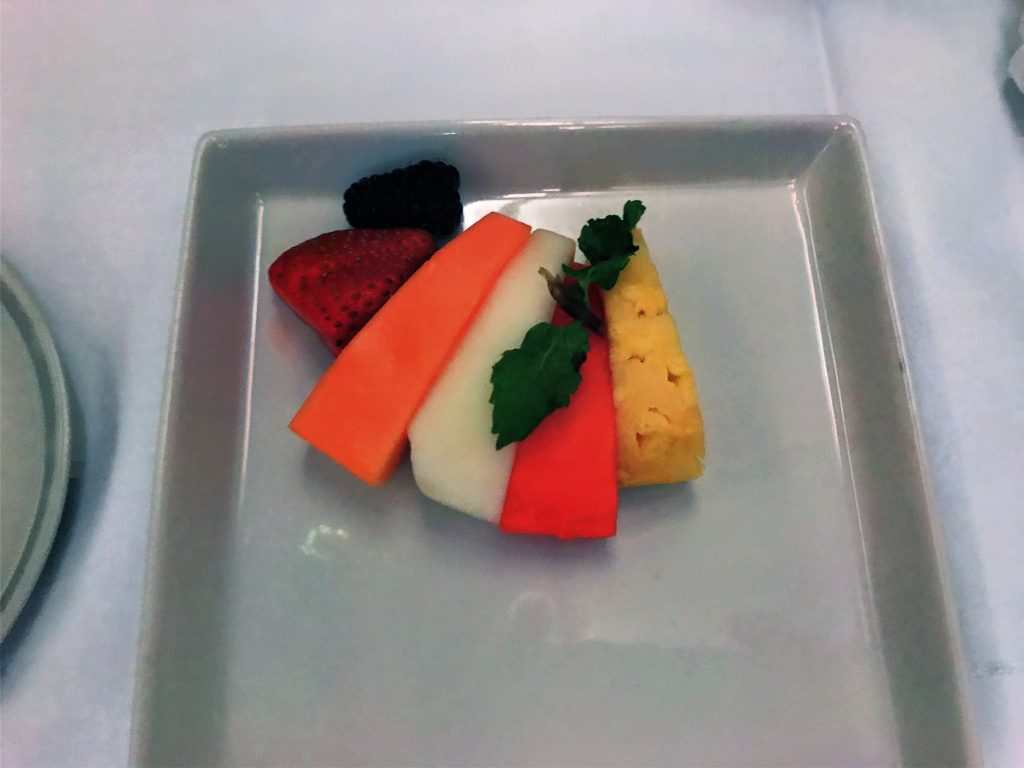 I thought I would try the baked egg with hollandaise sauce although I had a suspicion that it wouldn't be great.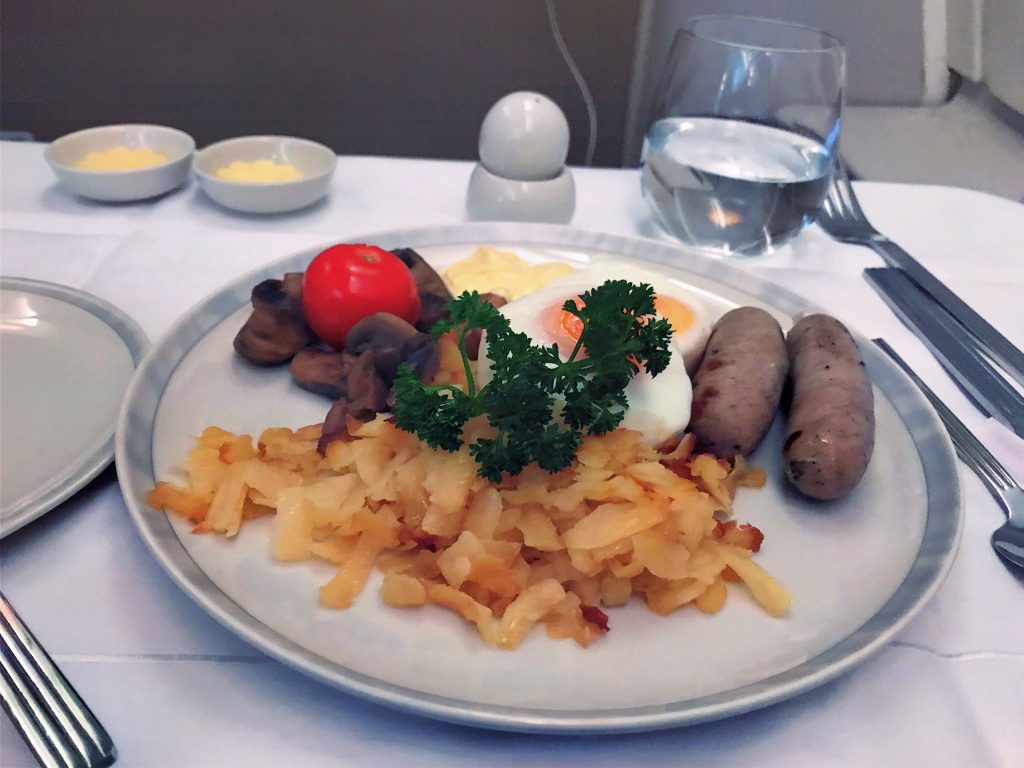 It was OK but not something I would go for again. The eggs were very overcooked and the chicken sausages a bit odd. The rosti, vegetables and sauce tasted good though. I had a cappuccino which was better than on the previous flight as that had been a bit flat. I also had a croissant which wasn't soggy and fairly light but they only had marmalade left to go with it which I really didn't want. #firstworldproblems!
Entertainment and charging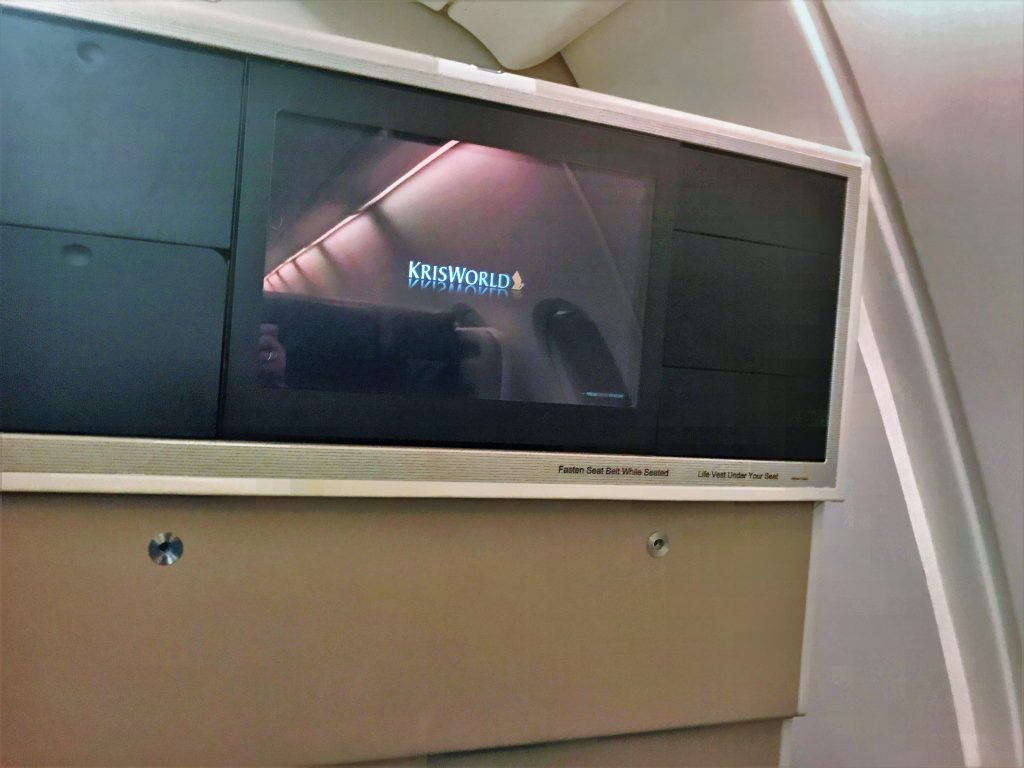 Comfortable noise cancelling headphones were provided but as usual, I used my own Bose QC35. The TV felt quite small again as it was quite a distance away in the bulkhead seats but in reality, it was a decent size at 15″. The screen had good definition and there was plenty to choose from with recent TV shows and films. I liked the fact that they had box sets so you could work your way through a few episodes of one series. I didn't really bother with watching much as I was asleep most of the flight or watching my iPad.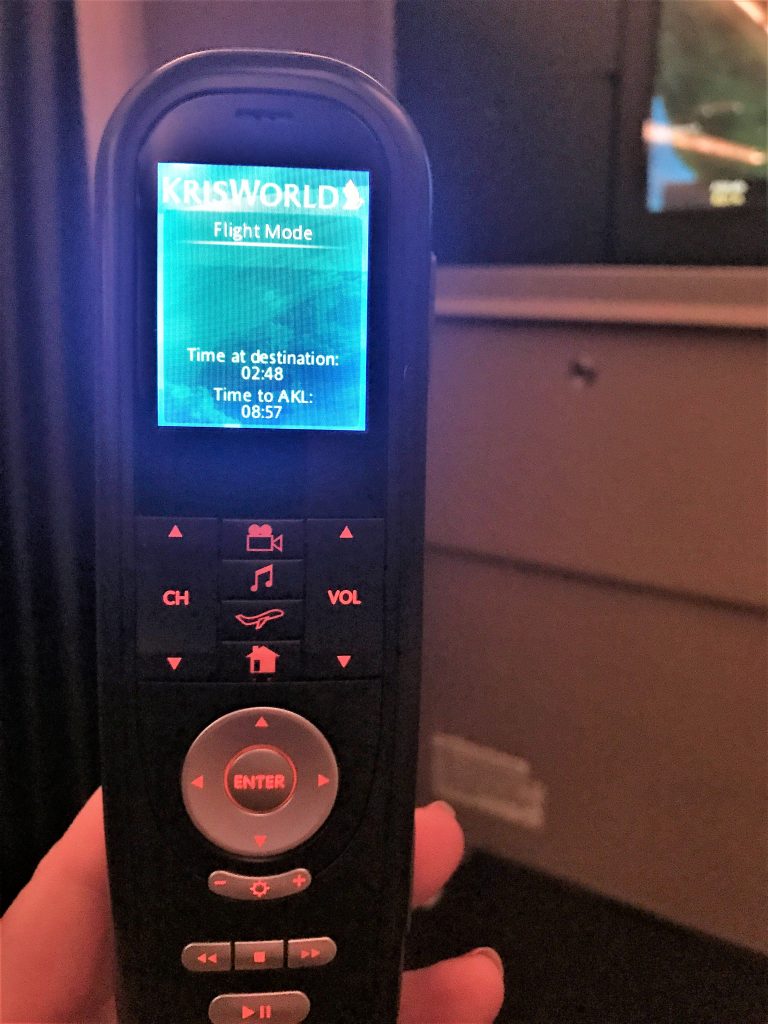 The TV remote felt quite antiquated compared to the touchscreen iPhone type controller on the A350 but it was simple to use and worked fine.
If you wanted to charge anything there was a multi-country socket and 2 USB ports by the TV. It was fine for charging your phone or a laptop with a long lead but wasn't so great for an iPad. There was a small compartment above the sockets where you could rest your phone whilst it was being charged but I would have preferred to have it within easy reach. The iPad lead wouldn't stretch from where I wanted it as far as the USB socket which was annoying.
Conclusion
This flight wasn't as good as the previous one in terms of service but I thoroughly enjoyed my book the cook lobster. Although the seat wasn't great for sitting in, it was perfect for a night flight and I got a great night's sleep which for me is the most important thing. The wine and drinks choices were high quality and overall I would consider flying with Singapore on the A380 again. They have of course recently announced new seats for their A380 which you see more about in this article.
You can see more about Singapore A380 business class here.