As part of my series of reviews of hotels at Heathrow and Gatwick, my Roving Reporter and I decided to review bloc hotel at Gatwick's South Terminal. This was because we had a hideously early start the next day and wanted to maximise our sleep time. We were flying at 6 am to Alicante to stay at the gorgeous Asia Gardens hotel, which you can read about here.
Location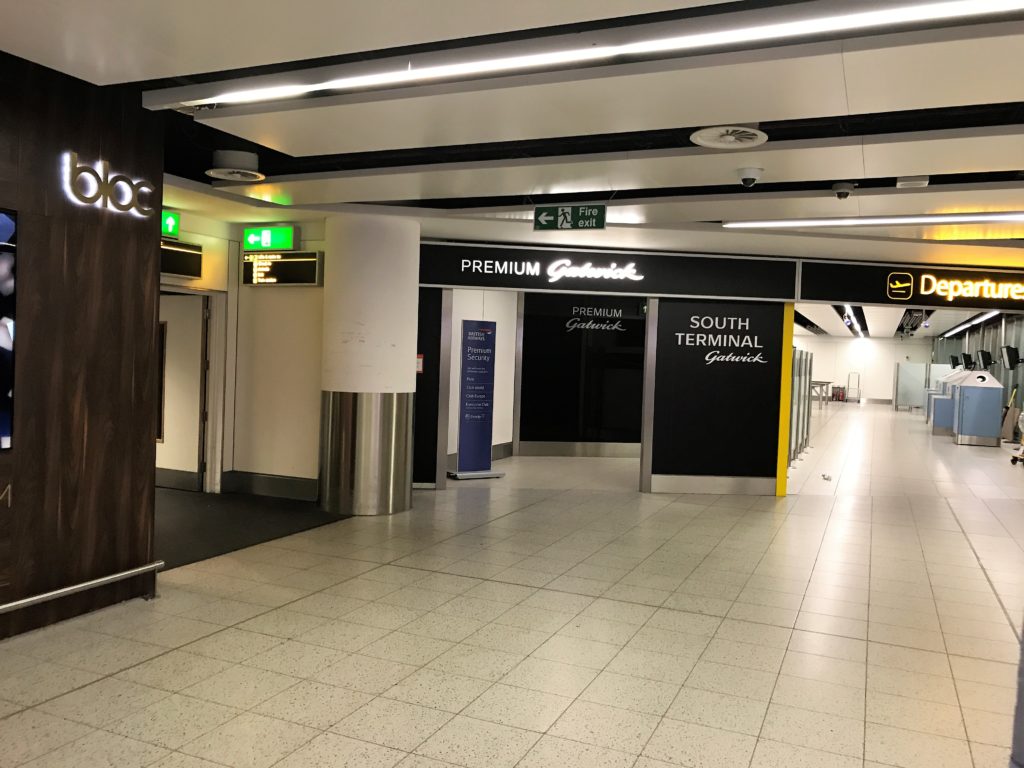 The hotel is the most convenient airport hotel I have ever stayed in. No long walks across dark car parks and down endless walkways with your luggage. The hotel is very handily located next to the entrance to Security. As we were flying British Airways, we did the night before check in which meant we were luggage free by the time we walked to the bloc hotel. The next morning it took less than 10 minutes from the room to the BA lounge entrance!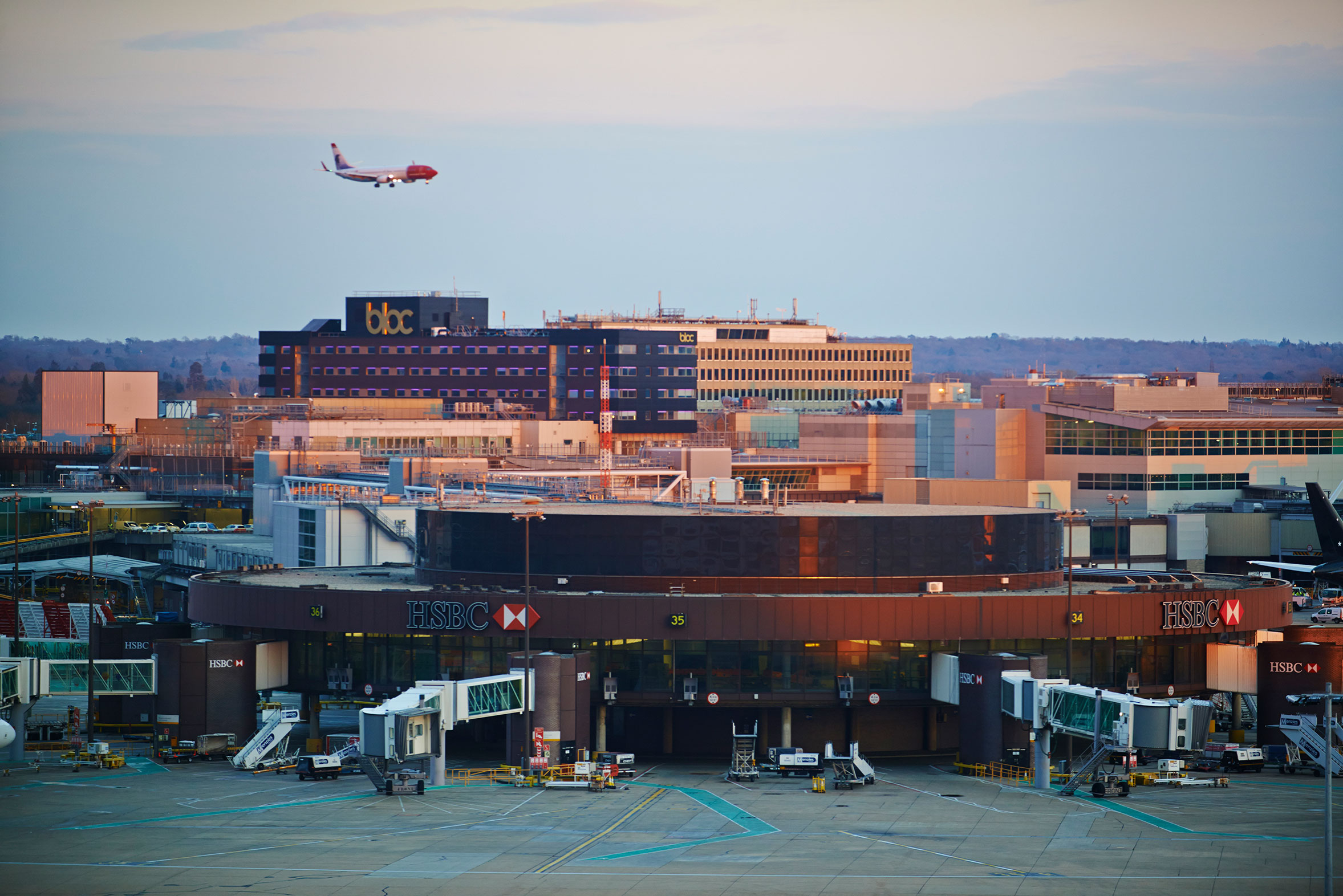 Check in

The hotel is still relatively new having opened in 2014 and the entrance looks very hi tec with lots of LCD displays. The check-in staff were very welcoming and helpful. They asked if we had stayed before then explained how the controls for the room worked. We had 2 rooms next to each other on the sixth floor which we took the lift up to. If you need help you can call reception or What's app them 24 hours a day.
Room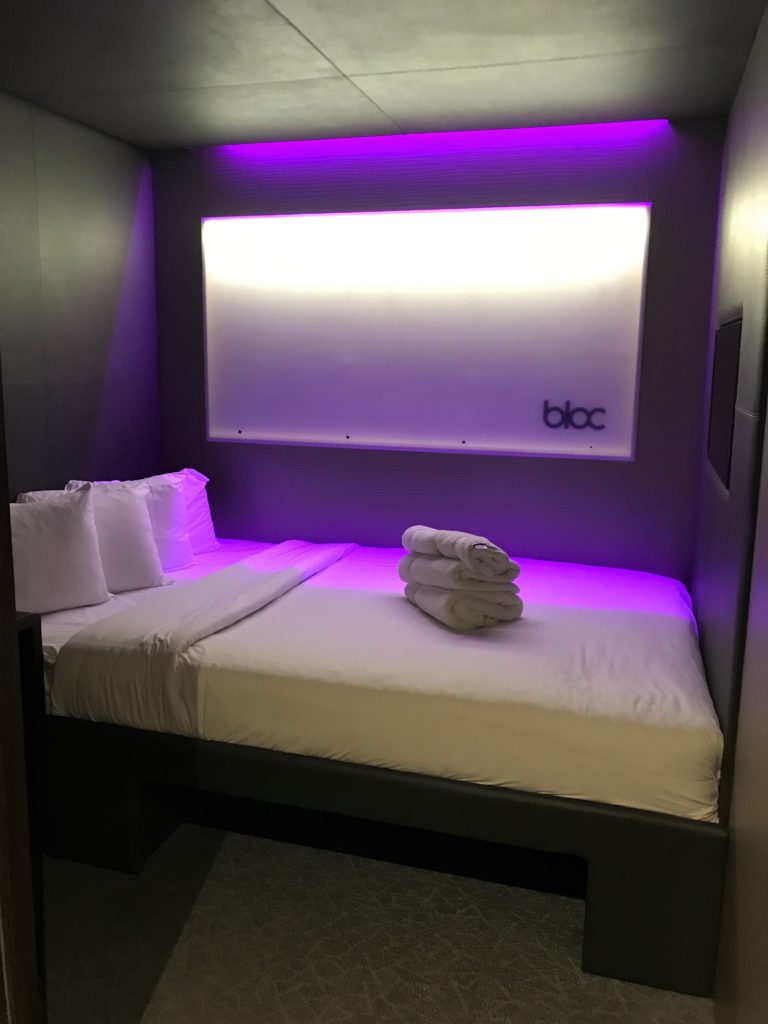 We each had a Sleep category room which has no windows and is the entry-level room. There is no denying the room was very small at 9.5sqm but if you are just staying for a few hours why do you need anything more? We arrived at around 8.30 pm so it was fine for just sleeping overnight. Even though the room was small it was very modern, clean and well-equipped. Although the room had no window, you can also pay slightly more to get a window with the Vista room if you prefer.
There was a king size bed which had good quality bed linens and was very comfortable – much better than some of the more pricey hotels I have stayed in such as the Hilton Gatwick. I liked the coloured mood lighting and the fact you could light the 'window' up separately.
There was a Samsung tablet which controlled the lights and temperature, plus you could use it to check out. In rooms with a window, it also controls the blinds. There was a decent size Samsung Smart HD TV with plenty of Freeview channels and the room had fast wi-fi.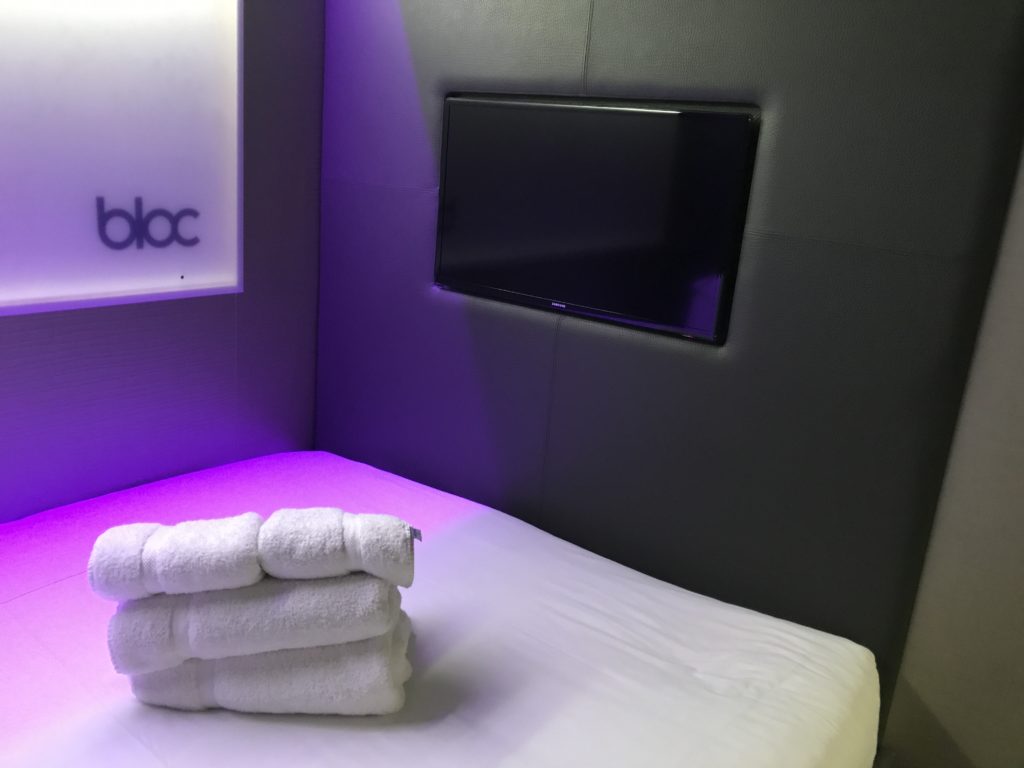 Next to the bed 2 bottles of Hildon mineral water were provided which was a nice touch. I was also very pleased to see that I had finally found a Gatwick hotel with not one but two sockets next to the bed! There was a booklet of nearby places to eat and drink at Gatwick as well, which you could use to get a discount. Having hurriedly dumped our hand luggage and headed straight out we didn't notice it, so don't make the same mistake. If you do want to get something to eat or drink, there are quite a few choices just a few minutes walk from the hotel. We went to Giraffe for a quick drink and snack.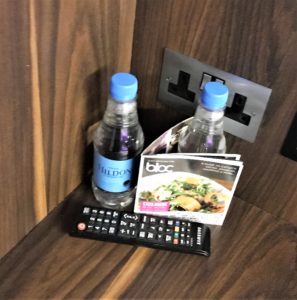 As the rooms are small and therefore close together, you could hear some noise from adjacent rooms as people came and went, but this is a problem in almost every hotel, particularly airport hotels. However, it didn't really disturb me much. bloc has apparently worked with a Scandinavian Sleep Institute to ensure the rooms are at the optimum temperature and humidity for sleep. This was similar to a lot of other touches in that it showed that the bloc has paid plenty of attention to the small details which is great.
There is no wardrobe in the room but a couple of hooks with hangers. Again I can't really see it being an issue on an overnight stay. There was also a decent hair dryer hanging up.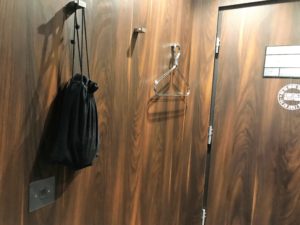 Bathroom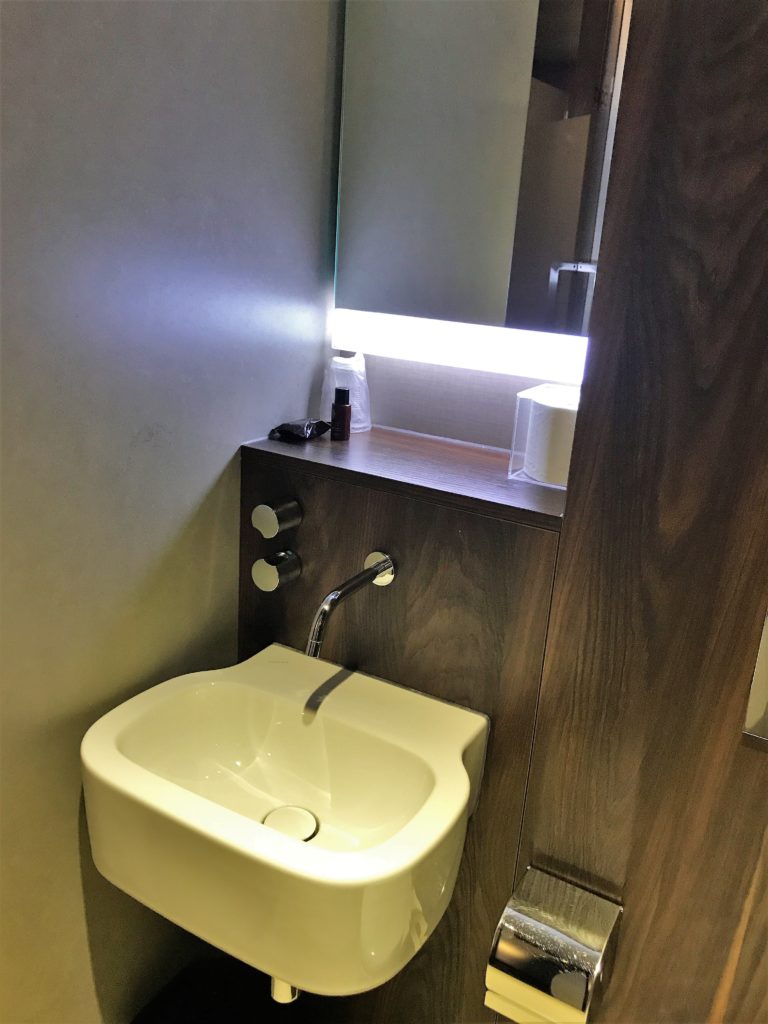 The bathroom is a very small wet room with a Roca monsoon drench shower and steam free heated mirrors. I was not expecting any toiletries but was pleased to see soap and shower gel by Zenology, which I liked the smell of. The shower was powerful and refreshing but as is the way with wet rooms, the rest of the room did get pretty wet. I would recommend using the shower last! At least the spare loo roll had a protective cover over it. The towels were large and good quality too.
Other room categories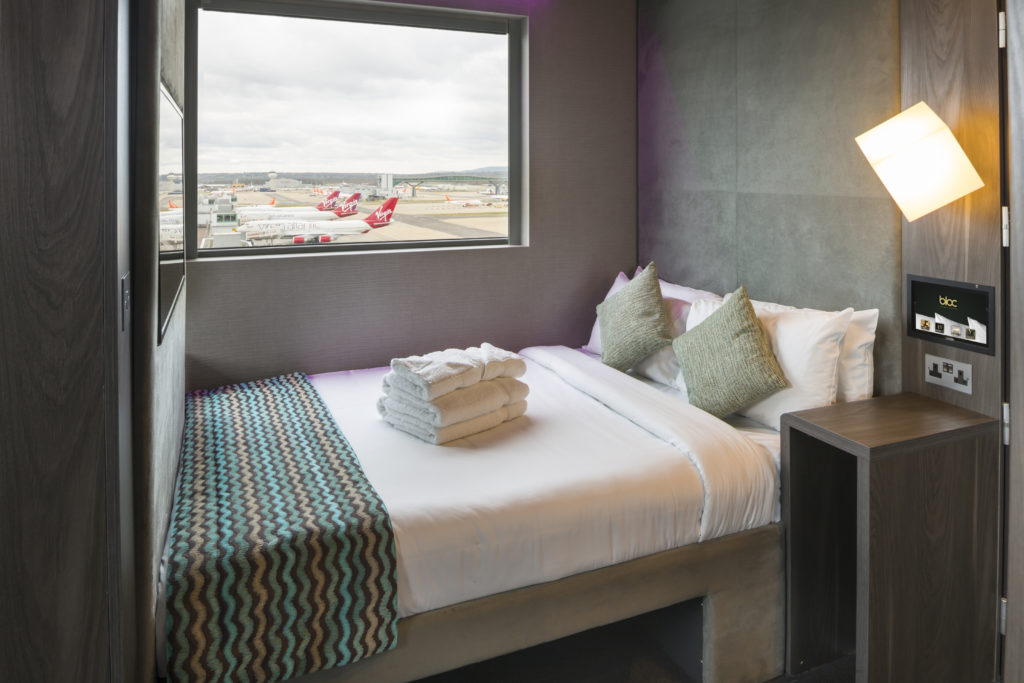 If you fancy something a bit bigger or more luxurious, bloc do actually have a great selection of rooms. The next category up would be a Vista double, which is the same as my room but with a window. If you are sharing with a friend, or want a room for kids, there is the Sleep Twin which features bunk beds. There are also 2 family room categories which have a king-size bed and bunk beds.
For something a bit more luxurious, there is the VIP Double room which features Nespresso coffee-making facilities, in-room Sky TV package and a vanity area. The room has panoramic views and you can even request one with runway views.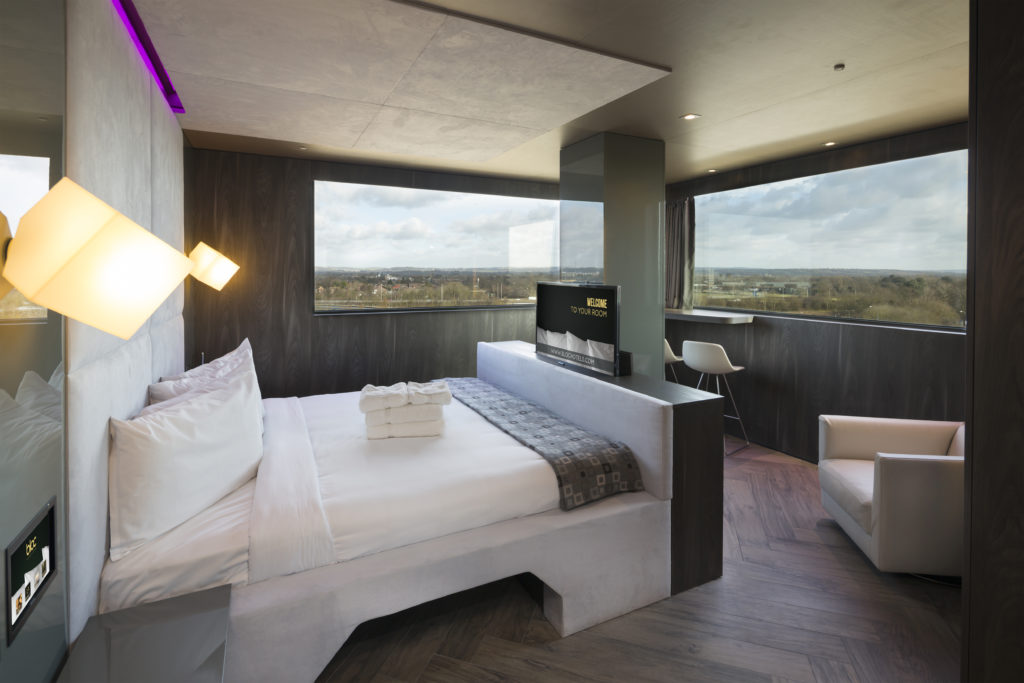 The crème de la crème is the Runway suite which comes in around £300 a night but it is pretty impressive. The 8th floor apartment has a super king-size bedroom with separate lounge area and kitchenette. At 32sq. metres the suite also has unparalleled views of the runway at Gatwick Airport.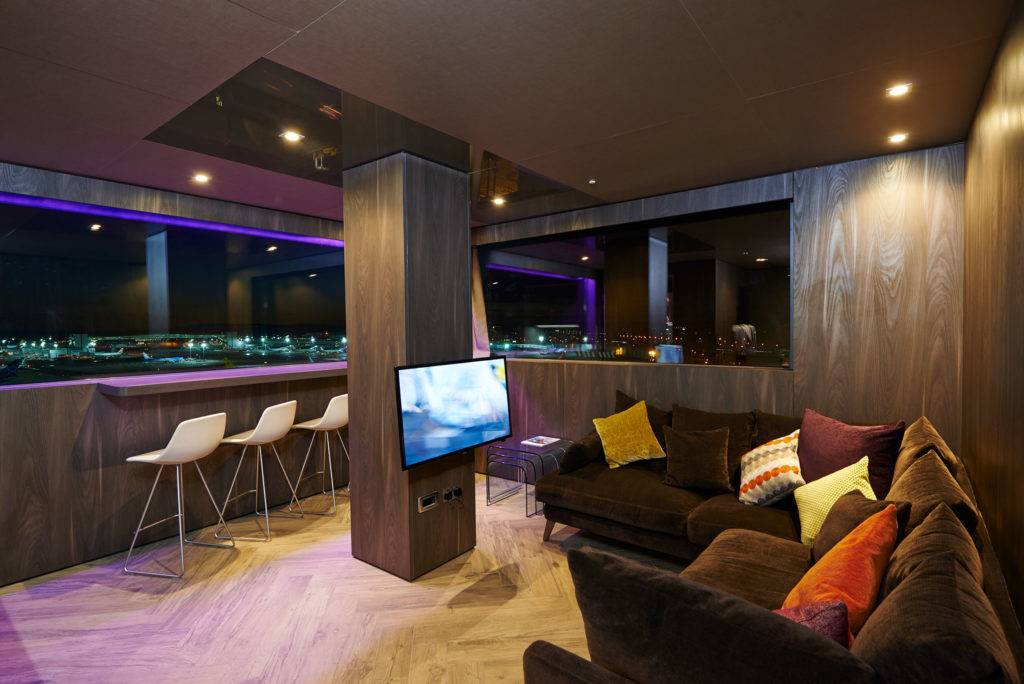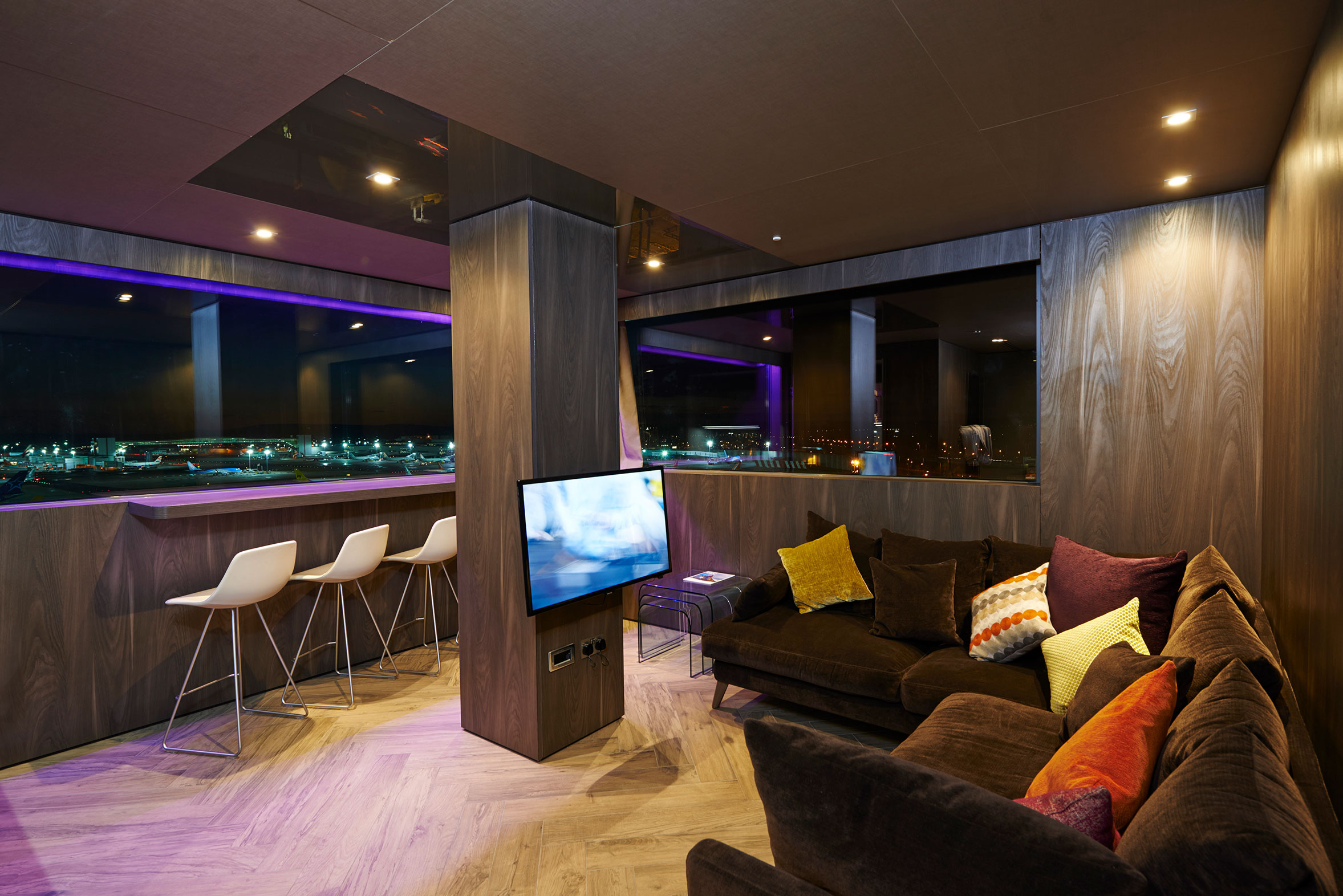 Facilities
There is an ironing room on every floor should you need it, as well as a phone since there are none in the room. My mobile signal was fine in the room though.
Price
We paid a very cheap £67 through Expedia.com which had reduced slightly once I had signed into my Expedia account. I then also used TopCashback to get an extra 10% off bringing it down to £60.30. You can compare prices on the bloc page on TripAdvisor as well as read what other people thought. myGatwick also often offers a 10% discount. If you haven't joined myGatwick yet, you can read about it here.
Conclusion
The room was small and the wet room did get wet but other than that there was very little to complain about. Compared with the other hotels at the Gatwick Terminals, the Sofitel or the Hilton, I would rather stay at the bloc if I am literally staying for a few hours overnight. The convenience of knowing you are next to security, especially if you are travelling with BA and have already checked your luggage in, is fantastic. The rooms are very comfortable and have pretty much everything you could need. You can find the bloc website here.
You can find the bloc website here.