This is the third part of my series of reviews of my B787 Virgin Atlantic flights from London to Los Angeles and back. I explained previously that I did this trip just before I started the blog, so I only have a few photos but have supplemented them with a few from Virgin themselves. In the previous reviews, I looked at the Virgin Clubhouse at Heathrow and the London to Los Angeles flight.
For this review, I will not look at the seat or main meal service as I covered that previously. Instead, I will concentrate on the overnight aspects and the lounges either end.
Los Angeles Virgin Clubhouse

If you have visited the London Clubhouse, don't expect quite the same at Los Angeles. It is a much smaller lounge understandably and there is no spa either. However, it is a lovely bright modern space with the same feel as the London lounge and it wasn't overly busy when I visited.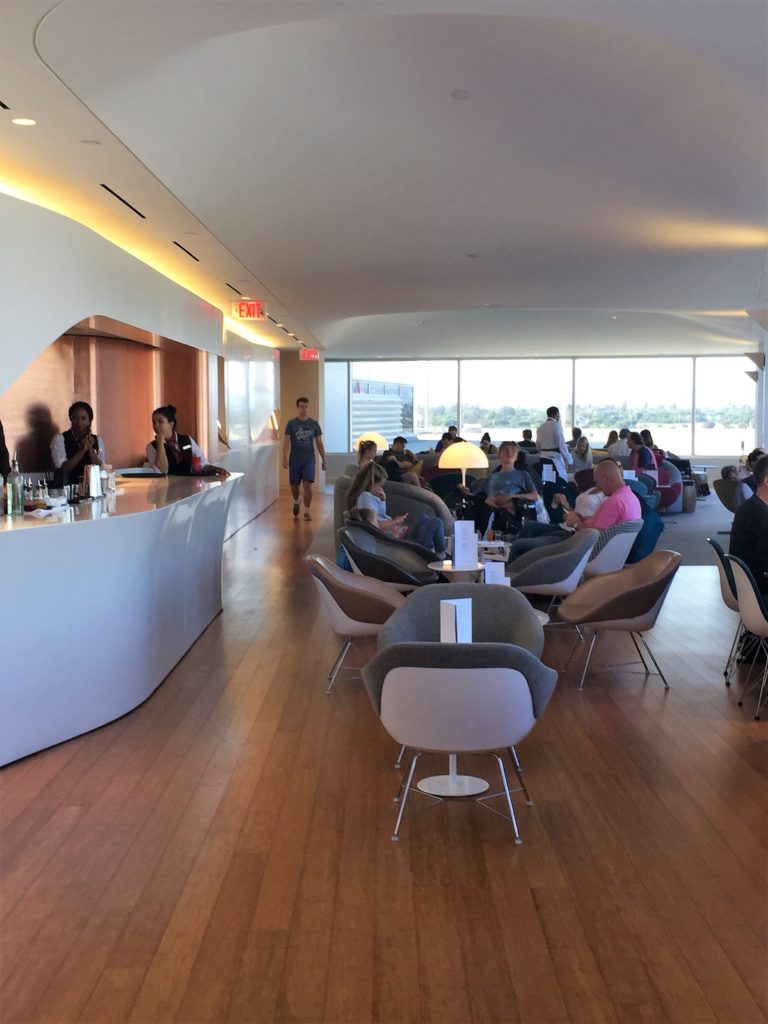 I sat at the restaurant end of the lounge as I wanted to try one of the tapas. My first job, of course, was to decide on which of the delicious sounding cocktails to try. I went for The Bramble with gin, fresh blackberries and blackberry liqueur. It was an excellent cocktail and well-balanced between sweet and tart. It was pretty strong though! As well as the Virgin signature cocktails such as a Virgin Redhead and the usual classics, Virgin have teamed up with LA restaurant Hinoki and the Bird to produce a special range of cocktails.
I like the fact that you were situated right near the gate and could look out at your aircraft whilst you sipped your cocktail.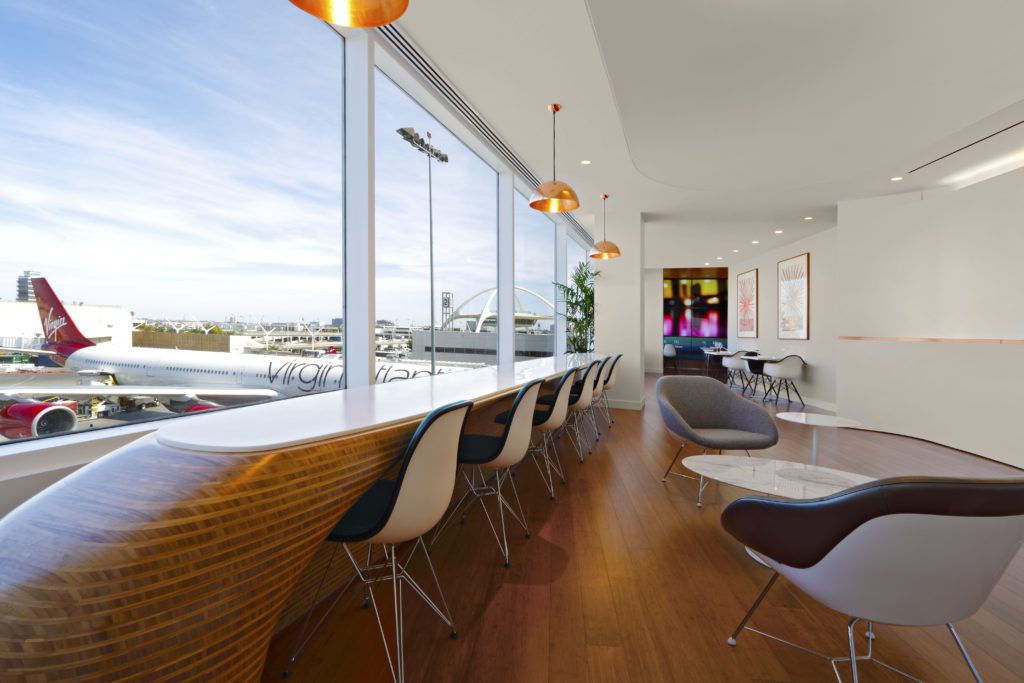 In addition to the cocktails, they had a good choice of wines. There was both a champagne and a sparkling wine plus 3 red and 3 white wines to choose from. Most of the wines were from the US and they were all decent quality choices. The champagne was Pommery but I didn't try it.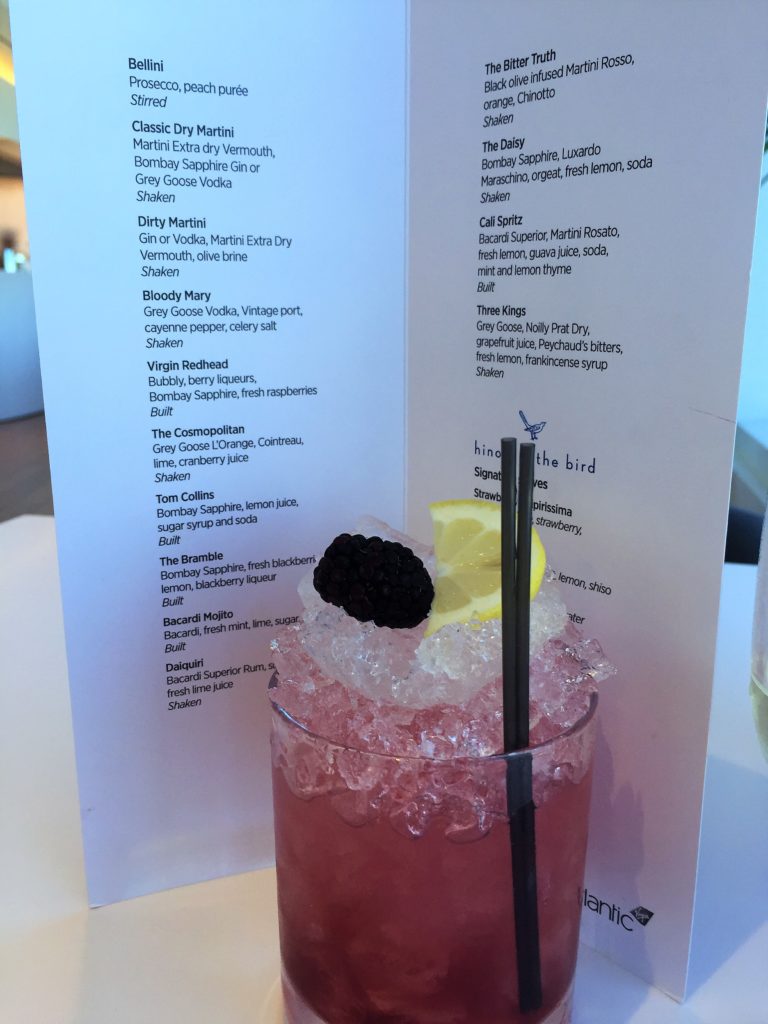 The lounge had a similar style menu with small plates and more substantial meals including some desserts. I only wanted a small snack as I was planning to eat onboard, so I ordered a similar dish to the London Clubhouse, a pork belly bao bun. Being the US, the portion was enormous and instead of 1 bun like London, it had 3 buns, so don't be over ambitious when you order.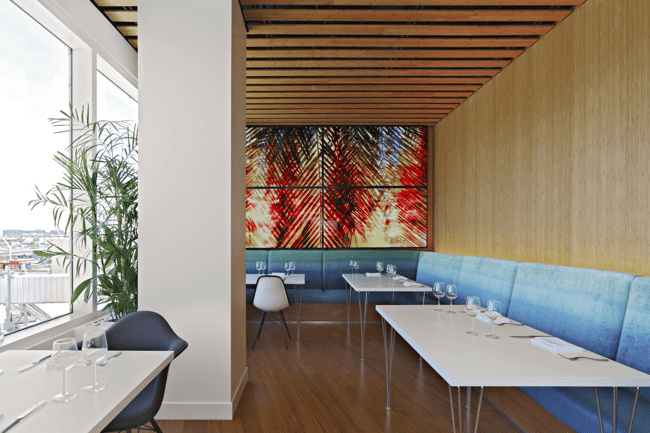 On board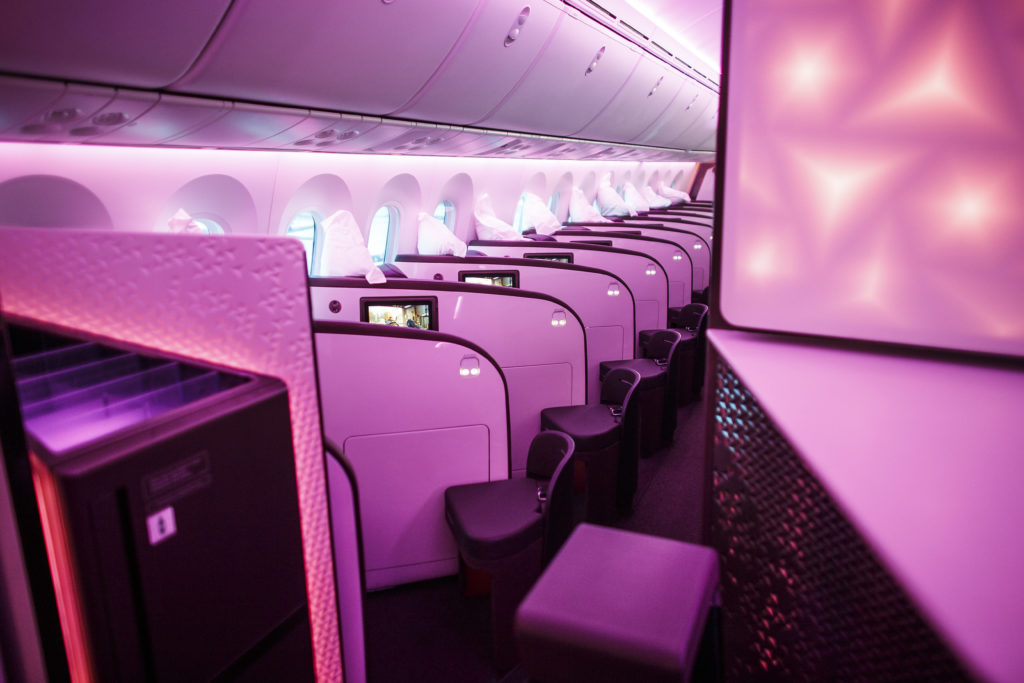 As soon as I boarded I knew that this flight may have a few hiccups. Nothing to do with the crew or aircraft but one of my fellow passengers. I seem to have a habit of ending up sitting next to people that are, what I will put politely as, 'slightly odd'. From the woman who had a drop-down album of about 30 photos of animals that she repeatedly kissed during the flight; to the woman who spent half the flight telling me about all the plane crashes she had been in whilst popping pills and knocking back brandy until she passed out, I have had them all.
I had my suspicions when I saw my neighbour stowing her hand luggage which appeared to be completely festooned with self-help slogans. She then became one of those attention seeking passengers that expect the entire service to revolve around them. First, she wanted tea as a take off drink instead of what was offered. Then she was adamant she needed to sleep IMMEDIATELY after take off and must have her food as soon as the seat belt sign went off. The crew member serving us was a real delight and how he managed to remain polite during all her various demands I have no idea, but I felt sorry for him! Of course, after the crew rushing round to get all her food ready she then decided to watch a film and kept me awake by leaving her light on for several hours before she eventually went to sleep!
Apart from my seatmate, it was yet again a great flight. On this flight, smart black cotton pyjamas were offered in a v-neck track suit style. The amenity kit had the same contents as before but this time was in a handy pouch which I am still using in my hand luggage. The crew member serving me came over to introduce himself and check whether I was familiar with the seat and the Virgin service which I thought was a nice thing to do.
As I mentioned I will concentrate more on the areas I haven't written about previously. I talked more about the Virgin's seat drawbacks when in bed mode in the previous review. Although I found the bed pretty comfortable for sleeping, especially with the mattress topper and duvet, I didn't like that you couldn't slightly sit up in bed. The only way to do it was to balance yourself with a cushion like the photo which wasn't really practical. Otherwise, you had to get up and convert the bed back to a seat.
A breakfast card was offered at the start of the flight by the crew who asked whether I wanted to be woken for breakfast, which I did. I selected my choice of a full English and handed it back to the crew. There was an excellent selection and again it was far superior to BA's frankly poor Club breakfast.
There was a choice of:
cereal (bran flakes/ cornflakes/ Rice Krispies)
speciality cereal (oatmeal porridge/ muesli)
fruit salad
chocolate pastry/muffin
plain croissant with butter and jam
full English (bacon, sausage, scrambled egg, baked beans, hash brown, mushrooms, spinach)
french toast with raspberry compote and chopped almonds
You just ticked what you were having on the form. I particularly liked with the full English that you could choose which elements you wanted. I chose the fruit salad and the full English with sausage, eggs, mushrooms and spinach. It was ready for me when breakfast was being served and I have to say it was an excellent breakfast. The scrambled eggs are some of the best I have had on a plane. No strangely coloured spongy lumps of egg to be seen! It even came with a thoughtful dish of ketchup too.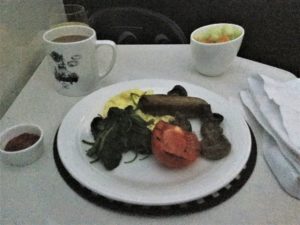 In terms of tea and coffee, there is a great selection with proper coffees such as latte, espresso, filter coffee and cappuccino. I stuck with a mug of Earl Grey. Again, there were plenty of Jacksons of Piccadilly teas to choose besides from the standard tea. I liked the playful mugs too. Apparently, they have been known to go missing quite a lot, but I managed to restrain myself!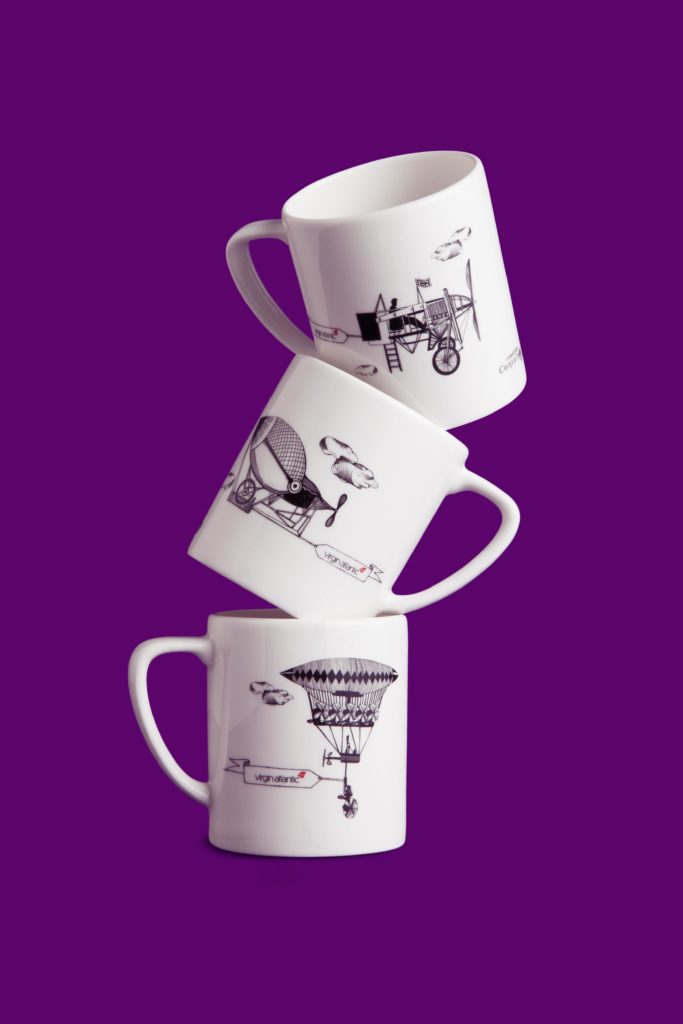 London Revivals lounge

The Revivals lounge is only 5 minutes from arrivals. After leaving arrivals you turn left towards the lifts for the Terminal 3 car park and go up in the lift.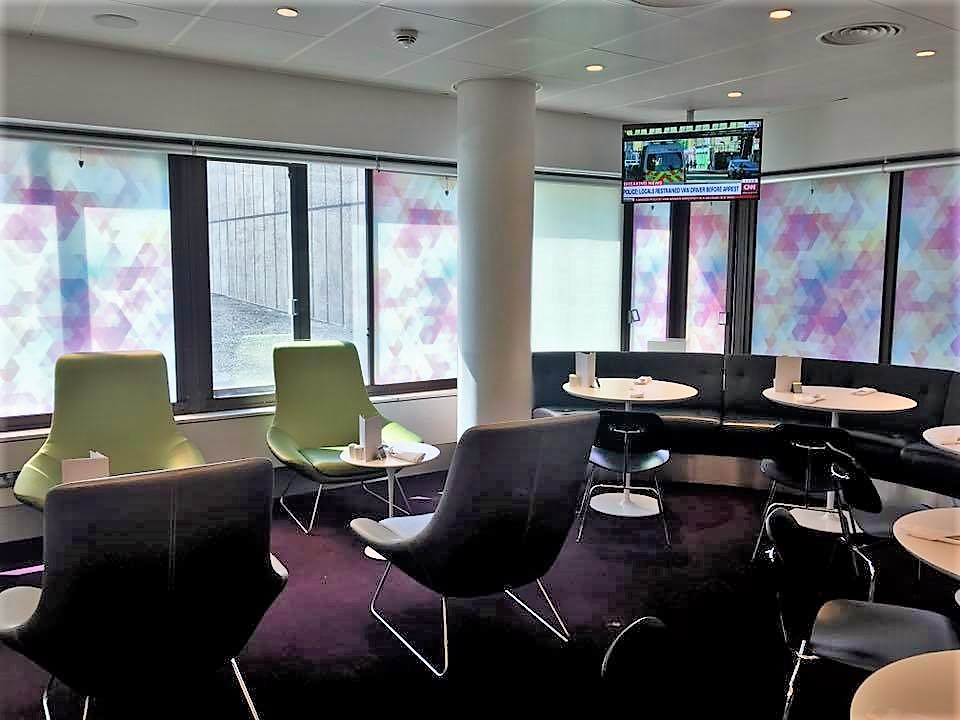 The lounge is only open 5:00am to 1:30pm. I arrived about 45 minutes before the lounge was due to close. This meant that it was very quiet and there was a spa appointment available almost immediately. You can have one complementary treatment for 15 minutes with a choice of an express facial, head massage or a file and buff. I chose the facial. I just had time for a quick shower before my treatment. The shower room was modern and clean with Cow Shed toiletries. If you want they will press your clothes or make minor repairs to them whilst you are showering.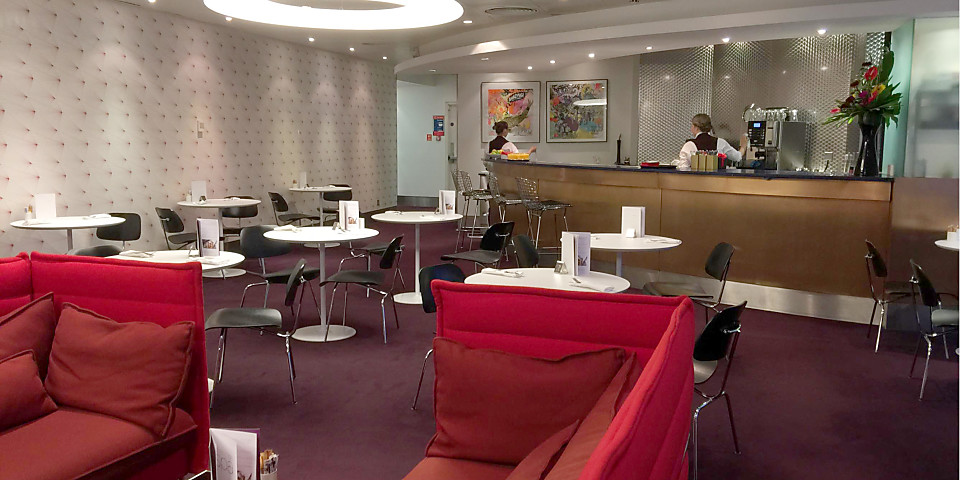 The salon is not as nice as the Clubhouse spa since it is very small. The therapist was lovely, however, and having a facial when you have come off a 10-hour flight is a lovely way to feel human again. If you wanted additional or longer treatments you can pay an extra £20-35 for a men's shave, manicures, pedicures or waxing or one of the free treatments as an extra.
As I had eaten breakfast on the plane I didn't bother eating anything. Although you could go up to the bar to order they did actually come to me at the table. There was no alcohol but I had an orange juice and a latte which were both good. They arrived quickly, probably because the staff were keen to get home! If you wanted to eat the menu looked pretty good: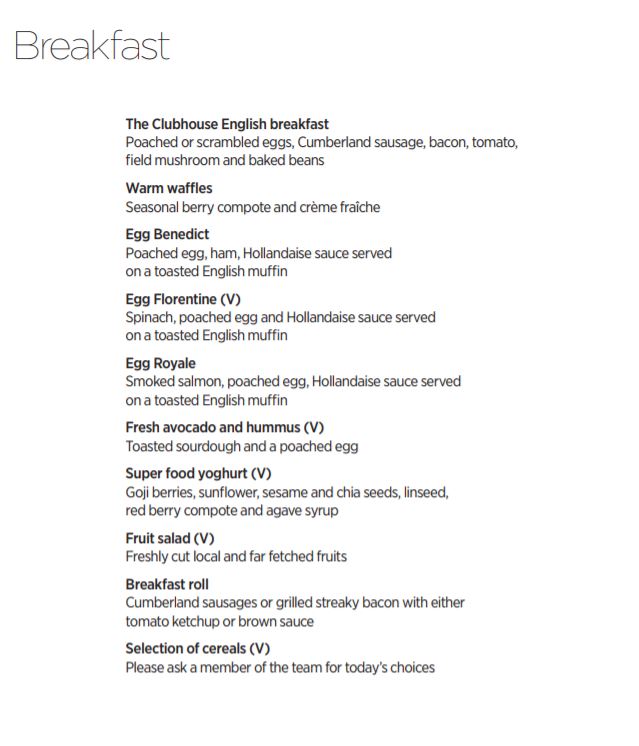 There was a small work area with computers and a printer and the wi-fi was a good speed.
Conclusion
Apart from my fellow passenger, this was another excellent flight with Virgin. The crew were even better on this flight and the breakfast was one of the better ones I have had on a plane. The LA lounge, whilst not as impressive as the London Clubhouse, was still a wonderful lounge. The Revivals lounge was better than the British Airways Arrivals lounge with lots of breakfast choices cooked to order and nicer showers. However, in terms of Arrivals lounge, the AA at T3 one is the best airline one at Heathrow in my opinion.
You can find more about Virgin Atlantic Upper class here.