We often have some great deals with Swiss in business class on TLFL, but it is a while since any of us flew with them. Here is a review from Claudio from his recent trip with them, plus we will have another review of Swiss long haul coming up soon.
This flight was the continuation of my trip from London to Sao Paulo. I flew initially between London (City Airport) and Zurich which I reviewed here. As well as being my first intercontinental flight with Swiss for a long time, this would be my first experience on a Swiss B777-300.
Flight details
Route: Zurich – São Paulo
Aircraft: B777-300
Seat: 16A
Departure Time: 10:40 p.m.
Arrival time: 05:30 p.m.
Duration: 11: 50h
Booking seats
On Swiss, it is possible to book business class seats free of charge, with the exception of the so-called "throne seats" which have extra space (see photo below). These seats are reserved for Swiss's premium elite passengers, Senators. If you do not have Senator status and want to reserve one of them you must pay … and boy, is it expensive! The price can be as much as £161 or CHF199.

However, if these seats are not booked by anyone with Senator status, the system will release them for reservation free of charge 48 hours before departure. On my flight to Sao Paulo, luckily for me, there were several unoccupied thrones seats and I got one, but not without some hassle!
I entered my reservation on the Swiss website, made the change and saved. Two minutes later I returned to the page and my seat had changed back to what I had originally booked. I changed again, saved, left the page, came back and the same thing again. After trying three times I gave up and called Swiss who sorted it out. So my tip is, do not trust the website to save your change and call Swiss to reserve your seat if necessary!
Boarding Swiss business class
I've seen disorganized boarding before, but this was so bad, Swiss should be hanging their heads in shame! So much for Swiss precision!! The concept of a queue simply did not exist and was just a general scrum of people. Everyone was trying to go through passport control at the same time and then scan their boarding pass to board! There was no priority given to business, first or status holding passengers at all.
In defence of Swiss, I would say that this particular flight was an exception. Usually, they organize the passengers in queues and board priority passengers first. So I was very surprised by the chaos for this flight.
Swiss business class Cabin and Seat
The business class of the B777-300 is very similar to the cabin of the A340-300. The seats themselves are basically the same. If you are travelling alone, the best option is the throne seat as they are super private.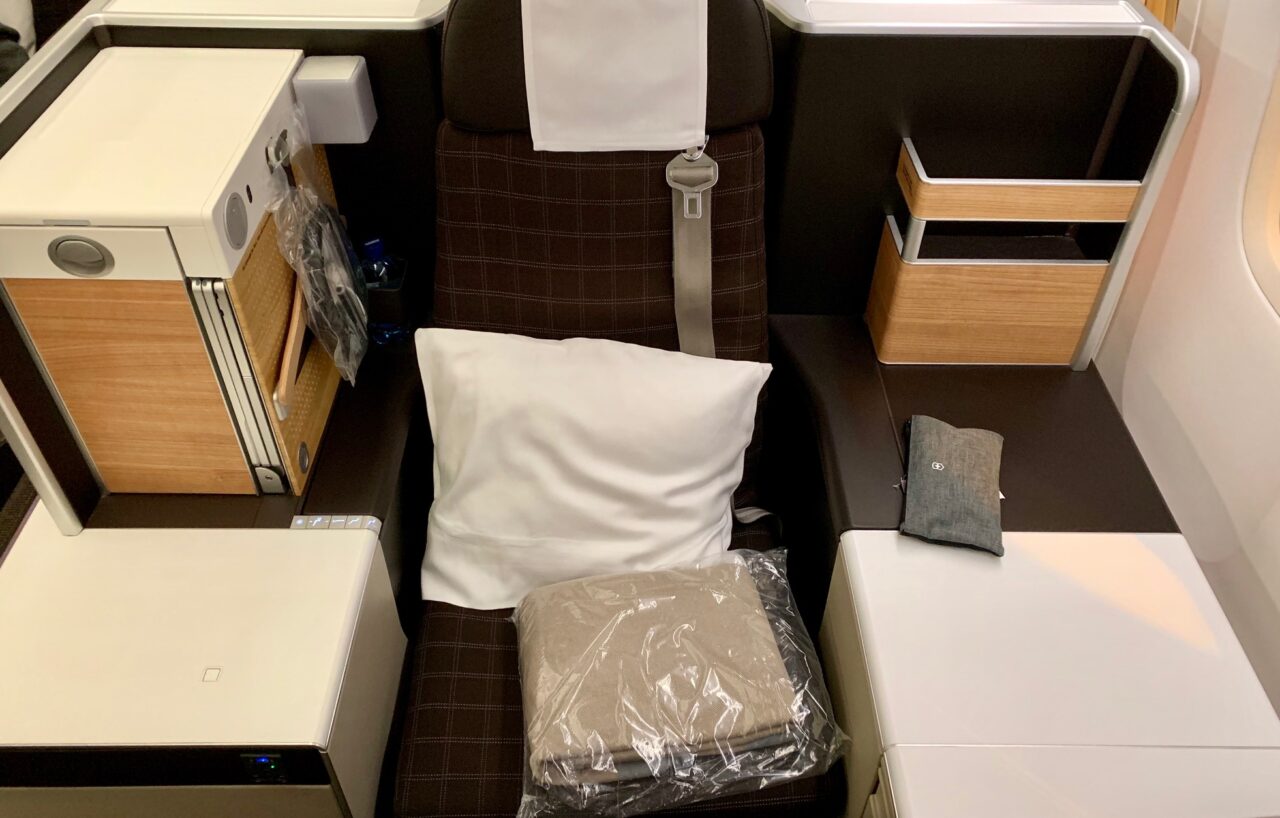 I found the seats really hard and I did not sleep well on them. I think a mattress pad would make a big difference! But back to the thrones seats, they have plenty of space for you to keep all your personal belongings. In the picture above, you can see a compartment on the right side. and if you open the small door on the left side you have more space to store your personal objects.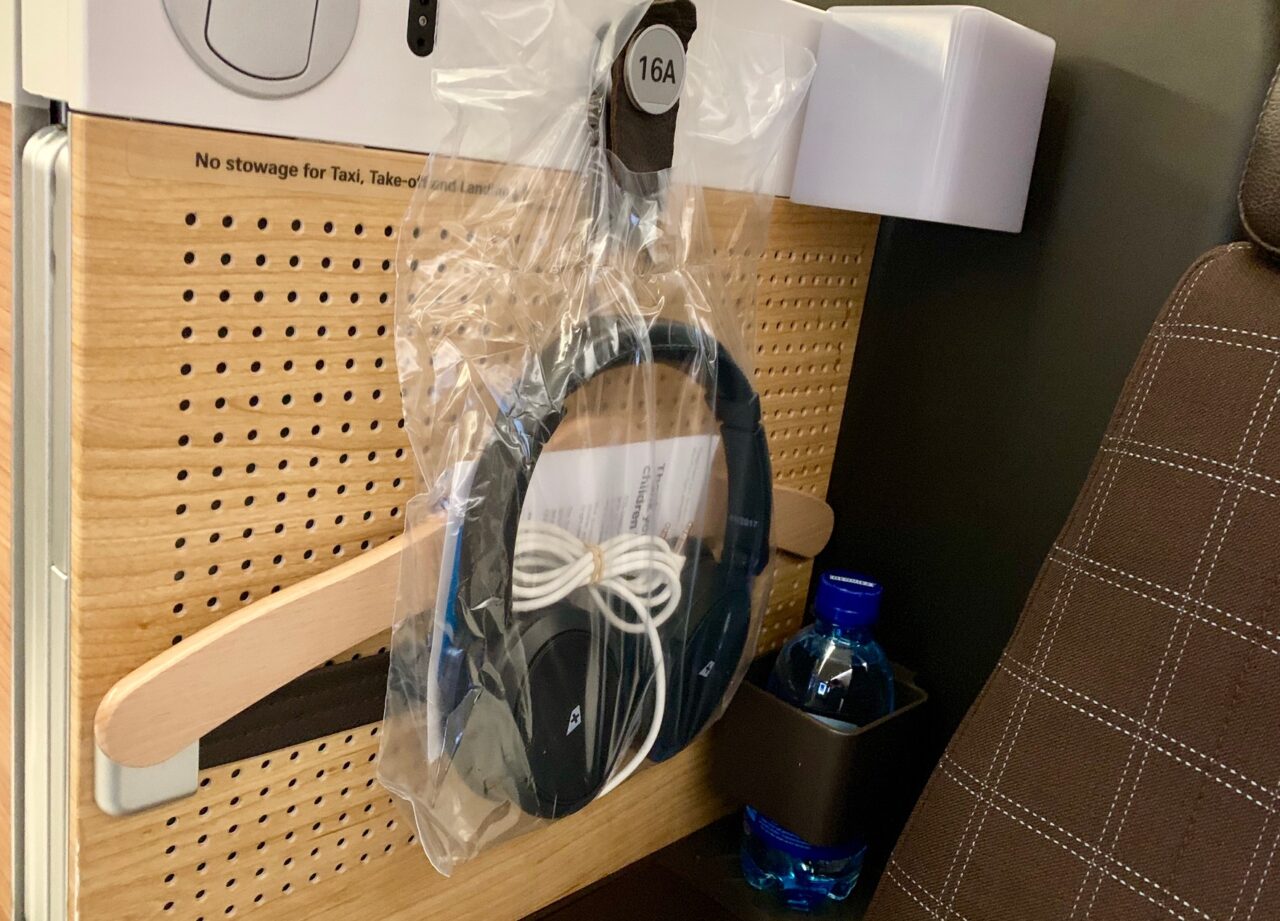 As soon as I arrived at my seat, a clothes hanger – as always – was already there to use. Also at the seat was a bottle of water.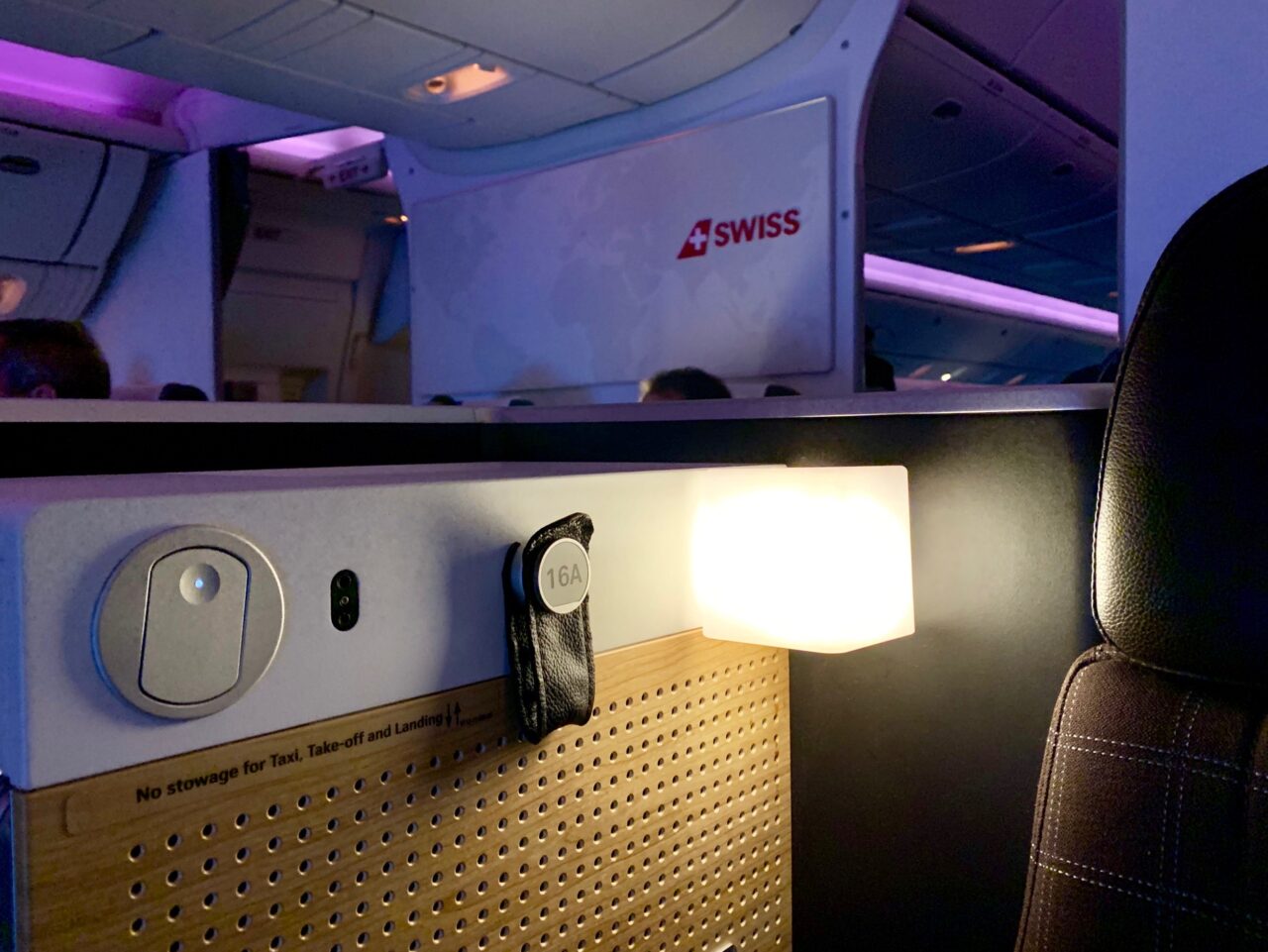 One detail that I find very charming on Swiss is the lamp on the side, basically on the water bottle. In front is another reading light if you do not want to leave the backlight on.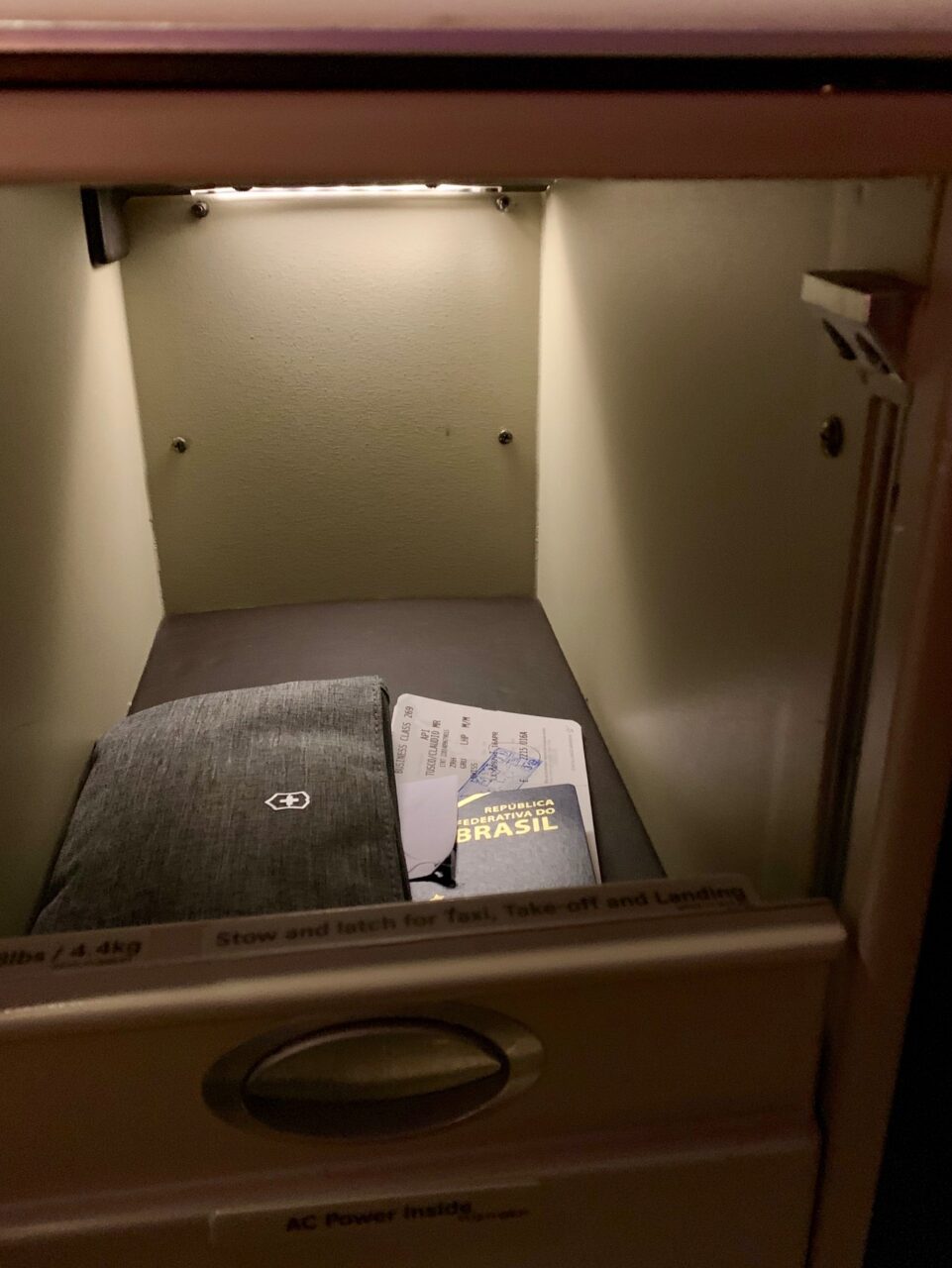 In the picture above, you can see another storage area that sits at the bottom of the seat by the window, almost at floor level.
There is another detail of the seats that I did not photograph, but which many people complain about. When you put the chair in the horizontal bed position and lie down to sleep, the foot space is quite small. So if you're tall, you're going to have a bit of trouble turning over at night.
Swiss business class Amenity Kit

The Amenity Kit had all the usual products. Nothing that was particularly exciting! On the outbound flight to Brazil, I received the amenity kit from the photos and on the way back it was a canister with the Victorinox logo on the cover. The content was exactly the same:
Eye Mask
Red socks (Love them!)
Toothbrush and toothpaste
Earplugs
Lip balm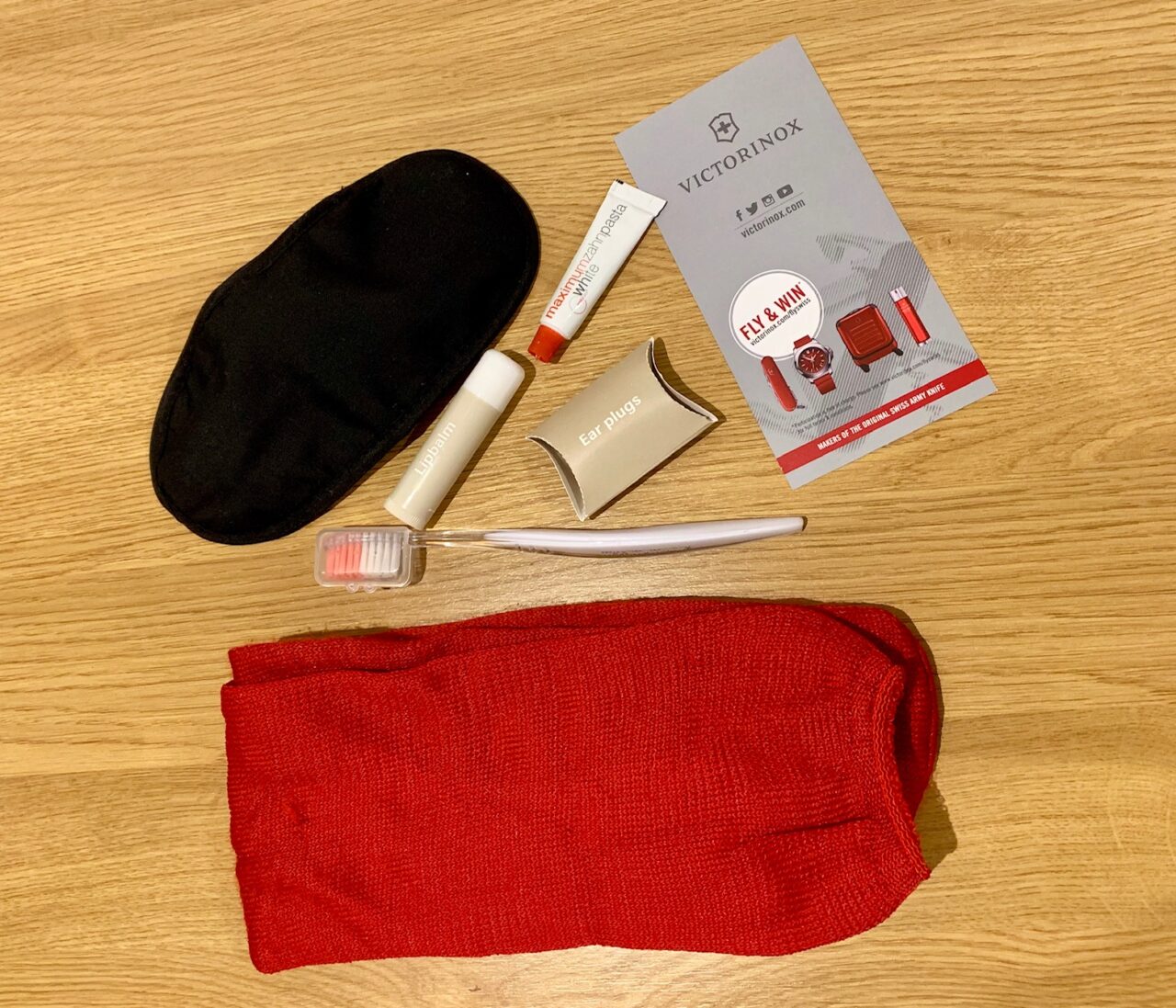 Swiss business class Food and drink
This is certainly the highlight on Swiss! Meals and wines are always good quality – you generally can not go wrong (at least in my experiences with them). The service is usually good too.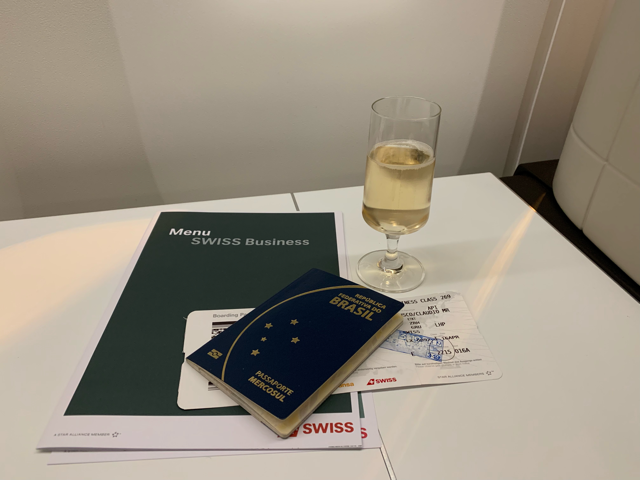 Within a few minutes of arriving at my seat, one of the stewards had already offered me the welcome drink. I, as always, opted for the champagne. At the same time, I was handed the menu for dinner and breakfast.
The on-board service followed the usual pattern. Initially, they offered drinks, then the entree, main course and dessert. As for drinks, my glass was always full, without my having to ask for a refill.
For drinks there was a choice of:
Champagne
Two white wines
Three red wines
In terms of spirits, there were:
Campari
Bombay Sapphire London Dry Gin
Smirnoff Red Label
Bacardi White Rum
For dinner, as an appetizer, I chose the prosciutto with pesto sauce.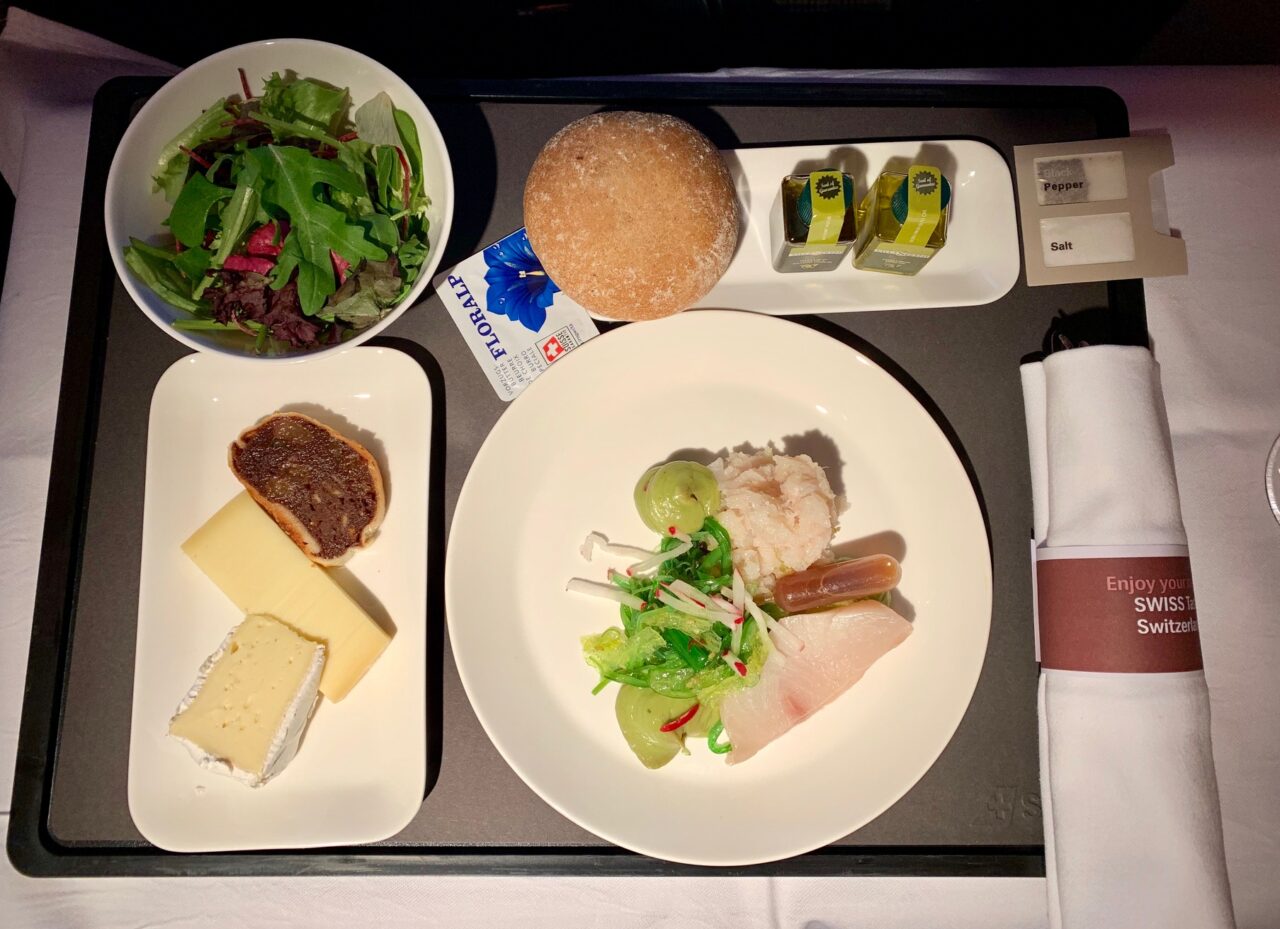 For the main course, I ordered the grilled filet mignon with mushroom sauce. Although the steak's appearance was not very good, the meat was fine. Not overcooked and well seasoned, plus the potato gratin was excellent.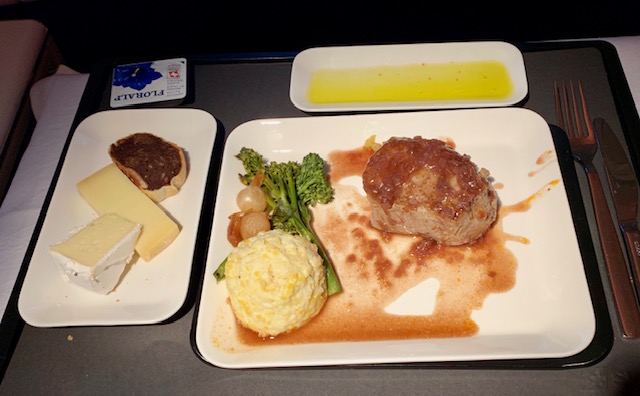 To finish the meal off, I had the pannacotta of vanilla and lemon as dessert. There was also a selection of cheese already on the tray.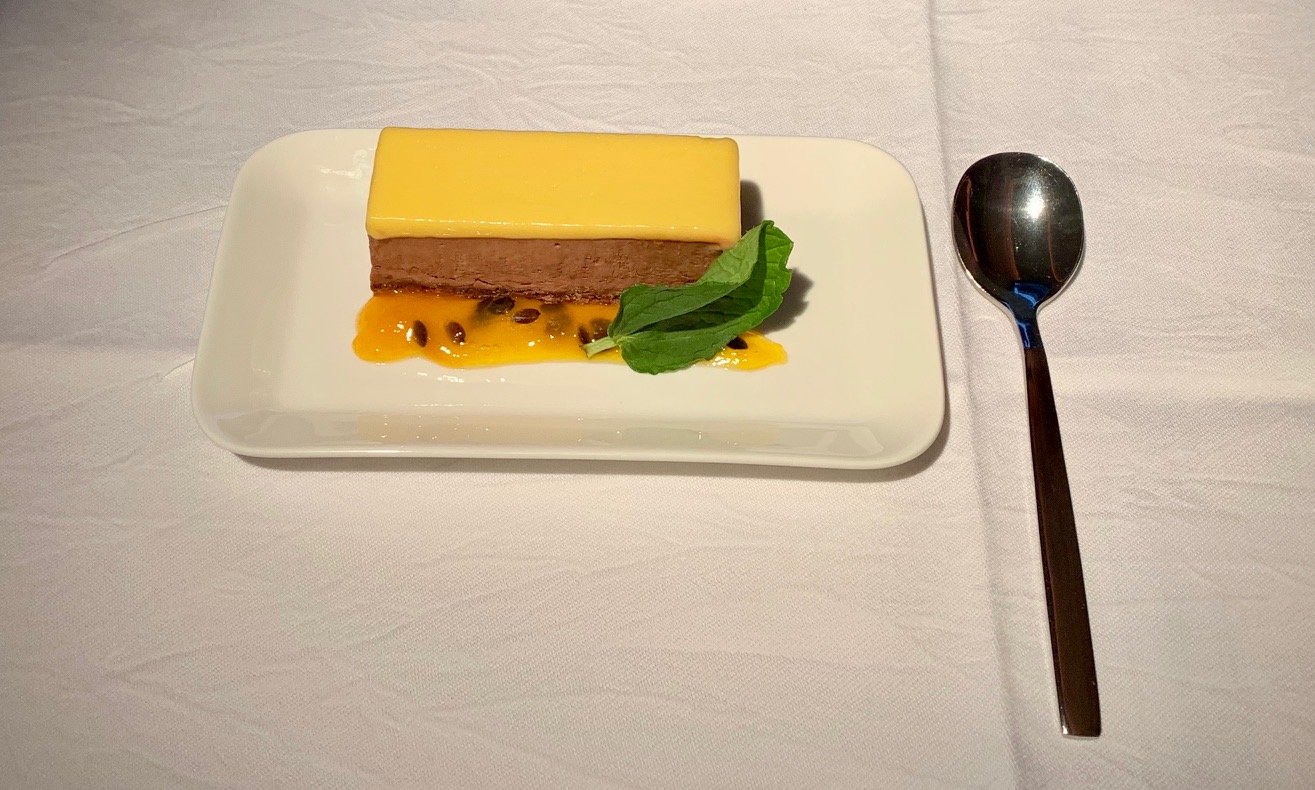 I like the Swiss system for breakfast. At the beginning of the flight, the crew passes round a form where you choose what you want to eat the next day. This streamlines their work and also gives you a few more minutes of sleep.
I had fun with the English breakfast. It came in a bowl with everything inside it in a big pile! Ah if a Brit saw this disgrace to an English fry up! 😀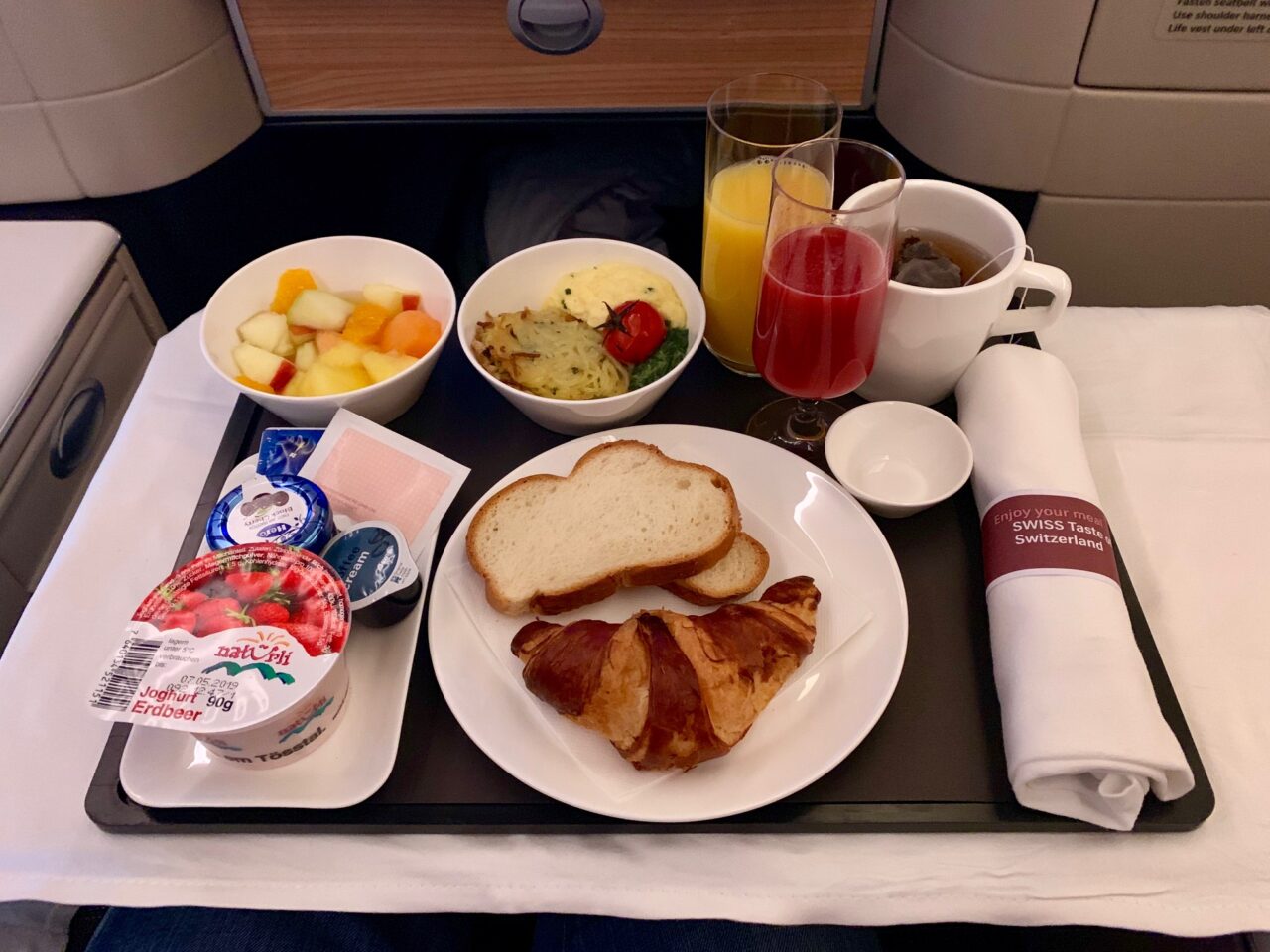 Swiss business class Entertainment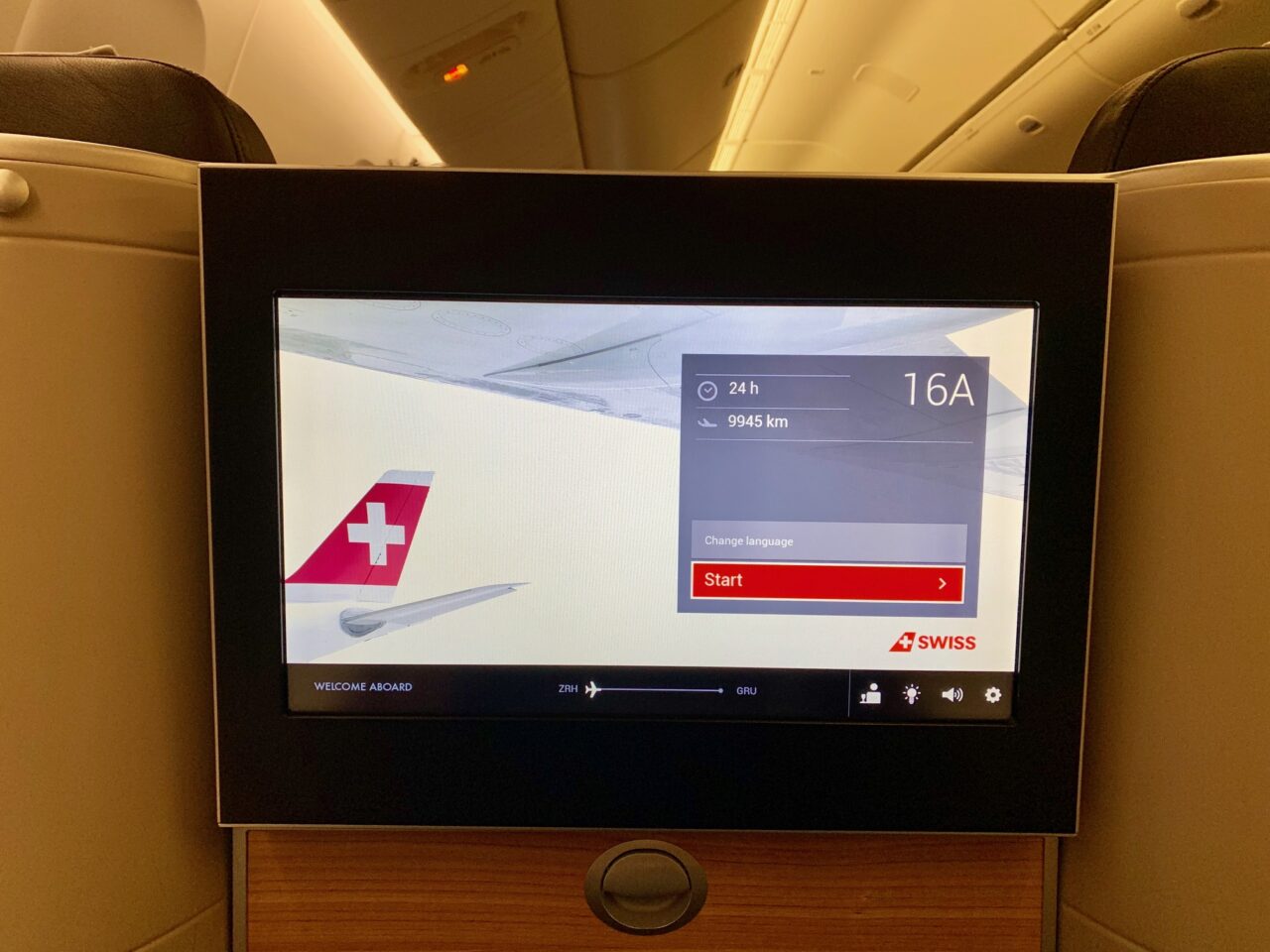 As far as entertainment was concerned, the screen was a good size. In addition to being a touch screen, it also had a remote control on the side of the seat. From this, it was possible to operate the entire entertainment system without having to stretch to touch the screen.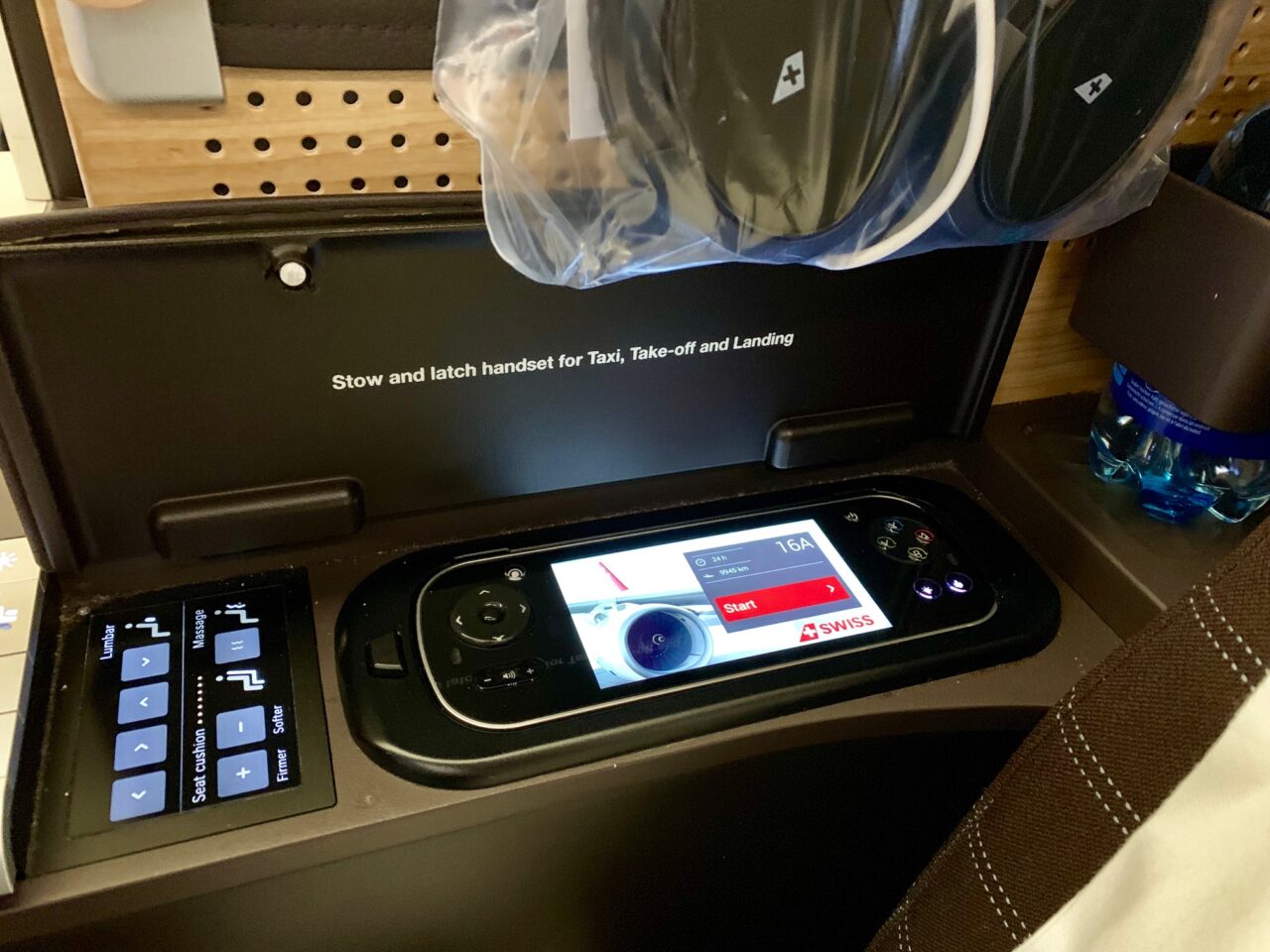 Let's talk next about the headphones. Although they are noise cancelling, I did not think they were particularly good. In the end, I ended up using my own headset.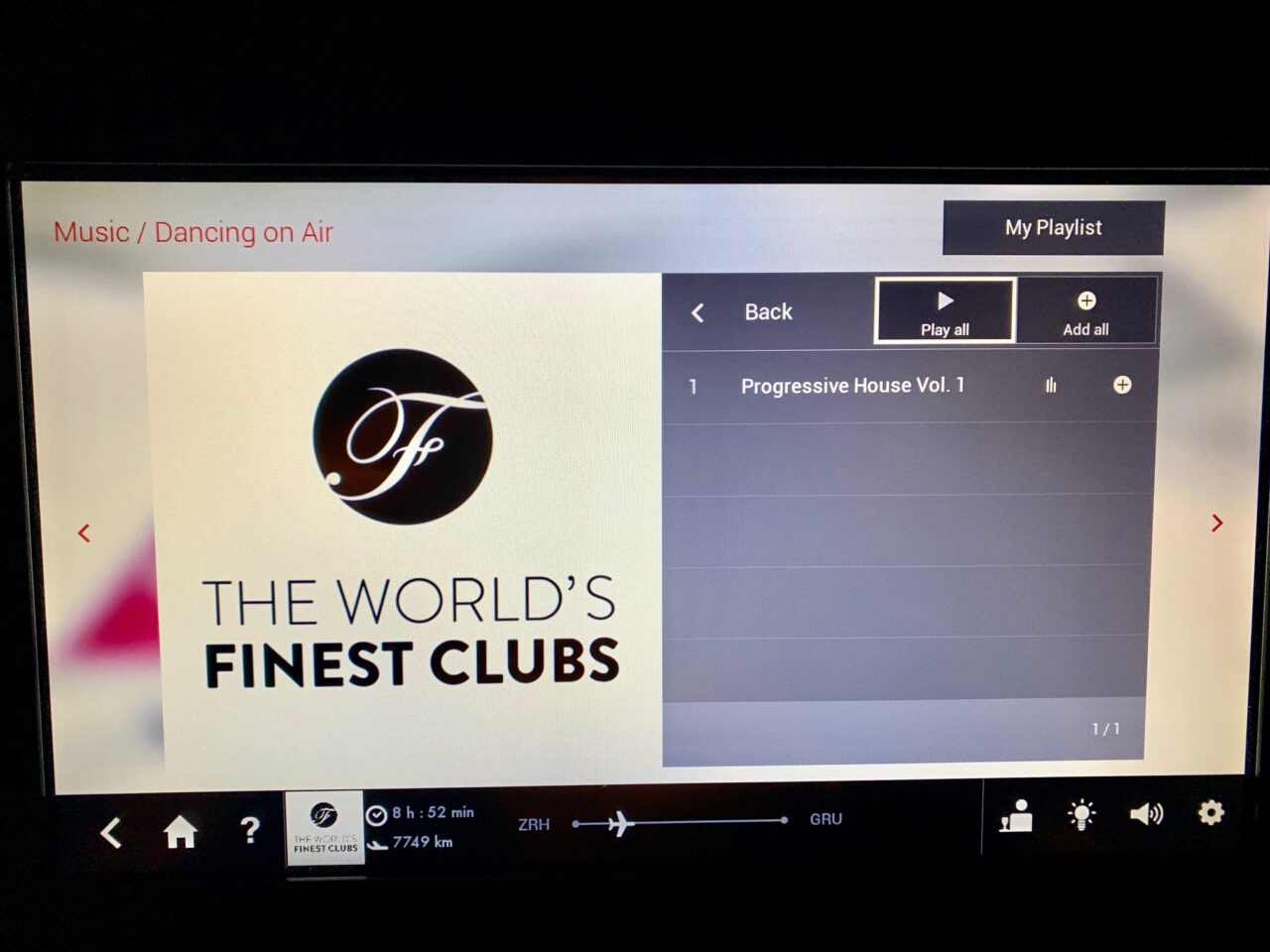 As far as the variety of music and movies was concerned, it was more than enough for me. I listened to a selection of songs during dinner (pictured above) and then watched a movie that had just been released that I wanted to see. It is obvious that Swiss does not have the variety that some Middle Eastern carriers offer, but to me that does not make any difference.
Conclusion
As always, the service offered by Swiss was consistent and met my expectations. Business class, considering the new seats that are coming to market now, is somewhat outdated and a 1-2-1 configuration in the entire cabin would be very welcome as it would give more privacy to passengers.
The crew were quite friendly as well as efficient and as far as the meals were concerned, these were good. Perhaps a little more care in the presentation of meals would make an even better impression on the service.