Today's Reader review is by Sarah Kerrigan about Heathrow to Santiago in BA First Class.
This was my first big trip since Covid, so I was delighted for my return to long-haul travel to be a flight in First on BA's longest route, Heathrow to Santiago, Chile, with a journey time of just under fifteen hours.
Booked twelve months ago using a British Airways American Express old-style companion voucher, I had wondered if the trip would go ahead, but despite a volcano rumbling to life and wildfires in Chile – not to mention numerous strikes in the UK – the flight was operating as planned. Happy Christmas to me!
Using the UK train strikes as a good excuse to get to Heathrow early, we decided to hole up in the Concorde Room. I was keen to make the most of BA's most exclusive T5 lounge, which until today, I had never been lucky enough to visit. A few people had told me to allow plenty of time to enjoy the Concorde Room, and that is what we did – we certainly had our money's worth after we arrived at Heathrow earlier than expected and with no setbacks on the journey.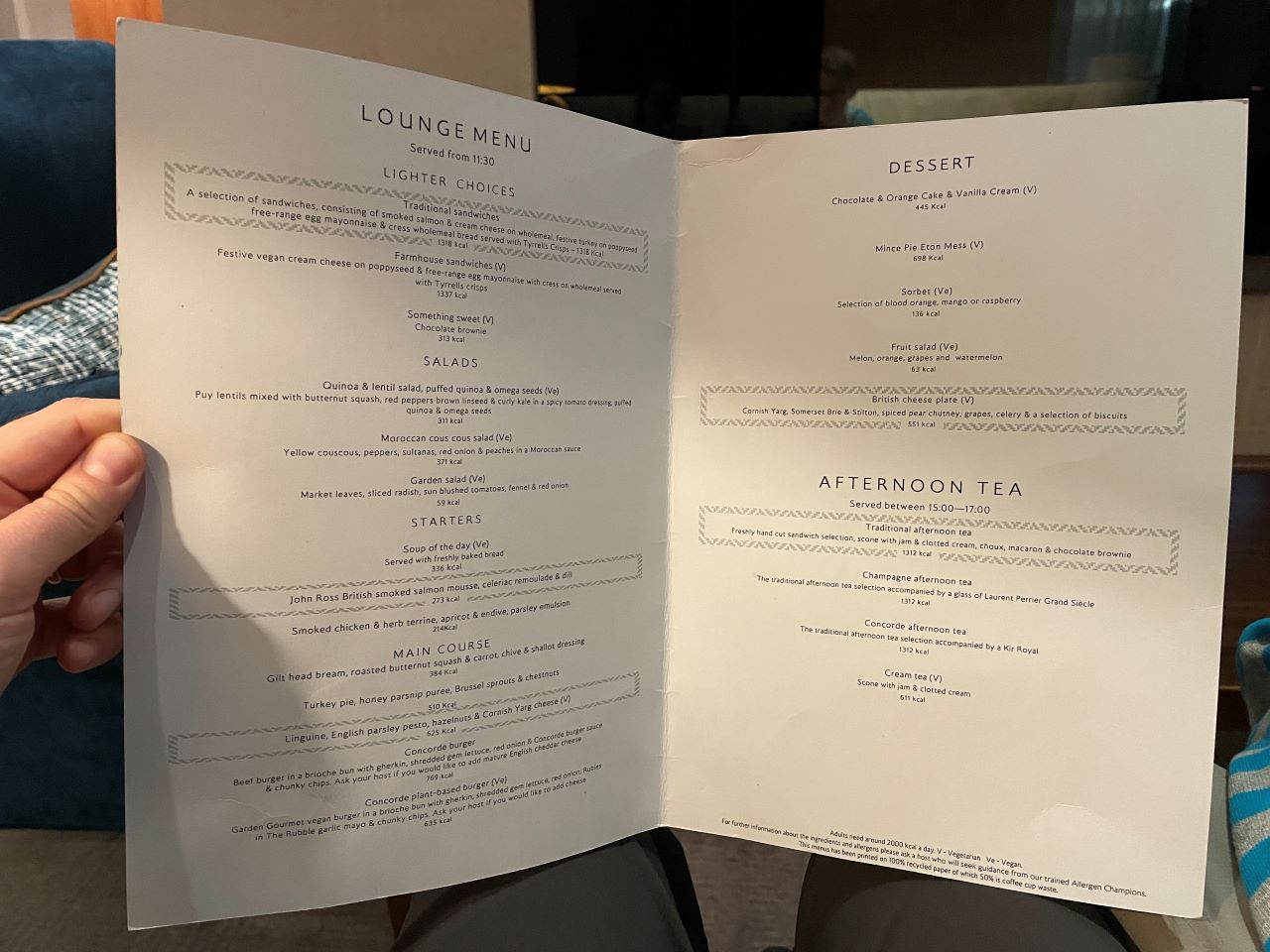 On arrival, Heathrow was dead quiet, which I suppose is the benefit of travelling on the evening of Christmas Eve, when most people want to already be at their destination. Still, I don't think I've ever seen T5 so quiet. We travelled with hand baggage only, as we were planning on travelling around Chile a bit, so we bypassed the check-in desks and headed straight through security. We had the First Wing to ourselves – our own private security lane.
The Concorde Room was quiet too, and whilst some complained of it being a bit dark inside, the long winter evening made it feel cosy, and the natural daylight wasn't missed. The whole lounge smelled subtly of pine and mulled wine spices, and with the Christmas playlist in the lounge, it felt very festive, although, after several hours, the music may have slightly worn out its welcome!
Ahead of the flight, I emailed You First to request the onboard menu, and to find out if I should order a gluten-free meal for my other half. He's only gluten intolerant, as opposed to allergic, so he'd rather have a choice of meals to order from, rather than be in restricted to a single special meal, so seeing the menu in advance was helpful.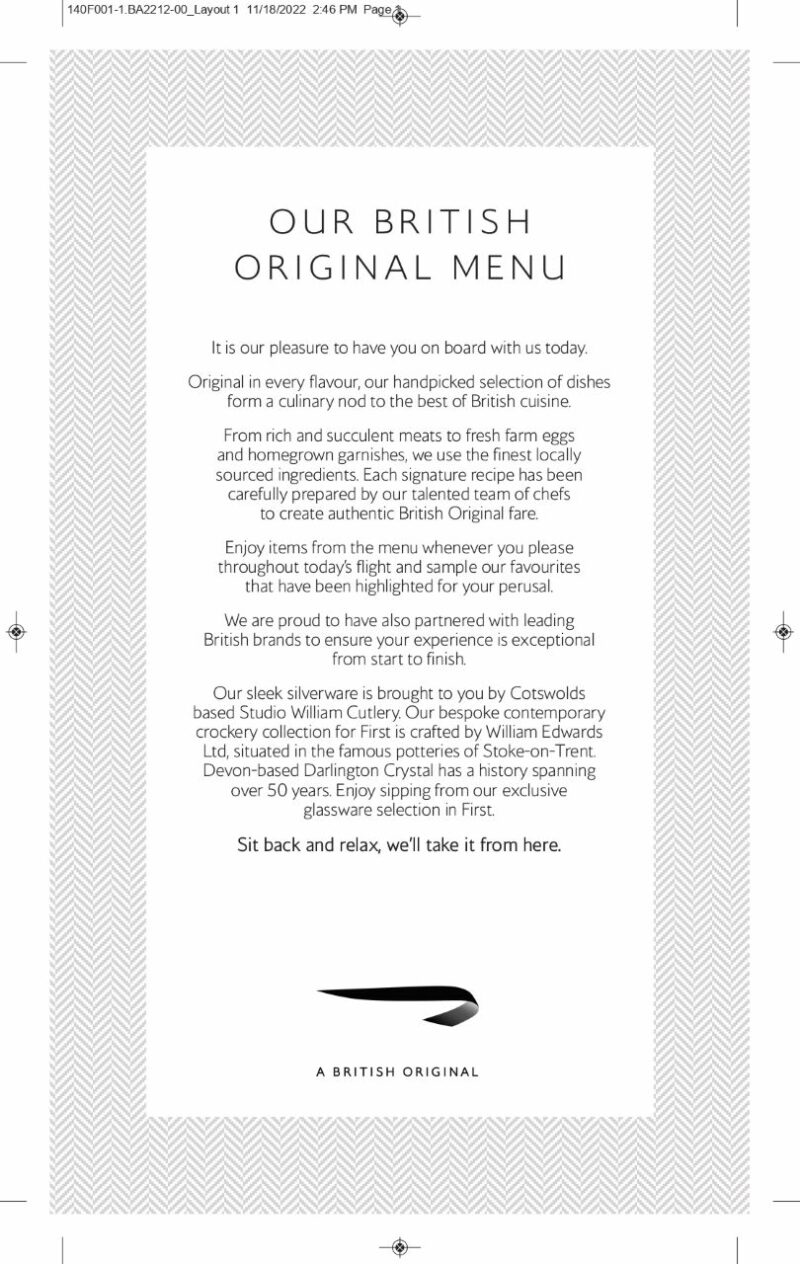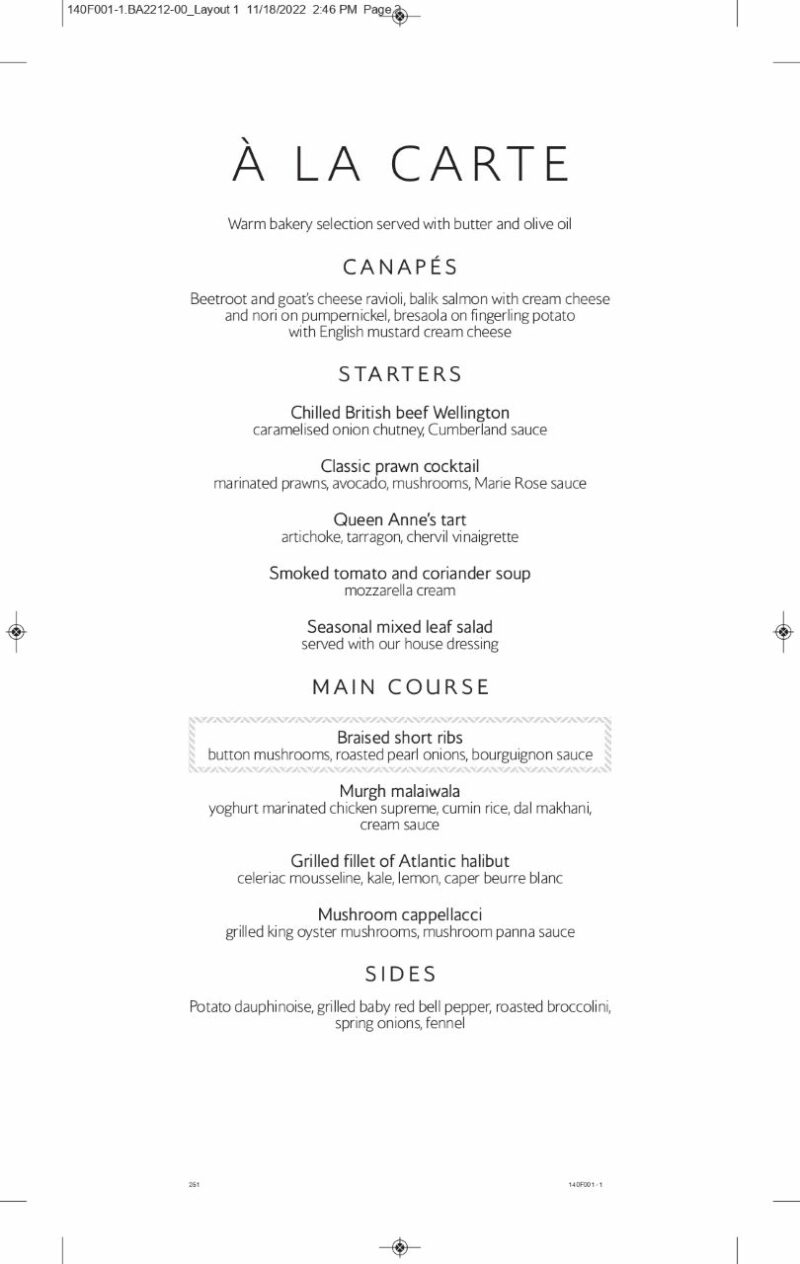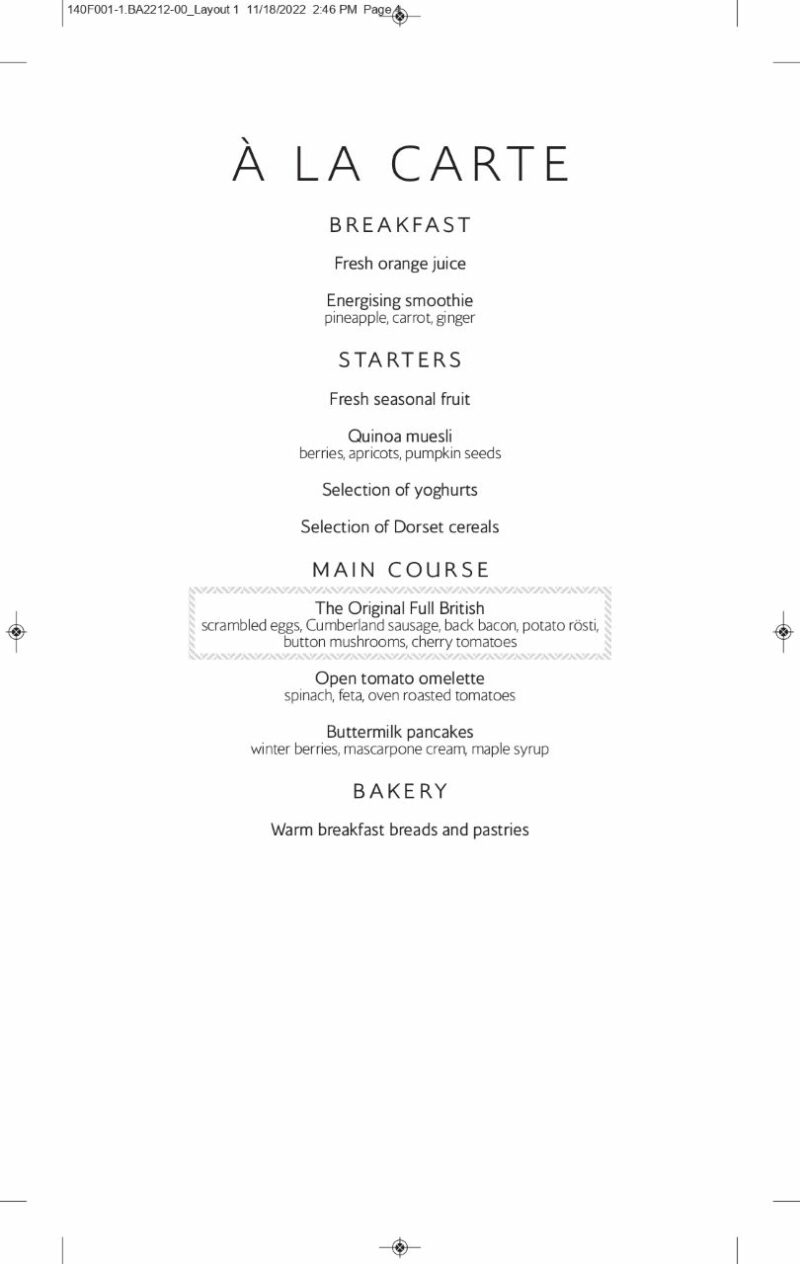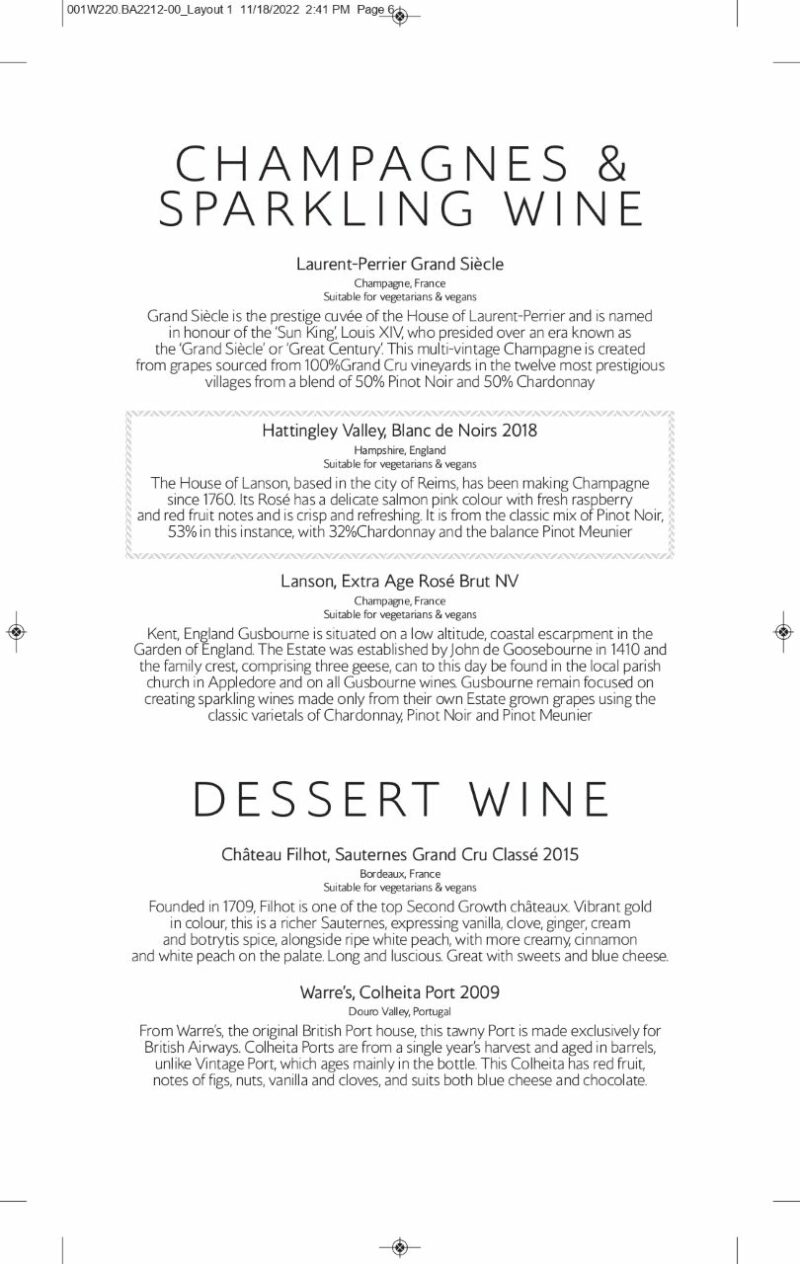 We booked seats 1A and 2A in the First cabin, and on-boarding, the Inflight Lead introduced himself, personally showed us to our seats, and introduced us to the crew who would be looking after us.
A hot towel, welcome glass of Laurent Perrier Grand Siècle champagne and bag of (Club Europe-style) nuts followed shortly after (sadly, still no warm nuts!) and then Temperley pyjamas, slippers and an amenity kit (containing face cream, hand cream, deodorant, eye mask, ear plugs, face spritz, pen, and a few other bits, all in a nice Temperley make up bag).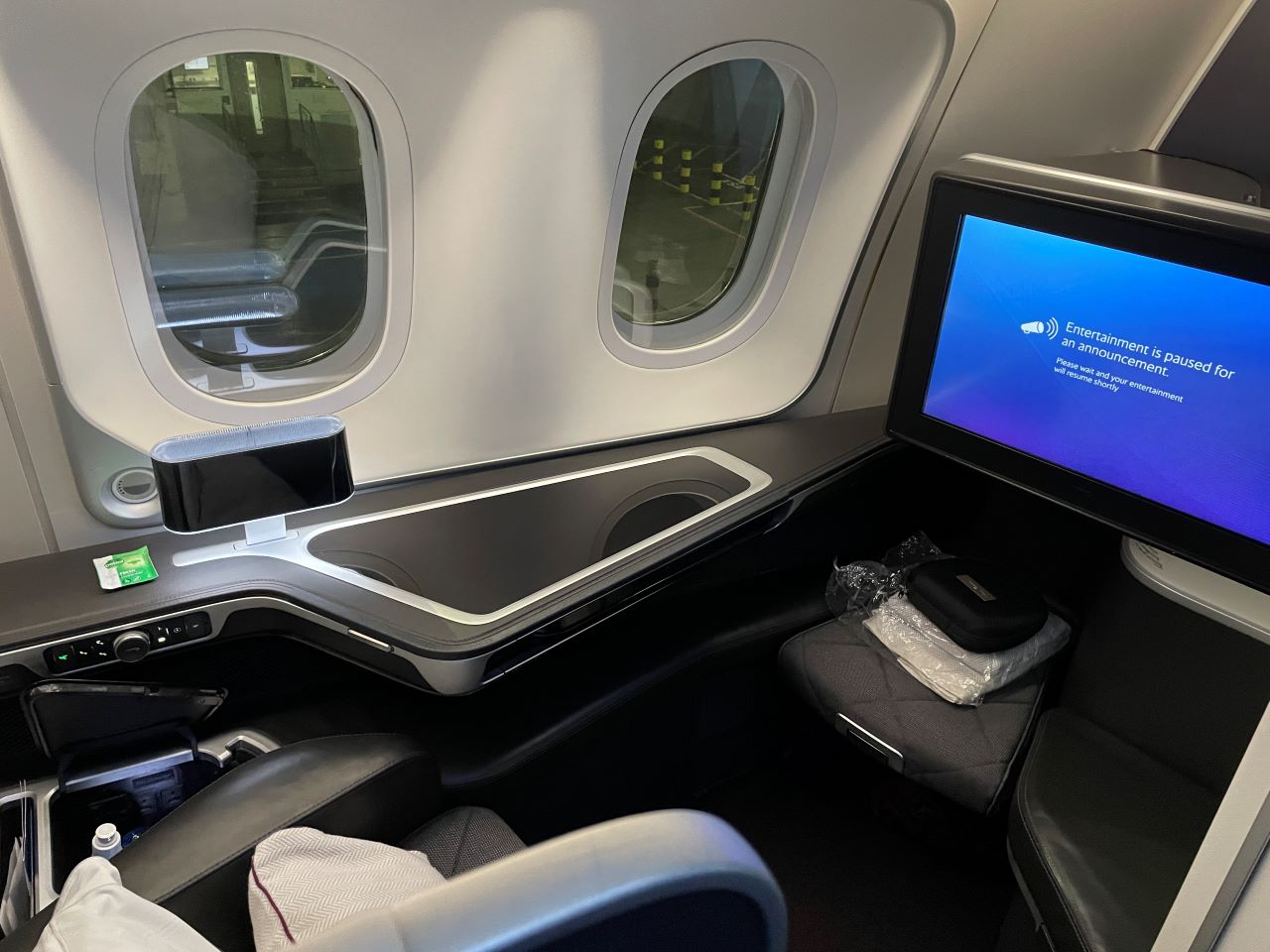 Just before take-off, we were given the BA First Class menu, which had been given a "festive makeover", meaning the advertised chicken curry had been replaced by a Christmas turkey dinner.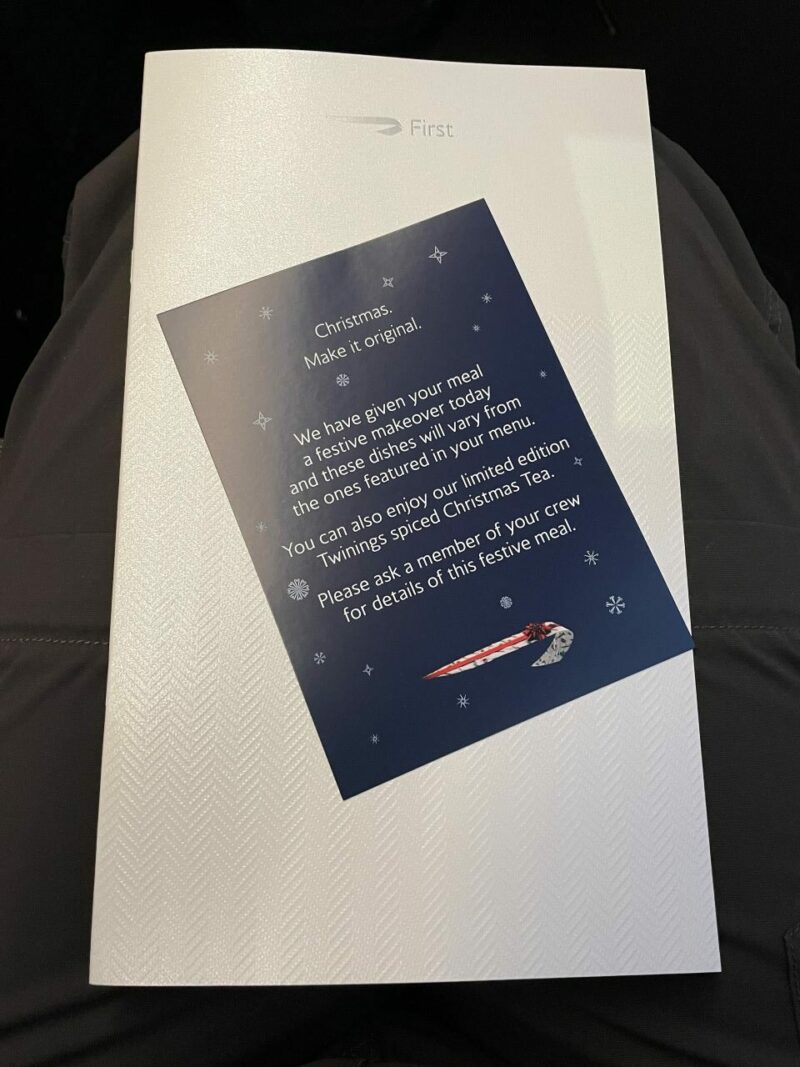 Once we were airborne, a crew member took my dinner order. BA First Class passengers are offered "Dine on Demand", so I had the option to choose what time I wanted to eat, but I decided to eat as soon as possible since it was already quite late in the evening. My first course was brought to me around forty minutes after my order was taken, and just before the food was brought out, a member of the crew set my table with a tablecloth, salt, pepper, oil, butter and cutlery.
Having had an early family Christmas lunch the day before (as we were flying on Christmas Eve), I opted for the soup, followed by the braised beef short rib and the cheese course for dessert. For the wines, I went for the Bordeaux, followed by a Tawny port with the cheese – all of which I enjoyed. The food was well-presented, served at an appropriate temperature and tasted good. The wines complimented the food well.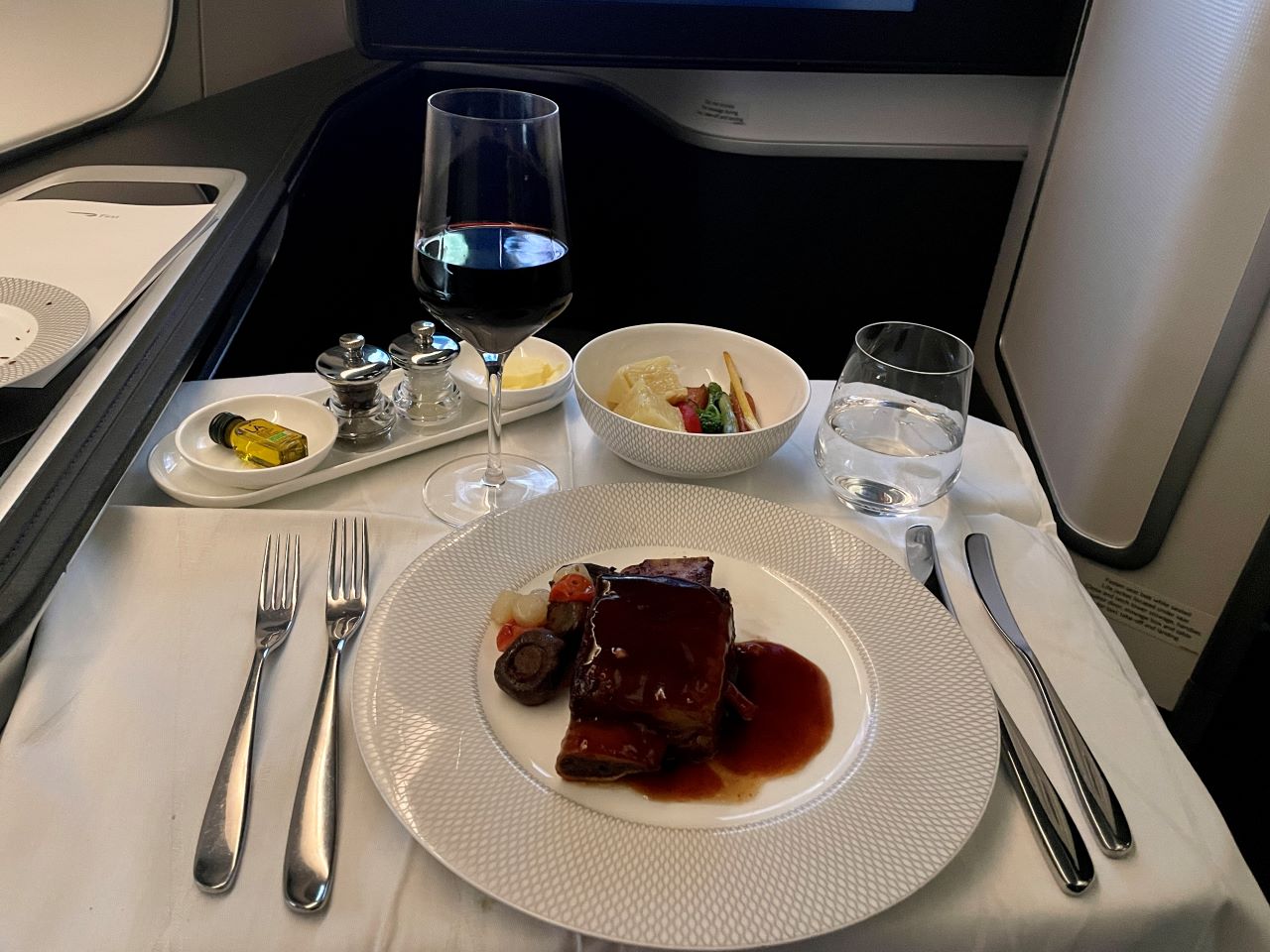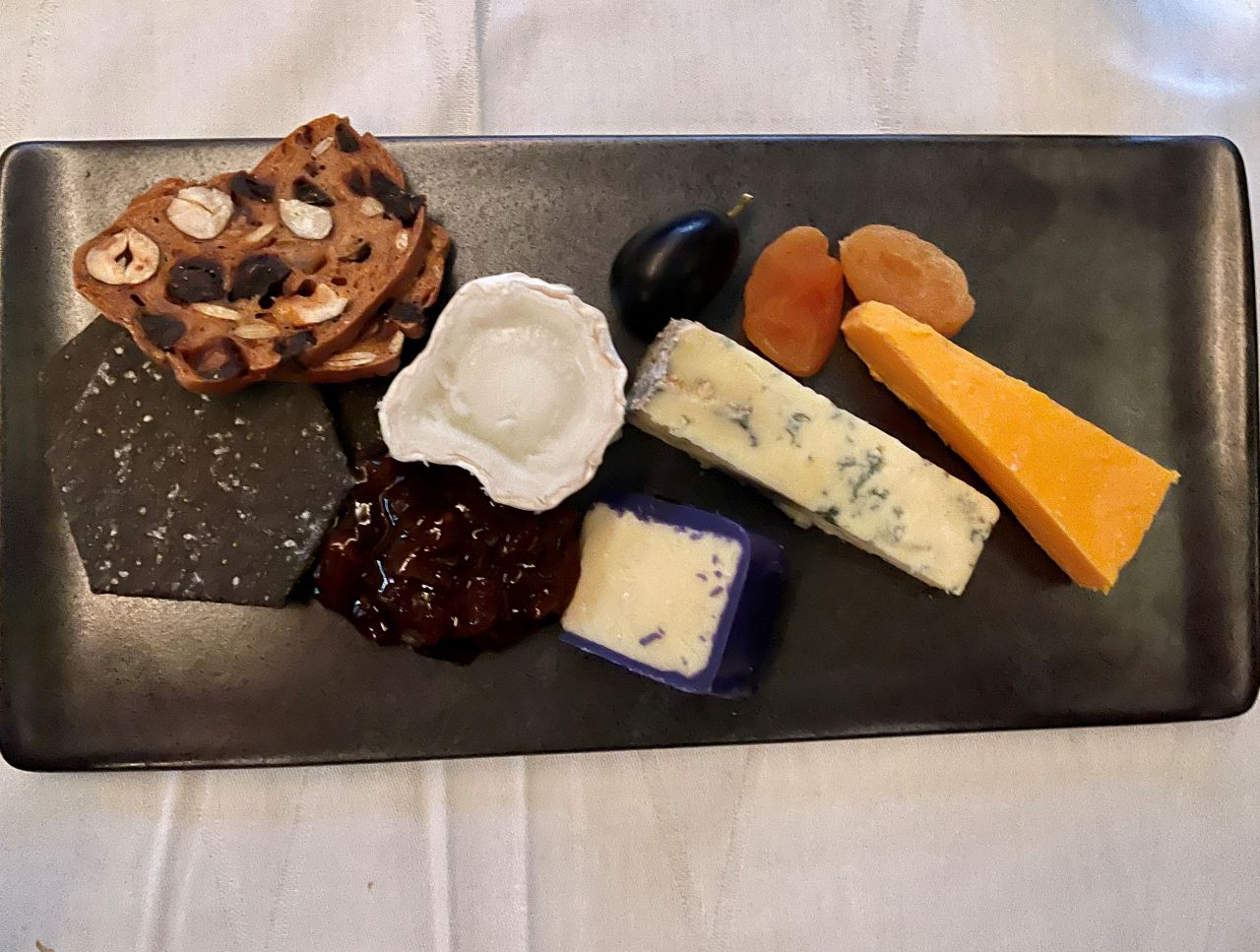 By the time the meal service had ended, it was nearly 1 am UK time (10 pm in Santiago), so I decided to get some rest. I had trouble manoeuvring the seat into a flat position at first, so a member of the crew made up the bed for me with a mattress topper and duvet whilst I changed into my pyjamas.
The bed was comfortable, though after the meal service, some air turbulence hit, and from there on in, it was bumpy almost all the way. For me, it was too bumpy to sleep, despite the seatbelt sign being off for most of the journey. That's not to say that the turbulence was severe, it's just that the plane was shaken around incessantly for twelve hours straight, which kind of took its toll. I really felt for the poor sounds back in Economy – that must have made for a long, uncomfortable flight.
The onboard Wifi, which is free for passengers in First, was a bit slow, but it generally worked well throughout the flight. I never normally bother connecting to the wifi on board a flight, but it was handy to be able to communicate with the taxi awaiting our arrival and make any last-minute checks or plans – especially with it being such a long flight.
It was fun to chat with family at home over WhatsApp as they woke up on Christmas morning and to share in their excitement. I was also able to inform them when we saw Santa's sleigh go past through the plane window, somewhere over the middle of the Atlantic Ocean, on his way to the UK 😉.
I didn't really bother with the in-flight entertainment, due to it being a night flight and me trying to get some rest, but the screen was a good size and resolution, and there were a few decent-looking films loaded. My only minor quibble was that neither my nor my husband's Bose Quiet Comfort headphones (one wired, one wireless) could connect to the IFE system. That said, the headphones provided by BA were comfortable, with decent enough sound quality so we were happy to make do for the short amount of entertainment we watched. The IFE remote control was situated in a box by the seat, which also contained two USB charging ports, and a UK plug socket, which was handy for keeping devices charged inflight.
In terms of storage, in addition to the large overhead locker, there was a big storage box by the ottoman, which was ample space, and my only concern was making sure I hadn't forgotten anything before I disembarked.
We were woken for breakfast around two hours before landing, at around 8 am local time, and I liked the way the window shades were set to gradually fade to natural daylight after being blacked out all night.
For breakfast I had a pot of tea, with a smoothie, yoghurt, and quinoa granola, with a second pot of tea being delivered shortly after finishing the first. I appreciated the lighter option after a long flight, and the food was fresh and tasty.
The seatbelt signs went on a bit earlier than usual – around 40 minutes before landing – due to restrictions imposed when flying over the Andes, but it was a smooth approach and landing, and a rather pleasant 25 degrees Celsius and sunny on arrival in Santiago – it was so nice to be landing into summer weather and leave the cold and grey UK winter behind.
A quick note on the crew, who were excellent throughout the flight: attentive, and friendly, and I shall be deploying my Golden Ticket shortly, to pass on my thanks.
Overall, I found BA First Class to be a significant step above Club World – as it should be – and I think it's worth the upgrade if the reward availability and your Avios balance allow it. The extra space, comfort, additional service and better food made for a very pleasant flight, and I can't wait to do it all again.
Like our reader's BA First Class flight review? You can read more flight reviews here.