Booking
I had only once stayed in an Edition hotel which was in New York and something of a disappointment. So, despite being open for some time, I had never got around to stay in the London EDITION version. It is also very expensive so given that there are no real facilities on-site, I again had ruled it out. However, I needed to be near Oxford Circus and the hotel was in a prime position for that.
Cash prices were high at around £400 but there was availability on Bonvoy points for 60,000 which seemed good value. It's a category 7 hotel which means rooms cost between 50-70,000 points per night.
If you want to use cash, you would probably get better value by booking through a Marriott STARS luxury travel agent such as our partners GTC as you would get these free benefits with the flexible rate:
Hotel credit value at $100 USD
Complimentary or continental breakfast daily, for 2
Early check in/late check out, based on availability
Priority complimentary room upgrade, based on availability
Location
You can't really get a much better location than the Edition hotel. It's close to Oxford Street and plenty of great bars and restaurants but it is on a fairly quiet street. It is around 7-minutes walk to both Oxford Circus and Tottenham Court Road tube stations.
Check-in and concierge

One thing both EDITIONs I have stayed in have done well is the door staff and porters. The doorman at the EDITION was great, really friendly, and helpful. As soon as I pulled up he opened the taxi door and offered help with my luggage. Throughout my stay, he always greeted me and offered help with getting taxis or directions.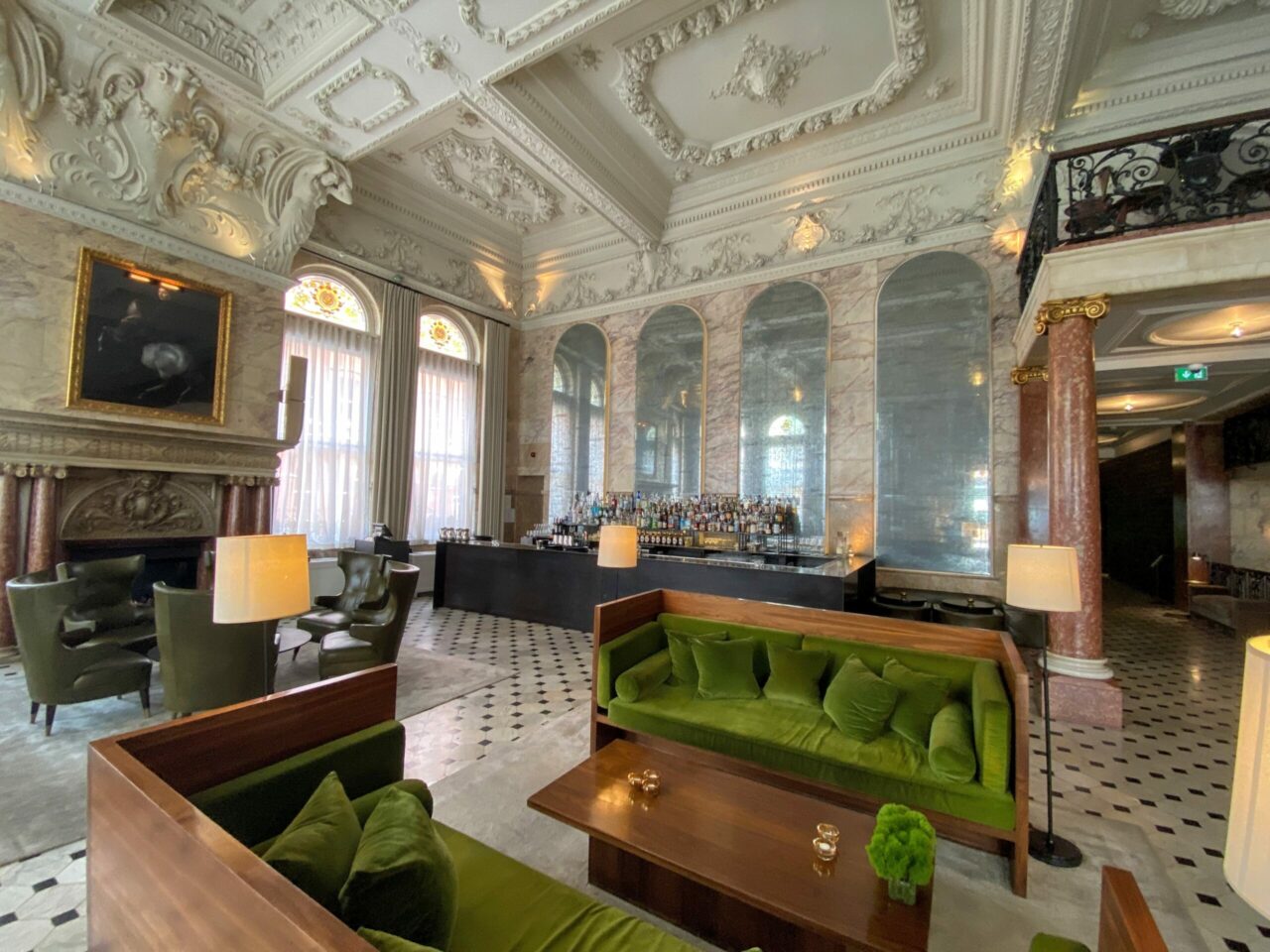 In fact, all the staff were equally helpful. I would go as far to say this was probably one of the best hotel services I have had in London outside the Club rooms at the Langham. They always tried to greet you by name and would escort you to wherever you were going or offer to make reservations for you.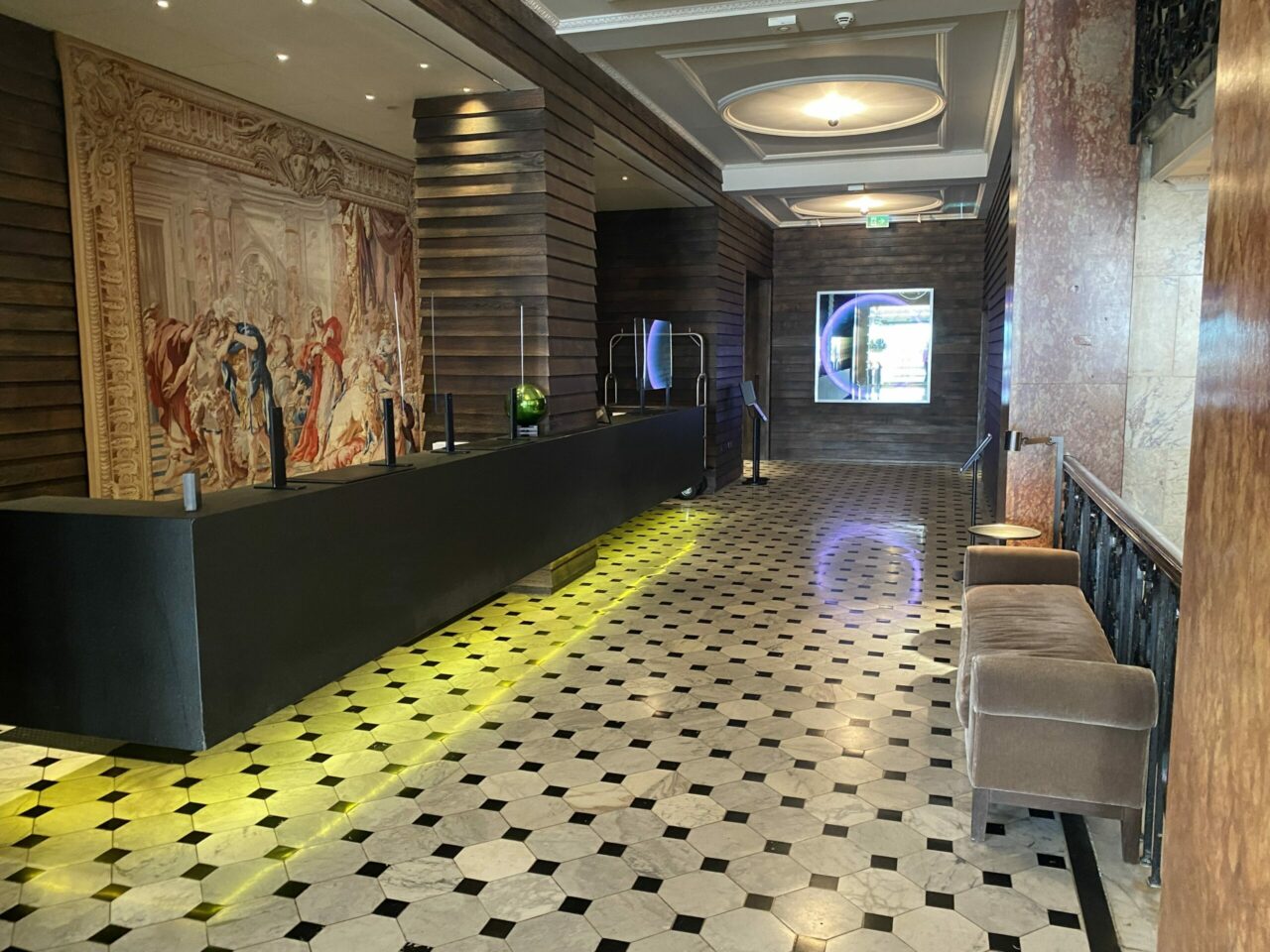 As a Bonvoy member, I was given points as my welcome gift and an upgrade from the basic Guest King room to a Superior King.
I needed help with getting a reservation at Artesian which is one of the best cocktail bars in London. The concierge was knowledgeable and helpful even though they were fully booked and advised on the best time to get a walk-in table.
The room

My main issue with the EDITION in New York had been the size of the room and the open-plan layout with the bathroom effectively open to the room. The London version was much better in size and layout. They also look an awful lot better than the photos which is unusual as it's normally the other way round.
Simple and minimal elegance is the feel of the rooms here in the The London EDITION hotel. Although there is not really a wow factor, I'll take comfort and good design over a fancy-looking room that's not comfortable.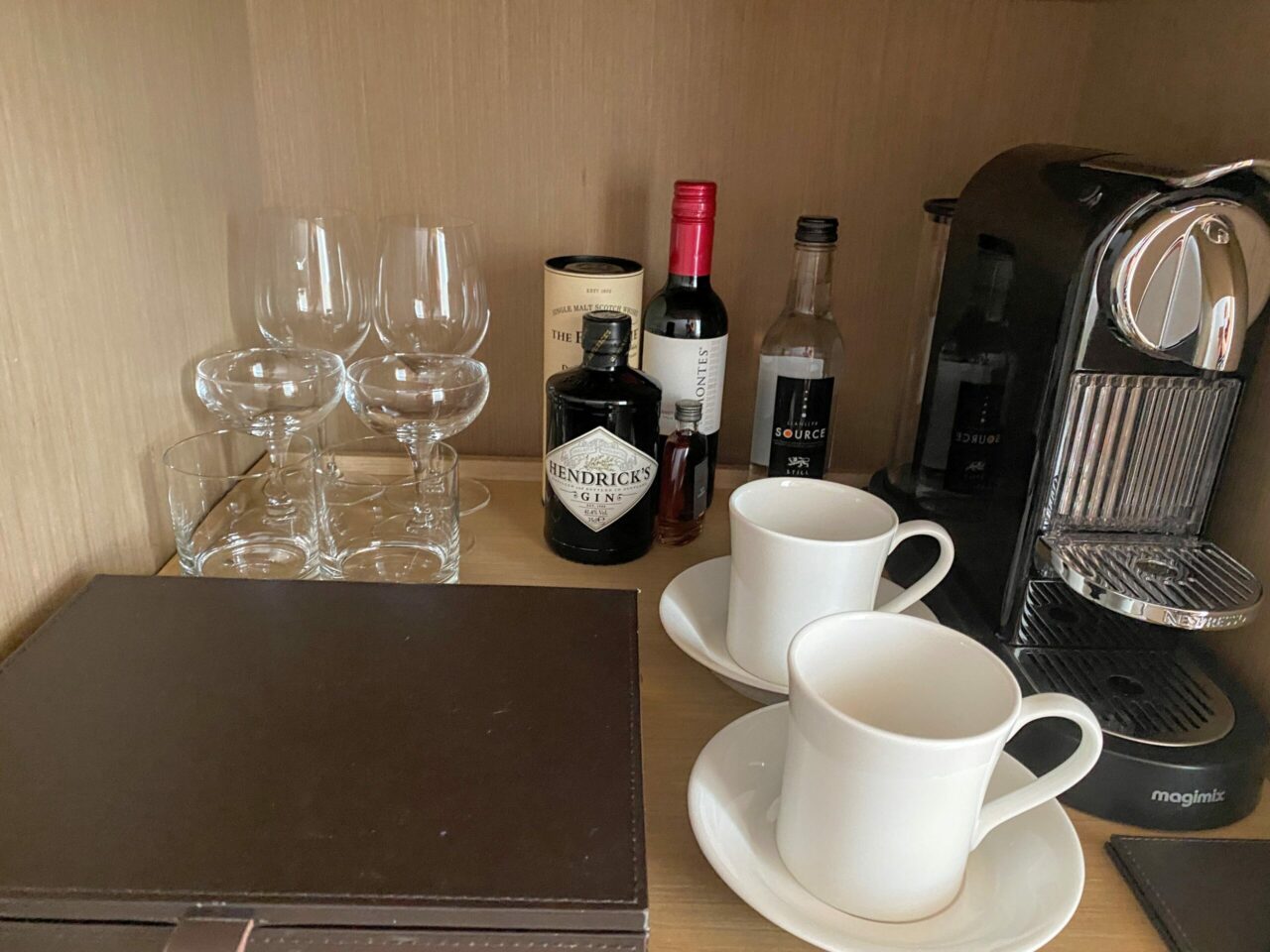 As you walk into the room there's a Nespresso machine and possibly the fanciest stocked minibar I have seen in a hotel. If it's got Krug it's my kind of hotel, although perhaps not with the eye-watering price tags! I also loved the coupé champagne glasses!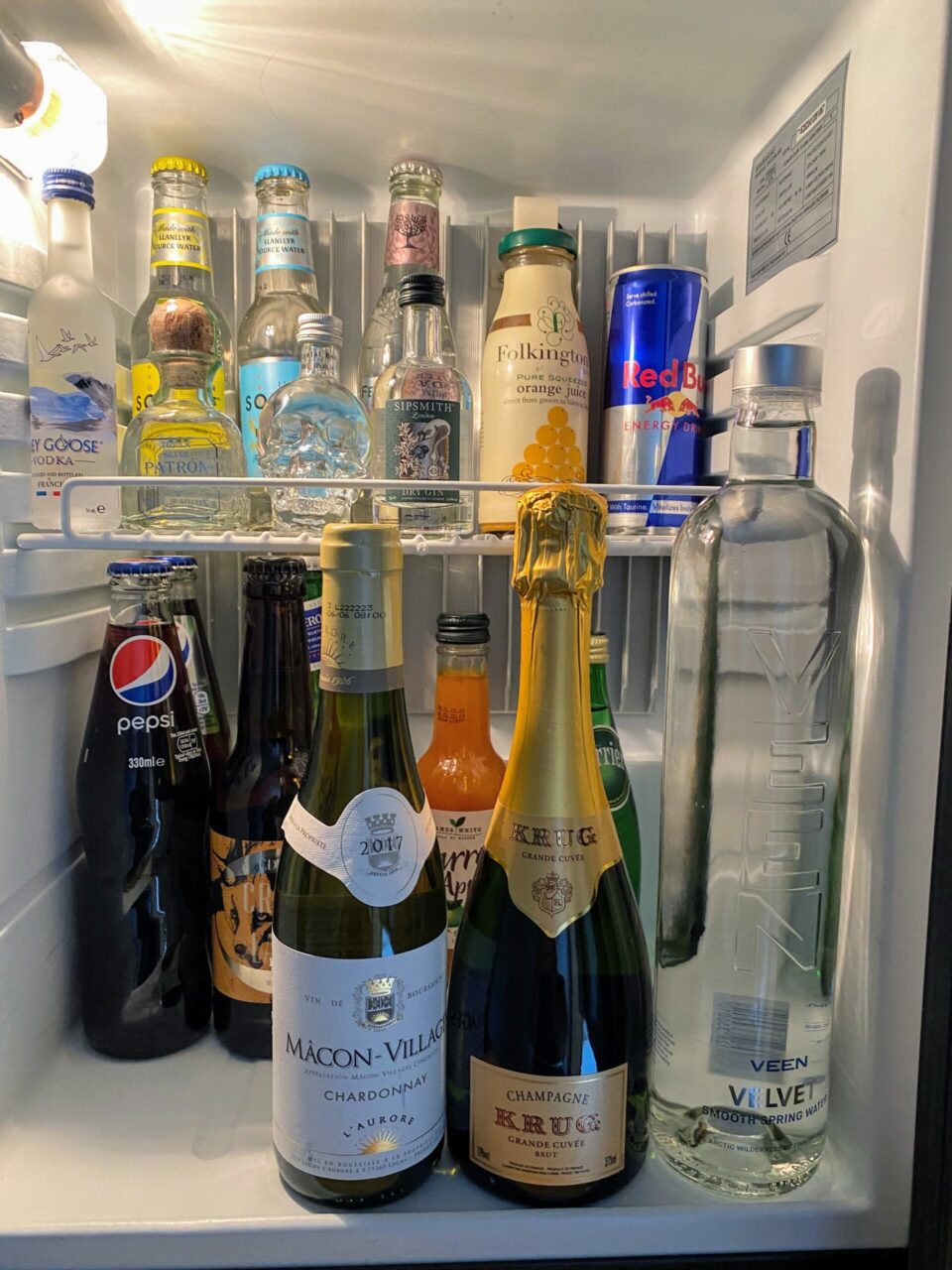 There was a lovely welcome gift of some rather delicious mini treacle tarts with cream and a note from the manager welcoming me as a Mariott Bonvoy member.
The simple but beautiful flowers added a luxury touch to The London EDITION hotel and it was handy to have some masks provided as this was before the mask mandates ended.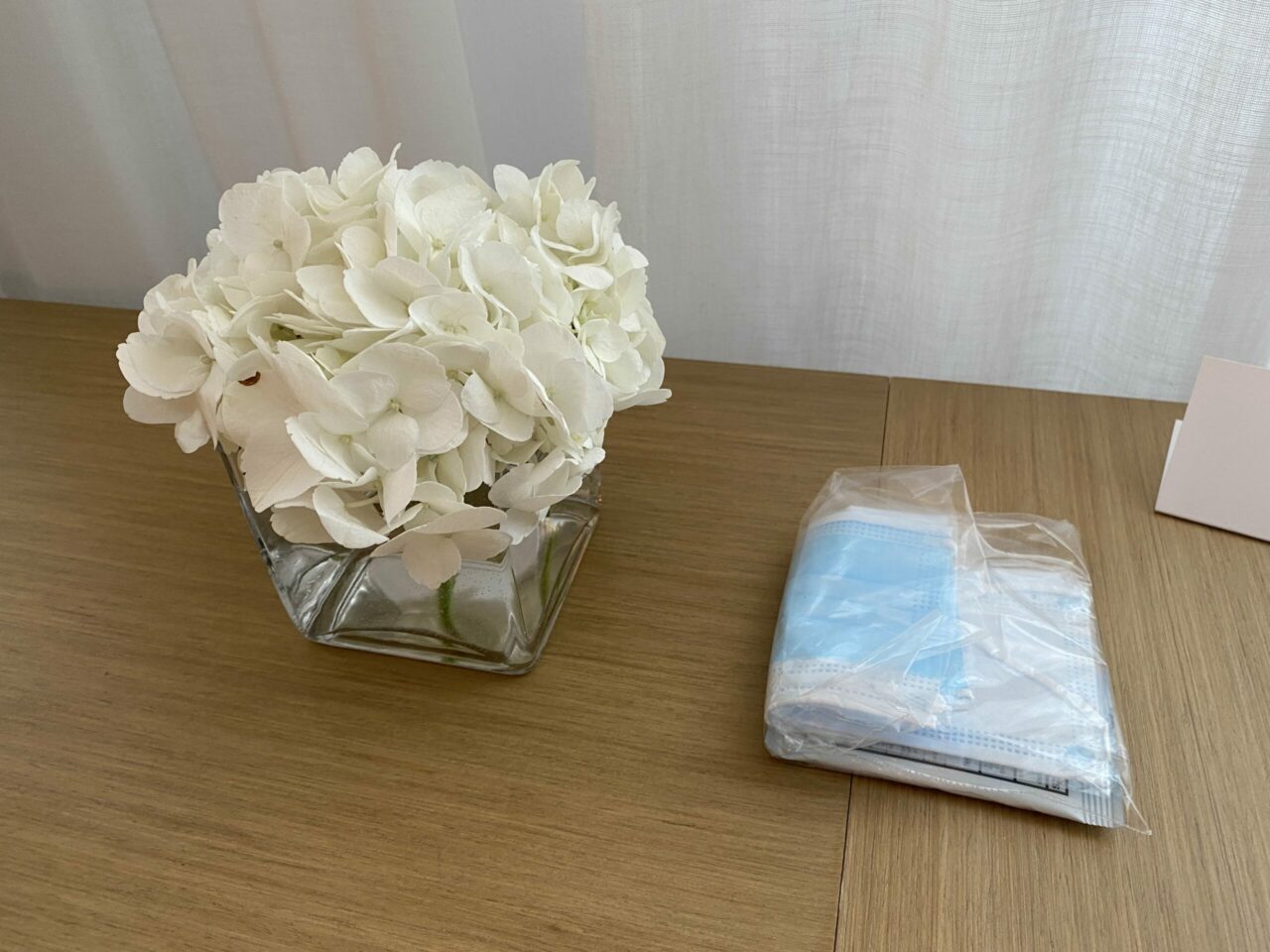 There was only one armchair to sit in, rather awkwardly positioned, but at least if you wanted to work or do your hair at a table there was a convenient desk/dressing table with power available.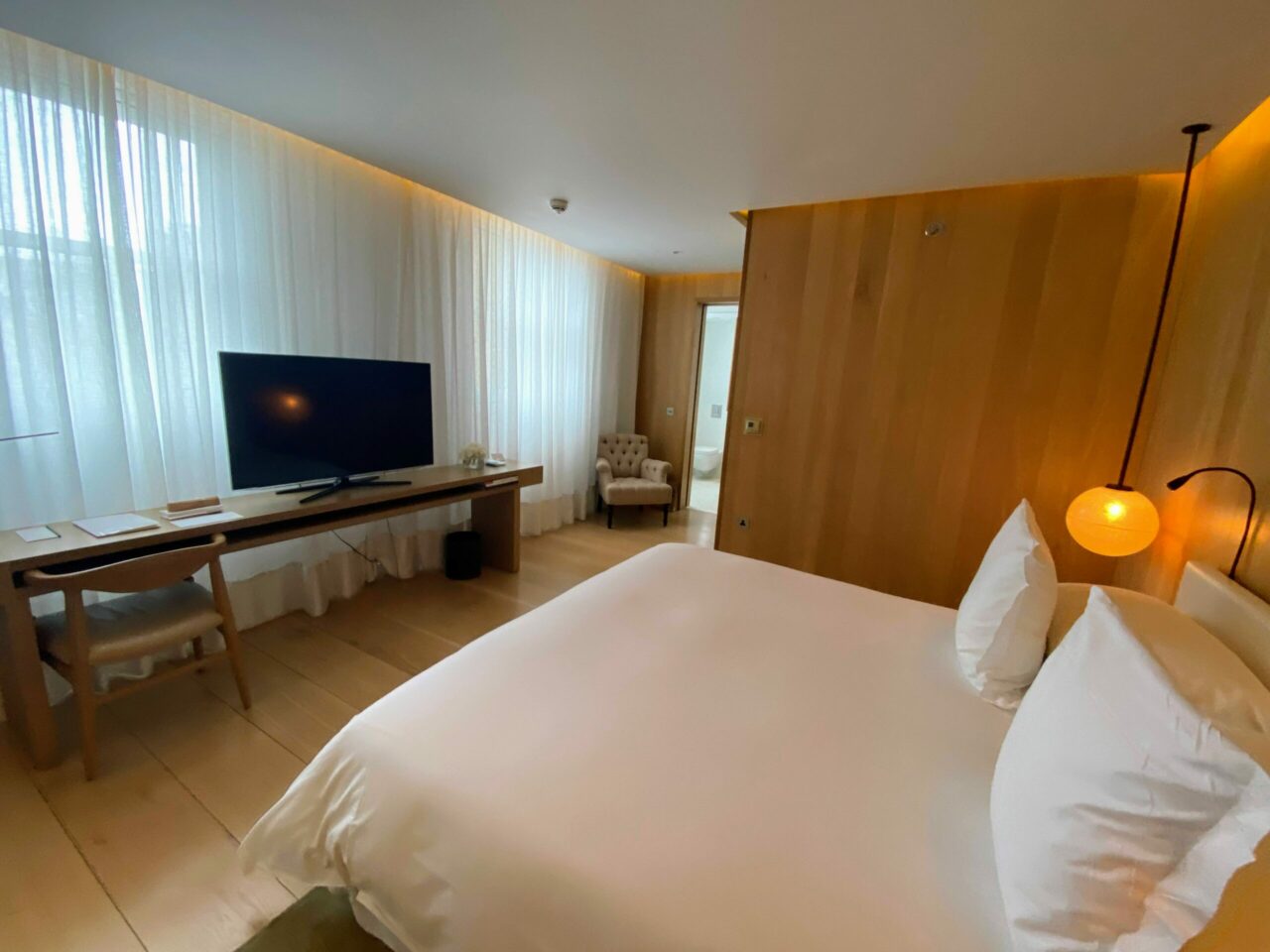 Power points and a USB were at each side of the bed in The London EDITION hotel as well as simple switches to operate the lights. The blackout blinds were automatic which gave a dark and very quiet sleeping environment. I also had no complaints about the lovely soft bed to sink into with high-quality linens and cloud-like pillows!
If you wanted to watch your own entertainment you could hook up your devices to the TV fairly easily.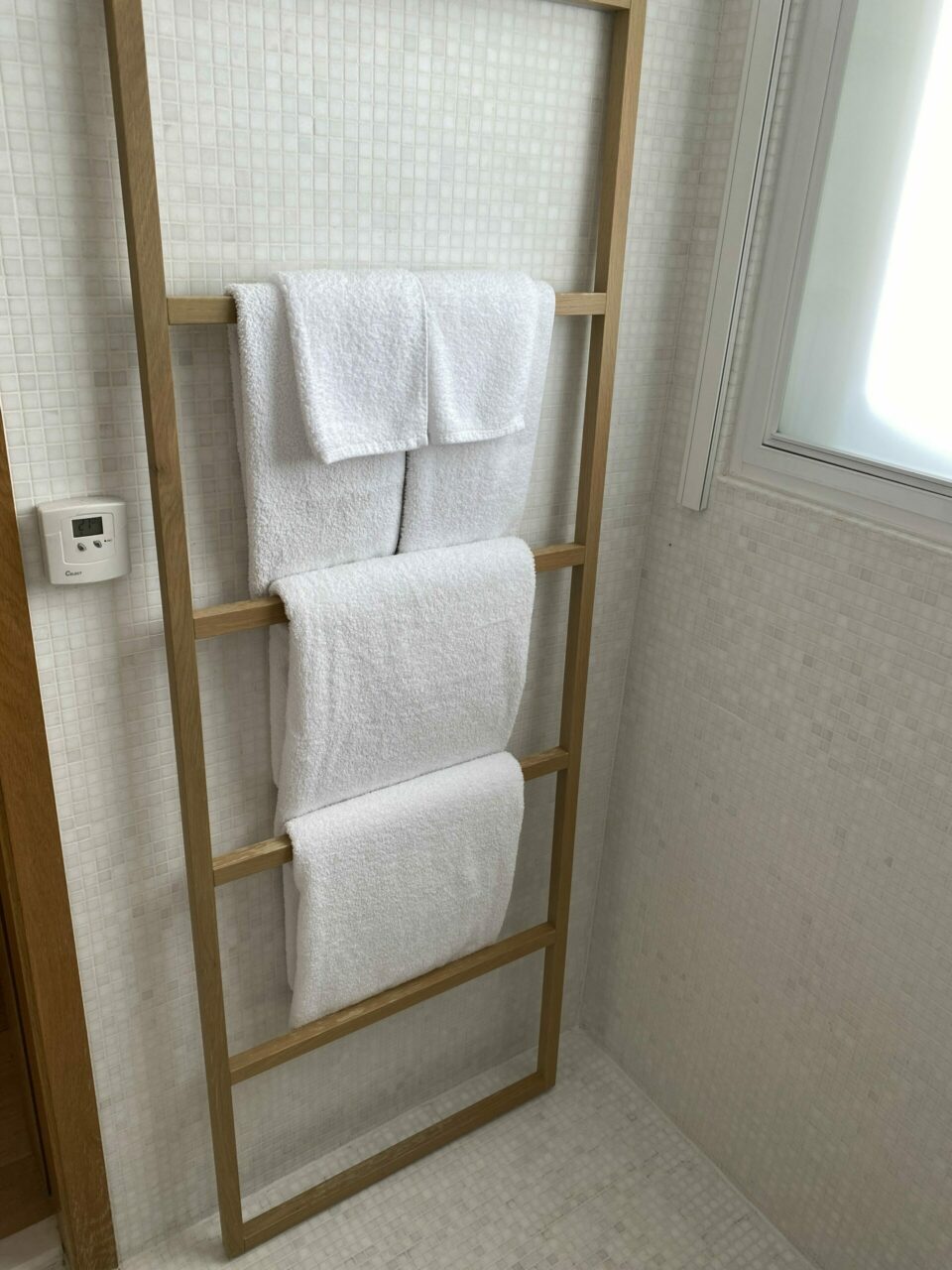 The bathroom of The London EDITION hotel was a decent size and it's one of the first times I have seen a separate thermostat in the bathroom which I thought was a great idea. I had one minor complaint about the otherwise well-designed roomy shower. As the door opened outwards it was hard to use with the bathmat as it got caught on it when you opened the door. Otherwise, the pressure was good from the overhead rain head shower as well as the handheld version. Luxurious linen robes with a cosy lining were provided to wrap yourself in after the shower and plenty of large fluffy towels.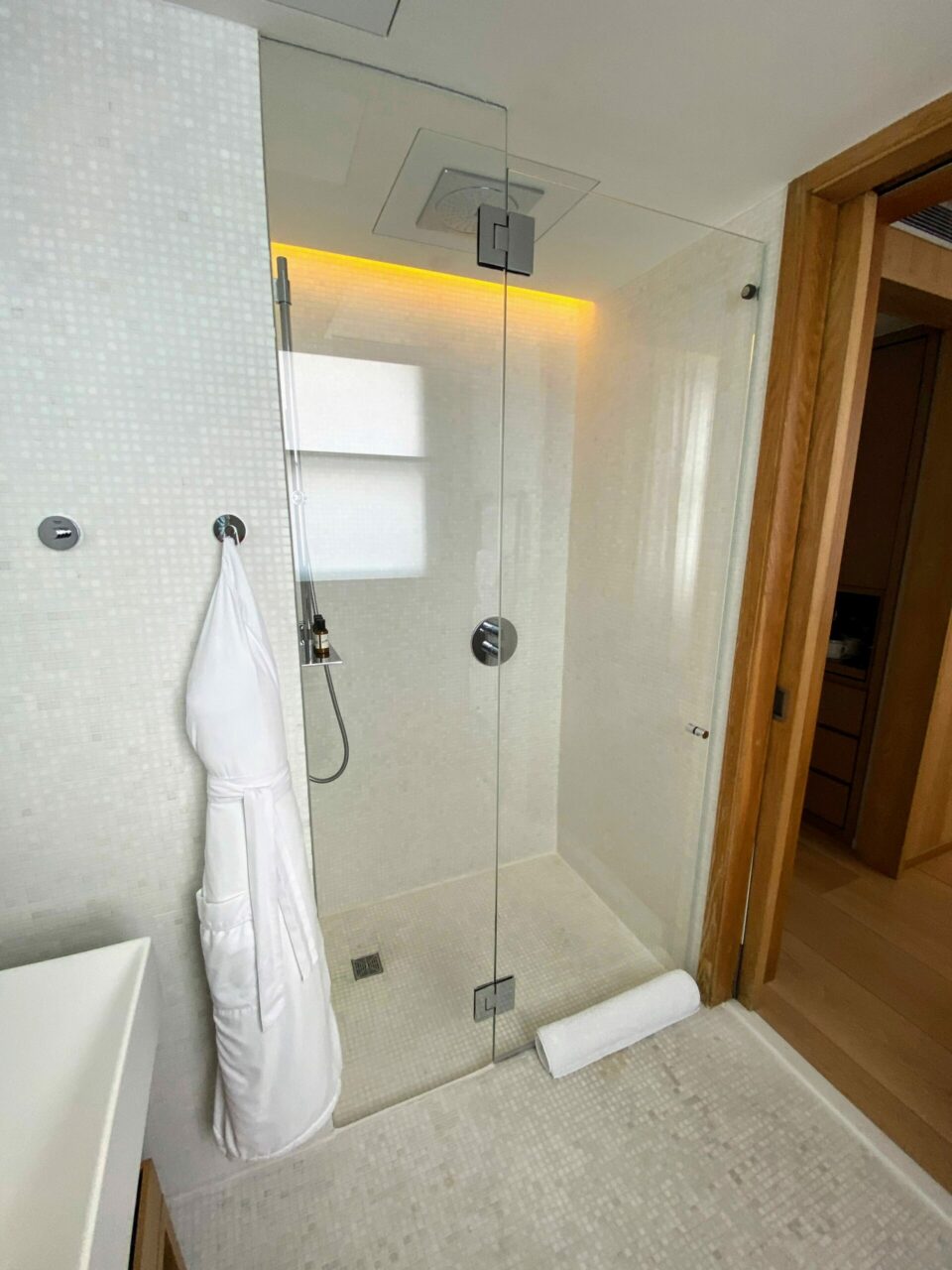 The toiletries provided, Le Labo are some of my favourites although may be a little too feminine smelling for some.
The vanity unit could have done with a bit more storage space for your personal effects and the unlit magnifying mirror was too low down to use comfortably although at least being free-standing I could move it to the bedroom to use there for make-up.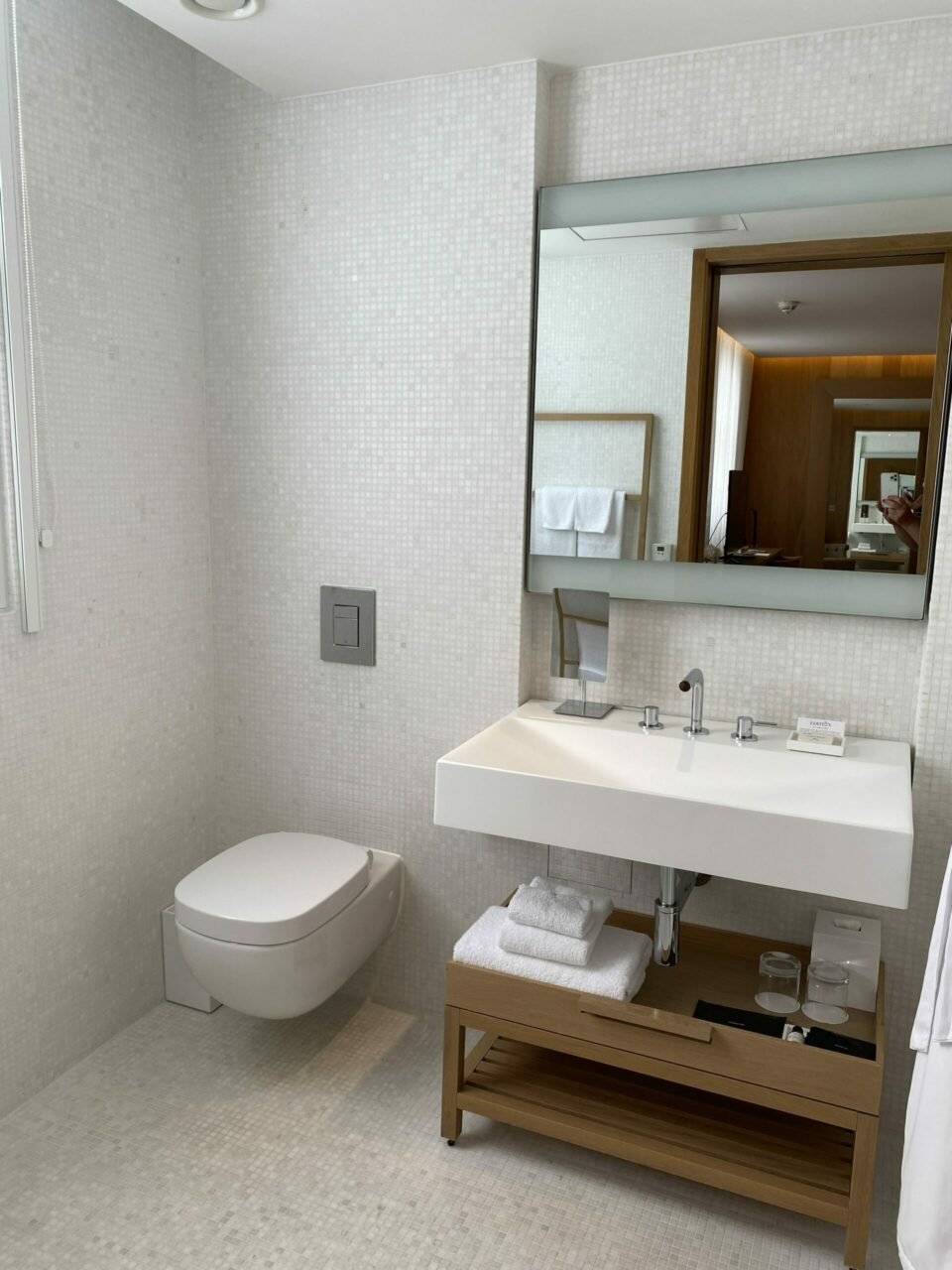 Food and drink
Breakfast at Berners Tavern

Breakfast was not included with a welcome gift of points instead. Feeling slightly jaded from sampling their cocktail bar until the early hours I was feeling in need of something to tide me over until lunchtime so I ventured down to try the breakfast.
Again the staff were lovely. I asked about a booking for lunch but was assured that it was no issue as the same staff member was there all day and would make sure they found me a table.
Berners Tavern is one of the most stunning restaurants in London in my opinion with it's ornate setting and the focus is on traditional hearty cooking with a modern twist from Jason Atherton.
I had heard great things about the restaurant but mixed reports about the breakfast. The menu was a little limited in terms of choices: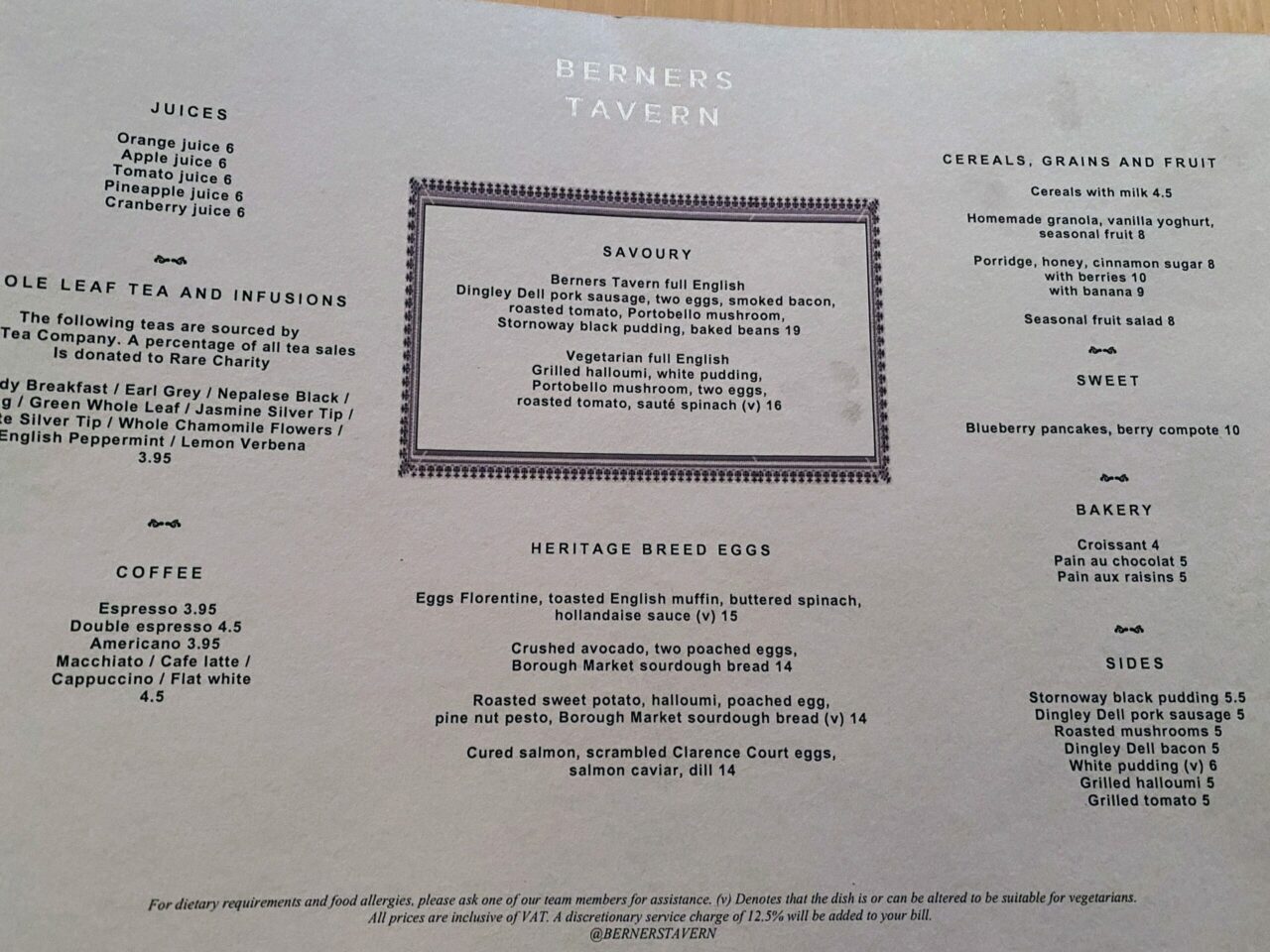 I wasn't sure I needed a full English before a large lunch so I thought I'd try the pancakes assuming they would be of the American buttermilk style.
This may sound odd, but the tea was really good! I love a good cup of earl grey and often it can be a bit tasteless in some hotels. This was proper loose leaf tea and had just the right amount of delicate bergamot citrus flavour.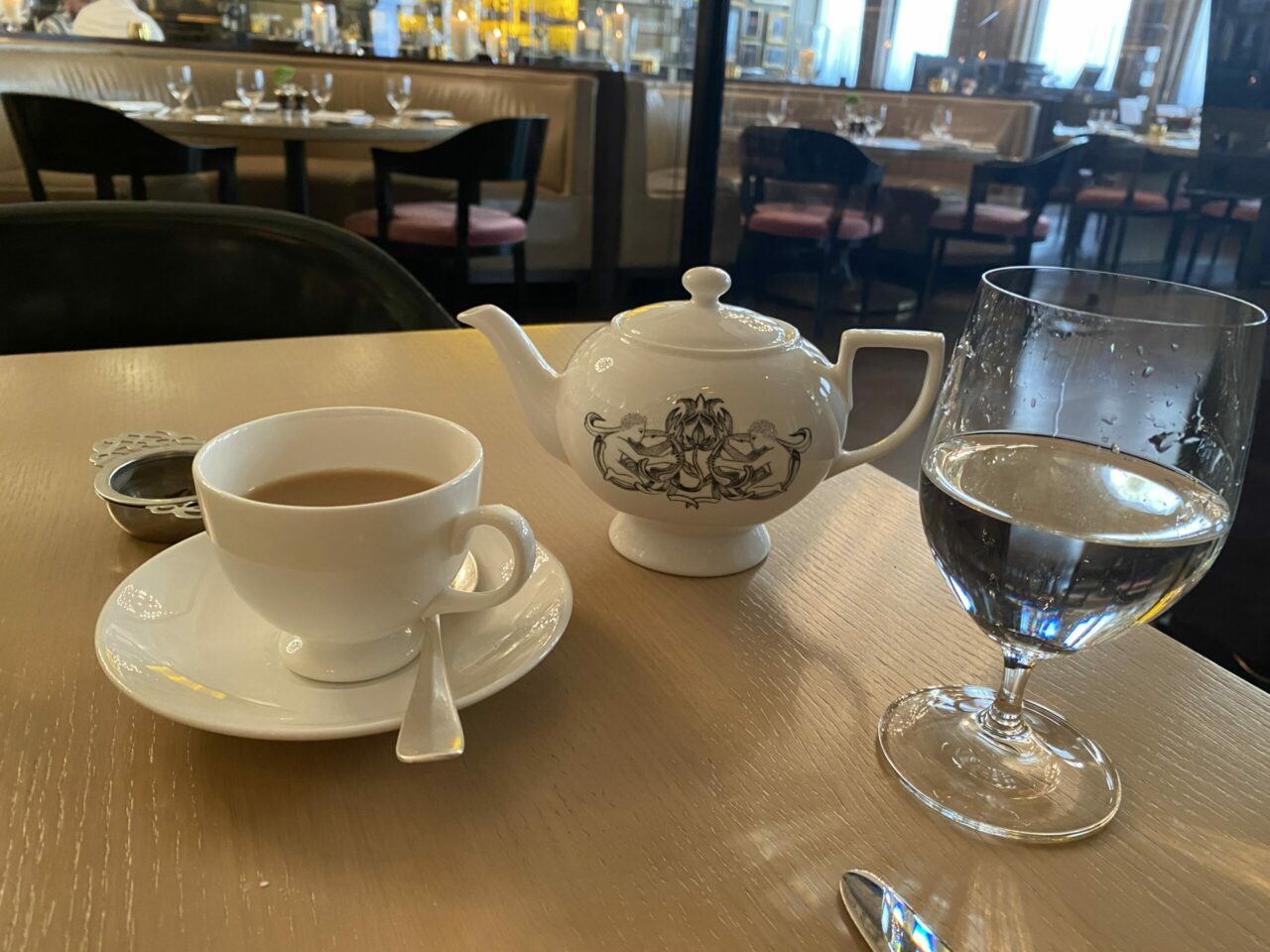 Sadly the pancakes were quite a disappointment. The compote was good with large chunks of fruit and not too sweet but the texture of the pancakes themselves was very odd. They were quite dense and crisp on the outside which made the whole thing rather heavy going compared with the fluffy pancakes I was expecting. I did like the fact that they had whole blueberry fruit inside them though.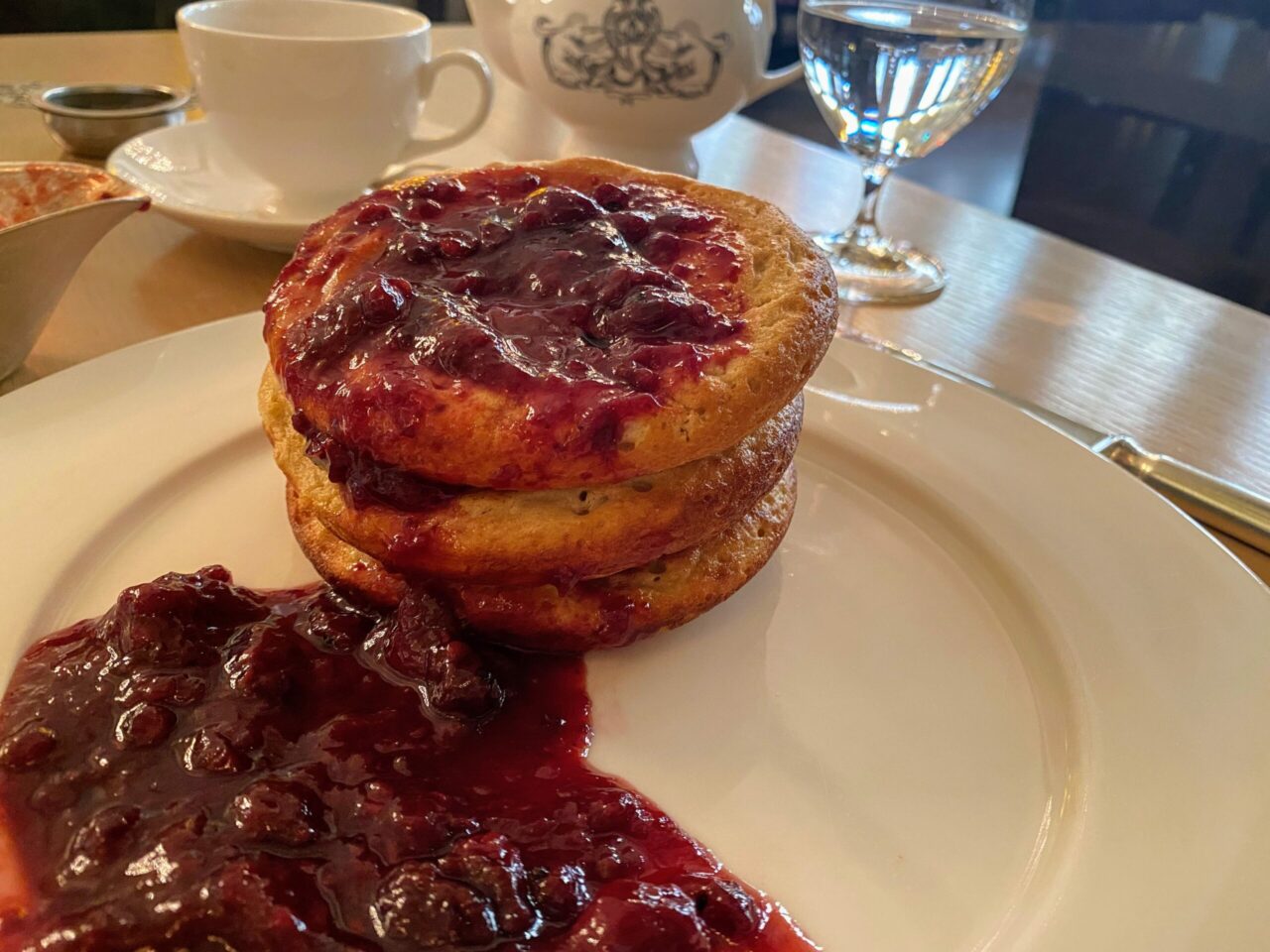 Lunch at Berners Tavern
I had heard great things about Berners so while I was staying in the hotel it would have been rude not to try it out. When I checked out they enquired about my plans and insisted on walking me over to the restaurant to make sure they looked after me.
The staff member from earlier remembered me and directed me to a table with a good view of the room. He checked that the table was to my liking before heading off. My waiters were lovely and joked around with me – despite the grand surroundings it is definitely not at all stuffy.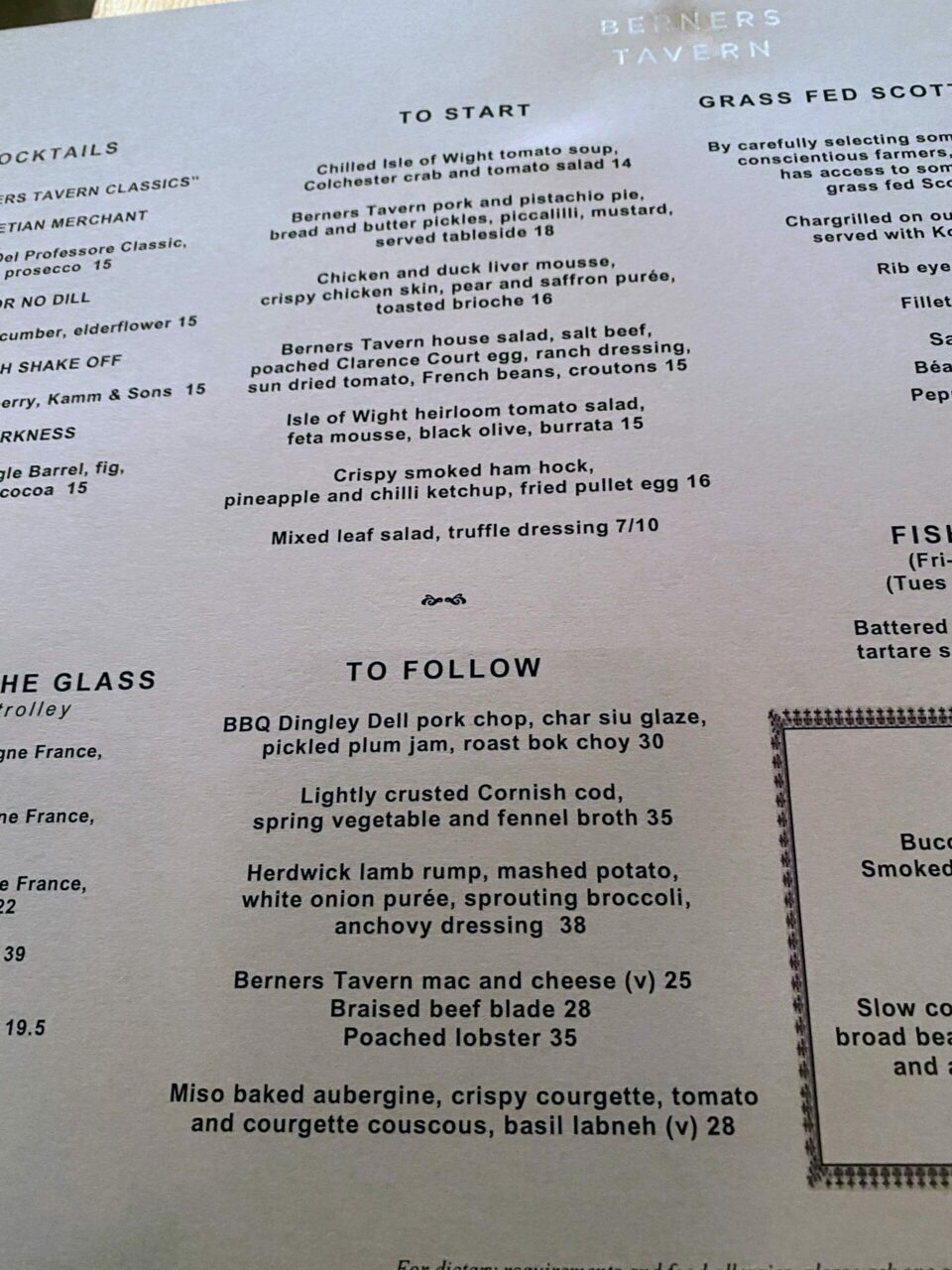 First I was given some freshly baked bread which was still warm and quite delish with a lovely crust and fluffy interior. Plus of course some great quality butter.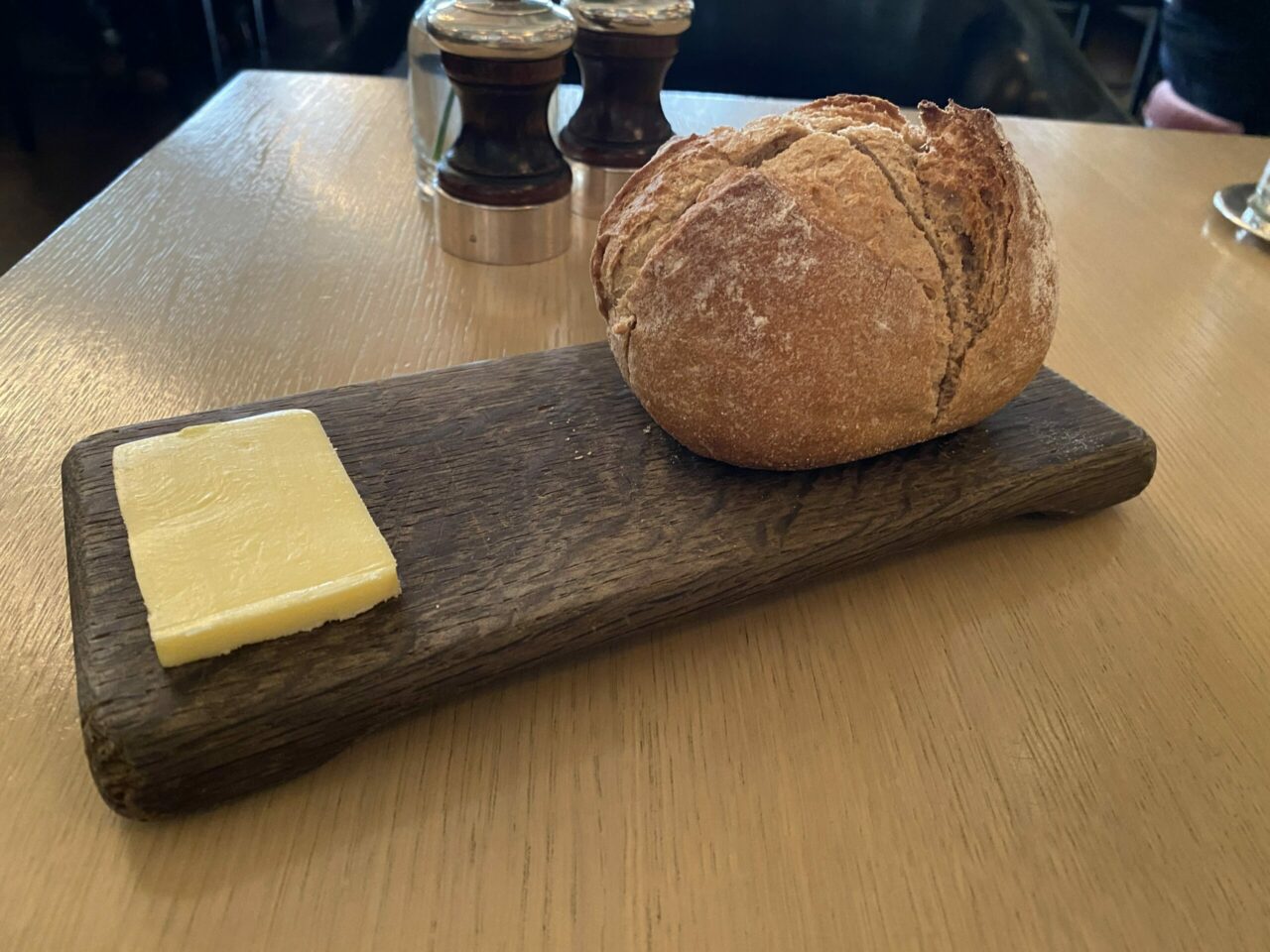 The menu is fairly simple with a focus on beef, steaks, and hearty classic cooking with a twist. I had heard so much about the pork pie I had to order that.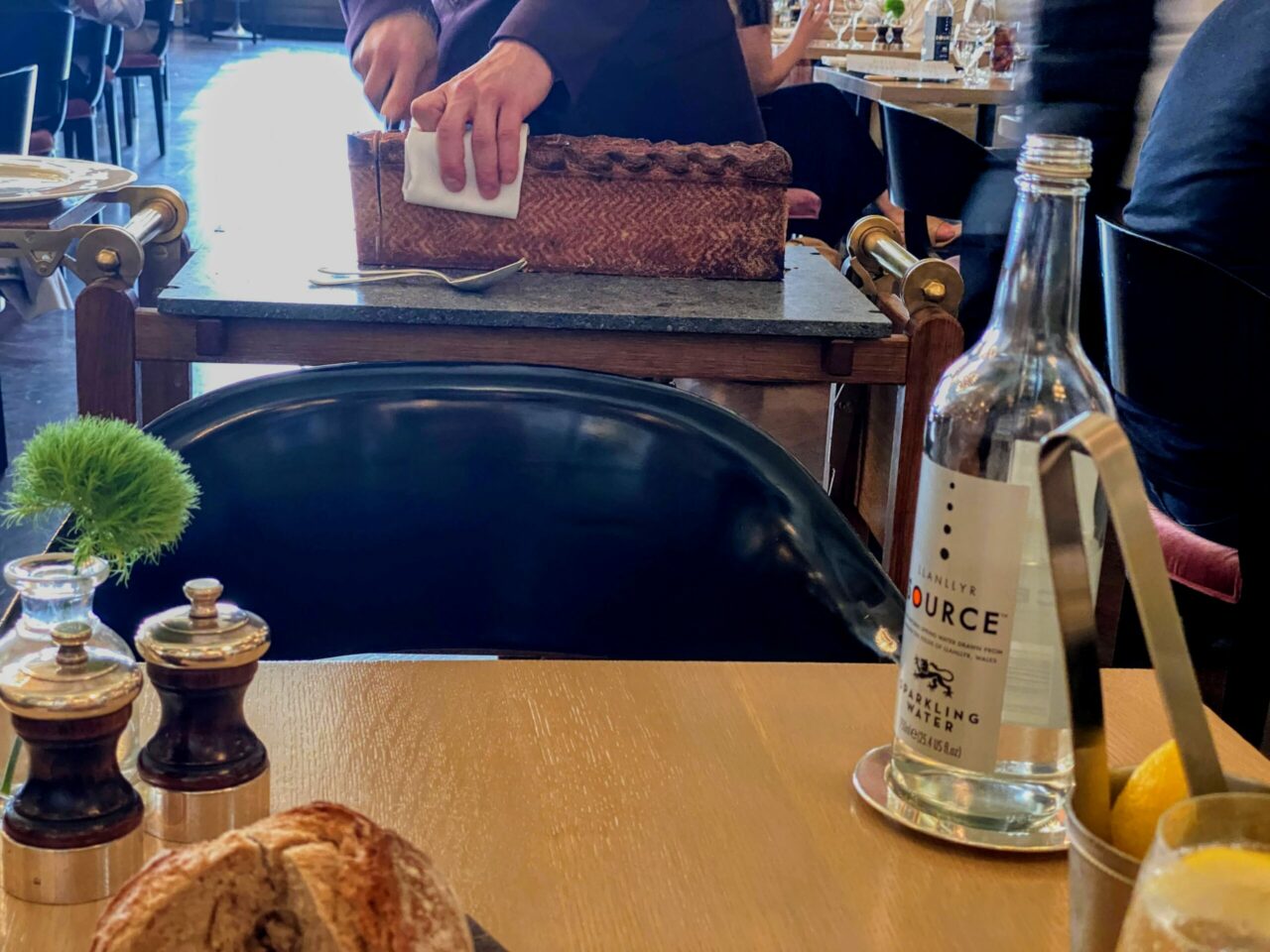 The whole process of the pork pie is real restaurant theatre with the wheeling of the trolley to your table and carving a slice from the enormous pastry-bound pork. Then you are offered a selection of mustard and piccalilli. Being a mustard lover this was heaven for me and I enjoyed the rather unusual grape must wholegrain.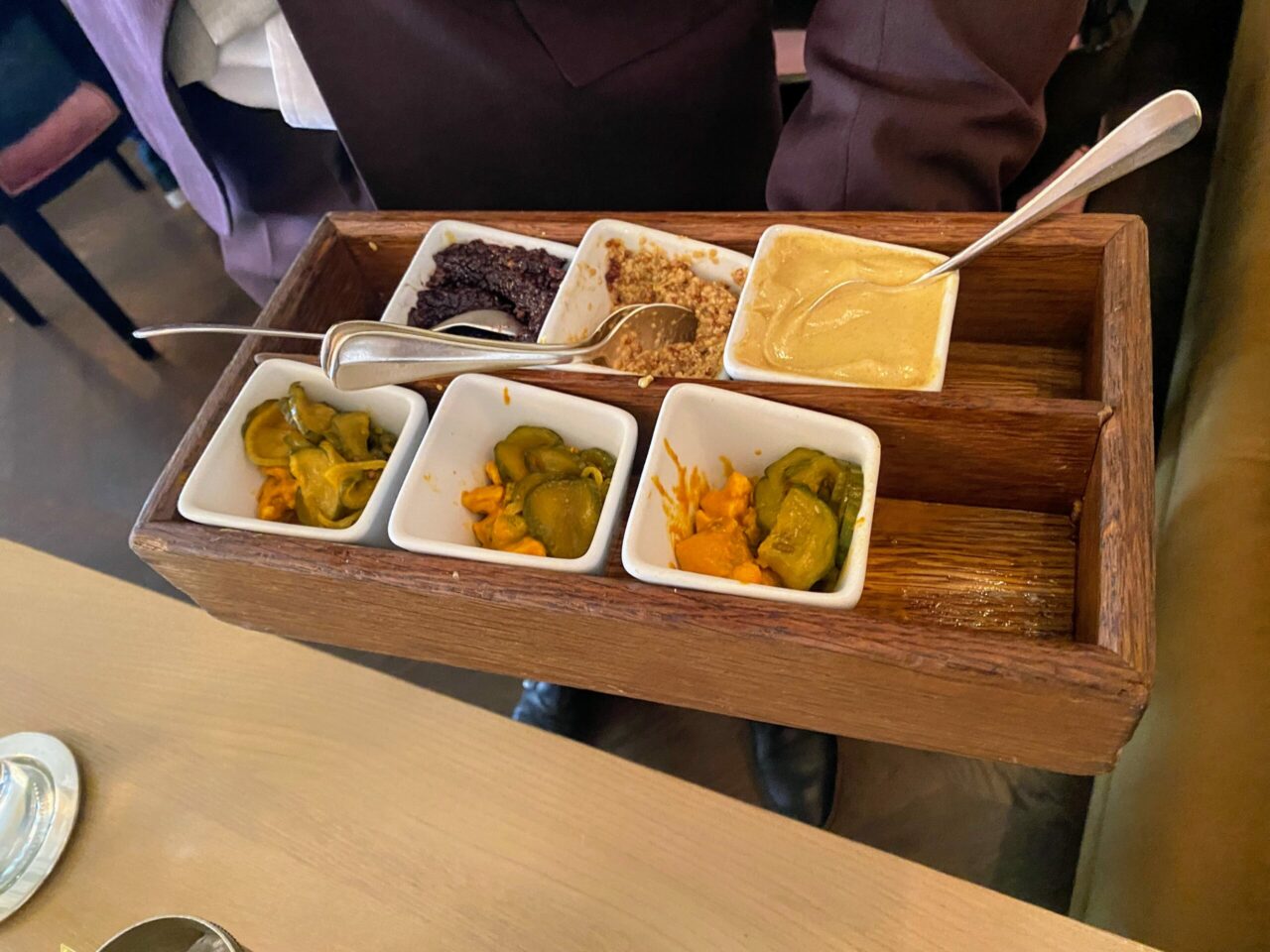 The final plate is a very posh-looking pork pie.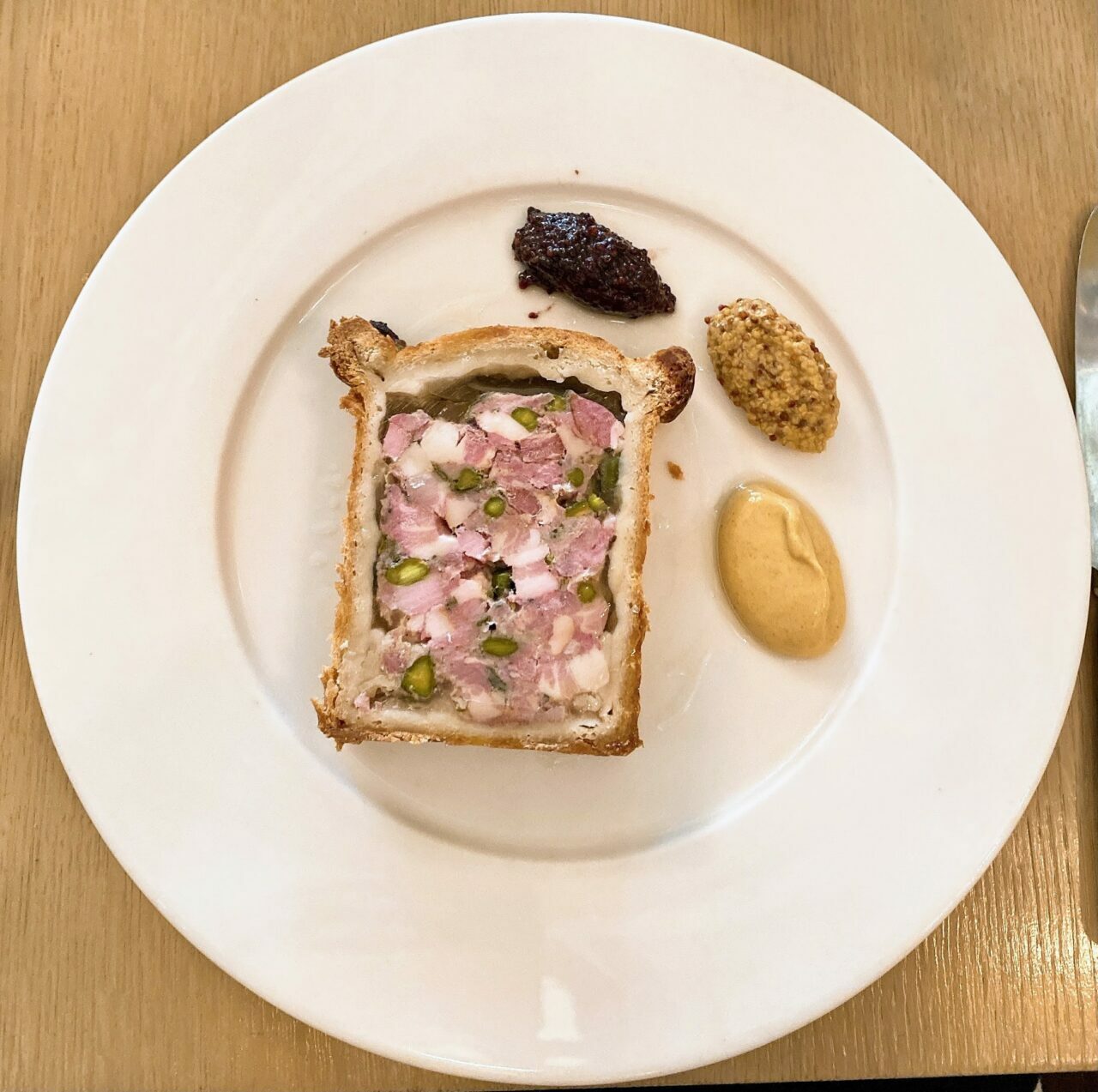 There were chunks of flavoursome Dingley Dell pork balanced with the crisp but crumbly hot water crust pastry and plenty of seasonings such as garlic and sage to add interest. A crunch of tangy cornichons also cut through the richness of the pie.
The only criticism I had was the pace of service which was far too quick for me when offering such substantial cuisine. Only a few minutes had gone by before my main course of macaroni cheese with beef short rib arrived. I had heard similar reports from others although recently I am hearing it has improved.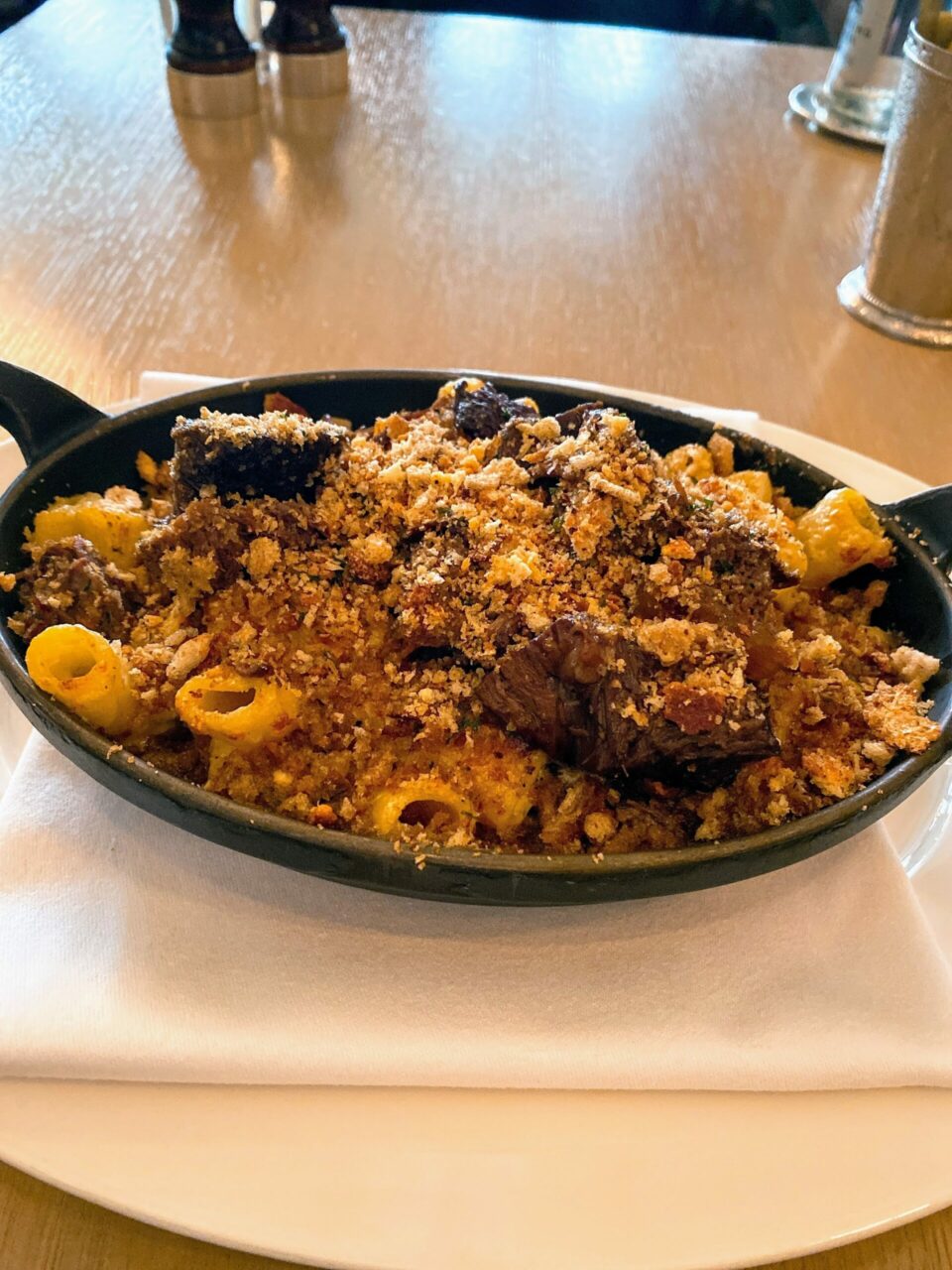 This was very filling and rich with big hunks of deep flavoured beefy goodness, although I could have done without the crumb topping personally as I didn't find it added much and made the meat feel a bit dry.
There was plenty of cheese sauce with several kinds of cheese including a little bite from some blue cheese which I really enjoyed. I should have ordered some salad or vegetables as a side dish to add some freshness though as it was a bit rich on its own.
All in all, it was a lovely if artery-clogging meal! I've heard great things about the steaks so hopefully, I will get to come back at some point to try it again.
Punch cocktail bar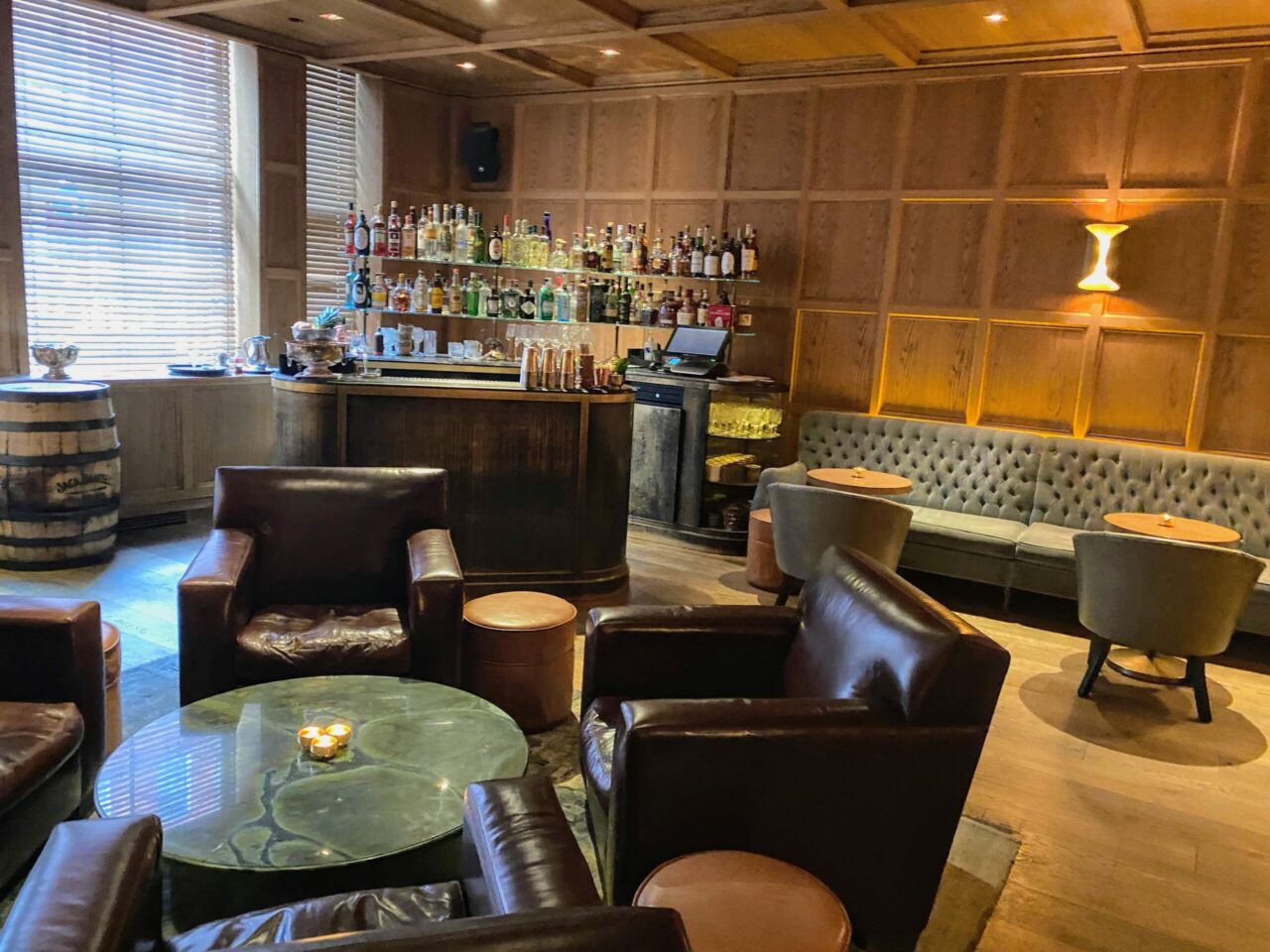 There are plenty of options for a drink at the EDITION. There's the buzzy Lobby bar complete with a snooker table, a small bar area in Berner's Tavern, and the more intimate Punch Room that is only open in the evening.
It has a speakeasy feel and is apparently a modern reincarnation of London's 19th-century private clubs. The bar boasts 30 specialty punches including the signature gin-infused EDITION house punch. I did my best to sample quite a few, hence my hangover the next morning! The service was attentive and knowledgeable with well-balanced interesting cocktails.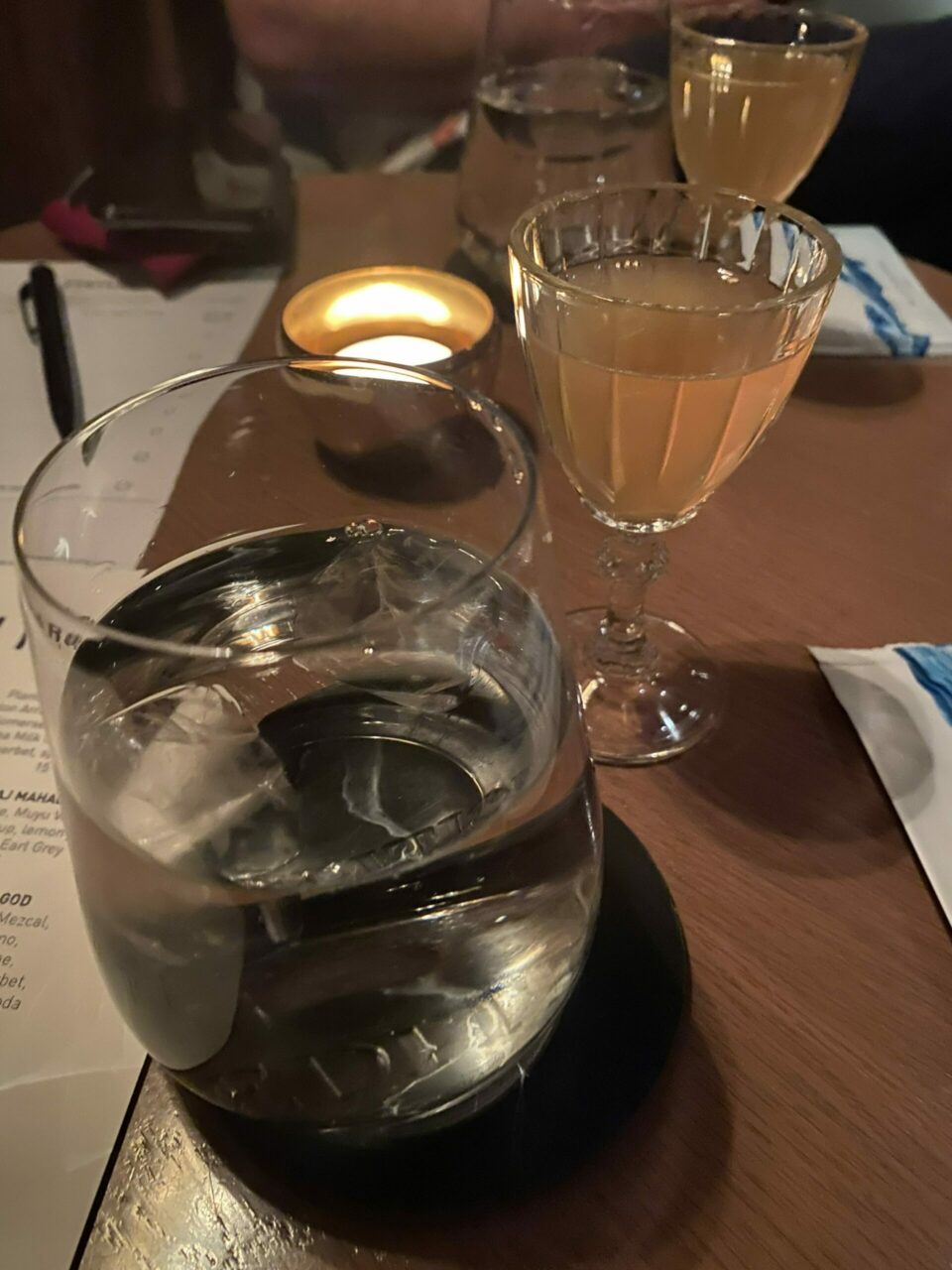 Facilities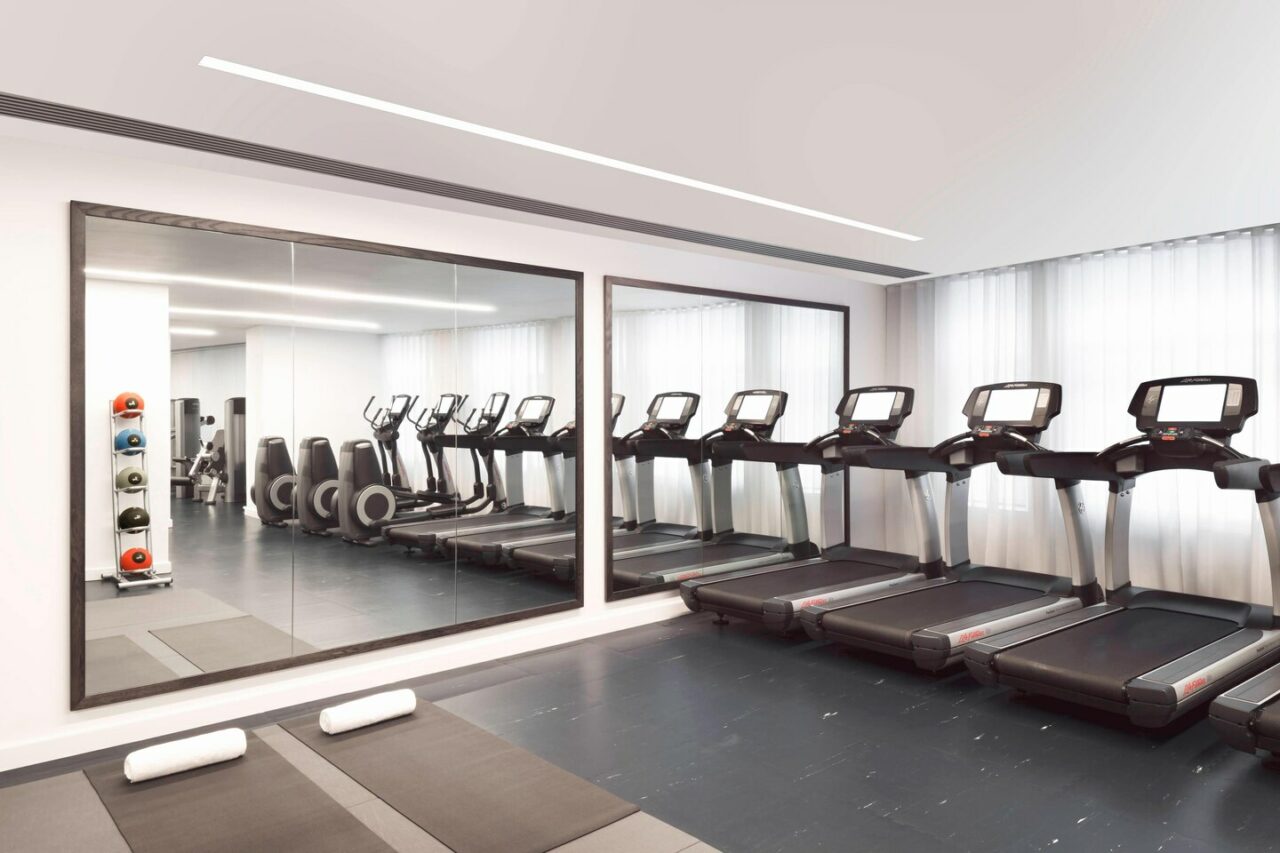 There's a good-sized gym at the The London EDITION hotel with all the basics you would need.
Conclusion
Having felt that perhaps the EDITION hotels were more of interest for their restaurant and bars than as a hotel, I was pleasantly surprised by my stay here. The service was faultless apart from having to wait a moment or two for someone at reception and the room a decent size and well equipped. It's not the cheapest hotel but it does have a fantastic location with lots nearby. I would definitely consider staying again.
You can find more information about the London EDITION here or enquire about prices and perks with GTC here.
Like our The London EDITION hotel & Berners Tavern review? You can read more hotel reviews here.