Some luxury hotels, while beautiful, can be a bit stuffy. The Londoner hotel is the antithesis to this. Although there are already W hotels that have something of a party vibe, for me they are too loud, too dark, and just too much. The Londoner hotel is like a more sophisticated, more luxurious, less in-your-face version that would be suitable for most age groups. Once within its walls you won't want to leave even in the centre of London, so don't make too many plans!
I had been hearing lots about one of London's hottest new hotel openings and my friend had recommended the champagne bar there. So when I was invited on a press trip to check The Londoner out, I was very excited!
The Londoner hotel Location
You couldn't really get a more central location than Leicester Square where the Londoner is situated. So many things are within walking distance in terms of dining, shops and tourists attractions like Covent Garden, Regent Street, and Soho. Leicester Square tube is about 2 minutes away and Picadilly Circus around 5 minutes walk. The National Gallery and Trafalgar Square are also only a short walk away.
Check-in at The Londoner hotel

Smartly uniformed doormen are on hand outside to jump to attention and whisk your bag away as they open the door with a flourish and welcome you to the Londoner.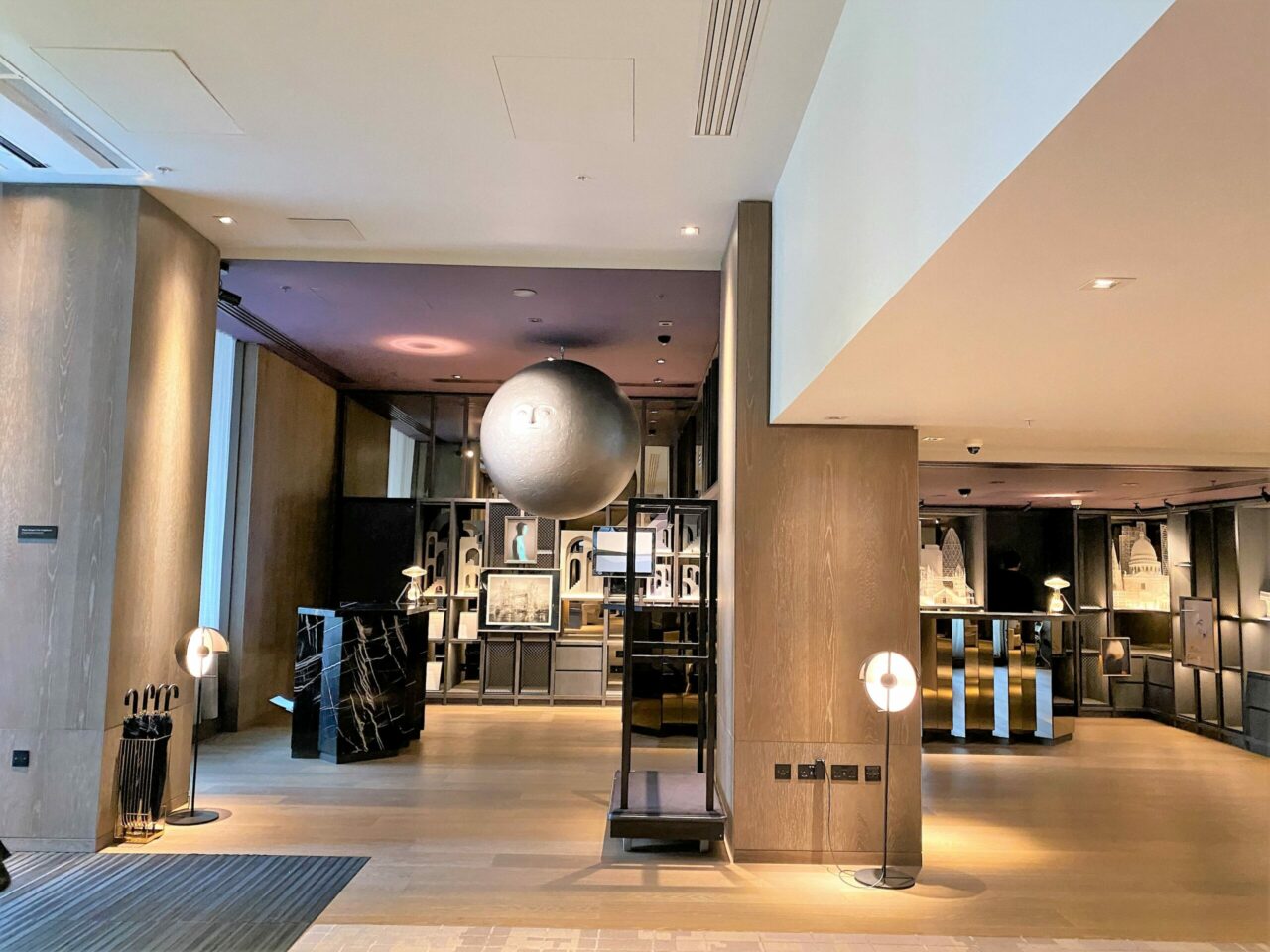 Once inside you realise this is probably quite different from any hotel you have seen before. Next to reception is a giant moon sculpture hanging from the ceiling and the receptionists were definitely dressed far more elegantly than me! I also loved the cosy fireplace just near the entrance. It's a large hotel but they like to think of it as a "super-boutique" hotel and you do get a boutique hotel vibe in many ways.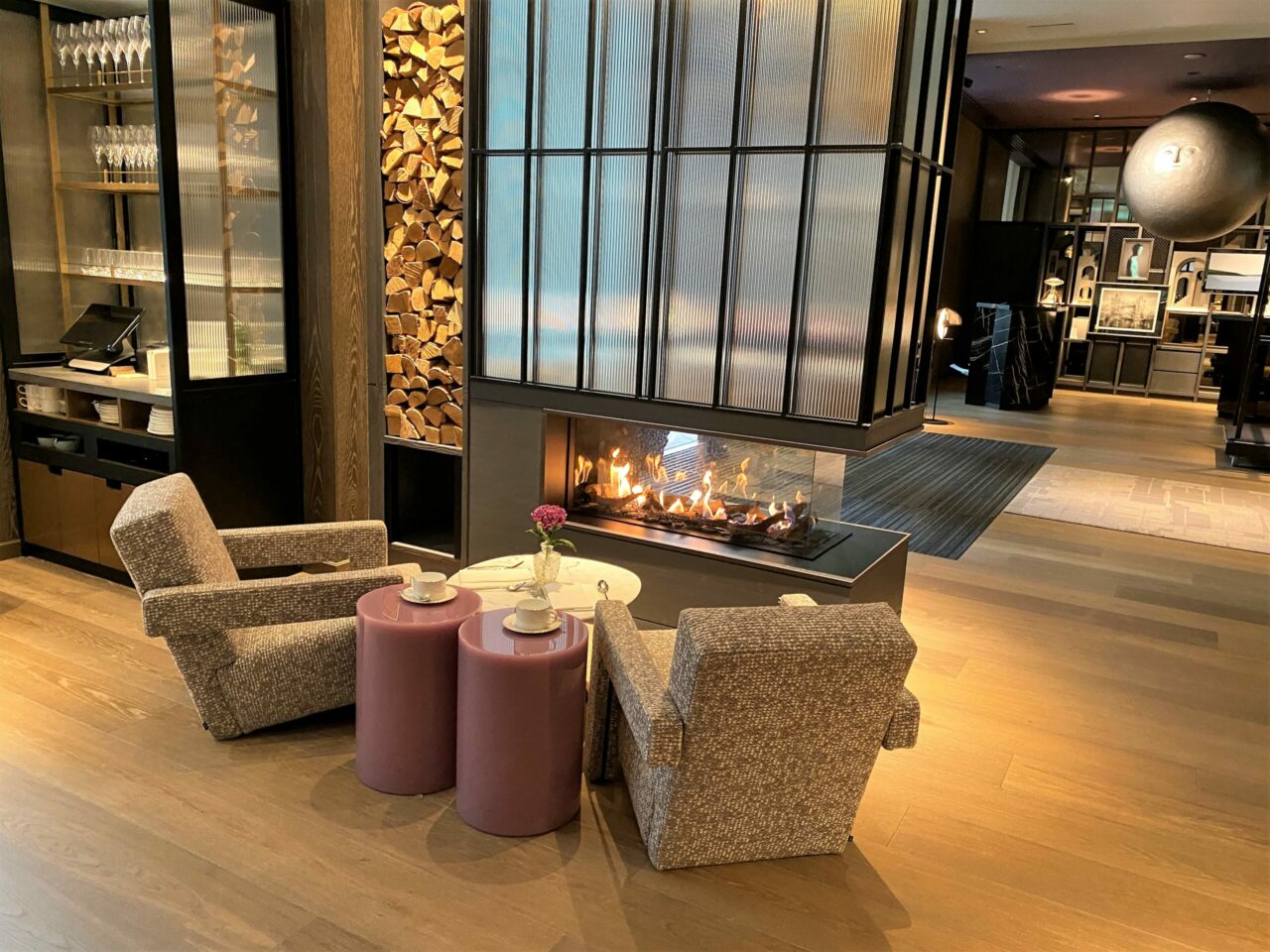 The staff were very welcoming and explained everything about the hotel – and there is an awful lot to say! It's almost like a resort hotel in London, there's so much on-site! Once we had the formalities out of the way, I was escorted to the elevators.
The Londoner hotel Suite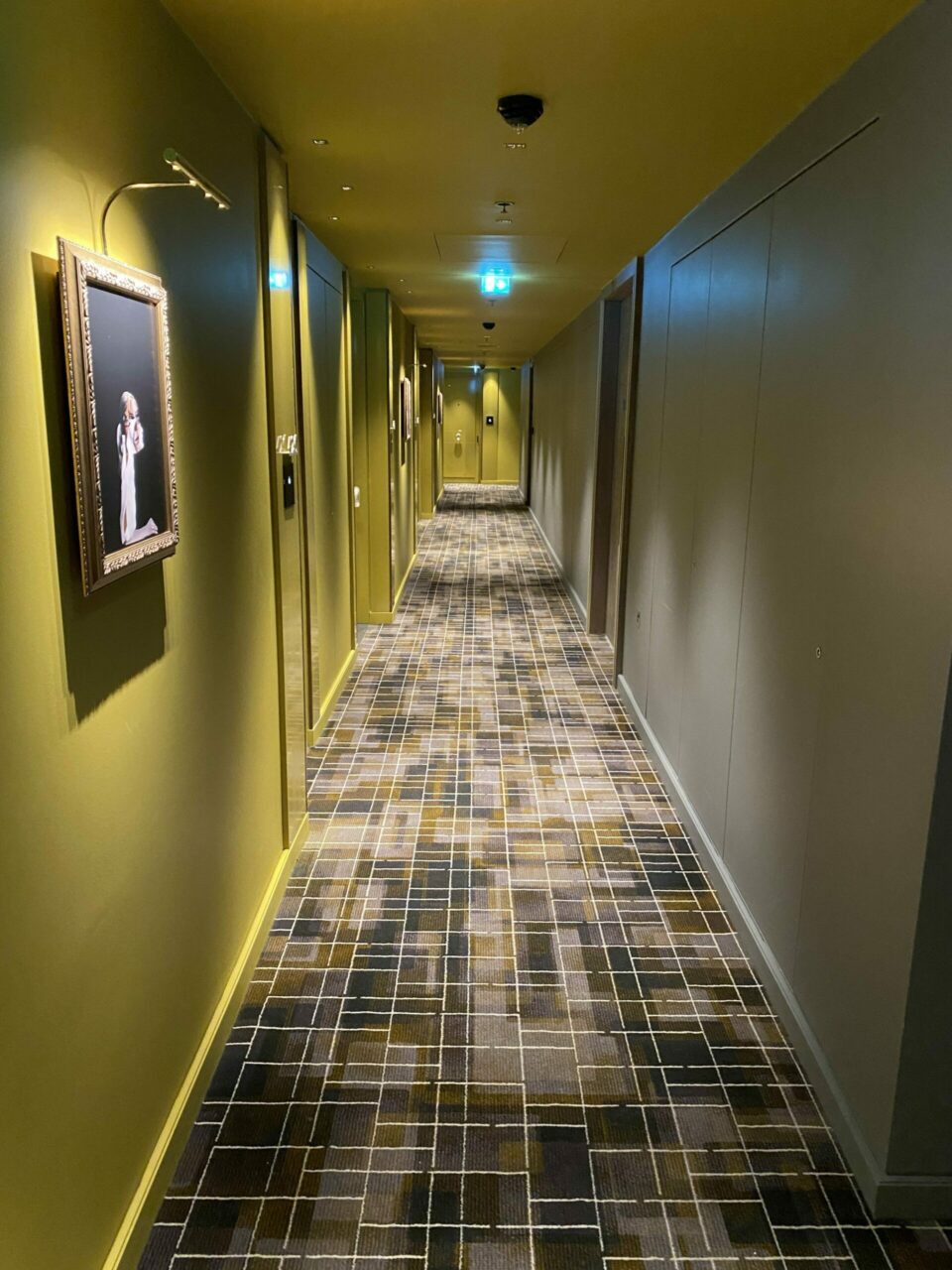 All I can say is "wow" when I walked in. I had been given an upgrade to the Captial suite and it was huge! They describe it as your London apartment and it does indeed feel like someone's home.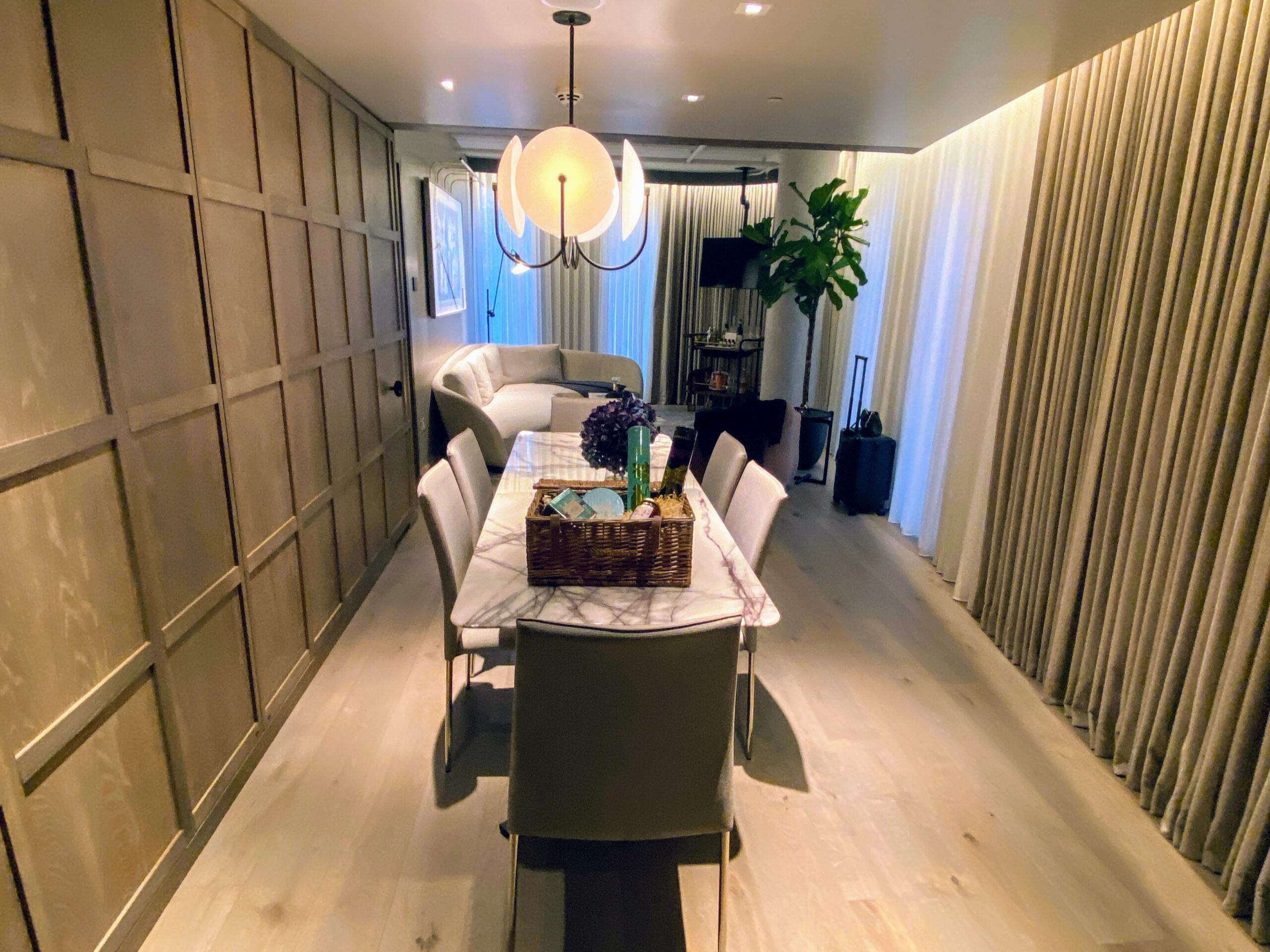 You entered via a paneled corridor with a guest toilet and then into a large dining area. The toilet itself is worthy of note – a real loo with a view! Plus it's a Japanese toilet.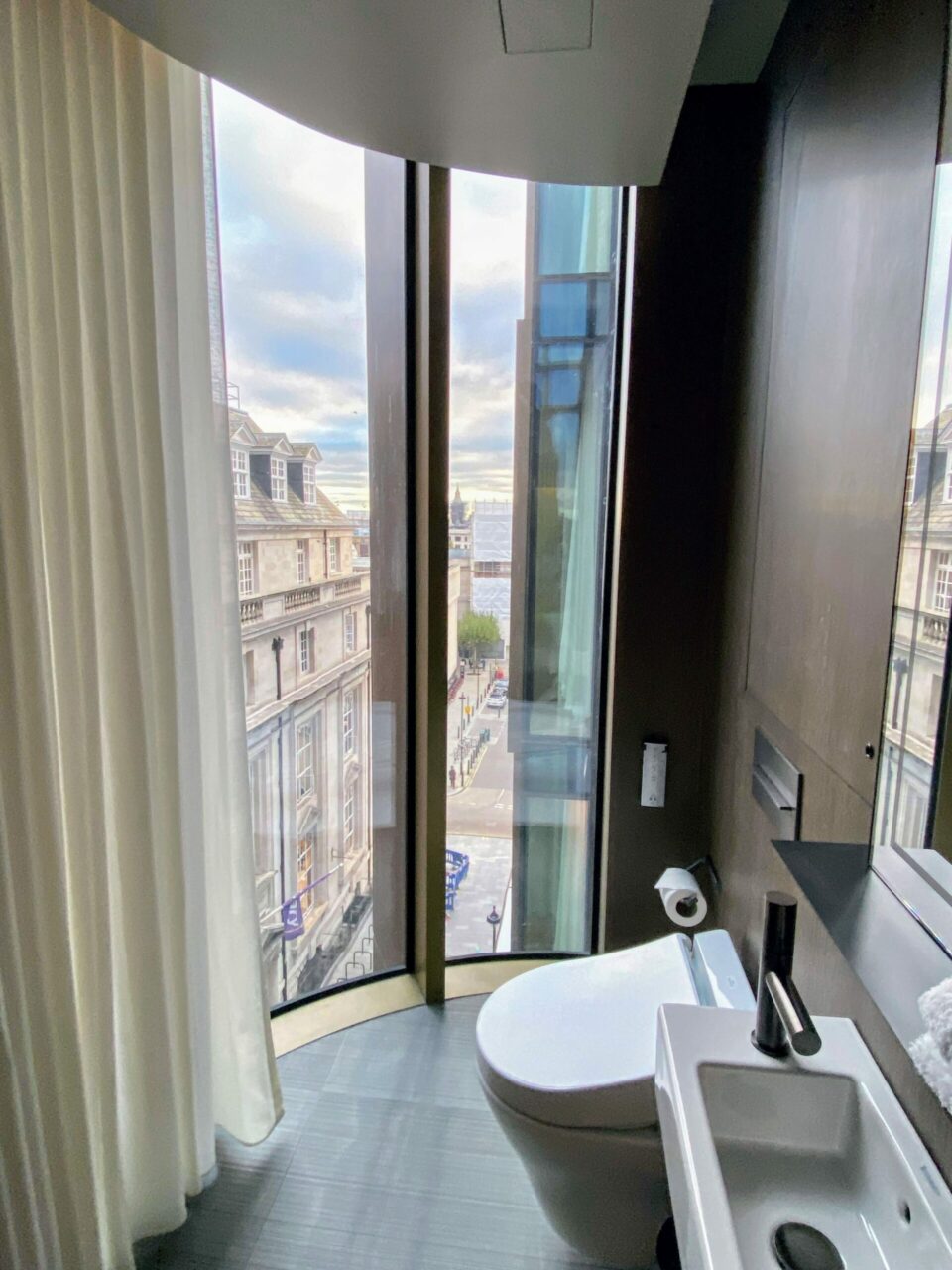 There is also a full-length mirror in the corridor so you can do a final check on your way out that you are suitably glamourous. A socket by it means you could also use it for drying your hair. The room overlooked Leicester Square and was on the fourth floor. There are even binoculars included in the room (or more like opera glasses) so you can check the views in detail.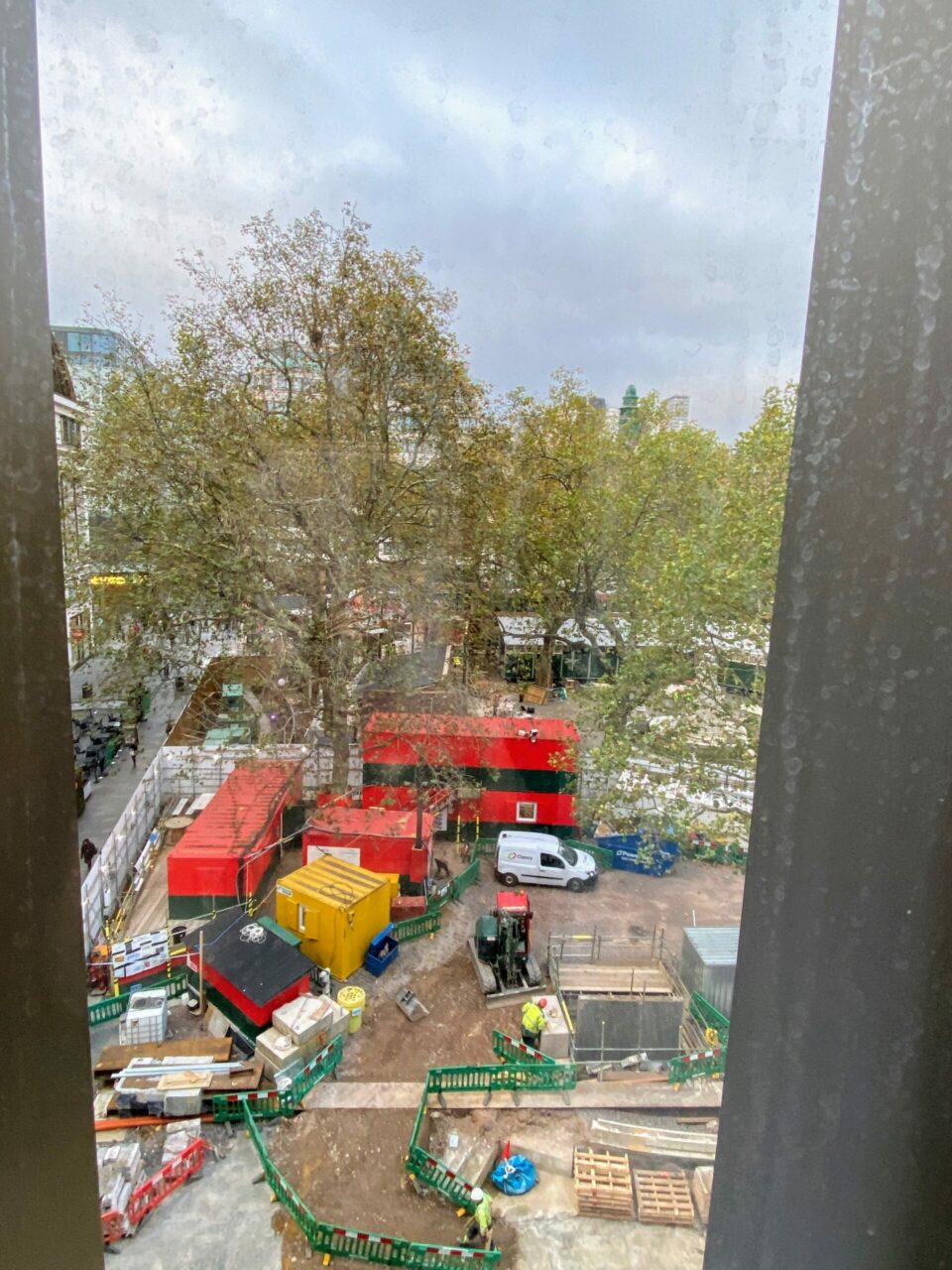 There is building work going on in the square but I didn't hear anything from that end. However, I could hear the busker with the amplifier that was outside as I don't think any windows would protect you from that racket!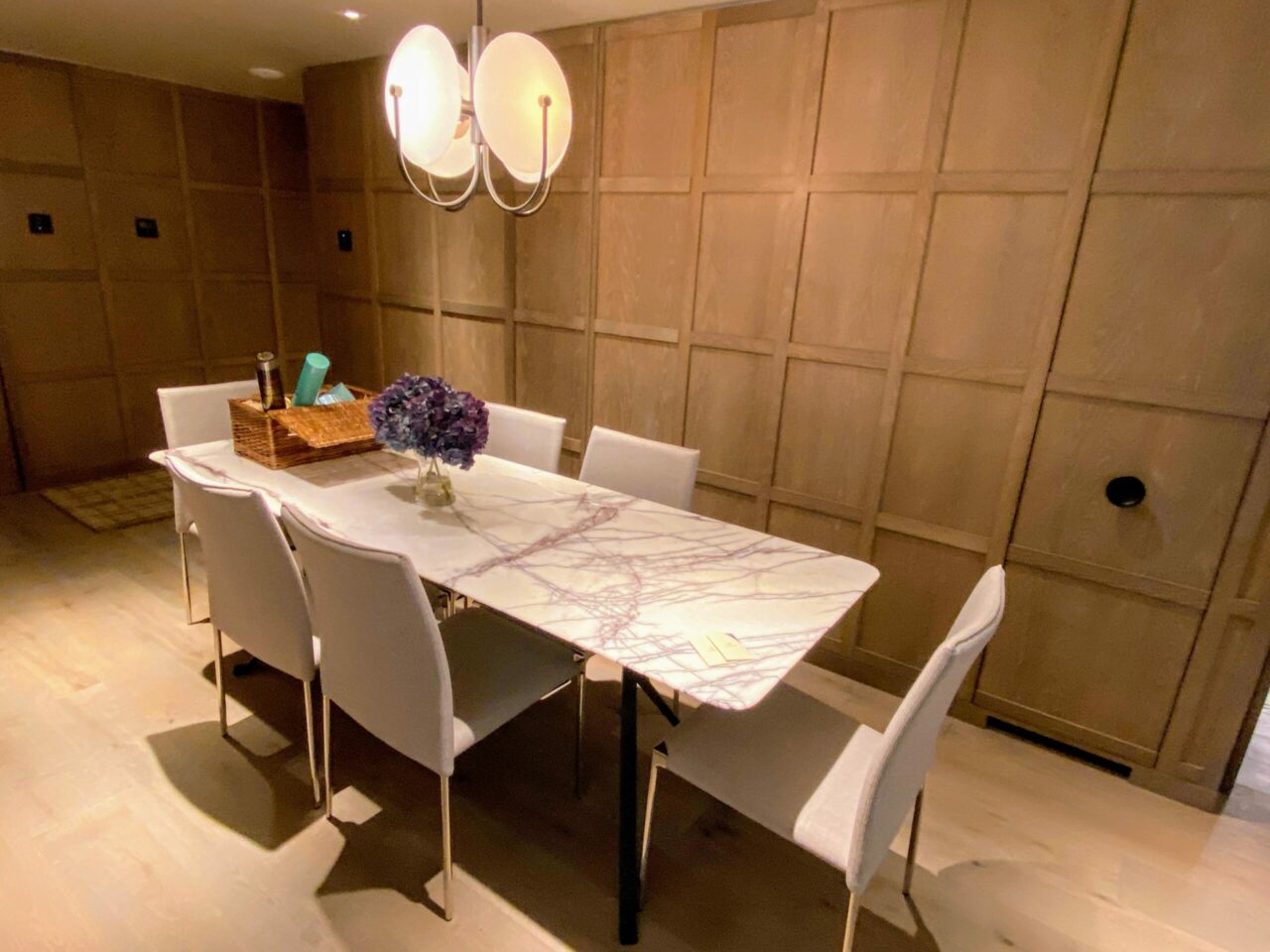 Past the dining table was an elegant but modern seating area with the all-important drinks trolley. Unbelievably, for suites, this is all included! It was a bit like being a kid in a "suite" shop!
In fact, you get a lot of amenities with these suites:
Exclusive welcome amenity
An amuse-bouche from the Head Pastry Chef
Complimentary beverage trolley tailored to your preference
24-hour host service for every need
VIP in-room check-in/out
Complimentary bespoke housekeeping services
Personalised itinerary of unique cultural experiences
Fortnum & Mason luxury hamper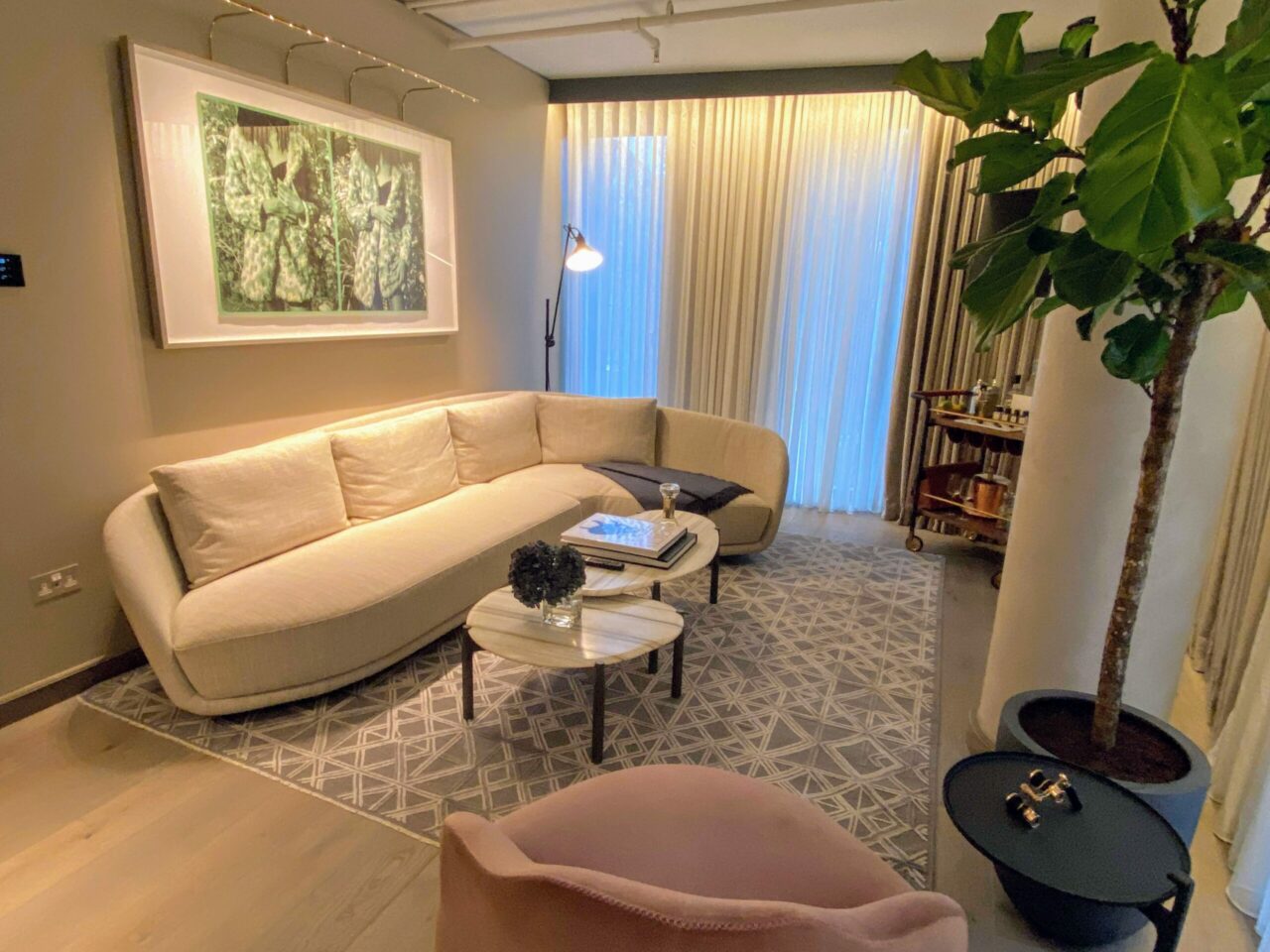 Hidden in a cupboard was a coffee machine, kettle, and some beautiful glassware.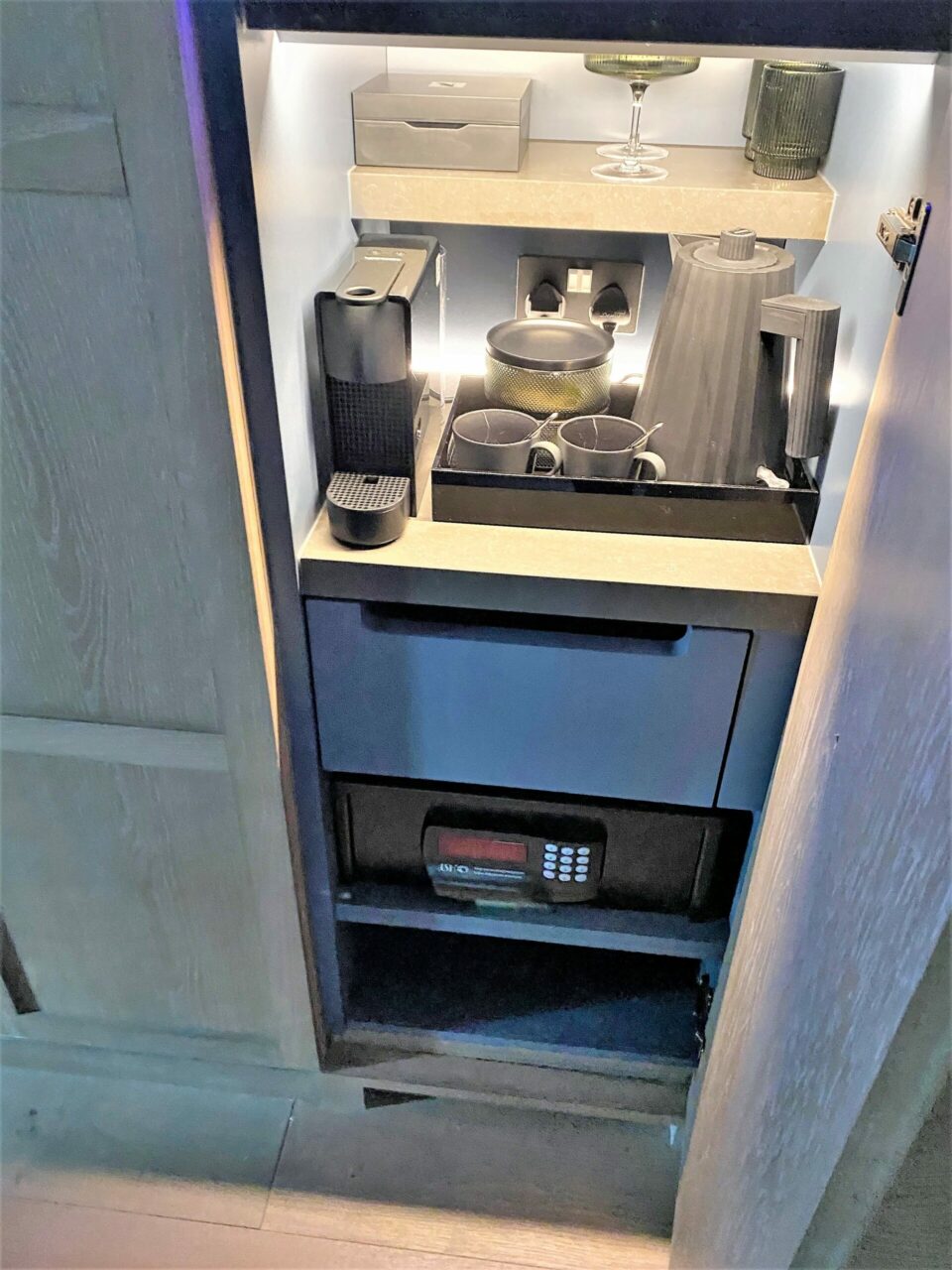 The drinks trolley not only had full-size bottles of gin and vodka plus Fevertree mixers, but it also had some great pre-mixed cocktails.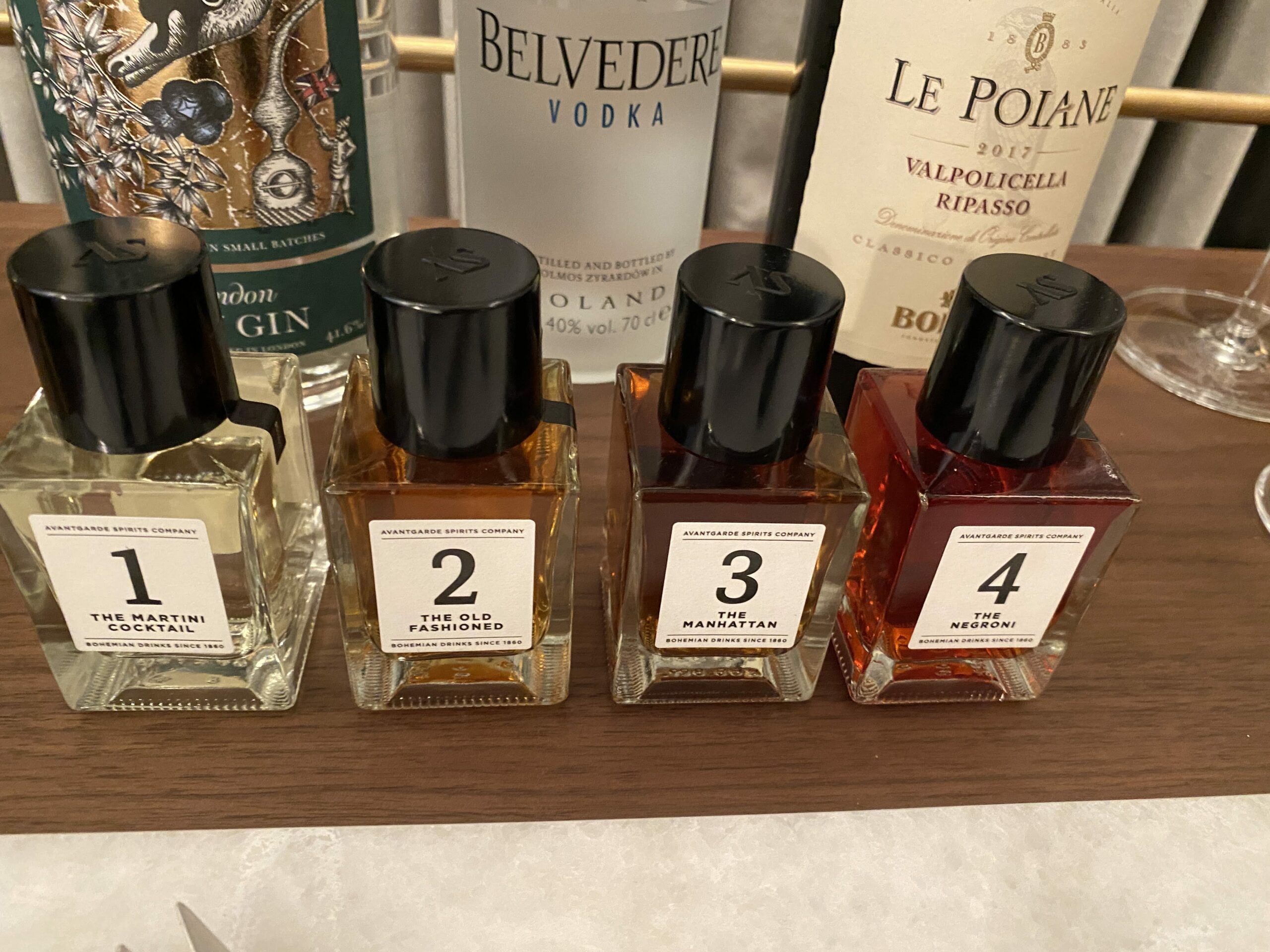 Next was the bedroom with a large super comfortable bed. The 400 thread count Irish linen sheets were beautifully soft which combined with the plump feather down pillows made for a great night's sleep. Cans of water were already by the bed and it was good to see plenty of thought put into sustainability without affecting the luxury. If you wanted to listen to music there was a retro Roberts Bluetooth radio and speakers by the bed.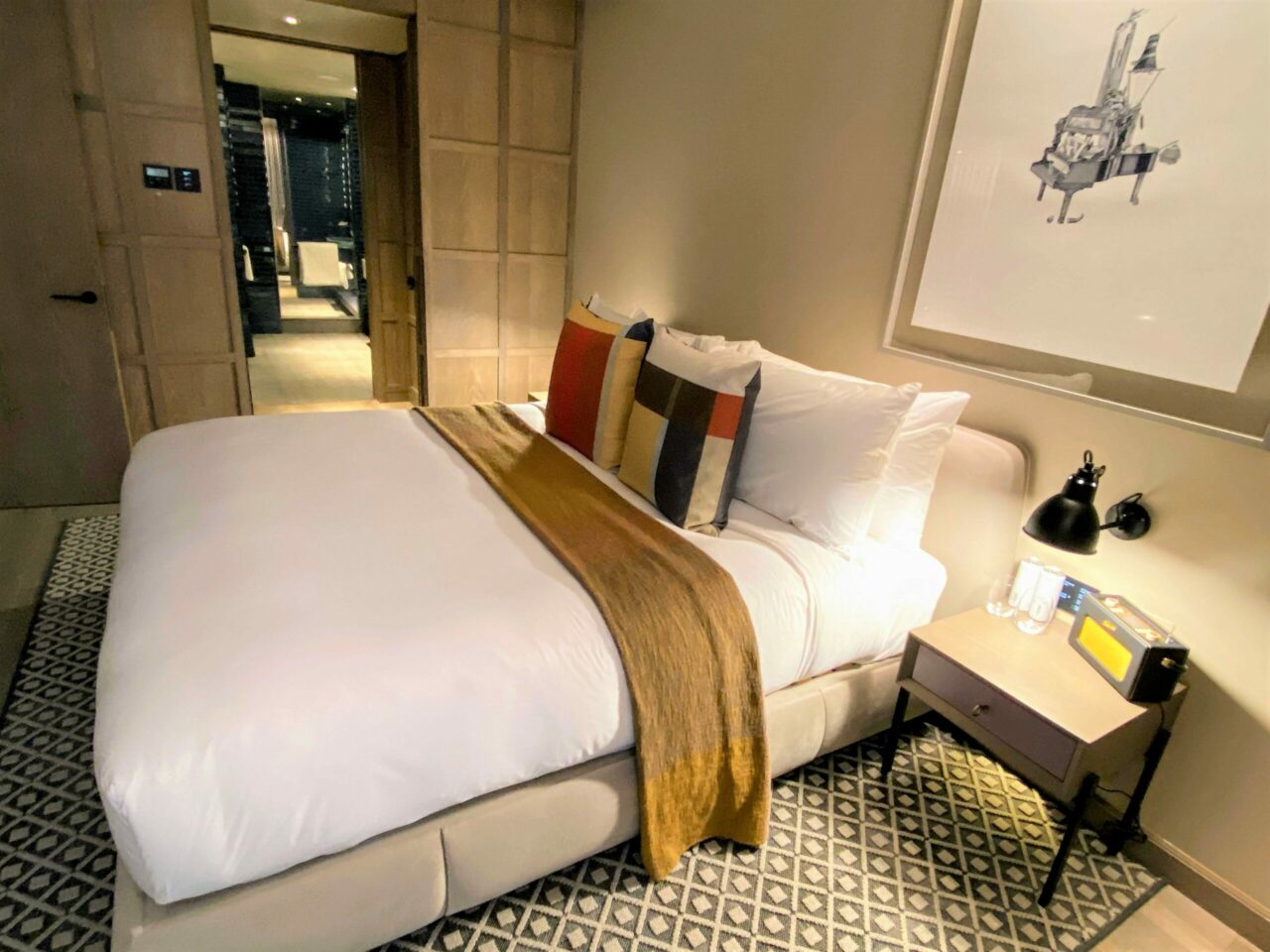 As you went towards the bathroom there was a dressing area with wardrobes ether side that was a treasure trove of amenities.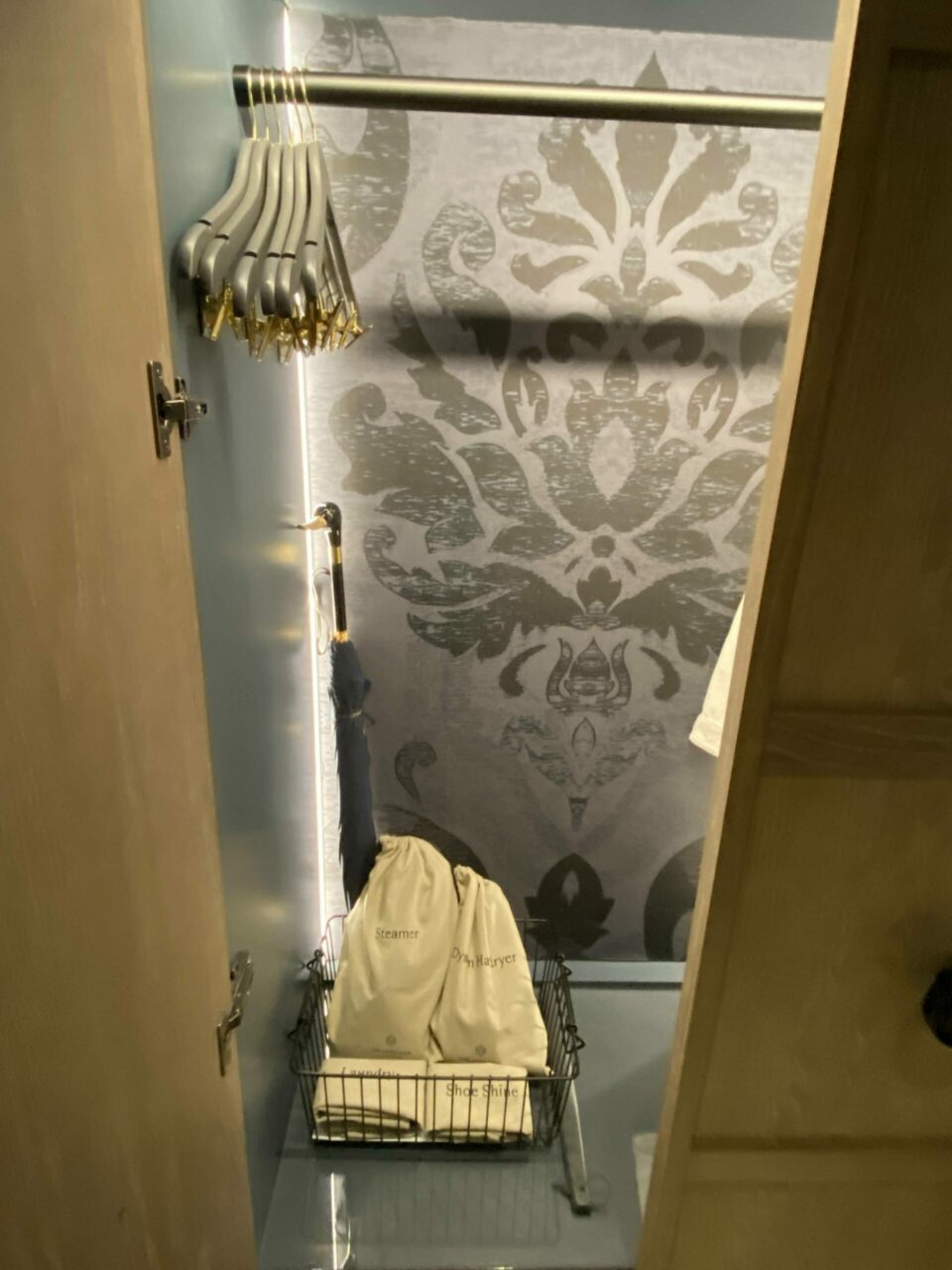 There was:
A clothes steamer
A beautiful umbrella with a carved duck head handle top
A Dyson hairdryer
Some amazing soft and fluffy slippers that said "take me home"
A generous sized soft towelling robe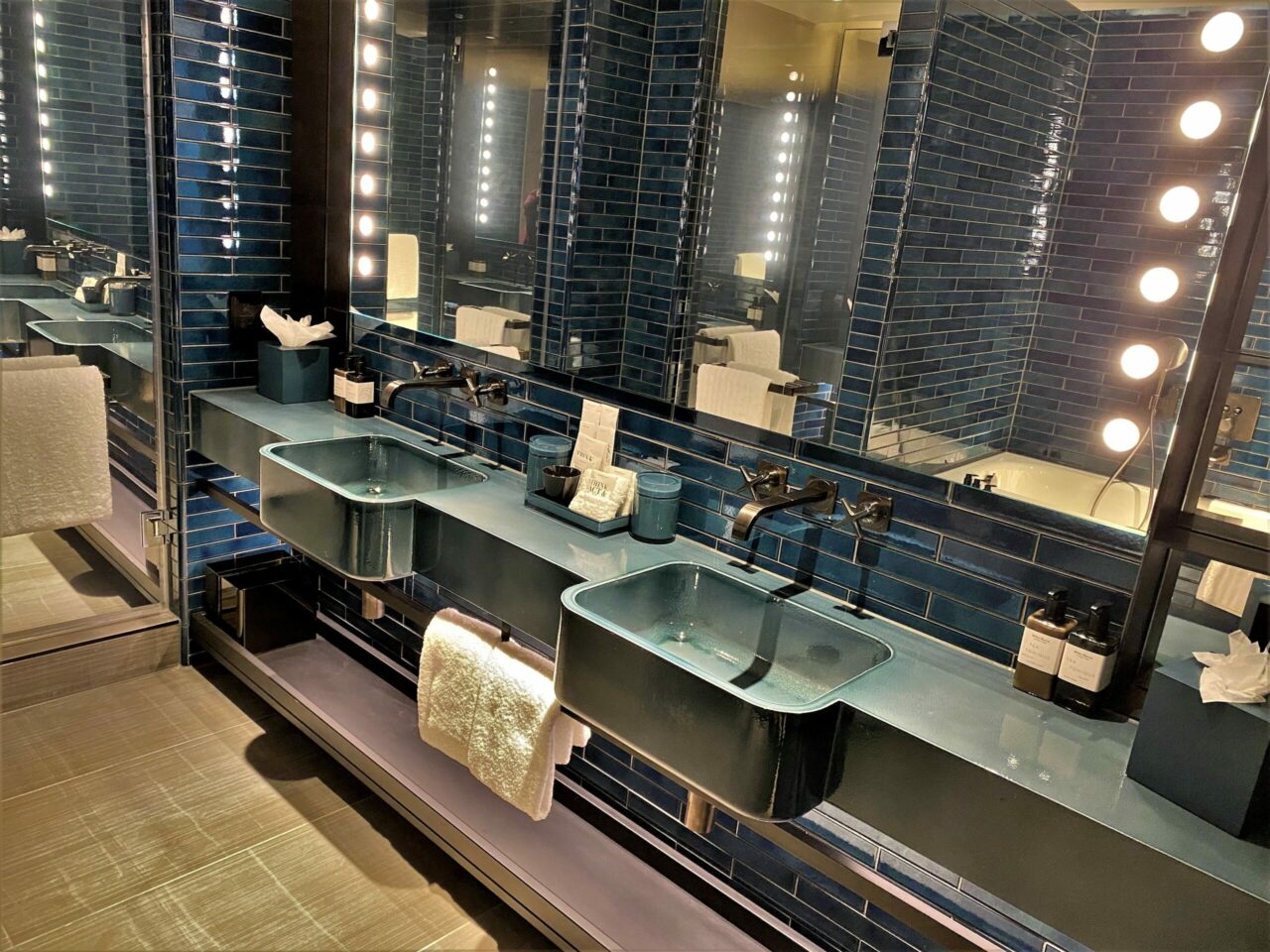 I'm still not entirely sure about the teal blue coloured sinks but the bathroom was generous in size and amenities. There was oodles of room for your own toiletries under the sink although there was no hook anywhere which was slightly annoying since I have a hanging washbag that I don't bother unpacking on short trips.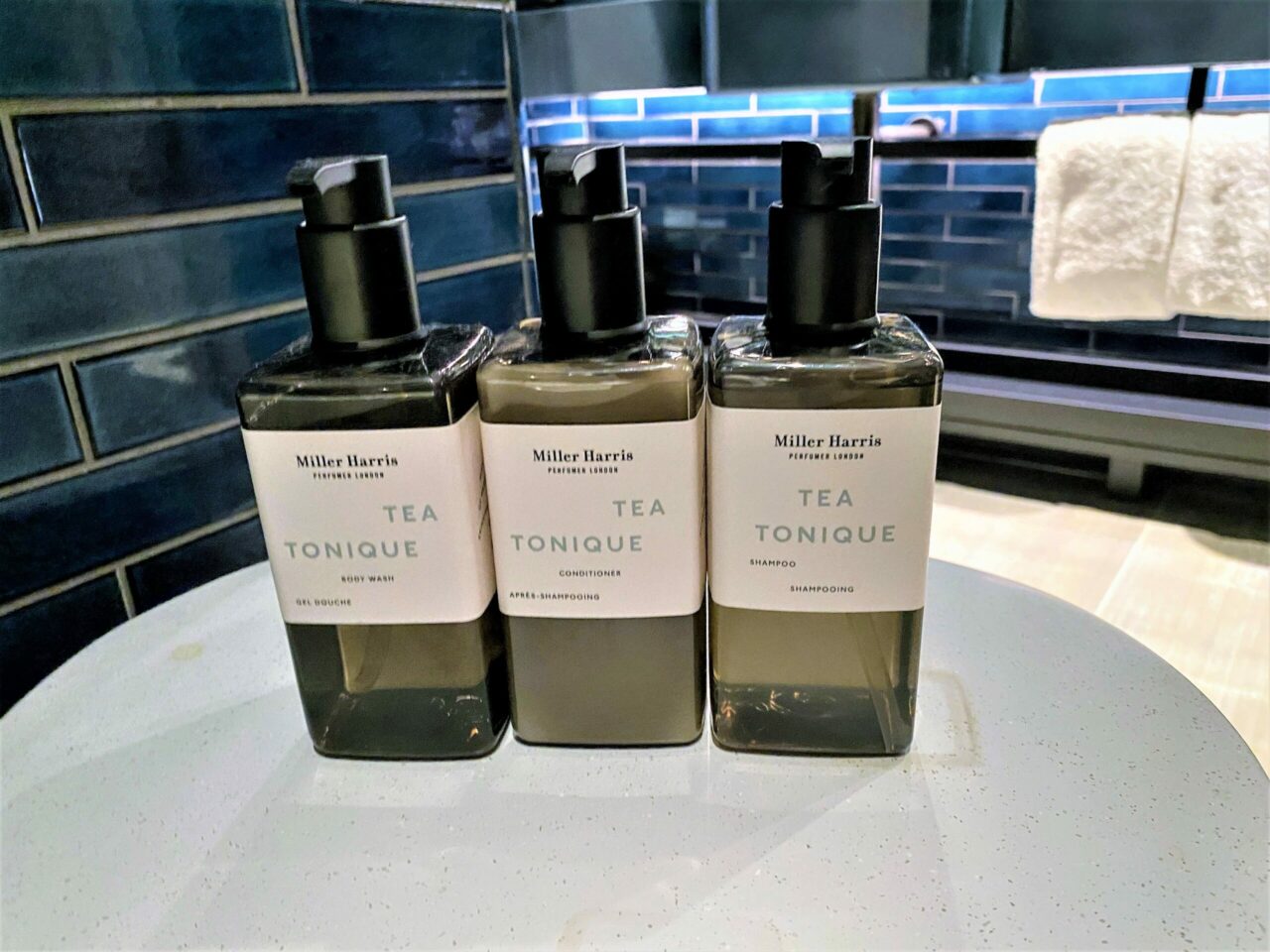 You'd never have to worry about running out of toiletries here. The Miller Harris Tea Tonique full size toiletries had a subtle fresh scent and I counted 4 sets of them by the sinks, bath, and shower.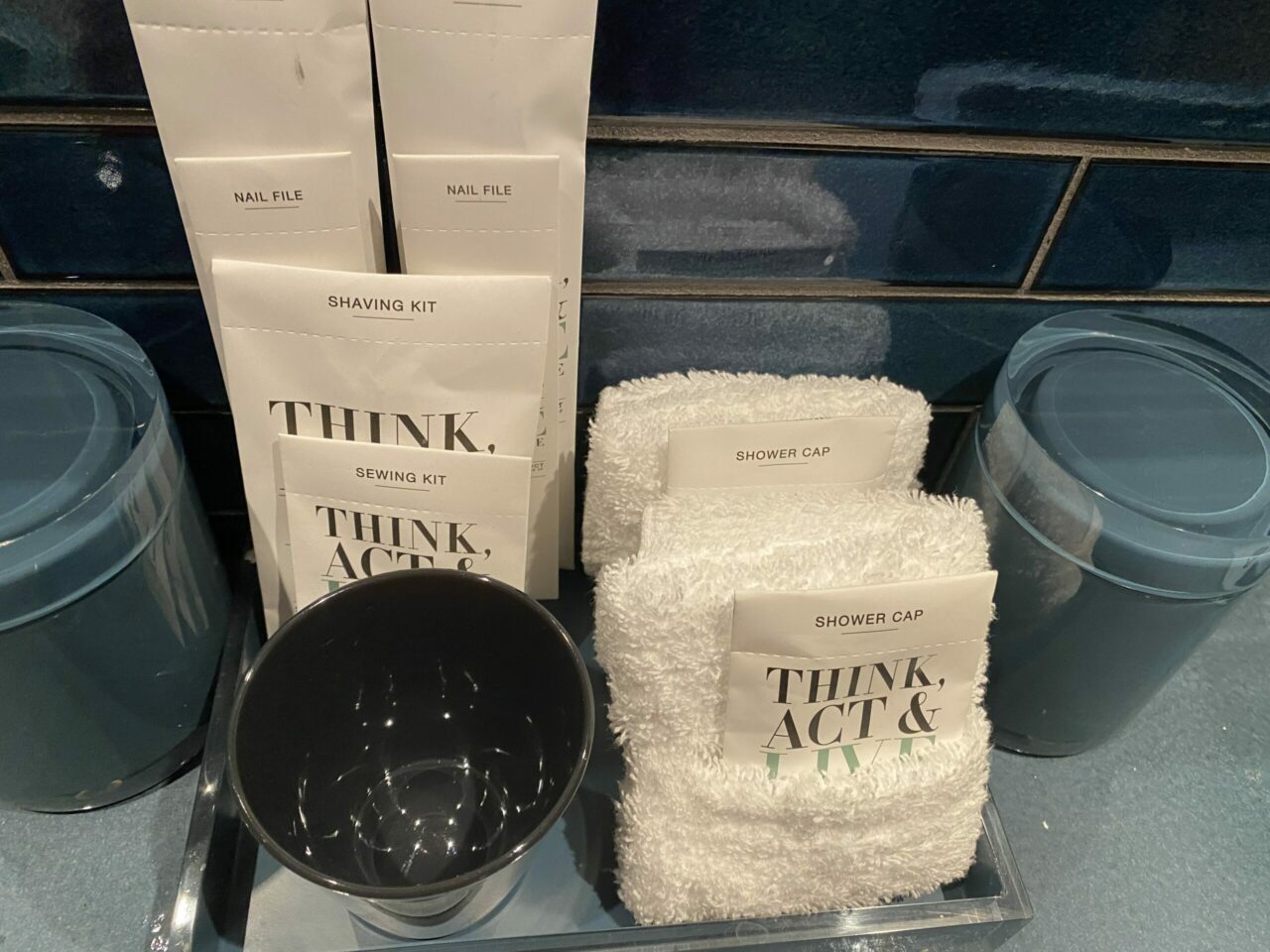 Again, the other bathroom amenities were environmentally friendly with their paper wrapping.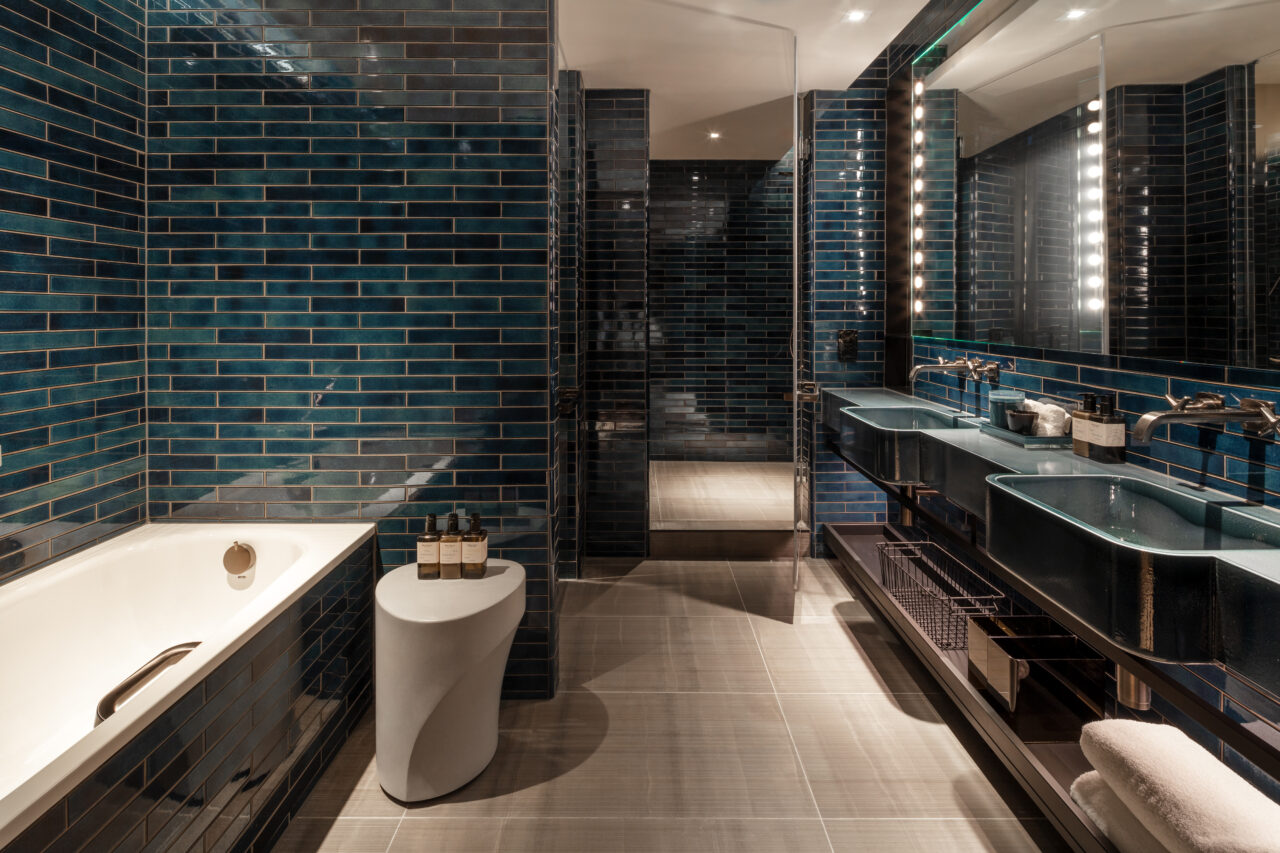 As well as a deep bath there was a good-sized shower with recessed shelves for toiletries.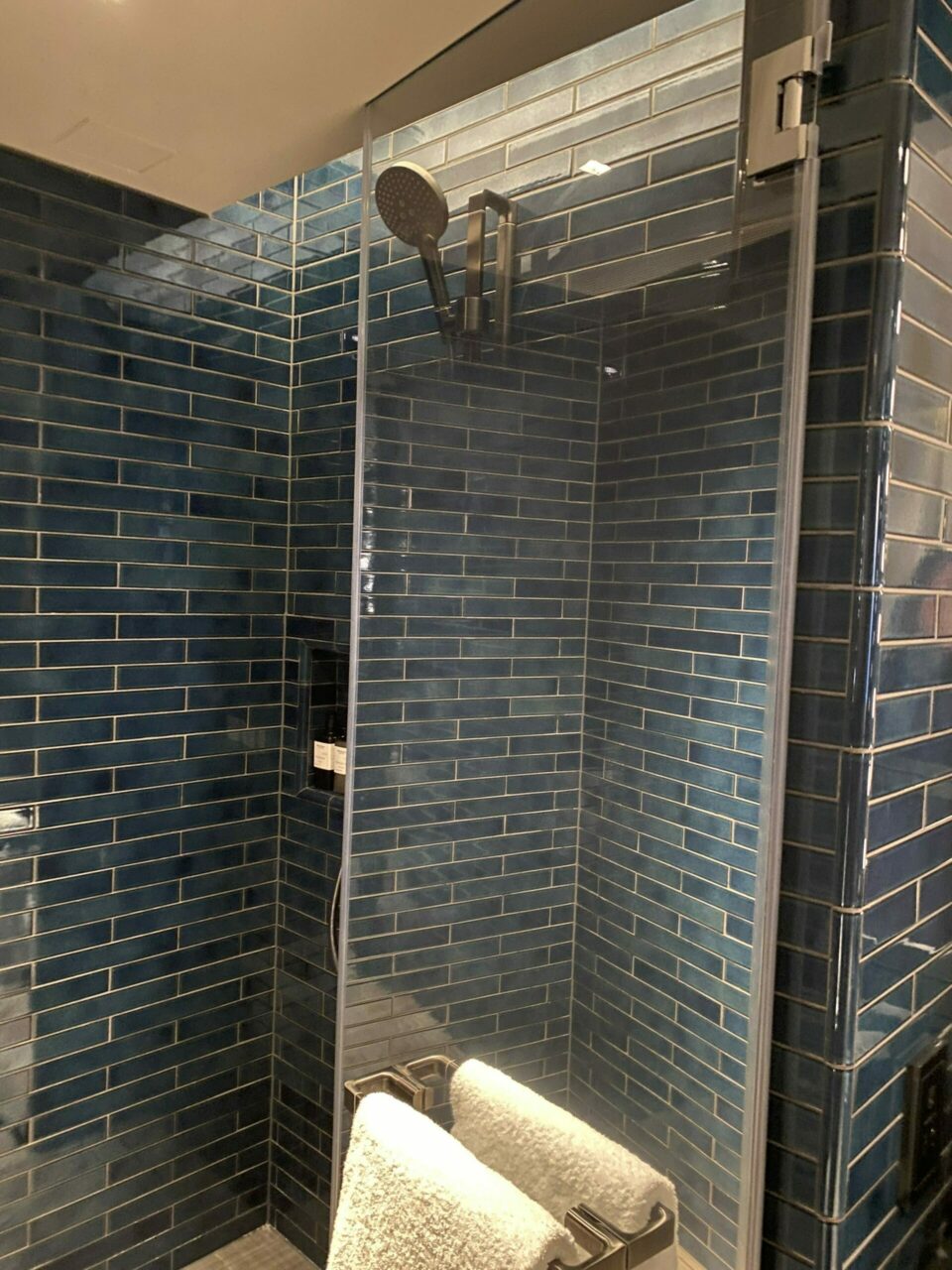 The other thing of note was the Japanese Toto toilet that lifted the lid automatically and had a cosy heated seat!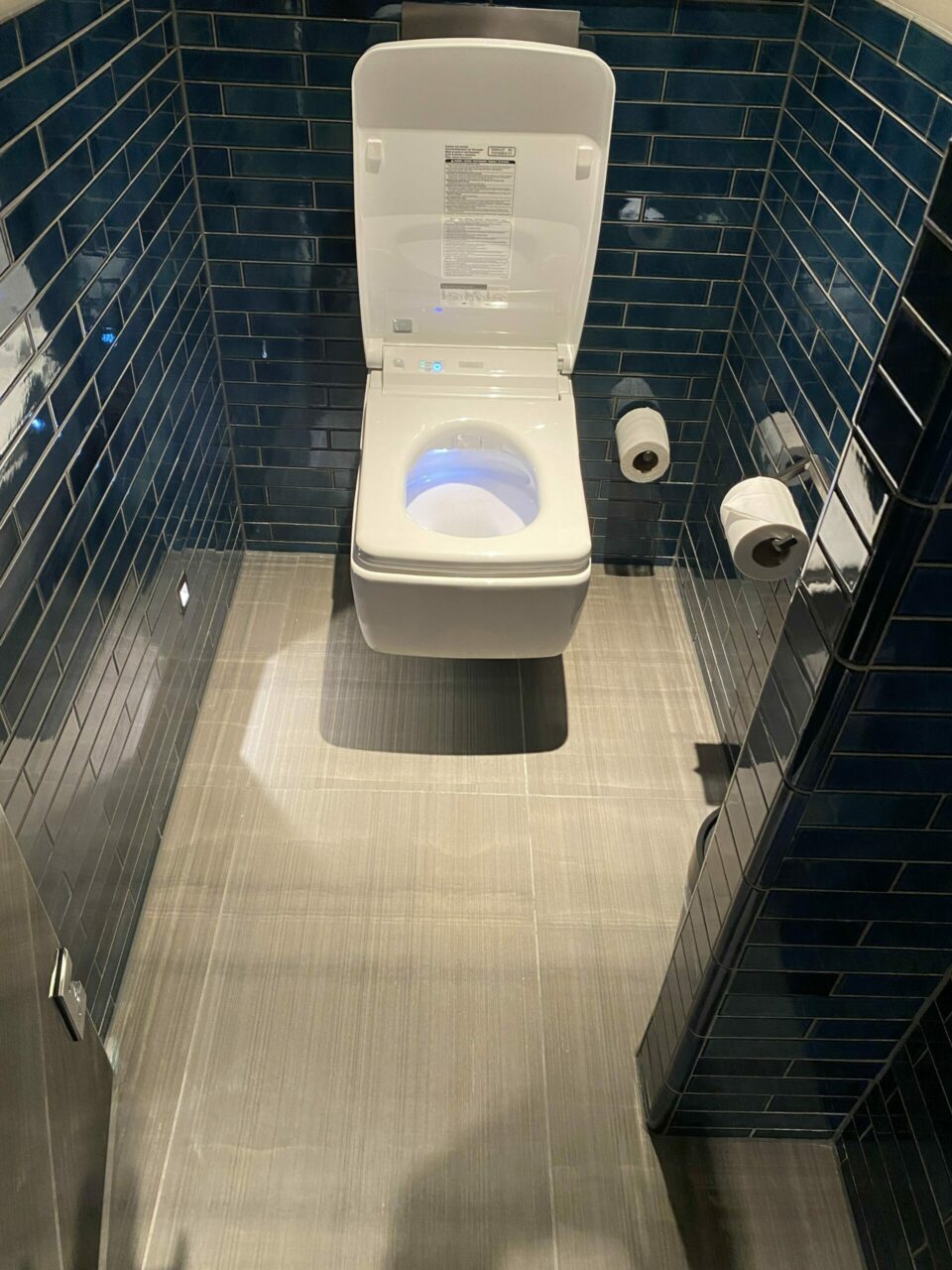 I also got to look at the Tower Penthouse Suite which is set over two floors and comes with its own mixologist and entertaining bar area!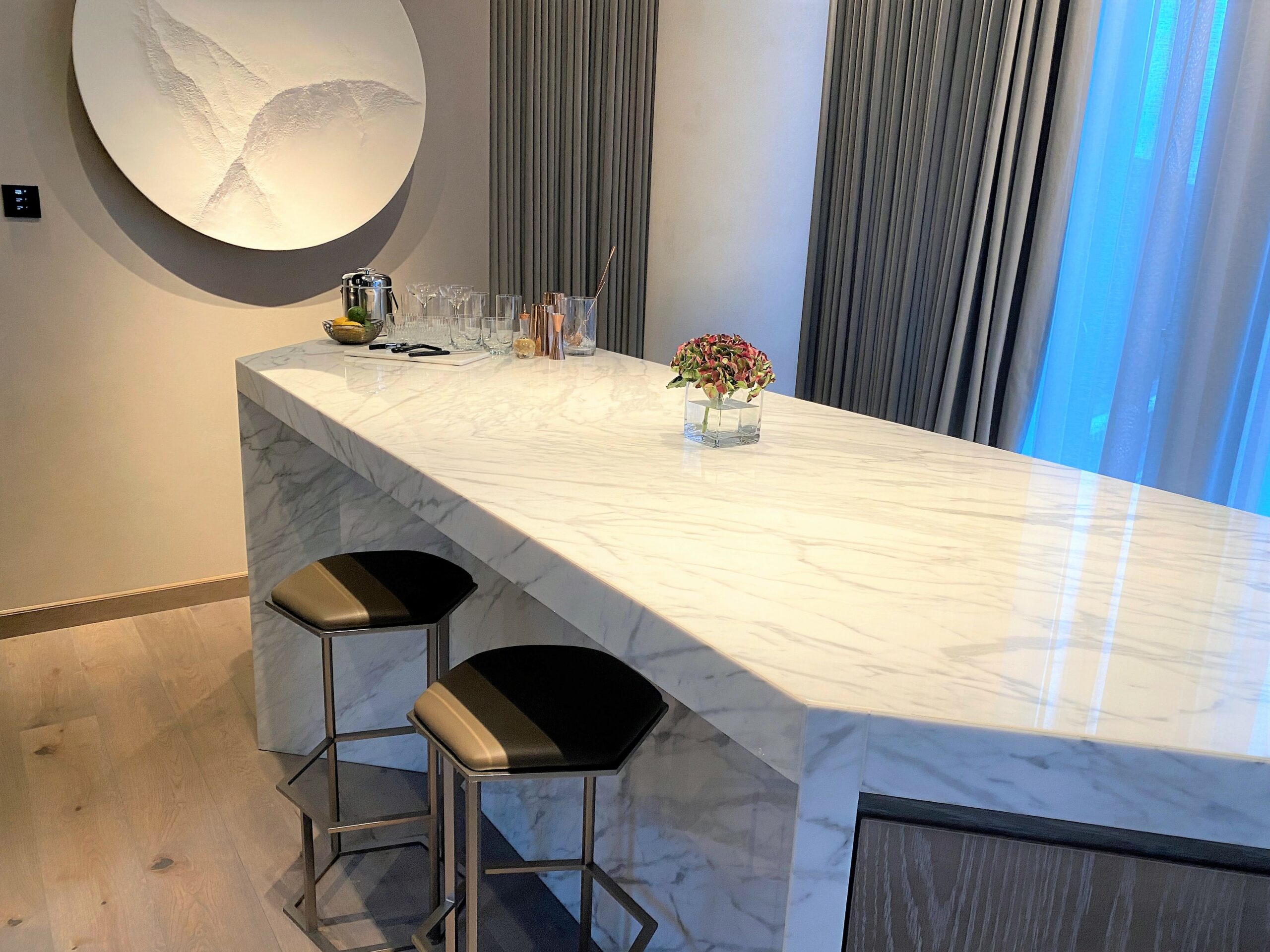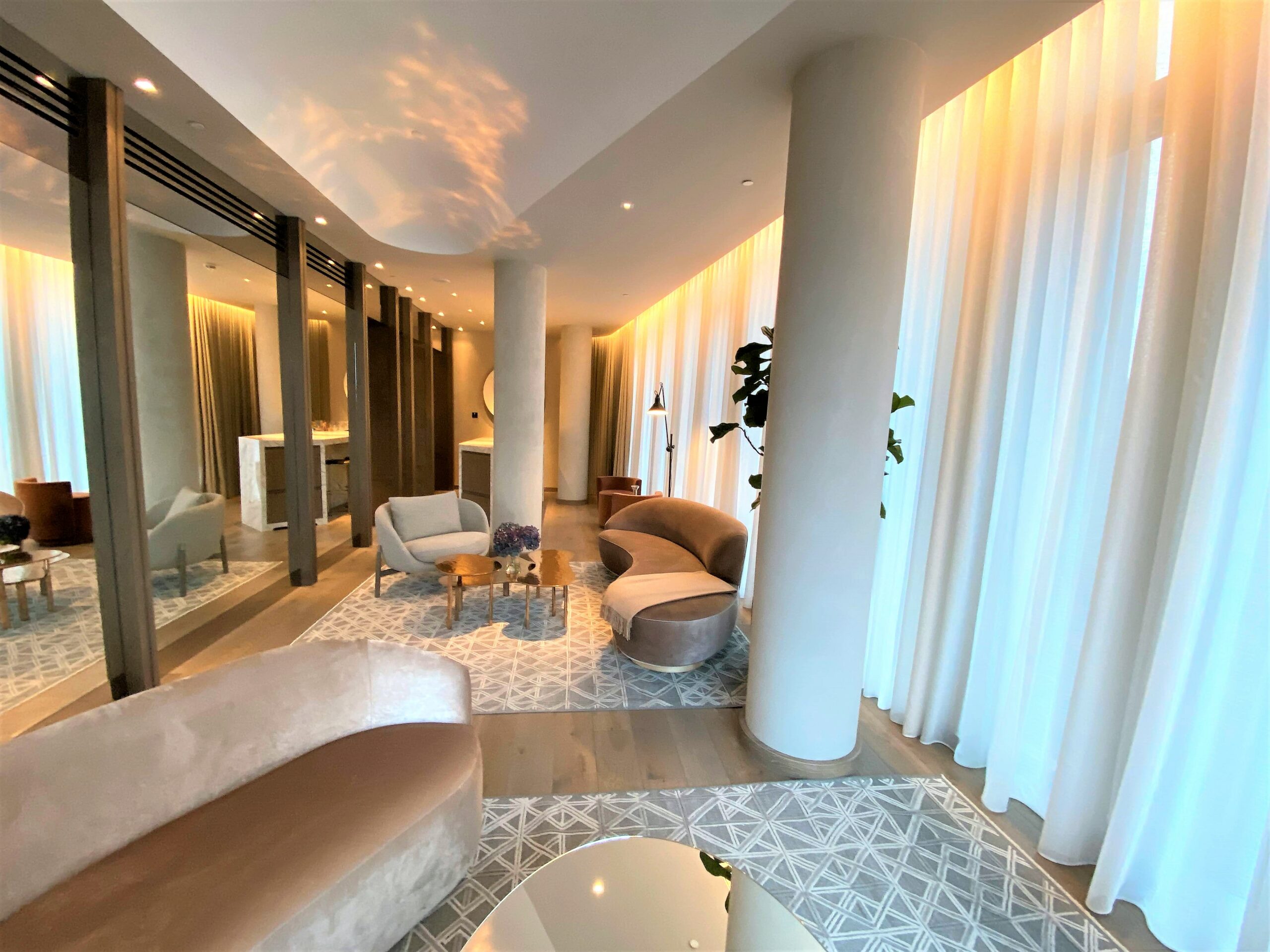 The views from here at the top of the hotel were really spectacular.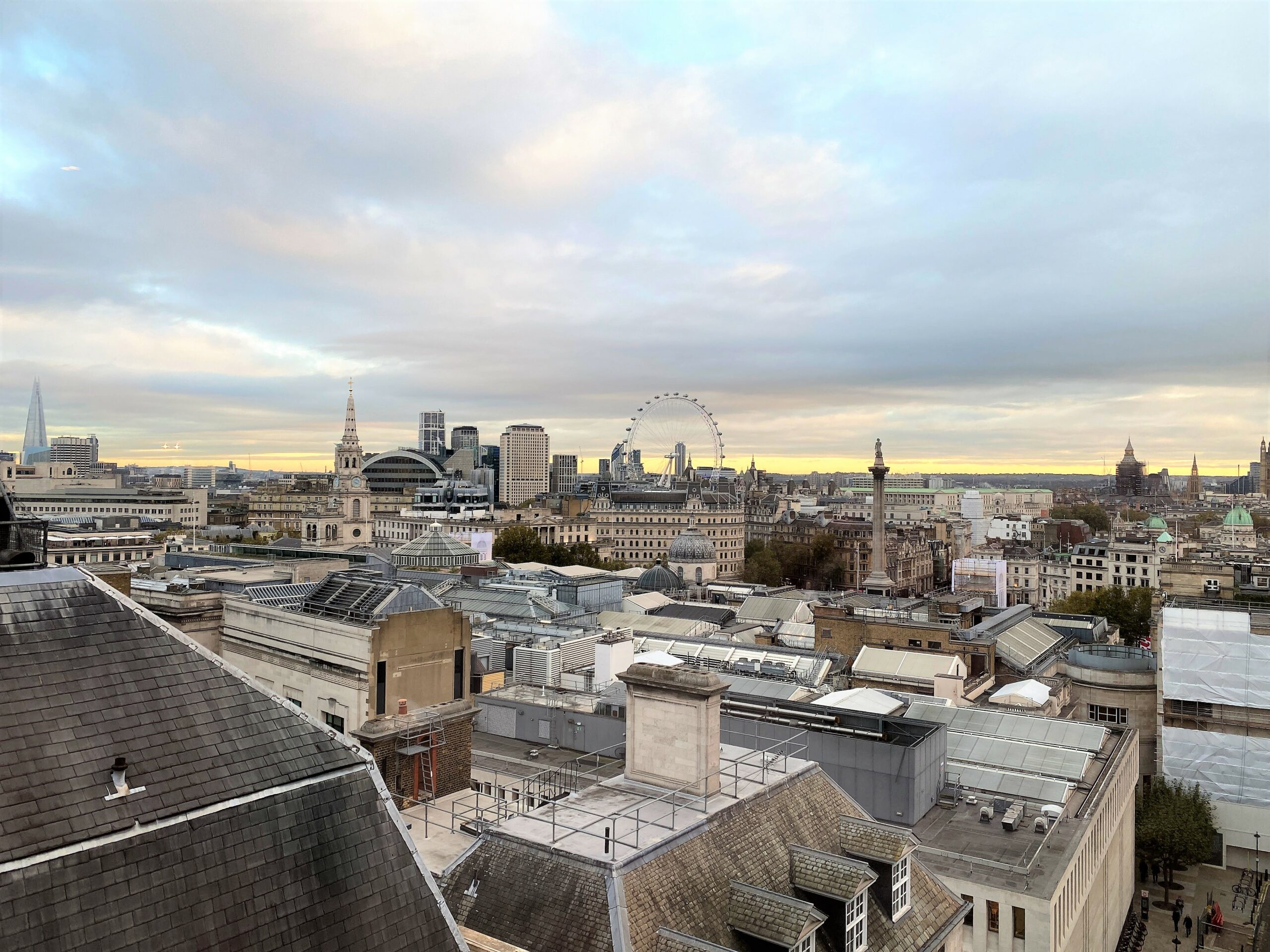 I loved the bathtub in this suite too – you could almost swim in it and I preferred the slightly more subtle bathroom hues.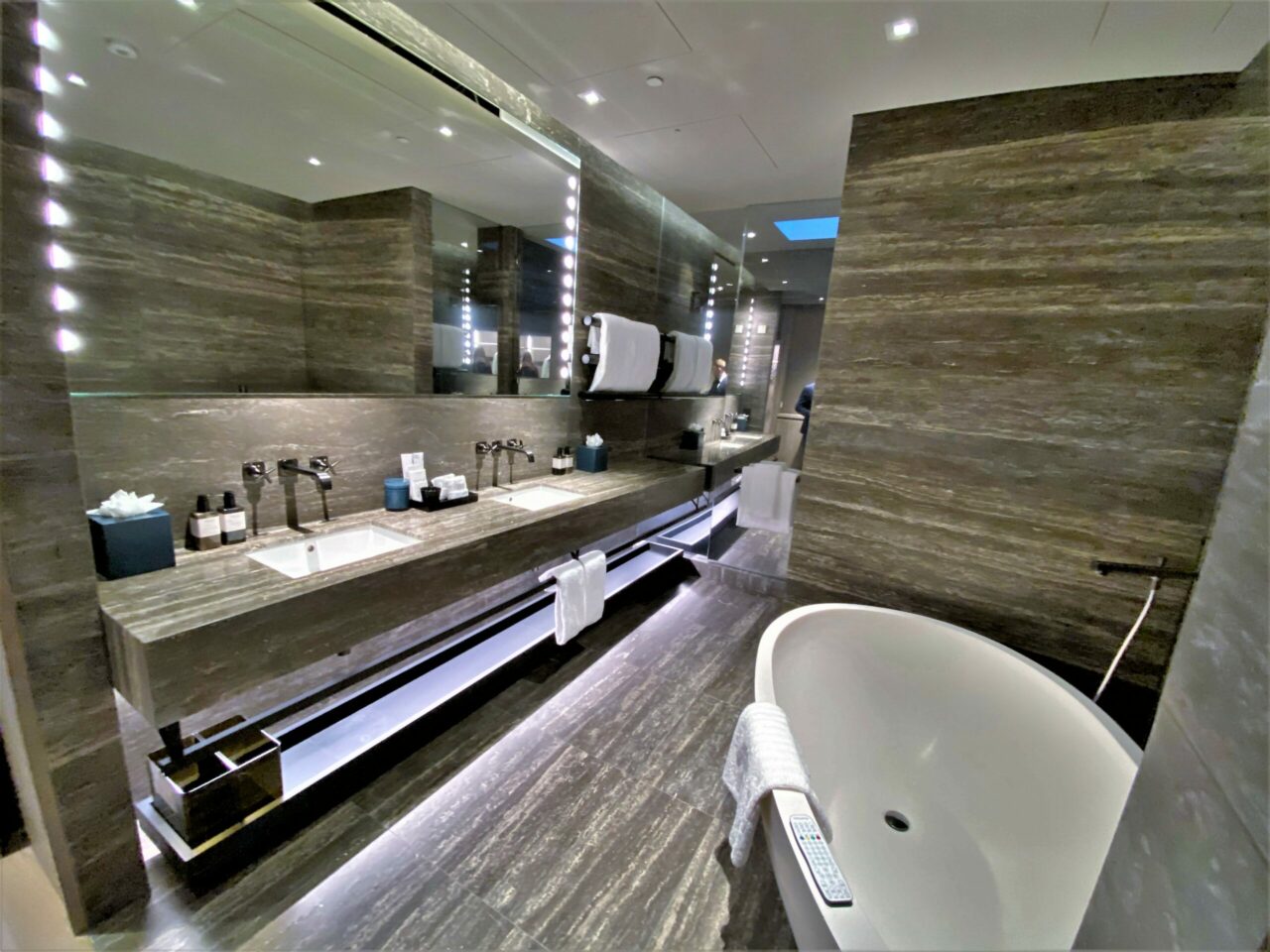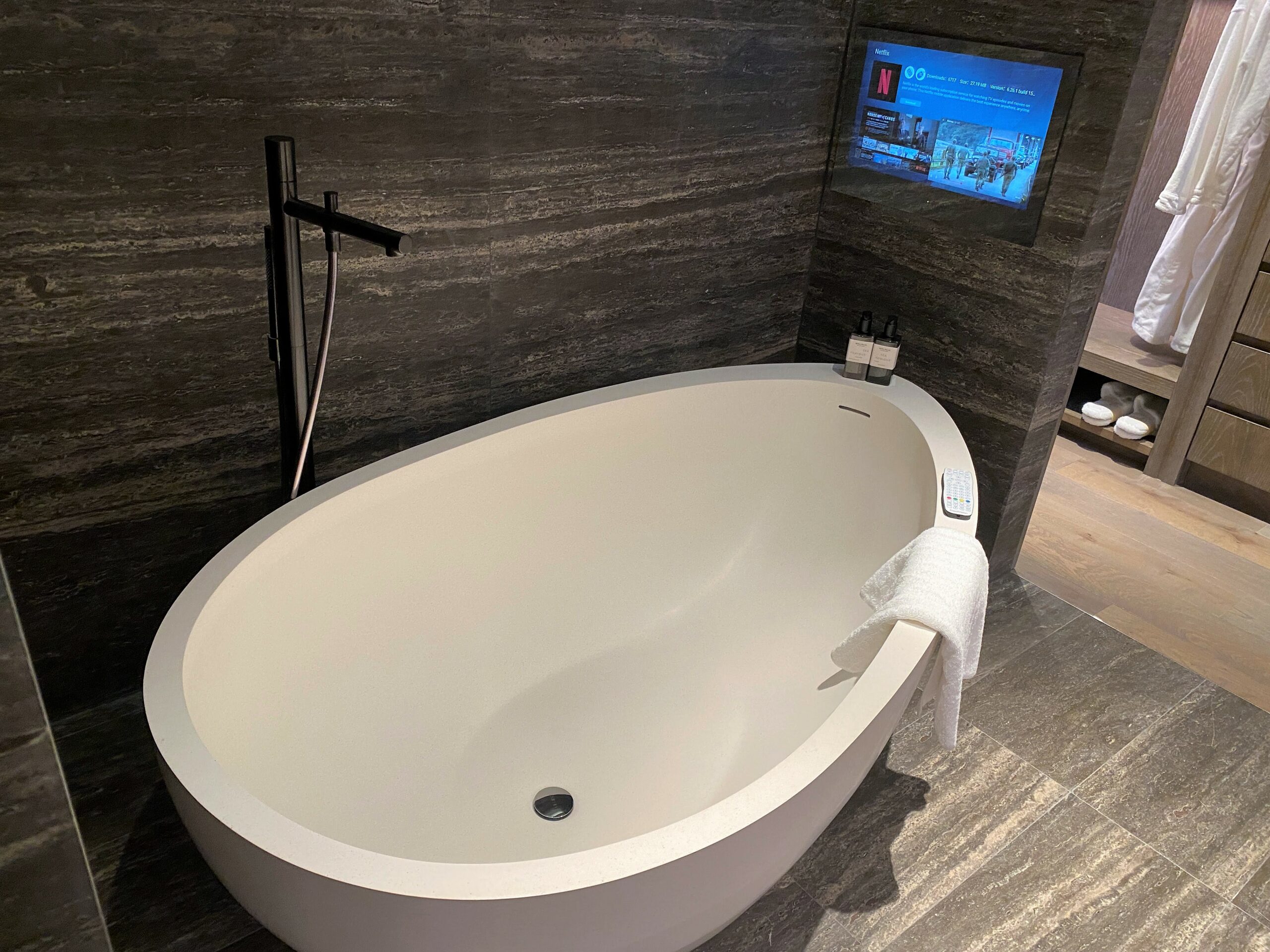 Probably more in my price range is the regular King room which also has a teal bathroom.
The Residence – private club for guests

All guests have access to what is a cross between an Executive lounge on steroids and a private members club.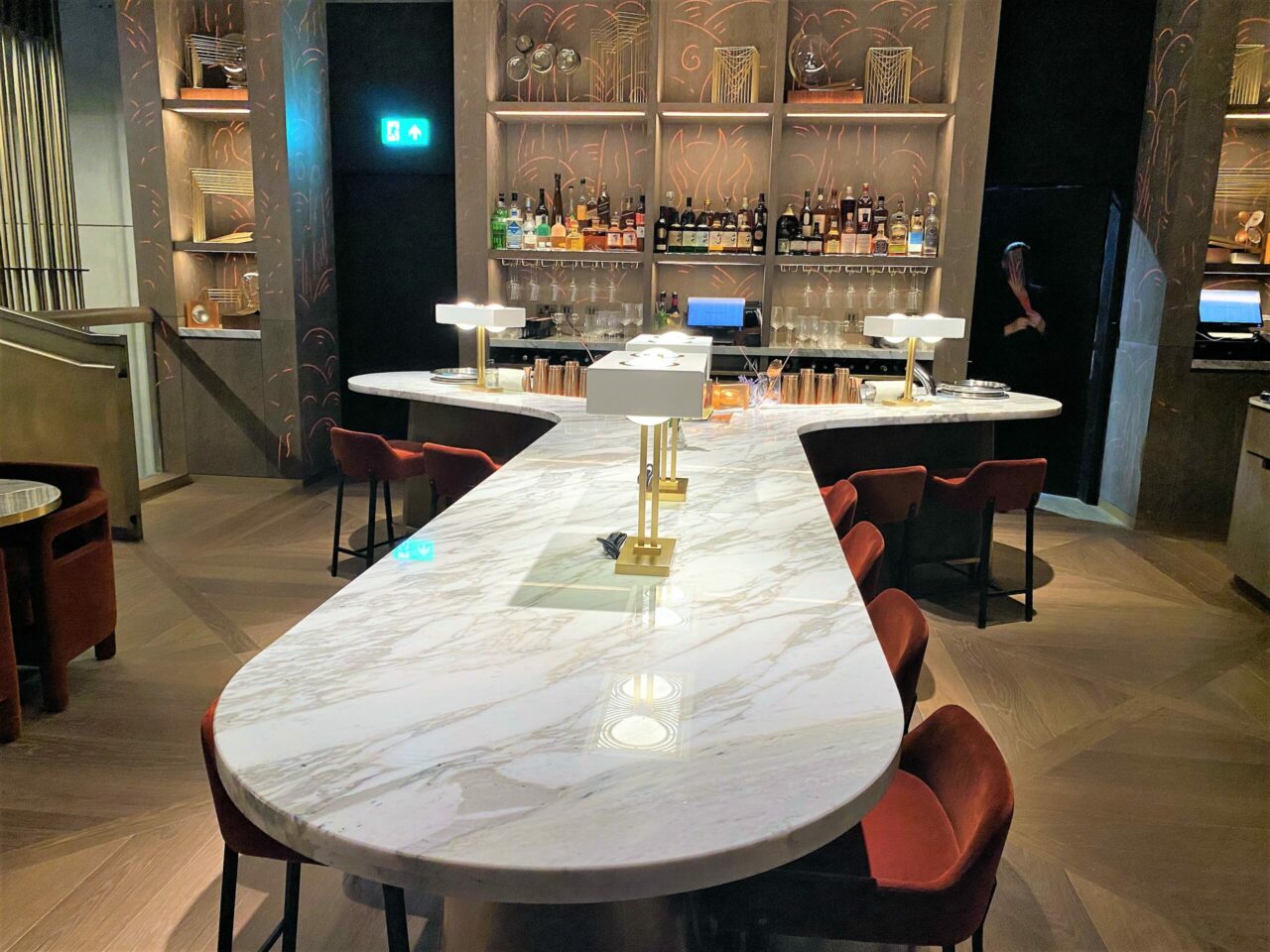 It consists of the Y bar which has unique "tattoo-like" lighting that comes on at night. Here you can have a cocktail or dinner but they come at extra expense.
I tried a Pétillant Vert with Grey Goose vodka, Suze liqueur, passion fruit and mandarin blend, lemon and coriander & kaffir lime soda. This one had great layers of well-balanced tropical flavours but was a little "sherbety" for me, though I loved the jelly on the side.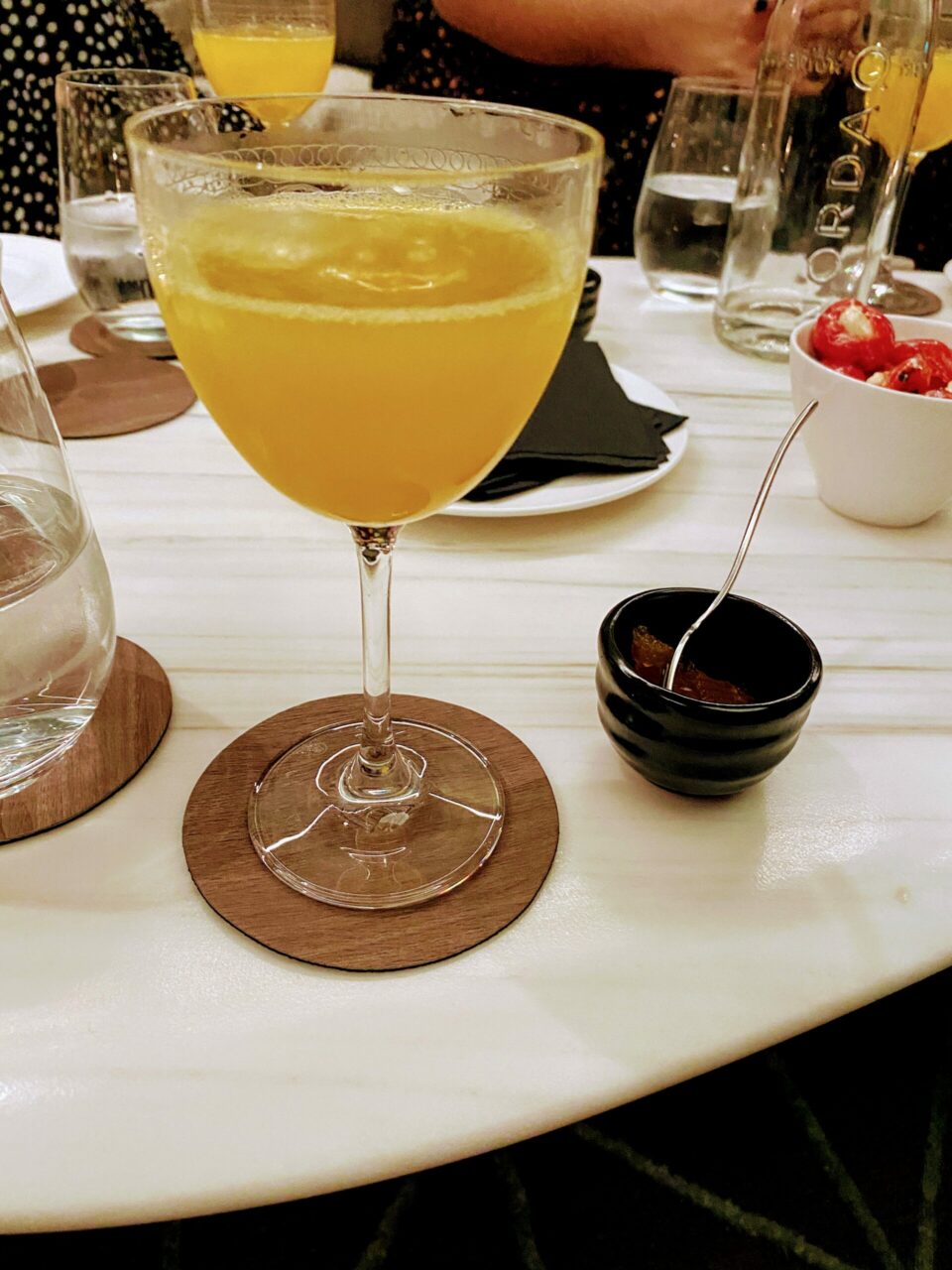 Then I had their equivalent of a champagne cocktail which was amazing and very potent.
Champagne à la Pomme
Calvados, elderflower, blood orange oils, R de Ruinart Brut NV and homemade copper sugar cube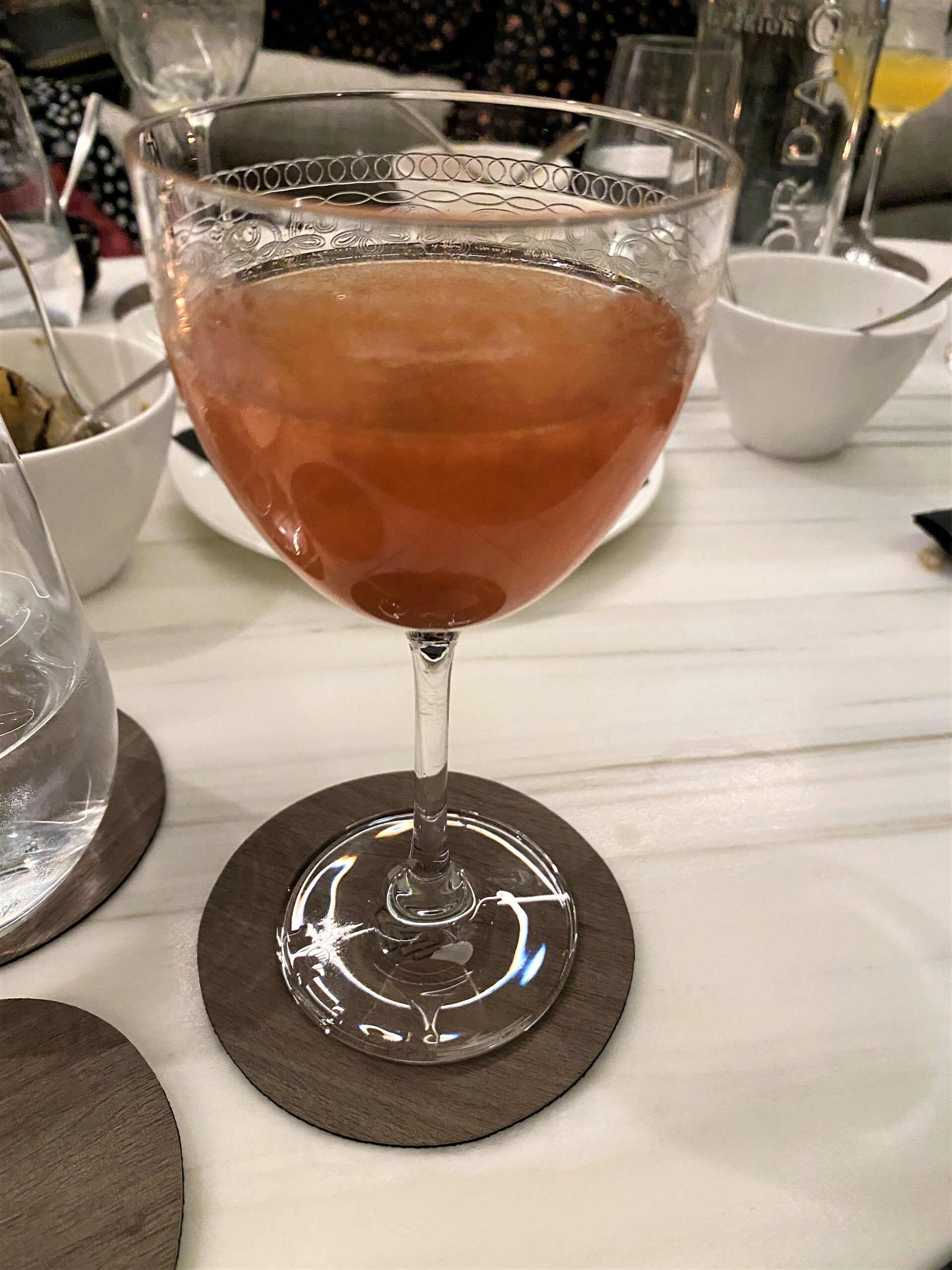 I loved the pretty etched glasses too. I also recommend their take on an espresso martini – it will knock your socks off!
Here is the food menu:
I tried the superfood salad, king prawn linguine, spaghetti, and lamb. (I wqasn't being greedy – they brought us a selection). All were great but I particularly liked the lamb and linguine. The layered potato chips with paprika spice were almost addictive with a lovely amount of crunch.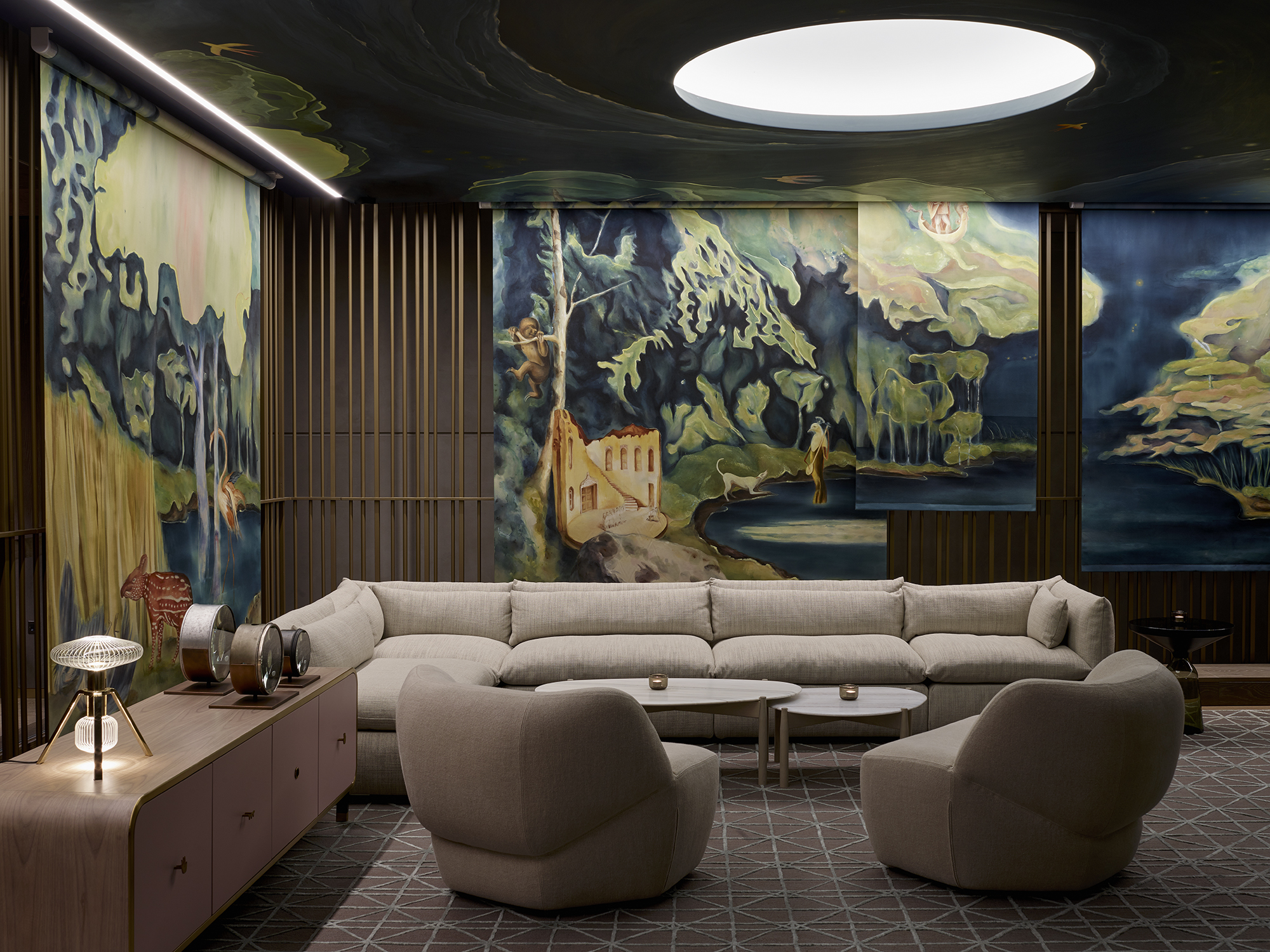 In the lounge area there are complimentary soft drinks: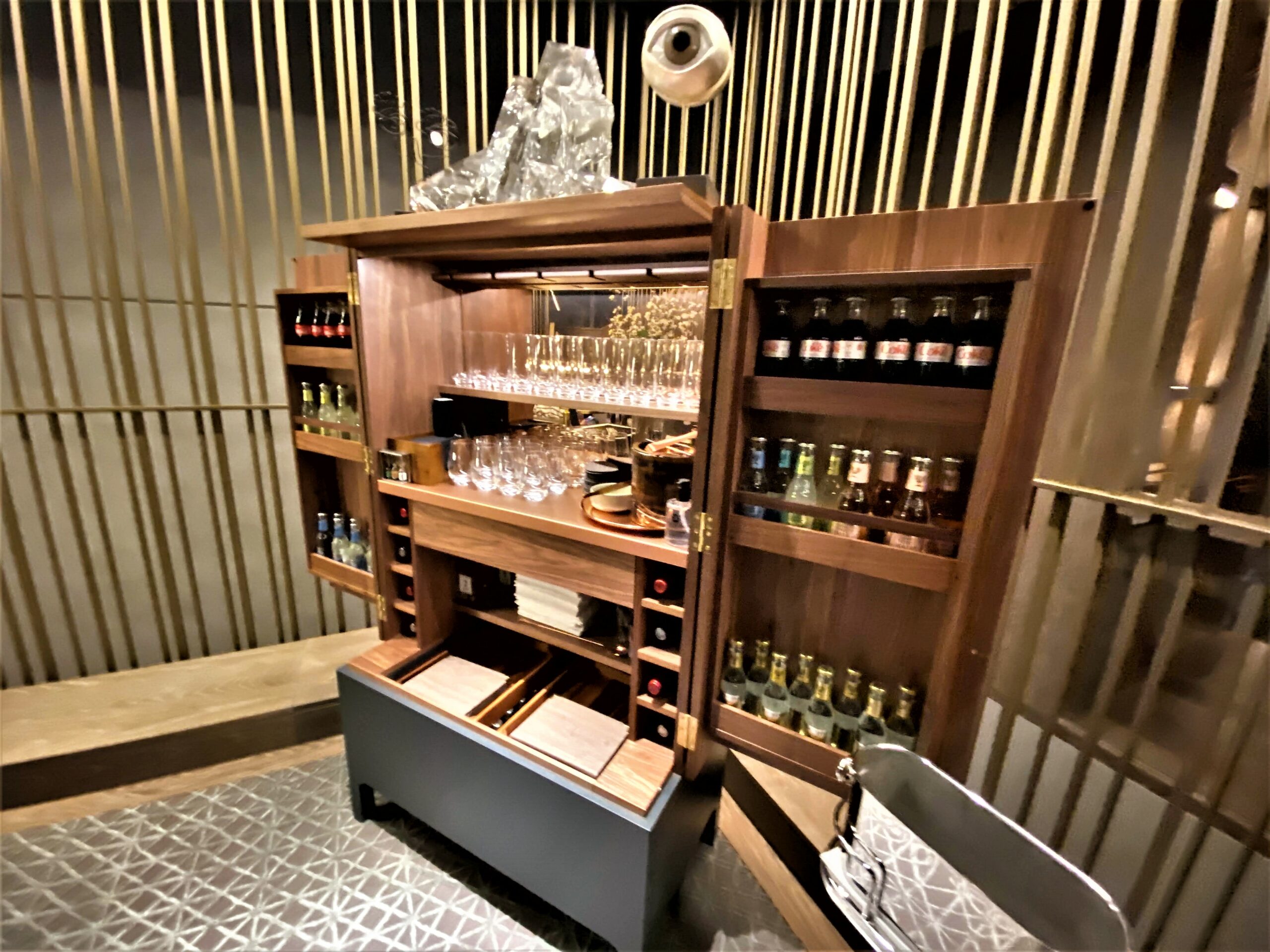 and some great free snacks:
Pecorino and truffle grissini
~
Chargrilled Romana artichokes with lemon and garlic
~
Grilled piquillo peppers with goat's cheese
~
24-month-aged Parmigiano-Reggiano
~
Pickled wild garlic mushrooms with chilli and fennel seeds
~
Sicilian Nocellara olives with rosemary and lemon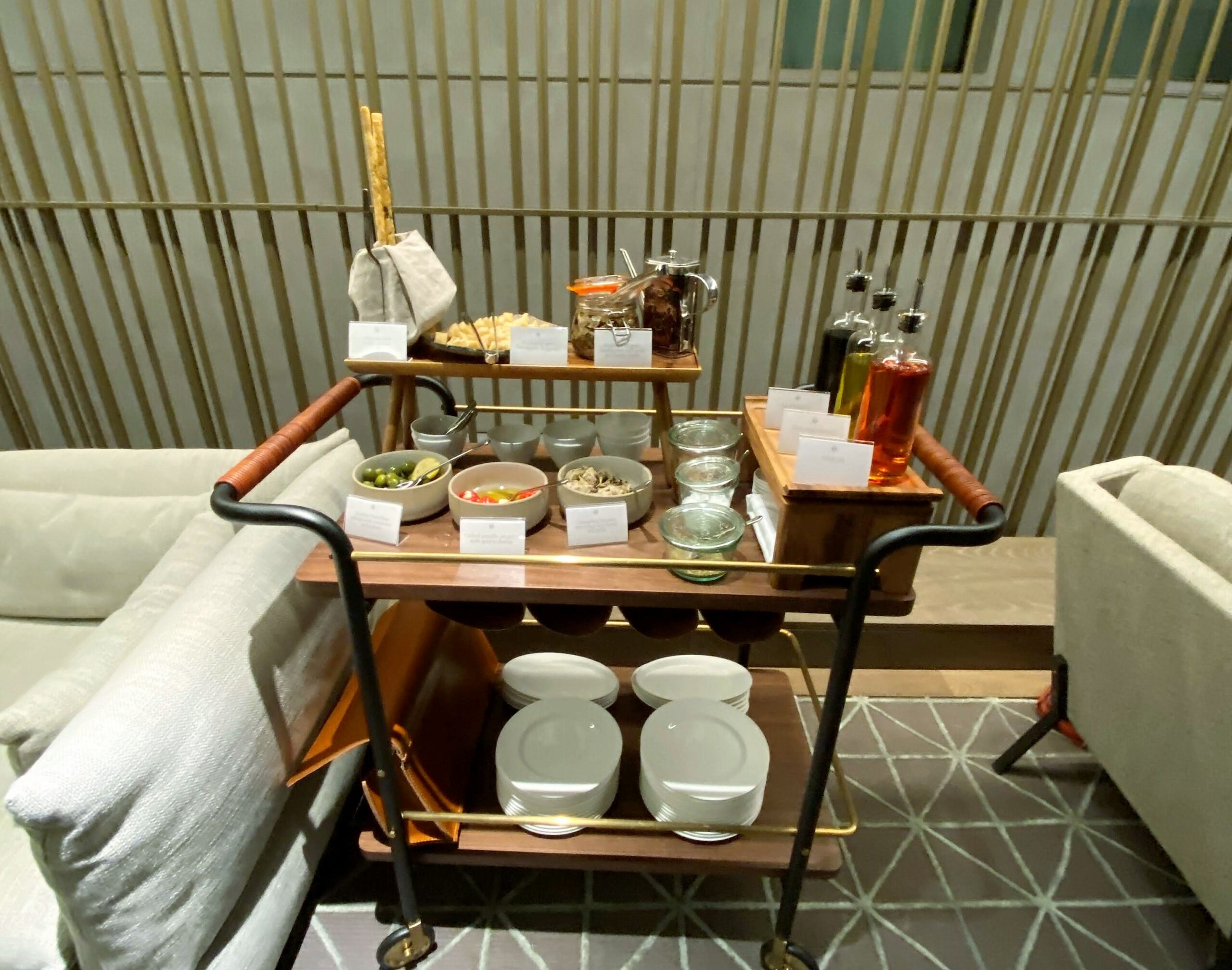 There's also a hidden whisky bar with whisky and Bourbon from all over the world. Access is via a secret door through the powder rooms. There is also a secure space to leave your favourite bottle for your next visit.
The Londoner hotel Food and drink
Breakfast at Whitcomb's

This is served in Whitcomb's which is their French Mediterranean fine dining restaurant with a terrace overlooking Leicester Square.
The breakfast menu looked very enticing with plenty of more unusual luxurious choices. It was very hard to choose as I wanted it all!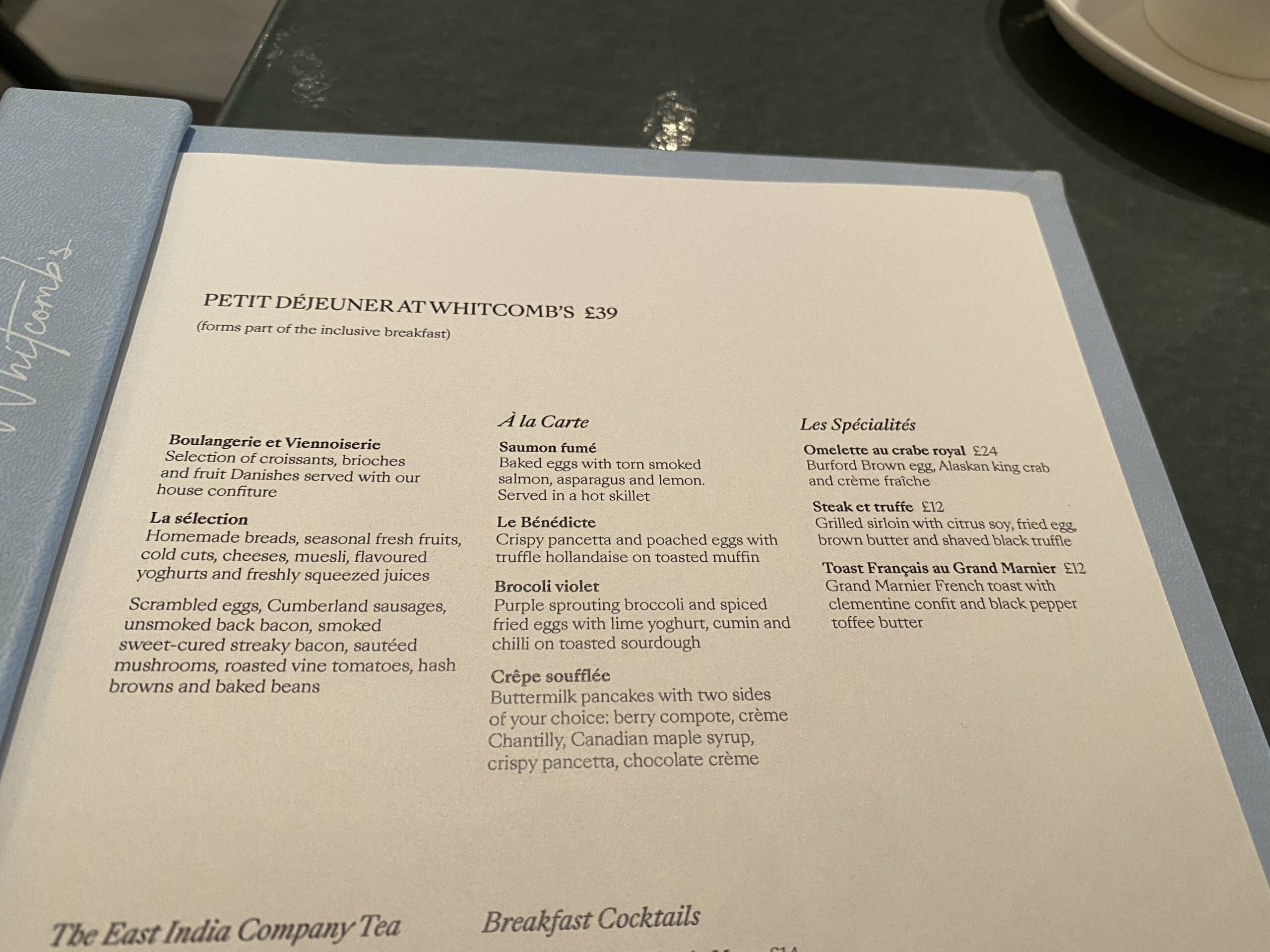 I went for the omelette with Crab which had lots of crab legs on top of the omelette and a dollop of creme fraiche for richness. The omelette could have been a little less firm for me but other than that it was delicious.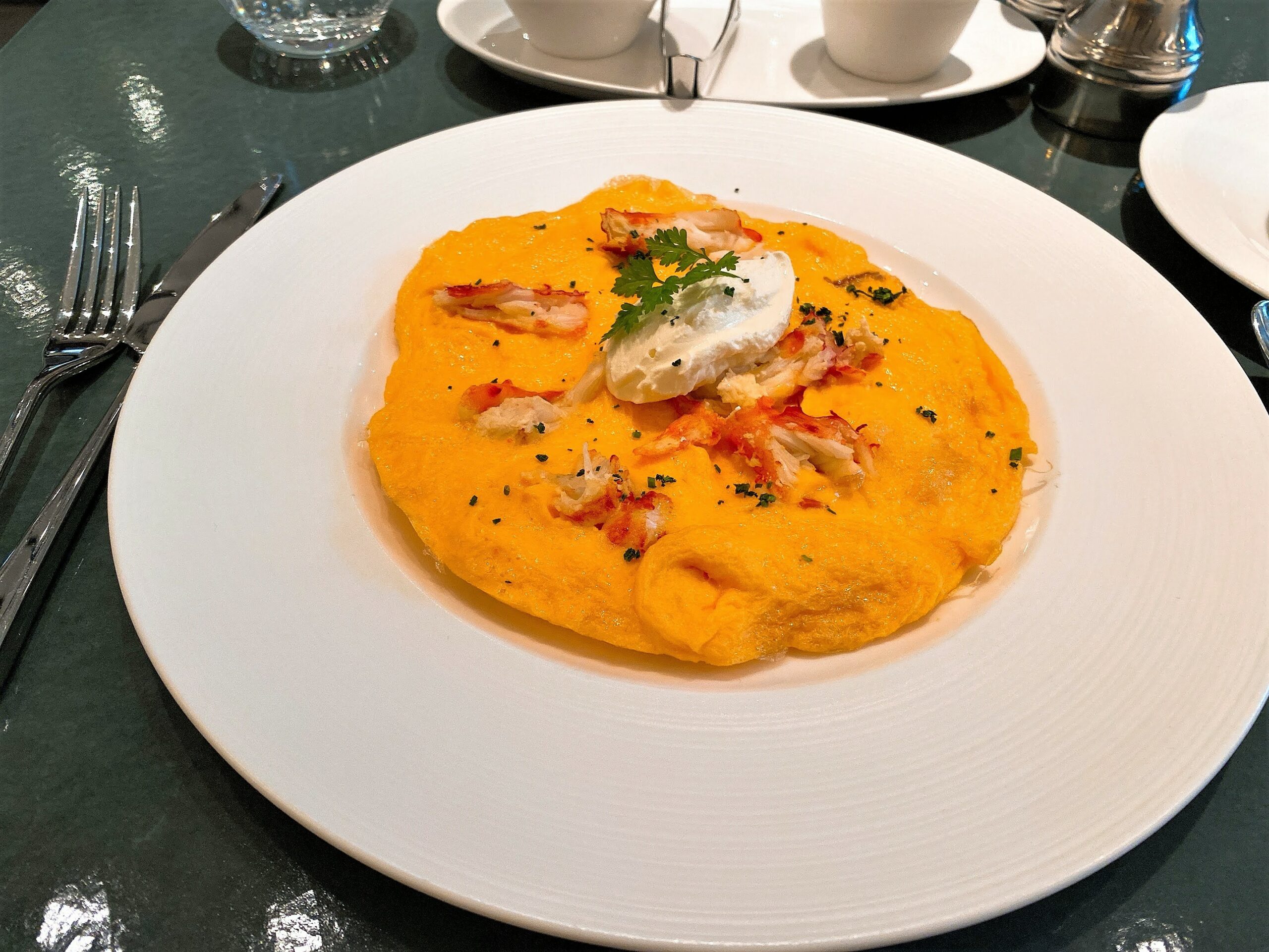 This is one of the few dishes you have to pay for, everything else is included if you have breakfast in your rate. There is a hot and cold buffet or several a la carte dishes you
can have. The buffet looked good and there were several stations around the room so you didn't have to walk too far for the basics.
8 at The Londoner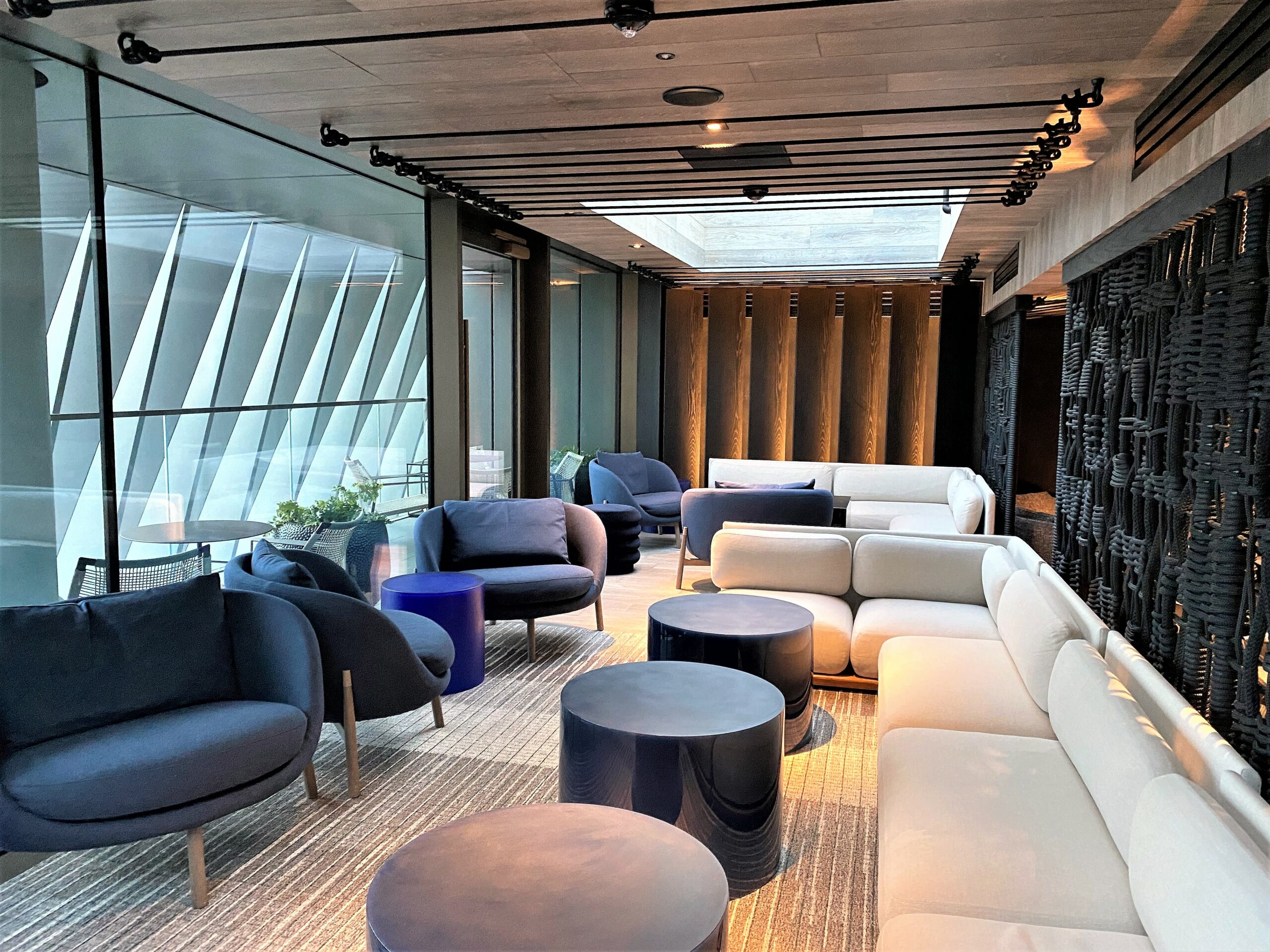 The rooftop space is stunning with several outdoor areas as well as the main bar.
This was my stand-out of the venues. It's a Japanese restaurant and bar with some very unique Asian cocktails.
I had the Jasmine & Yuzu Margarita with Patrón Añejo tequila, Darjeeling & jasmine, lime, Cointreau Noir, yuzu kosho & timur pepper syrup which it was worth coming for, just for that.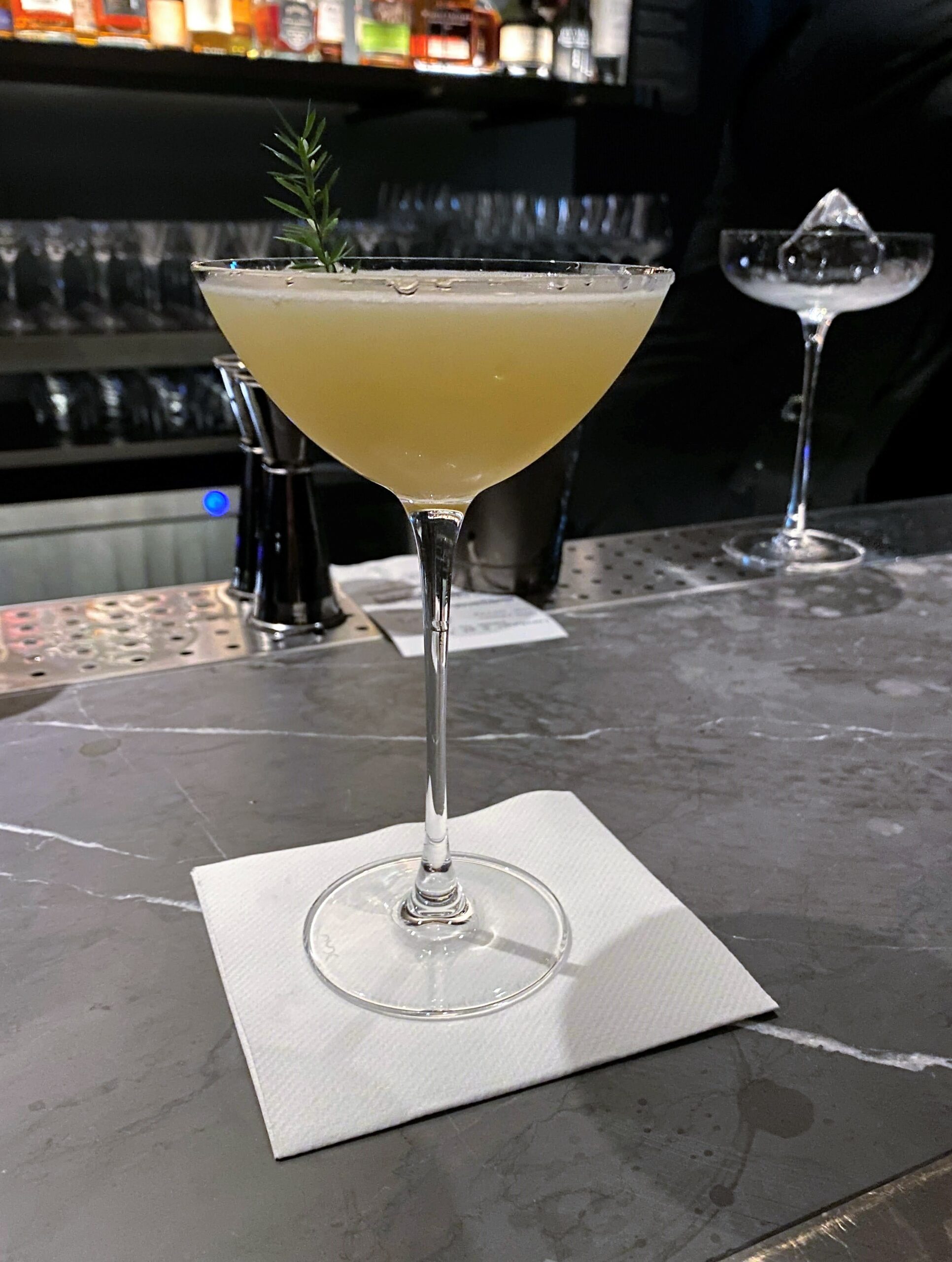 The bartenders were very skillful and also super friendly as I spent some time chatting to my server. He talked me into the Matcha cocktail.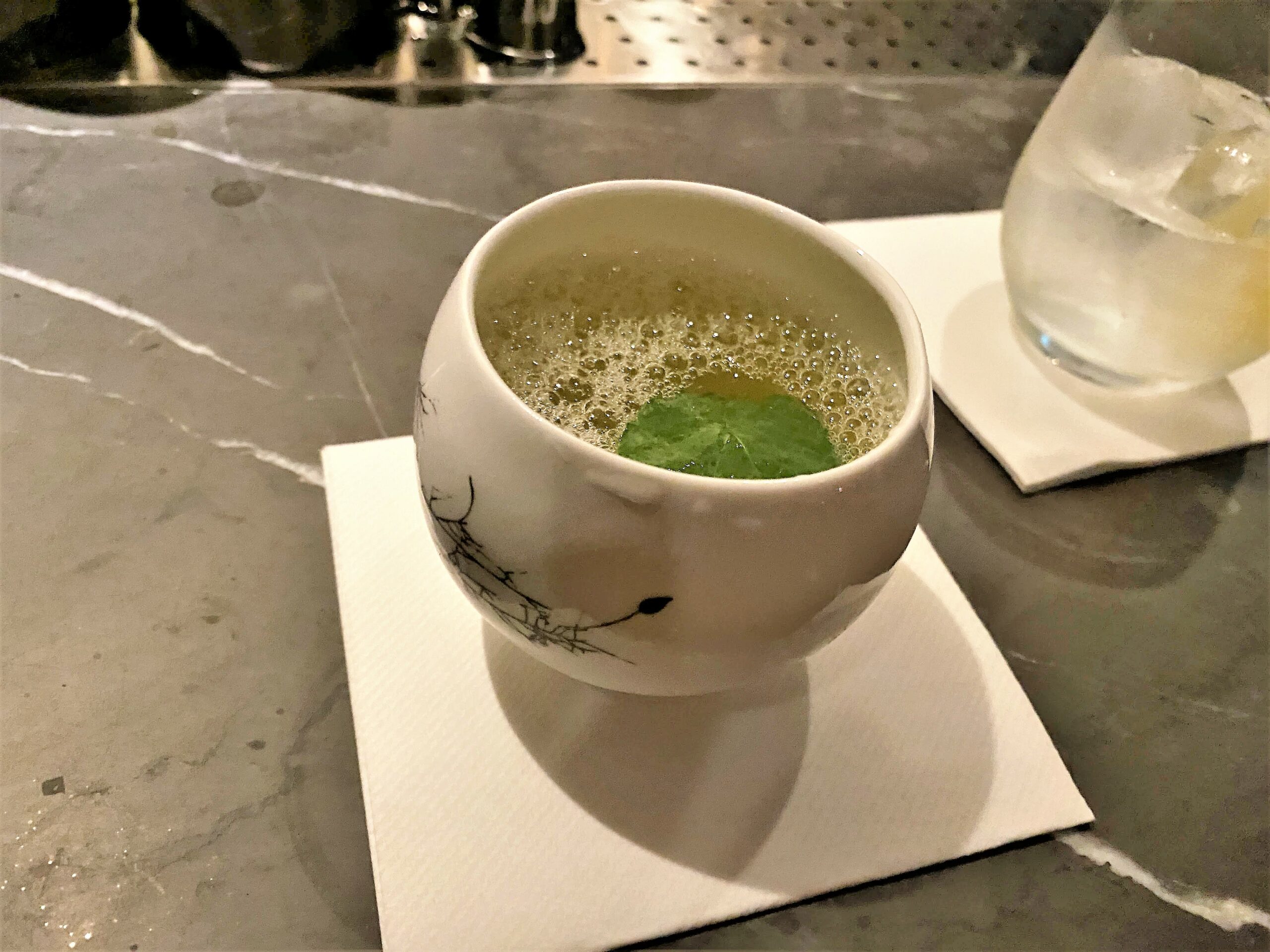 Matcha
Haku vodka and shochu blend, matcha, Martini Ambrato, black and white chocolate wash
I don't mind Matcha when it's subtle and this was actually just the right amount, especially with the chocolate. It reminded me of one of my favourite things to bring back from Asia – a green tea kit kat! I also loved the presentation.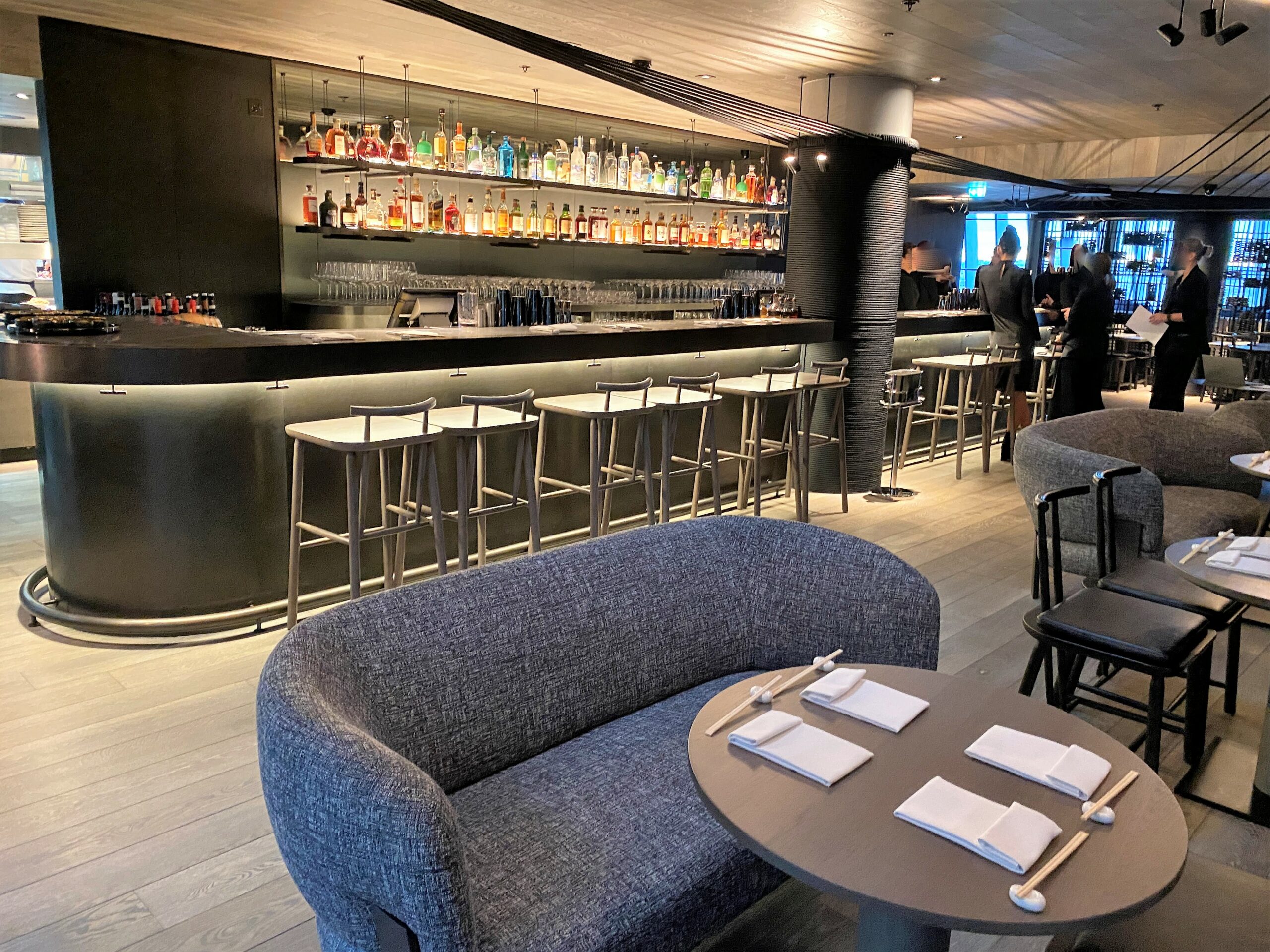 The Stage

This is their lobby bar which specialises in Champagne and starts with a champagne breakfast every morning (I may have to pop in for that!). It then follows on to afternoon tea or champagne, drinks and nibbles. They also have live music here and at Joshua's Tavern most nights.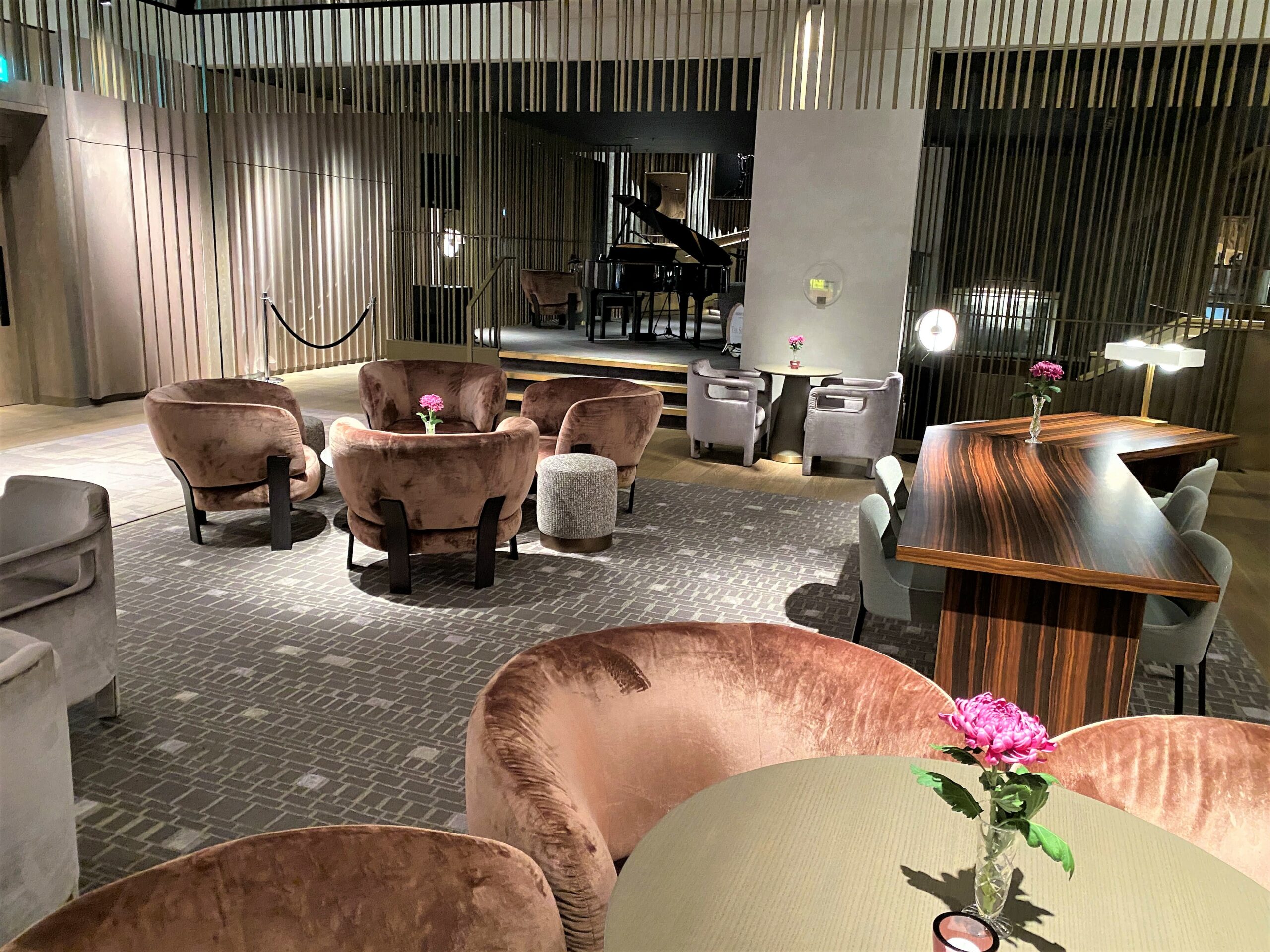 Joshua's Tavern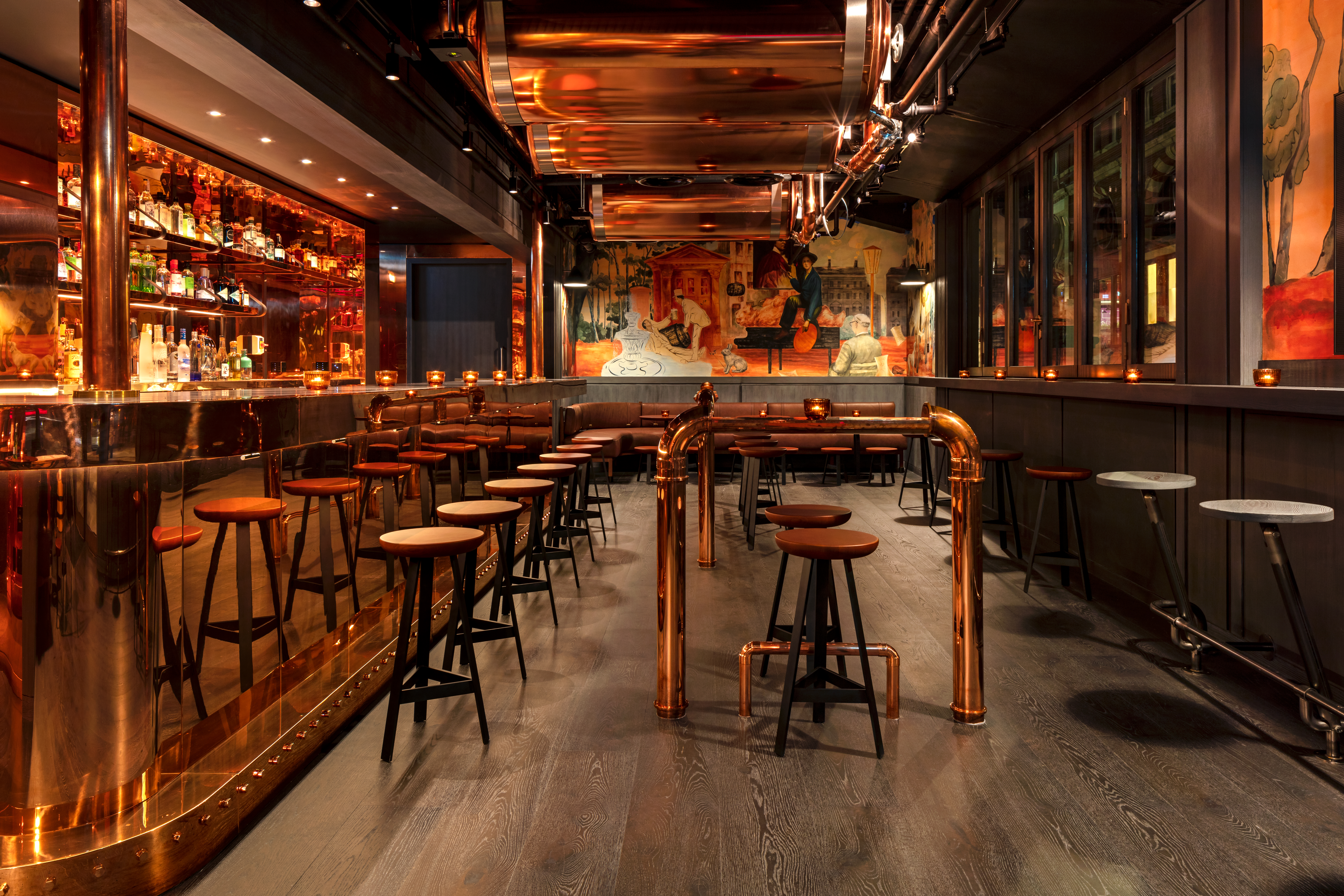 This take on a traditional tavern was inspired by Joshua Reynolds, 18th-century artist and former Leicester Square resident. Joshua's Tavern serves an eclectic selection of gin and Gintonicas, draught beer, and smaller bites. Live music comes in the form of unplugged performances.
The Londoner hotel Facilities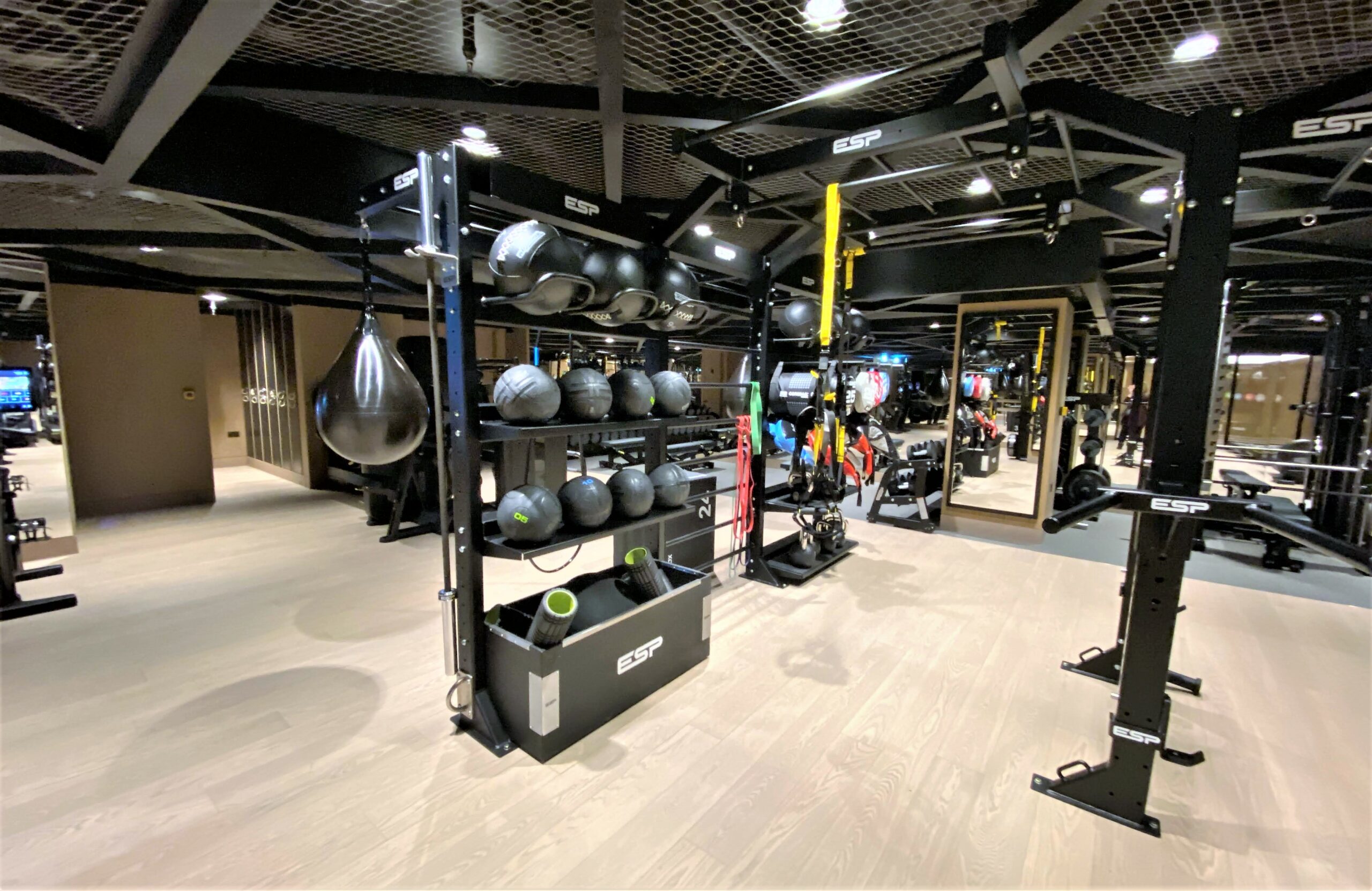 There is a huge, very well-equipped gym that has a traditional feel in places. The hotel can provide personal training and there's a studio for classes and a central courtyard for outdoor yoga.
The Retreat – pool and spa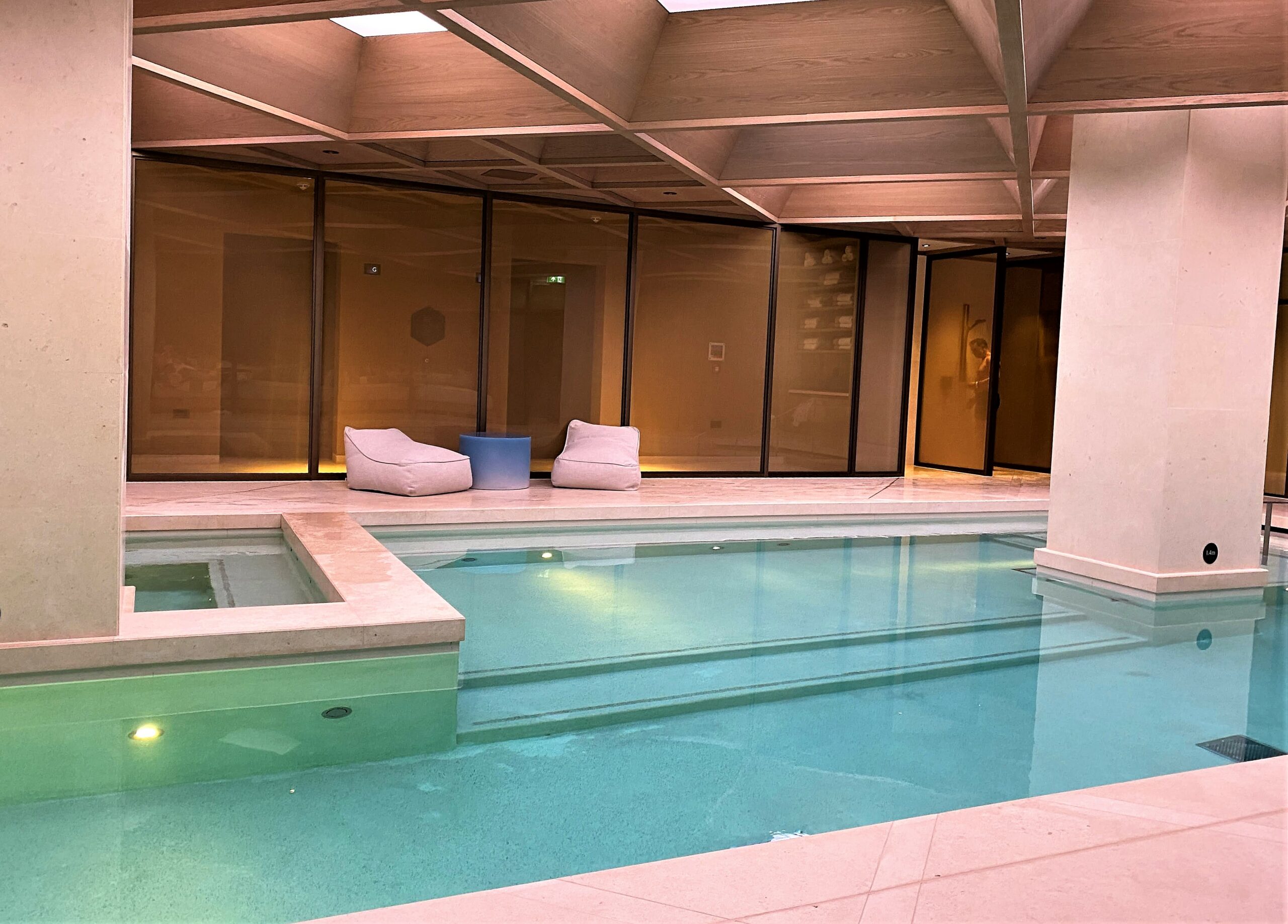 This is the spa area and consists of a healthy options cafe called Refuel, a pool and whirlpool plus sauna and steam room. Water was offered around regularly and you can have poolside foot massages on your daybed/cabana. As I said earlier, it does feel like a resort, not a city centre hotel!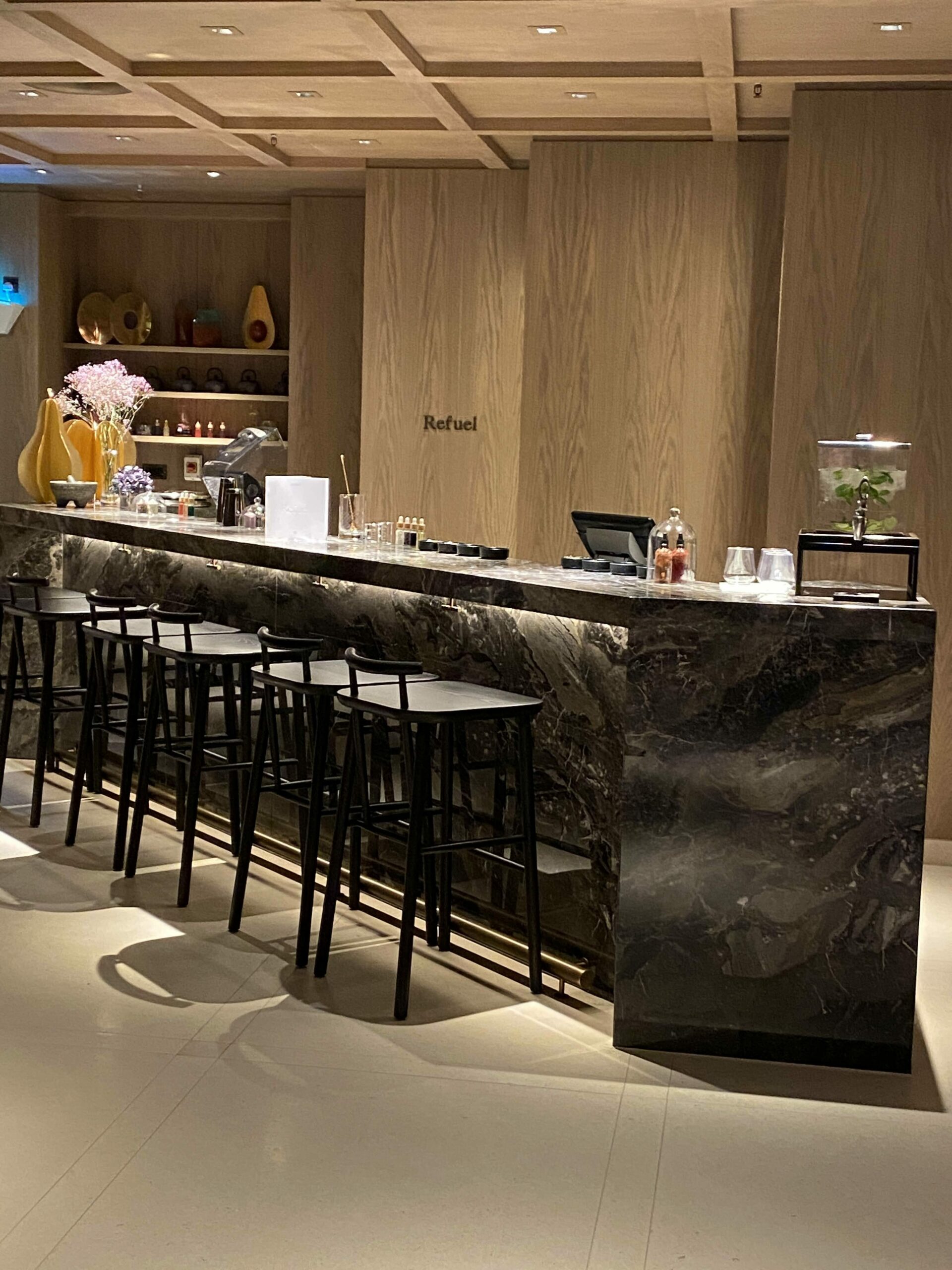 I absolutely loved the pool area and although it was underground, the way the faux skylights were done made you feel like you had natural daylight.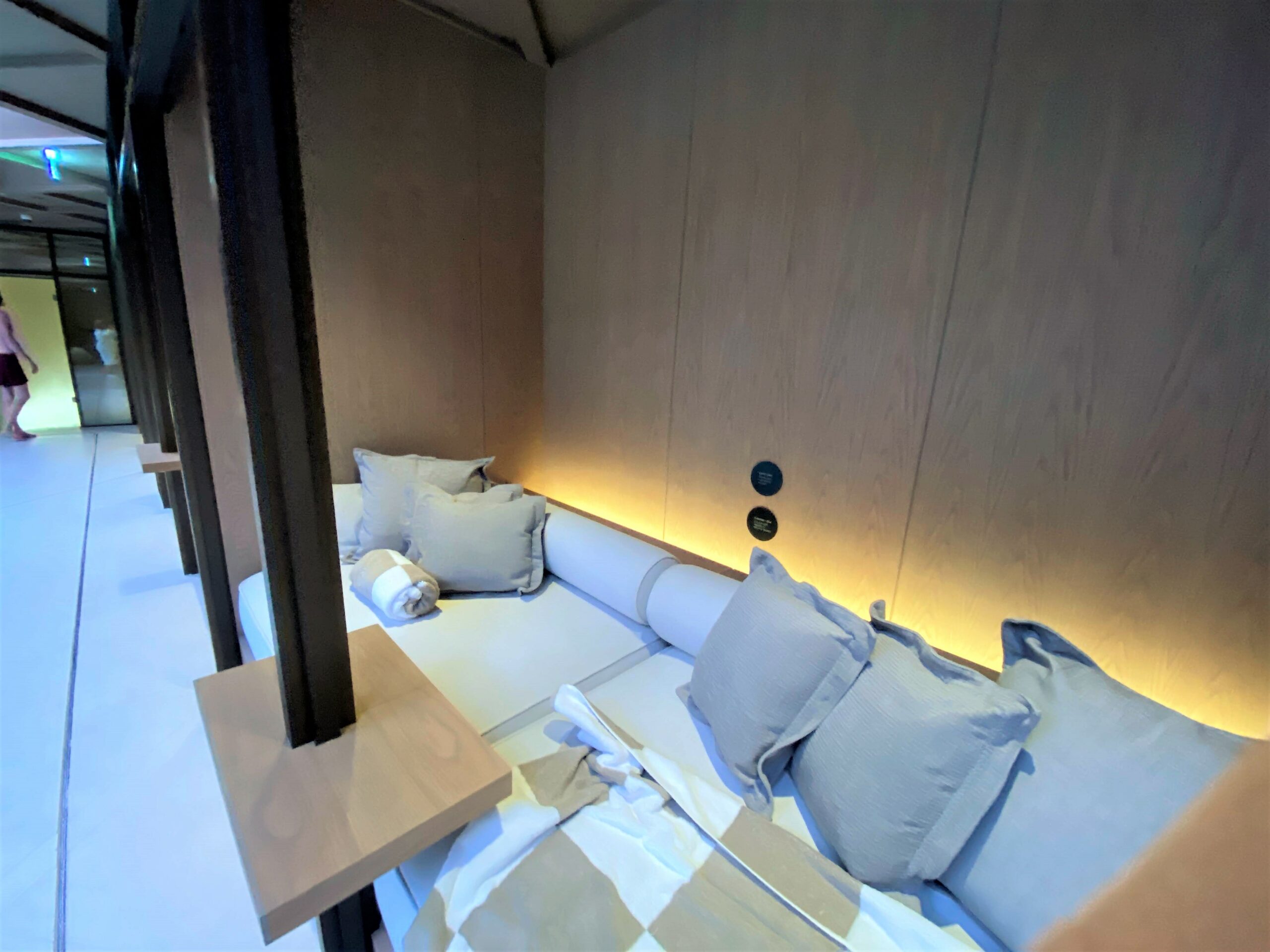 As well as the traditional spa massages and facials there is also The Retreat's barbershop and hair & nail salon for getting glammed up for a night out or some pampering.
Conclusion for The Londoner hotel
The Londoner Hotel is a stunning hotel with lots of attention to detail and luxurious touches. Service was universally great during my stay with friendly knowledgeable staff even though it had only been open about 6 weeks at this point.
It's not cheap but you do get a lot for your money with the free lounge access and lots of goodies in the rooms – even in an entry level King room. I would definitely go back just for the Stage and 8 at the Londoner even if I didn't get to stay again.
You can check prices and find out more about the Londoner here.
Like our The Londoner hotel review? You can other interesting hotel reviews here.