If you have been following the TLFL team tier point run from Bucharest to Phoenix you may have been tempted by the cheap business class fare which is still around. Planned correctly, if you do a hardcore run like Paul, you could get 1040 tier points not including any positioning flights. However, this does mean routeing a rather ambitious London-Bucharest-London-Helsinki-London-New York- Los Angeles- Phoenix and then back, so it's not for the faint-hearted.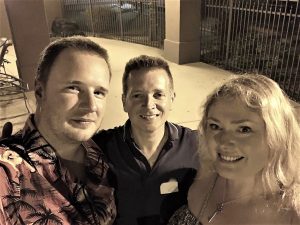 Even if you are not into tier point runs, Scottsdale is one of my favourite winter sun destinations. It's a sophisticated desert resort with upmarket shops, restaurants and art galleries with a scenic red mountain and cacti backdrop. You can read my Scottsdale and Phoenix tier point break guide here.
The Phoenician has been undergoing a very significant renovation of not only the rooms, but also the whole hotel including a new spa and athletic club. At the time I visited two of the restaurants were still being renovated but due to open in the autumn.
The best time to visit is generally late October to February and then April. March is best avoided due to the very high hotel prices as many American come here to watch the baseball Spring training games. If you can stand the heat, the summer offers some incredible bargains but it will be at least 36°c over the summer months and even at night it often doesn't dip below 26°c.
Location
The Phoenician is a 15-20 minute drive from the airport in an Uber which costs around £20 for Uber X or £26 for Uber select. They are easy to get from the airport. It has a handy location only about 5 minutes drive from the centre of Scottsdale where there is a large upscale mall, Old Town and plenty of restaurants with outdoor dining.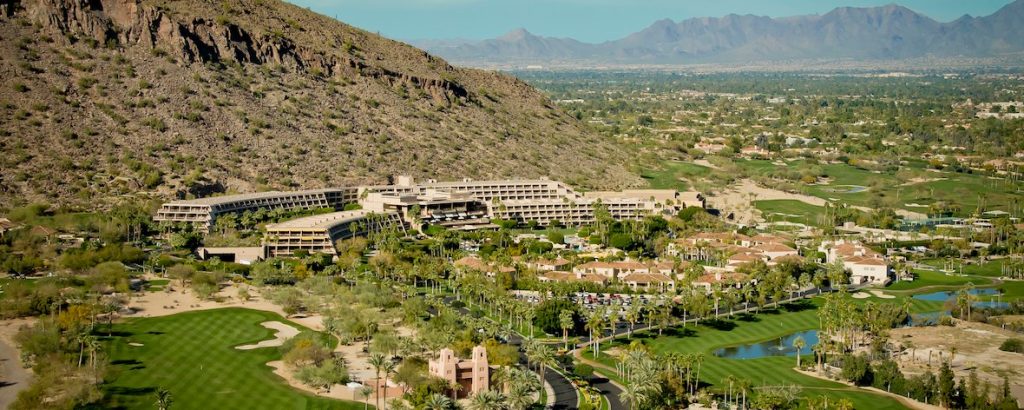 Check-in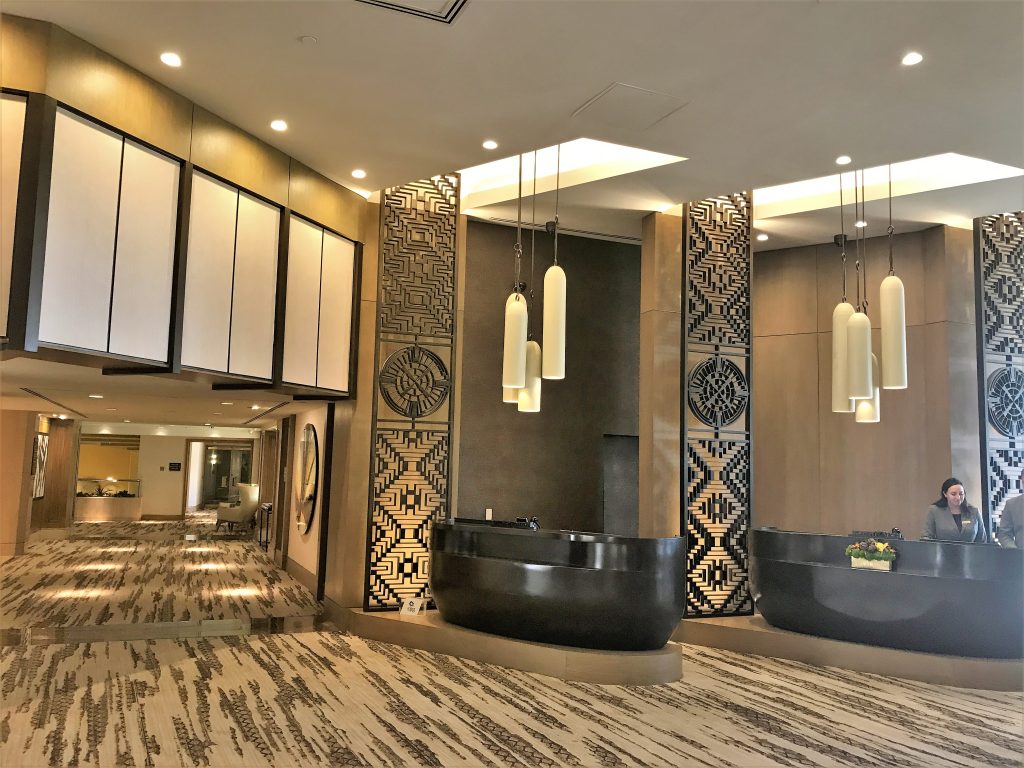 The check-in area felt modern but luxurious as you enter facing the bar and terrace with its panoramic views of the mountains and landscape. The check-in desks were individual stand-alone ones rather than one long desk which was an unusual touch. The person checking me in was very professional and friendly and I was immediately offered a bottle of water. I had already pre-arranged a specific room with the hotel as I was keen to stay in a quiet location. As I knew it was in a separate building I got the porter to bring my luggage. I asked for them to be as quick as possible as I was meeting TLFL's Claudio for some drinks and dinner and sure enough, the bags arrived only a few moments after I did in the room.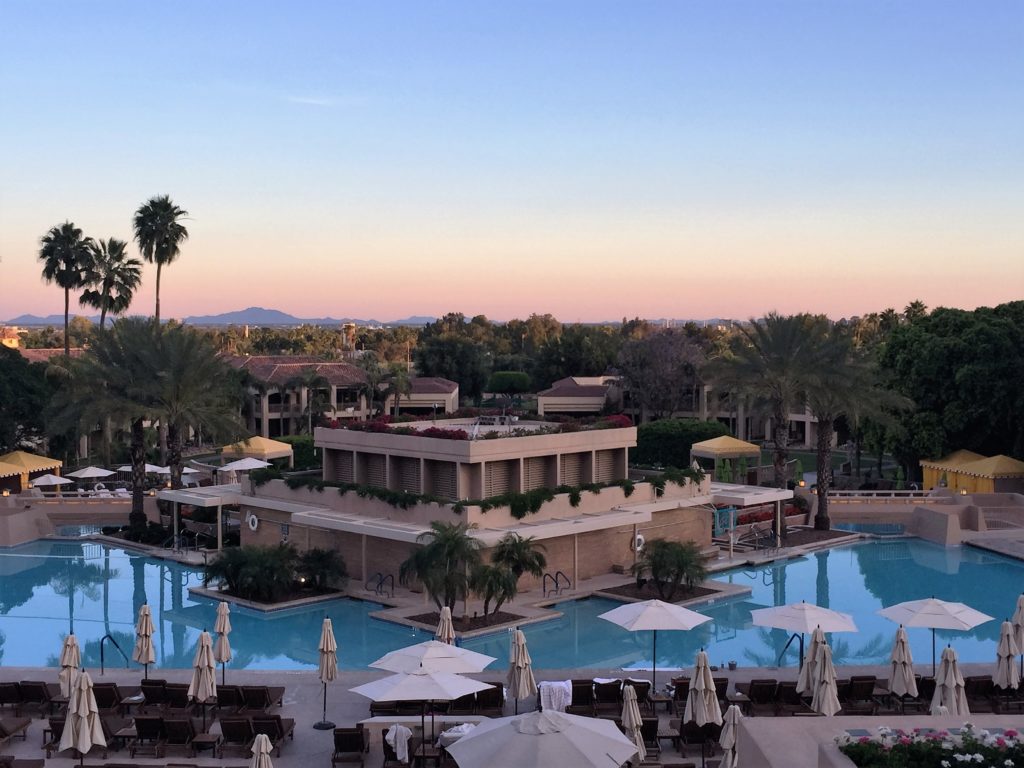 Room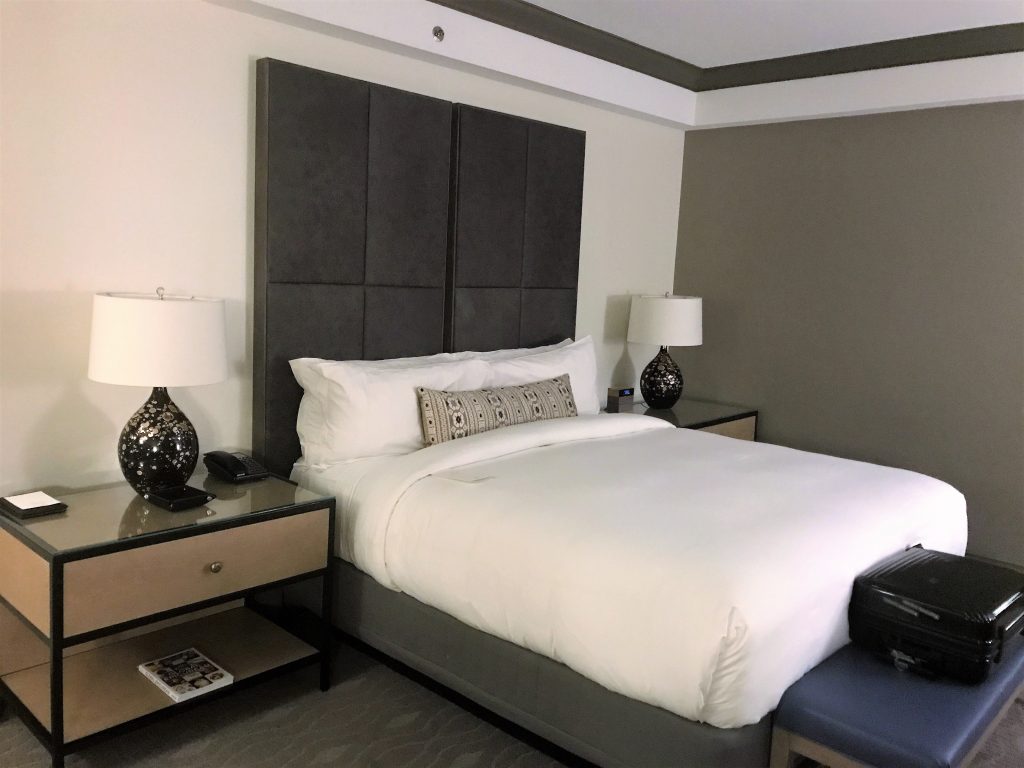 I had a grand deluxe room which I knew was quite a walk from reception. The hotel is set out in 2 main parts – the main building overlooking the pools and golf course and then a second wing which overlooks the cactus garden.
Post from RICOH THETA. – Spherical Image – RICOH THETA
My first impression of it was that it was one of the largest hotel rooms I had stayed in which wasn't classed as a suite and in fact, in most places, this would be a junior suite. As you walked there were 2 wardrobes, a vanity desk with stool and magnifying mirror and then the bathroom. Next came the bed with a huge flatscreen TV on a large bank of cupboards and drawers then finally a living area with both seats and a decent size table. Outside was an enormous terrace with sofa, chairs and a table and chairs. The terrace had good views of part of the golf course with the mountains and palm trees in the distance.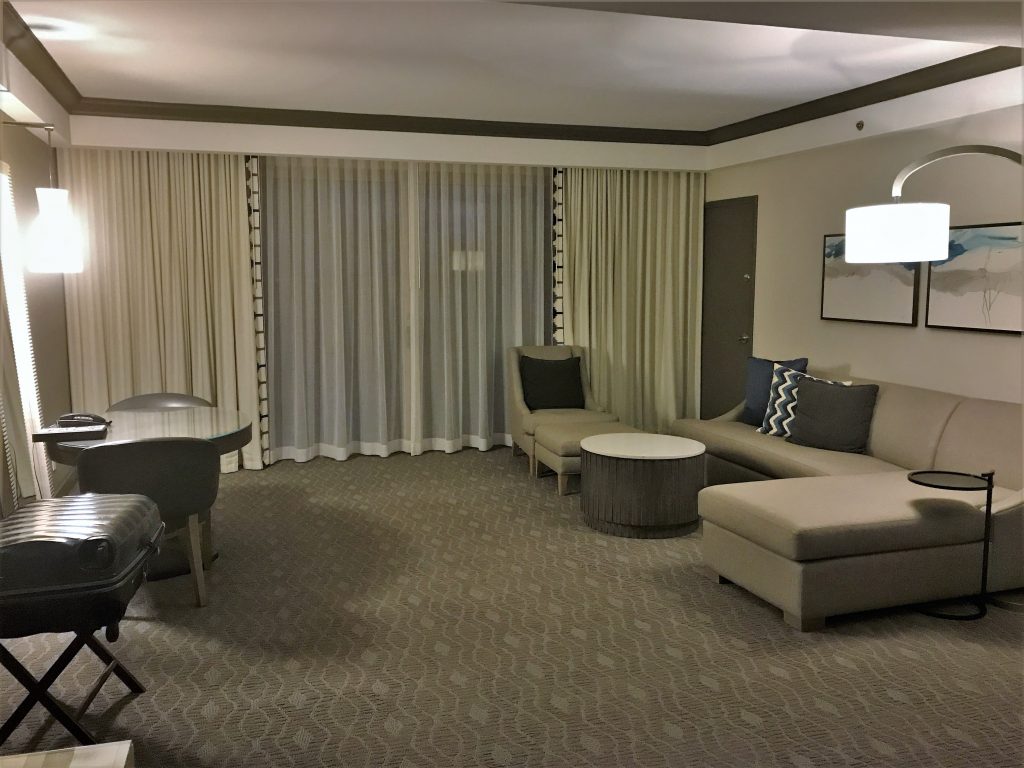 Bottled water was supplied on a twice-daily basis with 4 bottles a day. This was very welcome in the heat! The bed was large and very comfortable with lovely fluffy pillows and soft, high-quality linens. The air conditioning did not seem as if it had been upgraded as it was one of the loud old-fashioned types that was very noisy, although it was effective despite the extreme heat. Initially, it was making a loud clunking noise every time it switched off but, after a chat with reception, by the time I returned to the room later, it had been fixed.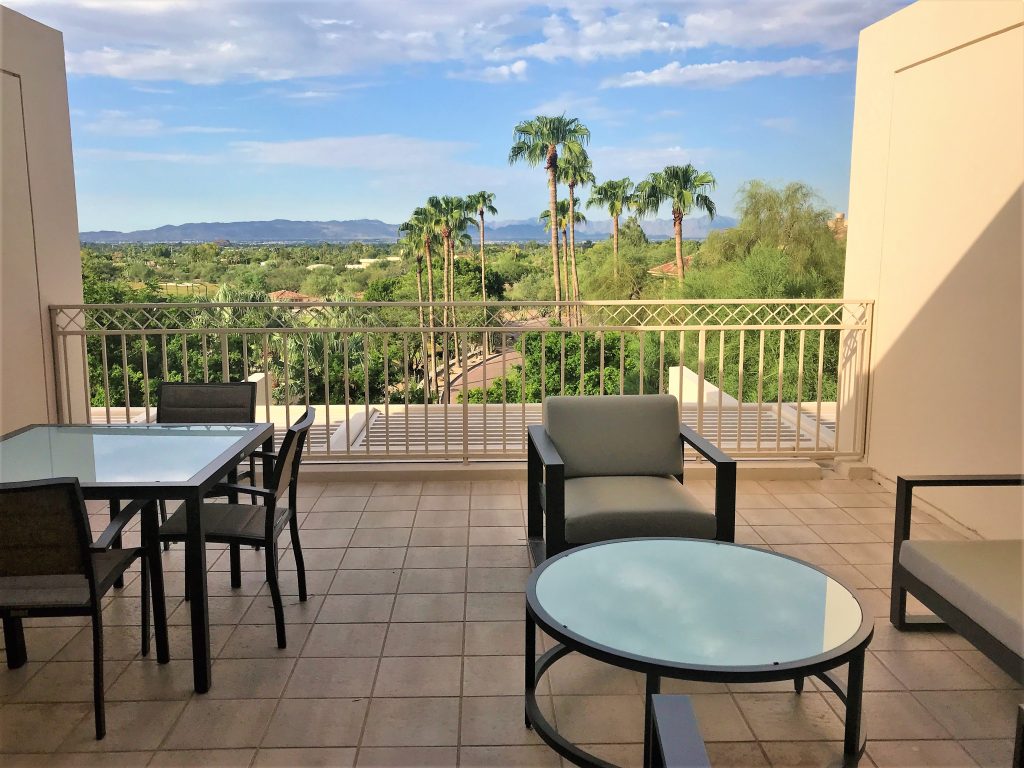 The position of the TV was irritating as it appeared to be fixed to the wall meaning you couldn't really see it from the living area which I thought was a bit of an oversight. Turn down service was done on 3 out of 4 nights with more water and chocolates too. I found housekeeping good when they came but the first day the room was not done until after 5pm which I thought was poor.
Bathroom
The bathroom had excellent lighting which is very rare in hotels. Normally the overhead lighting does not cast a flattering look on one especially after several long flights and some partying with the Flyertalk guys! However, with the lit surround to the mirror and the magnifying mirror, it was surprisingly a flattering light plus you could actually see what you were doing.
Post from RICOH THETA. – Spherical Image – RICOH THETA
The bath was large but it was extremely shallow so not the most comfortable bath I have been in.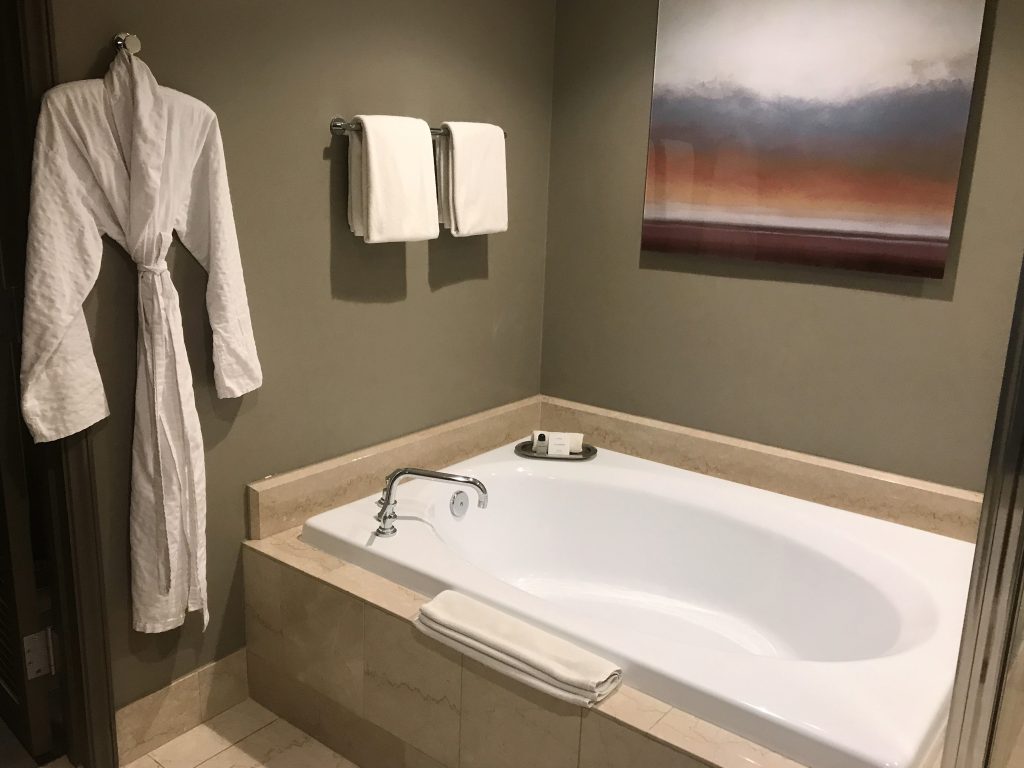 There were plenty of toiletries supplied by high-end brand Byredo. You also got lots of little extras such as their own fantastic lip balm with SPF15 which was essential in the dry heat and a double ended nail file.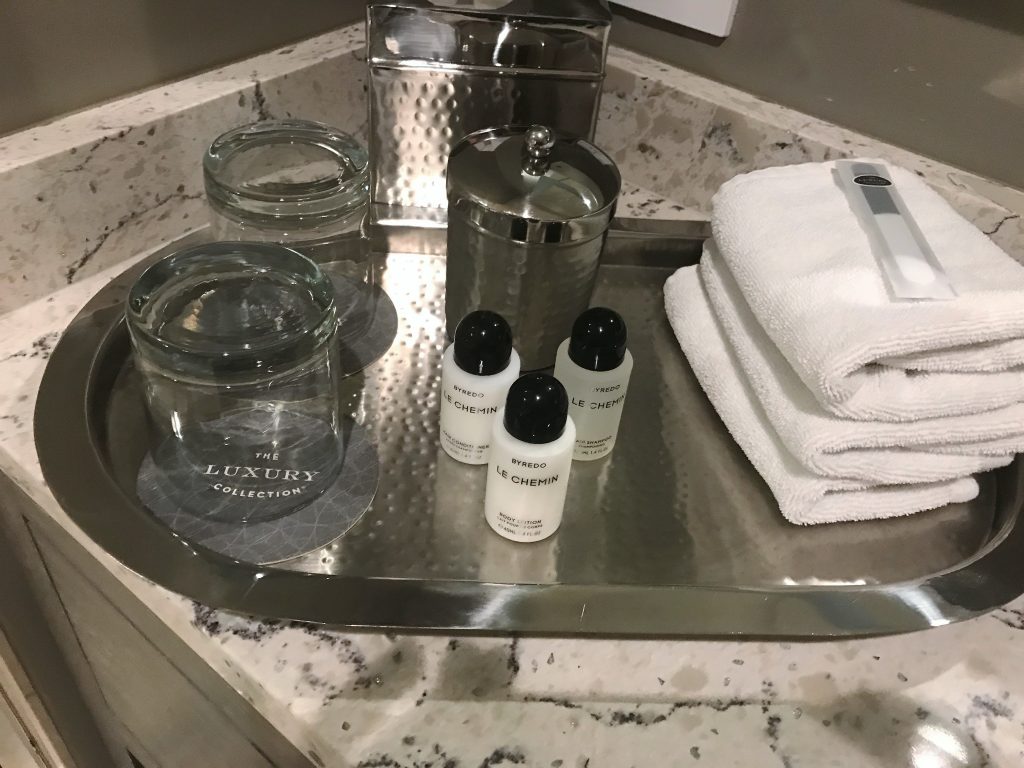 Dining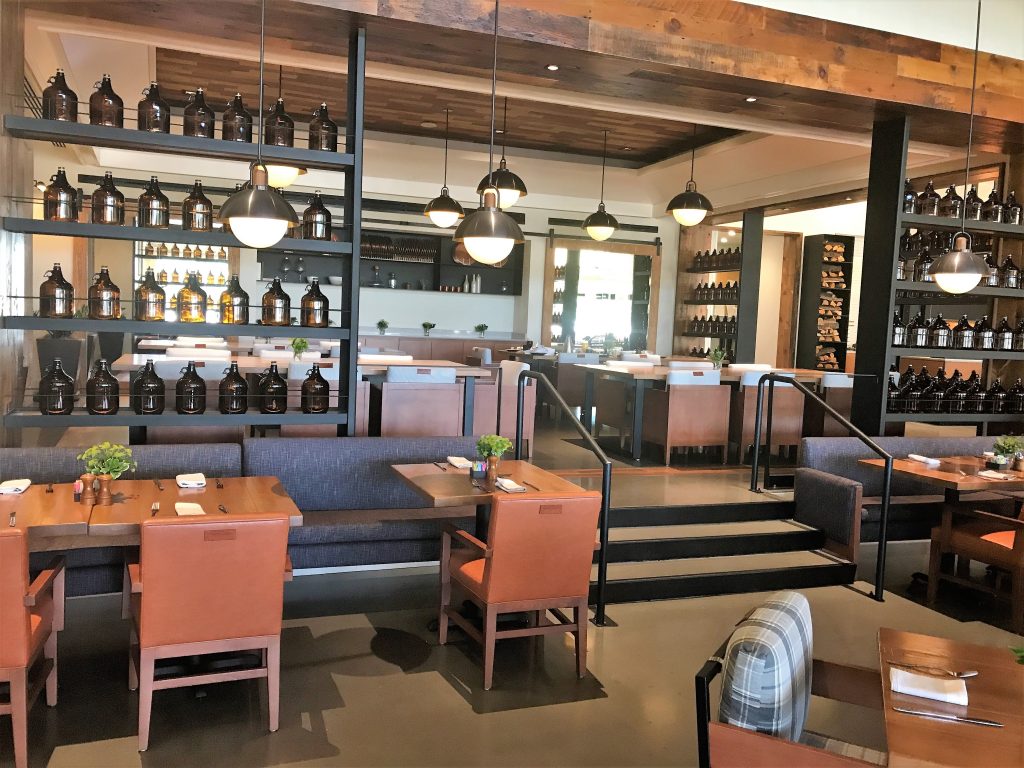 There was only one proper restaurant available when I visited; although I have been to the Relish Burger Bistro before which I have always enjoyed for casual dining on the terrace overlooking the golf course. The Mowry & Cotton is the modern all-day dining concept where I tried breakfast and lunch. The J & G Steakhouse is due to open again in the autumn and previously had a good reputation.
I also ate by the pool a couple of times which I will cover below. The breakfast is only a la carte and I found the server a bit odd as he warned me off one of the dishes saying it wasn't that good – so why was it on the list?
Instead, I went for the Huevos Rancheros one of my favourite American staples. It was a bit disappointing. It came with tiny little soft tacos and seemed to be nearly all beans and fried egg whereas usually, you get quite a few different things in it. The tiny size of the tacos made it tricky to eat. It was a pretty average dish and the service was quite slow too.
Dinner was better and I liked the choice if the things on the menu which range from more casual flatbreads to fancier dishes such as seared tuna. There was also a vegetable section which you could have as a starter, side or main course depending on your preference. I had the Charred Brussel sprouts with soy and chicory kimchee which they were absolutely delicious, lightly charred with some crispy accompaniments and well seasoned with a great umami flavour. Next came the seared tuna with pomegranate, avocado and crunchy shallot. This looked beautiful and also tasted good, packing quite a punch with some chilli. However, I felt that the portion was a little small and it could have done with some accompaniments.
There is also a small cafe that does a few bits of food such as sandwiches and cakes to eat in or take away as well as a bottle of wine if you didn't want to pay the room service prices.
One of my favourite ways to start an evening at The Phoenician is with drinks on the terrace of the Thirsty Camel lounge watching the sunset. Claudio and I spent a lovely evening watching the storms around the valley with some cocktails and food.
Facilities
Pools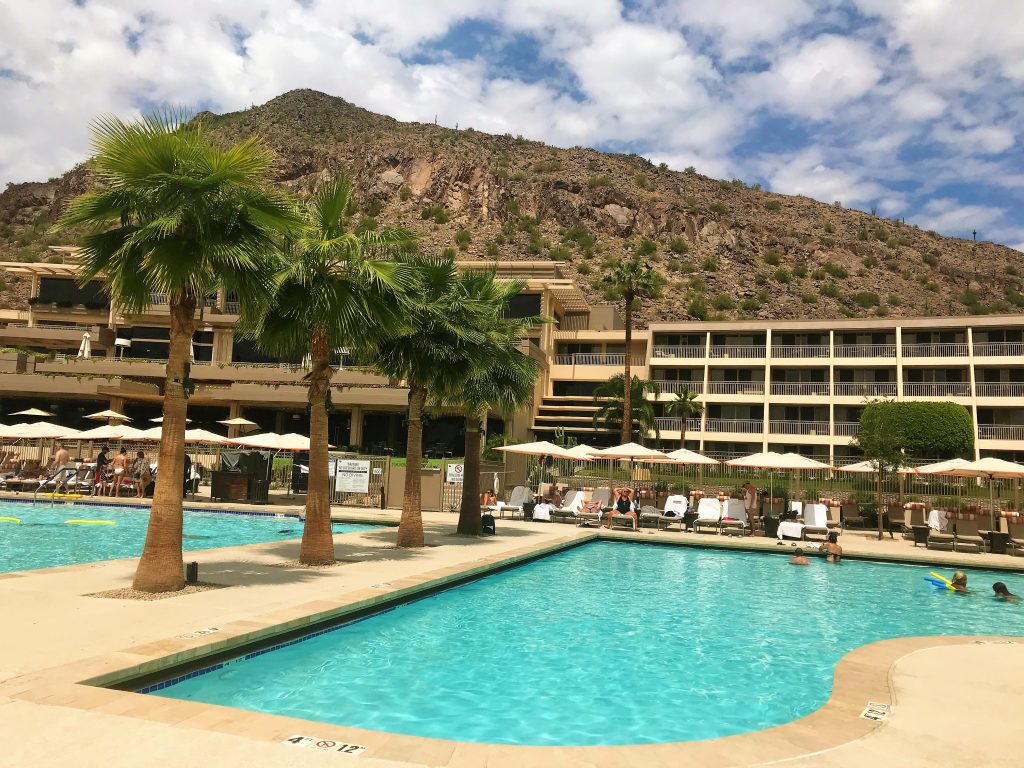 The Phoenician has several pools to choose from including the adults-only pool and a large jacuzzi. For the kids, there is even a water slide. There is also a rooftop pool at the spa if you have an appointment there. Pool service is generally pretty attentive with chairs set up for you and jugs of iced water to keep you cool brought round regularly.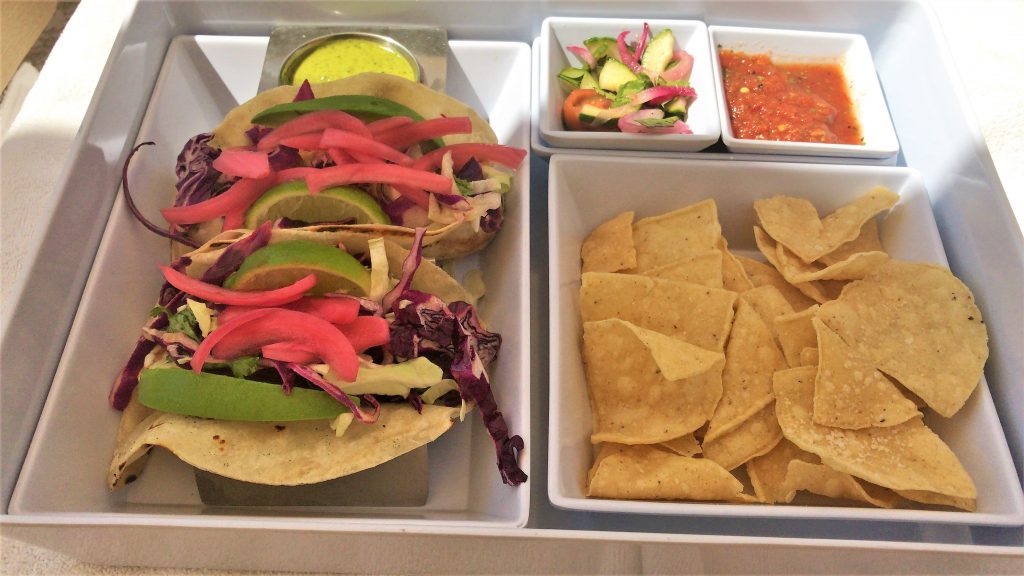 I enjoyed a cocktail or two from the menu by the pool as well as lunch. There was a good choice of bespoke cocktails and healthy or naughty lunches.
Golf Course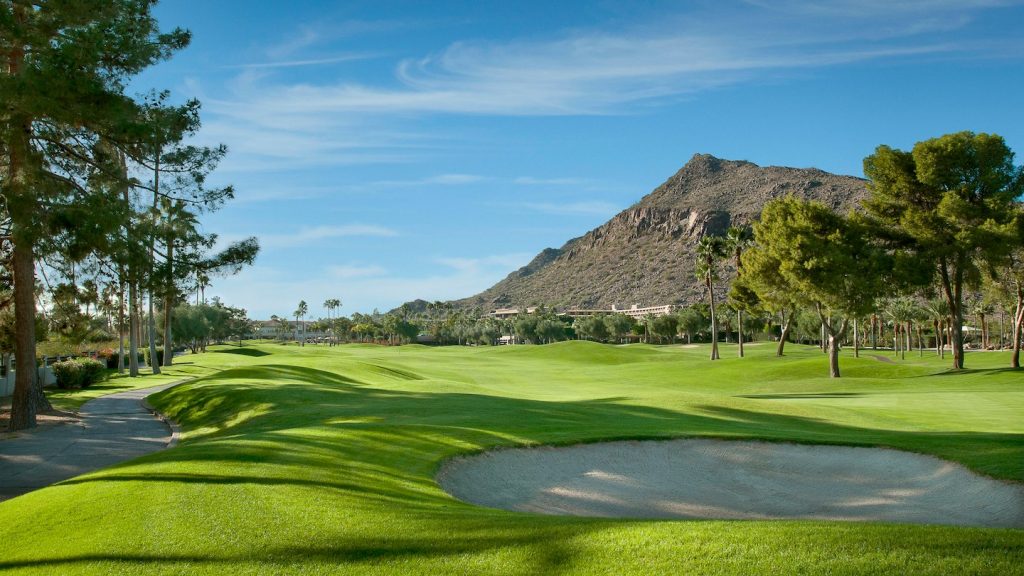 The Phoenician golf course is currently under renovation and is due to reopen early November 2018. The golf course will be transformed from 27 to 18 holes under the direction of renowned architect Phil Smith. With a resume that includes years spent working with PGA legends Jack Nicklaus and Tom Weiskopf, Smith has executed numerous high-profile renovations.
Fitness
If you want to keep fit there are numerous options at the Phoenician including the Athletic Club, aTennis Centre with seven tennis courts, two pickleball courts and one basketball court. There is also a 2,100-plus square-foot Activity Centre with arcade, TV gaming zone, board games, shuffleboard and movie screening area A 4,600-plus square-foot state-of-the-art Fitness Centre with Matrix workout equipment and a movement studio with "fitness on demand" technology – providing access to hundreds of virtual classes via touchscreen, from yoga to spin with floor-to-ceiling windows, offering dramatic views of Camelback Mountain and the resort.
Conclusion
The refurbished resort is a huge improvement from my previous visit where it was beginning to look very tired. I liked the new modern but luxurious style and particularly enjoyed the refurbished spa. My room was comfortable and well equipped and as usual, I enjoyed the pools and the sunset views from the terraces. I will definitely be returning to the Phoenician again and in fact will be there in March next year with Roving Reporter. It will be interesting to see the resort's new restaurants when I return in March and see the final renovations.
Spa
The spa has been completely renovated so I headed there a few times in the name of research to have some treatments (and hangover recovery after the Flyertalk do, though I am not sure my snoring in the treatment was a welcome addition for the therapist!). The spa has a big range of facilities and treatments with a Nail Lounge, Drybar and luxurious treatments rooms. I tried Drybar for the first time and enjoyed the experience even if I did end up looking like an American prom queen! (fortunately, I managed to rescue it before I appeared in public).
The spa felt very luxurious and in the ladies area it had a vitality pool, steam and sauna along with the usual changing room facilities. There are also two relaxation areas – a quiet one with beds and the main lounge which has snacks, tea and water whilst you wait for your therapist. Spa facilities are available when you book a 50-minute treatment or more or you can pay to use them.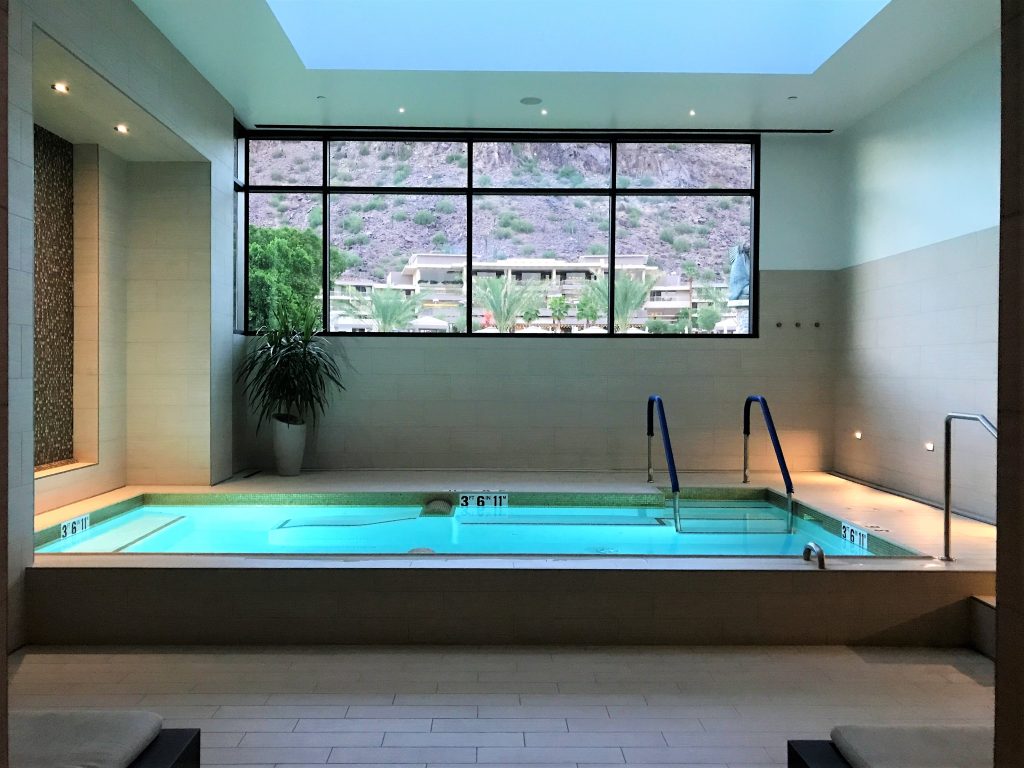 The treatments I had were pretty pricey as they usually are in the US at 5* hotels but they were extremely good. The treatment tables were amazingly comfortable, they almost felt like memory foam as you almost sank slightly into them and they were fully adjustable to maximum comfort. There was also a menu of add-on 25-minute treatments which I like rather than just having a longer massage as it gives some variety. I tried the salt stone massage, an Artisan massage with add-ons of a scalp massage and reflexology.
Kids Club
The Funicians Club is a daily, supervised program designed for children between the ages of 5 and 12. Each day features numerous
outdoor activities and indigenous arts and crafts. The Night Owls program also offered daily, allows parents to enjoy an evening
out while the kids have their own special time.
Cactus Garden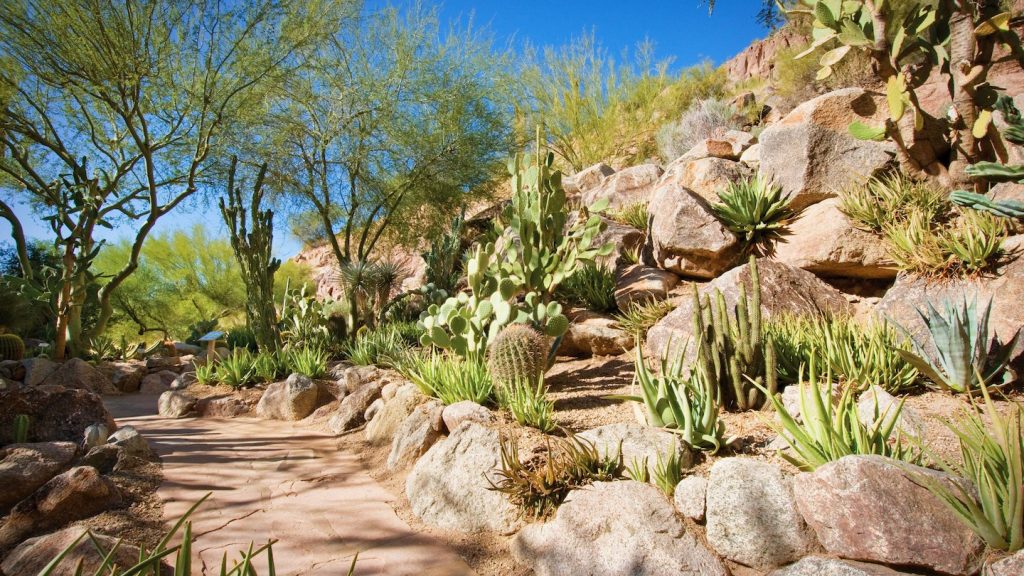 You can have a short stroll around the hotel's cactus gardens with numerous species and some interesting sculptures too.