If you are after some tier points and the chance to try a long haul product on short haul, then the LATAM route between Frankfurt and Madrid is the perfect opportunity. You could then add in an open jaw between London and Frankfurt/Madrid to make up 120 tier points. I would recommend stopping in Madrid for a couple of nights as it is one of my favourite European cities with plenty to do. I paid £167 for my flight.
Check-in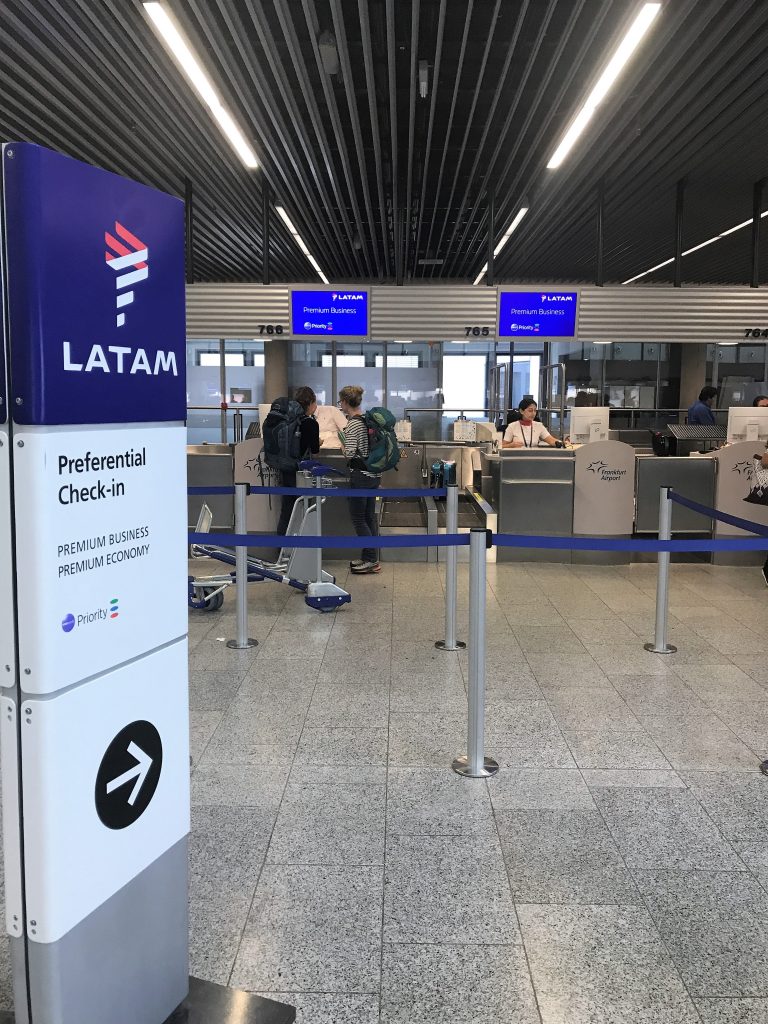 I flew out from London to Frankfurt on BA and then transferred terminals using the inter terminal train. The queue for the LATAM economy desk was huge but fortunately, the business class desk was free. The check in agent was friendly and gave me an invitation to the Air Canada lounge.
The lounge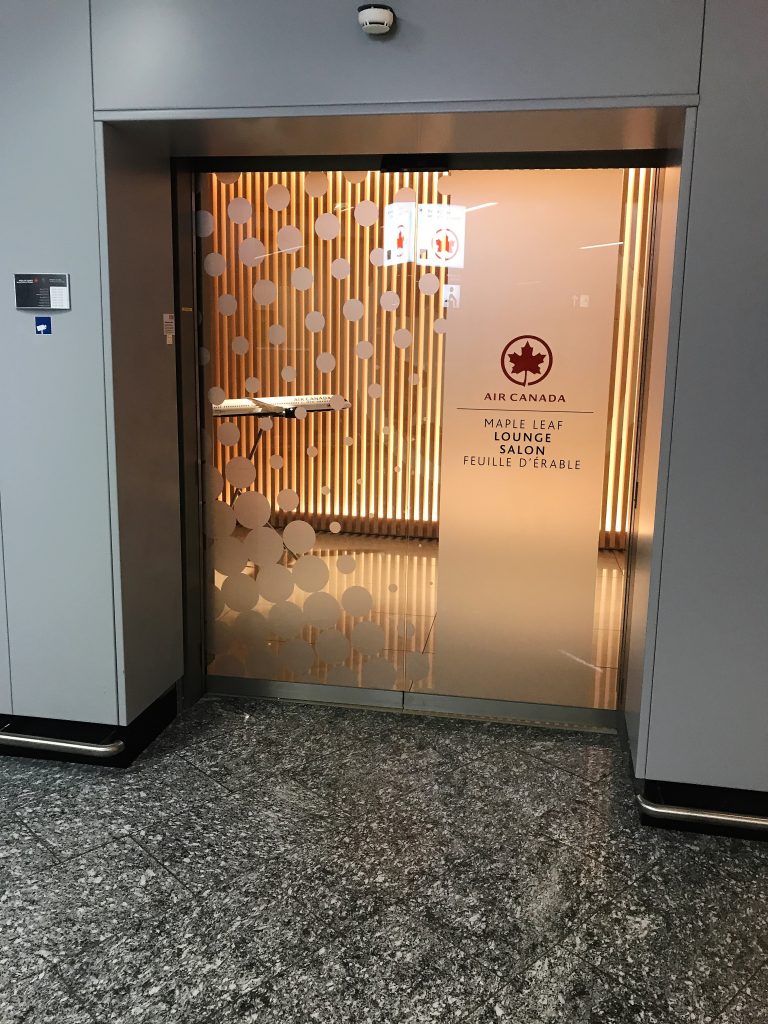 The lounge is not very obvious as it is through the non-Schengen passport control. You basically keep going towards the gate and then will find the Air Canada lounge signposted once you get closer. I was impressed with the lounge. It looked relatively new and modern plus I liked the way it was divided into different areas rather than one massive sprawl.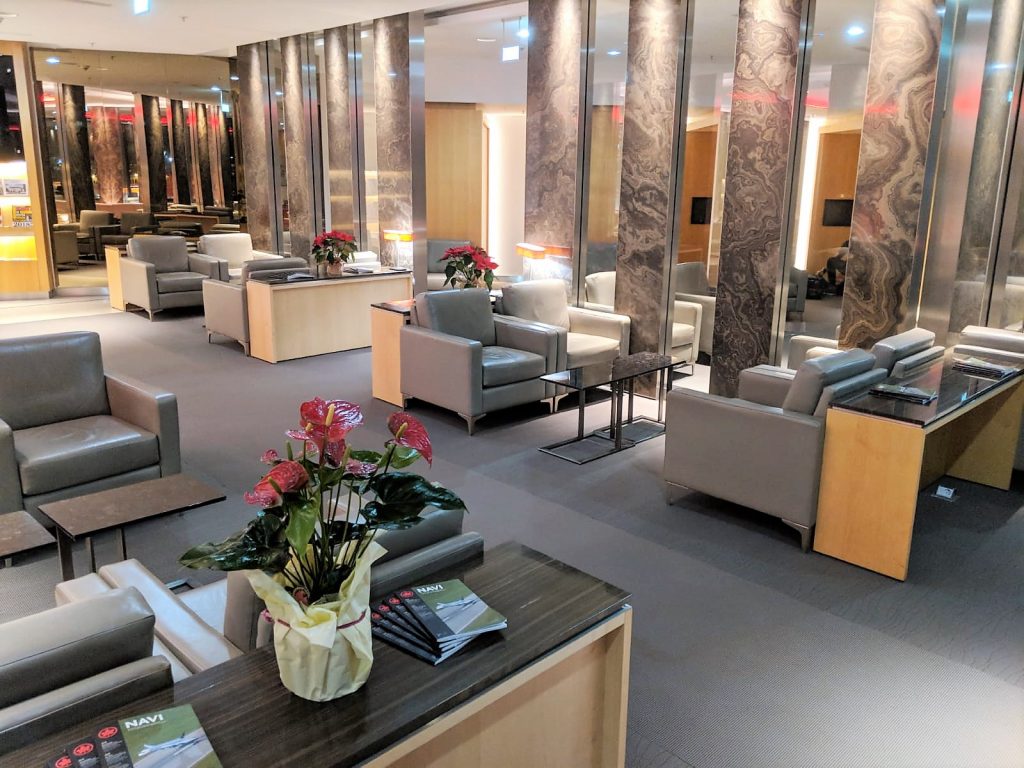 The central focus point of the glass flame sculpture gave it the feeling of a fireplace central to the room.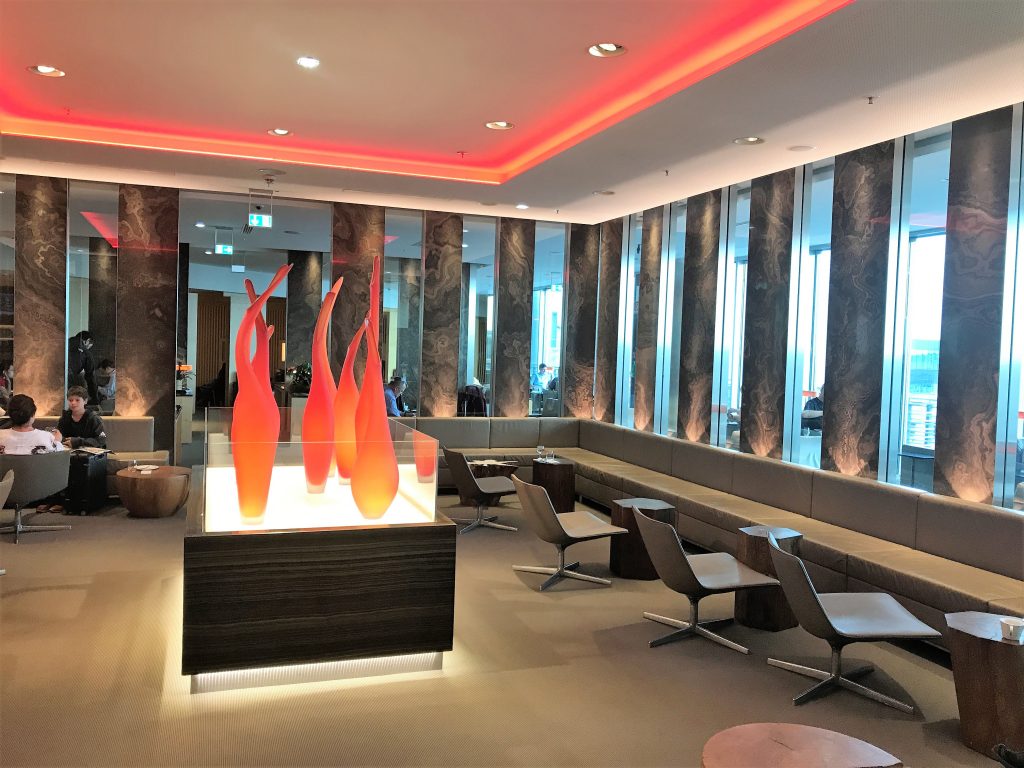 There was no Champagne but there was Saumur sparkling wine and a decent selection of other wines and drinks. Being Germany there were, of course, two draft beers available. For spirits, there was a small range but good quality with Tanqueray Gin, Glenlivet Founders Reserve and Courvoisier VSOP. There was a nice salad bar, some hot options and sandwiches.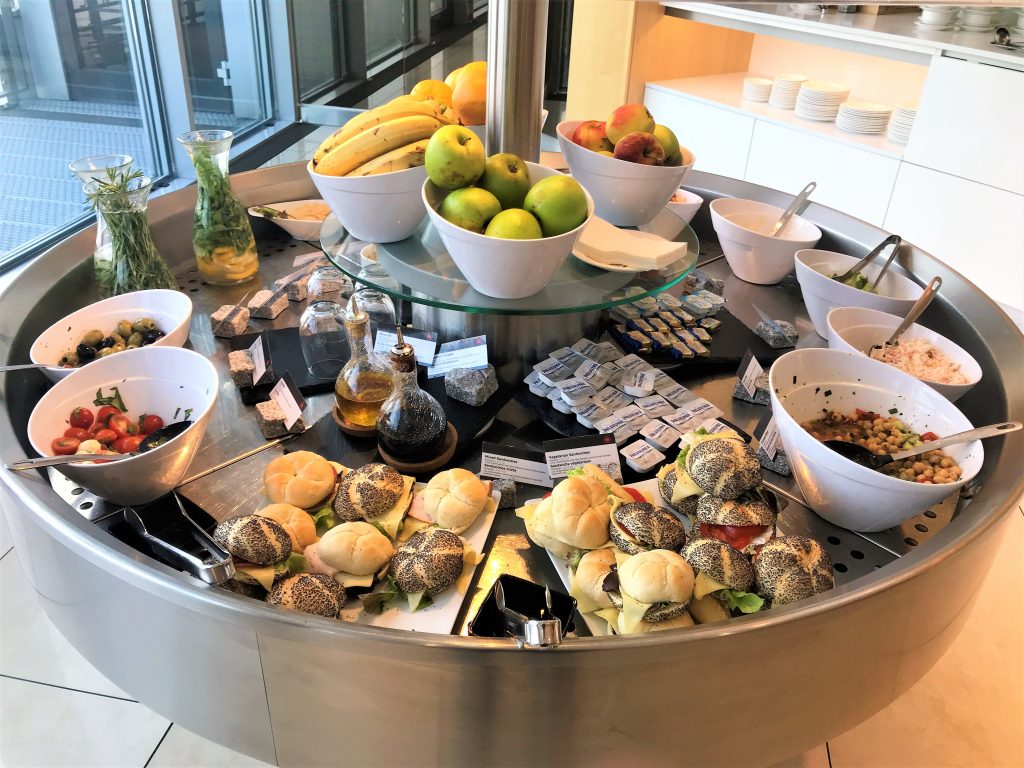 If you wanted to work there were benches with power points although none had a USB port, just Europeans plug sockets. To relax there were individual cubicles with a lounger type chair, a TV and headphones.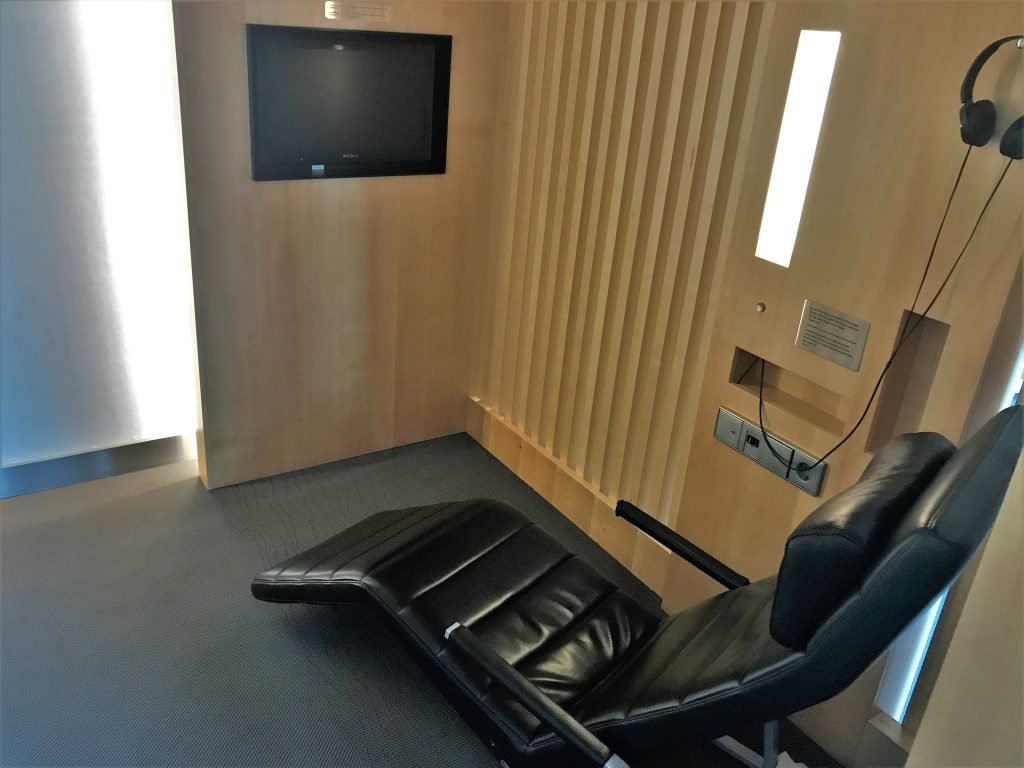 Boarding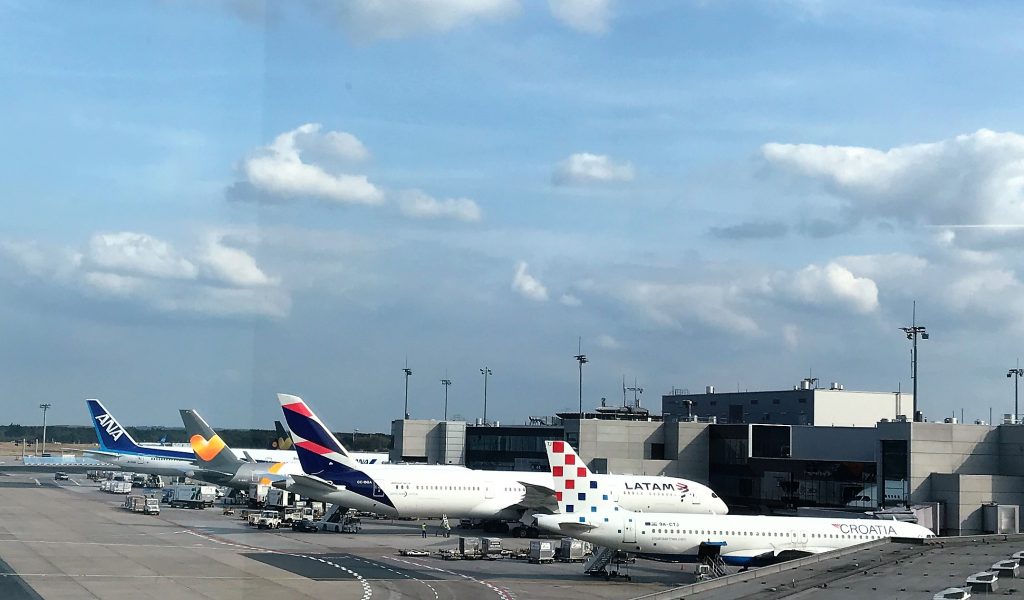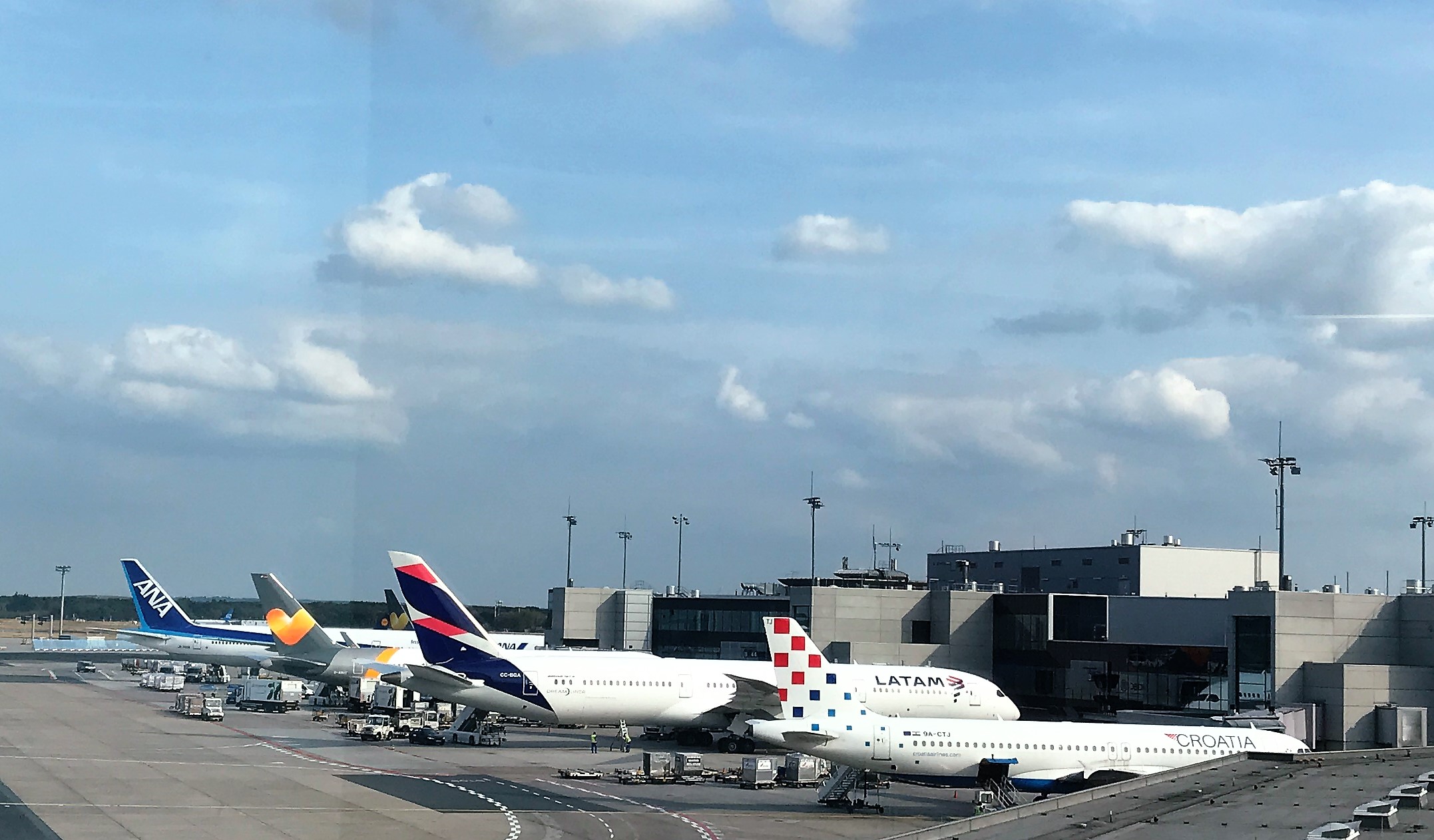 Boarding was a bit of shambles with the queue for business class in the wrong place at a closed position. There was general confusion with lots of people in the wrong queue. Despite several people approaching the desk to ask where they should be they still took a long time to actually sort out the signs and once they had corrected them, didn't bother to tell anyone. So everyone was still in the wrong queue!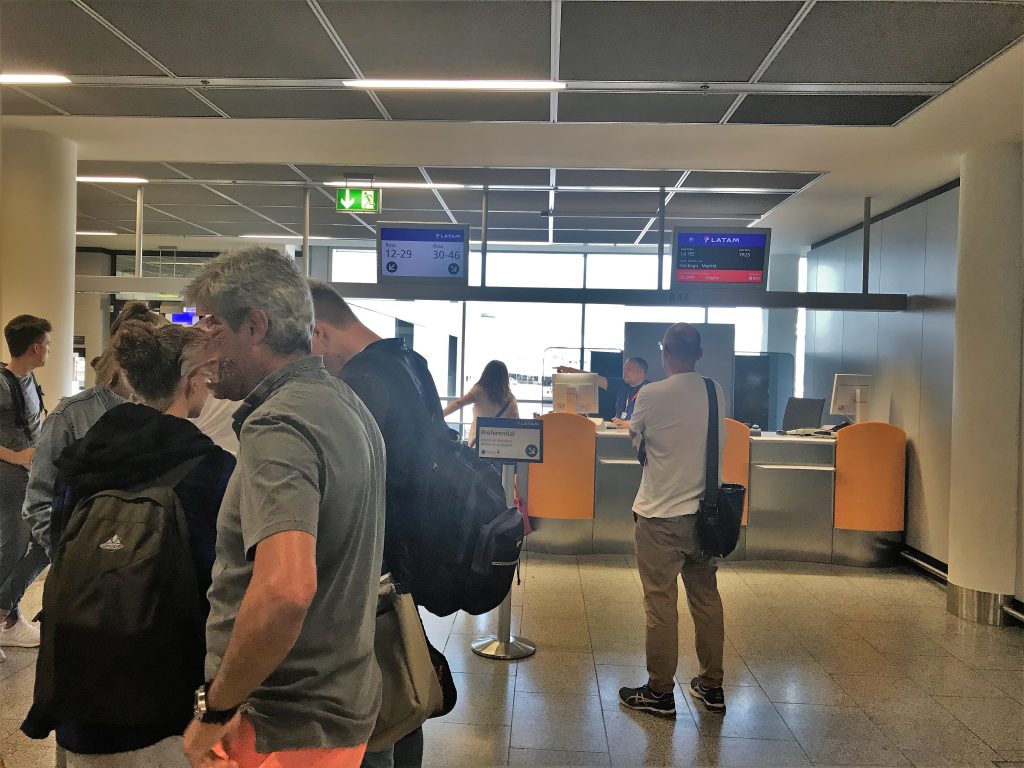 I was surprised to be given not only a choice of welcome drinks including sparkling wine but also a ceramic dish of nuts. You don't even get this in First class on some airlines so I thought this was an impressive start.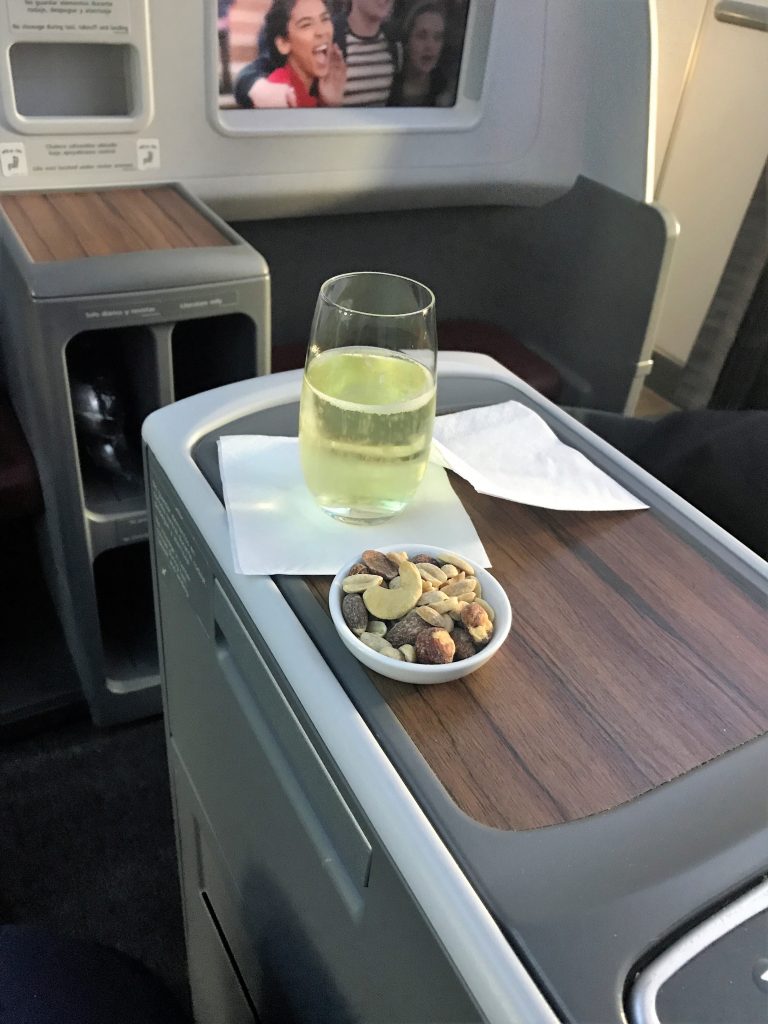 Seats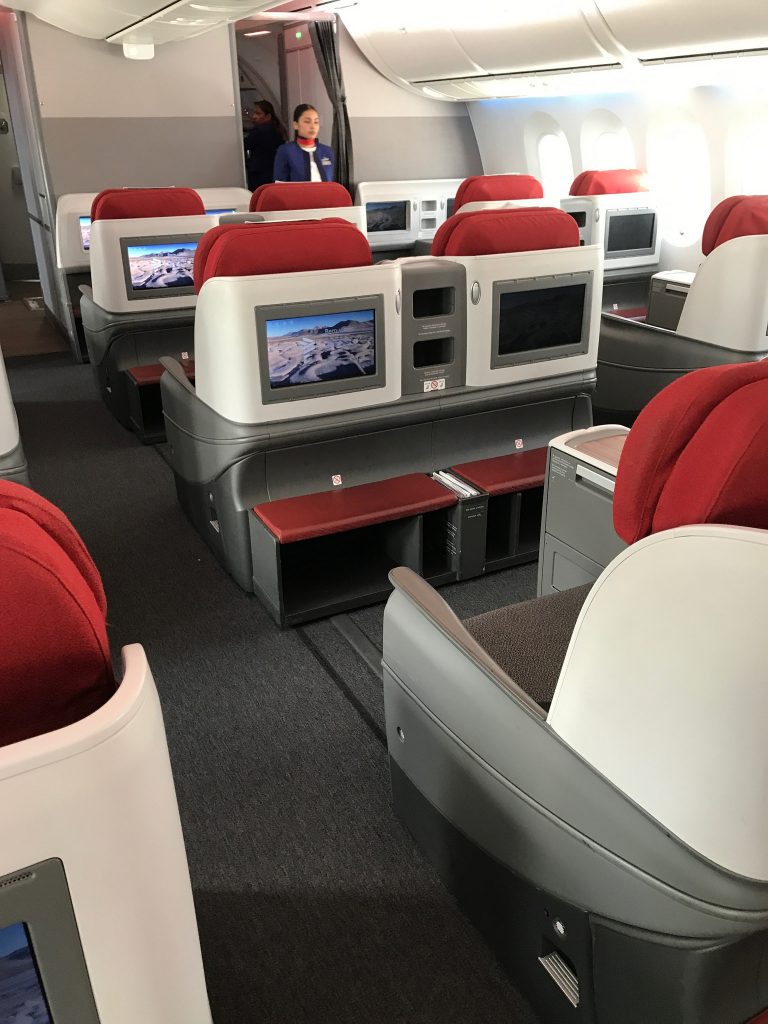 Seats are arranged in a 2-2-2 configuration so not ideal for a solo traveller and this would be my main criticism. I chose one of the central pair but it didn't really have any sort of divider at head height which would have been annoying on a longer flight. However, there was a reasonable distance between them with the centre console. The console also housed the seats controls which were very simple but included a massage function. I had chosen the front row as I wasn't too bothered about the noise from the galley but you may wish to choose a row further back if you think it would bother you.
As usual, there wasn't much storage space for pre-takeoff as every cubby hole was labelled as not to be used for take-off. After take off there were a few to choose from. 2 smaller ones above and then one for the headset and a second one underneath perhaps for shoes? There was also room under the foot stool to put a bag.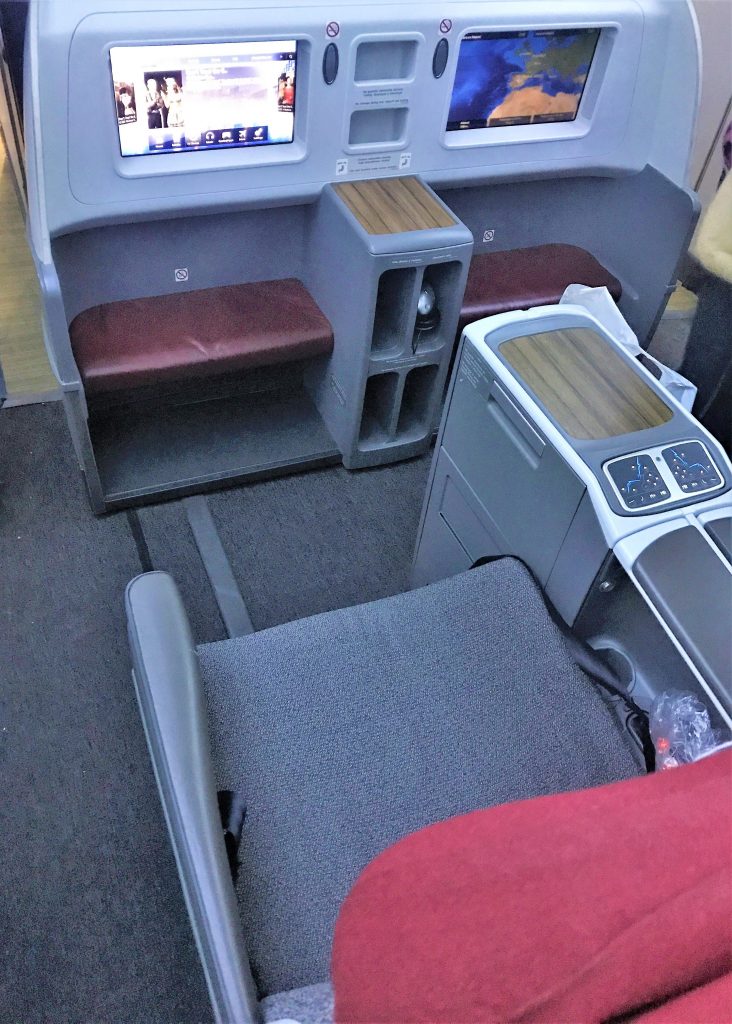 The overall cabin decor felt a little dated although smart. Despite this, I actually found the seat very comfortable even when completely upright. Although the foot rest was a little far away when upright, the leg rest provided adequate support. I tried lying down for a while and also found this comfortable even without any additional bedding. The seat is very simple in design so it feels very wide compared to some of the better-designed seats that have cubby hole around the footwell and tapered seats towards the feet. It reminded me of the Qatar B777 before the QSuites.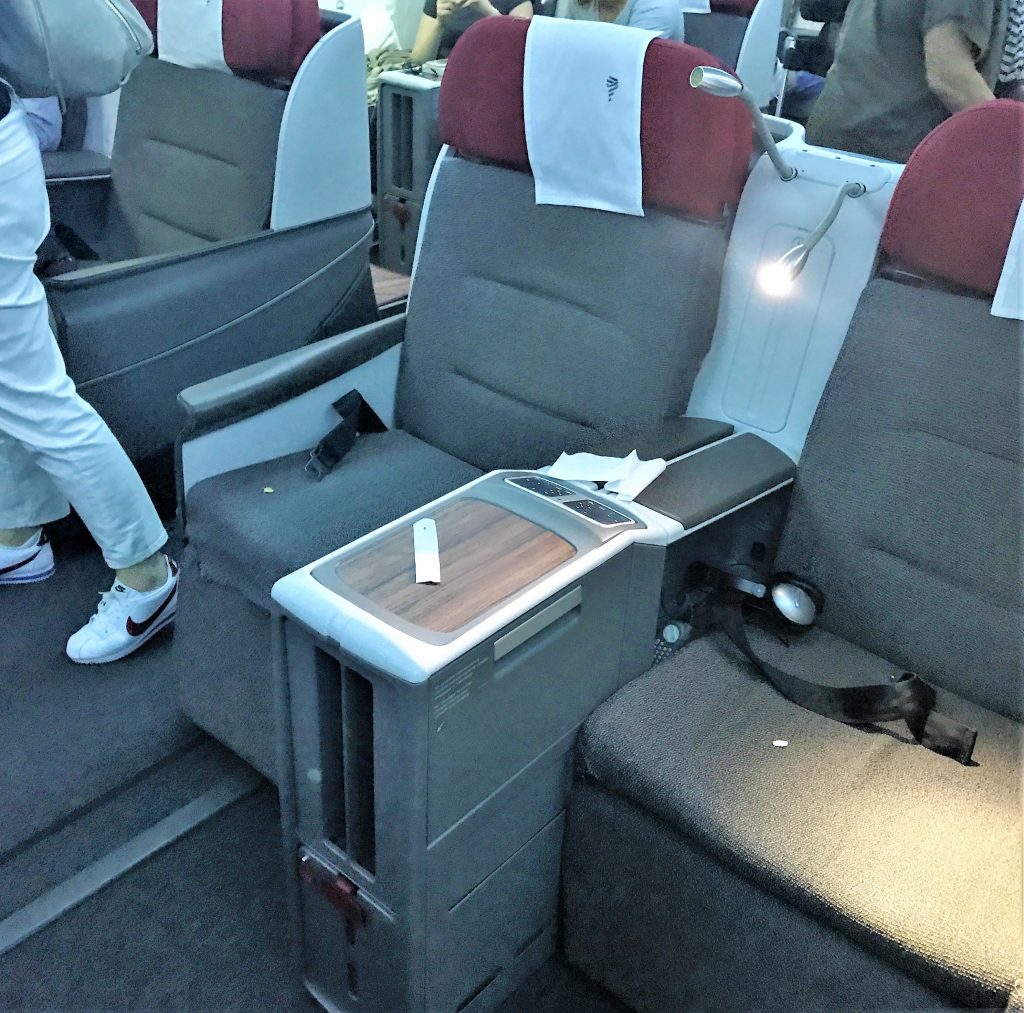 Food and drink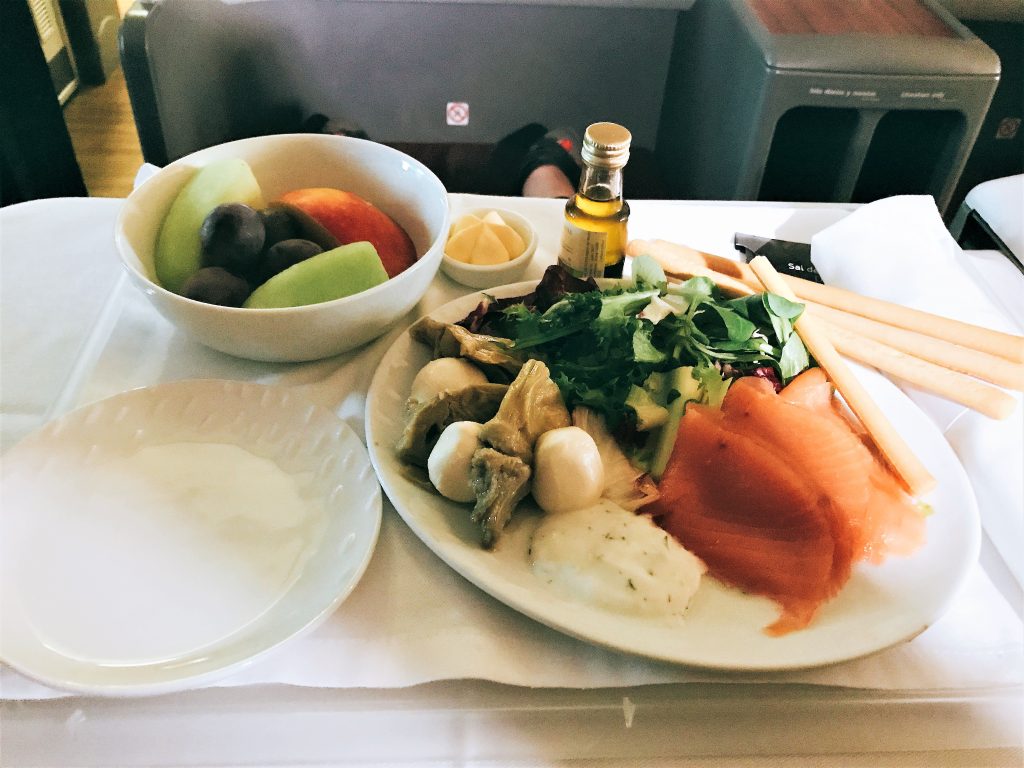 Shortly after take off a hot towel was offered that was a nice thick quality. The table was large, sturdy and laid up with a smart white tablecloth. As this was only a short haul flight we obviously only got a small meal. Even so, I have to say I was impressed by the quantity as well as the very smiley and efficient service from the crew. They all spoke good English despite this being a Madrid to Frankfurt flight.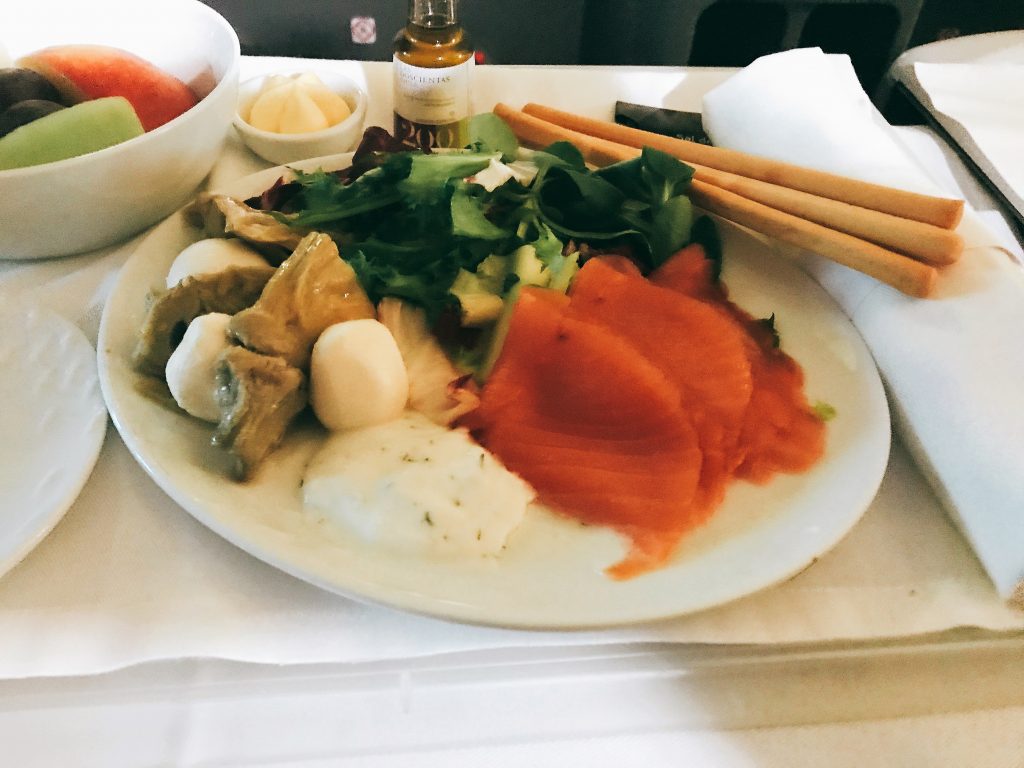 There was no choice of meal but there was enough on the plate to suit most people even if it was a slightly bizarre mix. The plate had a large helping of smoked salmon, mozzarella, artichokes, a sour cream dressing and some salad. A bread basket was offered which had one of the best selections of bread that I have seen in business class, even including breadsticks. On the tray was a bottle of olive and balsamic dressing which you could use for your bread and/or salad. The pudding was pretty dull being a bowl of fruit but there was also a chocolate on the tray too.
A nice touch was also the special pink salt, although it does come in a sachet which I always think looks cheap. There was a choice of 2 red, 2 white and a sparkling wine all South American plus all the usual spirits such as Bombay Sapphire. Being a short haul flight there was no menu but I enjoyed the Sauvignon Blanc that I had especially as it came in a very generous portion in a stemless wine glass. Top-ups were also offered.
Entertainment and charging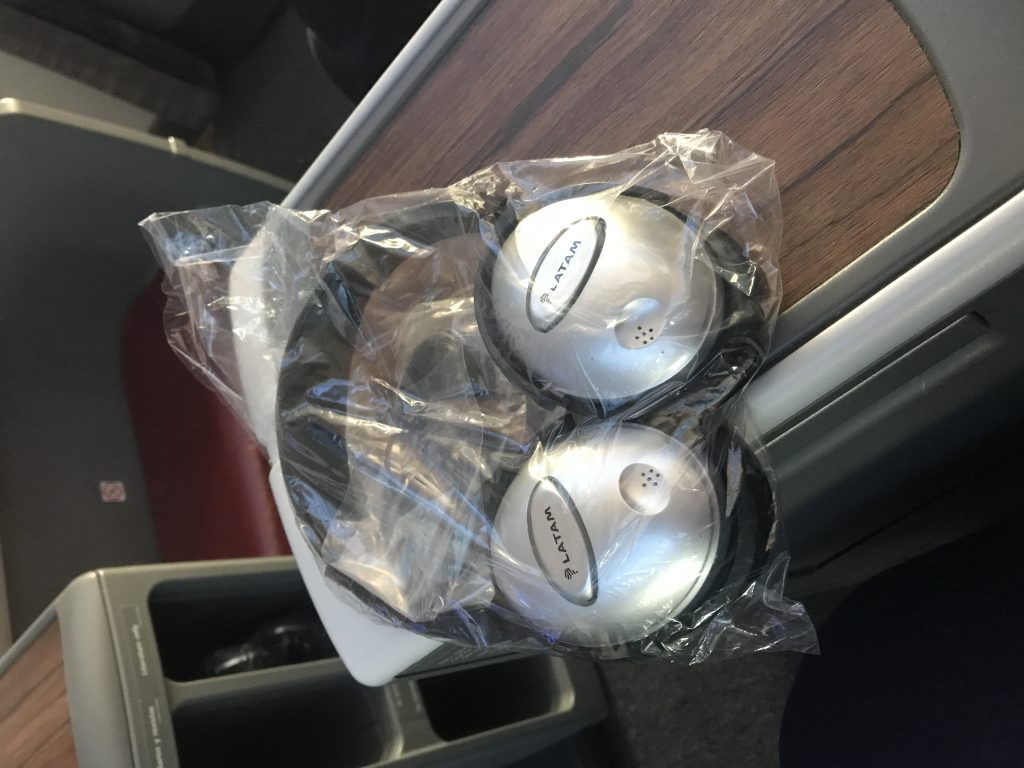 Due to the layout of the seat the TV felt a long way away which made it feel smaller than it really was. This wasn't helped by the fact it was also slightly recessed in the housing. However, the screen had good definition and the size of it didn't really bother me. The remote was quite old fashioned being the old school push button type but it worked well. If you wanted to charge your devices there was both a USB and multi-country socket available.
LATAM branded noise cancelling headphones were provided which were comfortable and worked well. The choice of English TV and Films was a little limited but they were at least up to date and I found enough to watch. I suspect on an English speaking route there may have been more.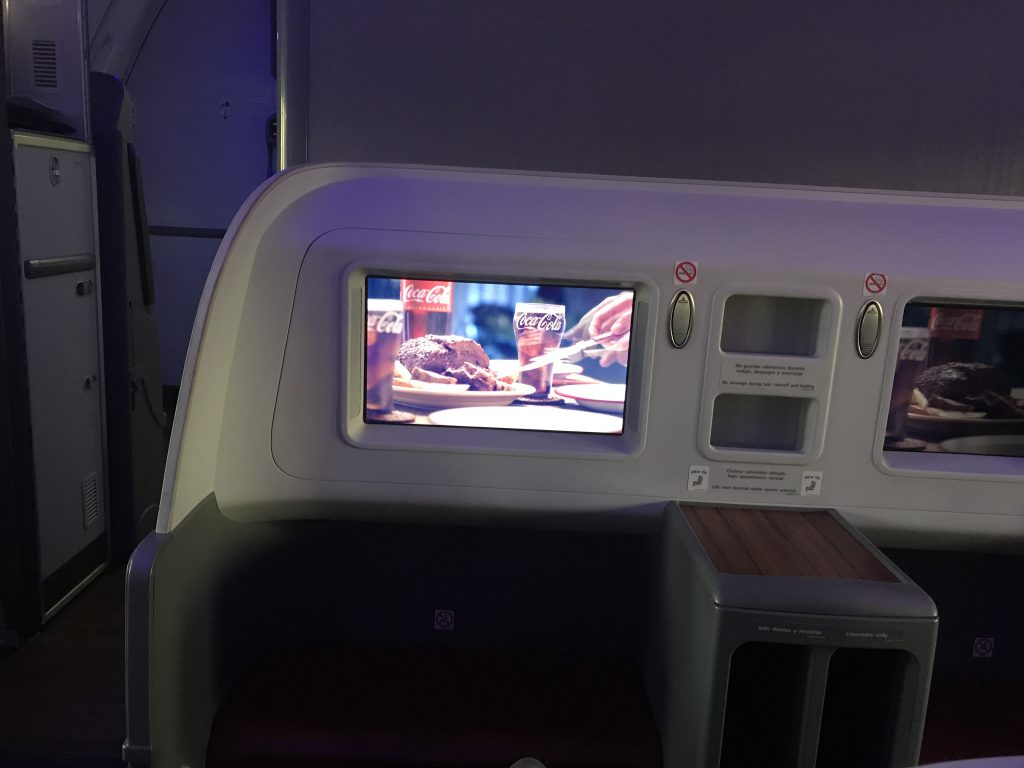 Conclusion
I didn't have particularly high expectations for this flight having seen pictures of the cabin but I was actually very pleasantly surprised. The crew were great, the food good quality as well as tasty and most importantly the seat very comfortable. Given that LATAM have been doing some excellent fares to South America recently for around £1300 in business class and you can collect Avios and tier points, I would definitely consider flying with LATAM in the future. I would have said apart from the slightly old-fashioned feel it was up to the current BA Club World standard.
Edited with BlogPad Pro