Firstly an apology for any email subscribers or early birds who saw my post yesterday was entitled Virgin Atlantic A380 as they obviously don't have any. It should have said B787 like the other 2 reviews in the series!
Finding the flights you want with Avios is never easy. In this article, we will look at what tools you can use to help with your search.
BA.com
This is the obvious place to start but there are 2 tools to choose from. Ba.com should show you all the connecting flights and oneworld flights that are available using the simple 'book a reward flight' booking tool, but it has its limitations. To find out more about using Avios on other airlines, I suggest reading this article.
If you are just searching for a simple British Airways reward on 1 specific date/week, you can just use the standard  'book a reward flight' option. This is available on the app as well as the website. Once the search results come up on the website you can click the link at the top left to find availability with British Airways on other dates which brings up this chart which is useful for picking cheaper off peak days: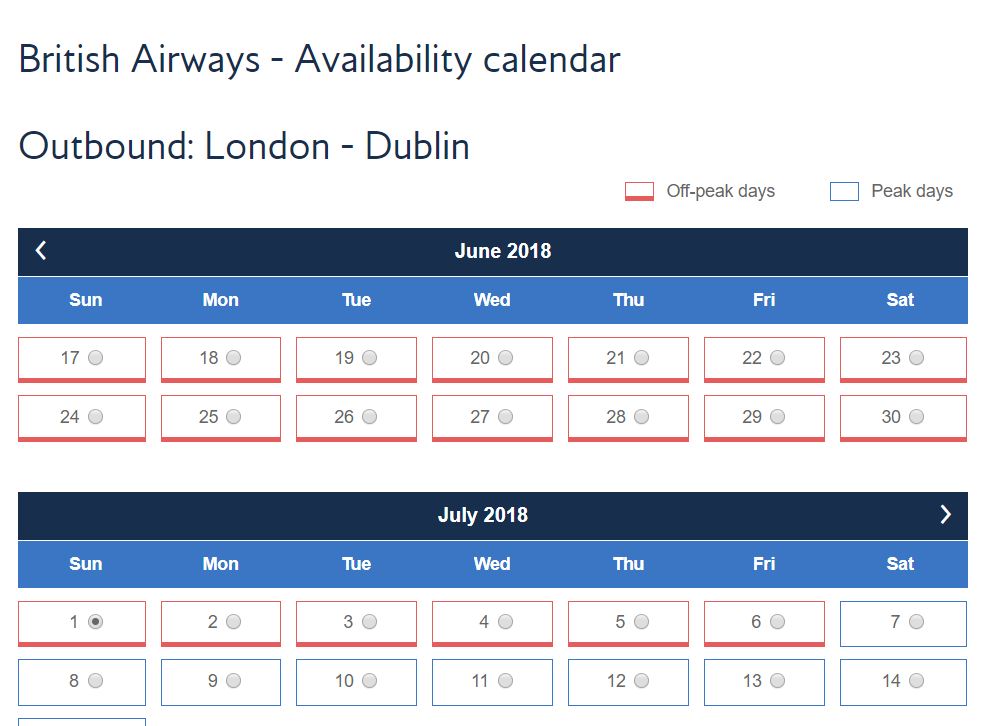 Unfortunately, BA recently removed the map tool, so that just leaves the reward flight availability tool which is under 'Find availability'. This is a good tool for outbound flights as it allows you to look at up to 3 destinations. This article gives suggestions of alternate airports for popular destinations. It also has the ability to search by month, full year or a specific set of dates.
You can only enter one departure point, so it is not so useful if you want to look at a range of airports to come back to the UK. In that scenario, it is simpler to do it as a return search from London and only look at the return dates. The other drawback with this tool is that it will not show connecting flights or flights with partner airlines. For those options, you will have to search with the basic booking tool or use awardnexus or Expertflyer below.
Avios.com
Avios.com shows different options to ba.com in how it presents the information and the airlines displayed. It will show only flights with BA, Aer Lingus, Flybe and Iberia. For simple searches, I actually prefer the display to ba.com. Once you have clicked on the calendar icon on the top right of the results page you get this: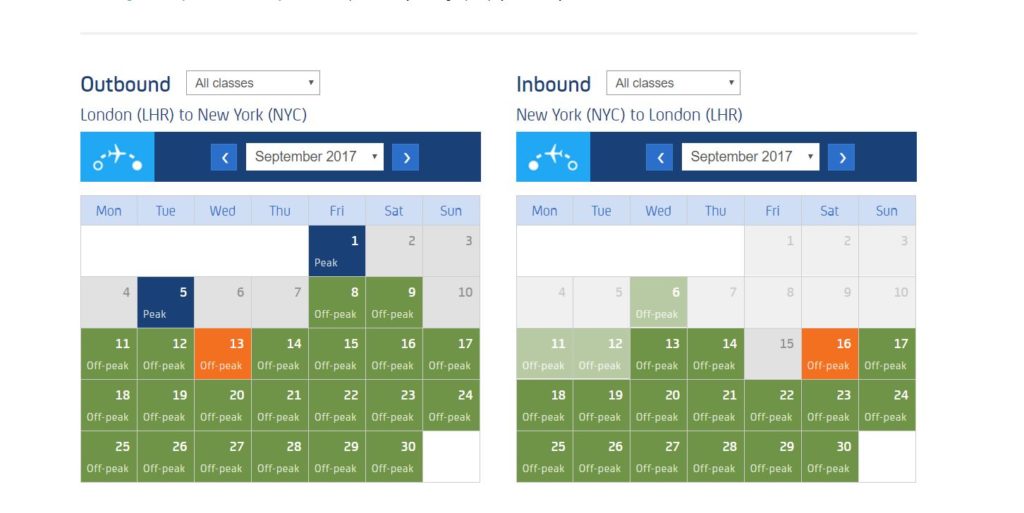 If you look at the top you can see a drop down saying 'all classes' which makes it easy to switch between classes if you are flexible rather than having to do another search.
BA Redemption Finder
A new tool (nothing to do with BA) has been launched very recently (HT to HfP) which is potentially the most useful tool for getting email alerts. It is also free for almost all functions. BA Redemption Finder is available as a website only. It will show a full 355 days of availability with one search. It is a fairly simple tool in that it won't show connections or partner airlines but the really great part of the site is the email.You can also only search one city pair at a time.
Interestingly a search for First redemptions to New York (NYC) showed a lot of availability for the next 2 weeks if anyone is looking for a last minute break!

You can setup alerts for free. Simply do a normal search on the site for the flights you want then fill in the form at the bottom to get email alerts for availability between a specified set of dates. A £3 a month Elite membership means that automated availability alerts are sent as often as once an hour, rather than one per day. This could be crucial on very popular routes, so it may be worth considering.
ExpertFlyer
One option if you are struggling to find your flights is to sign up with Expertflyer. Expertflyer is available as a website or an iOS app. With ExpertFlyer Pro you can set up availability alerts. This means you can set an alert so that you'll be informed when award availability opens up on a particular British Airways flight for up to 30 flights at a time. It costs $9.99 per month or $99.99 for a year but you can do a 5 day trial for free.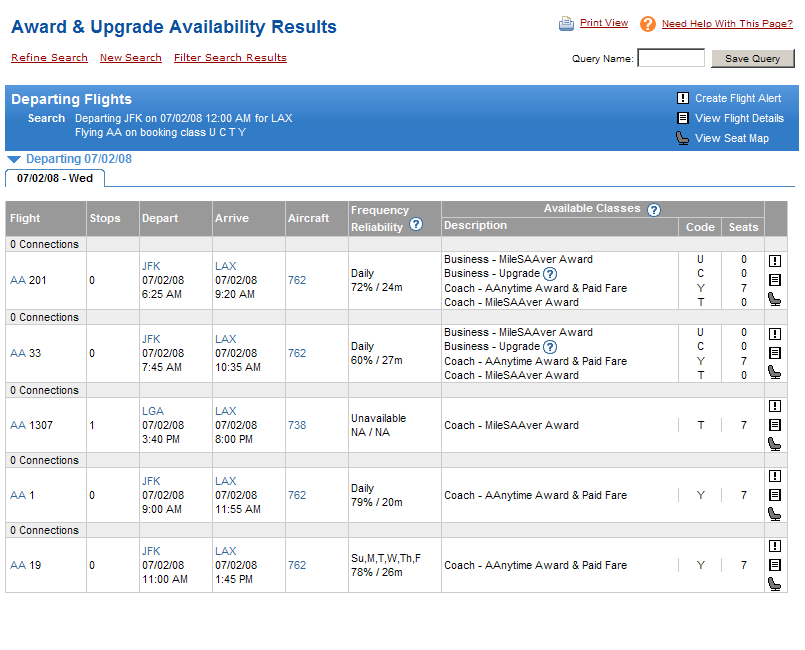 The Pro subscription has lots of other useful features such as flexible searches for up to 3 destinations, favourite searches and alerts for flight changes. One of the features that could potentially be very useful is the seat availability maps which will show which are taken, blocked or paid seats. As you know BA charge some pretty high prices for business class seats unless you have status. When you look at what seats are available with no status, you will not see the actual free seats, just the ones BA are willing to sell you. However, depending on how often you plan to use it, you may find awardnexus a cheaper option.

The British Airways reward flight categories to search for are:
First Class Award — "Z" class
Business Class Award — "U" class
Premium Economy Award — "P" class
Economy Award — "X" class
You can find ExpertFlyer here.
Award Nexus
If you are looking for something more complex involving other airlines or a range of dates, you may be better off using Award Nexus.
Award Nexus is a search engine for finding award flight availability. You can search across multiple airline sites, destinations, or periods of travel dates. You can also select specific airlines or routings. awardnexus has a better range of airlines than ExpertFlyer, including Cathay Pacific. It covers all the oneworld and Star Alliance airlines as well as most of Skyteam too. It is better for searching a range of dates as it would show you all the oneworld flights and routings available, not just the BA ones.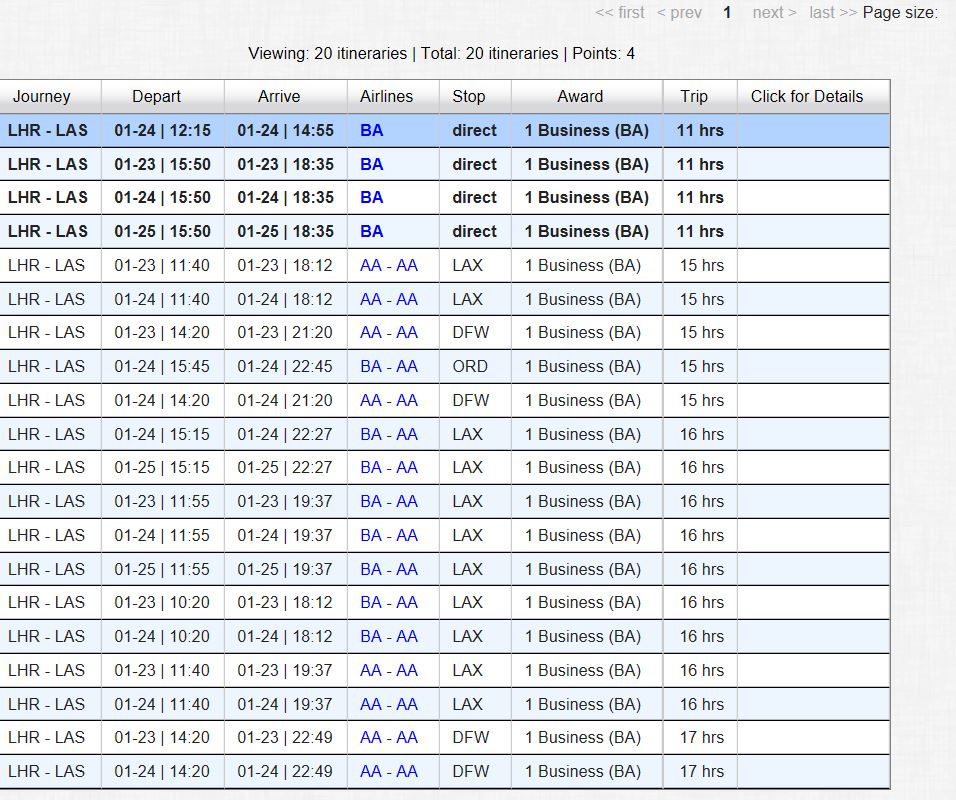 If you are after a specific award flight which is not available,  you can set up an alert if one becomes available. This will cost you $59 to use this function as a Premium Basic member versus ExpertFlyer at $9.99 per month (although you can get a free 5 day trial on ExpertFlyer).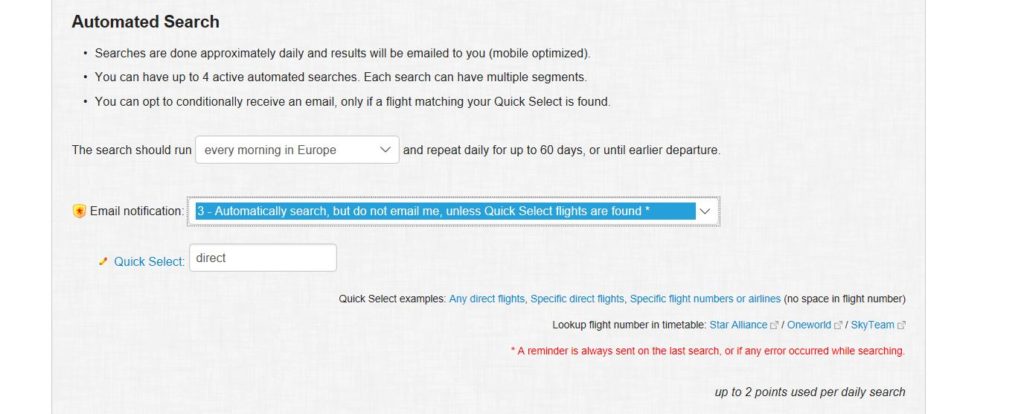 Each search costs 1 point for 1 search, on 1 airline website, for 1 day, and in 1 class of service. The basic membership is free but you must be a FlyerTalk or Inside Flyer member. With this you get 200 points (free 100 point refill every 90 days). Premium basic members get 500 points.
There are lots of different tools on the site such as:
Search Builder – itineraries which involve several flights.
Route Explorer – different routings  between 2 cities
Distance Pricer – number of miles required needed between 2 cities.  It also gives options for transferring points from programs like American Express Membership Rewards and Starwood Preferred Guest which is really handy
Automated Search – an automatic search for available award seats and receive an email when seats are found
You can find out more here.