I don't really like flying back from the US East Coast overnight even in business class. Even if you try to sleep straight away, with flight times of around 5 hours 40, you rarely get more than about 3½ hours sleep. Although it means an early start, I do like the New York and Boston departures that leave around 8 am and get you back to London in the early evening. By the time I get home, it's nearly bedtime, and I generally find I get back onto UK time more quickly.
One of the complaints I often read even for first class, is lack of food and the timing of it on these flights. So when I flew to New York to try Virgin's A350 (read my review here), I thought I would try out their daytime service to see how it measured up.
Check-in
Virgin Atlantic share a premium check-in area with Delta at JFK and depending on where you enter the terminal, it was not very easy to find. It is at the back of the check-in area down a separate lane, entirely separate to the main Virgin check-in area. Once I eventually found it, it was virtually deserted. Check-in was quick, and they explained where the Virgin Clubhouse was.
The lounge
Virgin have a proper Clubhouse lounge at JFK, so I decided to have a light breakfast before boarding since I had lots of time to kill. The gate was almost directly beneath the lounge which was fantastic. Like many US airports, alcohol was not available this early in the morning. Overall, I didn't think the lounge was as nice at Los Angeles, my favourite US Clubhouse. However, it was still a good lounge. There were plenty of different sitting areas, and I liked the modern yet retro design that Virgin is known for.
There was a bar area which due to the early hour I didn't try.
If you wanted to work there was a high-level table with stools and Mac computers.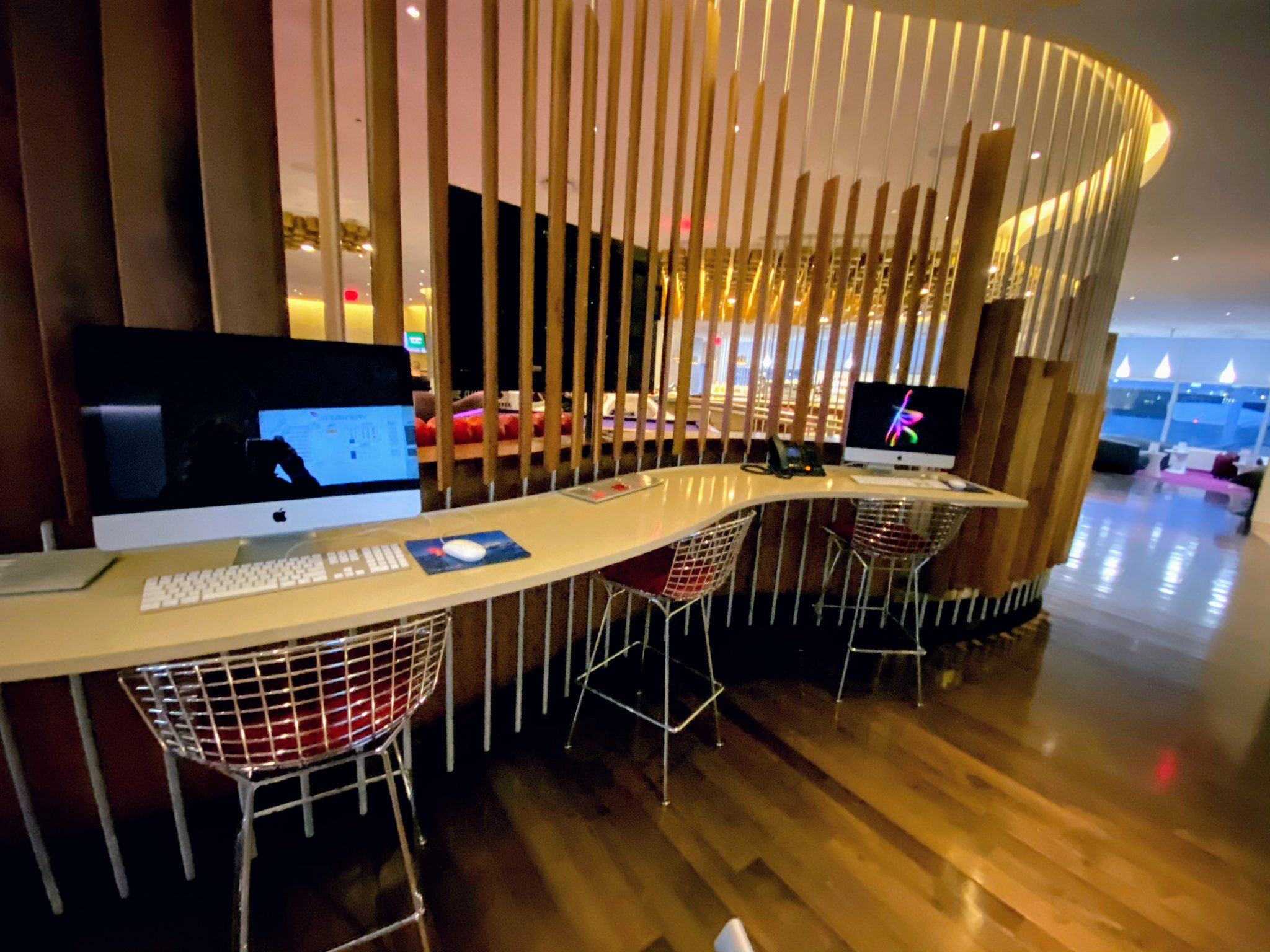 I liked the formal dining area, which had great views of the apron.
You could definitely dine with a view here!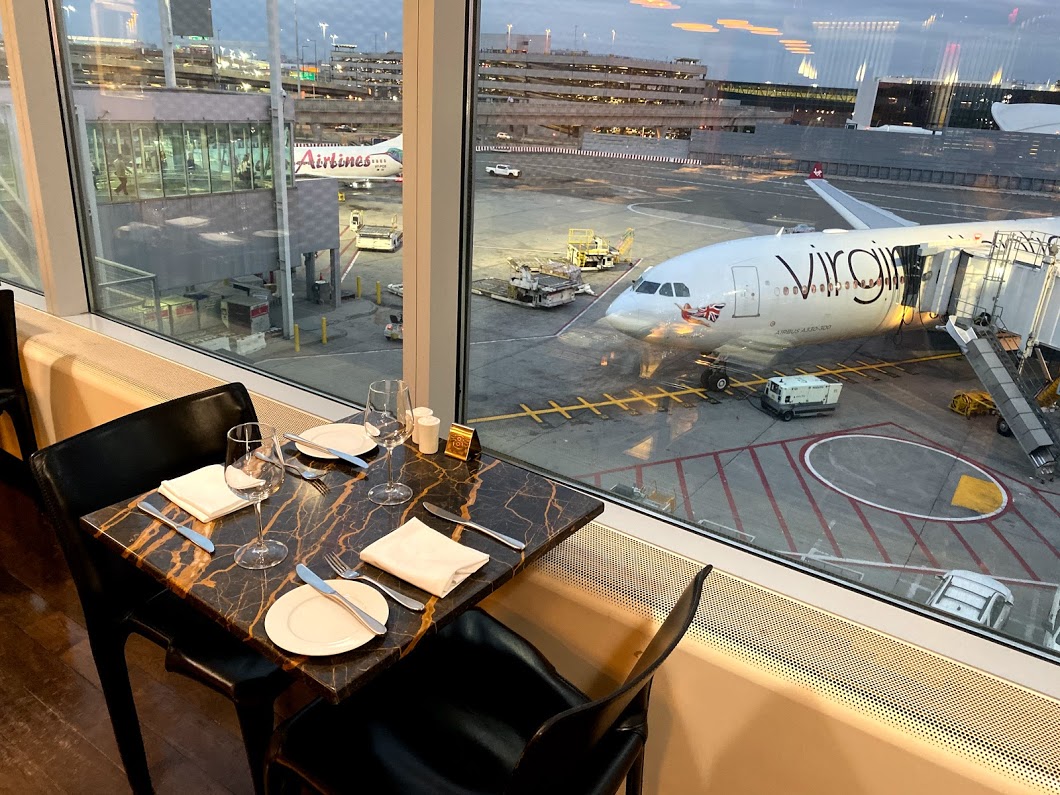 The service in the restaurant was pretty average, and she was not what I would describe as friendly, though it could well be a New York thing! I went with the egg benedict with salmon, which was very good. They were happy to add in some spinach as an extra too.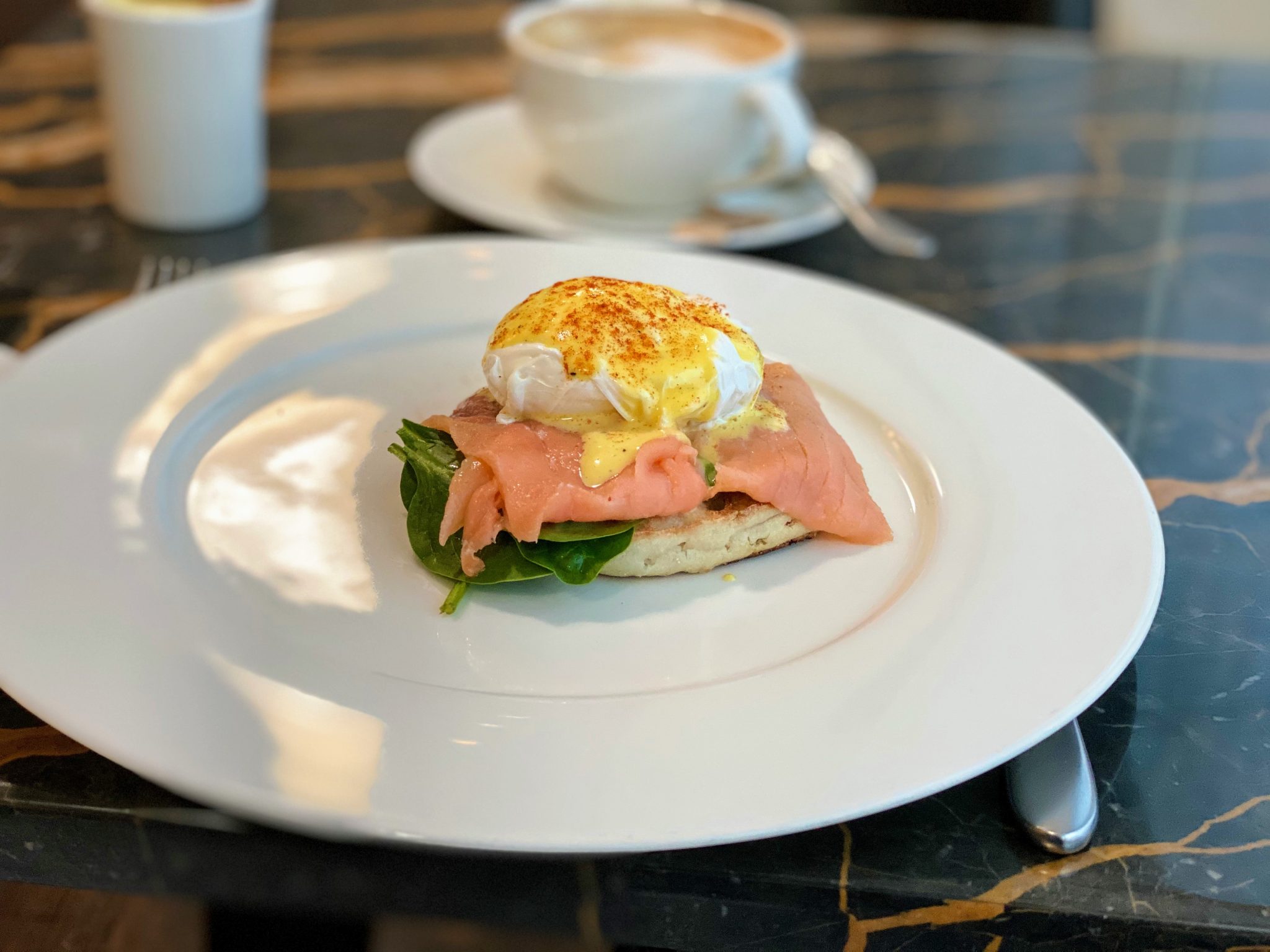 Here is the full menu for the Clubhouse:
Boarding
Boarding was announced in the lounge. I was relatively late in the process as I was not in any hurry. They had a separate lane for premium customers, and there was no queue when I arrived.
Once onboard I was directed to my seat and then soon offered a welcome drink of champagne, juice or water. In my book, it is never too early for a glass of fizz plus they had already given me a bottle of water at the seat! They definitely gave me a generous pour of the fizz! No BA thimbles here!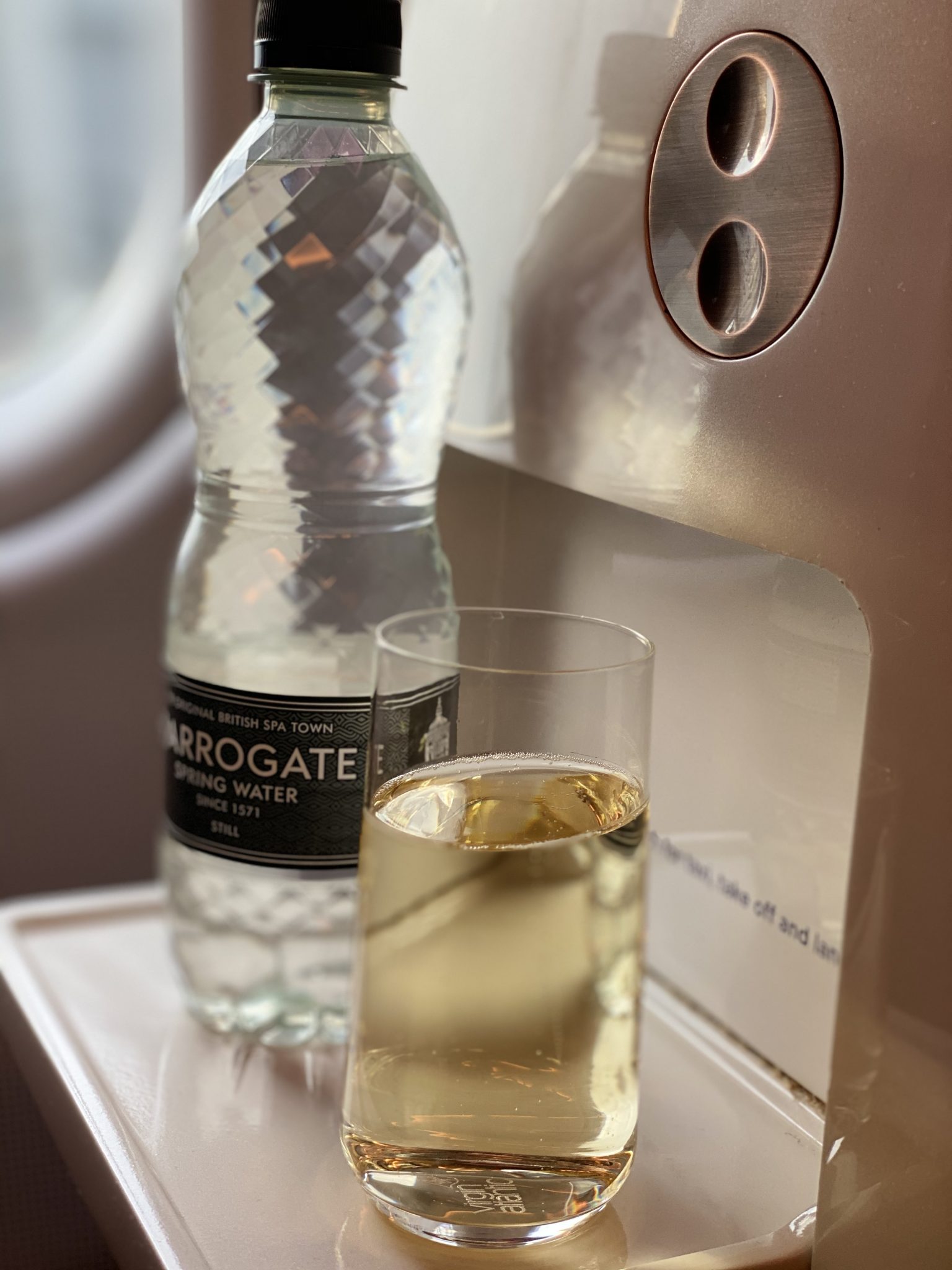 Already at the seat was an amenity kit. I was pleased to see the old bag as I am not keen on Virgin's current bag which is eco-friendly but looks shocking (you can read about it in my A350 review). I would sooner they just had a basket of things to chose from than have a bag so awful people will throw it away anyway!
The amenity kit did not have the snazzy socks from the A350 kit, or the bamboo toothbrush, both of which I like. It did have REN toiletries though which I am a fan of.
The kit contained:
Toothbrush and toothpaste
Socks
Earplugs
Pen
Lip balm
Hand cream
Moisturiser
The cabin crew member looking after me introduced herself, and as usual, I could tell from the start it would be a great flight. She was so delightful, friendly and warm – she really couldn't do enough for you. This flight was far better than the A350 in terms of service.
Seat and cabin
The A330s now have the usual Virgin seats which have a limited recline and have to be flipped over into a bed. These are admittedly not to everyone's taste but I actually quite like them. It's best to choose a seat on the 'A' side as these have more privacy.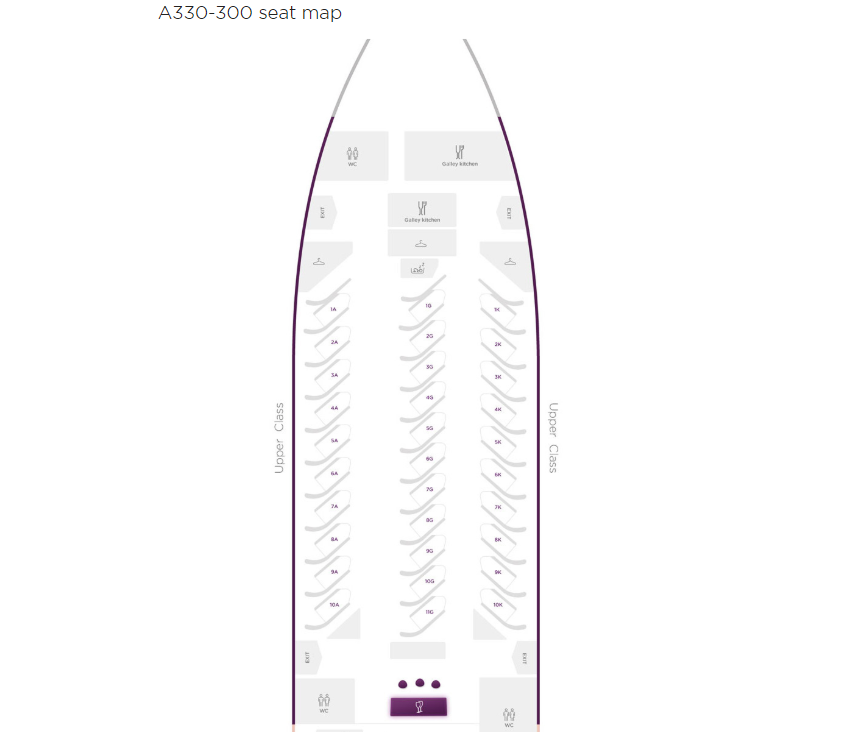 This is because they face the back of the next row of seats rather than look directly at them. I usually try to select a seat around 4-7 number in the middle of the cabin, so you are no disturbed by the galley or the bar.
The storage space is a little limited for take-off and landing. There is a pop-up compartment which is big enough to take small items like glasses or a charger, and that is about it. After take-off, there is the flip-down drinks tray and also room under the ottoman. You can also store stuff to the side and back of the seat quite easily.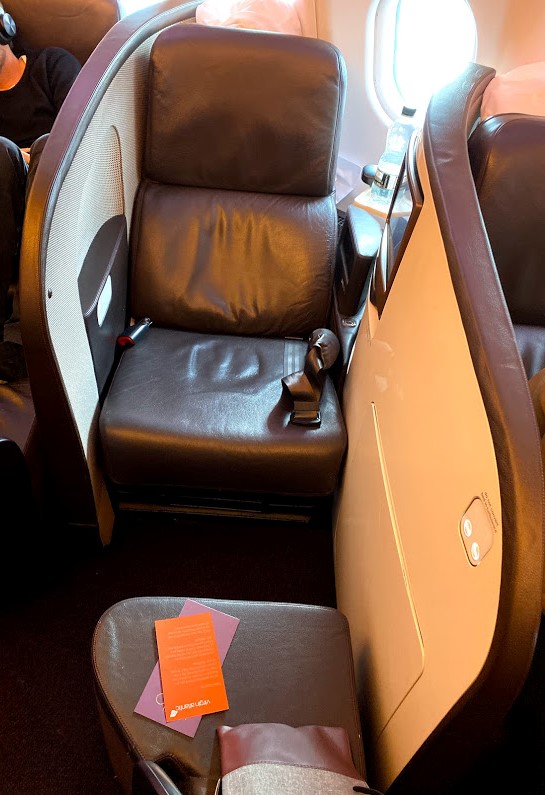 I find the seats reasonably comfortable for working and sleeping, although I do prefer to have a seat with a greater recline. I could reach the footstool easily even when upright, but I would have liked to have a leg rest when relaxing.
I didn't sleep on this flight, but I have on the A330 in Upper Class before. The bedding consists of a large pillow with a crisp white cotton pillowcase, duvet and a mattress topper. Although the bed side of the seat that you flip over is a little hard, I do find the Virgin mattress topper one of the best out there as it is very well padded. I find the bed pretty comfortable for sleeping, and there is enough room for me to sleep on my side. On this day flight, they did turn the lights off for a few hours in case people wanted to sleep.
On this flight, I worked and watched a film, both of which were comfortable, but I would prefer a better recline for lounging.
Food and drink
I really liked the way Virgin handled the food for this flight. It was better than the last time I did BA on this type of trip. The menu was at my seat when I got there.
Here is the menu and drinks list: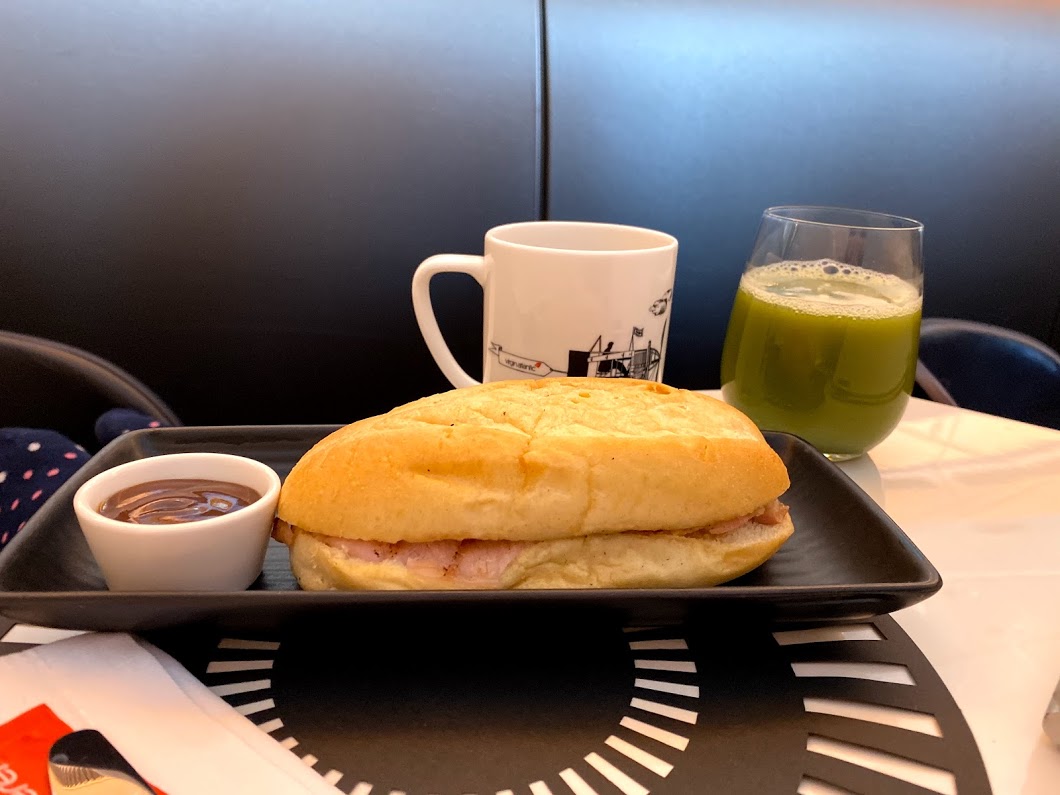 At around lunchtime, about 4 hours into the flight, lunch was served. This was a perfect time, and because it was a full meal, I did not feel hungry at any time. They started the service with a bar round. I decided to stick to wine although I do often have one of their cocktails. The cocktails are generally pretty good if a little sweet sometimes. I had a glass of the white burgundy, which was very pleasant if not overly exciting. The crew also laid up the table with the runway tablecloth with the cute aeroplane salt and pepper shakers which Virgin are happy for you to "pinch". It even says pinched from Virgin on the bottom! Too tip – get the crew to empty them or take a plastic bag from security for them or you will end up with salt everywhere. Look out for more of these in our next giveaway.
Bread was also offered from a basket.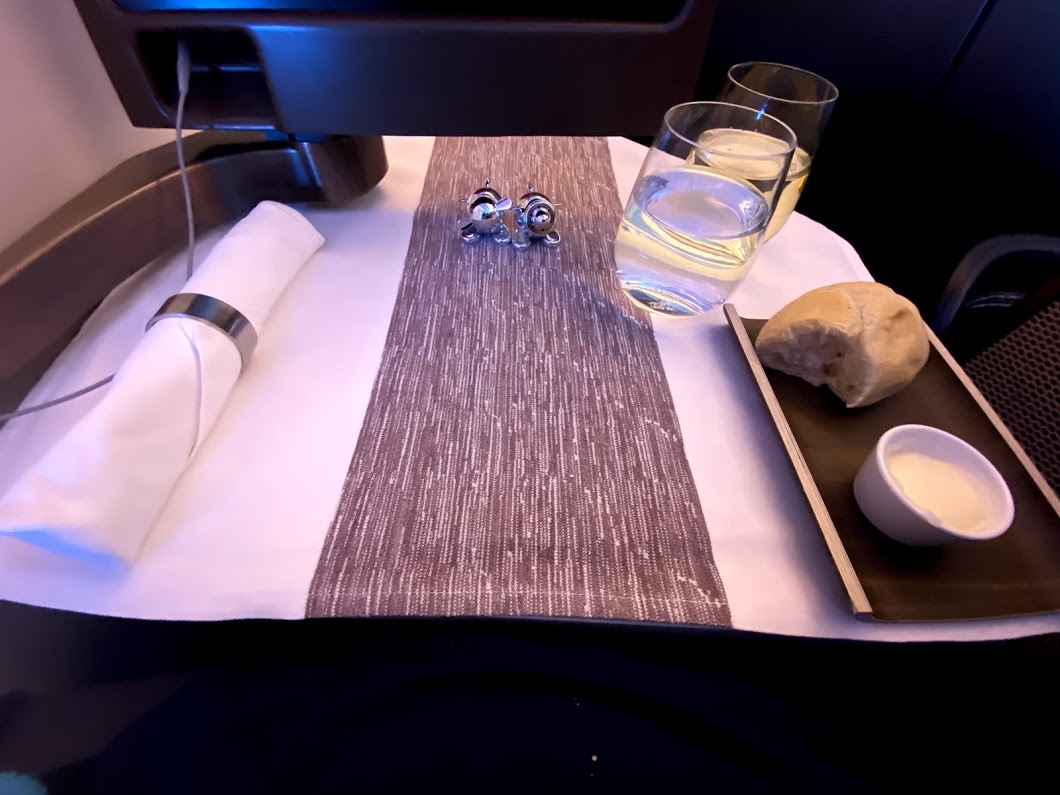 Despite being slightly concerned about the combination of tomato and raspberry, I went for the tomato salad with raspberry vinaigrette. I did find this quite dull, and I think Virgin could have done a lot more with it (and no the raspberry wasn't a great success). It was pretty much just tomatoes on top of salad leaves.
The next course was Vietnamese salmon, and this was really delicious. I always enjoy the choice of mains on Virgin – they tend to be that little bit different to usual airline food and are normally excellent. That caramel sauce with the salmon was very moreish, and the pak choi was not too soggy either.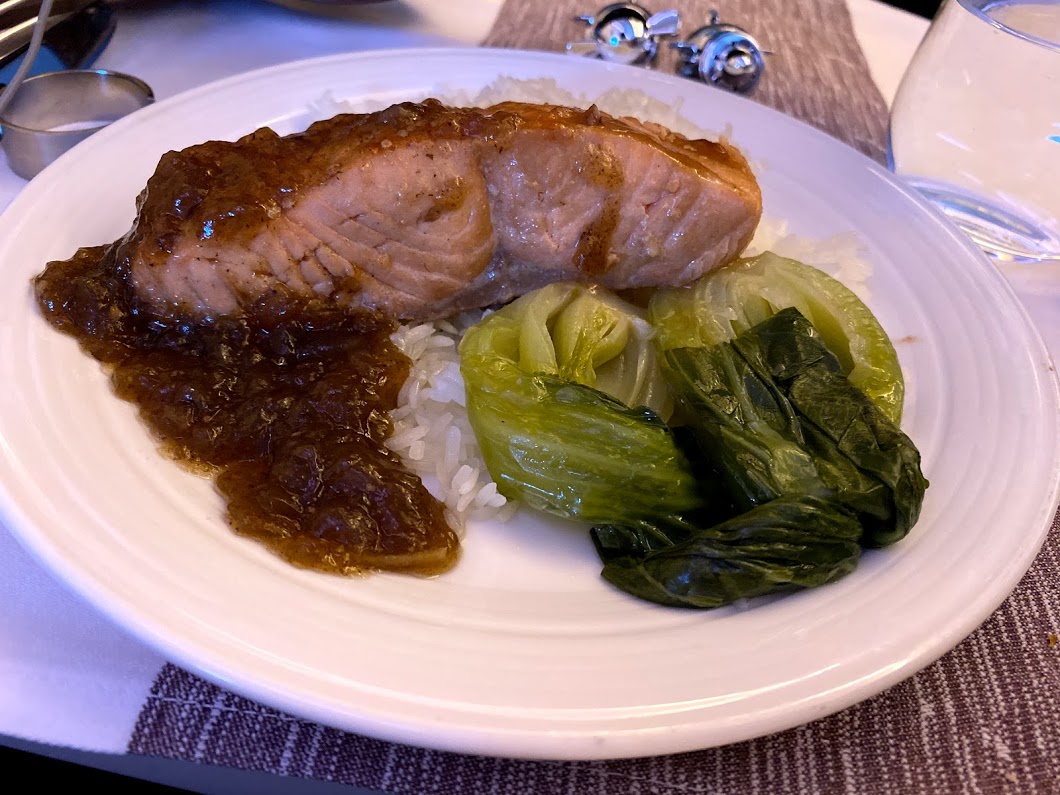 Usually, I would go for the dessert on Virgin as they are great, but as the main one was a brownie which I am not a fan of, I went with cheese.
It was a generous selection of cheese with tasty onion chutney, a variety of crackers and some grapes. I enjoy the Late Bottled Vintage Port with it too, which was well rounded and full of plummy black fruit.
If you got hungry later, a selection of small snacks, water and champagne were left on the bar.
Entertainment

Virgin's A330 entertainment screen was not bad, although nowhere near the definition and size of the A350. You can use the screen from when you get on board, and after take-off, you can pop it out of the side and have it front of you. It is nice to have the flexibility to move it around, but it does get in the way a bit when you are dining. There was a good choice of recent and older films, TV, music and games.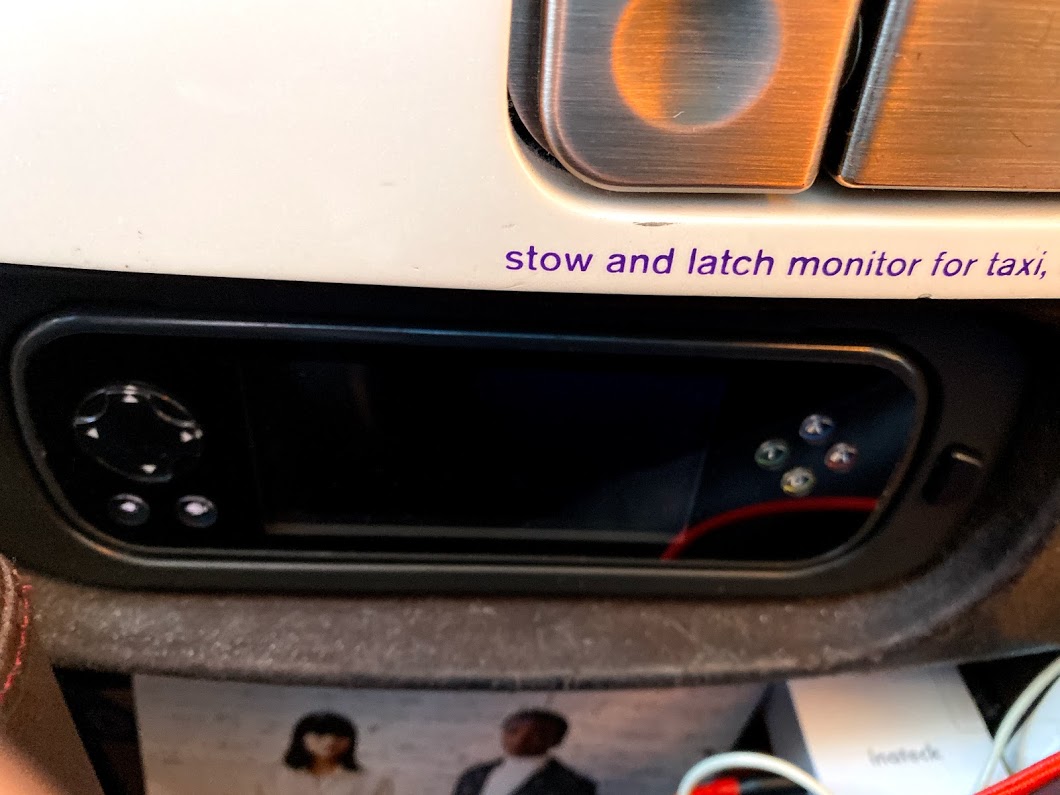 My handheld remote was broken, but since I only watched one thing I didn't bother saying anything in case they had to reset the whole system for everyone. You can also control it via the main touchscreen. Noise-cancelling headphones are supplied which are OK, but not great, so I usually use my own on Virgin. I don't find the Virgin ones particularly comfortable after a while.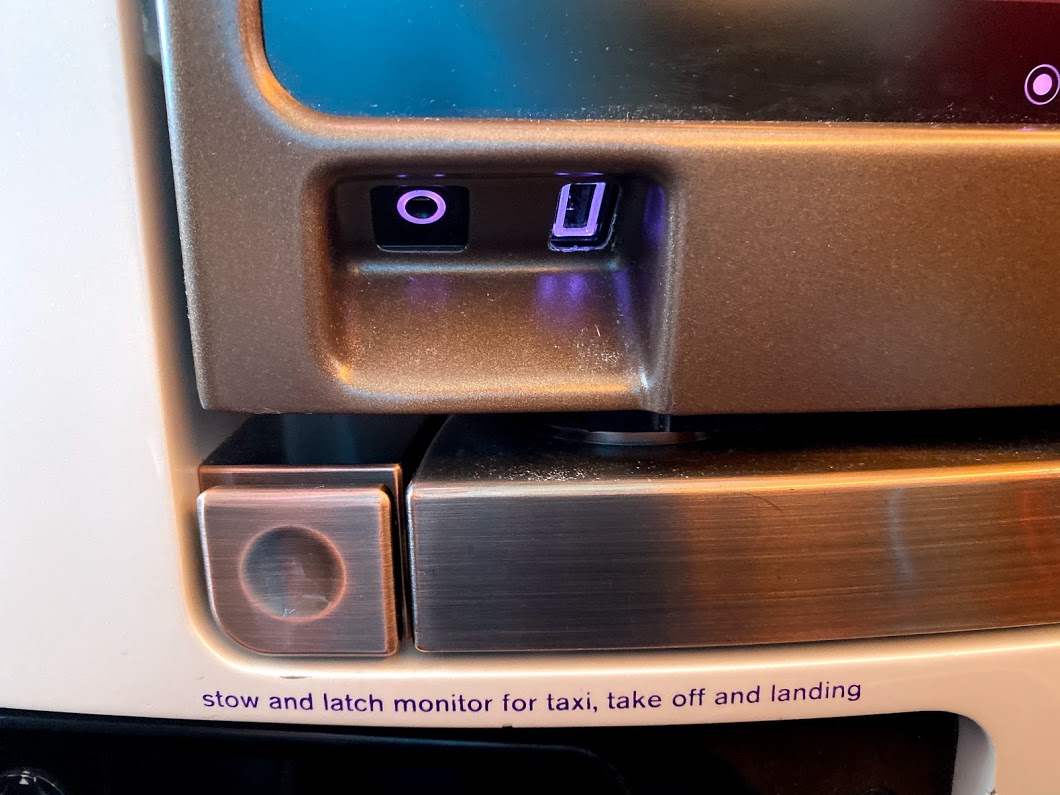 There is a multi-country socket and a USB, but I do find the USB exceptionally fiddly to use as it is at a strange angle underneath the TV and not easy to see from above.
Unlike the way out, the Wi-Fi worked well, and I was able to catch up on some work. It is not the fastest, and you can only use it on one device at a time unless you pay more than once. You can at least switch between devices though which is handy. They are also pretty clear in the T&C what speeds you can expect. The service is from Gogo which I like as once you have an account, it makes it quicker to buy Gogo services in any airline.
Here is the pricing: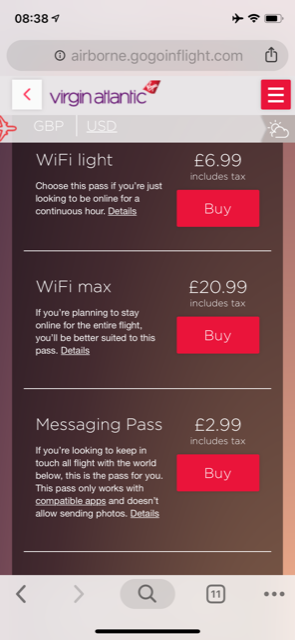 I think £20.99 is about average for an entire flight as long as the data limits are not low like Iberia's 150MB!
Conclusion
I enjoyed this Virgin Atlantic flight back from New York, strangely more than my A350 flight on the way out. I think the fact that the whole crew were great and really went out of their way to look after people made a difference. This is particularly evident on a long day flight. I thought the food was just the right about for a lengthy daytime flight and I liked that there were plenty of options to suit everyone depending on how hungry you were. I thought Virgin had the edge for me on a day time flight on this route versus BA. Having direct aisle access also makes a difference on a day flight where you may want to get up quite a bit to stretch your legs or go to the loo.
I paid for my flight with Virgin Atlantic Flying Club Miles. It costs 95,000 miles and £666 cash off-peak for a return to New York.