This is a review of my return journey from Barbados with Virgin Atlantic. You can read about my flight to Barbados with British Airways in Club World here.
I flew back using Virgin Flying Club miles which cost 57,500 miles and around £270 taxes and charges
Check-in
I arrived at the airport in my hire car. I was eager to get rid of it at this point as the car hire company had really excelled themselves in terms of ripping people off in a world full of dodgy car hire practices. I had returned to the hotel the previous day with no number plate at the front. When I looked more closely I could see the two pieces of tape that they had decided to use to cellotape the license plate to the car. I called the 24 hour number and was told that it was my fault it had fallen off and that was the way they attached license plates. They could not provide any help despite the fact that it is illegal to drive with no front license plate. If that was not enough, they then said they would charge me to replace it! So I would give Europcar who use ANSA rentals a wide berth if you are visiting Barbados.
I had booked the premium departure service to try it, as the arrival service is very useful. There were two options – Platinum services that would pick all your documents up and do your check in formalities so you could arrive an hour before the flight or Five Star who I had used for arrival but just did a standard departure service. Since I like to get to the airport early and PLaintim were $20 more I went with Five STar. There was nothing wrong with the service but frankly its a waste of money if you are travelling business class as far as I could tell. The only thing of use was that the lift to lounge was out of service so my concierge carried my hand luggage up the stairs.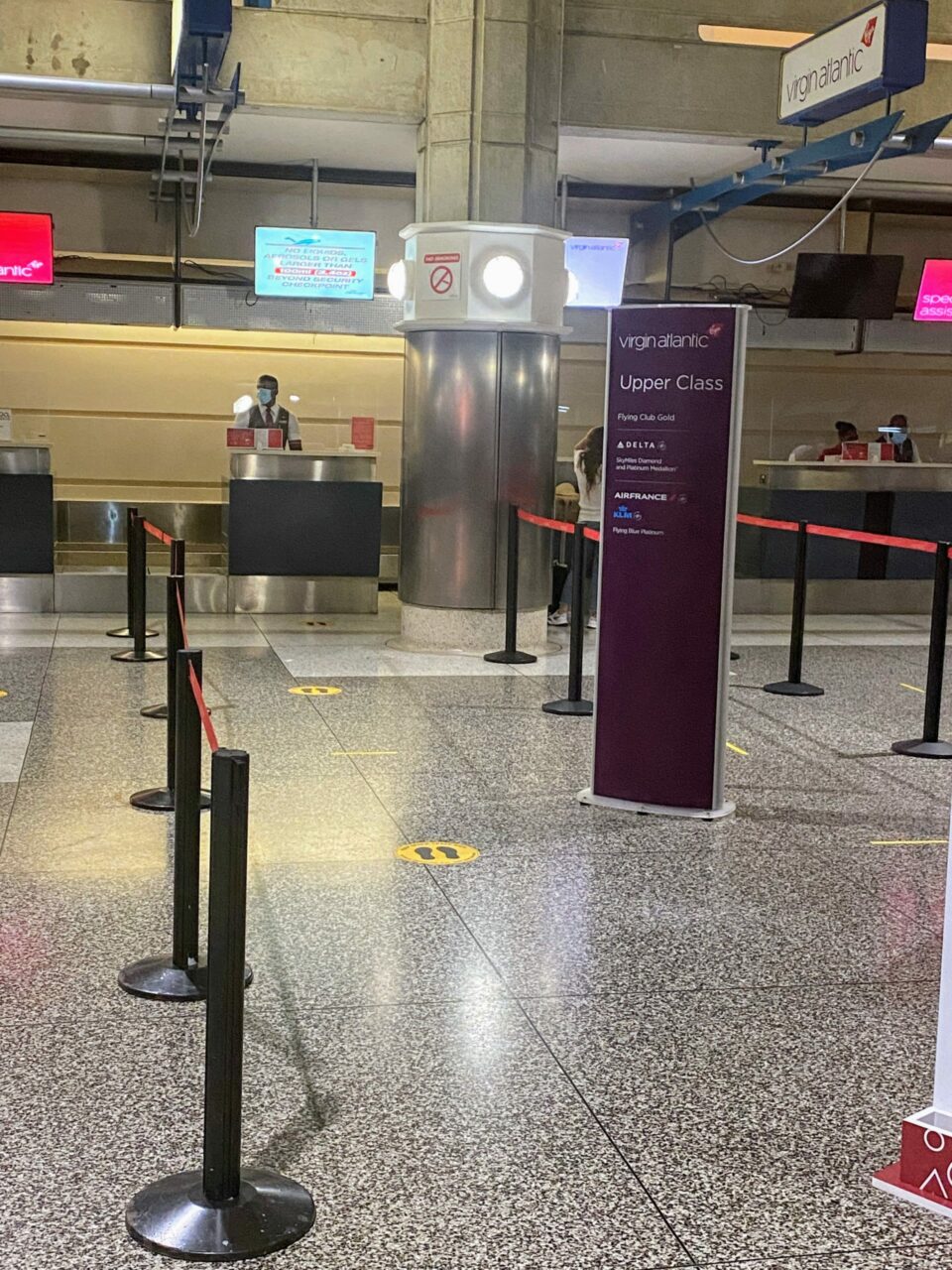 Check-in was virtually deserted at around 2 hours before departure. Initally they were quite rude and completely ignored me while the agent chatted to another staff member. A "I'll be with you in one moment" would have been a nice acknowledgment. Once I had his attention, he was very friendly and helpful. He explained where the lounge was and I was on my way.
There did not seem to be any fast track security, only one for disabled people and families or the regular line. There was no queue so it was pretty quick anyway.
Lounge

It was very quiet in the terminal and most shops were shut apart from Duty-Free and one general tourist shop. This was due to the late departure time (9.30pm) rather than just COVID.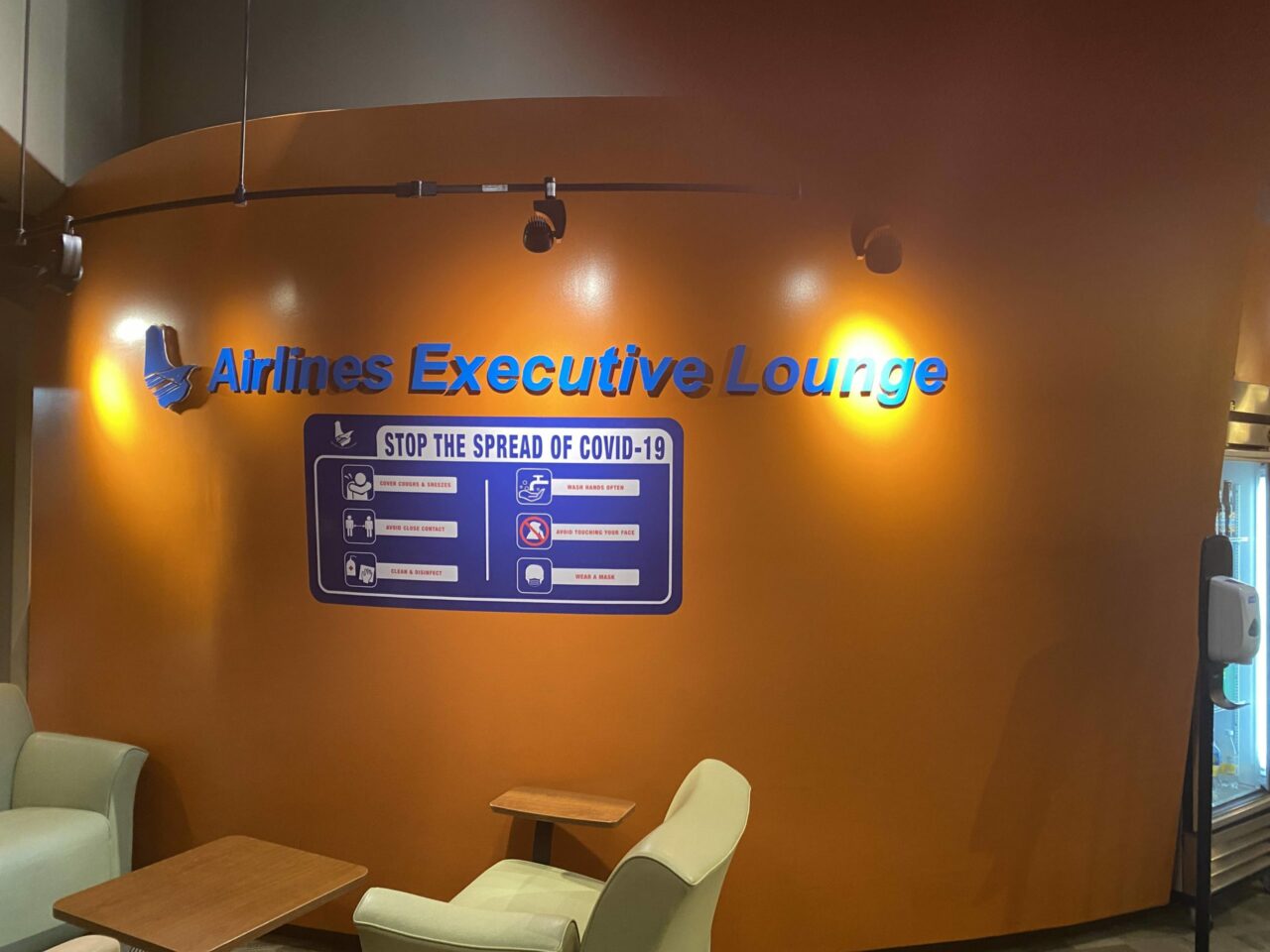 There is only one lounge there that I could see which was the Airlines Executive Lounge which is situated above gates 12 and 13. It was not the most luxurious looking entrance that's for sure!
The inside has a lot of a rather bright yellow and there are plenty of places to sit. It is not a lounge that I would come early for though! There were floor to ceiling windows so it is probably better during the day when you can get some natural light.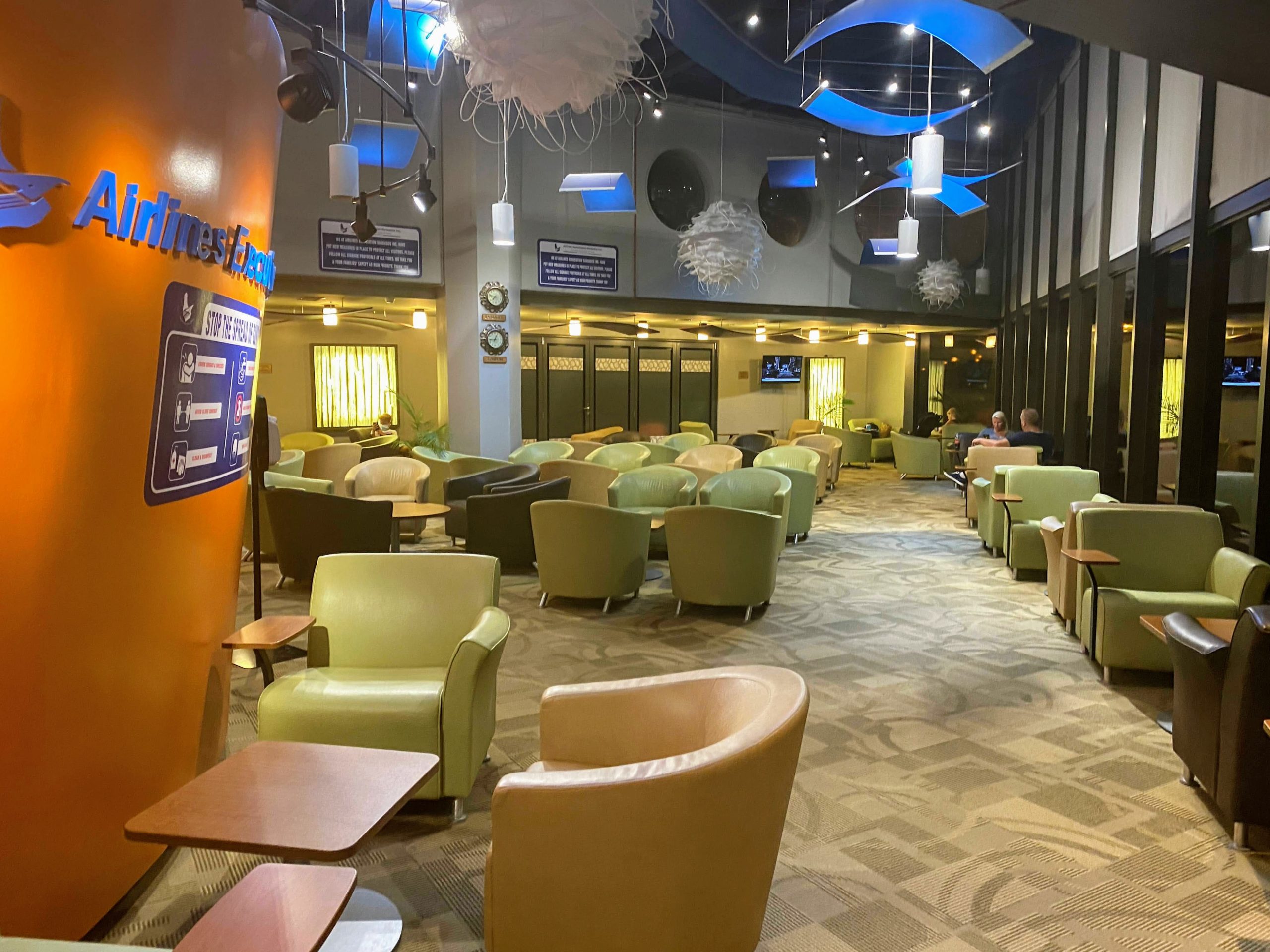 The buffet had changed due to COVID and there was a staff member serving you. There was not a lot of choices, just sandwiches and snacks.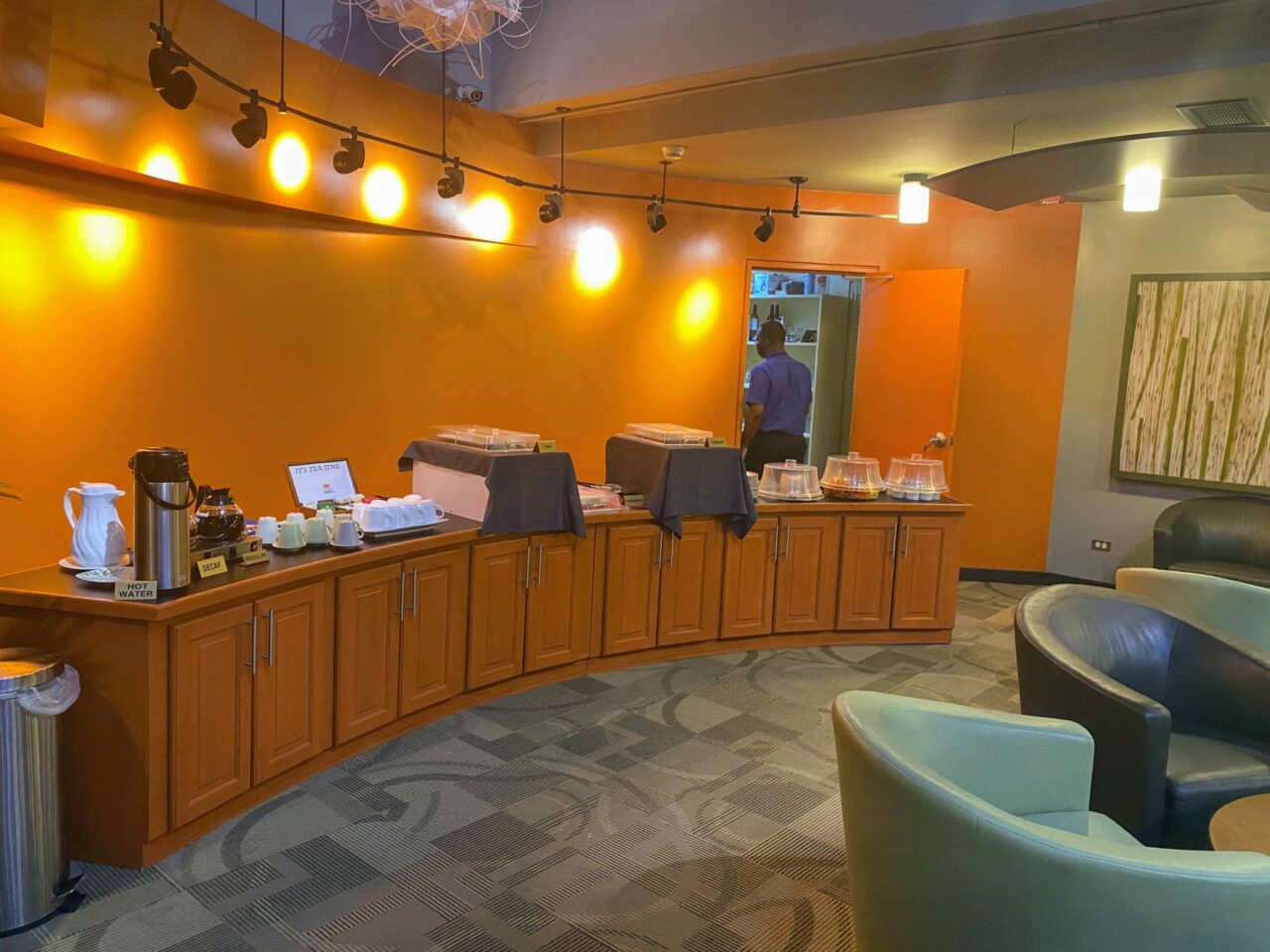 There was also a bar area where you could get wine, beer and spirits. The only thing you could help yourself to was the soft drinks and beers from the fridge.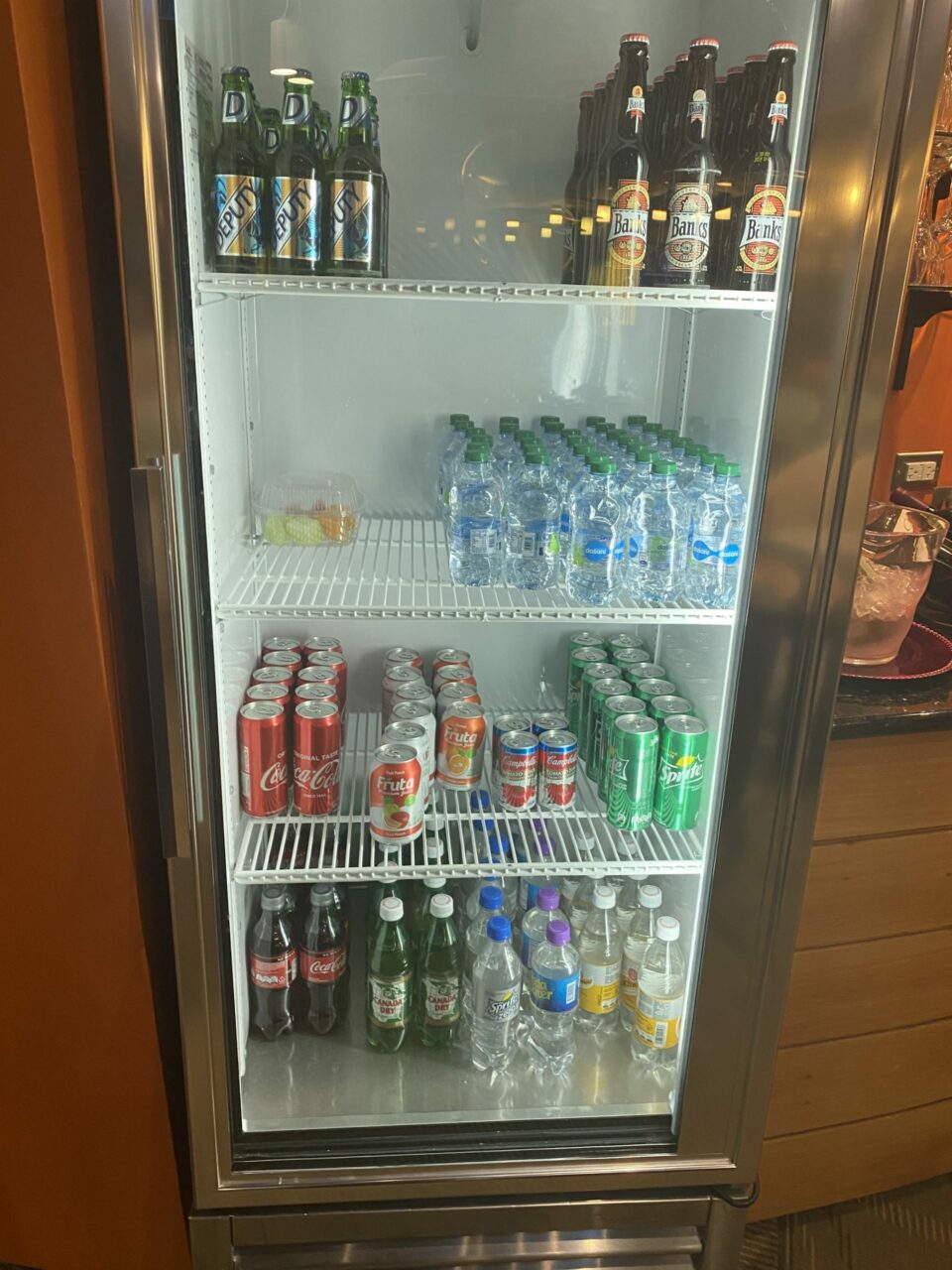 Here is what I had – a tuna and a cucumber sandwich.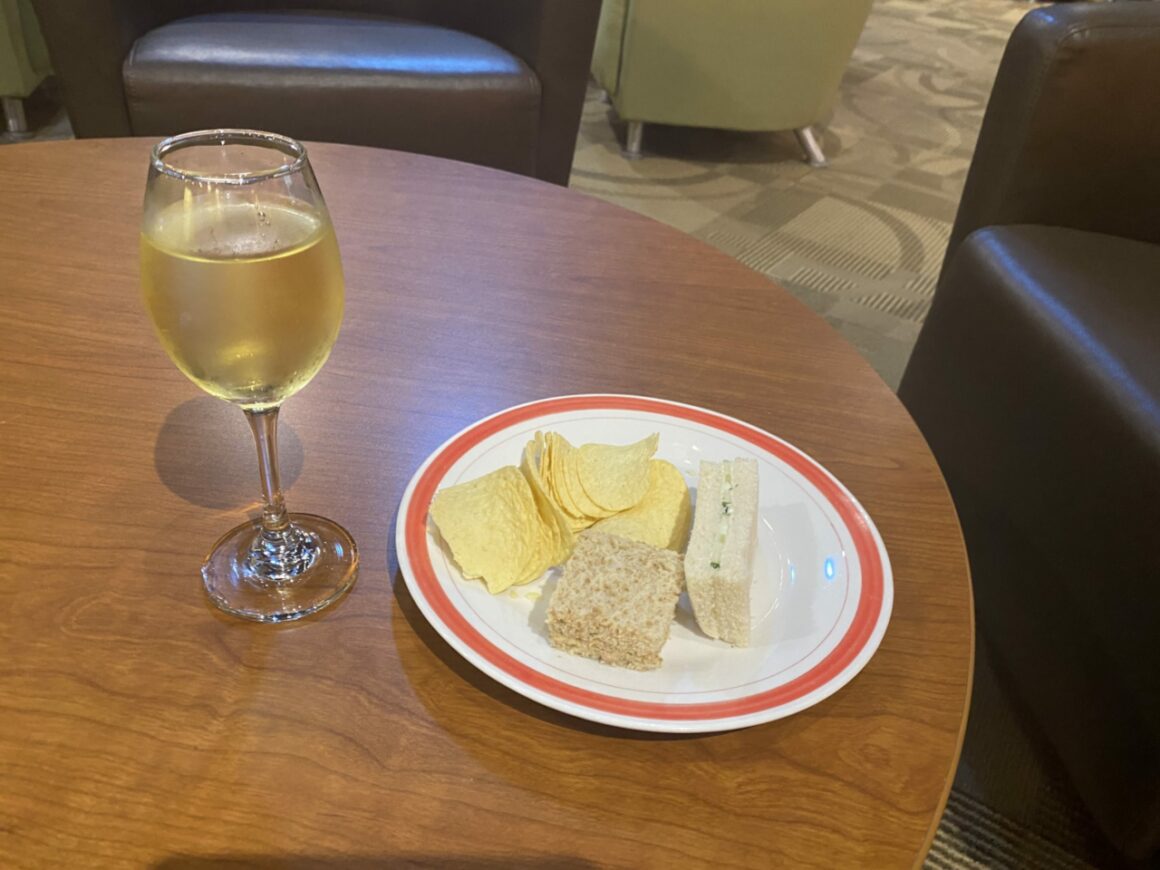 Not exactly gourmet but the sandwiches were fresh and tasted OK.
Boarding Virgin Atlantic B787-9 Upper Class
The aircraft started boarding at around 40 minutes before departure. An announcement was made to summon you from the lounge. Virgin worked differently to BA in that in Upper Class you could board at any time once pre-boarding was complete.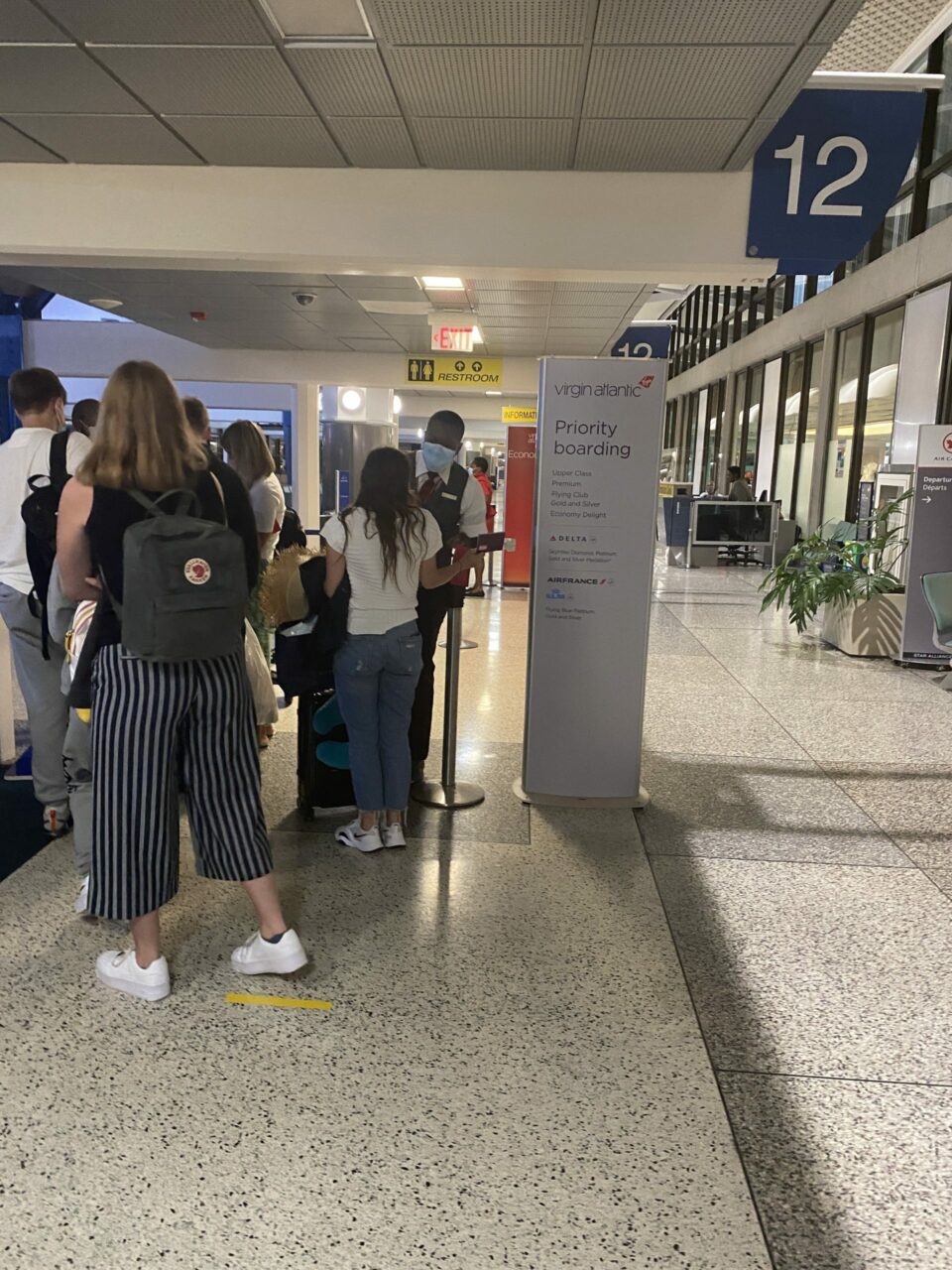 There was a separate queue for premium boarding and although it does not look like it from the photo, people were social distancing.
Unlike our arrival, we walked to the aircraft across the tarmac. It was very ironic the aircraft was called "Lady Freedom" since I was flying back to lockdown.
Once on board, I could tell it was going to be a good flight as the crew were incredibly friendly and welcoming. I was given a bottle of water as a welcome drink and the crew member looking after me introduced themselves.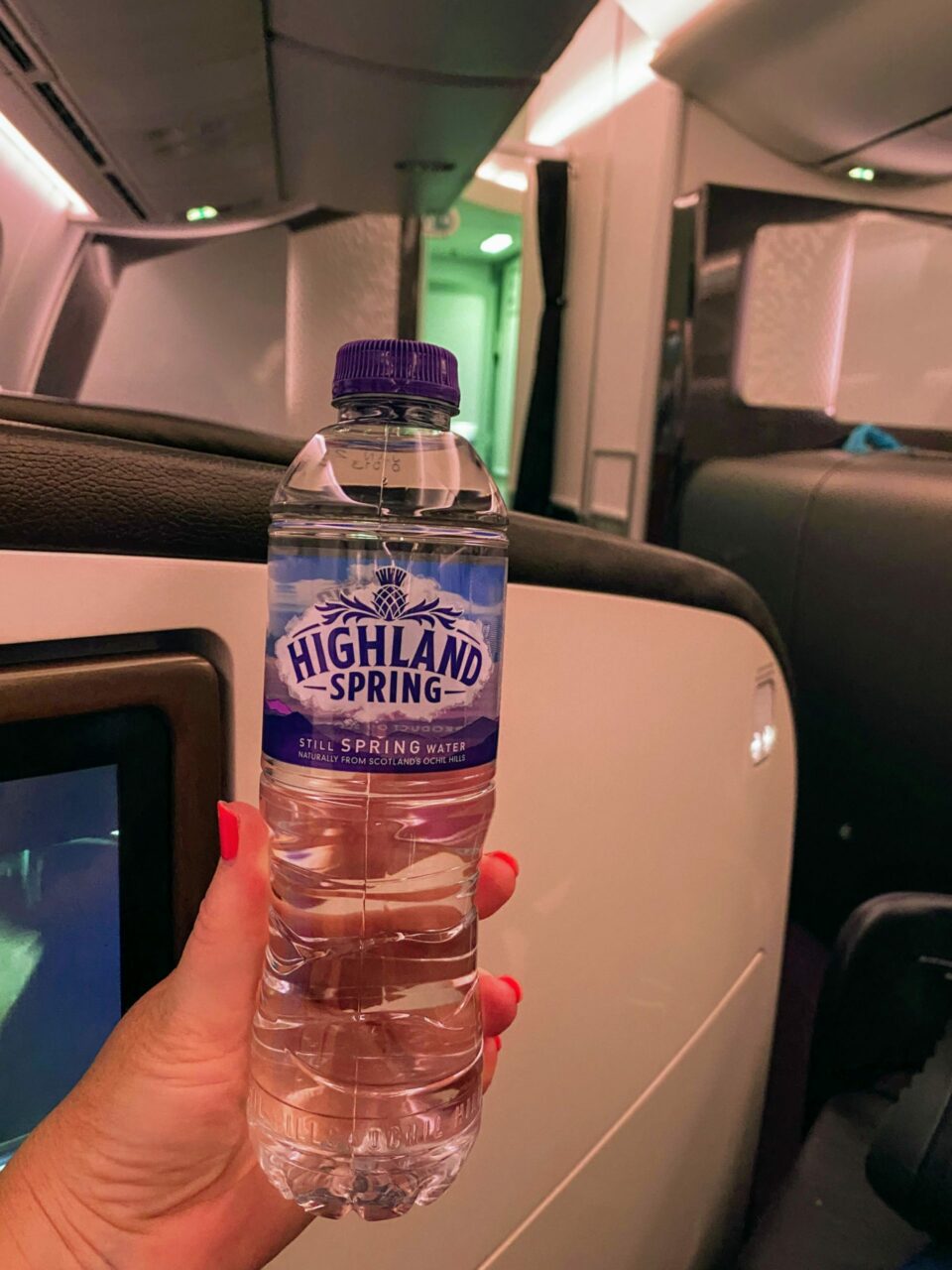 Already at the seat was the new hygiene pack which had masks, hand gel and wipes.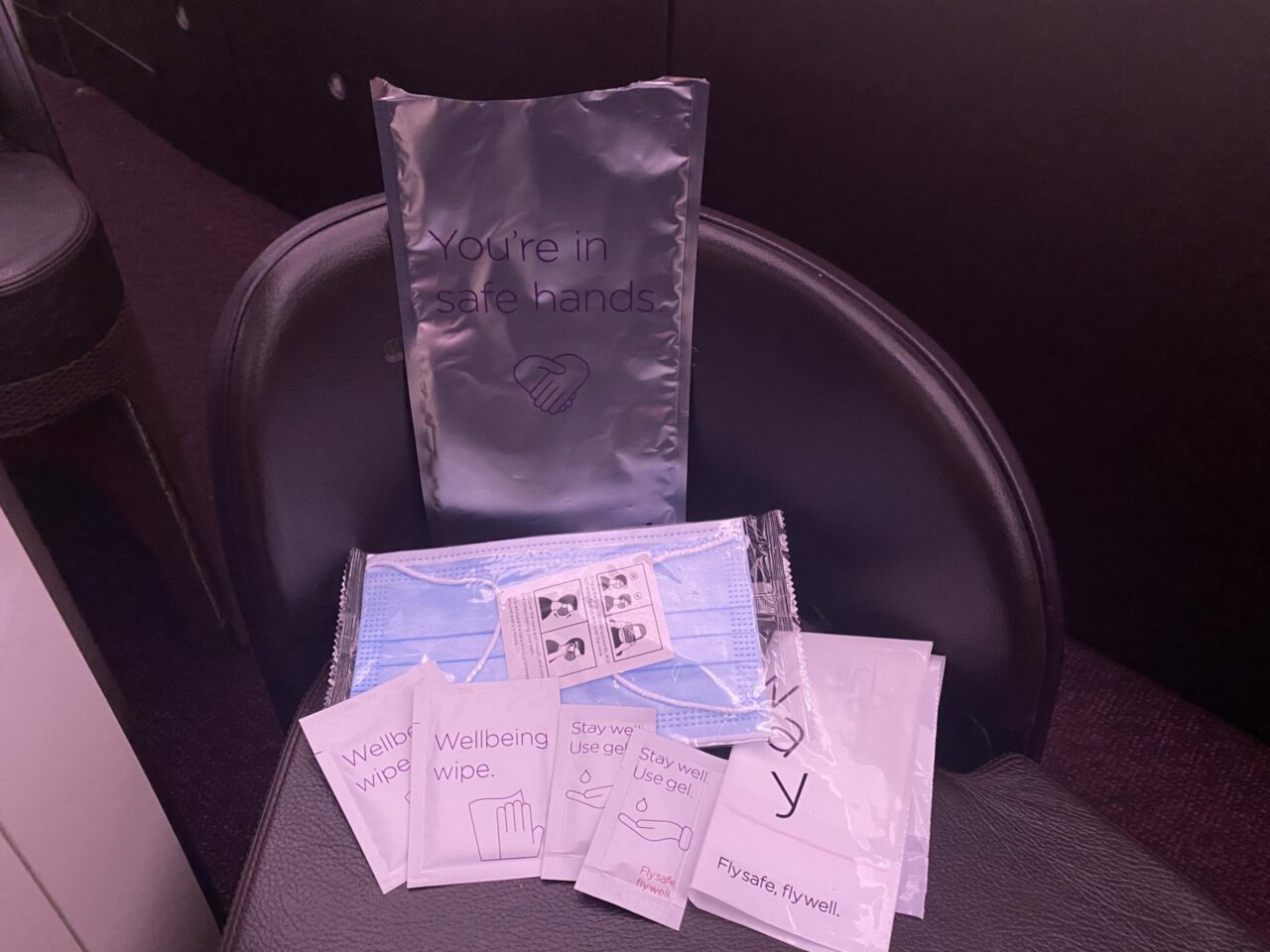 There was also the new Virgin "Goody Bag" I love the contents of these with the fun socks, Bamboo toothbrush and Ren toiletries, but I hate the bag as it is so horrible I would just throw it away.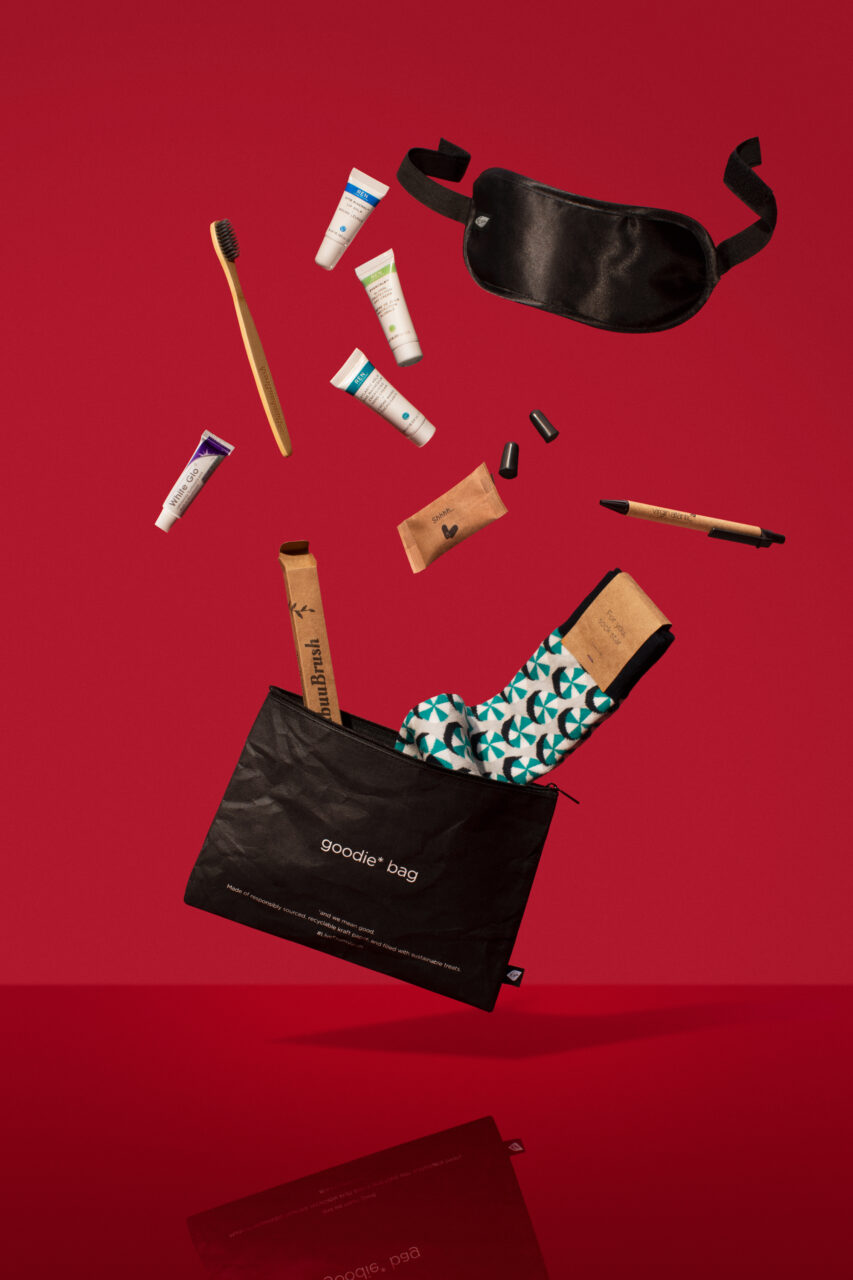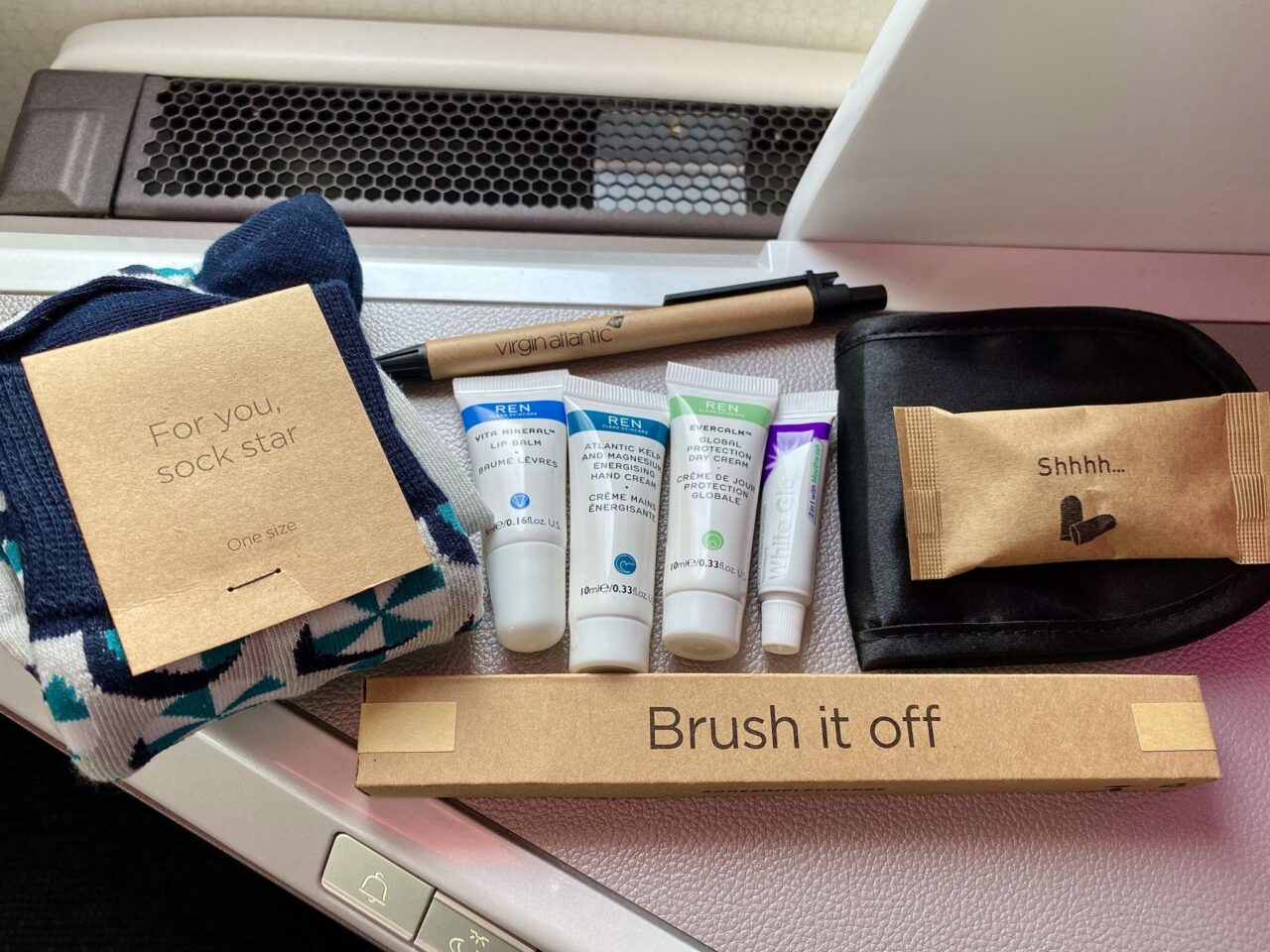 There were also Ren toiletries in the toilets.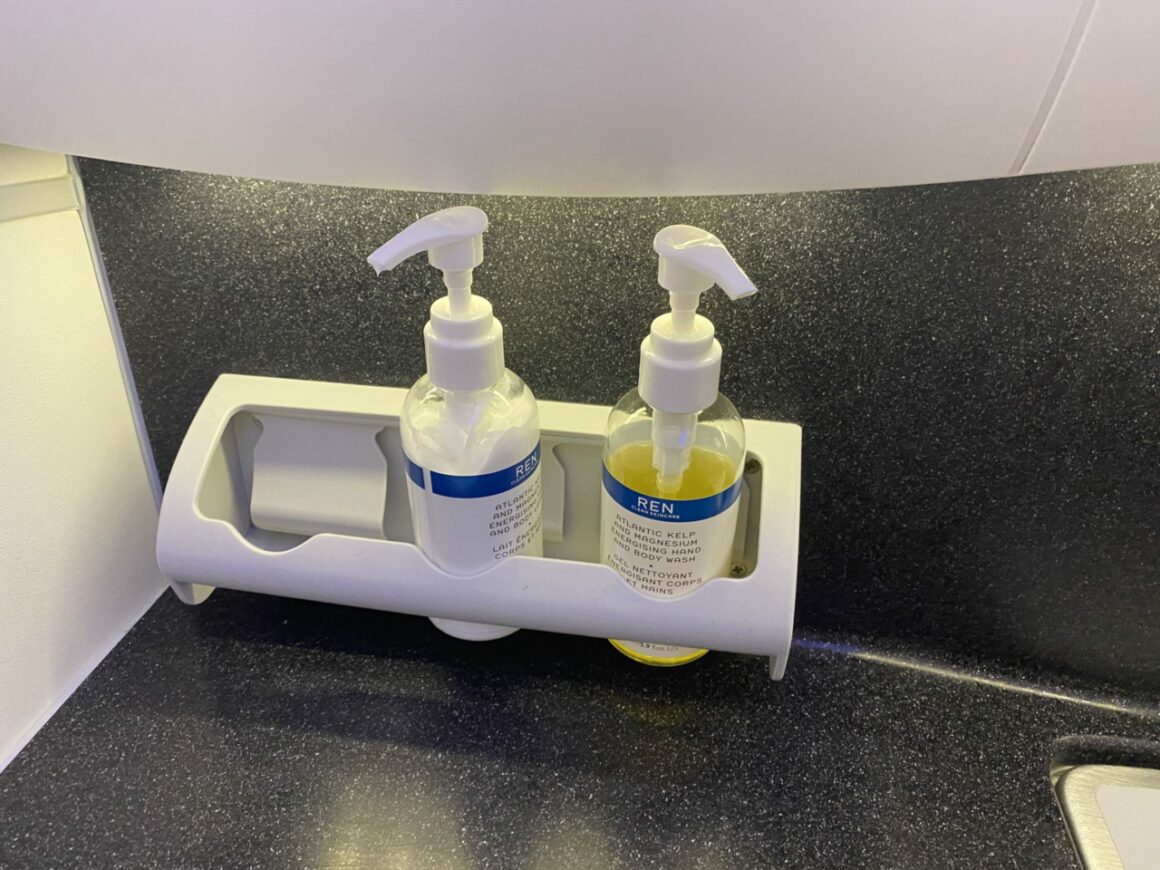 Virgin Atlantic B787-9 Upper Class Seat and cabin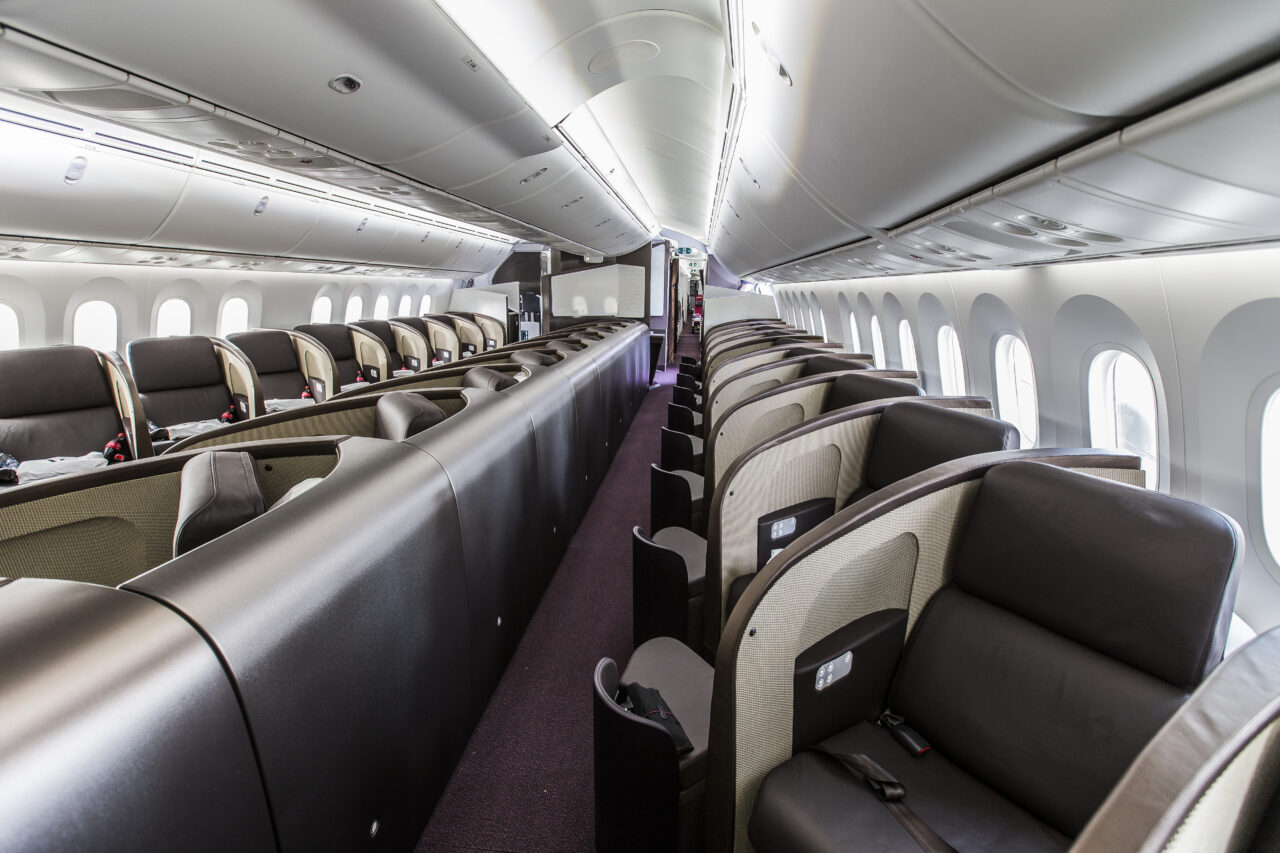 This seat design has been around for a long time now and is also used by Air New Zealand and previously Cathay Pacific. Business class is in one cabin in a 1-1-1 configuration (A-G-K).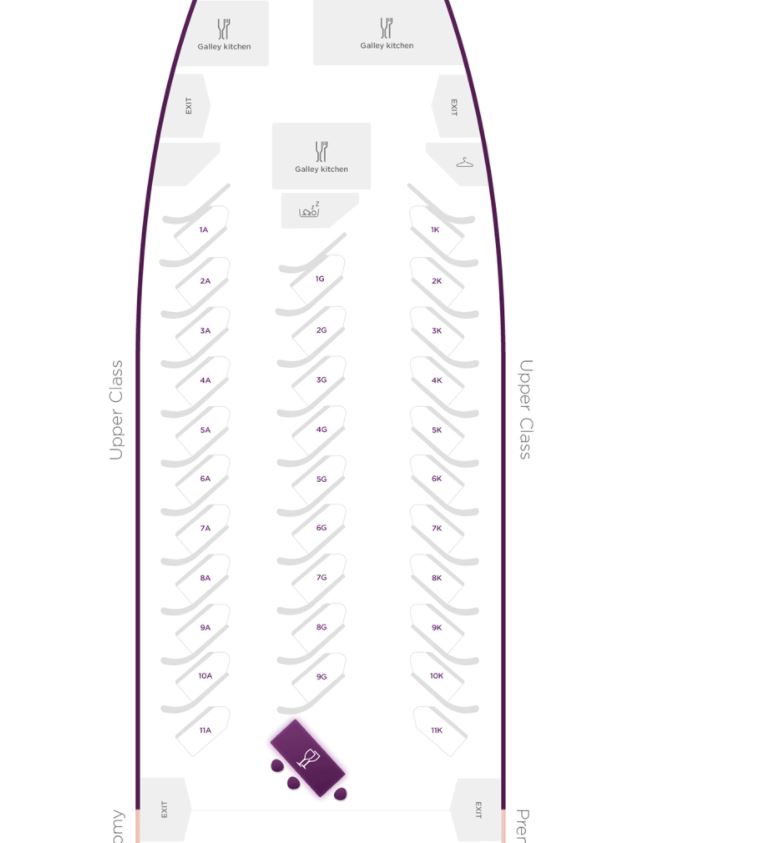 In terms of choosing a seat, I would aim for rows 4-7 on the A-side as these are the quietest and the most private. The bar is not currently being used so you could also select the seats at the end of the cabin without fear of being disturbed.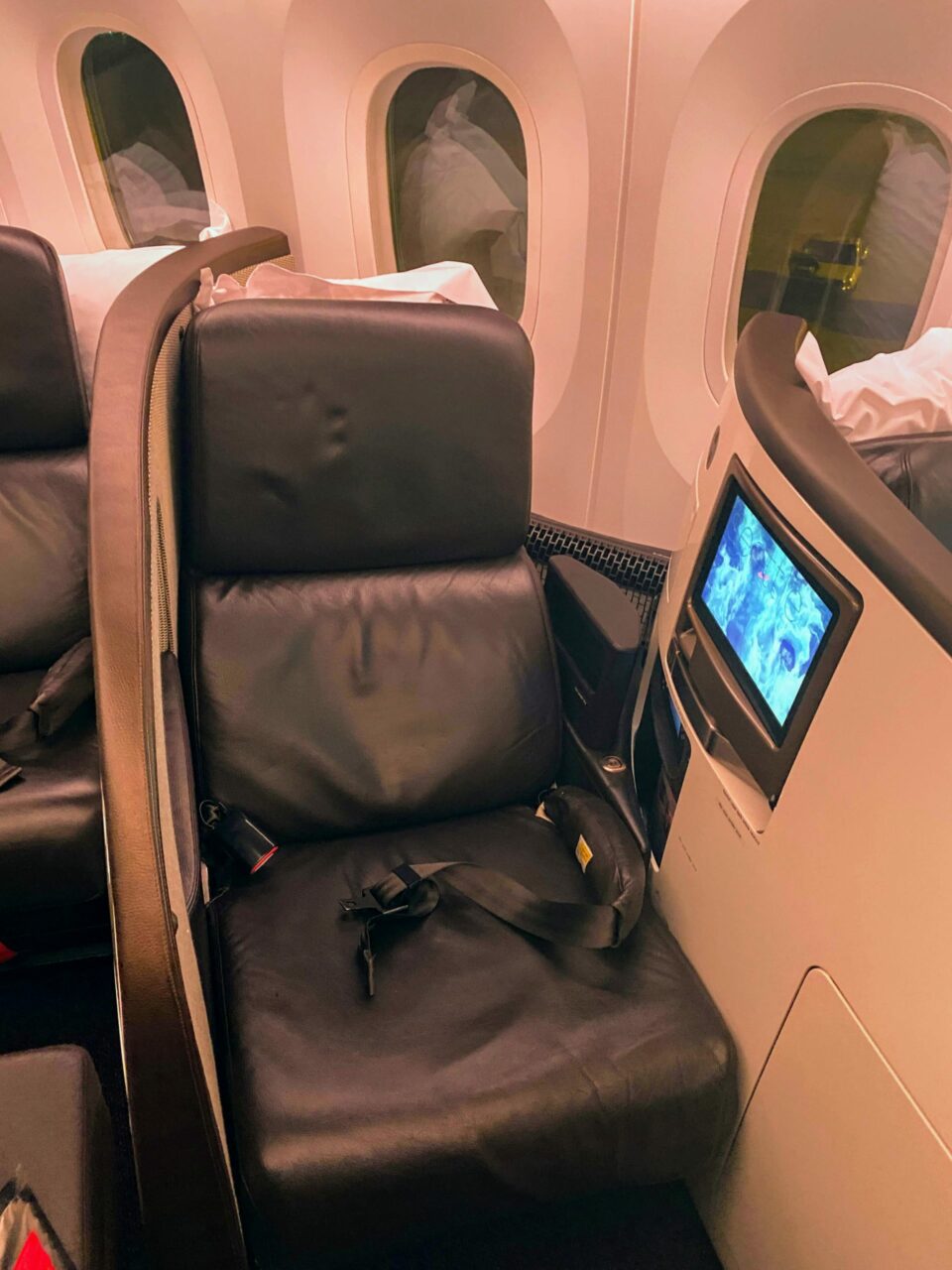 On this flight, I was in 4A. The flight was pretty empty and about 24 hours before departure it appeared on Expert Flyer that they were blocking empty seats, perhaps for social distancing? Whatever the reason, it felt very safe, and having an extra seat next to be to use as storage was very useful!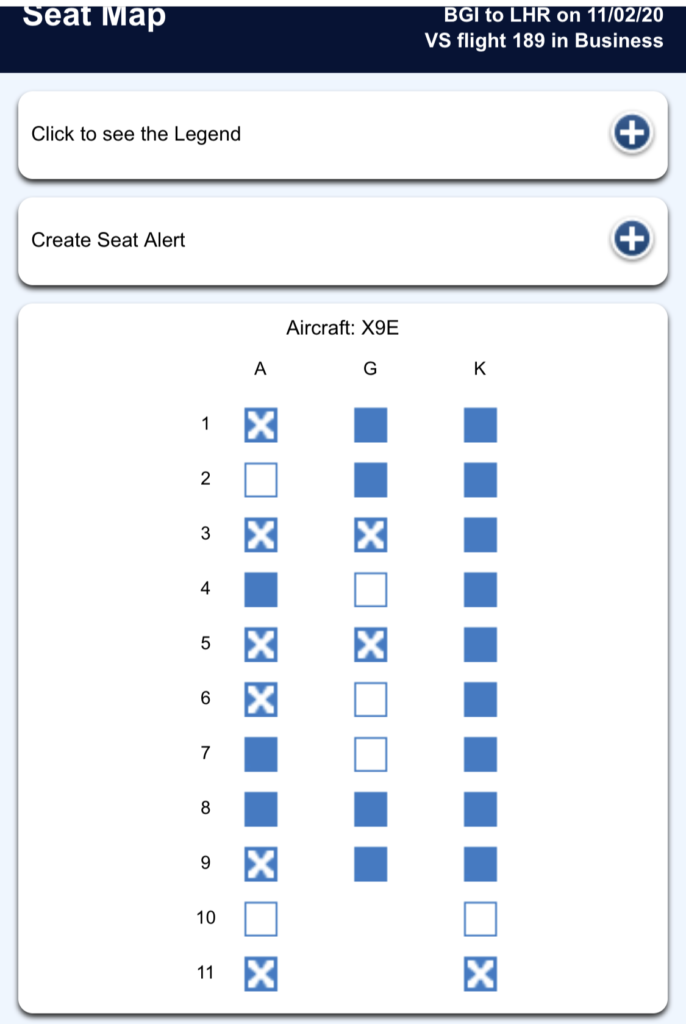 The Virgin Atlantic B787-9 Upper Class seats all have direct aisle access and are reasonably private which does make it a little tricky to have a conversation with someone next to you. They have a cushioned ottoman which someone could use to dine with you but they are pretty small. Underneath the ottoman was a cubby hole that you could use to store things after take off.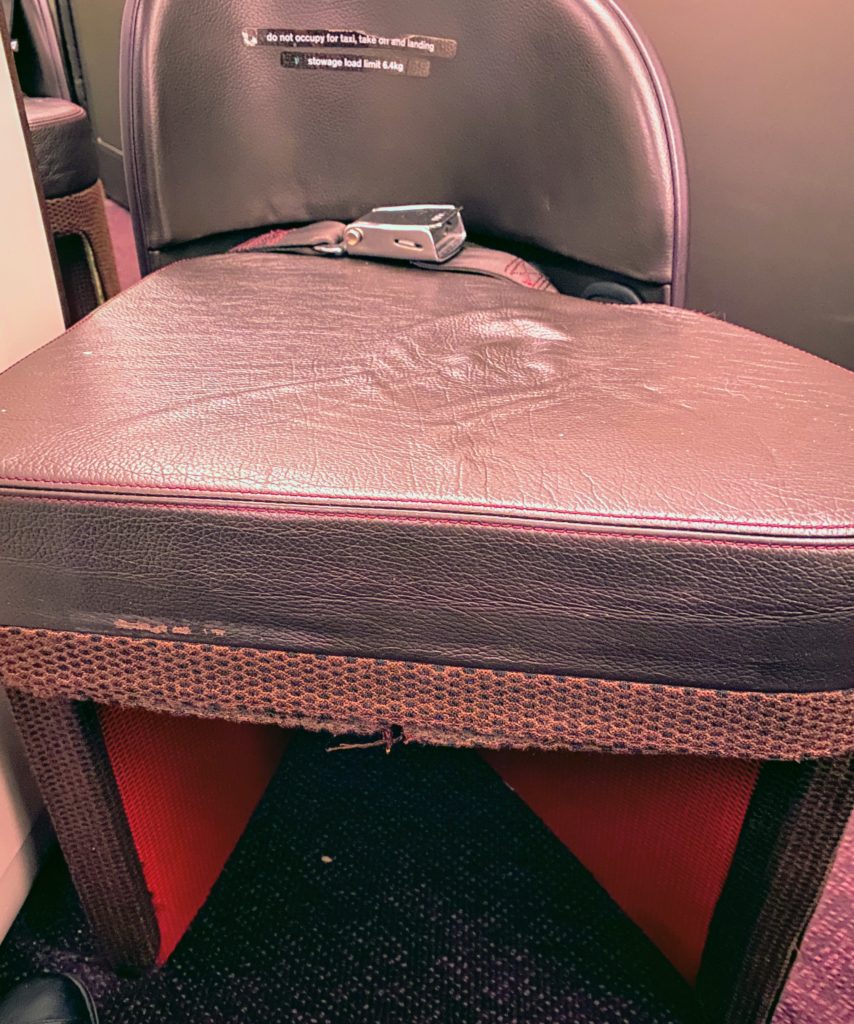 This type of seat has a couple of disadvantages for me. As you have to flip the seat over to sleep, it only reclines a certain amount in the seating position and then the only other option is completely flat. The flip side is usually a bit harder than the other types of seats but I didn't find the Virgin one too bad. For sitting and relaxing I found the seat pretty comfortable and I could reach the footstool without having to recline which I liked. The controls were very simple to use as well. However, the cabin was beginning to look a little worn in places.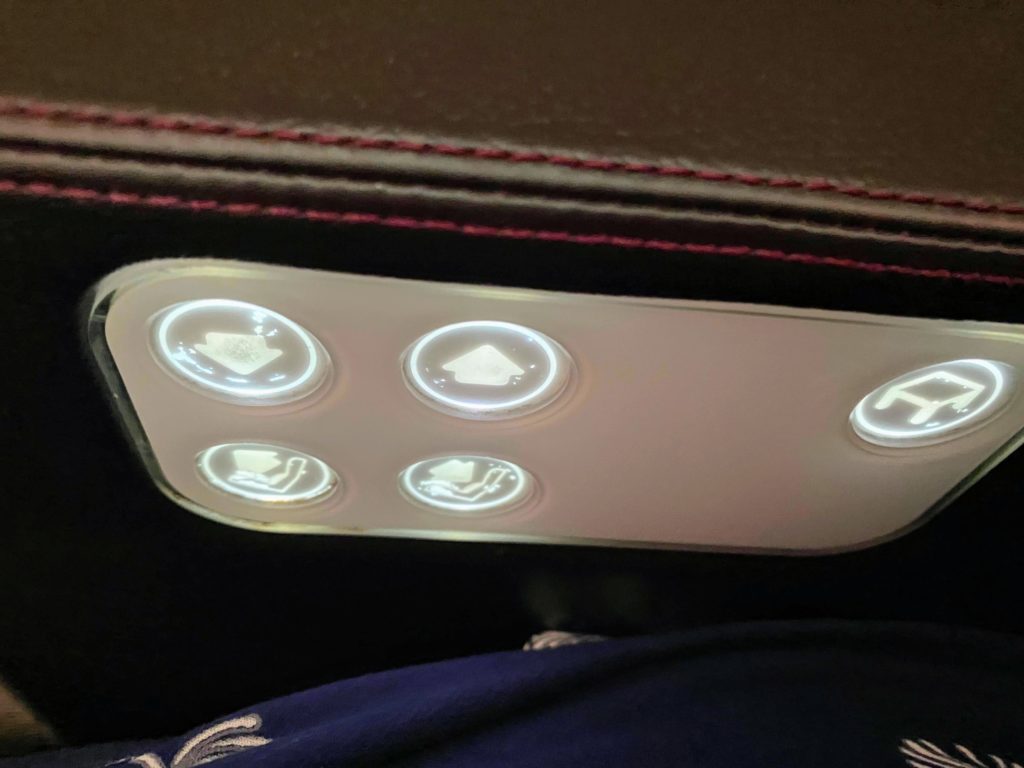 I know that some people find these seats feel a bit narrow or claustrophobic due to the high sides but it wasn't an issue for me.
I would have liked a bit more storage as the seat because as usual, a lot of the storage places could not be used for taking off and landing. In addition to the flip-out cocktail tray, there was a small cubby hole for magazines and once the TV screen was out you could use the recess as a shelf.
If you like gazing out of the window, Virgin's old seats aren't ideal as you almost have your back to the window, although I still managed to get a couple of decent photos.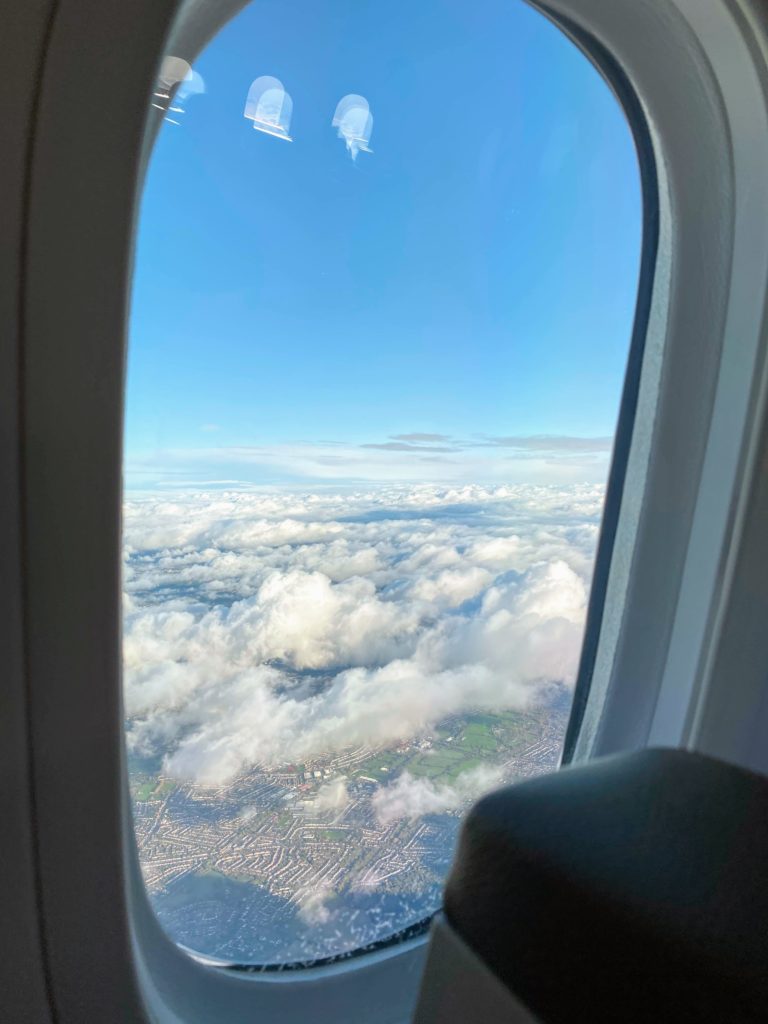 The B787 windows, which whilst nice and large, don't have blinds. Instead, they have a tint that you can darken. However, I always find that the darkest setting doesn't really work on a flight where it is light outside the aircraft. Fortunately, I always have my own eye mask.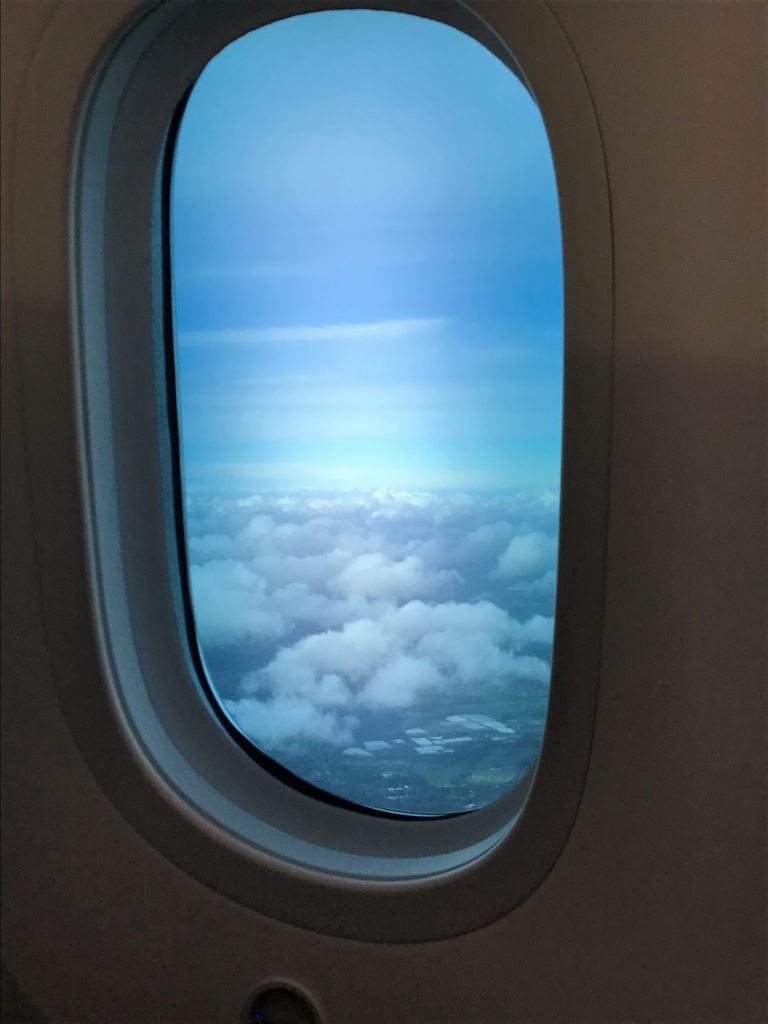 One well-known feature of the Virgin Upper Class cabin is the onboard bar. It's a facility that I like the idea of, but have never actually used except to get a drink to take to my seat. I think I would be more likely to use it if it was in a separate area rather than just at the back of the cabin. That said it is quite useful if you just want to grab a drink or snack and stretch your legs for a bit. The bar is usually set up as the meal service is ending, but it is not currently being used due to COVID.
Instead, there is a snack area in the galley set out: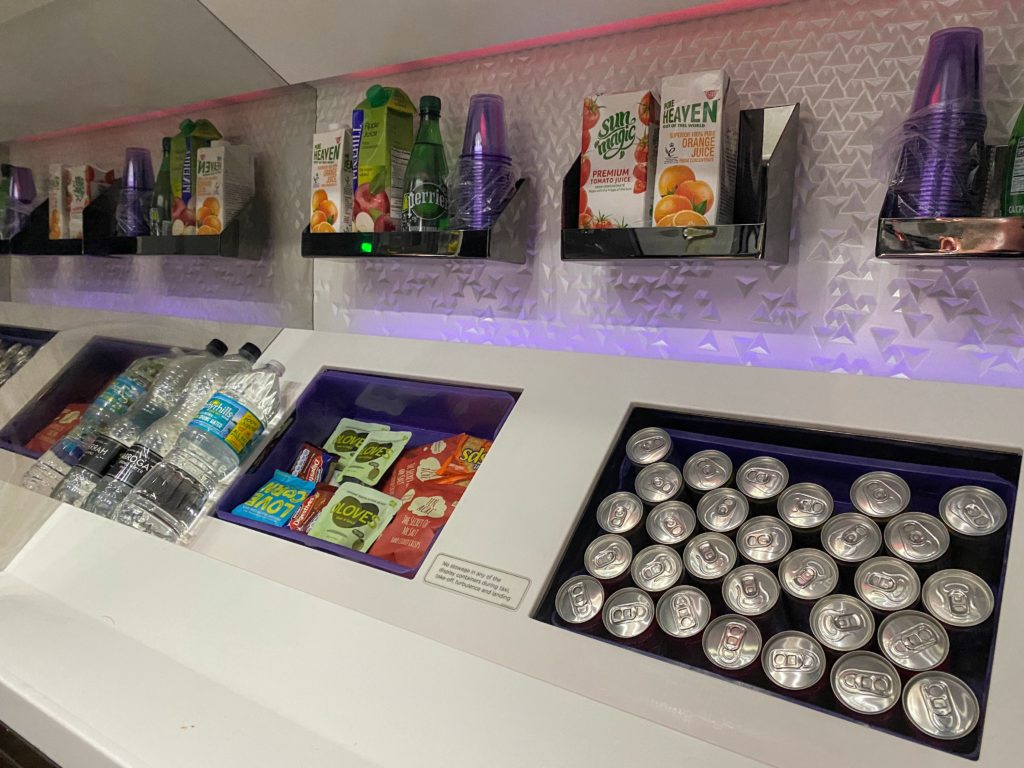 Unlike British Airways, there was the full bedding set available with a mattress topper, pillow and duvet. The crew were extremely proactive about making your bed up and even folded up my pashmina too! There were no pajamas offered though. It was just as well the crew helped with the seat as it was so long since I had flown with Virgin, I had forgotten how the seat worked!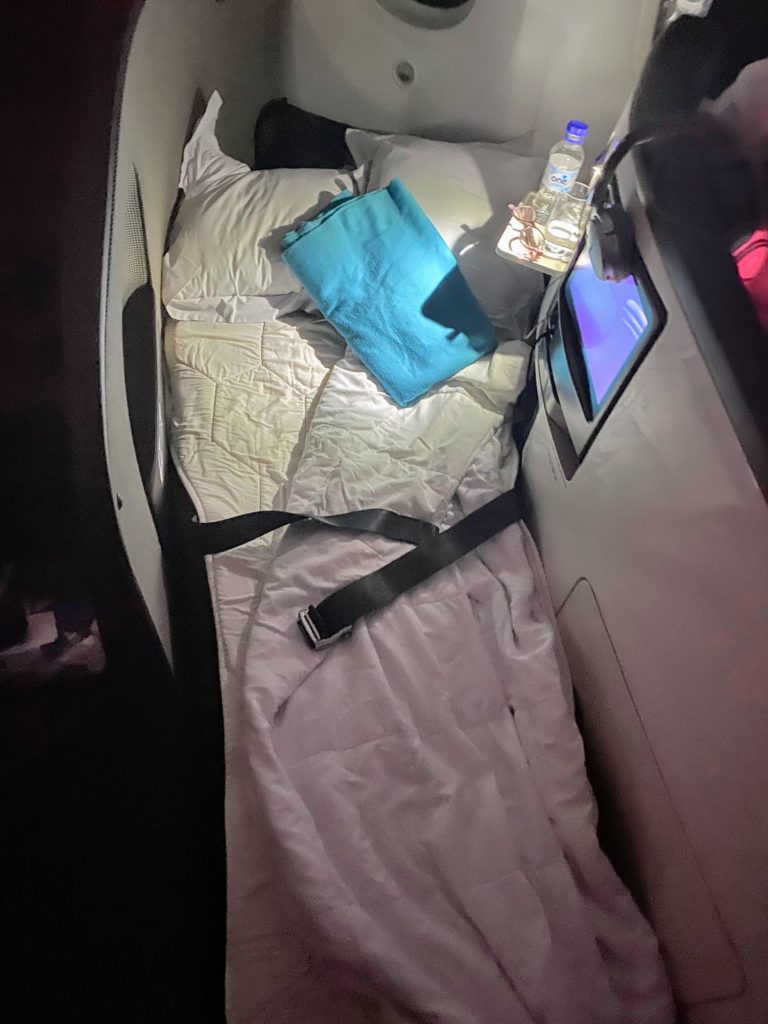 I think the BA seat is softer for sleeping, but in some ways, I prefer the Virgin one. It definitely feels private and I like the fact that when the bed is flat you have a lot of more room at the head end. There is also a lot more storage within reaching distance unlike the old Club World which has none when you are in bed mode.
Food and drink at Virgin Atlantic B787-9 Upper Class
Well, I'm afraid to say BA, that Virgin Atlantic are really showing you up at the moment. While it was not a completely normal service, it was an example in how to do COVID catering. Everything was very safe in individual sealed portions, it was all on one tray and I was so happy to see that they had the Orville and Wilbur salt and pepper shakers too! (they may have fallen into my bag and be available in our next competition!).
There was even a proper menu!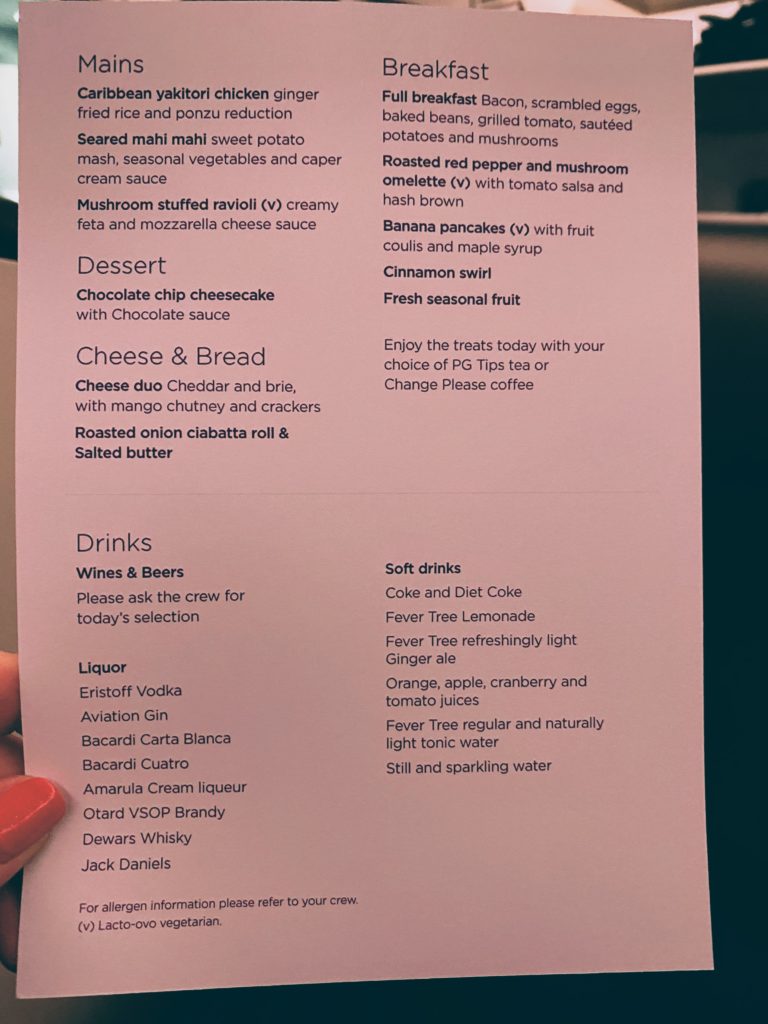 The only thing really missing was a starter and the cocktails. Before dinner there was a drinks round but no snacks were served with these – normally it would be a bowl of crisps. They could have stretched to a packet of something but that is a minor complaint.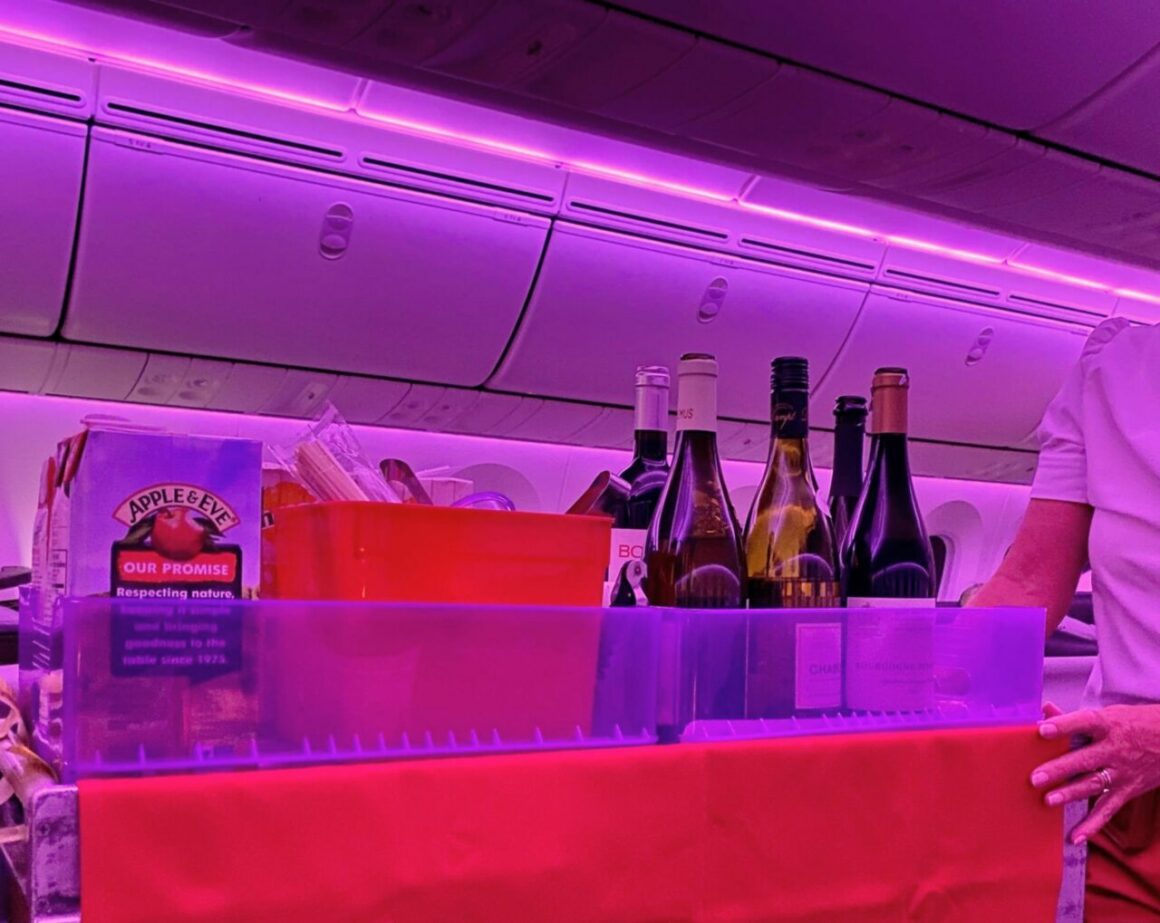 I was delighted to see proper large bottles of wine which included 2 white, two red and Prosecco or Hattingley Valley English Sparkling wine. There was no champagne but I'm not sure if that is COVID or related to being outbound from Barbados. Either way I probably would have chosen the Hattingley Valley as it is an extremely good wine. As you will notice there were proper glasses too! They used to have larger glasses that were like a rimless wine glass which were nicer but these were a decent size so I was not complaining!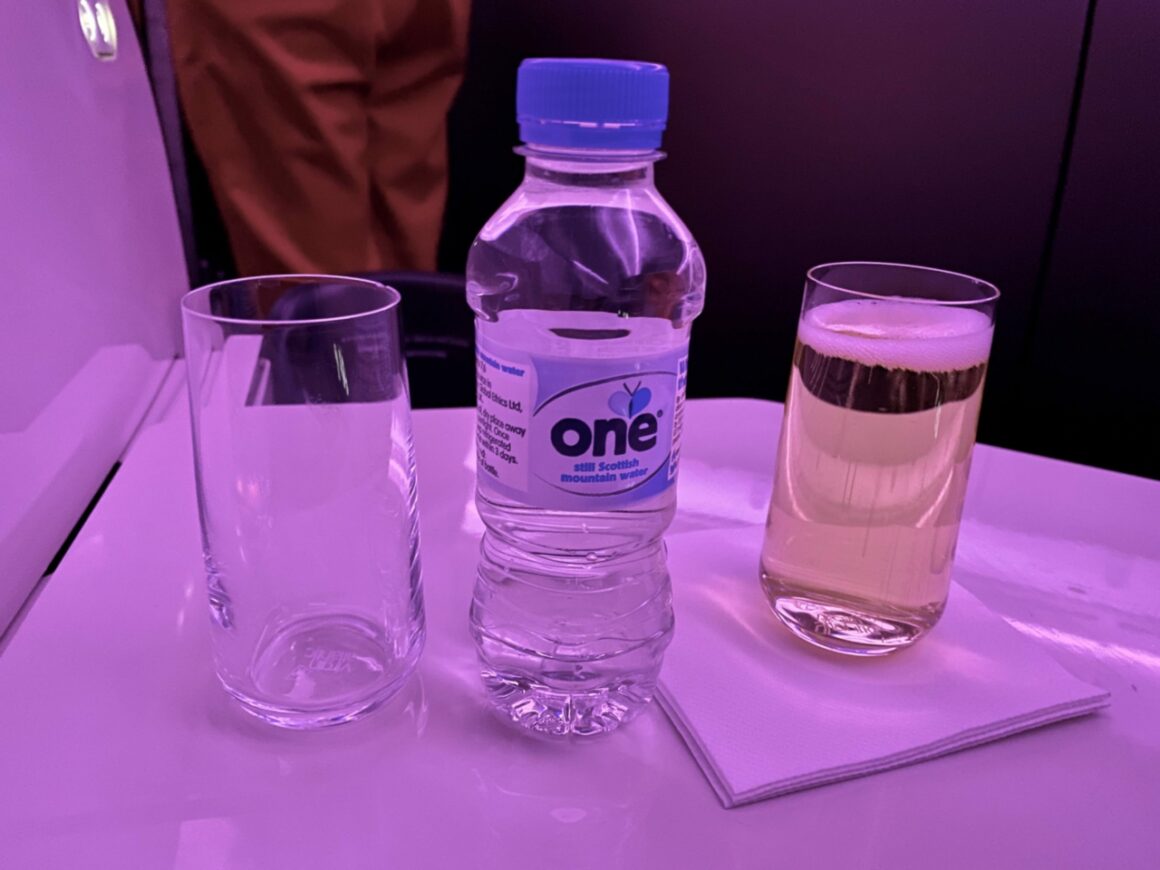 Everything came on one tray and at this point you were offered a choice of main course. I went for the Caribbean style chicken. Let's be honest, it looks a mess but at the end of the day it was delicious and packed full of punch local flavours. The dish could have been a little less dry but that was my only complaint.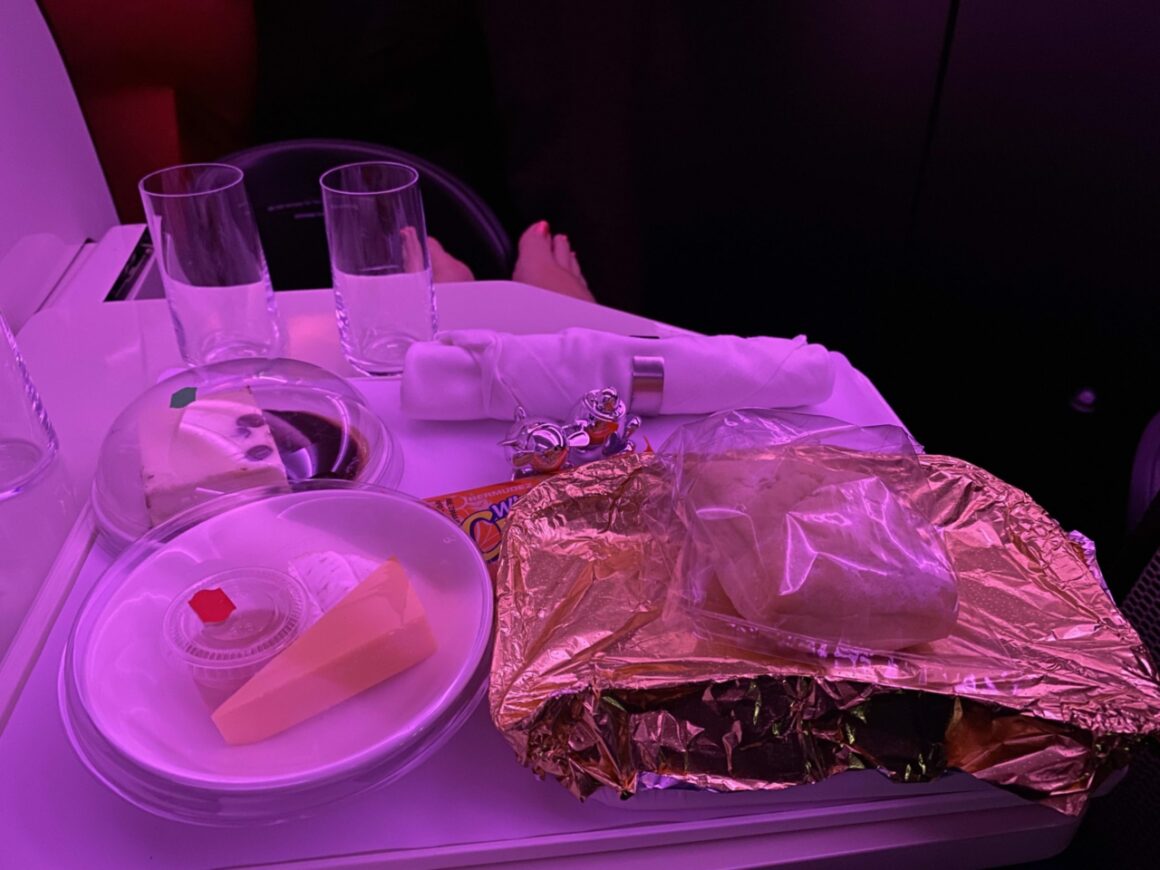 Here is the main course minus the foil: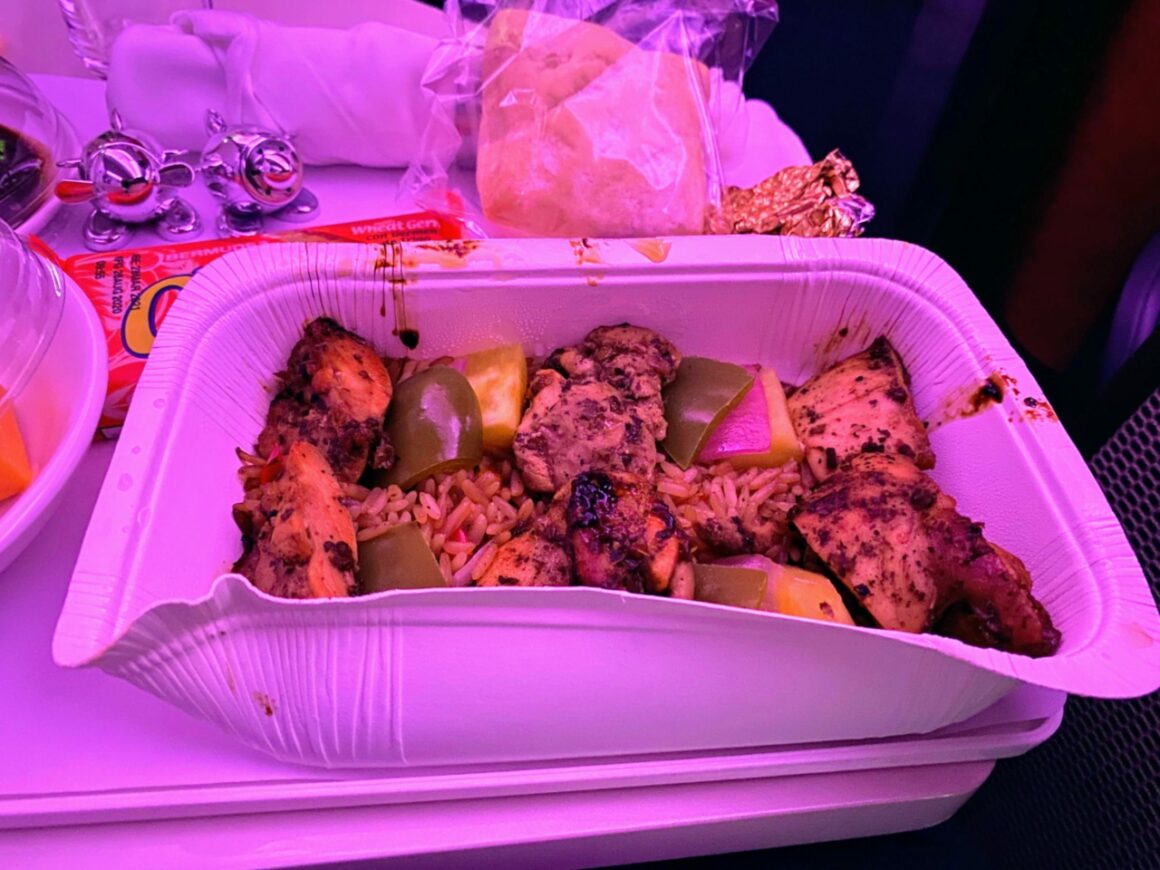 I enjoyed a glass or two of the Chablis with my main and top ups were plentiful.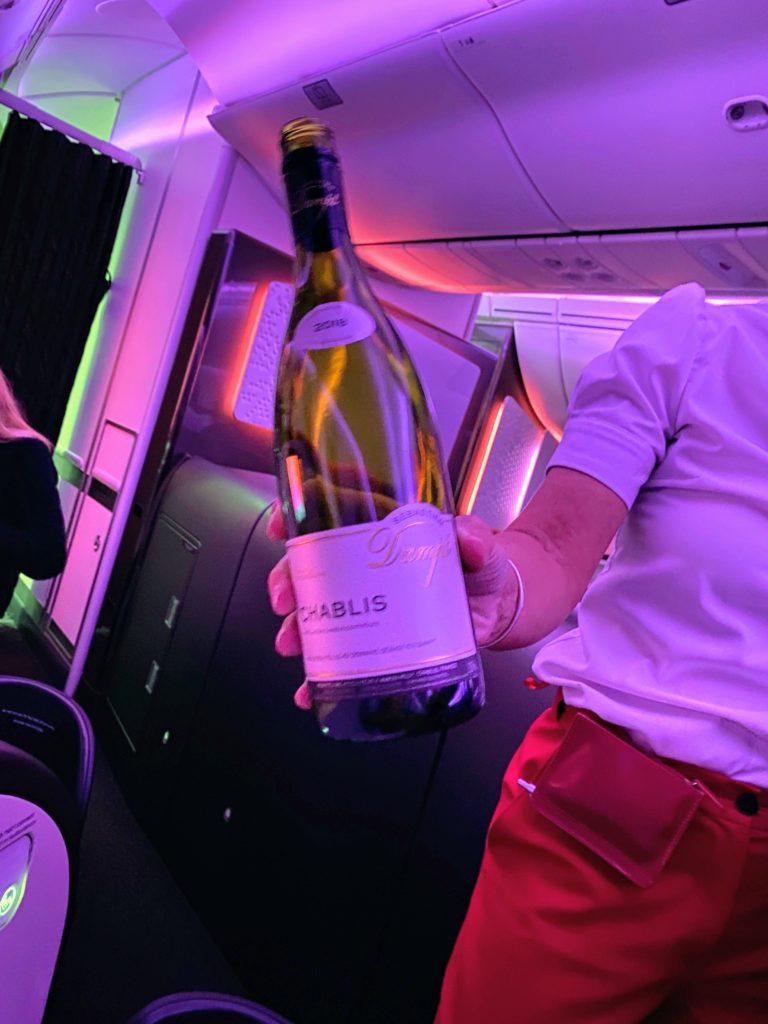 The cheesecake was pretty good even though I am not a fan of chocolate desserts. The chocolate sauce was like the old fashioned sauce you used to get for ice cream and took me back to my childhood!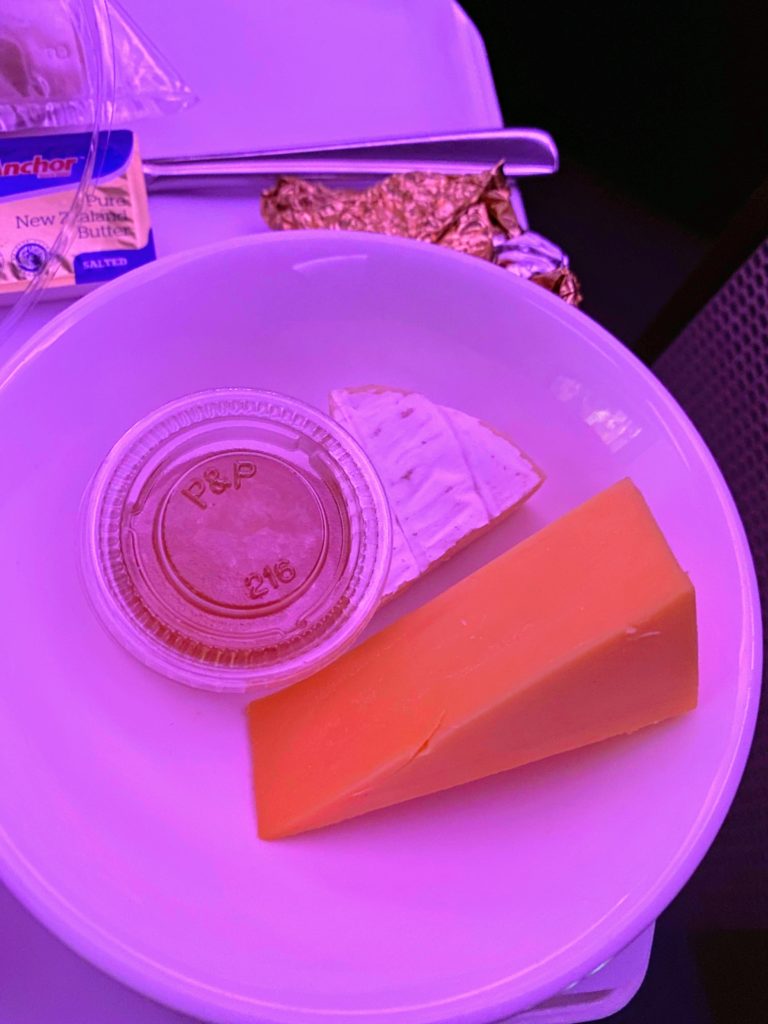 The cheese looked rather dull but I really enjoyed it. The crackers with it were a bit like a wholewheat Tuc biscuit and the highlight was the mango chutney which really added a big boost to the flavours.
Virgin Atlantic B787-9 Upper Class Breakfast
It was impressive to also see a choice of 3 main dishes at breakfast too. I thought I would eke out the Caribbean feel for a few more minutes and went for the banana pancakes. As well as the main course you also got some fruit salad and a cinnamon whirl, so there was plenty to eat. The tea and coffee came in the lovely big mugs that Virgin use.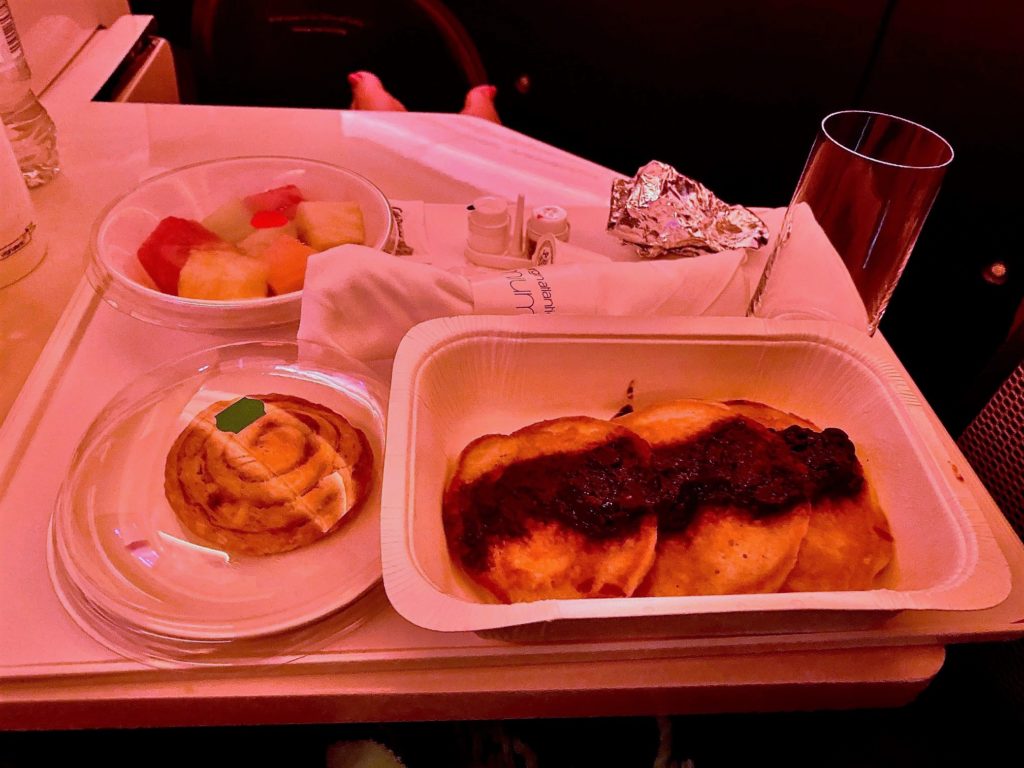 The pancakes themselves were fluffy but they needed the syrup that they came with. I was not so keen on the banana topping as it was over caramelized. and you could not really taste the banana.
Virgin Atlantic B787-9 Upper Class Entertainment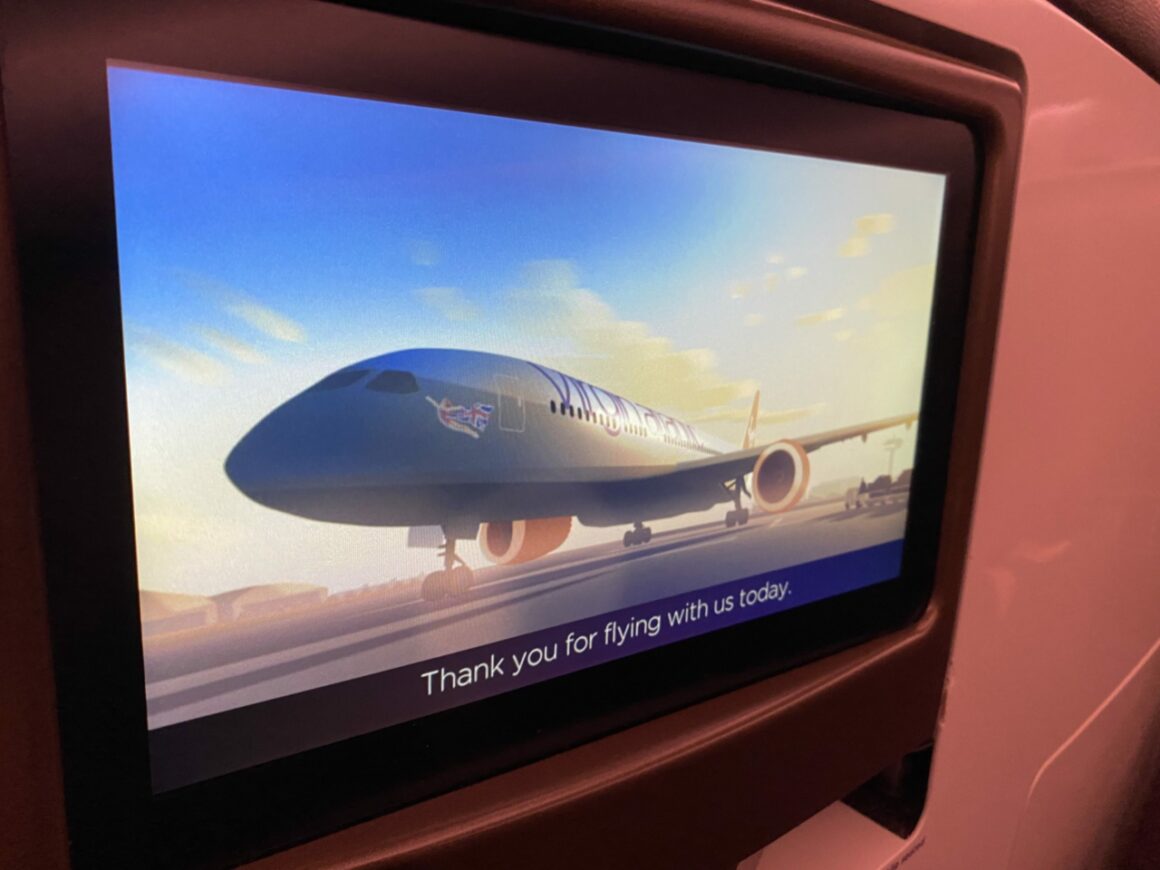 The B787-9s have good definition screens compared to some of the older aircraft in the fleet. I was pleasantly surprised by the choice of films as there were quite a few recent releases and it was a struggle to decide what to watch. As I planned to sleep just after the meal, I went for something silly that I would not be bothered about finishing. Being an animal lover I went for Doctor Doolittle. I'm also a bit of a Robert Downey Junior fan, but I have to say his fake accent in this film really got on my nerves!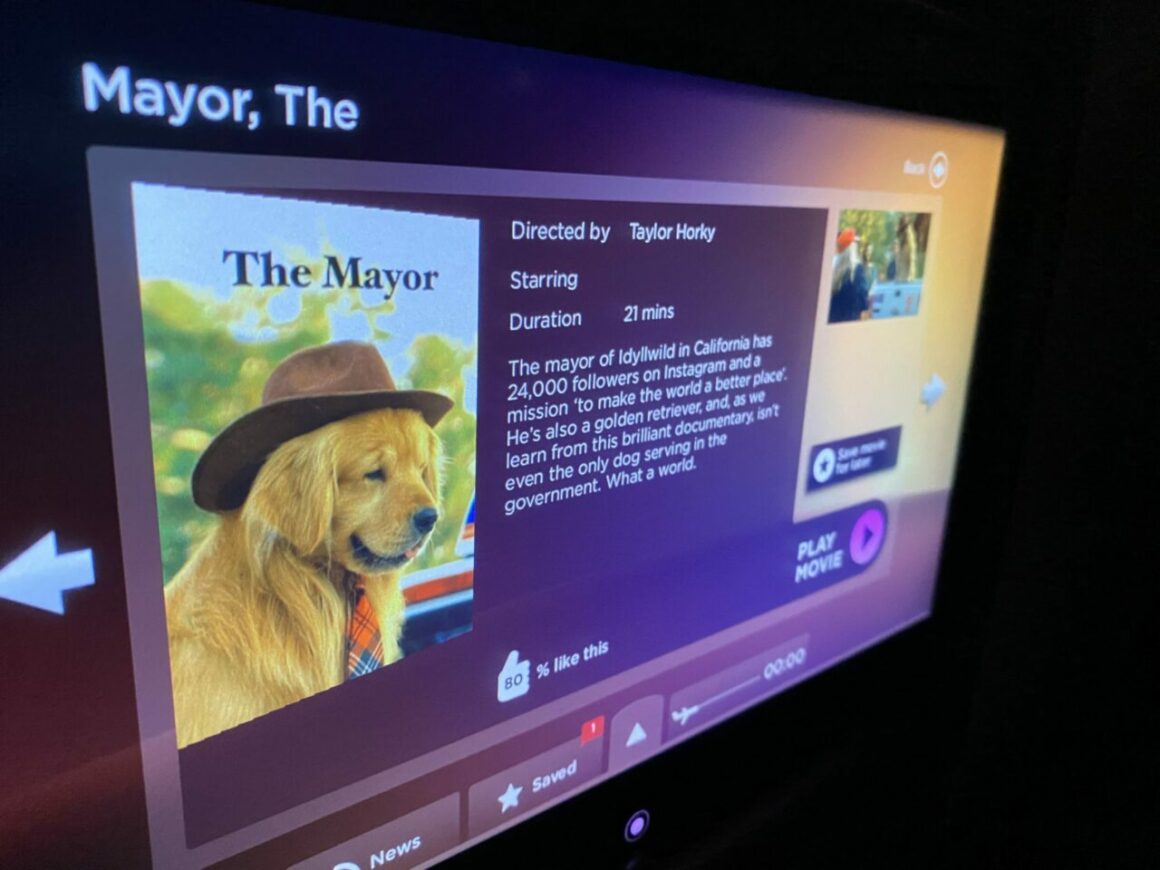 You could control the screen with touch or use the simple controller which worked well without any lag. Noise-canceling headphones were also provided which I did wear for a while but they began to hurt my ears after a bit.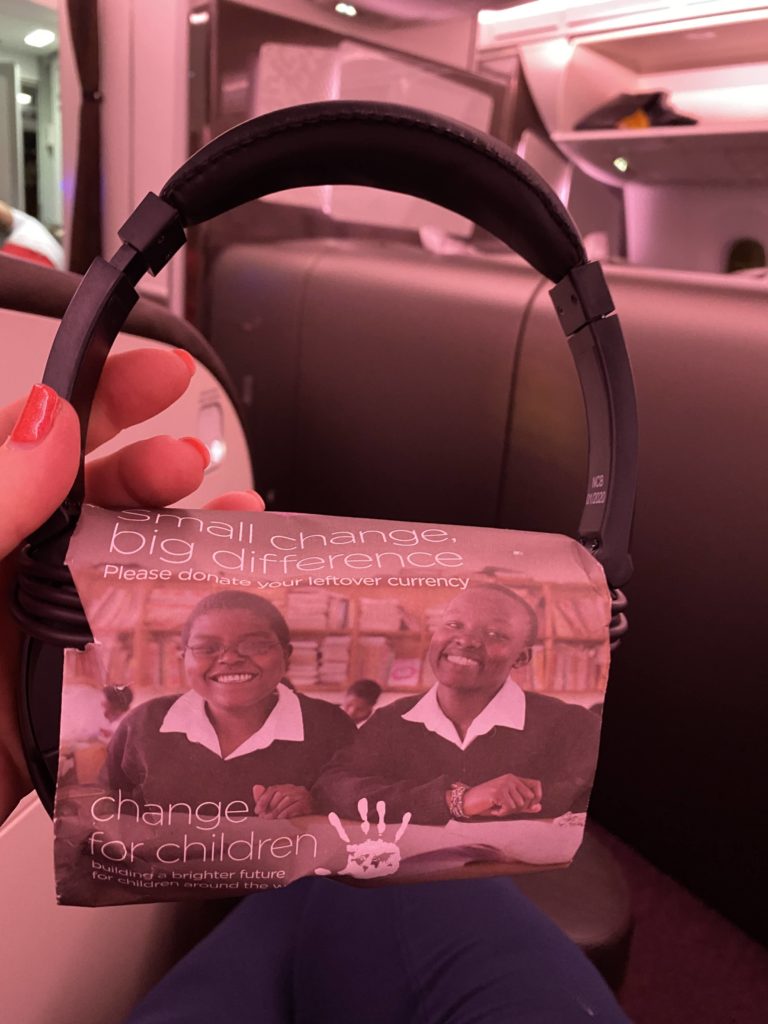 There was Wi-Fi onboard which seemed to have gone down in price as I paid £12.99 for 150MB and previously it was £14.99. I did have a few issues with getting it to connect as it seemed to drop out and then I struggled to get it back. The speed was average for aircraft Wi-Fi.
Conclusion for Virgin Atlantic B787-9 Upper Class
There was one moment in this flight when I was enjoying my pre-dinner drink from a proper glass, having been chatting to the delightful crew when I was hit with a wave of nostalgia of how flying was before the pandemic. Sitting there minus my mask, it almost felt like flying was back to normal for a moment. The crew were one of the best I have had on Virgin Atlantic. Many had only returned to work recently and they had actually got to spend some time in Barbados so they were all in high spirits. It was a such a fun flight and although the food was not quite the same as before (those cardboard containers did not look great) it was a huge step up from BA's service even with their new hot main courses (choice of two).
All in all, this was a great flight considering the circumstances and it was clear that Virgin are pulling out all the stops to try and please customers while keeping interactions as safe as possible. Hopefully, BA will realise very soon how far they are behind the competition on long-haul and improve their in-flight offering.