Yesterday I reviewed the start of my Virgin B787 trip with my Virgin Atlantic Clubhouse experience at Heathrow Terminal 3. Today I will look at the flight itself.
Boarding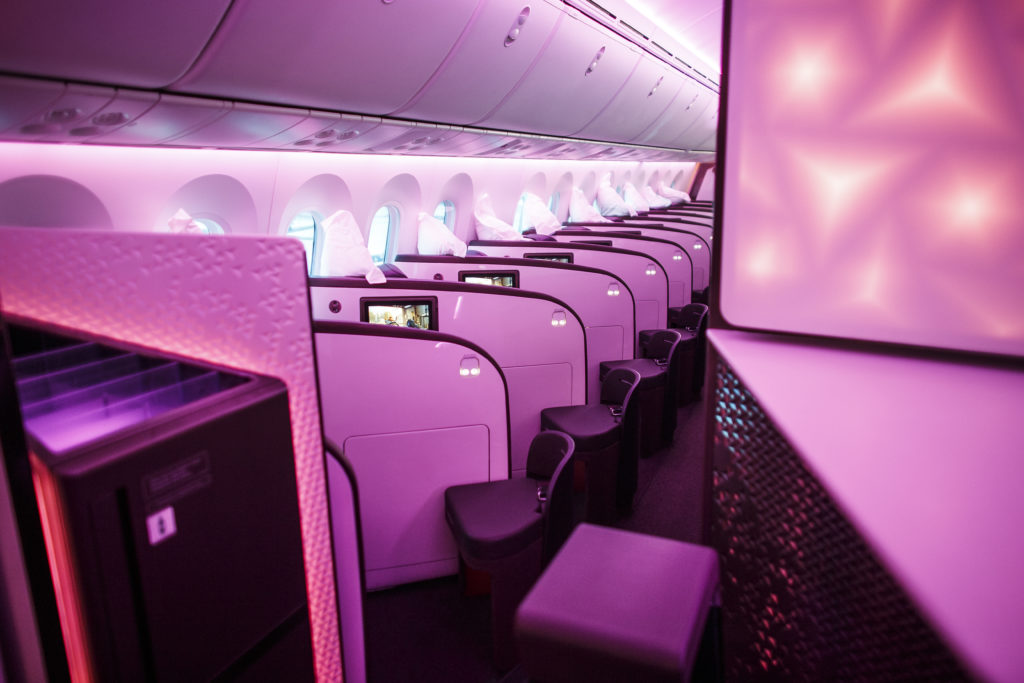 Virgin called for boarding pretty early, around 55 minutes before the flight. There was a priority line and boarding was very straightforward. The B787 has mood lighting which Virgin used to good effect throughout the flight. I liked the Brit Pop music that was played for boarding and disembarking too.
I had chosen a seat in the middle of the Upper Class cabin away from the galley, toilets and bar. I also chose an A side window seat as these are more private because they look at the back of the middle row, rather than directly at another seat.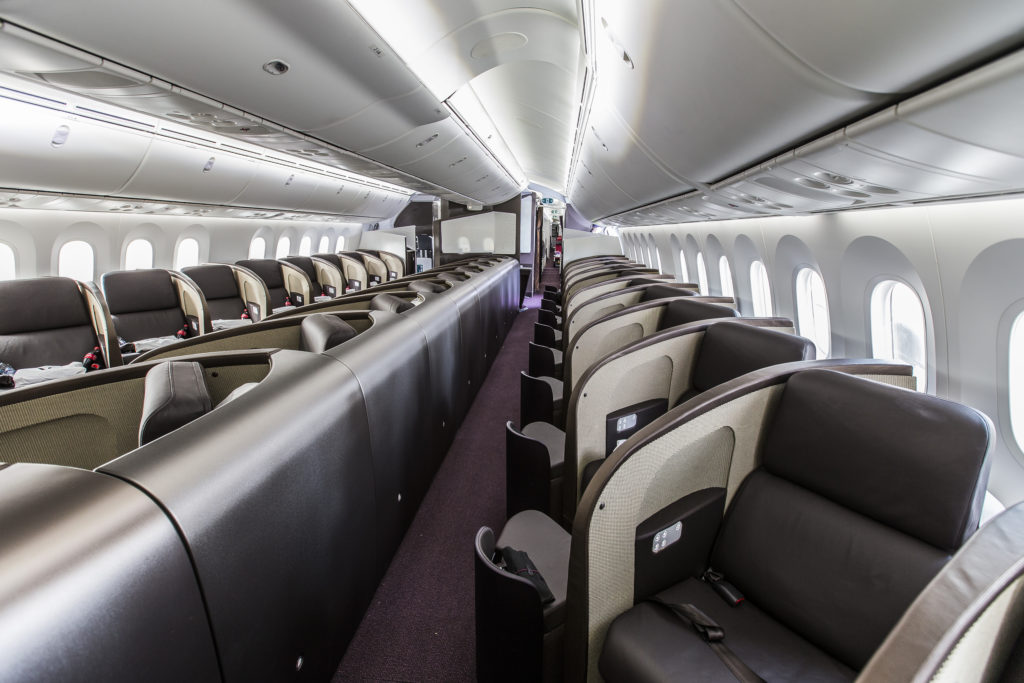 Once seated, a cabin crew member offered me a pre-departure drink and I obviously chose the champagne. On this flight, the champagne was Gardet Brut which was OK but nothing special. I liked the little cocktail tray to put it on at head height. Already at the seat was a bottle of water, which I thought was a good idea, rather than having to wait until later in the flight like BA.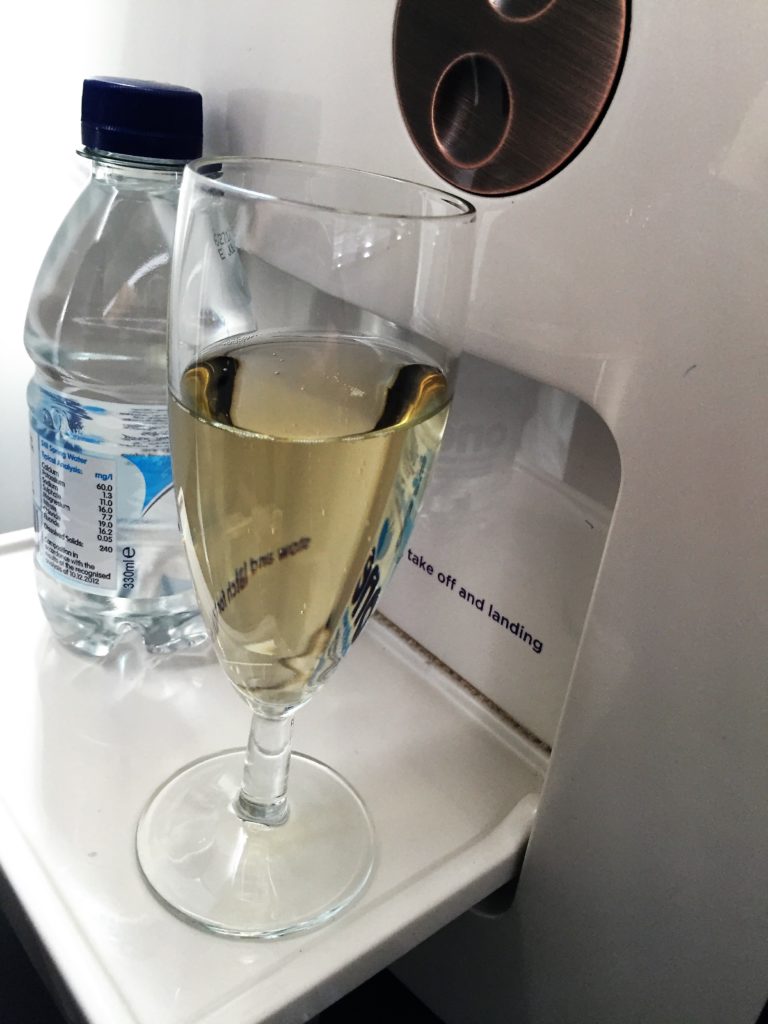 The amenity kit was already on the seat and varied in bag style on both flights. The bag was a Candian brand, Herschel Supply Company which I had never heard of but I liked the designs. In fact, I am still using one of the bags now. On this journey, it was a handy hanging toiletry bag. I thought it was a clever idea to do different designs so you didn't end up with two the same. The kit contained:
A Rituals hand cream, lip balm and face cream.
A toothbrush,  toothpaste, earplugs, black eyeshade, socks and a Virgin Atlantic pen.
As it was a day flight I wasn't offered pyjamas but you could ask for them.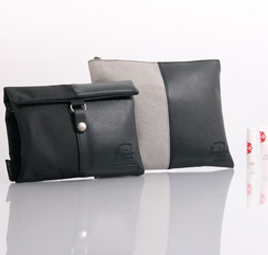 The seat and cabin
This seat design has been around for a long time now and is also used by Air New Zealand and previously Cathay Pacific. Business class is in one cabin in a 1-1-1 configuration (A-G-K). In terms of choosing a seat, I would aim for rows 4-7 on the A side as these are the quietest and the most private.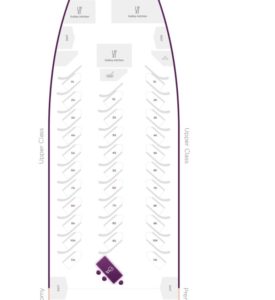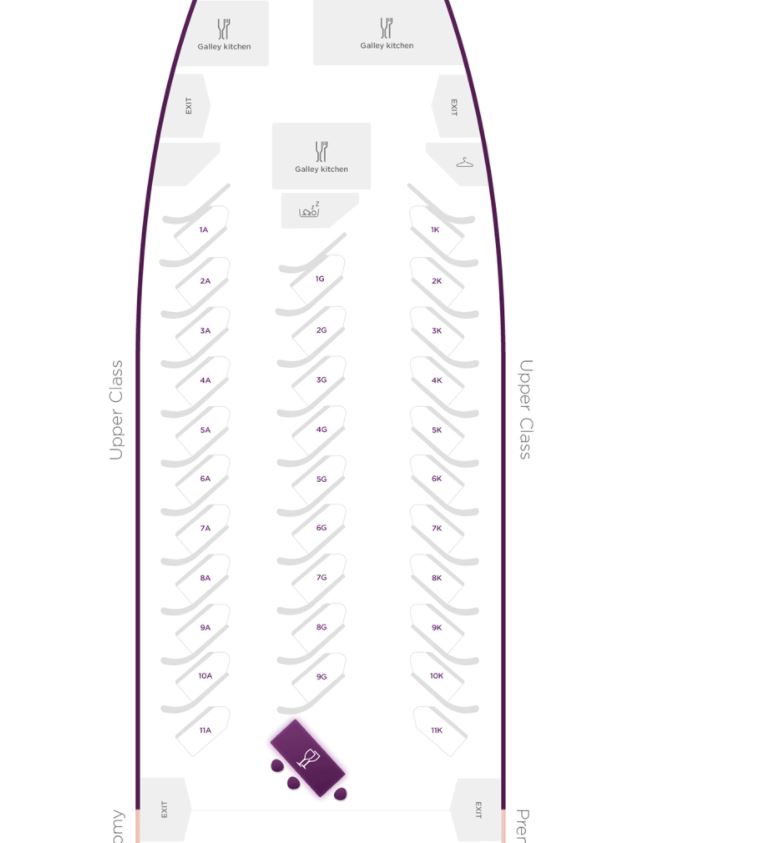 The seats all have direct aisle access and are reasonably private which does make it a little tricky to have a conversation with someone next to you. They have a cushioned ottoman which someone could use to dine with you but they are pretty small. Underneath the ottoman was a cubby hole that you could use to store things.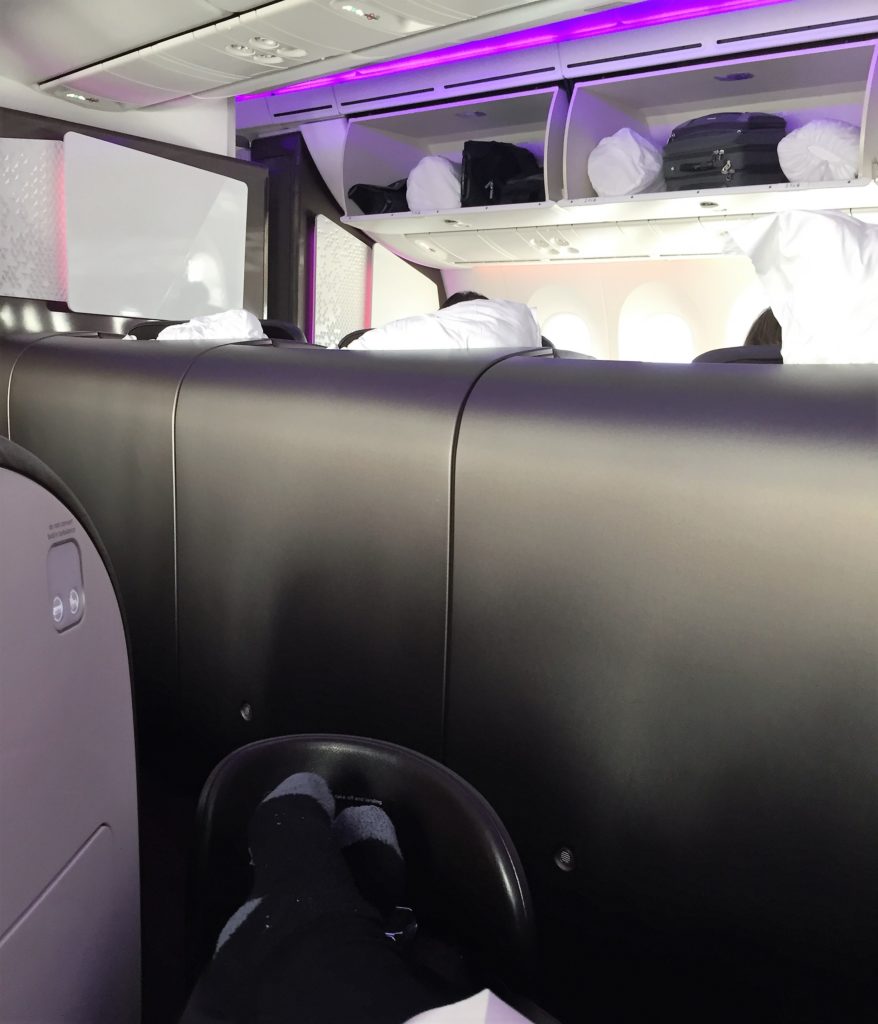 This type of seat has a couple of disadvantages for me. As you have to flip the seat over to sleep, it only reclines a certain amount in the seating position and then the only other option is completely flat. The flip side is usually a bit harder than the other types of seats but I didn't find the Virgin one too bad. For sitting and relaxing I found the seat pretty comfortable and I could reach the foot stool without having to recline which I liked. The controls were very simple to use as well. I know that some people find these seats feel a bit narrow or claustrophobic due to the high sides but it wasn't an issue for me.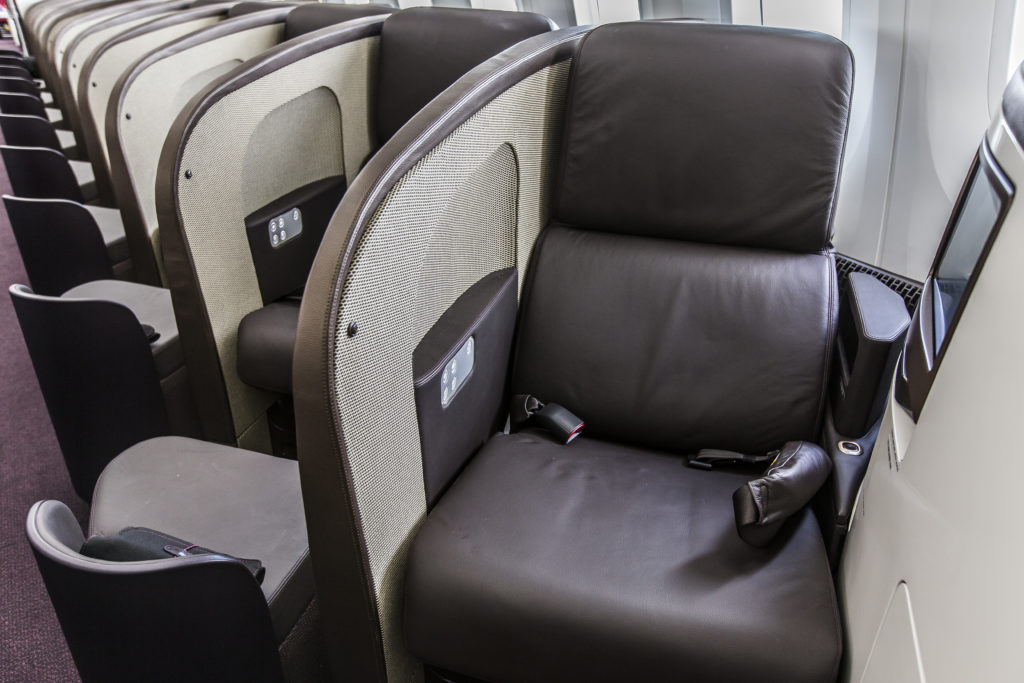 Each seat came with a bag that contained a decent size pillow, a cotton mattress topper and a duvet. When you want to sleep the crew will make up your bed for you but I just did it myself even though they offered.  I managed to get a little sleep after the meal and although I think the BA seat is softer, I prefer the Virgin one overall. It definitely feels private and I like the fact that when the bed is flat you have a lot of more room at the head end.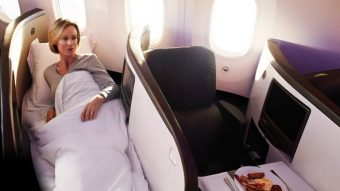 I would have liked a bit more storage as the seat because as usual, a lot of the storage places could not be used for taking off and landing. In addition to the flip out cocktail tray, there was a small cubby hole for magazines and once the TV screen was out you could use the recess as a shelf.
The B787 windows, which whilst nice and large, don't have blinds. Instead, they have a tinting that you can darken. However, I always find that the darkest setting doesn't really work on a flight where it is light outside the aircraft. Fortunately, I always have my own eye mask.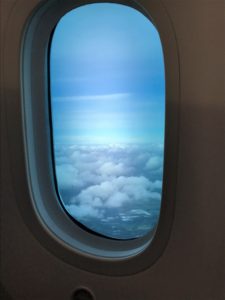 One feature of the Virgin Upper Class cabin is the onboard bar. It is a feature that I like the thought of but have never actually used. I think I would be more likely to use it if it was in a separate area rather than just at the back of the cabin. That said it is quite useful if you just want to grab a drink or snack and stretch your legs for a bit. The bar was set up as the meal service was ending. It was pretty quiet on both my flights but there were a couple of people that used it which could disturb you if you were sat in the last couple of rows.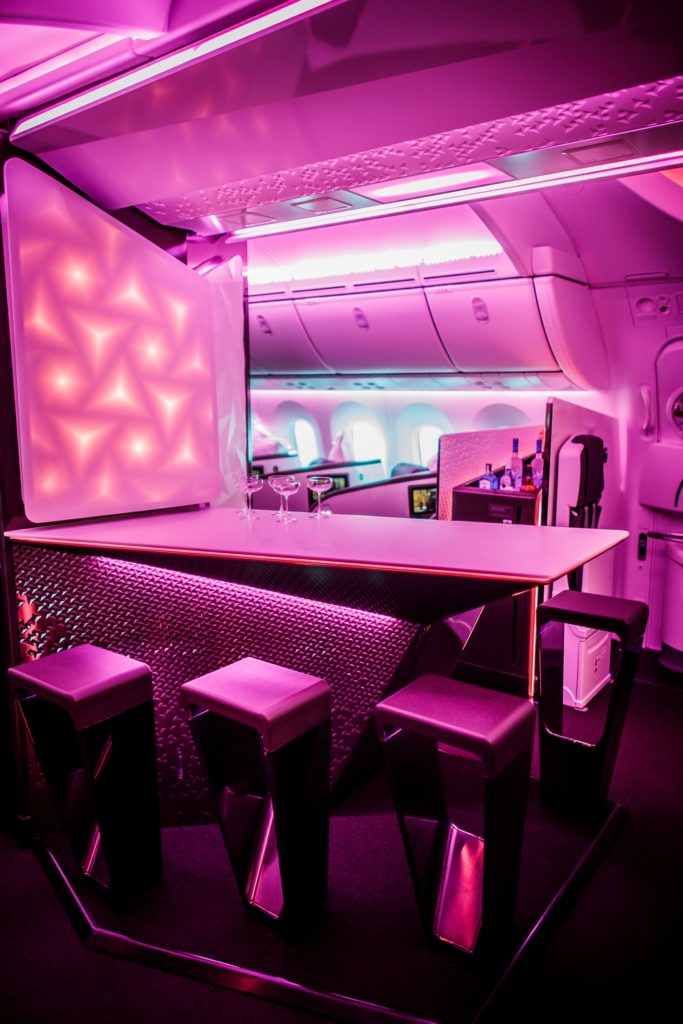 Food and drink
Shortly after take off the crew member looking after me came along and introduced herself, whilst taking my drinks order. I was really impressed with nearly all the crew I encountered. They were all very friendly and you really felt like they wanted to look after you. They really could not have done more for me. The menu itself was a bit cheap looking compared with most business class menus but that is a minor complaint.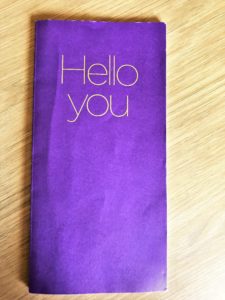 The drinks list was impressive for wine and cocktails. There was a good choice of cocktails, which was great for me being a cocktail lover. There was even a non-alcoholic cocktail which, whilst I am never likely to order, was a nice touch. I decided to go with the raspberry mojito although I was slightly worried it would be a bit sickly. The cocktail was surprisingly refreshing and retained enough tartness from the raspberries not to be too sweet. I liked the glasses that the drinks were served in – a stemless wine glass. Perfect for me being a bit clumsy since I have spilt wine over myself on more than one flight! The cocktail was accompanied by crisps which made a nice change from the nuts you get on most airlines.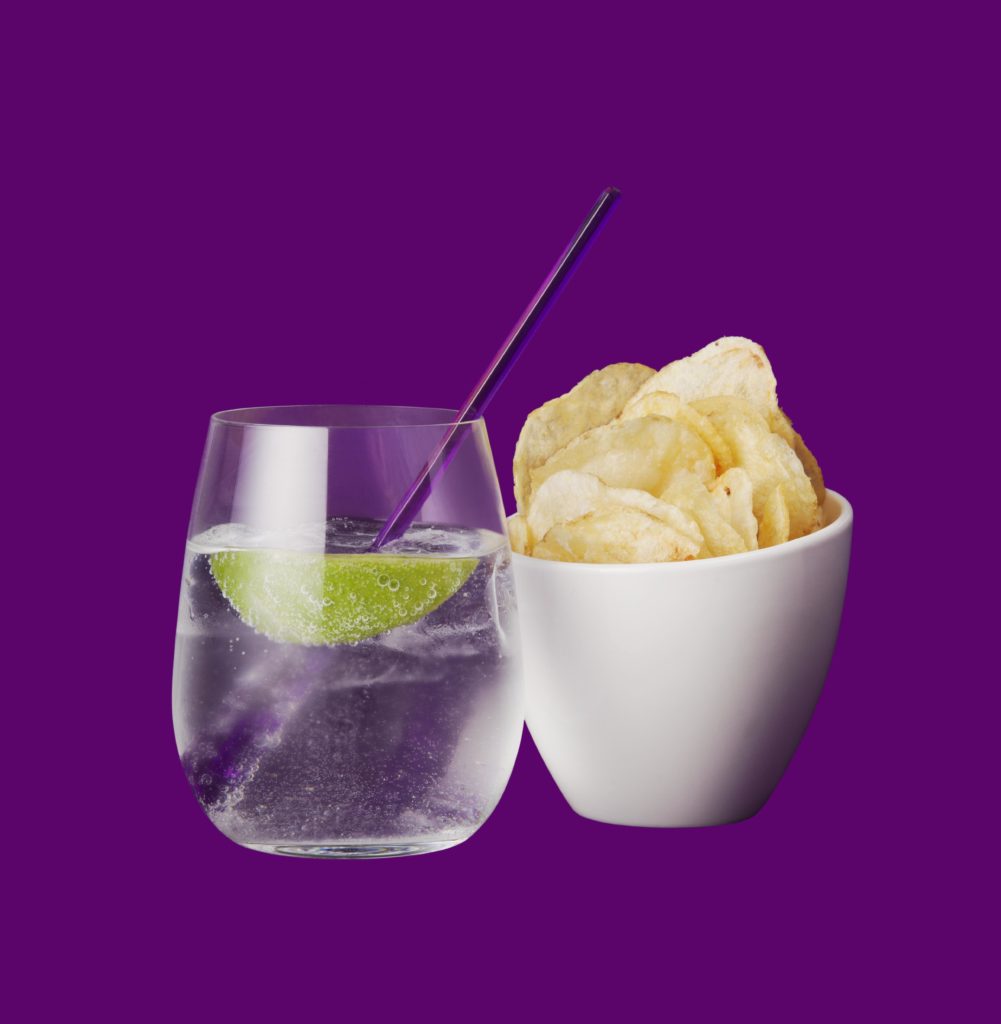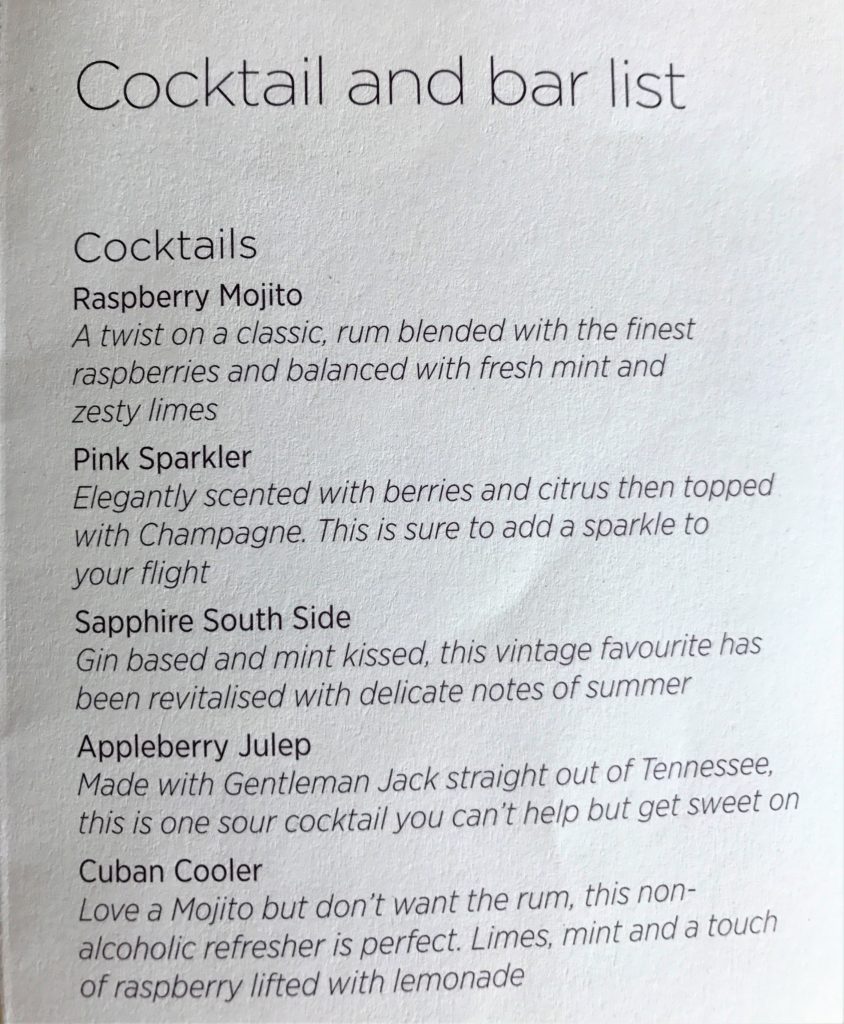 The wine list, chosen by Berry Bros, felt more impressive on board than in the lounge. For red wines, the list was very old world biased with a choice of a Rhone, Bordeaux or Rioja wine. There were also three whites which were more diverse with a Clare Valley Riesling, Constantia Sauvignon Blanc and a Burgundy. I tried the Burgundy white and Bordeaux red, both were very enjoyable.
The only part of the drink list that I found a bit lacklustre was the spirits and beers. There was Bombay Sapphire Gin, Gentleman Jack Whiskey, Glen Deveron Single Malt, Grey Goose Vodka, Amarula, Bacardi and something called simply 'Cognac'. The only 2 beers were Tiger and Heineken. Being something of a cognac fan, I found it a bit odd that they didn't list the brand. I did sample some 'cognac' later and it was OK.
I had heard mixed reviews about Virgin Upper Class food but I had absolutely no complaints. I definitely thought that it was a step up from BA. The food was all well presented on nice crockery with lots of individual touches. I particularly loved the salt and pepper shakers shaped like planes. These may have accidentally fallen into my hand luggage. Tip: should the same happen to you, make sure you either empty them out or put them in a bag unless you want a carry-on full of salt! Everything I had was delicious and I got my first choice despite having no status with Virgin at the time.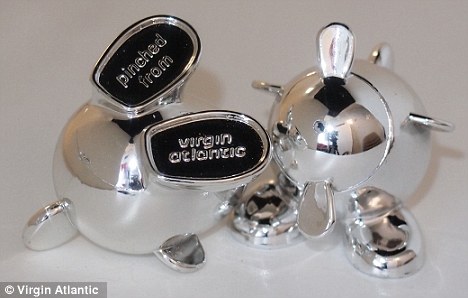 To begin there was a choice of 3 starters.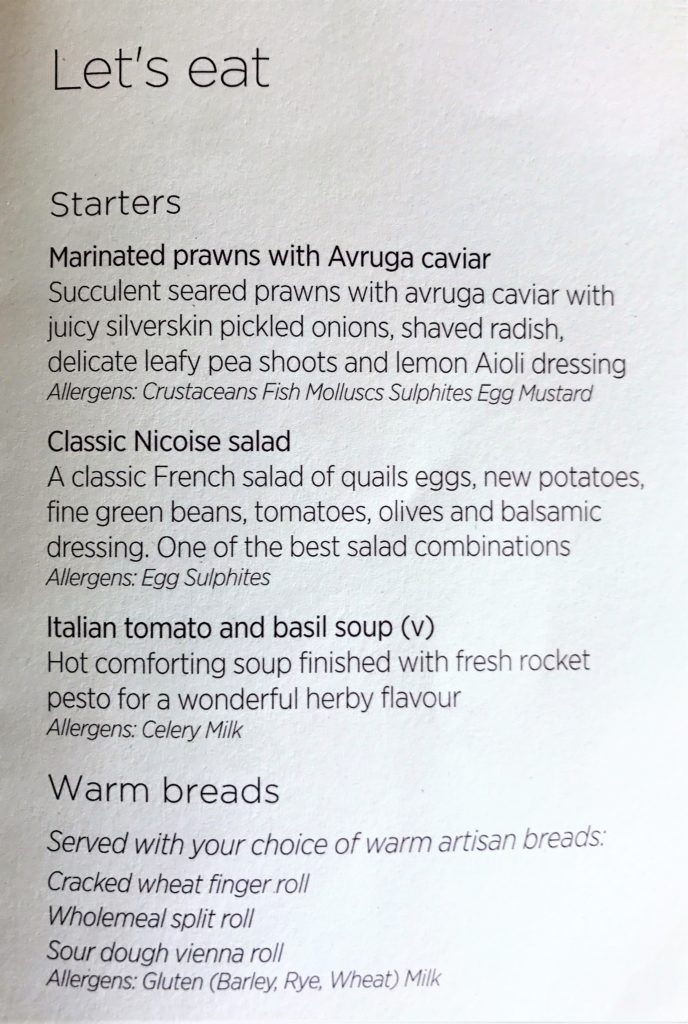 The table was large and very stable so it was great to have plenty of room. I also liked the fact that there was no tray which made it feel much more upmarket. The table was laid with both a tablecloth and a runner. Water and bread were offered to start.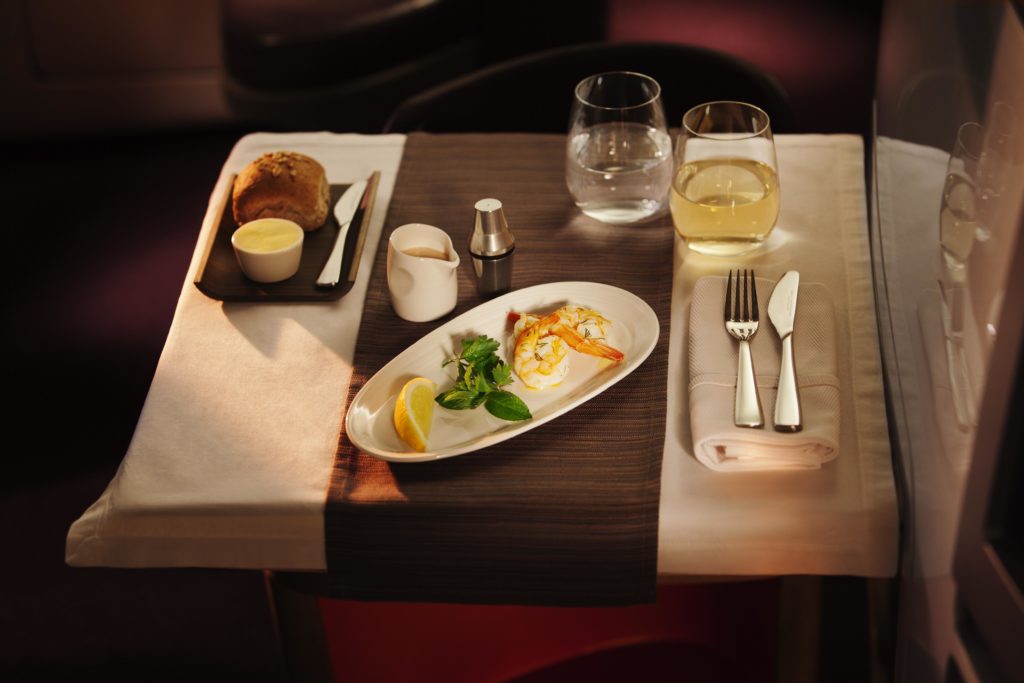 I chose the prawns with the caviar. There was actually a decent amount of the caviar and the prawn dish was light and tasty.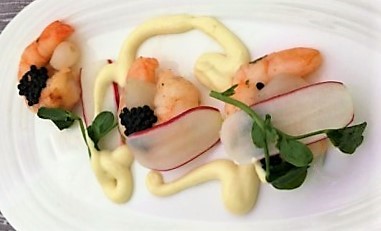 For main courses, there were 4 choices and it was good to see a salad in case you had overindulged in the Clubhouse! I had the roast chicken. This was very tasty but I did find the gnocchi a little heavy going and had to leave some.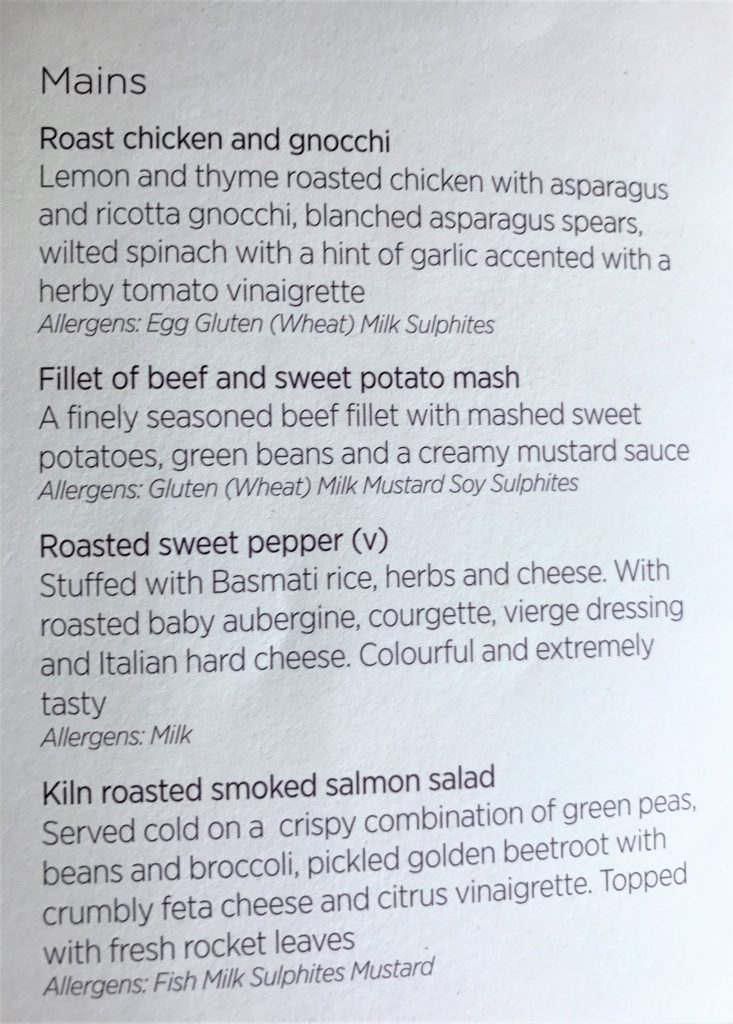 My wine was topped up regularly during the meal. I liked the way that the crew had a smart bottle carrier that they served the top ups from. I had planned to not indulge in dessert and save myself for cheese but when I saw the choice I had to have one of them. The choices were a warm lemon curd pudding served with cream or a strawberry pannacotta slice. I love lemon curd so I had to give it a try. I think it was one of the nicest desserts I have had on a plane, fluffy and light with a lovely zingy lemon curd.
The cheese trolley was then wheeled round with Taylors LBV port to accompany it. The cheese choices weren't overly exciting with brie, applewood cheddar or stilton. However, it was good you could choose your own cheeses and it came with plenty of crackers, chutney and fruit.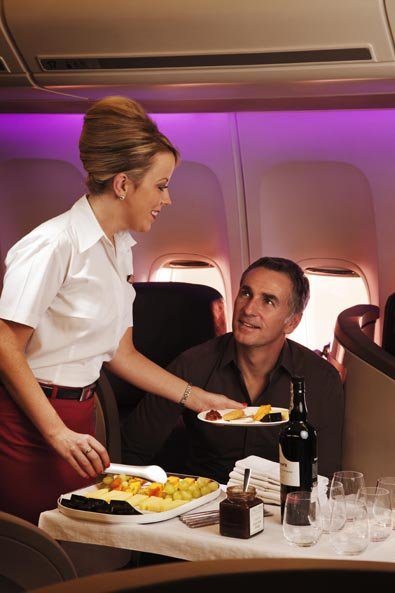 About 90 minutes before landing another meal was offered but this is more on demand. I was simply asked if I wanted to eat anything before landing but I could have had something from the small plates at any time. This is something that Qatar has adopted and I like this approach. I was pleased to see that Virgin still did afternoon tea though but you could have whichever bits you wanted. I was still full from earlier but I had a couple of the cucumber finger sandwiches which still tasted fresh.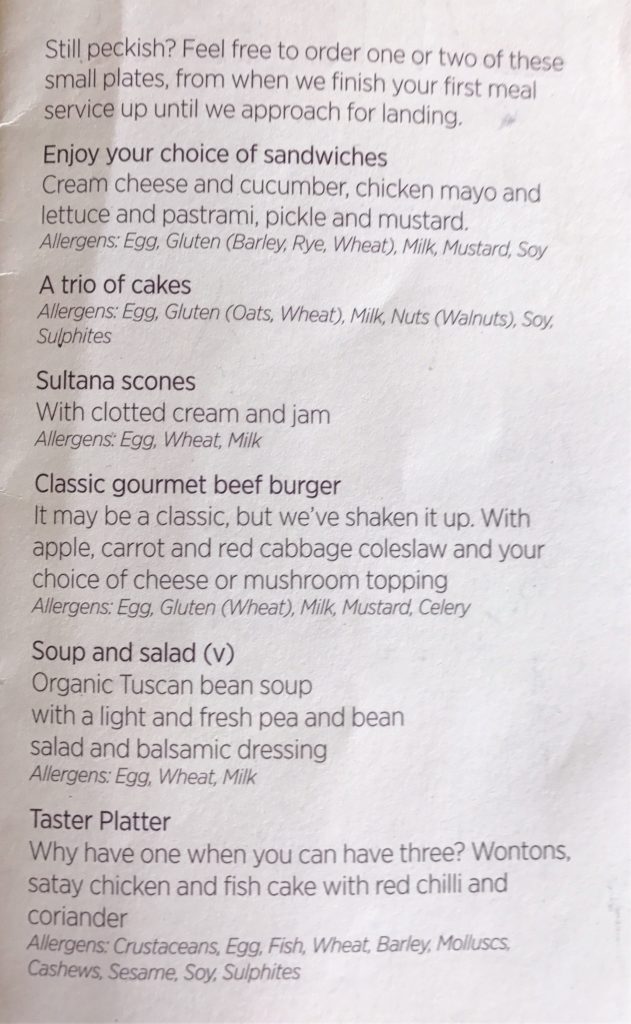 Entertainment
The TV screen was an acceptable size at 11 inches and similar to BA in that it had to be folded into the side for take off and landing. This made it tricky if you wanted to start watching something earlier on. However, once it was folded out it was quite close to you so seemed pretty large, although you could slide it back a bit. The TV could have been more adjustable for its position but it wasn't an issue for me. The picture quality was good too.
There was an average size selection of 60 recent and older films, TV programs including a few box sets and the usual music and games. It was not as big as the Middle Eastern airlines choice but I found plenty to watch. One of the good features of the VERA system was the ability to create a favourites list as you look through, which you can come back to later. The system was intuitive to use and had a reasonably responsive touch screen, hand-held controller.  As you would expect they also supplied noise cancelling headphones but I stuck with my own ones. If you wanted to charge your devices there was a USB connection and a universal plug socket.
There is also wi-fi on board which I didn't use but starts at a reasonable £4.99 for WiFi light for 40MB of data, If you want to spend more time online, WiFi max for £14.99 includes 150MB of data.
In the final instalment this weekend I will look at the overnight flight on my return and the Virgin Revivals lounge at Heathrow.