Today's post, Virgin Atlantic Upper Class Suite, is by Marek, my good friend and TLFL's unofficial photographer. He flew with Virgin after they fixed the problems with the oversized tray tables. So has this made the new Virgin Upper Class Suite a better product? Both myself and Paul have also tried both the Virgin and BA A350s. You can read Paul's assessment here.
Right before COVID-19 pandemic got us all locked down I had a chance to try the new long haul products for both British Airways and Virgin Atlantic. I was lucky enough to have had the experience with both airline's new business class products before – on a short trip to Madrid with British Airways and at the Virgin Atlantic base at one of their press events.
This review is a series of mini battles on how both airlines managed to fulfil my expectations. Given the fact I'm a regular flyer with BA and I have never flown with Virgin before I kind of knew what to expect from BA, but I was clueless on what to expect from VS. The way Virgin position themselves and their Upper Class product, I was expecting something between BA's First and business class – as Upper Class is the highest cabin Virgin currently offers.
Buying a ticket
…should be simple, no? This is the first time new customers get to know the airline. My expectation was straightforward – to be able to buy a ticket online without having to contact the call centre.
BA
Last July I took the advantage of a sale from Inverness to Canada – the ticket price was about £1.3k (£850 as I used a compensation e-voucher) in Club World and knowing BA would operate the Airbus A350-1000 on one of the flights I decided to pull the trigger. My routing was INV-LHR-YYZ-LHR with an overnight stay at home before heading off the next morning to Toronto. Booking via ba.com website was very simple, I just had to use the multi-city option and got my ticket within minutes.
Virgin
On a Black Friday sale, Virgin had a really good deal for Boston for £929 in Upper Class. This fare was allowed to be routed via JFK and on Airbus A350-1000 with the new Upper Class seats. Since I was going through JFK, I wanted to add an overnight stop there to see my friends. I had no issues trying to price up an itinerary on ITA Matrix, but getting to book it anywhere else was impossible. Virgin's website would not play nicely, the same with Delta – it seems they're using exactly the same booking engine. I tried to call Virgin's phone number three times and despite being redirected to the Upper Class support line, they were not able to book it for me either. It seemed their call centre agents were using the same web interface as me. I ended up asking Propeller Travel to get the itinerary I wanted and they had no issues ticketing it. (TLFL now have a partnership with Debonair who can provide this service).
Winner: BA
Virgin failed massively on the ticket sales front – while I can understand that Delta's new web booking engine is new and it may not support all scenarios, Virgin staff should be able to sell me the ticket I wanted. It wasn't even a price issue, their booking system didn't allow an overnight connection I wanted.
Departure experience for Virgin Atlantic Upper Class Suite
This one is tricky – I know BA and both T3 and T5 terminals almost inside out, yet I knew nothing about Virgin. As a business class passenger, my expectations are simple – fast track security, priority boarding and a nice lounge to relax while waiting for my departure.
BA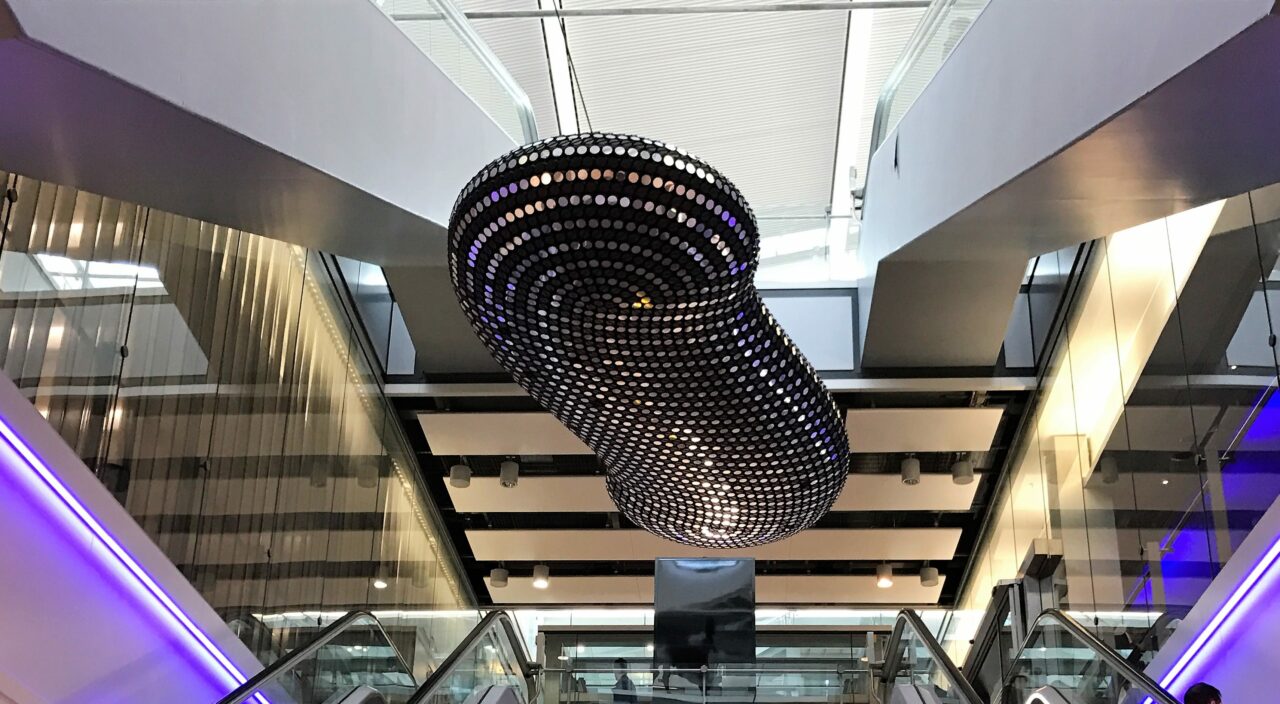 Flying business class customers at Heathrow get access to the dedicated check-in desks in the main terminal building, fast track security and Galleries Club lounge. Oneworld Emerald status holders can access Galleries First lounge. In my view, Galleries Club is a decent business class lounge – there are three of them at T5 (plus one at T3), they offer a good selection of drinks and snacks, hot food buffet is offered during meal times.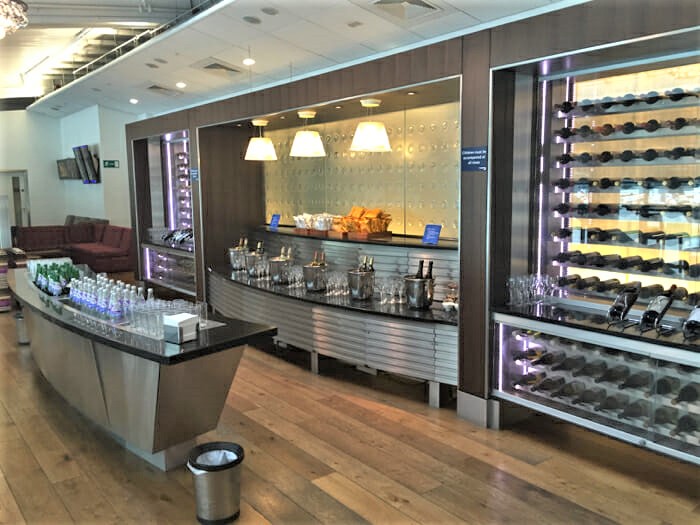 Galleries North can get overcrowded as it's mainly used by passengers with shorter time at the terminal, Galleries South is bigger and thus gets less crowded. if you travel on an intercontinental flight, this is likely to depart from T5B or T5C satellite terminals, so I'd recommend Galleries Club in T5B. Travellers flying business class also have access to the Elemis SPA which can be booked on a day. You can read more about the BA lounges at Heathrow T5 here.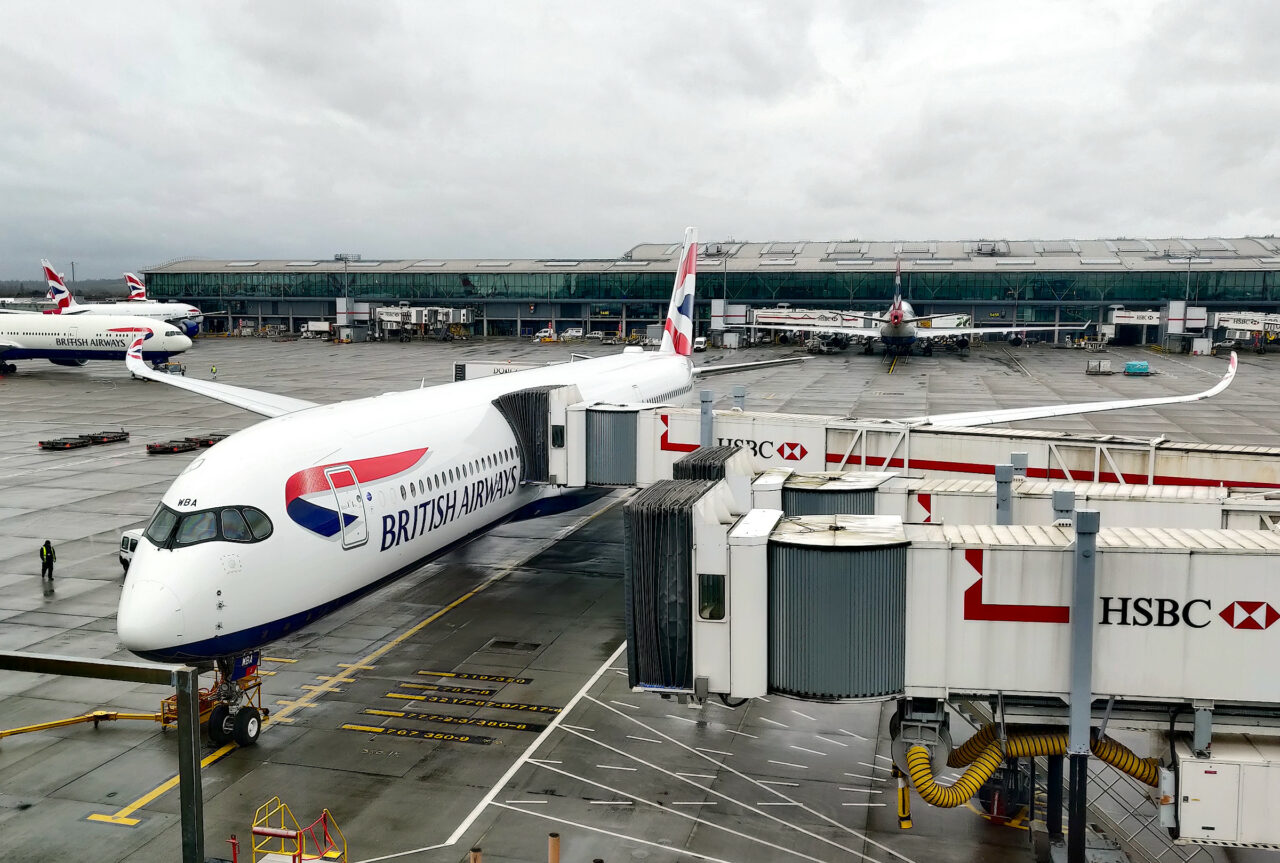 My flight was departing from the satellite terminal C, which meant 15 minutes walk through the underground walkway or a quick train ride. By the time I got to the gate, they were boarding group 4 already so no queue in group 1.
Virgin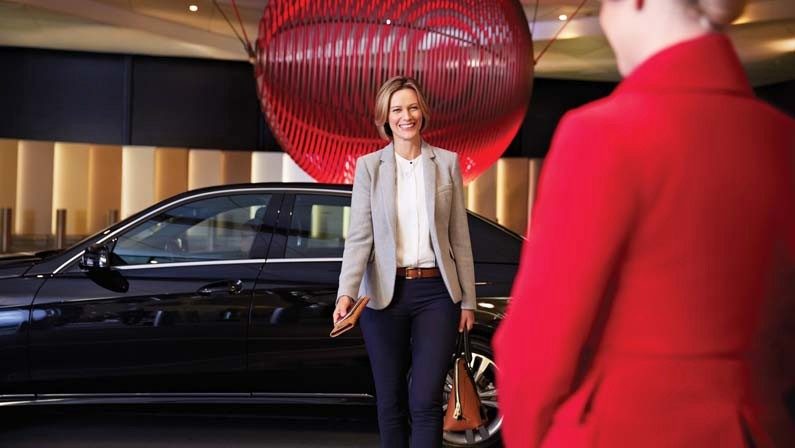 I was really looking forward to trying out the Upper Wing – a dedicated driveway for Virgin's customers, taking them directly to dedicated security. Unfortunately, my Uber driver took the wrong turn so I ended up missing out on the experience. Not Virgin's fault, but maybe signage could be a little bit better? Conveniently, if you miss the Upper Wing entrance, there's a lift from the main check-in area taking you straight up to the Upper Wing security.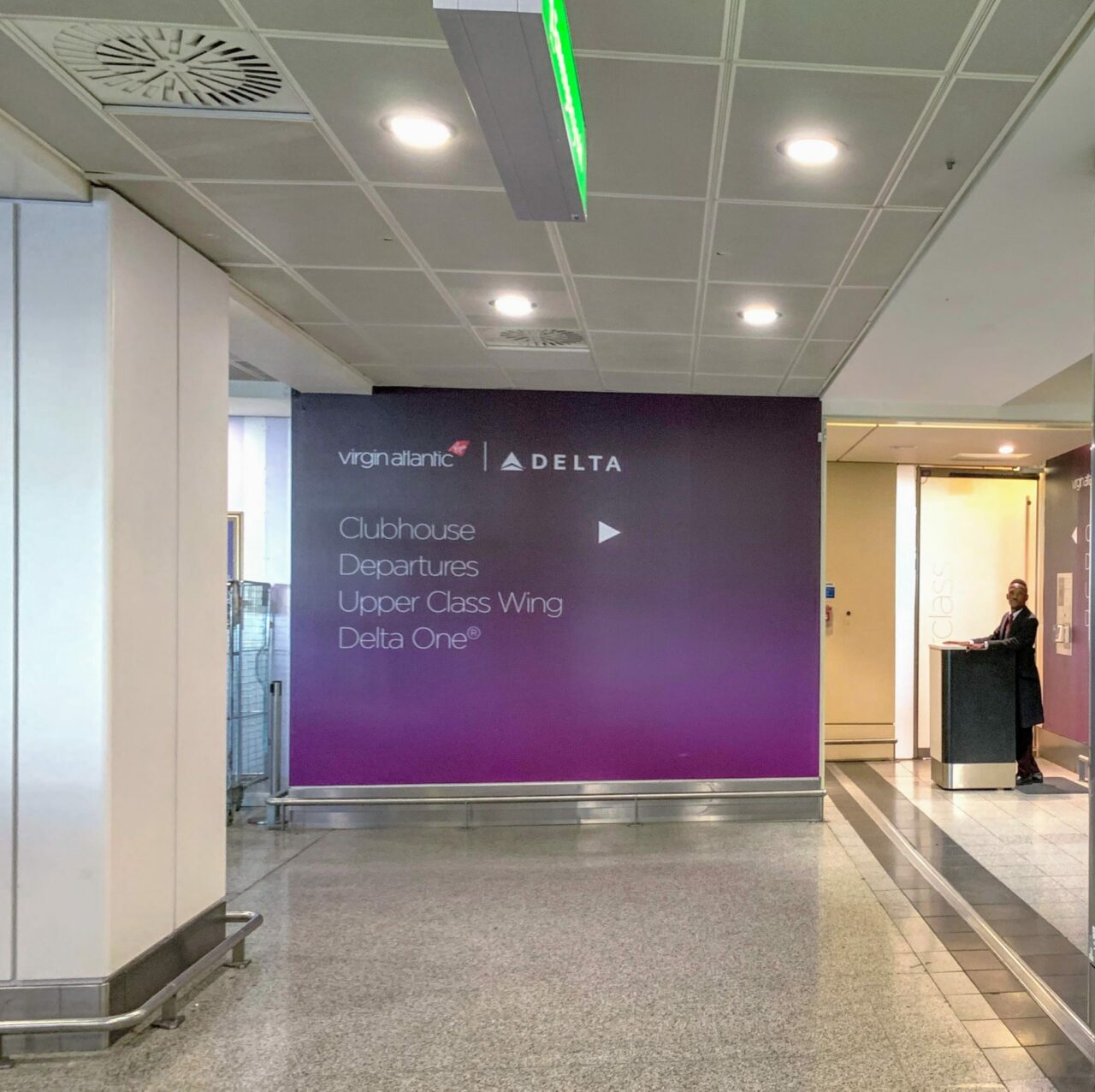 All Virgin Upper Class passengers get access to the Clubhouse lounge – I'd rate it at the Concorde Room level – there's a manned bar, they have a nice cocktails list and there's food to order available throughout the lounge. The lounge itself looks more like a fancy bar at a chic hotel in New York. Once I got inside, I found a spot for myself in the main lounge area in front of the bar.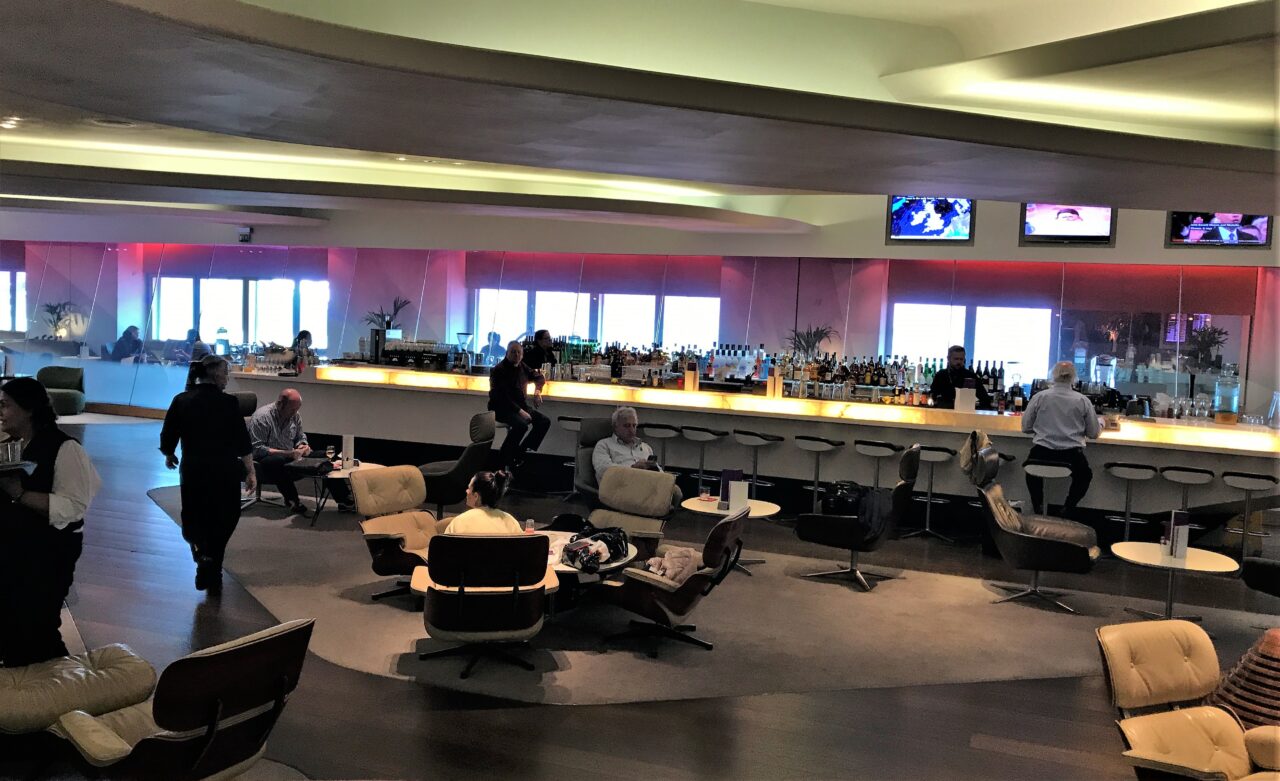 Seconds later a friendly staff member handed me a lounge menu and asked what drink I wanted. Knowing I would be driving in New York, I could only have one drink!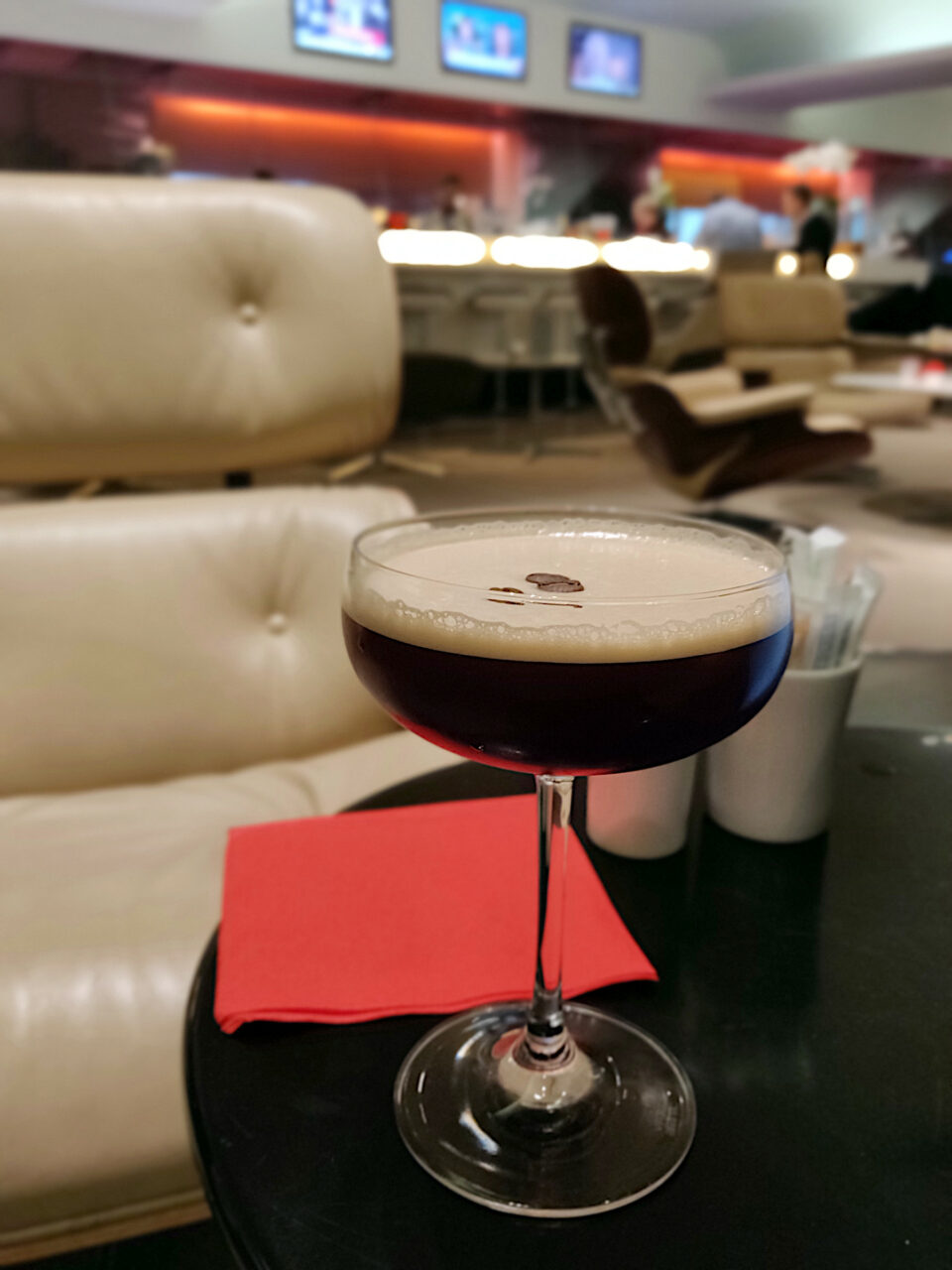 I ordered an Espresso Martini from the cocktails menu, which was nicely presented and rather good! For food, I chose the impossible burger which was good and a dessert which was ok. Based on the two dishes I had I'd rate the food quality on par with the CCR.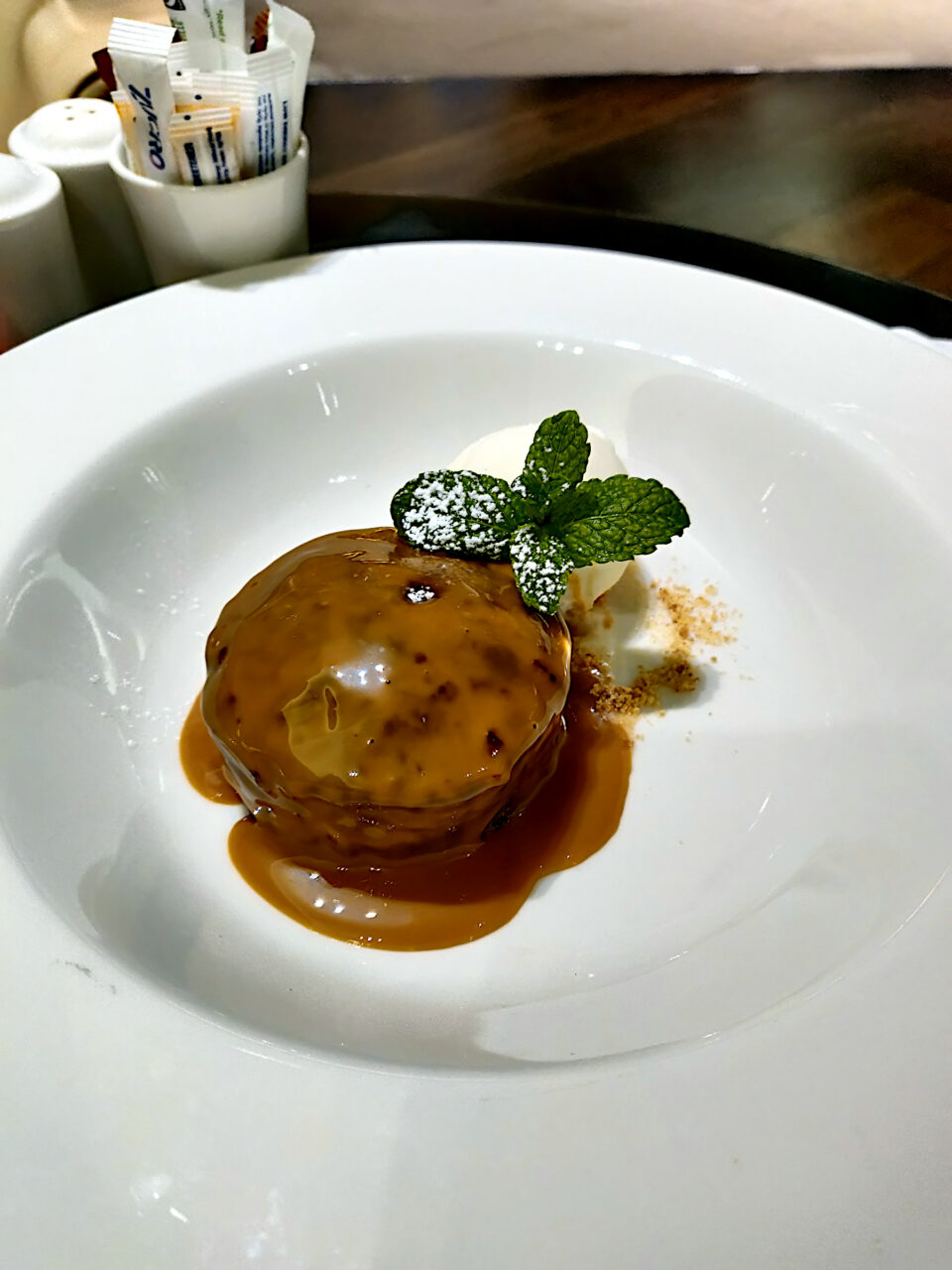 Overall I was impressed with the lounge – once I'd passed the rather unwelcoming lounge dragons, everyone in the lounge was nice and friendly, and the service was quick and efficient. Shame I couldn't try the outdoor terrace as torrential rains were going through Heathrow while I was there.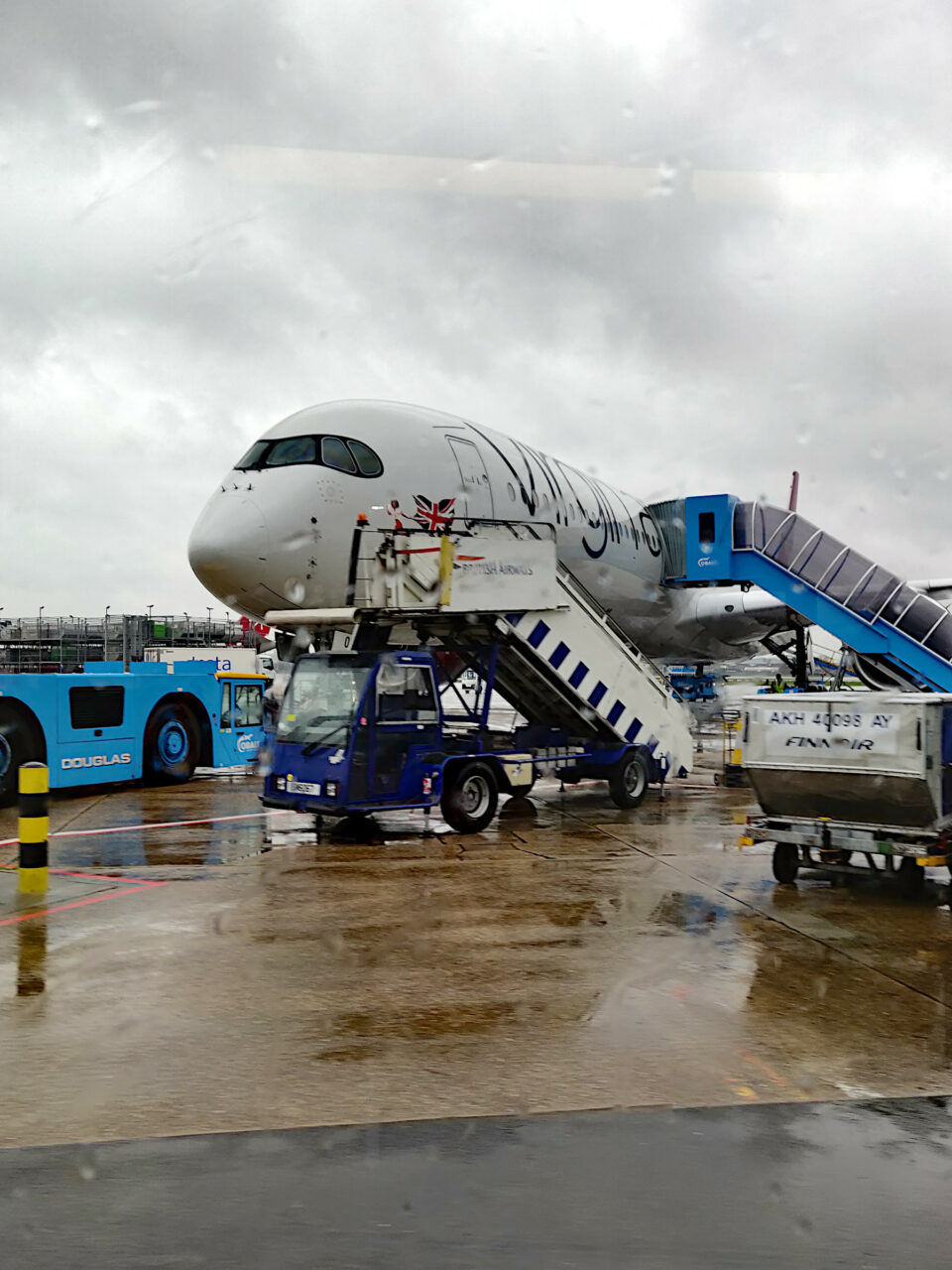 On this occasion, my flight was boarding via bus gate – not the best start of the journey if you ask me, but gate 24 is relatively close to the lounge and bus was already there, so I was on board the aircraft in a few minutes.
Winner: Virgin
Virgin being a smaller tenant at T3 can offer a more personalised service for their Upper Class passengers – from the Upper Class wing, dedicated fast track security, to the Clubhouse. BA has a much larger operation at T3 & T5, thus provides more generic service to their business class customers.
Virgin Atlantic Upper Class Suite Seat comfort
On both of my flights I wanted to maximise time working, so my expectation was a comfortable seat.
BA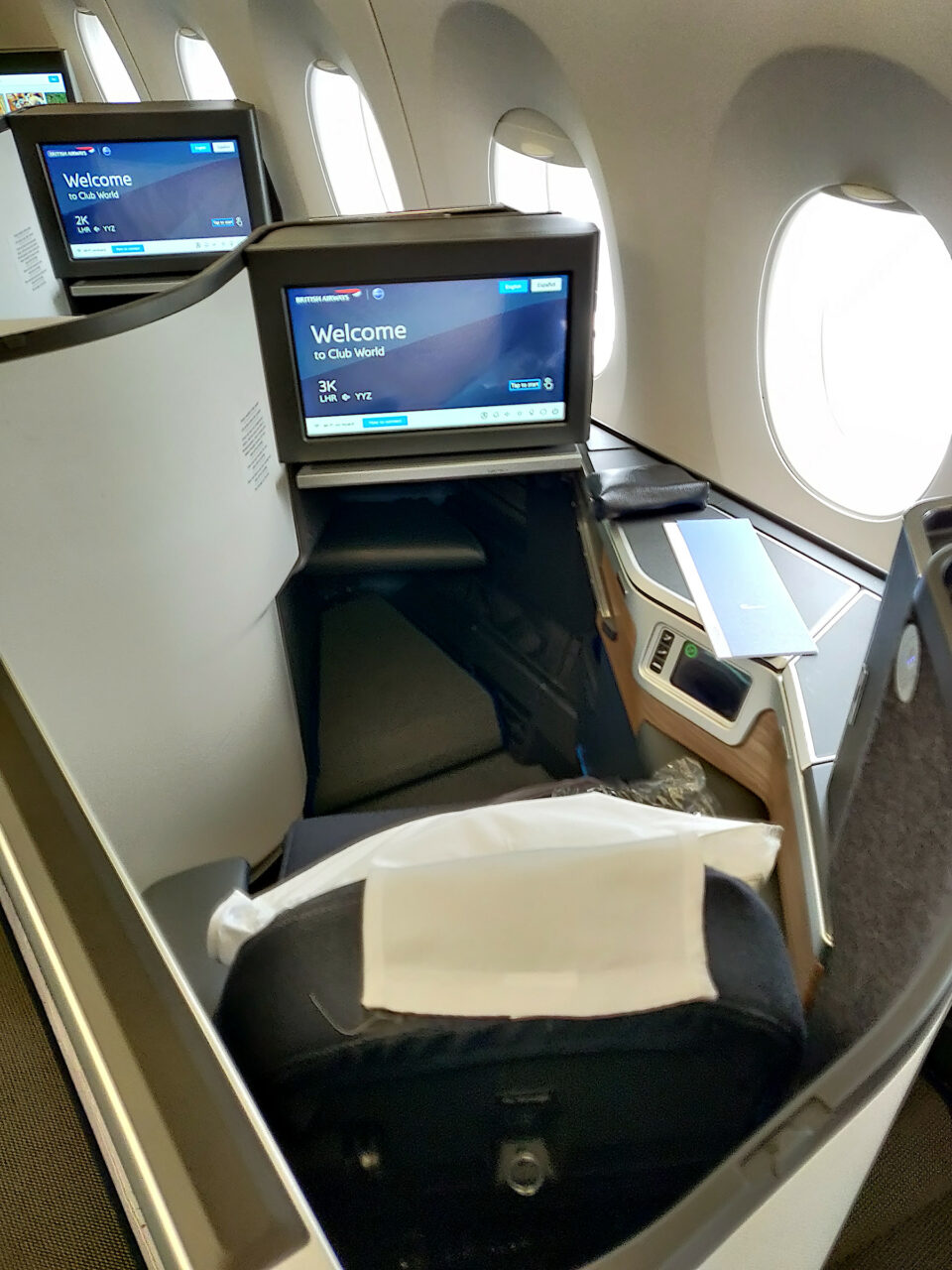 I have flown this particular type of seat on other airlines before: Qatar Airways which uses an older version of the seat customised for them, and China Airlines which uses the exact same version as BA but without the door and with a standard table. I must admit BA has done their homework and picked one of the best seats on the market. The only difference from the default version is a custom table and the door.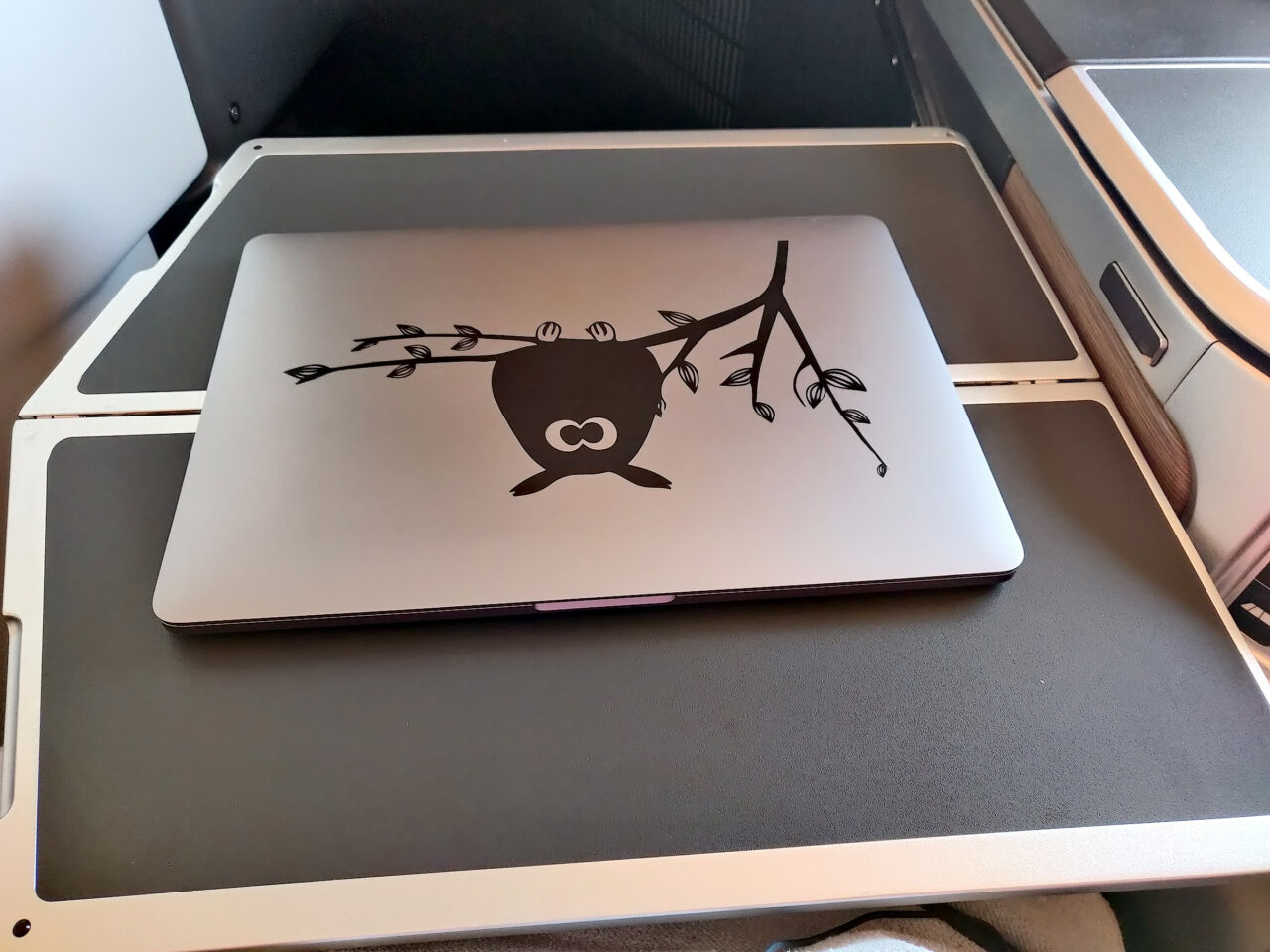 The table neatly goes all the way up below the IFE screen leaving enough room for a larger pax to sleep on their side. It also allows three different positions – so there's no need to worry about your waistline being squashed 😉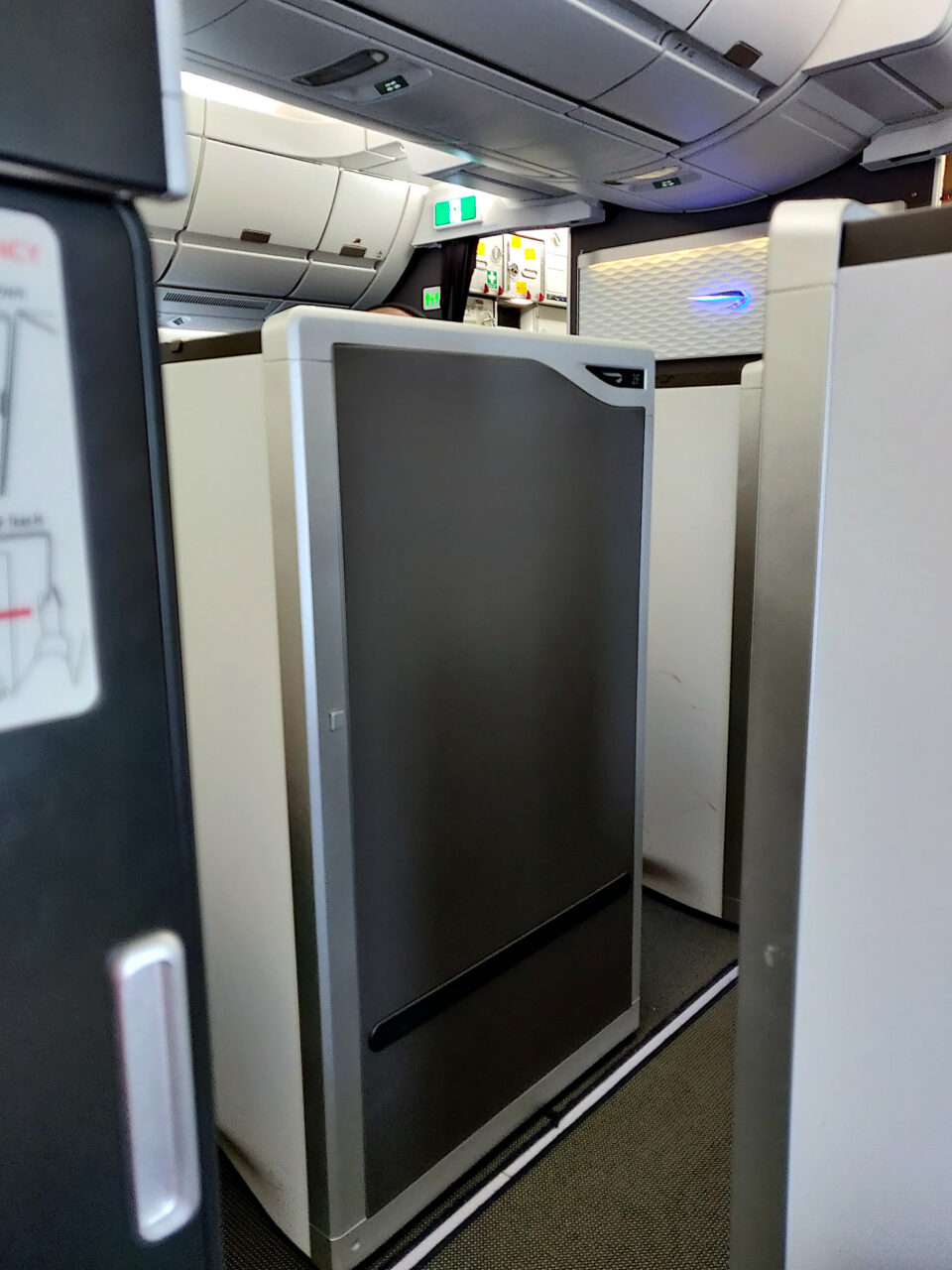 The door is a gimmick, I kept it open on a day flight. Privacy is excellent, even with the door open – I could hardly see anyone throughout the flight.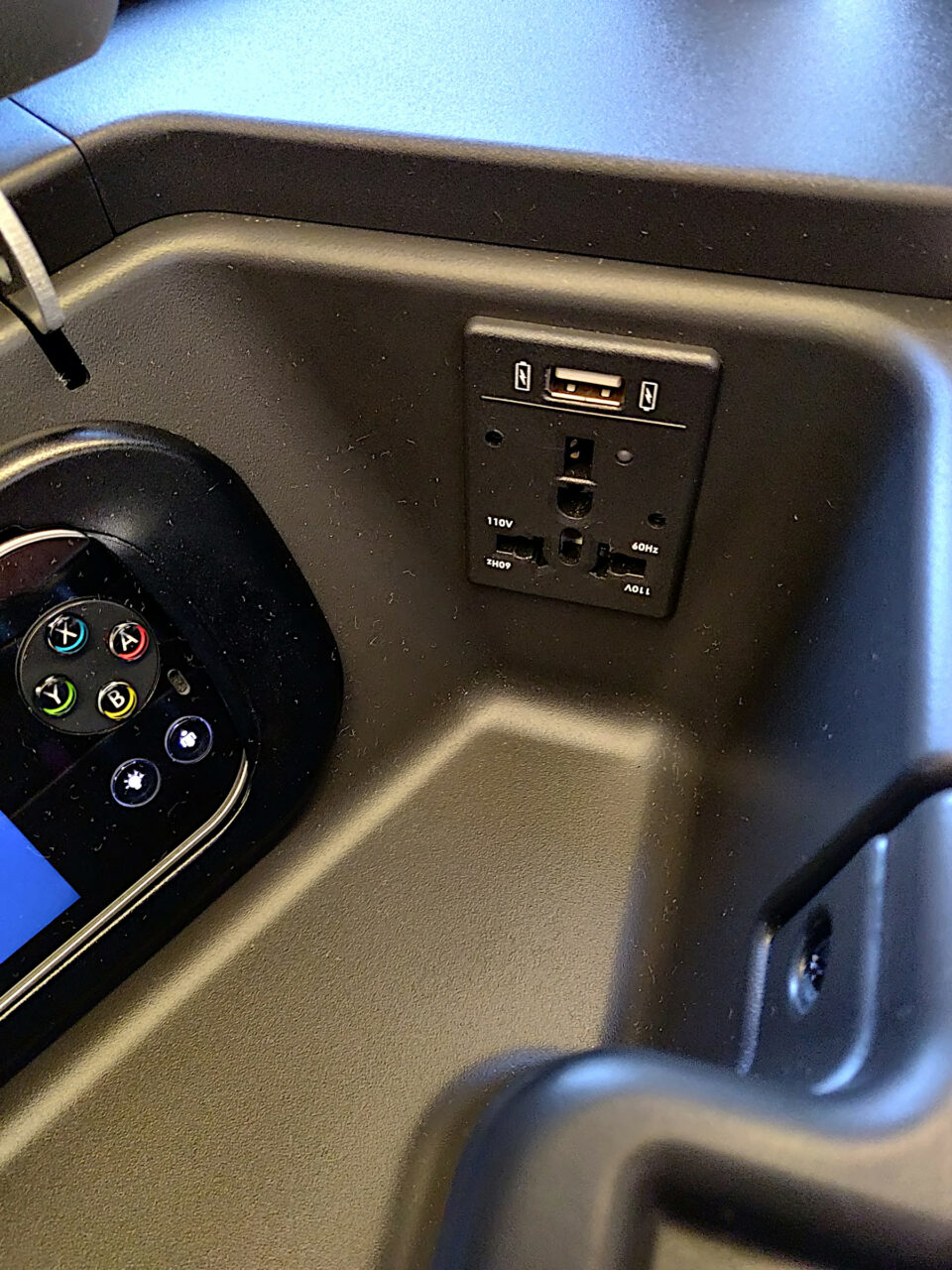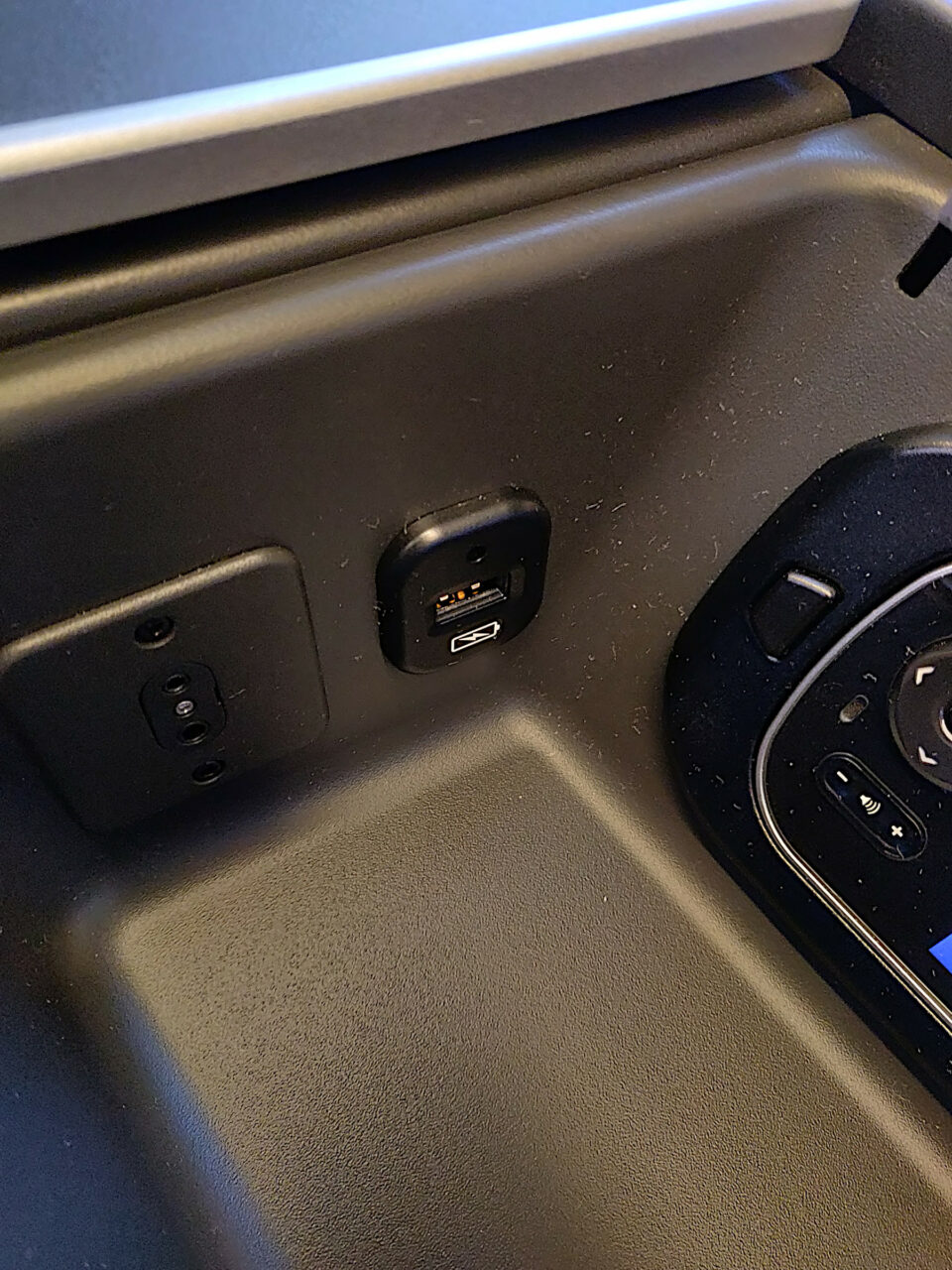 What I like about this particular seat is plenty of storage for your small devices, wallet and phone in a table on the side. This is a clever idea of utilising unused space. My only comment would be the location of a power socket – I'd prefer it to be on the side under the table rather than in a small storage unit on the table. MacBook's charger does not fit there, any larger plug would prevent the leed from closing. Having a power point under the side table would be more convenient. The seat was very comfortable for work, however – I managed to work on a laptop all the way to Toronto.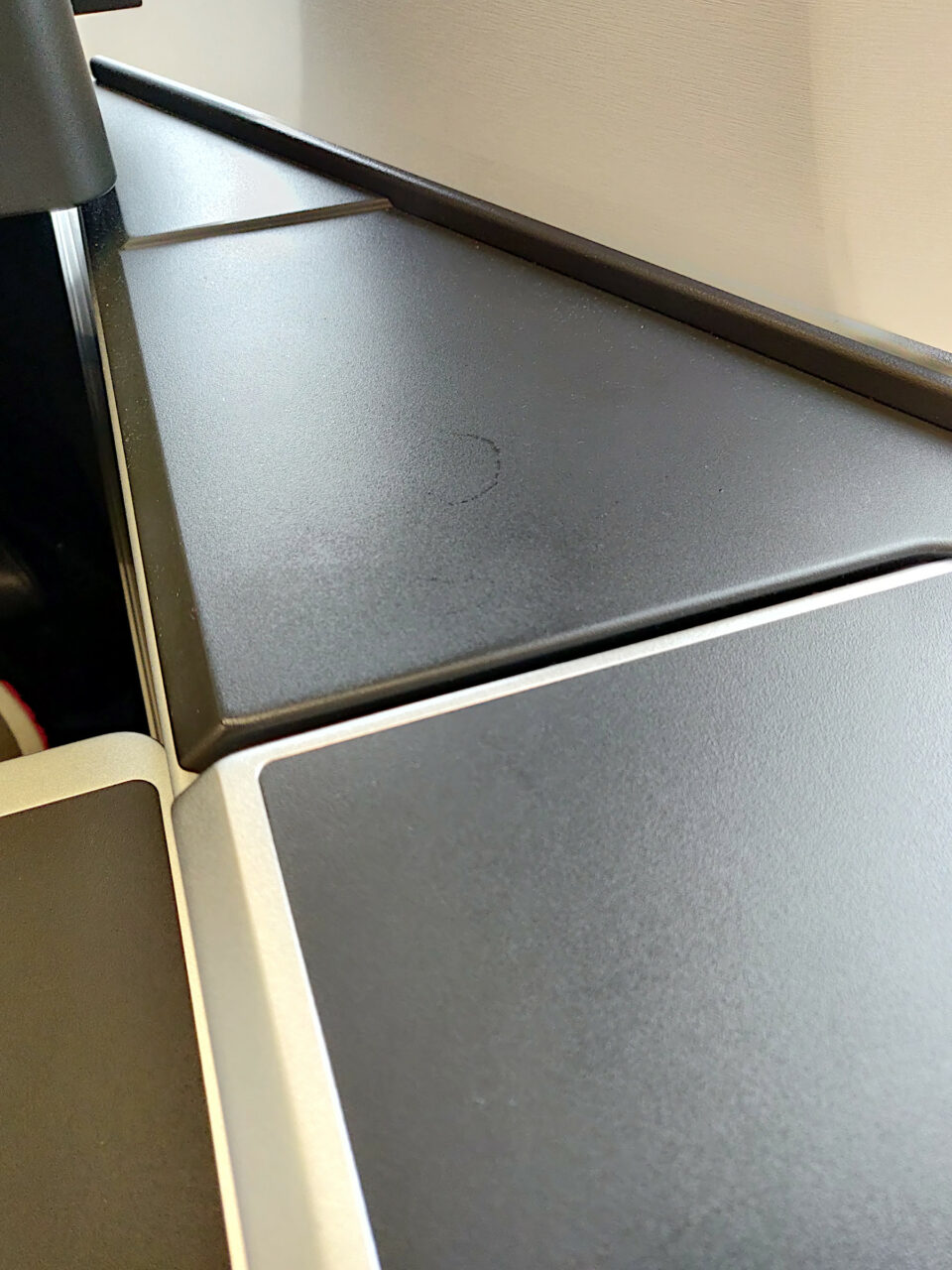 The bit where BA let me down was cabin cleanliness. White parts of the seat wall were already having smudges (see picture above) and the top of the side compartment had drinks stains from the previous flight.
Virgin
The Virgin Atlantic Upper Class Suite seat is pretty, especially in a mood the lighting Virgin puts on. I believe it's a modified version of the seat I've flown before with Cathay Pacific, American Airlines and Finnair. It's not my favourite seat out there, but it does the job.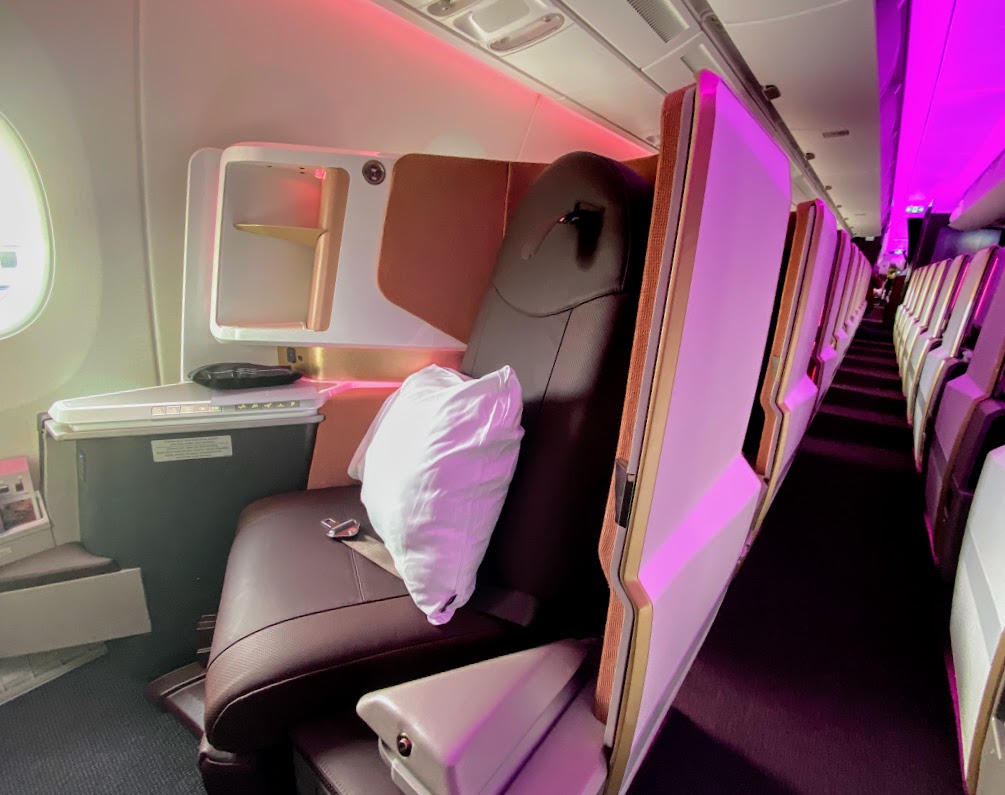 Virgin decided to make it theirs and heavily modified it. It doesn't work. There's no storage space for anything for take-off and landing. Where Cathay would have a small cabinet for your wallet, passport and phone, Virgin decided to put a pretty drinks tray. That drinks tray console also covers the window – so despite having a window seat forget about looking out through the window.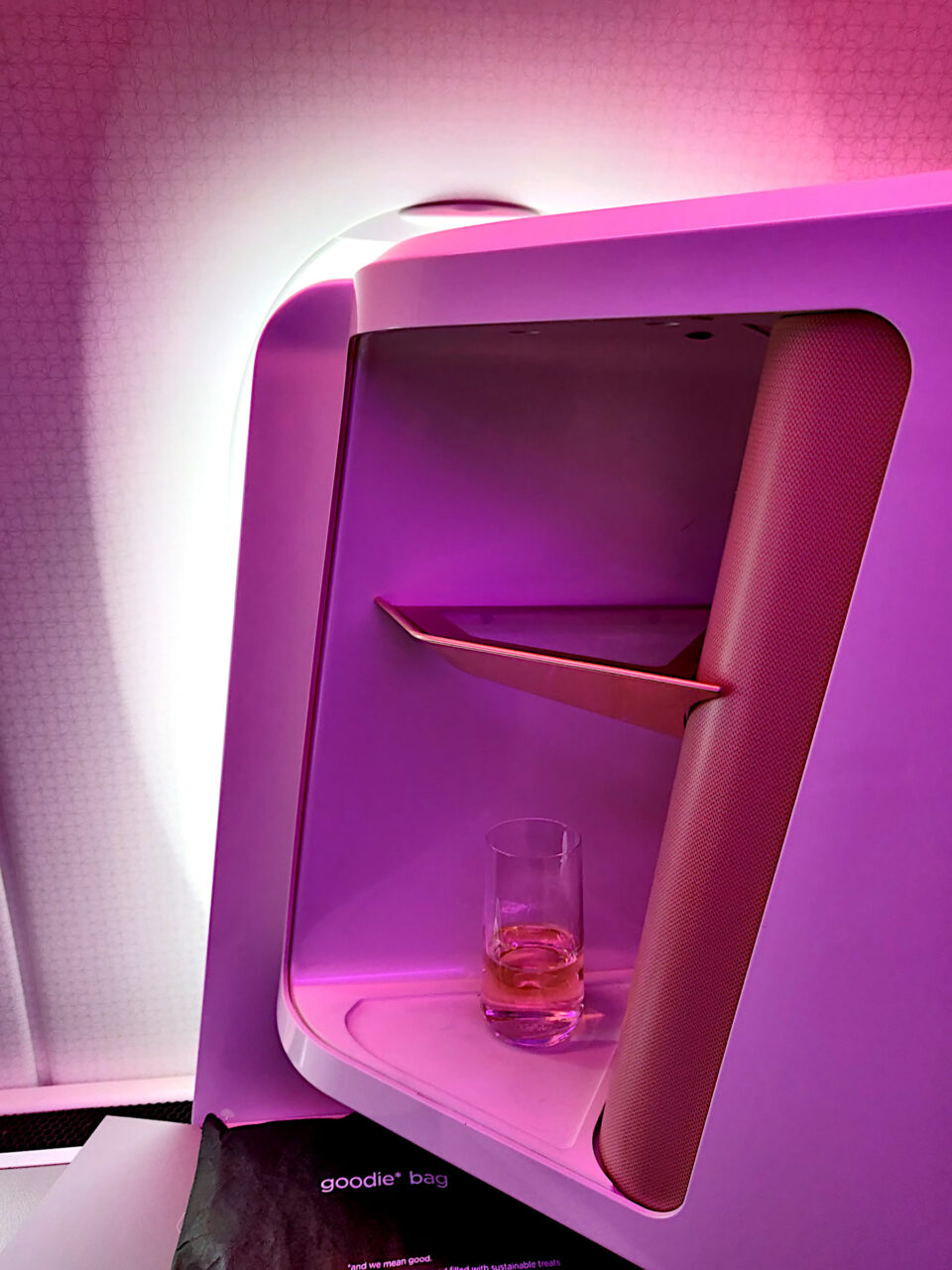 I liked the way the table cleverly hides in the back of the seat in front, but it's too large for most of the passengers – I was sat in 1K which had extra space, yet it was hardly enough for my waistline.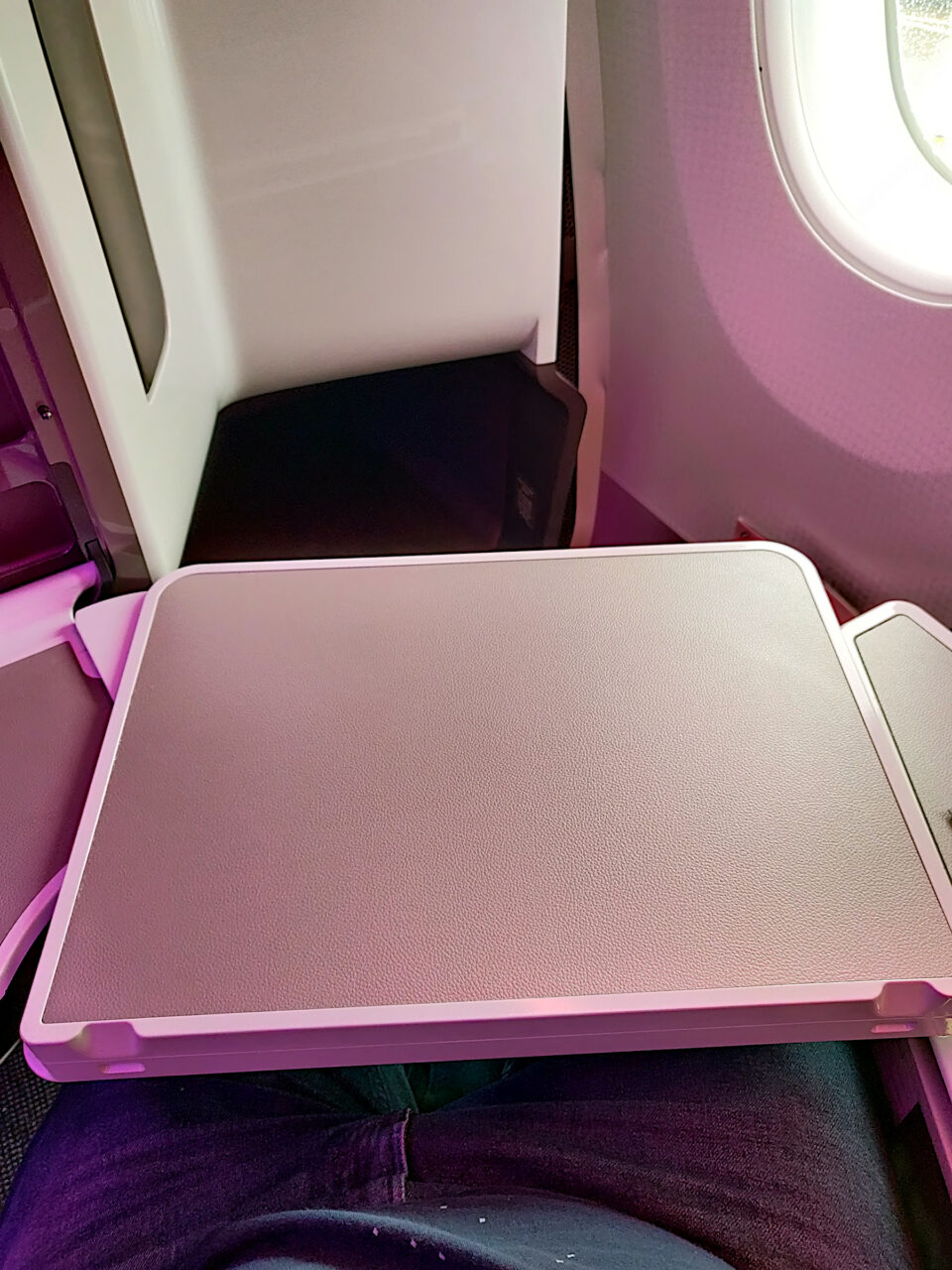 Later on, I was told by a fellow Instagrammer that it was an updated version of the table! How would I know, as the crew member had told me otherwise?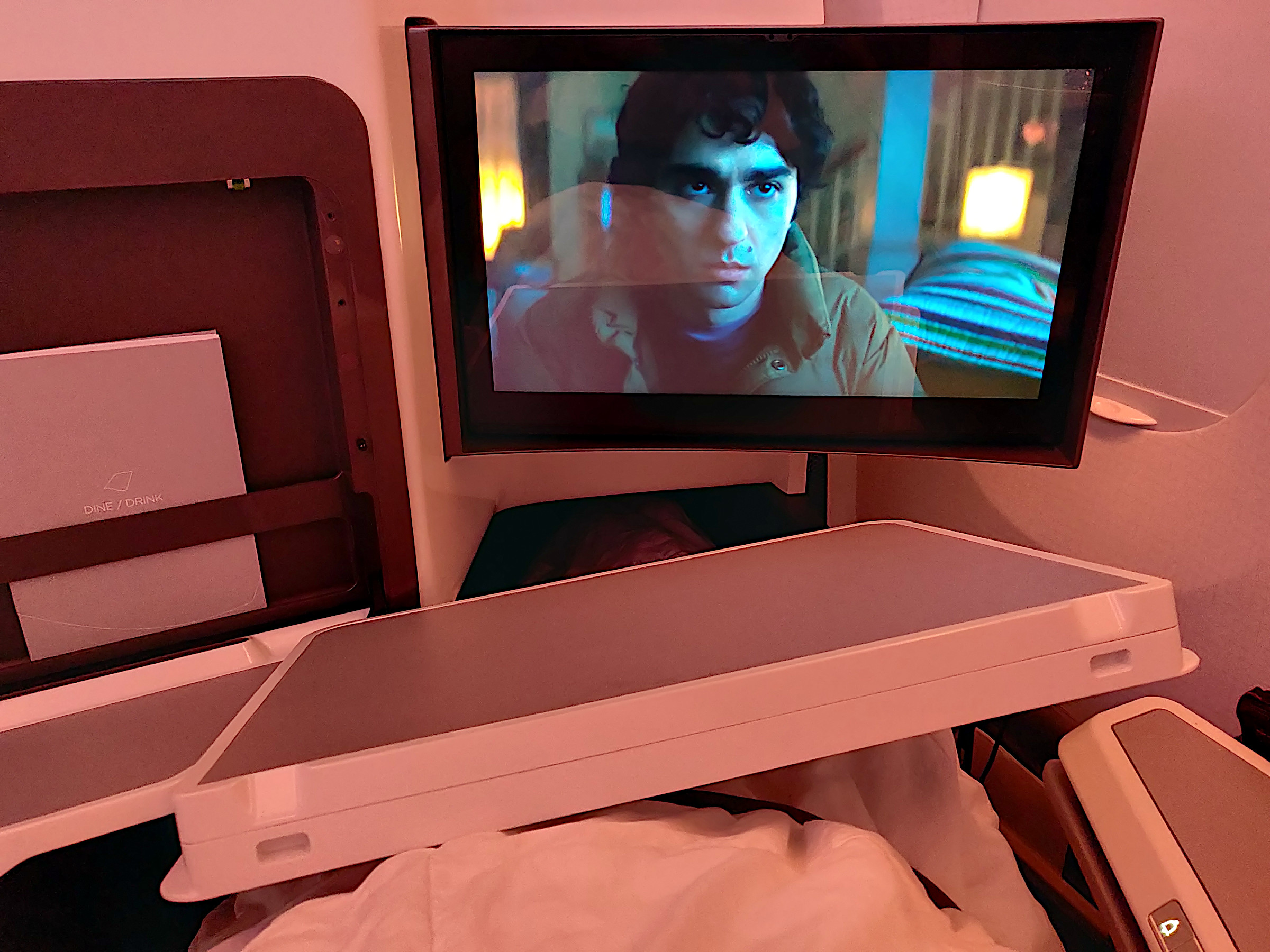 I found the seat very uncomfortable for sitting during take-off and landing, the seat controls were very fiddly to operate – also there seemed to be no way to operate independently the back of the seat and feet support. The seat would also go up into a weird Z position when trying to recline. Very confusing and uncomfortable.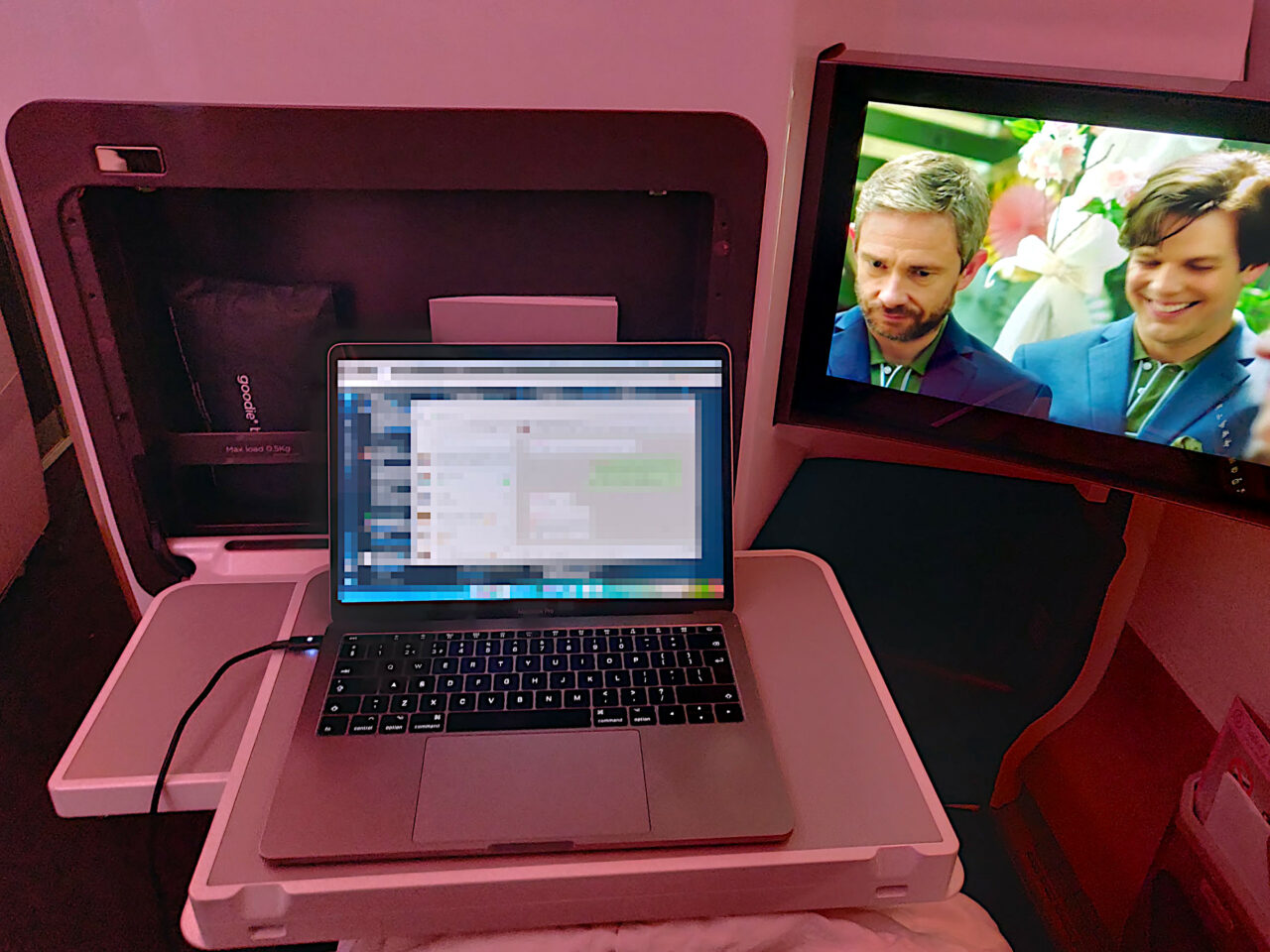 I struggled to work comfortably, as I couldn't find a comfortable position to sit with a table in front of me – basically, as soon as I tried to recline, there was no way I could fit the table in front of me.
Winner: BA
Hands down BA. Virgin's seat was the most uncomfortable long haul business class seat I've ever flown. Even on American's Hawaii flights, I found them more comfortable than the new Virgin seat.