This post is by Marek, my good friend and TLFL's unofficial photographer and is the second part of the review. You can read part 1 here.
Both myself and Paul have also tried both the Virgin and BA A350s. You can read Paul's assessment here.
Inflight service
Three main factors here for me: speed of delivering service, quality of food, and friendliness of the staff.
BA
My flight to Toronto was operated by the Mixed Fleet (younger, underpaid and often undertrained crew) and it showed. The crew were efficient, yet very robotic – minimal interaction with a "throw the tray and run away back to the galley".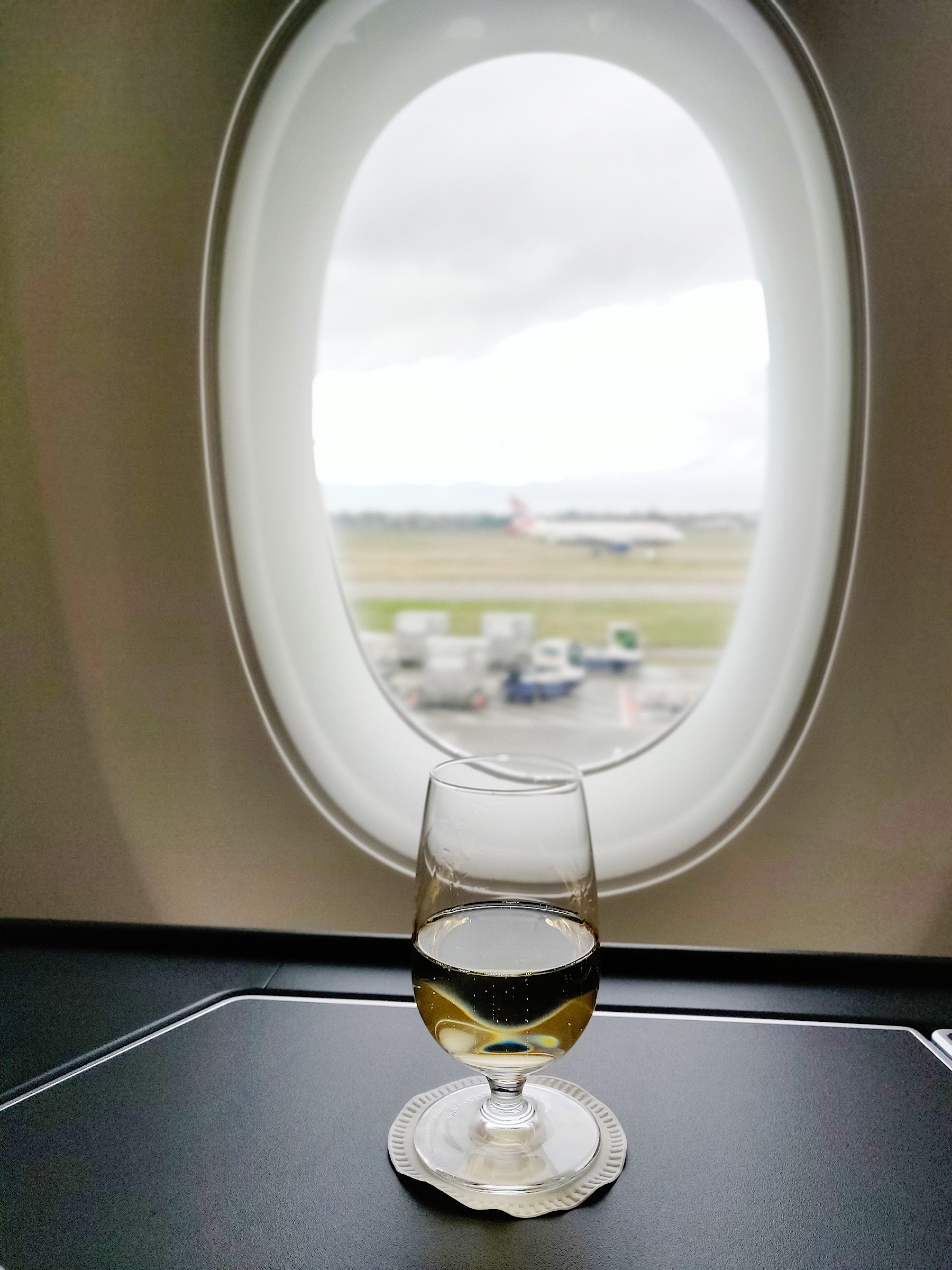 The pre-departure beverage was delivered promptly after I sat down in my seat. Menus and amenity kits were handed out as well. Meal orders were taken on the ground.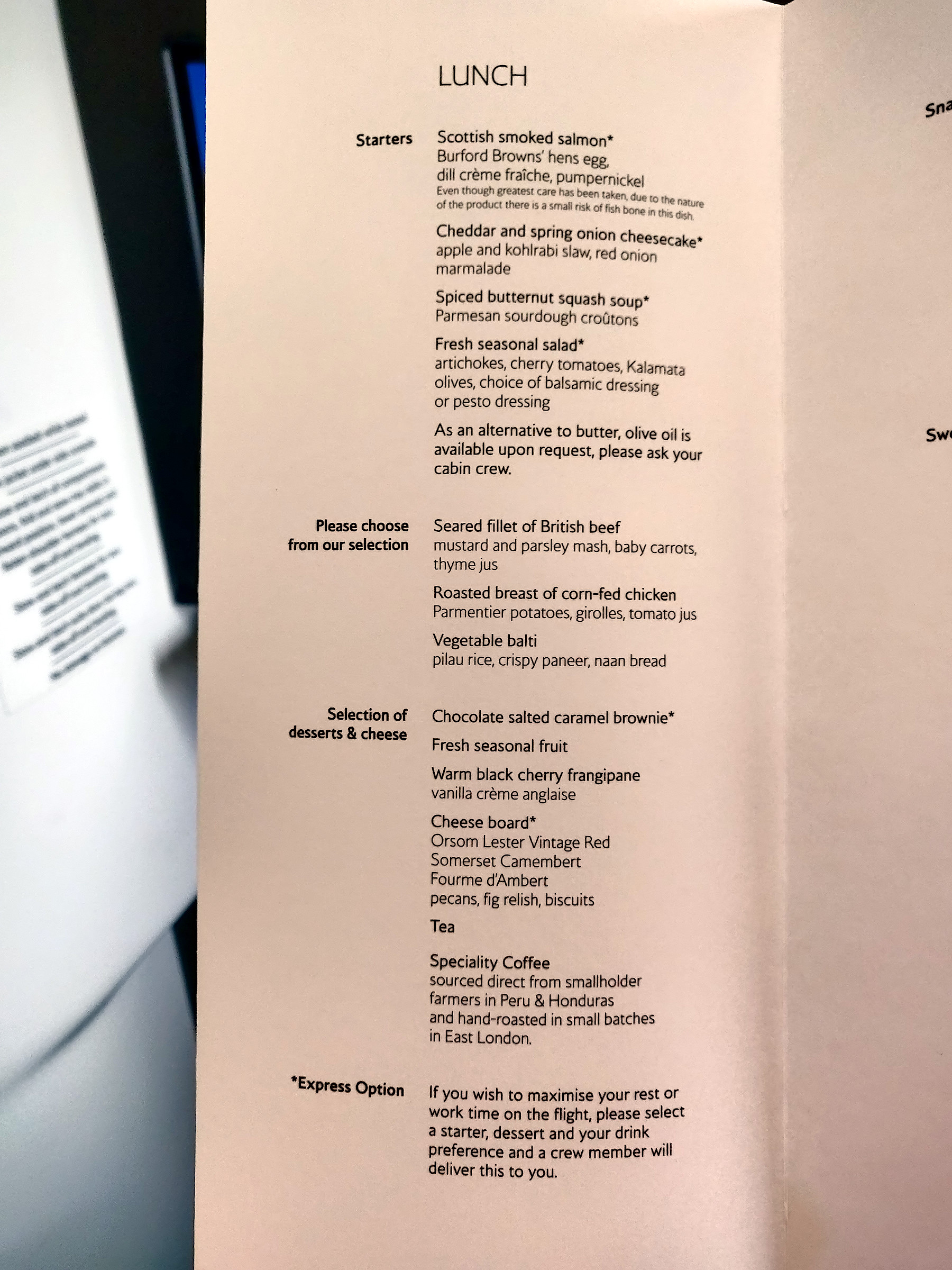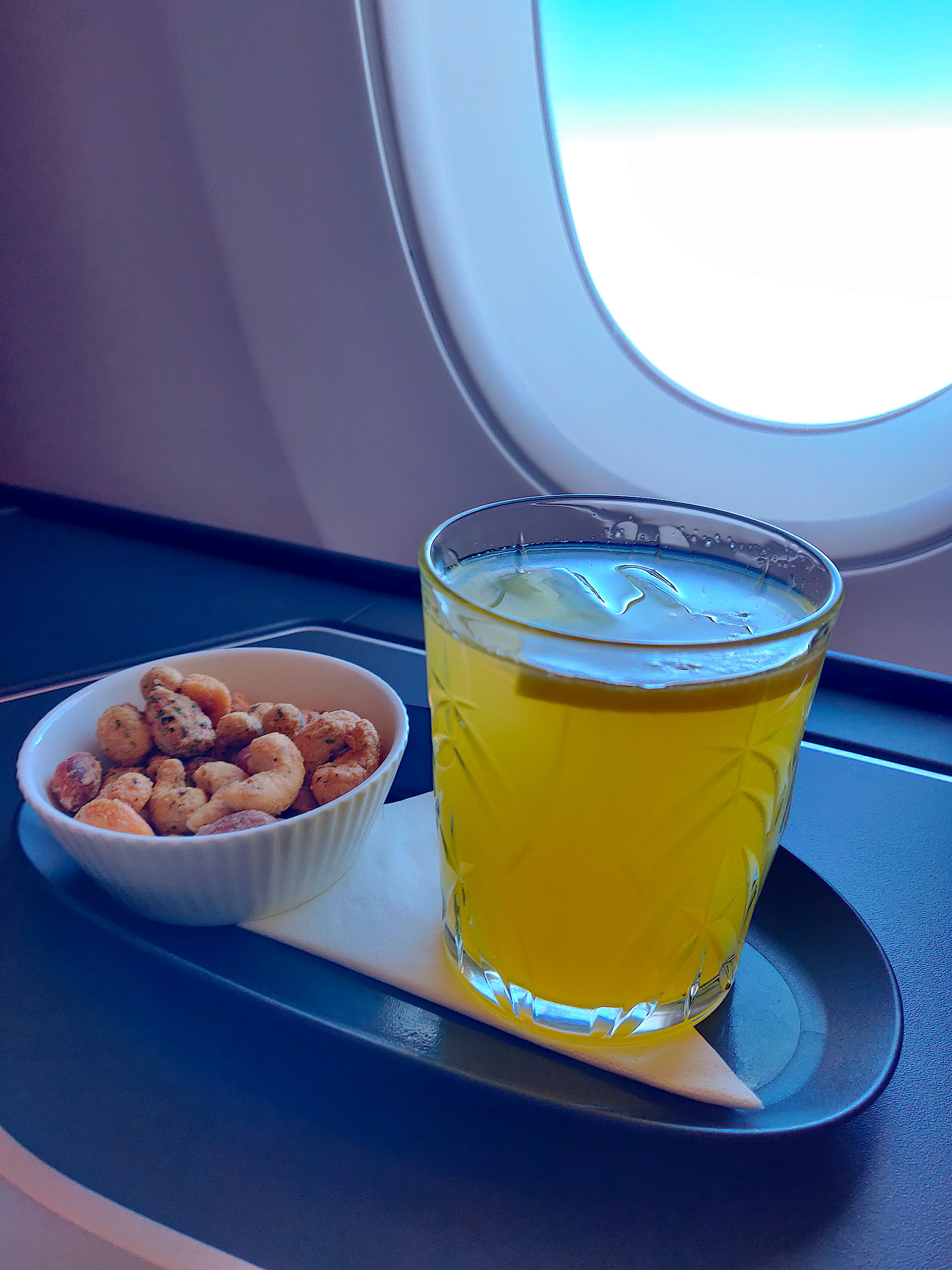 25 minutes into the flight cabin crew delivered Gin Zing cocktail with cold nuts.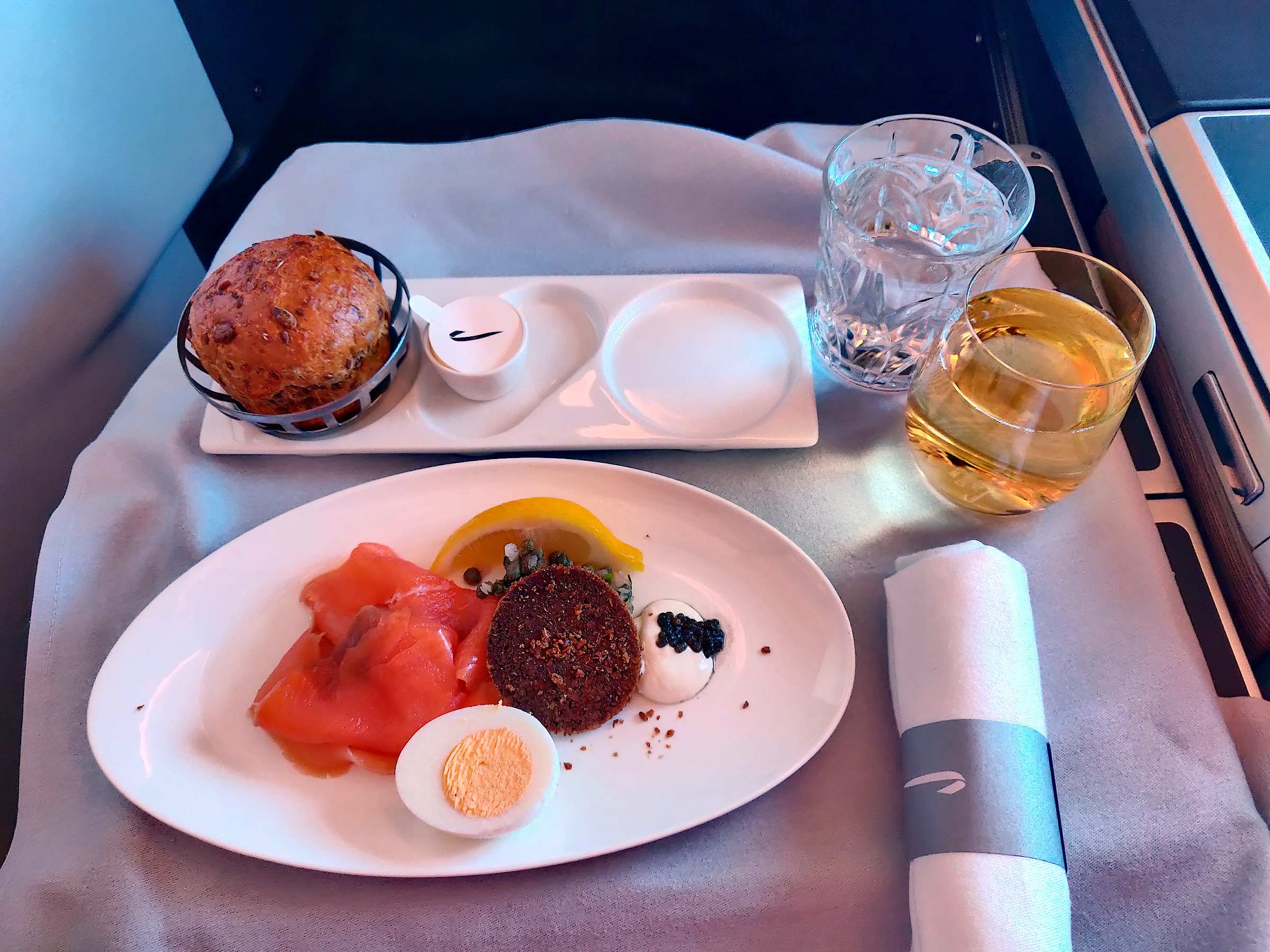 For starters, I selected the Scottish smoked salmon and the spiced butternut squash soup. While the salmon was ok, tasted better than it looked, the soup wasn't great – it wasn't spicy and very watery.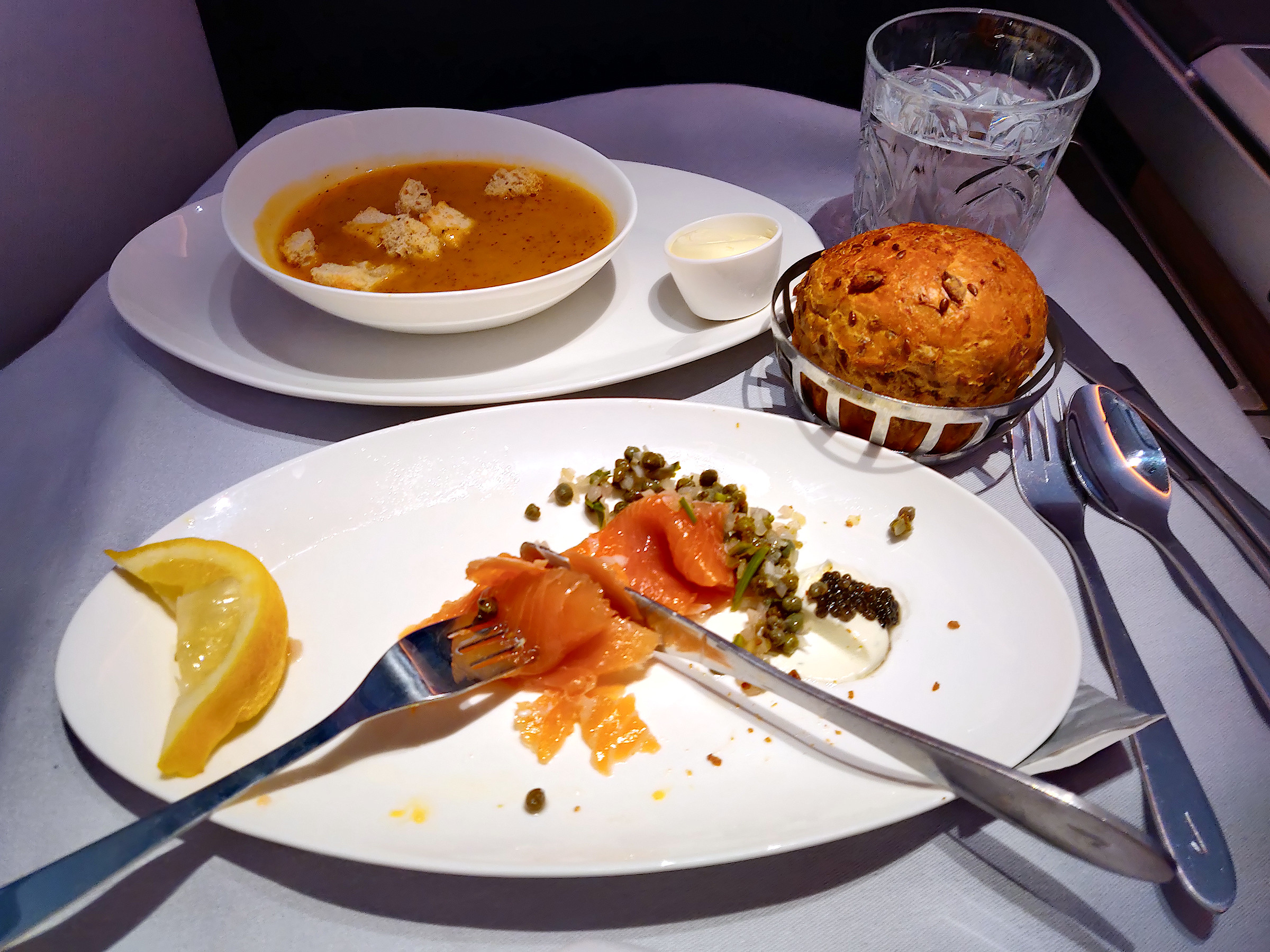 While everything was hand-delivered, it wasn't best timed – my soup arrived before I had finished my starter.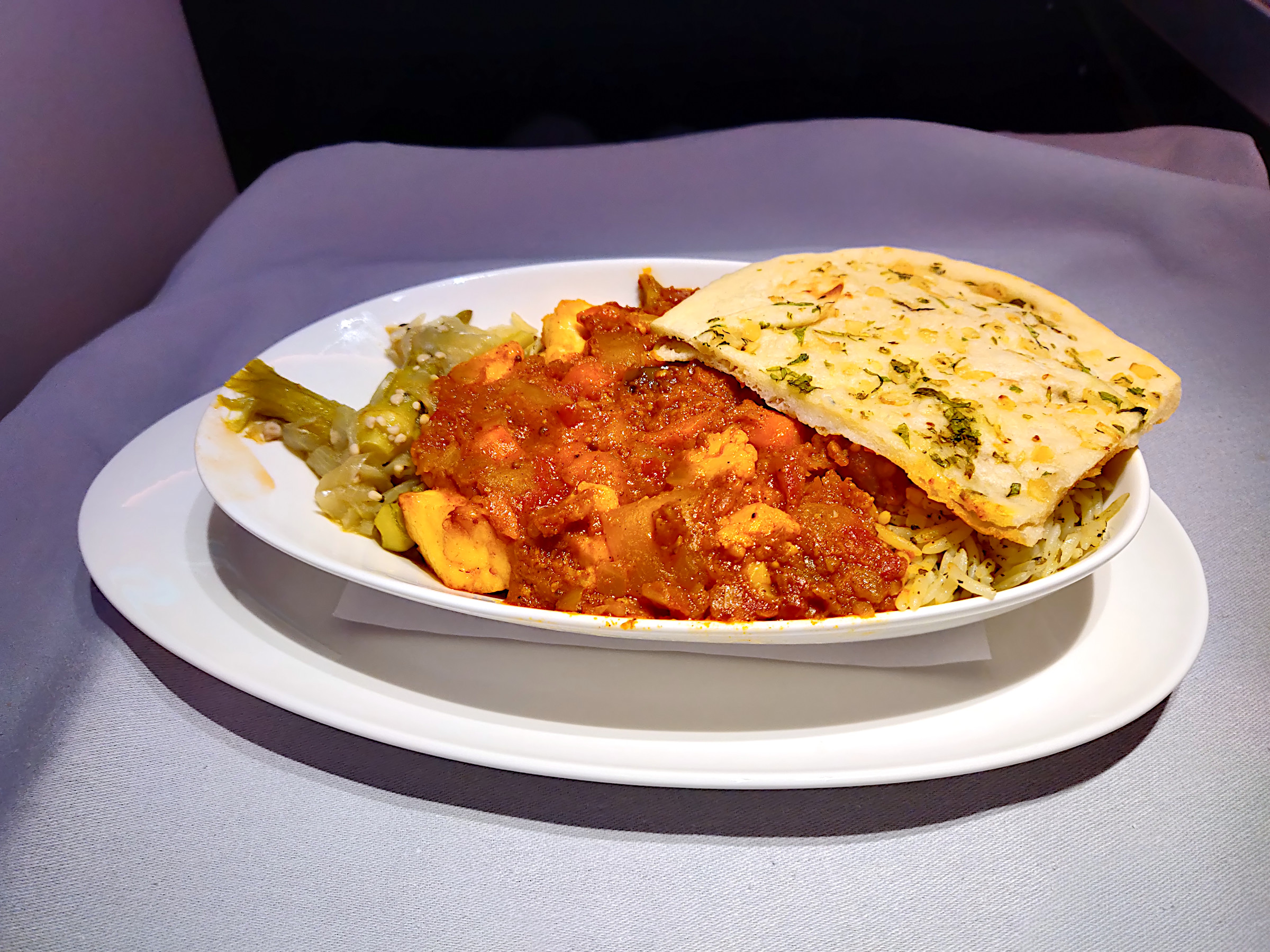 For main I went for vegetable balti and it was delicious. You can't really go wrong with curries on British Airways!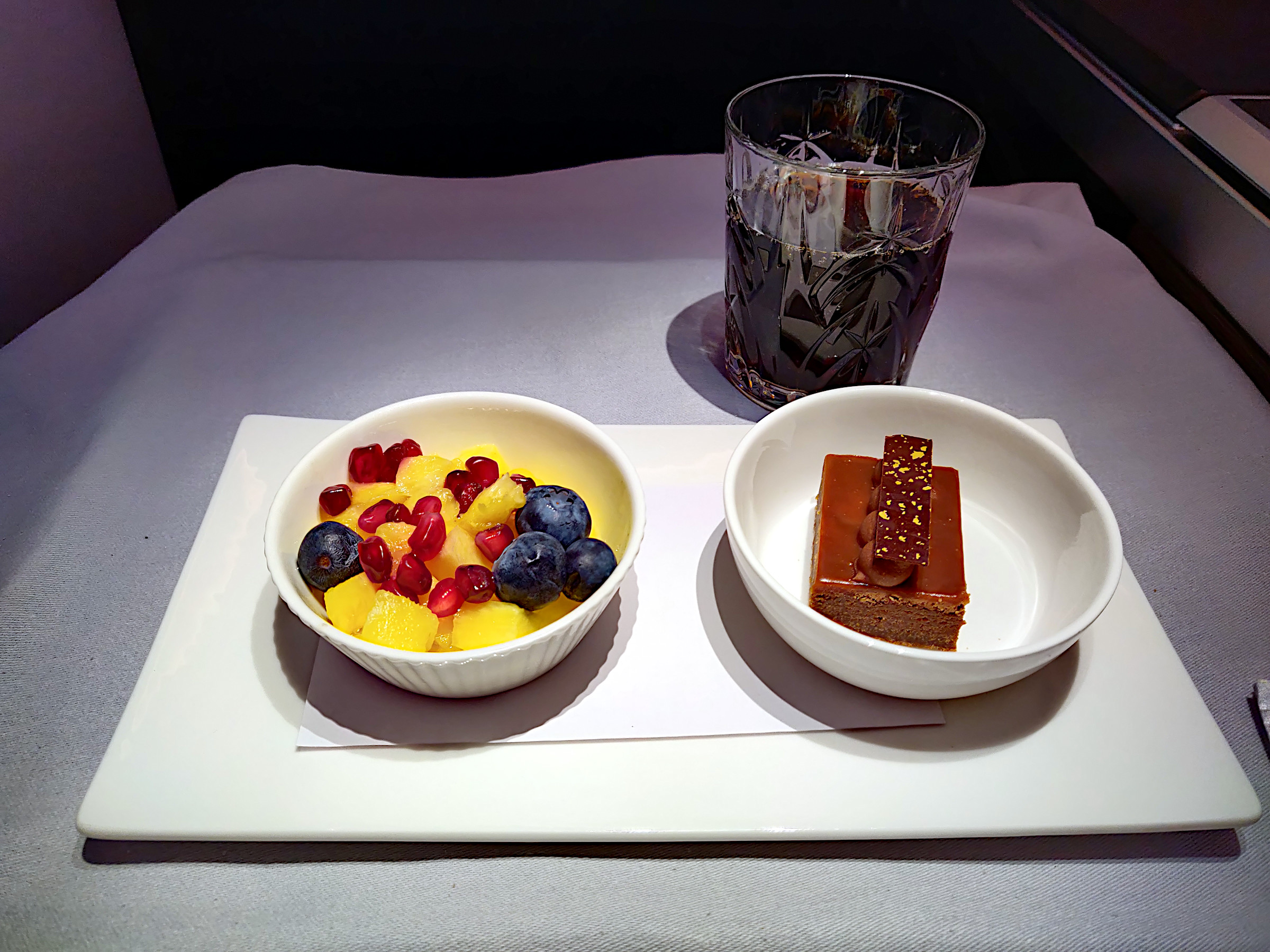 To finish my meal off I got fresh fruit and chocolate salted caramel brownie. I quite like that on BA you can pick more than one dessert – they're also rather small.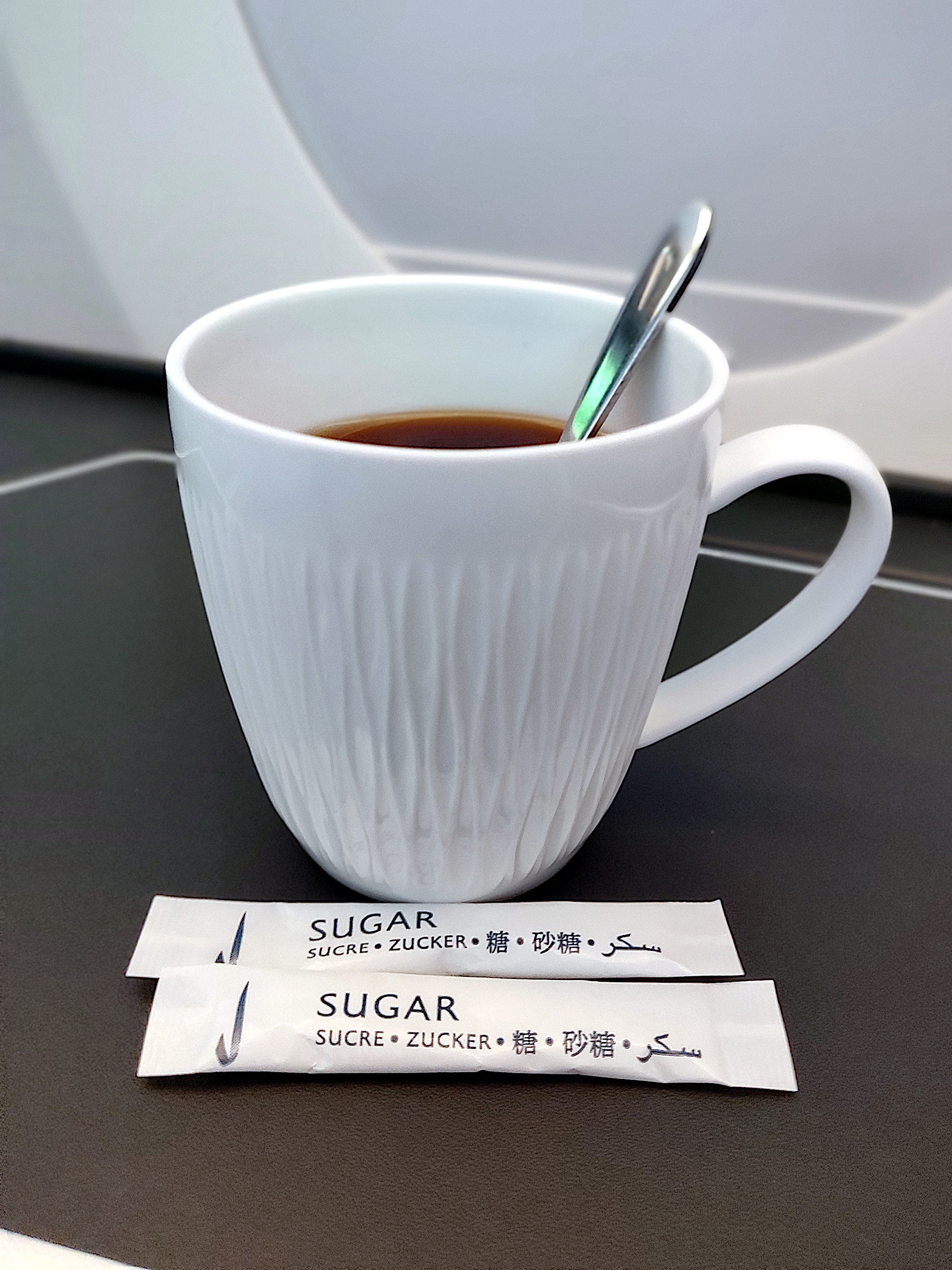 I was sat in 3K (by the window) and it took three hours to complete the service from the departure time. Not terrible, but given the fact I wanted to work, it forced me to juggle my laptop and empty dishes. Food on this flight is not on par with flagship routes like JFK where BA offers DO&CO catering, yet it was still tasty and what I would expect from BA.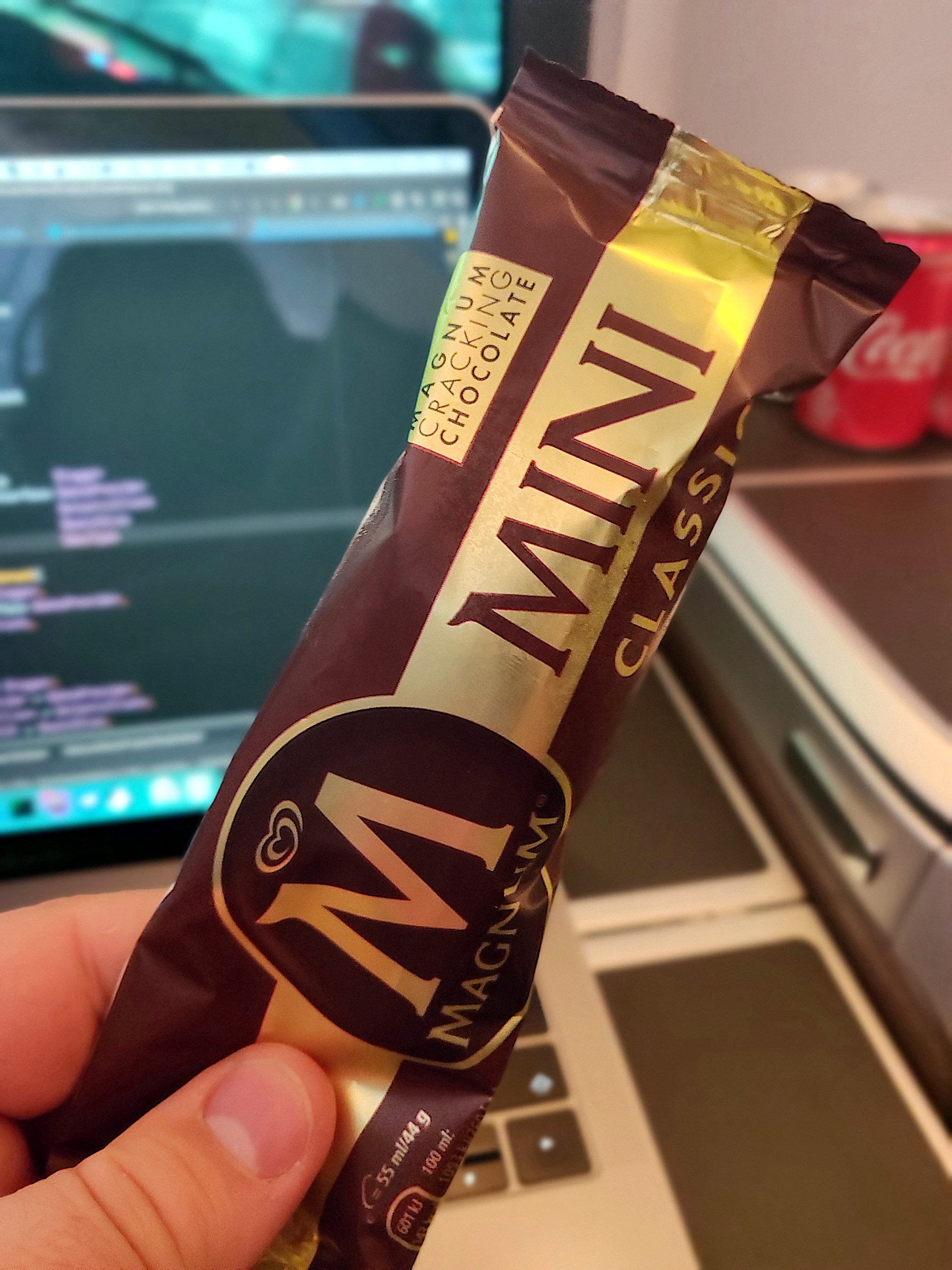 Sometime mid-flight we got offered a mini Magnum ice cream, I believe it's handed out in all cabins now.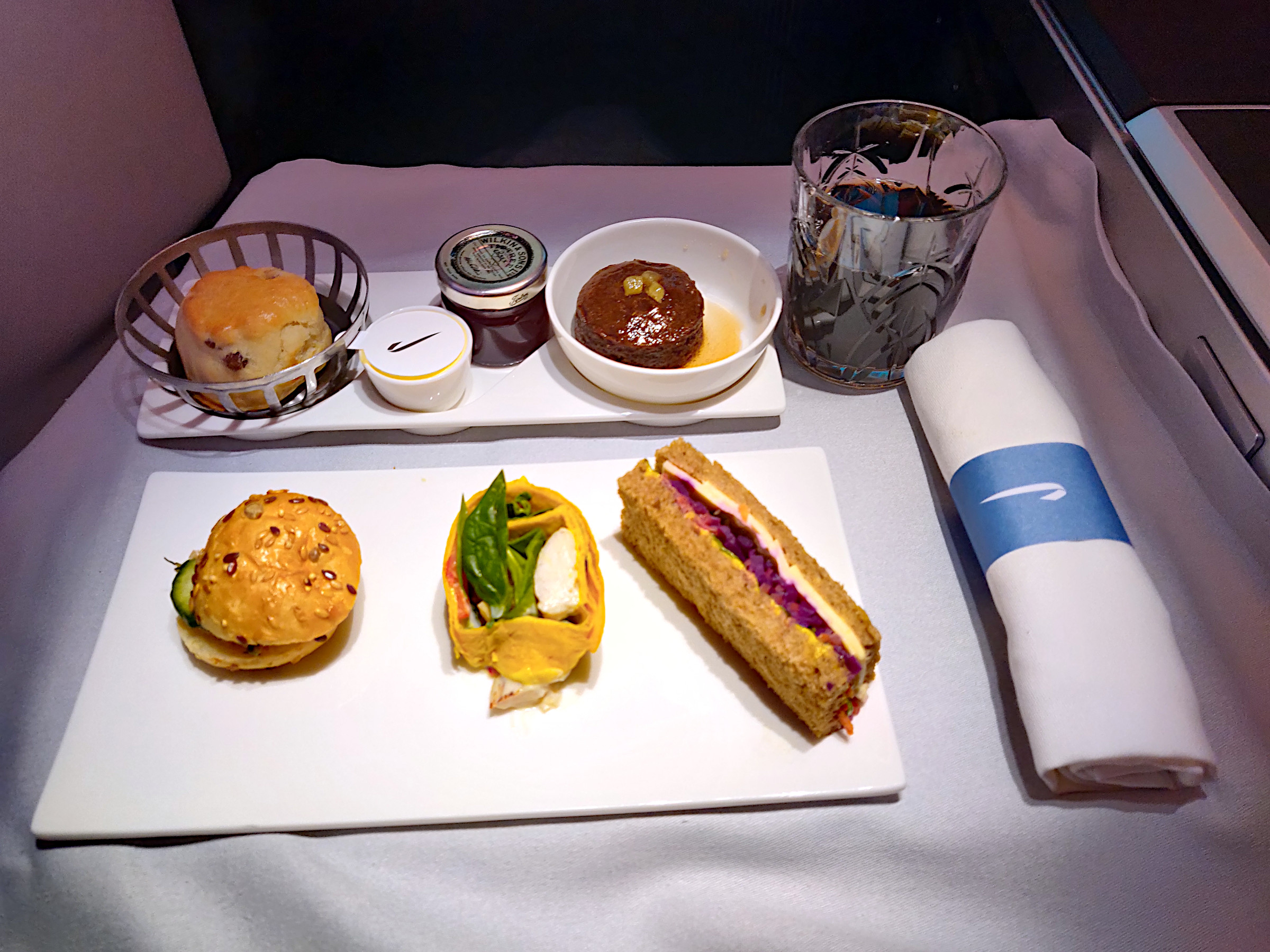 Around an hour before landing afternoon tea was offered. I went for a selection of sandwiches, they were nicely presented, tasty and the right size given the length of the flight.
Virgin
The crew member who would be looking after me on the flight has introduced themselves and seemed enthusiastic and very friendly at first. It turned out they were a little bit clueless. They apologised for the tray table and told me some aircraft would be getting a new one soon, yet I later found out I was actually flying one of those aircraft already. The weird thing about the crew on the Virgin flight was that the one looking after me was very friendly towards me, but all other crew members just bluntly ignored me. This was the most bizarre experience ever, as if no one was allowed to interact with me but one dedicated crew member!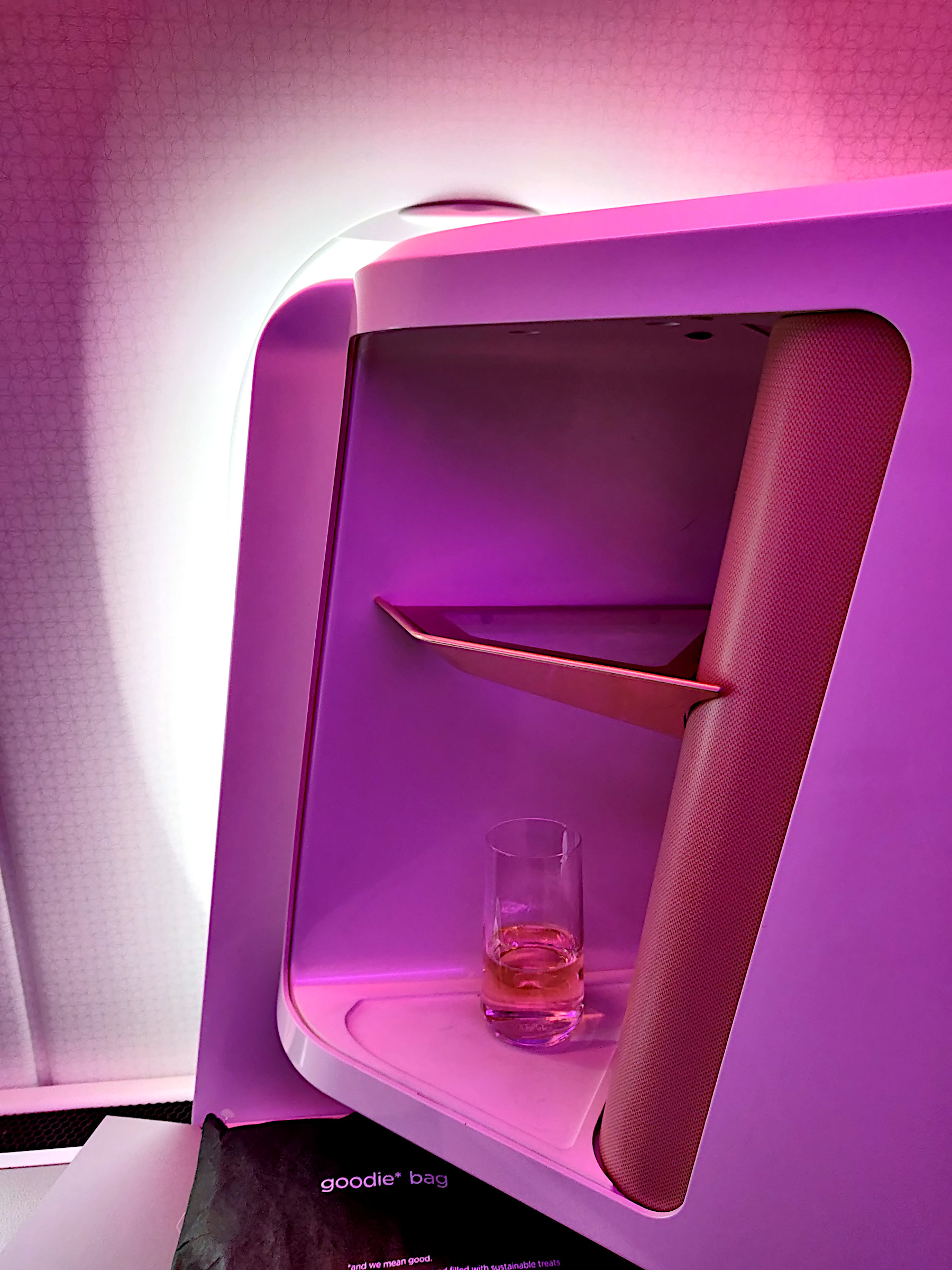 My pre-departure drink arrived swiftly – there was water, orange juice and champagne on offer, so I opted for champagne, which was quite nice. After departure, I switched to water as in 7 hours I was going to drive upstate to see my friends.
Meal orders were taken after takeoff, my glass of water with popcorn arrived a few minutes later. I took the menu off the plane with me, but must have misplaced it… so there's no picture. Sorry…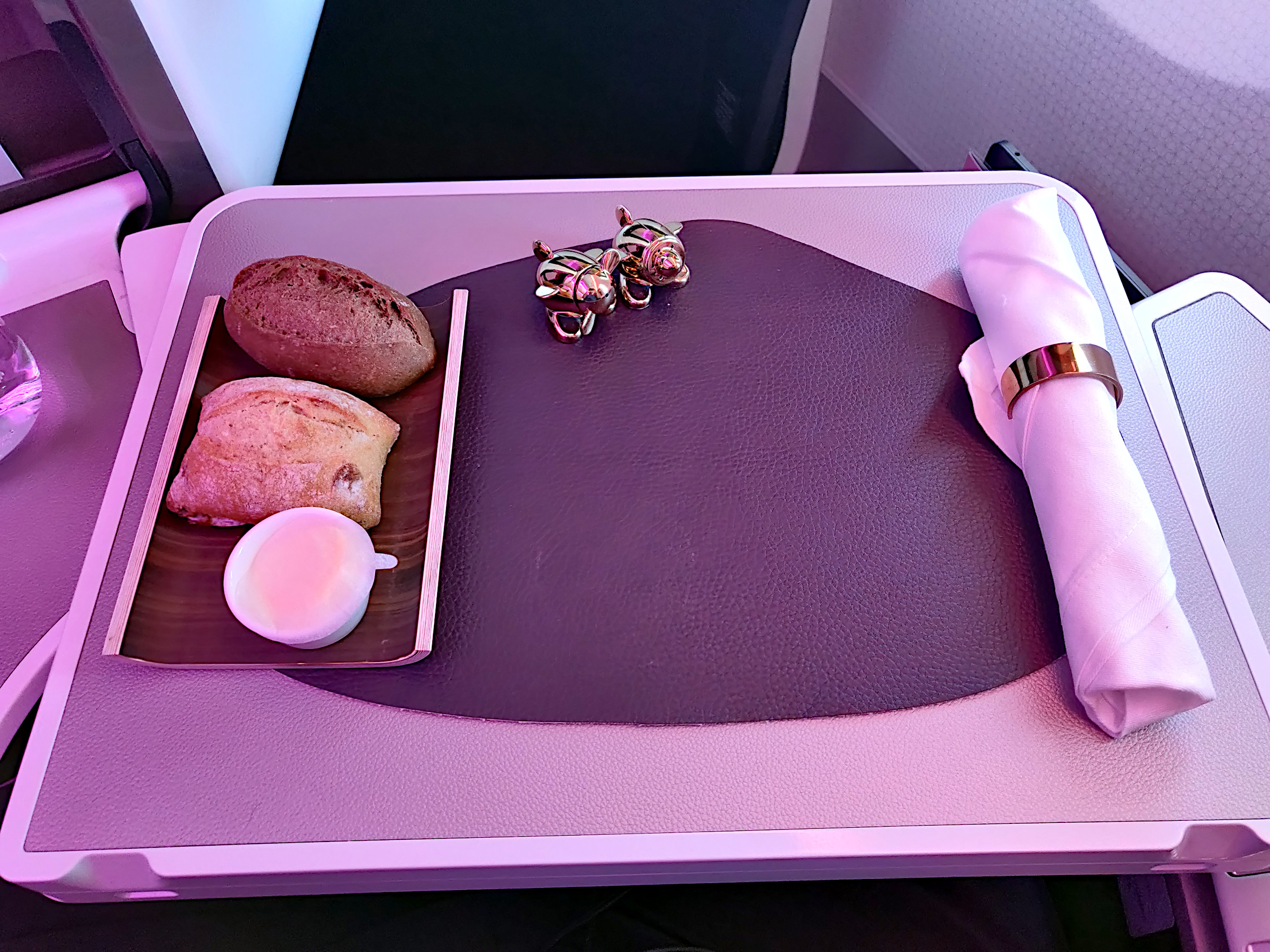 Another few minutes later and my tray table got set up for the meal.
I must say the little salt and pepper shakers looked cute, of course, I nicked them from the flight! These ones were rose gold especially for the A350 versus the normal silver-coloured ones.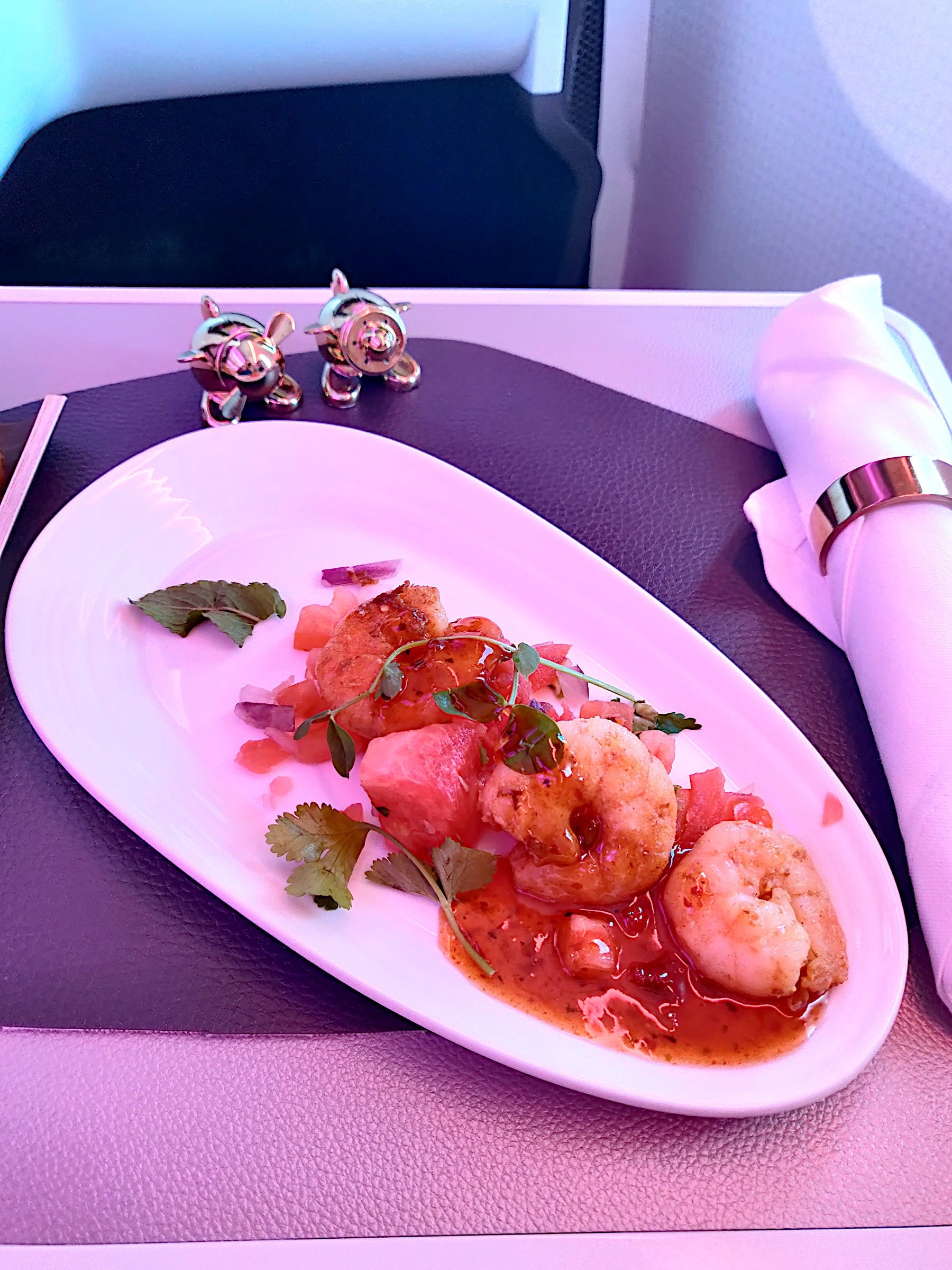 For starters I had prawns, it was quite nice – very refreshing with a hint of spice.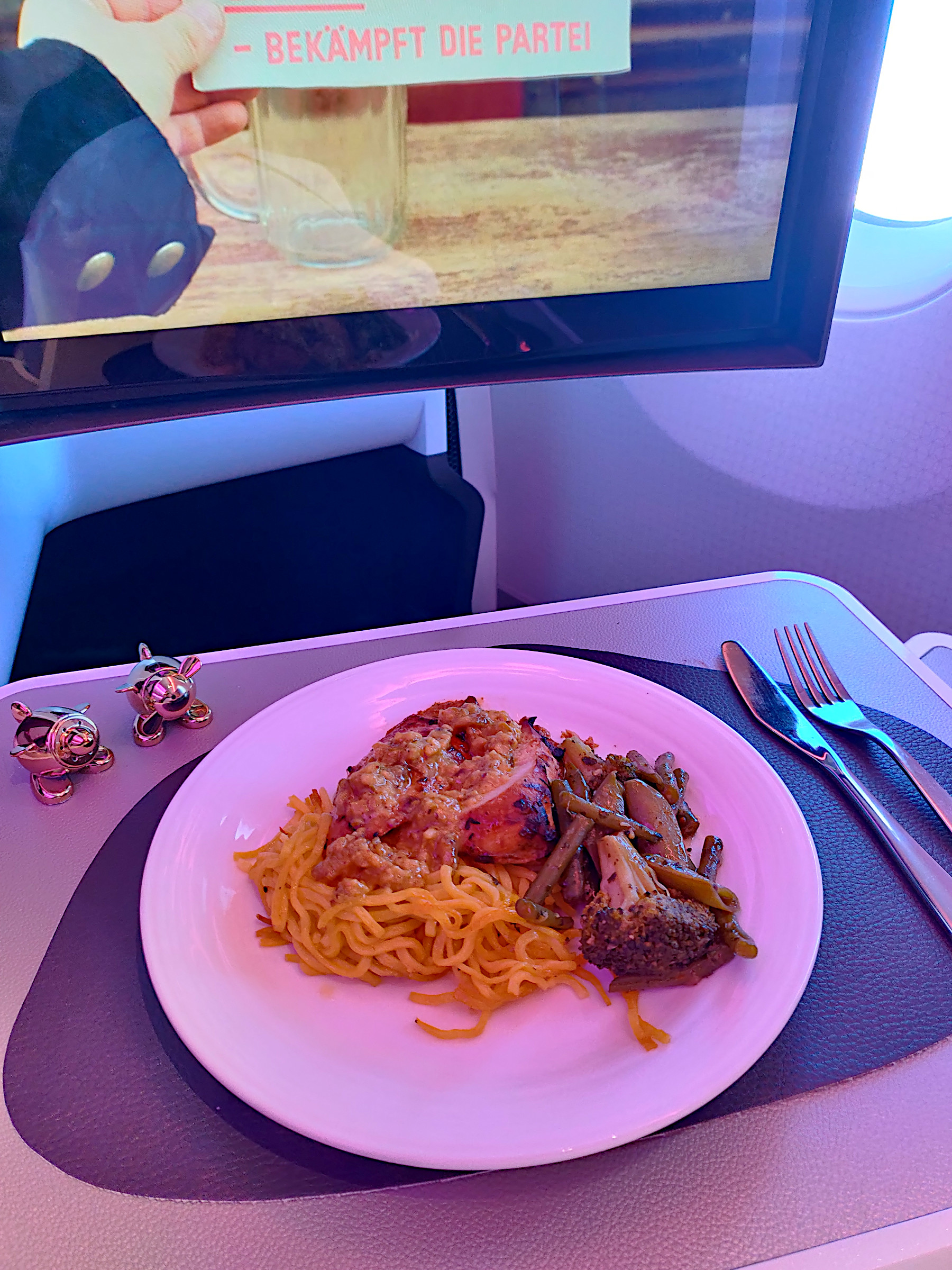 For main I went with linguine chicken – was average at best. From the description, I was expecting something completely different but hey.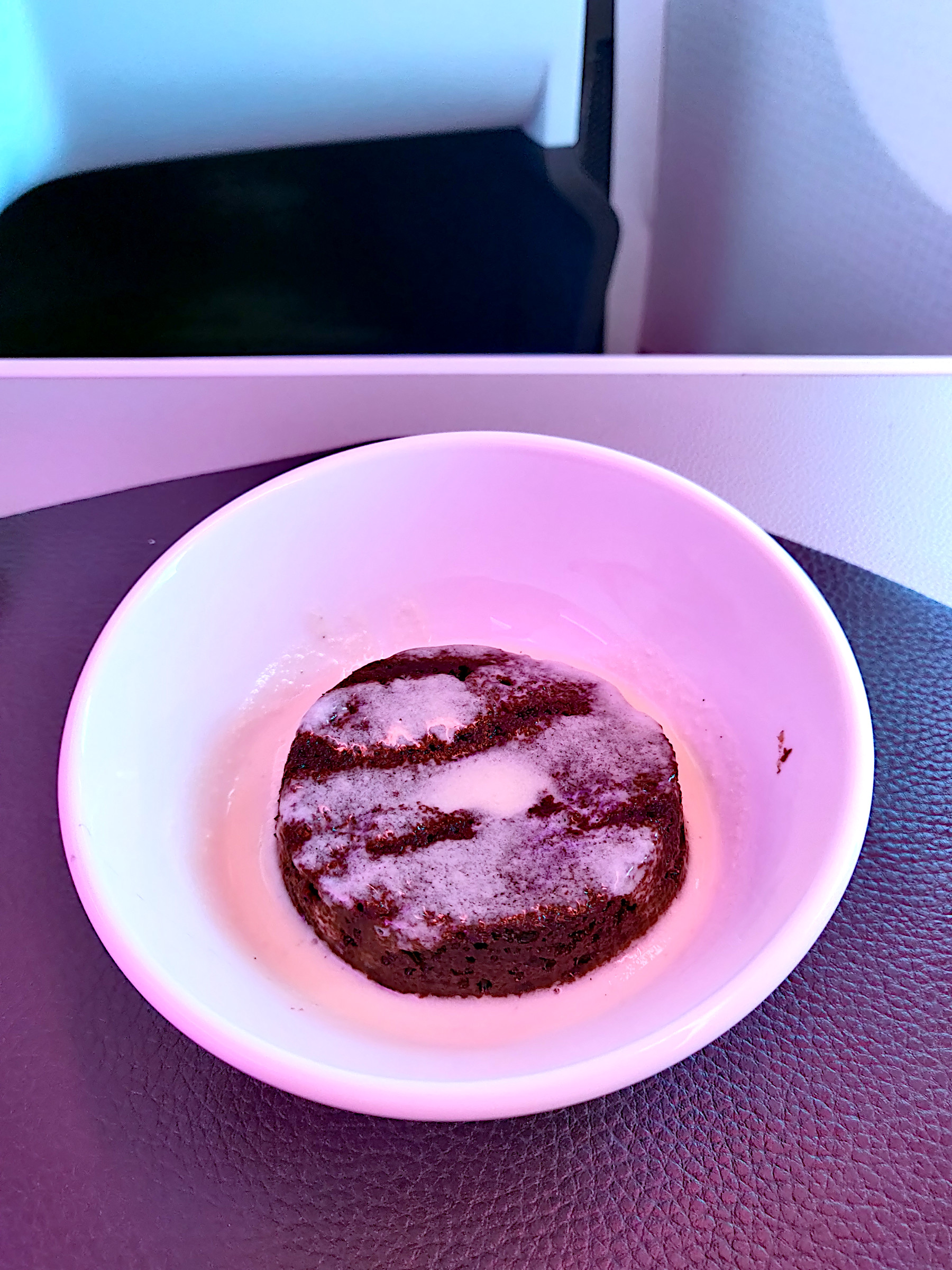 This was supposed to be a hot lava chocolate cake… yes, it wasn't what I expected. It was very dry, not hot and there was no runny chocolate inside. Very disappointing dessert.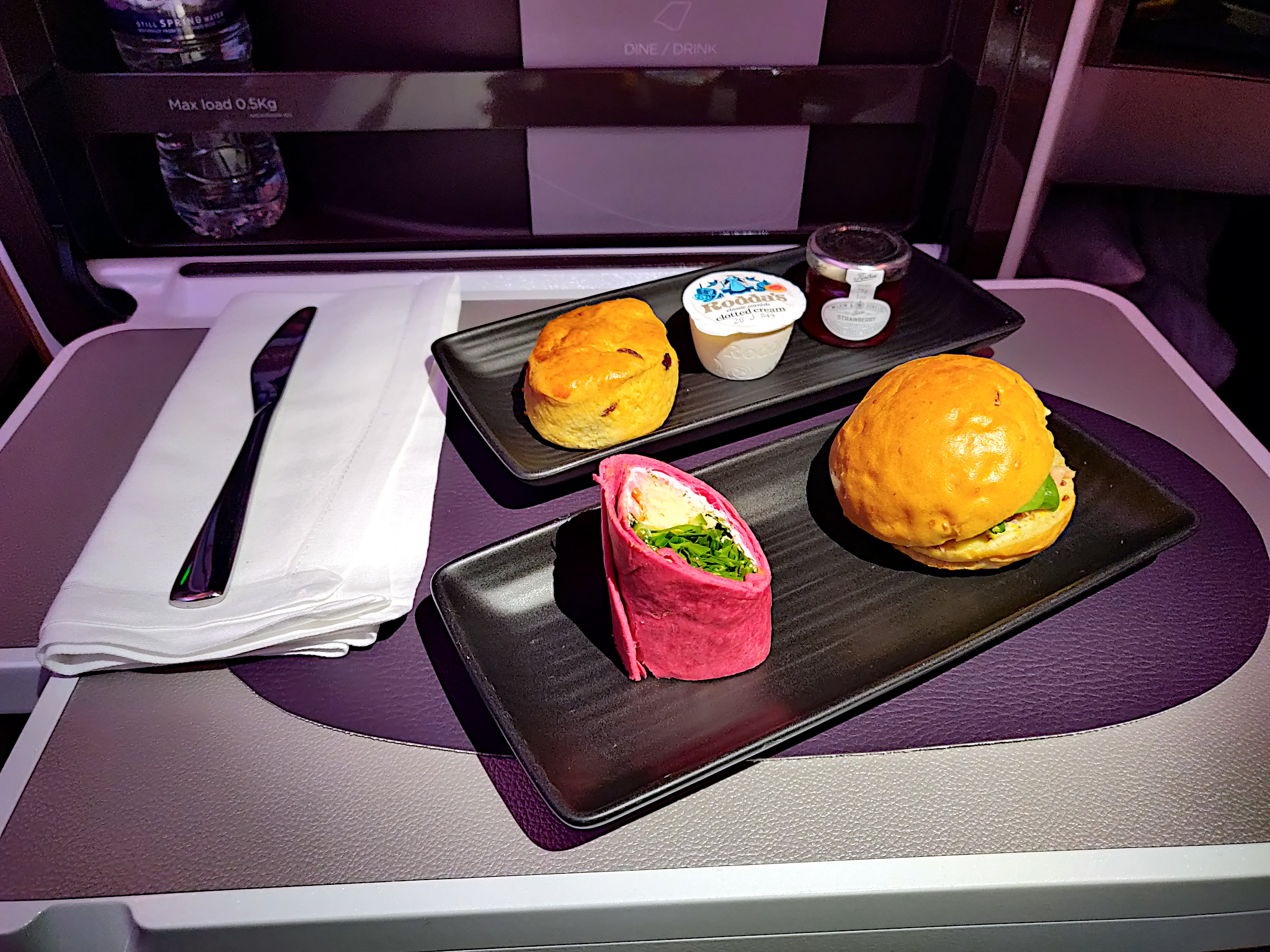 Around an hour and a half before landing afternoon tea was offered. While sandwiches were ok, I found the scone really dry and falling apart easily.
Given the fact it is Virgin's flagship route from Heathrow to JFK, the food fell below the standard I was expecting from them. Meal service took around 2.5h – a very similar result as BA.
Winner: BA
BA's secondary route catering has beaten Virgin's flagship route for the food. Speed of service was similar. While BA's staff were more consistent in their basic interactions yet still robotic, Virgin's staff were completely opposite – with one member only talking to me throughout the flight (they were really friendly!) and all other crew members ignoring me throughout the flight…
Inflight Entertainment (IFE) & WiFi
My expectations – Clean user interface for IFE, fast and affordable WiFi connection.
BA
The IFE screen is fixed so can be used from gate to gate and is available for passengers to use from the time of boarding. That's very convenient as you can start browsing movies before you even take off! The movie selection was quite large and from around the world, but somehow I struggled to find anything interesting to watch. Given it was February there were hardly any good romantic comedies, just the usual Marvel selection. I have nothing against Marvel, I just prefer to enjoy their movies on the big screen in the cinema. I found the choice of a white background for IFE a bit disturbing – it was a bit harsh for eyes when the cabin became darker.
British Airways decided to keep the factory fitted internet option that means it's slow, measured and expensive. 150MB costs £19.99 for the duration of the flight. I knew that in advance, so I prepared myself to be able to work offline, yet I got it for my phone to stay connected and it wasn't enough – my phone ran out of data 3 hours into the flight. In my opinion, that's a really poor show from BA – retrofitting a newer WiFi would have taken a couple of days at most and would allow BA to offer a consistent experience on all aircraft.
Virgin
For some weird reason, Virgin does not turn on the IFE till after take off. So you're forced to watch a boring video advertising Virgin during boarding and takeoff. Once up and running the IFE was easy to use, although movie selection had the same issue as the one on BA – many movies to choose from, but hardly anything interesting to watch.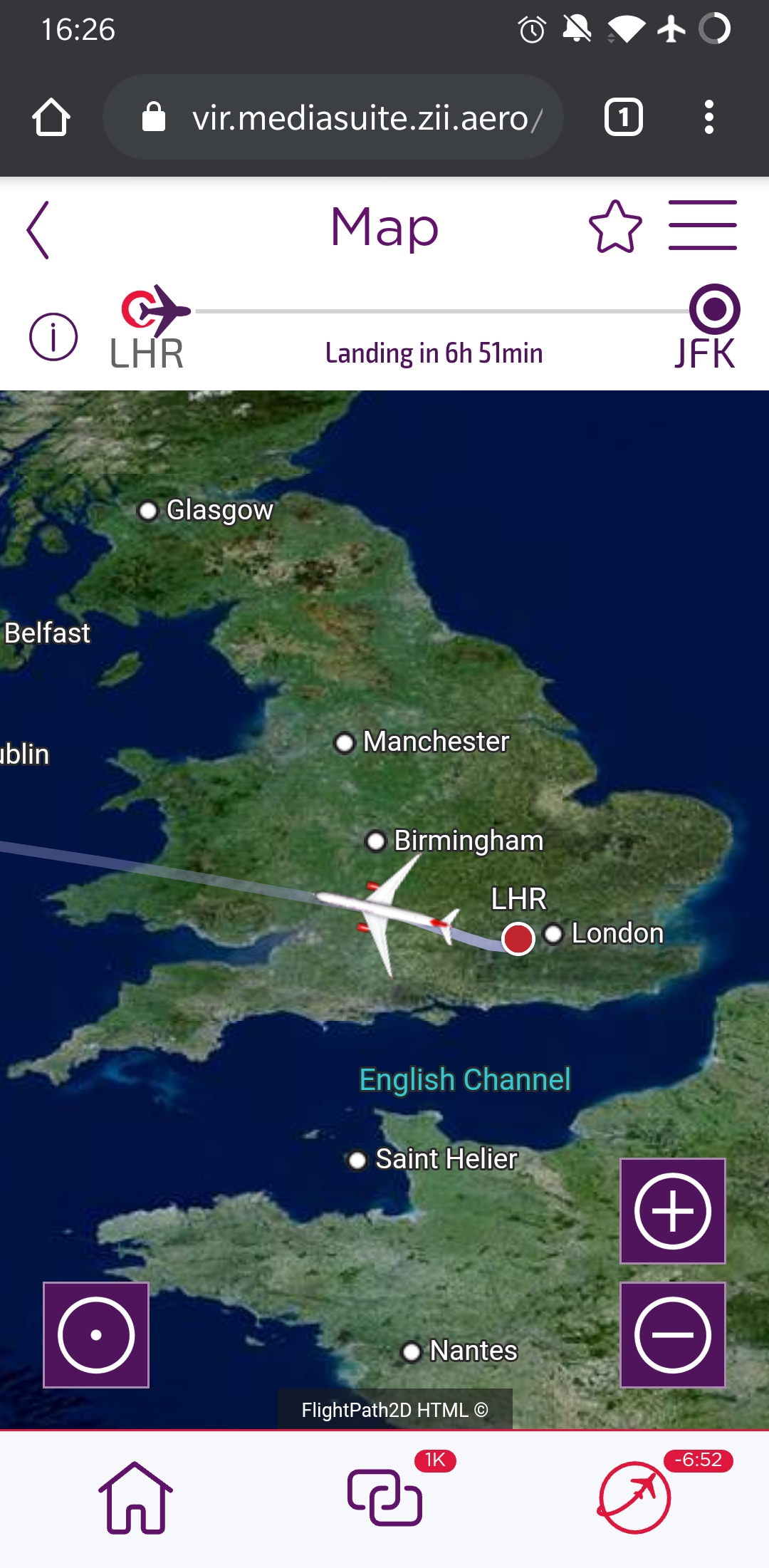 I quite liked that you could link your mobile through the web interface with the IFE to select movies etc, yet it didn't work for me. I got connected with no issues, but then it wouldn't let me do anything.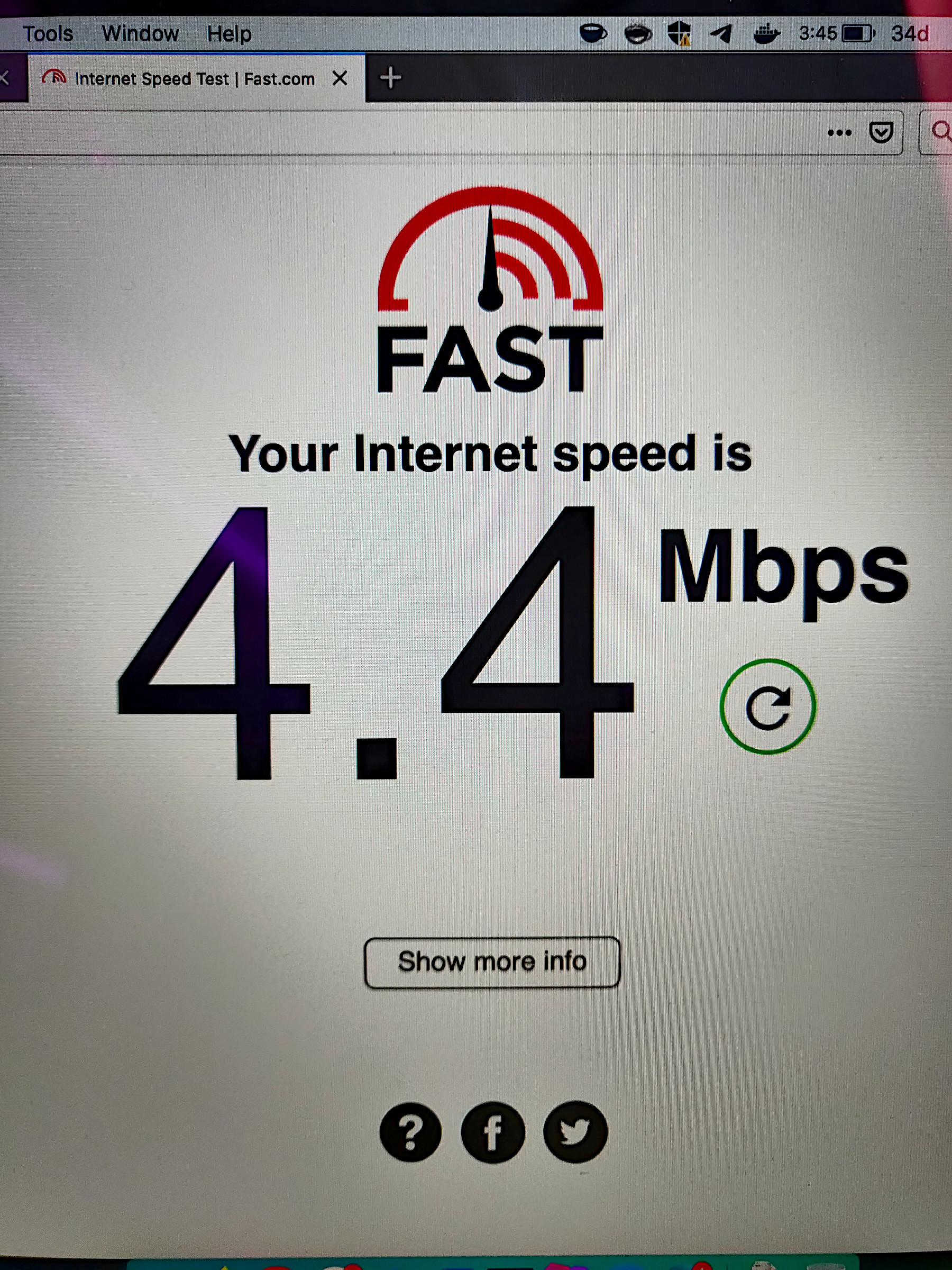 WiFi itself was reasonably priced at £21.99 for high-speed unlimited WiFi. It worked well throughout the flight and I stayed connected from my laptop for the duration of the flight. There was also an option to switch your paid WiFi from one device to another which I found quite convenient – once finished working, or for the meal service, I could swap data access from my phone to laptop and back. Very convenient.
Winner: VS
Thanks to unlimited data on WiFi. I really don't understand why BA opted to save a few pennies and keep the factory-installed, yet outdated WiFi component. 150MB is hardly enough to see a few stories on Instagram these days.
Amenities and sleep comfort
Both BA and VS return flights to the UK were similarly timed – around 7pm departure from Toronto/JFK, 7am arrival at Heathrow. With a short red-eye flight, my focus was sleep.
BA

My return flight was on board a brand new Airbus A350-1000 tail number G-XWBE delivered to BA just a few days before. In fact, it was her first commercial trip, second commercial flight to take me home from Toronto to London.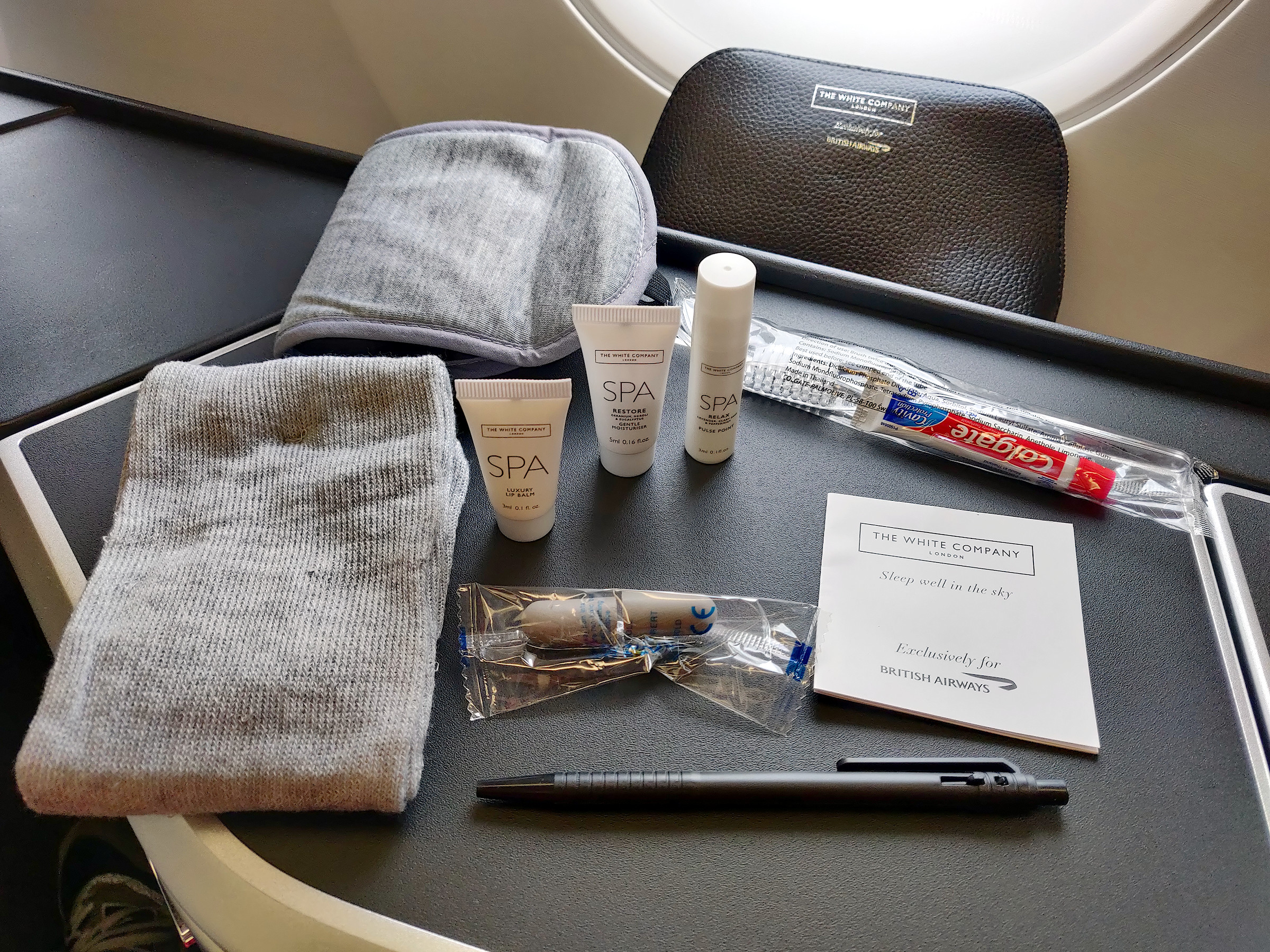 The amenity kit offered on BA flights in Club World is simple but has all the essentials. I really like the eye mask and I keep re-using them a lot. Pyjamas are not provided, so I had to use my recycled Qatar Airways one (I find them really comfortable). For bedding, BA offers a mattress protector (bit small and too thin if you ask me), pillow and duvet. The seat goes down in bed mode allowing a little bit more extra space under the table/tv – I'm a side sleeper, so I appreciate every single inch of space in a footwell area.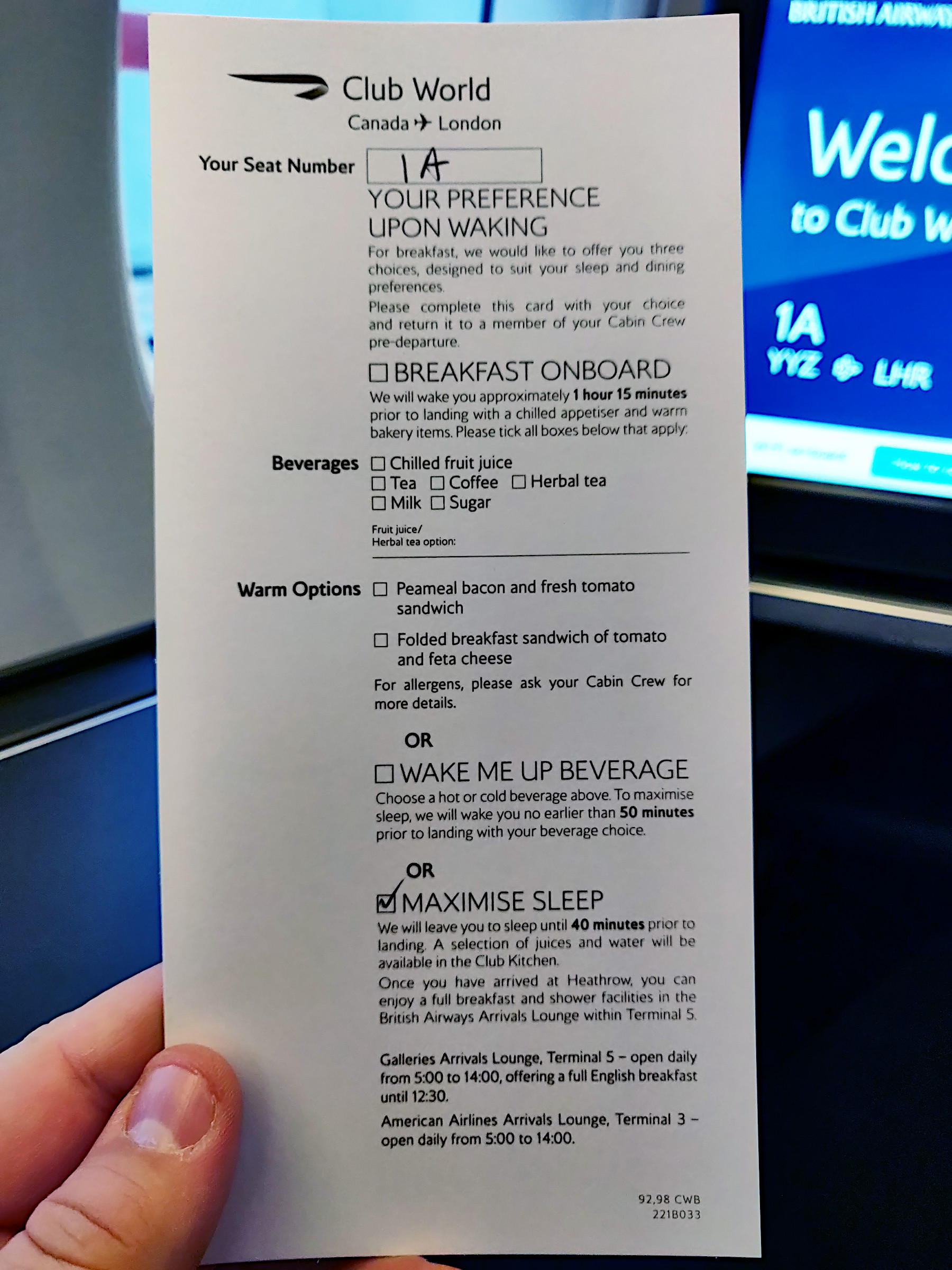 I quite like BA hands out the breakfast card, so I can fill it in and hand it back to the crew. BA offers full dinner service and breakfast on this flight.
I've had dinner in the lounge, so I asked for just a cheese board with a glass of scotch right after takeoff. The crew obliged to my request and promptly delivered my drink as an aperitif and the cheese plate.
Having selected 1A, I was a little bit worried noise from the galley or foot traffic would bother me. None of this materialised. The door is made of a soft kind of soundproof material, which I think helps to minimise noise when the doors are closed. As a side sleeper, I found the footwell to have enough space to position myself comfortably. The crew let me sleep up until 20 minutes before landing.
Virgin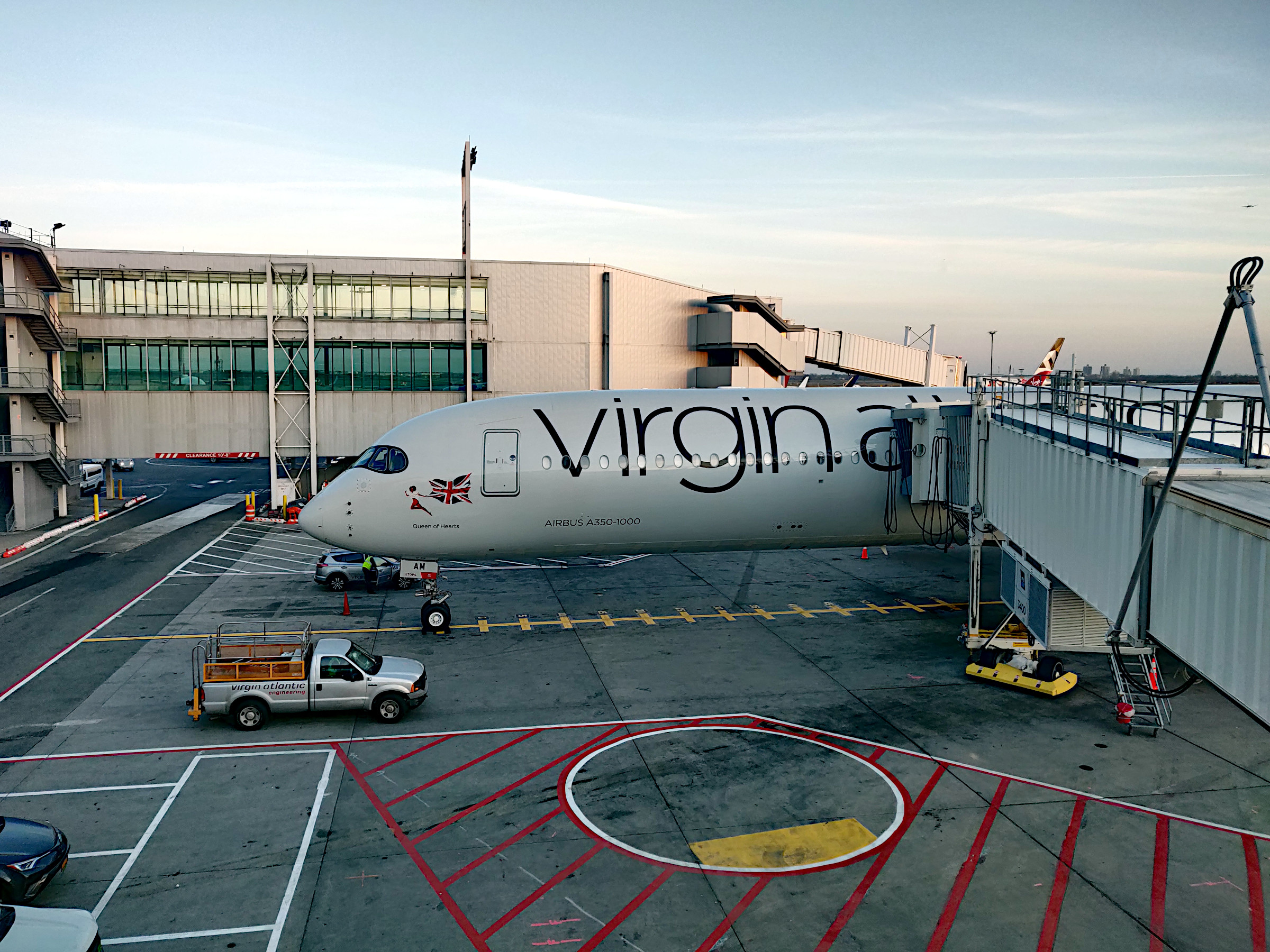 This time around, I got to fly an older version of the Airbus A350-1000 featuring original table design.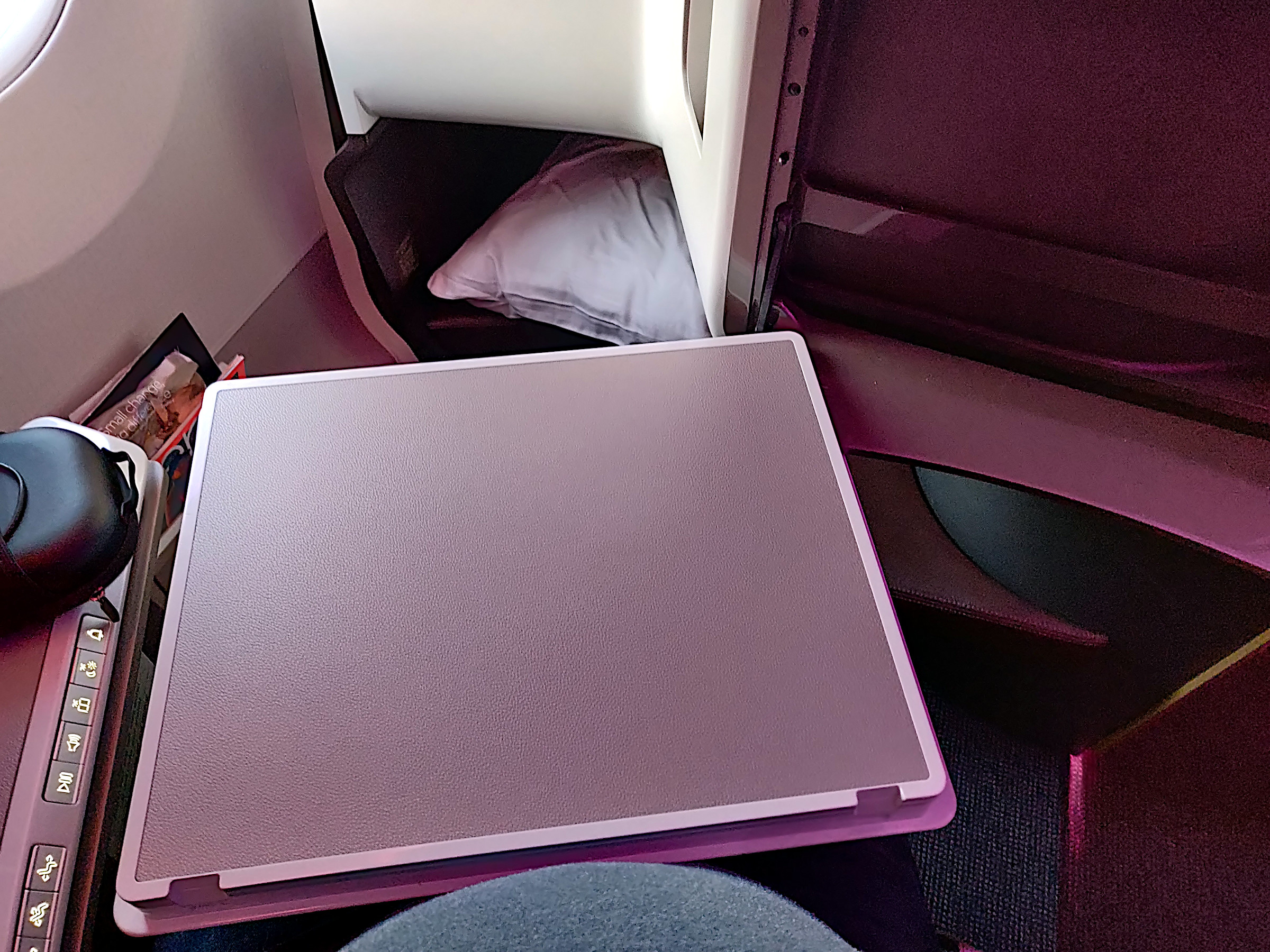 It was too tight for me in row 1, I don't even want to think how tight it would've been in rows behind me. Luckily my plan for this flight was to maximise sleeping so I did not care much about the table.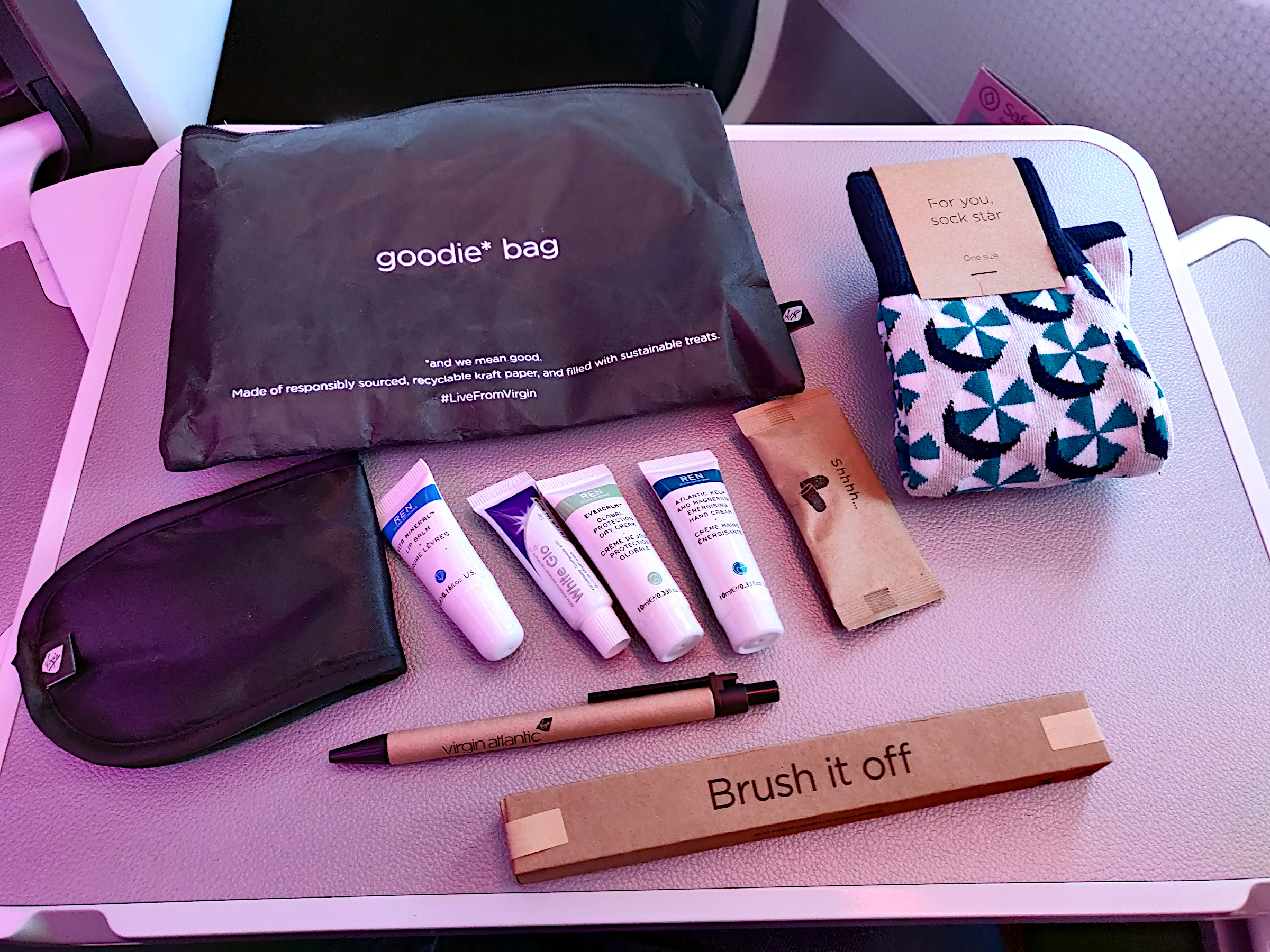 Virgin's amenity kit included all essentials I'd expect to see, it's nice that socks were good enough to be reused after the flight. I did not like the "goodie bag" pouch though – it feels cheap – I'd much prefer a better quality one I could reuse for something else rather than a throwaway. Virgin offers pyjamas on their night flights, which are reasonably good quality – I found them nicer than Qatar's. Boarding was a bit chaotic which resulted in pyjamas being handed out right before takeoff, so no time to change before departure.
Bedding provided by Virgin is really nice – really loved the thick mattress topper which covers the whole seat. I wish I had that mattress topper on a day flight – probably would have made my seat a little bit more comfortable for a day flight. My first problem was trying to get the seat into bed mode – buttons to operate the seat are so fiddly I couldn't get them to work at first. Eventually, I got it down, which wasn't really down. As mentioned before, the seat has a weird way of operating – unlike most commonly you can operate recline and foot support separately, here they seem to be linked together with the seat going up while in Z position (very uncomfortable one!). In bed mode it was ok, but the footwell space was really limited – as I mentioned before, I'm a side sleeper, so I found it to be not enough space for me – basically, my knees and tights didn't fit under the screen's console. Laying flat was not an issue, trying to lay down on my side was impossible to get comfortable for me.
Winner: BA
While Virgin offered better amenities on this night flight (nicer bedding and pyjamas), sleep comfort was the tipping point I would choose BA over Virgin any time.
Arrival experience
Both airlines have a very similar ground experience. At Heathrow, they offer access to the arrivals lounge, where passengers can have a breakfast, shower and spa treatments. Since I live close enough to Heathrow I rarely visit them. I've never been to Virgin's arrivals lounge, so decided to pop in for a quick breakfast.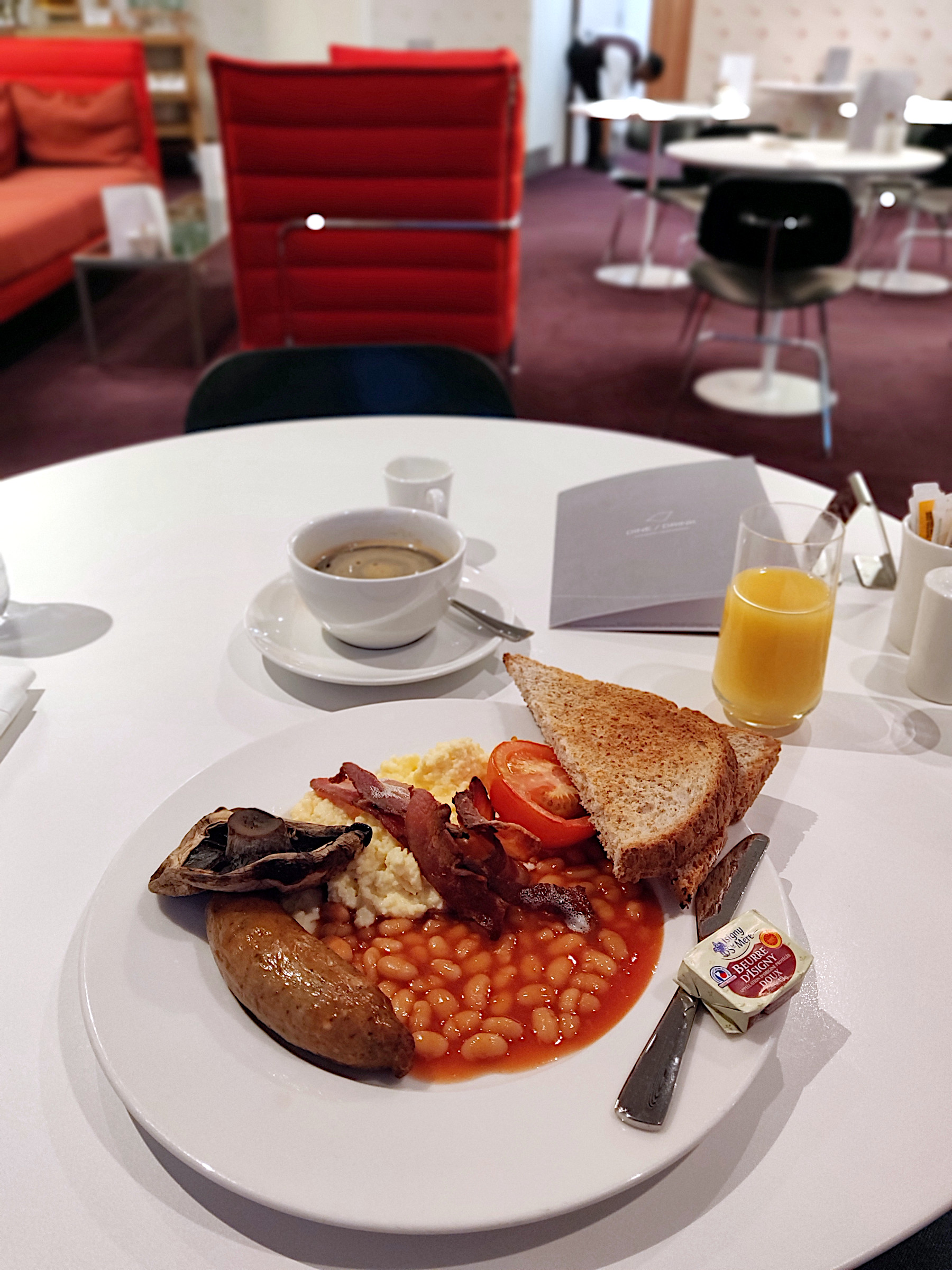 Virgin offers cook to order meals, while BA provides a well-stocked buffet. Given I was the only person in Virgin's lounge at that time I reckon table service works better for them.
Lounges in Toronto and JFK
I won't be scoring these since I cheated and used the First lounge in Toronto as a GGL, but here are a few photos for you to enjoy.
BA First Class lounge Toronto





Virgin Clubhouse JFK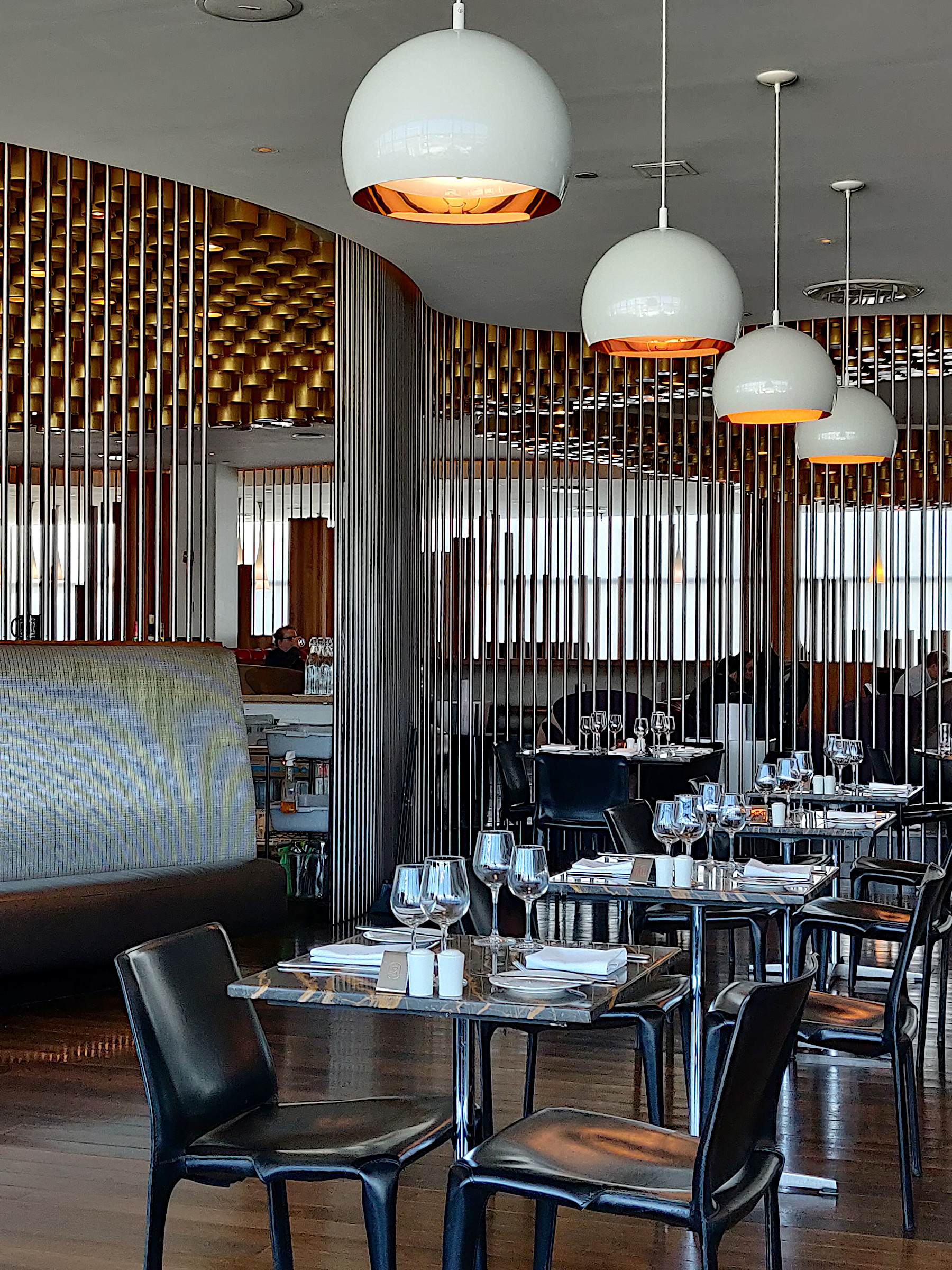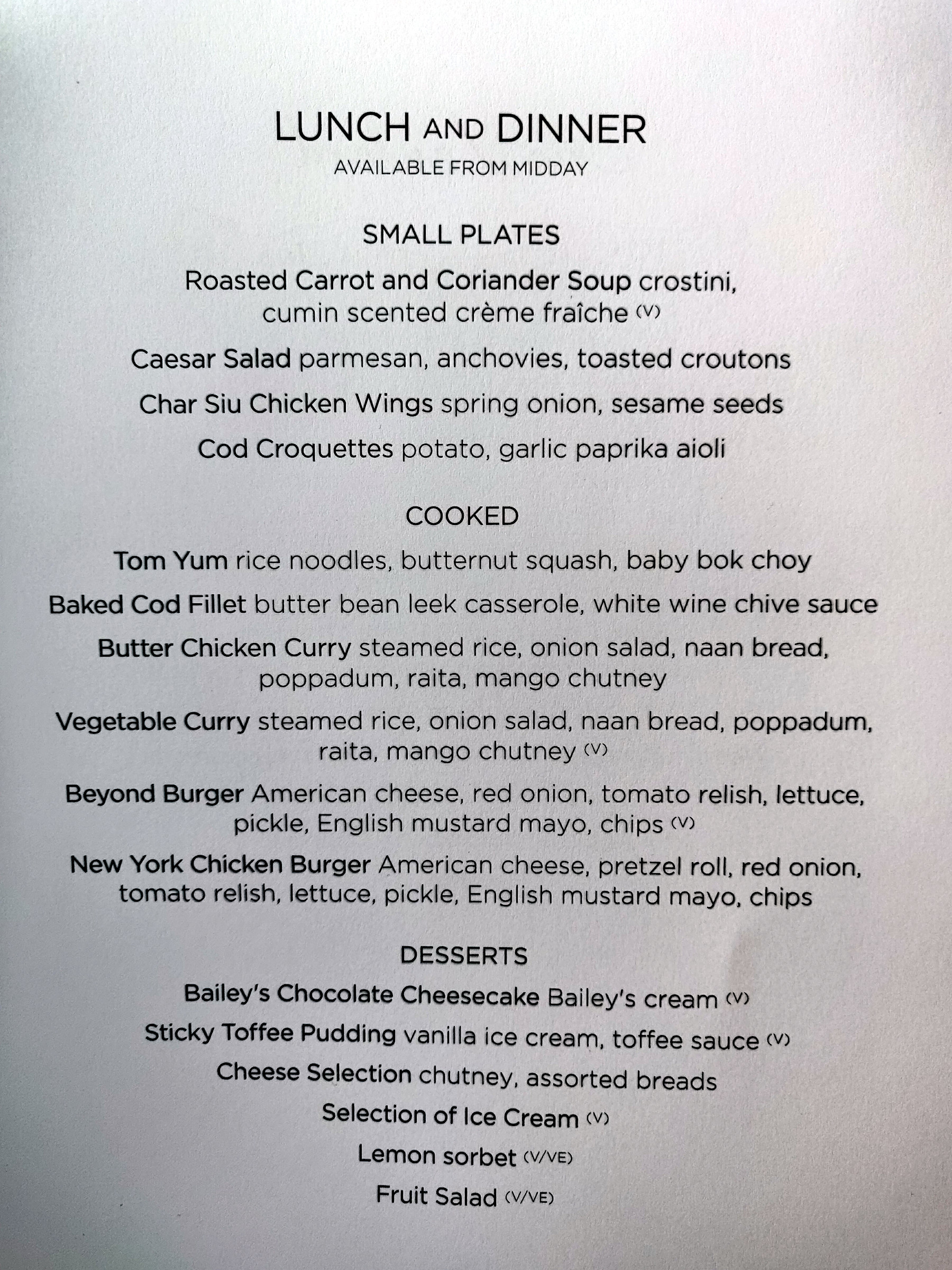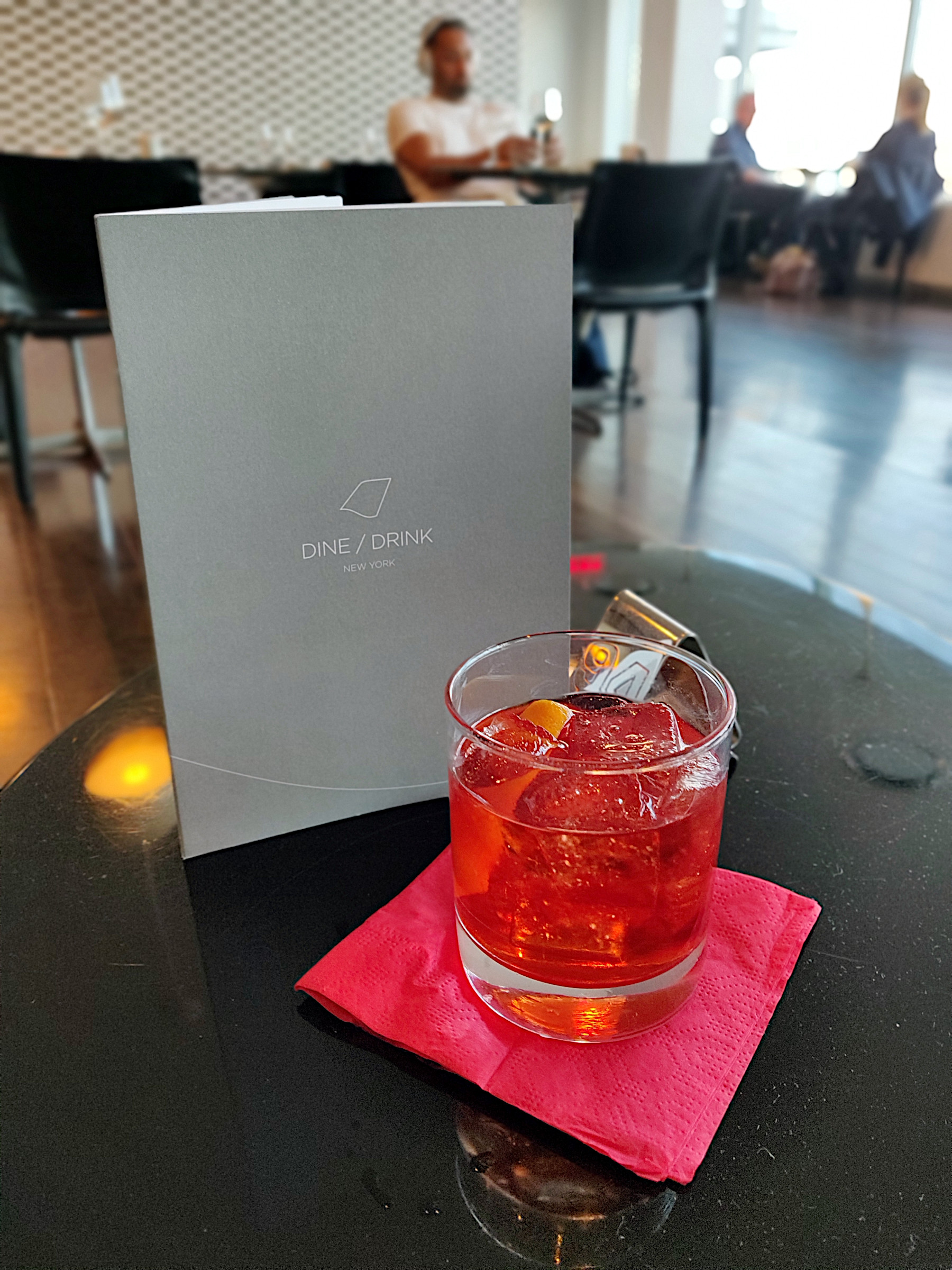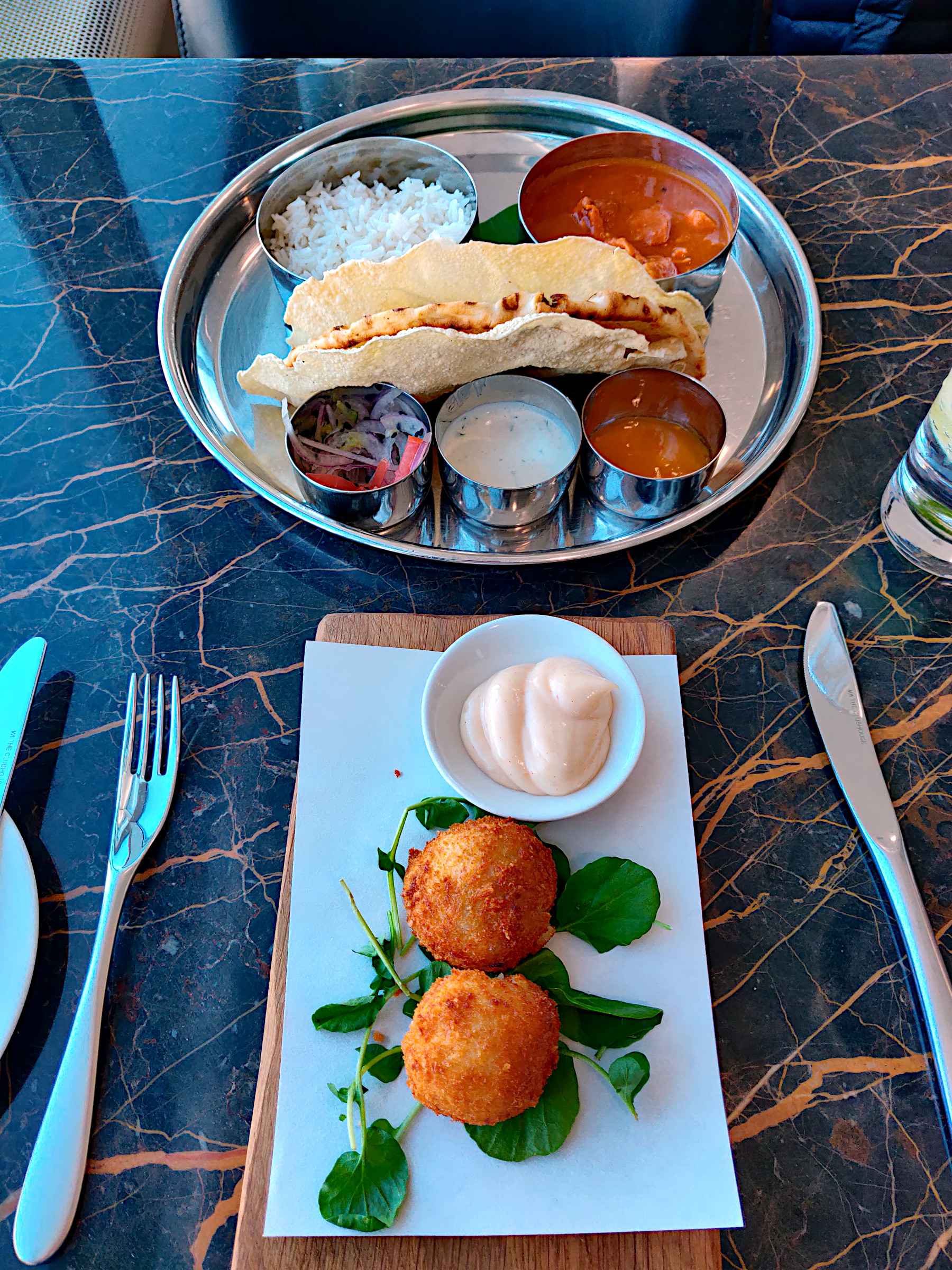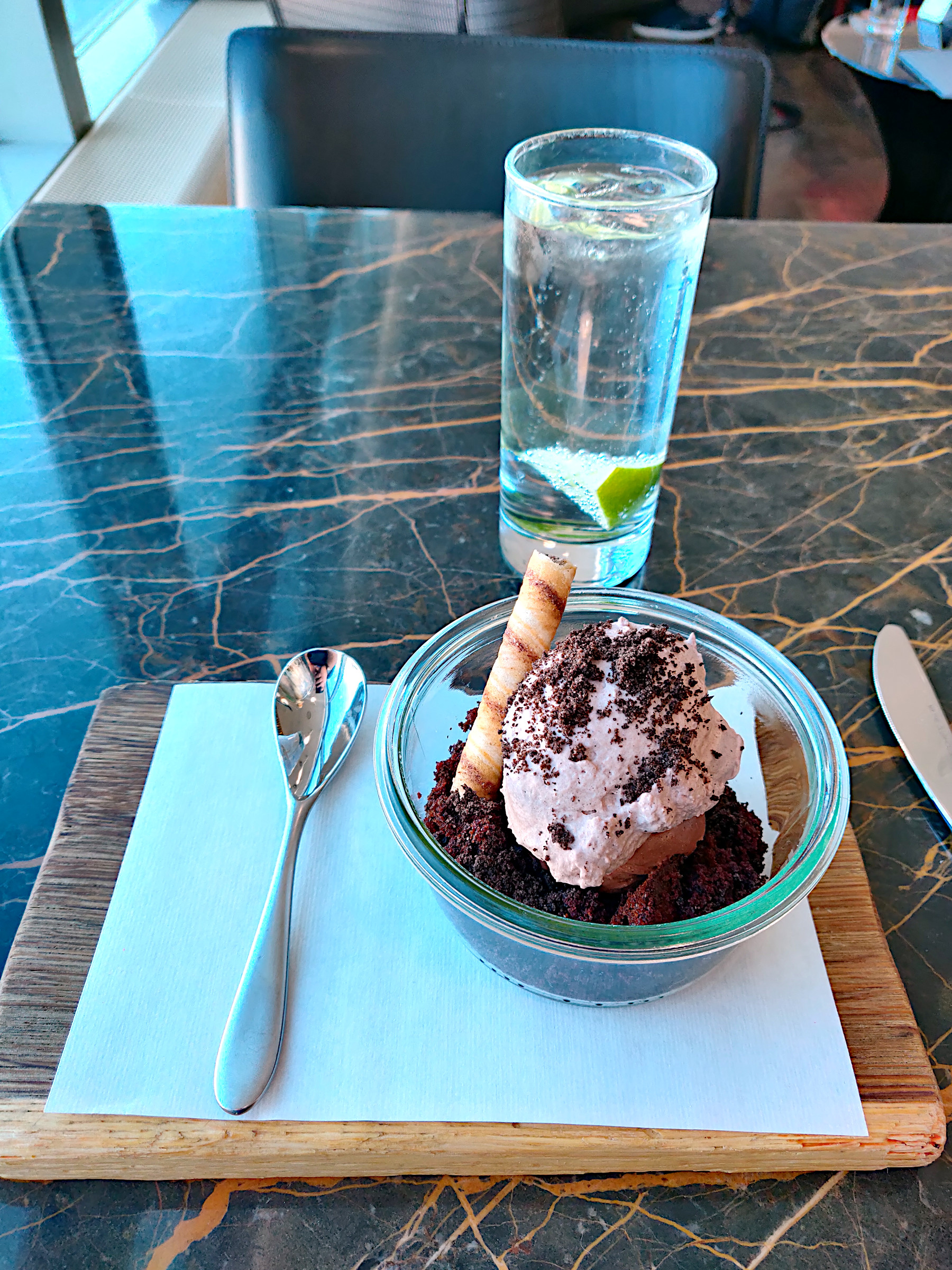 Verdict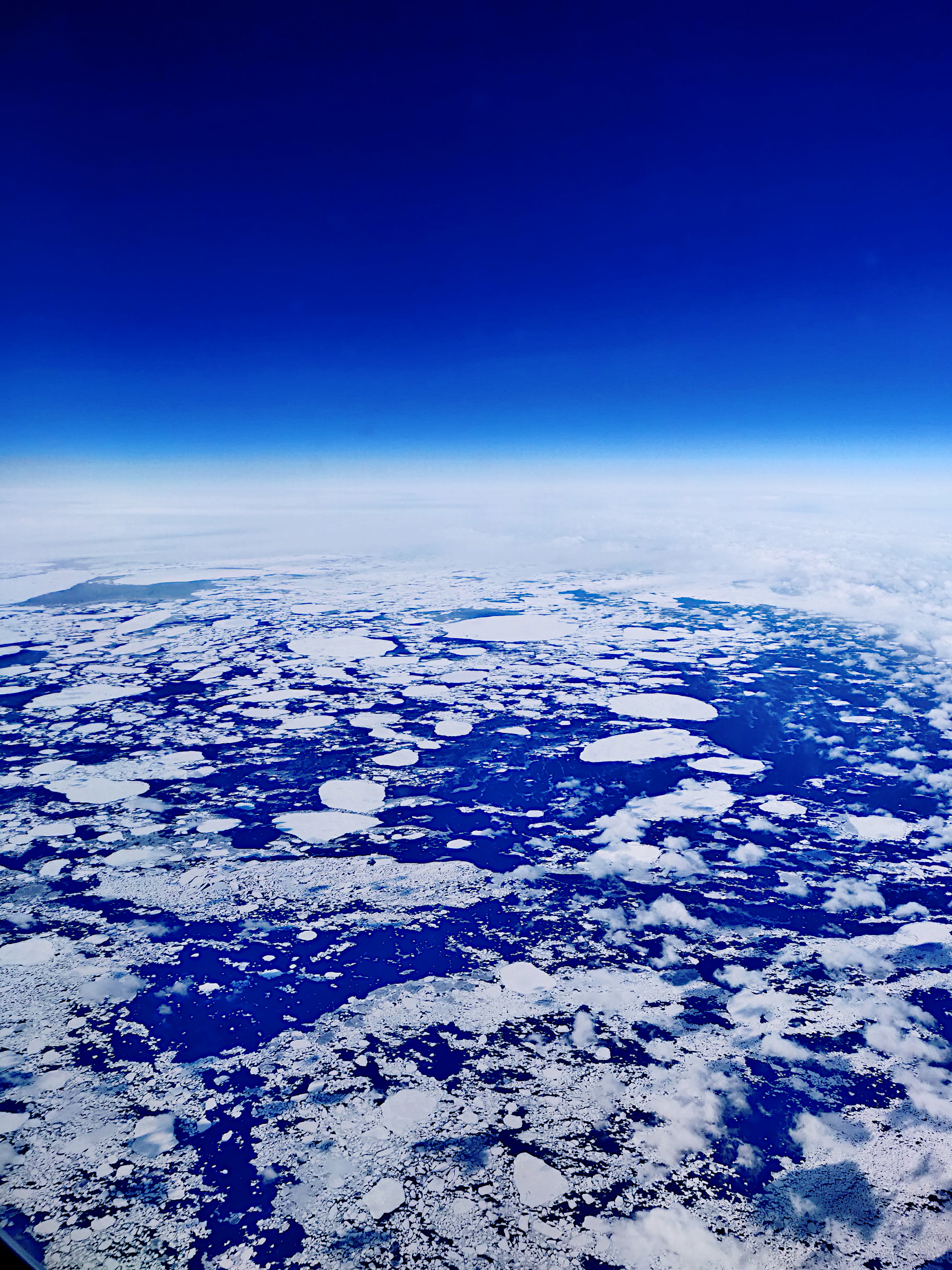 Here are the results:
| | |
| --- | --- |
| Category | Winner |
| Buying a ticket | British Airways |
| Departure experience | Virgin Atlantic |
| Seat comfort | British Airways |
| Inflight service | British Airways |
| IFE & WiFi | Virgin Atlantic |
| Amenities and sleep comfort | British Airways |
Winner: British Airways
Has Virgin met my expectations? Yes and no. Assuming no status in either airline the ground experience is much better on Virgin. I would say the Clubhouse is comparable to the Concorde Room. But the new Upper Class seat is a real disappointment. Seat comfort is really important to me and unfortunately Virgin has let me down here. Would I fly with Virgin again? Likely not, given how uncomfortable the new Upper Class seat was.
British Airways remains my airline of choice, the new Club World seat works for me on day and night flights. Amenities might not be on par with Virgin, but the seat is comfortable enough for a good night's sleep.