I have now flown all the aircraft types with the Club Suites and I have been surprised to see there are subtle differences between the three Club Suites. The B777 (review here) was the most different with an older entertainment system. The B787-10 is the most recent Club Suite and is almost identical to the A350 original Club Suite. I was flying on GZBLA which was the original B787-10 delivered to BA in June 2020.
Check-in
This was a connecting flight so I checked in at Las Vegas using the American Airlines premium desk. For some reason their machines appear not to be able to read my passport but it doesn't seem to be an issue elsewhere. So it took a while although the paperwork check was simple as I just flashed my Verifly completed screen.
It's interesting that at Dallas everyone on connecting flights including me was called forward to present all their documents again which was annoying.
Lounge

The only lounge available was the American Airlines Admirals Club. The Flagship lounge was closed.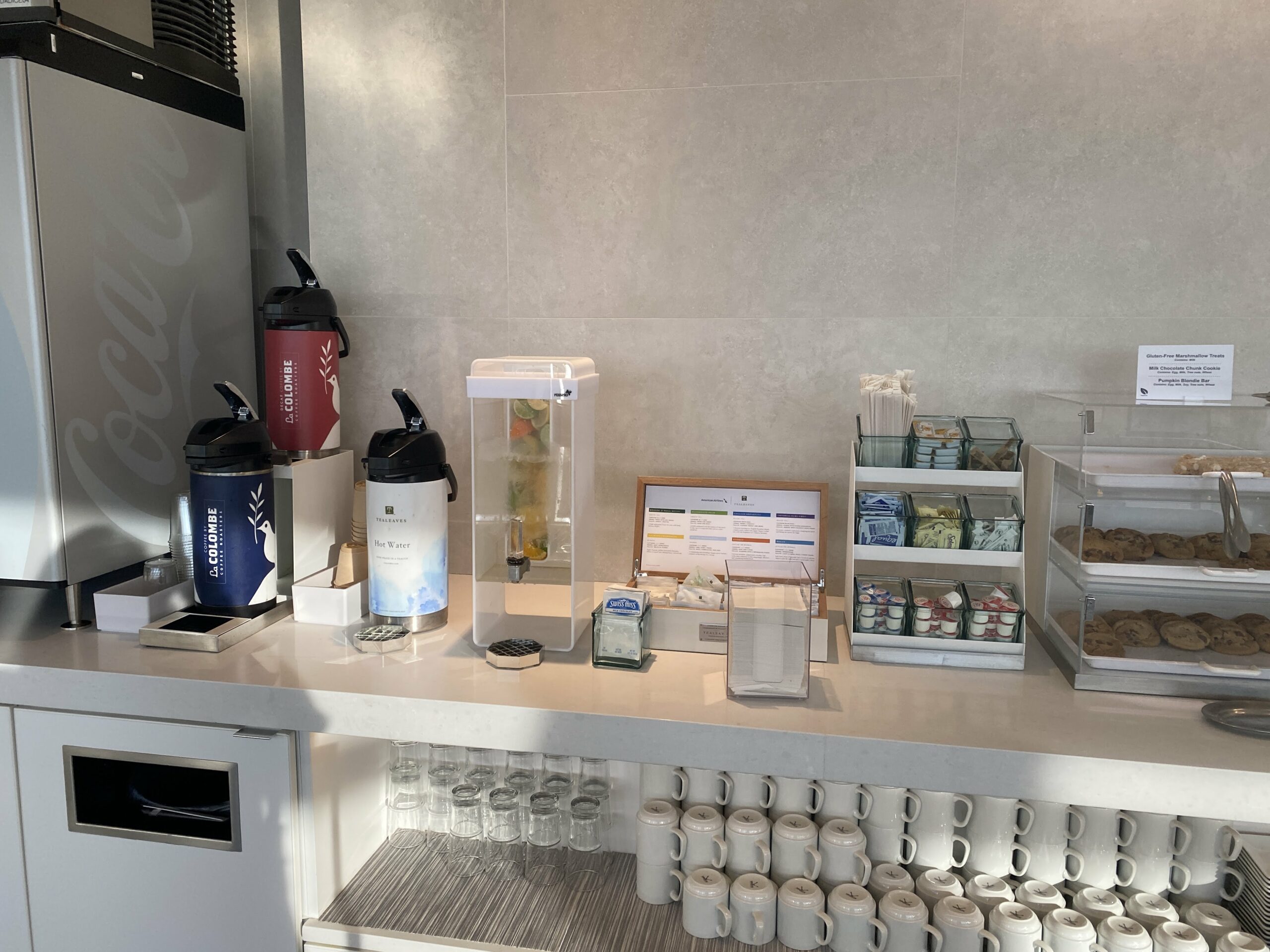 The lounge had plenty of space and a business area with printers. That side was very quiet with only water, tea and coffee available. Each chair had a charging outlet. Overall the lounge felt modern and not overly crowded.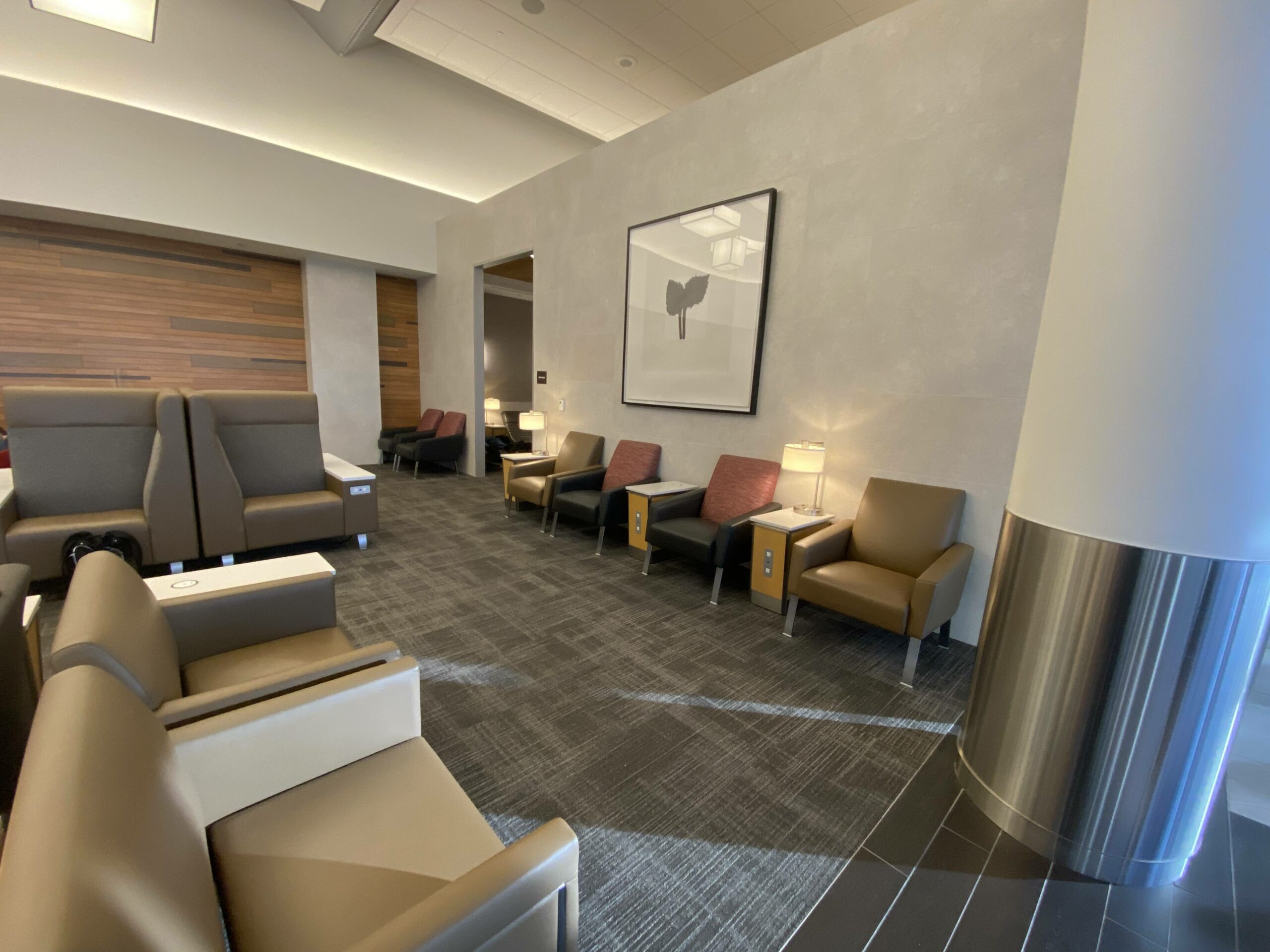 The other side had all the food and the bar. The bar was a huge disappointment and I really think BA need to fix this for their premium customers, especially those in First. This was barely a business class experience for drinks, let alone First. Although the bar serves a great range of drinks you have to pay for nearly all of them! You can have free (just about drinkable) house wine, beer, soft drinks or a choice of 3 basic spirits – gin and I think vodka and rum. This is poorer than a cheap 3rd party lounge.
In previous years you used to present your boarding pass and if you had status they would give you the free premium drinks. I asked the barperson and they were adamant all I could have were the standard free drinks. Also normally you would have access to the Flagship lounge which has a much better selection of food and all the drinks are free. Plus if you are in First you can access American's Flagship First Dining which is very good and used to serve Krug (not sure what they have now). The Flagship lounge is still shut in Dallas although they are starting to reopen elsewhere.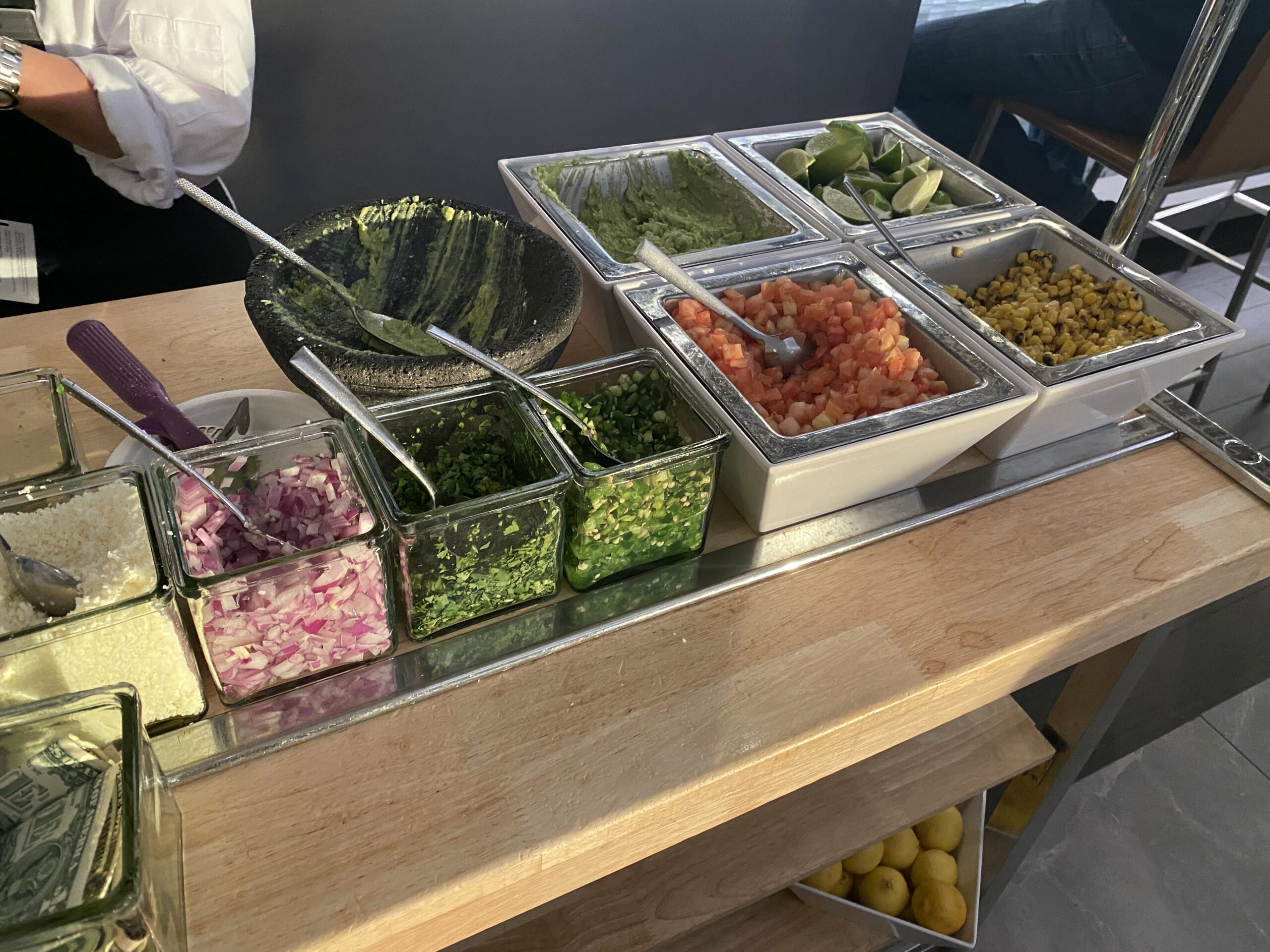 They did have the guacamole bar where they make guacamole to order with a big choice of additions. As you can see it was served on a paper plate. In fact, all the food was served on paper or cardboard! Never mind the environment. Yet drinks were served in proper glasses so not sure you could claim #covidexcuse either.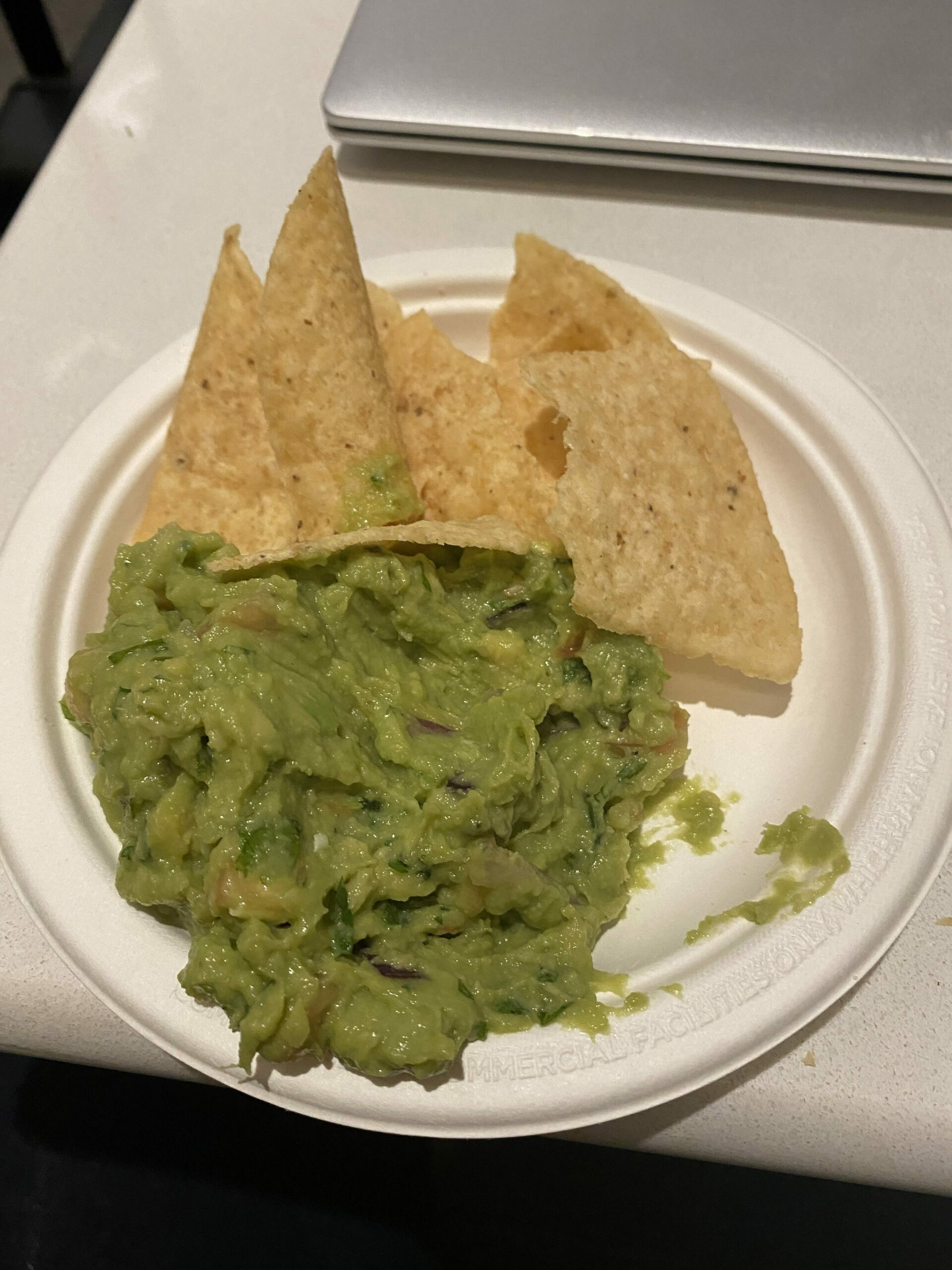 Other than that, there was soup, a small mezze bar, cookies and brownies, some cheese and fruit. So if wanted to eat before going to sleep there were slim pickings. The Admiral's Clubs are not designed for international flights generally. They are aimed more at the domestic market.
Boarding
I had already been informed by BA that the flight was departing around an hour late and I was keeping an eye on the app for updates. I decided to leave the lounge around 50 minutes before the predicted new boarding time to see whether the terminal had something better to offer. As I was walking towards the gate I thought I'd check the screen and saw to my horror that it said my flight had departed (the original departure time was in 15 minutes time). I started panicking that perhaps the app had been wrong even though I had been updating it regularly and ran to the gate. Of course, I got there and they hadn't even started boarding yet! I was not impressed that the board could be so wrong!
The delay dragged on a bit longer than they said but finally, they started boarding….I don't know if you have ever seen this clip, but this was how boarding felt.
I was in group 1. First came the usual preboarding with wheelchairs and families with children 2 or under. Then they randomly pointed out another family with an older child, then it was families with older children, then it was military personnel…..although when someone who was military went up, they turned him away! Eventually, we got to group 1! I get the impression they were trying to look like they were boarding but without actually boarding as once I went through there was a queue on the jet bridge.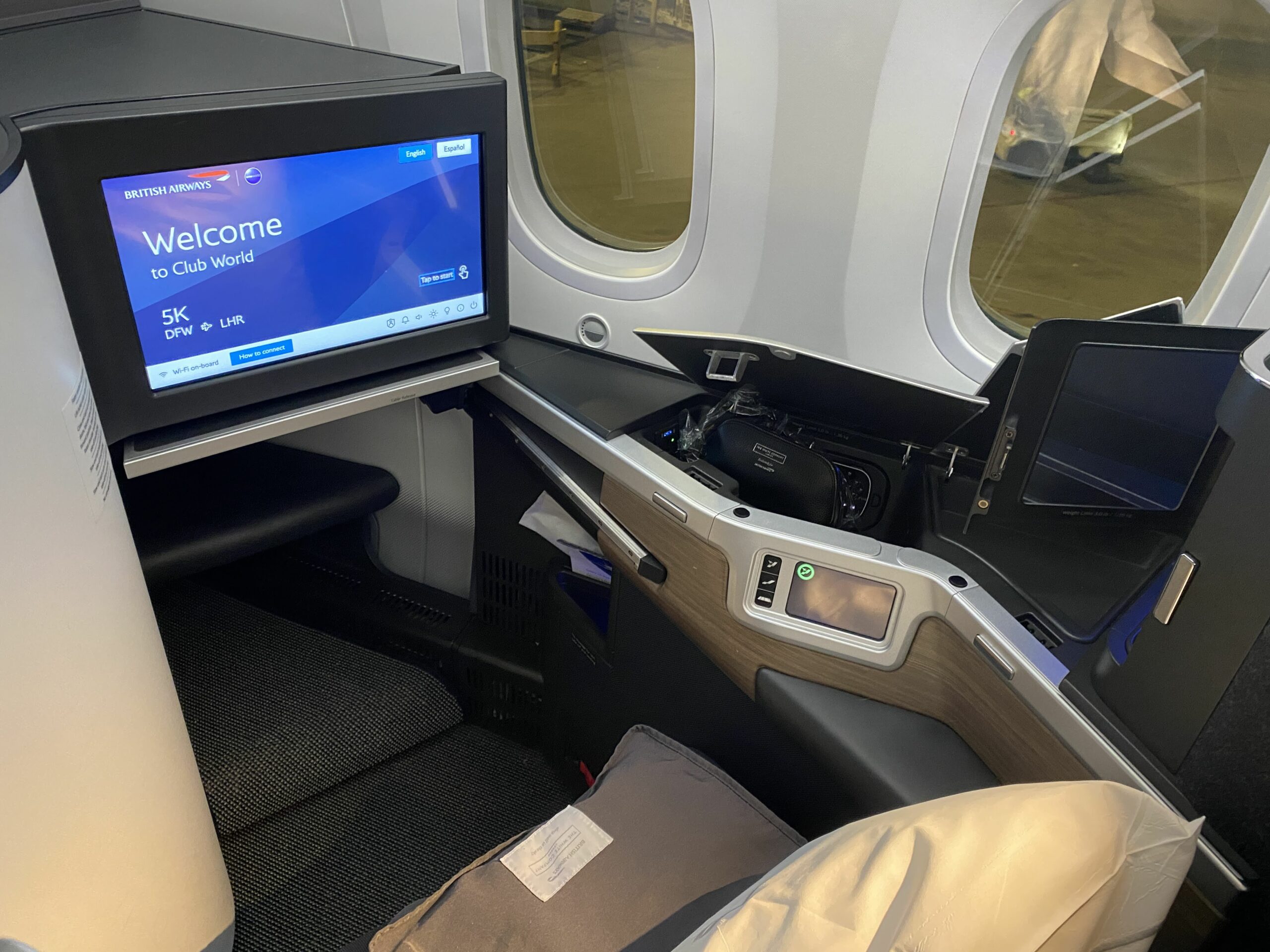 Once onboard, there were no pre-departure drinks not even water. The White Company washbags and menus were at the seat.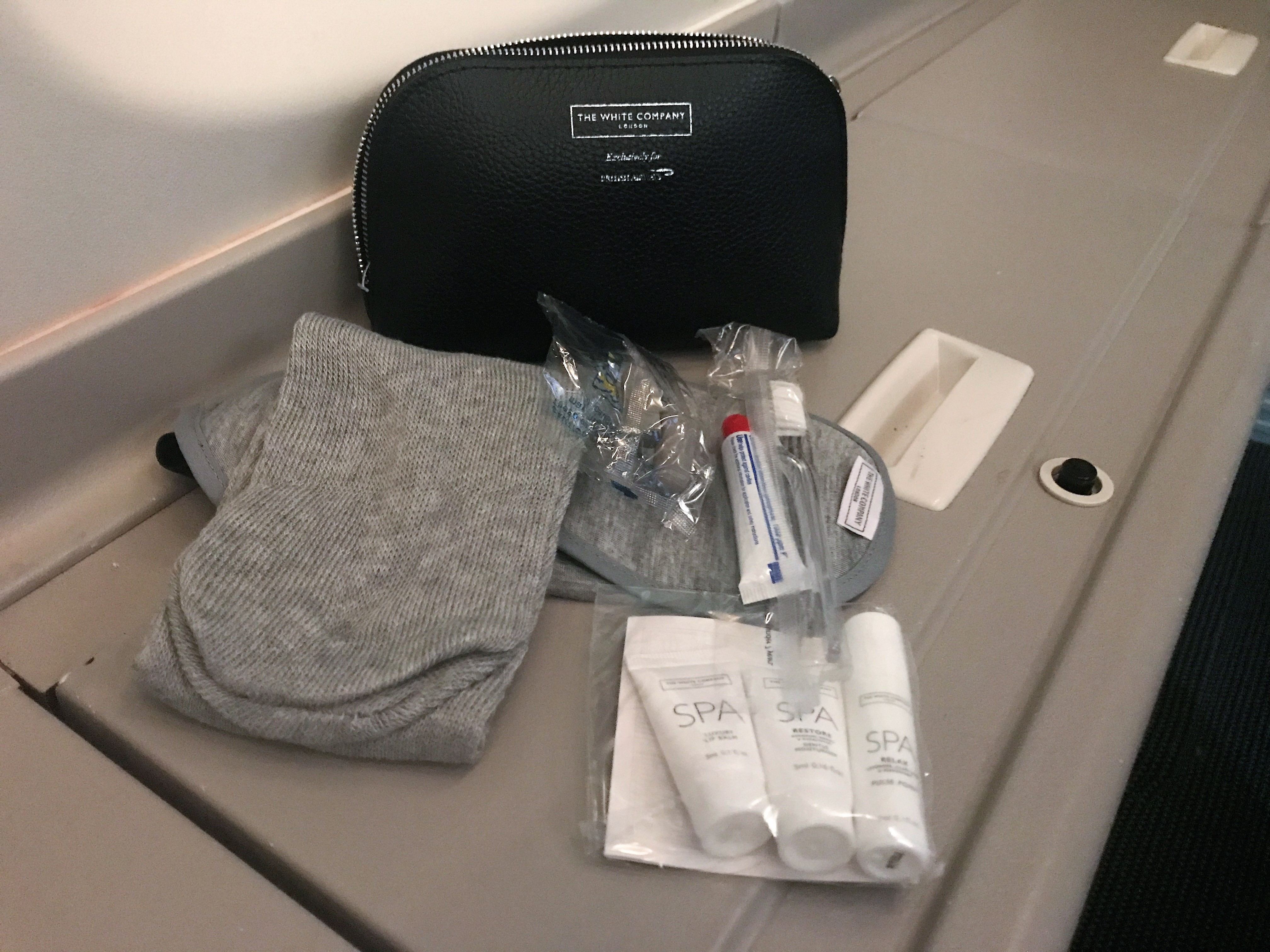 I had a rather interesting passenger opposite me (who as usual I had noticed in the terminal and thought please don't let her be next to me!). She appeared drunk as she was swaying and slurring her words as well as dropping everything and being loud. She couldn't remember what the cabin crew had told her two minutes ago so I'm not sure she was in a fit state to fly. Fortunately, she fell asleep fairly quickly as I'd been concerned how the flight would progress. One thing that amused me was that she had stolen a restaurant metal reserved sign and put it in her suite. Well, at least it wasn't a traffic cone like a normal drunken night out!
The announcement said that the flight would be flown with 3 less crew than usual, but fortunately, the cabin was hardly half full so I assumed it would not be an issue. Given that this was a few days before Christmas I would have expected the flight to be fully booked. I think a lot is not just to do with Covid but also the incredibly high prices being charged currently for premium cabins.
The seat and cabin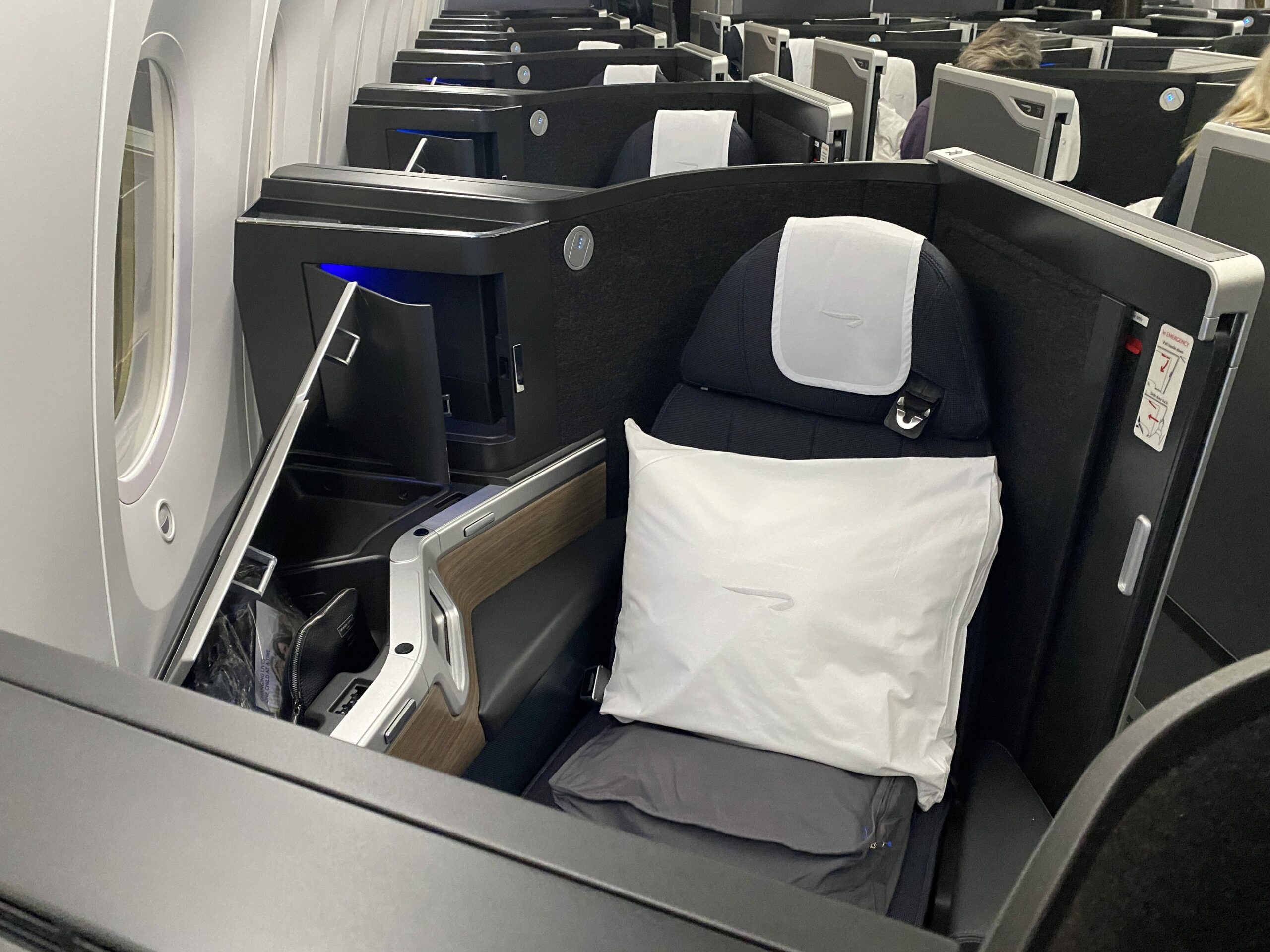 The cabin looked very smart and in good condition.

There are two cabins of Club Suites. I decided to go for the first cabin as the front row 5K was available. This was because I would get served earlier hopefully and also because the front of the rear Club cabin is by the toilets. Also, it's a quiet location since the toilets were at the rear so no one would be walking past except crew.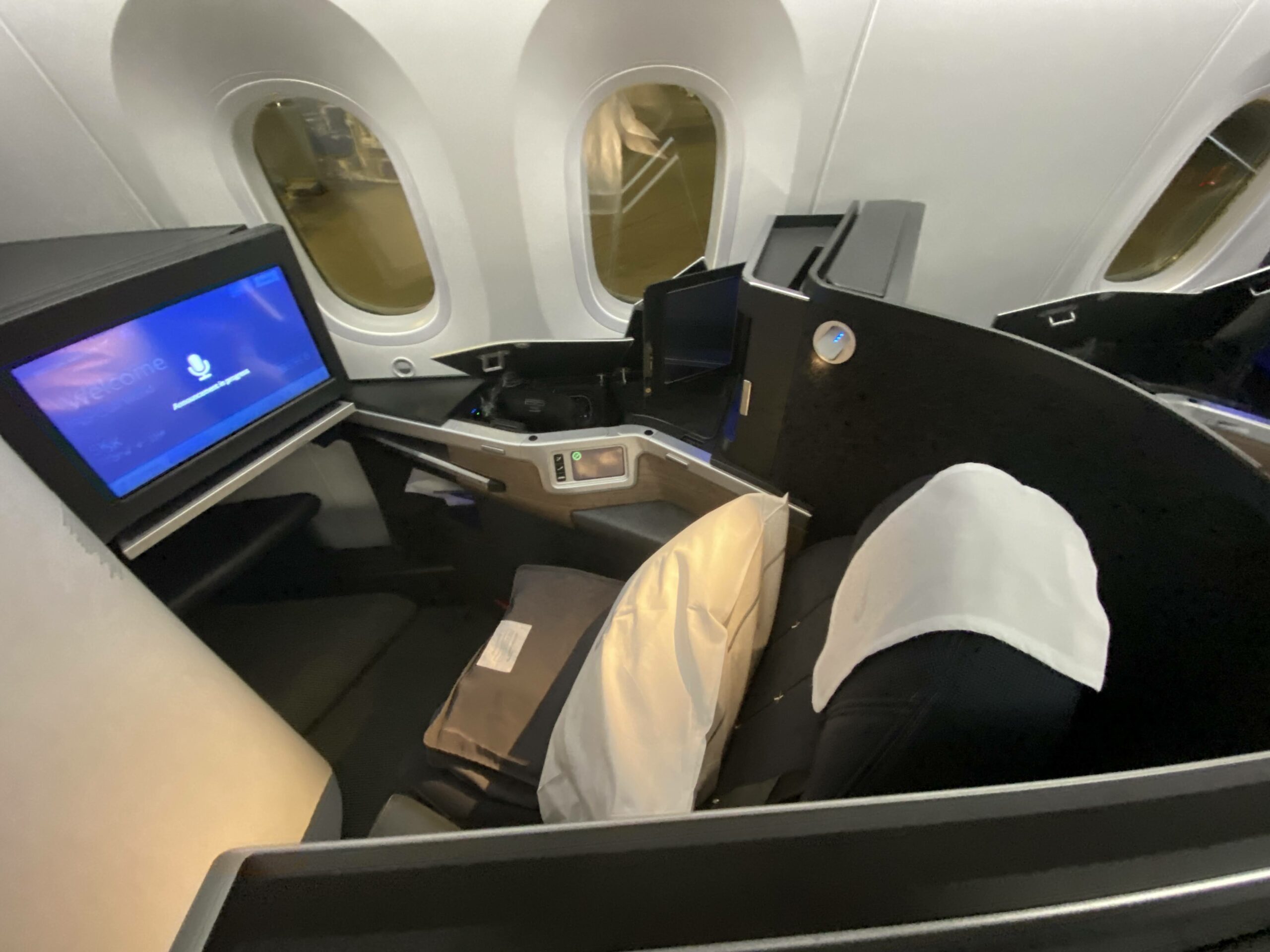 The front bulkhead row also has the advantage of the shelf in front. You can't store anything for take-off or landing but it was a useful place to pack and unpack my hand luggage or pop my laptop for a minute if I wanted to get up.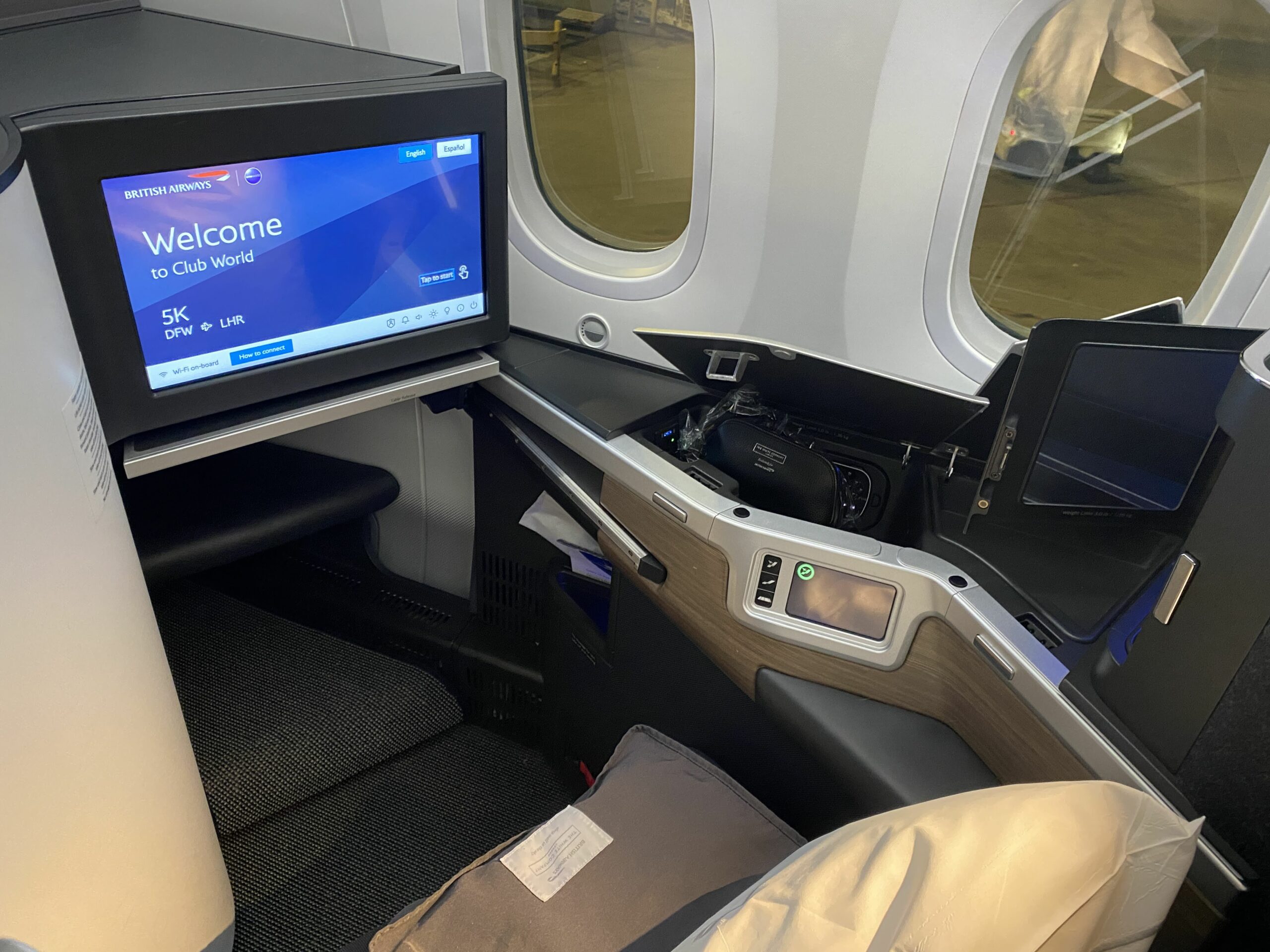 Like the other Club Suites there is plenty of storage with two side bins, a headphone cupboard with a mirror at head height, and a little storage under the foot rest. There's also a side pocket and a magazine rack (that fits a small laptop).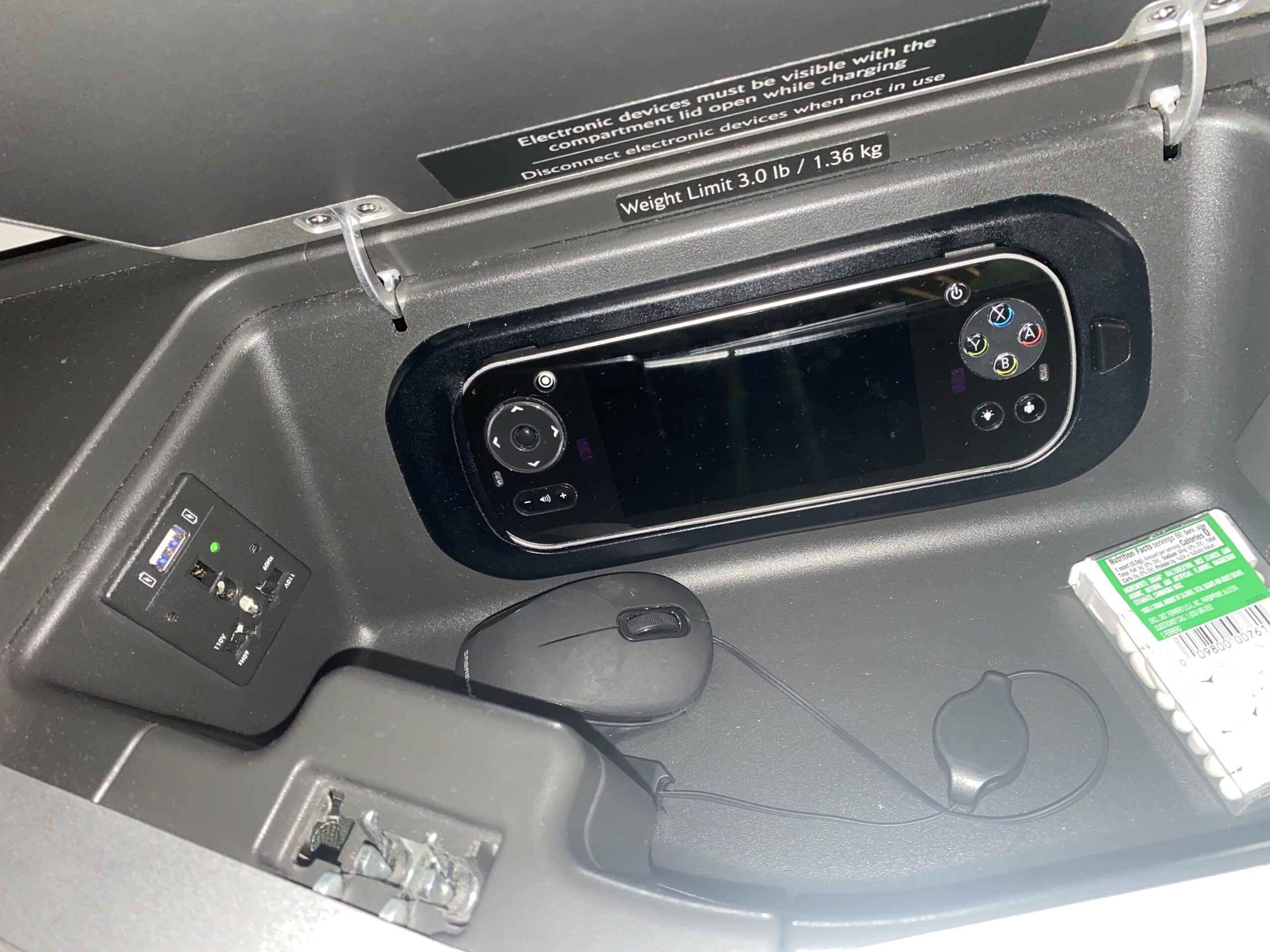 As far as I could tell, the only difference between the A350 and the B787-10 was that I could plug in my bulky adaptor within the side bin. One tip is that if you have a multi-country adaptor like mine, if you use the US adaptor it will go in upside down which solves the issue in many cases. The catch mechanism was also different and I did find them harder to close versus the originals.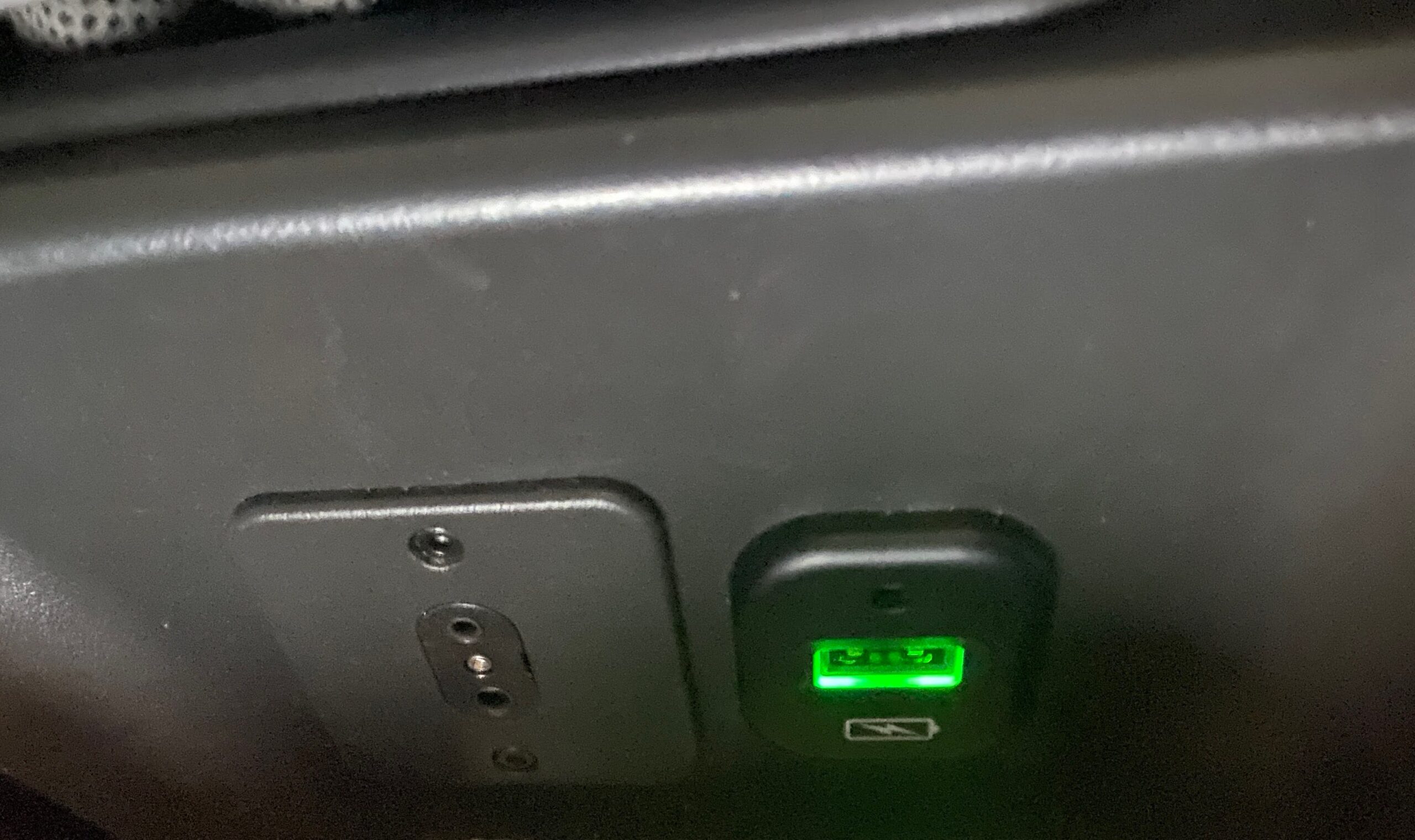 As well as the USB and multi-socket there was a second USB and headphone socket. I did find it hard to plug headphones in as for some reason the cabin crew left the lights off for the entire flight, not even putting them on for dinner or breakfast. Bearing in mind it was a 7pm departure, I found that odd. Obviously, there are individual overhead lights but they are quite harsh.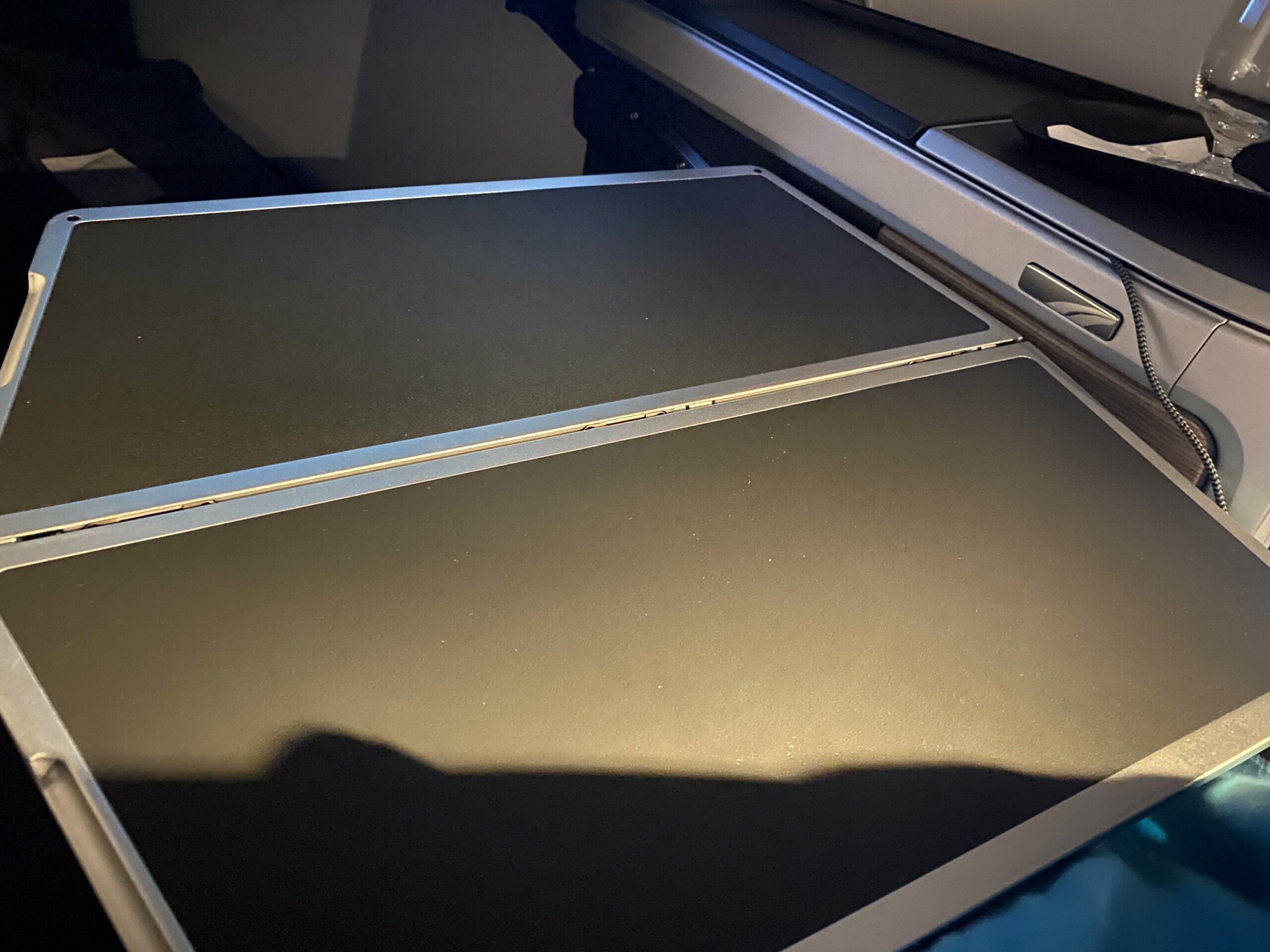 The table was large and sturdy, perfect for eating or working. And you can have it in several different positions, allowing you to get out of the seat when it's folded out. There is a door to the suite which you can close as soon as the seatbelt signs are off.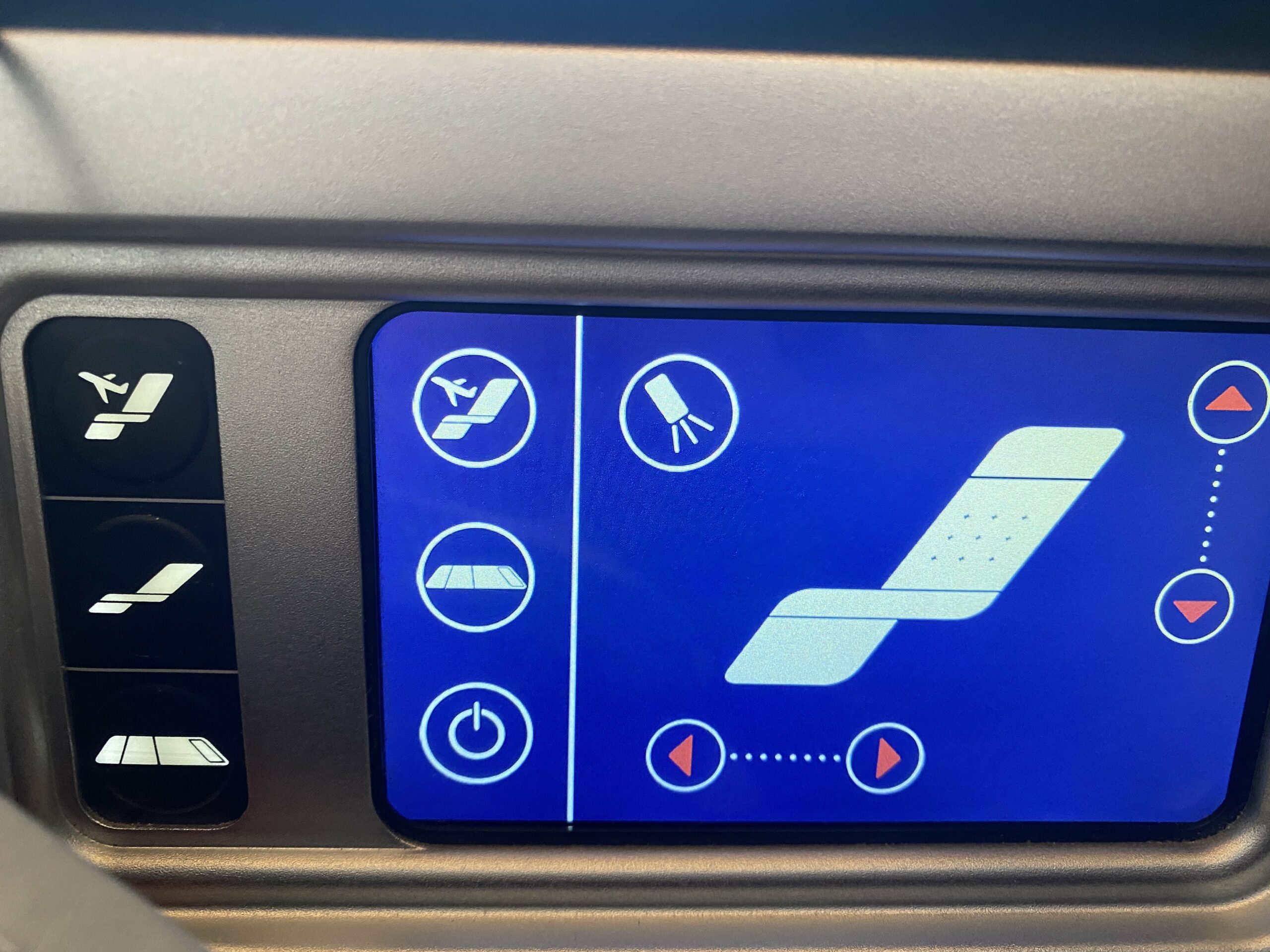 I find the seats pretty comfortable for working or relaxing as you can alter the leg rest to different heights as well as the back of the chair. It's definitely an improvement on the old seats for comfort.
The usual White Company bedding was provided with a thin mattress topper and soft quilt. It's good to see they have got rid of all the plastic and now just use paper bands around the individual items. I do love the big pillows and I actually find the Club Suite bed far more comfortable than the QSuite which feels very hard to me.
This was probably the best sleep I have had on a flight in recent months. I do really like having the door closed for sleeping. It just feels more private even though crew can see over the top. It also stops me losing things into the aisle which I tended to find with the old club seats if I turned over during the night.
Food and drink
Since I'd only had some guacamole in the lounge and I'd been travelling since 8am, I decided to eat dinner.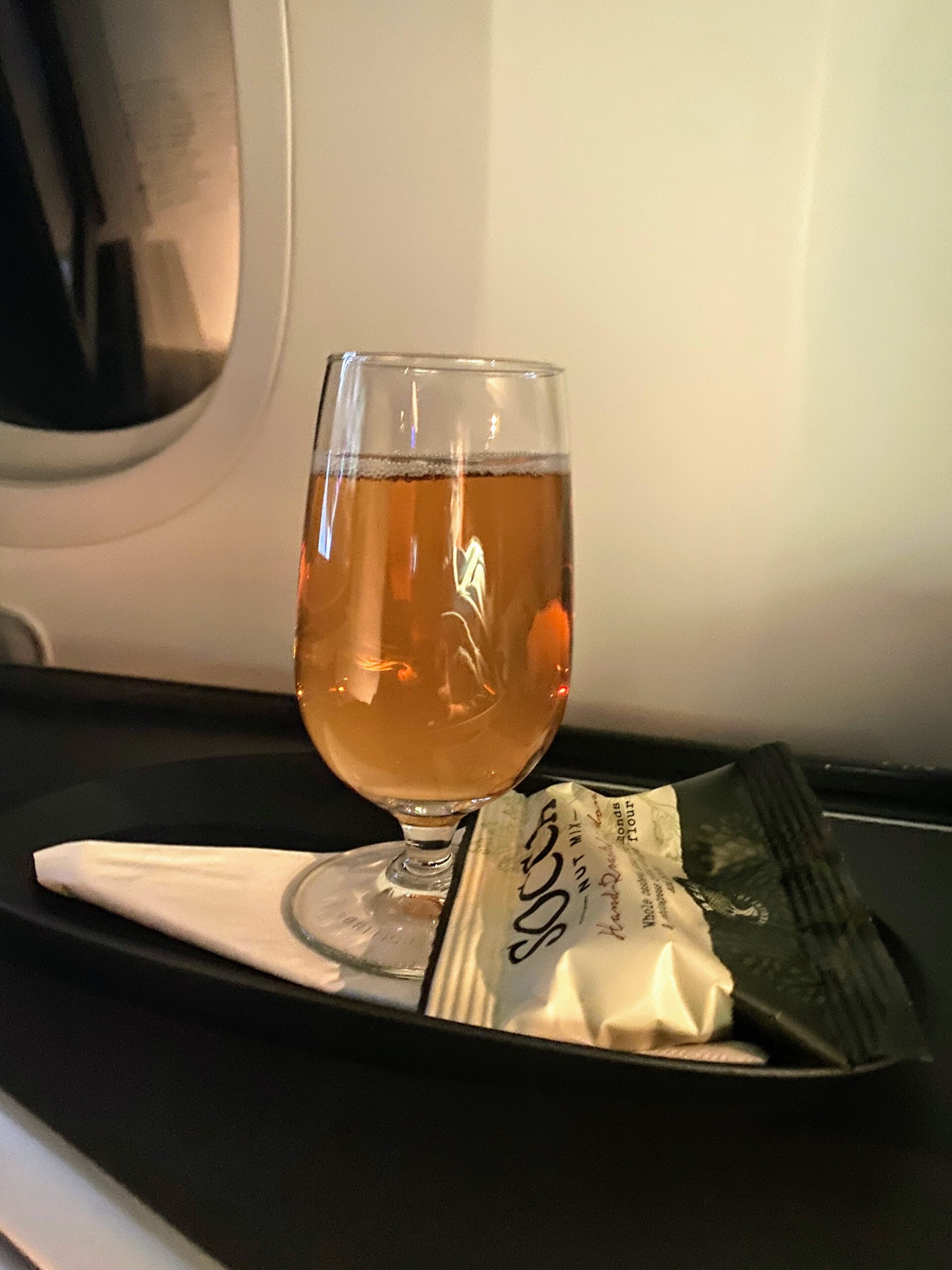 First, we were offered a drink where I went for the Besserat rosé Champagne again which I quite enjoy. The cabin crew serving me was very charming and friendly but the service was definitely not as efficient as usual with no top-ups offered or wine or water with the meal. I just asked for what I needed when she came to deliver something since I knew they were short-staffed.
Here is the drinks list:
Here is the dinner menu: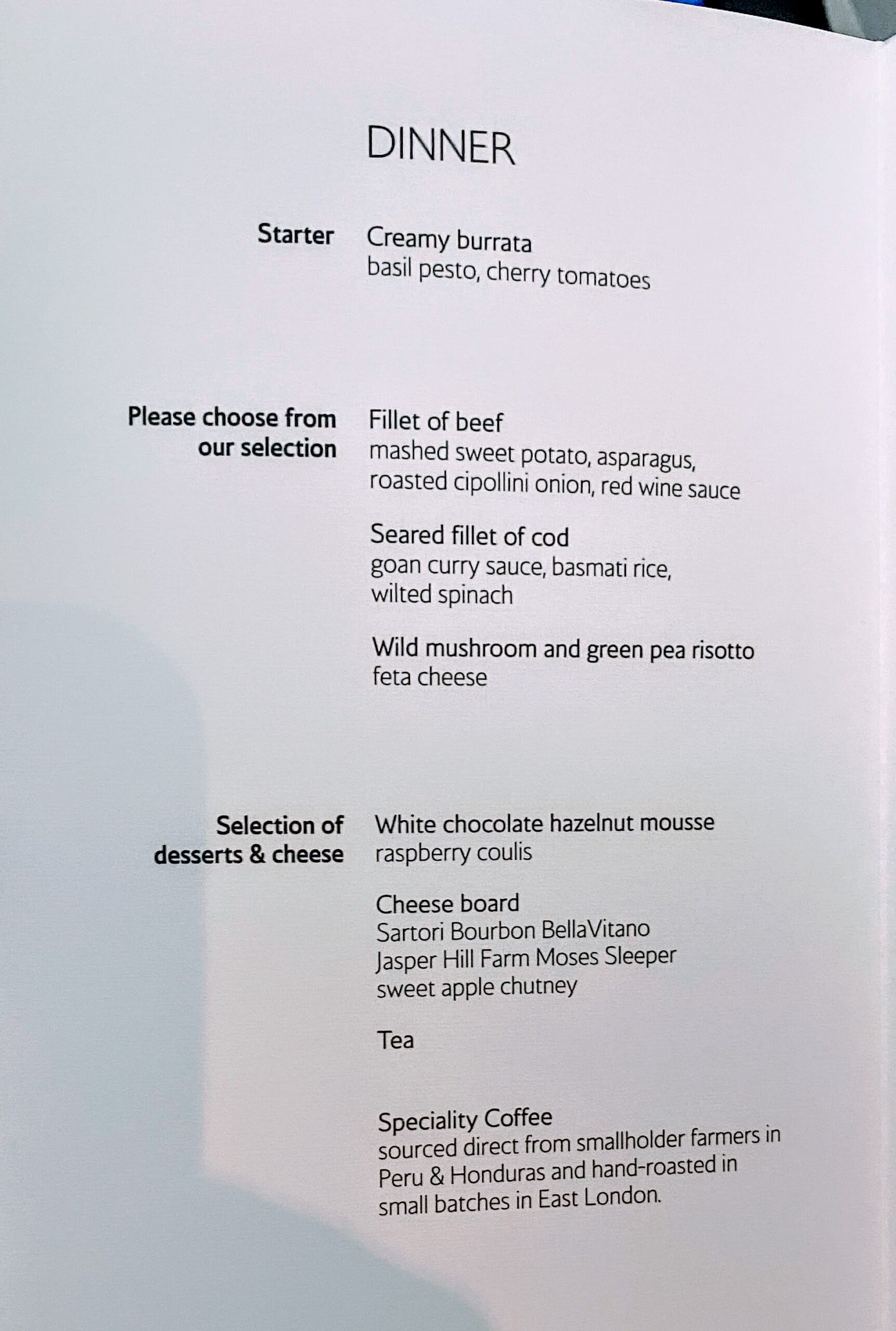 Although the beef sounded nice, it's nearly always overcooked (unless you ask them to cook it for less time) so I decided on the curry.
The starter was much, much better than the one I had on the way out which was very poor. This had good quality creamy burrata with a decent number of tomatoes to offset the richness. The basil pesto and fresh basil also gave it more flavour as burrata is quite bland.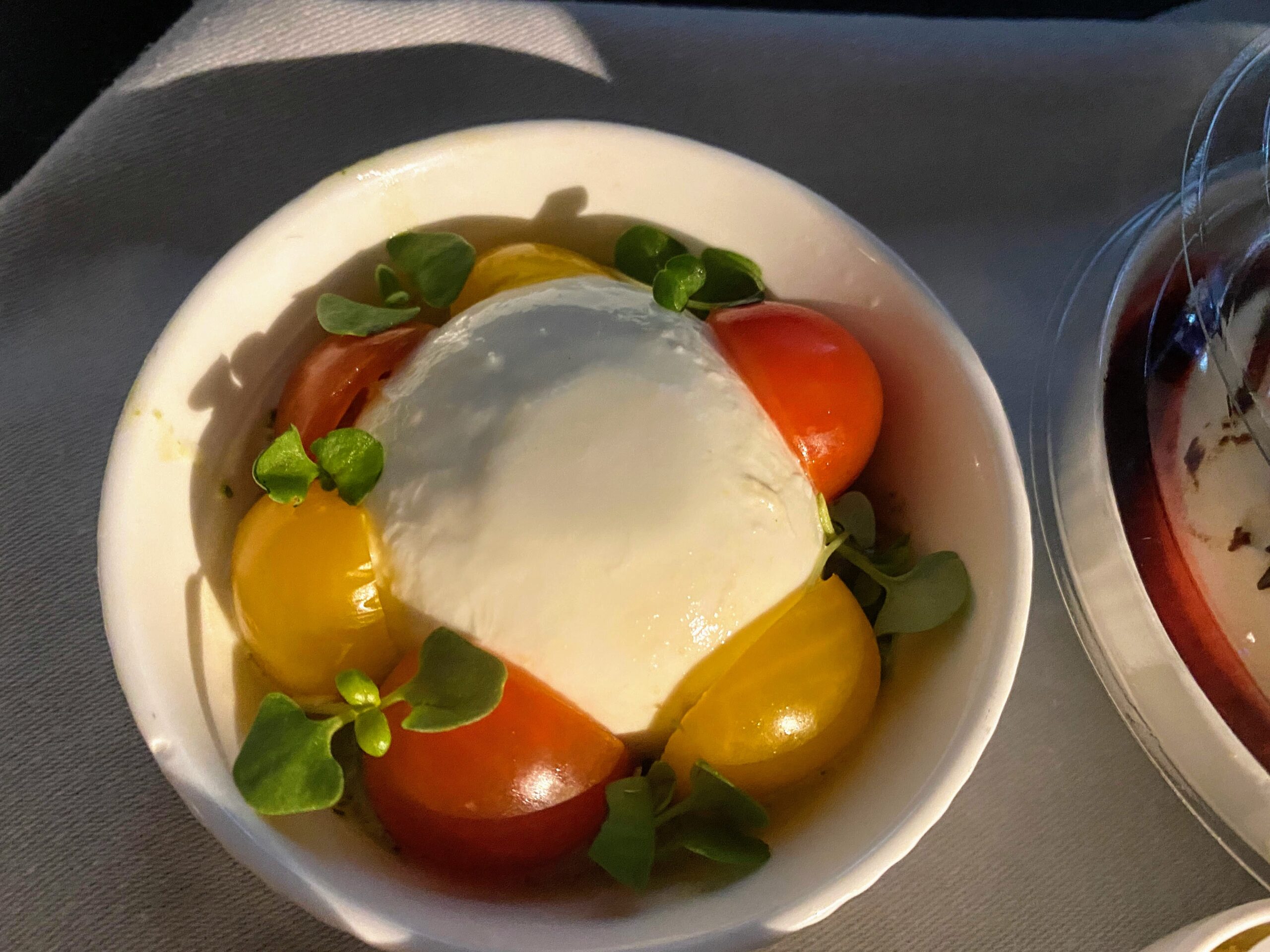 The mini bread basket was slightly different with bread that had been rolled up like a Danish pastry. The herb filling was lovely. The main course was tasty but quite spicy even for me. Normally Goan food tends to be less spicy so I was slightly surprised. The cod was not overcooked or dry but there definitely needed to be more sauce as it appeared a bit dried out and sparse. But overall it was tasty.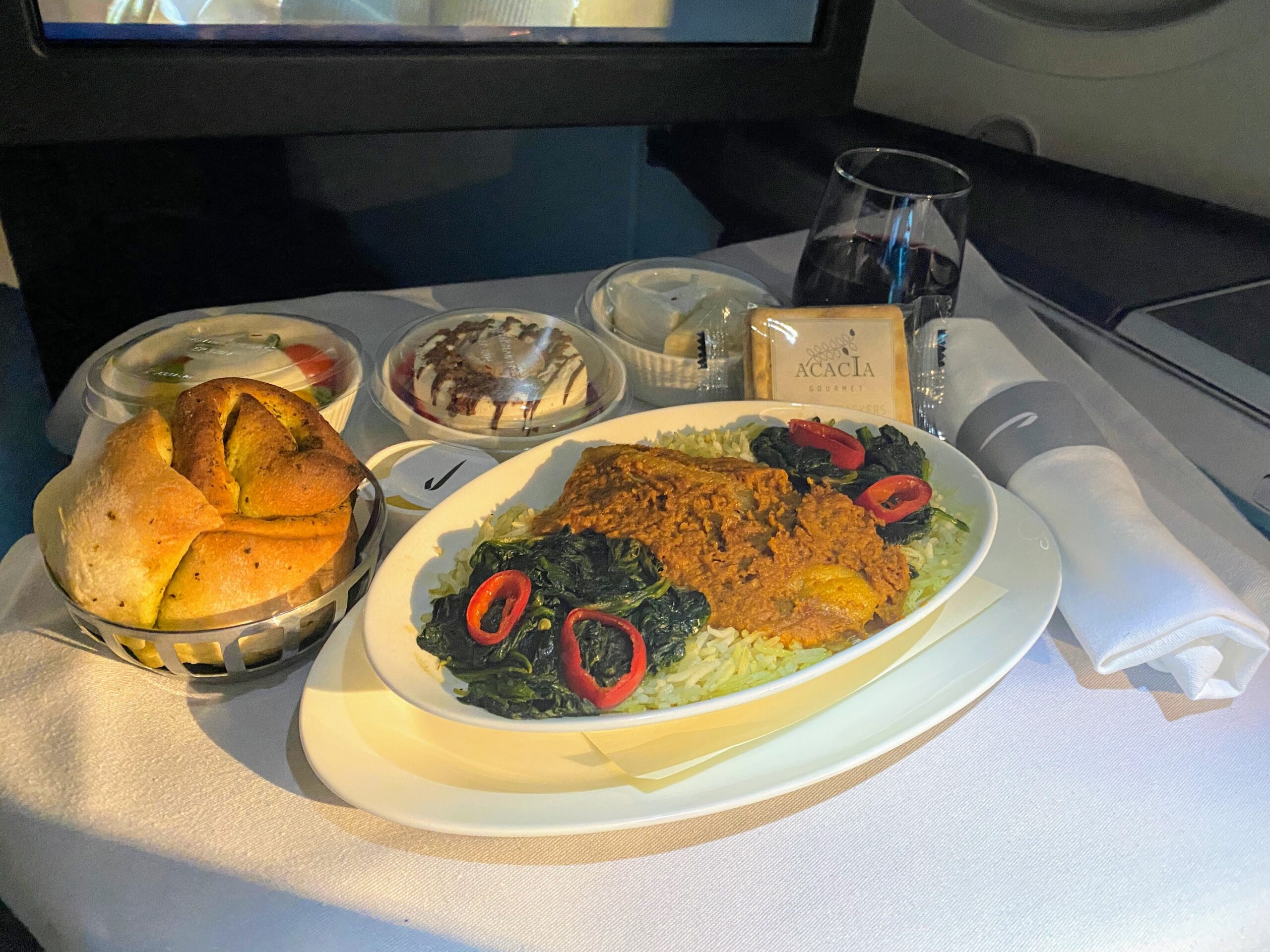 The dessert was meant to white chocolate and hazelnut but I couldn't taste the nuts at all. It was fairly bland and I'm beginning to feel that all the Club desserts are quite repetitive being a combination between mousse and cream generally.
I again went for the Wakefield Cabernet Sauvignon with my meal. Pours were fairly generous. I asked for a large brandy after dinner and got what looked like at least a triple measure, so no complaints there.
Breakfast
They no longer offer the choice of when to be woken and the drink-only option which is a shame. Because they did not put the lights on I wasn't sure if they had started serving or not. I was a little late sitting up at around 1 hour 15 minutes but the crew was quick to serve me. The smoothie has disappeared which is sad as I always used to like those. I wasn't sure about a mornay sauce with a frittata but I thought I would give it a whirl anyway for something different.
Here is the menu: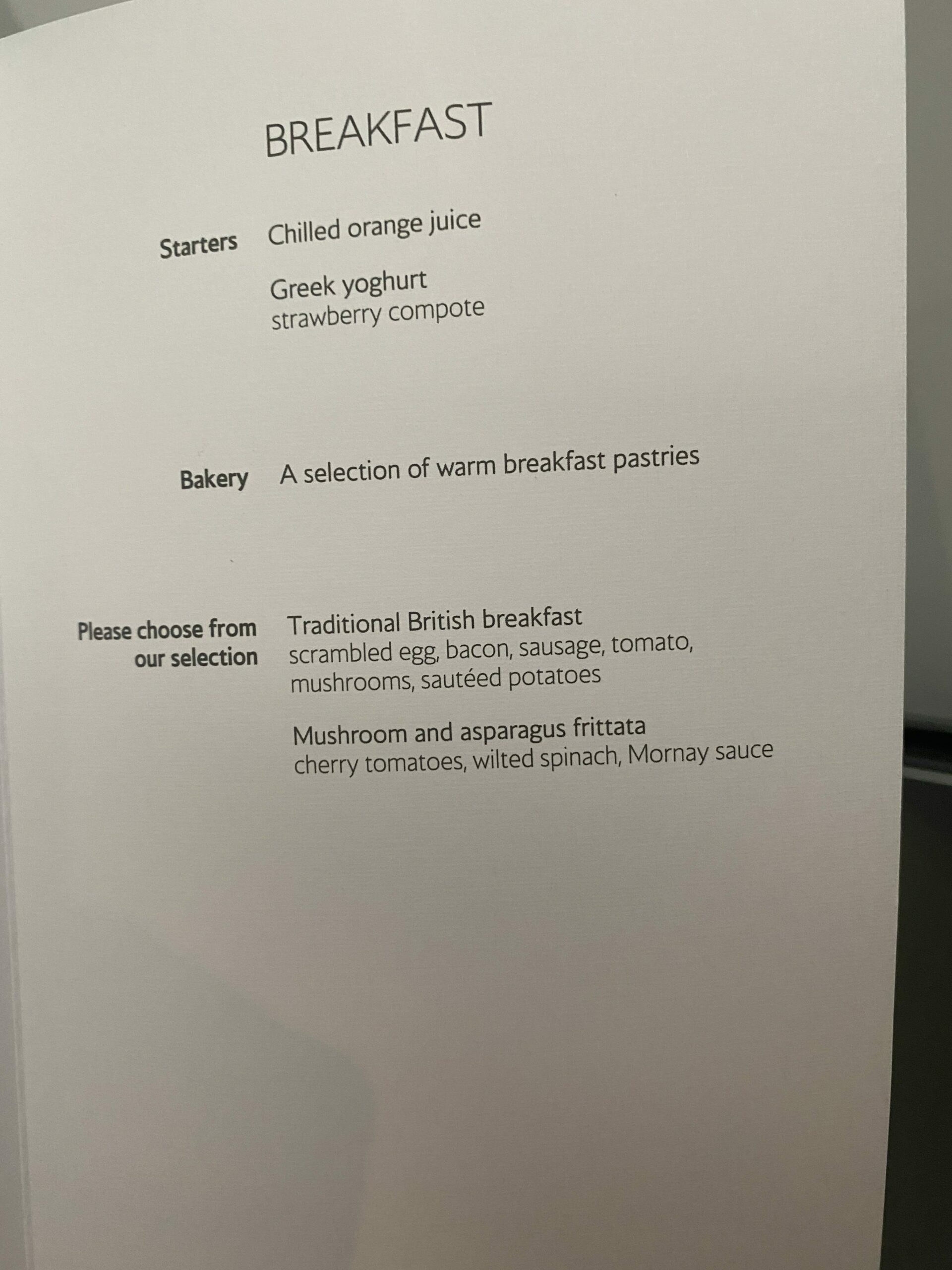 The breakfast didn't look terribly appetising but actually, it was very good and I enjoyed it. The yogurt compote was also nice and the croissant wasn't too dense either. It was maybe a little on the dry side but it was warm and flaky. Once you have smothered it in butter and jam it doesn't matter anyway!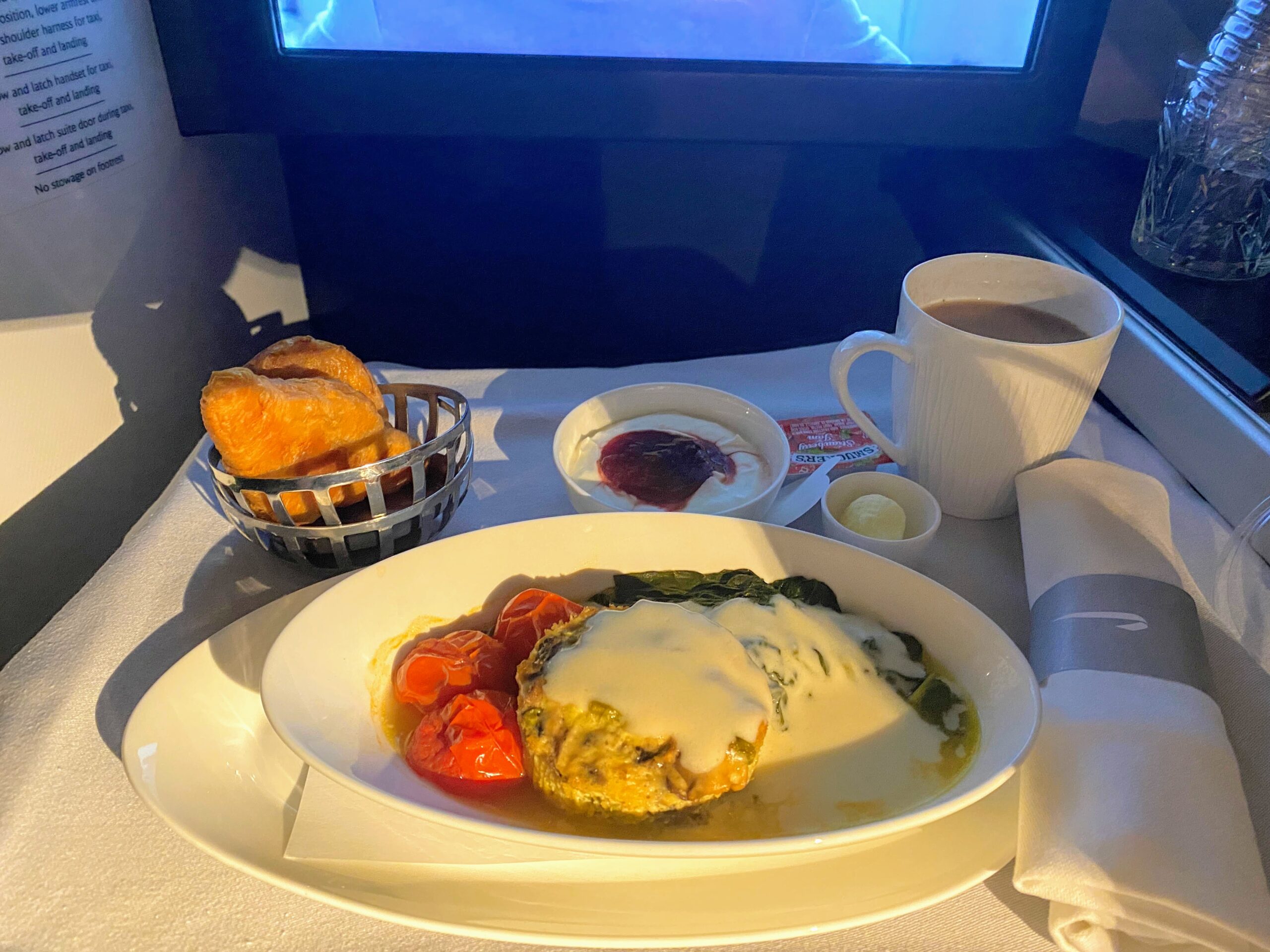 Entertainment and Wi-Fi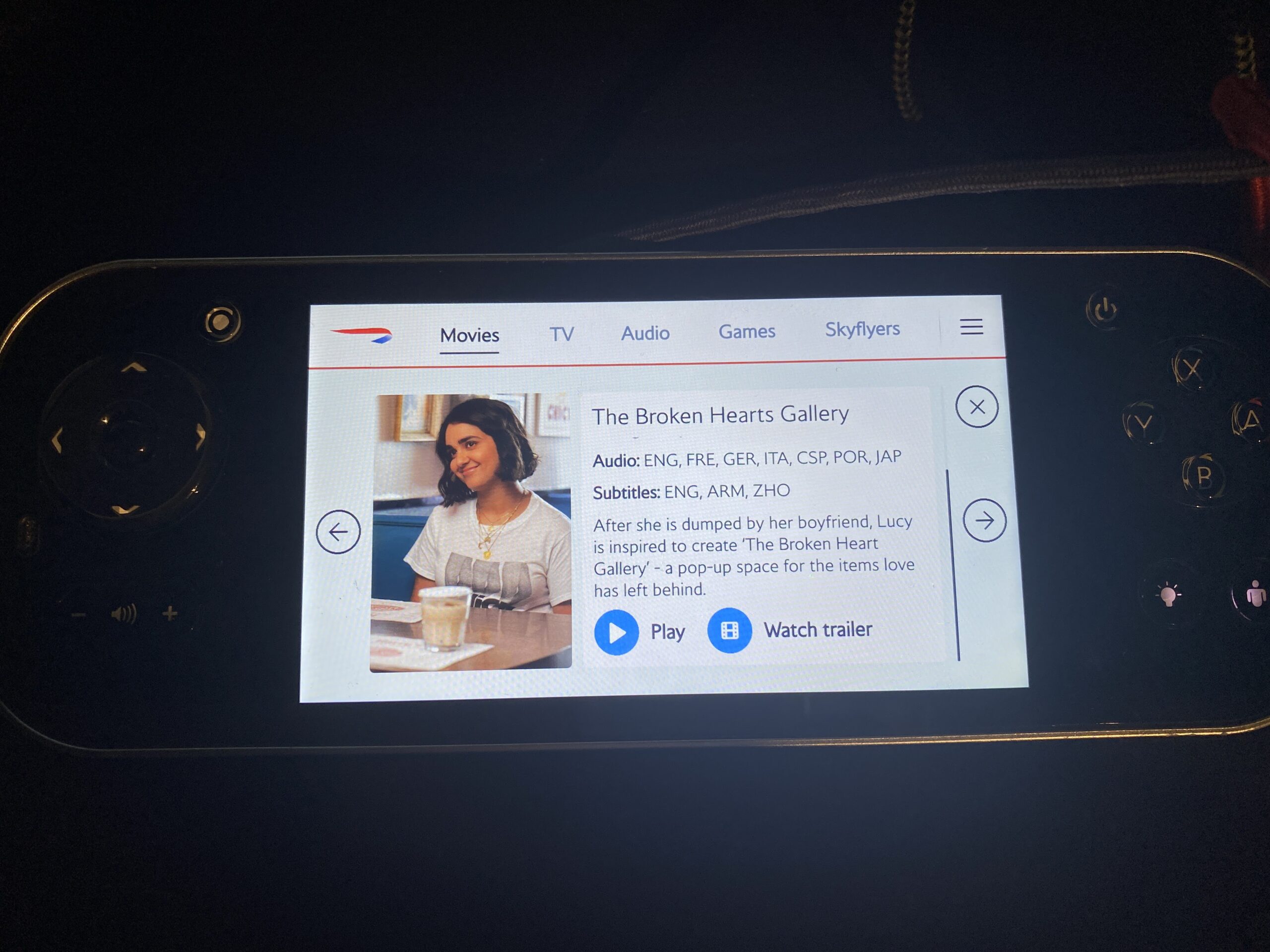 The handset is in the side bin and has a screen so you can put something different on the handset such as the moving map which I find very handy. The definition on the handset was very good as it was on the TV.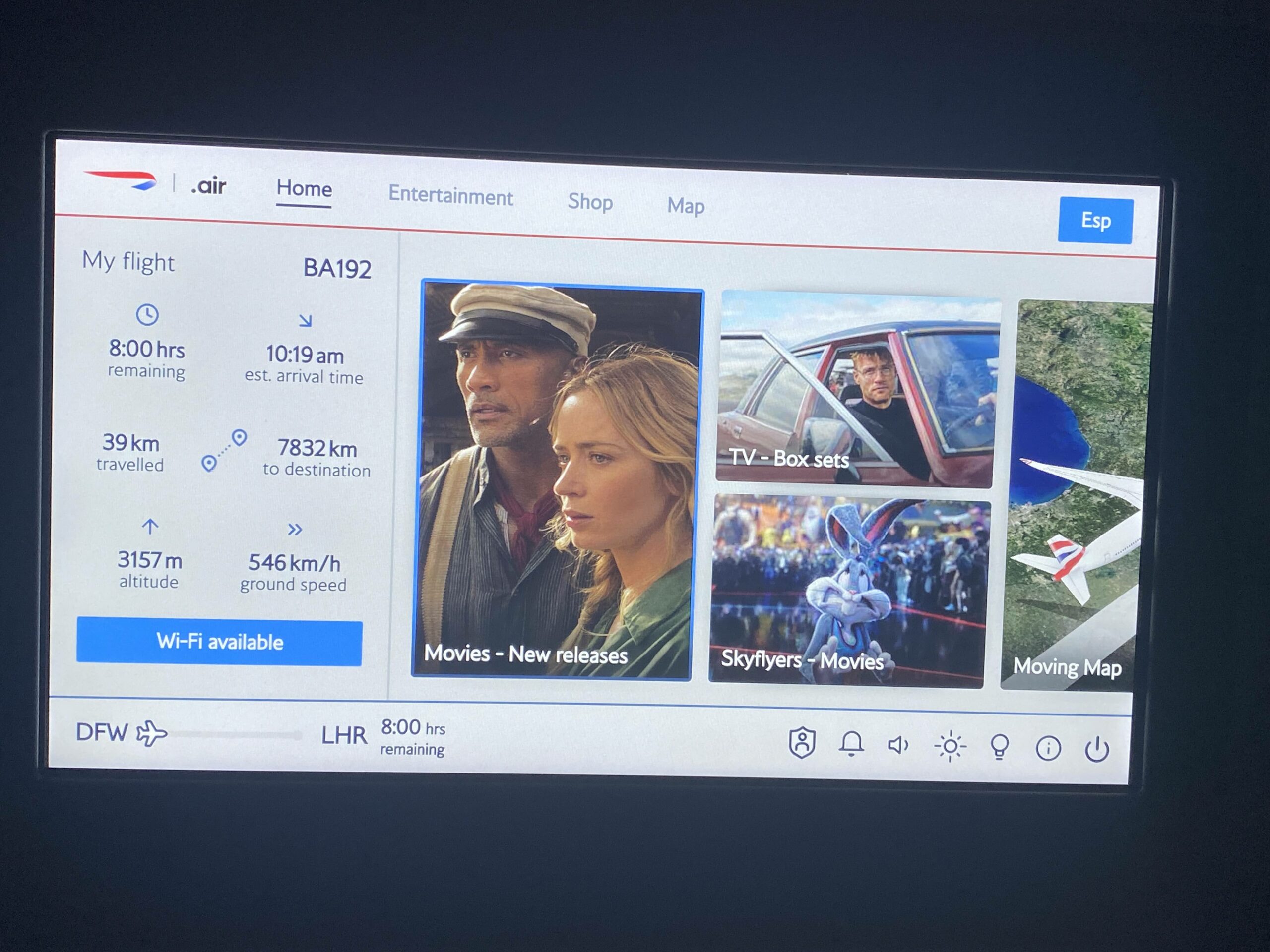 The B787-10 of course had the new entertainment system for the suites, unlike the refurbished B777 Club Suites. I just watched a couple of TV episodes since I wanted to go to sleep. Wi-fi was available for the usual prices but I didn't bother since I wasn't planning to be awake for most of the flight.
Arrival
There was hardly any queue for immigration and although it took quite a while for the luggage to come out, it wasn't remarkably slow. The BA arrivals lounge was shut due to the day 2 test isolation rules. Hopefully, it will reopen soon now that requirement has gone.
Conclusion
Despite being three crew down, it was a decent enough flight. The crew all seemed pretty young but were generally friendly apart from one rather officious person who was doing the cabin checks. I slept well in the Club Suite which is the main thing for me on a night flight. This flight had a lot better food and drink than the outbound flight. The amounts of food were much better than the way out and it was all fairly tasty.
The only thing I did not like at all was the fact the lights were off for the entire flight which is not normal even on a night flight except for boarding.