This is a review of BA Club Europe A321 neo to Palma, Mallorca from Heathrow T5 and what's it like it to travel now.
Check-in
I had a horrendous journey to the airport but still got there around 2.5 hours before. The First Wing has been closing by 2pm at that time so I wanted to get there in plenty of time so I could use the check-in there for my rather large suitcase there rather than queuing at Club check-in later.
I loved the lights as you enter which were a nod to Team GB.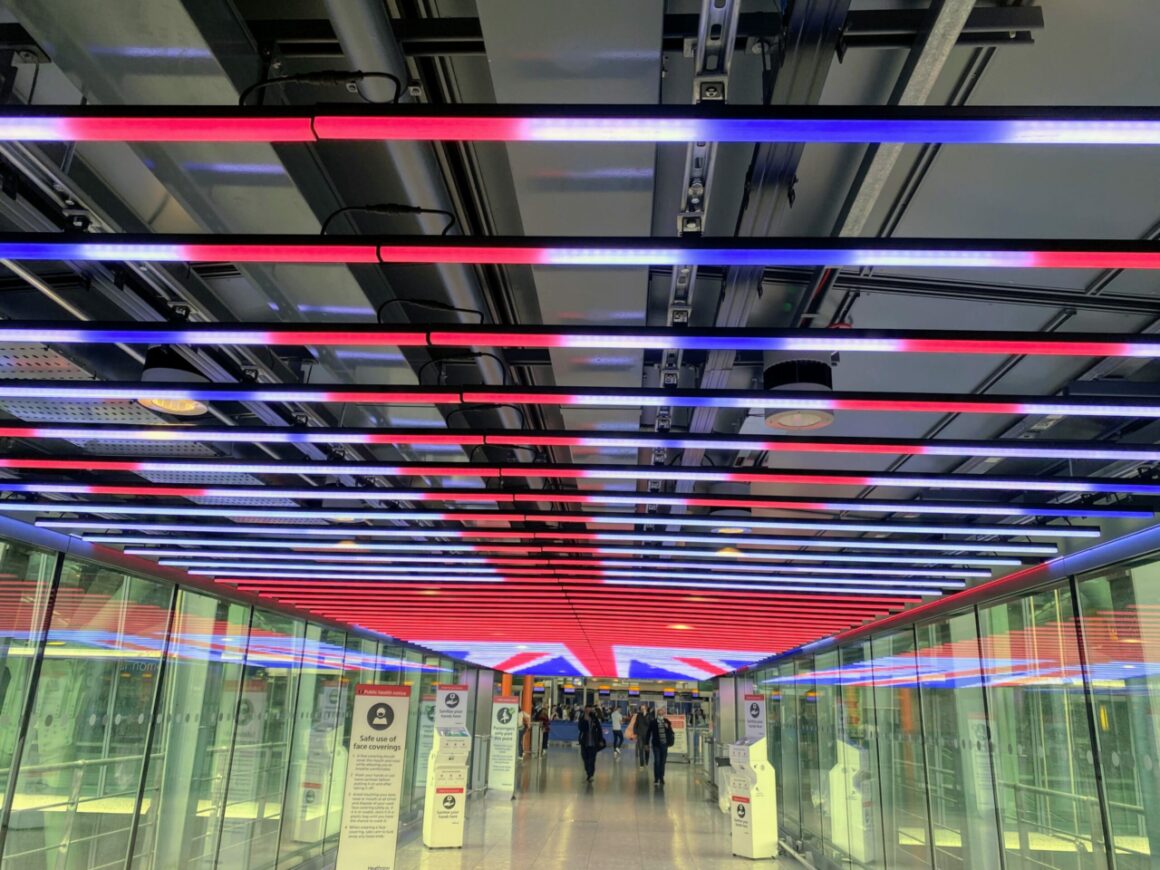 There was not much of a queue and the chatty agent soon had me checked in and heading for security. She checked my vaccine certificate which I had got the proper letter version of (worth ordering either online or 119 in case you want to travel). You never know with phones if it will chose that moment to malfunction (have had a few black screen of deaths on iPhones before that took some time to fix). There was no check of the Spanish form and QR code which was checked on arrival at Palma.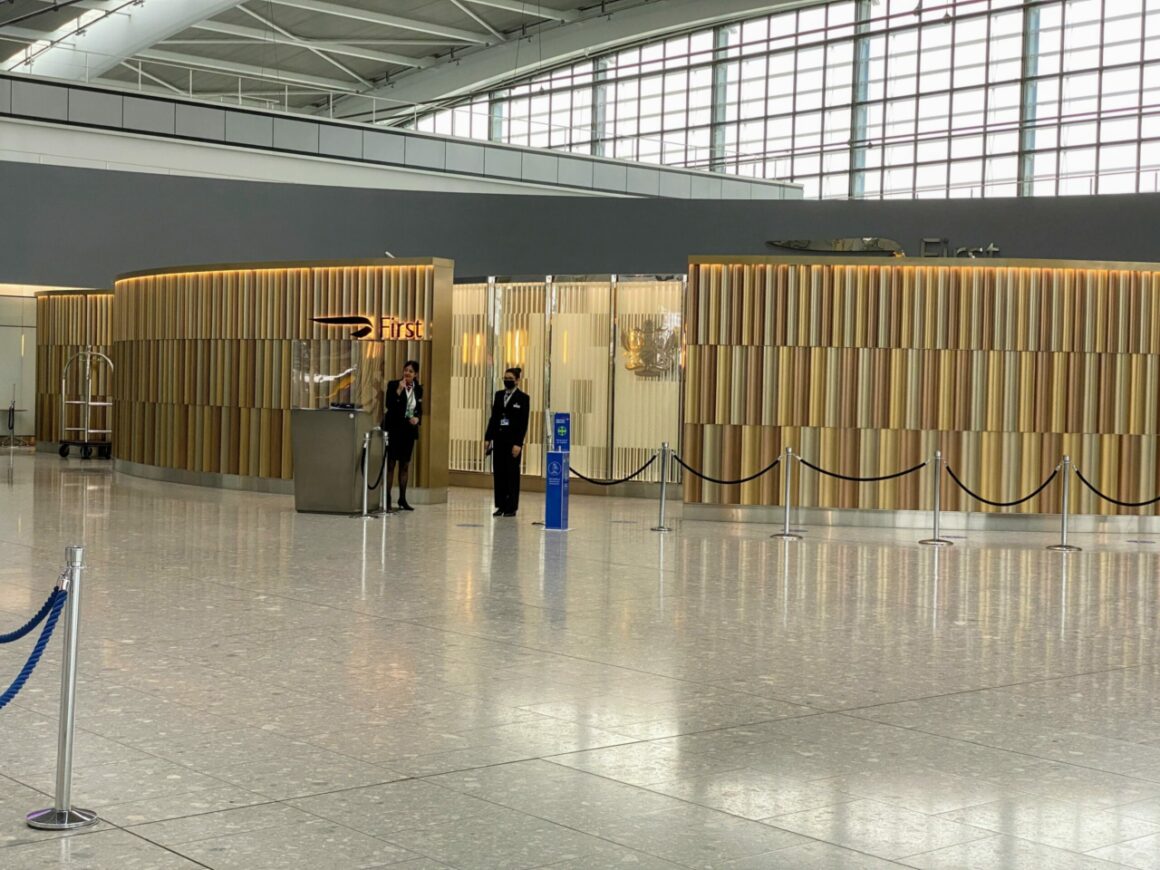 I think the whole process for arriving at the terminal to getting to the lounge was well under 10 minutes. I had parked my car using MBW through Book FHR which cost around £55 for the week using the 25% off sale. You drop it off in the short-term car park and pick it up there.
The Lounge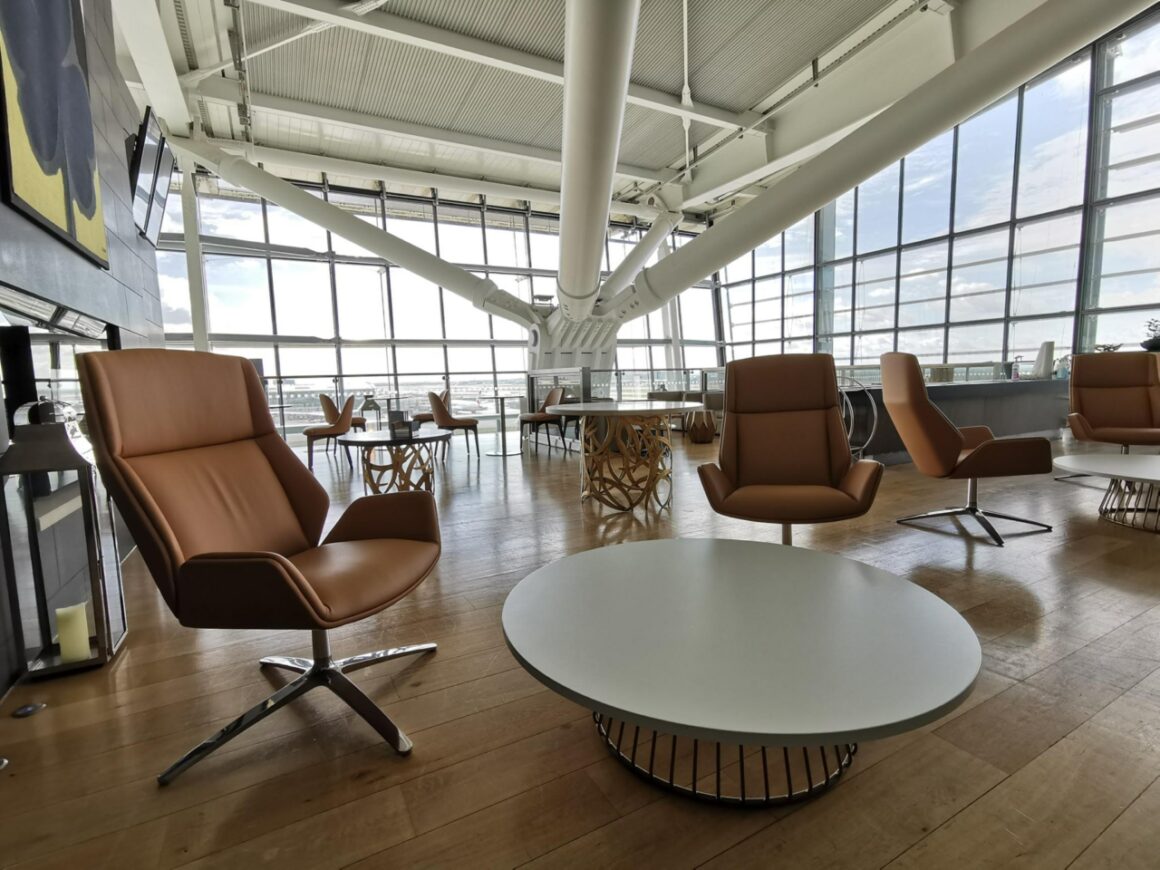 The main First lounge was a bit busier than I had seen it before but the Concorde Terrace was still relatively quiet. The menus are the same food-wise but there are better drinks on the Concorde Terrace with Laurent Perrier Grand Siecle being served.
Here is the food menu: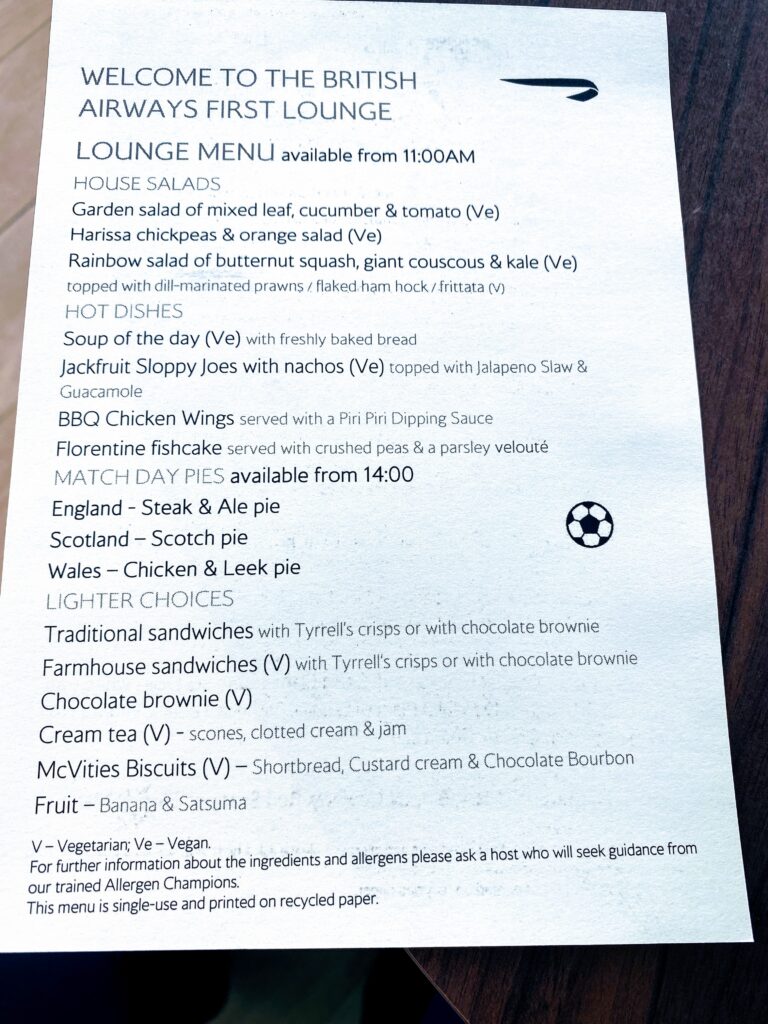 If you travel a lot the menu is a little repetitive, particularly with the salads. Fortunately most of my flights this year have been a breakfast time so I was keen to try some of the daytime menu.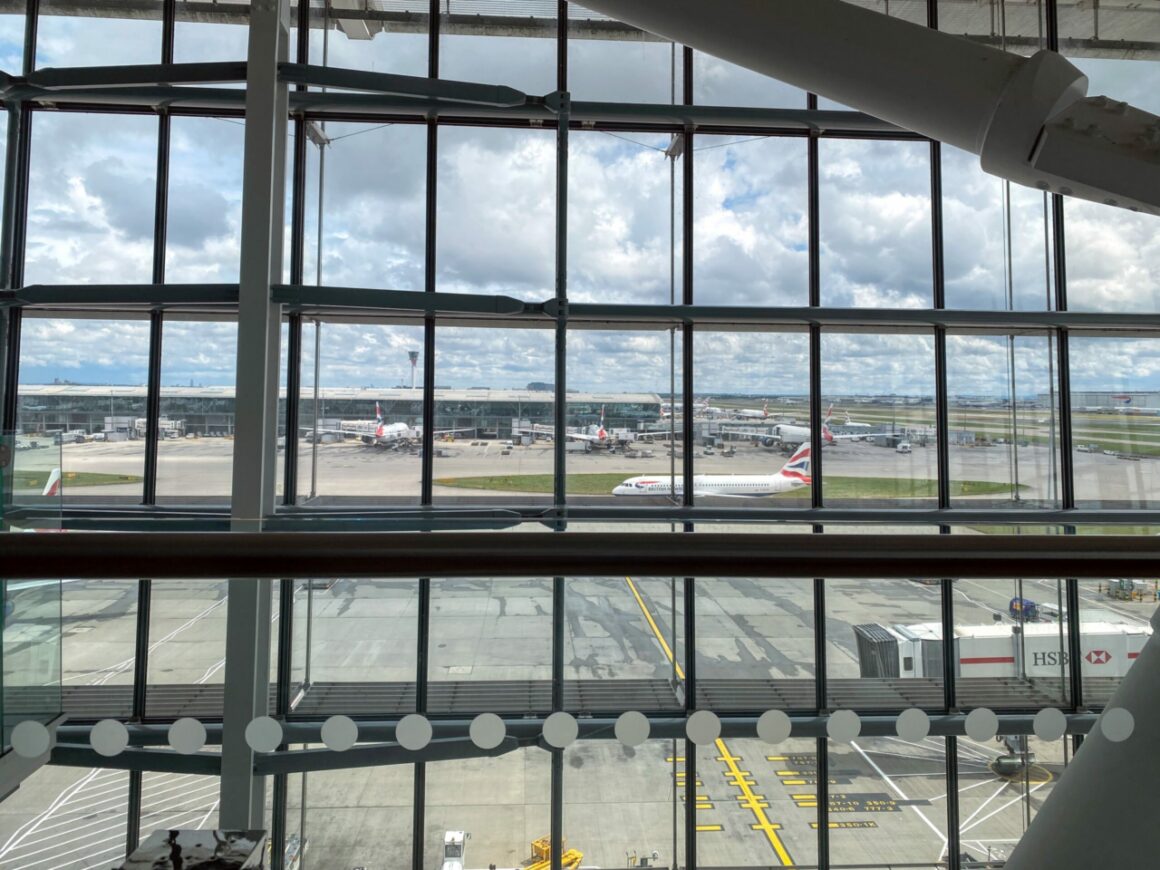 Of course, we started with a glass of champagne!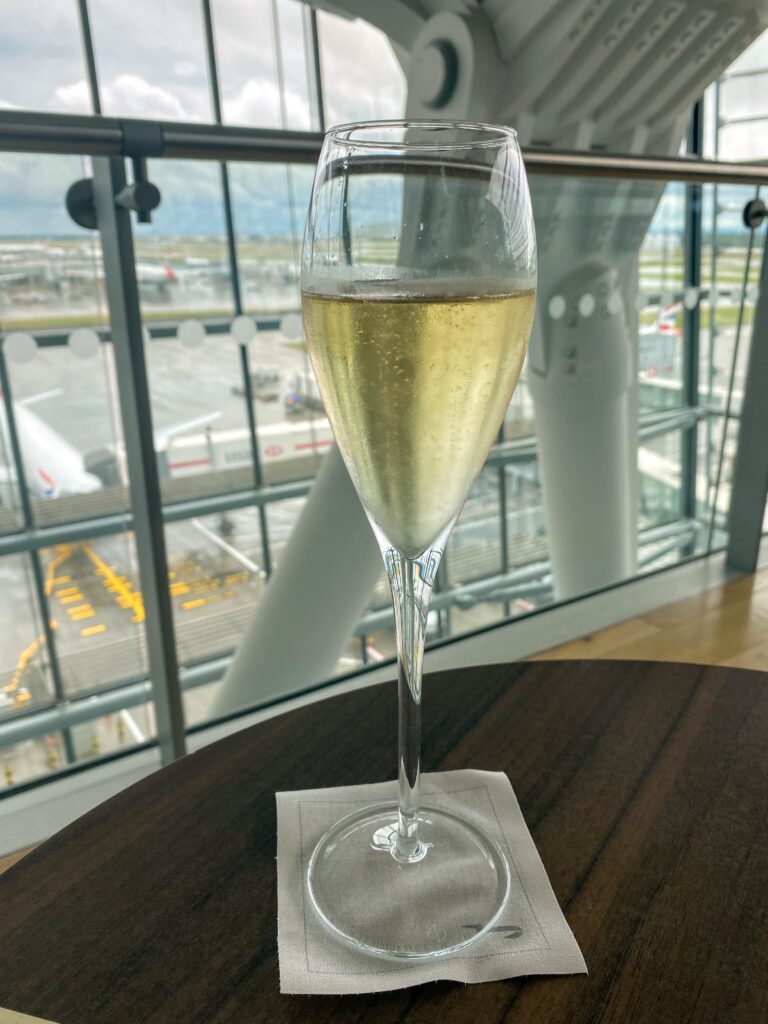 We decided to try a few things since the portions aren't huge.
We had a harrissa chickpea salad with frittata:
This was actually fairly hearty.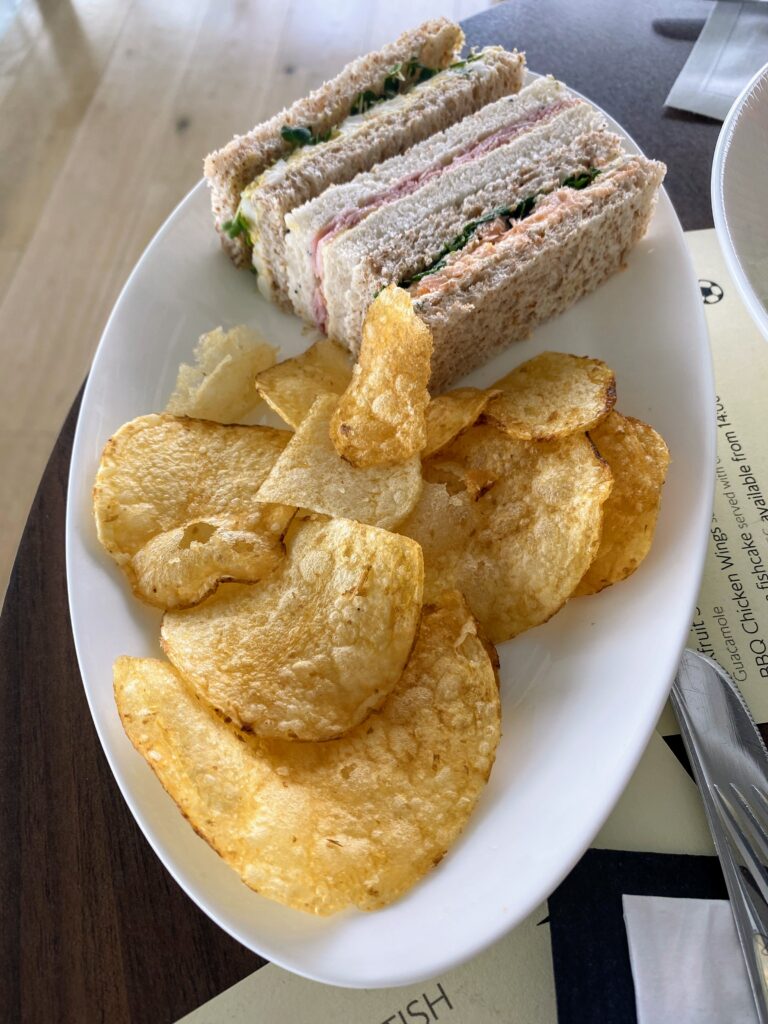 From the afternoon tea, this was the sandwich selection. These were exactly like the sandwiches they have always served. They are bought in ready prepared so they could not make some without butter which was disappointing.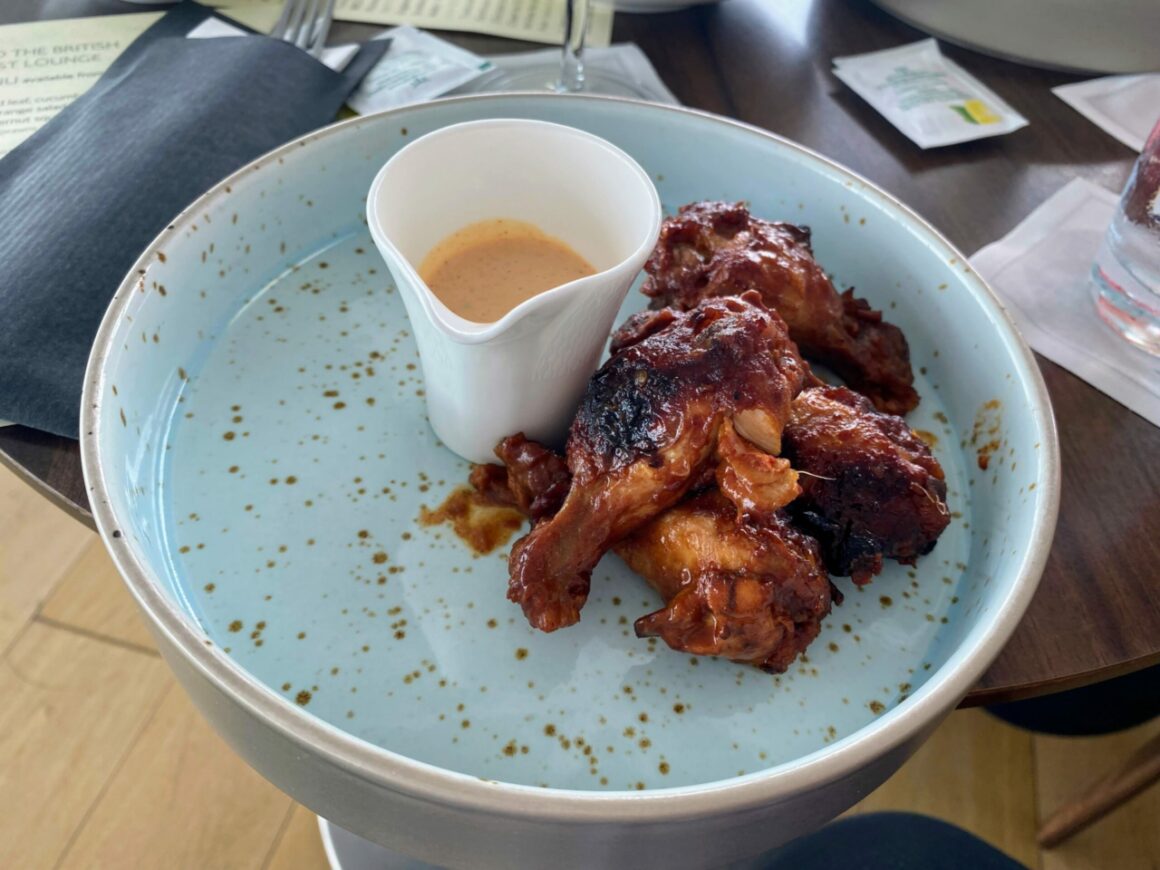 The highlight was the chicken wings which were delightfully sticky and moreish. But boy, were they messy!
As well as the champagne I also enjoyed a glass of chardonnay. They don't have a wine list anymore so you have to ask what they have. This Chilean Charrdonany was OK but nothing special being a bit one-dimensional. (at £10.99 a bottle it was exactly what I'd expect at that price).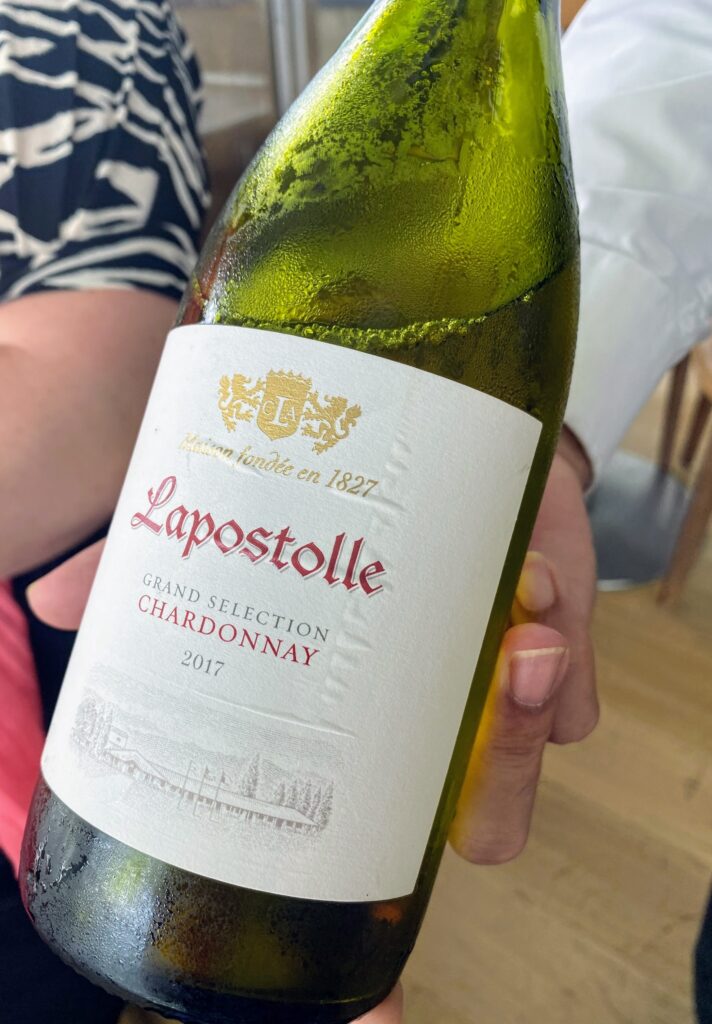 One thing I did notice this time that I hadn't before was that they do have power banks since there is no power on the Concorde Terrace but you could only use this for your phone, not for a laptop. This is one area that BA need to improve. There may be less people travelling on business, but this does not mean people don't need to work at the airport! Many people are now working from home and that can include the day they travel too. BA has removed both dedicated First work areas for sleep pods and now there is only one tiny section in the First lounge with a few communal working positions.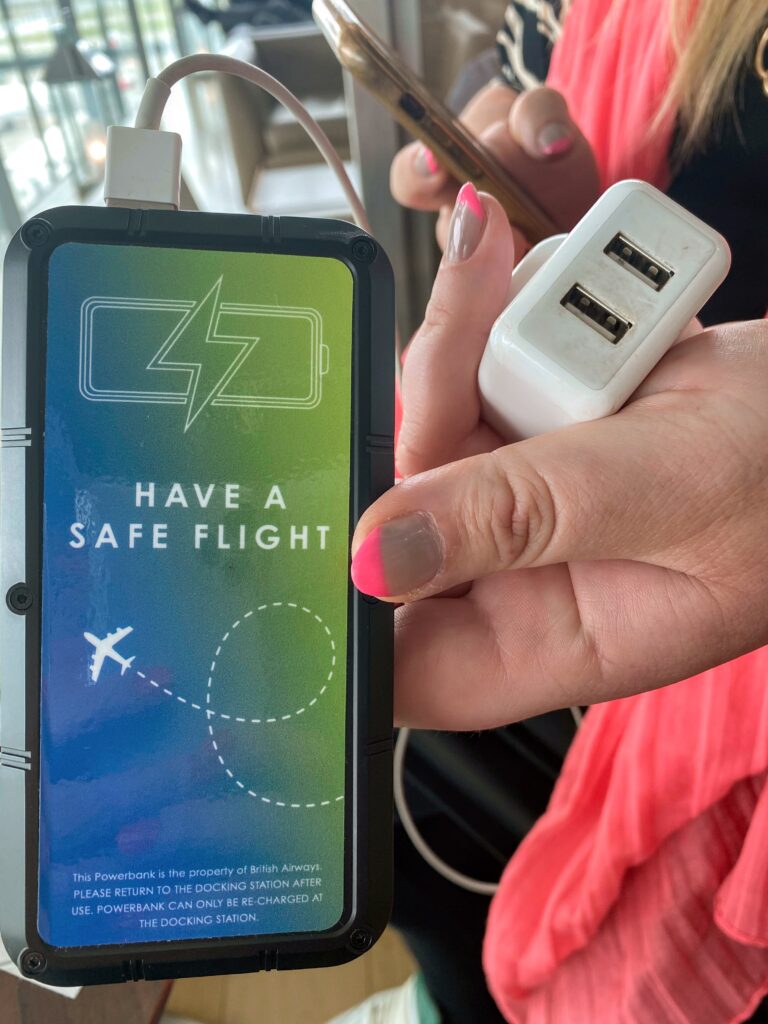 Boarding the BA Club Europe A321 neo
Boarding at this stage was still with Club Europe boarding last which I actually prefer. This week it has gone back to the old priority system.
BA Club Europe A321 neo flight

We were in row 3 for a change from my usual 1F. On this flight, it was the neo so we did not have a middle console table. Instead, we just folded down the middle tray table.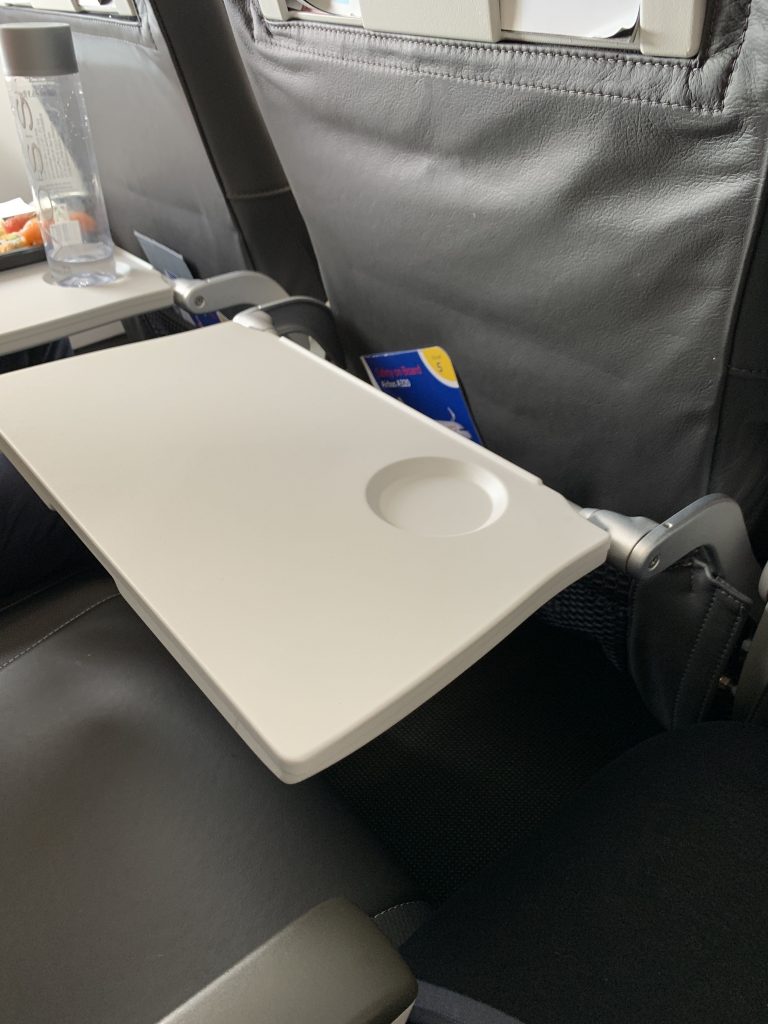 The upside is that you get seat power including a USB port under your seat which not all aircraft have. Wifi was also available at £7.99 for the whole flight or £1.99 just for messaging.
Food and Drinks at BA Club Europe A321 neo
Before lunch, there was a drinks round. We went for the G&Ts since neither of us are a fan of the current Nicholas Feuilatte champagne. The new nuts are OK but I'm not really very fond of things like corn and chickpeas in a nut mix as they are a bit dry and tasteless. I wish they would go back to the pretzels they used to have. It would probably save money and stop any issues with nut allergies on board.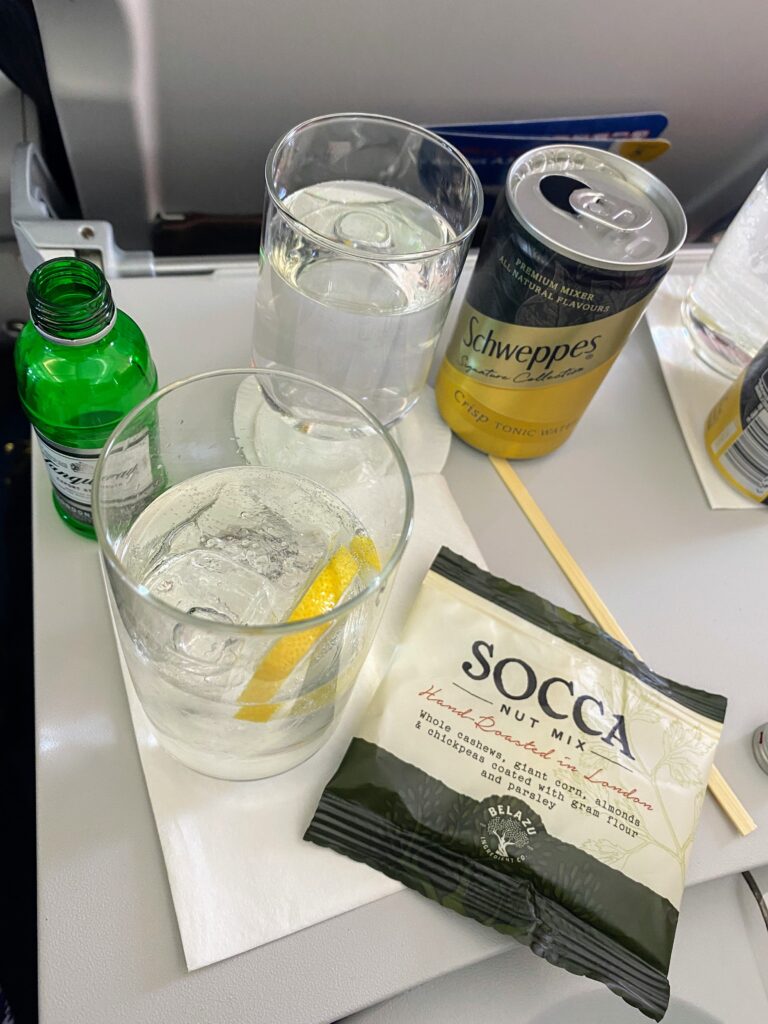 The crew were fantastic on the outbound flight. Very friendly and we were kept well topped up!
There was a choice of Shepherd's pie, gnocchi with a cheese sauce or a salad. This is the standard format, a meat or chicken-based main, a pasta dish that is veggie, and some sort of salad.
The starter was the pathetic piece of lettuce with a couple of strips of carrot and 2 bits of cucumber. It's a shame they can't come up with something else even if it was just a Russian salad or something else that wouldn't break the budget! Warm rolls were handed out and were the same olive ones that they have had for a while. I quite like them.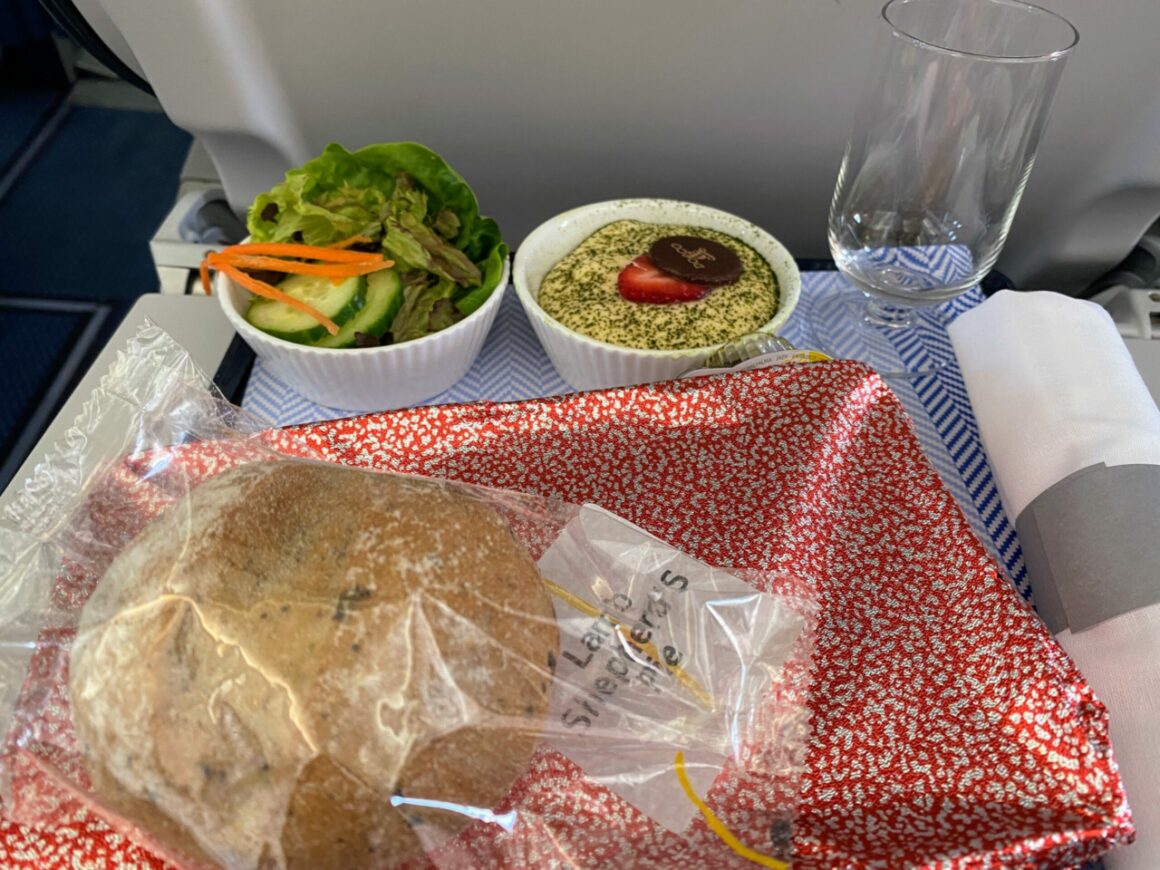 Katie went for the gnocchi which I had heard bad things about it being dry. However, this one was brimming with sauce and was apparently very tasty.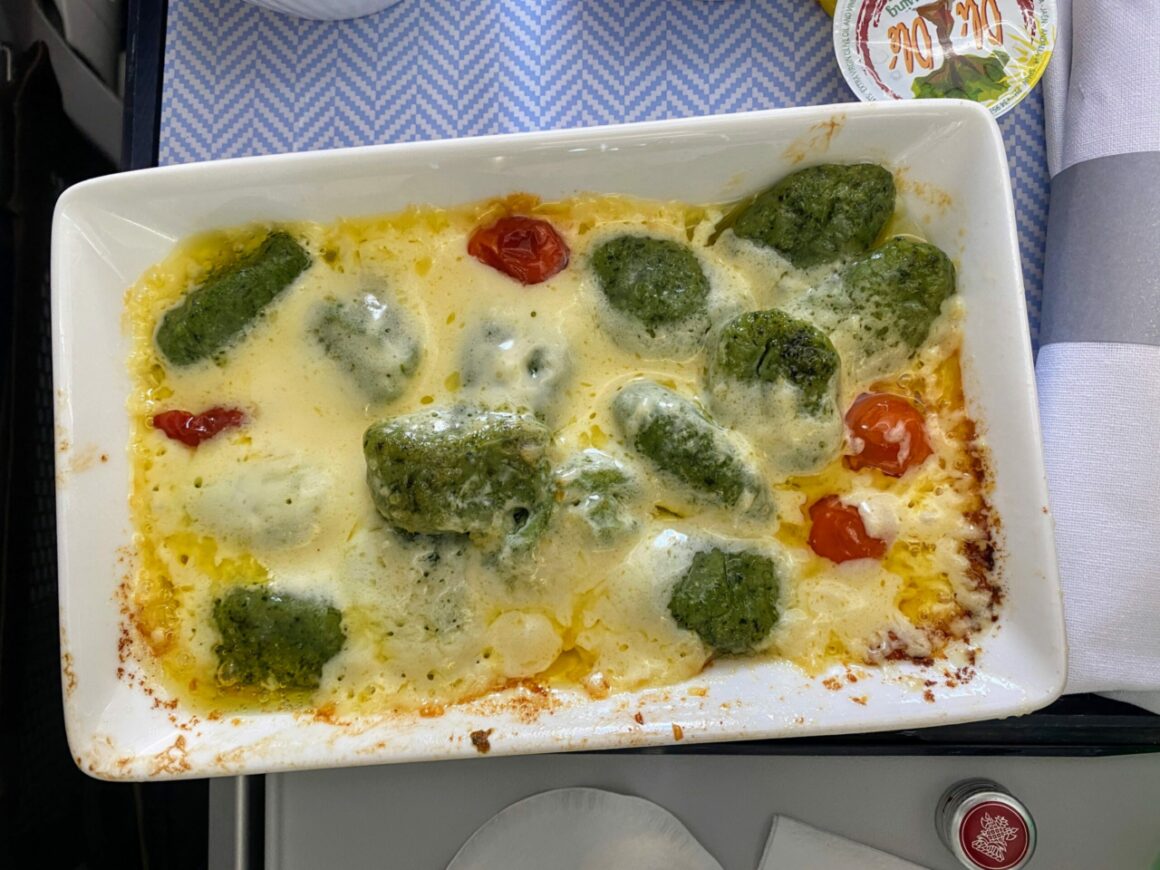 Most of the main courses at the moment are very much "school dinners" or at a push "pub classics" and definitely not really what I would expect in business class generally. However, they are all pretty tasty and a reasonable portion. To be fair BA is not promising anything fancy when they say "In Club Europe we serve a selection of delicious meals".
I went for the cottage pie which I have had before. It's tasty but definitely a very standard cottage pie.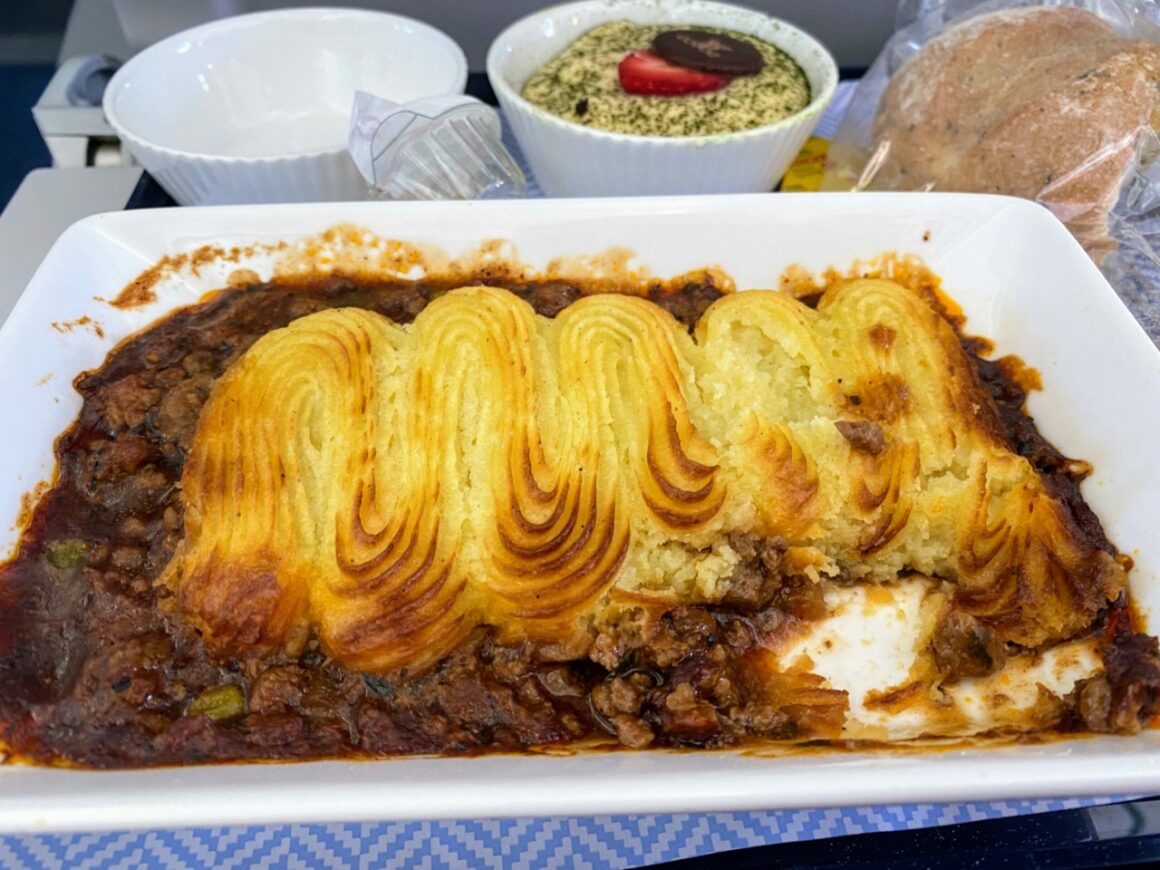 To drink I had the Macon-Villages which is my usual white go-to for Club Europe.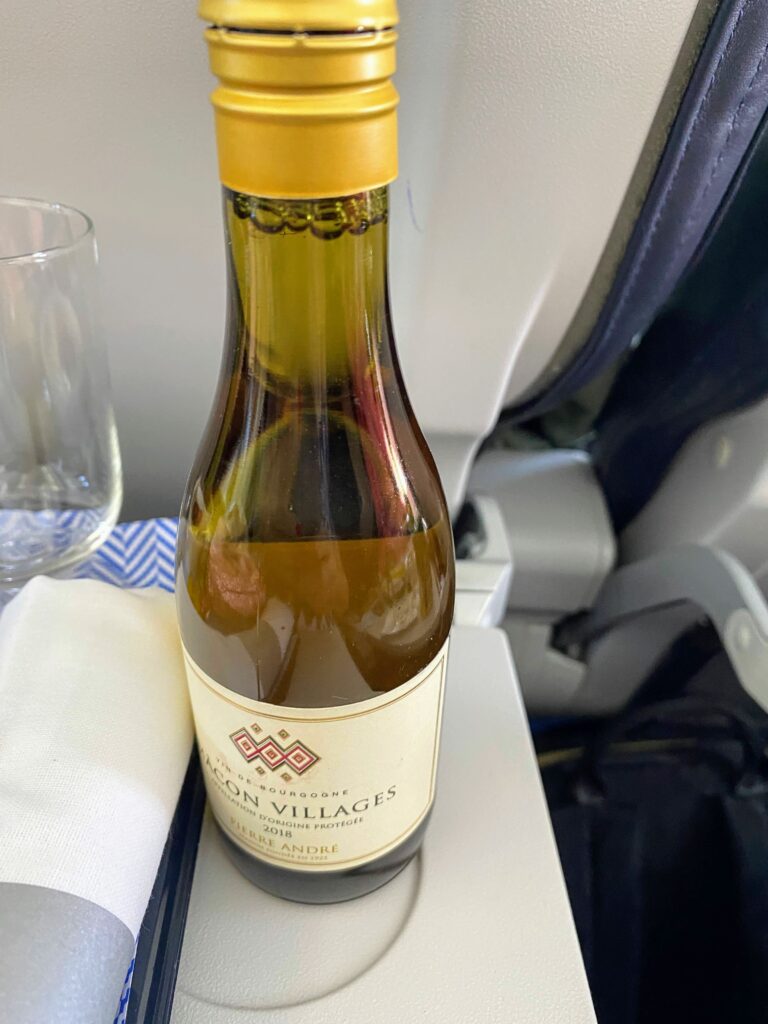 The dessert I was never quite sure why it had a green top, but apparently, it has been made to celebrate Wimbledon. So the green is meant to represent the grass and the chocolate disc is the ball. What the green stuff is on top remains a mystery. Best guess so far is matcha – answers below if you know what the topping is! The rest is a bit like half a trifle. It's basically custard and sponge but as I like custard I quite enjoyed it.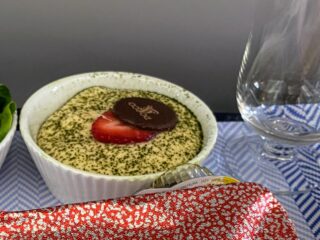 Arrival in Palma
I have to say I was impressed in Palma with how well organised it was. The current shambles of a UK Border Force could learn a lot from Palma. If they have managed to organise this with literally a few days notice when they said they needed UK passengers to prove their vaccine status, I have absolutely no idea why we can't. Other than perhaps the government want to make travel as unpleasant as possible (they are smashing that target if so!).
We got off by row number so were near the front of the queue for immigration. Here all they did was check your passport (definitely takes longer since Brexit) and give you a stamp in your passport too which is a novelty for Europe.
Then you head towards the baggage hall and join another queue which is checking your Spanish entry form where you have already uploaded your vaccine or test certificate. No paperwork was checked, they simply scanned your QR code from the form and that was it. Why can't the UK do this? We didn't queue for more than a couple of minutes and then we were free to go and get our baggage.
At Palma, there is no Uber or similar so we pre-booked a taxi. It was about €5 more than a taxi but it was easy and the driver met us to help with our luggage.
Like our BA Club Europe A321 neo review? You can read more flight reviews here.