British Airways flights Faro to Heathrow and VeriFly
British Airways is currently trialling digital travel app, VeriFLY, on routes to the US, France, Ireland, Barbados, Bahamas, and Canada, as well as all inbound international flights. Once a customer has had their travel documentation certified through the app they will be able to check-in through either ba.com or the British Airways app and download their boarding pass before arriving at the airport.
I decided to try VeriFly although I did print everything out too. You should receive a text inviting you to use it if you have given BA your number. Apparently, I was the only person to use VeriFly on the entire flight! I suspect those that tried gave up as it's not intuitive at all! However, if you can use it, your check-in will be very quick as all you do is show the phone with your approved status. No other paperwork required.
Before using VeriFly you need a picture of your Covid test result, your U.K. PLF completed, and your unique reference for your day 2 test. (More about this later)
You need to download the VeriFly app. Then create an account and add your flight number. Then click on Browse and select a trip to the U.K. It will then ask for all the documents I have mentioned. It takes a little while for the Covid test to be approved so don't leave it to the last minute. The other information seems to be instant.
You then have to upload your PLF which is where I got into difficulties for my day 2 test as the CityDoc testing receipt did not have the unique reference number that I needed. They sent 3 documents and 2 had ended up in junk mail which I was not aware of as I had a receipt with an order number. But you need a very specific reference number, not the order number. Fortunately, CityDoc has a chat function so I was able to get it from them fairly quickly and complete the process.
Once it's all complete you get a green pass. Why U.K. Border Control could not use this or something similar I have no idea.
The pass looks like this: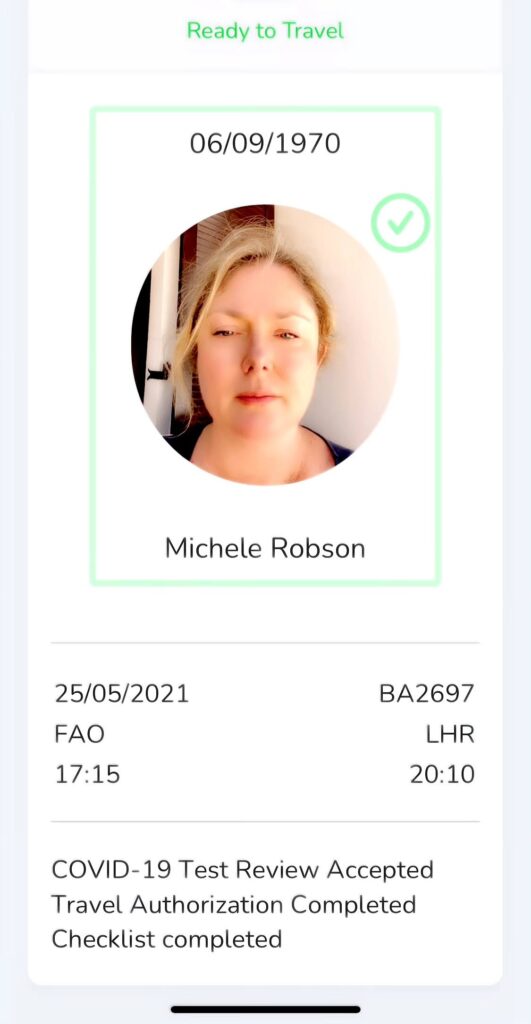 Once you have completed this you can check-in online as normal.
Check-in and lounge at Faro
Check-in was a bit of a mess. Lots of people did not have the correct documents and had not filled in the PLF and did not have the code for their day 2 tests. This was causing major delays with most people taking 10 minutes or longer to check-in. Had BA pushed the VeriFly app more and made it simpler, this would have solved a lot of issues.
The other issue is that there were 12 rows of Club Europe and only one Club Check-in and two economy. So I think we can all work out which was the longest queue! What they need is one of each and then one in the middle calling people forward as needed from either queue. I waited around 15 minutes to check-in and that was after waiting for the queue to subside in a cafe first!
My check-in took less than 2 minutes. I showed her the app and then check-in went as normal. She told me out of the 150 people checked in I was the only one to use VeriFly. Hopefully, BA may switch to IATA Pass since they are trialing that and hopefully, it's more user-friendly
Fast track was not open but there was no queue for security anyway. The lounge was also completely closed and is not due to open until July which seems rather short-sighted of the lounge company given the amount of Brits flying there! However, there were a couple of food and drink places open and it was not that busy in the terminal.
Boarding
Boarding was done from the back again by 5 rows at a time so I was one of the last to board. It was well organised with the staff checking on the queue on the jetbridge before allowing more people to board. There was less of a queue on the jet bridge. Funnily enough, it was the same Customer Service Manager as on the way out. I was given another of the Dettol packs and took my seat in 1F.
The flight
My outbound flight had been fairly mediocre but this one was much better. There was one cabin crew member who was an absolute delight as he bounced down the aisle bantering with the passengers. Someone was clearly happy to be back at work!
I was flying on an A320 which still had the centre tables and I even had no one next to me for most of the flight (some cheeky git came and sat next to me for landing).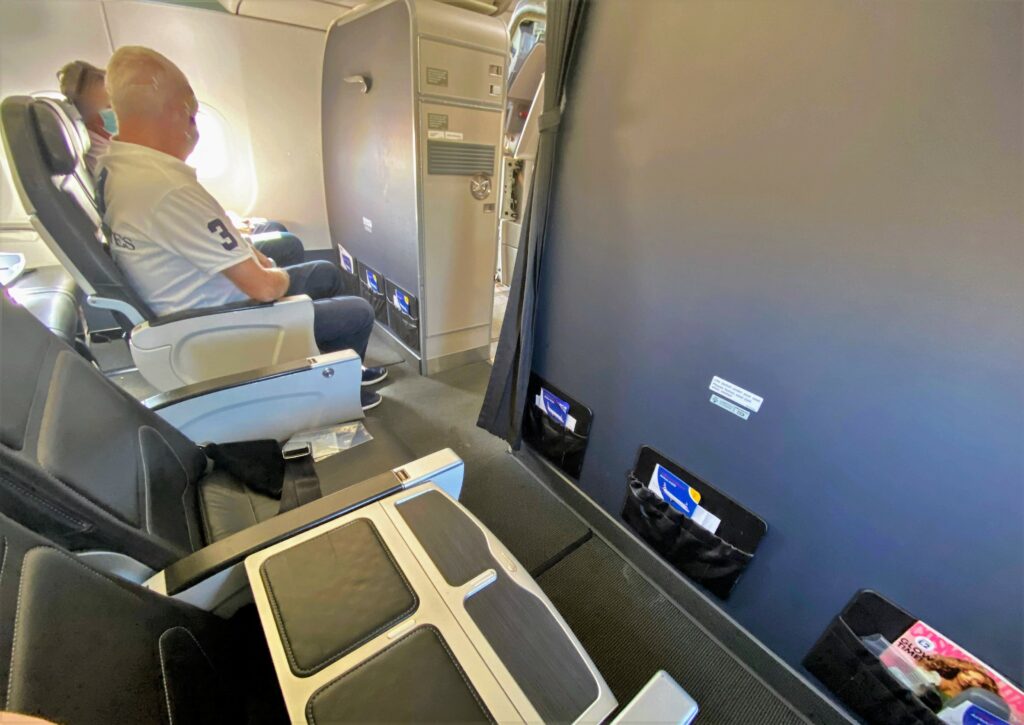 Row 1 has plenty of leg room but it can be a bit tricky for luggage. Fortunately, with the new system I'm finding it works better as I make sure I am at the front of the last group.
After take-off they did a drinks round first which was good to see. They had a new nut mix which I preferred to the old rather boring almonds. I also really enjoyed the Malbec. The other red option was a Primitivo. There were two whites, one being a Macon Villages. There was also the usual Nicholas Feuillate Champagne.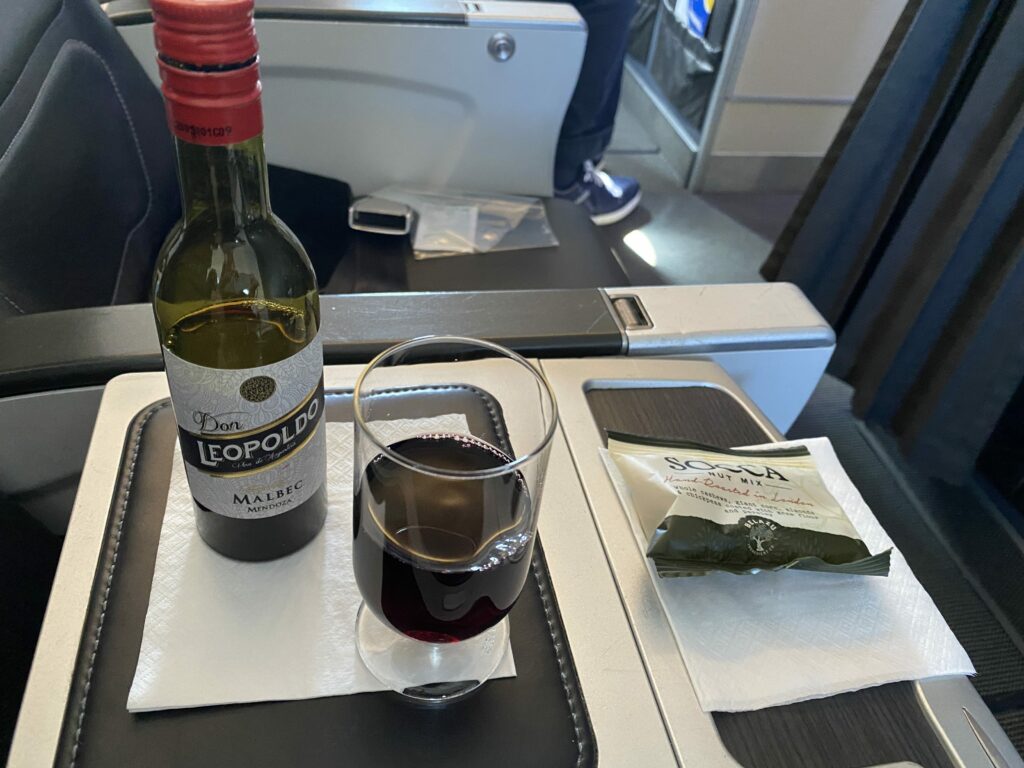 After the drinks service we were offered dinner with a choice of three mains: cottage pie, gnocchi with a cream sauce or a Mediterranean salad. I had seen picture of the salad and it looked tasty if not substantial and I had been told the gocchi wasn't great by other travellers. Therefore I had the pie and it was very tasty. The starter was a bit pathetic being pretty much a bit of lettuce and some cucumber and carrot. However, there was a nice warm roll with it and the main course was filling.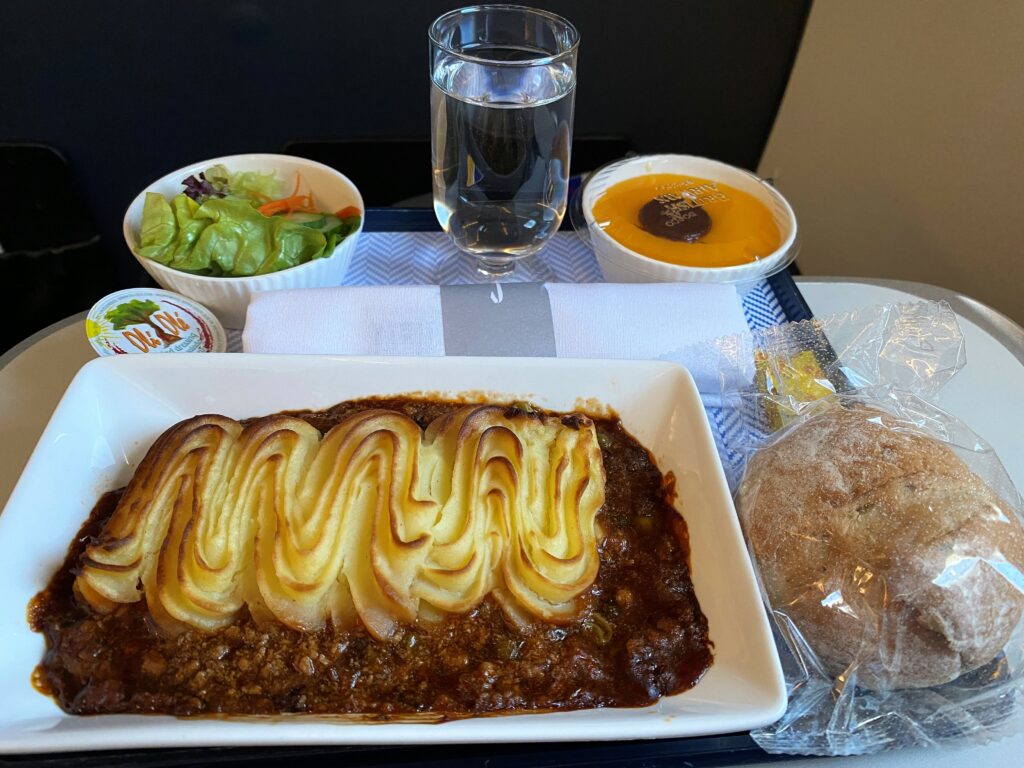 I was offered regular top-ups of wine throughout the flight and was offered a plastic glass for landing if I wanted.
The dessert was a particular highlight. It was like a soft vanilla pannacotta with a lovely tart passion fruit topping. More of these instead of chocolate mousse please BA!
There was Wifi and charging for the flight. I had some issues with the charging point but the CSM quickly rebooted it for me. Wifi starts from £1.99 for messaging to £7.99 for full internet for the whole flight. There appears to be a blackout point for at least 15 minutes to and from Portugal so you may not want to bother paying for the full flight. I had the same on both flights. I'm guessing something to do with flying over the ocean.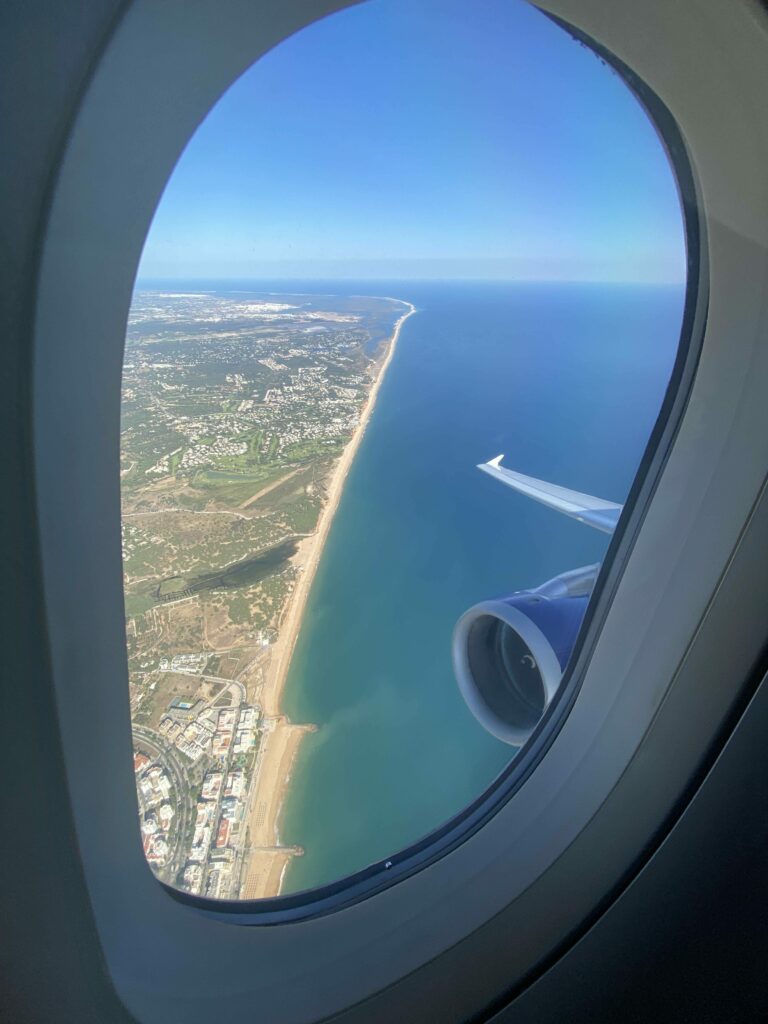 We arrived at Heathrow about 10 minutes early and again we deboarded a few rows at a time and you had to remain seated until you were called.
See part 3 for Heathrow immigration and more about day 2 and 8 tests.