This is the final part of my flights and tests etc to and from Portugal.
The other articles are:
What's travel like now? Portugalentry requirements, lounges Heathrow to Faro in Club Europe
What's travel like now? Portugal Part 2 Returning to U.K. Qured pre-departure rapid test for UK
What's travel like now? Part 3 British Airways Club Europe flights Faro to Heathrow & VeriFly review
Heathrow Immigration
We have heard a lot about massive queues at Heathrow immigration which are entirely unnecessary in my opinion as it's simply due to poor management. A lot depends on when you arrive. I arrived at 8.10 pm in the evening, and no other flights landed around this time. The immigration hall was empty, and only a few people were in front of me in the queue. There were a grand total of 3 e-gates available. They allowed you to go through without checking any documents, so I was through almost straight away.
Again this makes a mockery of the whole thing about saying they have to check everyone. BA was strict about checking everyone before they were allowed to board, so I see no need for anything more than random sampling from green list countries. I suspect that the reason we were allowed through so easily was that we were from a green list country, and it was the only flight at that time.
It has been confirmed that the e-gates should be linked to the PLF by the end of June so they should all be open then hopefully.
What tests do I need going to and from a green list country to the UK?
You may need a test to enter the country that you are going to. Most must be a PCR test, but a few countries accept rapid tests. Portugal needs a PCR test. Rules about children vary by country. This is the best place to check information.
You need a test within three days before your departure to go back to the UK. This can be either a rapid test or PCR. You can find full details of the government requirements here. Children aged under 11 do not need to take a test.
You need to book a day 2 test before you fly back home. Children aged 4 and under do not need to take this test. See below for more details.
The government page for all the rules about travel is here.
Day 2 test review
You can do a day 2 test before or up to 2 days from your arrival. Your arrival day is day 0. You can find a full list of government providers here.
When you book you need to be really careful to get the right booking reference. It's not the order number. In my case and I suspect most cases it started with the name of the company CITYD for City Doc.
If you look at the example you can see that there is an order number and then further down the booking reference number which is the one that you need.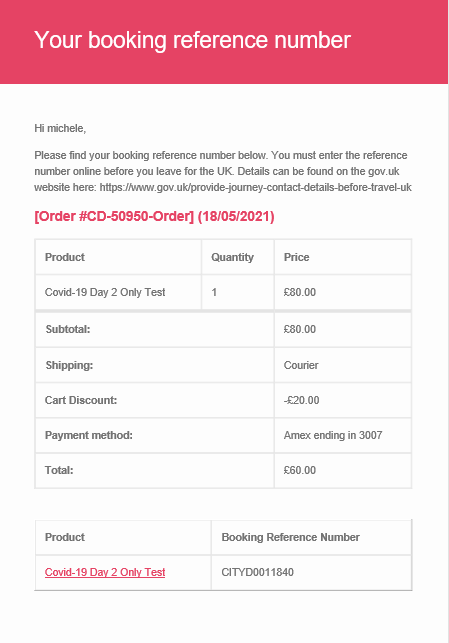 One option that saves hassle is to do it when you arrive at Heathrow. It's available at Heathrow T2 and 5 departures. The company is Express test that I have used twice now and had no issues. It's also available at some of their drive-through sites at a cost of £69.
The cheapest day 2 tests I have seen so far are Eurofins at £ 54.90, but they have temporarily stopped selling them. Eurofins generally have not great reviews. For me, I am fully vaccinated and I will have had a test before I leave for the UK. So I don't really care what happens with the day 2 test as long as I do my duty to take it and send it off. So I will always be looking for the lowest price option. Outbound it is well worth paying extra for a company that looks reliable from the reviews on Trust Pilot.
I used the next cheapest I could find, which was CityDoc.
CityDoc costs £60 for a day two test if you use the BA discount code (you don't need to be on BA).
I had received one email which was the receipt and contained the order number. What I didn't realise was that I was missing a second email with the booking reference as I had assumed it was the same as the order number. Only when I went to fill in the PLF did I begin to query it. Fortunately, CityDoc has a good online chat service with usually only a short wait. They quickly found my reference number and I was able to complete the form.
The day 2 test is dispatched a few days before you arrive home so it's there waiting for you. First, you have to register the test online before you start.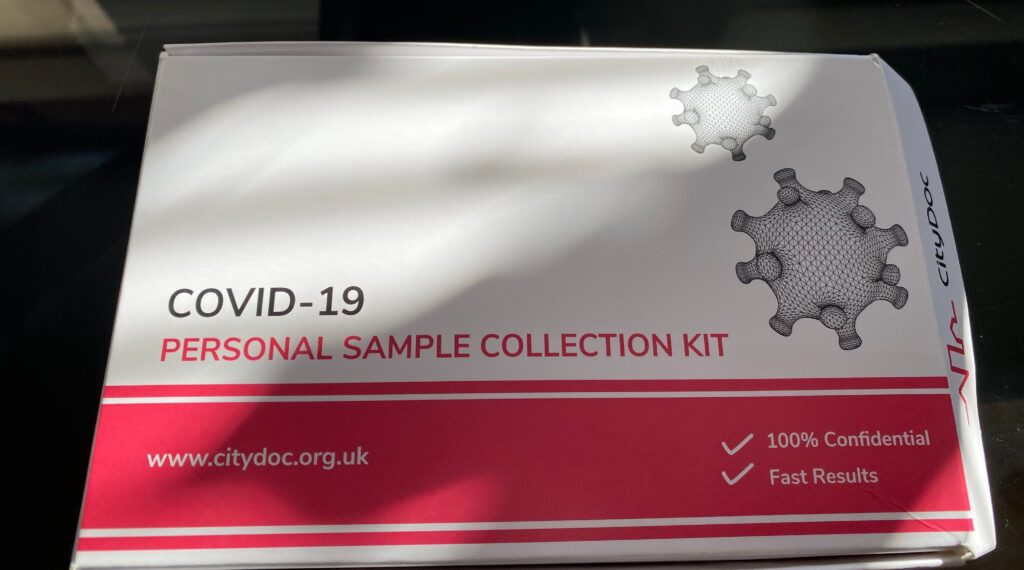 Mine came with fairly clear instructions and an envelope with pre-paid 24-hour postage to post it in. The process was fairly quick and easy although I would recommend being careful trying to snap the top of the swab off as mine pinged across the room and flung some of the rather sticky liquid across the table! You pretty much take the swab, stick it in the tube and send it off.
I also recommend that you take a picture of the postage label in case something goes wrong as it has the tracking number on it. If Royal Mail loses it, CityDoc will not take any responsibility.
I posted the test last thing on day 2, the 27th. I did not receive my results until Tuesday morning (1st June) even though it says I should expect the result within 48-72 hours. There is one big, rather stupid watch out with CityDoc – you can't have samples processed that arrive on a Saturday and the lab is shut Sunday. Apparently, the Bank Holiday delayed my results.
Overall they had decent customer service which you could get hold of quickly and the test arrived at my home on time. The rest of it doesn't really matter to me as I didn't need the results in any hurry. However, I may be tempted to do the day 2 test on arrival next time for the sake of simplicity.
What testing services have you used to get back to the UK or for day 2 tests? What were they like? Let us know in the comments below.