Italy is one of the all-time tourist destinations; it's pretty much on everyone's bucket list, for a wide range of reasons (the food, the history, the culture, the beautiful coastline, the food, the wine…the food…). Currently, it is very quiet and prices are much lower than usual so its a good time to visit if you don't mind the new restrictions for a PCR test.
Technically, it's one of the world's original tourist destinations, as way back in the day the world's first 'tourists' went on religious pilgrimages across Europe to reach Rome and other significant religious sites.
Then came the 'Grand Tours', where young British aristocracy took off to see the masters, get an education, and, most likely, sow some wild oats before coming home to be responsible young lords.
Italy now is a fascinating hodge-podge of old and new; ancient sites now host Starbucks stores, nuns and priests walk alongside crowds of scantily clad tourists, e-scooters compete for road space with horse-drawn carts and everyone these days can be seen taking selfies with their smartphones at Pisa (or anywhere, really).
Here is a bit of a guide to get you planning your next trip to this amazing country, whether it is soon (as Italy is still on the exception list, fingers crossed it stays there) or you're starting to think about your plans for 2021.
Things to know before you go
Travellers from the UK now require a COVID within 72 hours prior to arrival. The new protocols are in this article. You can read about companies that offer the testing service here. The good news is that it is still on the travel corridor list.
Italy is a country that has something for everyone; as we mentioned earlier, there is so much history, culture, theatre, sport, shopping, beaches, religion, food, wine…and all only a short flight away! Plenty of airlines fly directly from the UK to a range of Italian cities, including British Airways. There are still some amazing Club Europe bargains even at short notice with prices starting at £150 return.
It's also a great city to visit by train, or hire a car and create your own road trip (though unless you're an expert, maybe avoid the crazy streets of Rome). The Italian Rail passes are great value if you plan to visit a bunch of Italian cities using the train. Bear in mind, public transport isn't always totally on-time, so allow for small delays here and there. Italy is definitely a country where you can't really be rushing from A to B, or on a tight schedule.
Italians (especially men) can be quite vocal, which can come as a bit of a shock. They won't hesitate to let you know if you've made a mistake, annoyed them, made them happy or, in many cases, they like how you're put together (winky face). It's usually harmless, but just something to be aware of.
That brings us to our next point – safety. As in all major European cities, be careful with your belongings, and it isn't ideal to wander the streets alone at night. It's always a good idea to have insurance. Some areas can be worse than others; for example, Naples is notoriously bad for pickpockets, as is Rome. Also, be aware of fake 'ticket inspectors' and the like, as they have been known to scam tourists, particularly in larger cities like Florence.
Most Italians will speak a little English, particularly the younger ones, but many older Italians won't. It is always a good idea to learn a few common phrases to get you through. Most train stations/menu's/important signage will either have an English version or be easily understandable, so you don't have to worry too much.
Mostly, all you need to worry about is enjoying this amazing country as much as possible (and – biggest tip – don't think about calories. Italian calories don't count).
Here we go!
Part 1: The North
Milan
Milan is the second most populous Italian city after Rome, and known as one of the four fashion capitals of the world – Armani, Versace and Dolce & Gabbana all have roots there, so it goes without saying that the shopping is amazing. Check out all the big designers, or pay a visit to the markets and local artisans for something truly unique.
Fashion is a big part of the culture in Milan (hint: pack your nice duds), and although many fashionistas flock to the city for Fashion Week and the latest leather shoes, there is plenty more to do and see in this beautiful city.
Full of culture, art, and stunning architecture, simply wandering the streets is a great way to experience the beauty this city delivers. There are a huge amount of museums showcasing priceless works from some of the most famous artists in history (such as Da Vinci, Michelangelo, Caravaggio…), so spend at least one day wandering the streets and museums – with plenty of stops along the way for espresso (and, later on in the afternoon, Aperol).
If you only have time for a few, stop off at the Castello Sforzesco for a bunch of famous works, or check out the Pinacoteca di Brera to see one of the best collections of Italian art in the world.
Perhaps the most famous – and photographed – architectural gem is the Milan Duomo, or Cathedral, which is one of the most famous and beautiful examples of Gothic architecture in the world. Tours are available, or you can just wander in and soak up the soaring ceilings and stunning artworks. It is also only a short walk from the Duomo to the Royal Residences, which are another must-see.
In any city, a walking tour is a great idea, but especially in cities so chock-full of history. It's amazing how many significant sites we walk past without realising. Usually, you can join one for free, or for a small donation, and they are often run by graduate students and even professors who specialise in things like history, art, or architecture and can really help you understand what you're actually looking at.
It goes without saying that any city of such an age has plenty of history on offer. Visitors can check out ancient archaeological sites, preserved buildings, and specialty historical museums that give an amazing insight into not only the origins of the city, but the origins of our entire Western world and way of life.
We can't forget to mention the food, either – Milan is one of the most Michelin-starred cities in the world, offering everything from five-star dining to award-winning gelato. Our tip – check out some fancy ones, and some more 'local' ones, so you can really soak up all the flavours of this fantastic city (and keep your budget in check).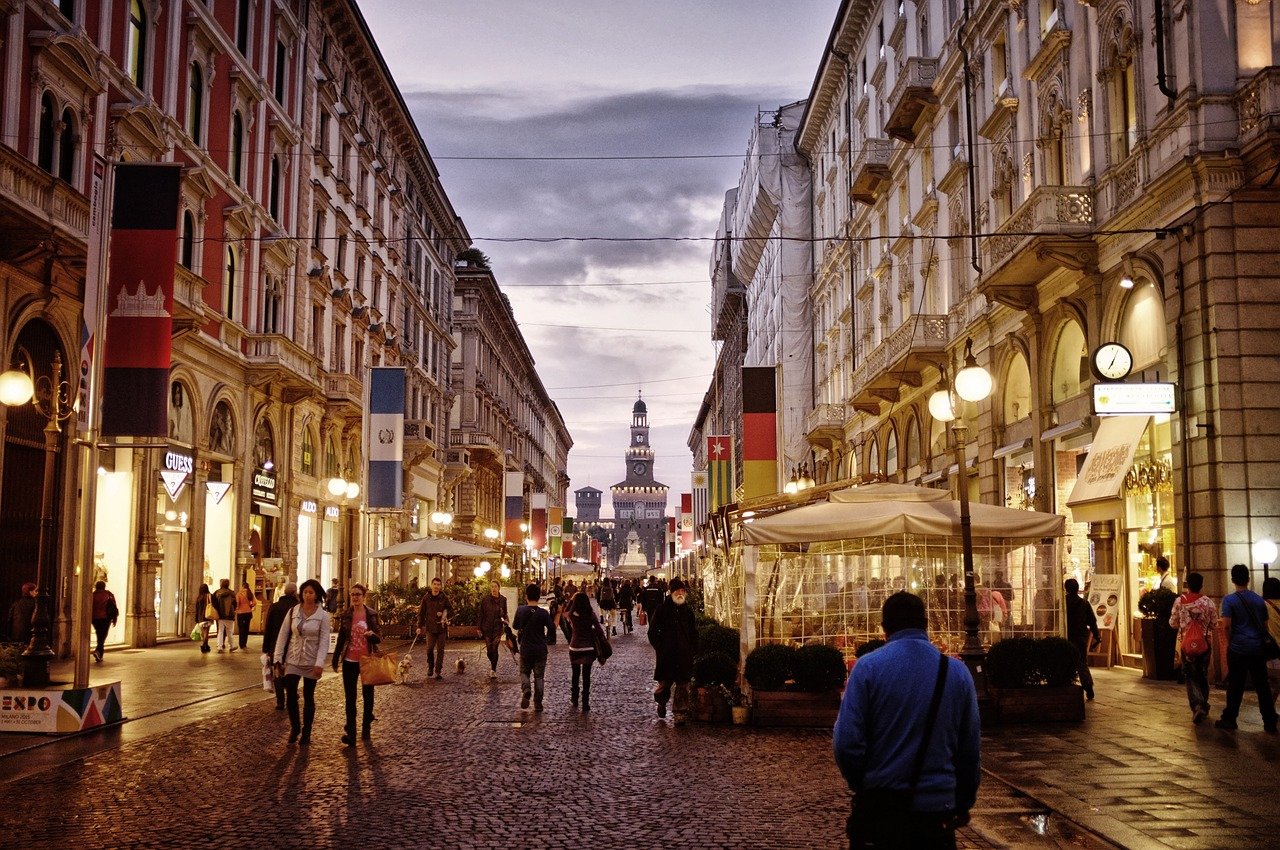 Lastly, as home to two of the most successful football teams in the league (A.C. Milan and F.C. Internazionale), sport is another big drawcard for tourists, and many choose to visit for matches, or tour the stadiums and training centres. Milan will also be hosting the Winter Olympics in 2026.
Milan is an amazing city, and it will be hard to see it all in one go. But if you have time, it's definitely worth a visit (and grab us some leather shoes while you're there!).
If you want to visit on points there are a wealth of luxury hotels in Milan such as:
The Park Hyatt Milan which is close to the Duomo and the Galleria Vittorio Emanuele II (the world's oldest shopping mall). The guestrooms comes with local touches such as Italian marble bathrooms and Murano glass lamps.
The Westin Palace Milan is another central option near the Repubblica metro stop.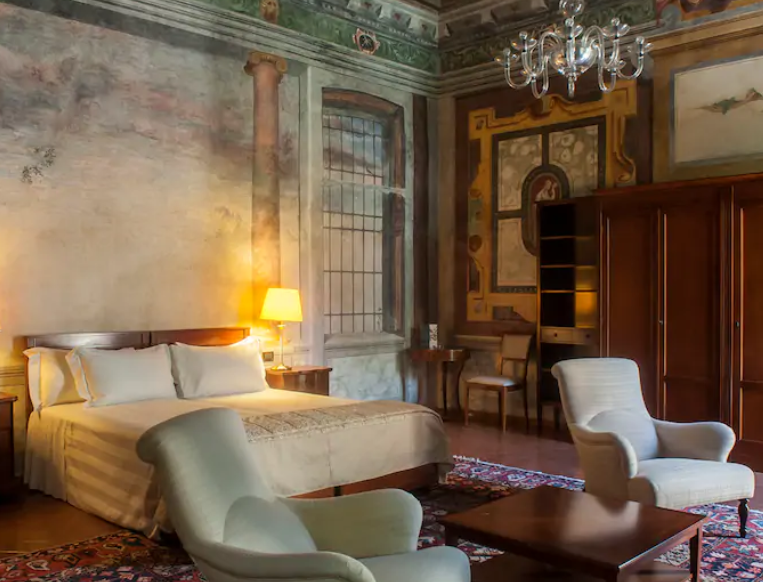 On the cheaper side but still of a good standard is the Hilton Milan with rates currently around €140. A real bargain yet with grand rooms is the Grand Hotel Villa Torretta Milan Sesto, Curio Collection which still is fairly central as well.
Lake Como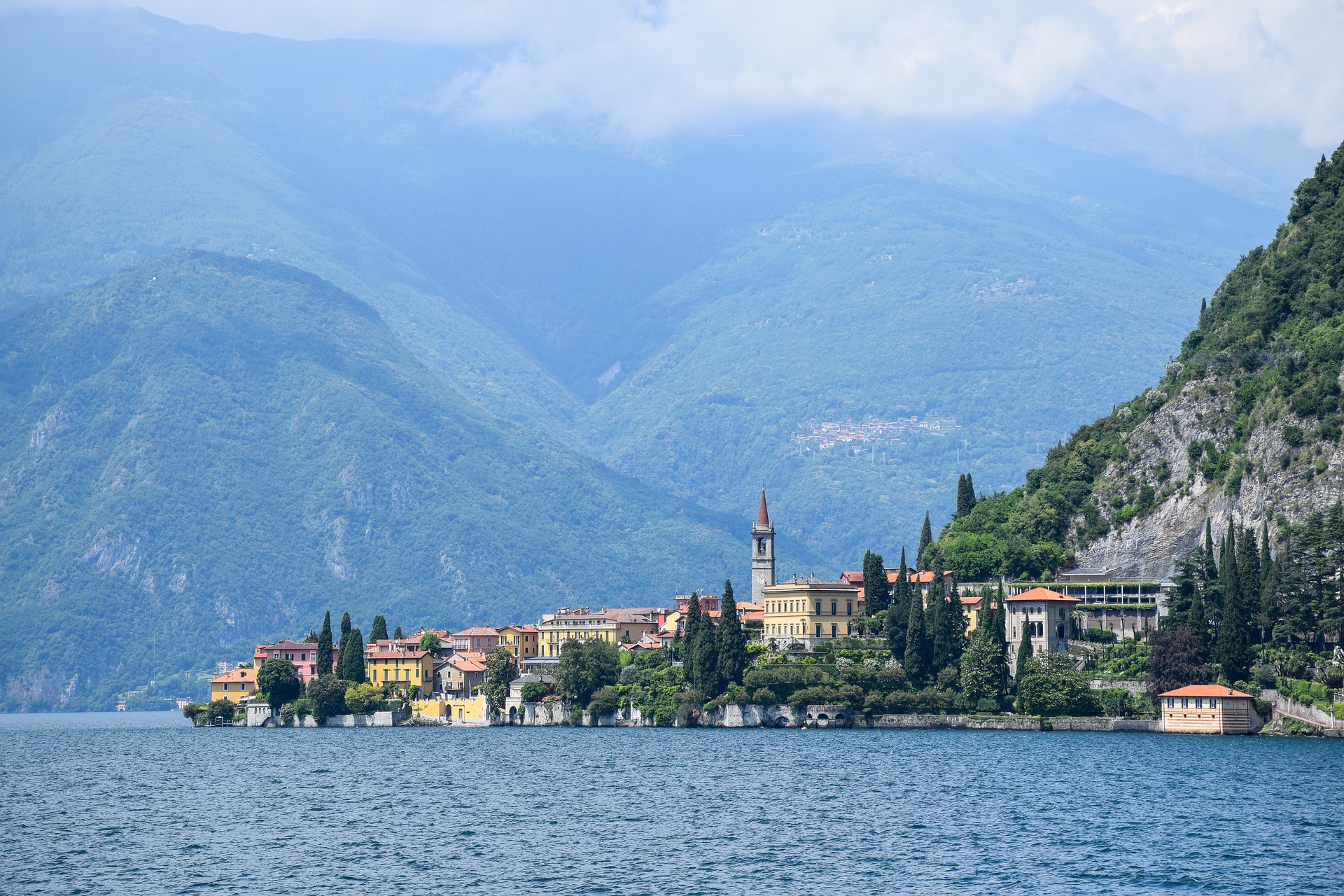 Lake Como is situated just to the north of Milan and almost shares a border with Switzerland. It's the third-largest lake in Italy and has been a hot-spot for the rich and famous for thousands of years.
Although it is now widely known for being home to George Clooney's summer hideaway, but it has been a popular destination for the 'it crowd' since Roman times. There is a heap of fancy villas there dating back centuries, many of which are now open to visitors and definitely worth a visit. Tourists can wander the rooms and the extensive (and very beautiful) gardens, and often feature a bar or café where you can get refreshed, in style.
The main draw of the area is the beauty and nature; obviously, the lake itself is the star of the show, and its edges are dotted with a number of small villages that you can easily get to by ferry. The ferry network is quite extensive, with frequent departures between towns, but just plan ahead as they often don't run full timetables on public holidays or Sundays. Bellagio is worth a visit and is around halfway up the lake with great views on the ferry ride there.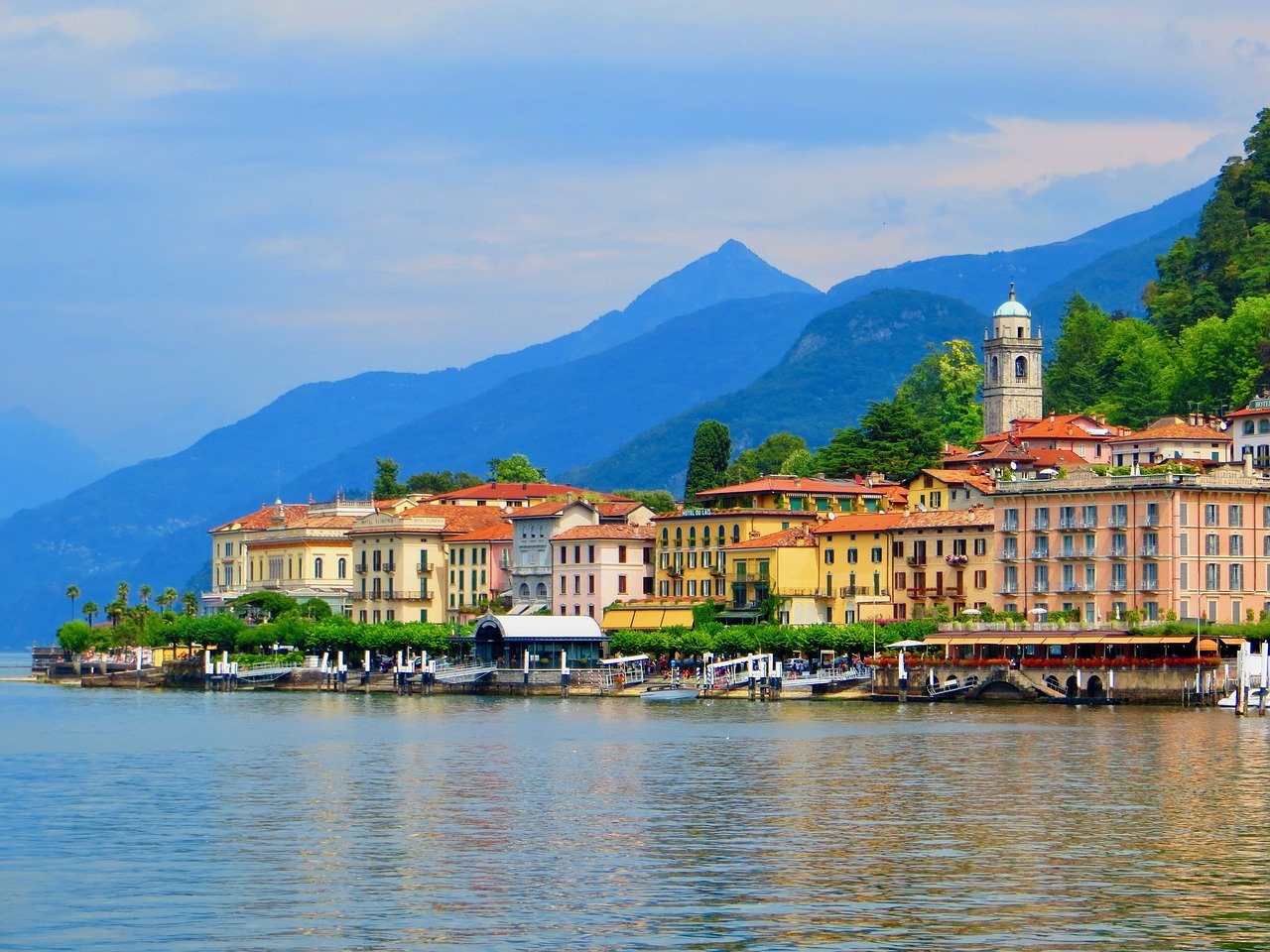 Spend a day or two ferry-hopping and visit the gorgeous small villages, or hire your own boat and try to find some secret swimming spots.
There are also plenty of lovely restaurants and wineries to visit, as well as olive groves, hiking trails (if you're feeling active) and, of course, swimming!
If you need a place to stay, check out our latest review of the Hilton Lake Como here which also has suggested restaurants nearby.
Venice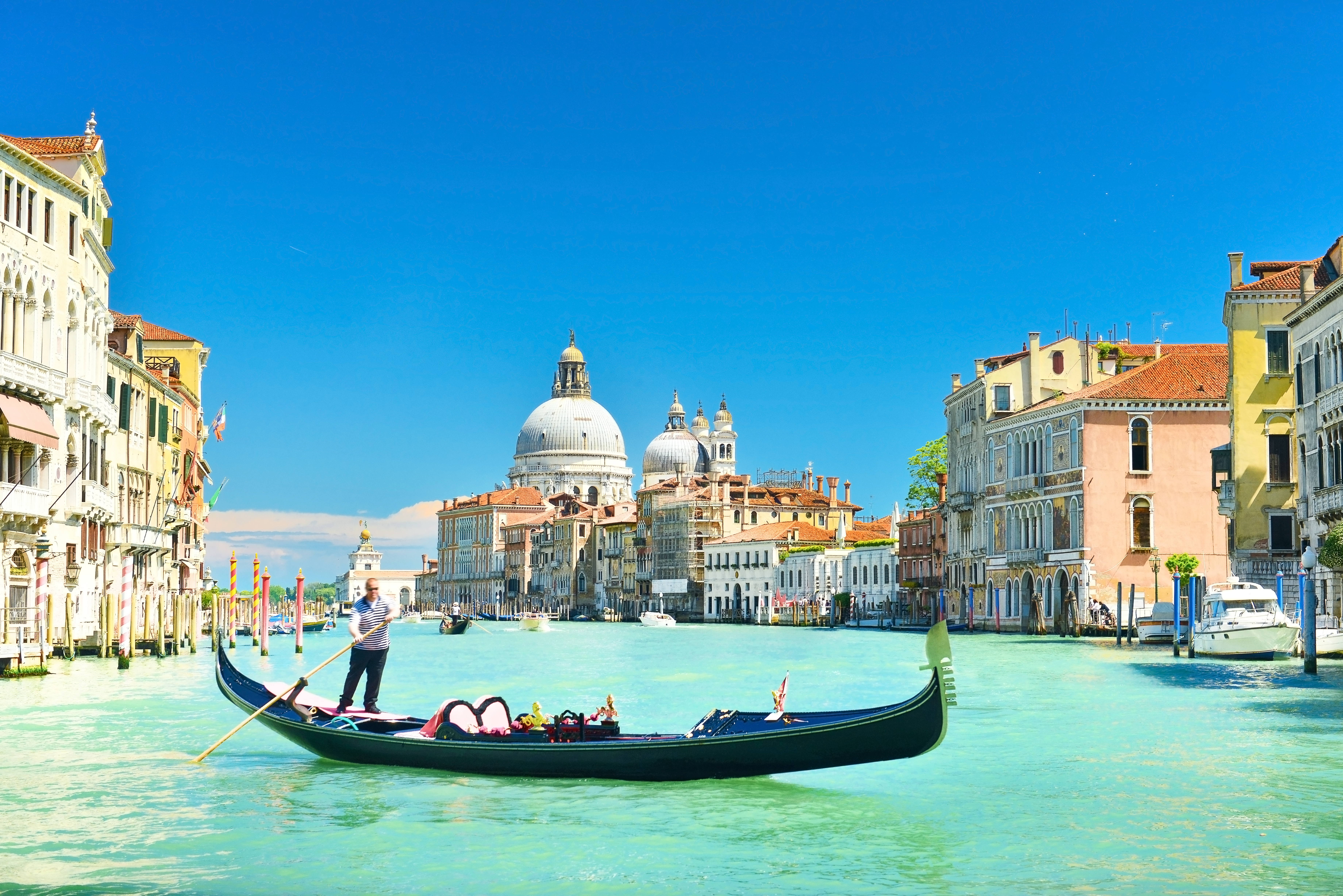 Ahh, Venice – truly a city like no other. Again, it has all the amazing things Italy is known for – great shopping, food, history, culture…but this time, the setting is a little different.
Most people would know that Venice, or Veneto, is a series of tiny islands connected by canals and lots of bridges. It's easy to get lost, so make sure your GPS works (or you have a map).
Venice started out as a bit of a swamp, but its strategic and unique location proved a great success, and the city was one of the most powerful in Europe for centuries. Now, it has become an incredibly special tourist destination, with visitors in their millions descending on the city from all over the world.
Simply wandering the narrow, twisted streets is a delight all in itself, finding tiny trattorias jammed into corners, or stumbling on a wine bar underneath some washing lines. There are world class museums (including a Guggenheim), full of art, history and archaeological findings, and many visit Venice to purchase special handcrafted items, like the famous 'Carnivale' masks, Murano glass homewares and jewellery or handmade leather shoes.
The best way to see the city though is from the water, as was intended. There are hundreds of gondoliers ready to take tourists for a selfie-worthy trip through the canals, and there are also small water ferries that criss-cross the major waterways if you just want to get from one side to the other.
The 'beating heart' of the city is arguably Saint Mark's Square or the Piazza San Marco, with the amazing St. Mark's Basilica lining one side and the famous clock tower towards the back. This is a great spot for taking in the sights (and people watching!). If you want to rest for a minute, grab a coffee from Caffè Florian – the oldest café in the world (but don't worry, the coffee is fresh).
A visit to the Basilica is a must – it's one of the most beautiful and historically significant buildings in the world. No expense was spared when it was built, and even from the outside visitors can get a glimpse of the incredible architecture and mosaic frescoes which adorn the arches. And don't forget to say hello to the lions – they're the symbol of Venice, and quite cute.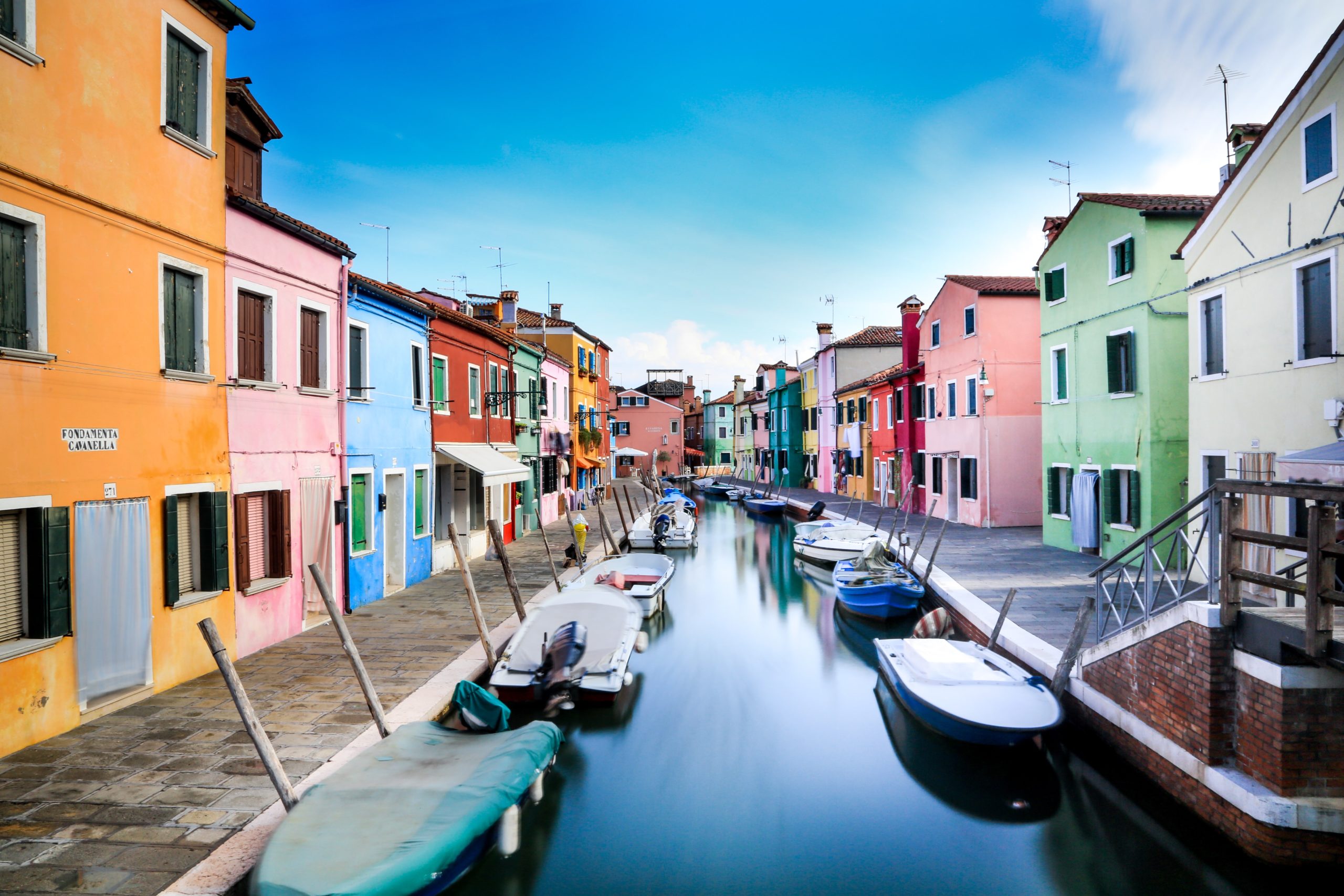 Visitors to Venice can also venture slightly further afield to its other main islands, including Lido, which is known for its beaches and a small event called the Venice Film Festival. There is also Murano, famous for its glass making, where visitors can purchase pieces as they are made, or take place in a demonstration or class. Burano, another island, is worth a visit for its Insta-worthy backdrop of rainbow bright fishermen's houses.
It can be quite difficult to stay on the island of Venice itself, due to limited space, so many choose to stay just off the island on the mainland. There are hundreds of hotels to choose from there, and it's easy to get across to the island on the train.
If you do want to stay on the island, expect your stay to be a little more expensive – but it is worth it. Many hotels were once homes, and have been there for hundreds of years. Just don't book a room on the ground floor (most of them are flooded occasionally).
Again there are some good choices for points users. The JW Marriott Venice has an amazing waterside infinity pool with fantastic views. The Hilton Molino Stucky is housed in a restored flour mill on the island of Giudecca. They offer a shuttle boat to central Venice, and attractions like St Mark's Square, Rialto Bridge, and Doge's Palace can be reached in around 20 minutes. There is a rooftop pool with wonderful views over the water.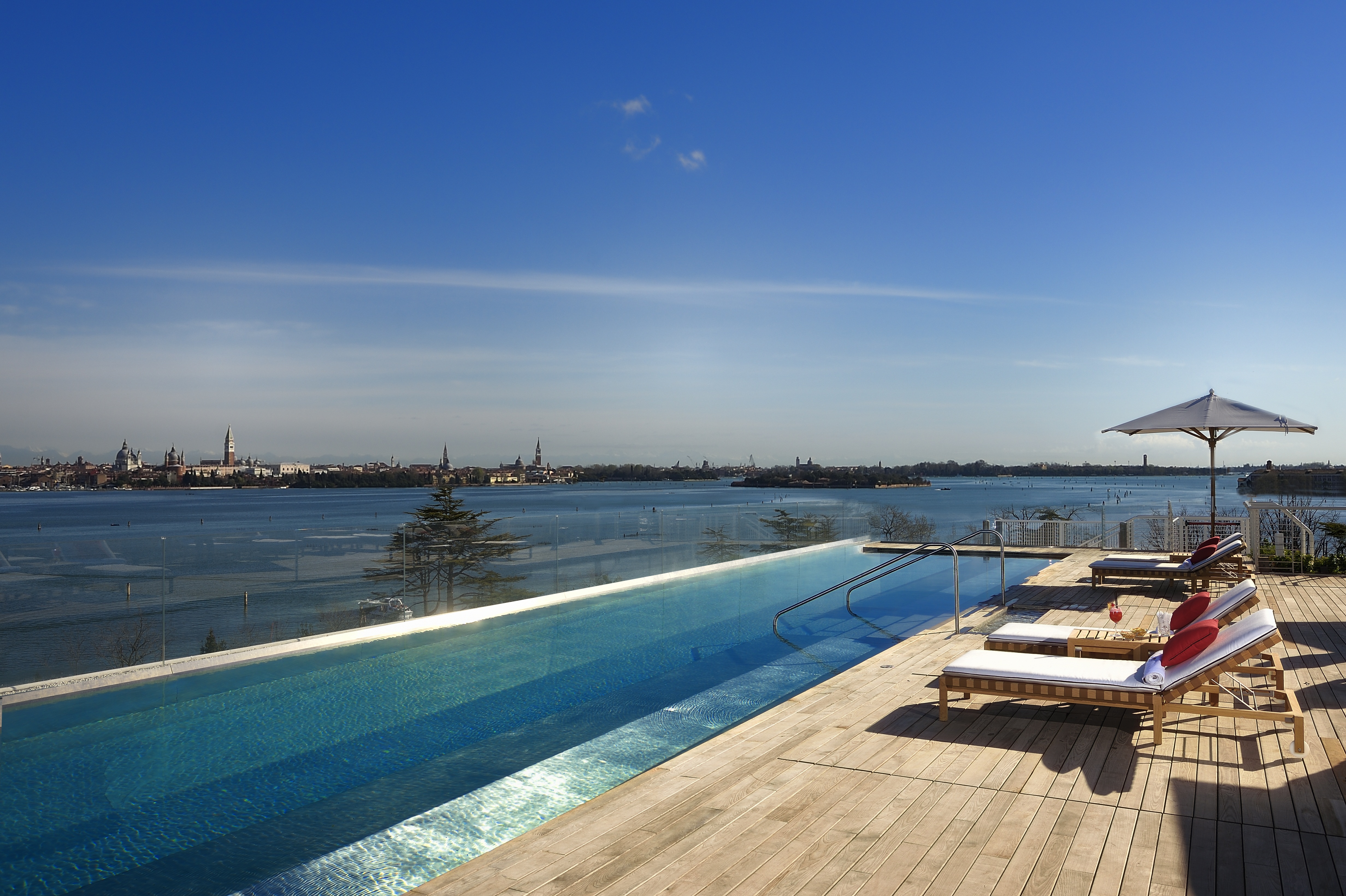 Verona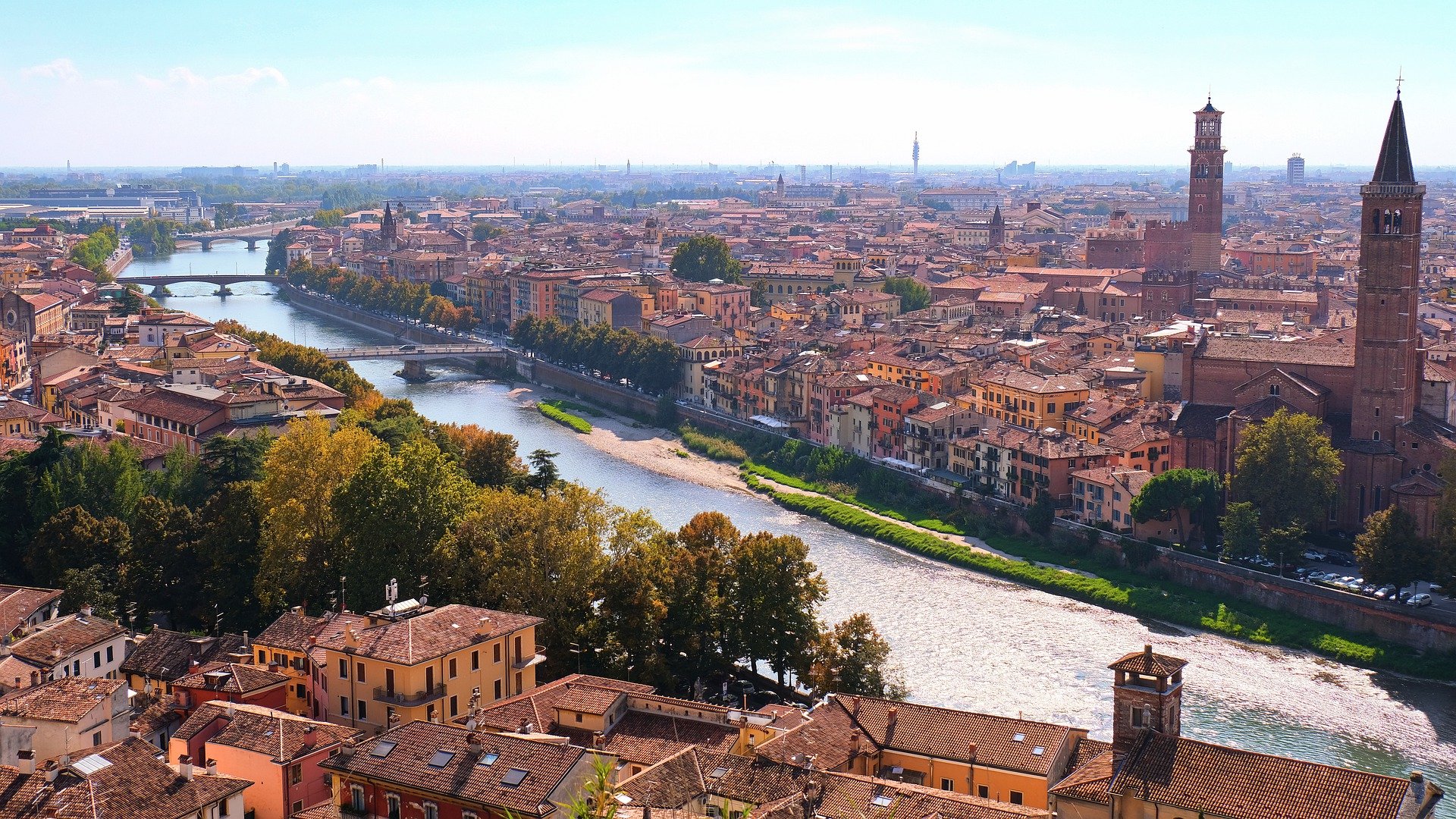 A quick train trip (just under an hour) from Venice gets you to Verona. That sounds familiar, right? Think back to high school English class…yep, Verona is the setting for the infamous Shakespeare play, Romeo and Juliet.
Thousands flock to this city every year in search of 'Juliet's Balcony', which is actually quite hidden through an alley at the end of a busy street (don't worry, the locals will know what you're looking for). There is actually a balcony that visitors can stand on and proclaim 'Oh Romeo, oh Romeo' (classic), and it is tradition to leave a note to 'Juliet' in the courtyard if you need help with any romance issues.
Although Shakespeare has done wonders for Verona's tourism, the rest of the city is worth a visit (probably a day trip will do). Traditional cobbled streets, old colourful buildings, a really cool mini-Colosseum, and some great restaurants all help to keep visitors happy.
Bologna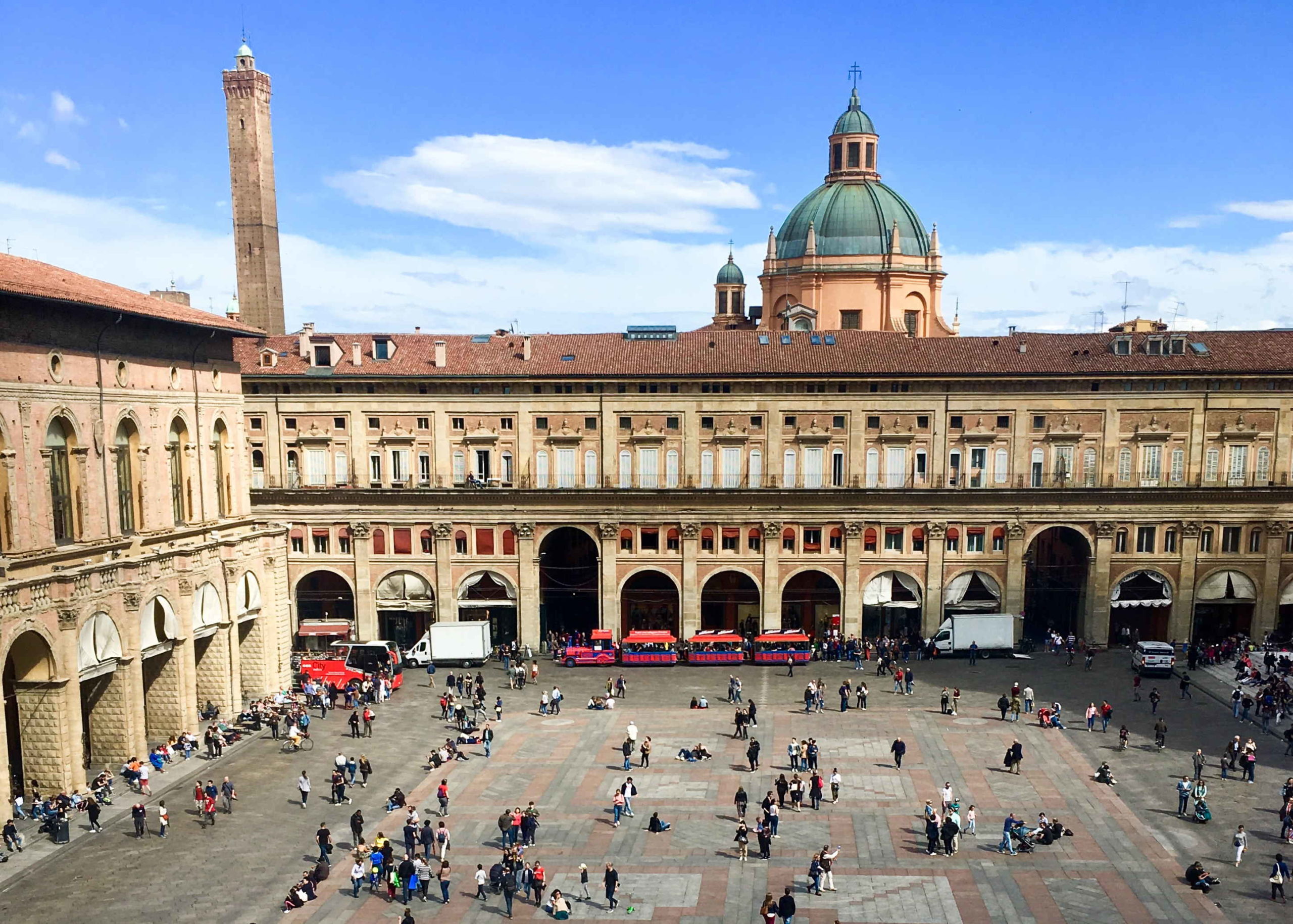 Another great day trip option – or stay a few nights and take a break from the crowds – Bologna is a colourful, vibrant city that is a bit less touristy than other Italian cities. It's easy to visit from either Venice or Florence, and many choose to stop here to break up the trip.
Bologna – yes, the home (kind of, it's actually quite complicated, and Italians take their pasta seriously) of the famous Bolognese sauce. So, obviously, it's quite the foodie paradise.
Bologna is actually the capital of the Emilia-Romagna region in Northern Italy, making it a great place to stop if you're into food and wine. Full to the brim of amazing local produce, you can expect to try some of the best cheeses, meats, pasta dishes, and vino during your visit.
Bologna is also home to the world's oldest university, which was founded in 1088, as well as the world's longest portico (and trust us, after a few wines, you'll notice). The old town is full of narrow alleys, ancient buildings, quirky shops, and some quite famous leaning towers.
Like any Italian city, there are plenty of museums and churches to visit if you fancy, but Bologna is really about the food. Try everything, from the local markets to the fanciest restaurants – or even head out on a food or wine tour to get a real in-depth (and delicious) experience.
There are plenty more worthy destinations in the north of Italy, like Turin, with its famous shroud, historical Genoa or beautiful Ravenna. However, we've listed just a few to get your planning started, but please let us know what we've missed, or what you think we should include next, in the comments!
Stay tuned for Part 2, where we will go in-depth through the centre of Italy; visiting Florence, Pisa, Cinque Terre, and more.